Also New on Blu-Ray
BIG MIRACLE Blu-Ray/DVD/Digital Copy (**½, 107 mins., 2012, PG; Universal): Well-meaning film, based on a true incident detailed in Thomas Rose's book "Freeing the Whales," stars Drew Barrymore as a Greenpeace volunteer trying to save a pod of Grey Whales stuck in the ice near the Arctic circle. John Krasinski, meanwhile, co-stars as the TV reporter who first sheds light on their plight, leading to an international collaboration to free the whales.

Veteran filmmaker Ken Kwapis directed "Big Miracle," which failed to find an audience upon its theatrical release last winter. In comparison with the superior family picture "A Dolphin Tale," the movie earned just a third of the gross of that fall sleeper hit, but it's still a well-crafted – if overlong – picture that older kids and their parents might enjoy (it's likely too slow and "adult" for the little ones, which might explain its tepid box-office performance). Cliff Eidelman's pleasant score and John Bailey's crisp widescreen lensing give the film a touch of class, while an A-grade supporting cast (Kristen Bell, Dermot Mulroney, Tim Blake Nelson) ably assist Barrymore and the always-affable Krasinski.

Universal's Blu-Ray is a combo pack including a Blu-Ray and DVD copy on the same disc, plus both an Ultraviolet and standard digital copy. Extras include deleted scenes, commentary with Kwapis and one featurette.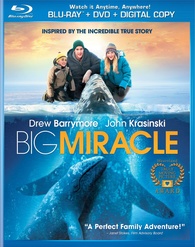 THE YANKLES Blu-Ray (116 mins., 2009, PG-13; Magnolia): Amusing, offbeat baseball film/culture-clash comedy stars Brian Wimmer as a major leaguer who, after being sentenced to community service for being a repeat DUI offender, ends up coaching a Jewish orthodox yeshiva baseball team. The inevitable 'fish out of water' jokes ensue in this low-budget but lightly entertaining film co-starring Don(ny) Most from "Happy Days." Magnolia's Blu-Ray includes deleted scenes, a featurette, commentary with director David Brooks and co-writer Zev Brooks, baseball cards, extended musical scenes and the trailer.

THE FP Blu-Ray (83 mins., 2011, R; Drafthouse Films/Image): The "FP" is Frazier Park, the heart of a future, post-apocalyptic world where rival gangs fight for their lives in the video game "Beat-Beat Revelation." After Jason Trost's older brother is slain by a gang leader, Trost vows never to dance again until the livelihood of all around him are threatened unless he wins another competition. This off the wall premise is given a thorough workover in the Trost Brothers' 2011 cult film, which hits Blu-Ray (with a bonus digital copy) in a "Drafthouse Films" release from Image Entertainment. Ample extras include a commentary, Making Of, featurette, trailer, and 16 pages of admiration for the film from Trost aficionados Rob Zombie and "Crank" directors Mark Neveldine and Brian Taylor. The 1080p transfer and DTS MA soundtrack are both top notch given the low-budget parameters of the production.

---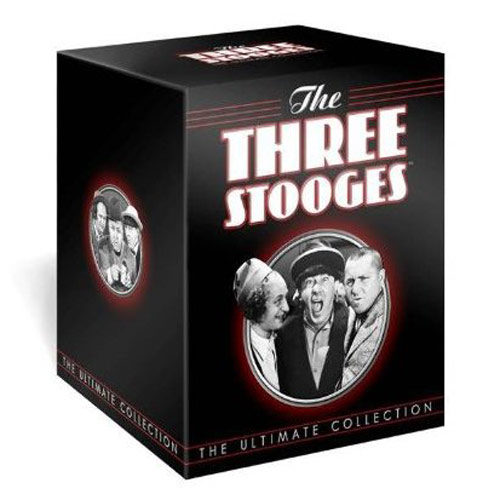 On DVD

Growing up I was never a massive fan of the Three Stooges. In fact, even though the boys were around thanks to constant UHF afternoon programming all during my childhood (one local station, TV38 WSBK out of Boston, even aired the rare 3-D Stooges shorts one year), I usually preferred the antics of Abbott & Costello to Moe, Larry and Curly. That being said, Sony has produced a magnificent DVD box-set that's a love letter to all Stooges fans, and one that might earn a convert or two (myself included) along the way.

THE THREE STOOGES: THE ULTIMATE COLLECTION is a massive box-set offering all of the team's 190 Columbia Pictures shorts – remastered – as well as three bonus discs featuring solo outings with Joe Besser, Joe DeRita and Shemp Howard. As if that wasn't enough, two other features, "Rockin in the Rockies" and "Have Rocket, Will Travel" are also packed into the set, which offers an enormous amount of value for the money (Sony previously released eight individual "Three Stooges Collection" DVD sets, which are reproduced in their entirety here, including those two 3-D shorts with glasses included).

Stooges fans who owned the prior DVD editions may balk at upgrading here, but the bonus "Rare Treasures" discs are exclusive to this release and offer a wealth of content previously unavailable. Best of all is the price, with Best Buy currently listing it for $45 (Amazon has it at $90). Highly recommended!

New From Acorn

MURDOCH MYSTERIES Season 4 (624 mins.) arrives on Blu-Ray in a three-disc HD presentation from Acorn. The fourth season of the Canadian lensed series, set in Toronto during the 1890s and based on a series of novels by Maureen Jennings, follows detective William Murdoch (Yannick Bisson), who adopts then-cutting edge techniques like finger marks and forensics to track down a costumed killer, mobsters, and a would-be vampire, while still contemplating his affections for old flame Dr. Julia Ogden (Helene Joy).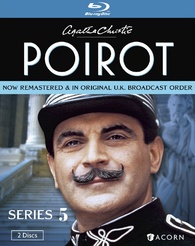 1080p HD transfers and 2.0 uncompressed PCM stereo tracks adorn the set, which also includes some 15 minutes of behind-the-scenes featurettes and two minutes of 'alternate love letters.'

MONROE Season 1 (274 mins.) Is an enjoyable British medical procedural in the vein of "House" that works best as a vehicle for star James Nesbitt. The "Murphy's Law" alumnus here plays a tough neurosurgeon whose home life is decidedly rougher than his work with a scalpel (sound familiar?). It's predictable yet well-executed, with Acorn's DVD offering the program's first six episodes on two discs with 16:9 transfers and 2.0 stereo oundtracks.

Finally, "Poirot" fans have had much to celebrate recently thanks to Acorn's Blu-Ray releases of the original POIROT mysteries. Set 5, which arrives later this month, includes the 1993 cycle from the David Suchet years, with "The Adventure of the Egyptian Tomb," "The Underdog," "Yellow Iris," "The Case of the Missing Will," "The Adventure of the Italian Nobleman," "The Chocolate Box," "Dead Man's Mirror" and "Jewel Robbery at the Grand Metropolitan" all included. The 1080p transfers (in the series' original 4:3 aspect ratio) and uncompressed PCM stereo soundtracks are all top notch.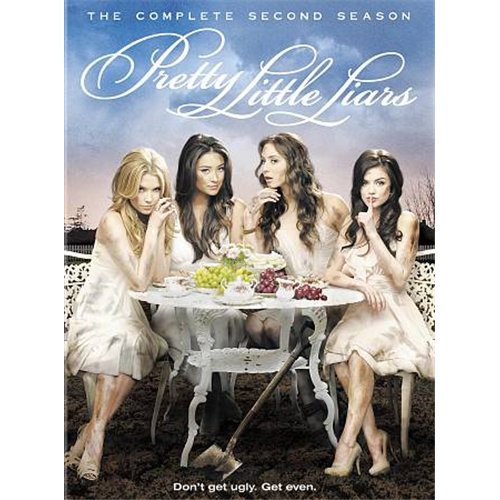 TV on DVD

PRETTY LITTLE LIARS Season 2 DVD/Ultraviolet (1093 mins., 2011-12; Warner): A year after the death of Alison, friends Aria, Emily, Hanna and Spencer have to move their friendship off the QT in order to avoid questions and constant suspicion from the omnipresent "A," who threatens the group with inside information on the quartet.

ABC Family's "Pretty Little Liars," based on Sara Shepard's best-selling book series, has become a breakout hit for the network, recently beginning its third season and generating solid ratings on Monday nights. Fans of the series will want to check out Warner's newly-released, second-season DVD edition, which includes all of its 25 episodes in 16:9 transfers and 5.1 soundtracks, as well as a number of extras: the featurettes "Fashion's Guilty Pleasure" and "Men of Mystery," plus unaired scenes.

FRANKLIN & BASH: Season 1 DVD (422 mins., 2011; Sony): Surprising TNT hit brings together Breckin Meyer and Mark-Paul Gosselaar as eccentric lawyers who get a shot at the big time when their unconventional methods are noticed by high-powered attorney Malcolm McDowell, who asks the duo to join his firm. What follows is a standard but likeable, and also lighthearted, show that thankfully lacks the heavy-handed approach of producer David E. Kelley in his myriad of legal procedural series. Sony's first-season DVD set of "Franklin & Bash" offers a gag reel, seven featurettes and three commercials, plus 16:9 transfers and 5.1 soundtracks.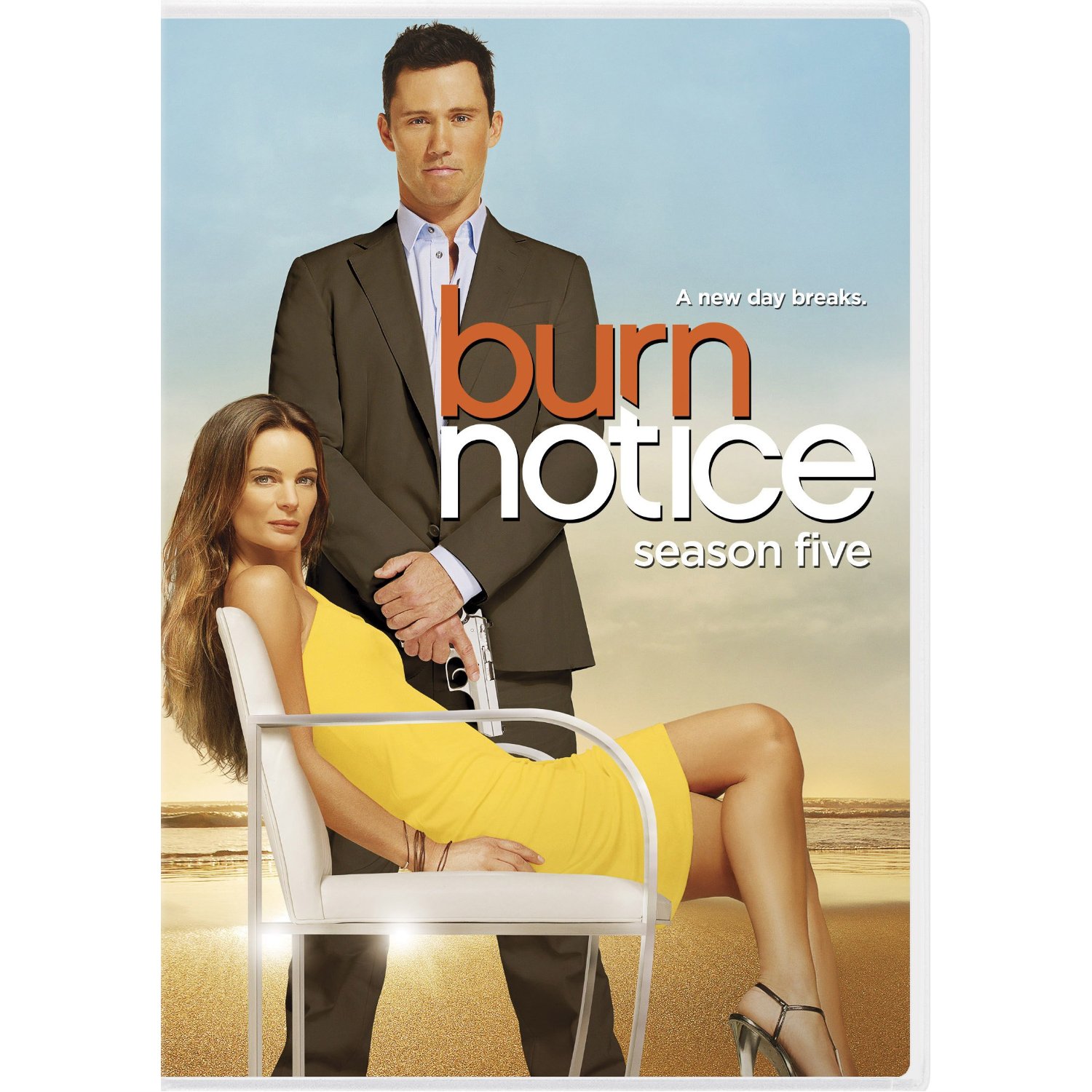 WHITE COLLAR Season 3 DVD (689 mins., 2011-12; Fox): Matt Bomer returns in the third season of the popular USA series as FBI consultant Neal Caffrey, trying to help partner Peter Burke while staying a step ahead of the feds. Fox's four-disc set includes all 16 episodes from "White Collar"'s third season, with extras including a gag reel, deleted scenes, commentary on the finale, trivia challenge with the cast, and one featurette. The 16:9 transfers and 5.1 soundtracks are just fine across the board.

BURN NOTICE Season 5 DVD (774 mins., 2011; Fox): Season five of the top-rated cable series finds Michael Westen reinstated by the CIA, but any hopes of stability for our hero are quickly dashed once Michael is framed for murder and blackmailed. Fox's four-disc set includes all 18 episodes of "Burn Notice"'s fifth season in vibrant 16:9 transfers and 5.1 soundtracks. Special features include an extended version of "Army of One," deleted scenes, a villains featurette, gag reel, and commentary on the episode "Fail Safe."

New From E One

Lisa Kudrow stars in the first season of WEB THERAPY (266 mins., 2011), a Showtime original series with the former star of "Friends" essaying an online therapist who treats her patients in three minute web chats. Some of her frustrated clients include Lily Tomlin, Jane Lynch, Courtney Cox and Alan Cumming in this first season of "Web Therapy," which E One brings to DVD in a multi-disc set including commentary on all episodes, a behind-the-scenes featurette, outtakes and a preview of season two. 16:9 transfers and 5.1 Dolby Digital soundtracks are also on-hand...REEL LOVE (86 mins., 2011), meanwhile, is a CMT original movie with LeeAnn Rimes as a Southern belle who returns home to take care of her ailing father (Burt Reynolds) and falls for a new country boy in town (Shawn Roberts) in the process. E One's DVD includes a 16:9 transfer, 5.1 soundtrack and interviews with Rimes and Reynolds.

NEXT TIME: Criterion's HAROLD AND MAUDE. Until then, don't forget to drop in on the official Aisle Seat Message Boards and direct any emails to our email address. Cheers everyone!