Message Board - Come and Discuss The Latest Videos, Movies & Anything Else!

Ridley Scott's triumphant return to the science fiction genre may have started off as a prequel to his 1979 classic "Alien," but PROMETHEUS is a very different type of picture: a suspenseful and captivating film with provocative concepts and thematic material that challenges the viewer as much as it satisfies on a rich aesthetic level.

Its "Alien" aspects – and there are some – are secondary to a story that asks where the human race came from, how we got here, and where we're going. Jon Spaihts and Damon Lindelof's screenplay posits these eternal questions in a manner that's positively refreshing in our current age of soulless blockbusters, opening with an utterly beautiful prologue set on Earth at the dawn of time (shot in Iceland by Scott) and proceeding to follow a spaceship crew in the late 21st century setting out to uncover the answers.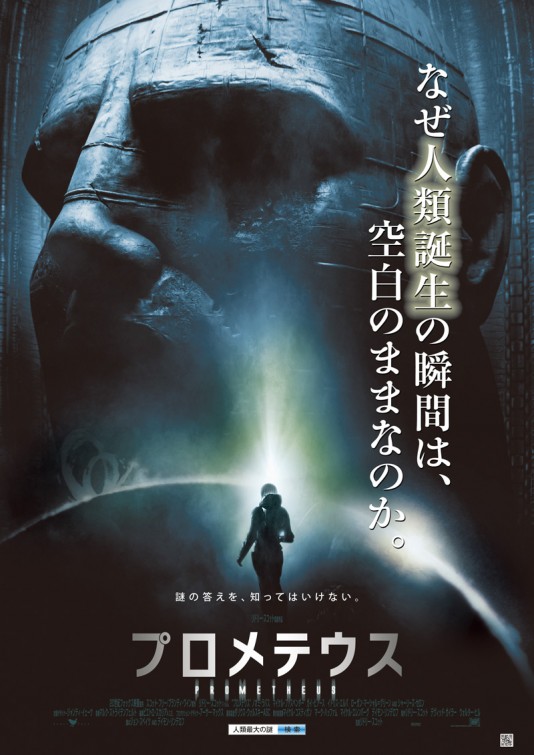 Among the crew of the ship "Prometheus" are scientists Noomi Rapace and Logan Marshall-Green, gruff captain Idris Elba, icy cold Weyland corporation exec Charlize Theron, and a curious android named David (Michael Fassbender), the work of the elderly Charles Weyland (Guy Pearce) himself, who funded the mission to track down the whereabouts of beings who left "calling cards" on ancient cave paintings around the globe. Upon arriving on a desolate planet, Rapace and company find a dank, deserted chamber with remnants of an alien race that fled the scene some time before – as well as a gooey chemical substance that's anything but benevolent.

It's easy to see why some viewers expecting a straight-ahead "Alien" prequel may be turned off by "Prometheus": this film isn't just a variation on its predecessor, with a group of disparate characters running around in the dark from a monster. Its brilliance is due to Scott's blending of familiar genre conventions with a story line that's deeper and more involved than most viewers may be prepared for. Granted, there are times when you wish certain plot points were clarified more than they are – especially in a mid-section that seems a bit rushed – but what's left unanswered aren't so much flaws as they are concepts left intentionally dangling for viewers to further contemplate. It may be less accessible to the masses than "Alien" but it's also emotionally stronger and deeper in terms of what it's attempting to do and say.

Rapace's sensitive performance resonates strongly here in the latter regard, giving her character an emotional vulnerability that's wholly sympathetic – not just a Ripley clone, her Elizabeth Shaw is the moral epicenter of a crew that watches as their collectively lofty hopes of finding out where life came from turns into a nightmarish assortment of questions about why the would-be Gods are trying to destroy them. Shaw's unshakeable faith is intriguingly tested by both the circumstance the crew finds themselves in, as well as her unusual relationship with the mysterious David, whose motivations are never entirely made clear in an otherwise fine performance from Fassbender.

Scott's penchant for amazing visuals are, of course, on-hand throughout the film, and there are a handful of dynamic set-pieces: a thrilling storm that threatens the crew is later followed by a harrowing "medical" sequence (shades of John Hurt at the dining room table) and a sensational finale with a truly miraculous sense of scale. The director said in pre-publicity that he wanted "Prometheus" to be "big" and the film is indeed that, both in the messages it develops and the visuals on-screen. Spectacular effects and haunting creatures include concepts that resemble the work of H.R. Giger, giving fans a taste of the universe that Scott first brought to the screen with "Alien" but here in a very different context. (In fact, if there's a moment that feels somewhat out of step here, it's in a quote from Jerry Goldsmith's unused main title from "Alien" that comes across as unnecessarily shoe-horned into the picture).

Dariusz Wolski's cinematography and even the score, credited to Marc Streitenfeld but enhanced with a lovely theme by Harry Gregson-Williams that's used throughout the picture (so much that it's surprising he only received an "Additional Music" credit), are likewise effective: this is a film that's filled with so much artistic invention and memorable images that one can see sci-fi fans returning to "Prometheus" for some time to come, both to dissect its narrative as well as take in its amazing artistic design.

Throughout his career, Ridley Scott has shown himself to be a master craftsman in terms of imagery: not just in his classics like "Alien" and "Blade Runner," but also in the commercial failures of "Legend," "1492" and "White Squall." Throughout them all, Scott has brought the beauty of nature and, indeed, different worlds and even whole universes to life, very much like an artist painting on a blank canvas. While not without its flaws, "Prometheus" ranks not only with those films visually, but has one of the most compelling story lines from any of Scott's works, as well as an emotional range that's particularly surprising at its conclusion. It's a movie that stays with you long after the credits have rolled, a film that entertains and engages, a sublime mix so rarely seen at the movies any more. (***½, 124 mins., R: Fox).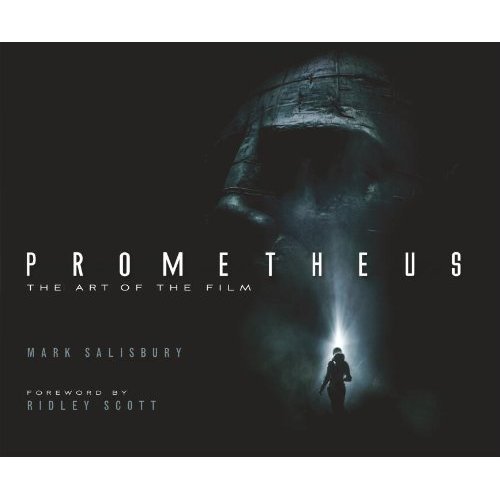 In lieu of the launch of "Prometheus," Titan Books has published three different titles that fans ought to find particularly compelling – provided they don't already have two of them in their collections.

THE ART OF PROMETHEUS is the stand-out release of the trio: a gorgeous, lavishly illustrated, 187-page hardcover book that takes viewers behind the scenes into the creation of "Prometheus." Pre-production artwork, CGI mock-ups and on-set photographs mix with text from author Mark Salisbury that dives into Ridley Scott's creative process, with the director offering some thoughts as to how what he originally conceived as an "Alien" prequel evolved into something quite different than what some anticipated. The lay out and design of the book is satisfying indeed, marked by crisply detailed images including evocative shots of "The Deacon" that weren't utilized in the final film. While not a thorough production history (as the title states, this is primarily an "art book"), fans should be captivated by the lavish presentation here, and considering that the book already in its third printing, there's a chance this could become a collector's item down the line. Either way, at under $25 currently on Amazon, "The Art of Prometheus" comes strongly recommended for fans.

ALIEN: THE BOOK OF THE MOVIE is something quite different: a new printing of Paul Scanlon and Michael Gross' 1979 "book," which is more of a glossy magazine similar to the kinds of "Starlog" Movie Specials you'd see in bookstores when a big summer movie was coming out back in the '70s and '80s. Preliminary artwork from H.R. Giger, Moebius and Rob Cobb (whose rejected design for the Nostromo was used in "Prometheus") is included along with on-set photos – some of which fans will find recognizable – that give viewers a glimpse of the selling of this 1979 20th Century Fox classic before it was released. The text is mostly limited, but what's there is interesting, including some comments from Ridley Scott that illustrate the director was thinking about the civilization behind the space jockey even back in the '70s.

Finally, Lee Brimmicombe-Wood's ALIENS COLONIAL MARINES: TECHNICAL MANUAL is a reprinting of the 1995 paperback that includes diagrams, technical schematics and blueprints for the colonial marines' weapons, armor and general "intel" behind their mission to LV-426. Fun for those who like this kind of thing, though its usefulness – despite a great amount of detail on the part of the author – is probably limited for casual fans.

---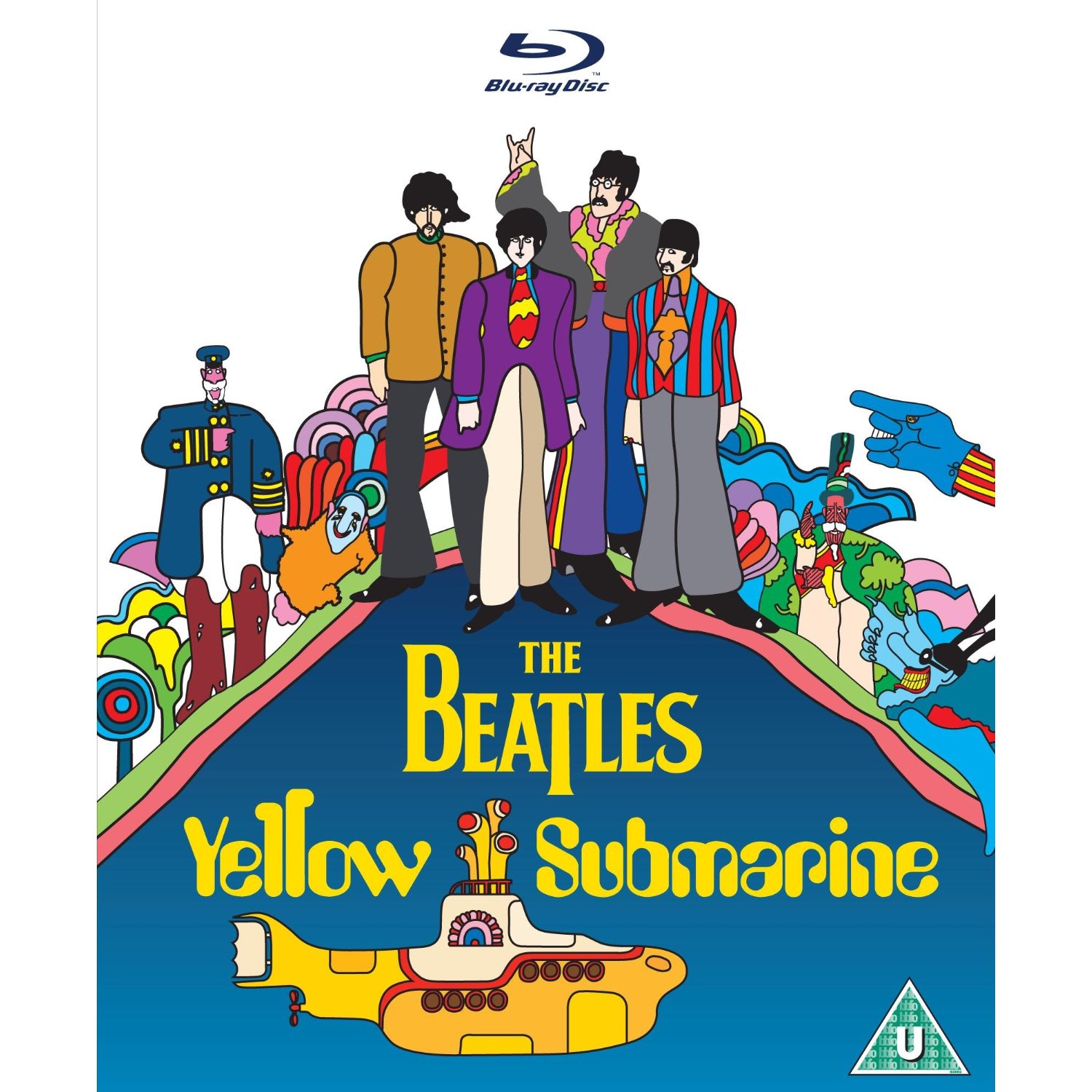 New on Blu-Ray

YELLOW SUBMARINE Blu-Ray (****, 89 mins., 1968, G; Capitol/EMI): Even if, like me, you're not the biggest Beatles fan in the universe, the 1968 "Yellow Submarine" remains an utter delight. Made to finish off a contractual obligation to United Artists – by which point, in the late '60s, the Beatles were no longer interested in making movies – the psychedelic feature finds John, Paul, Ringo and George whisked away from England in order to save the magical undersea kingdom of "Pepperland." There, the music-loving inhabitants are under attack from the "Blue Meanies," who have turned the citizens into statues. It's up to the Beatles along with "Old Fred" and his Yellow Submarine to restore color, music and life back to Pepperland, traveling through strange and surreal lands along the way.

"Yellow Submarine" was produced by King Features and producer Al Brodax, who previously packaged a Saturday morning "Beatles" cartoon for ABC that was fairly plastic in its animation. The Beatles themselves, reportedly, stayed away from the movie during most of its production for that reason – only when they saw what was being worked on did they change their minds, agreeing to appear in a live-action sequence at the end and contributing new as well as previously-recorded songs to the soundtrack ("Eleanor Rigby," "All Together Now," "Nowhere Man," "When I'm Sixty-Four," "All You Need Is Love," "Lucy in the Sky With Diamonds" and "Sgt. Pepper" are just a few of the tunes to appear throughout). Brodax, director George Dunning and his animation team keep the movie fresh and perfectly suited to repeat viewing, with each song acting like its own set-piece, and constantly changing, eye-popping colors and eclectic design keeping both kids and adults stimulated. It's an all-time animated classic that has lost none of its appeal over the years.

Making its debut on Blu-Ray (as well as a new DVD edition) from Capitol Records/EMI, "Yellow Submarine" looks great and sounds absolutely spectacular. The DTS MA 5.1 audio is just amazing – the songs echoing into every speaker of the sound field and carrying a dynamic range that makes it one of the most effective home theater mixes I've ever heard. Though the movie's original mono mix and a PCM stereo track have also been included, neither compare to the brilliant sound design of the DTS MA mix. Visually, the AVC encoded transfer is also impressive, preserving the picture's original 1.66 aspect ratio and offering a gorgeous pallet of colors. Suffice to say, "Yellow Submarine" is one of the best looking and sounding discs I've yet seen in the format.

Extra features aren't overwhelming, but will come as welcome inclusions for fans. In addition to a full color booklet and collectible lithographs, the most insightful supplement is a commentary track from producer John Coates with some comments from animator Heinz Edelmann, whose visual designs for the Beatles themselves proved to be the lead inspiration for the project. There's a theatrical trailer (that seems to have been "re-created" using HD footage), a vintage featurette "Mod Odyssey," storyboard sequences, pencil drawings, behind the scenes photos, and very short (mostly 1-2 minute) interviews with Paul Angelis and John Clive (who voiced Ringo and John, respectively), animator David Livesey, Edelmann assistant Millicent McMillan, animation director Jack Strokes, and co-writer Erich Segal, who notched one of his first commercial successes a few years before his script for "Love Story" became a national phenomenon.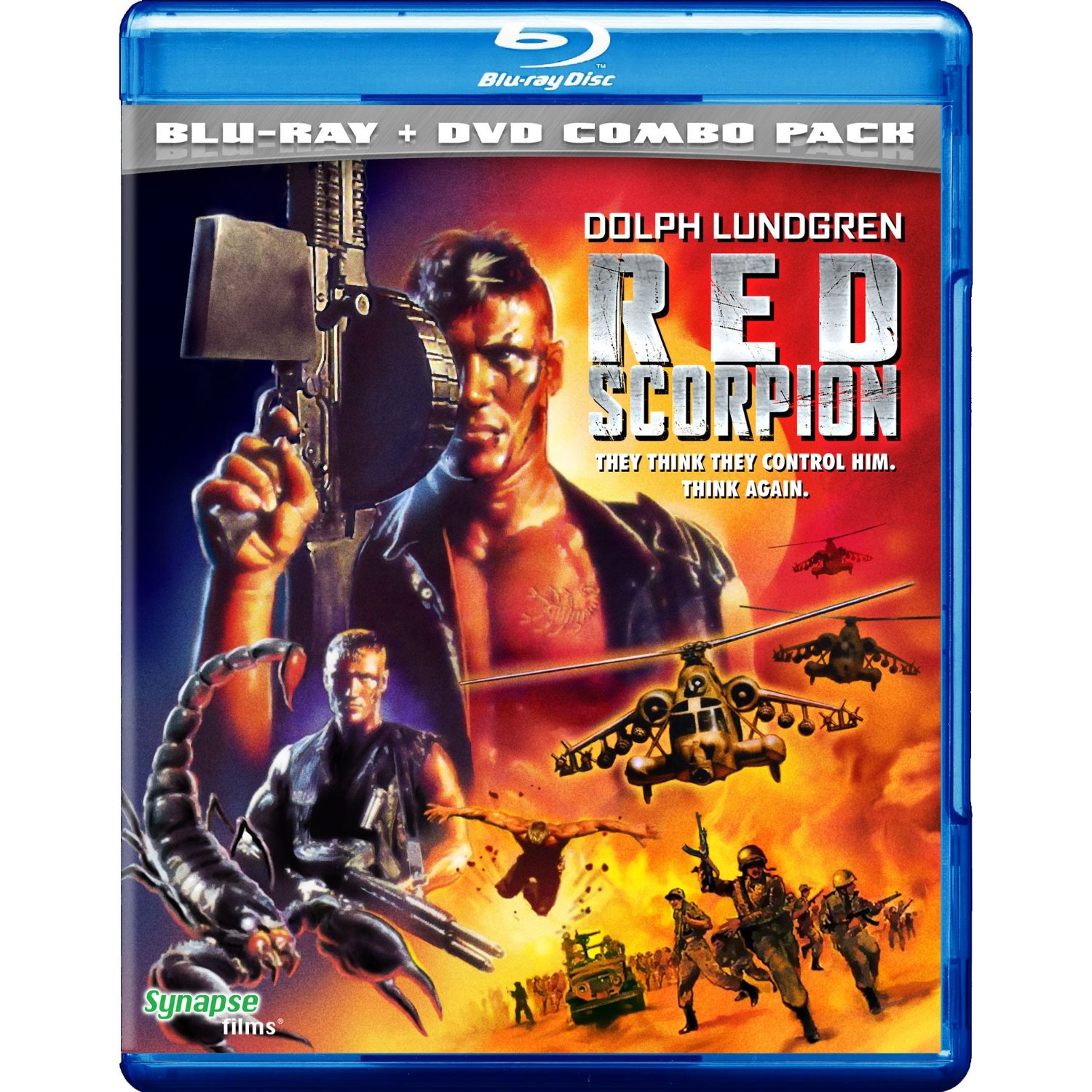 Also on DVD and Blu-Ray

DAMAGES Season 4 DVD (aprx. 502 mins., 2011; Sony): The fourth season of the acclaimed, though low-rated, dramatic series (its second on DirecTV) is at least an improvement on its prior year. Here, Ellen (Rose Byrne) has to go back, into the clutches of Patty Hewes (Glenn Close) in order to file suit against a defense contractor on behalf of a former soldier (Chris Messina) who's an old friend of Ellen's. More focused than season three, "Damages"' fourth go-around suffers from some cliched stereotypes including John Goodman, who essays the security firm's "evil Christian right winger" in a heavy-handed performance that undercuts the effectiveness of the drama. Sony's fourth-season DVD set includes deleted scenes, outtakes, two featurettes, 16:9 transfers and 5.1 soundtracks.

RED SCORPION Blu-Ray/DVD (106 mins., 1989, Unrated; Synapse): Remastered and uncut actioner was originally supposed to be a large-scale action vehicle for star Dolph Lundgren with Warner Bros. handling its domestic distribution. After the production of "Red Scorpion" moved from southern Africa locales to South Africa, Warners dropped out, and the Joseph Zito-directed movie became a home video staple back in the VHS era. Synapse's Blu-Ray edition of "Red Scorpion" includes its first-ever uncut release in the U.S., offering more gore and mayhem as Dolph's Soviet soldier decides to turn the tables on his former comrades while fighting in an African skirmish. Plenty of extras include commentary with Zito and Mondo Digital website guru Nathaniel Thompson; an AVC encoded 1080p transfer and DTS MA soundtrack; featurette on the production; interviews with make-up artist Tom Savini and producer Jack Abramoff; rare on-set footage; still galleries; trailers; a reversible cover and informative liner notes.

DJANGO KILL...IF YOU LIVE, SHOOT! Blu-Ray (117 mins., 1967; Blue Underground): Considered by Phil Hardy in his indispensable "The Overlook Film Encyclopedia: The Western" to be one of the most brutally violent films of its genre, Blue Underground has unearthed a superb, uncut edition of this 1967 Spaghetti western favorite.

Though the movie has nothing at all to do with its predecessor, it's actually a more vibrant – if grizzly – affair with Tomas Milian as a half-breed bandit who seeks revenge after being left for dead. Sex, violence, gore, torture and other mayhem come at the viewer fast and furiously on the part of director Giulio Questi. Blue Underground's Blu-Ray includes interviews with Questi, Milian and Ray Lovelock; the trailer; a poster and stills gallery; a nice 1080p (2.35) transfer and DTS MA English and Italian mono soundtracks.

EXIT HUMANITY DVD (113 mins., 2011, Unrated; Vivendi): Bloody Disgusting co-produced this independent zombie thriller set after the Civil War, where soldier Edward Young (Mark Gibson) tries to find his missing wife and son. The concept of a 'historical' zombie movie is interesting and "Exit Humanity" is produced well enough to warrant a view from horror fans. Vivendi's DVD includes a pair of commentaries and a Making Of, along with a 5.1 soundtrack and 16:9 transfer.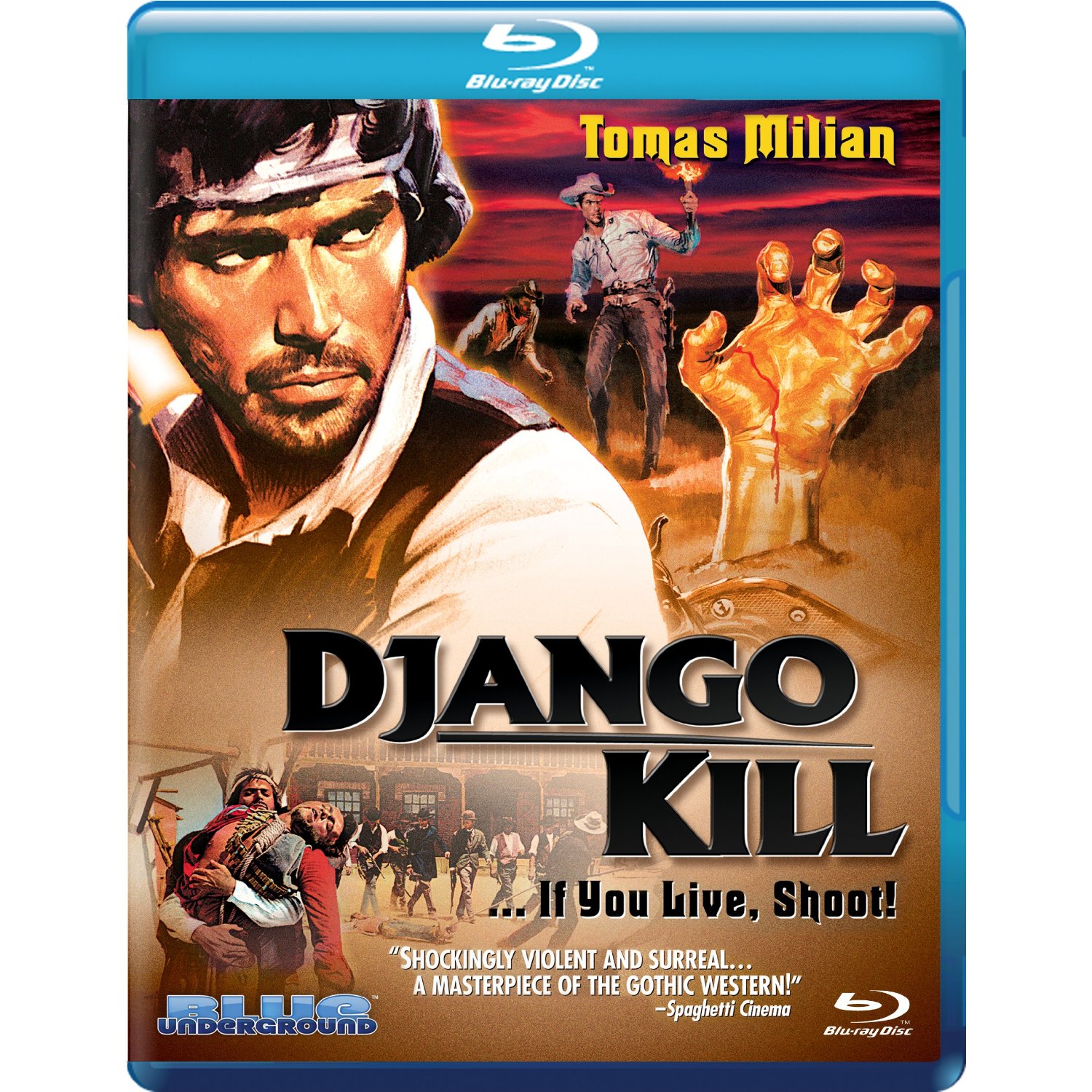 THE HIDDEN BLADE Blu-Ray/DVD (132 mins., 2004; Palisades Tartan): Well-reviewed Japanese import stars Masatoshi Nagase as a samurai sent to kill a former friend in order to prove his innocence after a failed political takeover. Yori Yamada's film boasts some impressive performances in a drama set towards the end of the samurai era. Palisades Tartan's Blu-Ray release includes a crisp and effective 1080p transfer with DTS MA audio and extras including a behind-the-scenes segment with Yamada; a director press conference; U.S. and Japanese trailers; and footage of the film's premiere at the Berlin Film Festival.

BEST LAID PLANS Blu-Ray/DVD (108 mins., 2011; Well Go USA): British produced, tautly-directed thriller offers a UK gangster variation on "Of Mice and Men," with tough guy Stephen Graham and gentle-giant Adewale Akinnuoye-Agbaje running afoul of a local mob boss (David O'Hara). O'Hara's solution for the duo to get out of their debt is for the mentally-challenged Akinnouye-Agbaje to take part in a series of fighting matches. David Blair directed this downbeat, gritty tale with strong performances from the cast. Well GO USA's Blu-Ray includes a 1080p transfer and DTS MA soundtrack, as well as a DVD edition.

BULLHEAD Blu-Ray (124 mins., 2011, R; Drafthouse/Image): Oscar nominated for Best Foreign Film, Dutch filmmaker Michael R. Roskam's "Bullhead" profiles a cattle farmer (Matthias Schoenaerts) mixed up with steroids and a crime boss meat trader. Right when an old flame from his past reappears on the scene, Jacky has to confront his conscience about the past and the present. "Bullhead" is an emotional rollercoaster that Image brings to Blu-Ray this month in a strong package offering a written introduction from admirer Michael Mann; a Making Of; interviews with Roskam and Schoenaerts; a 2005 short film, "The One Thing To Do," from the same star and director; the trailer; and a bonus digital copy. The 1080p transfer and DTS MA soundtrack are both top notch.

Also New From Image

A pair of TV movies which aired on ABC Family and the Disney Channel, respectively, are due out shortly on DVD from Image.

The entertaining TEEN SPIRIT (82 mins., 2011) stars Cassie Scerbo as a teen who finally climbs her way up the social ladder to become Prom Queen, only to die in a freak accident moments later. In order to earn her wings as an angel, she has to tutor nerdy Lindsey Shaw and turn her into a more outgoing and "popular" gal. This familiar reworking of "The Heavenly Kid" (and countless other flicks) hits DVD in a 16:9 transfer with 5.1 audio.

RADIO REBEL (89 mins., 2012), meanwhile, stars Disney Channel's "Jessie," Debby Ryan, as a high school junior who's also the singular most popular radio DJ in Seattle. Trouble is, nobody at her school knows her double life, and thinks she's just a quiet outsider. Based on a novel "Shrinking Violet" by Danielle Joseph, "Radio Rebel" arrives on DVD from Image in a special edition sporting three featurettes, an on-set interview with Ryan, deleted scenes, a music video, bloopers and other goodies, plus a 16:9 transfer and 5.1 soundtrack.

NEXT TIME: Criterion's HAROLD AND MAUDE. Until then, don't forget to drop in on the official Aisle Seat Message Boards and direct any emails to our email address. Cheers everyone!