Message Board - Come and Discuss The Latest Videos, Movies & Anything Else!
Christopher Nolan's triumphant, apparently final installment in his Batman saga, THE DARK KNIGHT RISES, is a compelling, exciting piece of modern filmmaking – more of a direct sequel to its initial entry, "Batman Begins," than its immediate predecessor, the overpraised and repetitive "The Dark Knight."

Set several years after the events of TDK, Gotham City finds itself once again under siege – this time from a mercenary named Bane (Tom Hardy) who wears a mask and talks like a muffled version of Darth Vader by way of Christopher Plummer in "Star Trek VI." Nobody has seen The Batman since the night of Harvey Dent's death, with Bruce Wayne (Christian Bale, seeming less uptight this time around) hiding out as a recluse in Wayne Manor, much to the chagrin of Alfred (Michael Caine), who just wants to see his master join the ranks of the living again. Bruce's world is initially perked up by a cat burglar named Selina Kyle (Anne Hathaway), who's gotten herself wrapped up in the new world order that Bane's "Occupy Gotham" army represents – but it's just a teaser for the resurrection of Batman himself, who's desperately needed by its residents and a beleaguered Commissioner Gordon (Gary Oldman), who finds a new ally in crusading young cop John Blake (Joseph Gordon-Levitt).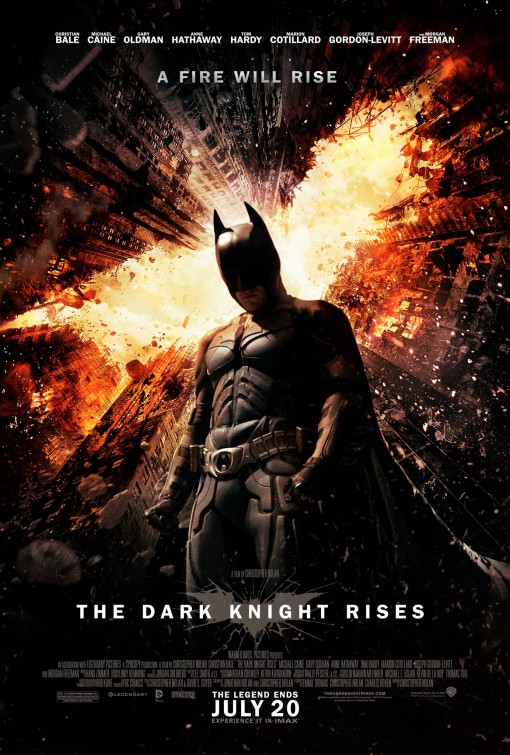 "The Dark Knight Rises" is confident, visually compelling and just a bit overlong. The script, by Nolan and his brother Jonathan, is better balanced than the redundant structure of "The Dark Knight," which found Batman continuously trying to save Gotham, only to be thwarted by a psychotic act from The Joker. This picture is less sadistic as well, with more of a redemptive finale that proves to be enormously satisfying as Nolan at last breaks out of the constant doom and gloom that the last picture was dominated by.

Most of the additions to the cast help enormously, from Hathaway's fetching turn as Catwoman and Gordon-Levitt's tireless police detective, to welcome on-screen appearances by veteran actors Matthew Modine and William Devane, and a few surprise cameos from veterans of Nolan's earlier Batman pictures. Bane himself is a little goofy, but Hardy packs a muscular presence, and series veterans Caine and Oldman have several fine scenes as well. Less effective is Marion Cotillard's red herring role as the new head of Wayne Enterprises and Bruce's latest love conquest – given where the story ultimately concludes, there should have been more of the relationship between Bruce and Selina, though romanticism has never been one of Nolan's strong suits.

A few elements also fall short – a somewhat bloated stretch where Bruce finds himself in Bane's prison drags the film down with Batman sidelined for too long a duration (ironic that, no matter if it's Burton, Schumacher or Nolan, the focus always seems to drift off the Caped Crusader in every one of these pictures). There's a bit too much Bane and several pretentious, accompanying monologues, while Hans Zimmer's ridiculously over-scored soundtrack feels the need to punctuate every scene – even the quieter dramatic beats – like a sledgehammer.

Still, it's hard to envision fans and casual viewers alike not being satisfied with this rousing third installment. Speaking of which, though billed as the concluding entry in Nolan's trilogy, it also doesn't feel like the end, unless the director is truly content in ending his series with some light finally infiltrating the darkness. (***½, 164 mins., PG-13; Warner)
---
New on Blu-Ray
Mel Gibson's latest film, GET THE GRINGO, may have gone straight to on-demand in the U.S., but don't let that put you off: this nicely textured action-character study manages to be much more entertaining than either of the beleaguered star's recent offerings ("The Beaver" and "Edge of Darkness").

I
n a film originally titled "How I Spent My Summer Vacation," Gibson plays a thief who gets trapped along the U.S.-Mexican border with a stash of cash. The Mexican cops want Gibson and his money for themselves and place Mel's anti-hero in a prison that's more of a town presided over by corrupt officials and with some innocent locals – including a young boy and his mother – wrapped up in its structure.

Gibson produced and co-wrote "Get the Gringo," which fits comfortably alongside some of the actor's shady but likeable protagonists with a gruff exterior masking a warmer heart inside. Much looser here than he was in either "Edge of Darkness" or "The Beaver," Gibson delivers a comfortable performance that grounds an entertaining film with nicely defined characters and a wry sense of humor. Director Adrian Grunberg, meanwhile, who worked on "Apocalypto," handles the picture with a quick pace that ensures the material never overstays its welcome.

Fox's Blu-Ray comes on the heels of its DirecTV premiere in May and a European theatrical release. The 1080p AVC encoded transfer is superb, as is the DTS MA audio. Extras include a DVD, digital copy, and mostly fluffy behind the scenes featurettes.

THE THREE STOOGES Blu-Ray/DVD/Digital Copy (**, 96 mins., 2012, PG; Fox): Well-meaning attempt by the Farrelly Brothers – following years of stops and starts (at one time the film was supposed to be produced at MGM with Sean Penn, Jim Carrey and Benicio Del Toro) – to resurrect the Three Stooges in a modern, family-friendly comedy simply isn't funny. Sean Hayes, Will Sasso and Chris Diamantopoulos star as the new Moe, Larry and Curly, who here leave the orphanage where they've been raised after the local diocese decides to close it down. Hoping to generate enough money to save their home, the boys try out a number of wacky jobs, including working for Sophia Vergara and meeting with the cast of "Jersey Shore" (now that's funny!).

Since I was never a fan of the old Three Stooges growing up – my dad and grandfather hated them, so I gravitated more towards Abbott & Costello – perhaps I'm not the target audience for the Farrellys' shenanigans in the first place. The central trio do a good job recreating the original Stooges here, but the slapstick gags are painful, and since the movie doesn't have anything else to fall back on, the film proves to be a torturous sit at 90 minutes.

Fox's Blu-Ray includes a 1080p transfer, DTS MA soundtrack, deleted/extended scenes, a number of featurettes, screen test, DVD and digital copy as well.

---
New From Shout! Factory

Our friends at Shout! Factory have a number of new DVD releases lined up for release over the next few weeks, before their highly anticipated line of "Scream Factory" horror Blu-Rays hits stores in the fall.

SMURFS AND THE MAGIC FLUTE DVD (71 mins., 1983; Fabulous/Shout!): Produced in 1976 but unreleased in the U.S. until 1983 – when "The Smurfs" had become a phenomenon thanks to Hanna-Barbera's NBC Saturday morning cartoon – "Smurfs and the Magic Flute" belatedly hits DVD in its uncut U.S. theatrical print from Fabulous Films and Shout! Factory. Unfortunately, the non-anamorphic 4:3 widescreen transfer leaves something to be desired, with compression issues in addition to its non-16:9 format (the end credits look like they've been spliced in from a VHS copy of the American print and lack any studio/copyright information), while the thin mono audio doesn't do justice to Michel Legrand's pleasant score. Still, "Smurfs" fans may be satisfied regardless to revisit a film that became the highest-grossing non-Disney animated feature at the time of its original U.S. release.


MYSTERY SCIENCE THEATER 3000: VOLUME XXIV DVD (aprx. 8 hours; Shout!): Shout!'s latest compilation of classic episodes from MST3K's lengthy run include one of the funniest shows in its history, "Fugitive Alien," plus "Star Force: Fugitive Alien II," "The Sword and the Dragon" and "Samson Vs. The Vampire Women." August Ragone contributes an introduction to another stalwart assortment of supplements here, which also boast a featurette interview with Frank Conniff, MST Hour Wraps, a conversation with producer Sandy Frank, two hilarious MST3K shorts ("Snow Thrills" and the hysterical "A Date With Your Family"), plus two mini-posters from artist Steve Vance. Highly recommended!

DIFF'RENT STROKES Season 3 DVD (aprx. 9 hours, 1980-81; Shout!): Picking up where Sony decided to leave off, "Diff'rent Strokes" fans will be delighted with Shout!'s third-season box-set from the NBC sitcom's 1980-81 season. By this point in the series' run, "Diff'rent Strokes" was still mixing comedic episodes with "very special" dramatic programs including the two-part "The Accident" where Mr. Drummond (Conrad Bain) loses his memory. (We're still a few seasons away from the infamous "Bicycle Shop" episode where WKRP's Gordon Jump unforgettably played a pedophile). Shout's three-disc DVD set includes all 22 episodes from the series' third season in fine full-screen transfers and mono soundtracks.

DESIGNING WOMEN: Season 7 [The Final Season] DVD (aprx. 9 hours, 1992-93; Shout!): Seventh and final season of the hit CBS sitcom tried to injject more life into its fading formula by dropping Julia Duffy's misguided sixth-season character and adding Judith Ivey as a rich Texas widow who invests in the Sugarbaker's firm. Ivey is more at home with the cast than Duffy was, but minus Delta Burke and Jean Smart, "Designing Women" was on its last legs anyway by the time the program entered its final 22 episodes. Shout!'s DVD bids a sayonara to Linda Bloodworth-Thomasen's series with satisfying full-screen transfers and stereo soundtracks.

THE ADVENTURES OF TINTIN Season 3 DVD (aprx. 5 hours; Shout!): Third and final season of Nelvana (Canada)'s animated adventures of Tintin, which aired globally in the '90s, include the mysteries "The Red Sea Sharks," "The Seven Crystal Balls," "Prisoners of the Sun," "The Castafiore Emerald," "Destination Moon," "Explorers on the Moon" and "Tintin in America." Full-screen transfers and stereo soundtracks comprise Shout's two-disc DVD release, which streets in August.

THE ROOKIES Season 2 DVD (aprx. 19 hours, 1973-74; Shout!): Aaron Spelling and Leonard Goldberg's ABC series returns to DVD in early August in a Season 2 release featuring all 23 episodes from "The Rookies"' 1973-74 sophomore season. Gerald S. O'Loughlin, Georg Stanford Brown, Sam Melville, Michael Ontkean (who would depart the series after this season) and a pre-"Charlie's Angels" Kate Jackson starred in this profile of rookie cops on the beat in Southern California. Shout's DVD package doesn't offer any extras but should suffice for fans of the series.

---
Blu-Ray Catalog Titles From Warner

A PERFECT MURDER Blu-Ray (**, 107 mins., 1998, R; Warner): Routine all the way through, director Andrew Davis's redo of "Dial M For Murder" is another classic movie update we could have easily lived without. Despite solid performances and efficient direction by Davis, the movie's script is so uninspired and plastic that any semblance of a twist somewhere along the line would have done the movie good.

Alas, there isn't one to be found anywhere in sight as Michael Douglas hires wife Gwyneth Paltrow's lover, Viggo Mortensen, to bump off his cheating spouse. Naturally, the planned murder turns out to be anything but perfect, and the rest of the movie plays itself out predictably and without any power, right down to the obligatory final "confrontation" sequence that, given this particular script, seems very much out of place. Furthermore, several lapses in plot logic and common sense pop up throughout the movie, nor more so than when the elegantly dressed Paltrow decides to visit Spanish Harlem – by herself – so she can visit a crime scene, and is, of course, saved from being attacked by stereotypical Hispanic bit players simply because she's intelligent enough to speak more than one language. (Sure, I believe that this would really happen!)

One of the main problems with the film is that the characters are so thinly drawn that we have no connection or real sympathy for any of them. Paltrow's character is hard to root for, Mortensen isn't given nearly enough screen time to create much of an impression, while Douglas – playing the same type of conniving slickster he essayed countless times before – is neither a monstrous villain (as the script would seemingly like him to be) or a sympathetic, albeit severely deranged husband who's simply lost his mind. Because Douglas's role rests firmly in the middle, the film's finale is a troubling one, particularly since its banal conclusion adeptly illustrates what's wrong with the screenplay more than anything else in the picture. At the end, we're supposed to feel an emotional "release" for the heroine, but instead we're left wondering just what Douglas's character was really all about. In never taking sides, the viewer is left dangling, watching a thriller without ever becoming engaged by it.

Had Douglas and Paltrow's relationship been sufficiently developed, "A Perfect Murder" could have made for a more complicated psychological study of a marriage gone wrong, at the same time it attempted to carve out its own place in the '80s/'90s genre of "steamy suspense thrillers." But this movie is only interested in playing the material at a bare surface level, failing utterly to find any nuance in the characters below the main plot. It's a mechanical movie that never really engages any emotion on behalf of the viewer – a perfect example of cookie-cutter movie-making.


Warner's Blu-Ray offers a good looking, DNR-free 1080p transfer with DTS MA audio (director Andrew Davis used a number of production personnel from his "Fugitive" triumph here, including composer James Newton Howard) along with extras from the old DVD release, including an alternate ending and two commentaries.

NEXT OF KIN Blu-Ray (***, 108 mins., 1989, R; Warner): Enjoyable, standard-issue action pic stars a post-"Dirty Dancing" Patrick Swayze as a tough Chicago cop, raised in the hillbilly backwoods of Appalachia, who seeks justice when his brother is gunned down in a mob killing. John Irvin's 1989 film didn't make much noise in theaters – and at times comes off as a reworking of the director's earlier Arnold vehicle "Raw Deal" – but these days, it's positively fascinating for its cast alone: Liam Neeson, Helen Hunt, Bill Paxton, Adam Baldwin, even a young Ben Stiller, not to mention a number of familiar bit players (Ted Levine, Michael J. Pollard, Andreas Katsulas and Del Close among them), all surface at one point or another. Swayze's laid back charm goes a long way to selling this sturdy, competent genre exercise, with Warner's Blu-Ray including a good-looking, if occasionally soft, 1080p AVC encoded transfer with 2.0 DTS MA stereo audio.

HARD TO KILL Blu-Ray (***, 95 mins., 1990, R; Warner): One of Steven Seagal's superior outings finds Seagal's L.A. detective Mason Storm recuperating after a devious politician (Bill Sadler at his slimy best) slaughters his family and leaves him left for dead after he uncovers a corruption plot. Of course, Sadler finds out the hard way that Seagal is – indeed – HARD TO KILL once the ponytailed one wakes up from a coma, just in time to punish the guilty and romance the lovely Kelly LeBrock (then Mrs. Seagal). Few surprises are served up in Bruce Malmuth's film, yet "Hard to Kill" manages to deliver the goods to nostalgic action lovers, and ranks as one of Seagal's more satisfying pictures. Another strong 1080p AVC encoded transfer and DTS MA soundtrack are on tap in Warner's new Blu-Ray release.

JUST CAUSE Blu-Ray (*½, 102 mins., 1995, R; Warner): Flaccid thriller had plenty of talent in front of and behind the camera, but ended up as a misfire for all involved. Sean Connery plays a Harvard law professor who investigates a newly reopened homicide case in the Florida everglades involving death row inmate Blair Underwood; Laurence Fishburne is the southern cop who clashes with Connery's methodology in a pedestrian adaptation of John Katzenbach's novel from veteran writers Jeb Stuart ("The Fugitive") and Peter Stone ("1776," the original "Pelham 123"), both of whom did far better work elsewhere. So did director Arne Glimcher, coming off some success with "The Mambo Kings," but who – tellingly – only directed one film (the obscure "The White River Kid") thereafter. Warner's Blu-Ray offers a crisp 1080p transfer nicely rendering the widescreen cinematography of Lajos Koltai – one of the film's sole positive attributes.


MURDER IN THE FIRST Blu-Ray (**½, 122 mins., 1994, R; Warner): Strong performances from Kevin Bacon, Gary Oldman and Christian Slater enliven this uneven, though occasionally powerful, account of Alcatraz prisoner Henri Young (Bacon), who after years spent in the penitentiary, kills the thug who put him away; his subsequent trial with lawyer Slater ends up putting Alcatraz itself and one of its wardens (Oldman) on trial. Fred Murphy's cinematography and Christopher Young's score give the film a touch of class, but director Marc Rocco tends to fixate on camera angles to an almost irritating degree. Warner's 1080p AVC encoded transfer is good, not great, and DTS MA audio rounds out the 25gb single-platter release.

CELLULAR Blu-Ray (***, 94 mins., 1994, PG-13; New Line): Exciting, briskly paced thriller from director David R. Ellis (based on a script by Larry Cohen) stars Kim Basinger as a woman kidnapped at gunpoint, who desperately cries out for help on her phone from a bewildered Chris Evans, who can't figure out her location. A series of twists and turns, with supporting performances from Jason Statham and William H. Macy, make for an engaging B-movie that performed moderately well at the box-office and is worthy of another look in HD. New Line's Blu-Ray includes the extras from its prior DVD (deleted scenes, featurettes, commentary) along with a new 1080p transfer and DTS MA soundtrack.

THE BUTTERFLY EFFECT Blu-Ray (*, 114/119 mins., 2004, R; New Line/Warner): Ridiculous thriller (and box-office hit) stars Ashton Kutcher as a college student who finds that he can travel back in time to when he encountered blackouts as a youngster. There, he's not only able to re-live tragic events involving his childhood friends, but also change events and alter the course of the present day he's living in.

Directors Eric Bress and J. Mackye Gruber previously helmed the by-the-numbers sequel "Final Destination 2," and their script for "The Butterfly Effect" at least proves more ambitious than their earlier work. Sadly, that's the most positive element one could say about this awful sci-fi drama, which puts Kutcher in a difficult role that finds him a playboy frat guy one moment, then a paralyzed student the next -- and none of it is played for laughs (at least intentionally).


The depressing events that Kutcher tries to change involve child abuse (with Eric Stoltz as a dad into juvenile porn), a tragic accident (involving the death of an infant), and animal cruelty. If that wasn't unappealing enough, Kutcher's character repeatedly finds out he can't totally change the course of the future, meaning we have to go back and watch those incidents over...and over...and over again. It's a repetitive structure that becomes more and more unintentionally funny as the film progresses, with Kutcher at one point sent to jail for would-be girlfriend Amy Smart's murder! (This leads to a hysterically awkward prison sequence that doesn't work at all). Later, he scurries around like a madman in the climax, trying to scribble down an ending that makes sense (needless to say, little does in this film!).

New Line's Blu-Ray offers the movie's theatrical release (114 mins.) plus a Director's Version (119 mins.) that includes a totally different ending. While I'm always supportive of seeing the filmmakers' original intentions, the Director's Cut finale is nearly as much of a disaster as the rest of the film, unwisely shifting the focus off Kutcher and onto Smart's character. By comparison, the re-shot ending used in the theatrical version manages to keep the bittersweet aspect of the film intact while making it as satisfying as the script allows (which, admittedly, isn't much). A 1080p transfer and DTS MA soundtrack are also included along with copious extras from the prior DVD release (other deleted/alternate scenes, commentaries, featurettes).

THE BUTTERFLY EFFECT 2 Blu-Ray (*½, 92 mins., 2006, R; New Line): Made-for-video follow up stars Eric Lively as a regular guy who attempts to change the events of a tragic accident by using his mind to telepathically (drum roll please)...alter history! I admit up-front that the presence of cute, perky Erica Durance (Lois Lane on "Smallville") automatically made this sequel superior to its predecessor for this critic – but beyond that, director John R. Leonetti's tired follow-up is distressingly pedestrian and wholly forgettable. New Line's Blu-Ray boasts a satisfying 1080p transfer, DTS MA soundtrack, featurette and commentary from the filmmakers. Too bad they couldn't have gone back and made a better sequel than this one!

---
More New Releases

THE LORAX Blu-Ray/DVD/Digital Copy/Ultraviolet (**½, 87 mins., 2012, PG; Universal): Box-office smash from last spring (over $200 million in domestic dollars) adapts Dr. Seuss' lyrical tale for a new generation with young teenager Ted uncovering the Lorax – a cantankerous but lovable forest-dwelling creature (voiced by Danny DeVito) who preaches a message about the environment that resonates as much (if not more so) today than it did upon the publication of the original book in the early '70s.

"Despicable Me" director Chris Meleandri and his Illumination Entertainment company bring their colorful visuals and character designs over to "The Lorax," working from a screenplay by Ken Daurio and Cinco Paul, who also wrote "Despicable Me" as well as Fox's production of "Horton Hears a Who." The material is, naturally, somewhat stretched out to feature length here, but the good natured humor and John Powell's songs and score pep up what occasionally threatens to become a heavy-handed sermon about ecological conservation.

Universal's Blu-Ray looks dazzling with a gorgeous 1080p transfer and DTS MA soundtrack. Extras include three all-new "mini movies" exclusive to Universal's combo pack releases, along with a deleted scene, games, and other featurettes, plus a couple of BD-exclusive games, a DVD, digital copy, and Ultraviolet edition as well (a 3-D version is sold separately).

MEETING EVIL DVD (89 mins., 2012, R; Sony): Misfired psychological thriller stars Samuel L. Jackson as a mysterious stranger who gets alcoholic, wimpy family man Luke Wilson wrapped up in a killing spree. Though adapted from a novel by Thomas Berger (author of "Little Big Man"), there's a reason Chris Fisher's picture went straight to video after premiering on HDNet, with awkward writing and direction putting the kibosh on Jackson's charismatic lead performance; after a watchable first half-hour "Meeting Evil" ends up going nowhere. Sony's DVD includes a 16:9 transfer and 5.1 soundtrack.


DETENTION Blu-Ray (93 mins., 2011, R; Sony): Absolutely bizarre comedy/horror/pop culture mash-up from director Joseph Kahn (who wrote "Detention" with Mark Palermo) stars Josh Hutcherson ("Hunger Games") and Dane Cook in a hyper-ADD tale of a movie villain named Cinderhella who comes to life, knocking off the students at Grizzy Lake High School. Kahn serves up some amusing moments but "Detention" is too much; over-edited, over-directed and over-saturated with gross-out humor which Kahn infuses along with numerous film and music references in an effort to cover the familiarity of its subject matter. Sony brings this juvenile thriller-comedy to Blu-Ray with several extras including screen tests, a Making Of and other extras, along with a colorful 1080p transfer and DTS MA soundtrack.

MY WAY Blu-Ray (143 mins., 2011, R; Well Go USA): Korea's most expensive film production to date, "My Way" chronicles the relationship between a Korean man and Japanese soldier – who after competing against each other in the Olympics – fight for the same side in the Japanese army during WWII...at least until they're captured by the Soviets and, later, the Nazis, where they fight on the Normandy beaches in 1944. Elaborately produced by director Kang Je-Kyu, "My Way" lands on Blu-Ray from Well Go, boasting DTS MA audio in both Korean (English subbed) and a dubbed English track. Extra features include interviews with the director and star Jang Dong-Gun, a featurette, and US and international trailers.

4.3.2.1 Blu-Ray (117 mins., 2011, Not Rated; Universal): British-made drama about four girlfriends (Emma Roberts, Tamsin Egerton, Shanika Warren-Markland, and Ophelia Lovibond) and their various misadventures in London failed to generate a theatrical run on this side of the pond – and with good reason, considering that Noel Clarke and Mark Davis' film is hopelessly contrived and tedious, made notable only for a curious supporting cast (Kevin Smith, Mandy Patinkin) comprised of whatever Americans were vacationing in the UK at the time of its production. Universal brings "4.3.2.1" to Blu-Ray next week in a 1080p transfer with 5.1 DTS MA audio and a featurette as its sole extra feature.

COLE YOUNGER AND THE BLACK TRAIN DVD (90 mins., 2012; Lionsgate): Modestly-budgeted western starring Michael Madsen and Cody McCarver follows Cole Younger's experiences with the Black Train, both as a youngster and later as a member of Jesse James' gang. A 16:9 transfer and 5.1 soundtrack adorn Lionsgate's DVD release.


SURVIVING HIGH SCHOOL DVD (aprx. 6 hours; Lifetime/NewVideo): Four-movie set from Lifetime sports four of the network's cable films: "Odd Girl Out" is a 2004 production with Alexa Vega as a high schooler bullied in class; 2006's" "Augusta, Gone," is a true story about a teenager whose life spirals out of control at age 15 after she engages in excessive drug/alcohol use; Megan Park stars as a student who makes life miserable for professor David Charvet in 2010's "The Perfect Teacher"; and the 2005 "For One Night" stars Raven-Symone as a African American teen who brings her high school's racially segregated proms together. Stereo soundtracks are included for each film in Lifetime's two-disc DVD package.

JODI PICOULT COLLECTION DVD (Aprx. 5 hours; Lifetime/NewVideo): Two-disc DVD set from Lifetime includes three adaptations of Jodi Picoult's best-selling novels: James Van Der Beek, Sarah Carter and Ally Michalka star in 2011's "Salem Falls"; Mariska Hargitay plays an attorney who defends an Amish teenager (Alison Pill) on trial for murdering her newborn in "Plain Truth"; and Megan Mullally plays a parent trying to make sense of a teen suicide pact in "The Pact."

QI GONG: DISCOVER THE ANCIENT ART (93/94 mins., 2012; True Mind)
TAI CHI: DISCOVER THE ANCIENT ART (107 mins., 2012; True Mind): True Mind's latest DVD release include a two-disc, comprehensive guide to the art of "Qi Gong," featuring Jian Liu Jun demonstrating nearly three-hours of techniques, broken into two discs (Disc 1 focusing on 18 different exercises; Disc 2 incorporating Chinese philosophy and traditional medicine).

"Tai Chi," meanwhile, also features Master Jian Liu Jun in a single-disc exploration of the centuries-old martial arts discipline, with, again, all the exercises fully explained and illustrated in detail. Both DVDs will be available on August 14th, and are also available for download/rental from Amazon.

JIRO DREAMS OF SUSHI Blu-Ray (82 mins., 2011, PG; Magnolia): Fascinating study of 85-year-old Jiro Ono, a Japanese sushi chef whose unassuming, 10-seat restaurant in a Tokyo subway station has earned worldwide accolades. You needn't be a sushi lover to get a kick out of this terrific documentary from director-producer David Gelb, which Magnolia releases on Blu-Ray this week in a 1080p transfer with DTS MA audio. Extra features include commentary with Geld, the trailer, deleted scenes and other tasty tidbits.
---
New From Fox's Cinema Archives Collection

Twentieth Century Fox is the latest studio to travel down the Manufactured on Demand DVD-R route with rare titles sold directly at Amazon among other outlets. There's a bit of a hit-or-miss variety to their initial batch of titles, however, which include:

SUEZ (98 mins., 1938): Early Fox production with Tyrone Power and Loretta Young focuses on the building of the Suez Canal. Fox's B&W transfer is pretty solid for the most part here (for a late '30s film), though having never seen the picture previously, I have nothing to compare it with.

FRAULEIN (97 mins., 1958): A German girl (Dolores Michaels) helps the Allies during WWII in Henry Koster's 1958 Cinemascope spectacular co-starring Dana Wynter, Mel Ferrer and Theodore Bikel. Unfortunately, this first-ever home video release of "Faulein" is compromised by a 4:3 pan-and-scan hatchet job – though I at least give Fox some credit for actually saying the disc is indeed "pan and scan" on the back cover. A disappointment.

DIPLOMATIC COURIER (98 mins., 1952): Henry Hathaway directed this Cold War spy tale about an agent (Tyrone Power) sent on a mission to uncover secret info on Russia's plans to invade Yugoslavia. Patricia Neal and Stephen McNally co-star in this 1952 Fox release, which here includes a respectable B&W transfer in its original 1.33 aspect ratio.

THEY CAME TO BLOW UP AMERICA (73 mins., 1943): George Sanders stars in as a German-American FBI agent who foils Nazi plans in this 1943 Fox programmer co-starring Anna Stein and Ward Bond. Fox's B&W transfer is in its original 4:3 aspect ratio and looks satisfying enough given the age of the picture.

---
TV on DVD

MELROSE PLACE - The Final Season Volumes 1 and 2 DVD (1998-99, aprx. 12 and 13 hours each; CBS): Josie Bissett, Thomas Calabro, Rob Estes, Kelly Rutherford, Jack Wagner and, of course, Heather Locklear finished up their run on Fox's staple soaper with a lengthy final season split into two separate DVD volumes from CBS. Volume 1 offers 18 of "Melrose"'s final shows while Volume 2 wraps up the run with a 17 episode compilation. 4:3 full-screen transfers and stereo soundtracks are on-hand on both discs.

LEVERAGE - Season 4 DVD (792 mins., 2011; Fox): Timothy Hutton returns as Nate Ford, the head of a team of con artists, in TNT's popular cable series "Leverage." Season 4 finds the team heading to Alaska to help with a disappearance and taking on a villain who's been spying on their activities. Fox's DVD set includes all 18 episodes in 16:9 transfers and 5.1 soundtracks with commentaries on every episode; deleted scenes; a gag reel; and two behind the scenes featurettes along with "The Office Job" parody.

TREASURE ISLAND Blu-Ray (183 mins., 2011; Gaiam/Vivendi): The debut of Robert Halmi-produced mini-series used to be a notable event on TV – these days, though, new efforts from his RHI label seem to go by largely unnoticed. This free (very) adaptation of Robert Louis Stevenson's novel seems to take more of its mark from "Pirates of the Caribbean" than its source material, with an accent on action as Jim Hawkins (Toby Regbo) runs into the immortal Long John Silver (Eddie Izzard, bringing the most energy to the material here) while searching for lost treasure. Elijah Wood and Donald Sutherland co-star in a watchable new take on the well-worn classic novel which Vivendi brings to Blu-Ray this month following a premiere on the Syfy Channel a couple of months back. Their BD includes a 1080p transfer and DTS MA soundtrack with a number of extras, including commentary from director Steve Barron and Izzard, interviews, Making Of and other featurettes.

STRIKE BACK Season 1 Blu-Ray/DVD/Digital Copy (600 mins., 2012; HBO): Cinemax Original Series – produced in association with British Sky Broadcasting – follows a covert special ops intelligence agency dubbed "Section 20," and the two men – one British, one American – who lead it, trotting around the globe on the trail of deadly terrorists. Action-packed, predictable (sort of like "24 Jr." with more sex and violence), and based on Chris Ryan's book, "Strike Back" fared well for Cinemax (Season 2 premieres later next month) and hits Blu-Ray in a combo pack from HBO also including a DVD and digital copy. The 10 episodes are presented in 1080p AVC encoded transfers with DTS MA audio and include five cast/crew commentaries on the supplemental end.

PARENTHOOD Season 3 DVD (apx. 13 hours, 2011-12; Universal): Third season of the popular NBC series – a spin-off of sorts from the 1989 Ron Howard drama-edy – continues the adventures of the Braverman family, with guest stars including Jason Ritter and John Corbett. Universal's DVD includes deleted scenes, a full deleted story line, commentaries and 16:9 transfers/5.1 soundtracks.
CHILDREN'S HOSPITAL Season 3 DVD (155 mins., 2011; Warner): Ribald "Adult Swim" Cartoon Network series returns to DVD this week in a season three DVD set featuring all 14 episodes starring Rob Corddry, Malin Akerman, Lake Bell, Ken Marino, Megan Mullally and Henry Winkler. Warner's DVD includes deleted scenes, a gag reel, featurette, bloopers and web promos, plus a 16:9 transfer and 2.0 Dolby Stereo soundtrack.

NEXT TIME: JAWS on Blu-Ray! Until then, don't forget to drop in on the official Aisle Seat Message Boards and direct any emails to our email address. Cheers everyone!