Message Board - Come and Discuss The Latest Videos, Movies & Anything Else!
Mid to late August has perennially been a weak time for new theatrical releases. When I was growing up, it was always the dumping grounds for expected hits that studios shuffled away in full acknowledgment that they weren't the films they were supposed to be (hello, "Superman IV: The Quest For Peace"). These days, some minor hits have popped up in the waning days of August, and this year has produced another sleeper: screenwriter David Koepp's exciting PREMIUM RUSH.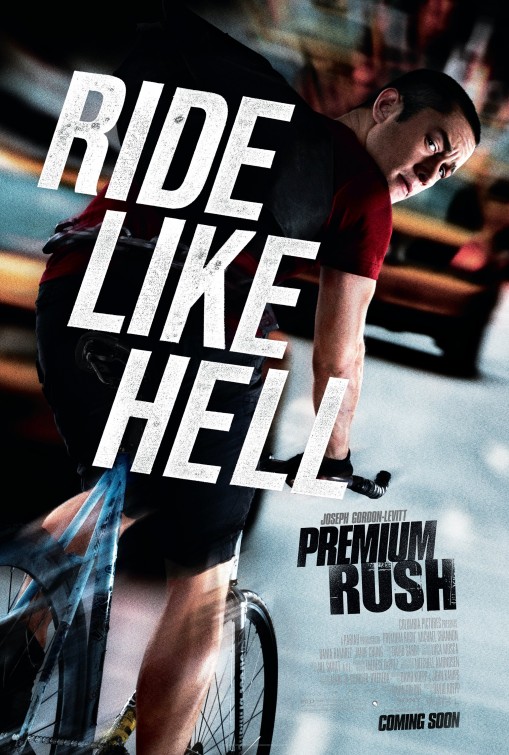 A tidy, edge-of-your-seat thriller that recalls Kevin Bacon's '80s misfire "Quicksilver" in premise only, "Premium Rush" likewise follows a NYC bike messenger – here superbly portrayed by Joseph Gordon-Levitt – who's been charged with delivering a parcel to Chinatown...one that NYPD cop Michael Shannon is highly interested in. Trying to stay one step ahead of his pursuer, Gordon-Levitt darts in and out of midtown traffic, trying to figure out what he's carrying and help out a college acquaintance – a young Chinese woman – whose life seems to be riding on the outcome of his delivery.

I've long criticized some of Koepp's scripts for high profile summer movies (particularly his efforts for Steven Spielberg, including the underwhelming "War of the Worlds" and"The Lost World: Jurassic Park"), but "Premium Rush" – written with John Kamps – ranks as one of his tightest, and most satisfying, screenplays, managing to mix a fast-moving action film with a twisty, compelling story that packs more of an emotional punch than anticipated. The authentic locations add immeasurably to the film's many scenes of Gordon-Levitt and his fellow bikers being an inch or two away from certain disaster, maneuvering through a maze-like succession of traffic, pedestrians and lousy Big Apple drivers; Koepp the director, meanwhile, deftly mixes in flashbacks to tell a story that works just perfectly in the short, 90-minute time frame employed here.

"Premium Rush" didn't make much noise in theaters this past weekend, and seemed to fly under the radar completely in terms of most viewers' pre-release awareness (I hadn't even heard of the film until it opened Friday). That's unfortunate, because it's the complete opposite of the bloated, overlong $200 million typical blockbuster most studios are interested in these days. If you're looking for a short but sweet, fresh Hollywood movie, "Premium Rush" puts a splendid cap on the (surprisingly good) summer movie season of 2012. (***, 91 mins., PG-13; Sony)
---
New & Upcoming on Blu-Ray
In stark comparison to the frivolous Julia Roberts vehicle "Mirror, Mirror" is Universal's summer hit SNOW WHITE AND THE HUNTSMAN (128/132 mins., PG-13/Unrated, 2012; Universal), a lavish, entertaining fantasy adaptation of Grimms' fairy tale from first-time feature director Rupert Sanders.


Kristen Stewart is Snow in this dark, compelling version fashioned by writers Evan Daugherty, John Lee Hancock and Hossein Amini. In their decidedly serious take on the subject, Snow's father is murdered by her new stepmother (Charlize Theron), who promptly imprisons his daughter until she's able to break free and seek refuge in the dark forest. Needing her back, alive, Theron's Queen sends a washed-up huntsman ("Thor"'s Chris Hemsworth) after her, though he questions her motivations -- as well as his own -- after he runs into the young heroine.

Happily eschewing the CGI'd green-screen approach of so many other, recent genre films, "Snow White and the Huntsman" benefits enormously from its real-world UK location shooting. The film looks like an actual, lived-in environment, and its "realistic" visuals are matched by equally strong performances, especially from Theron (in one of her juiciest roles) and Hemsworth, who does some nice work in a scene with the cursed Snow late in the film. For her part, Stewart does as much with the character of Snow White as the script allows – I bought her in Snow's empathetic scenes with the natural world, but she doesn't really have much to do in comparison with the other leads. There are also the dwarves, here played by a collection of character actors CGI'd to smaller proportions (Bob Hoskins, Ian McShane and Ray Winstone among them), but the film doesn't do nearly enough with that concept as it should have.

The plot itself is surprisingly rich and traditional – not in terms of it being a fairy tale, but rather an old-fashioned cinematic fantasy-adventure – and is backed by impressive cinematography, costumes, and a satisfying mix of character and action. Sanders draws you in and lets the film breathe, and while there are CGI beasts, the film's emotional draw is human – rather than technical – in nature, and ends on a particularly satisfying beat (with a robust James Newton Howard score). Even more satisfying than the likes of "Willow" and "Dragonslayer," this "Snow White" is a surprisingly good "revisionist" take of the oft-told tale on nearly every level.

Universal brings "Snow White and the Huntsman" to Blu-Ray on September 11th in a combo pack featuring both the theatrical version and a slightly extended, 132-minute unrated cut. Extra features are fairly light – just a few making Of featurettes and commentary are on-hand – but the transfer (1080p AVC) is terrific, as is the DTS MA audio. A DVD and digital copy (both Ultraviolet and standard itunes-variety) are also included. (***½)

---
Also New on Blu-Ray

For exploitation fans, horror nuts and 3-D enthusiasts, you couldn't find a more fitting film to unofficially end the summer season with than PIRANHA 3DD (**, 83 mins., 2011, R; Anchor Bay), the gleefully bad, junky sequel to Alexandre Aja's 2010 hit which – despite its token theatrical release last May – seems to have been shot with the small-screen in mind to begin with.

This time out, the prehistoric piranhas have moved along to another group of underground lakes in Arizona, just in time for the relaunch of a water theme park run by college grad Danielle Panabaker and her resident, obnoxious stepfather David Koechner. Having tapped into the water supply where the piranhas are swimming about, "The Big Wet Water Park" is about to be the site of yet another bloody massacre once the piranhas arrive – about the same time as David Hasselhoff, playing himself as he hits "rock bottom" as the attraction's big guest star.

Aja's original "Piranha" was an over the top, almost cheerful exercise in horror mayhem, and it's surprising – given the film's success – that the Weinsteins decided to go the cheap route with producing a follow up. Veterans of Dimension's home video sequels including director John Gulager and producer Joel Soisson were brought in to make "Piranha 3DD" on a clearly reduced budget, with notably diminished make-up effects (gorehounds will surely be disappointed by the reduction of severed heads and limbs here) and a B-list, younger cast (Christopher Lloyd does show up, briefly reprising his role from the original; so does Ving Rhames, who wisely opted to go uncredited under the circumstances).

Make no mistake, "Piranha 3DD" isn't anything close to resembling a good movie, but once you realize this is essentially a trashy direct-to-video sequel – and acknowledge the diminished set of expectations that comes with the territory – the film still provides a modest amount of entertainment. This is especially true when it comes to Hasselhoff's involvement, which yields several big laughs (no more so than when the aging star, in lifeguard gear, runs to aid an obnoxious young boy to the strains of the "Baywatch" theme). The 3-D isn't anything spectacular – and the thrills never come close to matching the epic carnage of its predecessor – but the movie still provides a fast assortment of corpses, T&A and the occasional cameo from a genre character actor (in addition to Lloyd, Rhames, and "The Hoff," Gary Busey is offed in a weak opening sequence). It also wraps things up at around the 70-minute mark and adds some 10 minutes of amusing bloopers that roll over the end credits. It's not good, but it's certainly fun if you can get into the right mindset.

Anchor Bay's Blu-Ray combo pack (3D, 2D and DVD) of "Piranha 3DD" includes a generally good 1080p MVC encoded 3-D transfer. There's ghosting in the image during the Busey sequence, but from that point forward, the natively-shot 3-D looks fine – the issue is that the 3-D isn't particularly well utilized by Gulager, so few effects stand out. The DTS MA 5.1 soundtrack is sound, and extras (on the 2D Blu-Ray) include commentary by Gulager, a couple of deleted scenes, a few featurettes with Hasselhoff, Koechner and Busey, and a worthless four-minute Michael Ratner "comedy" short, "A Lesson with John McEnroe."


THE LUCKY ONE Blu-Ray/DVD (***, 101 mins., 2012, PG-13; Warner): While I haven't been a big admirer of most of the films adapted from Nicholas Sparks books, there's just something appealing about "The Lucky One," a well-made adaptation of one of Sparks' countless romantic tomes from "Shine" director Scott Hicks.

Zac Efron is much better than anticipated here as a U.S. army vet, trying to readjust to life after three tours of duty in Iraq, who sets out to find his "guardian angel": a torn photograph of a lovely young blonde that he found in the rubble during combat. Efron's journey takes him to a gorgeous Louisiana seaside community (mistakenly listed as North Carolina on the disc's packaging) where the girl turns out to be a divorced mom (Taylor Schilling) trying to recuperate on her own from the death of her brother and her fractured relationship with an abrasive ex-husband (Jay R. Ferguson). The two forge an immediate relationship but her emotional issues and the presence of her ex threaten both of their futures.

"The Lucky One" provides few surprises – this is basically a standard romantic drama not unlike any Hallmark Channel original movie – but what makes the film work is the overall quality of the filmmaking and its appealing performances. Efron and Schilling generate an awful lot of chemistry together here, and both provide likeable characterizations that make it easy for viewers to pull for them. What's more, Hicks' fine lensing – complete with color-drenched cinematography by Alar Kivilo – raises the material a notch above most of the prior Sparks films, while Mark Isham's truly superb score (sadly unreleased as of yet) adds a further emotional layer to the entire picture. Though no classic, as "date movies" and recent romantic dramas go, "The Lucky One" is one of the best I've seen in some time.

Warner brings "The Lucky One" to Blu-Ray this week in the form of a combo pack also offering a DVD and Ultraviolet copy. Extra features are fairly lightweight here, comprised of three featuretes, while the disc technically is capped by a splendid 1080p transfer that really makes the visuals sing along with a 5.1 DTS MA soundtrack.


THE PIRATES! BAND OF MISFITS 3-D Blu-Ray/Blu-Ray/DVD/Ultraviolet (**½, 88 mins., 2012, PG; Sony): Mild animated feature from the "Wallace & Gromit" team adapts one of Gideon Defoe's popular books, chronicling the misadventures of the Pirate Captain (voiced by Hugh Grant) and his rag-tag band of misfits. In addition to trying to win the coveted "Pirate of the Year" award, the gang end up running into a young Charles Darwin and battling Queen Victoria for control of the high seas.

Directed by Peter Lord ("Chicken Run") and scripted by Defoe from his book "The Pirates! In An Adventure With Scientists" (the movie's overseas title), there's plenty of beautifully rendered stop-motion animation on-hand in "The Pirates!" to warrant a viewing for animation enthusiasts alone. My issue is that the film simply isn't funny enough, and feels overly episodic – perhaps an issue inherent with Defoe's screenplay. There are interesting touches and colorful characters who appear throughout the movie, yet the sense of humor didn't really connect with me – it's entirely possible it might with other viewers, though, since truthfully I was never as crazy about "Chicken Run" as others were. With that in mind, "The Pirates!" (which failed to drum up much box-office, making only $32 million domestically last spring) is worth a modest recommendation, and is certainly entertaining enough to please family audiences.

Sony brings "The Pirates!" to Blu-Ray this week in a number of different flavors. The 3-D Blu-Ray (which also includes the standard BD and DVD, plus an Ultraviolet copy) looks great, but the 3-D format isn't particularly well used here – there's little in the way of "pop up" effects and not much dimensionality to the image, making the standard Blu-Ray a better representation, overall, of the film's visuals. The DTS MA soundtrack is excellent and special features include an all-new mini-movie, "So You Want to Be a Pirate?," complete with commentary, along with several Lord short movies and a few interactive games.

STARSHIP TROOPERS: INVASION Blu-Ray/Ultraviolet (89 mins., 2012, R; Sony): So-so animated CGI feature continues the storyline from the very first "Starship Troopers," with a rogue soldier leading a group of troopers against another bug invasion – one that this time threatens Earth itself. Original movie characters including Johnny Rico (again voiced by Casper Van Dien, who also co-produced the film), Carmen Ibanez and Carl Jenkins also make an appearance in this middling affair, which is hurt by mediocre animation from a Japanese company that's inferior to the types of cut scenes we routinely see in modern video games. There's also R-rated gore (and some hilariously bad nudity) that places this somewhere inbetween the Paul Verhoeven original and the more kid-friendly CGI animated series "Roughnecks: Starship Troopers Chronicles." Overall, it's maybe worth a viewing for die-hard Troopers fans, and is at least superior to the two direct-to-video live-action follow-ups produced over the last decade.

Sony's Blu-Ray includes an 11-part Making of, deleted scenes, commentary, a gag reel, and a BD exclusive conceptual art gallery. The AVC encoded 1080p transfer and DTS MA soundtrack are both fine.


THE FIVE YEAR ENGAGEMENT Blu-Ray/DVD/Digital Copy (**½, 125/132 mins., 2012, R/Unrated; Universal): Producer Judd Apatrow's streak of box-office hits was broken with this underwhelming spring reunion of the "Forgetting Sarah Marshall" tandem of writer/star Jason Segel and writer/director Nicholas Stoller. There are, however, some nice moments in "The Five Year Engagement," which profiles the rocky road of couple Segel and Emily Blunt on the way to the altar, alternately bickering and romancing one another along the way. Segel and Stoller's script is repetitive in nature and really bogs down in the film's bloated mid-section before recovering for a moderately effective conclusion; the performances are all solid too, but the film could've used some trimming. Universal's Blu-Ray includes both the 125-minute theatrical version and an unrated cut running seven minutes longer (the R rated version is plenty long enough as is), along with deleted scenes, a gag reel, commentary and Making Of featurettes, plus an excellent AVC encoded 1080p transfer, DTS MA soundtrack, DVD and digital copy.

THINK LIKE A MAN Blu-Ray (**½, 122 mins., 2012, PG-13; Sony): Box-office hit ($95 million in domestic revenue) from last spring adapts Steve Harvey's non-fiction bestseller in the form of a formulaic romantic comedy centered around a handful of different couples (played by Michael Ealy, Jerry Ferrara, Meagan Good, Regina Hall, Kevin Hart, Taraji P. Henson, and Gabrielle Union among them) and their interaction with one another based on some of the points in Harvey's book (the author plays himself as well). A few laughs and some relevant social messages are rendered in an easy-going fashion by director Tim Story, with Keith Merryman and David A. Newman's screenplay doing a better than expected job making Harvey's book function within the confines of a standard romantic comedy framework. Sony's Blu-Ray includes a gag reel, deleted scenes and four format-exclusive featurettes (The Guy Code, Men vs. Women, He Said She Said, Comedy Behind the Scenes), plus a perfect 1080p transfer, 5.1 DTS MA soundtrack and Ultraviolet streaming copy.

DARLING COMPANION Blu-Ray (*½, 104 mins., 2012, PG-13; Sony): Where have you gone, Lawrence Kasdan? His latest, little-seen picture, "Darling Companion," is another dramatic fizzle that makes you wonder whatever happened to the guy who directed '80s favorites like "Body Heat" and "Silverado." "Darling Companion" at least managed to attract a fine cast (though one wonders whether any of them paused to actually read the screenplay) with Diane Keaton starring as an unhappy Denver wife who manages to bond with a stray dog that eventually goes missing under the watch of her obnoxious husband Kevin Kline. Their pursuit to retrieve the cute canine leads to every character, naturally, learning something about themselves in a painfully slow-going, and charmless, film that manages to make Kasdan's "Mumford" misfire look good – even with numerous Kasdan collaborators returning to the fold here (editor Carol Littleton, composer James Newton Howard among them). Sony's Blu-Ray boasts a 1080p transfer and plenty of extras, including commentary from Kasdan, Kline and his wife, Meg, who co-wrote the film with her husband; several behind-the-scenes featurettes; and a DTS MA soundtrack.


TOUCHBACK Blu-Ray (**½, 121 mins., 2011, PG-13; Anchor Bay): Admirably acted, though way overlong, "feel good" drama about a struggling farmer (Brian Presley) who flashes back to his high school glory days – and improbably gets the chance to "do over" a championship game that permanently altered his future life forever. Kurt Russell (as, naturally, Presley's tough coach), Christine Lahti (as his mom), Melanie Lynsky and Marc Blucas all do a fine job supporting Don Handfield's picture, which tries to do for football what "Field of Dreams" did for baseball. It's far too long and pokey to really deliver, but "Touchback" is certainly a pleasant film with a nice score by William Ross and a good sense of time and place. Anchor Bay's Blu-Ray includes commentary from Presley and Handfield, a Making Of featurette, Dolby TrueHD 5.1 soundtrack and 1080p transfer. (Note: "Touchback" is a Walmart exclusive for the time being)

HOME RUN SHOWDOWN Blu-Ray (94 mins., 2010, Not Rated; Image): A precocious 12-year-old convinces a former aspiring pro player (Matthew Lillard) to manage a new little league team in this inoffensive comedy for kids. Dean Cain co-stars as Lillard's pompous ex-major league brother with Annabeth Gish and Barry Bostwick chipping in additional support. Image's Blu-Ray includes a 1080p transfer with 5.1 DTS MA sound.

WHITE VENGEANCE Blu-Ray (138 mins., 2012, Not Rated; Well Go): Hong Kong period film set during the fall of the Qin Dynasty, where Liu Bang (Leon lai) and Xiang Fu (Feng Shaofeng) find themselves as former friends who battle one another for rule of insurgent lands during the "Feast at Hong Gate." Daniel Lee helmed this predecessor to the "Red Cliff" rebellion that Well Go brings to Blu-Ray this month with DTS MA 5.1 audio (in Mandarin with English subtitles), plus a trailer, cast/crew interviews, international trailer and a behind-the-scenes featurette.
---
New From Criterion

Silent film enthusiasts ought to be thrilled with Criterion's release of LONESOME (69 mins.), a 1928 Universal feature from director Paul Fejos, a unique Hungarian who also, in addition to filmmaker, counted doctor and anthropologist among his many lifelong pursuits.


The film's subject matter isn't anything out of the ordinary for the genre – "Lonesome" tells the story of a lonely man (Glenn Tryon) and equally single woman (Barbara Kent) living in the urban chaos of New York City, who find one another while on an outing to Coney Island but then become separated when a fire breaks out on one of the rollercoasters. What makes "Lonesome" fascinating are the real locations matched with Fejos' ahead-of-its-time direction, which employs a moving, "inquisitive" camera, plus color-tinted sequences, unconventional editing and even several sound sequences that were added after the fact to appeal to Hollywood's transition out of the silent era.

Those dialogue sequences may be limp, but the film itself otherwise is one of the more unusual silent films I've ever seen: instead of being static and stilted, the picture has an energy that's a testament to Fejos' style, in addition to an interesting, overriding theme of individuals being lost in the day-to-day world of contemporary life – something that gives the film a timelessness that holds true today.

A film festival favorite, "Lonesome" makes its home video debut with Criterion's Blu-Ray release (also on DVD). The 1080p B&W/color tinted 1.33 transfer is quite good given the extensive restoration performed on the picture, with a fascinating commentary from historian Richard Koszarski; a reconstructed sound version of Fejos' 1929 musical "Broadway," with its all-color finale intact; Fejos' 1929 silent "The Last Performance" with Conrad Veidt; a 1963 visual essay on Fejos' life from Paul Falkenberg; an interview with Hal Mohr about the "Broadway" camera crane; and extensive booklet notes all included on the supplemental side.

Also new from Criterion this month is The Who's QUADROPHENIA (120 mins., 1979), a tremendously atmospheric coming-of-age tale set to Pete Townshend staples ("5:15," "Love Reign O'er Me," "I've Had Enough") from first-time director Franc Roddam.

Long a cult favorite, this tale of disaffected youths in early '60s London boasts a crisp stereo soundtrack and excellent cinematography from Brian Tufano and Roddam, which has been enhanced immeasurably here by an effective, detailed AVC encoded 1080p transfer. Criterion's customary outstanding extras include a commentary with Roddam and Tufano; an interview with Bill Curbishley, The Who's manager; new interview with sound engineer Bob Pridden; a 1979 segment from the BBC's series "Talking Pictures"; an excerpt from a 1964 French news program about mods and rockers, plus a 1965 episode of the French "youth culture" program "Mods"; Townshend's liner notes from the 1973 "Quadrophenia" album and other extras in the booklet notes. The 2.0 DTS MA audio (designed by Pridden) packs an expectedly strong punch.

---
New From E One/IFC

FBI agent Audrey Parker is back for more mystery and supernatural happenings in Season 2 of HAVEN (aprx. 572 mins., 2011), the Syfy Channel series that's about to return after a hiatus for its third season in later September. E One's DVD box set includes all 13 third-season episodes in 16:9 (1.78) transfers and 5.1 soundtracks. Extras include the Christmas episode "Silent Night"; commentaries on 10 episodes; six Making Of featurettes; five additional featuretes; interview with guest star Adam Copeland; and the Haven panel from the New York Comic Con...The ridiculous GIRLS GONE DEAD (105 mins., 2012, Unrated) finds a gaggle of scantily-clan high school girlfriends running afoul of a medieval war hammer-wielding nutjob in a crazy DVD Special Edition from E One. Five featurettes, Making Of materials, five music videos, deleted/extended scenes, a blooper real, interviews and commentary are on tap in the DVD along with a 16:9 (2.35) transfer and 5.1 soundtrack...A THREE STOOGES CELEBRATION (315 mins., 2012) also hits DVD this month offering a number of rough-looking Stooges public domain shorts ("Disorder in the Court," "Hollywood On Parade," "Knife of the Party") plus vintage Three Stooges early '60s cartoons. Mono soundtracks and a bonus documentary, "A Three Stooges Celebration," are also on tap in the double-disc set...Emily Hagins' MY SUCKY TEEN ROMANCE (77 mins., 2011, Nort Rated) is a minor indie comedy that follows a couple of teens who unwittingly become vampires during "SpaceCon." Media geeks might get a few chuckles out of this uneven work that IFC brings to Blu-Ray this month sporting a commentary from the writer/director, behind the scenes featurette, a deleted scene, bloopers, the trailer, the short "Cupcakes," a 1.78 1080p transfer and 2.0 stereo sound...Virgil Films releases Jennifer Gargano's 8:46 (55 mins., 2011), a short feature focusing on a number of individuals affected by 9/11. A portion of proceeds from the film's sales will go to the Tuesday's Children foundation, and the DVD includes more information on the charity, in addition to a 16:9 transfer and 5.1 soundtrack...the upcoming AREA 407 (90 mins., 2011, Not Rated) is a weak, cheapy horror tale of a plane that crashes in a government test area complete with dinosaur-like monsters. Few thrills and a lame ending comprise this effort from Dale Fabrigar and Everette Wallin, which IFC brings to DVD with a 16:9 transfer and 5.1 soundtrack. Skip it....Finally, Scott Speedman plays a WWII vet who turns to robbing banks in order to support his family in the Canadian film CITIZEN GANGSTER (105 mins., Not Rated), based on true events and co-starring a predominantly Canadian cast (along with Brian Cox). IFC's DVD includes interviews, the trailer, a 16:9 transfer and 5.1 soundtrack.

---
New TV on DVD

THE OFFICE: Season 8 Blu-Ray/DVD (aprx. 9 hours; 2011-12; Universal). WHAT IT IS: When Steve Carell decided to depart "The Office," NBC understandably opted to keep one of its highest rated series going in the hopes that the program could revitalize itself with a new boss in charge of Dunder-Miflin's Scranton branch. Unfortunately, instead of hiring one of several 'candidates' as seen in the show's 7th season finale, the producers instead gave Ed Helms' Andy Bernard the job instead, and complimented his comedic stylings with an expanded role for James Spader's "Robert California." That decision derailed, immediately, any hopes of "The Office" existing on its own minus Michael Scott, since there's zero chemistry between Helms and Spader, and that's all you need to know about the eighth season of "The Office." This often painful year has few comedic highlights as the writers clearly struggled to find a foundation for the series minus its original star – tellingly, they brought Catherine Tate back midway through the season in an attempt to build more of the show around her character, Nellie Bertram, but by then the seams had begun to show (and then some). To nobody's surprise, Season 9 of the series has recently been announced as its last. BLU-RAY BREAKDOWN: Universal's Blu-Ray of "The Office"'s eighth season includes fine 1080p transfers, DTS MA soundtracks and lots of extras, including extended episodes, over 100 minutes of deleted scenes, a blooper reel, webisodes and promos, plus DTS MA soundtracks. AISLE SEAT BOTTOM LINE: I've been a big fan of "The Office" but this eighth season is far and away its weakest, with limp writing and an obvious lack of direction – undoubtedly the reason why NBC decided to end the series with its upcoming ninth season. Hopefully the writers can pull it together to give this Thursday night staple the send-off it deserves.

PARKS AND RECREATION: Season 4 DVD (aprx. 8 hours, 2011-12; Universal). WHAT IT IS: The fourth-season of the low-rated but generally acclaimed NBC comedy finds Amy Poehler's Leslie Knope setting her sights on running for the City Council, and the shenanigans that ensue when she runs against Paul Rudd for the position. Megan Mullaly and Louis C.K. are among numerous guest stars who appear throughout the terrific Season 4 of "Parks and Recreation," which Universal brings to DVD this month in a multi-disc set offering all 22 episodes in 16:9 transfers and 5.1 Dolby Digital soundtracks. DVD RUNDOWN: Extras include four extended episodes, deleted scenes, an uncensored gag reel, webisodes, a music video, campaign ads and other extras. AISLE SEAT BOTTOM LINE: Well worth it for fans.
30 ROCK: Season 6 DVD (aprx. 7 hours, 2012; Universal). WHAT IT IS: Tina Fey's Liz Lemon has found domestic bliss but still has to contend with the shenanigans of Jack Donaghy (Alec Baldwin), Tracy Jordan (Tracy Morgan), Jenna Maroney (Jane Krakowski) and Kenneth Parcell (Jack McBrayer) in this sixth season of "30 Rock." Like "The Office," NBC has announced that the upcoming seventh season of the series will be its last; unlike its Thursday counterpart, "30 Rock" is still well-written and sharply performed. DVD RUNDOWN: Universal's DVD set of "30 Rock"'s sixth season includes commentary tracks from the cast/crew; deleted scenes; behind-the-scenes of "Live From Studio 6H"; the West Coast version of the live episode; 16:9 transfers and 5.1 soundtracks.

UP ALL NIGHT: Season 1 (aprx. 8 hours, 2011-12; Universal): Christine Applegate and Will Arnett play a couple with a newborn who struggle to mix parenthood with their former social life in this amiable, if not particularly funny, new Lorne Michaels/NBC comedy (from what I've sampled; the series did manage to get a renewal notice for a second year). "Up All Night" co-stars Maya Rudolph as Applegate and Arnett's talk-show host best friend and a wide array of guest stars include Jason Lee, Molly Shannon, Megan Mullally and Stevie Nicks among others. DVD RUNDOWN: Universal's Season 1 set of "Up All Night"'s first season includes 16:9 transfers and 5.1 soundtracks, a music video and deleted/extended scenes.


THE STREETS OF SAN FRANCISCO: Season 4 Volumes 1 and 2 DVD (603 and 556 mins., 1974-75; CBS). WHAT IT IS: Fourth season of the classic '70s police procedural reunites Michael Douglas' young Steve Keller with Karl Malden's gruff Lt. Mike Stone in what would be Douglas' final full year on the series (his producing and feature acting career would soon lead Douglas to depart from the show at the start of its fifth season). 23 episodes are included along with a wide variety of guest stars, with Bill Bixby, Dick Van Patten, Mark Hamill, Tom Selleck, Stefanie Powers, Larry Hagman, and Maurice Evans among them. DVD RUNDOWN: CBS' two individual volumes (they are also being sold bundled together) include crisp full-screen transfers and mono soundtracks. AISLE SEAT BOTTOM LINE: "Streets" fans should be happy with another sterling catalog release from CBS.

THE LIEUTENANT: The Complete Series DVD Part 1 (810) and Part 2 (845 mins., 1963-64; Warner Archive). WHAT IT IS: Gary Lockwood starred in this short-lived series from creator-producer Gene Roddenberry as a Marine lieutenant named William Tiberius Rice (sound familiar?) at Camp Pendleton who's kept in line by the veteran Captain Rainbridge (Robert Vaughn) as they train new recruits. Noteworthy for its familiar faces (Robert Duvall, Dennis Hopper and future "Star Trek" stars Leonard Nimoy, Nichelle Nichols, Walter Koenig, Ricardo Montalban and Roddenberry's wife-to-be Majel Barrett all guest star) and directors (Richard Donner helmed several episodes), "The Lieutenant" will be of interest for both Trek devotees and '60s TV fans. DVD RUNDOWN: Available exclusively through the Warner Archives, the separately-sold DVD sets of "The Lieutenant" include all of the series' 29 episodes in B&W transfers and mono soundtracks. AISLE SEAT BOTTOM LINE: Fascinating for its pre-Trekkian Roddenberry point of view, ths little-seen '60s series ought to be sufficiently compelling for curious viewers.


THE HEATHCLIFF AND DINGBAT SHOW DVD (312 mins., 1980; Warner Archive). WHAT IT IS: He might not have reached the heights of Garfield on the popularity scale in the '80s, but the saucy comic-strip cat nevertheless carved himself a home on Saturday morning TV and in several prime-time specials. "The Heathcliff and Dingbat Show" was the first of his small-screen pursuits – a formulaic Hanna-Barbera series that nostalgic viewers should find sufficient amusement with. DVD RUNDOWN: Warner Archive's two-disc DVD release includes the complete 13-episode series of "The Heathcliff and Dingbat Show" in full-screen transfers as satisfying as the source material allows. Available exclusively through the Warner Archive.

TWO AND HALF MEN: Season 9 DVD (502 mins., 2011-12; Warner). WHAT IT IS: The post-Charlie Sheen era for the long-running CBS comedy begins with Alan Harper (Jon Cryer) and son Jake (Angus T. Jones) being forced to welcome in internet guru Walden Schmidt (Ashton Kutcher), who improbably buys the boys' beachfront home and lets the Harpers stay. All 24 episodes are included here from the ninth season of "Two and a Half Men," with extra features including an interview with creator/executive producer Chuck Lorre on the changes to the series; a behind-the-scenes look at the remodel to the Harpers' Malibu home; and a gag reel. 16:9 transfers and 5.1 soundtracks round out the release.

R.L. STINE'S THE HAUNTING HOUR: The Series Vol. 1 DVD (2 hrs., 2010-11) and Vol. 2 DVD (2 hrs., 2010-11; Shout!): Canadian/U.S. co-production airs currently on the Hub Channel in the U.S. and offers younger viewers a "Twilight Zone"-esque assortment of episodes involving the supernatural. Shout! has opted, for whatever reason, to break the series' first season up into two initial volumes (with more possibly to come), with Vol. 1 including "Really You" Parts 1 and 2, The Dead Body, A Creature Was Stirring and Nightmare Inn; and Vol. 2 including The Red Dress, Ghostly Stare, The Walls, Game Over and Alien Candy. Original promos and a look "Behind the Screams' comprise the supplemental side on both single disc releases.

---
Upcoming From Echo Bridge

Echo Bridge brings a number of new Miramax Double Features to Blu-Ray for the first time early next month. Here's a preview:

BELOW/DARKNESS Blu-Ray (Echo Bridge): This is a good news/bad news type of situation, because although this Echo Bridge Miramax two-fer includes the lousy Jaume Balaguero effort "Darkness" (*½, 102 mins., 2002, R, check the Aisle Seat archives for full review), it also debuts David Twohy's superb 2002 thriller BELOW (***, 105 mins., 2002, R) – albeit in a somewhat crippled 2.0 stereo soundtrack.

In "Below," a crew on an American sub during WWII rescues three survivors from a sunken British ship, only to find out that their own vessel is haunted while they attempt to flee from an enemy cruiser! This smart, exciting ghost story/action thriller manages to deliver on its intriguing premise penned by Darren Aronofsky, Lucas Sussman, and director David Twohy. Perhaps it figures, then, that "Below" was cast off by the Dimension/Miramax powers-at-be and barely released, surfacing in a few late night screenings in various metropolitan venues before being sent to video. At a time when so many genre films are either gory or derivative (or both), "Below" offers a water-tight story with a few frights of the old-fashioned, "is something in the corner of my eye?" variety rarely seen these days (the movie's R rating notwithstanding), something that evidently lead Dimension Films to the conclusion that the movie wasn't commercially viable enough to promote.

The film doesn't offer an abundance of stars -- Bruce Greenwood ("13 Days") plays the sub's captain, Olivia Williams ("The Sixth Sense") is the lone female, while Matt Davis ("Legally Blonde") and Scott Foley ("Felicity") play crew members (there's also an early role for Zach Galifanakis!) -- but Twohy's no-nonsense, effective direction plays off the claustrophobic trappings splendidly. The creaking sounds of the sub and the shadowy corridors are expertly shot by Ian Wilson, while the smart script manages to both play off well-worn sub movie cliches (especially in how a ghostly phonograph reveals the vessel's location while hiding from an enemy top-side) while crafting its own spooky tale of a haunting set beneath the depths of the sea. Twohy even manages to include a few doses of humor along the way, most notably in an amusing exchange between crew members offering theories to explain the predicament they find themselves in.


Dimension's Blu-Ray offers a decent AVC encoded 1080p transfer (again, it's an older looking HD master but there is some detail in the image), but the 2.0 stereo soundtrack is a big letdown, seeing as the original 5.1 DVD mix made good use of the directional sound field. A few extras have been carried over from the prior DVD (deleted scenes and a featurette), but hopefully Echo Bridge will get it right on a future "Below" release by including the original 5.1 mix.

BECOMING JANE/JANE EYRE Blu-ray (Echo Bridge): "Becoming Jane" (***, 120 mins., 2005, PG) is a charming little period piece, an embellishment on author Jane Austen's life in her 20's produced and directed as if it were any of the recent Austen film adaptations. Anne Hathaway is delightful as the young Austen, who falls for a dashing Irish lawyer (James McAvoy) at Christmas time 1795. Whether or not Julian Jarrold's film is even remotely accurate to the actual Austen, "Becoming Jane" is a highly enjoyable romantic film for anyone who's been enchanted by recent period pieces like "Pride and Prejudice" -- and while it's not on the level of the latter, the picture still functions as a pleasant and entertaining work with fine performances from Hathaway and McAvoy, supported by Julie Walters, James Cromwell and Maggie Smith. Echo Bridge's Blu-Ray is the second go-around for the movie in the format, and offers a highly pleasing 1080p transfer and 5.1 DTS MA soundtrack with most of the previously released DVD extras on-tap.

Franco Zeffirelli's "Jane Eyre" (**½, 116 mins., 1996, PG) meanwhile, is a solid if unspectacular adaptation of the Charlotte Bronte novel with William Hurt, Charlotte Gainsbourg, Joan Plowright and Anna Paquin as the young Jane. Alas, the 1080p transfer included here in Echo Bridge's Blu-Ray looks very much like a standard-definition upscale with heavy filtering and scant HD detail in evidence.

BLINDNESS/PROOF Blu-Ray (Echo Bridge): "Blindness" (*½, 121 mins., R) was a 2008 misfire from "The Constant Gardener" director Fernando Meirelles, an adaptation of Jose Saramago's novel by writer Don McKellar, that finds couple Julianne Moore and Mark Ruffalo in the middle of a horrifying epidemic that blinds most of the Earth's population. Moore is impervious to the affliction, and tries to help those being taken advantage of by criminals and other assorted scum. "Blindness" is difficult to take, being the result of a book many felt would be unadaptable for the screen...and likely should have stayed that way. Echo Bridge's Blu-Ray (the premiere HD release for the film) includes a 1080p (1.78) transfer, 5.1 DTS MA soundtrack and a featurette.

The film has been paired here with the far superior "Proof" (***, 99 mins., 2005, PG-13), a film version of David Auburn's Pulitzer-winning play that makes for a predictably-stagy but nevertheless compelling film. Gwyneth Paltrow plays a young woman whose genius math professor father (Anthony Hopkins) is breaking down mentally. Paltrow worries that she may suffer the same fate as her dad, whom she has sacrificed much of her time for, though Hopkins' assistant (Jake Gyllenhaal) offers a ray of hope both personally and professionally for her future.


Paltrow's "Shakespeare in Love" director, John Madden, helmed this appropriately literate film, which tries to breath some life into the sparsely-staged play by opening the picture up for full widescreen and taking advantage of the film's London locales (substituting for Chicago). Paltrow gives an excellent performance in a demanding role, while Hopkins effectively channels both genius and madness equally throughout. Shorter and less melodramatic than "A Beautiful Mind," "Proof" didn't perform overly well in theaters but boasts an actor's showcase that's well worth catching on Blu-Ray, where Echo Bridge's release includes a 1080p transfer, 5.1 DTS MA soundtrack and extras from its DVD release (deleted scenes, commentary from Madden and a featurette).

THE NIGHT LISTENER/BENEFIT OF THE DOUBT Blu-Ray (Echo Bridge): In "The Night Listener" (**½, 2006, 81 mins., R), Robin Williams plays a New York talk show host/author who develops a friendship with a troubled teenage boy played by Rory Culkin. Culkin has just authored a manuscript detailing his tragic past that's been passed onto Williams by his literary agent friend (Joe Morton). Over time, though, Williams isn't sure as to whether or not the boy and his guardian/social worker (Toni Collette) are legit, prompting the writer to head to Wisconsin to uncover the truth.


"The Night Listener" was based on a novel by San Fransisco writer Armistead Maupin, who used a real incident for the basis of his story. The resulting film – scripted by Maupin, his ex-partner Terry Anderson, and director Patrick Stettner – is a strange, almost unfinished-feeling character study that never takes full advantage of its intriguing premise and superb performances (Williams is remarkably restrained and Collette creepy to a tee). In spite of its eerie set-up, the movie seems as if it's missing a third act completely and ends just when it starts to build a head of steam.

That said, "The Night Listener" is still worth a viewing: even in its current state, this is a creepy tale of deceit with dense psychological undertones and excellent performances that -- with a better and more effectively layered script -- could've been tremendously satisfying.
Echo Bridge's Blu-Ray (the first release of the picture in the format) includes a featurette that provides a fairly good examination of the true story that formed the basis for the film. The 1080p transfer is sound and the DTS MA soundtrack effective, sporting a satisfying, low-key score by Peter Nashel. Recommended with some reservations.

Also on this release is the unremarkable 1993 indie thriller "Benefit of the Doubt" with Amy Irving and Donald Sutherland, which includes a 1080p transfer and 2.0 stereo soundtrack.

MEN OF WAR/BRAVO TWO ZERO Blu-Ray (Echo Bridge): Mediocre double-header includes the direct-to-video efforts "Men of War" starring Dolph Lundgren in a film directed by former actor Perry Lang and co-written by John Sayles (!); and the BBC co-production "Bravo Two Zero," both of which include marginal 1080p (1.78) transfers and 2.0 stereo soundtracks.

NEXT TIME: More new releases! Until then, don't forget to drop in on the official Aisle Seat Message Boards and direct any emails to our email address. Cheers everyone!