Message Board - Come and Discuss The Latest Videos, Movies & Anything Else!
Swinging onto Blu-Ray at last, INDIANA JONES: THE COMPLETE ADVENTURES is undoubtedly going to rank as one of the fall's must-have format releases. Paramount's five-disc set includes the HD debuts of "Raiders of the Lost Ark," "Indiana Jones and the Temple of Doom" and "Indiana Jones and the Last Crusade" on Blu-Ray with a fourth disc of extras and a fifth ("Indiana Jones and the Kingdom of the Crystal Skull") that some fans likely feel is best left as a beverage coaster. It's a great package that starts with new AVC encoded 1080p transfers and remixed DTS MA soundtracks of each film -- and by this point, is there any reason to re-analyze Steven Spielberg and George Lucas' legendary Saturday Matinee adventures? Each entry in the original Indy trilogy is immeasurably entertaining on its own respective merits, though fans can still quibble about which one is best.


RAIDERS OF THE LOST ARK (****, 115 mins., 1981, PG) thankfully still retains its original on-screen title (despite its packaging as "Indiana Jones and the Raiders of the Lost Ark"), and remains a classic of the action-adventure genre. With a smart Lawrence Kasdan script (from a George Lucas-Philip Kaufman story), classic stunts and Spielberg working at the peak of his talent, "Raiders" is pure and unadulterated fun, with Ford introducing us to the centerpiece role of his career and Karen Allen easily providing the best female love interest of the series.

Paramount's AVC encoded transfer of "Raiders" is much more "contrasty" than I've seen the movie before – and not quite as green and "lush", especially in the early jungle sequences -- but it's also clear this new HD scan is light years ahead of any prior video release in terms of detail. I can't recall how the film originally appeared in theaters so it's entirely possible the color scheme is also more faithful to cinematographer Douglas Slocombe's theatrical version than the prior DVD releases – certainly it's an excellent transfer overall, with fine detail visible throughout. The DTS MA soundtrack is forceful and superbly engineered, offering a broad stage for John Williams' legendary score and crisp sound effects. Three original trailers are the disc's sole extras – a short teaser (selling the film on the merits of Spielberg's past blockbusters), full theatrical trailer, and a 1983 re-release trailer (from the "Superman" trailer voice-over guy) are each presented in AVC encoded 1080p.

The first sequel (technically a prequel, even though it's a standalone adventure), INDIANA JONES AND THE TEMPLE OF DOOM (***½, 118 mins., 1984, PG) was controversial in its day (along with another Spielberg production, "Gremlins," it helped create the PG-13 rating, which was initiated before the summer of '84 was out), and even now it's a nasty, violent ride compared to the other Indy adventures. The script by Lucas pals Willard Huyuck and Gloria Katz ("American Graffiti") is silly and more excessive than either "Raiders" or "The Last Crusade," and Kate Capshaw's whiny Willie Scott is a comedown from Karen Allen's Marion -- so much so that it's tough for "Temple of Doom" not to be compared unfavorably with its predecessor. Still, the movie's final third is a blast, and John Williams' majestic, triumphant score may be his most inspired of the series: his themes for the Indy-Willie romance, Short Round's Theme, the mine cart ride, and the regal music that accompanies our heroes through the jungles of India are simply spectacular, and when combined with the original "Raiders March," create a phenomenal underscore that effortlessly carries the audience past the sequel's lesser aspects.

Opening with the glorious musical staging of Cole Porter's "Anything Goes" (a lavish set-piece many critics rightfully noted was one of the highlights of the entire picture), "Temple of Doom" is the most colorful of the entire series in terms of its appearance, and the Blu-Ray's impressive HD transfer looks so natural that viewers can more easily spot discrepancies in the original cinematography (particularly during the climactic rope bridge sequence) they may not have noticed before. The soundtrack is again impressive, and both the original teaser and what appears to be an early (and underwhelming) theatrical trailer (running just a minute and with a 1983 copyright) included for extras.


The problems with the second film were rectified with the 1989 blockbuster INDIANA JONES AND THE LAST CRUSADE (****, 126 mins., PG-13), which on a surface level sounds like a "Raiders" rehash but adds a warm, richer emotional component through Sean Connery's magnetic performance as Indy's father, Dr. Henry Jones. Connery is magnificent and his interplay with Harrison Ford is amusing and poignant, giving the movie an added human dimension absent from the amusement-park action of "Temple of Doom" and matching the level of character development found in "Raiders." John Rhys-Davies and Denholm Elliott return from the original, and the movie entertainingly reprises the quest-styled plot of "Raiders" as Indy tries to track down his father, who was lost while searching for the Holy Grail. While "The Last Crusade" may lack the freshness of the original, it's right up there in terms of my personal fondness for the material – Connery and Ford are so good together that the film's strengths are only magnified on repeat viewing, and the lengthy opening sequence with River Phoenix as a younger Indy is a sheer delight, with a buoyant John Williams score to match.

Paramount's 1080p transfer is in line with the "Raiders" and "Temple of Doom" discs – displaying crisp detail and a thankful lack of DNR – while the DTS MA soundtrack is again effectively engineered. Both the film's original 1988 teaser (showing the crew at work on the sequel) and full theatrical trailer are included as well.

Shortly after INDIANA JONES AND THE KINGDOM OF THE CRYSTAL SKULL (**½, 122 mins., 2008, PG-13) was released, I received an email from a reader saying that I was unfairly harsh on the belated – and thoroughly unnecessary – fourth installment in the series. Frankly, after reading my original review over again, I actually don't think I was hard enough on it!

Ranking as one of the most disposable films in director Spielberg's canon, this lightly entertaining but forgettable fantasy is compromised by a leaden David Koepp script nearly completely devoid of interesting characters, wit or innovation. While Harrison Ford still fits comfortably into his iconic role – with Indy coerced into helping a group of nefarious Russians search for an ancient relic that possesses a supernatural power – the film rolls snake eyes in terms of Cate Blanchett's villainess (one of many thankless roles), Indy's relationship with a young greaser (the continually charisma-challenged Shia LaBeouf) who needs his help finding a lost archeologist (John Hurt, playing what was likely Sean Connery's role) and his kidnapped mom -- who turns out to be none other than Marion Ravenwood (Karen Allen, wasted in a few minutes of screen time) herself.

The film overdoses on plot exposition (the mid-section of the picture is crushingly dull, bogged down in endless babble about the skull and its power) and fails to give its terrific cast much to do. Ford is as amiable as ever but even he seems a little ill at ease with some of the leaden dialogue, which doesn't exactly crackle the way Lawrence Kasdan, Jeffrey Boam or even Willard Huyck and Gloria Katz's work did in this film's far superior predecessors.

Recalling the sluggish pacing of "The Lost World" (I cringe even writing that statement), little in Spielberg's direction clicks either: would-be comedic moments fall flat, while action scenes tend to exhibit a "been there, done that" feel at every turn. The infusion of CGI – heavily used in the movie, as it turns out -- is also in stark contrast to the prior films in the series (as is Janusz Kaminski's overly stylized cinematography, which does no favors for the picture either. It's amazing how claustrophobic and unappealing this movie looks, the bulk of it all too obviously having been shot on soundstages). Finally, the picture also greatly misses Sean Connery's warmth and humor as Indy's dad -- so much that it's unsurprising the few times "Indy IV" manages to strike an emotional chord is in its pair of direct references to Indy's late father (Connery was contacted to appear in the film but ultimately passed on it -- a wise maneuver in hindsight, particularly considering how well the third movie turned out). In the end, "Crystal Skull" commits the worst sin of all: it's completely forgettable. Five minutes after the film was over I struggled to recall the specifics of the plot or individual sequences in it, feeling as if the series truly finished with the ride off into the sunset at the end of "The Last Crusade." Everything about this entry, ultimately, screams too little, too late.


Paramount's HD presentation of the fourth film is on par with their prior Blu-Ray, boasting a clear 1080p AVC encoded transfer and DTS MA soundtrack. Three trailers (marked trailers 2-4) in HD round out the disc.

Trailers aside, all the supplements are included in the fifth Bonus Features disc, which one imagines will remain exclusive to the box-set, offering a satisfying mix of previously-released content and one significant new addition. Here's a breakdown:

On Set With Raiders of the Lost Ark: The set's big new extra is this hour-long compilation of behind-the-scenes footage from the production of "Raiders." Taken mostly from 16mm handheld camera sources with some never-before-seen outtakes from the picture mixed with candid interviews from the cast and crew – and even a few deleted scenes – fans should love this piece, which gives viewers a real, honest sense of the day-to-day shoot, both on-location and at Pinewood Studios in the UK. (HD)

Making The Films: The original 1981 "Making of Raiders of the Lost Ark" from Howard Kazanjian and Phillip Schuman (57 mins.) is presented here along with Laurent Bouzereau's retrospective documentaries for "Raiders," "Temple of Doom" and "Last Crusade" from the 2003 DVD box-set, each offering a 40-50 minute segment devoted to each picture (all of these segments are in standard-def). The 28-minute "Crystal Skull" Making Of, meanwhile, is presented in HD (a much longer version of this Making Of was included in the original, two-disc Blu-Ray/DVD release of the film).

Behind the Scenes: A number of featurettes from the 2003 DVD Indy box-set include a John Williams interview in "The Music of Indiana Jones," plus "The Stunts of Indiana Jones," "The Sound of Indiana Jones," and "The Light and Magic of Indiana Jones." Brought over from the 2008 DVD release are "Raiders: The Melting Face!", "Indiana Jones and the Creepy Crawlies," "Travel With Indiana Jones: Locations," "Indy's Women: The American Film Institute Tribute," and "Indy's Friends and Enemies." Reprieved from the original "Crystal Skull" release are "Iconic Props," "The Effects of Indy" and "Adventures in Post-Production." Note that these "Kingdom of the Crystal Skull" featurettes are presented in standard-def (the original Blu-Ray of the film offered these same segments in HD) while several other "Crystal Skull" featurettes from the prior release aren't included here at all.

Completists who enjoy "Crystal Skull" may want to hold onto the original BD release of the film for its more extensive supplements – otherwise, this set contains basically all of the extras from the prior Indy DVD releases, sans storyboard galleries.

Ultimately, Paramount has delivered a great-looking, and sonically superior, Blu-Ray set that pays tribute to the work of Steven Spielberg, George Lucas, Douglas Slocombe, John Williams and all the other master craftspeople involved in the production of the Indiana Jones series. Highly recommended, just as one would hope!

---
New From Twilight Time

Adapted from a William Faulkner book that utilized multiple, "stream of consciousness" narrators, 20th Century Fox and producer Jerry Wald's 1958 filming of THE SOUND AND THE FURY was dismissed by certain critics upon its original release. Since then, viewers have had little chance to reassess (or, simply, assess) this reunion between the creative team of "The Long Hot Summer" (Wald, screenwriters Irving Ravetch and Harriet Frank, Jr., and director Martin Ritt).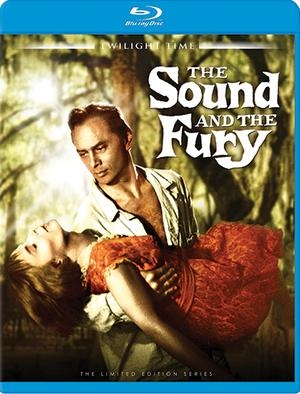 Never commercially released on video and only infrequently shown on cable (often times in terrible pan-and-scan transfers at that), THE SOUND AND THE FURY (***½, 115 mins.) is one of the neglected gems of the late '50s, and Twilight Time's Blu-Ray release of the film – limited to 3000 copies – is spectacular, preserving the film's potent Cinemascope cinematography and effective performances.

Once again focusing on Faulkner's fascination with the decaying fortunes of a once-proud Southern family, the Ravetch-Frank-Ritt version of "The Sound and the Fury" follows the lives of the Compson clan through the prism of Quentin (Joanne Woodward), a rebellious young girl who skips school and teeters on turning out just like her floozy Mama Caddy (Margaret Leighton), who left Quentin and their Mississippi home shortly after her birth. Raised by pragmatic, gruff step-uncle Jason (Yul Brynner), Quentin is surrounded by a family that's faded from their glory days, with uncles either alcoholic (John Beal) or mute and autistic (Jack Warden), and an African-American servant (Ethel Waters) single-handedly holding what's left of the ancestral home together. Quentin's turbulent adolescence and unhealthy home life is compounded by her attraction to a hunk (Stuart Whitman) working at a carnival passing through town, as well as the return of her destitute mother, just looking for somewhere to live.

Though shot on the Fox backlot, "The Sound and the Fury" is rich with atmosphere. Credit goes out to Ritt and cinematographer Charles G. Clarke for establishing a sense of rural time and place without having to leave southern California; the Ravetch-Frank screenplay (their second of three Faulkner adaptations with "The Reivers" to follow over a decade later), meanwhile, enables the cast to give a variety of strong performances. Woodward is beguiling here, mixing the playful innocence of a teenage girl with the blossoming qualities of a young woman that develop as the film progresses; she meets her equal in Brynner's hardened Jason, whose tough demeanor masks a sympathetic interior that just wants Quentin, ultimately, to stand on her own and be something more than the rest of her family. Their relationship is the cornerstone of the picture, and while the picture was derailed by many for failing to adhere to Faulkner's book, the film itself is a strong piece of work on its own terms thanks to the fascinating evolution of their relationship. They're supported by top work in front of and behind the camera: Leighton turns in a fine performance as the lost Mama, Warden delivers one of his strongest dramatic roles as the troubled Benji, and Alex North's soaring score – jazz infused but marked by one of his sweetest love themes – is, for my money, one of his finest. His underscoring for the movie's sublime finale is just glorious, beautifully shot by Ritt and perfectly delivered by Woodward and Brynner – ending a turbulent slice of Faulkner melodrama on a thoroughly romantic and even optimistic note.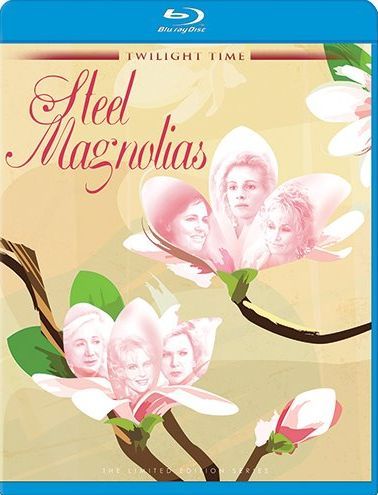 The 1080p AVC encoded Blu-Ray transfer from the Fox vaults is terrific: fine detail is in evidence throughout without any trace of processing. The print shows occasional wear and tear but displays no major issues; for a movie that's never been treated as well as it should've been, "The Sound and the Fury" ranks as one of the Fox highlights in the Twilight Time catalog so far, both for its technical presentation as well as the content of the movie itself. On the audio side, the movie's original stereo soundtrack has been mixed in 2.0 DTS MA with an isolated score track, prepared as always by Mike Matessino, rounding out the release. Highly recommended!

Twilight Time's second release this September is another southern drama: Herbert Ross' 1989 box-office smash filming of Robert Harling's popular play STEEL MAGNOLIAS (***, 118 mins., PG), starring Sally Field, Dolly Parton, Shirley MacLaine, and Olympia Dukakis as the stalwart Southern belles who live, love and dish at a Louisiana hair salon. Julia Roberts, in her first star-making performance ("Pretty Woman" would follow a few months later), plays Field's daughter and Daryl Hannah is the wallflower whose introduction into the world of Parton's salon serves as the audience's initiation to the characters as well.

Harling incorporated a lot of his own experiences into "Steel Magnolias," basing the film on the life of his mother and (late) sister, which grounds the fluffy nature of the material with a hard dramatic undercurrent that takes hold in the film's second half. Along the way, though, there are plenty of laughs and some wonderful performances, with the actresses working off one another splendidly and the film establishing a genuine sense of time and place – no surprise with the picture having been shot almost exclusively in and around Harling's hometown. Georges Delerue's beautiful score is, like so many of the composer's works, a huge asset to the film, which also benefits from John A. Alonzo's attractive lensing and a capable male supporting cast (Tom Skerritt as Field's husband; Dylan McDermott as Roberts' spouse; and Sam Shepard as Parton's deadbeat hubby) added specifically to open up the play's stage confines for the film.

Like Twilight Time's previous Blu-Ray releases from the Sony vaults, "Steel Magnolias" arrives in HD in a splendid 1080p AVC encoded transfer marked by top detail. The 5.1 DTS MA soundtrack is complemented by an isolated track of Delerue's music and a commentary from Herbert Ross brought over from the DVD release. Another excellent package from Twilight Time, which ought to sell briskly at Screen Archives.

---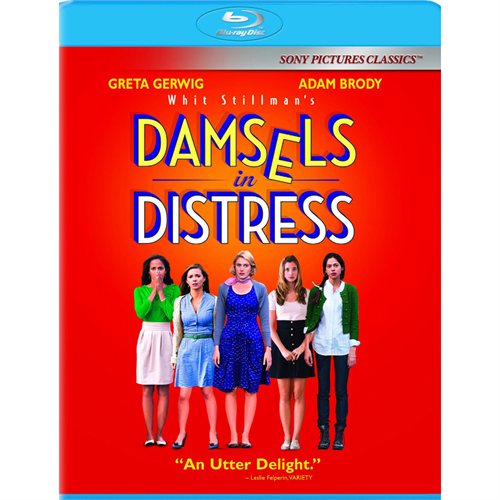 New on Blu-Ray

DAMSELS IN DISTRESS Blu-Ray (**, 99 mins., 2012, PG-13; Sony): Whit Stillman's first film since "The Last Days of Disco" was released some 14 years ago, "Damels in Distress" is an unfortunate disappointment: a self-conscious, often annoying "comedy of manners" involving a peculiar college student (Greta Gerwig) and her friends who take a transfer student (Analeigh Tipton) new to their campus and initiate her in the ways of social mores that disappeared from the world decades ago. Eventually, Tipton finds herself interested in two suitors – Adam Brody's polished pretty boy and Hugo Becker's foreign grad student – while Gerwig tries to reconcile her high standards with her feelings for boys beneath her social circumstance...or something.

I've been a big fan of Stillman's previous work: his debut hit "Metropolitan" remains a charming, sophisticated study of aristocratic modern young New Yorkers, and "The Last Days of Disco," which I viewed again this July for the first time in many years, has also held up as an perceptive character study with offbeat humor. Perhaps Stillman was away from making movies for so long that he lost his fastball, because "Damsels in Distress" is a mess, starting off on the wrong foot and never recovering. Every character here is annoying and stilted, and what's more, the dialogue is leaden, showing none of the snap of the director's earlier pictures. The pacing, the development of the story, even the glossy digital cinematography – all of it comes off as awkward, and the musical sequences that conclude the film are almost embarrassing to behold. Gerwig would seem to be an ideal successor to the likes of Stillman's past heroines Chloe Sevigny and Caroline Farina (who appears in one sequence here), but saddled with uneven material that's seldom funny or involving, the actress can do little to overcome a film that's not just a letdown – it's almost depressing to watch at times.

Sony's Blu-Ray of "Damsels in Distress" is out next week, sporting commentary with Stillman and cast members, two featurettes, deleted scenes and outtakes. The almost distractingly soft cinematography is rendered as best as it can be in 1080p, while DTS MA sound includes a pleasant score from Stillman's past collaborators Mark Suozzo and Adam Schlesinger.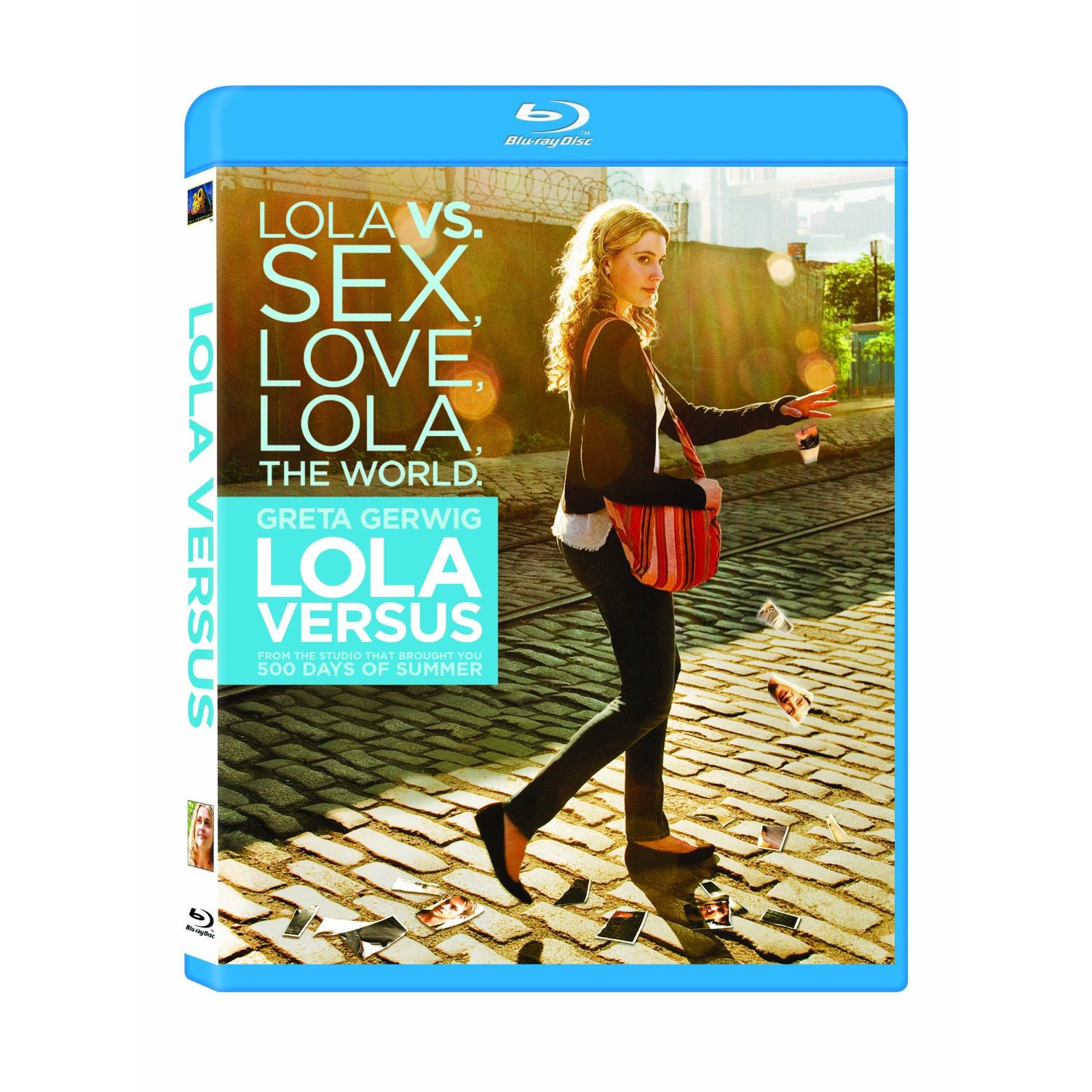 Far more entertaining is LOLA VERSUS (***, 88 mins., 2012, R), an indie comedy also starring Greta Gerwig. This time around, the talented actress is able to show off her stuff in an appealing performance as a law student, dumped by her fiancé (Joel Kinnaman) shortly before their wedding, and how she deals with the fallout with the assistance of her two best friends (Hamish Linklater and Zoe Lister-Jones, who co-wrote the film with director Daryl Wein).

Funny, perceptive, and poignant at times, "Lola Versus" is one of the more satisfying films of its type I've seen recently. Gerwig is both attractive and intriguing here, coming off as quirky but not self-consciously so; she's surrounded by solid work from her co-stars including Bill Pullman and Debra Winger as Lola's supportive parents. Wein's direction is natural and the humor disarming – this is one sleeper well worth checking out.

Fox's Blu-Ray includes deleted scenes and an alternate ending, outtakes, two Fox Movie Channel featurettes, two additional featurettes, and commentary from Wein and Lister-Jones. The 1080p AVC encoded transfer is natural and the DTS MA soundtrack just right for the material.

THE MAGIC OF BELLE ISLE Blu-Ray (109 mins., 2012, PG; Magnolia): Rob Reiner's most watchable film in some time (for what little that's worth, of course), the formulaic "Magic of Belle Isle" stars Morgan Freeman as a wheelchair-bound Western novelist who travels to the picaresque Belle Isle where he strikes up a relationship with single mom Virginia Madsen and her precocious kids. No surprises pop up as the curmudgeonly Freeman's heart slowly melts away, but this is at least an easy-going film with pleasant performances and a nice Marc Shaiman score. Magnolia's Blu-Ray includes commentary from Reiner, Freeman and Madsen; three featurettes; an interview with Reiner; the trailer; a 1080p AVC encoded transfer and DTS MA soundtrack.

---
New Releases from Warner Archive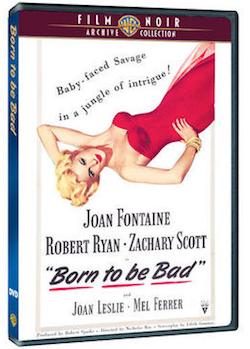 BORN TO BE BAD (90 mins., 1950; Warner Archive): RKO release from director Nicholas Ray stars Joan Fontaine as a man hunter who sets her sights on Robert Ryan and Zahchary Scott in this 1950 Edith Summer-scripted adaptation of Anne Parrish's novel. Once Fontaine steals away her roommate's fiancé (Scott), she continues to see former flame Ryan in a wild ride featuring a terrific Fontaine performance as one of the cinema's earliest, and more memorable, femme fatales. Warner's Archive manufactured-on-demand release is noteworthy for its inclusion of a never-before-seen alternate ending, plus a fine, newly remastered full-screen B&W transfer.

BATTLE CIRCUS (90 mins., 1953; Warner Archive): Humphrey Bogart plays a tough Army surgeon with a passion for women, and the bottle, in this Richard Brooks-directed MGM production offering an interesting look at mobile army surgical hospitals (MASH units) during the Korean war. Good performances from Bogie and June Allyson top-line this early effort from Brooks, with Warner's Archive release including a crisp B&W transfer and mono soundtrack.

HARRY O - Season 1 (1210 mins., 1973-75; Warner Archive): David Janssen starred as a former San Diego cop, living off a disability pension, who takes on the occasional private eye gig in his southern California hometown in "Harry O," an ABC series that had a difficult first season – after having also required the production of two pilots before the series was eventually picked up (Warner's Archive release has only the failed 1973 pilot, with Martin Sheen and Margot Kidder co-starring, included here; the second pilot was previously released as a standalone Archive title). Originally shot in and around the San Diego area, the production was also deemed too costly and was moved to Los Angeles midway through the first season – along with a new supporting cast (original co-star Henry Darrow was killed off and replaced by Anthony Zerbe) and new theme music composed, plus a heavier tone. Fans of the series will enjoy Warner's Archive DVD release, which includes the complete 22 episode first season plus the pilot movie "Such Dust As Dreams Are Made On," all in crisp full-screen transfers and mono soundtracks.

---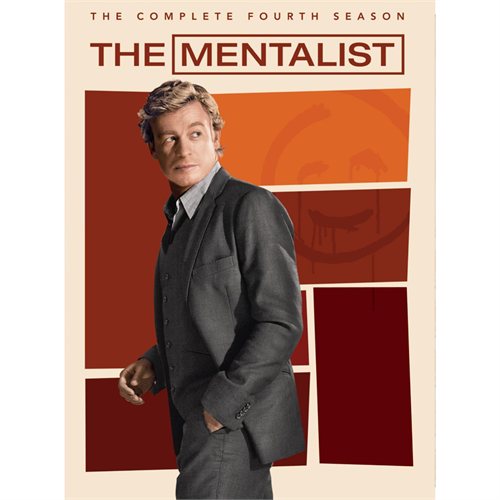 TV on DVD

THE MENTALIST - Season 4 DVD (1013 mins., 2011-12; Warner). WHAT IT IS: Simon Baker returns for the fourth season of the popular CBS prime-time crime procedural as Patrick Jane, consultant to the California Bureau of Investigation. This time around, Jane deals with the fallout from his shooting of Red John, a serial killer who murdered his wife and child, while dealing with a new boss at CBI and once again mixing it up with the CBI agents (Teresa, Kimball, Wayne and Grace) who join him in his unconventional search for the truth. DVD BREAKDOWN: Warner brings Season 4 of "The Mentalist" to DVD on September 18th in a five-disc set containing all 24 episodes in 16:9 (1.85) transfers and 5.1 soundtracks. One bonus feature, "CBI: Behind the Badge," profiles how the show's producers, cast and crew members use real law enforcement techniques in crafting the series. AISLE SEAT BOTTOM LINE: Baker's engaging performance, interplay with the supporting cast (including Robin Tunney), and better-than-average writing have continued to make "The Mentalist" a viewer favorite. Series fans should likewise enjoy Warner's latest anthology of episodes when it streets next week.

SUBURGATORY - Season 1 DVD (473 mins., 2011-12; Warner). WHAT IT IS: Jane Levy plays a New York City teen in for a culture shock when her dad (Jeremy Sisto) relocates to suburbs – not quite Stepford but also not far off – in this funny and perceptive ABC comedy from creator/executive producer Emily Kapnek (an alumnus of "Parks & Recreation" and HBO's "Hung"). Co-starring Cheryl Hines as one of their prim and proper new neighbors, plus former SNL cast member Ana Gasteyer and Alan Tudyk. DVD BREAKDOWN: Warner's DVD set includes all 22 half-hour episodes of "Suburgatory" in 16:9 transfers and 5.1 soundtracks. Extras include a gag reel, unaired scenes, and a featurette, "Somewhere Between Heaven and Hell: Life in Suburgatory." AISLE SEAT BOTTOM LINE: Levy's appealing performance grounds the thoroughly enjoyable "Suburgatory," a nice companion piece to ABC's stable of comedies like "Modern Family," but with its own, interesting point of view. Recommended.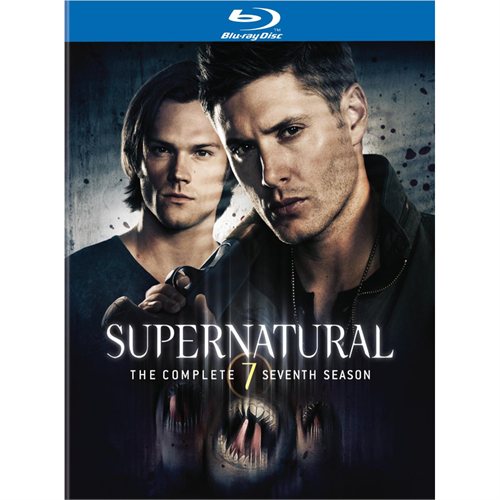 SUPERNATURAL - Season 7 DVD (961 mins., 2011-12; Warner). WHAT IT IS: The Winchester Brothers, Sam and Dean, return for their seventh season of what's become the longest running series still airing on the CW network. This time out, more demons are on tap for the boys to battle, whether it's low-level types or Lucifer himself, who torments Sam in particular; meanwhile, the vile Leviathans have been freed from Purgatory and come after the brothers, looking for vengeance. DVD BREAKDOWN: Warner's seventh season of "Supernatural" hits DVD with 23 one-hour episodes included (Meet the New Boss, Hello Cruel World, The Girl Next Door, Defending Your Life, Shut Up Dr. Phil, Slash Fiction, The Mentalists, (the hilariously titled) Season 7 Time for a Wedding!, How to Win Friends and Influence Monsters, Death's Door, Adventures in Babysitting, Time After Time, The Slice Girls, Plucky Pennywhistle's Magic Menagerie, Repo Man, Out with the Old, The Born-Again Identity, Party On Garth, Of Grave Importance, The Girl with the Dungeons & Dragons Tattoo, Reading is Fundamental, There Will Be Blood and Survival of the Fittest). 16:9 transfers, 5.1 soundtracks and a number of extras are included (three commentary tracks; two featurettes; an outtake/gag reel and deleted scenes). AISLE SEAT BOTTOM LINE: "Supernatural" fans should be pleased with another top-notch DVD package from Warner Home Video, which should tide them over until new episodes air shortly on the CW network.

HAWAII FIVE-O - Season 2 Blu-Ray (aprx. 17 hours, 2011-12; CBS). WHAT IT IS: Steve McGarrett (Alex O'Laughlin) finds himself behind bars at the start of Season 2 of the new (and not improved) "Hawaii Five-O," accused of murdering the governor. Eventually Steve breaks out, assists Danno in finding his kidnapped daughter, fights for Kono after she's suspended, and defends Chin Ho after he's arrested at the Russian consulate. High flying action and colorful locales mix for another year of formulaic CBS prime-time programming. BLU-RAY BREAKDOWN: Eye popping 1080p transfers and DTS MA soundtracks enhance the show's strongest attributes while numerous extras include a handful of newly produced featurettes: "Shore Lines," "Aloha Action!" and "Becoming a SEAL." There's also a guide to the Hawaiian locales, a NCIS crossover episode, cast/crew commentaries on selected shows, deleted scenes and a gag reel to match. AISLE SEAT BOTTOM LINE: I was disappointed with the "CSI Hawaii" type nature of the series, yet the resurrected "Hawaii Five-O" has been a hit with CBS' main demographic. The Blu-Ray set is well produced with top-flight transfers and extras to match.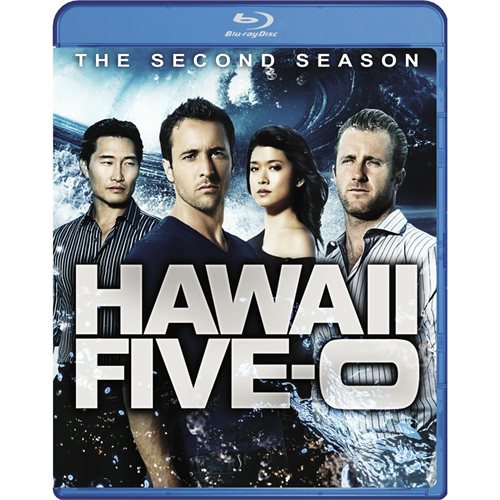 RAWHIDE - Season 5 Parts 1 and 2 DVD (813/762 mins., 1962-63; CBS). WHAT IT IS: Gil Favor and his right-hand man Rowdy Yates are back as they lead a 3000-strong herd of cattle over the fruited plain in the fifth season of the classic western series starring Eric Fleming and Clint Eastwood. Episodes include "Incident Of/At" The Hunter; The Portrait; Cactus Wells; Prodigal Son; Four Horseman; Lost Woman; Dogfaces; Wolvers; Sugar Creek; Reluctant Bridegroom; Querencias; Quivira; Decision; Buryin' Man; Trail's End; Spider Rock; Mountain Man; Crooked Hat; Judgement Day; Gallows Tree; Married Widow; Pale Rider; Comanchero; and The Clown. DVD BREAKDOWN: CBS has split the 25-episode fifth season of "Rawhide" into two separate DVD volumes, both available this month, with full-screen B&W transfers and mono soundtracks.

ABSOLUTELY FABULOUS - 20th Anniversary Specials DVD (90 mins., 2011-12; BBC). WHAT IT IS: Jennifer Saunders, Joanna Lumley and Julia Sawalha are back for three reunion specials – Identity, Olympics and Job – of the "Absolutely Fabulous" cast. Saunders wrote each episode, once again relying heavily on the timing of the performances to put its comedy over the top. BBC's single-disc DVD features 16:9 transfers and 2.0 soundtracks, with a pair of featurettes ("Ab Fab Does Sport Relief" and "Behind the Scenes at Sport Relief") for bonuses.

THE COMPLETE HAMMER HOUSE OF HORROR DVD (702 mins., 1980; Synapse): Hammer veterans congregated in 1980 for this memorable, short-lived anthology series, with genre stalwarts like Peter Cushing starring in a series of frightfully good tales: Witching Time (with Jon Finch), The Thirteenth Reunion, Rude Awakening (co-starring Denholm Elliott), Growing Pains, The House That Bled to Death, Charlie Boy, The Silent Scream (with Peter Cushing), Children of the Full Moon, Carpathian Eagle, Guardian of the Abyss, The Two Faces of Evil and The Mark of Satan. A&E previously released the "Hammer House of Horror" on DVD but Synapse's package is superior, offering stronger 1.33 full-screen transfers and new extras: episode introductions are on tap from historian Shane Dallmann; interviews with Kathryn Leigh Scott and Mia Nadasi; and an animated stills gallery. Recommended fun for Hammer buffs, just in time for Halloween!

---
Also New & Upcoming

THE DEVIL'S ADVOCATE Blu-Ray (***, 144 mins., 1997, Unrated; Warner): Taylor Hackford's wildly uneven cinematic tale of the Devil dabbling in the legal system features several things I never thought I would ever see at the movies back in '97 – first and foremost being a credible performance by Keanu Reeves, who proves he can give a strong dramatic turn without resorting to Valleyspeak. Al Pacino, as Old Scratch himself, is dynamic and predictably flamboyant, tempting Keanu's knockout wife Charlize Theron one moment, and suckering Keanu in a complicated murder case involving Craig T.Nelson the next.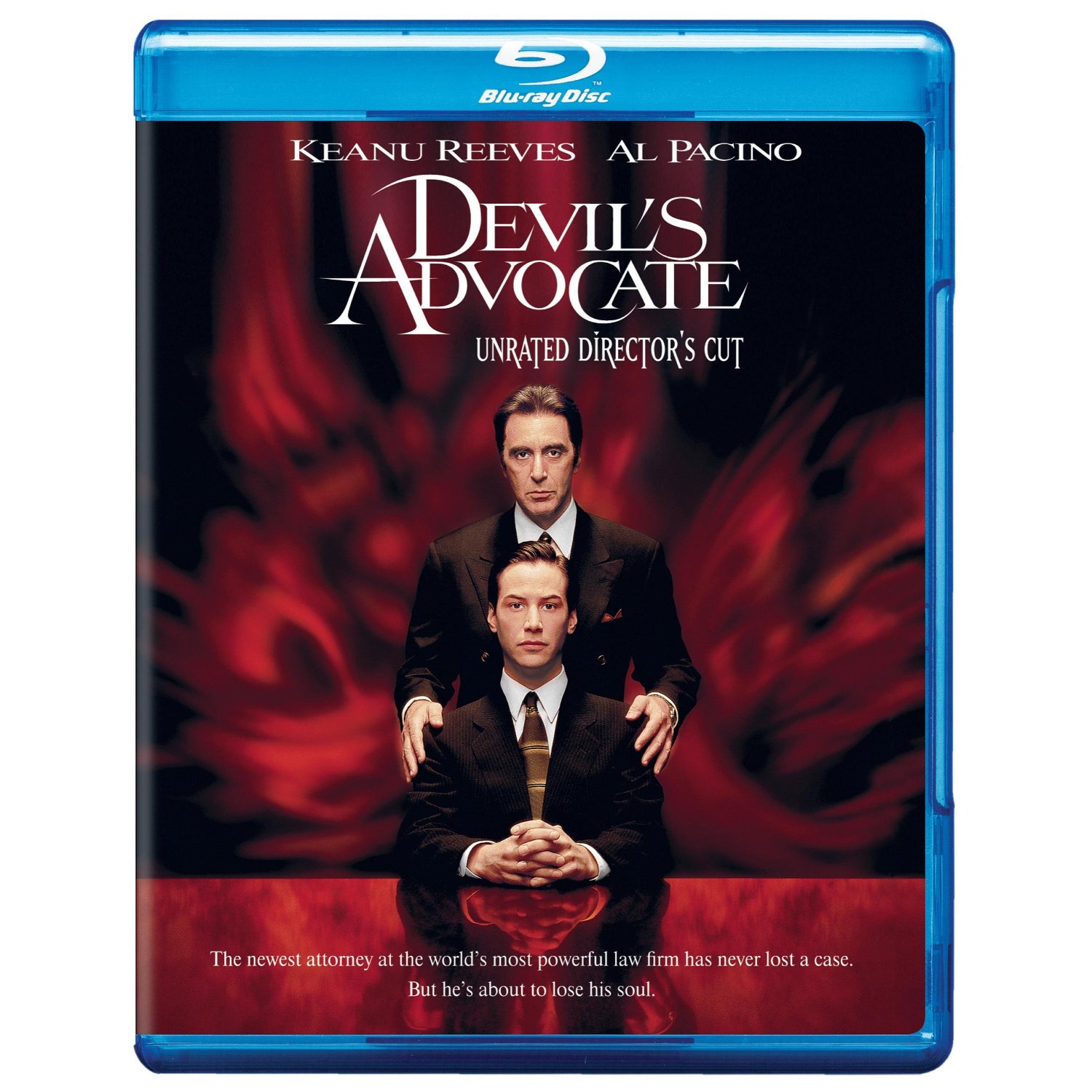 Clearly, there is something to be said for a 145 minute supernatural courtroom horror movie featuring a bevy of topless women, mutating demons, and a barrage of climactic special effects, though "The Devil's Advocate" is almost as guilty in committing a few cinematic sins as it is in entertaining the audience. The big problem is that the movie's tone meanders all over the map, from pulpy horror to believable psychological melodrama, shifting gears rather abruptly in spots without properly setting the table for those changes. Pacino's scenes are the best in the picture, perhaps not surprising since screenwriter Tony Gilroy was brought in to clean up the ending, and redo some of the actor's lengthier monologues. Unfortunately, it also seems as if Gilroy didn't touch up the often draggy midsection of the picture, where there's much unnecessary plot exposition, the kind of deadly, bloated set-up material that provokes the old, "oh, just get on with it!" response from viewers. As proof that the filmmakers weren't entirely clear what direction the film was heading, large chunks of the movie also seem to have been cut out, as characters are introduced and then disappear completely out of the film!

It's a shame Gilroy and Hackford didn't polish off the main storyline (the murder case is a real drag, as is Theron's descent into madness), since the movie does get its act together at the end with brilliant work by Pacino, culminating in a zinger of an ending that suggests the whole story is an allegory for the lawyer's struggle with his own conscience. It's a sophisticated, witty finish to a handsome, off-the-wall, though never consistently rendered supernatural tale. Nevertheless, the picture is worth seeing for the strong lead performances, some devilishly clever dialogue, elaborate sets, widescreen cinematography, and a nightmarish tone that is genuinely unsettling from start to finish. Extra kudos go out to James Newton Howard's superbly effective score.

Warner brings "The Devil's Advocate" to Blu-Ray this month in a generally strong 1080p AVC encoded transfer and strong 5.1 DTS MA soundtrack. Extras include a commentary from Hackford and deleted scenes (that, unlike the old DVD release, don't require you to listen to Hackford's commentary over them!), plus a new "Unrated" cut of the film that runs the same length as the theatrical cut (it's also been so long I couldn't tell you what the differences are).

Also in time for Halloween, Warner is releasing QUEEN OF THE DAMNED (**, 101 mins., 2002, R), the limp 2002 follow-up to "Interview with the Vampire," which was farmed out as a lower-budgeted co-production between Warner Bros. and Australia's Village Roadshow Pictures.

The late singer/actress Aaliyah stars in the title role with the blank Stuart Townsend taking over Tom Cruise's part (not too effectively either) as Lestat, who's this time wrapped up in sex, drugs and rock 'n roll. Michael Rymer's film met with modest box-office receipts that weren't enough to keep the series going; Warner's Blu-Ray is a HD reprise of their original DVD, sporting a superior 1080p transfer and DTS MA soundtrack, and numerous extras (a tribute to Aaliyah; two documentaries; commentary; 13 extra scenes; a gag reel; music videos and extended concert sequences).

---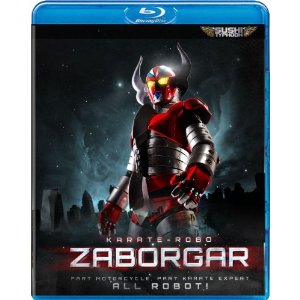 Indie Round-Up

KARATE-ROBO ZABORGAR Blu-Ray (114 mins., 2011, Not Rated; Well Go USA): Those of you who might've grown up on the adventures of "Ultraman" will probably get a kick out of this 2011 Japanese import that finds a police officer joining forces with a robot named "Zaborgar," a creation of his late father, which can kick all kinds of villainous butt and also transform into a motorcycle when the cop demands it. "Karate-Robo Zaborgar" is colorful Japanese hyjinks with a sense of humor that Well Go brings to Blu-Ray this month sporting a 1080p transfer, DTS MA soundtrack (Japanese with English subtitles) with short films and bonus trailers included for extras.

HYSTERIA Blu-Ray (99 mins., 2011, R; Sony): Director Tanya Wexler's nicely made period piece stars Hugh Dancy as Dr. Mortimer Granville, the inadvertent inventor of the first mechanical "sexual stimulator," who treats women afflicted with "hysteria" in Victorian England. This fetching blend of romantic comedy and period drama offers an engaging script by Stephen and Jonah Lisa Dyer and a fine cast with Maggie Gyllenhaal as the feisty girl Dancy falls for; Jonathan Pryce as her physician father with whom Dancy works; and Rupert Everett and Felicity Jones as well. "Hysteria" comes to Blu-Ray this month in a fine package from Sony, offering commentary from the director; three featurettes; deleted scenes; a crisp 1080p transfer and DTS MA 5.1 soundtrack.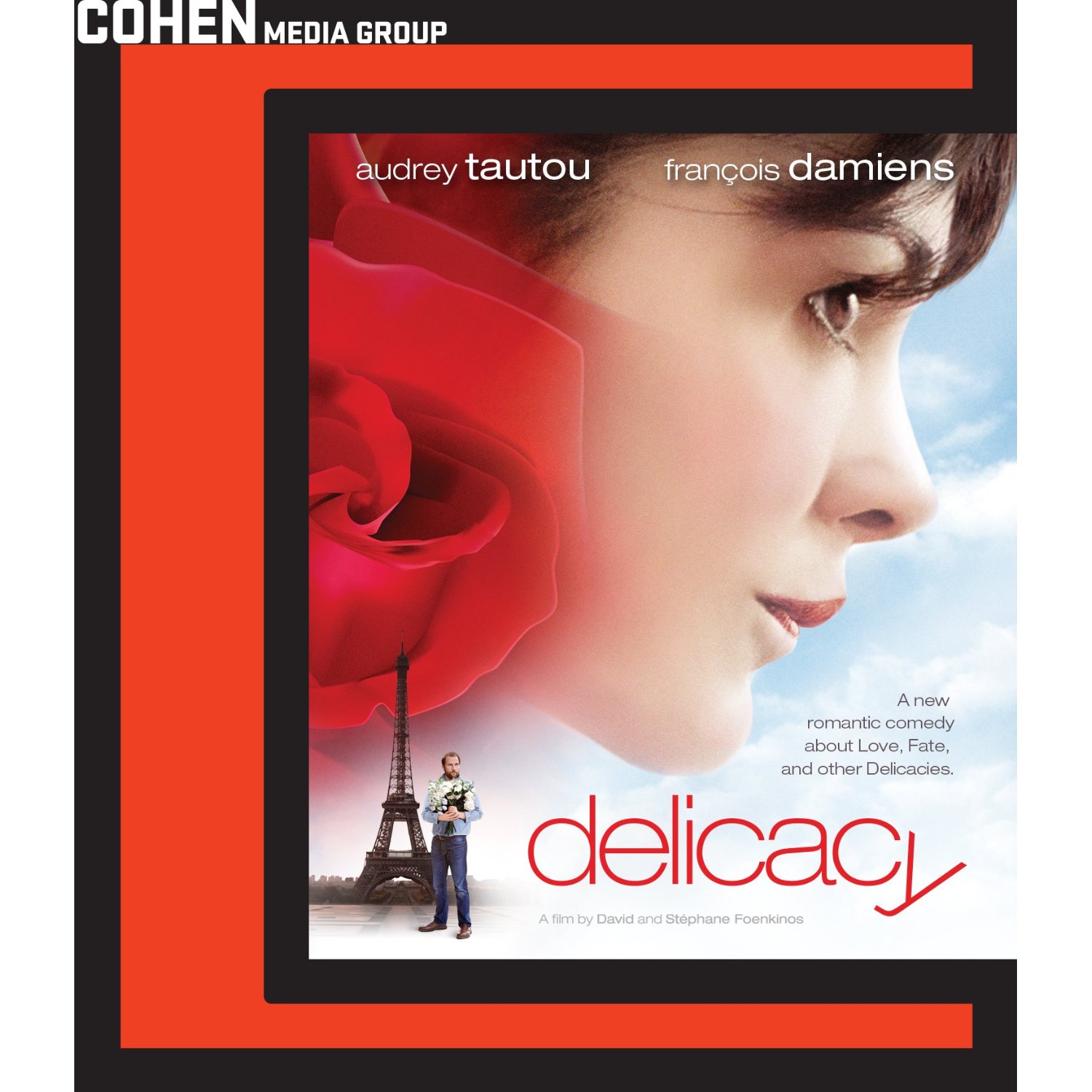 DELICACY Blu-Ray (***, 105 mins., 2011, PG-13; Cohen Media Group): Slow-paced, though occasionally moving, French import stars a luminous Audrey Tautou as a widower who – improbably – finds romance with a subordinate office worker (Francois Damiens). Adapted by David Foenkinos from his book "La Delicatesse" and directed by Foenkinos with his brother Stephane, your mileage with "Delicacy" may depend on how much you believe Tautou's attraction to Damiens, though both performers do generate chemistry together in this light romantic drama. Cohen's Blu-Ray, available on September 25th, includes a Making Of, interview with Tautou, 1080p (1.78) transfer and DTS MA 5.1 audio.

JUST AROUND THE CORNER: THE BOB BENJAMIN STORY DVD (96 mins., 2012, Not Rated; Virgil Films): Bob Benjamin was a New York rock aficionado who became a record promoter and music journalist; after being diagnosed with Parkinsons Disease in 1996, he decided to fight back by organizing fund-raising concerts, including the inaugural "Light of Day Foundation" concert in 2000. Benjamin's life work is profiled in this documentary from Steve Caniff and Jim Justice, with appearances by Michael J. Fox and music provided by those who've worked with Benjamin over the years, including Joe Grushecky and Bruce Spingstreen among others. Virgil Films' DVD (a portion of the sales will be donated to the Light of Day organization) includes a photo gallery and musician bios, plus a 16:9 transfer and stereo soundtrack.

KAT WILLIAMS: KATTPACALYPSE DVD (60 mins., 2012; E One): The comedian performs a stand-up concert in front of 7,000 fans at LA's Nokia Theatre on New Years Eve. E One's DVD boasts a 16:9 transfer and 5.1 soundtrack, plus a bonus animated short.

MOTHER'S DAY Blu-Ray (90 mins., 1980, Not Rated; Anchor Bay): Troma-produced sleaze follows a trio of young women (Nancy Hendrikson, Deborah Luce and Tiana Pierce) who run afoul of hillbilly wackos (Holden McGuire, Billy Ray McQuade) while on a camping trip. After being captured, raped and humiliated, the trio try and strike back at the boys and their unstable mom (Rose Ross) in a film that puts a trash spin on the slasher pics of the era. "Mother's Day" is definitely something of an acquired taste, with director Charles Kaufman's movie being over the top and exploitive, but not (at least from my perspective) a whole lot of fun. That said, the picture still has something of a cult following, who are likely the ones to appreciate Anchor Bay's Blu-Ray presentation of the 1980 "Mother's Day." Commentary, behind the scenes videos, a trailer, and Eli Roth providing some comments on the film are included along with a decent 1080p transfer and Dolby TrueHD 5.1 soundtrack.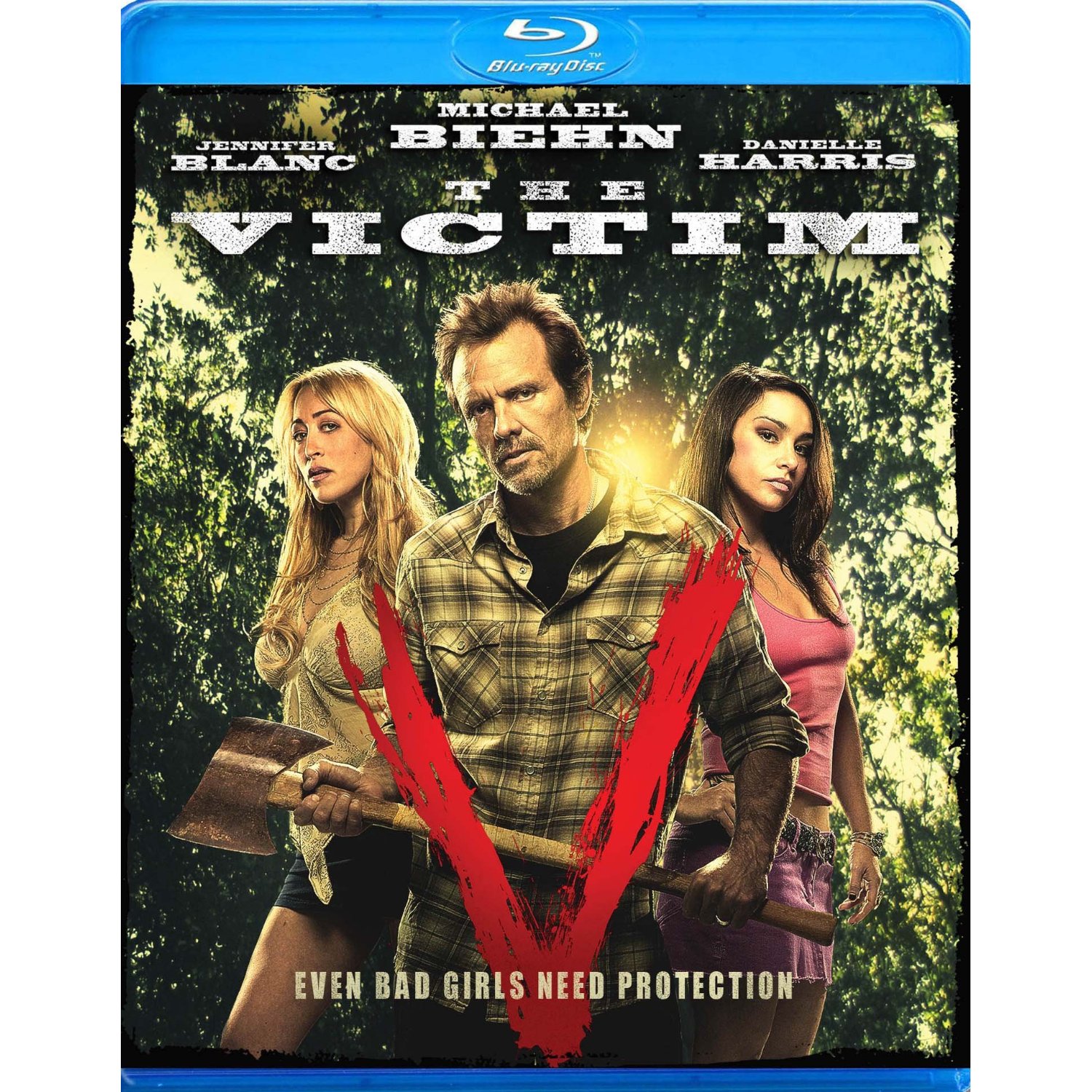 A similar narrative theme is on tap in actor Michael Biehn's THE VICTIM (83 mins., 2012, R; Anchor Bay), another backwoods thriller with Jennifer Blanc (who I used to like on "Party of Five" and "Dark Angel" back in the day) as a stripper, on the run from the cops, who ends up getting more than she bargained for when she finds Biehn's reclusive country boy out in the middle of nowhere. The lovely Danielle Harris co-stars in this short, watchable though mostly unremarkable exploitation piece from Biehn, who also wrote and directed the film (he's also married to Blanc as well). Anchor Bay's Blu-Ray includes commentary from the duo plus a featurette, 1080p transfer and 5.1 Dolby TrueHD soundtrack.

GOATS Blu-Ray (94 mins., 2011, R; Image): Wacky indie comedy stars Graham Phillips as a teenager who gets most of his counseling not from his wacky family – including Vera Farmiga as his hippie mom and Ty Burrell as his newly remarried dad – but rather a goat herder (David Duchovny) who lives in the family pool house. After Phillips leaves for an East Coast prep school, though, the rest of the family has to deal with his absence in an odd, but occasionally pungent, effort from director Christopher Neil, based on a novel by Mark Jude, co-starring Keri Russell, Justin Kirk and Anthony Anderson. Image's Blu-Ray, out this week, includes a 1080p transfer, DTS MA soundtrack and plenty of extras (featurettes, home movies, deleted scenes and the trailer).

THE GARFIELD SHOW: HOLIDAY EXTRAVAGANZA DVD (75 mins.; Dargaud Media): Six episodes from the popular, new CGI rendered "Garfield Show" includes holiday-themed episodes "The Haunted House," "Which Witch," "Turkey Trouble," "Caroling Capers" and "Home for the Holidays" parts one and two, all in 16:9 transfers and 5.1 soundtracks. A bonus episode, "Heir Apparent," is also included in the Dargaud Media release.

New From Lionsgate

THE REVENANT (117 mins., 2012, R) is an indie zombie/comedy with a twist, starring David Anders as a former Iraq soldier who wakes up in a half-dead state, needing blood to survive but joining up with pal Chris Wylde to take down gangsters, drug dealers and other assorted lowlifes in a film from writer-director Kerry Prior. Lionsgate's DVD boasts two commentaries, deleted scenes, a photo gallery, the trailer and a Making Of featurette, plus a 16:9 transfer and 5.1 soundtrack...Winona Ryder plays a New York City theater director distracted by the arrival of a newcomer (James Franco) in the little-seen indie drama THE LETTER (94 mins., 2012, R) co-starring Josh Hamilton. Lionsgate's DVD includes just a 16:9 transfer and 5.1 soundtrack...Bat Masterson's life and times are given a revisionist spin in ANY LAST WORDS? (90 mins., 2012, PG-13), a western from writer-director Vaughn Taylor starring Tom Lagleder as Masterson and Scott Jefferies as Wyatt Earp. Lionsgate's DVD includes a 16:9 transfer and 5.1 soundtrack.

NEXT TIME: Criterion's THE GAME, Shout!'s HALLOWEEN II/III and more! Until then, don't forget to drop in on the official Aisle Seat Message Boards and direct any emails to our email address. Cheers everyone!