Message Board - Come and Discuss The Latest Videos, Movies & Anything Else!
An odd and oddly likeable '30s prohibition era/backwoods thriller based (incredibly) on a true story, LAWLESS (***, 102 mins., 2012, R; Anchor Bay) stars Shia LaBeouf, Tom Hardy and Jason Clarke as brothers whose moonshining business brings them into contact with a number of unsavory types. The latter include gangster Gary Oldman and a prohibition agent (an almost ridiculously over-the-top Guy Pearce) who threatens to blow apart their operation in rural Virginia.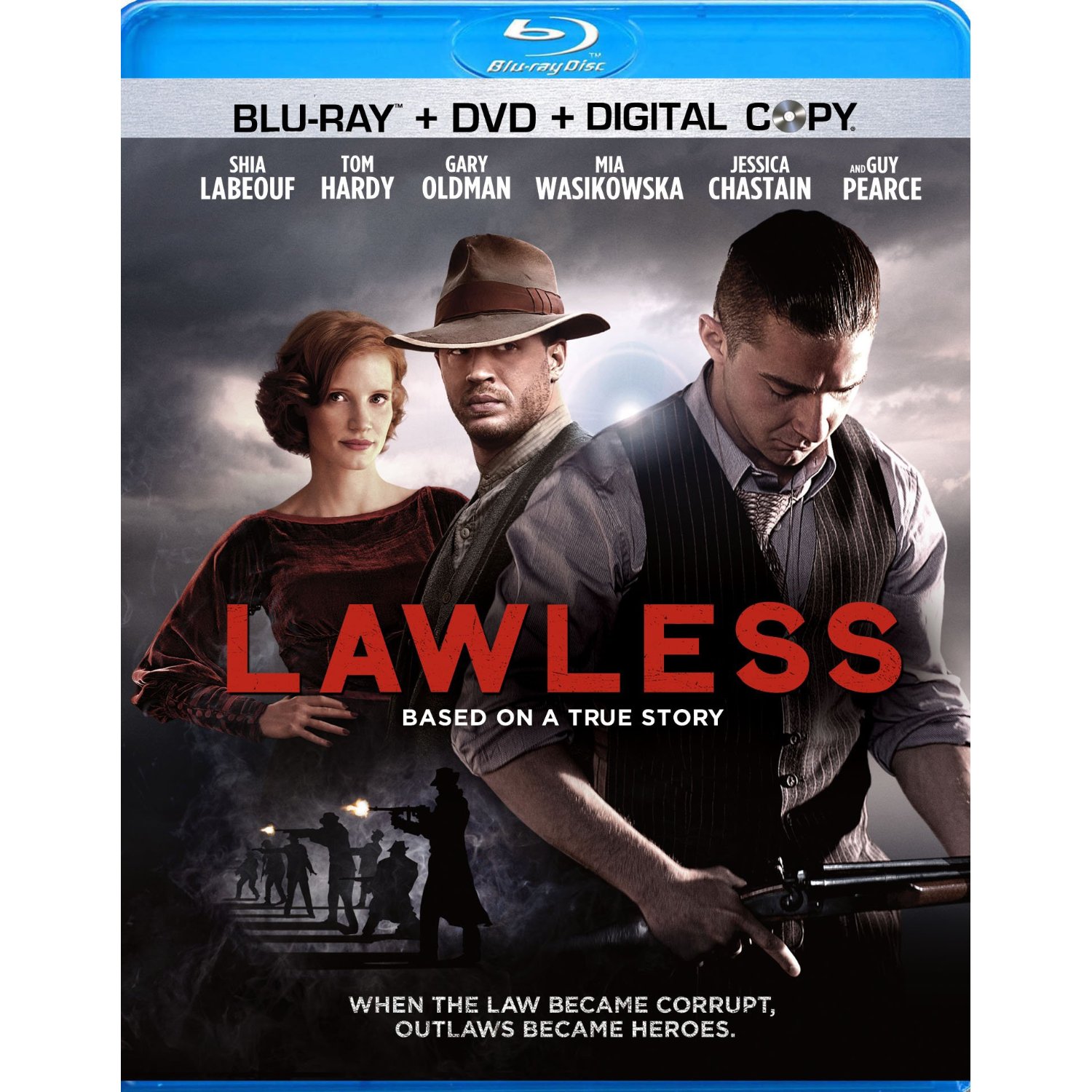 "Lawless," which John Hillcoat directed from a script by Nick Cave, is unique in its "hillbilly gangster" story, and offers an overwhelming amount of atmosphere: the settings, cinematography and production design marvelously evoke the era, even if the effective music score by Cave and Warren Ellis is mostly anachronistic. Hardy gives a commanding performance that blows LaBeouf off the screen, though the latter's role as the meek, younger Bondurant sibling ends up playing off the actor's limited strengths. Jessica Chastain and Mia Wasikowska, meanwhile, add a needed female presence to a movie that's rough around the edges but has plenty of dramatic firepower: guns, nudity, sex, violence, scenic backdrops and an eclectic cast to spare. Recommended!

Making a fast turnaround to home video following a theatrical release less than three months ago, "Lawless" lands on Blu-Ray in a satisfying package from Anchor Bay. In addition to a solid 1080p AVC encoded transfer and DTS MA 5.1 soundtrack, the BD also includes an enlightening commentary from Hillcoat and Matt Bondurant (a family member whose novel "The Wettest County in the World" formed the basis for the film), plus deleted scenes, a historical featurette, music video and a before/after look at Franklin County, Virginia. A DVD and digital copy are also included.

Twilight Time New Releases

A pair of '50s melodramas – each shot in Cinemascope and offering lush cinematography – comprise Twilight Time's slate of November releases, which ought to be of primary interest for Golden Age aficionados.

Otto Preminger's BONJOUR TRISTESSE (94 mins., 1958) is a strange, if compelling, offering from the eclectic filmmaker. Much like Stanley Kubrick's take on "Lolita," Preminger's film version of the Francoise Sagan bestseller – adapted by musical writer/playwright Arthur Laurents – has to work around obvious sexual, even incestuous, elements in its tale of a pampered, well-to-do French girl (Jean Seberg) who attempts to ruin the new relationship of her playboy father (David Niven). Seberg's school dropout spends her carefree summer days moving from one empty relationship to another, mirroring the soulless conquests of dear o'l dad – until he rekindles a relationship with an old friend (Deborah Kerr) of his late wife's who threatens Niven's bachelorhood, as well as Seberg's social existence.

"Bonjour Tristesse" is an often stilted picture that's something of an interesting hybrid between a conventional Hollywood soap opera and a more European-flavored drama – with a few flashes of the upcoming French "New Wave" cinema included for good measure. Preminger bookends the film with black-and-white sequences of Seberg recalling a fateful summer that ends in tragedy, while the central film is shot in gorgeous color in actual Mediterranean locales. Georges Auric's sensitive underscore adds a further layer of class to a great looking film – one that opens with a stylish Saul Bass title sequence – and the performances are also as effective as they can be, given the story's understandably watered-down nature (this is the late '50s, after all).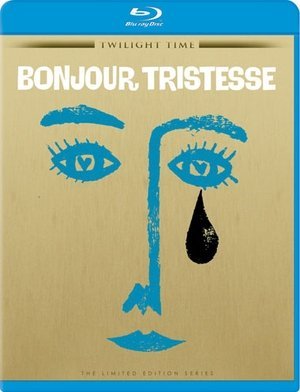 Another sterling presentation mined from the Sony vaults, Twilight Time's 1080p AVC encoded transfer preserves the striking visual look of "Bonjour Tristesse" in all its widescreen glory. The 1.0 DTS MA mono sound capably renders Auric's score, while an isolated score track is on-hand along with an unintentionally funny domestic trailer with Sagan being "interviewed" in what comes off as a primitive "Entertainment Tonight" type of canned "conversation."

The other new release from Twilight Time this month is the glossy, talky Fox melodrama THE RAINS OF RANCHIPUR (104 mins., 1955) from director Jean Negulesco.

Merle Miller's adaptation of Louis Bromfield's novel – previously brought to the screen in Fox's 1939 production "The Rains Came" – follows an unhappy wife (Lana Turner) who falls in love with a local doctor (Richard Burton) while venturing into India. Michael Rennie co-stars as Turner's icy husband; Fred MacMurray plays an alcoholic ex-flame of Turner's; Joan Caulfield is a midwestern college graduate who falls for MacMurray; and Eugenie Leontovich is the wise Maharani, who tries to curtail Turner's love for Burton because of his desire to live a "pure" life.

Eventually, earthquakes, floods and an exploding dam bring some excitement to the later stages of "The Rains of Ranchipur," which is an otherwise languid affair without a lot of dramatic sizzle. The performances are more low-key than you'd anticipate – an intentional decision on Negulesco's part that gives the material more believability than a more over-the-top, typical Hollywood approach would have. However, that decision also comes at a price, since the picture moves so slowly and on such a flat-line that it never seems to come to life.

Still, Hugo Friedhofer's terrific, sensuous score – which sounds great on Blu-Ray in a 4.0 DTS MA soundtrack (as well as an isolated score mix) – and the beautiful scope cinematography make "The Rains of Ranchipur" worth viewing, particularly for fans of '50s melodramas or any of the leading stars. Visually, the 1080p AVC encoded transfer is just splendid, preserving the movie's fine detail without excessive noise reduction, while a compliment of trailers and Julie Kirgo's sage liner notes rounds out the release.

---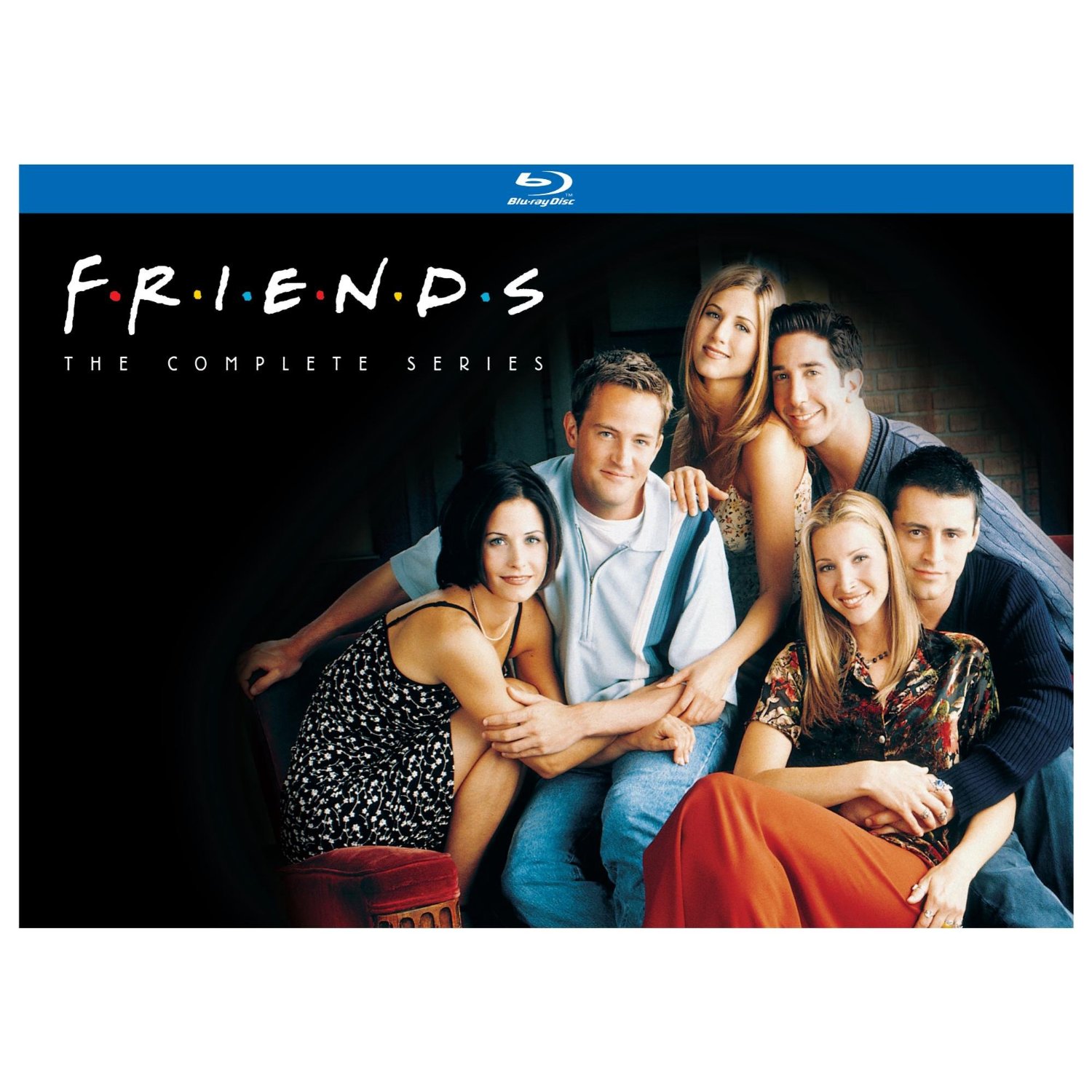 Also New on Blu-Ray

When "Friends" debuted on NBC in the fall of 1994, few – if anyone – would have believed the success the series would generate. An ensemble comedy of twentysomethings living, dating, loving, and laughing in New York City, the series – created by David Crane and Marta Kauffmann – boasted a (then) mostly nondescript cast that most viewers wouldn't have had any familiarity with. Yet, thanks to smart writing, ample chemistry between the stars and the power of NBC's Thursday night prime-time line-up during the era, the series garnered a fanbase right off the bat and would see its viewership steadily increase as the years progressed.

Mixing laughs with romance in a format that became more arc-driven – and less self-contained – as it went on, "Friends" introduced viewers to chef Monica (Courtney Cox), her paleontologist brother Ross (David Schwimmer), fashionista Rachel (Jennifer Aniston), actor Joey (Matt LeBlanc), corporate exec Chandler (Matthew Perry) and hippie-crunchy waitress Phoebe (Lisa Kudrow). The group's various personal and professional aspirations are, like the best ensemble sitcoms, given ample time to percolate: the on-again, off-again romance between Rachel and Ross; Joey's often funny television roles (including a starring role in the action-drama "Mac and C.H.E.E.SE."); Phoebe becoming a surrogate mom for her brother, while intermittently butting heads with "evil twin" Ursula; Chandler and Monica's slow-developing relationship; and assorted break-ups (many of them) along the way.

"Friends" debuted strongly during the fall of 1994, and by its fifth season had an audience that climbed to nearly 20 million viewers on average weekly. Over 50 million viewers tuned into the show's finale in 2004, nearly a decade – and a total of 236 episodes – after it first premiered. The show's theme song – The Remembrandts' "I'll Be There For You" – became one of the last big TV themes to hit it big on the pop charts, and the series is still viewed in syndication on an almost-daily basis. Though I was never a weekly viewer of "Friends," you have to admire any series that remains on the air for 10 years; the program remains one of the pop-culture smash success stories of its day, and its devoted fans will be thrilled with Warner's new HD presentation of the series on Blu-Ray.


Warner Home Video brings the entire "Friends" series to Blu-Ray at once this month in the form of a 21-disc box-set. The 1080p transfers have been fully remastered from the original 35mm negatives; formatted to 1.78 (16:9) widescreen, the results are impressive, with crisp detail visible throughout. The soundtracks have been remastered for 5.1 Dolby Digital sound and loads of extras are also present, including over 20 hours of bonus content (four of which are brand new and exclusive to this release). Among the latter are retrospective "True Friends" documentaries that take viewers behind the scenes; the original script and producer's cut for the memorable episode "The One Where Rachel Tells Ross"; cast appearances on "The Tonight Show" and Ellen DeGeneres from 2004-05; Season 7's originally longer "Super-sized" episodes; the series' music video; a lenticular box cover, hardcover book holding all the discs and a 36-page episode guide putting the icing on the cake. Highly recommended for "Friends" fans and one of the more impressive TV series-on-Blu-Ray releases to date in the format!

THE EXPENDABLES 2 Blu-Ray/Digital Copy (***, 102 mins., 2012, R; Lionsgate): Sly, Statham, Lundgren, Arnie and Bruce are back for more in another plot-deprived, yet entertaining enough, action sequel. This time out, the Expendables head to Europe to recover an item from a downed plane, only to run into crazy psycho Jean Claude Van Damme.

With Simon West taking over for Stallone behind the camera (Sly still wrote the film with Richard Wenk), "The Expendables 2" fares better in terms of the shaky-cam visual element. The lightening of the overall tone also serves the film well, with plenty of chemistry between the stars, though dramatically there's scant investment made in the plot, which serves only to give the aging genre heroes a platform to interact with one another. Ultimately, "The Expendables 2" is fun and engaging, even if the film technically seems to have been pieced together with occasionally cheap looking digital backdrops and star cameos (from the likes of Chuck Norris and even original star Jet Li, who contributes less than 10 minutes of screen time) that seem to have been hastily shot and edited.

Lionsgate's Blu-Ray does the best it can to handle the movie's erratic appearance, but the 1080p transfer can only do so much with elements that are uneven to say the least. The DTS MA sound is far more potent, and extras include a commentary from West, several featurettes, deleted scenes, a gag reel, a digital copy and Ultraviolet streaming option as well. Not great, but it still delivers exactly what it promises to its target audience.

---
New From Mill Creek

In addition to the new, low-priced Mill Creek double features I covered in our last Aisle Seat, the label has released several other titles of note.

For genre fans, Mill Creek's double-feature BD pairing of Stephen Sommers' 1998 creature feature DEEP RISING with the 1994 adaptation of Robert A. Heinlein's influential sci-fi novel THE PUPPET MASTERS is well worth a look.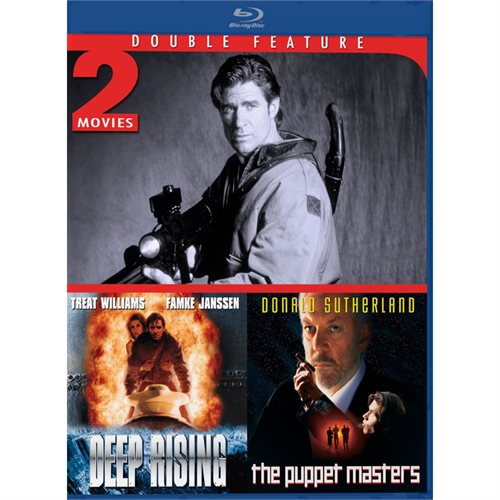 Admittedly, I've never thought much of "Deep Rising" (*½, 106 mins., R), a Hollywood Pictures production that cost a relatively pricey $45 million back in the late '90s and bombed upon its release in the dumping grounds of winter 1998. Sommers' profoundly stupid film finds wisecracking hero Treat Williams leading a team of mercenaries (including Wes Studi in a rare "non-ethnic" role) to a cruise ship that's been decimated by an aquatic creature that's risen from the depths. Sommers' penchant for mixing lighthearted characterizations with large-scale effects sequences doesn't really gel in "Deep Rising," mainly because of the cheap, threadbare production design that resembles an episode of "SeaQuest DSV." After an unmanageably talky first half hour, Sommers' film settles into an almost endless succession of characters being chased down tight corridors by a large squid-like creature – which, despite having been "designed" by Rob Bottin, is entirely animated. This being a 1998 release, the pedestrian CGI – which wasn't top of the line to begin with – really dates the film badly, as the cast (which also includes a sultry Famke Janssen and Sommers' horribly unfunny comic relief man, Kevin J. O'Connor) strains to look horrified by effects that are almost completely less than special.

Jerry Goldsmith's hard-working score has its moments, but it lacks the overall effectiveness of another, similarly themed genre film the composer scored nearly a decade prior: "Leviathan," which at least inspired Goldsmith to pen a terrific, melodic end titles piece. His "Deep Rising" score has as much energy, but little in the way of memorable thematic material.

Robert A. Heinlein's "The Puppet Masters" (**½, 108 mins., 1994, R) was one of the most influential sci-fi novels of all-time, having set the stage for countless imitators and rip-offs – both in print and on the big screen – for years to come. Unfortunately, by the time Hollywood Pictures produced the first-ever motion picture rendition of Heinlein's material decades after its publication, countless films had already covered similar terrain, particularly "Invasion of the Body Snatchers" and "Invaders From Mars" among others.

The resulting "Puppet Masters" movie – which, like "Deep Rising," was DOA in theaters upon its release in the fall of '94 – is a curiously watchable yet highly flawed film that's indifferently acted and occasionally quite funny on an unintentional level. The screenplay by Ted Elliott and Terry Rossio (who would later write all of the "Pirates of the Caribbean" films for Disney) and future Christopher Nolan collaborator David S. Goyer might have read better on paper, yet the film's execution is stilted and "off" – way, way off! Donald Sutherland stars as a "Men in Black"-type government agent investigating an extraterrestrial invasion that finds bat-shaped alien creatures binding themselves to the necks of human victims, thereby taking over their minds. Limp supporting work from Eric Thal and Julie Warner (completely unconvincing as a fellow investigator) is partially off-set by veteran character actors (Will Patton, Yaphet Kotto, Keith David and Richard Belzer) with a better grasp of what they're doing, but even Sutherland himself seems out of it in a role that's a far cry from his turn in Philip Kaufman's "Body Snatchers."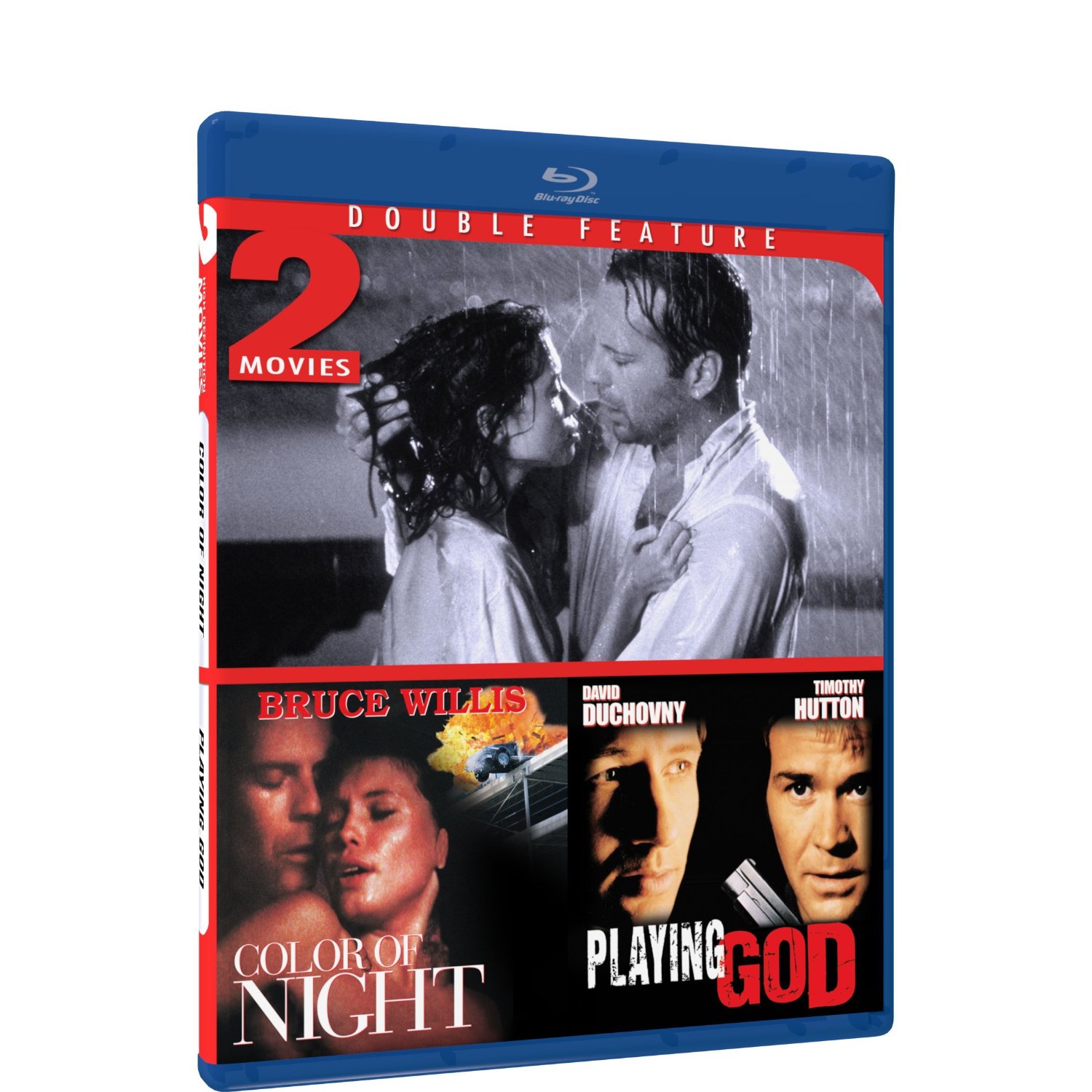 Director Stuart Orme – whose career is mostly comprised of British TV credits – brings an overly placid, almost PBS-like approach to material that ought to crackle with suspense and horror. Instead, the movie's stone-faced, serious demeanor ends up becoming a near parody of itself – something that's accentuated by Colin Towns' earnest but likewise portentous dramatic score, which tends to punctuate some of the movie's more unintentionally hilarious moments (the entire opening where Warner tries to prove that there's something wrong because men aren't checking her out is worth the price of admission by itself). Still, the movie is far from a total loss: between its infrequent moments of comedy and the old-school (very old) special effects of the aliens flying about, "The Puppet Masters" proves to be watchable, old-fashioned sci-fi played so earnestly that fans of Golden Age fare are likely to be entertained by it, provided they can get into the right mindset. It's no "Lifeforce" but, then again, what is?

Mill Creek's Blu-Ray offers 1080p transfers that prove to be adequate on "Deep Rising" (which never saw an anamorphic DVD release here stateside) and superior on "The Puppet Masters." Both films were shot in 2.35 and benefit from the widescreen presentation seen here, even if both masters look as if they may have been struck some time ago. The DTS MA 5.1 audio on "Deep Rising" is quite effective in places, certainly more so than the standard 2-channel DTS MA mix on "The Puppet Masters." A trailer for "Deep Rising," announcing a 1997 release date (the film was pushed back into a low-profile February '98 date), is the sole extra.

Another Mill Creek double-feature pairs the hilariously bad Bruce Willis "sexual thriller" COLOR OF NIGHT (139 mins., 1994, R) with the forgettable David Duchovny starrer PLAYING GOD (94 mins., 1997, R). The latter looks much better on Blu-Ray than the former, which seems to have been derived from an old master that only intermittently shows off any HD detail (the print itself is in rough shape at times as well). Each has 2.0 DTS MA soundtracks and their original trailers as extras. "Color of Night" is presented in director Richard Rush's longer version, which is preferable since it's even funnier than the theatrical release! Dominic Frontiere's score – much like the movie itself – ranks as one of the worst of the decade as well.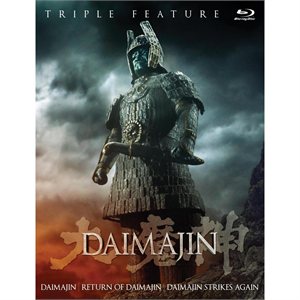 One of Mill Creek's biggest releases of the fall is the Triple Feature Blu-Ray of DAIMAJIN (1966), a unique and entertaining trio of films from the Daiei Company in Japan. Best known for their "Gamera" pictures, Daiei sought to do something a little different with "Daimajin," combining Japanese folklore, the samurai period genre and monster action into a serious, and very well made, mixture that has long eluded U.S. audiences.

American-International reportedly syndicated dubbed versions of the first two films in the series – "Daimajin" and "Return of Daimajin" – on TV back in the '70s. The third film, "Daimajin Strikes Again," went unseen in the U.S. until an earlier home video release mistakenly labeled it as the series' second film. No matter, fans can dispose of that release thanks to Mill Creek's superlative Blu-Ray package, which includes gorgeous 1080p transfers of all three films (each released in 1966 and unconnected thematically save for the Daimajin itself) along with DTS MA Japanese (English subtitled) or English dubbed soundtracks (the English mix for "Daimajin Strikes Again" was newly recorded for this release).

Strikingly shot in scope and scored by "Godzilla"'s own Akira Ifukube, "the Daimajin" pictures refuse to overstay their welcome and benefit from dramatically engaging storylines far superior to the typical "man in the monster suit" flicks the Japanese were routinely producing during this time. They're almost like combining the plot of a Kurosawa-type production with "Godzilla," and the mix proves to have as much appeal as that sounds. Mill Creek's two-disc BD set also includes original Japanese trailers, behind the scenes footage and interviews with cinematographer Fujio Morita. Highly recommended!

Finally, Mill Creek's MIDNIGHT HORROR THEATER DVD anthology combines previous Mill Creek releases "Gorehouse Greats" and "Undead: The Vampire Collection" in an appealing, low-priced release. Consult the Aisle Seat archives for full contents of both releases.

---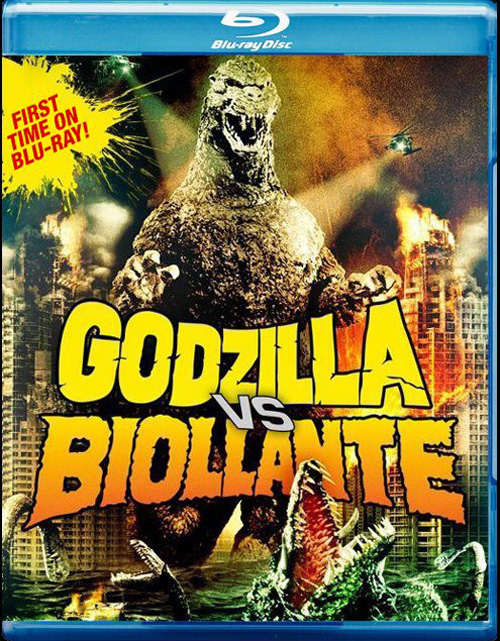 Upcoming From Echo Bridge

GODZILLA VS. BIOILLANTE Blu-Ray (104 mins., 1989, PG; Echo Bridge): Big G fans disappointed by the apparent cancellation of Media Blasters' "Godzilla Vs. Megalon" Blu-Ray can find solace in Echo Bridge's terrific new release of "Godzilla Vs. Biollante." This 1989 Toho production was the first (of many) sequels in the studio's '80s/'90s "second wave" of Godzilla epics, and the only one domestically controlled by Miramax. In an amazing occurrence that's nearly inconceivable given Miramax's penchant for hacking up overseas imports, Harvey & Bob's editors didn't take the shears out to "Biollante" and basically left it intact from its original Japanese version – dubbing excepted, of course. Echo Bridge's Blu-Ray debut of the film – which sports Godzilla taking on a giant, Audrey II-like plant – looks really good, with a genuine 1080p transfer and both 5.1 DTS MA Japanese (subtitled) and a monophonic English dubbed track on-hand. Extra features are also included, most notably a 50-minute subtitled Japanese documentary. The 1080p transfer is quite good and the entire package attractively priced. Available December 4th and highly recommended!

TALES FROM THE CRYPT Presents: RITUAL (**½, 2001, 106 mins., R; Echo Bridge): Completed in 2001 and released overseas without any "Tales From the Crypt" designation, this third feature spin-off from the cable series – produced in association with Miramax – is a surprisingly watchable remake of the RKO Val Lewton classic "I Walked With a Zombie." Writer Rob Cohen and director Avi Nesher have fashioned a leisurely paced zombie thriller set in Jamaica, intended initially to re-ignite Jennifer Grey's screen career; the latter didn't happen as "Ritual" sat on the shelves for five years domestically before finally landing direct to DVD in 2006. The movie, though, offers a few jolts, Grey looking good (plastic surgery notwithstanding), a campy performance from co-star Tim Curry, and a decent score by Shirley Walker – improbably making it the best of the three "Crypt" features. Echo Bridge's Blu-Ray includes a respectable 1080p transfer and 2.0 DTS MA soundtrack; fans should note that the lousy Cryptkeeper segments shown here are completely independent of the film and contain their own separate credits, which is unsurprising since overseas prints of the movie didn't contain those bookending sequences at all (fortunately, the chaptering gives viewers the ability to skip them altogether).

EXISTENZ Blu-Ray (97 mins., 1999, R; Echo Bridge): David Cronenberg's 1999 virtual reality thriller starring Jennifer Jason Leigh, Jude Law, Ian Holm and Willem Dafoe made its first appearance on Blu-Ray last year in a multi-film Echo Bridge release. This single-disc edition boasts a higher bit-rate transfer from the same master, with extras including interviews with Law, Dafoe and special effects supervisor Jim Isaac.

---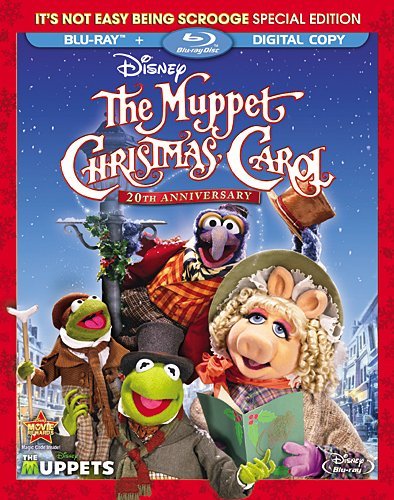 Also New on Blu-Ray and DVD

THE MUPPET CHRISTMAS CAROL Blu-Ray (* for presentation, 85 mins., 1992, G; Disney): Humbug! Thanks to Michael Caine's sterling performance as Scrooge and a marvelous song score by Paul Williams, "The Muppet Christmas Carol" ranks as one of my favorite cinematic adaptations of the Charles Dickens perennial.

Unfortunately, although Disney's AVC encoded Blu-Ray transfer here is markedly superior to all prior video releases, Disney inexplicably chose to only include the movie's studio-cut theatrical version on the disc. This leaves not only Brian Henson's Director's Cut (sporting the wonderful, and essential, Williams ballad "When Love Is Gone") out in the dust, but "When Love is Gone" itself is nowhere to be found in this release at all – not even in a deleted scenes supplement.

This regrettable decision makes this one of the year's "must to avoid" so-called "Special Edition" releases: "When Love Is Gone" is nothing short of the most dramatic moment in the entire film, one of Williams' loveliest songs, and absolutely essential to the story itself. Disney executives hastily cut the song from U.S. theaters because of their concern with little kids finding it too emotional and "boring," but a reportedly angry Henson later restored it to every subsequent video release of the film (at least until a "Special Edition" DVD only included it in pan-and-scan 1.33 format only).

Its omission negates an otherwise attractive package that includes two commentaries (one a cut-up version of Henson's track, the other a useless commentary featuring Gonzo, Kermit and Rizzo), a blooper reel, behind-the-scenes content and a digital copy, plus DTS MA audio.

For whatever executive at Disney felt this was the right way to go – and dismiss not only the superior cut of the film but also the wishes of everyone involved who produced it – they deserve a nice big lump of coal in their stocking.

PIXAR SHORT FILMS COLLECTION Volume 2 Blu-Ray/DVD (75 mins., Disney): 12 short movies from the Pixar folks hit Blu-Ray and DVD on November 13. Included are "Burn-E," a spin-off of "Wall-E"; "Dug's Special Mission" and "George & AJ," featuring characters from "Up"; "Air Mater" and "Time Travel Mater," sporting the character from "Cars"; "Your Friend the Rat," starring Remy and Emile from "Ratatouille"; plus "Partly Cloudy," "Resto," "Day & Night," "Hawaiian Vacation," "Small Fry," and "La Luna." For special features, seven short student films from Pixar's John Lasseter, Andrew Stanton and Pete Docter are also included, plus commentaries and a DVD copy. The 1080p transfers and DTS MA soundtracks are all excellent as you would anticipate.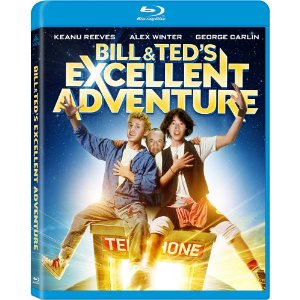 BILL & TED'S EXCELLENT ADVENTURE Blu-Ray (**½, 90 mins., 1989, PG-13; MGM/Fox): "Bill & Ted's Excellent Adventure" remains one of the most improbable box-office hits of all-time considering its pedigree – shot in 1987 by DeLaurentiis Entertainment Group, the studio went bankrupt during production. Reports allege that DEG was going to sell it to HBO until Nelson Entertainment saved the day, investing cash in special effects and reshoots before selling it to Orion Pictures. After a near two-year delay, the movie opened in 1989 and became one of the biggest hits of the winter months, establishing Keanu Reeves as a star (not so much for Alex Winter) and generating a bigger-budgeted sequel in 1991. With talk of a third film apparently in the works, MGM's timing for "Bill & Ted"'s Blu-Ray debut is perfect, and the studio's affordable package includes a solid, new HD master (2.35, AVC encoded 1080p) with DTS MA 5.1 audio. Extras are partially comprised of goodies from an old MGM two-disc DVD release, including the premiere episode of the short-lived Bill & Ted cartoon, an interview with guitarist Steve Vai, radio spots and vintage interview with writers Chris Matheson and Ed Solomon.

THE WATCH Blu-Ray/DVD/Digital Copy (**, 102 mins., 2012, R; Fox): Misfired, labored comedy seems to have gotten its signals crossed right in pre-production. Ben Stiller, Vince Vaughn, Jonah Hill and Richard Ayoade play four hapless members of an Ohio community watch who stumble upon truly illegal aliens – as in extraterrestrials – in a film that mixes the decidedly PG-rated sensibilities of producer Shawn Levy with the R-rated raunchy gags of co-writers Seth Rogen and Evan Goldberg. The resulting picture finds the stars firmly in cruise control with a silly story that you can just envision having been developed as "Paul Blart"-styled "family comedy" – but with a number of foul-mouthed jokes here thrown into the mix in order to give it an "edge." Needless to say, neither side of "The Watch" works, and the unfortunate Trayvon Martin/George Zimmerman case further compounded the film's unsuccessful run at the box-office last summer. Fox's Blu-Ray of the movie includes deleted scenes, the usual gag reel, several fluffy featurettes, alternate takes, a digital copy and Ultraviolet streaming version, plus a 1080p transfer, DTS MA soundtrack and a standard DVD copy.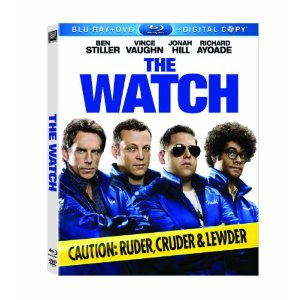 SPARKLE Blu-Ray (**, 116 mins., 2012, PG-13; Sony): Blah remake of the '70s Warner Bros. release focuses on a trio of African-American sisters (Jordin Sparks, Carmen Ejogo, Tika Sumpter) who attempt to makle it big in the music biz during the heyday of Motown in the '60s. This low-budget musical drama is patently predictable albeit well-performed by the cast; it's likely to end up being best known as the final film of Whitney Houston, who fares adequately as the girls' mother, and who also produced this Salim Akil remake of Joel Schumacher and Howard Rosenman's original story. Sony's Blu-Ray boasts commentary from Akil, a featurette and Houston tribute, plus format-exclusive featurettes and music videos. The 1080p transfer and DTS MA soundtrack are each exemplary.

THE DAY Blu-Ray/DVD (84 mins., 2011, R; Anchor Bay): Collaboration between WWE Studios (yes, the wrestling folks) and Anchor Bay finds five survivors (Shawn Ashmore, Ashley Bell, Cory Hardrict, "Lost"'s Dominic Monaghan and Shannyn Sossamon) of a future apocalypse seeking shelter in an old farmhouse – only to have a ruthless group of villains pursue them. This Canadian-lensed production boasts some horrific passages courtesy of Luke Passmore's script and Doug Aarniokoski's direction, making "The Day" a decent bet for genre fans. Anchor Bay's Blu-Ray includes a 1080p transfer, Dolby TrueHD soundtrack, commentary from the director, writer and producer, and the original trailer. A standard DVD is also included in the combo pack.

RITES OF SPRING DVD (81 mins., 2011, Not Rated; IFC/MPI): Padraig Reynolds' production is an interesting but unsuccessful attempt at mixing a gory creature flick with a Fincher-esque crime thriller, and little of it pays off. In "Rites of Spring," kidnappers abduct a socialite's daughter but get more than they bargained for when they run afoul of a "Wicker Man"-like ritual. MPI brings "Rites of Spring" to DVD this month in a special edition offering commentary, storyboards, poster designs, a trailer, and a creature artwork gallery. The 16:9 transfer and 5.1 soundtrack are both fine.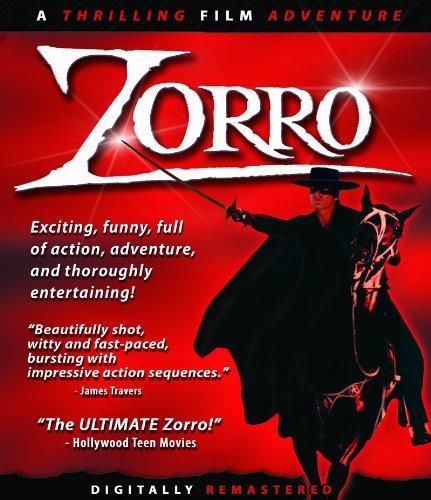 THE BURNING MAN DVD (109 mins., 2011, Not Rated; IFC/MPI): Matthew Goode delivers a strong performance in Jonathan Teplitzky's Australian film about a successful but rude, self-destructive chef with a painful backstory told in fragmented form. "The Burning Man" is highly emotional and Goode's performance anchors the picture. IFC's DVD includes commentary, interviews, a behind-the-scenes segment and the trailer, along with a 16:9 transfer and 5.1 soundtrack.

A BURNING HOT SUMMER DVD (95 mins., 2011, Not Rated; Sundance Selects/MPI): Monica Bellucci and Louis Garrel play a couple growing apart – while Celine Sallette and Jerome Robart watch them – in Philippe Garrel's French drama. MPI brings "A Burning Hot Summer" to DVD with a 16:9 transfer, 2.0 French soundtrack (English subtitled) and the original trailer.

ZORRO Blu-Ray (118 mins., 1975, Not Rated; Somerville House): Here's an interesting curiosity item for movie buffs: the complete version of the 1975 "Zorro," the only adaptation of the classic hero to take place in an undefined South American locale, and a film that was severely cut down in the U.S. back in the '70s. Canadian label Somerville House has packaged a terrific restoration of this unusual outing, which stars Alain Delon as Zorro (also the governor of a troubled province) with Stanley Baker and Adriana Asti in a fun, Spaghetti Western-like adaptation boasting a score by Guido and Maurizio de Angelis that includes a beyond-irritating theme song by Oliver Onions! Somerville House's Blu also includes trailers, radio spots, a Delon biography, photo gallery, restoration clip comparisons, a 1080p transfer and English 2.0 DTS MA soundtrack. Certainly recommended, especially for buffs who've been seeking a quality release of this little-seen adaptation.

WU DANG Blu-Ray (101 mins., 2012, Not Rated; Well GO USA): Patrick Leung's Hong Kong actioner is a throwback of sorts to the sorts of martial arts adventures we'd see years ago – and with some questionable production values, that's not entirely a good thing. "Wu Dang" follows an Indy-like professor seeking treasures inside of Wu Dang mountain, and whose daughter – a skilled martial artist – engages in a championship tournament while he seeks fortune and glory. HK fans may get a kick out of "Wu Dang," which Well GO brings to Blu-Ray on December 4th featuring a behind-the-scenes featurette, the trailer and deleted scenes. The original Mandarin audio is presented in DTS MA 5.1 with English subs and the 1080p transfer is just fine.

---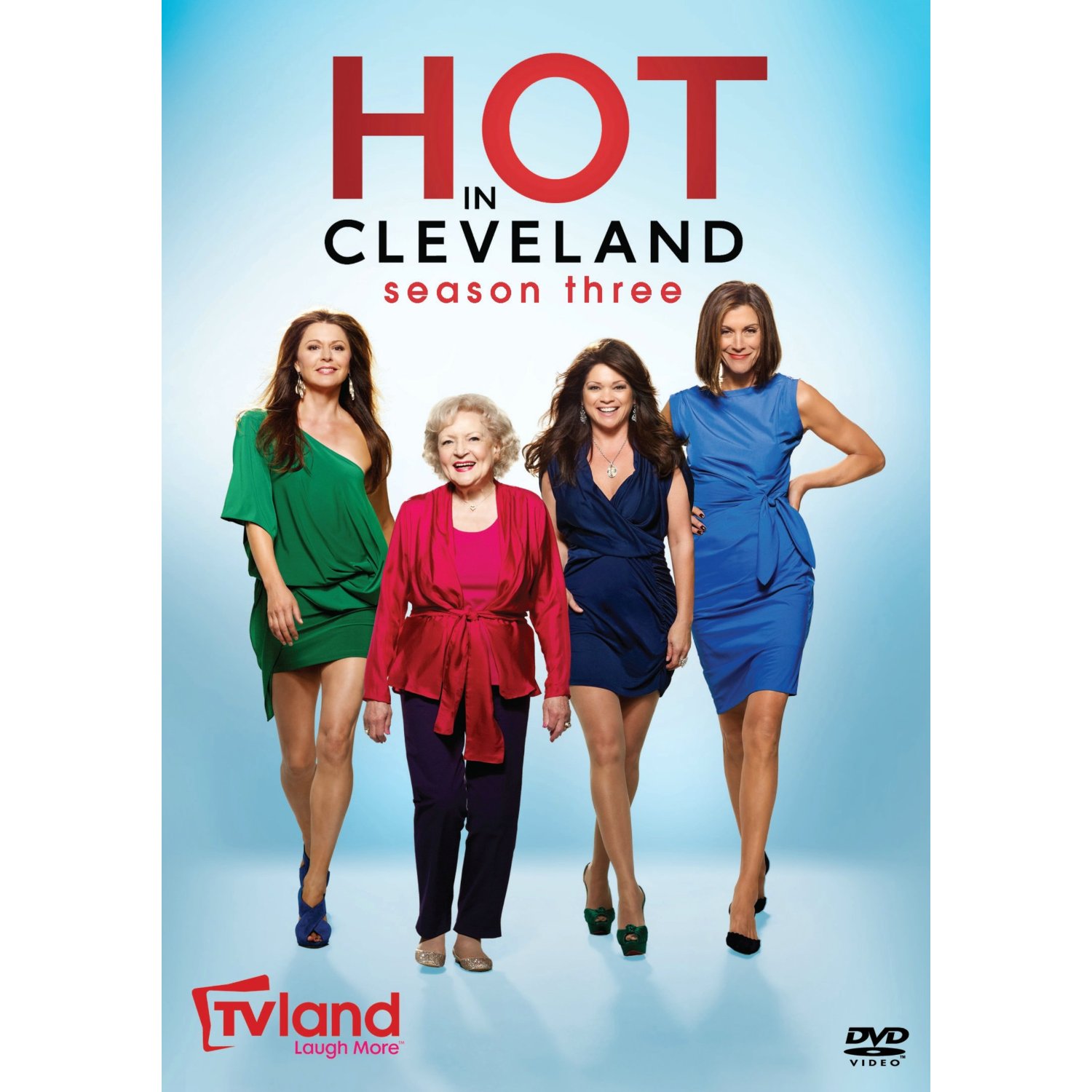 More TV on DVD

HOT IN CLEVELAND Season 3 DVD (506 mins., 2011-12; Paramount): Valerie Bertinelli, Jane Leeves, Wednie Malick and Betty White return in this third season of the popular TV Land original sitcom. Paramount's DVD set includes all 25 episodes from the series 2011-12 campaign, including Blow Outs; What's Behind the Door; Storage Wars; The Gateway Friend; By George I Think He's Got It; Cruel Shoes; Claus, Tails, and High-Pitched Males: Birthdates 3; Everything Goes Better With Vampires; Rubber Ball; Hot and Heavy; Tangled Web; Lost Loves; I'm With the Band; Life With Lucci; Love is Blind; God and Football; Two Girls and a Rhino; How Did You Guys Meet Anyway; One Thing or a Mother; Happy Fat; Funeral Crashers; Beards; and Erika's Choice. 16:9 transfers and stereo soundtracks comprise the release, which also includes the behind-the-scenes special, "Some Like it Hot."

PERRY MASON Season 8, Volume 1 DVD (aprx. 13 hours, 1964-65; CBS): Raymond Burr returns as the brilliant attorney – along with trusted teammates Paul Drake (William Hopper) and Della Street (Barbara Hale) – in this eighth season of the long running, classic TV drama. CBS' first release from the series' 1964-65 campaign includes the first eight episodes: "The Case of the..." Missing Button; Paper Bullets; Scandalous Sculptor; Sleepy Slayer; Betrayed Bride; Natural Knot; Bullied Browler; Place Called Midnight; Tragic Trophy; Reckless Rockhound; Latent Lover; Wooden Nickles; Blonde Bonanza; Ruinous Road; and Frustrated Folk Singer. All the B&W transfers are crisp and mono soundtracks are on-hand in the four-disc DVD set.

TRANSFORMERS PRIME Season 2 Blu-Ray (aprx. 10 hours, 2012; Shout! Factory): J.J. Abrams' pals Alex Kurtzman and Roberto Orci developed this new TV series featuring the popular Hasbro characters. Colorfully rendered with CGI, the program – which airs on the Hub channel – finds the Autobots combating their ages-old villains the Deceptions, with the assistance of several young kids and a government agent (voiced by Ernie Hudson). Season 2's 26 episodes have Optimus Prime unknowingly joining Megatron after his memory is wiped and the Autobots having to form an alliance with the Deceptions in the face of Unicron the Chaos Bringer. "Transformers Prime" is fun for both kids and fans alike, and Shout!'s Season 2 Blu-Ray package includes more brilliant 1080p transfers that ought to dazzle viewers in HD. 5.1 audio tracks and a number of extras complete the package, including brand-new interviews with the creative tam and an "Up Close and Personal" panel featuring Larry King and Peter Cullen from this year's San Diego Comic Con.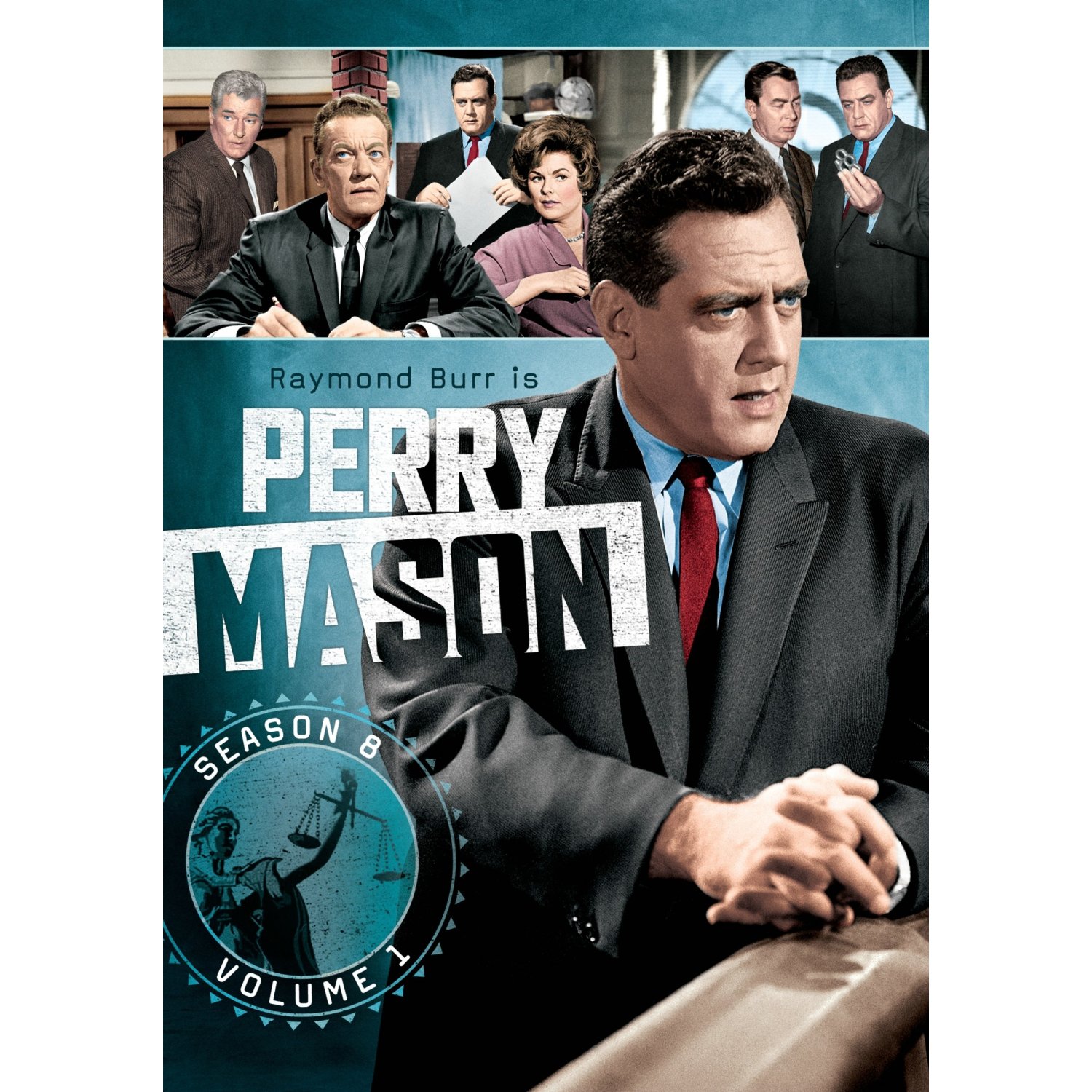 LAW & ORDER: CRIMINAL INTENT Season 9 DVD (aprx. 12 hours, 2012; Shout! Factory): Big changes rocked this "Law & Order" spinoff in its ninth season, where stars Vincent D'Onofrio, Kathryn Erbe, and Eric Bogosian departed the series, and Mary Elizabeth Mastrantonio and Saffron Burrows joined the cast in this 16-episode ninth year (2010 season). Episodes include "Loyalty" parts 1 and 2; "Broad Channel," "Delicate," "Gods and Insects," "Abel & Willing," "Love Sick," "Love on Ice," "Traffic," "Disciple," "Lost Children of the Blood," "True Legacy," "The Mobster Will See You Now," "Palimpsest," "Inhumane Society" and "Three-in-One." 16:9 transfers and 2.0 soundtracks are on-hand in Shout's package.

CALL THE MIDWIFE Season 1 DVD (355 mins., 2012; BBC): Jessica Raines stars in this BBC import as a young midwife in East London during the 1950s. Higher rated than "Downton Abbey" in its native country, the well-reviewed "Call the Midwife" – which co-stars Jenny Agutter, Judy Parfitt and Vanessa Redgrave, and was based on the memoirs of Jennifer Worth – arrives on DVD in a two-disc set featuring 16:9 transfers, 2.0 soundtracks and a pair of featurettes. Recommended viewing, with the second season set to premiere on the BBC (and, later, PBS) next year.

AIM HIGH Season 1 DVD (57 mins., 2011; Warner): Six-episode internet series follows a 16-year-old (Jackson Rathbone) who moonlights as a government agent. Warner's DVD includes three featurettes, a 16:9 transfer and 5.1 soundtrack.

KAIJUDO: RISE OF THE DUEL MASTERS - CREATURES UNLEASHED DVD (110 mins., 2011; Shout! Factory): Animated craziness for kids hits DVD from Shout offering the episodes "The Natural" Parts 1, 2 and 3, plus "Om Nom Nom" and "The Hunted." A special Kenina trading art is also included along with a Making Of featurette.

NEXT TIME: More of the latest releases! Until then, don't forget to drop in on the official Aisle Seat Message Boards and direct any emails to our email address. Cheers everyone!