Message Board - Come and Discuss The Latest Videos, Movies & Anything Else!

More evidence that the home video business is changing (as if there wasn't enough) is on display in the first Blu-Ray exclusives from the Warner Archive, which are already available through the newly reworked WBShop website. With numerous titles to follow in the months ahead (Peter Weir's "Fearless" and the Coen brothers' "The Hudsucker Proxy" are due shortly), it's an exciting time for movie buffs since the Archive can target properties that they feel wouldn't sell enough copies at dwindling retail locations to justify their release in the HD format. The discs aren't BD-Rs but "real" BD discs that will be pressed, much in the same way as the Archive's DVD-R titles, in small batches upon demand.


Kicking things off is Sidney Lumet's 1982 filming of Ira Levin's play DEATHTRAP (**½, 116 mins., PG), which was last seen on DVD in an early-format, full-screen release housed in one of the label's old "snapper" cases. Fans of the film have had to make do with that release for far too long, but can now dispose of it courtesy of the Archive's super 1080p BD package. By this point, Warner Home Video's catalog discs are seemingly more consistent than any other label, marked by crisp, satisfying detail and a notable lack of DNR processing. "Deathtrap"'s only occasional flaws are a few speckles in the print; for the most part, it's pristine, and the clear DTS MA mono audio delivers the film's pungent dialogue effectively.

"Deathtrap" is an odd, twisty thriller that Jay Presson Allen adapted from Levin's play. Michael Caine is diabolical as the frustrated playwright who requests (at least it seems on first glance) the assistance of one of his former students (Christopher Reeve) after his latest work fails spectacularly; Dyan Cannon plays Caine's wife, but there's more – much more – to this story than initially meets the eye. Allen's script opens up Levin's play a bit for the screen and the ensemble plays it to a hilt under Lumet's direction, though it's hard to envision the film having much potential for repeat viewing.

The disc's sole extra is the theatrical trailer; it would've been nice if some excised material, added to CBS' initial network broadcast of the picture, had been included as an extra, but fans will likely be perfectly content with seeing the picture in widescreen (never mind HD!) at last.

The other Archive Blu-Ray offering is GYPSY (***½, 143 mins., 1962), the spirited adaptation of the Jule Styne-Stephen Sondheim Broadway musical starring Natalie Wood as Gypsy Rose Lee and Rosalind Russell as her overbearing mother, Rose. Russell isn't Ethel Merman and some fans carped over changes made to the material in Mervyn LeRoy's film, but the finished product is still highly entertaining and tuneful, and enhanced all the more by Warner's Archive BD presentation. The 1080p AVC encoded transfer, presented in the movie's 2.40 Technirama dimensions, is just great, as is the 2.0 DTS MA audio. A couple of extra features are also on tap, including two musical outtakes and the original trailer.

Also new this month from the Warner Archive on DVD is THE CHARLIE BROWN AND SNOOPY SHOW (1983-85, 402 mins.), the complete CBS Saturday morning series comprised of vignettes involving Charles M. Schulz's beloved characters. Produced by Bill Melendez and Lee Mendelson – architects of dozens of Peanuts specials over the decades – the series is great fun for Charlie Brown fans, who've also had to live with portions of the show being released, piecemeal, in assorted DVD compilations over the years. This marks the first full release of the series on video, and the two-disc set ought to make for a perfect Christmas present for the Peanuts fan on your holiday shopping list.

---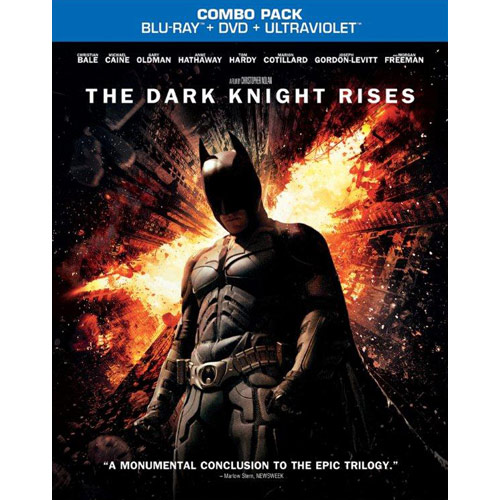 New on Blu-Ray

Christopher Nolan's triumphant, apparently final installment in his Batman saga, THE DARK KNIGHT RISES (***½, 165 mins., 2012, PG-13; Warner), is a compelling, exciting piece of modern filmmaking – more of a direct sequel to its initial entry, "Batman Begins," than its immediate predecessor, the overpraised and repetitive "The Dark Knight."

Set several years after the events of TDK, Gotham City finds itself once again under siege – this time from a mercenary named Bane (Tom Hardy) who wears a mask and talks like a muffled version of Darth Vader by way of Sean Connery. The Batman hasn't been seen since the night of Harvey Dent's death, with Bruce Wayne (Christian Bale, seeming less uptight this time around) hiding out as a recluse in Wayne Manor, much to the chagrin of Alfred (Michael Caine), who just wants to see his master join the ranks of the living again. Bruce's world is initially perked up by a cat burglar named Selina Kyle (Anne Hathaway), who's gotten herself wrapped up in the new world order that Bane's "Occupy Gotham" army represents – but it's just a teaser for the resurrection of Batman himself, who's desperately needed by its residents and a beleaguered Commissioner Gordon (Gary Oldman), who finds a new ally in crusading young cop John Blake (Joseph Gordon-Levitt).

"The Dark Knight Rises" is confident, visually compelling and just a bit overlong. The script, by Nolan and his brother Jonathan, is better balanced than the redundant structure of "The Dark Knight," which found Batman continuously trying to save Gotham, only to be thwarted by a psychotic act from The Joker. This picture is less sadistic as well, with more of a redemptive finale that proves to be enormously satisfying as Nolan at last breaks out of the constant doom and gloom that the last picture was dominated by.

Most of the additions to the cast help enormously, from Hathaway's fetching turn as Catwoman and Gordon-Levitt's tireless police detective, to welcome on-screen appearances by veteran actors Matthew Modine and William Devane, and a few surprise cameos from veterans of Nolan's earlier Batman pictures. Bane himself is a little goofy, but Hardy packs a muscular presence, and series veterans Caine and Oldman have several fine scenes as well. Less effective is Marion Cotillard's red herring role as the new head of Wayne Enterprises and Bruce's latest love conquest – given where the story ultimately concludes, there should have been more of the relationship between Bruce and Selina, though romanticism has never been one of Nolan's strong suits.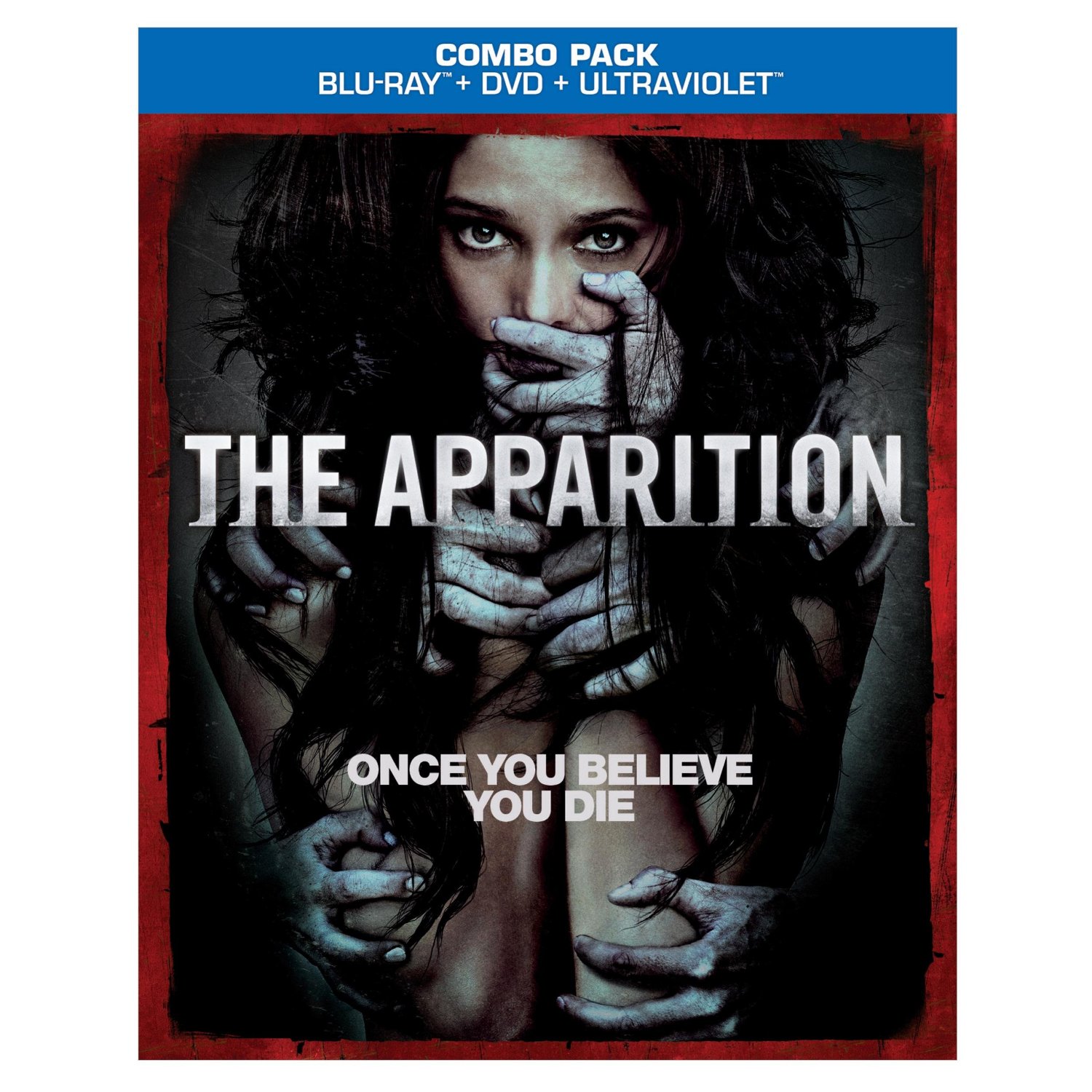 A few elements also fall short – a somewhat bloated stretch where Bruce finds himself in Bane's prison drags the film down with Batman sidelined for too long a duration (ironic that, no matter if it's Burton, Schumacher or Nolan, the focus always seems to drift off the Caped Crusader in every one of these pictures). There's a bit too much Bane and several pretentious, accompanying monologues, while Hans Zimmer's ridiculously over-scored soundtrack feels the need to punctuate every scene – even the quieter dramatic beats – like a sledgehammer.

Still, it's hard to envision fans and casual viewers alike not being satisfied with this rousing third installment, which ranks as one of the most "epic" super-hero films ever made. Speaking of which, though billed as the concluding entry in Nolan's trilogy, it also doesn't feel like the definitive end, unless the director is truly content in ending his series with some light finally infiltrating the darkness.

Warner Home Video brings "The Dark Knight Rises" to Blu-Ray on December 4th offering a pristine 1080p AVC encoded transfer and DTS MA soundtrack. The film visually looks tremendous, though some viewers may be put off by nearly a third of the film that preserves its Imax-shot dimensions – meaning the aspect ratio shifts from 2.40 to full 16:9. Extras are included on a second BD disc that sports nearly three hours of featurettes pertaining to the movie's production. The content is solid though not overwhelming – one wonders if a bona-fide Special Edition may follow eventually, though for now, there's certainly ample material here to satisfy Batman die-hards. A DVD and Ultraviolet copy round out a tremendous release for one of the year's most entertaining pictures.

Also newly available from Warner is THE APPARITION (*½, 82 mins., 2012, PG-13), a hideous – and mercifully short – supernatural tale of a young couple (Ashley Greene, Sebastian Stan) being haunted by a ghost. Tom Felton is the paranormal expert who tries, and fails, to help them out in a tepid genre offering from writer-director Todd Lincoln. Wisely banished to the summer doldrums by the studio and released to tepid box-office returns, Warner brings "The Apparition" to Blu-Ray in a combo pack also including a DVD and Ultraviolet streaming copy. Extras include The Dark Realm of Paranormal; Haunted Asheville: The Experiment of The Apparition; The Apparition: A Cinematic Specter; and a 1080p transfer with DTS MA sound, the latter boasting a score by Tomandandy.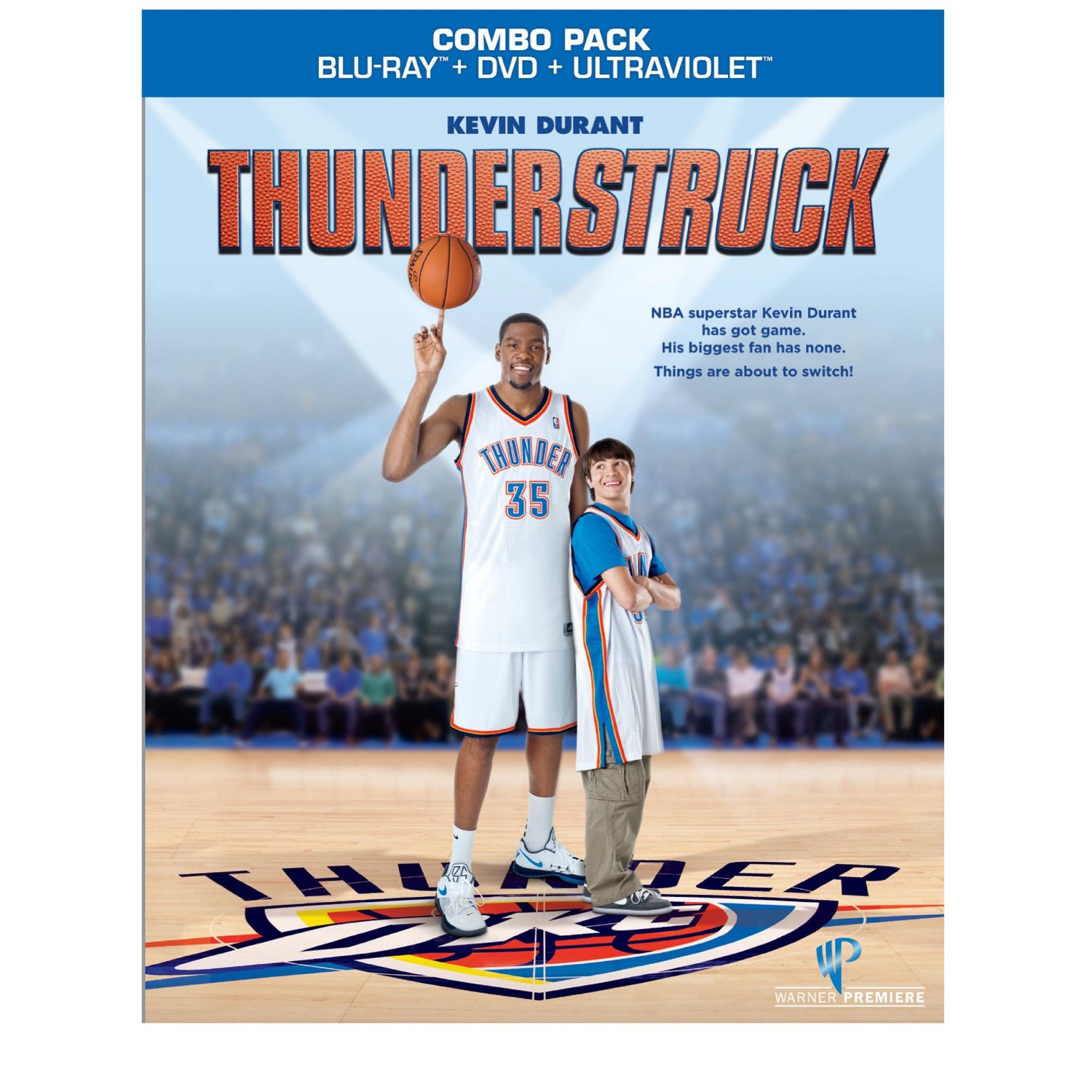 THUNDERSTRUCK (**½, 94 mins., 2012, PG; Warner), meanwhile, is a genial wish fulfillment fantasy about a young basketball fan (Taylor Gray) who ends up switching abilities with NBA superstar Kevin Durant. Gray ends up a prodigy on the court while Durant struggles to get his game going -- it all ends up going exactly where you'd anticipate in a nevertheless engaging enough direct-to-vid production that younger viewers should enjoy. Warner's Blu-Ray combo pack also includes a DVD and Ultraviolet copy; extra features include "KD's Klinic," with Durant and Gray going behind the scenes; "Coach Z," a comedic bit with Jim Belushi; and "From Backboards to Clapboards," detailing Durant's journey from the NBA hardcourt to Hollywood.

TED Blu-Ray (***, 106/114 mins., 2012, R/Unrated; Universal): Seth MacFarlane, creator of TV's "Family Guy," leaps into features with this warm-hearted, raunchy yet not excessively crude comedy which took the box-office by storm in late June.

MacFarlane voices a big, fuzzy teddy bear who improbably comes to life as the Christmas present of a young Boston boy in the 1980s. The two grow up together and share in all of life's experiences – but by age 35, Ted's now-grown best buddy (Mark Wahlberg) is a pot-smoking slacker who can't entirely commit to his gorgeous girlfriend (Mila Kunis) or get ahead at his job. Kunis, aware of Ted and Wahlberg's tight bond, delivers an ultimatum for the two to quit their hazy days forever watching 1980's "Flash Gordon" and get off the couch and make something of themselves. This includes Ted moving into his own apartment and working at a local supermarket, while Wahlberg has to contend with Kunis' sleazy boss (Joel McHale) and Ted's constant yearning for one more big party.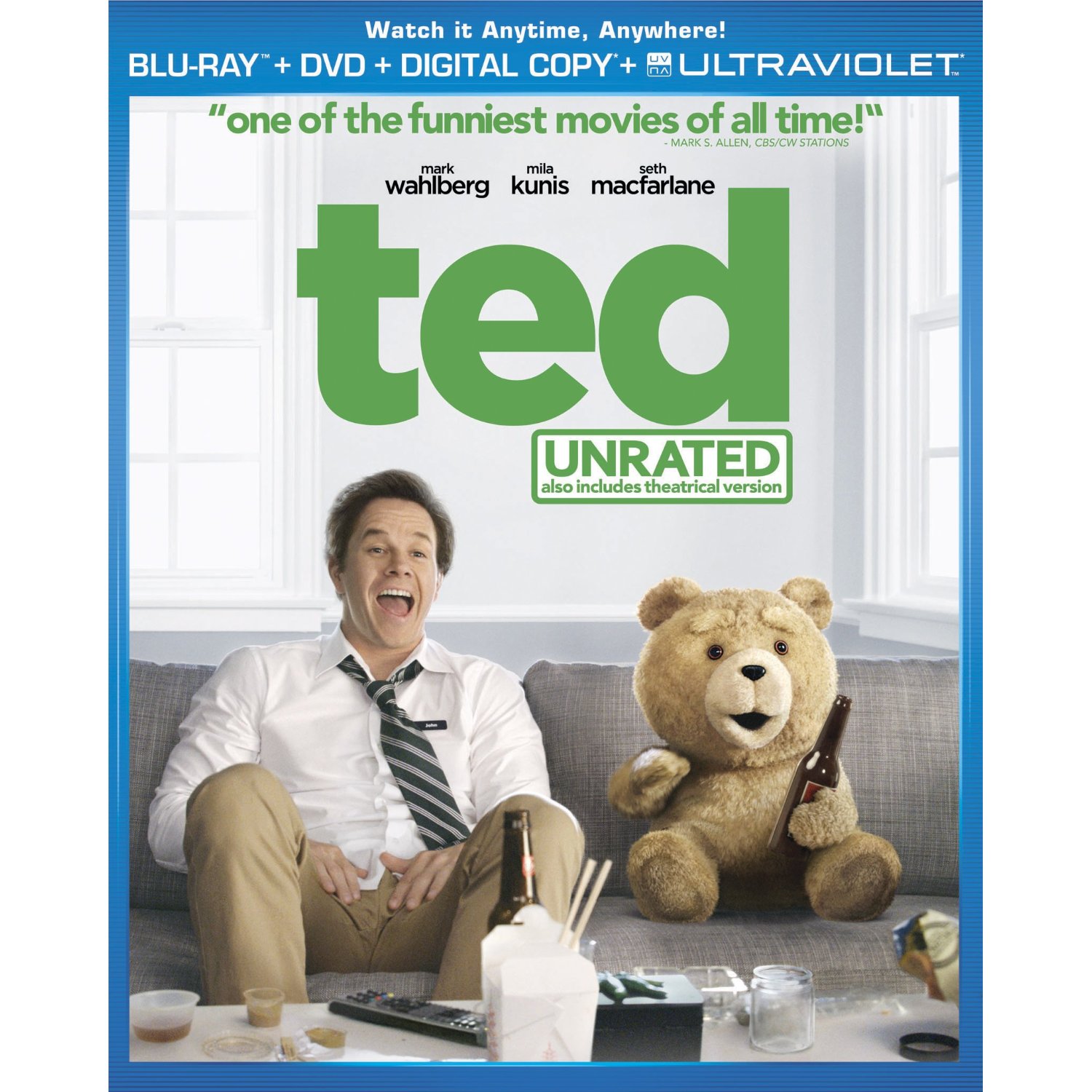 "Ted" is most definitely "R-rated" but the film, happily, is more than just 90 minutes of bodily fluid jokes. Unlike "The Hangover" or even your typical episode of "South Park," the sexual content is mostly mild, with most of the big laughs coming through MacFarlane's love of all things '80s – from Wahlberg crooning John Barry's "All Time High" from "Octopussy" at Boston's Hatch Shell or "Flash" himself, Sam J. Jones, appearing in several hilarious scenes. Personally I found the Tom Skerritt material to be particularly funny (although I think my wife and I were the only ones laughing at the sold-out screening we went to), and any film that ends with narrator Patrick Stewart trashing Brandon Routh and "Superman Returns" is tops in my book.

What's most surprising, though, about "Ted" isn't that it's mostly funny – it's that the film has an engaging, likeable story line. It would've been easy for MacFarlane and fellow "Family Guy" writers Alec Sulkin and Wellesley Wild to simply parade out a features worth of irreverent stuffed-animal jokes, but "Ted" has a heart, and a focus more on the friendship between the characters than an interest in trying to outdo movies like "The Hangover" and "Bridesmaids" on the raunch quotient. Wahlberg and Kunis work well together, and even though a subplot involving creepy Giovanni Ribisi (apparently incapable of playing anything other than sleazy characters now) doesn't entirely work, "Ted" is an upbeat, fun directorial debut for MacFarlane, who here branches out from his small-screen work in some unexpected, and satisfying, ways.

Universal brings "Ted" to Blu-Ray in a fine package including an extended, unrated version of the movie, deleted scenes, alternate takes, a gag reel, a highly entertaining commentary with MacFarlane, Sulkin and Wahlberg, plus a 1080p AVC encoded transfer, DTS MA soundtrack and both Ultraviolet and digital copies.

THE BOURNE LEGACY Blu-Ray/DVD/Digital Copy (**½, 135 mins., 2012, PG-13; Universal): Jeremy Renner steps in for Matt Damon (either too busy or just disinterested) in this fourth go-around for the Bourne franchise. Set partially during the events of the last series installment, "Legacy" follows another government-enhanced test subject, Renner's Aaron Cross, in a film that recycles the chase-structure of its predecessors but with a bit of flab in the running time this time around. Director Tony Gilroy, who co-wrote the previous films, has fashioned a respectable thriller that ought to play effectively to fans, though the terrific cast (Renner, Rachel Weisz, Edward Norton as the heavy, plus cameos from series vets Joan Allen, Albert Finney and David Strathairn) can only do so much with standard-issue genre material. Universal's combo pack includes a good looking 1080p AVC encoded BD transfer plus DTS MA audio, a DVD, digital copy, and numerous extras (deleted scenes, commentary, and format exclusive featurettes).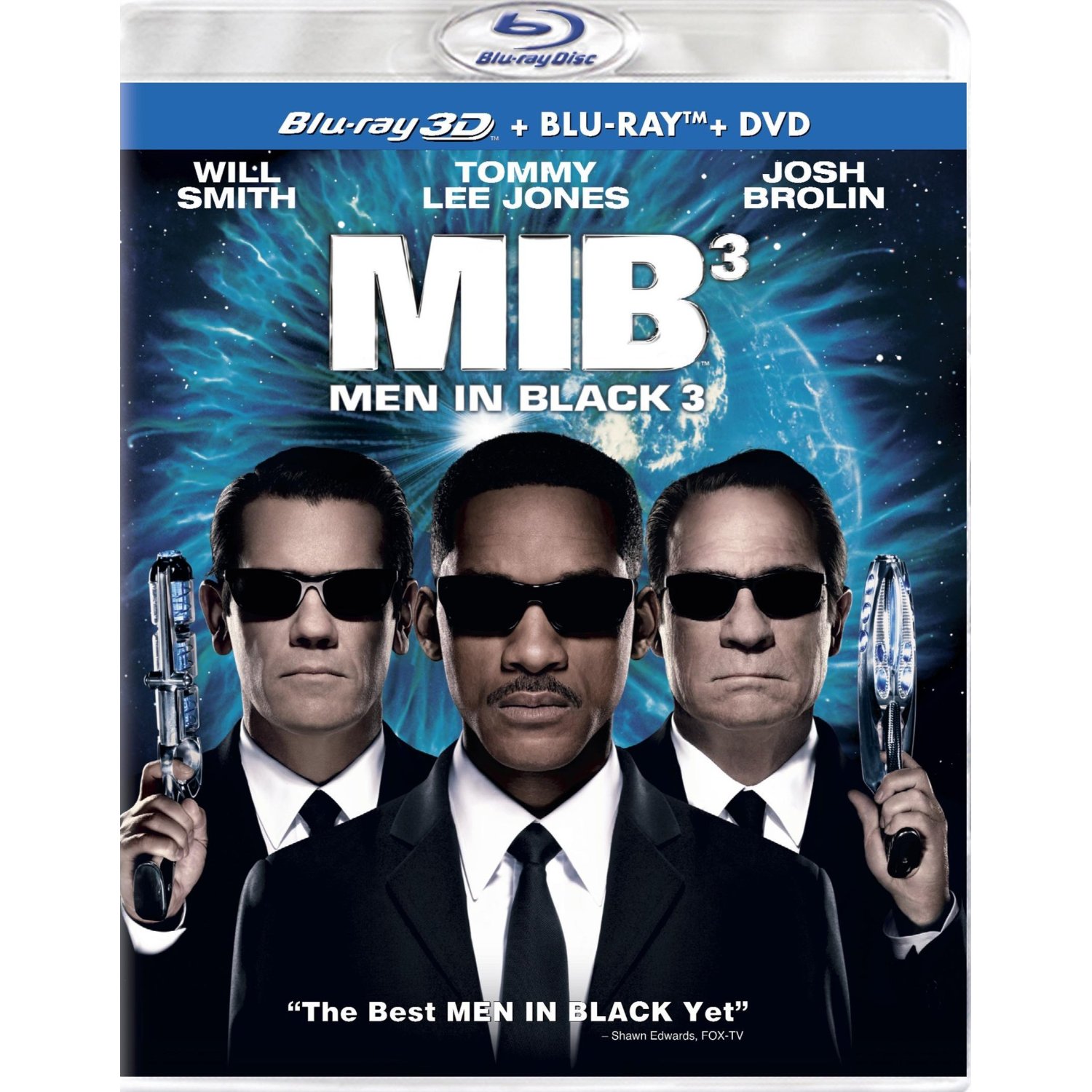 PARANORMAN Blu-Ray/DVD/Digital Copy (***, 93 mins., 2012, PG; Universal): Fun fright fare for kids and horror buffs from directors Chris Butler and Sam Fell is chock full of genre references and great looking animation. Universal's BD combo pack boasts a tremendous 1080p transfer, DTS MA audio, commentary from the filmmakers, almost an hour of behind the scenes featurettes and a digital copy.

MEN IN BLACK 3 3D Blu-Ray Combo Pack (***, 106 mins., 2012, PG-13; Sony): Having not been a big fan of the original "Men in Black" or its terrible 2002 sequel, this belated third entry in the series comes as a pleasant surprise.

Here, Will Smith's Agent J finds his world being altered, wiping out the entire existence of Agent K (Tommy Lee Jones) along with it. As it turns out, an extraterrestrial menace has broken free from a prison on the moon, gone back in time and terminated K's life back in the '60s. In order to save the galaxy and his partner, J heads back in time and meets with a younger K (Josh Brolin, brilliantly mimicking Jones' mannerisms and delivery) in order to stop the vile Boris the Terrible (Jemaine Clement).

The first two "Men in Black" films got by due to the chemistry between the stars, although I found both pictures to be hollow, one-joke pictures that relied too heavily on special effects. Despite a great deal of trouble behind the scenes with this third installment (production had to be shut down for several weeks while the script was reworked), "Men in Black 3" relies more strongly on its characters and what turns out to be a poignant story line as opposed to a neverending succession of wacky aliens and make-up FX. The film does have – as cliched as it sounds – a lot more heart than its predecessors, with Smith seeming more engaged, Brolin giving a lively performance, and Michael Stuhlbarg chipping in a particularly noteworthy role as a benign, Mork-like alien who spends his life perpetually analyzing possible future outcomes.

Director Barry Sonnenfeld helms the material without as much of a frenetic hand this time around – something that might disappoint viewers expecting a larger and louder sequel, but a decision that makes for a more satisfying and developed dramatic experience than its predecessors.

Sony's Blu-Ray offerings include a good looking 2D presentation of the film (1080p AVC encoded transfer, DTS MA audio) as well as a fairly effective 3D rendering with decent depth-of-field effects. Extras include an Ultraviolet copy, DVD, and fairly light supplements taking viewers behind the scenes with roughly an hour of content on the 2D BD and a couple of brief extras exclusive to the 3D BD (including a very short look at the conversion process).

---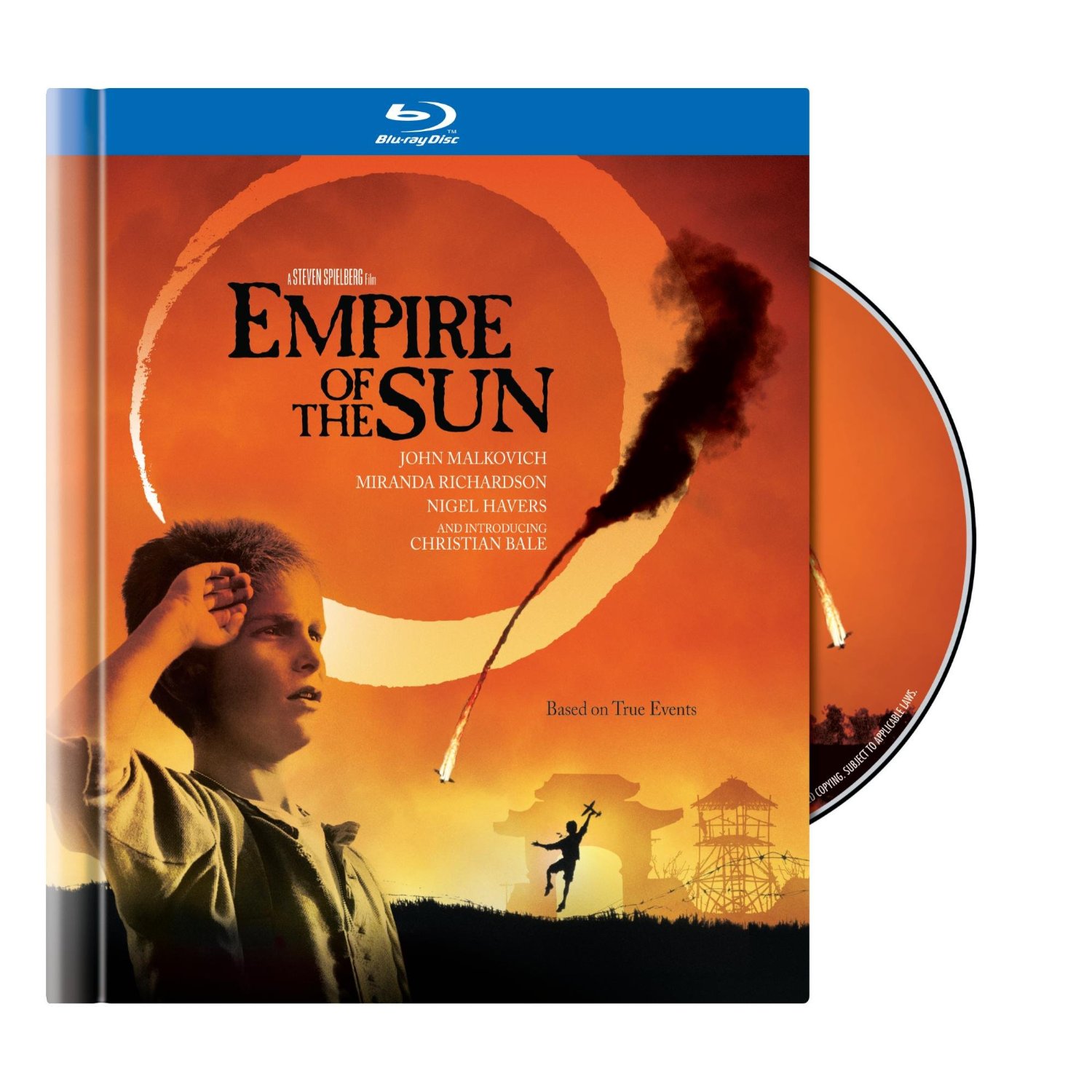 New Catalog Releases on Blu-Ray and DVD

EMPIRE OF THE SUN Blu-Ray (****, 152 mins., 1987, PG; Warner)
CATCH ME IF YOU CAN Blu-Ray (***½, 141 mins., 2002, PG-13; Paramount): With "Lincoln" currently in theaters, it's no surprise that several of director Steven Spielberg's past works are being released on Blu-Ray this month for the first time.

Though a commercial disappointment and the recipient of numerous mixed reviews at the time of its original release, Spielberg's "Empire of the Sun" remains – for me – one of the filmmaker's finest achievements. A towering adaptation of J.G. Ballard's autobiographical novel of a young British boy (Christian Bale) separated from his parents during the Japanese occupation of Shanghai in WWII, Spielberg's film – scripted by Tom Stoppard – follows "Jamie/Jim"'s subsequent internment in a POW camp and efforts to survive alongside contrasting parental figures ranging from a British doctor (Nigel Havers) to an American sailor (John Malkovich).

"Empire of the Sun" has dozens of indelible cinematic moments and remains incredibly compelling for all its two-and-a-half hour running time. Though many have argued through the years that Spielberg only "grew up" when he made "Schindler's List," "Empire of the Sun" proves otherwise thanks to its evolving story – one that bridges the gap between a child's initial view of war with the character's coming-of-age and growing adult instincts of survival and responsibility. Stoppard's smart, well developed screenplay is brought to life thanks to impressive work from frequent Spielberg associates like cinematographer Allen Daviau (whose efforts here rank with his finest) and especially John Williams, whose glorious music enhances the picture without overscoring its emotions. Unlike Spielberg's more contemporary films – which have often employed "movie stars" like Tom Hanks and Tom Cruise – "Empire of the Sun" utilizes an ensemble-driven approach for its casting instead, with Bale a revelation in his first feature performance, and Malkovich memorably essaying the cynical "Basie." It's a brilliant film – entertaining, enthralling and emotional – and one that continues to age gracefully as one of its director's best.

Warner has brought "Empire of the Sun" to Blu-Ray in a wonderfully crisp 1080p AVC encoded transfer with DTS MA audio. Extra features include the vintage "China Odyssey" 50-minute documentary, narrated by Martin Sheen, as well as a second DVD offering an hour-long, Spielberg-narrated examination of Warner Bros.' war pictures. The two discs are housed in one of Warner's Digibook packages offering glossy photos and behind the scenes information. Highly recommended!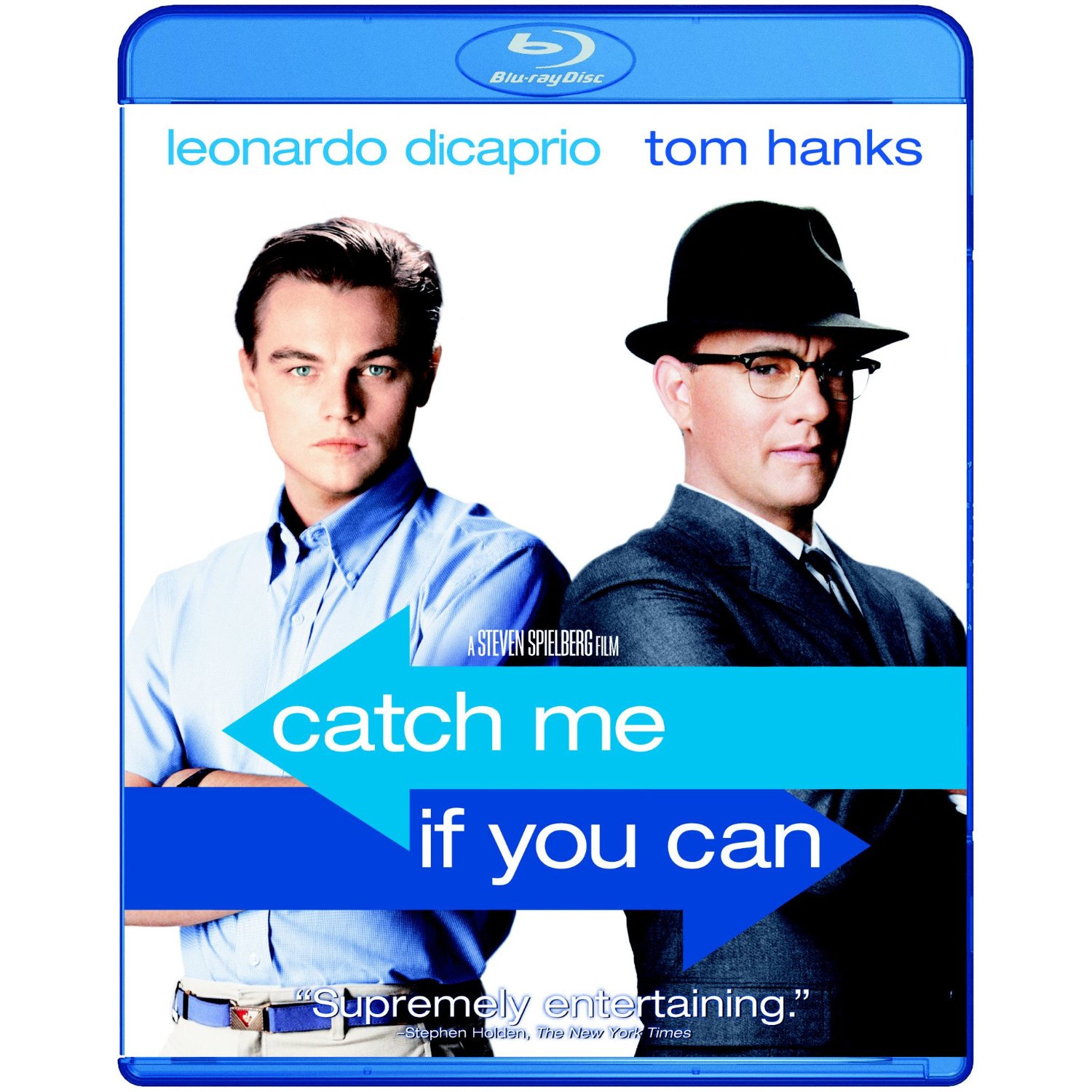 CATCH ME IF YOU CAN, meanwhile, is a playful, disarming 2002 Spielberg film based on the true exploits of Frank Abagnale, who as a teenager became part of the FBI's Most Wanted list!

Leonardo DiCaprio is terrific as Abagnale, who fakes a series of identities as he crisscrosses the United States as a Pan Am pilot, doctor and lawyer, falling for a series of beautiful women along the way. Dogging him at every turn is workaholic FBI man Tom Hanks, who predictably becomes obsessed with the young charmer, whose exterior hides a troubled soul crushed by the divorce of his parents (Nathalie Baye and the marvelous, Oscar-nominated Christopher Walken).

"Catch Me If You Can" represents an interesting entry in Spielberg's filmography, whose late-career projects have represented a wide range of genres and cinematic styles. While on first viewing "Catch Me If You Can" may have come off as a tiny bit disappointing considering the director's resume -- as there's no big emotional payoff to the film -- the second time around, you can appreciate its relaxed mood and charm a great deal more, and if anything, it ranks among the best of his late-career pictures. This is one of those energetic movies that seems to coast in front of your eyes, with two strong performances from its leads (despite Hanks' meandering accent), an engaging premise based on a true story, and an infectious score by John Williams that you'll be humming long after the film is over. DiCaprio is especially good at masking his character's sadness over the break up of his parents' marriage, which constantly looms as an undercurrent to the more escapist element of the picture.

Paramount's Blu-Ray includes a fine 1080p transfer with DTS MA soundtrack. Extras are carried over from the older DVD edition, with the highlight being a multi-part documentary on the making of the movie, including a brief segment on John Williams' score, featuring interviews with Spielberg and the composer, who both point out the strong, jazzy component of Williams' work. The most revealing element of the documentary is an extensive interview with the real Frank Abagnale, who discusses his exploits and proves to be every bit as engaging as one would anticipate him to be. Surprisingly, some of the movie's most seemingly "unbelievable" moments turn out to be actually true, according to Abagnale's interview, which puts a nice cap on the whole disc. Definitely recommended.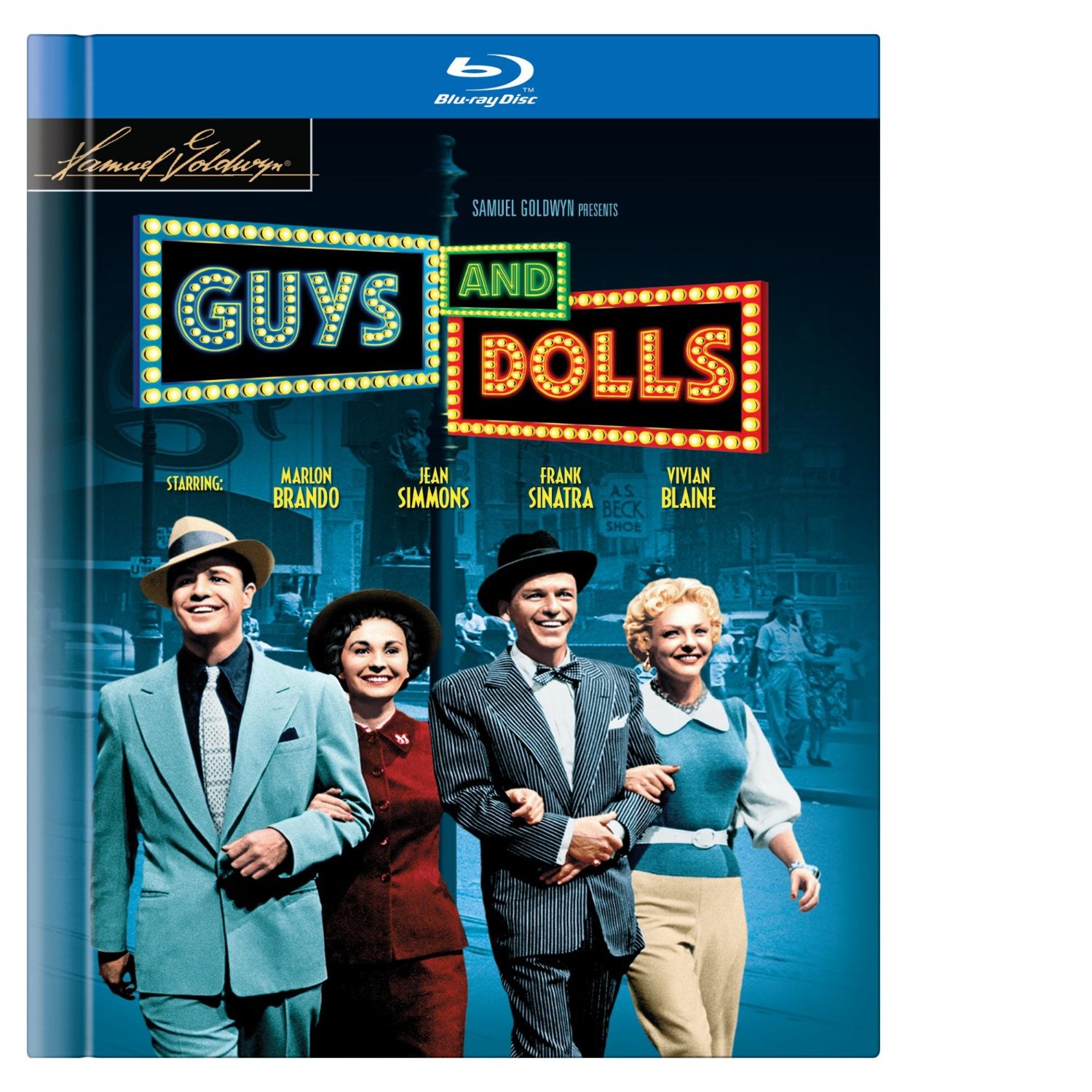 GUYS AND DOLLS Blu-Ray (***, 149 mins., 1955: Warner): Joesph Mankiewicz's production of "Guys and Dolls" isn't regarded as a screen classic, but it's a generally faithful adaptation of the great Frank Loesser musical and Warner Home Video – inheriting the film as part of their new agreement with the Samuel Goldwyn company – has given the movie, overall, more justice on home video than it has ever received before. Marlon Brando (who sings, dances and actually doesn't embarrass himself) and Frank Sinatra have a grand time as Sky Masterson and Nathan Detroit, respectively, while Jean Simmons and Broadway vet Vivian Blaine slide comfortably into the female leads. The production is a bit much at times but Michael Kidd's choreography, the mammoth Cinemascope framing and -- of course -- the music keep one interested, especially for those who've never seen the show live on stage.

This Samuel Goldwyn production was initially released on video, in a variety of formats, by CBS/Fox and MGM, respectively. Warner's first stab at the picture proves to be superior to any prior video release of the film, offering a fairly detailed 1080p transfer and DTS MA soundtrack, plus several documentaries ("The Goldwyn Touch" and "From Stage to Screen", additional musical performances and "Guys and Dolls Stories") and a lengthy trailer with Ed Sullivan boasting about the film. The movie is presented in one of Warner's glossy Digibooks with production stills and background information about the picture. Though not the screen classic many were hoping for, "Guys and Dolls" still provides classy '50s fun and the HD presentation enhances the film's virtues on home video, even if the source material utilized here still has its share of shortcomings (and is, overall, far from pristine).

Also newly available on Blu-Ray from Warner is a terrific HD presentation of the 1946 MGM noir classic THE POSTMAN ALWAYS RINGS TWICE (***½, 113 mins), presented here with an introduction from Richard Jewell; the Screen Guild Theater broadcast; theatrical trailer; a marvelous 2001 feature-length TCM documentary, "Lana Turner: A Daughter's Memoir," as well as an hour-long doc "The John Garfield Story"; the 1945 short "Phantoms, Inc." as well as the Tex Avery cartoon classic "Red Hot Riding Hood." The 1080p 4:3 transfer is quite good considering the film's age and, thankfully, little DNR is in evidence. (Viewers should note a Blu-Ray was also announced for the 1981 remake starring Jack Nicholson and Jessica Lange but was delayed with no explanation).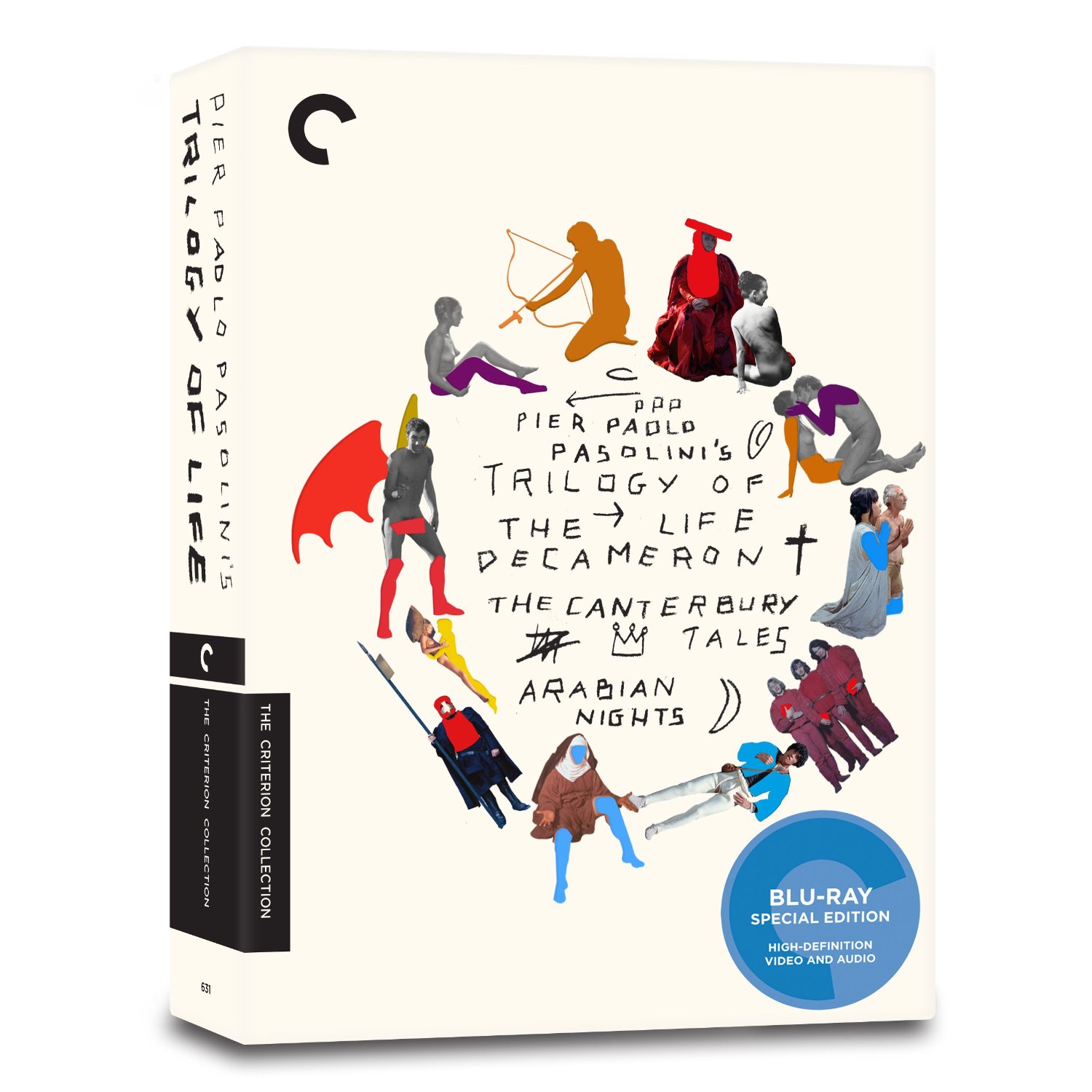 PIER PAOLO PASOLINI'S TRILOGY OF LIFE Blu-Ray (Criterion): Gorgeous Criterion box-set brings controversial Italian auteur Pier Paolo Pasolini's "Trilogy of Life" to Blu-Ray for the first time, all in dazzling 1080p transfers and uncompressed mono soundtracks. Three medieval classics are given the unique Pasolini treatment in this loose trilogy – 1971's "The Decameron," 1972's "The Canterbury Tales" and 1974's "Arabian Nights" – each presented in Italian with English subtitles and enhanced immeasurably by new AVC encoded (1.85) transfers.

Extra features are in abundance, as you would anticipate: essays from scholars Patrick Rumble (on "The Decameron") and Tony Rayns ("Arabian Nights"); new interviews with Pasolini collaborators Dante Ferretti and composer Ennio Morricone, plus scholar Sam Rhodie; an introduction to "Arabian Nights" by Pasolini; a 2005 documentary, "The Lost Body of Alibech," about a lost sequence from "The Decameron"; a documentary by Roberto Chiesi about "The Canterbury Tales"; a 2005 doc with Pasolini espousing his views on film, language and society; "Pasolini and the Form of the City," a 1974 documentary by Pasolini and Paolo Brunatto about Italian cities Orte and Sabaudia; "Arabian Nights" deleted scenes; a director-approved English dubbed track on "The Canterbury Tales"; trailers; and extensive booklet notes offering essays from Colin MacCabe and others.

New From Disney

FINDING NEMO 3-D Blu-Ray/Blu-Ray/DVD/Digital Copy (***½, 100 mins., 2003, G; Disney)
UP 3-D Blu-Ray/Blu-Ray/DVD/Digital Copy (***, 96 mins., 2009, PG; Disney): Disney's latest Pixar releases include a new 3-D Blu-Ray release of "Up" as well as the HD debut (also in 3-D) of their 2003 blockbuster "Finding Nemo."

One of the odder offerings that Pixar has produced, their 2009 hit "Up" is nevertheless a poignant and surprisingly moving tale of an old, retired balloon salesman named Carl Fredricksen, who minus his late wife (and lifelong best friend) Ellie, resides in the same house they lived in for decades -- and one that's now surrounded by urban sprawl. A few unfortunate incidents nearly send Carl off to Shady Acres Nursing Home, until he sets off on the ultimate adventure: with hundreds of balloons literally lifting his home into the air, Carl flies off in search of a mythical South American paradise...with the unexpected company of an eight-year-old cub scout named Russell along for the ride.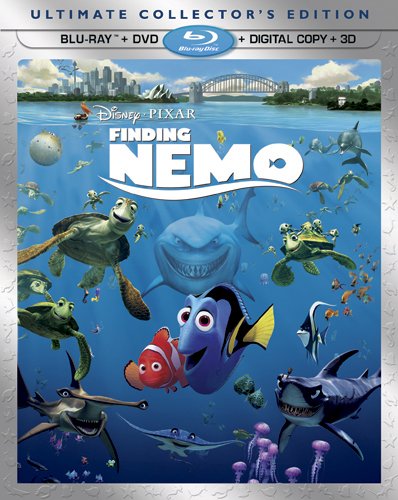 Pete Docter directed this Pixar smash, which is tinged with sadness, beginning with a montage of sequences showing Carl's childhood, his marriage to Ellie, their inability to have kids, and her eventual passing. The ensuing story is also offbeat, to say the least, with Carl and Russell running into a long-lost explorer (voiced by Christopher Plummer), who's still living in his old zeppelin along with dozens of dogs who talk thanks to a special collar.

On paper "Up" undoubtedly didn't sound like a typical Disney/Pixar offering, and one surmises that only through the company's stature could a story this eclectic ever go into production to begin with. With its more mature elements making it most worthwhile for older kids and adults, "Up" is an unusual, slightly overlong Pixar production that nevertheless includes some wonderful, magical sequences, along with beautiful animation and a lovely score by Michael Giacchino that's far and away the most satisfying work I've heard from the composer.

Disney's five-disc 3-D Blu-Ray combo pack sports a dazzling 1080p transfer with DTS Master Audio sound and plenty of extras, including the Dug the Dog short "Dug's Special Mission"; the theatrical short "Partly Cloudy"; alternate scenes; a Making Of with Docter and his co-writer/director Bob Peterson; Blu-Ray exclusive documentaries on the set's second disc, along with an interactive game; a copy of the film on standard-definition DVD; and a digital copy disc for portable media players rounding out the release. The 3-D Blu-Ray's transfer is exceptional, adding layers to the brilliant animation, though the movie obviously works just as well (if not better) in brighter, more vibrant 2-D.

One of Pixar's biggest hits, "Finding Nemo" makes a splash this month on Blu-Ray for the first time, and the film remains one of the most enduring creations from the company. Nearly a decade after its original release, the animation holds up and looks just jaw-droppingly gorgeous in HD, with Disney's combo pack including both a 2-D presentation of the film along with a splendid 3-D transfers that adds dimensionality to the visuals, at the expense of some of its vivid colors. Extras include an alternate opening, filmmakers' discussion, "Knick Knack" theatrical short, outtakes, deleted scenes and plenty of behind the scenes content, plus a DTS MA soundtrack, DVD and digital copy for itunes and Windows platforms. Highly recommended!

THE ODD LIFE OF TIMOTHY GREEN Blu-Ray/DVD (**, 105 mins., 2012, PG; Disney): Treacly family drama about a childless couple (Jennifer Garner, Joel Edgerton) who improbably find themselves guardians of a young boy (CJ Adams) who instills magic in the people he comes across. Gorgeously shot by John Toll, "The Odd Life of Timothy Green" is a weird Disney production, directed and written by Peter Hedges from a story by Ahmet Zappa, with sincere performances but an excessive amount of saccharine sentimentality. Disney's Blu-Ray includes a crisp 1080p transfer, DTS MA soundtrack, several featurettes, deleted scenes, and a DVD copy.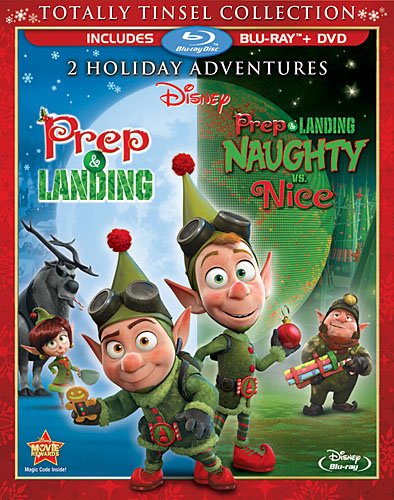 Holiday Fare

PREP & LANDING Totally Tinsel Collection Blu-Ray/DVD (22 mins., 2009; Disney): Adorably cute 2010 animated special produced by Disney finds a down-on-his-luck elf named Wayne (voice of Dave Foley), in the dumps after being passed over for a promotion, who partners with happy-go-lucky Lanny (voice of Derek Richardson) as part of the elite elf unit "Prep & Landing." After a snowstorm and other obstacles create issues for Santa's Christmas sleigh run, it's up to Wayne and Lanny to save the day. "Prep & Landing" won an Emmy for Outstanding Animated Program and it's easy to see why critics enjoyed it – the colorful animation, amusing writing and character design make for a splendid special perfect for both kids and adults alike. Disney's Blu-Ray includes both "Prep & Landing" as well as its follow up special, "Prep & Landing: Naughty Vs. Nice," each boasting lovely 1080p AVC encoded transfers, loads of bonus content (Operation: Secret Santa, Tiny's Big Adventure, Behind the Jingle, Kringle Academy, North Pole News, North Pole Commercials and bonus promo pieces), a 5.1 DTS MA soundtrack and a DVD copy as well.

Other holiday fare is on-hand in WHAT SHE WANTS FOR CHRISTMAS (84 mins., 2012, E One), starring Brianna Dufrene as a 10-year-old who goes to extremes in order to get what she wants from St. Nick, and resorts to kidnapping the jolly o'l soul to do it! E One's DVD includes a Making Of featurette, 5.1 soundtrack and 16:9 transfer.

12 CHRISTMAS WISHES FOR MY DOG (90 mins., 2011, G; Lionsgate) stars Elisa Donovan as a woman who loses her dog but gains the ability to make her wishes come true in a fantasy co-starring Fred Willard and Michael Gross. Lionsgate's DVD includes a 16:9 transfer and 5.1 audio.

CHRISTMAS IN COMPTON (81 mins., 2012, PG-13; Lionsgate) stars Omar Gooding as the son of a well-known Christmas tree lot owner who tries to make it in the music industry in this urban yuletide production co-starring Keith David, Sheryl Lee Ralph and Eric Roberts. Lionsgate's DVD boasts a bonus short and commentary, plus a 16:9 transfer and 5.1 soundtrack.

---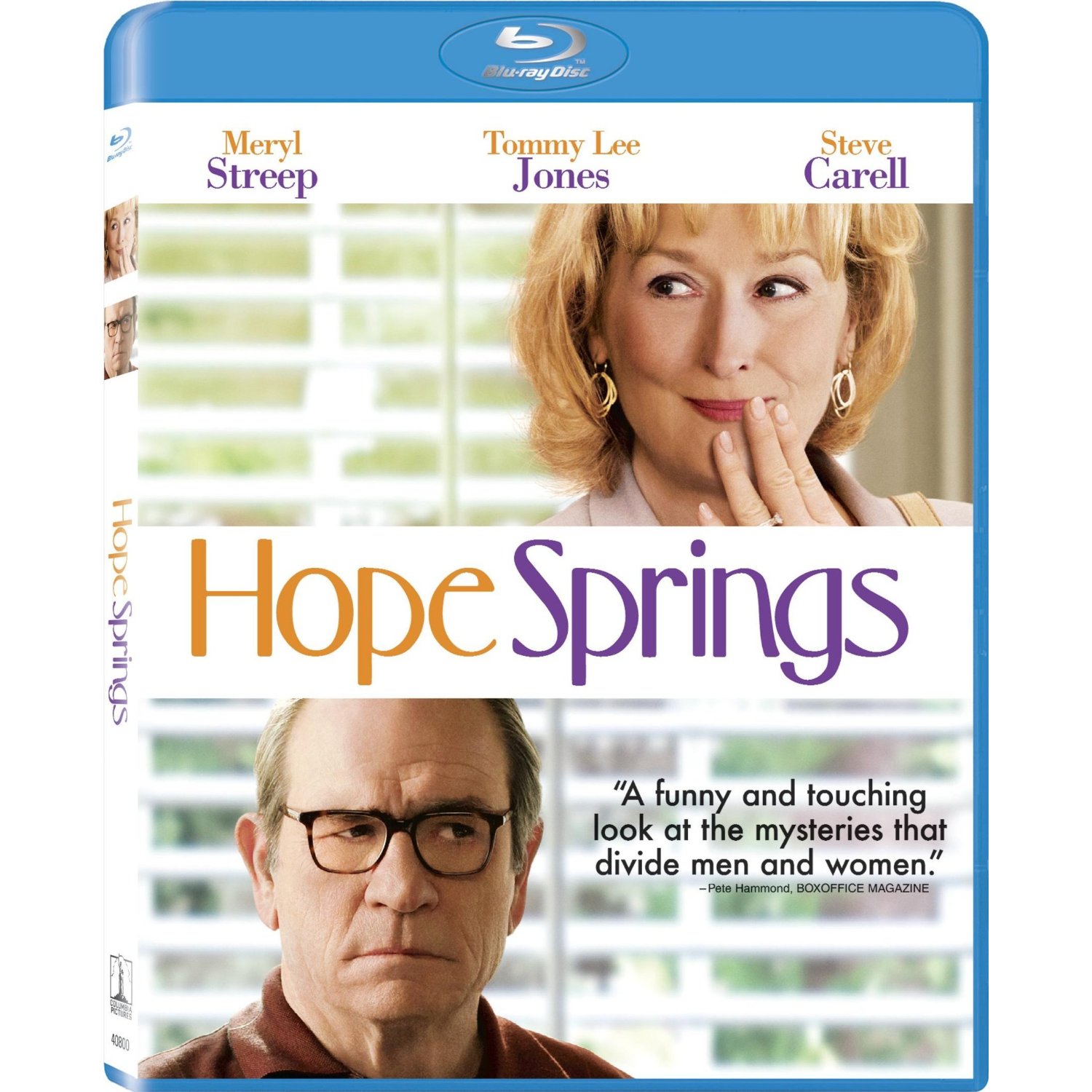 New From Sony

HOPE SPRINGS Blu-Ray (***, 100 mins., 2012, PG-13; Sony): Charming, well-acted and low-key tale of a long-married couple (Meryl Streep, Tommy Lee Jones) who seek advice from a therapist (Steve Carell) in order to get their emotional, and sexual, mojo back. David Frankel's film, shot mostly in Connecticut (doubling for coastal Maine), offers a nice mix of comedy and drama while Vanessa Taylor's script enables both leads to generate believable chemistry with one another. Carell, meanwhile, dials down his "Michael Scott" persona effectively as well in a good-natured, satisfyingly warm film well worth tracking down on home video. Sony's Blu-Ray of "Hope Springs" offers a fine 1080p transfer, 5.1 DTS MA soundtrack, gag reel, commentary with Frankel, alternate takes, and a featurette with Streep and Jones. BD format exclusives, meanwhile, include four additional behind the scenes featurettes with an interview with Carrell among them.

KEN FOLLETT'S WORLD WITHOUT END Blu-Ray (389 mins., 2012; Sony): Following a mostly successful adaptation of "The Pillars of the Earth," executive producers Ridley and Tony Scott turned their attention to Follett's follow-up book, "World Without End," set over 150 years later in the same town of Kingsbridge, where its residents fight the plague and an invading French Army. Though boasting similar production values as its predecessor, "World Without End" wasn't as well-received by critics and viewers, with the Reelz Channel ultimately picking up the series from the Starz Network in the U.S. Fans of "Pillars of the Earth" may want to give the show a look, but many fans of Follet's novel cried foul over the treatment given to it by director Michael Caton-Jones. Sony's Blu-Ray offers the complete series in 1080p transfers with 5.1 DTS MA soundtracks and a Making Of featurette for extras.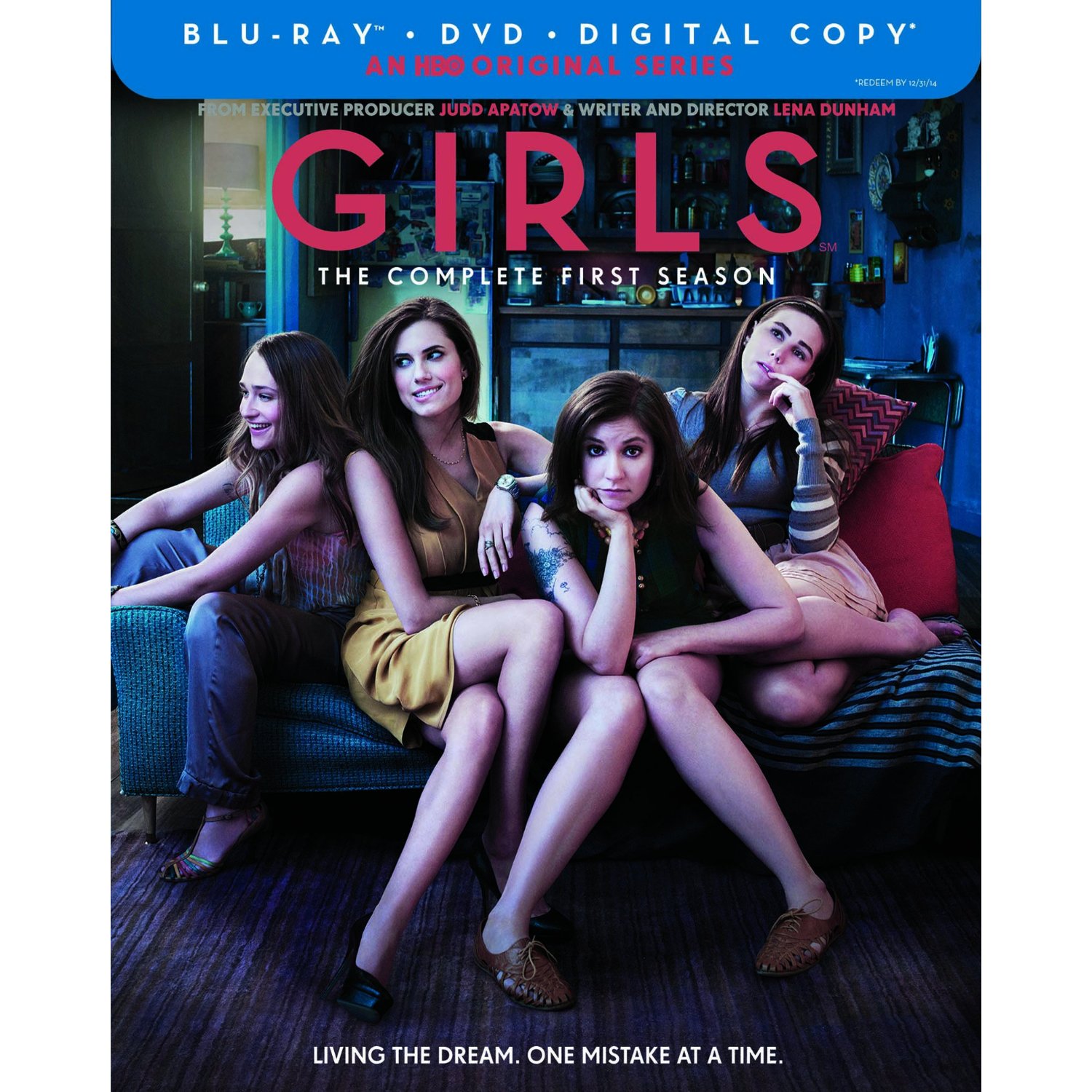 HBO Round-Up

Lena Dunham's GIRLS (300 mins., 2012) has been one of the more polarizing series to air over the last few years. Co-produced by Judd Apatow, this frank exploration of twentysomething females trying to adjust to post collegiate life in NYC is anything but a "Sex and the City" retread, though one's tolerance for the show's raunchiness will dictate how much satisfaction one generates from it. HBO brings "Girls" to Blu-Ray in a combo pack also sporting a DVD and digital copy on December 11th. The 1080p transfers are terrific, as are the DTS MA soundtracks and extras including a talk with Dunham and Apatow; deleted/extended scenes; cast auditions; five commentary tracks; table reads; featurettes; a gag reel; and a BD exclusive 20 page booklet.

Also new this month from HBO: Danny McBride returns for the third season of EASTBOUND & DOWN (240 mins., 2012), which streets this week on Blu-Ray sporting deleted scenes, commentaries on all eight episodes, outtakes and a deleted scene, along with 1080p transfers and 5.1 DTS MA soundtracks...Australian series ANGRY BOYS (380 mins., 2012) is the latest offering from star/writer-creator Chris Lilley. HBO's Blu-Ray release of the acclaimed Down Under import boasts over six hours (!) of deleted scenes, bloopers and music videos, plus 1080i transfers and DTS MA soundtracks. Lilley is also on hand in WE CAN BE HEROES (180 mins., 2012), another Aussie comedy series that HBO brings only to DVD in a two-disc set also including deleted scenes, a behind the scenes doc, extended episodes and more...FUNNY OR DIE PRESENTS: THE COMPLETE SECOND SEASON (300 mins., 2011) includes the complete second season of the sketch comedy series on DVD in 16:9 transfers and with 5.1 soundtracks...41 (100 mins., 2012) is a fine documentary from Jeffrey Roth and producer Jerry Weintraub, chronicling the life and times of George Herbert Walker Bush. HBO's DVD, available December 11th, includes a 16:9 transfer and 2.0 soundtrack.

---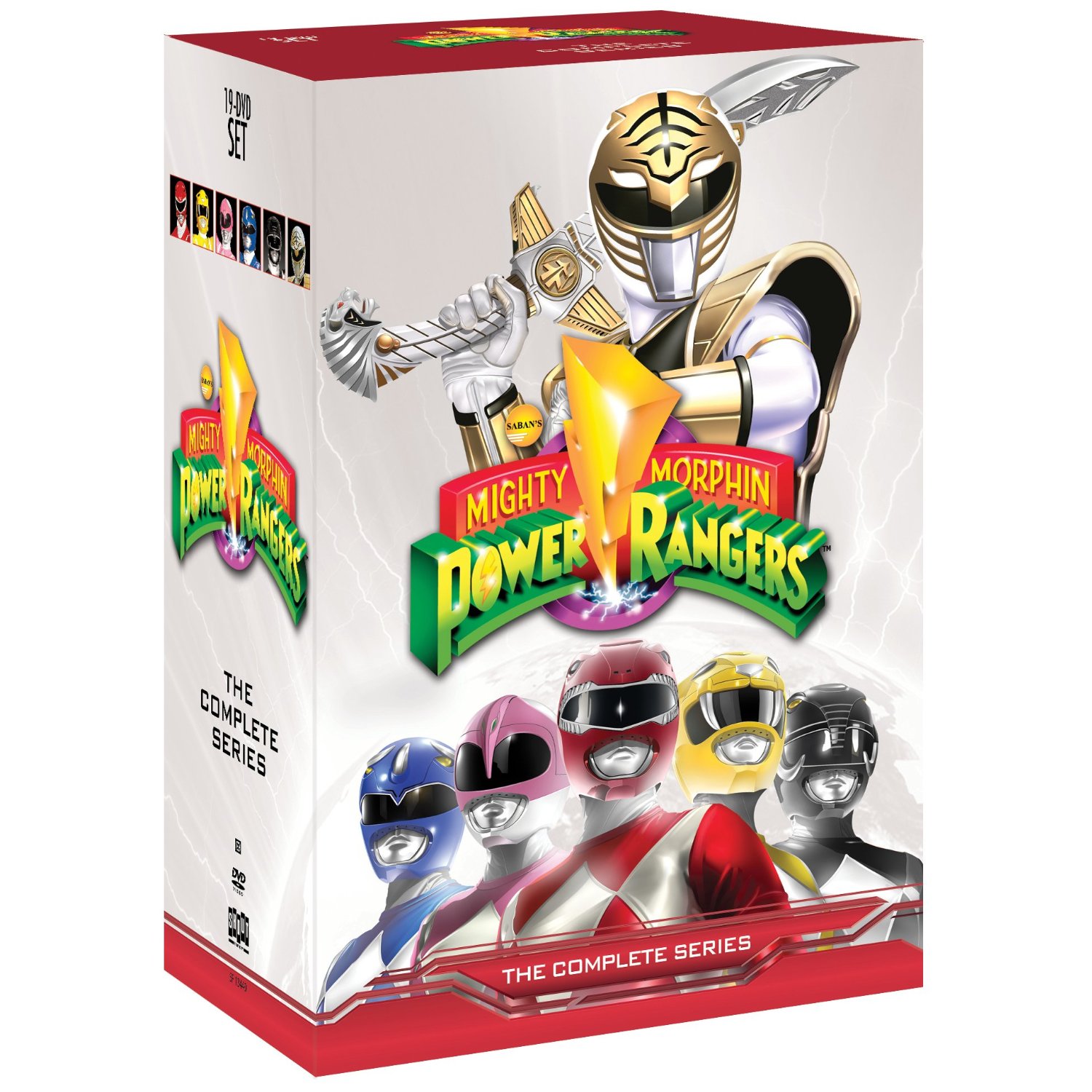 New From Shout!

Fans of the "Power Rangers" have plenty to celebrate this month with Shout!'s lavish box-set release, SABAN'S MIGHTY MORPHIN POWER RANGERS: THE COMPLETE SERIES, a 19-disc DVD anthology comprised of the entire 1990s MMPR series plus its 10-episode "Alien Rangers" mini-series follow-up. Bad action, terrible performances and mediocre music punctuated this ridiculous show that kids nevertheless ate up, producing over 110 episodes during its initial run and igniting a franchise that continues to this day in various spin-offs.

Shout!'s box-set is a marvel for fans: all episodes from the series are included here (all three seasons) on 17 discs, each including candy-coated full-screen transfers and stereo soundtracks. Extras are housed on supplemental discs that include a retrospective documentary with cast/crew members; a cast-centric featurette including comments from director Katy Wallin; a fans featurette; "Alpha's Magical Christmas"; "Lord Zedd's Monster Heads"; a rare Fan Club video; a "World Tour" featurette; and plenty more, along with liner notes and an easter egg surprise.

Timeless Media Group, a division of Shout!, has also produced a pair of low-priced "Django!" double feature DVDs.

A MAN CALLED DJANGO! (90 mins., 1971, 2.35) features Anthony Steffen as the gunslinger while Franco Borelli takes up the reigns in DJANGOS AND SARTANA'S SHOWDOWN IN THE WEST (83 mins., 1970, 1.85). George Eastman, meanwhile, gets into the saddle in DJANGO KILLS SILENTLY (94 mins., 1967, 1.66) and Jeff Cameron follows in 1971's DJANGO'S CUT PRICE CORPSES (82 mins., 1971, 1.81).

Both releases – timed to coincide with the debut of Quentin Tarantino's upcoming "Django Unchained" – offer 16:9 transfers in each film's respective aspect ratio and come priced well under $10 in many outlets.

---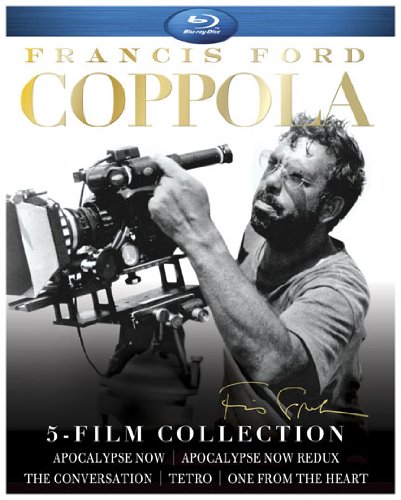 Also New on DVD & Blu-Ray

FRANCIS FORD COPPOLA 5-Film Collection Blu-Ray (Lionsgate): Four-disc set offers the previously released Blu-Rays of "Apocalypse Now"/ "Apocalypse Now Redux," "The Conversation" and "Tetro" (see Aisle Seat Archives for reviews of each individual title) along with the BD debut of Coppola's 1982 famed misfire "One From the Heart." The latter boasts a HD remastered (1.33 fullscreen) transfer with 5.1 DTS MA audio and fine supplements reprieved from the older DVD release, though there is some odd filtering in the transfer throughout (almost looks like you're watching the film through a net, especially if you look closely enough). Recommended for Coppola enthusiasts, though the fact that the set only includes one new-to-Blu title and isn't comprehensive may restrict its appeal to most buffs (note that "Apocalypse Now" doesn't contain the special features from its three-disc Blu-Ray release; just the single, "movie only" disc with both cuts of the movie).

Also New From Lionsgate: FRED 3: CAMP FRED DVD (80 mins., Not Rated, 2012) continues the misadventures of Fred Figglehorn (Lucas Cruikshank), who's this time sent to the wrong camp – Camp Iwannapeepee – by his mother. Tom Arnold, John Cena and Siobhan Fallon Hogan co-star in another juvenile comedy starring Cruikshank's "Fred" character. Lionsgate's DVD includes three featurettes, a 16:9 transfer and 5.1 soundtrack...BRO (89 mins., 2012, R) stars Beau Manley as a college student who gets involved in the world of professional motocross drivers in Nick Parada's gritty drama. Lionsgate's DVD includes a cast/crew commentary; featurettes; deleted scenes; a 16:9 transfer and 5.1 soundtrack...Kevin Zegers, Derek Jacobi, Neve Campbell and Chris Noth star in the lengthy (very lengthy) mini-series TITANIC BLOOD & STEEL (634 mins., 2012), a sprawling international production that hits DVD this week from Lionsgate in a multi-disc set offering a 16:9 transfer, 5.1 soundtrack and two featurettes...Writer-director-star Stephon Stewart goes searching for Sasquatch and doesn't like what he finds in BIGFOOT COUNTY (82 mins., R, 2012), another ersatz documentary flick Lionsgate brings to DVD in a 16:9 transfer with 5.1 Dolby Digital sound.

MANNIX: THE FINAL SEASON (Season 8) DVD (aprx. 20 hours, 1974-75; CBS): Eighth and final season of the popular Mike Connors series brings the star back one last time as irrepressible private eye Joe Mannix. Episodes include Portrait in Blues; Game Plan; A Fine Day For Dying; Walk on the Blind Side; The Green Men; Death Has No Face; A Small Favor For an Old Friend; Enter Tami Okada; Picture of a Shadow; Desert Sun; The Survivor Who Wasn't; A Choice of Victims; A Word Called Courage; Man in a Trap; Chance Meeting; Edge of the Web; A Ransom For Yesterday; The Empty Tower; Quartet For a Blunt Instrument; Bird of Prey (Parts 1 and 2); Design For Dying; Search for a Dead Man; and Hardball. Remastered full-screen transfers and mono soundtracks comprise this six-disc DVD set from CBS, which ought to satisfy "Mannix" fans of all persuasions.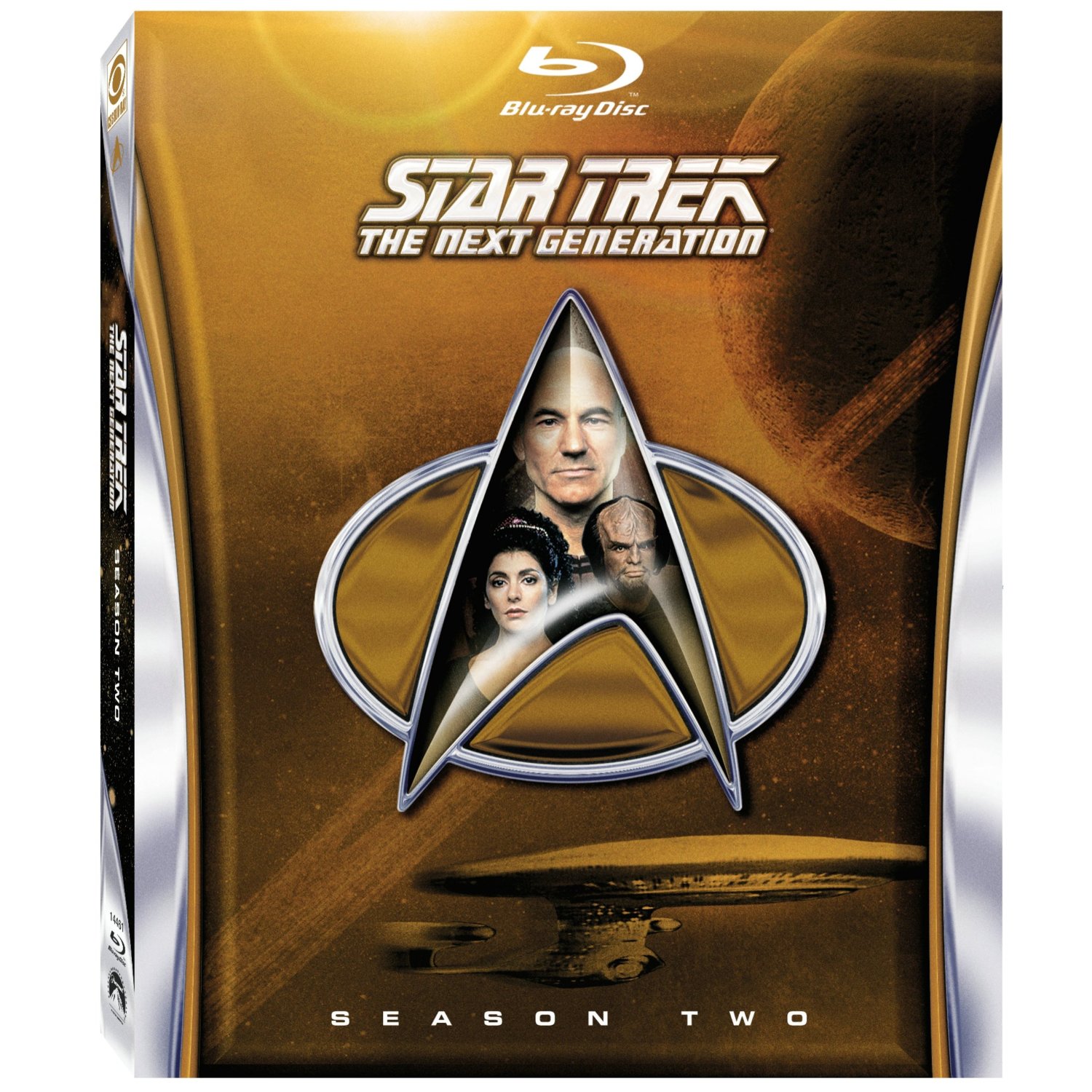 STAR TREK: THE NEXT GENERATION Season 2 Blu-Ray (1988-89, aprx. 1000 minutes; CBS): Dr. Crusher is out (for the time being) and Dr. Pulaski is in to start off the second season of "Star Trek: The Next Generation." This sophomore year of the series once again lacks the consistency of TNG's later seasons, though in general, there are more successful stories at least during Year 2 than its rocky freshman season. Once again fully remastered for Blu-Ray by CBS, TNG fans will want to eat up each newly rendered 1080p/DTS MA presentation of Season 2's 22 episodes (more like 21 episodes, but more on that in a minute): The Child, Where Silence Has Lease, Elementary Dear Data (one of the better entries in Season 2), The Outrageous Okona, Loud as a Whisper, The Schizoid Man, Unnatural Selection, A Matter of Honor, The Measure of a Man, The Dauphin, Contagion, The Royale, Times Squared, The Icarus Factor, Pen Pals, Q Who, Samaritan Snare, Up the Long Ladder, Manhunt, The Emissary, Peak Performance, and the horrible "clip show" finale Shades of Grey.

Copious extras include a "Season 2 Tech Update" looking at the remastering process; a 1988 Reading Rainbow segment with Levar Burton; archival featurettes produced for the earlier DVD release; an HD extended version of "The Measure of a Man," offering over 10 minutes of never-before-seen footage ; a hybrid extended version of the same episode with the new scenes culled from rough VHS footage; commentary on the episode by Melinda Snodgrass and the Okudas; a gag reel; commentary on "Q Who"; a TNG cast reunion; and a brand-new retrospective documentary on season 2. For TNG fans this is another must-have set that comes highly recommended!

THE GAME Season 5 DVD (aprx. 8 hours, 2012; CBS): Fifth season of "The Game" hits DVD in a three-disc CBS package sporting all 22 episodes, a gag reel, deleted scenes and a highlight reel. The 16:9 transfers and 5.1 soundtracks are all just fine. Also newly available on December 11th from CBS is GUNSMOKE, SEASON 7, VOL 1. (aprx. 859 mins., CBS), boasting the first half of episodes from the long-running CBS series' 7th season. Remastered full-screen B&W transfers are included in the multi-disc set.

SILENT NIGHT, DEADLY NIGHT/SILENT NIGHT, DEADLY NIGHT PART II DVD (** movies; 85-88 mins., 1984-87, R; Anchor Bay): Remember all the controversy that spiraled out of control due to Tri-Star Pictures' 1984 "Killer Santa" slasher film? This Double Feature DVD from Anchor Bay offers both the original movie that started it all, plus its lame 1987 sequel that recycles a large portion of its predecessor's footage. It's nostalgic, junky '80s horror at its pulpiest, though Anchor Bay has does an excellent job by touching upon the original's back story, by including a phone interview with its director, Charles E. Sellier, Jr. I distinctly recall the first movie opening locally in Rhode Island just days prior to Christmas '84, and critic Mike Janusonis ripping its tasteless Christmas setting (sure enough, Mike's review is excerpted in the DVD's critic comments, dubbed "Santa's Stocking Of Outrage"). It's also interesting to note that Tri-Star's logo and credit on the movie have been totally blacked out (apparently the movie really was a black eye in their view). "Part 2," meanwhile, includes a commentary with director Lee Harry, star James Newman and writer Joseph Earle, plus a trailer and a poster/stills gallery for each film. 16:9 widescreen transfers and additional extras round out a solid release that should appeal to all viewers nostalgic for the films, which improbably continued well into the '90s with a series of endless made-for- video sequels.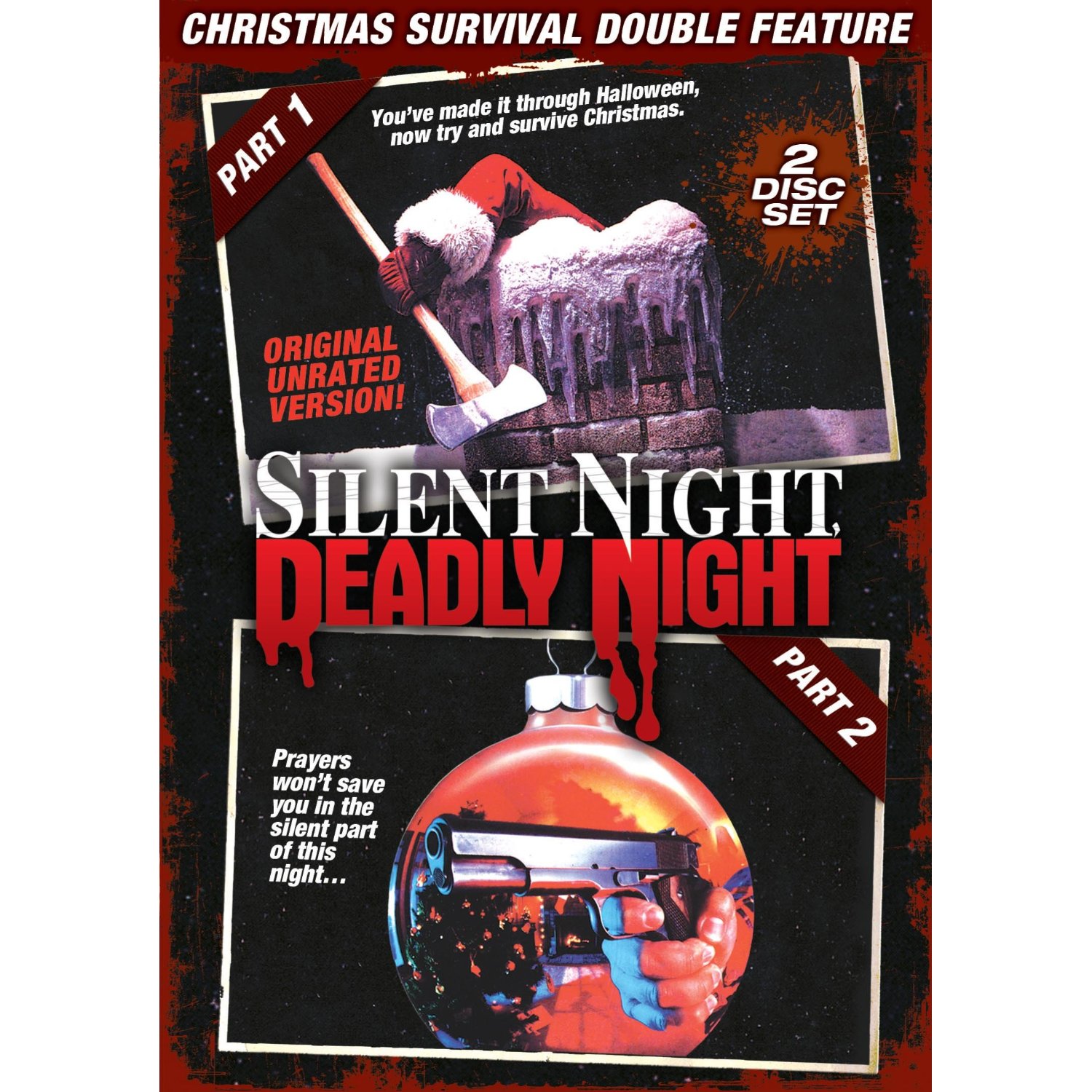 The property has also been given a reworking of sorts in Steven C. Miller's SILENT NIGHT (94 mins., 2012), which once again finds another psychotic Santa slaying victims on Christmas Eve, and sheriff Malcolm McDowell and deputy Jaime King hot on the trail of the yuletide killer. Donal Logue, Ellen Wong, Lisa Marie and Brendan Fehr co-star in a routine Canadian thriller missing the exploitive, nostalgic veneer of its spiritual predecessor. Anchor Bay's Blu-Ray includes deleted scenes and a featurette, a 1080p transfer and 5.1 Dolby TrueHD soundtrack.

BUTTER Blu-Ray/DVD (*½, 91 mins., 2011, R; Anchor Bay): Jennifer Garner stars as a Sarah Palin-like wife of an Iowa butter sculptor champion ("Modern Family"'s Ty Burrell) who has to take on a young African-American girl (Yara Shahdi) in order to take home the yearly prize. Jim Field Smith's barely-released comedy drowns a game cast (Olivia Wilde, Rob Corddry, Alicia Silverstone, Hugh Jackman) in a lame, would-be satirical script by Jason Micallef that's heavy-handed to a tee. Anchor Bay's Blu-Ray boasts deleted scenes, a gag reel, 1080p transfer and 5.1 DTS MA soundtrack.

COLLISION EARTH Blu-Ray (90 mins., 2011, PG; Anchor Bay): Canadian-lensed sci-fi flick stars Kirk Acevedo as a scientist and Diane Farr as the last surviving member of a doomed space shuttle mission trying to start up a defense system, Project 7, in order to stop an off-kilter Mercury from crashing into Earth. Director Paul Ziller packs as much zaniness as he can into the limited parameters of this 90-minute cable film, which Anchor Bay brings to Blu-Ray in a 1080p transfer with 5.1 Dolby TrueHD audio.

OKLAHOMA! Blu-Ray (180 mins., 1999; Image): Rodgers and Hammerstein's musical smash has been staged countless times over the years, but this 1999 production from director Trevor Nunn and choreographer Susan Stroman is regarded as one of the finest, both for its physical design and its tremendous performances. Chief among the latter is Hugh Jackman, who demonstrates his star charisma on the stage, plus Josefine Gabrielle and Shuler Hensley. This multiple award-winner was filmed in 1999 by British Sky Broadcasting and brought here to Blu-Ray by Image in a good looking 1080p transfer with 2.0 DTS MA stereo sound. A Making Of featurette is included on the supplemental side. Highly recommended for musical buffs.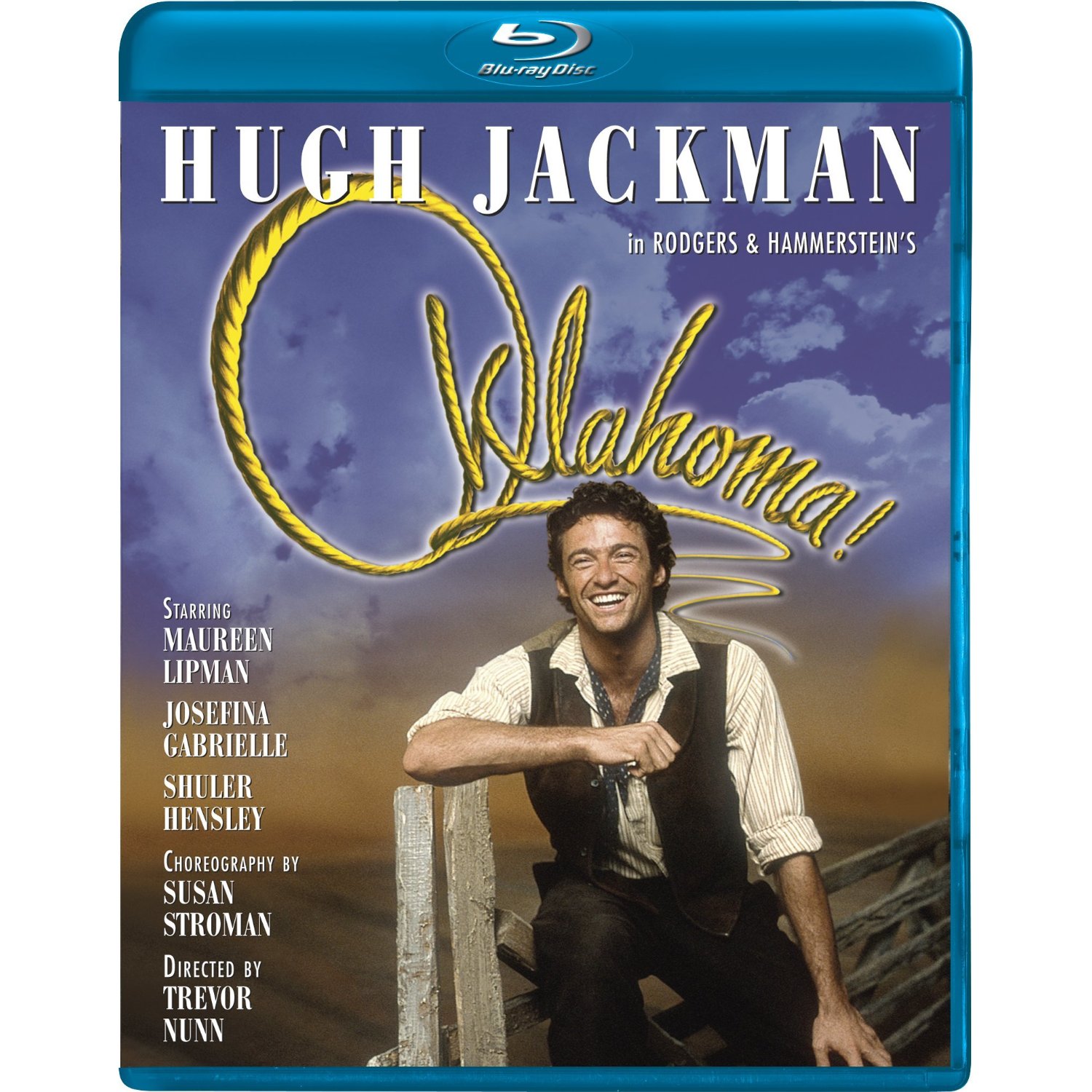 SUDDENLY Blu-Ray (76 mins., 1959; Image): Pulled from circulation after the assassination of JFK – and seen over the decades since in mostly poor, public domain prints – the Frank Sinatra thriller "Suddenly" is a no-frills, compelling B-movie that at last receives a respectable HD release courtesy of Image Entertainment. In a new 1.33 1080p image transferred from the original 35mm studio fine-grain master print, "Suddenly" looks like a real film again and is complimented by excellent extras, including separate commentaries from Frank Sinatra, Jr. and film historian Dr. Drew Casper. A bonus 1957 short film from Francis Thompson, "NY NY: A Day in New York," is also on-hand plus an image gallery.

THE SIMPSONS Season 15 DVD (484 mins., 2003-04; Fox): The 2003-04 campaign of the long-running Fox animated comedy hits DVD offering the episodes Treehouse of Horror XIV; My Mother the Carjacker; The President Wore Pearls; The Regina Monologues; The Fat and the Furriest; Today I Am a Clown; Tis the 15th Season; Marge Versus Singles, Senors, Childless Couples and Teens and Gays; I (Annoyed Grunt) Bot; Diatribe of a Mad Housewife; Margical History Tour; Milhouse Doesn't Live Here Anymore; Smart & Smarter; The Ziff Who Came to Dinner; Co-Dependents Day; The Wandering Juvie; My Big Fat Geek Wedding; Catch Em If You Can; Simple Simpson; The Way We Weren't; Bart-Mangled Banner; and Fraudcast News. Fox's DVD includes all 22 episodes in full-screen transfers with 5.1 soundtracks, deleted scenes, commentaries on every episode, commercials, original sketches and other goodies.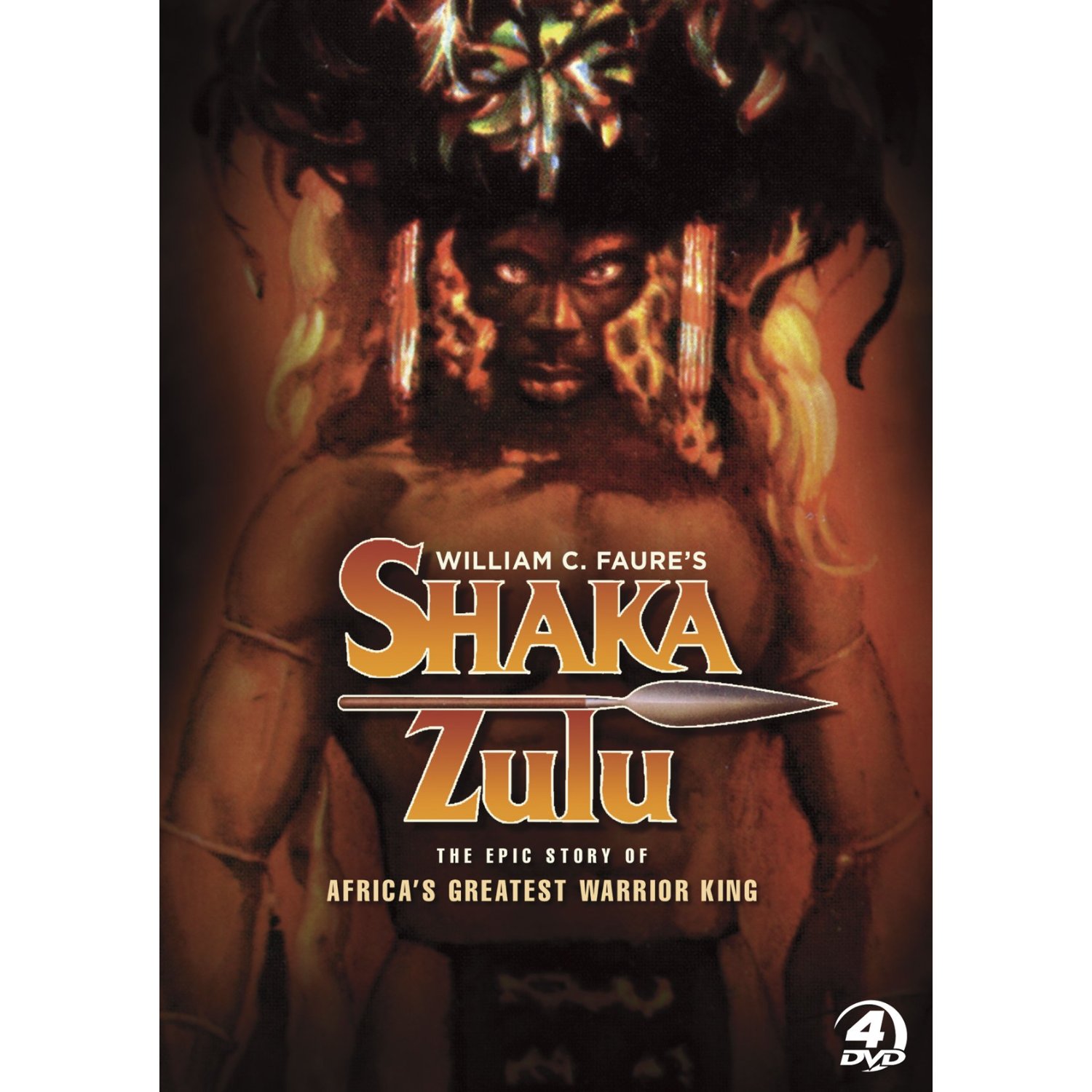 AI WEIWEI: NEVER SORRY Blu-Ray (91 mins., Sundance Selects/MPI): Filmmaker/journalist Alison Klayman produced this documentary portrait of sculptor, photographer and artist Ai Weiwei, who gained worldwide acclaim for his work in the 2008 Beijing Olympics. His subsequent criticism of the Chinese government over the Sichuan earthquake, however, made him a target of the powers-at-be, and his struggle – and his art – are both chronicled in this excellent feature that hits Blu-Ray this month from MPI. The "Sundance Selects" release boasts a 1080p transfer, DTS MA soundtrack, deleted scenes, interviews and the trailer.

INSIDE JOHN LENNON DVD (80 mins., 2003; Passport Video) offers a behind the scenes account of the late Beatle, from his Liverpool childhood to forming the band and meeting Yoko Ono. Passport's DVD includes an extended interview with Beatles chauffeur, Alf Bicknell, plus an unedited interview with Apple GM Alistair Taylor.

SHAKA ZULU: Remastered Edition DVD (aprx. 9 hours, 1986; A&E/NewVideo): Internationally produced mini-series recounting the life and times of the African king has been remastered for DVD by NewVideo, working from the original Harmony Gold masters. The 4:3 full-screen transfer looks fresh and bonus interviews with cast members and director William Faure are included for extras.

2012 WORLD SERIES CHAMPIONS: San Francisco Giants Blu-Ray (4 hours, 2012; A&E/NewVideo): San Francisco Giants fans can relive the excitement with this ample Blu-Ray release from MLB, sporting all kinds of highlights from the Giants' latest run to a World Series title. The entire 7th game of the NLCS is included plus World Series last-out and post-game celebration footage, DTS MA sound and full HD video.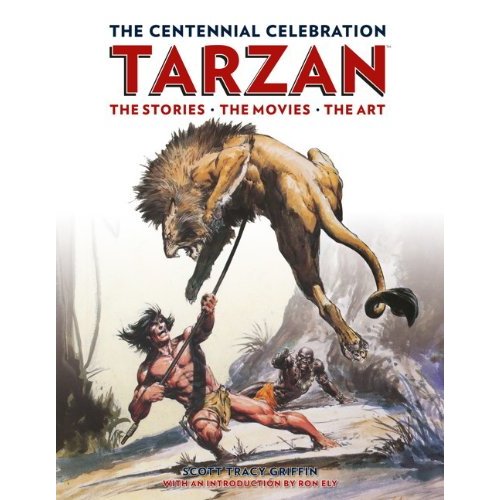 ANCIENT ALIENS: Collector's Edition DVD (aprx. 35 hours; History/NewVideo): Collector's box-set includes the complete "Ancient Aliens" to date: Seasons 1-4 all bundled together in a 13-disc DVD anthology from NewVideo. Content and disc quality is the same as the prior releases, all of which I've covered in past columns. For season-specific information, check the Aisle Seat archives for individual reviews of each. Recommended gifting for any extraterrestrially-oriented buff on your shopping list this holiday season.

KILL 'EM ALL Blu-Ray (86 mins., 2012, Not Rated; Well Go USA): Raimund Huber, director of "Bangkok Adrenaline," delivers this high-kicking martial arts affair where international assassins duke it out at "The Killing Chamber" – a high-tech bunker. Plenty of fight sequences make for a wild and woolly time starring kung fu favorite Gordon Liu. Well Go's Blu-Ray edition of "Kill 'Em All," out December 11th, sports a 1080p transfer and DTS MA soundtrack.

Aisle Seat Bookshelf

I would be remiss not to recommend Scott Tracy Griffin's gorgeous hardcover tome TARZAN: THE CENTENNIAL CELEBRATION (Titan Books), a spectacular coffee-table publication that recounts the history of Edgar Rice Borroughs' hero across every medium. When I say 'every medium,' I mean it: a full discussion is included on all of Borroughs' books, with ample artwork and plot synopses. Tarzan's subsequent adventures off the printed page and into the realm of popular visual media is, naturally, also comprehensively explored, thanks to a discussion of all of Lord Greystoke's cinematic exploits. The latter include his Elmo Lincoln silent movie debut to the MGM Weissmuller classics, RKO and American-International efforts, and the TV adventures of Ron Ely. Comic book adaptations, subsequent novels, radio productions and Disney's animated movie are also given ample coverage here, all of it presented with lush color stills and casual commentary from Griffin that's easy to take in for fans and casual readers alike. At under $30 in most outlets, it's a steal for Tarzan aficionados, and one that ought to whet fans' appetites for the forthcoming big-screen relaunch of the character from Warner Bros. and director David Yates. Highly recommended!

NEXT TIME: More of the latest releases! Until then, don't forget to drop in on the official Aisle Seat Message Boards and direct any emails to our email address. Cheers everyone!