Message Board - Come and Discuss The Latest Videos, Movies & Anything Else!
Happy Holidays to one and all from the Aisle Seat! Twilight Time closes out the year with a trio of new limited edition Blu-Rays, offering a pair of guilty pleasures and a late '50s Fox Cinemascope melodrama that should each appeal to movie buffs.

The main attraction for many will be LOST HORIZON (150 mins., 1973, G), the expensive Columbia Pictures musicalization of the late '30s Frank Capra classic (itself an adaptation of James Hilton's novel), that has long been tagged as one of Hollywood's costliest turkeys. Burt Bacharach and Hal David, then at the top of the pop charts with dozens of classic tunes under their belt, penned the songs for this ill-fated Ross Hunter production which – along with other unfortunate endeavors of the era (Fox's Julie Andrews musical "Star!" among them) – helped put the final nails in the genre's coffin for some time to come.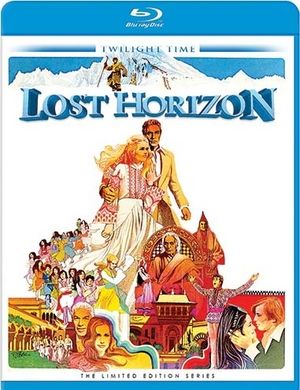 The film isn't awful -- but, frankly, it's pretty close. Admirers of "Lost Horizon" tend to fall into two camps: folks who believe the film is really, honestly good, and others who gain pleasure from its campiness, awkward (and occasionally awful) performances and seriously bad choreography. It doesn't help that the score itself is mostly forgettable, and certainly not up to the level of Bacharach-David's more memorable collaborations. Director Charles Jarrott (later to helm "The Other Side of Midnight" and Disney's "Condorman"), meanwhile, struggles to hold it all together, capturing the plastic (if colorful) cinematography and dated '70s fashions in all of their gaudy widescreen splendor while cast members Peter Finch, Michael York, Sally Kellerman, George Kennedy, Olivia Hussey, Bobby Van, Charles Boyer and John Gielgud either give it their all -- or seem faintly embarrassed -- to be a part of a genre few of them were particularly renowned for. It's certainly a unique viewing experience, though since I fall into the viewership who enjoys the film for its faults, I would recommend anyone sample "Lost Horizon" first before jumping into its odd universe of old-fashioned melodrama, '70s platitudes, easy-going music and (mostly) poor performances.

Reconstructed on laserdisc back in the heyday of the format by Pioneer, "Lost Horizon" made its first DVD appearance just over a year ago as part of Sony's manufactured-on-demand catalog. Utilizing that same master, Twilight Time's Sony-licensed 1080p AVC encoded transfer is exceptionally strong, boasting vivid detail and a pleasing, natural appearance. The 5.1 DTS MA audio track is highly satisfying with its broad stereophonic sound stage, though I'll let fans more knowledgeable with the material compare it to past exhibitions they may have heard (an isolated score mix is, of course, also included). Extra features are carried over from the Sony release, including over 20 minutes of Bacharach song demos, a vintage 10 minute promotional featurette with Hunter, an alternate version of the "I Come to You" number, trailers/TV spots and Julie Kirgo's booklet notes. In all, this is a Blu-Ray sure to please "Lost Horizon"'s fans.

Twilight Time's other pure guilty pleasure is another Columbia product: the 1980 version of THE BLUE LAGOON (104 mins., 1980, R), a lush romantic drama concerning a pair of shipwrecked kids who grow into nubile Brooke Shields and Christopher Atkins. With not a lot to do on the South Pacific island where they're stranded after the only other ship survivor (Leo McKern, unbilled in the first two "Omen" movies but apparently unashamed of taking credit for this film) eventually perishes, Brooke and Chris eventually cultivate "feelings" for one another…and ultimately engage in some old-fashioned jungle fever that's tastefully handled even given the movie's R rating.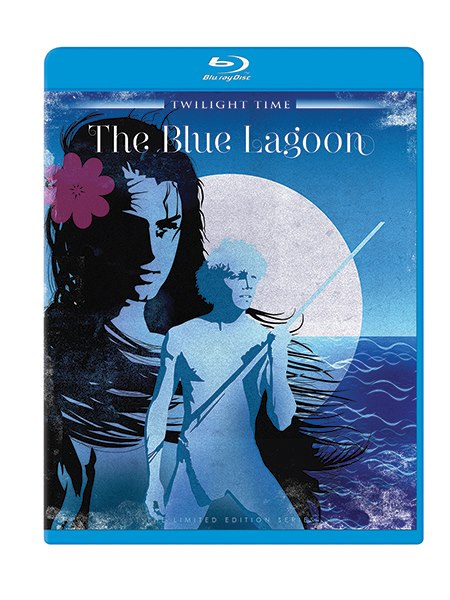 "The Blue Lagoon" played off the appearance of young Shields and director Randal Kleiser's name – Kleiser, coming off "Grease," used his newfound success to get this adaptation of Henry De Vere Stacpoole's 1908 book off the ground, and recruited his "Boy in the Plastic Bubble" writer Douglas Day Stewart to pen the script. Beautifully shot by Nestor Almendros in Jamaica and other gorgeous locales, the movie is a silly, contrived but quite entertaining (I plead guilty!) drama that's unquestionably enhanced by a lovely Basil Poledouris score. Together with the movie's cinematography, the picture offers a cinematic antidote to winter's doldrums on Blu-Ray, and audiences of the day certainly ate it up in kind, turning "The Blue Lagoon" into one of 1980's Top 10 box-office hits.

Twilight Time's Blu-Ray offers all of "The Blue Lagoon"'s DVD extras (two commentaries, a featurette, and the trailer) along with a superb AVC encoded 1080p transfer and DTS MA 5.1 soundtrack. An isolated track of Poledouris' lush score is likewise on-hand along with Julie Kirgo's booklet notes.

The third new release from Twilight Time this month taps into 20th Century Fox's back catalog and ought to be of interest for Golden Age aficionados. The Cinemascope production BELOVED INFIDEL (123 mins., 1959) recounts the waning days of author F. Scott Fitzgerald (Gregory Peck), writing in Hollywood to support his now institutionalized wife, and who falls for a gossip columnist, Sheilah Graham (Deborah Kerr), while hitting rock bottom and trying to finish his latest novel.

A glossy soap opera from producer Jerry Wald and director Henry Ford, "Beloved Infidel" turns a supposedly true story into a unremarkable, though still watchable, '50s melodrama with a fine performance from Kerr anchoring the picture. She generates decent chemistry with Peck, but the actor's portrayal is so mannered and uptight that he never believably embodies the troubled torment of Fitzgerald's personal demons and battle with alcoholism. Nevertheless, the movie is effective and powerful in places, and Franz Waxman's marvelous score is a huge plus as well. As expected, the latter receives all the trimmings here courtesy of Twilight Time's isolated score track and a 4.0 DTS MA sound mix for the film itself. The AVC encoded 1080p transfer is akin to the other Twilight Time Cinemascope offerings from Fox (excellent overall though not nearly as pristine as the superior Sony licensed TT titles), rounding out a release that should please fans of its era -- even the movie has obvious shortcomings.

Criterion, meanwhile, has released a handful of exciting new titles in the fourth quarter of 2012.

Terry Gilliam's troubled but acclaimed sci-fi fantasy BRAZIL (142 mins., 1985, R) has been newly released on Blu-Ray with Criterion's deluxe touch for the first time (Universal produced a movie-only BD over a year ago). One of those heavy "Your Mileage Mary Vary" type of films, "Brazil" is a picture that I've always found to be more compelling for its extensively documented behind-the-scenes turmoil than the movie itself, which remains a highly uneven, occasionally brilliant but just as often frustrating viewing experience. It's also occasionally hilarious, but like much of the director's work, is sabotaged by his own excesses, mixing brilliant blasts of imagination with uneven tonal shifts that dramatically don't amount to very much in the end.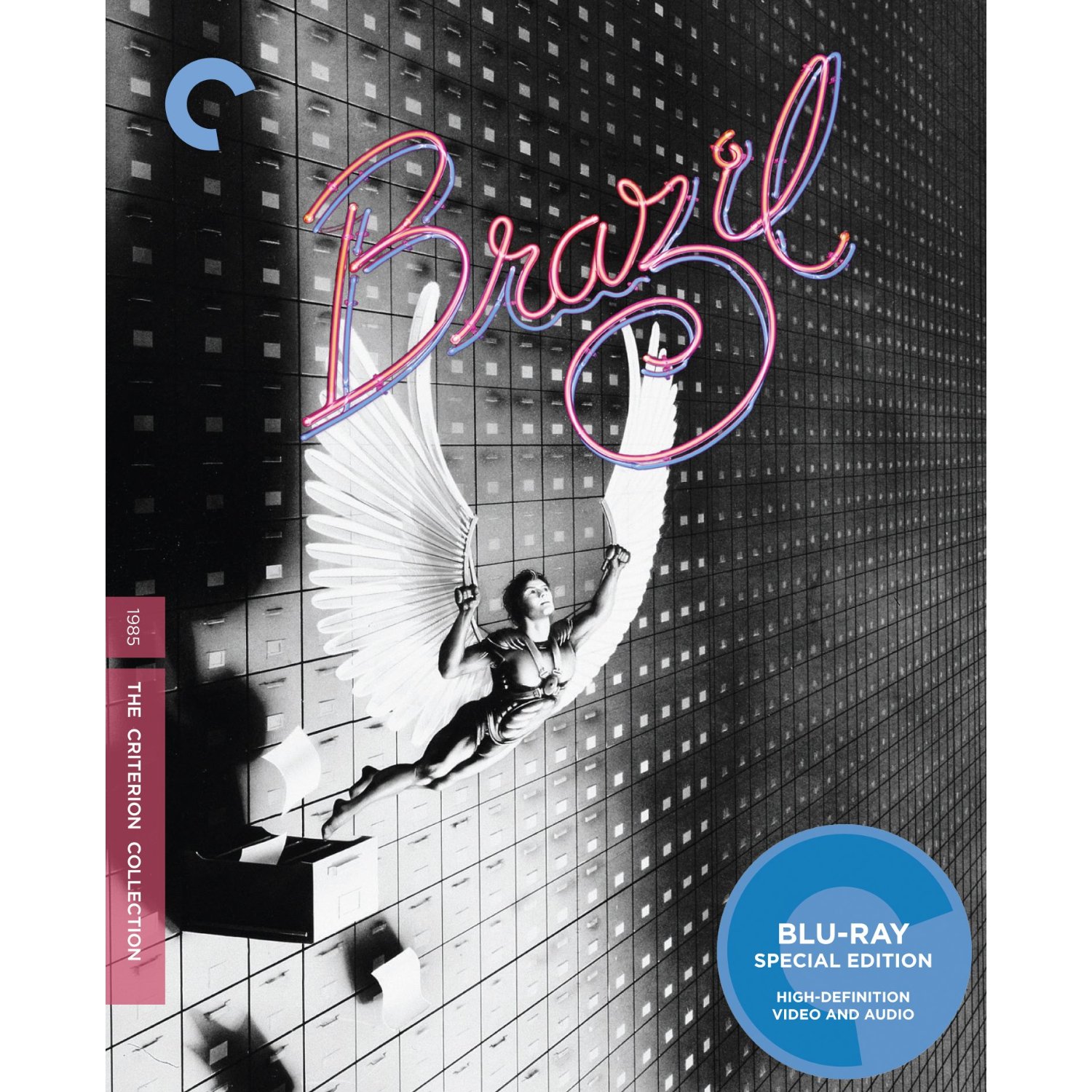 Criterion's Blu-Ray is as spectacular as ever in terms of its through account of the production, Gilliam's run-ins with Universal studio brass, and even its inclusion of the "Love Conquers All" TV version the distributor ultimately produced for syndicated broadcasts. Bearing that in mind, the two-disc Blu-Ray set is essentially an HD reprise of the label's previous, outstanding DVD/laserdisc packages, including Gilliam's commentary, an hour-long documentary that adapts Jack Mathews' essential "Battle of Brazil" chronicle, Rob Hedden's vintage documentary, "The Production Notebook" gallery, and the original trailer. The movie's 1080p transfer is, apparently, identical to the previously released Blu-Ray, while 2.0 DTS MA stereo sound rounds out the two-disc release.

THE QATSI TRILOGY is a sublime anthology of Godfrey Regio's unique and breathtaking films "Koyaanisqatsi"(1983), 1988's "Powaqqatsi" and 2002's "Naqoyqatsi" – a trio of pictures backed by the unforgettable scores of Philip Glass and featuring a meditation on nature, technology, war, life, death, and the ebb and flow of civilization's triumphs and despair. Aerial photography, time lapse footage, and brilliant editing make these films singularly unusual and fascinating works of art that Criterion has brought to Blu-Ray in a three-disc box-set.

In addition to director-approved AVC encoded 1080p (1.85/1.78) transfers and all-new 5.1 DTS MA soundtracks, the box-set boasts an interview program, "Essence of Life," with Reggio and Glass discussing "Koyaanisqatsi"; a conversation with cinematographer Rob Frickle; television spots and a new interview with Reggio relating to his 1970s New Mexico privacy campaign; a 40-minute demo version of "Koyaanisqatsi"; a new interview with the director on the latter; "Impact of Progress," which again puts Reggio and Glass' collaboration in the spotlight; "Inspiration and Ideas," focusing on Reggio's personal influences; "Anima Mundi," Reggio's half-hour montage of animal species scored by Glass; a new video afterward by Reggio on his trilogy; an interview with Glass and Yo-Yo Ma; a panel discussion on "Nagoyqatsi" from 2003; and extensive booklet notes. Recommended!

Last but not least, Criterion has released FOLLOWING (70 mins., 1999), a short but fascinating feature that marked the directorial debut of Christopher Nolan. Shot in stark, shadowy B&W, "Following" is a twisty thriller involving a London writer searching for inspiration, and who finds it – and then some – when he follows a man who breaks into other people's homes. Offbeat but compelling to watch (particularly considering the perspective of Nolan's subsequent works), "Following" has arrived on Blu-Ray boasting a new 5.1 DTS MA audio mix produced by rerecording engineer Gary Rizzo; a commentary from the director; a new, restored digital transfer in 1.33 approved by Nolan; a chronological edit of the film; a side-by-side comparison of the shooting script with a trio of sequences from the movie; trailers, and Nolan's 1997 three-minute short "Doodlebug."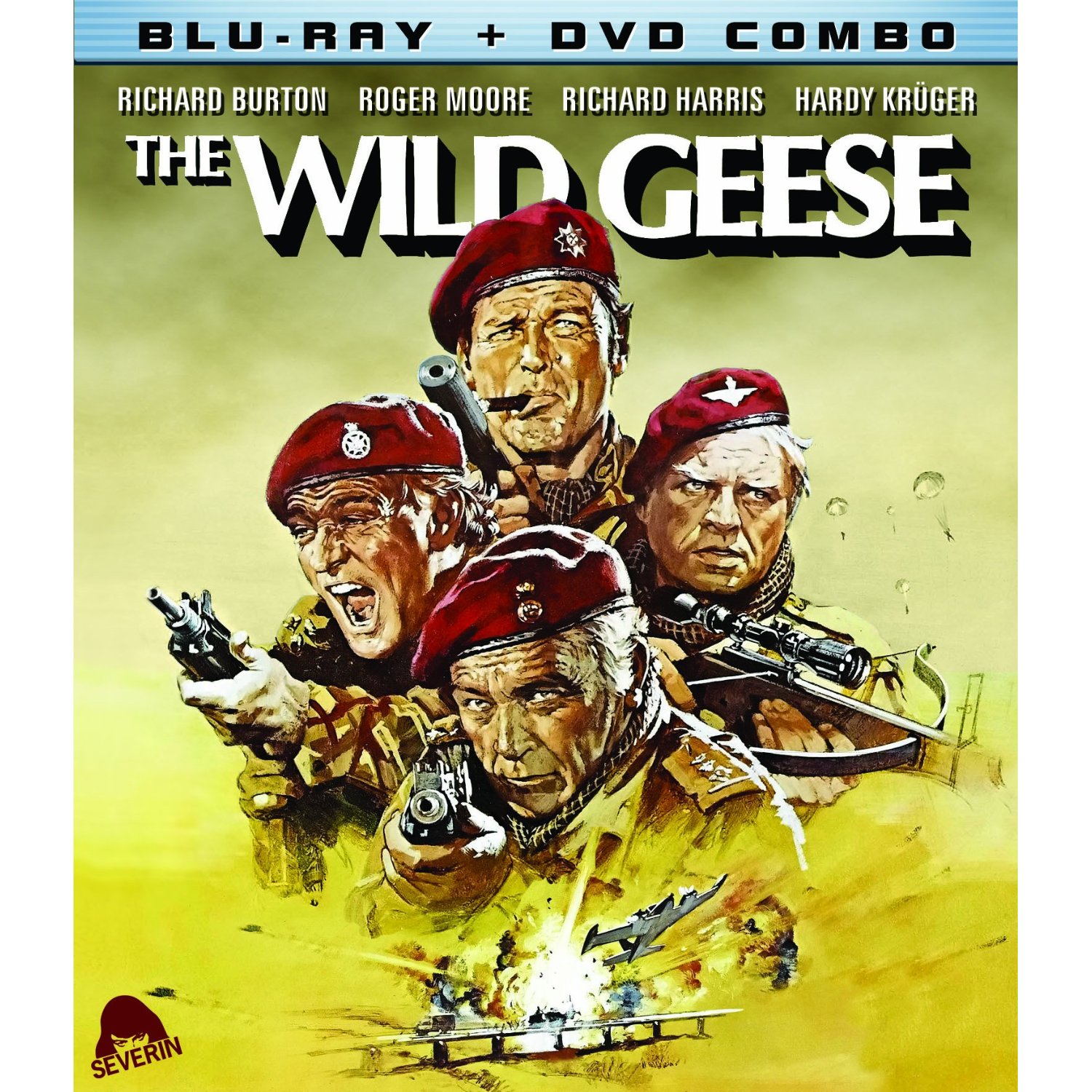 Also new and noteworthy this month for hard core movie buffs are a pair of new releases from Severin Films:

THE WILD GEESE (129 mins., 1979, R) offers a '70s British all-star combo of Richard Burton, Roger Moore and Richard Harris, who – along with Hardy Kruger – portray a group of mercenaries hired to head into Africa in order to retrieve a deposed President in a wild and woolly affair from veteran director Andrew V. McLaglen. Reginald Rose adapted Daniel Carney's book, which makes for a strange mix of a (sometimes slow-going) character drama and violent action flick, but when "The Wild Geese" takes flight and allows its stars to generate chemistry with one another, it delivers on the material's promise. Sporting a MPEG-2 HD transfer, "The Wild Geese" boasts a solid if unspectacular appearance on Blu-Ray, with the source elements showing their age but (thankfully) not a lot of noise-reduction processing seemingly evident. Extras include a new interview with McLaglen, as well as a fresh conversation with military advisor Mike Hoare. Also included are two documentaries, "The Flight of the Wild Geese," as well as "The Last of the Gentleman Producers," focusing on producer Euan Lloyd. A charity premiere newsreel and the trailer round out the release, which includes 2.0 audio and a DVD copy of the film as well.

In Richard Fleischer's controversial 1979 film ASHANTI (118 mins., R), U.N. doctor Michael Caine finds his gorgeous wife Beverly Johnson abducted while working in West Africa. Caine soon finds out that she's slated to be sold into slavery by an Arab trader (Peter Ustinov!) unless he can get to her in time, so the determined doc joins with Rex Harrison, William Holden and Kabir Bedi in order to get her back. "Ashanti" is a dated (have to love Michael Melvoin's disco-infused main title) but nevertheless curious thriller that provides occasionally over-the-top performances (made in the midst of Caine's "SHOUTING" phase) as well as nice widescreen lensing. Severin's Blu-Ray of the rarely-screened "Ashanti" boasts a recent interview with Johnson and the trailer, along with an okay-looking MPEG-2 HD transfer and mono audio. A DVD is also included.

---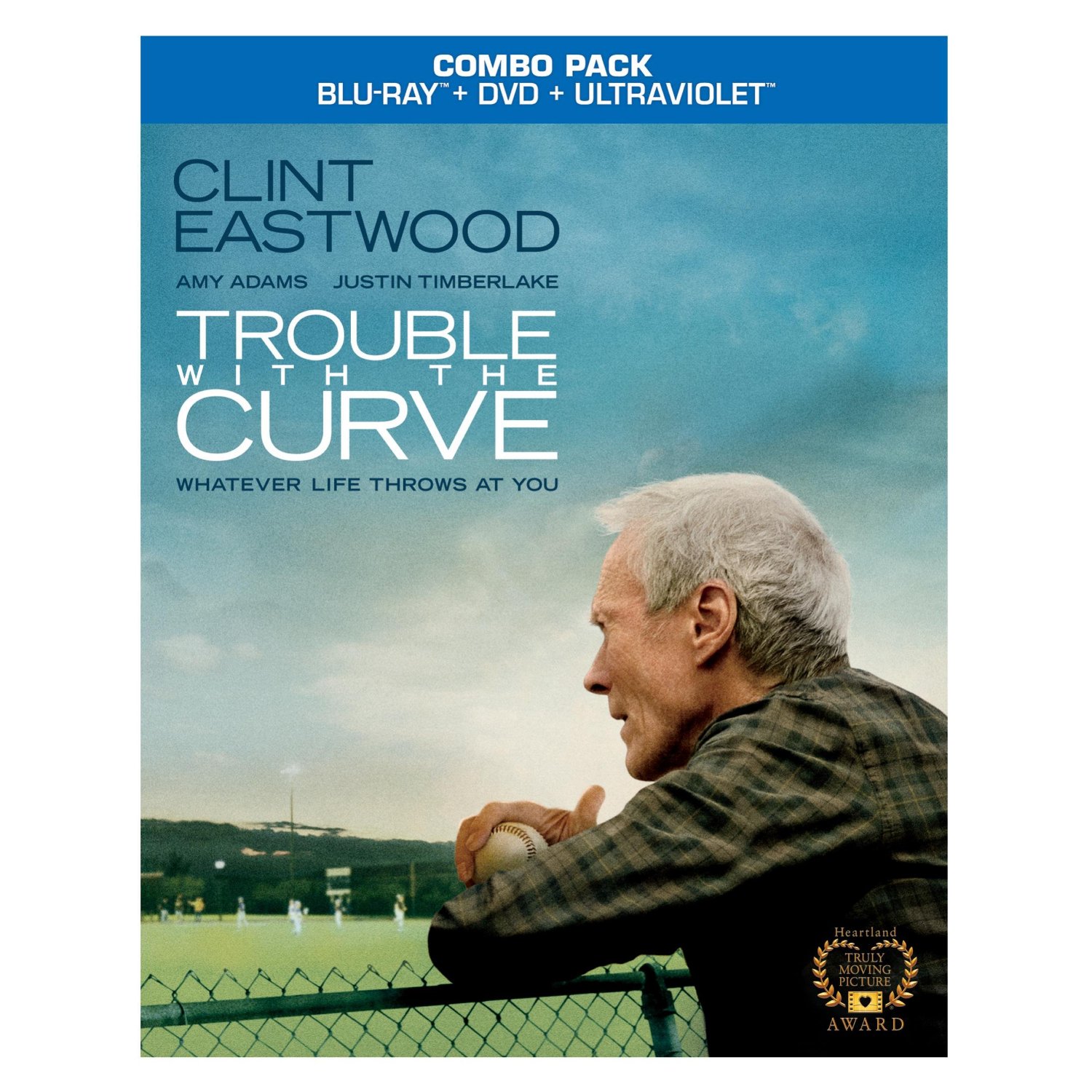 New on Blu-Ray and DVD

TROUBLE WITH THE CURVE Blu-Ray/DVD/Ultraviolet (***, 111 mins., 2012, PG-13; Warner): Easy-going Clint Eastwood vehicle taps into the same emotional undercurrents of "Gran Torino" in its chronicle of a grizzled, veteran baseball scout (guess who) for the Atlanta Braves, and whose estranged daughter (Amy Adams) joins him on a road trip, helping to secure her father's legacy while trying to bond with the cranky old soul.

Eastwood only produced "Trouble with the Curve," leaving directorial chores to associate Robert Lorenz though backing the Malpaso production with numerous familiar faces from prior Eastwood productions (including excellent scope cinematography by Tom Stern). This is a character-driven, likeable film that gets most of its mileage, as you'd anticipate, from Eastwood and Adams, who's fetching here as the workaholic attorney who gets another shot at a relationship with her dad. Justin Timberlake, meanwhile, is fine as a rival scout who provides a romantic interest for Adams. Randy Brown's script hits all the proper buttons, offering few surprises, but it's not much of an issue as this is a good-natured drama that plays off the strengths of its fine cast.

Warner's Blu-Ray combo pack includes a DVD, Ultraviolet copy, an AVC encoded 1080p transfer and DTS MA soundtrack. Extras are a bit lightweight, limited to a featurette with Lorenz and Eastwood, and a corresponding segment with Adams and Timberlake.

PITCH PERFECT Blu-Ray/DVD/Digital Copy (***, 112 mins., 2012, PG-13; Universal): There's nothing in "Pitch Pefect" – the tale of a college student who joins an a cappella singing group and battles her way, with a group of fellow disparate students, to challenging for a national championship – that you haven't seen before. Yet there's a reason this good-natured film became a sleeper hit at the fall box-office, generating over $60 million in domestic returns: it's simply fun. Anna Kendrick is likeable as Beca, an aspiring DJ who doesn't entirely fit in with the right clique but finds herself accepted into a crew of wacky types including Rebel Wilson as "Fat Amy." The songs are upbeat and the comedy in Kay Cannon's script is nicely developed, with big laughs and engaging performances making for a formulaic but fully satisfying piece of fluff ideal for holiday viewing. Universal's Blu-Ray includes deleted/extended scenes, featurettes, commentaries, a 1080p AVC encoded transfer, DTS MA audio, Ultraviolet streaming and a standard digital copy as well.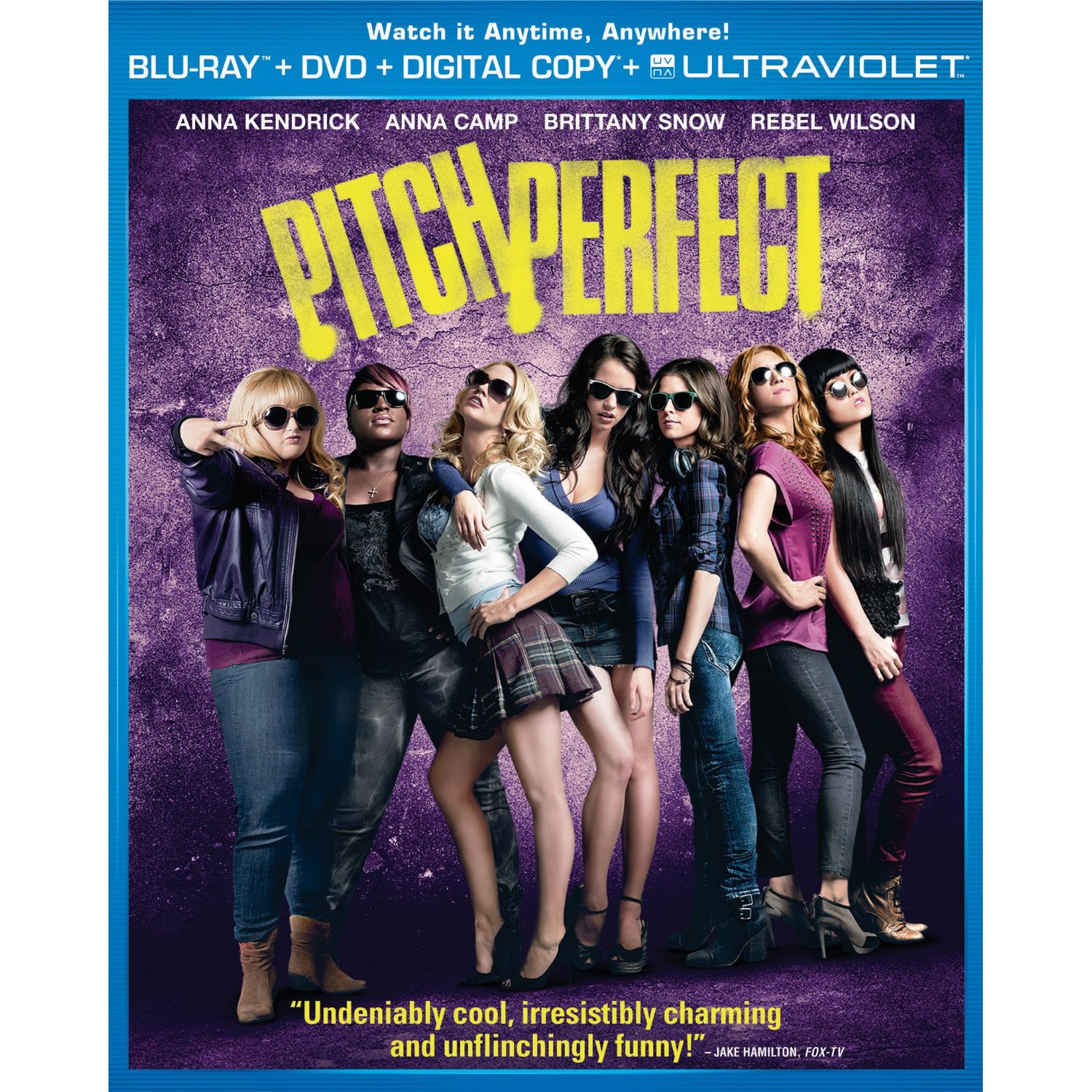 LOOPER Blu-Ray/Ultraviolet (**½, 119 mins., 2012, R; Sony): In Rian Johnson's latest film, Joseph Gordon-Levitt plays a "looper," a hitman named Joe in 2044 Kansas City where time travel has been invented – and outlawed – and nearly 10% of the world's population has developed a telekenetic mutation. That hasn't stopped crime bosses from sending their targets back from the future, where Gordon-Levitt and other loopers dispose of their bodies so they can't be tracked. The loopers themselves become their own targets after their contract runs out 30 years after the fact – something that becomes a problem when Gordon-Levitt's future self (Bruce Willis) manages to escape from his assassination, and tries to convince his younger incarnation that the world is going to be destroyed if a crime boss dubbed "The Rainmaker" is able to have his way.

Johnson's picture is most effective during its first half. Working with a modest budget, "Looper" mixes the familiar with the futuristic in a dirty, dank environment, and the movie's use of time travel eschews standard genre devices – at one point, Willis' character even tells Gordon-Levitt to stop thinking about past/present "space-time continuum" rifts, as if to urge the audience not to get hung up on technical details (in this movie, unlike "Back to the Future," changing the past doesn't erase one's future existence, but rather clouds over one's memories). The story, though, shifts gears completely in its second hour, with Gordon-Levitt's younger protagonist venturing onto a farm, encountering a young mother (Emily Blunt) and her son while Willis' older half searches for the child that will eventually become "The Rainmaker."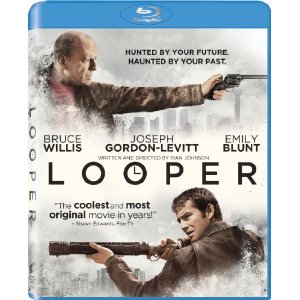 It's during the movie's later section when "Looper" loses its momentum and asks the audience to shift gears into something resembling a remake of "Firestarter" – something that comes off as unexpected and not entirely satisfying. The movie never regains the forward narrative thrust of its first half, and is also hampered by characters who are almost completely unlikeable – Gordon-Levitt's distracting make-up also doesn't seem to have been entirely necessary, as the actor would've been capable enough to mimic Willis' persona with less prosthetic involved. Willis himself is fine, and Emily Blunt does believable work as the child's mother, but none of them are particularly engaging or sympathetic. Johnson's script also, frustratingly, dangles questions in front of viewers without making a strong enough connection to whether or not they make sense dramatically (as it's impossible to go into these aspects without spoiling the plot, I won't comment any further, but they partially involve the picture's ending). It's one thing to be ambiguous, but it's another when the dots are so weakly connected that the suggestion of certain concepts seems to come out of thin air due to a lack of development.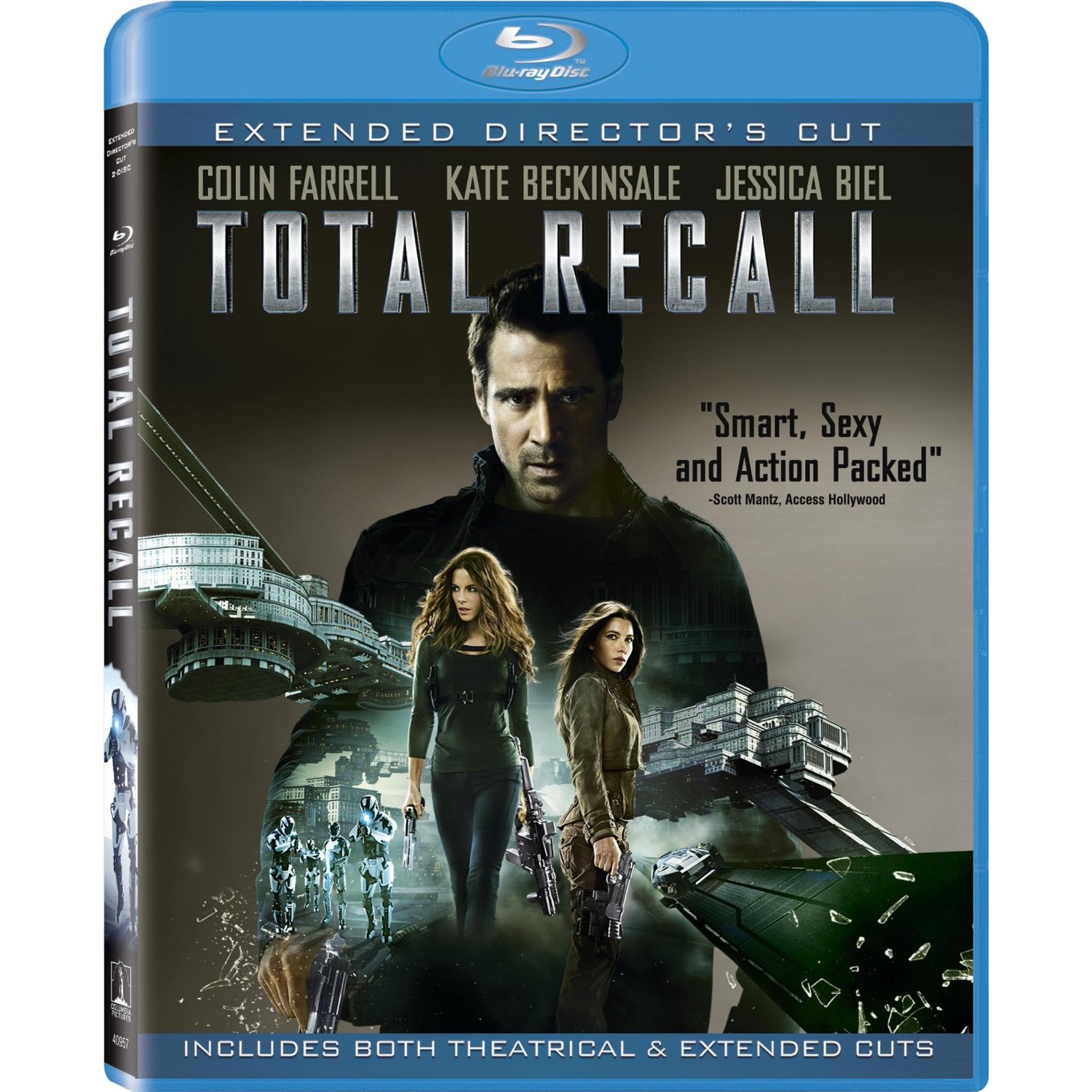 "Looper," then, is a cold and unusual film – less a "groundbreaking" genre picture than it is an interesting B-movie with intriguing elements but something fundamentally lacking in its center.

Available December 31st, "Looper"'s Blu-Ray includes over 20 deleted scenes (17 of which are exclusive to the format), featurettes (including a profile of the scoring by Nathan Johnson), commentary from Rian Johnson, Gordon-Levitt and Blunt, plus a BD exclusive "Science of Time Travel" segment, and Ultraviolet streaming copy. The 1080p transfer is superb and the DTS MA audio solidly engineered.

TOTAL RECALL Blu-Ray/DVD/Ultraviolet (**½, 118/130 mins., PG-13/Unrated; Sony): After starring in the surprisingly decent – if commercially unsuccessful – remake of "Fright Night," Colin Farrell rolled snake eyes at the box-office again in a re-do of the 1990 Schwarzenegger favorite "Total Recall." This expensive new take on Philip K. Dick's novel "We Can Remember It For You Wholesale" turns out to be an uneven but enthralling visual ride courtesy of director Len Wiseman, clearly paying homage here not only to the original film but numerous other genre classics ("Blade Runner" most obviously) in its account of Douglas Quaid, a futuristic factory worker swept up in an identity crisis and planetary revolution.

Farrell (naturally) isn't Arnold, but when the movie settles in and Wiseman is able to craft a number of well-choreographed action set-pieces, the movie provides adequate amusement for sci-fi fans. Kate Beckinsale and Jessica Biel acquit themselves well as the sparring female leads, with Bryan Cranston serving up villainy and production designer Patrick Tatopoulos filling the widescreen frame with something interesting to look at throughout. Kurt Wimmer and Mark Bomback's script, meanwhile, is quite a bit rockier, twisting the source material (there's no Mars here, just an Earth splintered into two liveable continents) around for no real rhyme or reason. Subsequently, fans of the old movie (and I'm not particularly one of them) are likely to be the least satisfied with the 2012 "Recall," but as modern blockbusters go, it's interesting enough for buffs to warrant a single viewing.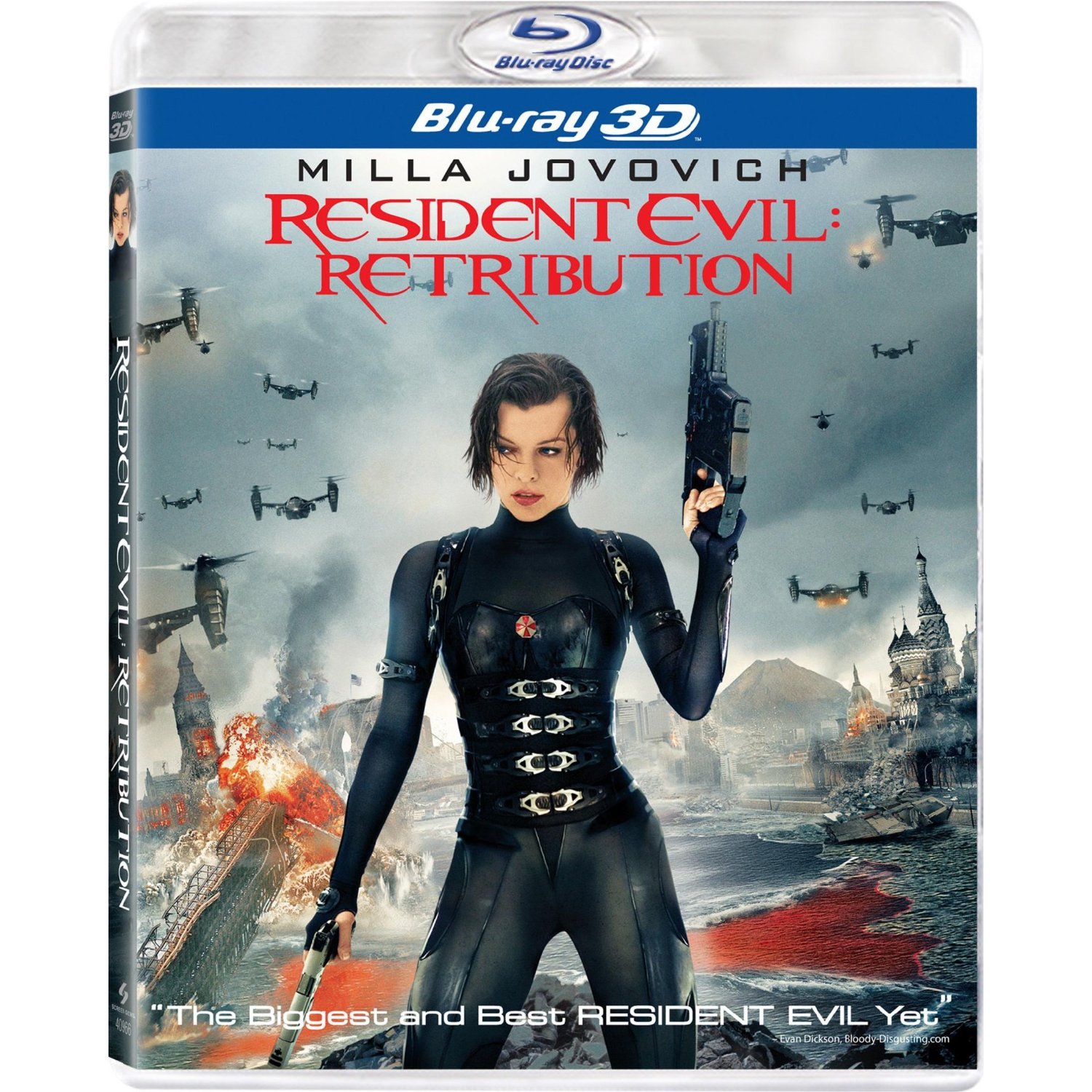 Sony's Blu-Ray combo pack of "Total Recall" includes the movie's 118-minute theatrical version as well as a specially prepared Director's Cut running 130 minutes and with some interesting discrepancies (including a cameo for Ethan Hawke cut out of the released version). While the disc is bountiful in extras (commentary, featurettes, a Wiseman-hosted "insight" viewing option), and the transfer superb, the Dolby TrueHD audio frequently dropped out on my receiver during bitstream playback. As viewers have suggested on various message boards, setting your player to 'LPCM' playback (and streaming the lossless audio in PCM form) will correct the problem.

RESIDENT EVIL: RETRIBUTION 3D Blu-Ray (**, 96 mins., 2012, R; Sony): Fifth (!) entry in Paul W.S. Anderson's increasingly bonkers zombie series once again finds heroine Alice (Milla Jovovoich, cashing another huge check in one of her husband's films) battling her way through an Umbrella research facility, and running into a series of deceased characters from prior films (including Michelle Rodriguez) who've come back from the dead. It's a brainless, if stylishly packaged, product chock full of special effects and excellent 3-D imagery, captured splendidly in Sony's 3D Blu-Ray rendering – but, of course, it's all just a set-up for one more, final installment, which the end of the picture basically serves as a trailer for (one wonders, considering its declining commercial performance, if they'll be able to scrounge up enough funds to finish the series off). Sony's BD also boasts deleted/extended scenes, six featurettes (exclusive to the Blu-Ray), plus filmmaker/cast commentaries and a "Drop (Un) Dead Creatures" featurette and Ultraviolet streaming copy.

THE WORDS Blu-Ray (**½, 97/103 mins., 2012, PG-13/Unrated; Sony): Convoluted but oddly compelling romantic drama stars Bradley Cooper as a novelist who's hit the big time with a bestselling book and devoted fiancee (Zoe Saldana), but since his tome was written on a lie, the past comes back to him in this unusual film from Brian Klugman and Lee Sternthal, who wrote and directed the film together. "The Words" doesn't entirely work but it's a game attempt at making an intellectual portrait of writing, fame, success and plagiarism – an element that has rocked the publishing market in recent years. Jeremy Irons co-stars with Dennis Quaid in a framing device. Sony's Blu-Ray boasts the theatrical version as well as an extended cut featuring six more minutes of footage; two featurettes; and BD-exclusive character profiles. The 1080p transfer and DTS MA soundtrack are both excellent.

---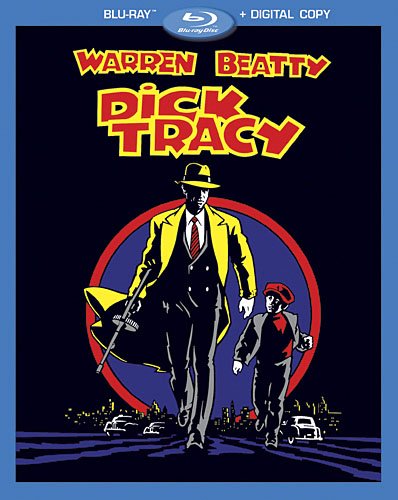 New From Disney

Warren Beatty's DICK TRACY (***, 110 mins., 1990, PG) followed the release of Tim Burton's "Batman" and, to a degree, was undoubtedly influenced by the 1989 blockbuster -- from Danny Elfman's urgent underscoring to campy performances from a rogue's gallery of villains in heavy make-up (Al Pacino being the primary heavy), "Dick Tracy" sought to capitalize on the then-hot comic book film/TV genre. Alas, while the genre would soon stall out again (at least until "Spider-Man" launched the "Marvel era" over a decade later), the movie has surprisingly held up over the years -- and ranks as superior to the original Burton "Bat" as well.

Part of the reason for the film's enduring elements come in Beatty's artistic vision: the Vittorio Storaro cinematography and Richard Sylbert production design completely evoke the 1930s design of Chester Gould's original comic books, making the movie a virtual comic-strip come-to-life. Every frame of the movie looks like a panel from its source material, and the Jim Cash-Jack Epps, Jr. script (reportedly enhanced with contributions from Bo Goldman) mixes campiness with candy-coated action effectively. The movie also works because of its amazing cast, not all of whom are recognizable under heavy make-up: in addition to Pacino, Dustin Hoffman, Paul Sorvino, James Caan, William Forsythe, and Mandy Patinkin pop up as some of Tracy's nemeses, while Seymour Cassel, Dick Van Dyke, Michael J. Pollard and Charles Durning are more recognizable in other supporting turns.

If the movie has a shortcoming, it's in its female leads: several years prior to Beatty working with Annette Bening and subsequently falling in love with his co-star, the actor/director fell for Madonna and promptly cast her as femme fatale Breathless Mahoney. Complete with original songs penned for the film by Stephen Sondheim, Madonna's night club dame could've ignited sparks with Beatty's Tracy, but her scenes end up fizzling out and stopping the movie cold while Beatty, the director, overly admires his then off-screen prize. Also a disappointment is Glenne Headley, who proves to be merely serviceable as Tracy's Girl Friday, Tess Trueheart. Sean Young claimed to have been lined up for the role but was rejected by Beatty when (she says) she refused his romantic advances -- a claim that's not hard to believe given Beatty's relationships with his leading ladies (and it's too bad as well, since Young would've been preferable to Headley, particularly in that type of period role).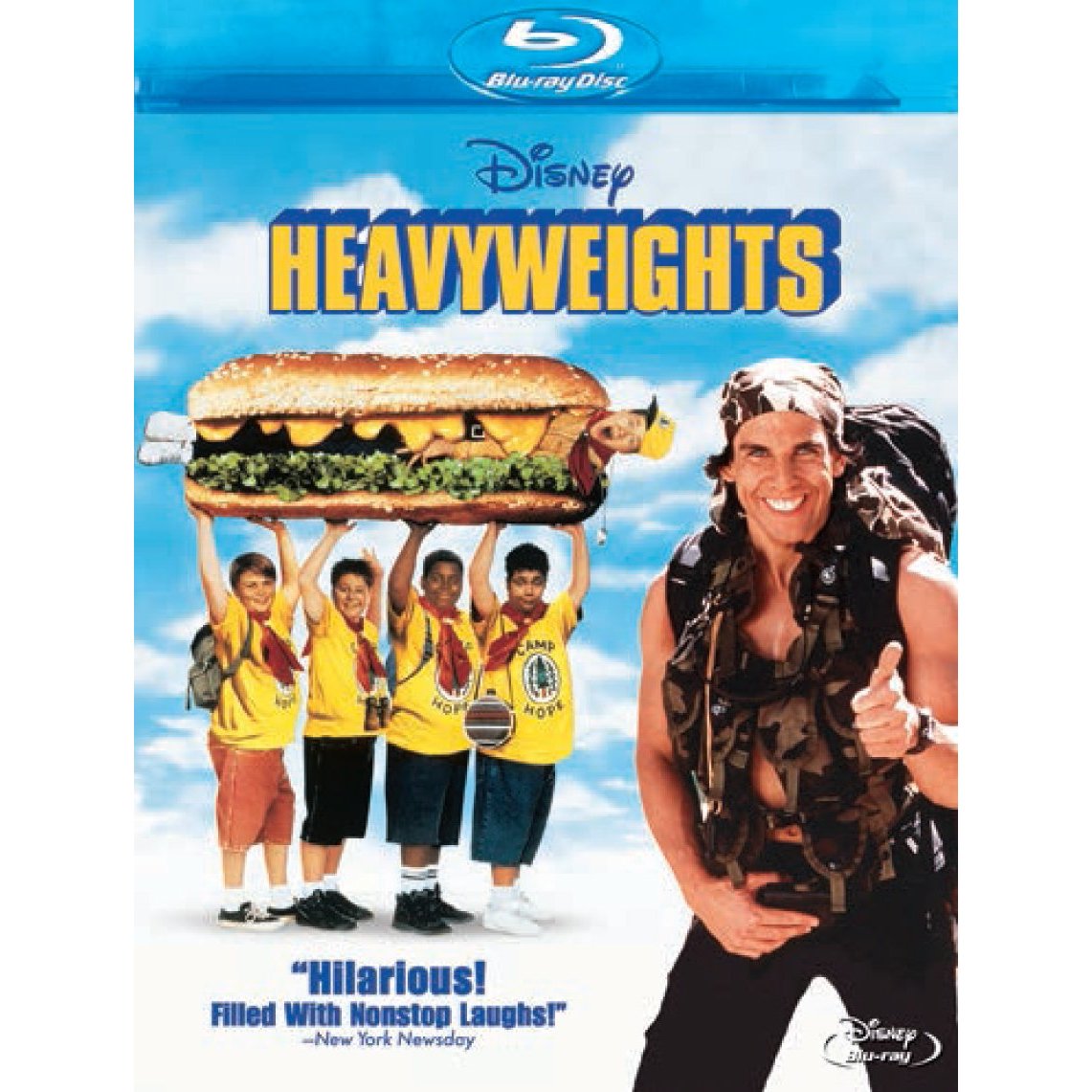 Nevertheless, "Dick Tracy" is great fun to look at and particularly captivating for movie buffs because of its cast. Disney's Blu-Ray edition of the film, which also includes a digital copy, doesn't offer any extras, but does, fortunately, offer a spiffy, if somewhat "soft" looking, 1080p AVC encoded HD transfer with a dynamic DTS MA 5.1 soundtrack.

Also new from Buena Vista on the catalog front is a surprise Special Edition Blu-Ray of HEAVYWEIGHTS (**½, 100 mins., 1995, PG), a live-action Disney comedy that went nowhere in theaters back in 1995, despite the fact that producer Judd Apatow and co-star Ben Stiller were a short time away from gaining fame in a number of box-office smashes.

The movie itself -- about a group of overweight kids turning the tables at a weight loss camp overseen by dictator-like Stiller -- offers a number of silly gags and is mostly unremarkable, but "Heavyweights" has nevertheless managed to gain a sizable cult following over the years. Looking to take advantage of that fact, Disney has rolled out a full-fledged Blu-Ray Special Edition that offers a 90-minute (!) assembly of deleted material, a vintage half-hour Making Of, and a fine commentary track with Apatow, his co-writer/director Steven Brill and members of the cast. There's also a new retrospective look at where the young cast members are today, plus trailers and other goodies. The 1080p AVC encoded transfer is mostly just serviceable (in line with some of the label's less-than-stellar BD catalog releases of the past year, including "Grosse Point Blank"), and 5.1 DTS MA audio completes the package.

---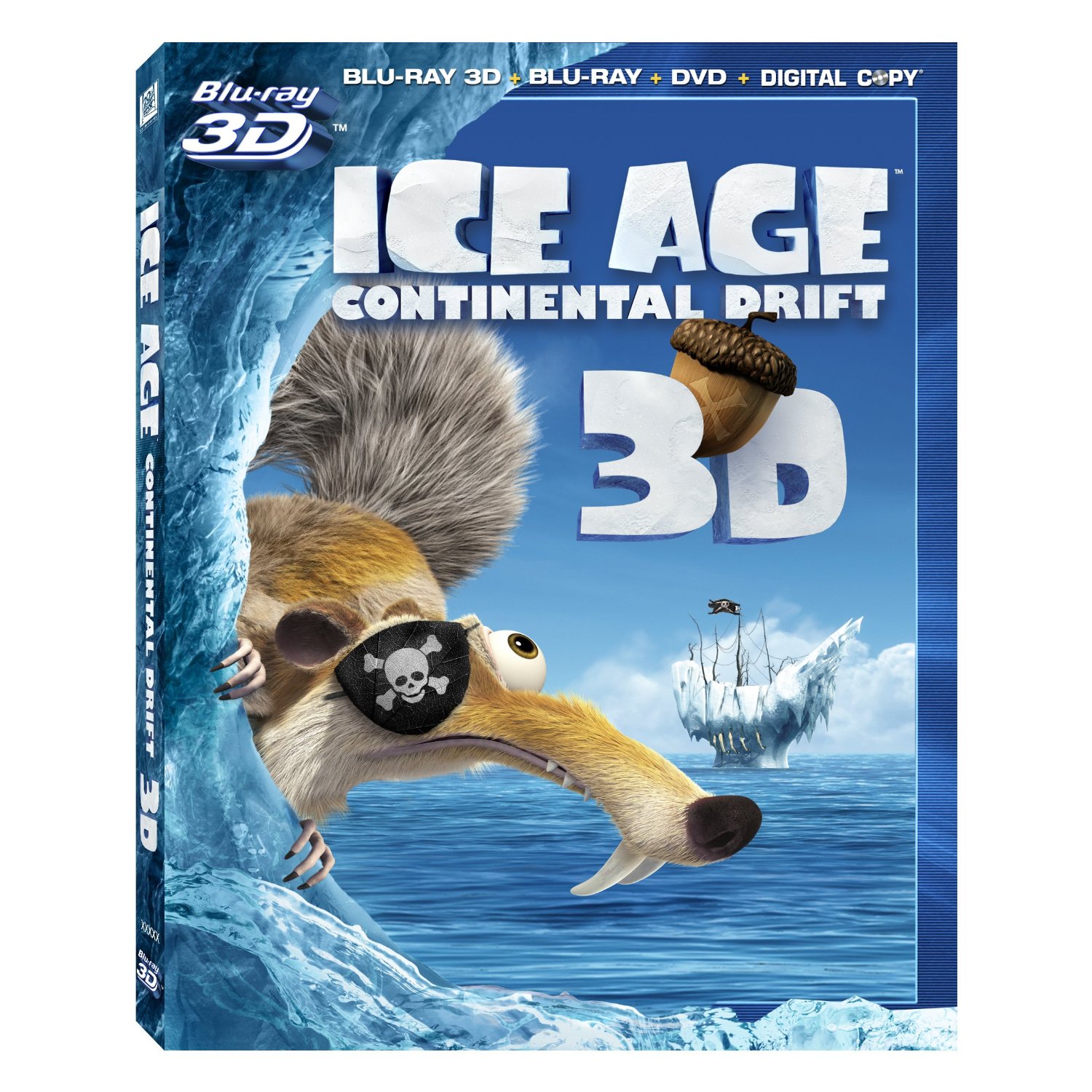 From Fox

ICE AGE: CONTINENTAL DRIFT 3D Blu-Ray/DVD Combo Pack (**½, 88 mins., 2012, PG; Fox): Fourth entry in Fox/Blue Sky Studios' prehistoric animated franchise did merely okay at the domestic box-office (coming in last among the series' four entries), but absolutely cleaned up internationally, raking in over $700 million overseas. Certainly kids still ought to get a kick out of the adventures of Manny, Diego and Sid, this time separated from their kin when Scrat unwittingly sets in motion a series of events that breaks their turbulent young planet apart. Great animation and fun work from the voice-over cast (Jennifer Lopez and Peter Dinklage get involved this time out) compensate for a fairly pedestrian story that doesn't have the freshness or charm as its initial installment (could it be possible that it the original was released over a decade ago?). Still, with Scrat's dialogue-free physical comedy ranking as the highlight, "Ice Age: Continental Drift" provides the goods to its family audience, and Fox's gorgeous 3D MVC encoded 1080p transfer is, expectedly, immaculate on Blu-Ray. The combo pack also includes a DVD and digital copy, plus a fair amount of extras mostly geared towards the little ones along with the trailer.

BEASTS OF THE SOUTHERN WILD Blu-Ray (***, 93 mins., 2012, PG-13; Fox): Somewhat uneven but beautifully made independent drama about a six-year-old Louisiana girl, living in poverty along the Bayou, and her various misfortunes – and adventures – navigating life with her troubled father. Lucy Alibar and Benh Zeitlin's film is visually impressive and young Quvenzhane Wallis delivers an authentic, moving performance as the young "Hushpuppy." The film's use of occasional "fantasy" imagery, meant to signify Hushpuppy's point of view, is infrequent and doesn't entirely seem consistent with the rest of the film, but this is still a strong piece of filmmaking well worth seeing on Blu-Ray. Fox's disc includes a Making Of, deleted scenes, auditions, a music featurette, the original short "Glory at Sea," and the featurette "The Aurochs." The 1080p transfer is sharp and the 5.1 DTS MA audio well engineered; a DVD-based digital copy is also included.

DIARY OF A WIMPY KID: DOG DAYS Blu-Ray/DVD/Digital Copy (**½, 94 mins., 2012, PG; Fox): Third entry in Fox's adaptations of Jeff Kinney's popular book series finds Greg Heffey (Zachary Gordon) and friends causing shenanigans on summer break. Younger viewers who enjoyed the previous "Wimpy Kid" entries are likely to get a kick out of "Dog Days" as well, though the young cast seems to be growing exponentially out of their roles. Fox's combo pack sports a BD, DVD and digital copy with extras including deleted scenes, a gag reel, and a "Class Clown" animated comic.

---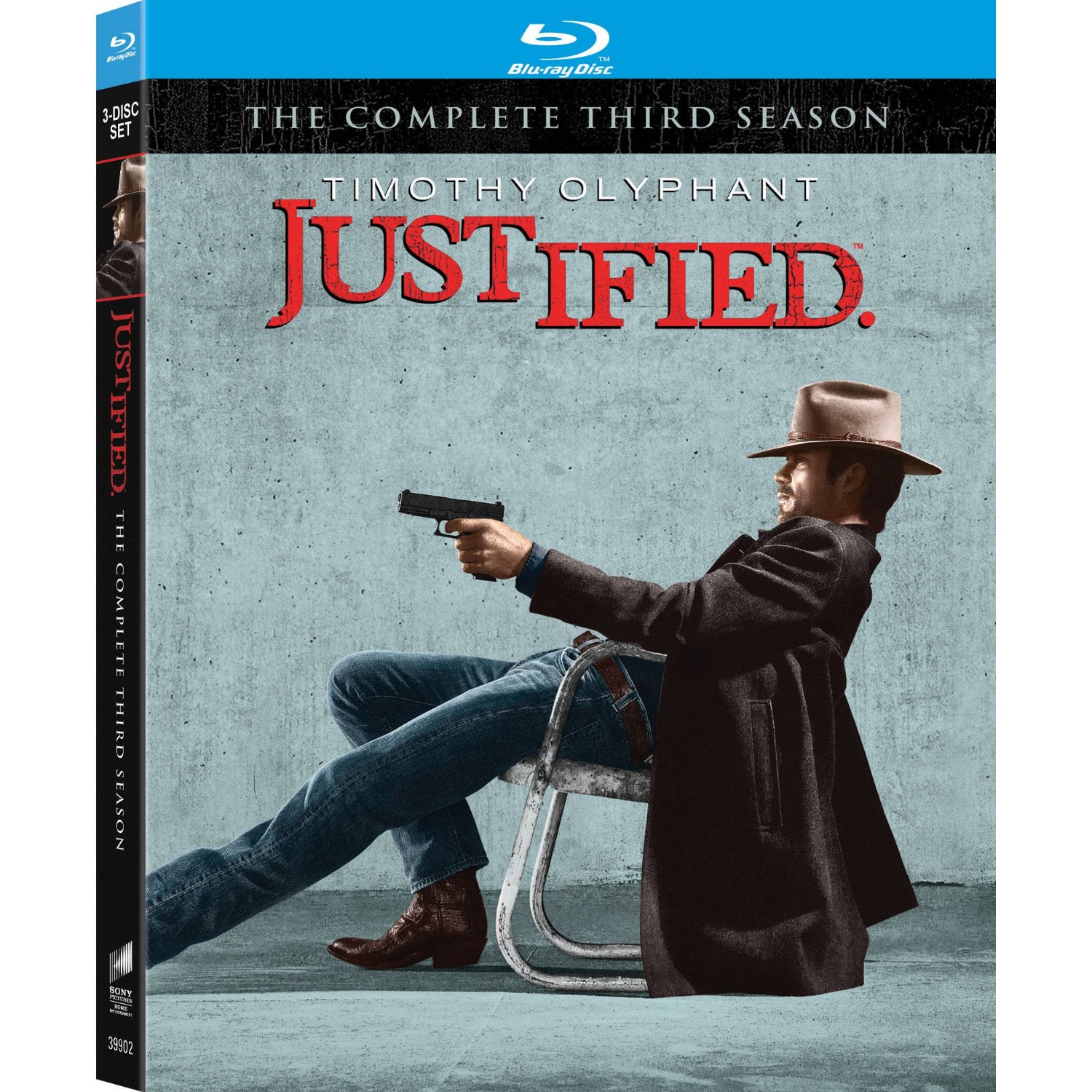 TV on DVD

JUSTIFIED: Season 3 Blu-Ray (541 mins., 2012; Sony). WHAT IT IS: Deputy U.S. Marshal Raylan Givens (Timothy Olyphant) is back, combating the advances of enemies Dickie Bennett (Jeremy Davies) and Boyd Crowder (Walton Goggins), as well as a mystery mob enforcer, "Limehouse," in the third season of FX's hugely successful prime-time crime drama. BLU-RAY BREAKDOWN: Sony's Blu-Ray package of "Justified"'s third season includes attractive AVC encoded 1080p transfers, DTS MA soundtracks, and plenty of extras: nine commentaries, outtakes, deleted scenes, three featurettes, and a BD exclusive conversation with Olpyhant and Goggins. AISLE SEAT BOTTOM LINE: Fans of "Justified" will feel justified by their purchase of the series' third season on Blu-Ray, which should hold viewers' appetites until the fourth go-around for Deputy Marshal Givens airs later on in 2013.

CALIFORNICATION: Season 5 DVD (aprx. 6 hours, 2012; CBS). WHAT IT IS: Golden Globe-winner David Duchovny's Showtime series returns, this time finding writer/screenwriter Hank back in L.A., chasing Hollywood beauties that continuously thwart his relationship with ex-girlfriend Nastacha McElhone and daughter Madeline Martin. DVD BREAKDOWN: CBS' DVD release of "Californication"'s fifth season includes 16:9 transfers, 5.1 soundtracks, plus bonus episodes of "House of Lies," "The Borgias" and other Showtime content. AISLE SEAT BOTTOM LINE: Duchovny is the whole show in "Californication," and series buffs should be pleased with CBS' presentation on DVD.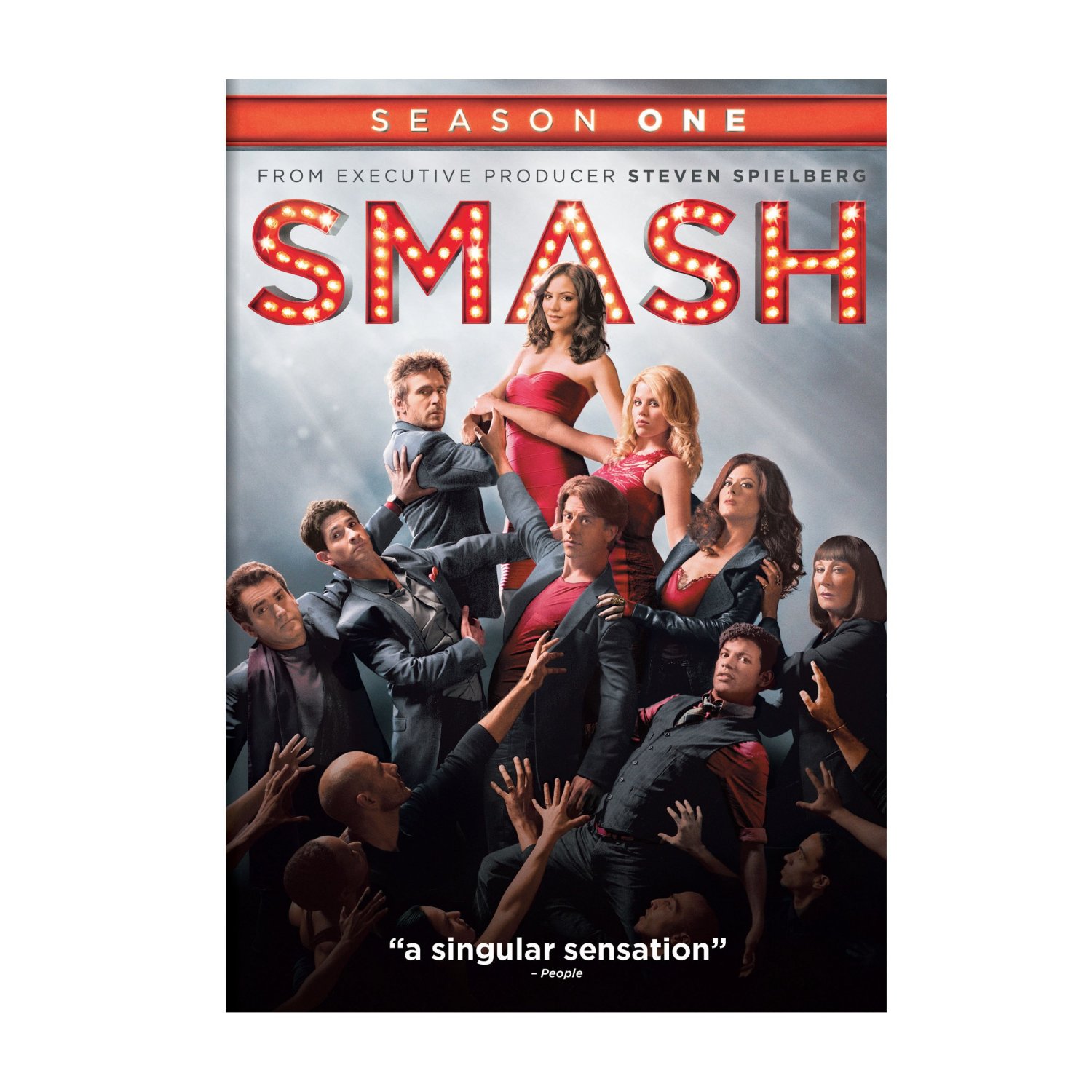 Also new from CBS is the complete first season of HOUSE OF LIES (aprx. 6 hours, 2012), the Showtime series starring Don Cheadle as a corporate management consultant with Kristen Bell as one of his team leaders. CBS' DVD release of "House of Lies"' first season includes two commentary tracks with writer-creator Matthew Carnahan and cast members, plus featurettes, 16:9 transfers and 5.1 soundtracks.

SMASH: Season 1 DVD (aprx. 11 hours, 2012; Universal). WHAT IT IS: This behind-the-scenes chronicle of mounting a Broadway musical sounds a lot more engaging than it actually plays. Debra Messing stars as one of the Marilyn Monroe musical's producers, but it's really Katharine McPhee (as a rising ingenue) and Megan Hilty (the stage veteran who knows her way around) who take center stage in this backstage drama with songs by Marc Shaiman and Scott Witman. "Smash" starts off relatively well but I lost interest several episodes into its 15-episode freshman year; perhaps your mileage will be better than mine. DVD BREAKDOWN: Coming to home video January 8th, Universal's DVD includes extended musical numbers, deleted scenes, a gag reel, and behind-the-scenes featurettes, plus 16:9 transfers, 5.1 soundtracks and Ultraviolet streaming copies. AISLE SEAT BOTTOM LINE: With Season 2 about to air on NBC, "Smash" is hitting DVD at the right time. Musical-theater aficionados might warm to Shaiman's musical contributions, but the drama itself takes too long to percolate.

---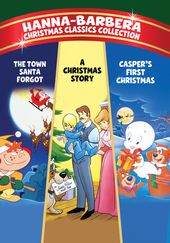 New From Warner Archive

Just in time for Christmas come a pair of new Warner Archive DVD releases spotlighting some relatively obscure efforts from the prolific arms of the Hanna-Barbera and Rankin-Bass production houses, respectively.

HANNA-BARBERA CHRISTMAS CLASSICS COLLECTION offers a trio of holiday specials, none of which, arguably, qualifies as "classic" though younger viewers and nostalgic animation buffs should find them to be of sufficient interest. 1971's "A Christmas Story" leads off the pack with its tale of an enterprising dog and mouse who head to the North Pole to deliver a letter for Santa; a bratty little kid learns the meaning of the season in the 1993 effort "The Town Santa Forgot"; while Casper joins up with Yogi Bear and friends for an early "cross franchise" team-up in the genial 1979 production "Casper's First Christmas."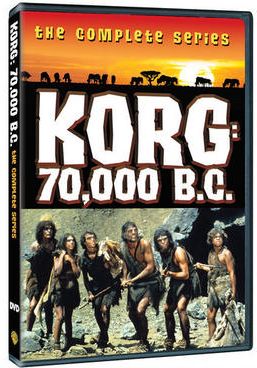 RANKIN/BASS HOLIDAY TV HOLIDAY FAVORITES COLLECTION includes a couple of oddball Rankin/Bass efforts, leading off with the 1981 network special "The Leprechauns Christmas Gold," sporting vocal work from Art Carney and Peggy Cass; the 1974 sequel "The Little Drummer Boy, Book II," picking up where the acclaimed 1968 Rankin/Bass special left off; "Pinocchio's Christmas" is an hour-long 1980 production presented in the classic stop-motion style; while "The Stingiest Man in Town" is a 1978 hand-drawn animated Rankin/Bass musicalization of "A Christmas Carol" offering Walter Matthau as Scrooge, in a remake of a '50s live-action TV dramatization of Dickens.

Both compilations are available exclusively from the Warner Archive and come recommended for mirth and merriment this holiday season.

KORG: 70,000 B.C. (344 mins., 1974; Warner Archive): It premiered in 1974 – the same year I was born – and the same year "Land of the Lost" and the animated "Valley of the Dinosaurs" also debuted on Saturday morning TV. However, by the time I was old enough to be watching TV, this live-action Hanna-Barbera prehistoric drama had already vanished off the air, and while "Land of the Lost" would be seen for years in re-runs, "Korg: 70,000 B.C." would be banished to the television graveyard...at least until now. The Warner Archive has resurrected this short-lived effort from the Hanna-Barbera stable in the form of a multi-disc manufactured-on-demand package, sporting the series' entire run in good-looking, if overly compressed, 1.33 full-screen transfers. Burgess Meredith narrated the program, which boasted the involvement of the Natural History Museum of Los Angeles as well as New York's American Museum of Natural History – but '70s kids found more fun in the World of Syd and Marty Krofft, and who could blame them?

Finally, the Warner Archive also has lined up Volume One of POLICE ACADEMY: THE ANIMATED SERIES (1988-89, 658 mins.), the 1988 syndicated Ruby-Spears adaptation of Warner's long-running comedy franchise. The animated "Police Academy" brought back all the principal leads from the movies, adding a "canine corps" of talking dogs, for an obviously kid-centric rendition of its live-action brethren's increasingly kid-centric shenanigans. Recommended for nostalgia buffs.

---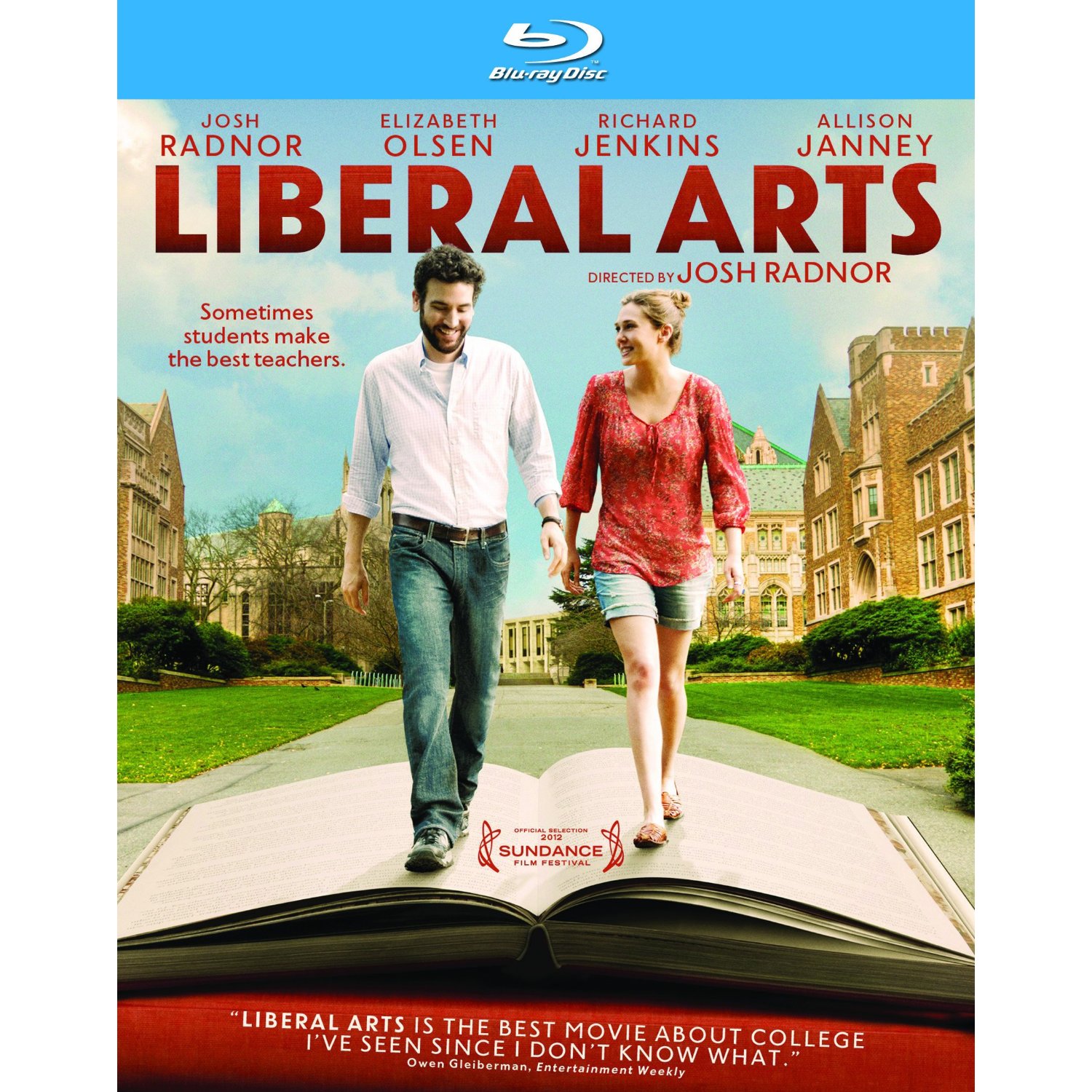 From A&E/NewVideo

THE STORY OF ALL OF US: MANKIND Blu-Ray (aprx. 10 hours; NewVideo): Similar to "America: The Story of Us," this follow-up History Channel mini-series offers a 12-episode chronicle of the birth of civilization. From the first civilization in Mesopotamia to lost worlds and the evolution of society in Egypt, Europe and the Dark Ages, "The Story of All of Us" boasts an accessible historical study with attractive HD imagery. NewVideo's Blu-Ray set includes additional footage, 5.1 DTS MA soundtracks and 1080p transfers spread across its three discs.

SAN FRANCISCO GIANTS: 2012 World Series Collector's Edition Blu-Ray (aprx. 20 hours; 2012; NewVideo): Any San Francisco Giants fan you might have on your holiday shopping list ought to be delighted with this terrific Blu-Ray anthology offering the brief 2012 World Series Giants win over the Detroit Tigers. All four games are included in full HD and 5.1 DTS MA soundtracks, with the Giants' NLDS and NLCS series-clinching victories also included alongside other walk-off winners, pennant celebrations, and additional highlights. Nicely packaged and strongly recommended for Giants fans!

Independent Titles

LIBERAL ARTS Blu-Ray (***, 97 mins., 2012, PG-13; E One): "How I Met Your Mother" star Josh Radnor's second film as writer-director is a genial tale of a New York City college admissions officer asked by one of his former professors (Richard Jenkins) to return to their idyllic Ohio college to pay tribute to his retiring teacher. There, he's infatuated with Zibby (Elizabeth Olsen), the 19-year-old daughter of Jenkins' friends, who's currently enrolled on campus. Radnor is likeable as the 35-year-old trying to settle down but navigating rocky relationships in order to get there; his movie is a bit rough around the edges but has plenty of perceptive dialogue and amiable performances, making "Liberal Arts" worth seeing (Zac Efron also makes an unbilled appearance). IFC's Blu-Ray includes commentary from Radnor, a featurette, deleted scenes, the trailer, a DTS MA 5.1 soundtrack and terrific 1080p transfer.

OSOMBIE: Blu-Ray (94 mins., 2012, Not Rated: E One): Is Osama Bin Laden dead...or is he now a member of the undead? Folks looking for a little quickie exploitation fun would do well to bypass "Zero Dark Thirty" and give this low-budget horror effort from director John Lyde and writer Kurt Hale a spin. E One's Blu-Ray includes a 1080p transfer and DTS MA soundtrack.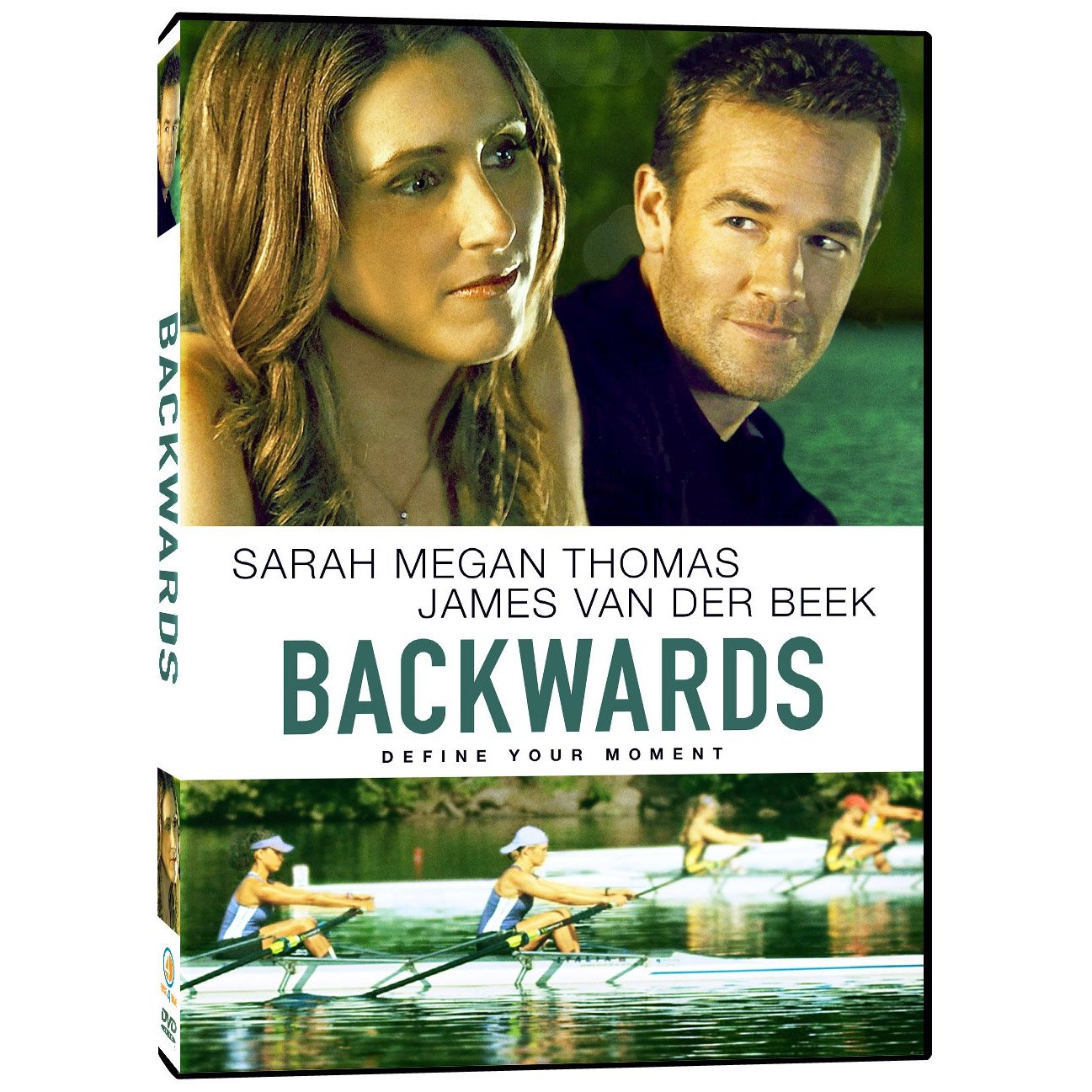 WHY STOP NOW Blu-Ray (88 mins., 2012, R; IFC): Well-acted indie comedy finds Jesse Eisenberg as a brilliant piano player who, in order to get his troubled mom (Melissa Leo) back into drug rehab, has to seek out her dealer (Tracy Morgan) so she can become high again. Philip Dorling and Ron Nyswaner's character-driven film is funny without being ridiculous or overly raunchy; Eisenberg does his usual thing here, and he's fine, but Morgan is more impressive in what turns out to be a surprisingly heartfelt turn. IFC's Blu-Ray boasts an interview with Morgan, a featurette, the trailer, a 1080p transfer and 5.1 DTS MA soundtrack.

Comedian Mike Birbiglia directed as stars in SLEEPWALK WITH ME (81 mins., 2012, PG-13; IFC), an autobiographical account of the stand-up comic's unusual sleepwalking incidents. Co-starring Lauren Ambrose, James Rebhorn and Carol Kane, IFC brings "Sleepwalk With Me" to Blu-Ray with a 1080p transfer, DTS MA soundtrack, a Making Of, outtakes, the trailer, commentary with Mike Birbiglia and Ira Glass, and a Q&A with Birbiglia and Glass moderated by Joss Whedon..."Twilight"'s Robert Pattinson stars in David Cronenberg's newest cinematic sojourn, COSMOPOLIS (109 mins., 2012, R; E One), another offbeat and somewhat off-putting tale of a not-quite-thirtysomething billionaire trying to find himself while on a Chinese business trip. E One's Blu-Ray boasts a 1080p transfer, DTS MA soundtrack, a featurette, Cronenberg commentary, and cast/crew interviews. For the auteur's aficionados only.

BACKWARDS DVD (89 mins., 2012, PG; Phase 4 Films): Sarah Megan Thomas wrote, produced, and stars in this coming-of-thirtysomething-age tale about a competitive rower who takes a high school coaching job after failing to make the Olympic team for a second time. James Van Der Beek co-stars as her former flame in a predictable but watchable low-key drama directed by Ben Hickernell co-starring Margaret Colin as Thomas' mother. Phase 4's DVD includes a 16:9 transfer, 5.1 soundtrack, a Making Of featurette and the trailer.

---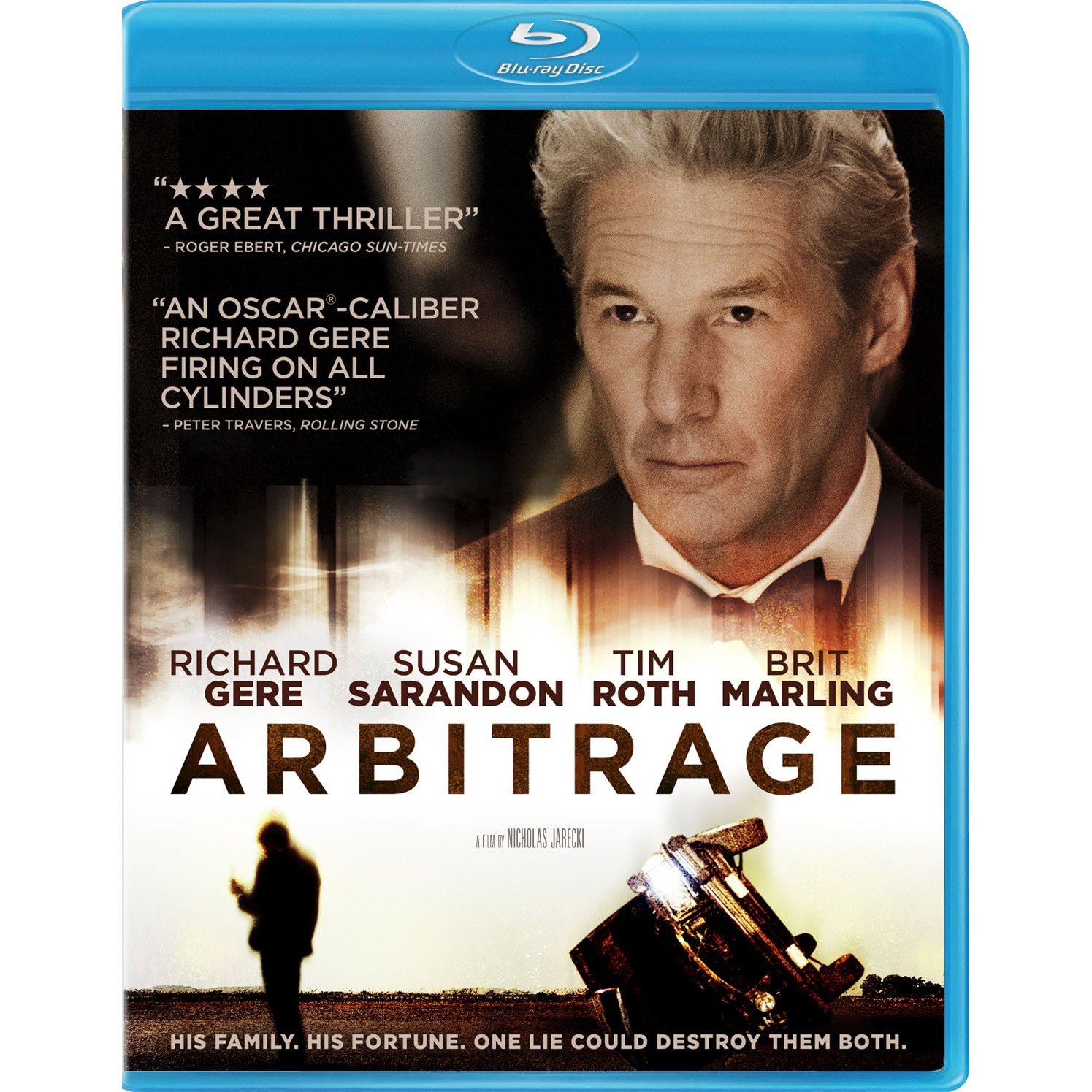 From Lionsgate

POWER RANGERS SUPER SAMURAI: THE COMPLETE SEASON Blu-Ray (460 mins., 2012; Lionsgate): With the Sanzu River rising, Master Zandred's monsters have grown stronger and it's up to the Samurai Rangers to take on the mysterious Nighlok Serrator! (Don't worry, it doesn't make sense to me either). This latest adventure in Saban's Power Rangers franchise offers more colorful action for kids, and Lionsgate's Blu-Ray box-set includes the complete season of "Super Samurai" (20 episodes) all in brilliant AVC encoded transfers and DTS MA soundtracks. Three music videos are included on the supplemental side....Richard Gere stars as an NYC hedge-fund entrepreneur who finds his financial empire crumbling, and his family (including wife Susan Sarandon and daughter Brit Marling) threatened in ARBITRAGE (107 mins., 2012, R), a stylish character drama from writer-director Nicholas Jarecki with an excellent performance from Gere. While the movie doesn't connect all of its narrative dots (and leaves you hanging), "Arbitrage" is still worth seeing on Blu-Ray, where Lionsgate has packaged a superb BD with commentary from Jarecki, two featuettes, and deleted scenes. The 1080p transfer is just fine and DTS MA audio rounds out the package.

Upcoming From HBO

A number of new titles are on tap from HBO, scheduled for release shortly in 2013:

GAME CHANGE Blu-Ray (117 mins., 2012; HBO): Profile of John McCain's failed 2008 Presidential campaign – and the decision to bring Sarah Palin onto his ticket – makes for the kind of political drama pundits might enjoy, particularly on the left (safe to say no conservatives were involved in the production of this one!). Julianne Moore's Palin isn't as fun as watching Tina Fey's version, however, in this Jay Roach-directed, Tom Hanks produced HBO feature co-starring Woody Harrelson and Ed Harris as McCain. HBO's Blu-Ray, out January 8th, includes two featurettes and a digital copy, plus a 1080p transfer and DTS MA soundtrack.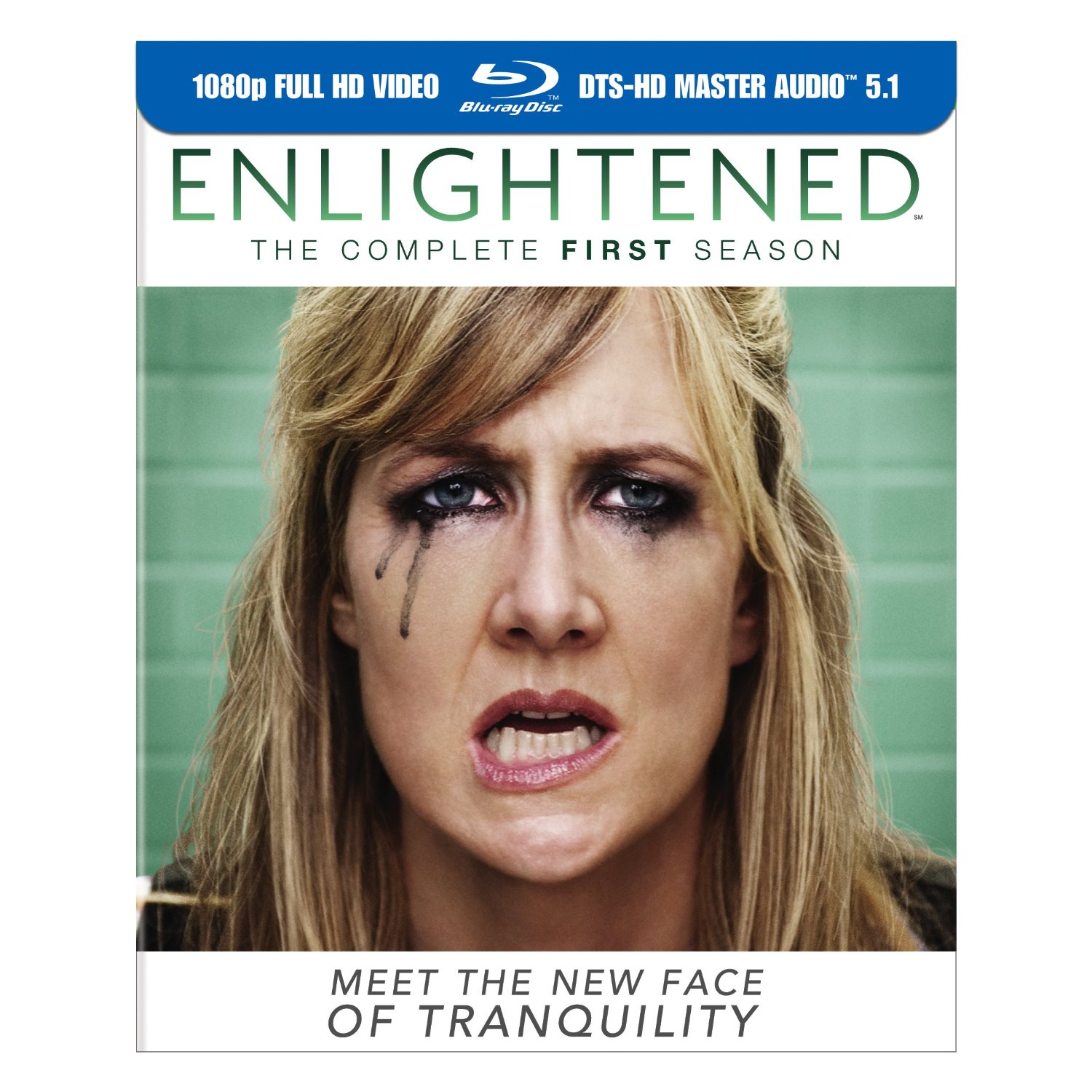 GEORGE LOPEZ: IT'S NOT ME IT'S YOU DVD (56 mins., 2012; HBO): The comic takes to the stage at L.A.'s Nokia Theater for his third HBO special. Also available January 8th, HBO's DVD includes a bonus behind the scenes featurette leading up to the special, along with a 16:9 transfer and 5.1 soundtrack.

LIFE'S TOO SHORT: Season 1 DVD (205 mins., 2012; HBO): Ricky Gervais and Stephen Merchant's latest comic concoction is a funny profile of Warwick Davis, playing "himself" as the UK's premier "little person" and struggling to keep his career going. Plenty of "inside" humor makes its way into "Life's Too Short," with cameo appearances by Johnny Depp, Steve Carell, Liam Neeson, Sting and Helena Bonham Carter spicing up the fun. HBO's DVD set includes deleted scenes, outtakes, 10 behind the scenes clips, and a Making Of, along with 16:9 transfers and 5.1 soundtracks. (Available January 15th).

ENLIGHTENED Season 1 Blu-Ray (300 mins., 2-12; HBO): Laura Dern gives a terrific, Golden Globe winning performance as a woman, recently recovered from a mental breakdown, who returns to California to live with her mom (Diane Ladd) and work at the company she departed from, only to be rehired in a lower-level position. There, she uncovers corporate shenanigans in a smart, engaging series created by Dern and Mike White. HBO's Season 1 Blu-Ray of "Enlightened" hits stores in time for the series' second season premiere in mid January and includes commentaries and "Inside the Episodes" featurettes, plus 1080p AVC encoded transfers and 5.1 DTS MA soundtracks. (Available January 8th)

THE LIFE AND TIMES OF TIM: Season 3 DVD (300 mins., 2012; HBO): More animated misadventures of the 20-something New Yorker hit DVD in the third season of the HBO comedy series. HBO's two-disc package boasts 16:9 transfers and 5.1 soundtracks.

NEXT TIME: 2013 kicks off with more of the latest releases! Until then, don't forget to drop in on the official Aisle Seat Message Boards and direct any emails to our email address. Cheers everyone!