Message Board - Come and Discuss The Latest Videos, Movies & Anything Else!
Twilight Time uncorks their new year slate with a Blu-Ray edition of Blake Edwards' superb 1962 film EXPERIMENT IN TERROR (***, 123 mins.). This beautifully crafted thriller finds bank teller Lee Remick being coerced into performing a bank robbery for killer Ross Martin. FBI man Glenn Ford is soon on the case, attempting to track down the elusive Martin while protecting Remick, who lives with her younger sister (Stefanie Powers) in an eerie San Francisco where the killer could lurk in any corner.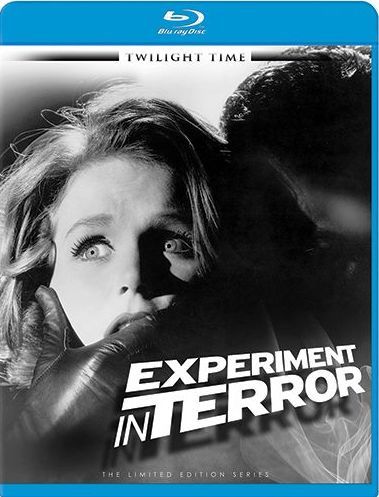 Edwards directed this highly acclaimed suspense picture, which is atmospherically shot in black-and-white and sports one of Henry Mancini's most low-key and effective soundtracks. The film's matter-of-fact tone was ahead of its time in many respects, and the way in which it simply hints at violence and sex makes it that much more effective than many of today's more explicit and sensational genre films. This is a taut, well-oiled machine of a movie, deftly utilizing the Bay Area locations (including the memorable final showdown at Candlestick Park) to give the drama a strong sense of time and place. Remick and Ford are both excellent, and there's one doozy of a scene involving mannequins that should still send a sharp shiver down the viewer's spine.

Twilight Time's Blu-Ray features an impressive 1080p transfer from the Sony vaults; like the majority of TT's Sony releases, the transfer is natural and is crisply textured. The DTS MA 5.1 is also top notch, enabling you to hear the ominous strains of Mancini's score -- one of his most atypical, and undoubtedly one of his all-time best, both within the context of the film and its isolated score mix. TV spots and the trailer round out the release.

Intended to capitalize on the James Bond mania of the mid '60s – and a heavy, later influence on the Austin Powers comedies of the '90s – James Coburn's "Flint" films were comedic spy adventures that were quite popular in their day and remain entertaining due to their tongue-in-cheek scripts, colorful Cinemascope photography, and infectious Jerry Goldsmith scores.

Arriving on Blu-Ray from Twilight Time both this month and next, OUR MAN FLINT (***, 108 mins.) launched the two-film series in 1965, the same year that the Bond phenomenon catapulted into the stratosphere after the release of the mega-budget, lavish "Thunderball." Clearly an attempt at creating an American James Bond -- but with the accent on spoof -- "Flint" flew thanks to Coburn's casual, suave performance in the lead, and abundant female eye candy served up by both villainess Gila Golan and a bevy of beautiful women. Lee J. Cobb is the perfect Flint foil as his disgruntled boss, while Goldsmith's tuneful brassy soundtrack backed up the shenanigans perfectly.

Even though I'm a bit more partial to its immediate sequel, "In Like Flint," there's ample entertainment for nostalgic spy buffs to go around in "Our Man Flint," and Twilight Time's Blu-Ray includes not only a satisfying 1080p transfer but also a number of extras brought over from the prior DVD Special Edition (as well as a new isolated score track). These include commentary from historians Lee Pfeiffer and Eddy Friedfeld; several featurettes ("Derek Flint: A Spy Is Born," "Directing Flint: Daniel Man,," "Spy-er-ama," "Spy Style," "Flint Vs Kael," "A Gentleman's Game," "Perfect Bouillabaisse"); plus screen tests, storyboard sequences and the trailer. The AVC encoded transfer offers somewhat understated colors but is solid overall, while the DTS MA 1.0 audio is more confined than the vibrant stereo audio featured in a punchy isolated score track. Great fun, with "In Like Flint" to follow next month, along with "Pony Solider" and "Nicholas and Alexandra."

Warner Home Video has opened up 2013 with a number of sparkling catalog titles as well: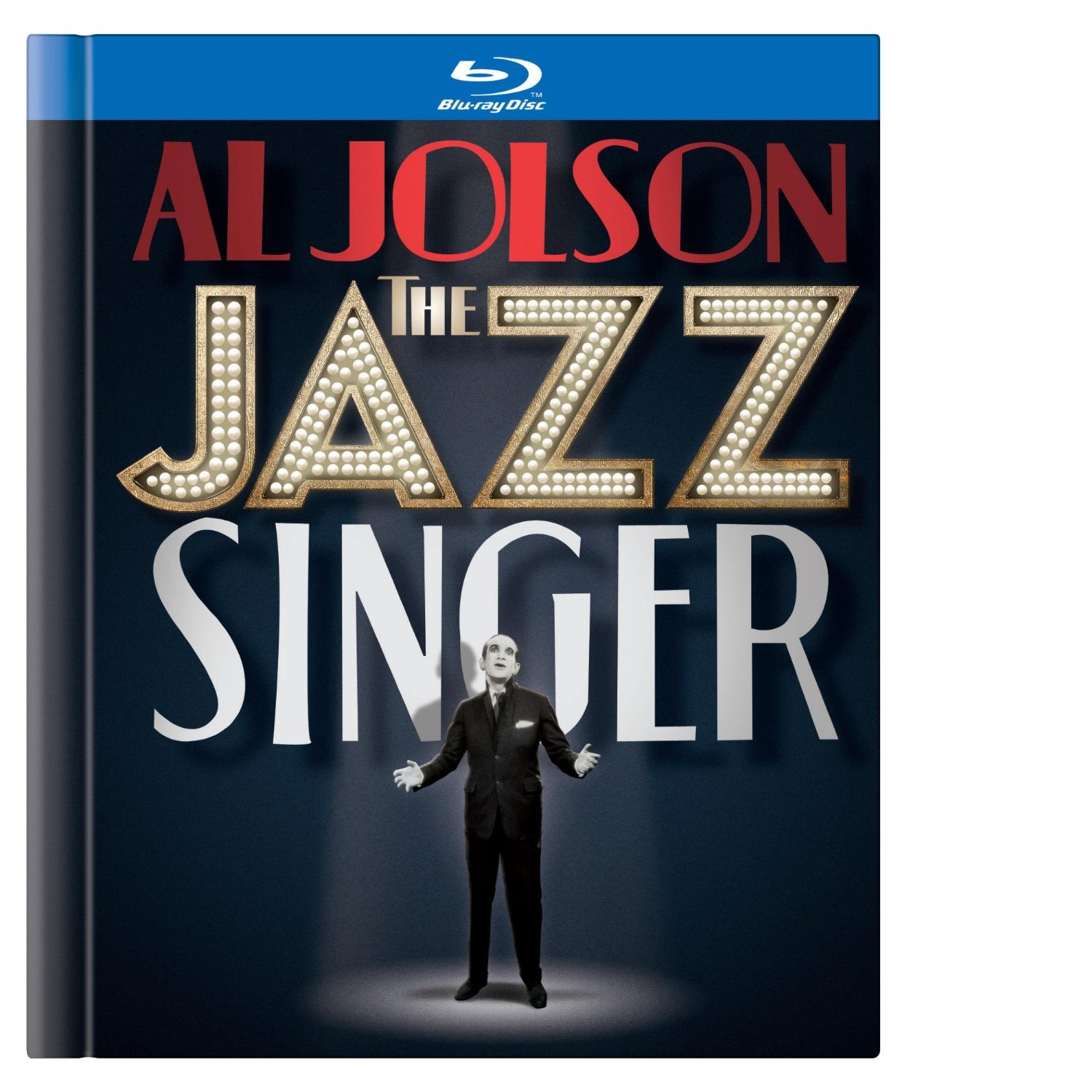 More satisfyingly viewed today as a piece of cinema history than a particularly noteworthy film on its own merits, THE JAZZ SINGER (96 mins., 1927) broke ground when Al Jolson told movie audiences "you ain't heard nothing yet." For the first time, an actor spoke and sang on-screen in a feature-length studio film, with Jolson portraying a Jewish cantor who defies his father – and faces conflicts with his upbringing – when he becomes a jazz singing sensation. Though static and dated, "The Jazz Singer" became an immediate milestone in film and quickly ushered in the sound era. Its legacy is celebrated in Warner's three-disc Blu-Ray box-set, which sports an enormous amount of special content, starting with a new digital transfer from restored elements of the film itself; commentary by historian Rob Hutchinson and bandleader Vince Giordano; a selection of Jolson-influenced cartoons and shorts; a 1947 Lux Radio Theatre broadcast version of the story featuring Jolson and the original trailer. Disc 2 includes a superb documentary, "The Dawn of Sound: How Movies Learned to Talk," plus surviving sound excerpts from 1929's "Gold Diggers of Broadway," and a number of early studio shorts likewise celebrating the early sound era. Disc 3 includes a treasure trove of Vitaphone shorts – over 3.5 hours worth of rare comedy and music pieces from the Warner vaults that alone will be worth the price of admission for Silver Age movie buffs. All of it is presented in one of Warner's Digibook packages with an 88 page book featuring glossy photos and a look at the film's legacy. Highly recommended!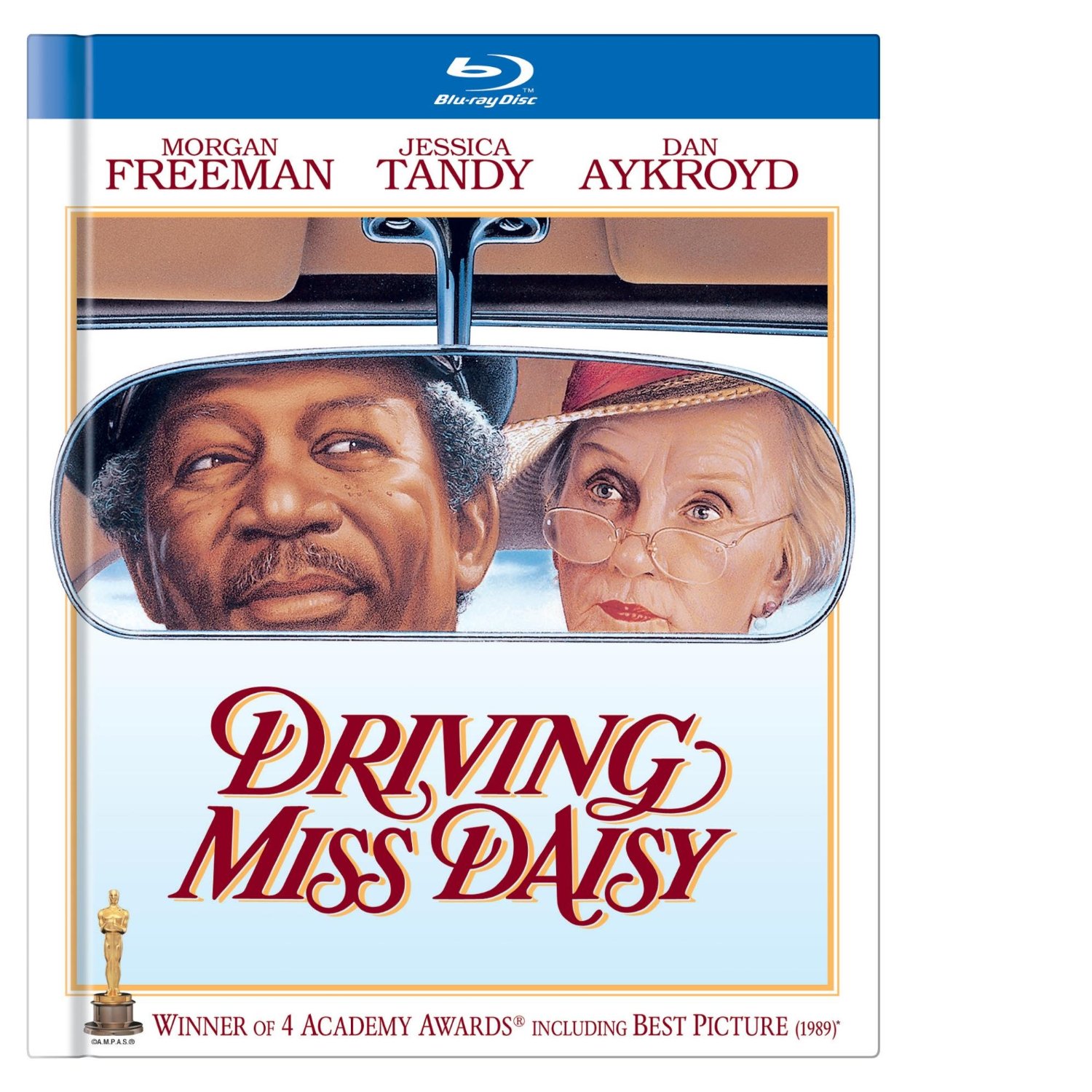 Also new from Warner this month are a trio of Best Picture Oscar winners also from the studio vaults:

MRS. MINIVER (133 mins., 1942) starred Greer Garson in her most indelible role as a British housewife who holds her London family together through the darkest days of WWII in a classic William Wyler production for MGM, co-starring Walter Pidgeon and Teresa Wright and offering a script co-written by James Hilton from Jan Struthers' book. The 1080p B&W transfer (1.33) is in good condition and a number of extras include a 1942 Oscar newsreel ("Mrs. Miniver" would go onto win six Academy Awards), a vintage cartoon ("Blitz Wolf,"), the trailer, and two WWII era shorts ("Mr. Blabbermouth" and "For the Common Defense").

GRAND HOTEL (113 mins., 1932) likewise brought home a Best Picture Oscar with its incomparable cast of Greta Garbo, John Barrymore, Joan Crawford, Wallace Beery, and Lionel Barrymore starring in a memorable, early MGM soap opera directed by Edmund Goulding. Remastered from the best available elements, the 1080p (1.33) transfer is quite good considering the film's age, with extras including a commentary by Jeffrey Vance and Mark A. Vieira; a Making Of documentary; premiere newsreel; theater announcement; a Vitaphone musical short; and trailers of "Grand Hotel" and its 1945 remake "Week-End at the Waldorf."

Finally, Bruce Beresford's filming of Alfred Uhry's Pulitzer-Prize winning play DRIVING MISS DAISY (99 mins., 1989, PG) became a box-office and critical hit thanks in no small part to its central performances by Jessica Tandy as a Southern Jewish matron and Morgan Freeman, who's tremendous as her stalwart, patient chauffeur. Beresford's movie doesn't hit a sour note, and the performances are just spectacular – about the only carp I'd have is that it's unfortunate Georges Delerue didn't score the film, particularly considering his association with Beresford. Hans Zimmer's entirely synthesized score dates the movie as a product of the '80s, and seems too "gimmicky," as if it was more suited to a car commercial (which, shortly after the film's release, it was!). Warner's Digibook release of "Driving Miss Daisy" is highlighted by a lovely 1080p AVC encoded transfer with DTS MA audio and a brand-new featurette that puts the film into a modern "race relations" social context. Other extras, brought back from the prior DVD, include commentary from Beresford, Uhry and producer Lili Zanuck, three vintage featurettes, and the trailer.

---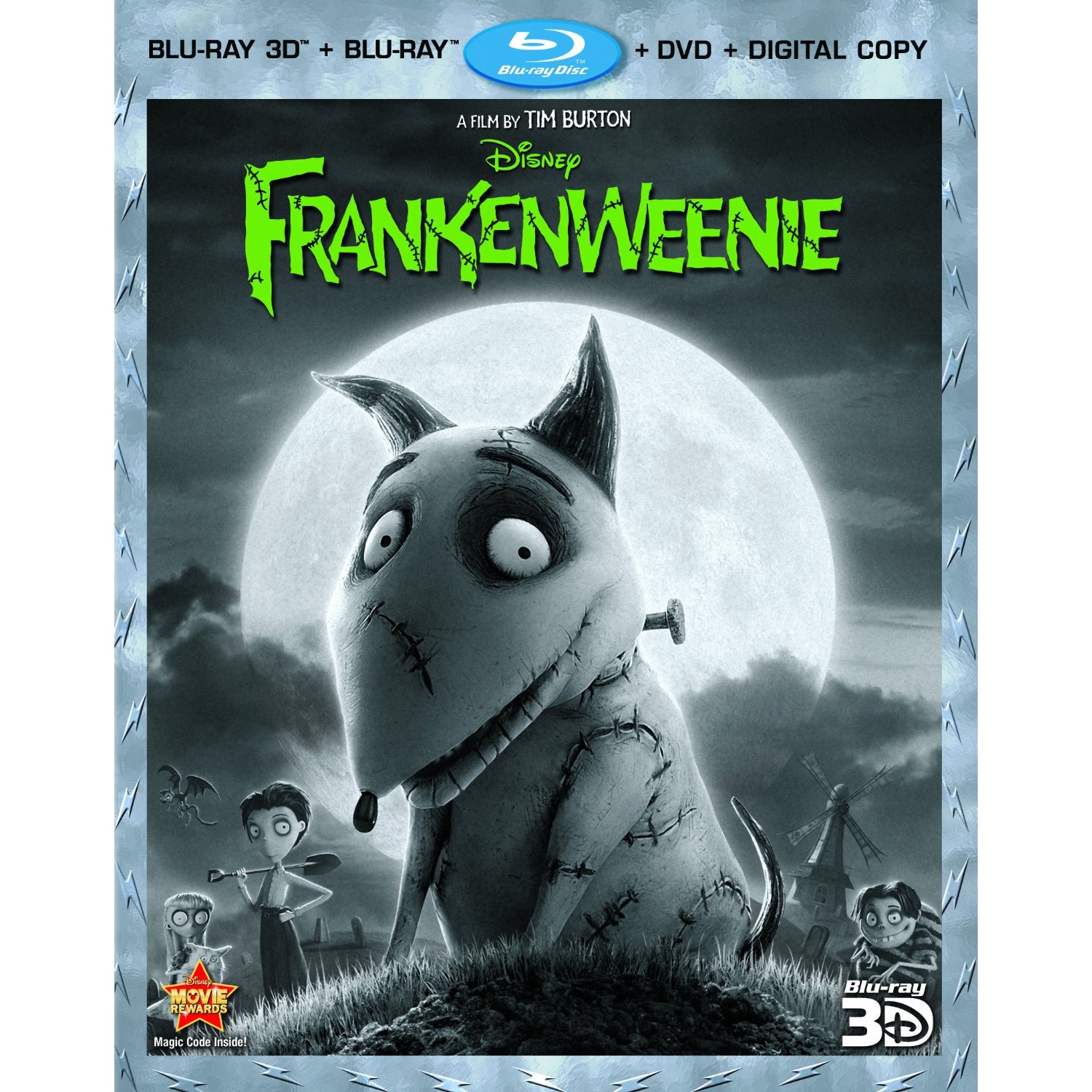 Also New For January

Though "Pee-Wee's Big Adventure" marked the launch of Tim Burton's feature career, the animator/filmmaker's first foray into live-action came with 1984's "Frankenweenie." Produced for Disney but shelved when the studio couldn't figure out what to do with the whimsical yet offbeat half-hour short, "Frankenweenie" became something of a cult favorite among the director's devotees, existing as a special feature on various releases of "The Nightmare Before Christmas" for many years. Still dear to his heart, Burton obviously had the best of intentions in mind when he opted to turn FRANKENWEENIE (**½, 87 mins., PG; Disney) into a full-blown stop-motion feature in 2012 – yet this animated expansion of his earlier work is a disappointing affair, lovingly designed yet so charmless and flat that it's no surprise that it failed to generate much of an audience last fall.

Writer John August's script expands upon Burton's 1984 short while basically incorporating every narrative element from its predecessor (including identical camera angles and dialogue): a young boy who loses his best friend – a canine named Sparky – gets an idea to reanimate his deceased dog from his school science teacher. Victor Frankenstein (get it?) is able to bring Sparky back through electricity generated in a wild thunderstorm, but problems lie ahead once some of his classmates decide to follow in Victor's footsteps and reanimate other undead pets in order to win their school's science fair.

The latter subplot – added to the film by director Burton and August – pads the movie's running time out to 87 minutes, but "Frankenweenie" ultimately doesn't gain anything from the feature treatment, with too much of the storytelling feeling arbitrary and without a payoff. The movie adds a possible sidekick to Victor – a young girl voiced by Winona Ryder who lives with her stuffy uncle nextdoor – but doesn't go anywhere with her character, while much of the film runs into similar dead ends. Homages to genre hallmarks like "Frankenstein," "The Mummy" (one of Victor's fellow students looks and talks like Boris Karloff), and Golden Age monsters are fleeting at best, and while the movie certainly tries hard, "Frankenweenie" generates seldom more than a mild chuckle here and there, while simultaneously being far too strange (and disturbing) for the young audience Disney was hoping to attract.

Tellingly, the movie's most effective moments – including its emotional finale – are all reprises from the live-action short as well. Included here in Disney's Blu-Ray package, the original short manages to be more entertaining and emotional, with a score by Michael Convertino and David Newman that likewise eclipses Danny Elfman's serviceable work for the 2012 feature version. Performances by a cast that include Barrett Oliver, Shelley Duvall and Daniel Stern also play well with the director's offbeat visual sensibilities; perhaps part of the problem with "Frankenweenie" the stop-motion movie is that it lacks a human component, with the story being more exaggerated in the context of a full-on animated affair. Burton fans will still want to give "Frankenweenie" a spin, but it's unfortunately another of the director's recent disappointments – even the more harshly maligned "Dark Shadows," a film I liked in spite of its shortcomings, is more appealing.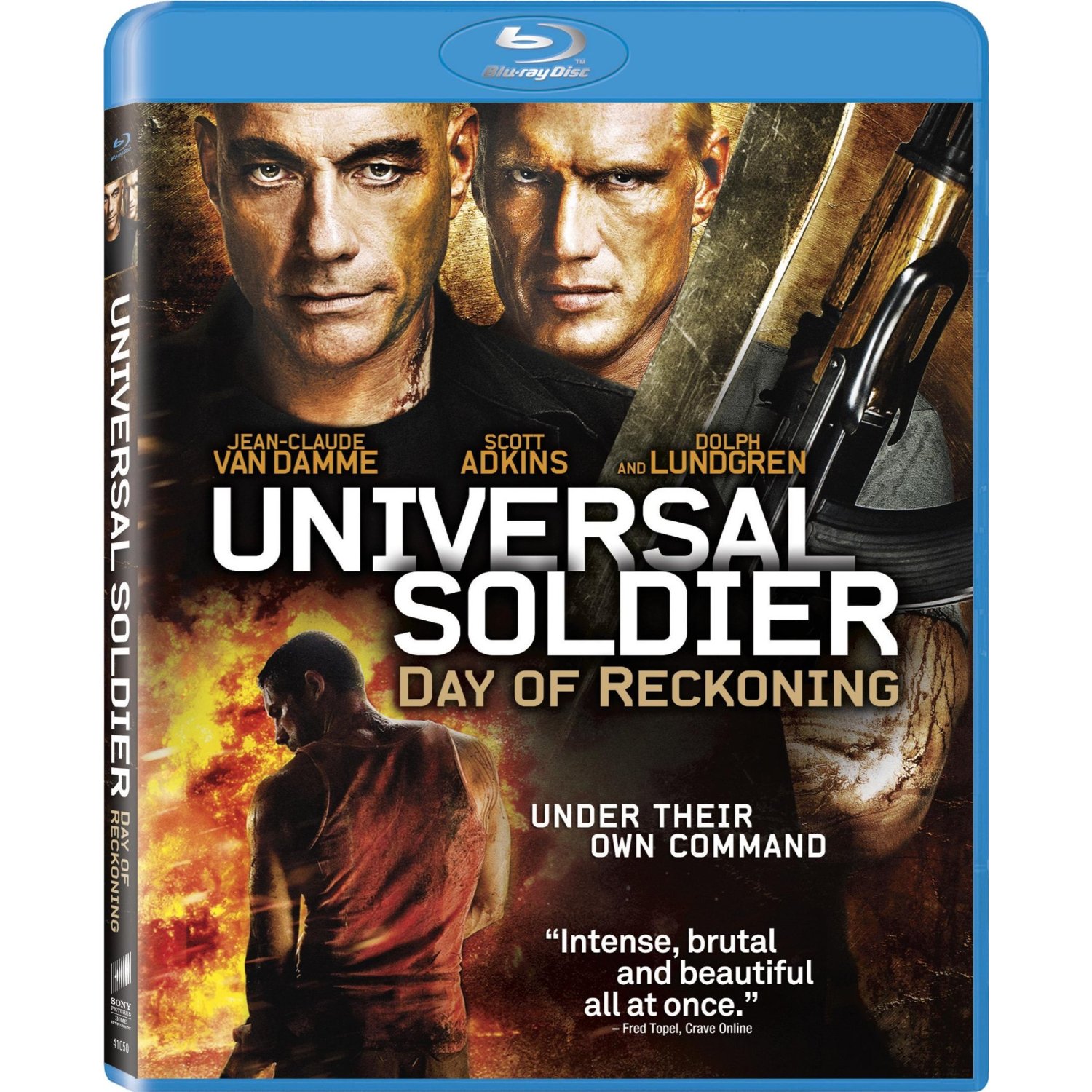 Now available in a 3-D Blu-Ray combo pack, "Frankenweenie" looks dazzling in 3-D or 2-D. The 3-D version has some depth of field and "pop out" effects, but 2-D is just as satisfying in terms of appreciating the deep blacks and shadows of the original animation. Extras, in addition to the 1984 short, include a two-minute new short "Captain Sparky Vs. The Flying Saucers" plus a Making Of featurette, music video, puppet featurette, DVD and digital copy. The DTS MA audio is also effectively conveyed in the 7.1 mix.

UNIVERSAL SOLDIER: DAY OF RECKONING Blu-Ray (*½, 113 mins., 2012, R; Sony): John Hyams, who directed 2009's surprisingly watchable "Universal Soldier: Regeneration," returned to write and direct this equally well-made but unpleasant and unrelentingly bonkers sequel starring Scott Adkins as a former military man whose wife and child are murdered. Who's responsible for their deaths? None other than Jean-Claude Van Damme's Luc Deveraux, who makes the transition from former movie hero to full-on psycho in a portentous tale of Luc's "UniSol" squadron wanting to take over the world...or is it all just a government conspiracy? Paced so slowly that each scene tends to linger on for minutes at a time, with a tone more akin to a horror film than the series' origins, "Day of Reckoning" features the requisite Dolph Lundgren cameo and is stylishly shot by Hyams (son of Peter), but the subject matter is so dour that the grim mood eventually overpowers the director's best intentions. Sony's Blu-Ray includes a commentary with Hyams and Lundgren along with a trio of Making Of featurettes, a 1080p transfer and DTS MA audio.

END OF WATCH Blu-Ray/DVD/Digital Copy/Ultraviolet (**, 110 mins., 2012, R; Universal): My candidate for the most overpraised film of last year, David Ayer (screenwriter of "Training Day") returns to the cop genre for this shockingly pedestrian, if slickly made, handheld-camera account of two hotshot young cops (Jake Gylenhaal and Michael Pena) who unwittingly get crossed up in a Mexican drug cartel moving into southern California. There's almost nothing to this movie's story -- the film is all point of view, often self-contained vignettes of Gylenhaal and Pena running into tough situations, working together to serve the greater good, and spending their down time with understanding significant others. Eventually the cartel catches up with them, and...well, that's pretty much it.

About midway through "End of Watch" I thought to myself -- if this film didn't employ handheld camera and rapid-fire editing, what would you have? Basically an empty, formless story that rehashes endless cliches from cop-centric movies and TV shows, leaving the viewer without any significant message -- aside from the fact that life on the streets is tough on police officers (now there's something I've never seen before!). There are no developed supporting characters of any kind, and more over, plenty of over-the-top gore (one officer gets his eye gouged out; there are enough mutilated corpses and body parts in one scene to entice Hannibal Lecter) that feels shoehorned in, as if to differentiate it from the myriad of other takes on this subject matter.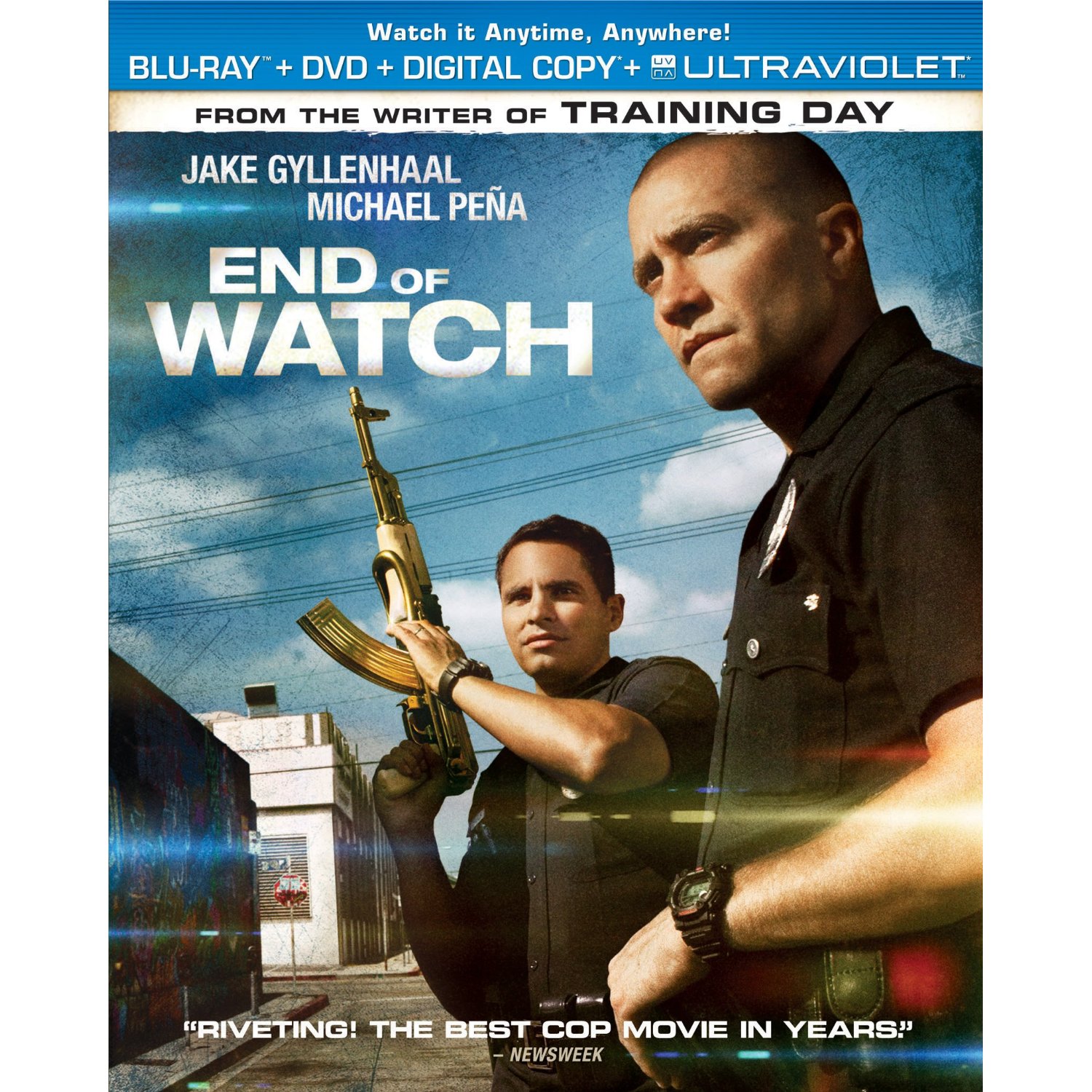 Gylenhaal and Pena put in some fine work here, and they're believable together -- but by about the 4th or 5th "buddy" conversation they share about girls, kids and family, I started wondering when their inevitable downfall would be taking place...and how much longer we had to sit through to get there.

Universal's Blu-Ray includes deleted scenes, five featuretttes, a commentary track with the director, both standard/Ultraviolet digital copies, a 1080p transfer and DTS MA soundtrack.

TO ROME WITH LOVE Blu-Ray (**½, 112 mins., 2012, R; Sony): Woody Allen's latest film is a pleasant enough affair with an all-star cast (Alec Baldwin, Robert Benigni, Penelope Cruz, Judy Davis, Jesse Eisenberg, Greta Gerwig, Ellen Page) traversing around Italy with a bit more silliness than we've seen out of Allen's last few vehicles. "To Rome With Love" is also not quite as consistently strong as the director's superior vehicles of late, yet fans are likely to enjoy the film's mix of fantasy, comedy and standard Allen depictions of bickering couples just the same. Sony's Blu-Ray looks terrific with its clear 1080p AVC encoded transfer (Darius Khondij's cinematography is one of the film's strongest assets) while 5.1 DTS MA audio and a behind-the-scenes featurette round out the release.

THE AWAKENING Blu-Ray (**, 108 mins., 2011, R; Universal): Ho-hum British chiller, set in the 1920s, finds noted ghost skeptic Rebecca Hall called to a boarding school haunted by the ghost of a deceased young boy. Dominated by blah, desaturated colors, "The Awakening" – which never received a theatrical release in North America that I'm aware of – is well-acted but is so slow-going and predictable that even the most seasoned genre viewer may find their patience tested (at least the odd ending is ambiguous, but it's a long slog in getting there). Universal's Blu-Ray includes deleted scenes introduced by director Nick Murphy, several featurettes, a conversation with the director, a 1080p transfer and DTS MA soundtrack.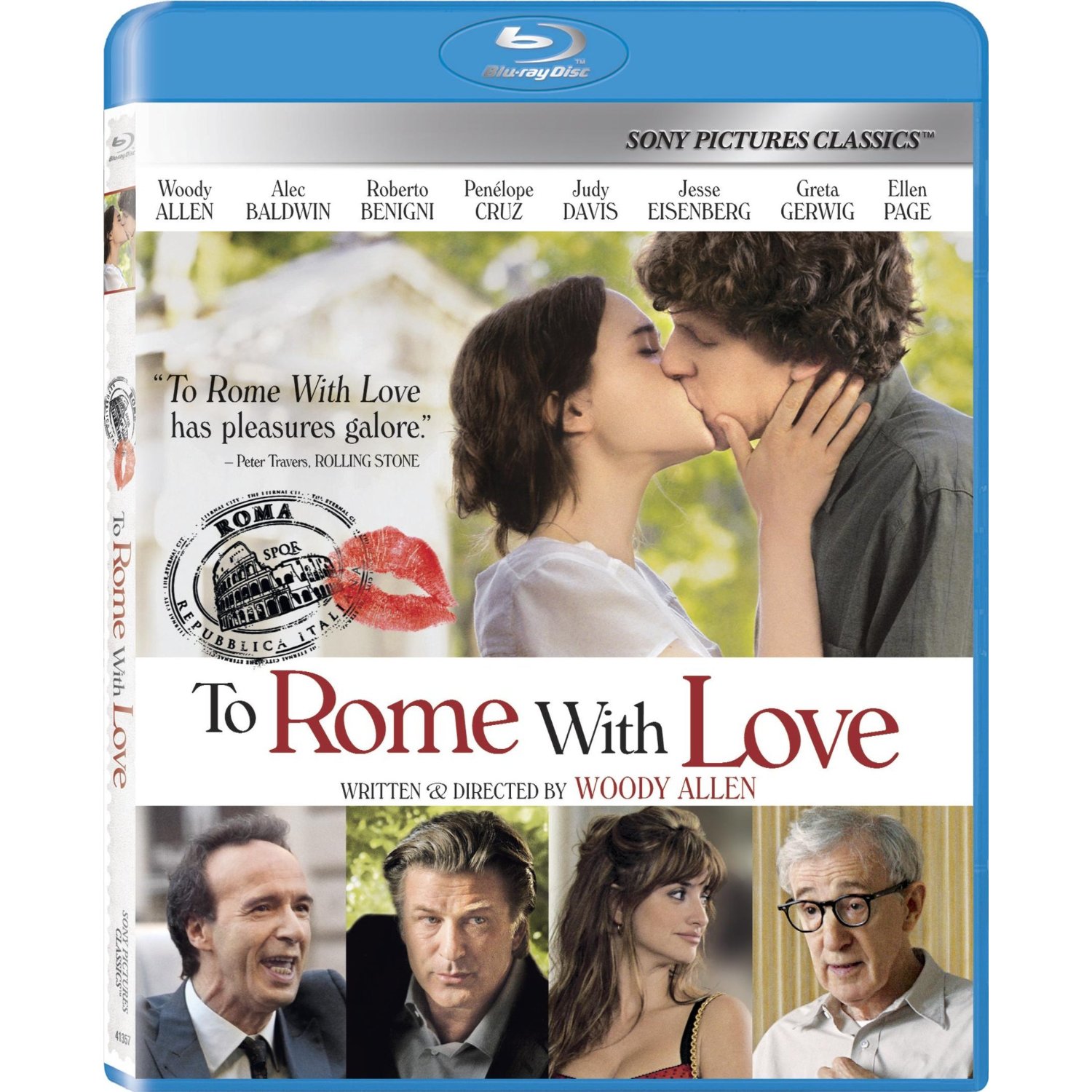 DEATH RACE 3 Blu-Ray/DVD/Digital Copy (105/106 mins., 2013, R/Unrated; Universal): Second home video sequel to the Paul W.S. Anderson-directed "Death Race" (itself a remake of the '70s Roger Corman production) stars Luke Goss as Frankenstein, this time one victory away from freedom when he's brought into competing in the Kalahari Desert Death Race in South Africa. This switch in locale certainly saved the producers a few bucks, but it ultimately just results in mostly pedestrian thrills for undemanding action fans. Co-starring Danny Trejo, Tanit Phoenix, Ving Rhames and Dougray Scott. Universal's Blu-Ray combo pack includes a DVD, digital copy, deleted scenes, deleted shots, a Making Of featurette, commentary with director Roel Reine, and several BD format exclusives (alternate opening and two other featurettes). Both an R rated and Unrated version (which runs a minute longer) are included.

FOR A GOOD TIME CALL... Blu-Ray/DVD/Digital Copy (85/88 mins., 2012, R/Unrated; Universal): Raunchy comedy concerning a pair of young women (Ari Graynor and Lauren Anne Miller, who also co-wrote the script) who end up working as phone sex operators tanked at the box-office last August. Universal's Blu-Ray of "For a Good Time Call..." boasts unrated and R-rated theatrical cuts of the Jamie Travis-directed comedy (co-starring Justin Long and with cameos by Nia Vardalos and Seth Rogen) along with commentary, deleted scenes, and a Making Of featurette. The 1080p AVC encoded transfer and DTS MA soundtrack are both fine, and digital copies (standard and Ultraviolet) round out the release.

LIGHTNING BUG Blu-Ray (95 mins., 2004, Not Rated; Image): Unusual coming-of-age piece written and directed by visual effects/make-up artist Robert Hall with semi-autobiographical roots makes its way to Blu-Ray this month from Image. Bret Harrison stars as a Southern teen who grows up loving horror movies and genre make-up effects, only to run into resistance from his stern, Bible-thumping mother; Laura Prepon co-stars as a local goth girl who turns out to be a kindred spirit, but has trouble of her own. Image's BD is a Special Edition offering an extended cut with 15 extra minutes; a retrospective featurette; Making Of; commentaries with cast/crew; deleted scenes; outtakes; music video and the trailer. The 1080p transfer is decent and 5.1 DTS MA audio rounds out the disc.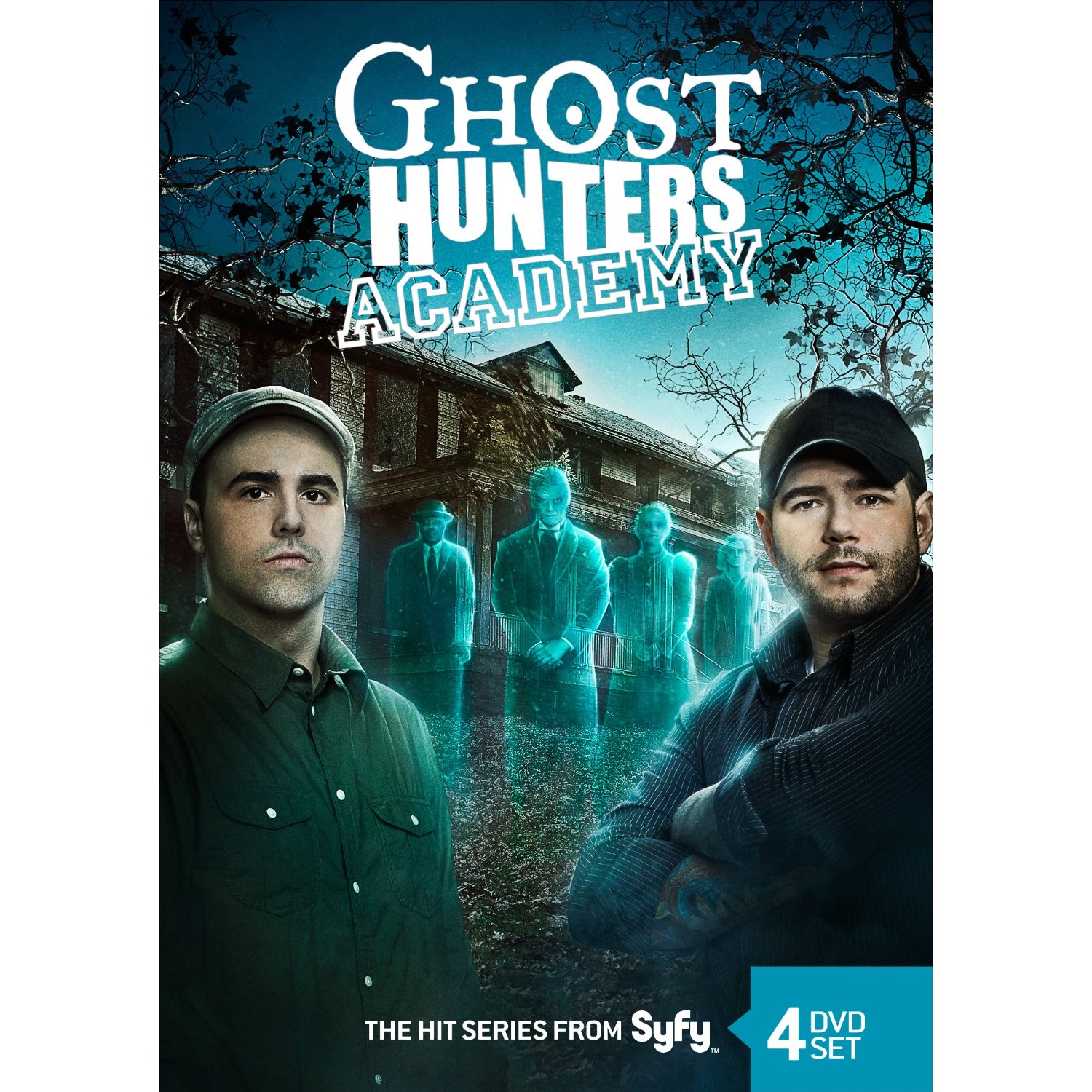 GHOST HUNTERS ACADEMY DVD (aprx. 9 hours, 2009-10; Image): TAPS members Steve Gonsalves and Dave Tango hosted this short-lived Syfy Channel spin-off from the popular "Ghost Hunters" series, with a series of hopeful paranormal investigators put through a series of trials – mostly in haunted locations previously profiled in the original show. Contestants are then judged by Gonsalves, Tango and TAPS co-founder Jason Hawes, though only two seasons of "Academy" aired before Syfy felt that two "Ghost Hunters" shows were enough. Syfy's four-disc set contains the complete "Ghost Hunters Academy" series with bonus footage, 16:9 transfers and 2.0 stereo soundtracks.

DEAD SUSHI Blu-Ray (91 mins., 2012, Not Rated; Millennium): Wacky Japanese import finds an aspiring sushi shef (Rina Takeda) taking on mutated monsters created by a scientist whose serum causes ordinary sushi to turn into...yes...monstrous, killer sushi. If the premise sounds like fun to you, "Dead Sushi" might provide some laughs, but much like sushi (for me anyway), a little tends to go a long way. Millennium's Blu-Ray release (currently a Best Buy exclusive with a nationwide release scheduled for the end of March) offers a 1080p transfer, 5.1 soundtrack and plenty of extras including a Making Of featurette, World Premiere featurette, trailer, "extreme sushi eating contest," and an interview from the Fantasia Film Festival.

THE HOUR 2 Blu-Ray (360 mins., 2011; BBC): Set a year after the first season of "The Hour," the second series of the popular BBC series (airing domestically on BBC America) finds the ITV team tackling breaking news stories from the Cold War to the streets of London circa 1957. Joining returning cast members Romola Garai, Dominic West and Ben Whishaw are Peter Capaldi, Hannah Tointon and Tom Burke, with BBC's Blu-Ray set including the complete second series of "The Hour" in 1080p transfers and 2.0 DTS MA stereo soundtracks, with behind-the-scenes content also included on the supplemental side.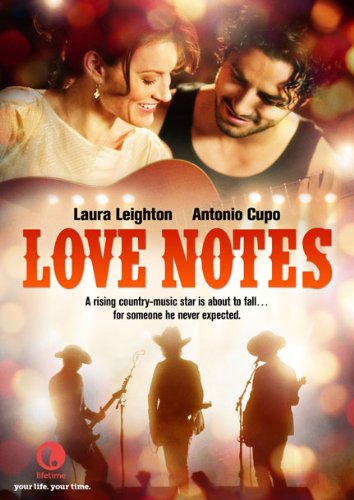 AN IDIOT ABROAD 2 DVD (345 mins., 2012; BBC): Original "Office" creators Ricky Gervais and Stephen Merchant send friend Karl Pilkington off on another series of globe-trotting adventures in this highly amusing second season of "An Idiot Abroad." BBC's DVD set includes deleted scenes and two featurettes, plus 16:9 transfers and 5.1 Dolby Digital soundtracks.

New From Lionsgate

In the Lifetime movie LOVE NOTES (90 mins., 2007), Laura Leighton plays a classical music critic who gets pregnant after a one-night stand with country crooner Antonio Cupo. After initially trying to give the baby up for adoption, the duo fall for one another in a standard TV film being released on DVD in plenty of time for Valentine's Day. Lionsgate's DVD includes a 16:9 transfer and 2.0 soundtrack...Tim Roth stars in THE LIABILITY (86 mins., 2013, R), an urban drama from director Craig Viveiros co-starring Jack O'Connell and Talulah Riley. Lionsgate's DVD includes a Making Of featurette and the trailer, plus a 16:9 transfer and 5.1 soundtrack...A pair of new DVDs in Saban's Power Rangers franchise also arrive on DVD this month from Lionsgate. POWER RANGERS SUPER SAMURAI VOL. 3: RISE OF THE BULLZOOKA (94 mins.) includes four colorful episodes from the series: Runaway Spike, The Strange Case of the Munchies, A Sticky Situation and Trust Me, all in 16:9 (1.78) transfers and 5.1 soundtracks. Extras include a behind-the-scenes featurette, weapons gallery and flash mob video. POWER RANGERS SAMURAI VOL. 3: A TEAM DIVIDED (94 mins.), meanwhile, includes four episodes from the "non-super" Samurai incarnation: I've Got a Spell on Blue, Test of the Leader, Forest for the Trees, and Jayden's Challenge. In addition to 16:9 transfers and 5.1 soundtracks, the single disc Lionsgate release includes cast interviews, a character gallery and "Power Rangers Dubstep" video.

NEXT TIME: TAKEN 2: Neeson Bugaloo! Until then, don't forget to drop in on the official Aisle Seat Message Boards and direct any emails to our email address. Cheers everyone!