Message Board - Come and Discuss The Latest Videos, Movies & Anything Else!
Back in business after four days without power in freezing conditions (newsflash: blizzards + electrical outtages = not fun!), there are plenty of huge winter releases to cover in this week's Aisle Seat, beginning with ARGO. Confidently told and gripping from beginning to end, Ben Affleck's much-celebrated, Best Picture Oscar winner (***½, 120 mins., 2012, R) has arrived on Blu-Ray in a spectacular high-def presentation that does justice to one of 2012's best films.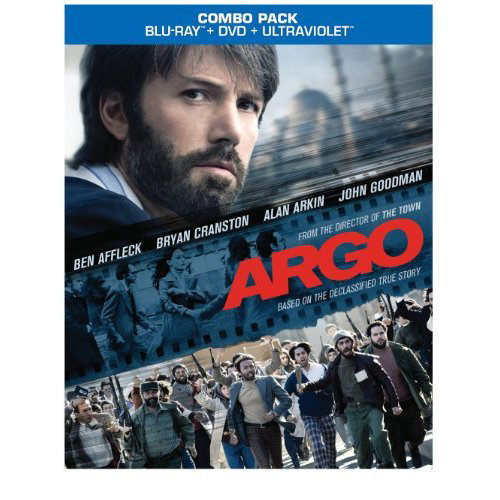 Performing chores both in front of and behind the camera as he did in 2010's memorable Boston heist thriller "The Town," Affleck stars as Tony Mendez, a CIA agent who hatches an unlikely plan to extract several American refugees from Iran after militants storm the U.S. embassy in Tehran, taking dozens of prisoners hostage. These six Americans, however, were able to flee the building before the militants took over, and eventually hid in the home of the Canadian ambassador (Victor Garber). Mendez's plan to "extract" them requires the hiring of make-up effects artist John Chambers (John Goodman) and producer Lester Siegel (Alan Arkin) in an effort to mount a phony sci-fi fantasy film that'll be used as a cover in order to get the Americans out of the country. However, with time ticking away, their situation is now more precarious than the dozens of hostages being held in the embassy itself.

"Argo" is simply terrific filmmaking on every front. Affleck gets the atmosphere and sense of time and place dead on target, but doesn't let the veneer of the past overpower the drama. Rodrigo Prieto's cinematography is natural, the performances from Affleck to Bryan Cranston as a fellow CIA worker and Goodman and Arkin in supporting roles (which, admittedly, could've been fleshed out further) are all superlative, and Chris Terrio's script embellishes the amazing true story with just a bit of creative license. It all makes for a superb film so compelling that it's incredible how much tension "Argo" generates even when the outcome is known before the movie starts with Saul Bass' '70s Warner Bros. logo immediately setting the mood.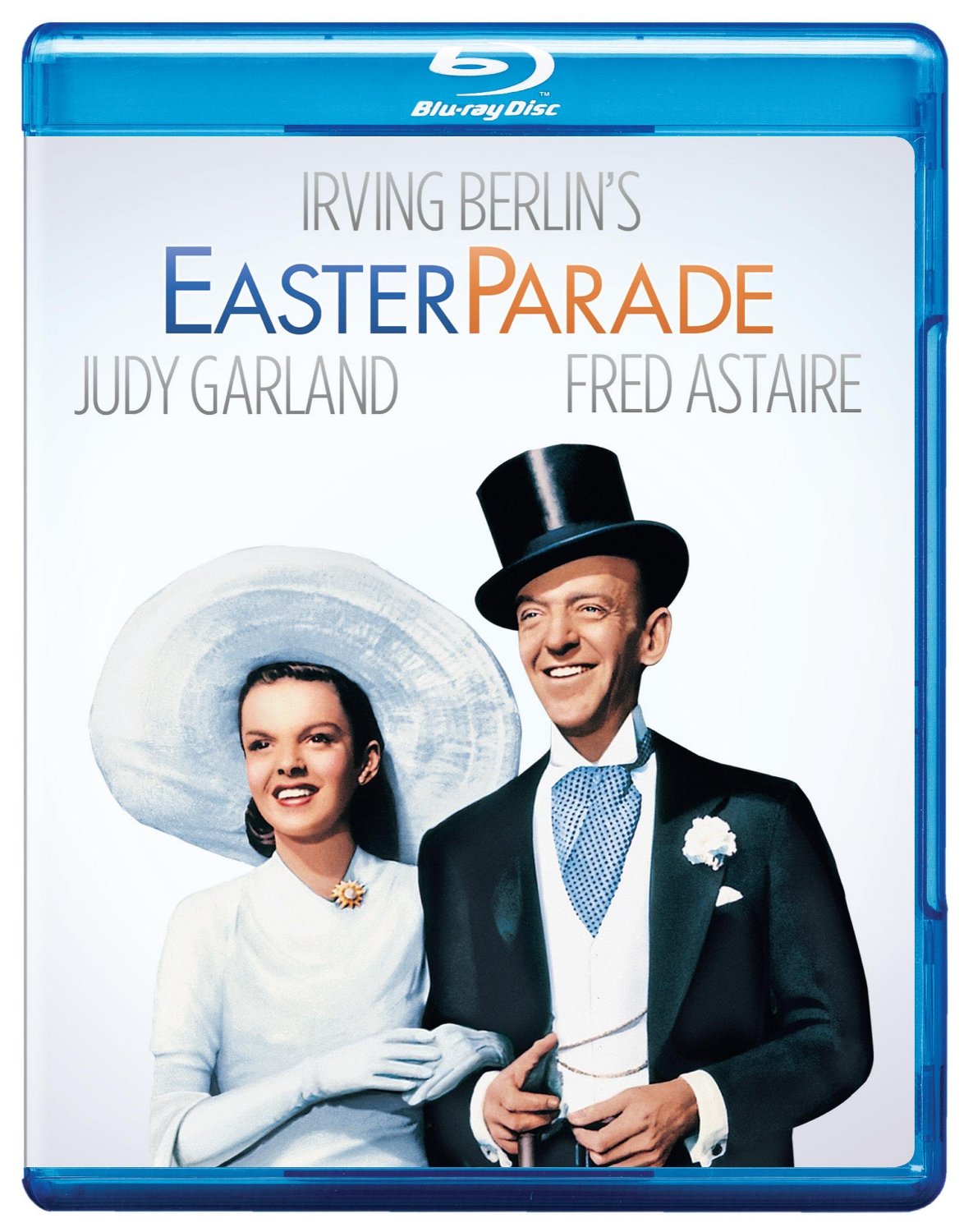 Warner's combo pack Blu-Ray/DVD/Digital Copy includes a fascinating picture-in-picture "Eyewitness Account" track offering comments from Mendez and the memories of others who lived through the Iranian hostage crisis. Additional featurettes include President Jimmy Carter's reflections and plenty of detail on the movie's production, along with a commentary by Affleck and Terrio. The 1080p AVC encoded transfer offers top detail and nicely balanced colors – as with "The Town," Affleck's visual eye results in a natural looking color pallet, something that's a far cry from the overstylized work of, say, Janusz Kaminski on "Lincoln." The DTS MA audio is likewise strong, offering a decent score by Alexandre Desplat.

New from Warner this month on the catalog front is EASTER PARADE (****, 103 mins., 1948), the classic Irving Berlin musical that brought together – for the first and only time – the talents of Fred Astaire and Judy Garland. The plot – better than most, thanks to Sidney Sheldon, Frances Goodrich and Albert Hackett's script – features Fred as Don Hewes, a veteran dancer who loses his partner (Ann Miller) to the Ziegfeld Follies, but is determined to turn a regular chorus girl into a starlet as his new partner. Don, naturally, has good taste in determining his selection, as Judy Garland's Hannah Brown falls right into his lap, and a bevy of musical-dance numbers – and, of course, romance – soon follow.

Some 17 Berlin tunes were beautifully adapted by Johnny Green and Roger Edens for "Easter Parade," a film that was initially slated to team Garland with Gene Kelly. When the latter dropped out due to an injury, Astaire came out of retirement for a delightful MGM musical that's regarded as one of the finest of its era. It's certainly a vibrant entertainment that any fan of Judy, Astaire, and MGM musicals will want to add to their Blu-Ray collections.

Speaking of which, Warner's Blu-Ray edition, culled from a 2005 remastering, looks much sharper and detailed than its prior DVD release, though (as with "Pony Soldier" covered below), there's shifting in the Technicolor image pallet (sometimes subtle, sometimes obvious) at times. The 1.0 DTS MA mono soundtrack is as good as the material allows, while extras include an insightful commentary with Ava Astaire McKenzie and John Fricke; several featurettes; the "Mr. Monotony" outtake and dailies; a 1951 Screen Guild Theater broadcast and radio promo; and the original trailer.

---
Twilight Time February Releases

One of the last, large-scale historical epics of its era, producer Sam Spiegel's NICHOLAS AND ALEXANDRA (171 mins., 1971, GP) spent a great deal of time in pre-production while Spiegel tried to lure in a number of actors and directors to film "Lion in Winter" scribe James Goldman's adaptation of Robert K. Massie's historical novel.

After being spurned by the likes of George Stevens, Anthony Harvey and Joseph Mankiewicz among others, Spiegel turned to Franklin J. Schaffner, then a hot commodity after "Planet of the Apes" and "Patton." Schaffner was able to direct the massive production without the extravagant budget of its genre's predecessors, with Spiegel settling on a pair of British stage actors – Michael Jayston and Janet Suzman – to fill out the roles of the Tsar and Tsarina, the last rulers of the ill-fated Romanov dynasty, instead of higher-profile stars who would've commanded larger salaries.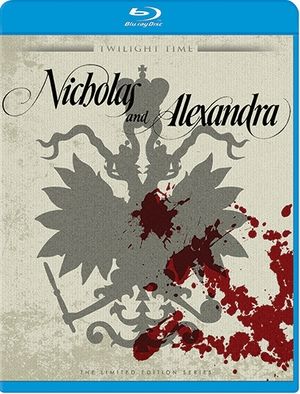 The result is this straightforward, occasionally harrowing but also somewhat vanilla account of the Romanov downfall, beginning with Nicholas' naive belief that – simply because God willed him to his role – life in Russia would be just fine in spite of mounting political, economic and social unrest that would lead to the Bolshevik Revolution just a short time later. A series of militaristic misjudgments, Alexandra's relationship with Rasputin the mad monk (a terrific turn by future "Dr. Who" Tom Baker), and the family's preoccupation with their ill young son Alexei are all tagged in Goldman's screenplay as ingredients – both intentional and otherwise – that lead to the Romanov family's eventual execution in 1918.

Shot in scope by Freddie Young and designed by John Box, "Nicholas and Alexandra" has the look of quality, though much of the film plays out in small confines as the placid Tsar only comes to understand the gravity of his situation far too late. Jayston and Suzman are both superb and understated, with star cameos provided by the likes of Harry Andrews, Jack Hawkins, Michael Redgrave, Irene Worth and Laurence Olivier, mostly all in bit parts. A series of young British actors who would soon become familiar faces also appear, many in the film's final third, including Ian Holm, John Wood, Roy Dotrice, Julian Glover and Brian Cox (as Trotsky), while Richard Rodney Bennett's excellent score effortlessly supports the drama.

At over three hours in length, "Nicholas and Alexandra" may test the viewer's patience here and there, particularly in its final hour when its dramatic beats have all been hit upon and one gets a bit impatient, knowing full well how the picture is going to play out. Goldman and Schaffner also struggle to integrate key historical elements – particularly concerning the Bolsheviks and Russia's involvement in WWI – mentioning them in perfunctory scenes that could've used some embellishment for those of us a few years separated from European history classes (apparently some of the scenes with Trotsky and Lenin were understandably trimmed for re-issues; they've been restored here, along with Bennett's Intermission music).

Nevertheless, for aficionados of old-fashioned historical dramas, "Nicholas and Alexandra" is certainly worth seeing, and especially now on Blu-Ray thanks to Twilight Time's 1080p AVC encoded transfer. This 2.35 framed high-def presentation is gorgeous, offering spectacular detail and clarity. The music, regrettably, doesn't fare as well, simply because Spiegel and Columbia seemingly opted to release the picture in mono in a cost-cutting move. The result is a constrained 1.0 DTS MA audio track with some muffled, ADR'd dialogue that's occasionally difficult to hear; it's unfortunate because the picture itself demanded a more robust audio presentation than it received back in 1971. Extra features include an isolated score track, three vintage featurettes, and the original trailer.

Secret agent Derek Flint returned for another successful go-around in 1967's IN LIKE FLINT (114 mins., 1967), which is unabashedly sillier than its predecessor but still highly entertaining. Here, Flint has to infiltrate a group of evil (and, of course, beautiful) women who have kidnapped the President and brainwashed unsuspecting young females by using salon hairdryers!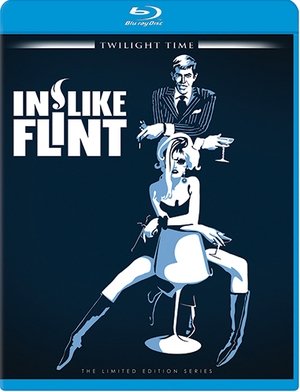 The picture is naturally ludicrous and makes even less of an attempt at being halfway "serious" than the original, and yet it's just as colorful and Coburn romps effortlessly through the Cinemascope frame throughout. As for Jerry Goldsmith's music, what more can I say than it's my all-time favorite swinging '60s spy score, complete with the immortal classic song "Your Zowie Face," sporting Leslie Bricusse lyrics. It's the kind of tune that you won't mind staying in your head for days (and believe me, it will!), launching the film with an infectious instrumental version over the opening titles and working in and out of the film along with the composer's theme for the original "Our Man Flint."

"In Like Flint" boasts an overall superior a/v presentation on Blu-Ray than its predecessor: the 1080p transfer has fresher colors than "Our Man Flint," while the remixed DTS MA 5.1 soundtrack – though not in true stereo sound – at least offers a stronger, less confined sound stage than the original's 1.0 mono mix. An isolated score track of Jerry's bubbly musical contribution is on tap as well as a slew of featurettes from the prior Fox DVD Special Edition (a Making Of featurette, a segment on Richard Zanuck trimming producer Saul David's submitted final cut, trailers and other featurettes).

Twilight Time's final release this month is the rarely screened Fox western PONY SOLDIER (82 mins., 1952), starring Tyrone Power as a Canadian Mountie who heads south of the border – into Montana – in order to save a pair of homesteaders attacked and abducted by the Cree.

Harry Jackson's Technicolor cinematography and Alex North's rousing score are the key elements in this interesting, though a bit routine, Western outing that's most noteworthy for its "North of the Border" attributes and historical context. At only 82 minutes and with some talky stretches, though, "Pony Solider" is likely to be best savored by '50s western devotees, and with its confined 1.33 aspect ratio, feels dated in comparison to the widescreen sagebrush sagas that would come to dominate the genre a short while after.

TT's Blu-Ray includes an isolated score track of North's work plus a satisfying 1.33 AVC encoded 1080p transfer whose only blemishes are source elements that date the film as a product of its era, with some unavoidable "bleeding" in the Technicolor print at times. Still worth a look for western buffs.

---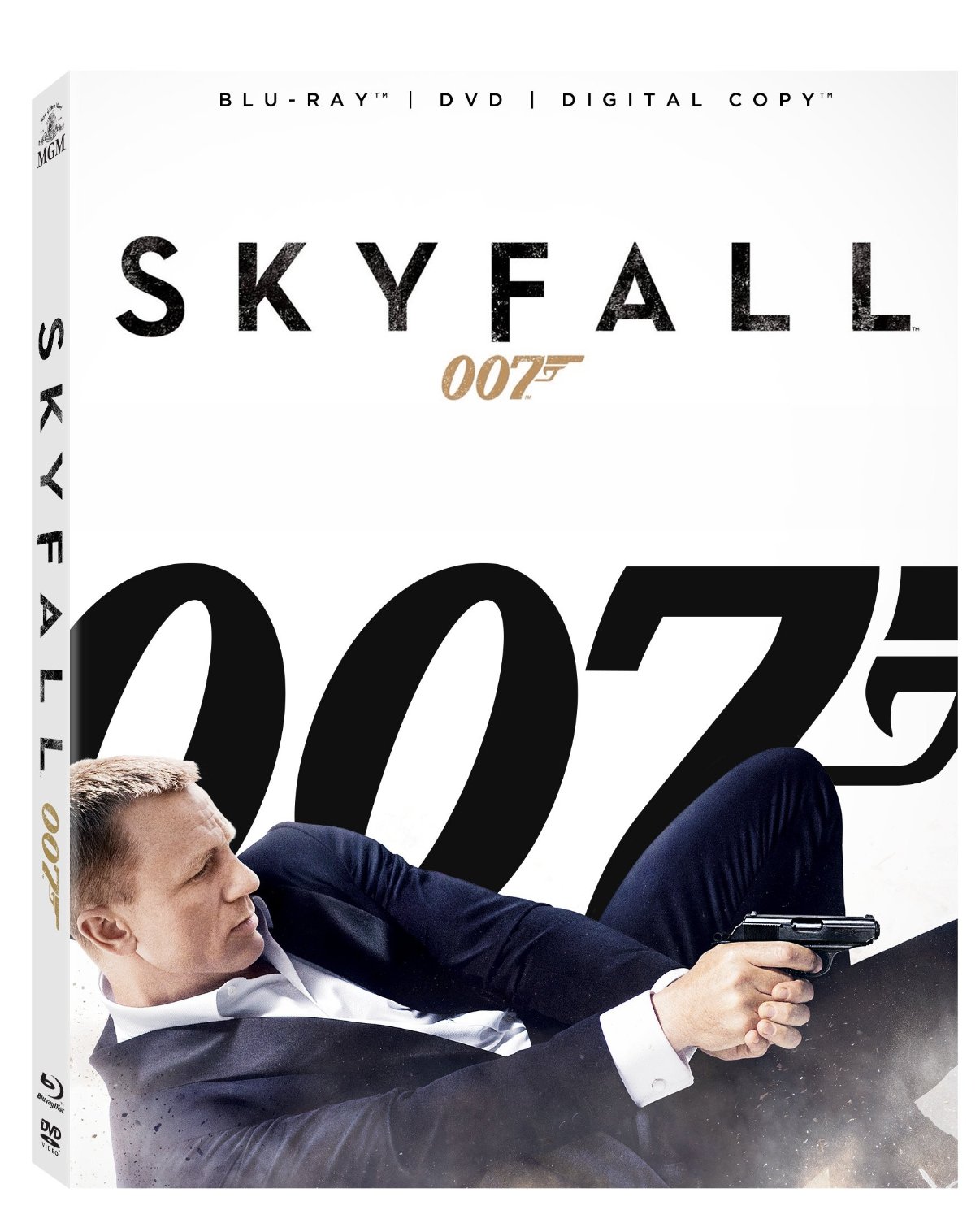 New From Fox

From its refreshingly straightforward plot (abandoning the convoluted who-cares scenario of its predecessor, "Quantum of Solace") to Roger Deakins' textured cinematography, SKYFALL (***, 143 mins., 2012, PG-13; MGM/Fox) stands as one of the best contemporary James Bond films: action packed, enthralling and stylish.

The script by John Logan and Bond regulars Neil Purvis and Robert Wade finds 007 (Daniel Craig) pursuing yet another agent-gone-rogue: the tall, menacing Silva (Javier Bardem), whose motives are predictable and actions deadly as he exposes the cover of agents around the globe and threatens the world's security as a result.

The story feels a bit familiar, working in elements from recent series entries "Goldeneye" and "The World Is Not Enough" with M (Judi Dench) once again placed in harm's way, while the nominal female lead – Berenice Marlohe – ends up as one of the old-time "sacrificial lambs" the series routinely dispatched in film after film. In fact, between Marlohe and Naomie Harris as a fellow agent working with Bond, these are probably the most disposable set of Bond girls in the entire series! (The latter is also one of the picture's glaring weaknesses, with Bond staging a full-out assault on the bad guys seconds after Marlohe's fate is known; was there anything stopping him from doing so moments before?).

What separates "Skyfall" from the likes of "Quantum of Solace" and the Pierce Brosnan films is the execution: though I haven't been a huge fan of Sam Mendes' work, he brings not only respect but a real panache to the material here, with zesty set-pieces (the teaser is terrific) and a focus on character instead of extraneous subplots. Sure, some of Silva's monologues feel a bit too Hannibal Lecter-like for my taste in terms of choreography and execution, but Bardem's performance more than compensates for the familiarity. Other performances are similarly strong, with Dench going out with a bang and Ralph Fiennes superbly underplaying what could've been just another stuffy MI6 operator. Though long at 140-plus minutes, the movie doesn't feel dull, and Thomas Newman's score works much better in the picture than it does on its standalone album. (Still, aside from the one section when Newman works in Adele's superb, if somewhat slow-going, theme song, there's nothing to grab onto thematically in his score. It's fine for the movie, but it doesn't function beyond it).

My main reservation of the Craig films continues to be Craig's rather one note portrayal of 007. Once again Bond has precious little dialogue in this film (which is ironic given this is one of the longest films in the entire series), and Craig's "tough guy" approach has been firmly established by this point -- I just, personally, don't find him very charismatic or interesting. Of course, it's not as if they give Bond much more to do here other than look "tough" -- and I do think Craig sells the few brief instances when he has to emote -- but there's not much in the way of charm there. Hopefully now that "Bond is Bond" by this picture's end, we might get a glimpse of Craig loosening up further in 007's next adventure.

Nevertheless, "Skyfall" is still a tremendous Bond film and MGM's Blu-Ray edition – though not chock full of extras – looks and sounds equally satisfying with a top notch AVC encoded 1080p transfer and DTS MA soundtrack. The meat of the extras are a pair of commentaries, one by Mendes, the other with series producers Barbara Broccoli, Michael G. Wilson and production designer Dennis Gassner. Supporting featurettes run about an hour and offer a fluffy look behind the scenes, while premiere footage, the trailer, and a digital copy/Ultraviolet streaming option round out MGM's release.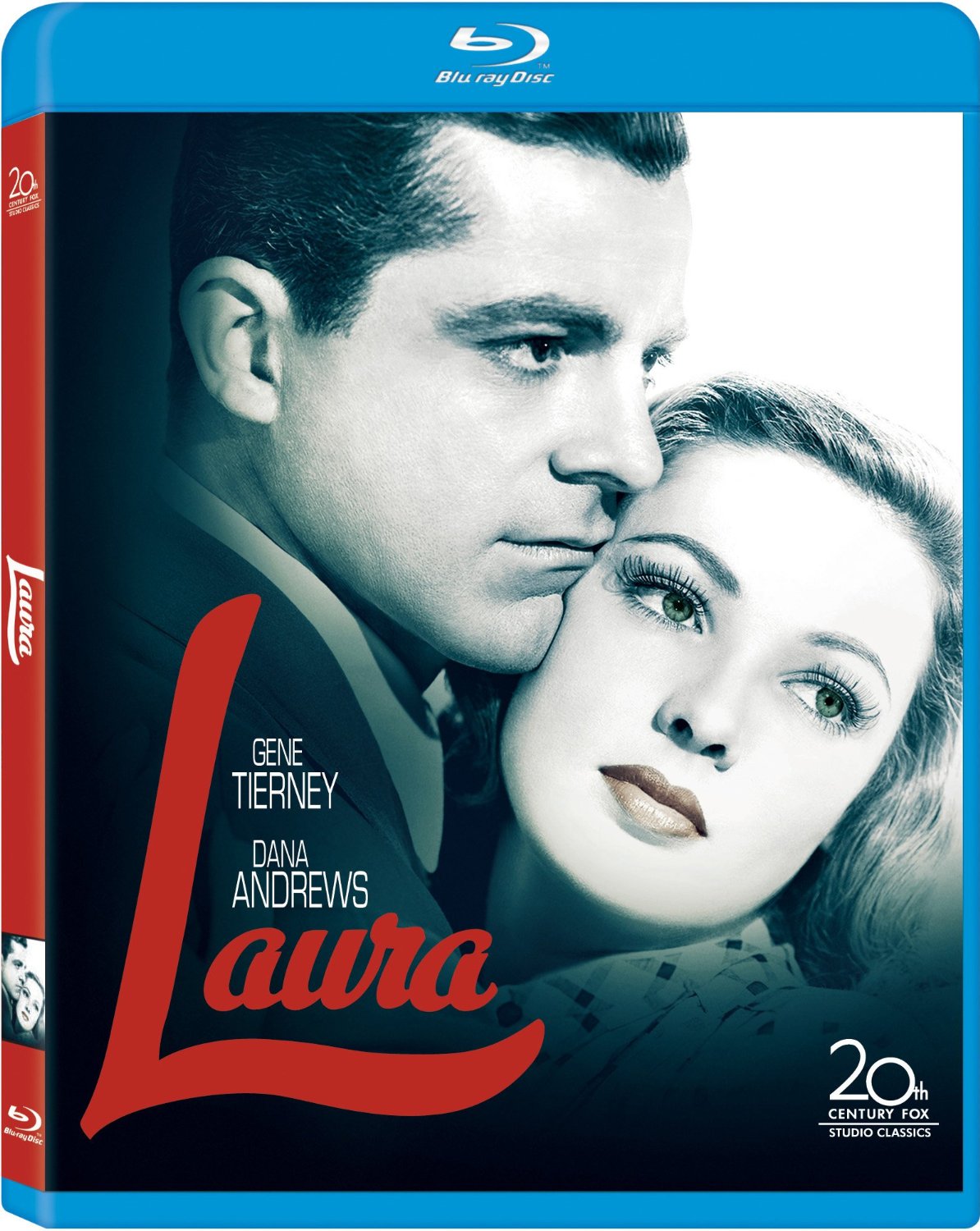 Also new from Fox this week is THE SESSIONS (***, 95 mins., 2012, R), an independent sensation from writer-director Ben Lewin recounting the true-life experiences of the late Mark O'Brien (John Hawkes): a paralyzed writer/poet who, with the help of a priest (William H. Macy), hires a "sex surrogate" (Helen Hunt) so he can, at age 38, lose his virginity.

"The Sessions" doesn't sound necessarily like "date material" or a film that's going to inspire a lot of spiritual uplift, but it's amazing how Lewin – thanks to great performances from Hawkes and Hunt most especially – is able to make such a positive, life-affirming picture. Well received by critics, "The Sessions" isn't an easy view but it's extraordinarily well handled considering the subject matter. Fox's Blu-Ray includes deleted scenes and a number of featurettes along with an Ultraviolet copy, 1080p transfer and DTS MA soundtrack.

More Fox classics are headed onto Blu-Ray this month with Otto Preminger's LAURA (***½, 87 mins., 1944) leading the way. Preminger's spellbinding adaptation of the Vera Caspary novel – scriptted by Jay Dratler, Samuel Hoffenstein and Betty Reinhardt – stars Gene Tierney as the bewitching title character, whose spell enchants investigator Dana Andrews and her effete husband Clifton Webb.

Culled from the best surviving elements, Fox's 1080p AVC encoded B&W transfer (1.33) is generally good though there are times the elements are clearly in healthier condition than others. Extras, ported over from prior releases, include a commentary from composer David Raksin and historian Jeanine Basinger; another commentary with historian Rudy Behlmer; A&E Biographies on Tierney and co-star Vincent Price; a deleted scene either incorporated back into the film or watched independently of the theatrical version; a trailer; and a 1.0 DTS MA mono soundtrack.

Also new From Fox: THE TERMINATOR (***½, 107 mins., 1984, R; MGM/Fox) receives a needed Blu-Ray re-release with a remastered 1080p AVC encoded transfer far more detailed and satisfying than Sony's early-format offering. Some fans have carped over the disc's inclusion of its 5.1 remixed soundtrack – and not its original mono mix – but outside of that, this is a must for "Terminator" fans, with Fox's Blu also including seven deleted scenes and featurettes from the Special Edition DVD release...ATLAS SHRUGGED: PART II (112 mins., 2012, PG-13; Fox) continues its flawed but still compelling adaptation of Ayn Rand's novel. Deleted scenes and featurettes complement a 1080p AVC encoded transfer and 5.1 DTS MA soundtrack.

---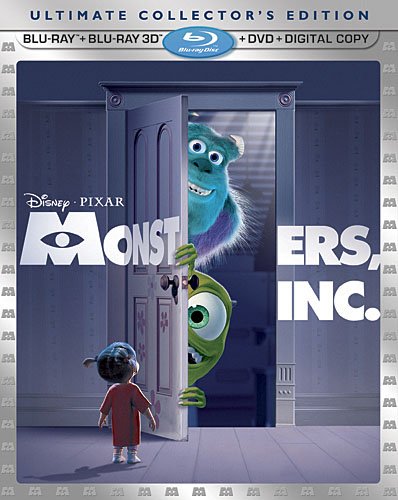 New in 3D

Although its box-office underperformance lead to the 3D theatrical re-release of "The Little Mermaid" being canceled, Disney's 3D conversion of Pixar's delightful 2001 effort MONSTERS, INC. (***, 93 mins., G) lands on Blu-Ray this month.

Not quite as ingenious as the original "Toy Story" but more entertaining than its first sequel, "Monsters, Inc." is one of those rare family films that's almost as much fun for adults as it is for kids. Billy Crystal and John Goodman voice a pair of monsters who terrorize kids when the lights go out at night -- this in a surreal creature world where humans are viewed as the terrifying ones! Naturally, shenanigans ensue once the boys accidentally bring home a human child -- a plot device that the equally successful (and entertaining) animated feature "Ice Age" also exploited to good effect around the same time.

Disney's five-disc Blu-Ray edition is a combo pack sporting a standard-definition DVD along with a digital copy disc. The 3D BD boasts an effective, if not essential, conversion of the film for 3D enthusiasts while the standard Blu-Ray houses yet another outstanding 1080p transfer with DTS Master Audio sound and format exclusive supplements including a tour of the "Monsters, Inc." Tokyo Disneyland ride; commentary; and a filmmakers roundtable discussion. Extras culled from the original DVD include an original short subject ("Mike's New Car"), the Oscar-winning short "For The Birds" that preceded "Monsters, Inc." in theaters, and a full tour of the film's production, from early conceptual meetings through animation tests, story alterations, promotion, deleted ideas, and more. It's a terrific package of a Pixar smash that's about to be followed by the prequel film "Monsters University," with a coupon for a free admission included when the picture is released in June.

Even more impressive 3D is on display in WRECK-IT RALPH (***, 101 mins., 2012, PG), Disney's November hit that ranks as one of the studio's most entertaining, non-Pixar animated releases to come down the pike in a long while.

Kids and video game enthusiasts of all ages should revel in this gorgeously rendered tale of an old video game villain (voiced by John C. Reilly) who decides he's had enough of his lot in life and opts to leap from one arcade game to another trying to find his place in the (electronic) world. Whether the movie is dropping cameos from bygone arcade games of my youth (including Q*Bert!) or shifting gears from one style of game to another, "Wreck-It Ralph" offers both a heartfelt story along with a constantly engaging visual design. The animation is eye-popping as Ralph traverses universes of both gaming's past and present (including a "Halo" like shooter and "Mario Kart" styled racing), and the 3D is just sensational: with endless depth of field effects, this ranks as one of the most satisfying of all 3D BD releases the format has yet released.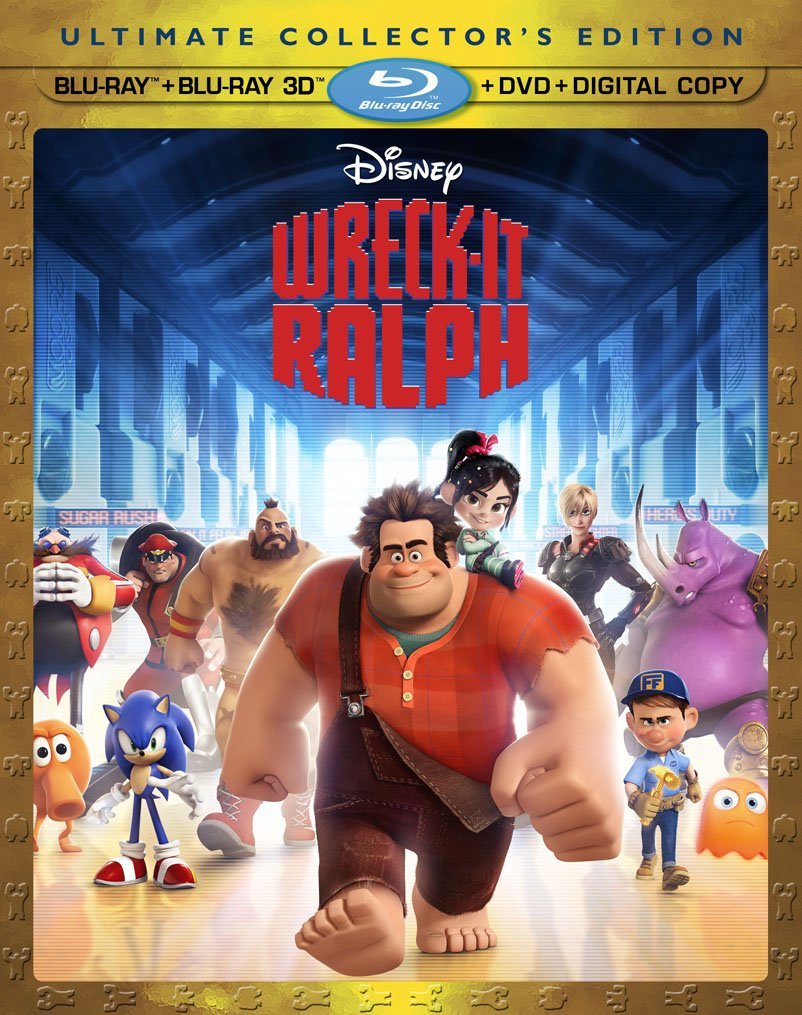 Disney's combo pack also includes a dazzling 2D Blu-Ray plus a DVD and digital copy. Extras include deleted and alternate scenes; video game commercials; a "Disney Intermission: Gamer's Guide" feature; Making Of featurette; and the "Paperman" theatrical short. The 7.1 DTS MA audio is superlative, featuring an active, though not obnoxious, score by Henry Jackman. Recommended!

Tony Scott's TOP GUN (***, 109 mins., 1986, PG), meanwhile, is certainly not your typical 3D library title. This blockbuster Tom Cruise smash contains some of the most memorable imagery of any '80s studio film, with Cruise's Maverick trying to fly his way to the top of the Navy's elite fighter pilot program, backed to a rockin' Harold Faltermeyer/Kenny Loggins/Berlin soundtrack and performances from the likes of Kelly McGillis, Val Kilmer and Anthony Edwards.

The first of several 2D live action films slated to be converted for release in the 3D BD format this year, "Top Gun" surprisingly fares well in 3D: the movie offers a fairly successful amount of depth-of-field effects, giving dimensionality to the image. It does, naturally, rob the image of some of its original vibrancy, yet I'd give the disc a recommendation for 3D BD owners, especially those looking for something a bit different than CGI animated fare and Imax documentaries.

For supplements, the regular Blu-Ray is also included plus a digital copy and all the extras from prior releases. Charlie de Lauzirika's comprehensive doc, "Danger Zone: The Making of 'Top Gun'," is the big draw, split into six different segments and running over two hours. Offering interviews with producer Jerry Bruckheimer, director Tony Scott, stars Val Kilmer and Rick Rossovich (Cruise appears only fleetingly), and composer Harold Faltermeyer among others, this is an insightful and entertaining look at the creation of the film and logistics involved in utilizing the various jets and carriers, all of which necessitated the cooperation of the U.S. Navy. Faltermeyer, meanwhile, appears along with singer Kenny Loggins in dissecting the creation and massive success of the score (and the soundtrack album).

There's also vintage behind-the-scenes featurettes (including a videotaped interview with Cruise), TV spots, four classic music videos, and commentary from Bruckheimer, Scott, and the Naval veterans who offered their sage advice to the filmmakers. Highly recommended for all "Top Gun" buffs with 3D capabilities.

---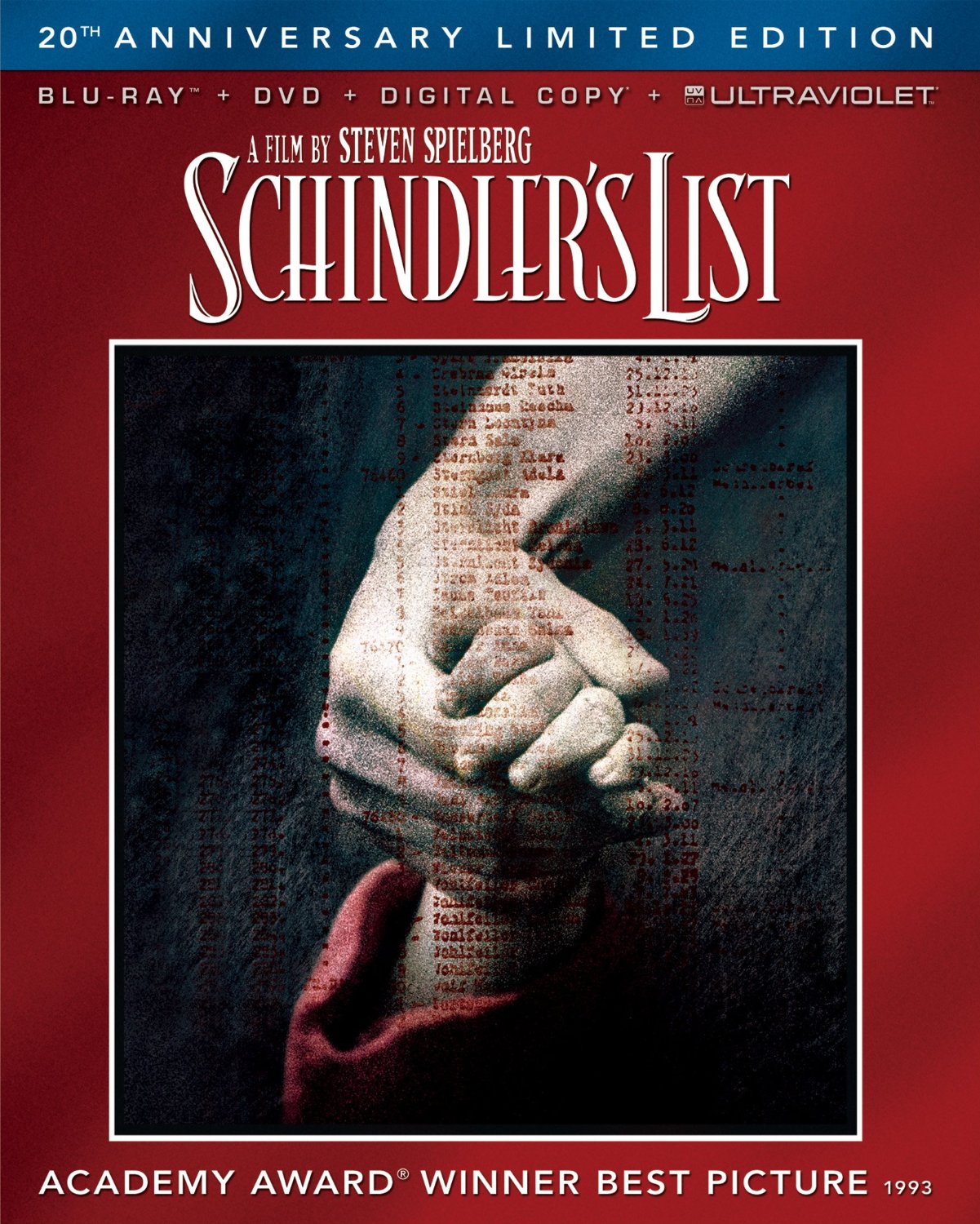 Coming From Universal

SCHINDLER'S LIST Blu-Ray/DVD/Digital Copy (****, 196 mins., 1993, R; Universal): Steven Spielberg's classic Oscar winner needs little introduction to viewers, though it took quite a while for the film to generate a Blu-Ray release (it also arrived late in the DVD format as well).

Available March 5th, Universal's limited-edition Blu-Ray set includes a terrific AVC encoded 1080p transfer of the movie – accentuating the crisp B&W details of Janusz Kaminski's cinematography (one of his few Spielberg efforts I actually hold in high regard) – along with a quietly effective DTS MA soundtrack. Visually this looks to be a new master with outstanding detail and contrasts, and no overt use of DNR in evidence.

Like Universal's DVD from 2004, it's also unfortunately light on the supplemental side. A 77-minute documentary, "Voices of the List,'" offers testimony from real-life Holocaust survivors whom Spielberg's Shoah Foundation interviewed in the months and years following the movie's release. It's a powerful segment introduced by the director, but other than that and a brief profile of the Foundation, the set once offers no other extras, with just the film itself offered on the Blu-Ray disc.

BARBIE IN THE PINK SHOES Blu-Ray/DVD/Digital Copy (75 mins., 2013; Universal): Barbie dances her way through a ballet world as she takes on a villainous Snow Queen in this latest CGI rendered animated feature from Mattel and Technicolor animation, featuring segments from the "Giselle" and "Swan Lake" ballets. Universal's Blu-Ray combo pack includes a digital copy, DVD, outtakes, a music video, "Life in the Dreamhouse" episode and other goodies for kids.

CURIOUS GEORGE SWINGS INTO SPRING DVD (57 mins., 2013; Universal): Appealing extension of the award-winning PBS animated series finds George and Hundley exploring the spring season together when Hundley goes missing; George then takes to the skies to find him in a terrific hour-long feature that should enchant the little ones. Universal's DVD includes a 16:9 transfer and 5.1 soundtrack.

---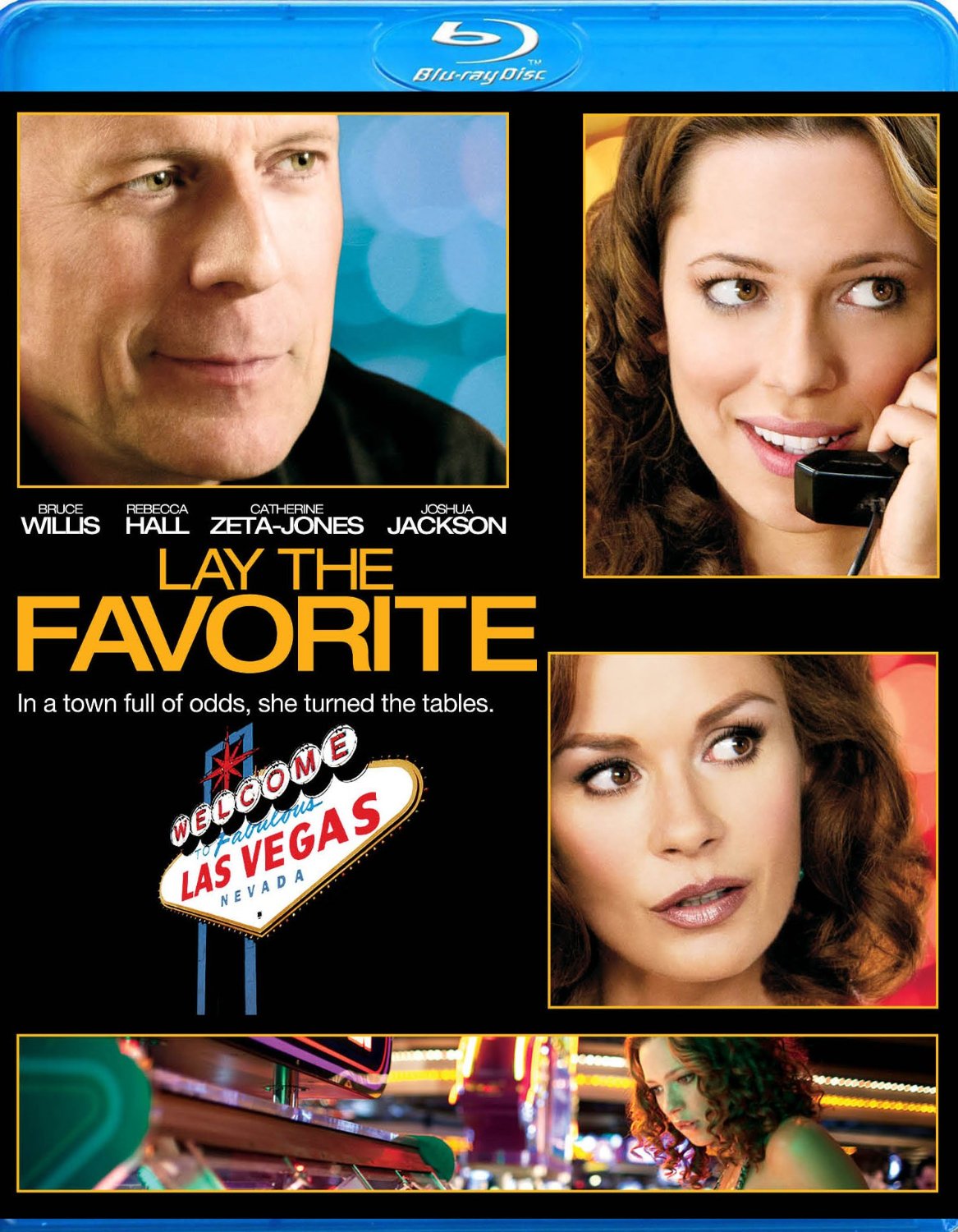 Also New & Noteworthy

LAY THE FAVORITE Blu-Ray (*½, 94 mins., 2012, R; Anchor Bay): Misfired adaptation of Beth Raymer's book from writer D.V. DeVincentis and director Stephen Frears understandably bypassed a wide theatrical release.

Rebecca Hall – so good in "The Town" and several other recent films – is miscast here as a sweet young woman – a former stripper – who heads to Las Vegas in order to straighten her life out. She gets a gig working with gambler Bruce Willis, who's saddled with tough wife Catherine-Zeta Jones, but their chemistry strikes up more than a few victories on Bruce's latest series of bets.

Joshua Jackson and an unbilled Vince Vaughn co-star in "Lay the Favorite," which is a botched affair across the board, most especially for the former "A lister" Frears of "Dangerous Liaisons" and "The Grifters" fame. The film's not convincing, funny, or compelling, with most of the production seeming like it was shot in rooms at the Holiday Inn; Willis looks like he's having fun but Hall seems ill at ease here, while the story itself sits there and drags. At some point you wish the camera would just focus on some of the sporting events in the background in Willis' office and forget the plot itself, which offers scant believability or entertainment value.

Anchor Bay's Blu-Ray includes deleted scenes, a 5.1 DTS MA soundtrack and 1080p AVC encoded transfer.

FUN SIZE Blu-Ray/Ultraviolet (**½, 86 mins., 2012, PG-13; Paramount): Little-seen PG-13 rated Nickelodeon "family comedy" finds teen Victoria Justice planning on attending a Halloween party when her mother (Chelsea Handler) sticks her in charge of her baby brother. Along with friend Jane Levy, Justice ends up carting around her bratty sibling on Halloween in Josh Schwartz's intermittently amusing picture that's too raunchy for little kids and too tame for older teens desiring the more 'adult' shenanigans of "Project X." Still, "Fun Size" ultimately is quite watchable, and even fills a gaping void in the undernourished Halloween trick-or-treating genre, even if the opportunity was missed to deliver a perennial favorite here, with Max Weiner's script facing an identity crisis in terms of what young demographic it's courting. Paramount's Blu-Ray includes a fine 1080p transfer with DTS MA audio and extras including deleted scenes, a gag reel, Making Of featurette, Carly Rae Jepsen's music video, and both standard and Ultraviolet digital copies.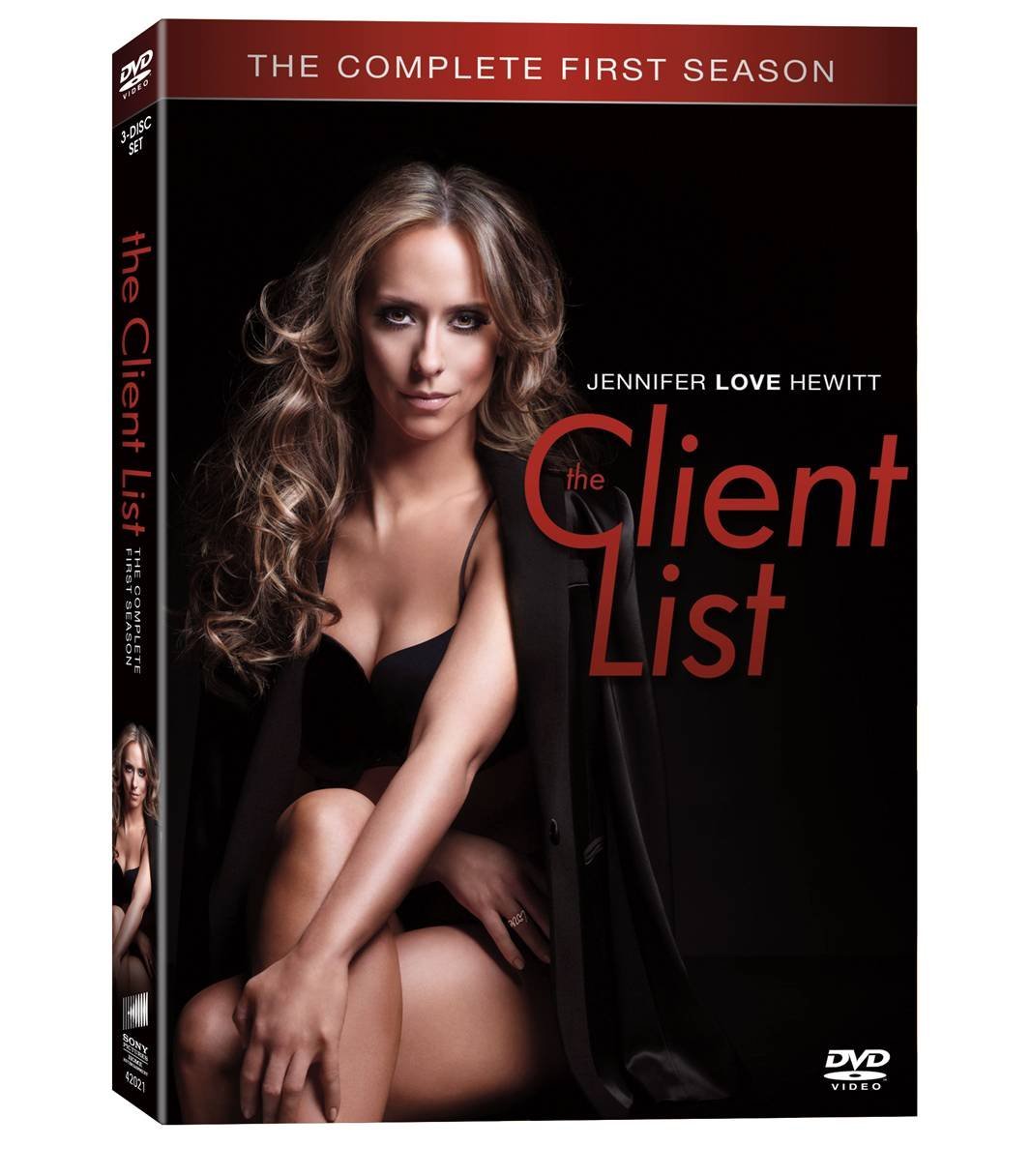 THE CLIENT LIST: Season 1 DVD (417 mins., 2012; Sony): Jennifer Love Hewitt hit it big in 2012 with another successful TV series, though this Lifetime original is a far cry from "The Ghost Whisperer." Based loosely on a true story, Hewitt plays a young Texas housewife who takes a job at a massage parlor in a nearby town, only to find out a bit more than the typical rub-down is going on. Cybill Shepherd co-stars as Hewitt's mother with Loretta Devine as her saucy boss in "The Client List," which functions as a soap/domestic drama with a bit more sexual shenanigans than usual for Lifetime, though, predictably, all of the adult content is tastefully handled. Sony's DVD of the series' first season is newly available, offering all 10 episodes on three discs with 16:9 (1.78) transfers, 5.1 soundtracks, and outtakes and deleted scenes for extras.

PLAYING FOR KEEPS Blu-Ray (**, 105 mins., 2011, R; Sony): At times watchable, at times godawful, romantic comedy was entirely built as a vehicle for Gerard Butler, who essays a former soccer star who moves to Virginia in order to be near his son and ex-wife (Jessica Biel). Along the way he takes over coaching his son's soccer team and has a series of women throw themselves at him (including Uma Thurman, Catherine Zeta-Jones, and Judy Greer) in a test of his newly-responsible sexual habits. Gabriele Muccino's December box-office disappointment is heavy on the cutes and short on surprises, but rom-com fans – and especially Butler devotees – may find it to be worthwhile nevertheless. Sony's Blu-Ray of "Playing for Keeps" includes deleted scenes, two featurettes, an Ultraviolet copy, 1080p AVC encoded transfer and 5.1 DTS MA soundtrack.

MIDNIGHT STALLION DVD (91 mins., 2012; Vivendi): William Dear ("Harry and the Hendersons") helmed this feel-good film about a teenager (Jodelle Ferland) who discovers a wild stallion in the woods and tries to tame it in order to save the family farm. Kris Kristofferson co-stars in this Nasser Group production that Vivendi releases on DVD March 5th with a Making Of featurette, a 16:9 transfer and 2.0 Dolby Digital stereo soundtrack.

THE SEVEN YEAR HITCH DVD (86 mins., 2012; Gaiam): Amusing Hallmark Channel movie stars Natalie Hall and Darin Brooks as best friends who find out they're married in a common law relationship, even though she's engaged to obnoxious Ryan Doom (now there's a name!). Brad May helmed this typical, but likeable, Hallmark effort from Larry Levinson Productions featuring a pleasant score by Nathan Furst. Gaiam's DVD boasts a 16:9 transfer and 5.1 Dolby Digital soundtrack.

HOLY MOTORS Blu-Ray (115 mins., 2012, Not Rated; Indomina): Off the wall French production from director Leos Carax places Denis Lavant as a limo driver whose travels through the streets of Paris enable him to become multiple characters in a wacky genre mash-up. Eva Mendes co-stars in this acclaimed 2012 import which Indomina brings to Blu-Ray boasting a 1080p transfer, 5.1 DTS MA soundtrack, trailers, a Making Of, and Kylie Minogue's music video.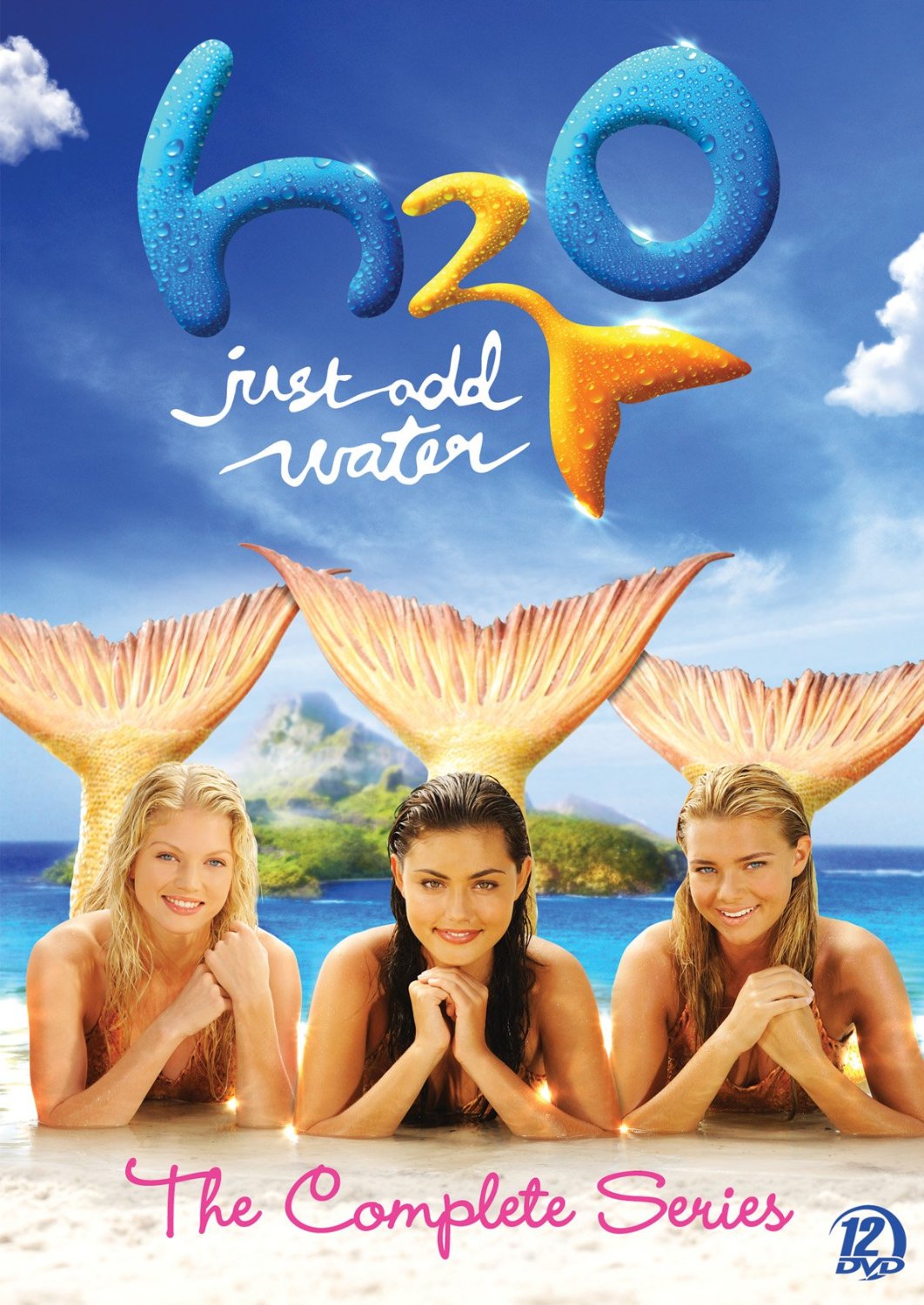 H20: JUST ADD WATER Season 1 DVD (aprx. 11 hours, 2012; NewVideo): Colorful, bouncy Australian TV import focuses on a trio of teenage girls who become mermaids and their various adventures in the water and navigating the dangerous currents of high school. Special effects, relationships and "Splash"-like contrivances make this a good bet for younger viewers, with NewVideo's DVD including the complete first season of the series with a 90-minute condensed version of Season 1 for extras.

LIONSGATE New Releases: A group of girls attending summer camp run into a psycho who preys on them in THE MOORING (90 mins., R, 2013), an independent horror outing from director Glenn Withrow starring Hallie Todd as one of the unfortunate teens who take a detour into splatter country. Lionsgate's DVD of "The Mooring" includes a 16:9 transfer, 5.1 soundtrack and a Making Of featurette...Season 4 of NURSE JACKIE (280 mins., 2012; Lionsgate) finds Edie Falco's Jackie Peyton trying to say sane – and sober – even while a new hospital administrator (Bobby Cannavale) jumps into the fray. Cast and crew commentaries, two featurettes, a gag reel, 16:9 transfers and 5.1 soundtracks comprise Lionsgate's DVD release...One of those shows that stayed too long at the party, fans of Showtime's long-running WEEDS (379 mins., 2012) may have been happy that the series offered a resolution of sorts to the misadventures of Nancy and the Botwins – unfortunately for many, this eighth and final season of the series ran out of gas long before the finish line, leading to a disappointing final episode. Lionsgate's DVD of "Weeds: The Final Season" includes cast/crew commentaries, a gag reel, deleted scenes and featurettes, along with 16:9 transfers and 5.1 soundtracks.

E ONE New Releases: Billy Burke stars in Charles Matthau's FREAKY DEAKY (93 mins., 2011, R), a '70s flashback thriller featuring Crispin Glover as a drunk rich guy, Michael Jai White as a swindler and a gruff looking Christian Slater. Matthau's own adaptation of Elmore Leonard's novel hits DVD this month with a Making Of featurette, 5.1 soundtrack, and 16:9 transfer included...Martin Donovan, David Morse and Olivia Williams star in Donovan's COLLABORATOR (87 mins., 2010, R), a thriller starring Donovan as a famous writer whose return trip home causes major commotion – especially when his ex-con neighbor (Morse) pulls a gun on him. E One's DVD boasts interviews with Donovan and Williams, plus a 16:9 transfer and 5.1 Dolby Digital soundtrack.

The Oscar-nominated documentary HOW TO SURVIVE A PLAGUE (109 mins., 2012, Not Rated; IFC/MPI) also arrives on DVD this month from MPI. David France's chronicle of the AIDS virus and both the government and pharmaceutical industry's treatment of HIV in the '80s comes to disc with a commentary with France and Act Up activists, deleted scenes, the trailer, a 16:9 transfer and 5.1 Dolby Digital soundtrack.

Esai Morales stars in Rashaad Ernesto Green's GUN HILL ROAD (86 mins., 2013, R; Virgil Films), a gritty family drama that follows Morales' Enrique on his return to Brooklyn after three years in prison, and problems adapting to home life with his wife and son. "Gun Hill Road"'s DVD release includes a 16:9 transfer, 5.1 soundtrack and interview with Green at Indiana University's Latino Film Festival.

---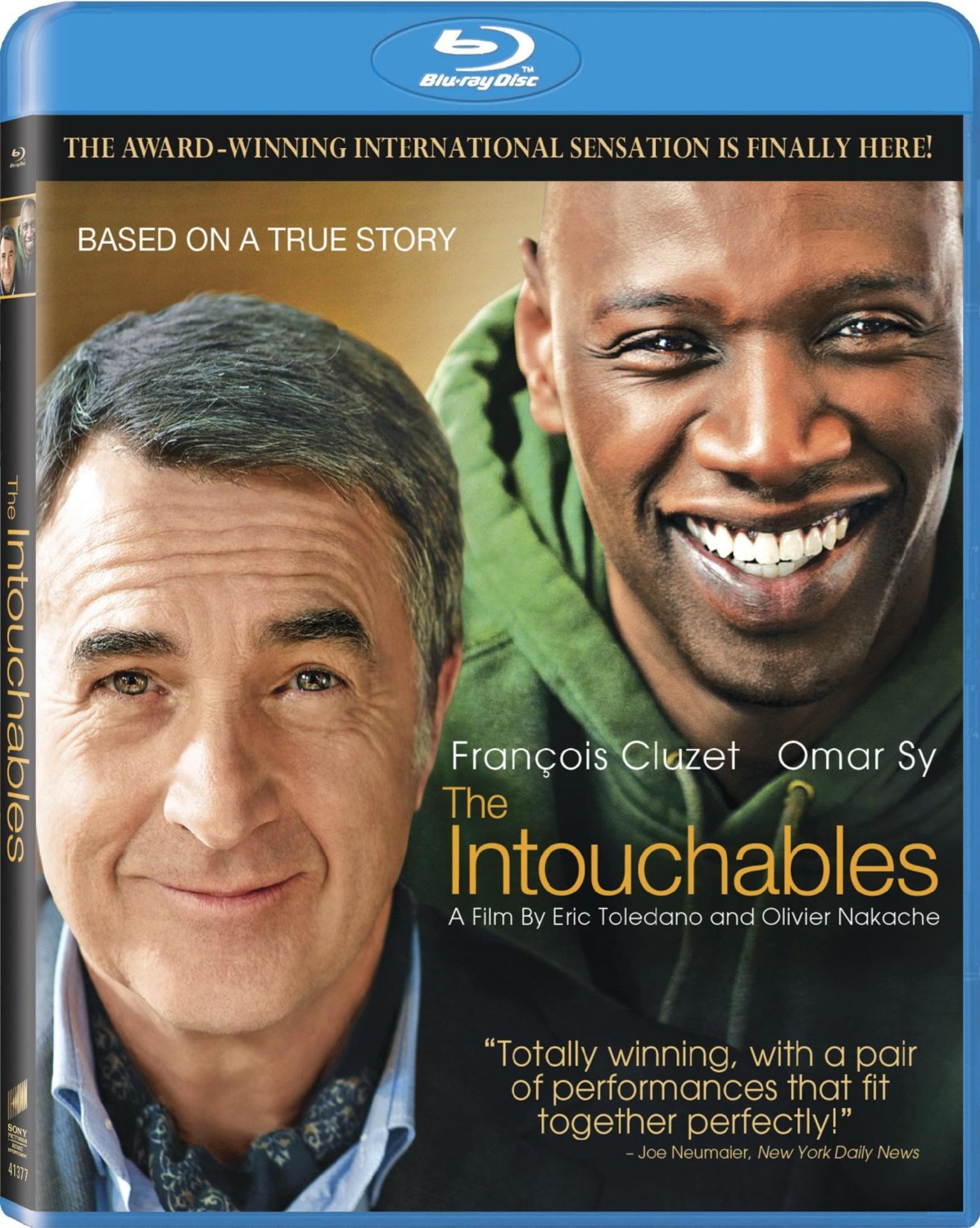 Also New For February/March

THE INTOUCHABLES Blu-Ray (112 mins., 2011, R; Sony): Generating over $400 million in worldwide box-office, Eric Toledano and Olivier Nakache's French import is a terrific human drama with plenty of charm. Francois Cluzet stars as an upper-crust quadriplegic who hires an ex-con named Driss (Omar Sy) from the wrong side of the tracks in order to take care of him; together, the duo embark on a series of adventures from the Alps to disrupting Parisian society. Perceptive and winning, and based on a true story that formed the basis of the book "You Changed My Life." Sony's Blu-Ray includes deleted scenes, a strong 1080p AVC encoded transfer and French audio in 5.1 DTS MA with English subtitles.

AFRICA Blu-Ray (300 mins., 2013; BBC): Another sterling nature documentary hosted by David Attenborough arrives on Blu-Ray this week. Mike Gunton, executive producer of "Life," brings his perceptive eye for nature's beauty to this chronicle of Africa, from the Cape of Good Hope to the Savannah and Atlas Mountains, with amazing footage of plants, animals and varying landscapes making for another reference-quality Blu-Ray presentation. BBC's 1080p HD transfer is outstanding and the cinematography is brilliant in terms of its clarity. Extra features include a Making Of for each episode (Kalahari, Savannah, Congo, Cape, Sahara, and The Future); interviews with Attenborough and Gunton; outtakes; deleted scenes; and 5.1 DTS MA audio, plus an Ultraviolet streaming copy. Highly recommended!

COMPANY OF HEROES Blu-Ray (100 mins., 2012, R; Sony): A company of American soldiers (including Tom Sizemore, Neal McDonough and Chad Michael Collins) is trapped behind enemy lines during the Battle of the Bulge when they uncover a bomb in development – and a scientist trying to defect to the West. Don Michael Paul directed "Company of Heroes," a B-level action affair based on THQ's video game series that, at least, is not as embarrassing as the collective genre efforts of Uwe Boll. Sony's Blu-Ray includes a deleted scene, two featurettes, a 1080p AVC encoded (1.78) transfer and 5.1 DTS MA soundtrack.

THORNE DVD (274 mins., 2012; Anchor Bay): Mark Billingham's initial two novels starring Inspector Tom Thorne (David Morrissey) were adapted for television in the form of UK/Canadian co-productions that aired in the US on Encore. "Sleepyhead" and "Scaredycat" co-star Sandra Oh, Eddie Marsan, Aidan Gillen and Natascha McElhone with Stephen Hopkins helming the former and Benjamin Ross the latter installment. All six parts of "Thorne" will be released on DVD next week by Anchor Bay including 16:9 transfers and 5.1 soundtracks.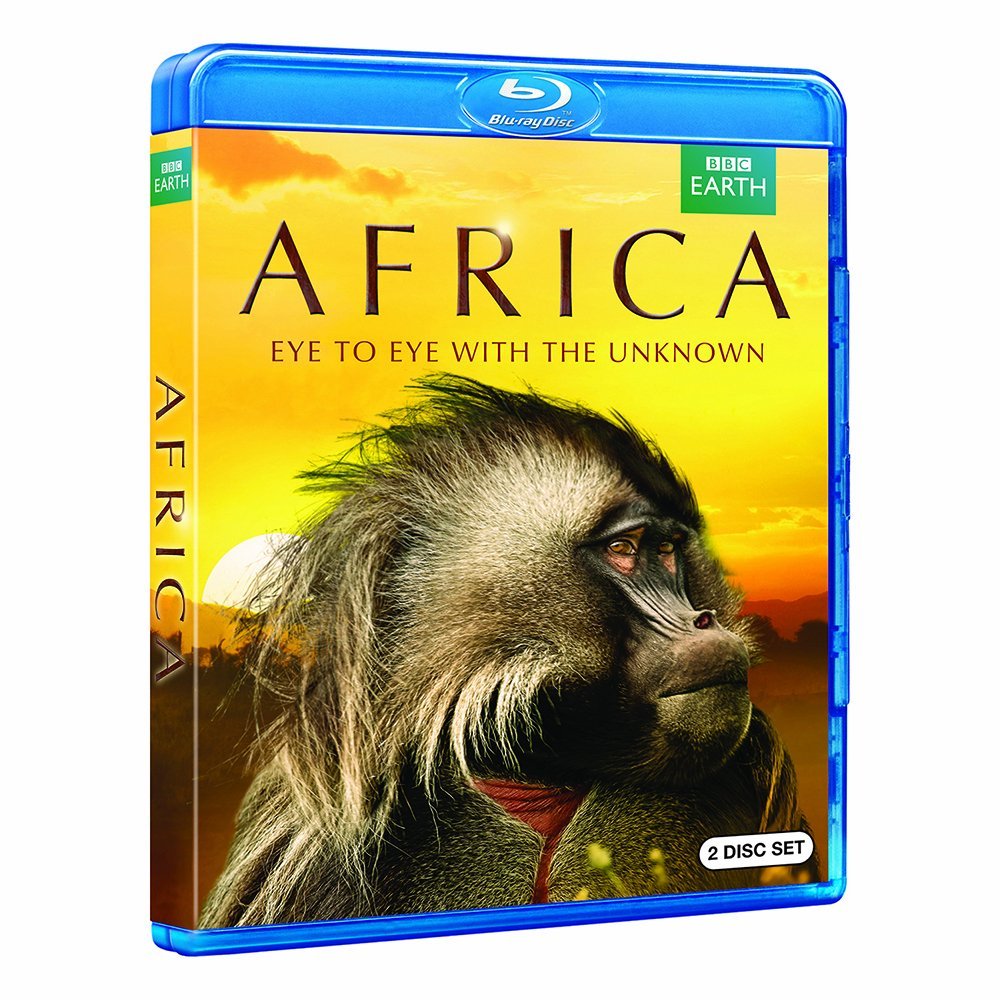 THE PACKAGE Blu-Ray/DVD (95 mins., 2012; Anchor Bay): The formerly "Savage" Steve Austin stars as a nightclub bouncer who moonlights as a Seattle mob boss enforcer in "The Package," a fitfully watchable actioner co-starring Dolph Lundgren as a crime lord whose package sends Austin on a deadly courier mission. Anchor Bay's Blu-Ray includes a 1080p (1.78) transfer and Dolby TrueHD 5.1 soundtrack.

GIRLS AGAINST BOYS Blu-Ray (93 mins., 2012, R; Anchor Bay): Better-than-average slasher stars Danielle Panabaker as a college student with an interest in male studies who reaches the breaking point after her lover decides to go back to his wife. She hitches up with psycho coworker Lu (Nicole Laliberte) and extracts revenge in an interesting thriller from writer-director Austin Chick that's not just a gross-out genre outing. Anchor Bay's Blu-Ray includes commentary with Panabaker and Chick, plus a 1080p transfer and 5.1 Dolby TrueHD soundtrack.

FAST GIRLS DVD (120 mins., 2012; Image): British tale of a female sprinter (Lenora Crichlow) who tries to beat the odds, and her tough upbringing, to become a member of the British team at the World Championships. Regan Hall's well-acted, if leisurely, sports film – undoubtedly produced to coincide with the London Olympics – has been released on DVD by Image offering a 16:9 transfer, 5.1 soundtrack and six behind-the-scenes featurettes.

New From Magnolia

THE COALITION Blu-Ray (100 mins., 2012, R; Magnolia): A quartet of women try and get their revenge on a group of high-priced, spoiled athletes who played them in Monica Mingo's relationship drama. Magnolia's Blu-Ray includes a Baltimore screening Q&A session with audience interviews; a conversation with producer and co-writer (and Baltimore Ravens player) Terrell Suggs; an interview with Mingo; alternate ending; commentary; a 1080p transfer and DTS MA 5.1 soundtrack.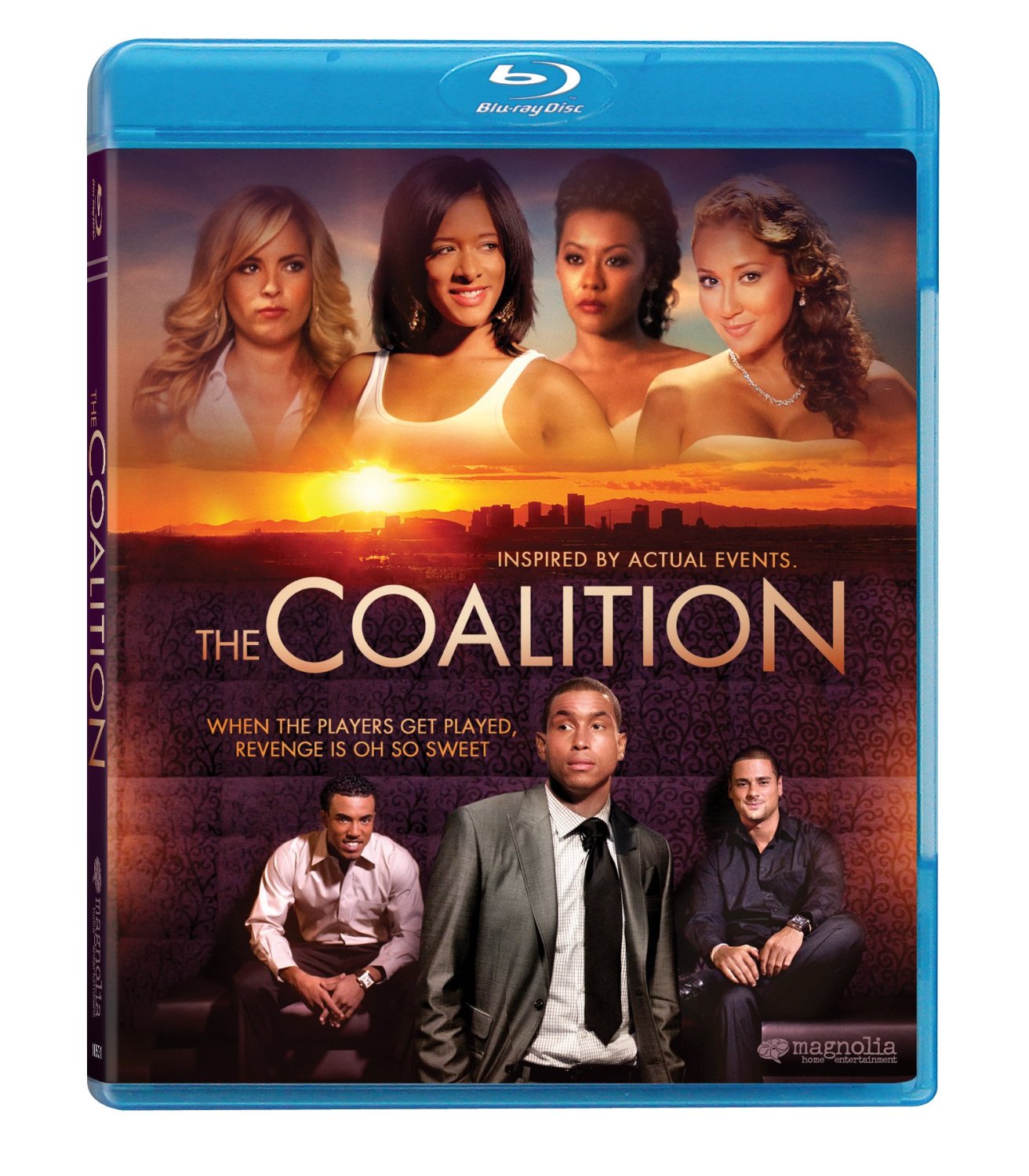 SUSHI GIRL Blu-Ray (99 mins., 2012, R; Magnolia): Kern Saxton's Tarantino-esque ensemble thriller collects an offbeat cast (including Tony Todd, Mark Hamill and former "Battlestar Galactica" whiz-kid Noah Hathaway) as thieves who gather to celebrate one of their clan being released – only to see dinner turn deadly as each attempts to figure out where their missing loot has gone. Magnolia's Blu-Ray is chock full of extra features, including a documentary, alternate scenes, outtakes, featurettes, two commentaries, trailers, a 1080p transfer and 7.1 DTS MA soundtrack.

DEADFALL Blu-Ray (95 mins., 2012, R; Magnolia): Eric Bana and Olivia Wilde play siblings who just pulled off a casino heist, only to run over a state trooper and go their separate ways in Stefan Ruzowitzky's watchable 2012 thriller. Charlie Hunnam, Kate Mara, Treat Williams, Kris Kristofferson and Sissy Spacek lead a good supporting cast in "Deadfall," which Magnolia has released on Blu sporting interviews, behind the scenes footage, the trailer and additional featurettes, plus a 5.1 DTS MA soundtrack and 1080p AVC encoded transfer.

New From WellGo

INTERVIEW WITH A HITMAN Blu-Ray (96 mins., 2012; Well Go): Luke Goss stars as a Romanian hitman who flees to London, only to get wrapped up in another underworld struggle and a beauty (Carline Tillette) who offers the fleeting promise of salvation. Perry Bhandal write and directed "Interview with a Hitman," which would like to be a gritty, convoluted noir-thriller, but only is only intermittently successful at engaging the viewer. For genre fans only. Well Go's Blu-Ray looks good with a healthy 1080p transfer and DTS MA soundtrack, with extras including a Making Of featurette and the trailer.

MUAY THAI WARRIOR Blu-Ray (102 mins., 2011; Well Go): Seigi Ozeki stars as samurai Yamada Nagamasa, left for dead and restored back to health in a monastery in Siam. Yamada later learns the art of Muay Thai boxing, becomes a royal bodyguard to the King and later exacts revenge on the Japanese fighters who left him behind in "Muay Thai Warrior," a 2011 Thai import Well Go brings to Blu-Ray on March 5th. Well Go's disc includes a 1080p transfer and DTS MA soundtrack.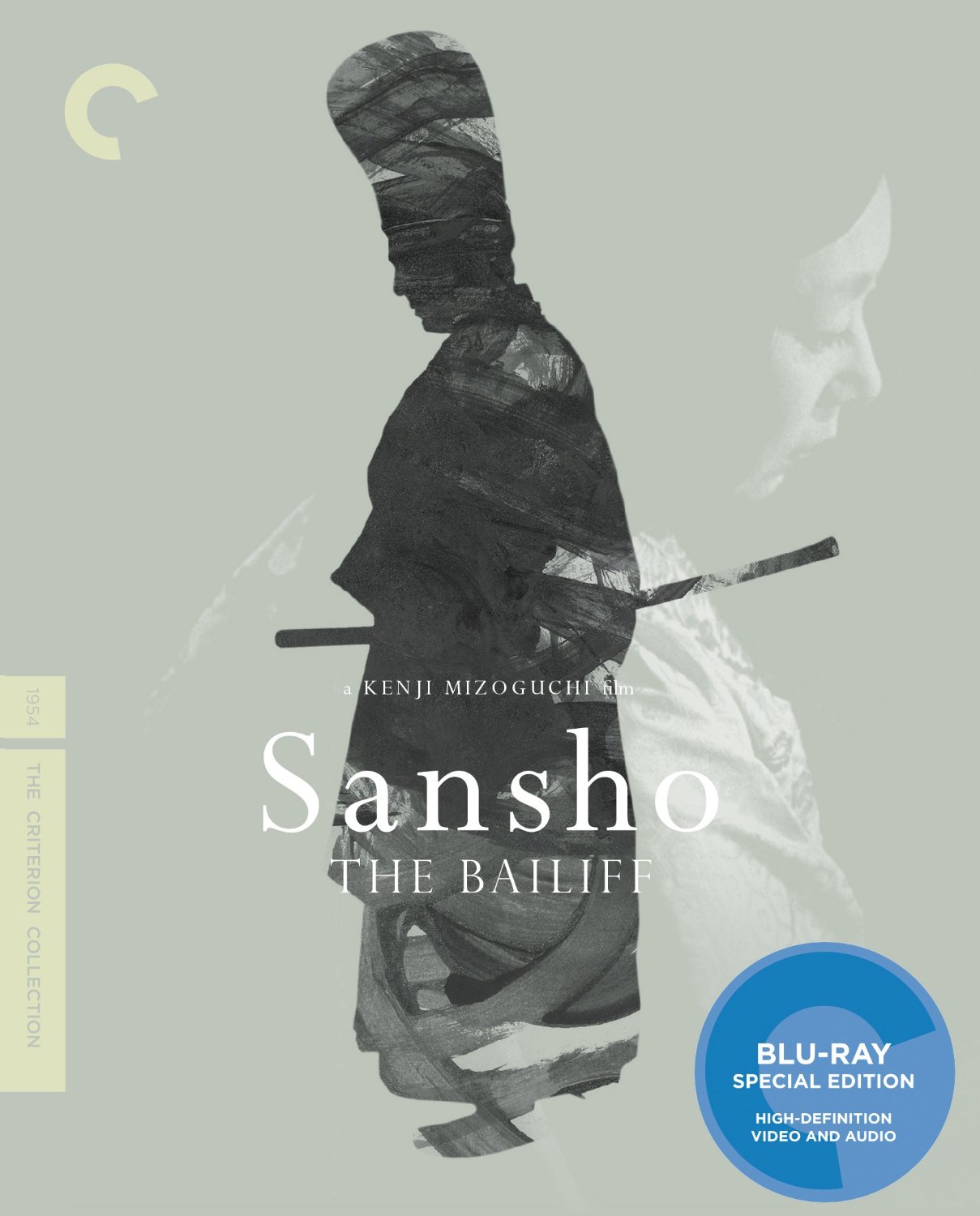 New From Criterion

New from Criterion this month is a new high-def Blu-Ray package of Kenji Mizoguchi's haunting SANSHO THE BAILIFF (1954, 121 mins.).

This mid '50s Japanese masterwork chronicles the tragic events that befall a well-meaning governor who's cast off by a feudal lord, subsequently leading to his family being enslaved and separated en route to his place of exile. Years later, his oldest son tries to reunite his fragmented family, in spite of his neglect of his father's own teachings.

Criterion's Blu-Ray edition includes a restored transfer (1.33 black-and-white 1080p), commentary from Japanese literature professor Jeffrey Angles; new video interviews with key personnel including actress Kyoko Kagawa on the making of the film; and a new subtitle translation. A full-length book includes an essay from scholar Mark Le Fanu and two versions of the story on which the picture was based. Strongly recommended for Japanese cinema enthusiasts.

In Brief

REGULAR SHOW: PARTY PACK DVD (176 mins., Cartoon/Warner): 16 episodes from the Cartoon Network series will be released from Warner on March 5th. Episodes include Stick Hockey; My Mom; Out of Commission; High Score; Really Real Wrestling; But I Have A Receipt; Skips Strikes; Sugar Rush; House Rules; Gut Model; Fuzzy Dice; Big Winner; Replaced; Free Cake; Party Pete and Karaoke Video.

SHAMAN HEALER SAGE DVD (64 mins., 2013; True Mind): Alberto Villoldo's journey from a western doctor – psychologist and anthropologist – to becoming an Amazon/Inka shaman is profiled in this adaptation of his bestselling book "Shaan, Healer, Sage." True Mind's DVD includes a 16:9 transfer and stereo soundtrack with nearly an hour of extras.

NEXT TIME: March madness arrives! Until then, don't forget to drop in on the official Aisle Seat Message Boards and direct any emails to our email address. Cheers everyone!