Message Board - Come and Discuss The Latest Videos, Movies & Anything Else!
Backed by a budget augmented by Warner Bros. and producer Joel Silver, the Coen Brothers' THE HUDSUCKER PROXY (***, 111 mins., PG; Warner Archive) ranked as one of the biggest box-office disappointments of 1994. Despite impressive physical production design by Dennis Gassner and Roger Deakins' exceptional cinematography, mainstream viewers had scant interest in the Coens' admittedly offbeat, and lightweight, "big business fantasy" that still remains a must for the filmmakers' devotees.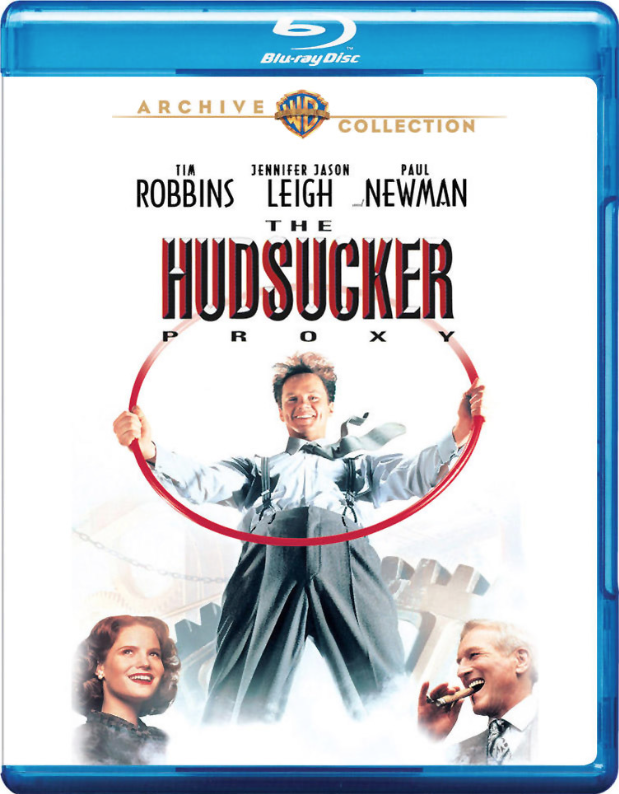 Set in 1958, "The Hudsucker Proxy" – scripted by Joel and Ethan Coen along with Sam Raimi – stars Tim Robbins as a midwestern college graduate who comes to the big city armed with large ambitions but no experience. He's able to nab a job in the mailroom of Hudsucker Industries, a company that's just seen its owner (Charles Durning) leap to his death from over 40 floors above, leaving the company in the hands of conniving Sidney J. Mussburger (Paul Newman). Seeking to deplete the company's worth so its board members can purchase its stock for cheap, Mussburger puts Robbins' Norville Barnes in charge of the whole enterprise, not counting on Norville's grand plan – the hula hoop – becoming a worldwide sensation.

Like many of the Coens' films, "The Hudsucker Proxy" is difficult to describe in terms of its genre classification. Its view of big-business comes off like a Coen riff on "Mad Men," with corporate scheming viewed as an almost life-or-death struggle (quite literally in the film's climactic moments), while incorporating elements of a fairy tale and a romantic comedy for good measure. The latter is supplied by Jennifer Jason Leigh's newspaper reporter, who masquerades as a secretary for Norville but eventually falls for his irrepressibly naive charms. She sounds like she's out of a 1940s movie newsroom, and the Coens mix up the drawing-room machinations with memorable set-pieces that are eclectic and inventive (Norville's dream sequence with a tango dancer and a montage involving the hula hoop itself most notably among the latter).

The movie doesn't entirely come together – and there are times it's not as funny as it would like to be – but it's such an endearing film that I've grown fonder of it with each viewing. The gently falling snow and brown-hued textures in Deakins' cinematography, the familiar supporting faces (Bruce Campbell, Steve Buscemi, Anna Nicole Smith and Jon Polito appear), and Carter Burwell's superb usage of Khachaturian compositions make for a movie that's a one-of-a-kind Coen experience through and through.

Making its Blu-Ray debut exclusively from the Warner Archive, Warner's BD release is straightforward and satisfying. The 1080p AVC encoded transfer is as crisp as the film's visuals allow (its brown/greyish visual scheme will never make for an "eye popping" pallet), while the Dolby Stereo Spectral Recording soundtrack is encoded in a 2.0 DTS MA track. The movie's jaunty theatrical trailer, set to Danny Elfman's "Back to School," does the best it can to sell the material to mainstream audiences, but the picture's most engaging elements are in its offbeat tone – one that's impossible to convey in a two-minute ad, much less a written review!

---
Sci-Fi Thrills

Long before the world visited "Jurassic Park," Michael Crichton first laid the foundation for a pleasurable playground for the public where technology ran amok in WESTWORLD (***, 89 mins., 1973, PG; Warner), a no-frills MGM sci-fi thriller that plays like an efficient "B-movie" with concepts the author/filmmaker would later expand upon – to even greater success – in his little novel about a theme park with living dinosaurs.

Crichton's original script – which he directed himself – finds vacationers Richard Benjamin and James Brolin headed to a state-of-the-art theme park where guests plop down $1000 a night to live out a fantasy of their dreams at three distinct locations: Medieval World, Roman World, and Westworld. These attractions aren't populated merely with "living history" role players but rather android creations who are programmed to cater to every guest's desire or fantasy. Benjamin and Brolin find their Old West experience to be fairly run of the mill – cavorting with local ladies of the night, drinking in the saloon and playing poker – until they meet a Gunslinger (Yul Brynner) who displays tendencies that seem a bit more aggressive than they bargained for.

With a sub-90 minute running time, "Westworld" has always felt like a film that could've used a bit more embellishment. The characters are paper-thin and the dramatic element of the film a bit undernourished to the point where we don't care really about Benjamin and Brolin's thrill-seekers since we know so little about them. That being said, "Westworld" is still extremely effective, particularly on repeat viewing since you're able to dial down your expectations and appreciate some of the prescient ideas Crichton was able to work into the film involving the public's ever-increasing appetite for thrills and technology that pushes boundaries to a dangerous degree. Brynner has little dialogue but brings a compelling physicality to his role of the robotic gunslinger, incorporating some eerie, blank expressions that Arnold Schwarzenegger would employ to a similar degree in "The Terminator" over a decade later.

Shot in Panavision, "Westworld" has the look of quality even though it's clear the movie was shot with a modest budget. For that reason, it's hard to criticize first-time feature director Crichton too much here – this is an economical picture with a fast-moving second half and a premise that remains fascinating, so much so that it's surprising nobody has bothered to remake it (Crichton's own "remake" of sorts, "Jurassic Park," notwithstanding).

Making its Blu-Ray debut from Warner Home Video, "Westworld" looks a bit aged but delivers the HD goods thanks to a clear, crisp 1080p AVC encoded transfer. Little attempt was made here to hide the movie's grain structure, and that's a good thing, seeing as the transfer looks like real film and not a glossy DNR mess. The 5.1 DTS MA audio spreads out into full stereo when Fred Karlin's score kicks into gear, while extras include a vintage featurette, the trailer and – making its home video debut – the pilot for the (very) short-lived 1980 CBS series "Beyond Westworld." Apparently only five episodes of the show – which picks up with the Delos Corporation now trying to take over the world – were produced, and even fewer aired, with Connie Selleca playing the series' heroine only after she replaced the original female lead in the pilot. With laughable performances and indifferent production values, it's easy to see why "Beyond Westworld" didn't last, but its inclusion here – as a Blu-Ray exclusive – is more than welcome. (Now, if only WB had found some of the deleted scenes that made their way into "Westworld"'s network TV broadcasts, we'd have a definitive package of the film!).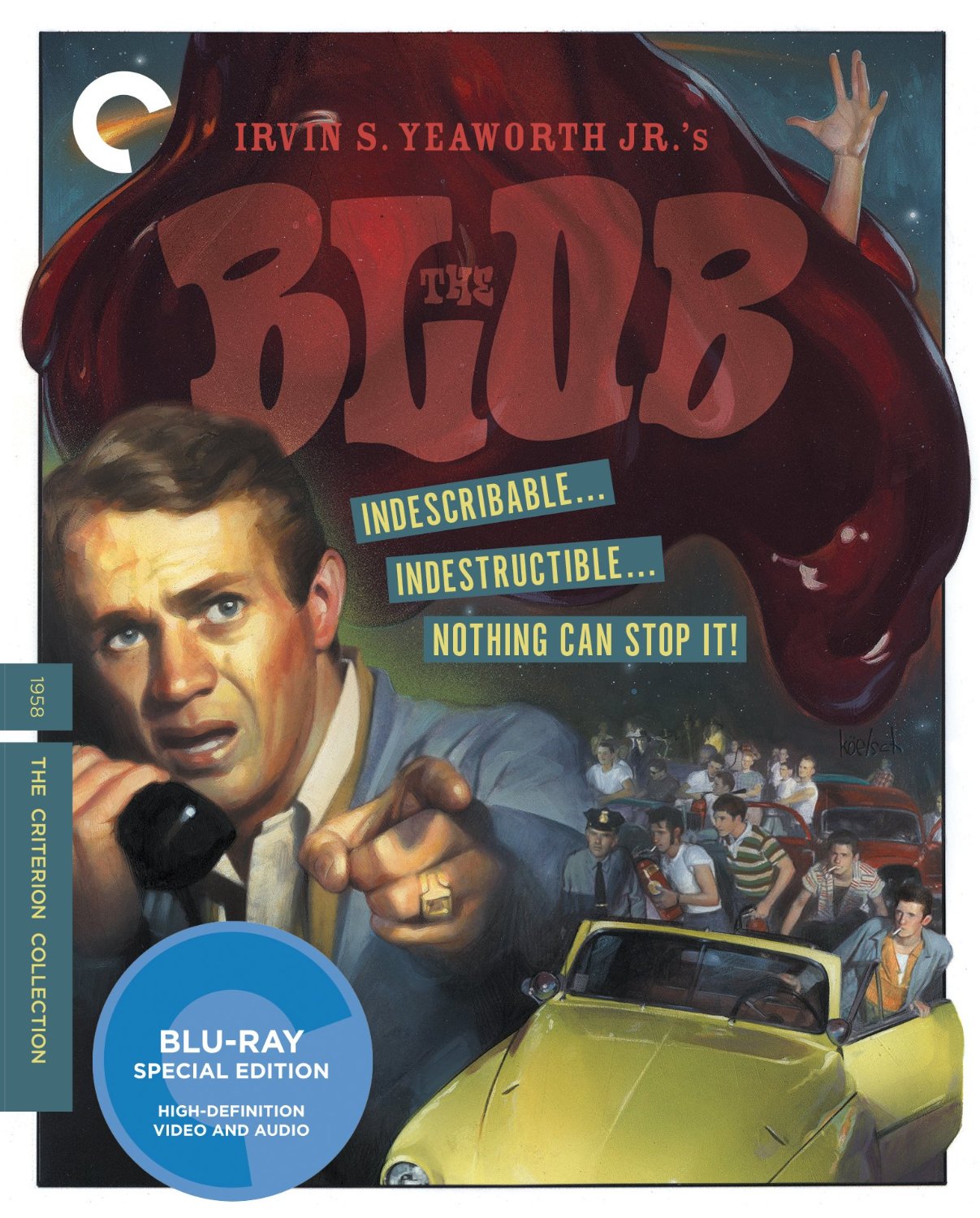 After "Westworld" was released, producer Paul N. Lazarus III wanted to go ahead with a sequel, "Futureworld." However, with Crichton not being involved and MGM in the midst of some financial difficulties, the studio passed, leading the producers to head over to Samuel Z. Arkoff and his American-International Pictures, who gladly picked up the tab for the follow-up.

The resulting FUTUREWORLD (**½, 108 mins., 1976, PG) has the look and feel of a TV-movie, no surprise with small-screen vet Richard T. Heffron ("V: The Final Battle") sitting in the director's chair. The far less inspired, though still involving, script follows reporters Peter Fonda and Blythe Danner as they try and uncover a conspiracy involving the Delos Corporation and their latest futuristic theme park, one that includes an outerspace component – thanks to some location shooting at the Johnson Space Center in Texas – and another roster of robots who just can't stay out of trouble.

Fred Karlin returned to score "Futureworld" and musically gets much more to do here, churning out an effective '70s suspense score as opposed to the mostly western-flavored country soundtrack of its predecessor. "Futureworld" also attempts to craft a much more involved storyline here, but neither Fonda or Danner are interesting, and Yul Brynner contributes a weird cameo during a dream sequence that's particularly sad since it marked Brynner's final screen appearance. The cast is rounded out with familiar supporting faces (John P. Ryan, Arthur Hill, Stuart Margolin, even a cameo from Allen Ludden), but the movie's bloated running time makes one pine for the thrifty narrative Crichton instilled in "Westworld."

While not as satisfying as "Westworld," "Futureworld" is still a worthwhile view for '70s sci-fi fans, especially geeks nostalgic for the Tang-centric era of NASA exploration. Shout's Blu-Ray of "Futureworld" (available March 26th) includes a just-about-acceptable 1080p transfer culled from the MGM vaults; there's some DNR on the image, but this isn't a particularly great-looking film to begin with (shot flat at 1.85, it doesn't have nearly the visual impact of its predecessor), so most fans will have to be content with its better-than-DVD enhancement. The mono sound is serviceable, and extras include radio spots and the original trailer.

Criterion has also resurrected a sci-fi favorite for Blu-Ray: Irvin S. Yeaworth's wild and woolly THE BLOB (***, 82 mins., 1958), the drive-in classic with teenager Steve McQueen trying to warn his Smallville, U.S.A. townsfolk that there's a mass of extraterrestrial goo on the loose – and it's coming for them!

Long before the material was successfully reworked in the 1988 remake (coming soon from Twilight Time), "The Blob" became one of the staples of late '50s genre entertainment, with its brief running time and pulpy script accentuating all the best aspects of one of its era's B-movies. Criterion's Blu-Ray is culled from a 4K digital restoration and boasts a hugely satisfying, crisp HD presentation in 1.66 widescreen, while extras are carried over from the old DVD release, including a pair of commentaries (one from producer Jack H. Harris and historian bruce Eder, the other with Yeaworth and actor Robert Fields) plus a "Blobabilia!" gallery of collector/fan Wes Shank's "Blob" goodies; the trailer; and an essay from critic Kim Newman. Recommended!
---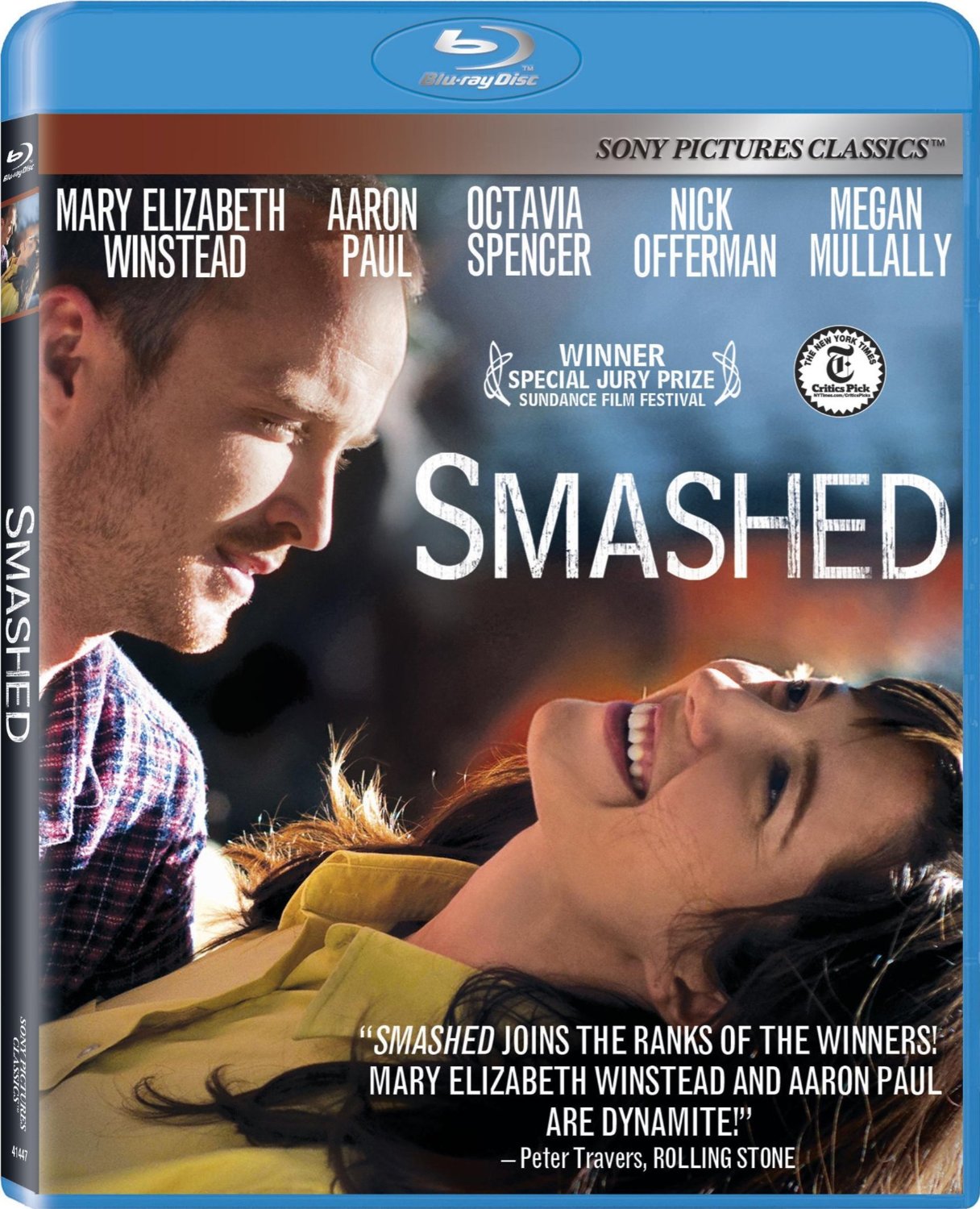 Also New on Blu-Ray and DVD

SMASHED Blu-Ray (**½, 81 mins., 2012, R; Sony): Mary Elizabeth Winstead gives her all in this extremely uneven independent film from director James Ponsoldt, who co-wrote "Smashed" with Susan Burke.

Winstead plays an elementary school teacher who binges on booze with husband Aaron Paul. After a series of mishaps (vomiting in class, waking up hungover with no idea where her car is), Winstead decides to become sober, but not until she lies to her boss (Megan Mullally) with the excuse that she's pregnant after throwing up in front of her students. Unfortunately, sobriety comes at a price eventually, not only at work but with her relationship with her usually hung-over significant other.

"Smashed" is all over the place thematically – a few portions come across like outtakes from "Bad Teacher," while other sequences have the feel of an improvised indie drama. Alas, with such a brief running time, almost nothing in the film is satisfactorily developed. Winstead's journey to becoming sober comes so easily that it feels more like a plot device than a fully explored theme, and her relationship with Paul is likewise hackneyed and predictable. The filmmakers also never give us a sense of why these two people were ever together to begin with – hampering the film's effectiveness – which leaves Winstead single-handedly to carry viewers along on an emotional rollercoaster that's never fully fleshed out. Thankfully, she's up to the challenge, bringing nuances and an emotional range that makes you care about her character's plight, even if the movie on balance fails to support her talents.

Sony's Blu-Ray includes a number of deleted scenes (some of which might've helped the film's final third), commentary with Ponsoldt and Winstead, a Making Of, Toronto Film Festival Q&A/red carpet featurette, 1080p AVC encoded transfer and DTS MA 5.1 audio.

A DARK TRUTH DVD (102 mins., 2012, R; Sony): Poorly directed thriller offers Andy Garcia an ex CIA agent who heads into the jungles of Ecuador to rescue a rebel (Forest Whitaker) and his wife (Eva Longoria) who have proof of a multi-national conglomerate's alliance with the local military regime. Kim Coates and Deborah Kara Unger co-star in Damian Lee's thriller that Sony has brought to DVD this month. In addition to a 16:9 transfer and 5.1 soundtrack, the disc includes one behind the scenes featurette.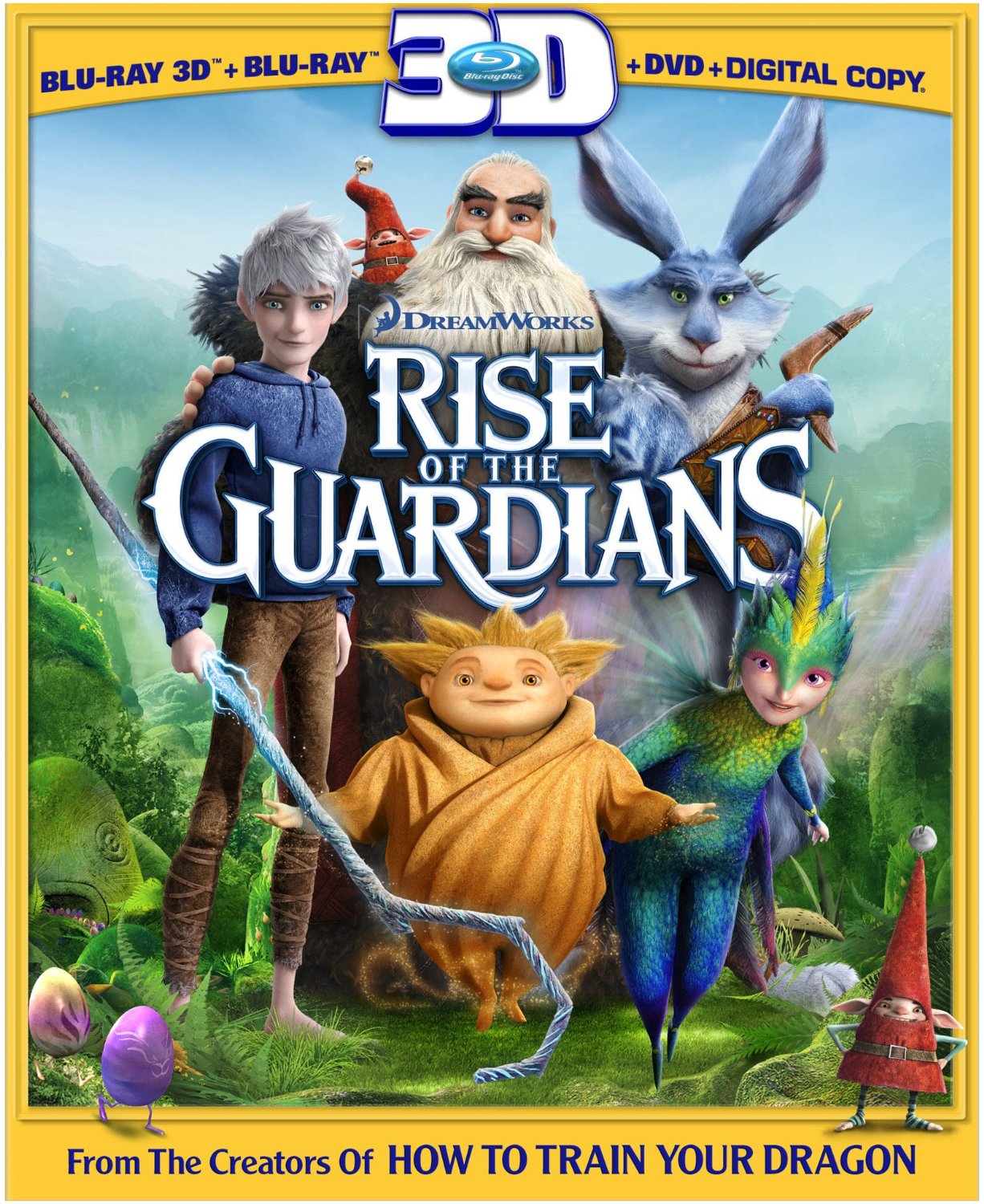 RISE OF THE GUARDIANS 3-D Blu-Ray Combo Pack (***, 97 mins., 2012, PG; Dreamworks/Paramount): Though a box-office underachiever in relation to both its budget and past Dreamworks animated releases, this good-natured and entertaining effort to revise, update and turn a gallery of holiday characters (Santa Claus, the Easter Bunny, Tooth Fairy, and Sandman) into a super-hero like team of "guardians" ought to be please young kids. Director Peter Ramsey and writer David Lindsay-Abaire's film offers good laughs and a compelling visual design to go along with its positive messages and excellent vocal performances from the likes of Alec Baldwin, Hugh Jackman and Jude Law among others. Dreamworks' 3-D Blu-Ray presentation is marvelous, with depth of field and pop-out effects on-hand throughout; the standard BD is likewise robust with its 1080p AVC encoded transfer and Dolby TreuHD audio. The three-disc combo pack also includes a DVD, digital copy and Ultraviolet code, along with extras including BD-exclusive featurettes and games, a commentary from the filmmakers and more.

SAMSON AND DELILAH DVD (133 mins., 1949; Paramount): Paramount produced a lavish 4K restoration of Cecil B. DeMille's 1949 Biblical epic with Hedy Lamarr and Victor Mature – but for some odd reason, has (at least for the moment) opted to release the results of their efforts only on DVD. The 1.33 formatted disc looks exceptionally detailed for standard-def, but one can only imagine what a high-definition rendering would've looked like on Blu-Ray. Perhaps a BD will follow down the line – but for now, fans will have to live with Paramount's DVD, which also includes a mono soundtrack and no extras.

SECRETS OF HIGHCLERE CASTLE DVD (60 mins., 2012; PBS): "Downton Abbey" fans will find this hour-long profile of England's Highclere Castle – the actual setting of the hugely popular dramatic series – to be of interest. From the history of the Castle to how its current inhabitants handle the upkeep, this is an entertaining and fascinating look behind the scenes at what was once viewed as the "social epicenter of Edwardian England." PBS' DVD includes a stereo soundtrack and 16:9 transfer.

RED DAWN Blu-Ray/DVD/Digital Copy (**, 93 mins., 2012, PG-13; Fox): Perfunctory remake of the John Milius '80s cult favorite sat on the MGM shelves for years until it, like "Cabin in the Woods," was sold off to another studio. Though the film did okay at the box-office, Dean Bradley's workmanlike movie comes off as a weak retread of the original, with another group of young people (including a pre-Thor Chris Hemsworth, Josh Peck, Josh Hutcherson and Adrianne Palicki) fighting off an invasion by the Chinese...oh, wait, it's the North Koreans – a clumsy change made late in post-production to no discernable effect on the routine genre action seen here. Fox's Blu-Ray includes a 1080p transfer, DTS MA soundtrack, DVD, digital copy and Ultraviolet code.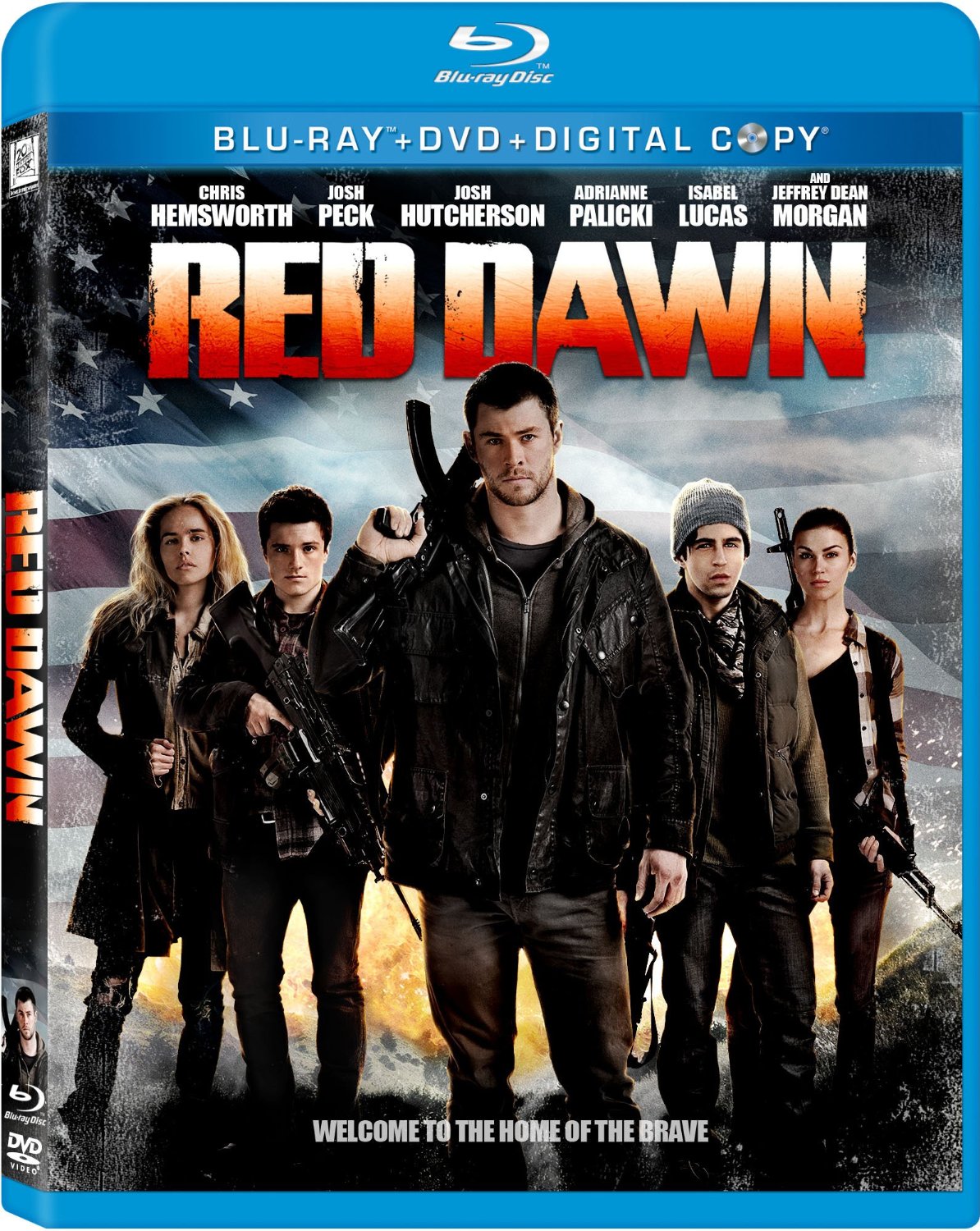 Also new from Fox is the direct-to-video THE MARINE 3: HOMEFRONT (90 mins., 2013, R), starring Mike "The Miz" Mizanin as a another soldier who returns home from battle abroad, only to find as much violence here as he encountered across the pond. His new domestic mission involves saving his sister who's been abducted by extremists – it's all typical one-man-wrecking-crew action that Fox brings to home video in a combo pack offering a Blu-Ray (1080p transfer, 7.1 DTS MA soundtrack) and DVD. Extras include a slew of behind-the-scenes featurettes taking you behind the scenes into the production of the WWE's latest home video product.

ONE NIGHT WITH THE KING Blu-Ray (124 mins., 2006, PG; Fox): Moderately budgeted tale of Esther, the Queen of Persia, boasts supporting cameos from Peter O'Toole and Omar Sharif, plus a sweeping score by J.A.C. Redford. Fox's AVC encoded 1080p transfer and 5.1 DTS MA audio are both excellent and extras include a commentary from writer Stephen Blinn and producers Matthew Crouch and Richard Cook.

New From BBC

DOCTOR WHO: THE ARK IN SPACE DVD (100 mins., 1975; BBC): One of Tom Baker's more celebrated stories – Robert Holmes' "The Ark in Space" – receives a double-disc DVD Special Edition from the BBC. Commentary from Baker, the late Elisabeth Sladen and producer Philip Hinchcliffe runs under this multi-part arc from January 25-February 15th, 1975, with additional extras including a 70-minute condensed "TV movie" version; a half-hour retrospective documentary; a half-hour look at the Virgin/BBC novelizations produced during the show's 1990-2005 hiatus; 8mm location footage; an interview with designer Roger Murray-Leach; trailers; alternate title sequence and CGI effects footage (and optional CGI effects); PDF materials and other goodies.

Also new for "Who" fans is the earlier DOCTOR WHO: THE AZTECS (99 mins., 1964), a vintage William Hartnell affair with the Doctor and Barbara running into trouble in Mexico circa the 15th century. Extras include commentary; a half-hour documentary; interview with Barry Newberry and other supplements that all "Doctor Who" devotees should find to be essential viewing.

DALZIEL & PASCOE Season 7 DVD (473 mins., 2002; BBC): Andy Dalziel and Peter Pascoe investigate five more cases – as well as face Dalziel's health issues and Pascoe's fading relationship with his father – in this two-disc DVD package from BBC. Episodes include The Unwanted; Men's Sana; Sins of the Father; For Love Nor Money; and the two-part Dialogues of the Dead. 16:9 widescreen transfers and stereo soundtracks comprise the BBC's DVD release.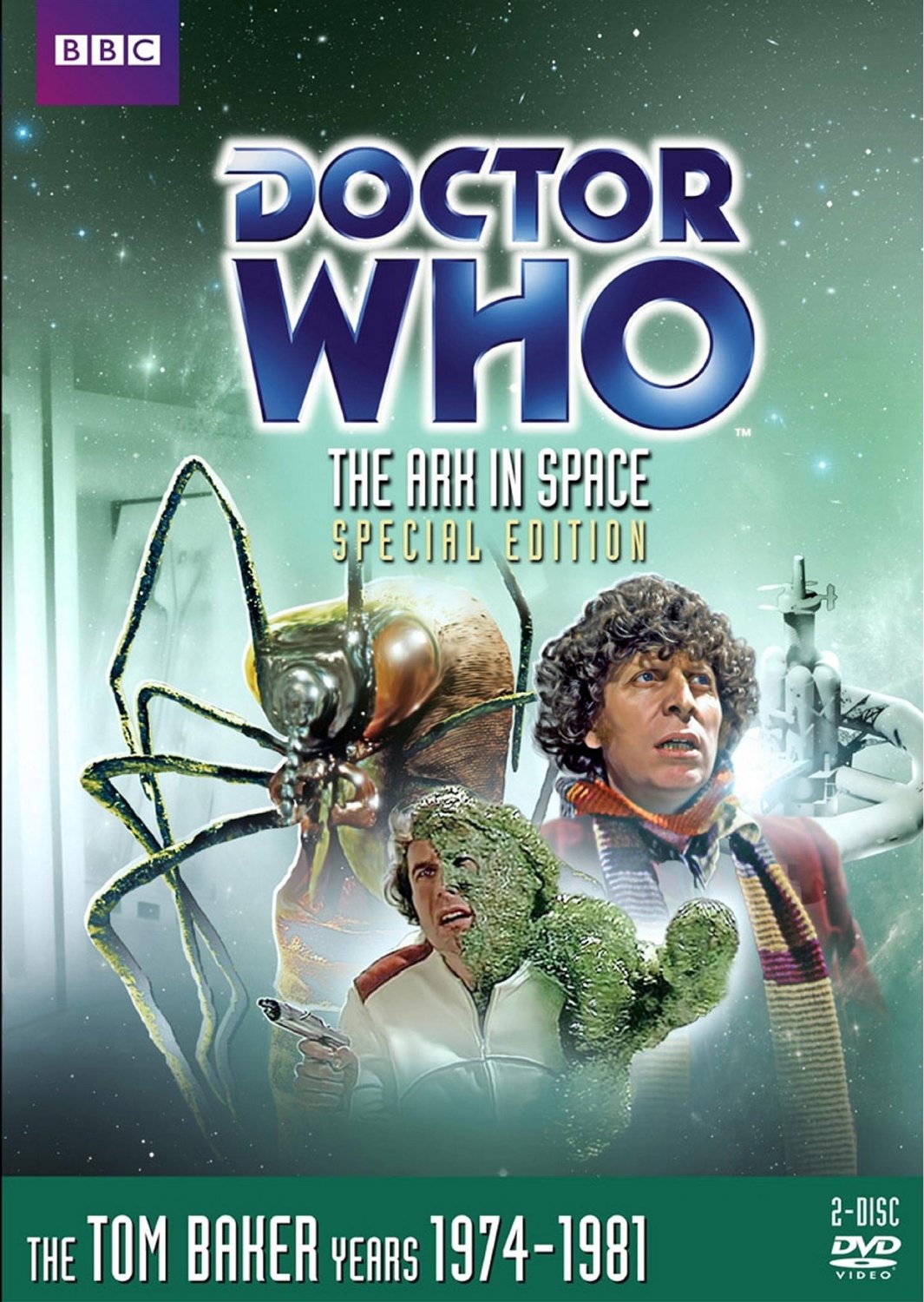 Also New on DVD

THE FIRST TIME DVD (***, 95 mins., 2012, PG-13; Sony): Better-than-average, perceptive teen drama stars Dylan O'Brien as a high schooler with his eyes set on gorgeous Victoria Justice until he strikes up a relationship with a girl (Britt Robertson) from another school in Jonathan Kasdan's likeable "The First Time." Far more entertaining, and honest, than most recent youth pics, this Samuel Goldwyn/Destination Films release lands on DVD from Sony with a 16:9 transfer and 5.1 Dolby Digital soundtrack. Recommended for teen movie buffs.

VEEP: Season 1 Blu-Ray/DVD/Digital Copy (apprx. 221 mins., 2012; HBO): Julia Louis-Dreyfus plays a political operative who ascends to becoming Vice President – and finds navigating the real waters of Washington D.C. to be even more difficult than she bargained for – in this HBO comedy series. Shot in a handheld, ersatz-documentary style a la "The Office," "Veep" – with just an eight-episode first season – doesn't overstay its welcome, with each half-hour devoted to Louis-Dreyfus and her harried staff (including one-time "My Girl" child star Anna Chlumsky) trying to put out a succession of blunders. HBO's Blu-Ray, out in two weeks, includes a Making Of; deleted scenes/outtakes; episode commentaries and other goodies, along with a DVD and digital copy.

THE MOB DOCTOR Complete Series (Season 1) DVD (566 mins., 2012; Sony): Short-lived Fox series stars Jordana Spiro as a Chicago surgeon who strikes a deal with a mob boss in order to keep her brother out of trouble; her subsequent adventures take her into backroom dealings with convicts and even a thoroughbred shortly before it races, in addition to run-ins with the southside mafia boss (William Forsythe) she can't shake away from. "The Mob Doctor" didn't make much noise in the ratings (and I'm not sure all of these 13 episodes even aired), but Sony has packaged a no-frills DVD edition of the program with 16:9 transfers and 5.1 Dolby Digital soundtracks comprising the three-disc set.

Also new from Sony is MEN AT WORK: Season 1 (212 mins., 2012), a new and generally well-received TBS comedy from creator/actor Breckin Meyer. Danny Masterson from "That '70s Show" stars alongside Adam Busch, Michael Cassidy and James Lesure as high testosterone-riddled employees at a New York-based men's magazine who navigate the rough waters of dating. Sony's two-disc DVD set includes all 10 episodes with outtakes, deleted scenes, 16:9 transfers and 5.1 Dolby Digital soundtracks.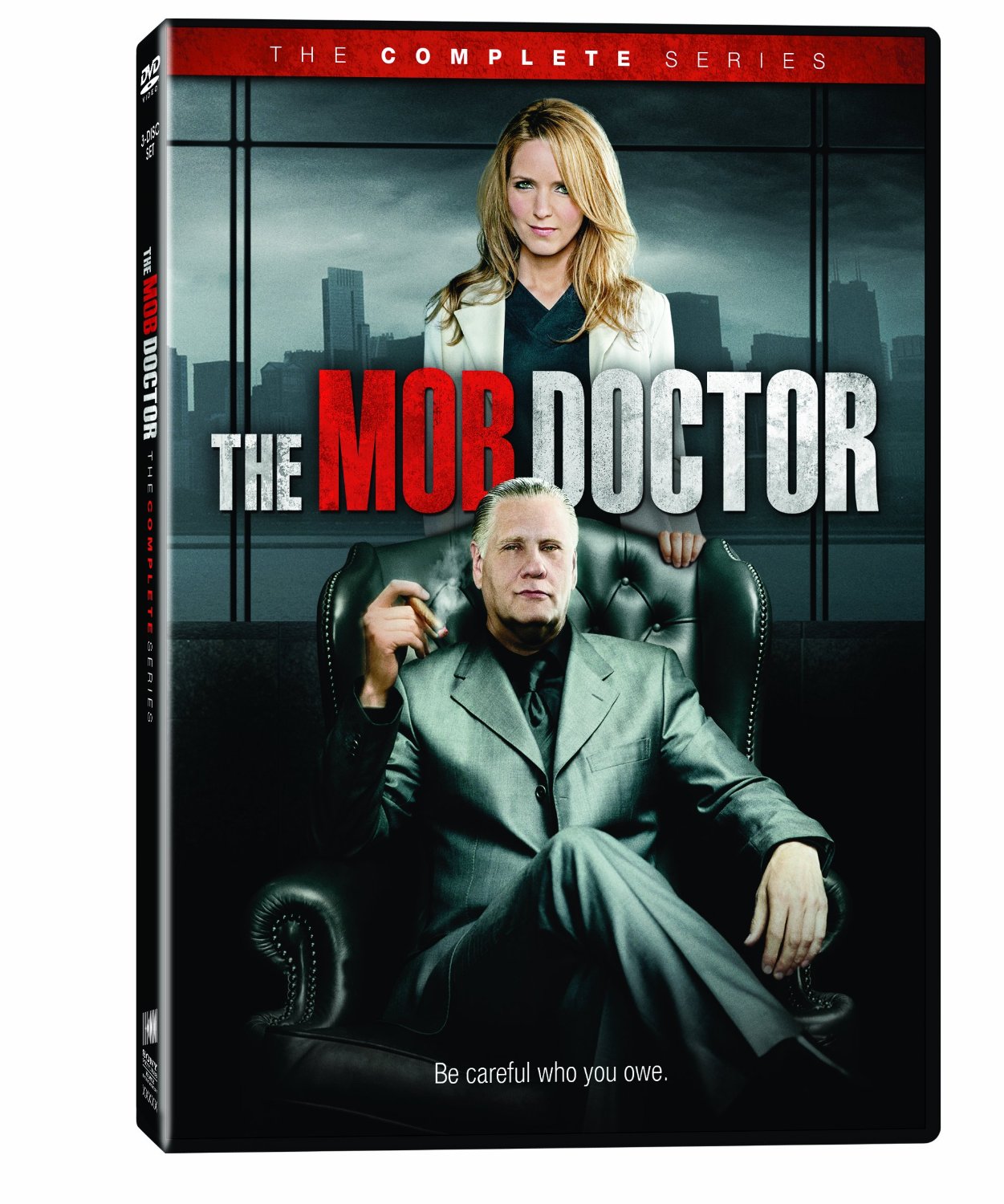 FATHER DOWLING MYSTERIES: Season 3 (Final Season) DVD (aprx. 18 hours, 1990-91, CBS): Tom Bosley returns as Father Frank Dowling along with Tracy Nelson's Sister Steve for this third and final season of the gently entertaining prime-time mystery series, which had jumped networks to ABC after debuting on NBC. 17 episodes include The Royal Mystery; The Medical Mystery; The Devil and the Deep Blue Sea Mystery; The Showgirl Mystery; The Movie Mystery; The Undercover Nun Mystery; The Murder Mystery Weeekend Mystery; The Reasonable Doubt Mystery; The Vanishing Victim Mystery; The Christmas Mystery; The Fugitive Priest Mystery; The Substitute Sister Mystery; The Missing Witness Mystery; The Prodigal Son Mystery; The Moving Target Mystery; The Priest Killer Mystery; The Mummy's Curse Mystery; The Monkey business Mystery; The Hard Boiled Mystery; The Malibu Mystery: The Consulting Detective Mystery; and The Joyful Nosie Mystery. Episodic promos, full-screen transfers and stereo soundtracks round out this concluding release of "Father Dowling" from CBS.

THE CAROL BURNETT SHOW: THIS TIME TOGETHER DVD (aprx. 19 hours, Starvista/Time Life): Another excellent six-DVD compilation includes some 17 unexpurgated vintage shows from "The Carol Burnett Show." Guest stars like Bernadette Peters, Sammy Davis Jr., Lily Tomlin, Dick Van Dyke, Peggy Lee, Madeline Kahn, Hal Linden and Steve Lawrence are some of the familiar faces who appear in classic sketches like "The Family," "Mrs. Wiggins," "The Oldest Man," "The Charwoman," "The Ham Actor" and "As the Stomach Turns," along with parodies and various spoofs. Over two hours of supplements include a cast reunion with Carol, Vicki Lawrence, Tim Conway and Lyle Waggoner, bonus interviews and a tribute to Bob Mackie. For those who didn't indulge in the pricier "Carol Burnett Show" DVD box-set this Starvista/Time Life release comes highly recommended. (Available late March)

Also New & Noteworthy

THE GREAT MAGICIAN Blu-Ray (129 mins., 2012; Well Go USA): Set in Beijing during the 1920s, "The Great Magician" profiles Zhang Xian (Tony Leung), an aspiring magician who gets mixed up with feuding warlords and a turbulent government in this lavish 2012 production from director Derek Lee. Well Go's Blu-Ray presentation includes a 1080p transfer, 5.1 DTS MA soundtrack, Making Of featurette and the trailer.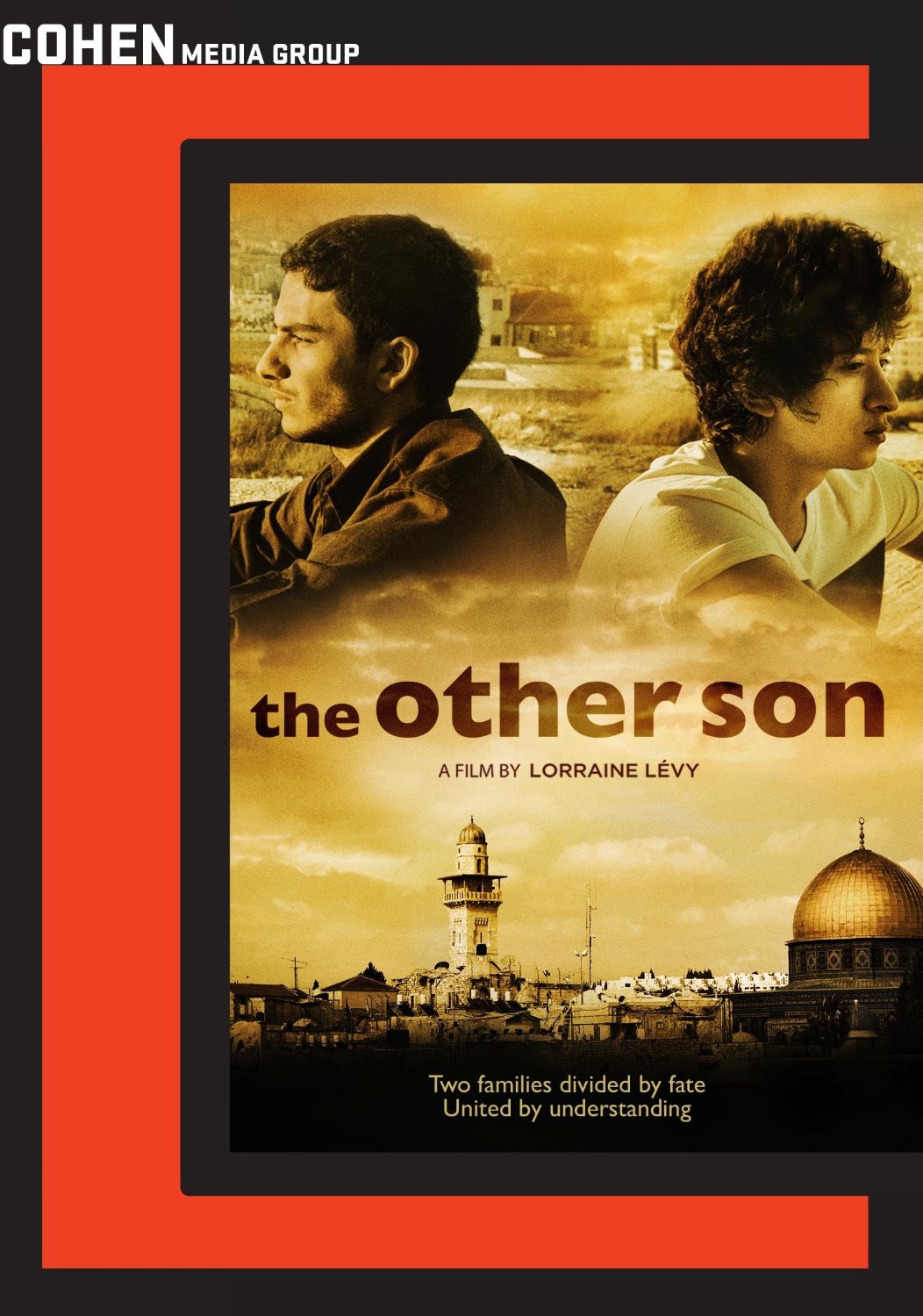 THE OTHER SON Blu-Ray (105 mins., 2011; Cohen Media Group/E One): Compelling French drama profiles a young man, set to join the Isreali army, who finds out he's actually the biological son of a Palestinian family from the West Bank. Lorraine Levy's "The Other Son" arrives on Blu-Ray from Cohen boasting a 1080p transfer with 5.1 Dolby Digital audio (in French with English subtitles), plus a Making Of featurette, deleted scenes and a blooper reel.

NEW FROM MPI: Marcia Gay Harden, Peter Gallagher, Stephen Lang, Lucy Liu and Ellen Burstyn lead a fine cast inSOMEDAY THIS PAIN WILL BE USEFUL TO YOU (99 mins., 2012, Not Rated), starring Toby Rego as a teenager struggling to find out about his family background and sexuality. Robert Faenza's film arrives on DVD from MPI as a "FilmBuff" title including a 16:9 transfer, 2.0 soundtrack, music video, photo gallery and the trailer.

LIONSGATE New Releases: Apparently there are still films sitting on the Miramax shelves, leftover from Harvey and Bob's Disney divorce. Witness the 2005-shot, Robert Rodriguez-produced CURANDERO: DAWN OF THE DEMON (92 mins., R), which finally makes its DVD release from Lionsgate this month. Eduardo Rodriguez (no relation) helmed this unnerving supernatural thriller/police procedural with Lionsgate's DVD including commentary with the director and DP Jaime Reynoso; an Ultraviolet copy; a 16:9 transfer and 5.1 soundtrack...Hong Kong racing thrills hit DVD in MOTORWAY (89 mins., 2013, R), a fitfully entertaining import that pits a veteran cop with a rookie in HK's "Stealth Riders" division to eradicate drug runners – and, in particular, one especially elusive "escape driver" – off the streets. Lionsgate's DVD includes a Making Of, both 5.1 Cantonese and English dubbed audio, and a 16:9 transfer...MLB SUPERSTARS: IMPACT PLAYERS (68 mins., 2013)takes fans behind the plate as a general manager compiles a 25-man-roster comprised of today's hottest players. Bonus footage and a 16:9 transfer comprise Lionsgate's DVD edition of this MLB Productions original...THE REAL VIKINGS COLLECTION (144 mins., 2012) is a History Channel compilation including three documentaries – Foot Soldiers: The Vikings; The Vikings: Lost Worlds; and Viking Terror. 1.33 full-screen transfers and stereo soundtracks round out the single-disc DVD release.

For Kids

STRAWBERRY SHORTCAKE: BERRY FRIENDS FOREVER DVD (88 mins., 2013; Fox): Feature-length animated fare for kids from Fox includes a music video, printable coloring pages, 16:9 transfer and 2.0 stereo sound.

LEGO NINJAGO: SEASON 2 Blu-Ray (297 mins., Warner): Popular Cartoon Network series for kids – offering Lego-sized ninja action – arrives on Blu-Ray in a Season 2 HD presentation including all 13 episodes (Darkness Shall Rise, Pirates Vs Ninja, Double Trouble, Ninjaball Run, Wrong Place Wrong Time, The Stone Army, The Day Ninjago Stood Still, The Lost Voyage, The Island of Darkness, The Last hope, Return of the Overlord and Rise of the Spinjitzu Master). 1080p transfers and 2.0 stereo soundtracks look and sound terrific in this final compilation of episodes from the series.

NEXT TIME: Huge new releases including ZERO DARK THIRTY, LES MIZ, THIS IS 40 and more! Until then, don't forget to drop in on the official Aisle Seat Message Boards and direct any emails to our email address. Cheers everyone!