Message Board - Come and Discuss The Latest Videos, Movies & Anything Else!
Spring is at last upon us, and with its arrival, comes a plethora of big new home video releases. Included among them are several Oscar winners and wannabes, as well as a handful of catalog titles debuting on Blu-Ray and DVD. For its technical accomplishments alone, Ang Lee's LIFE OF PI (***, 126 mins., PG, 2012; Fox) is likely to rank at the top of the list for most viewers, and there's no doubt from an artistic standpoint, its visuals were unmatched by any other film last year.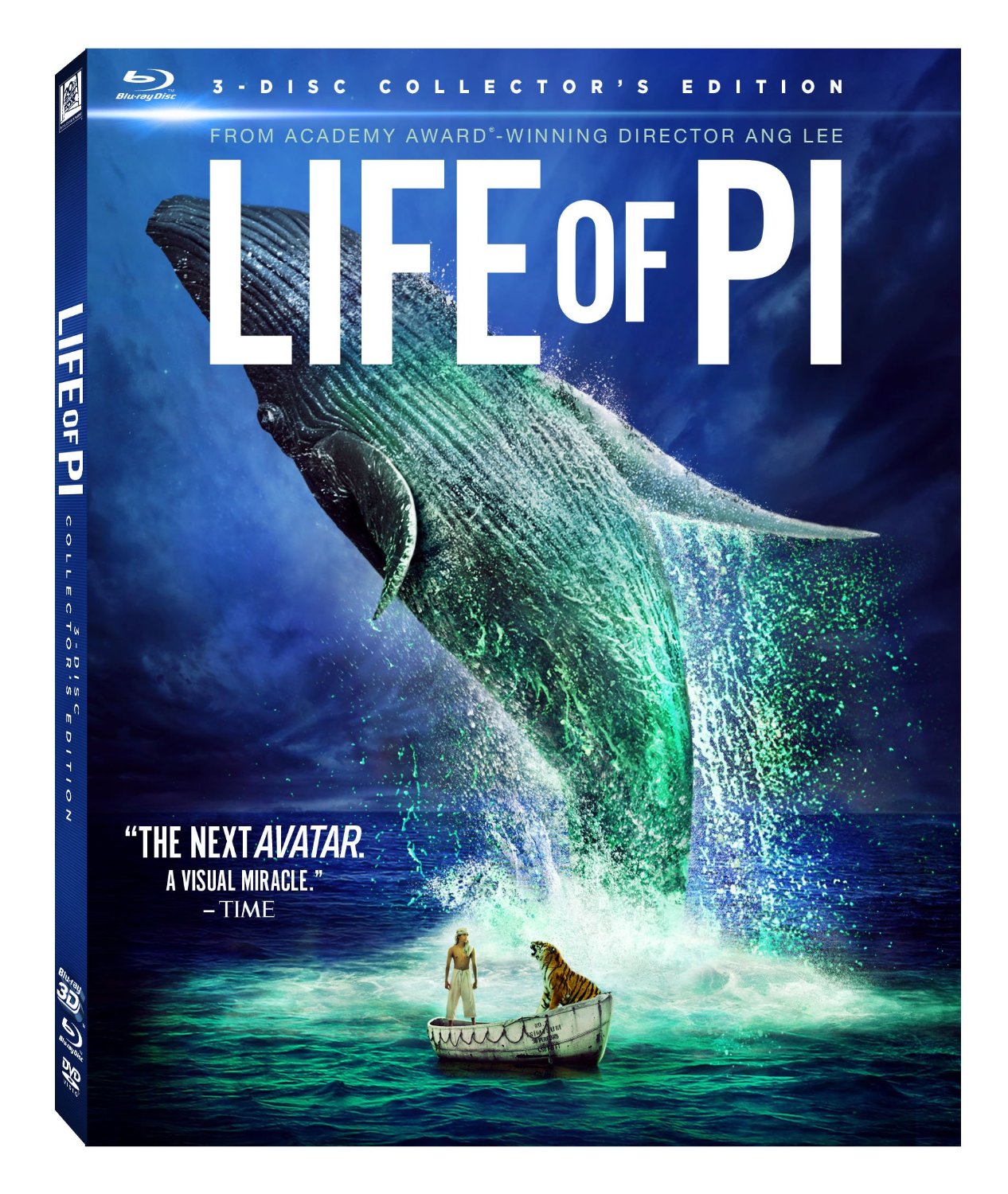 An adaptation of Yann Martel's seemingly impenetrable rumination on the triumph of the human spirit, man's place in the universe, and the role of religion in an individual's spiritual journey, "Life of Pi" is, first and foremost, a film for the senses. Working from a script by David Magee, director Lee's film follows "Pi" Patel (Suraj Sharma), a young man who learns of different religions growing up in the Puducherry region of what was once French India. His inquisitive nature, both encouraged by his mother (Tabu) and discouraged by a father (Adil Hussain) who operates a zoo in their town, is scuttled as he grows older and his family is eventually forced to immigrate to Canada. En route, the Japanese freighter carrying them, as well as their zoo animals, is wrecked in a storm, with only Pi escaping – alongside a zebra, orangutan, hyena, and a Bengal tiger named Richard Parker, who journeys with Pi on an ocean teeming with both peril and wonder, with florescent jellyfish lighting up the world beneath them and humpback whales catapulting through the air.

"Life of Pi" is so staggeringly, jaw-droppingly beautiful that Lee and cinematographer Claudia Miranda's effective use of the 3-D format is evident from the movie's first frames. Long before Pi and Richard Parker set out on a lifeboat of individual discovery, "Life of Pi" has already captivated the viewer with its fascinating portrait of young Pi's life in French India, with gorgeous landscapes, colors and animals filling each and every frame. Most of the movies we see using 3-D employ it merely as a gimmick to goose grosses, but much like Martin Scorsese's "Hugo," Lee here frames so many sequences with depth-of-field dimension that its inclusion ranks as an absolute necessity to appreciating the spellbinding images that Lee and Miranda – both of whom were deservedly honored with Oscars, alongside composer Mychael Danna and the visual effects team at Rhythm & Hues – generated here.

The film's story is another matter; one can easily see why readers of Martel's book were drawn to the material, for its mostly ambiguous, take-out-what-you-put-in take on world religion and faith, in general, functions mostly as a byproduct of the individual reader. On-screen, Lee is able to invest the material with a similar cloudiness, though that ambiguity is harder to achieve in a medium like film. There's no outright sermonizing in the picture, but its ending is more forcefully tilted in one direction than the more hazy conclusion Martel originally wrote. Still, however obvious (or not) the film's metaphorical messages and spiritual philosophizing happen to be, there's no question "Life of Pi" is a film that's impossible to forget and easy to appreciate on a sheer artistic level. Whether or not you find it to be as enriching an emotional journey will be – much like its source material – up to the individual viewer.

Fox's 3-D Blu-Ray presentation of "Life of Pi" is unquestionably a must-view for any 3-D home theaterphile. The images, composition and clarity of the 3-D are spectacular throughout, and as I wrote before, few films have demanded viewing in the 3-D format more than "Life of Pi." The 3-D Blu-Ray also includes nearly 15 minutes of exclusive deleted scenes, plus the trailer in 3D and visual effects progressions (these exclusive extras can also be played in a standard BD player). Other supplements on the standard Blu (which features a dazzling 1080p AVC encoded transfer in its own right) boast several featurettes, an art gallery and storyboards, while a DVD and digital copy round out the disc. The DTS MA 7.1 audio is impressively mounted as well, highlighting another fine score written by Danna for his long-time cinematic collaborator.

One final note on "Life of Pi": it's inconceivable to me that this picture generated a PG rating from the MPAA. With its marketing campaign dominated by images of Pi and the tiger together in the lifeboat, I have no doubt there were parents who took children to this film, only to be horrified by the animal violence that occurs in it – even if it's off-camera and isn't gratuitous, this isn't a film for young kids, and should've absolutely received a PG-13 for that and the generally intense tone of the picture. Of course, this isn't the first sign our ratings system is dysfunctional – merely the latest evidence of it.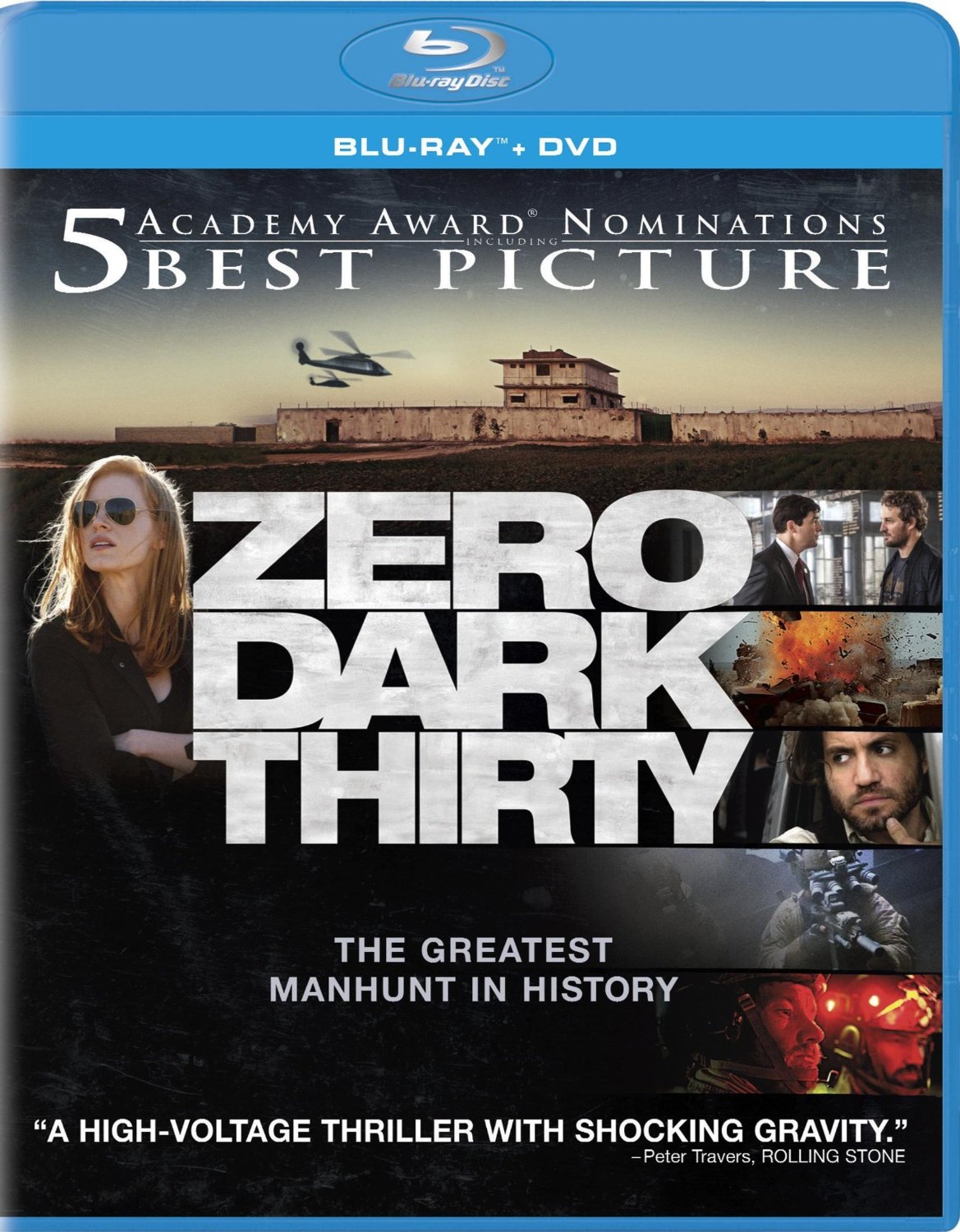 ZERO DARK THIRTY Blu-Ray Combo Pack (**½, 158 mins., 2012, R; Sony): A solid if unspectacular film from Kathryn Bigelow that was overpraised by the critical masses, "Zero Dark Thirty" offers a clinical dissection of the CIA's pursuit of Osama bin Laden – and, in particular, the tireless effort of one of its analysts, "Maya" (Jessica Chastain), who sees an opening via one of bin Laden's couriers and spends years hoping her lead comes through.

Scripted by Mark Boal, "Zero Dark Thirty" is comprised of a timeline pinpointing how Maya's belief that this missing bin Laden courier could – and eventually did – lead U.S. forces to the al Qaeda mastermind. While her investigation is initially filled with dead ends and disappointments – and government higher-ups who brush off her suggestions – ultimately Maya's instincts prove correct, and good fortune soon brings bin Laden into their sights – and the collective path of an elite Navy SEALs unit.

With an overlong first half, "Zero Dark Thirty" doesn't really kick into gear until nearly the 90-minute mark. Bigelow and Boal spend far too much time during the film's initial portions on false starts that could've used some judicious editing. There's also scant character development of Maya or any of its other principal players (Jason Clarke as a CIA interrogator; Joel Edgerton is one of the Navy SEALs; James Gandolfini appears late as a government big-wig), to the point where we have no real emotional connection with her as she doggedly – almost obsessively – pursues bin Laden. The movie isn't concerned at all with "why" so much as it is "how" in terms of the CIA's trail of bin Laden – it almost completely lacks a point of view and goes out of its way to avoid anything resembling a commentary on the situation. There's also one unbelievably telegraphed sequence involving Jennifer Ehle's character (her role actually based on a real-life CIA agent) that's nearly as cliched as the demise of all the "name stars" in Bigelow's prior film, "The Hurt Locker."

It all results in a film that's interesting to watch but never brings you in emotionally – like a by-the-book examination of the process, but without a hook to make you care. Perhaps the decision by Bigelow and Boal to build a composite character at the film's center is part of the problem: Maya mostly comes across as a cipher, a cliched "tough female government agent" without any backstory. Chastain is believable enough in the limited scope of the part, but frankly I found her work here overpraised simply because Maya isn't portrayed as anything other than a one-dimensional, profanity-laced female "trying to make it in a boy's club." Compare her performance to the multi-tiered work that Claire Danes puts in on any episode of "Homeland" and you can clearly see the limitations of the role – and, much like the end of "The Hurt Locker," Bigelow's attempt at injecting an "emotional moment" in the final second of an otherwise detached and buttoned-down film rings hollow.

The last hour of the film is certainly effective, however, and Bigelow's editing and straightforward camera work are both at their best here. While one wishes more time were spent with the SEAL team and their preparations for the final raid on the Pakistan compound where bin Laden had been hiding, the movie, overall, is still effective enough as a procedural into the hunt and eventual killing of bin Laden. It just doesn't go outside itself often enough to function as anything more than that.

Sony's Blu-Ray looks superb (1080p AVC) and sounds even more impressive thanks to its DTS MA Oscar-winning sound design. Extras, in addition to a UV copy and DVD, are lightweight, comprised of just a handful of featurettes – perhaps the open invitation for another release coming down the road.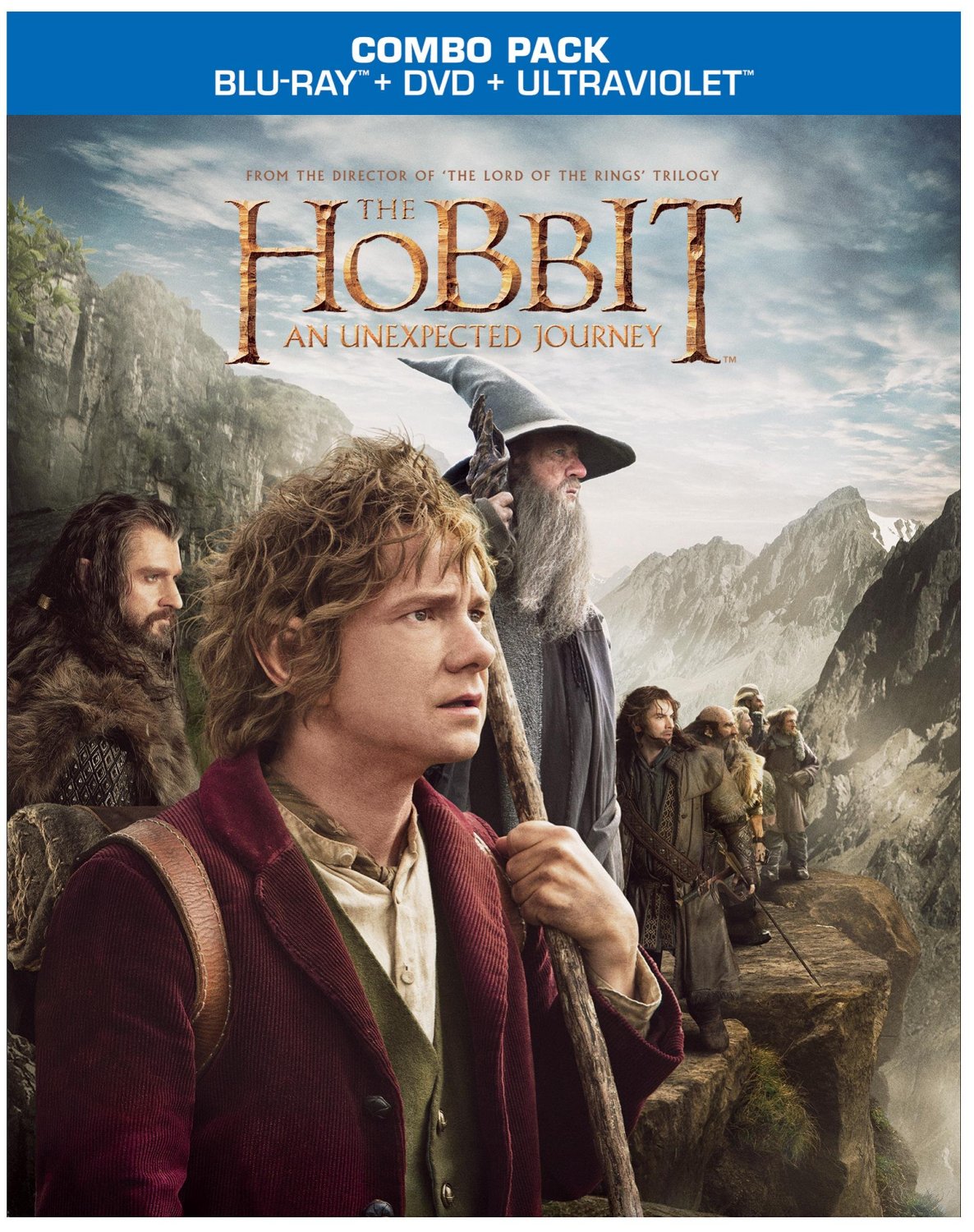 THE HOBBIT: AN UNEXPECTED JOURNEY Blu-Ray Combo Pack (**, 169 mins., 2012, PG-13; Warner): Never mind 3-D and 48fps -- I had no idea Peter Jackson was aiming for a mind-blowing "real time" viewing experience making "The Hobbit."

Thanks to a dinner sequence that feels longer than a typical Julia Child lesson in culinary cuisine, it takes a good 40 minutes for the journey to even begin in "The Hobbit: An Unexpected Journey," the first of three (!) installments in director Peter Jackson's latest trip to Tolkien territory. This time out, though, Jackson has not only adapted Tolkien's enchanting "The Hobbit" – the earlier adventures of Bilbo Baggins, Gandalf and company – but expanded what was written more as a children's tome as opposed to the large-scale epic fantasy of "Lord of the Rings." Thus, Jackson's take on Tolkien's book bloats the source material – with a reluctant Bilbo joining a journey to recover the lost treasure of the dwarves stolen by the villainous dragon Smaug – into the same category as Jackson's "Rings" pictures, with some lightweight gags and cartoony action being augmented by a narrative that feels pushed beyond its breaking point. The assorted trips over mountains, fields and streams seem even longer than the dullest of its predecessors' comparable sequences, while the appearance of numerous "Rings" veterans in cameos (Ian Holm, Hugo Weaving, Christopher Lee, Elijah Wood, Cate Blanchett among them) feel more like an unnecessary bone thrown to fans than a needed component to the story being told.

Ultimately, the movie has all the weaknesses of Jackson's "Lord of the Rings" trilogy, amplified by two. There's no sense of dramatic momentum, with even some of the movie's major set-pieces coming off as repetitive and pointless. One understands why Jackson decided to return to Middle Earth (especially after the disappointment of "The Lovely Bones" and Guillermo Del Toro handing him back the directorial reigns), but it's ultimately just a safety blanket for the director. With the same digitized backdrops and art direction as its predecessors, "The Hobbit" really just offers less of the same, especially when dealing with a story here that doesn't require the same treatment as the Rings pictures (heck, I'm old enough to remember when Rankin-Bass did a respectable, animated-TV movie adaptation of "The Hobbit" – and it only ran 75 minutes!).

Warner's Blu-Ray combo pack of "The Hobbit" looks smashing as you'd anticipate. I didn't see the film in either 3-D or 48fps, but the standard 24fps 1080p presentation on Blu-Ray doesn't display any of the overly "smooth" appearance that many noted the 48fps projection exhibited. The DTS MA 7.1 audio is outstanding too, though extras are limited to two hours of production videos and trailers, plus a DVD and Ultraviolet copy – just a teaser for the inevitably longer (sigh) Director's Cut to follow once the "Hobbit" flicks are finished in 2014.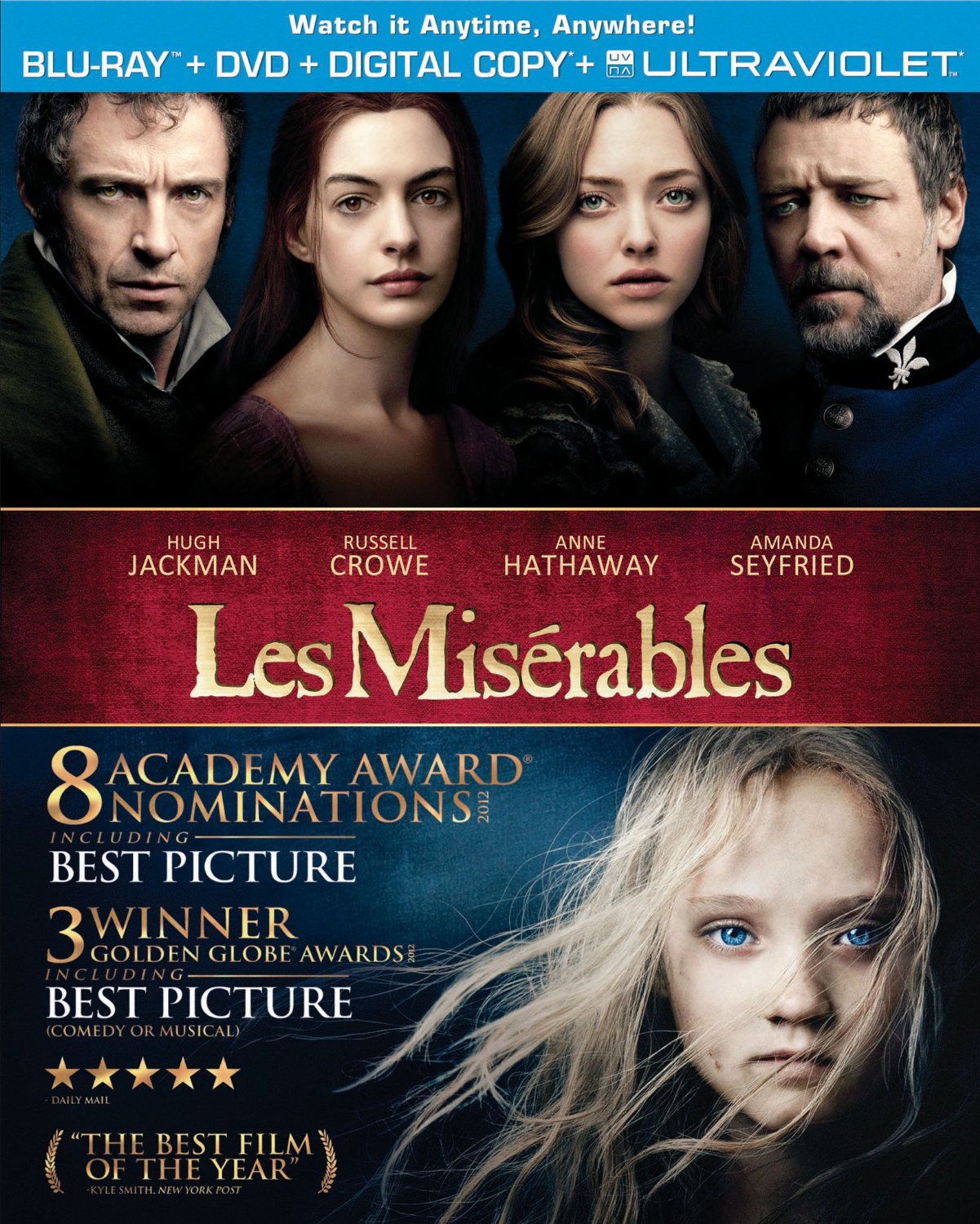 LES MISERABLES Blu-Ray Combo Pack (**½, 157 mins., 2012, PG-13; Universal): Bombastic adaptation of the worldwide musical smash from director Tom Hooper ("The King's Speech") employs a "gritty" approach to Victor Hugo's 1862 novel. A series of singers and non-singers including Hugh Jackman, Russell Crowe, Anne Hathaway and Amanda Seyfried take their best shot at Claude-Michel Schönberg's score to mixed results, with Jackman the reformed prisoner who becomes a mayor in France shortly before the Revolution; Hathaway the factory worker who becomes a prostitute in order to provide for her illegitimate daughter; and Crowe the prison guard who comes between them both (and whose flat vocals rank as the weakest set of pipes in the cast).

Fans of "Les Miserables" seemed to love this film (it grossed over $400 million worldwide), but for anyone other than devotees, the movie may prove to be a struggle to sit through in spite of generally good performances (if not signing voices!). Hooper's decision to shoot the film in tight close-ups strips away the theatrical artiface and plays up the dirt and grime of 19th century France, but also results in numerous moments when shouting actors fill up the entire frame for minutes at a time. Perhaps at home this is going to be less of a problem than it was on larger theater screens, but the effect is still disorienting and tedious, while Hooper's other unusual choice – shooting with "live" singing – also gives the material an added rawness. In all, Hooper's questionable calls (and some off-kilter camera work) seem to betray its source material's trademark spectacle, with Anne Dudley and Stephen Metcalfe's string-laden orchestrations also being far more subdued than anticipated here as well. The end result is a strident and occasionally off-putting picture that's best left for fans of the stage musical, some of whom may have to recalibrate their love for the show with a movie that strains to be "realistic" and "intimate."

Universal's Blu-Ray boasts a crisp 1080p (1.85) transfer and DTS MA soundtrack, though again, the mix's low-key preference for vocals over underscore may surprise audiophiles. Extras include a commentary with Hooper, a DVD, digital copy, Ultraviolet streaming copy and numerous extras including BD format exclusives (The West End Connection; Les Miz on Location; Battle at the Barricade: Les Miserables Singing Live) and other featurettes (The Stars of Les Miserables; Creating the Perfect Paris; The Original Masterwork: Victor Hugo's Les Miserables).

THIS IS 40 Blu-Ray Combo Pack (**, 134/137 mins., 2012, R/Unrated; Universal): Like a lot of things that were good in small doses (Jeff Goldblum springing into the lead role in "The Lost World" being one of them), Judd Apatow's decision to spin the scene-stealing coupling of Paul Rudd and Leslie Mann from "Knocked Up" into their own film is a near-total misfire.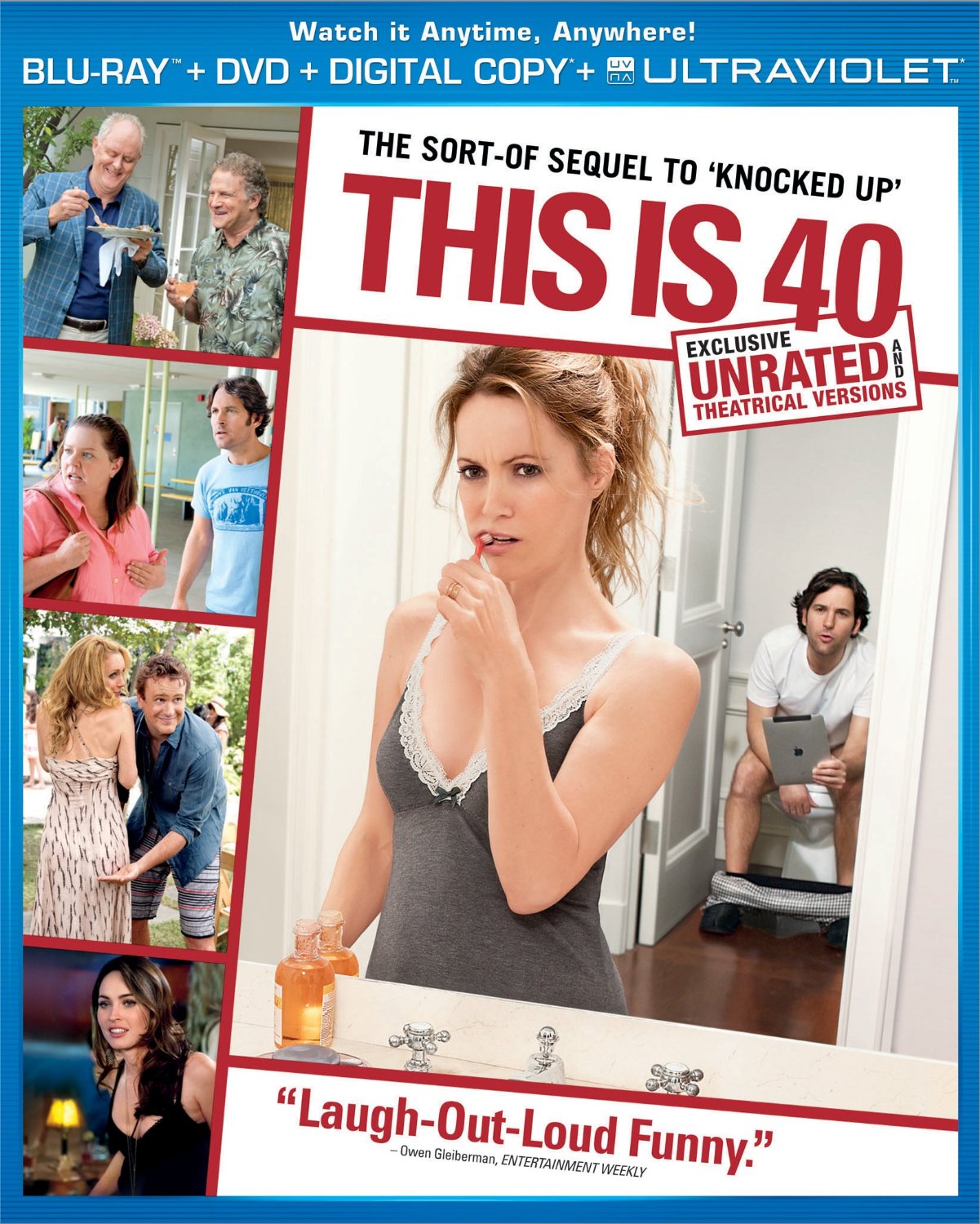 An aimless – and interminably long – comedic-drama that falls in line with Apatow's increasingly unsatisfying recent fare, "This is 40" follows Rudd and Mann as both hit the 40 milestone, trying to work through all kinds of issues both big and small in their lives in Southern California. In fact, Apatow spends the first hour populating his original script with an endless succession of self-contained scenes with the couple sparring over finances, Rudd's father (Albert Brooks), their kids' preoccupation with electronic devices, and lack of sexual spark. Eventually "drama" kicks in when Mann learns she's pregnant again and Rudd's latest record fails to generate sales – but outside of a Melissa McCarthy cameo, nearly all of "This is 40" just sits there and dies on-screen. Rudd and Mann are both likeable performers, but their endless complaining in the film grates after just a few minutes – I'm sure Apatow thought this would bring an "authentic" element to the film, but there end up being so many issues involving their relationship, and their respective parents, that it's hard to understand why they're together at all. Ultimately "This is 40" is as annoying and obnoxious as the behavior of its lead characters, and leaves you feeling as if you've actually spent 40 years in their company.

Universal's Blu-Ray release of "This is 40" includes both the original R-rated theatrical cut and an unrated version featuring an additional three minutes. The 1080p transfer and DTS MA soundtrack are both fine. Extensive extras include more deleted, extended, and alternate scenes, a gag reel, commentary, interviews, featurettes, a DVD and digital copy (both itunes and Ultraviolet).

CIRQUE DU SOLEIL: WORLDS AWAY 3-D Blu-Ray Combo Pack (**½, 91 mins., 2012, PG; Paramount): Great looking but rather hollow feature film from the Cirque Du Soleil troupe – under the direction of "Shrek"/"Narnia"'s Andrew Adamson and producer James Cameron – is essentially just a "Greatest Hits" filming of the various Cirque shows around the world. Portions from their Vegas show play a heavy role, including their "Beatles Love" production, with a number of familiar tunes being worked into some amazing acrobatic and balletic displays. That said, you'll have to be a Cirque die-hard to really appreciate the picture, since it has only a flimsy excuse for a plot and is content to let the performers' artistry carry the slender (80 minutes sans credits) running time. However, if you can't make it to Vegas, Disney World, or wherever else around the world one of their shows is playing, "Worlds Away" is still worth a view, and Paramount's 3-D Blu-Ray includes an impressive 1080p MVC encoded presentation with DTS MA audio. Extras include a Making Of and "Day in the Life with Erica Linz" featurette, plus a DVD, standard BD, Digital Copy and Ultraviolet as well.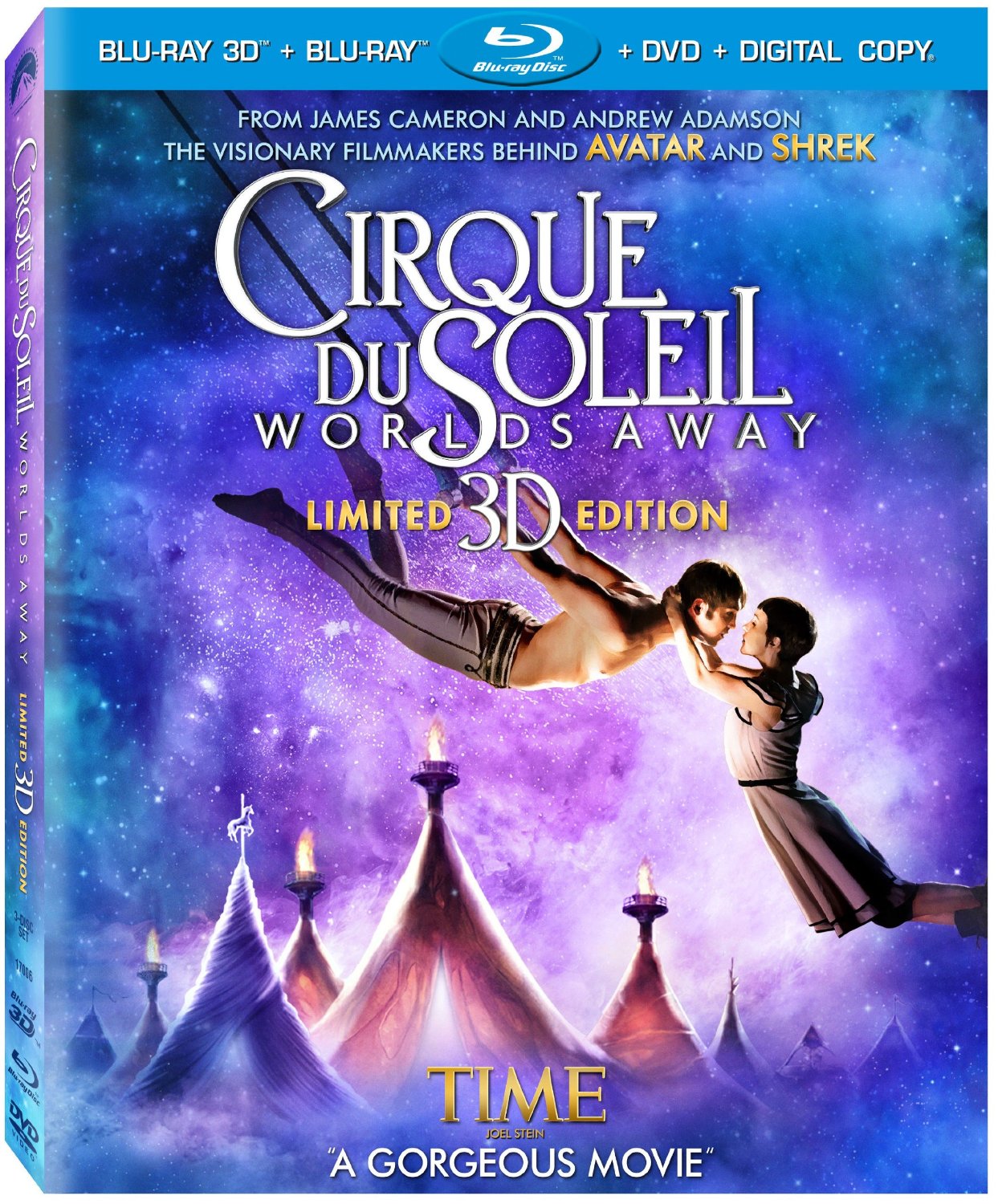 HITCHCOCK Blu-Ray Combo Pack (***, 98 mins., 2012, PG-13; Fox): An effective evocation of late '50s Hollywood and Alfred Hitchcock's battle to film his 1960 classic make for a breezy, entertaining adaptation of Stephen Rebello's "Alfred Hitchcock and the Making of 'Psycho.'" Sacha Gervasi directed John J. McLaughlin's script, which follows the crusade by Hitch (a terrific Anthony Hopkins) to produce the movie in spite of studio bristling and even the support of his wife Alma (Helen Mirren). Scarlett Johansson (as Janet Leigh), Jessica Biel (Vera Miles), and James D'Arcy (Anthony Perkins) portray the cast of Hitchcock's classic, with Ralph Macchio as screenwriter Joe Stefano and Michael Stuhlbarg as Universal guru Lew Wasserman. "Hitchcock" won't surprise insiders who know "Psycho" inside and out, but it's still a well-acted, compulsively watchable picture for buffs, and Hopkins' performance is irresistible. Fox's Blu-Ray combo pack sports a deleted scene and numerous featurettes profiling the film and Danny Elfman's scoring. A commentary with Gervasi and Rebello is enlightening, while a 1080p transfer, DTS MA soundtrack, DVD and Ultraviolet copy round out the release.

THE LIFE AND DEATH OF COLONEL BLIMP Blu-Ray (****, 163 mins., 1943; Criterion): Michael Powell and Emeric Pressburger's British masterpiece has been miraculously restored in a 4K transfer by the Film Foundation that's utterly glorious to behold. Roger Livesey stars as the irrepressible Clive Candy, a General in the British military who flashes back to his time in Germany during the Boer War, in France during WWI, and later, now retired, working on the homefront during WWII. His relationships with a trio of women (all played by a luminous Deborah Kerr) and a sympathetic German officer (Anton Walbrook) are part of an unusual, and brilliantly performed, Powell/Pressburger film that's partly a satire of "proper" British ways in the face of the looming Nazi menace but, at all times, a sympathetic portrait of a loveable title character. The transfer contained in Criterion's 1080p (1.37) presentation is amazing, offering brilliant Technicolor hues and scant evidence of damage or aging – it looks at times as if the movie had been shot yesterday. Extras include a commentary track with Powell and Martin Scorsese, a long-time fan and backer of the film's restoration; a new 12-minute introduction from Scorsese; a 2000 documentary on the film; a Scorsese-hosted restoration demonstration; a 2012 interview with Thelma Schoonmaker Powell, Powell's widow (and another Scorsese collaborator); gallery featuring behind the scenes stills; and a still compilation of David Low's original "Colonel Blimp" cartoons.

---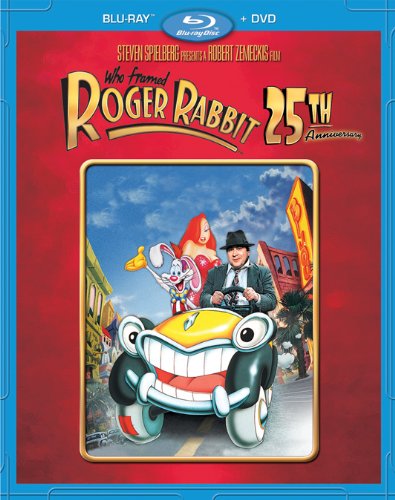 New From Disney

WHO FRAMED ROGER RABBIT Blu-Ray (***½, 104 mins., 1988, PG; Touchstone/Buena Vista): An iconic film that ushered in a whole new wave of animated blockbusters, Robert Zemeckis' box-office smash from the summer '88 was one of those movies -- much like "Terminator 2" and "Jurassic Park" – that people rushed out to see repeated times for its landmark visual achievements alone.

Live action and animation were combined in a seamless, almost three-dimensional manner by animator Richard Williams and ILM for Zemeckis' frothy 1988 "cartoon noir." Based on a novel by Gary K. Wolf, "Roger Rabbit" examines the craziness that ensues once alcoholic private eye Eddie Valiant (the terrific Bob Hoskins) is hired to investigate the possible relationship between toon star Jessica Rabbit and cartoon guru Marvin Acme (Stubby Kaye). What Valiant finds is that Acme is murdered and all signs point to Jessica's husband -- cartoon star Roger Rabbit. With Roger in tow, pleading his innocence, Eddie reluctantly uncovers a seedy underworld buried beneath "Toontown," where Disney, Warner Bros., and MGM stars hang out after hours at clubs and other secluded hideaways.

An old-fashioned movie in more ways than one, "Roger Rabbit" was produced with hand-drawn animation and motion capture techniques that gave the animated characters a 3-D like appearance when set against live-action backdrops. That this process worked so much better here than in any prior attempt at mixing live-action and animation is entirely due to the craftsmanship of Zemeckis, Williams and particularly the ILM visual effects crew. Made in the pre-CGI era, the filmmakers relied on tried-and-true techniques in making their film come to life – they just did a more effective job than anyone else ever had, and their attention to detail still shines through in high-definition.

"Roger Rabbit" rightly copped several Oscars for its technical wizardry, which help compensate for a somewhat over-praised script (credited to Jeffrey Price and Peter Seaman), which is never as compelling as the visceral element of the film. Hoskins' performance, though, is the glue that holds the movie together, and is rightly singled out by director Zemeckis in his audio commentary.

Disney's Blu-Ray boasts what certainly looks like an unadulterated 1080p AVC encoded transfer that preserves the sometimes varied appearance of the film. Dean Cundey's golden-hued cinematography is like a love letter to post-WWII Hollywood, but because of all the special effects processes, grain is predictably more visible in some sequences than others. Given all the technical challenges involved in bringing the film to life, it's understandable, and for the most part, the transfer is quite good (and either way, it's unlikely the film will ever look better than it does here). The 5.1 DTS MA audio is active throughout, boasting an energetic and at-times bittersweet score by Alan Silvestri that ranks as one of his best.

Extra features are cobbled together from prior DVD releases of the film, though most fans will be thrilled to learn that the set includes three remastered Roger Rabbit shorts that were released with other Disney films in the late '80s ("Tummy Trouble," "Trail Mix-Up," and "Rollercoaster Rabbit"). These shorts – the release of which apparently irritated producer Spielberg at the time (he wanted one of them playing in front of his Amblin co-produced "Arachnophobia") – look spectacular here, with glorious detail and color that's absent from the film itself.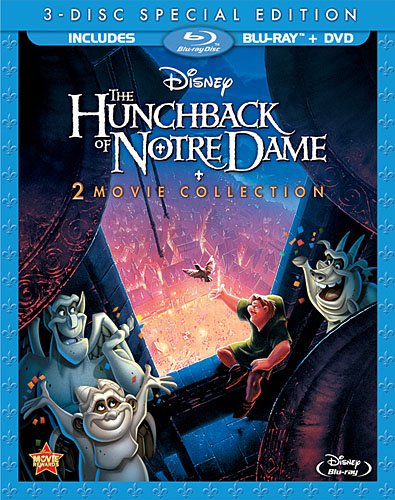 In addition to a 10-minute "Making Of" hosted by Roger's voice Charles Fleischer and aimed at kids, the BD rehashes other supplements from the 2003 DVD, including a full group audio commentary by Zemeckis, Frank Marshall, the writers, and ILM supervisor Ken Ralston; a 40-minute documentary featuring interviews with the cast and crew; split-screen comparisons of before-and-after FX footage; and the infamous "Pig Head" sequence, which was deleted from the film but added to CBS' network TV broadcasts in the early '90s. An accompanying DVD in the package (the same Disc 1 from the 2003 DVD in fact) also includes "The Valiant Files," which compiles still photos from various stages of production, as well as the original theatrical trailer via an easter egg (select "Movie Theater" on the on-screen menu and press down four times to access it).

"Who Framed Roger Rabbit" is one of those dizzying, frantic Zemeckis films that pushed the technical boundaries of its day, remaining a favorite of both animation fans and fantasy aficionados. It's a shame that reported squabbles between Spielberg and Disney curtailed a long-in-development sequel (or prequel), which at one point was to have featured five original songs written by Alan Menken. While it's hard to think of another genre blockbuster to make as much money as "Roger Rabbit" and not generate a follow-up, the 1988 film is still a unique viewing experience that's lost none of its charm.

THE HUNCHBACK OF NOTRE DAME (****, 91 mins., 1996, G)/HUNCHBACK OF NOTRE DAME II (**½, 90 mins., 2002, G; Disney) Blu-Ray Combo Pack: Alan Menken copped a slew of Oscars and even more nominations for his now-classic Disney animated musicals throughout the '90s -- something that angered film score purists to be sure, but was a particularly deserved honor for Disney's outstanding, often overlooked adaptation of "The Hunchback of Notre Dame."

This literate and mostly-faithful adaptation of the classic story is grittier and more powerful than any of Disney's recent animated productions, featuring rich, evocative visuals and breathtaking animation, along with one of Menken's finest works -- an occasionally gothic, powerhouse score filled with great songs, co-written with lyricist Stephen Schwartz. At the time, some criticized the movie for its singing gargoyles (voiced by Jason Alexander and others), but it's one of the movie's few concessions to very young movie-goers, and the rest of the picture is a rewarding and moving animated work that I believe will stand the test of time better than most of its contemporaries – especially the overpraised "Pocahontas."

Making its Blu-Ray debut, Disney's combo pack includes "Hunchback" in a fine 1080p AVC encoded transfer in line with most of the studio's recent animated catalog offerings. The DTS MA 5.1 audio is nicely rendered, though extras are limited – a major disappointment given that the studio released a marvelous 1996 laserdisc box-set filled to the brim with extras, including deleted songs and other outstanding supplements. Here, the studio has carried over the laser's audio commentary and promotional Making Of featurette, but that's it.

Also included here is one of a myriad of inexpensive direct-to-video sequels Disney produced for nearly all of their '90s films, THE HUNCHBACK OF NOTRE DAME 2. Thankfully, this one is actually pretty good, all things considered -- lightening up the original's tone just a bit, and utilizing the entire original vocal cast (Tom Hulce, Demi Moore, Kevin Kline, Jason Alexander), with the addition of Jennifer Love Hewitt and Haley Joel Osment as Esmeralda's son (and Quasimodo's new best friend). The movie's animation and non-Menken songs are, of course, not on a par with its predecessor, but it's a far better movie than other Disney small-screen efforts ("Cinderella II," "Lion King 2," etc.), and is recommended for family audiences. A behind the scenes segment with Jennifer Love Hewitt (whom the producers didn't know could sing until she was hired on for the job) is included as an extra, plus another 1080p AVC encoded transfer with DTS MA 5.1 audio. DVD copies round out the combo pack.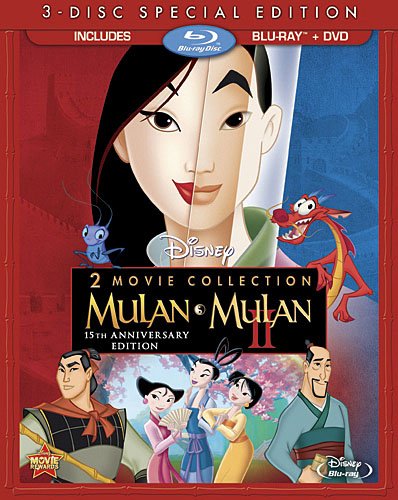 MULAN (***, 88 mins., 1998, PG; Disney)/MULAN II (**, 79 mins., G; Disney) Blu-Ray Combo Pack: Blu-Ray edition of the splendid 1998 Disney animated feature boasts another rock-solid 1080p AVC encoded transfer and 5.1 DTS MA soundtrack.

While not on the level of Alan Menken's numerous Disney classics, "Mulan" is still a first-class production with top-flight animation and functional, if not memorable, songs provided by Matthew Wilder and Tony-winning lyricist David Zippel. Jerry Goldsmith's soaring score, meanwhile, ranks right up there with his only other foray into animation -- his wonderful score for 1982's "The Secret of NIMH" -- and supports the picture through its colorful story line, one that did enchant audiences of all ages and continues to do so on home video.

On the supplemental end, Disney's Blu-Ray offers more extra features than "Hunchback": an unused song written for Eddie Murphy's dragon, "Keep 'Em Guessing," is included in workprint form, along with several other discarded sequences, while music videos range from Christina Aguilera's "Reflection" to the utterly bizarre Cantonese rendition of "I'll Make a Man Out of You" performed by none other than Jackie Chan. Additional presentation reels and brief featurettes (most between 5-10 minutes each) take the viewer through each step of production, while comments from the filmmakers make for a pleasant "Making Of" that provides an enlightening view for fans. "Mulan II" is also included here – a "meh" made-for-video follow-up that likewise includes a 1080p transfer and DTS MA 5.1 soundtrack, plus four deleted scenes of its own, a featurette and Atomic Kitten's music video.

BROTHER BEAR (**½, 85 mins., 2003, G)/BROTHER BEAR 2 (**½, 2006, 71 mins., G, Disney) Blu-Ray Combo Pack: Rounding out Disney's March catalog releases is this fantastical tale of a young Indian who is magically transformed into a bear and befriends an orphaned cub.

"Brother Bear" is beautifully animated but just a little too silly for anyone over the age of 10 – something confirmed by its failure to strike box-office gold, despite the presence of talents who found previous success in animation like co-screenwriter Tab Murphy ("Beauty and the Beast") and songwriter Phil Collins ("Tarzan"), who penned a handful of bouncy tunes along with score composer Mark Mancina. The movie is cute but the whole notion of combining talking, cuddly animals -- including a pair of moose voiced by Dave Thomas and Rick Moranis -- with a rugged wilderness setting and a fable-like story don't really mesh in the finished product. Still, young children ought to enjoy the movie just the same.

Disney's Special Edition BD looks appealing – the scope animation is one of the film's strongest assets – while special features include deleted scenes including a discarded Collins song; featurettes including a segment on Mancina's scoring; interactive games for kids, and a music video.

While I wasn't crazy about the original "Brother Bear," its direct-to-video sequel – also included here – ought to provide sufficient entertainment for kids. Solid animation (especially considering its small-screen pedigree) and a couple of catchy Melissa Etheridge songs provide the backing for the continuing adventures of little cub Koda and big bro Kenai, the former human-turned-bear, who faces a predicament when girlfriend Nita comes looking for him. While likewise not up to Disney's best, "Brother Bear 2" should appeal to the little ones, and Disney's 1080p AVC encoded transfer and DTS MA soundtrack are both top-notch.

---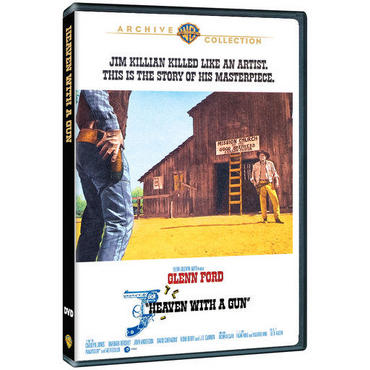 New Warner Archive Releases

A number of new titles have joined the Warner Archives this month, including several sagebrush sagas debuting on home video for the first time.

While cattle ranchers and sheepherders duke it out, a priest with quite a past rides into town in HEAVEN WITH A GUN (101 mins., 1969, M), an interesting if unsuccessful late-era western starring Glenn Ford as a man of the cloth who's also used to packing more than a little heat. His Jim Killian attempts to start up a church and point the locals in the right direction, but his good faith efforts lead to more killings, burnings and rapes – the former a plot right out of the genre's heyday, the latter a component of a changing industry (hence the "M" rating from the MPAA's early days). The odd pairing of elements results in a very strange picture with an equally eclectic cast comprised of Carolyn Jones, David Carradine and Noah Berry among them, but it's Barbara Hershey's role as a trippy young half-breed that gives off a "mod" type of feel. Western buffs may still want to give "Heaven With a Gun" a look, especially because of Warner's 16:9 (2.35) transfer that boasts a nice rendering of Fred Koenekamp's cinematography. Johnny Mandel's tuneful score comes across effectively in the mono audio as well.

Thirteen episodes from the fifth season of CHEYENNE (1960-61) also are on the Archive's radar this month. One of the legendary TV westerns, this complete Season 5 set includes the episodes The Long Rope; Counterfeit Gun; Road to Three Graves; Two Trails to Santa Fe; Savage Breed; Incident at Dawson Flat; Duel at Judas Basin (a crossover episode with Tom "Sugarfoot" Brewster and Bronco appearing); The Return of Mr. Grim; The Beholden; The Frightened Town; Lone Patrol; Massacre at Gunsight Pass; and The Greater Glory. Guest stars include Alan Hale, Jr., Dawn Wells, a young Stacy Keach, R.G. Armstrong and Allan "Rocky" Lane, with crisp B&W transfers and mono soundtracks comprising the technical end of things.

One of John Ford's most seldom screened pictures likewise joins the Warner Archives this month: THE RISING OF THE MOON (81 mins., 1957) is a short but fascinating collection of three short films the director shot in Ireland. Introduced by Tyrone Power, "The Mystery of the Law" stars Cyril Cusack and Noel Purcell in a lighthearted look at a policeman attempting to serve an old man who assaulted his neighbor; the likewise amusing "A Minute's War" follows a train, intended to stop for just a minute, that's detained for two hours; and the heavily dramatic "The Rising of the Moon" is an adaptation of Lady Gregory's one-act play about a young man about to be hung by the "Black and Tans." The last segment comes off a bit heavy-handed but the atmosphere and location filming ought to be enough to satisfy any Ford devotee. Warner's DVD includes a B&W 16:9 (1.85) transfer with mono audio.

---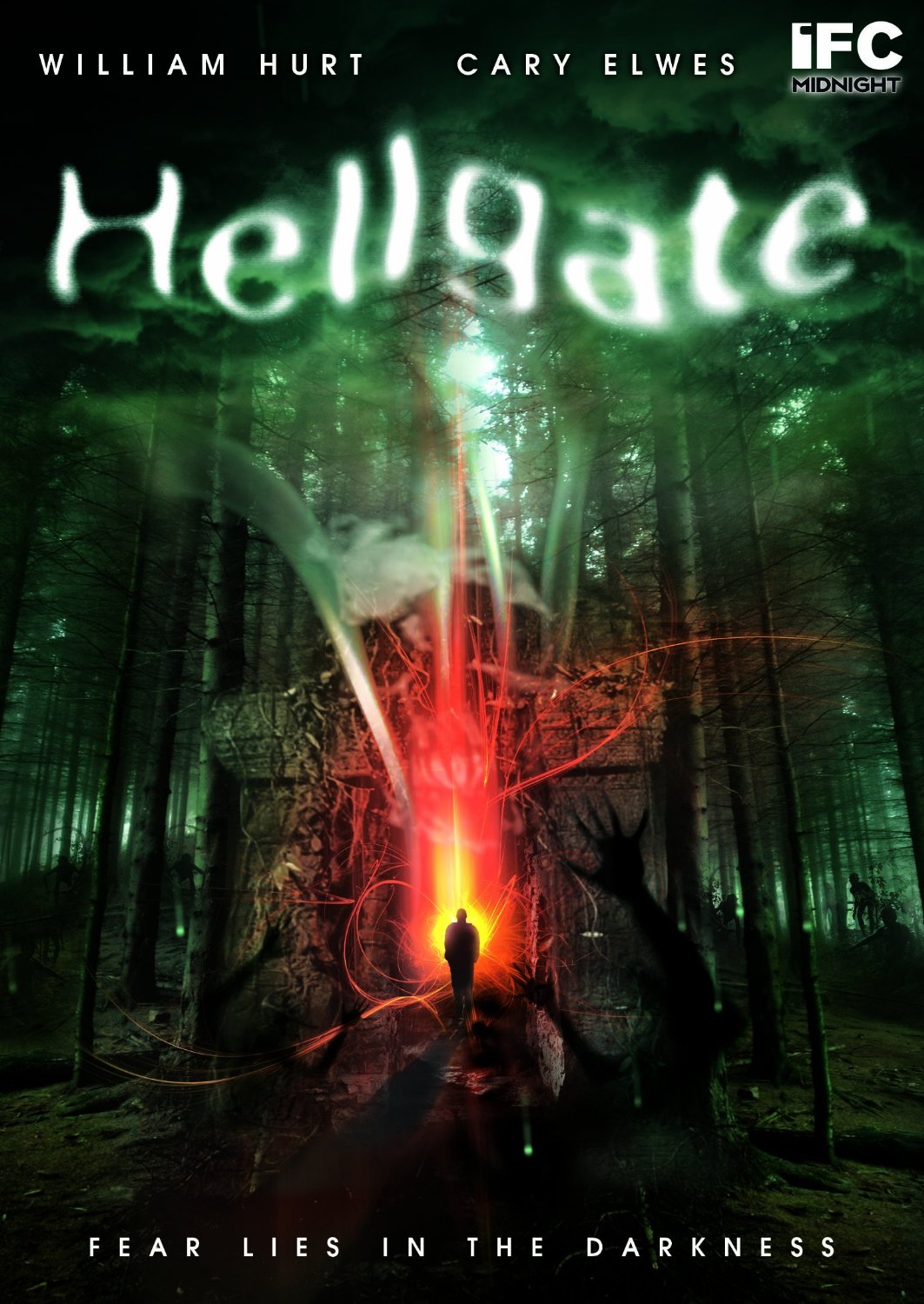 Also New This Month on Home Video

NEW FROM MPI...Cary Elwes loses his wife and son in a car accident while traveling in Thailand, and awakens with the ability to see others who suffered a similarly tragic fate in HELLGATE (93 mins., 2010, IFC/MPI). John Penney's thriller hits DVD from MPI boasting a trailer, 16:9 transfer and 5.1 soundtrack...Documentary filmmaker Arnon Goldfinger travels to Tel Aviv to go through his recently deceased Jewish grandmother's belongings, only to uncover that she was a good friend of a Nazi propagandist in THE FLAT (98 mins., 2012, Not Rated; Sundance/MPI). This acclaimed documentary is a compelling, harrowing piece MPI brings to DVD this month offering a 16:9 transfer and 5.1 soundtrack...Selma Blair, Josh Close, Rachel Miner and James D'Arcy star in IN THEIR SKIN (96 mins., 2011, Not Rated; IFC/MPI), a thriller from Jeremy Power Regimbal about a pair of young parents stalked by a pair of crazies while on vacation with their young son. IFC's DVD includes a 16:9 transfer and 5.1 soundtrack.

NEW FROM LEGEND FILMS: Legend Films has released a handful of new, low-priced archival DVDs this month. BETTY BOOP VOLUME 1 and 2 each include 22 vintage Max Fleischer cartoons starring the legendary '30s cartoon heroine. The shorts (produced between 1933-36 on Volume 1 and 1936-39 on Volume 2) have been remastered and look to be in solid condition with a pair of bonus Fleischer cartoons offered on the supplemental side...CLASSIC TV BLOOPERS UNCENSORED boasts over two hours of classic outtakes from Star Trek, MASH, Dick Van Dyke Show, Happy Days, Laverne & Shirley and others, plus a vintage episode from The Jack Benny Show and an additional reel of 1960s outtakes...CLASSIC MOVIE BLOOPERS UNCENSORED similarly features nearly two hours of vintage bloopers from assorted '40s and '50s (for the most part) programmers. Bogart, Bacall, Bob Hope, Boris Karloff, Errol Flynn and Bete Davis are among the many familiar faces you'll see here, with bonuses including an "Abbott & Costello Meet Frankenstein" gag reel and the featurette "Hollywood Without Makeup," hosted by Ken Murray...CLASSIC ALL-STAR COMMERCIALS, meanwhile, offers a variety of archival commercials featuring celebrities like John Wayne, Lucille Ball & Desi Arnaz, Bob Hope, and Charlton Heston. Just over an hour of vintage advertising goodness comprises Legend's latest DVD.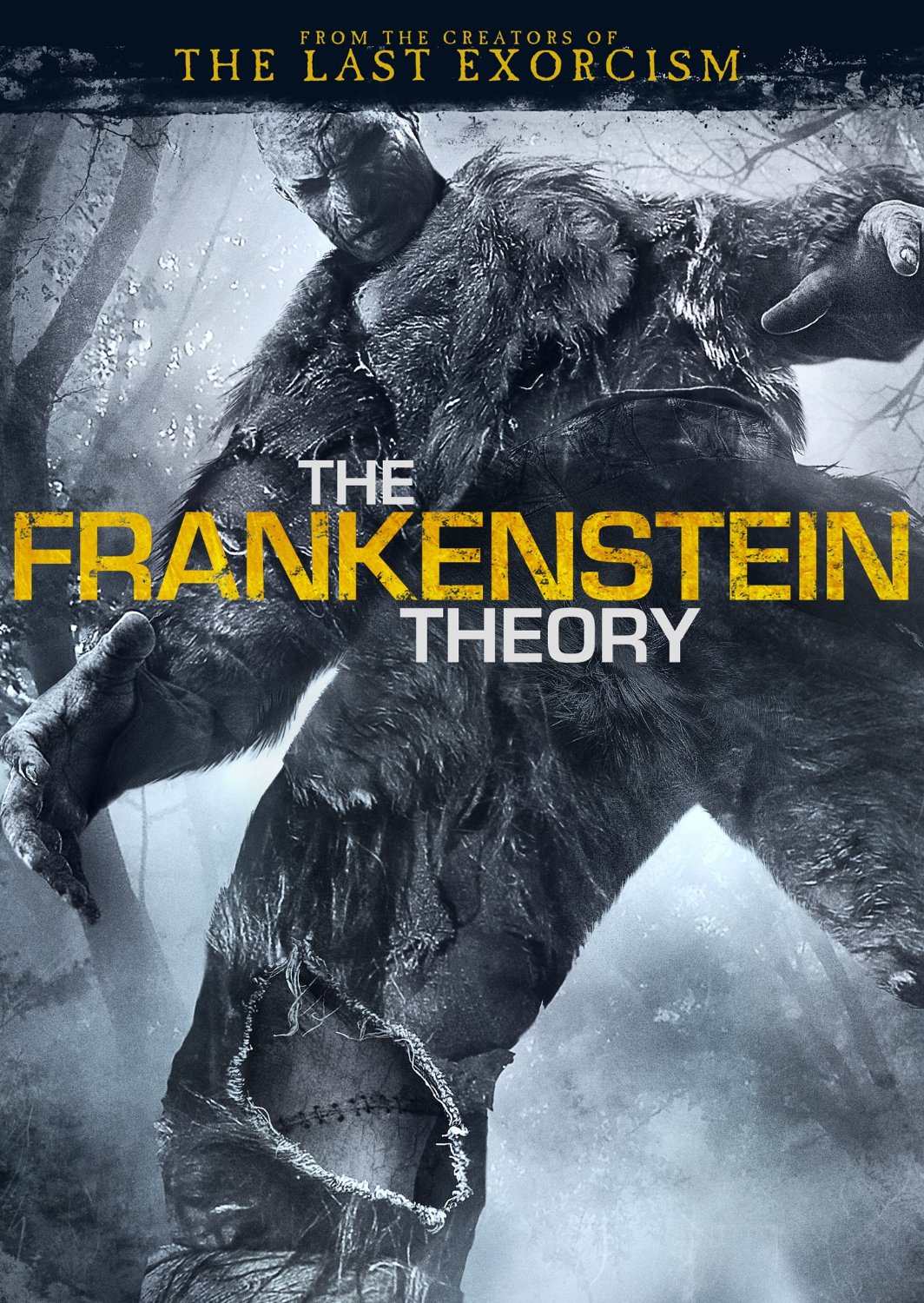 NEW FROM LIONSGATE: Misca Baton stars in the Lifetime-broadcast cable movie CYBERSTALKER (90 mins., 2012) as a young woman who lost her parents to a psychokiller who stalked her online. Years later, Barton's Aiden tries to re-enter the electronic world only to come across the same psycho in this made-for-cable film. Lionsgate's DVD includes a 16:9 transfer and 5.1 Dolby Digital soundtrack.

A TURTLE'S TALE 2: SAMMY'S ESCAPE FROM PARADISE DVD (93 mins., 2012; Gaiam Vivendi): Sea turtles Sammy and Ray find themselves trapped in an underwater restaurant/aquarium dubbed "The Tank" in this sequel to the French-produced "Sammy's Story," which was released overseas in 2010 but only recently made its U.S. DVD debut. This colorfully animated follow-up arrives as a Walmart exclusive for the time being on March 26th from Gaiam Vivendi, boasting a 16:9 transfer and 5.1 Dolby Digtal soundtrack.

THE FRANKENSTEIN THEORY DVD (87 mins., 2012, Not Rated; Image): A group led by a college professor tries to prove that the Frankenstein Monster is indeed real and not just a part of Mary Shelley's vivid imagination in this "found footage" thriller from director Andrew Weiner and co-writer Vlady Pildysh. "The Frankenstein Theory" gets a bit of credit for trying to blend the "Blair Witch Project" with old-school movie monsters, but the result isn't particularly interesting, and it ends exactly where you'd anticipate it would. Image's DVD, out at the end of the month, includes a 16:9 transfer and 5.1 soundtrack.

SHADOW PEOPLE Blu-Ray (89 mins., 2012, PG-13; Anchor Bay): Matthew Arnold's thriller looks at Sudden Unexplained Nocturnal Death Syndrome, an apparently real phenomenon here worked into a fictitious thriller involving radio talk show host Dallas Roberts. After he reports a series of deaths on his late night program, Roberts works with a CDC investigator (Alison Eastwood) to determine the cause of "shadow people" who prey on young, healthy people who die in their sleep. Anchor Bay's Blu-Ray includes a featurette, 1080p transfer, and Dolby TrueHD 5.1 soundtrack.

BANGKOK REVENGE Blu-Ray (82 mins., 2012, Not Rated; Well Go): A ten-year-old boy whose parents are murdered grows up to become a Muay Thai fighter – and, thanks to a bullet lodged in his own head, develops ataraxia, an injury that abolishes emotion. That trait serves his fuel for vengeance in Jean-Marc Mileo's tale of Bangkok underworld justice that Well Go USA brings to Blu-Ray on March 26th. The 1080p transfer and 5.1 DTS MA soundtrack are both fine.

---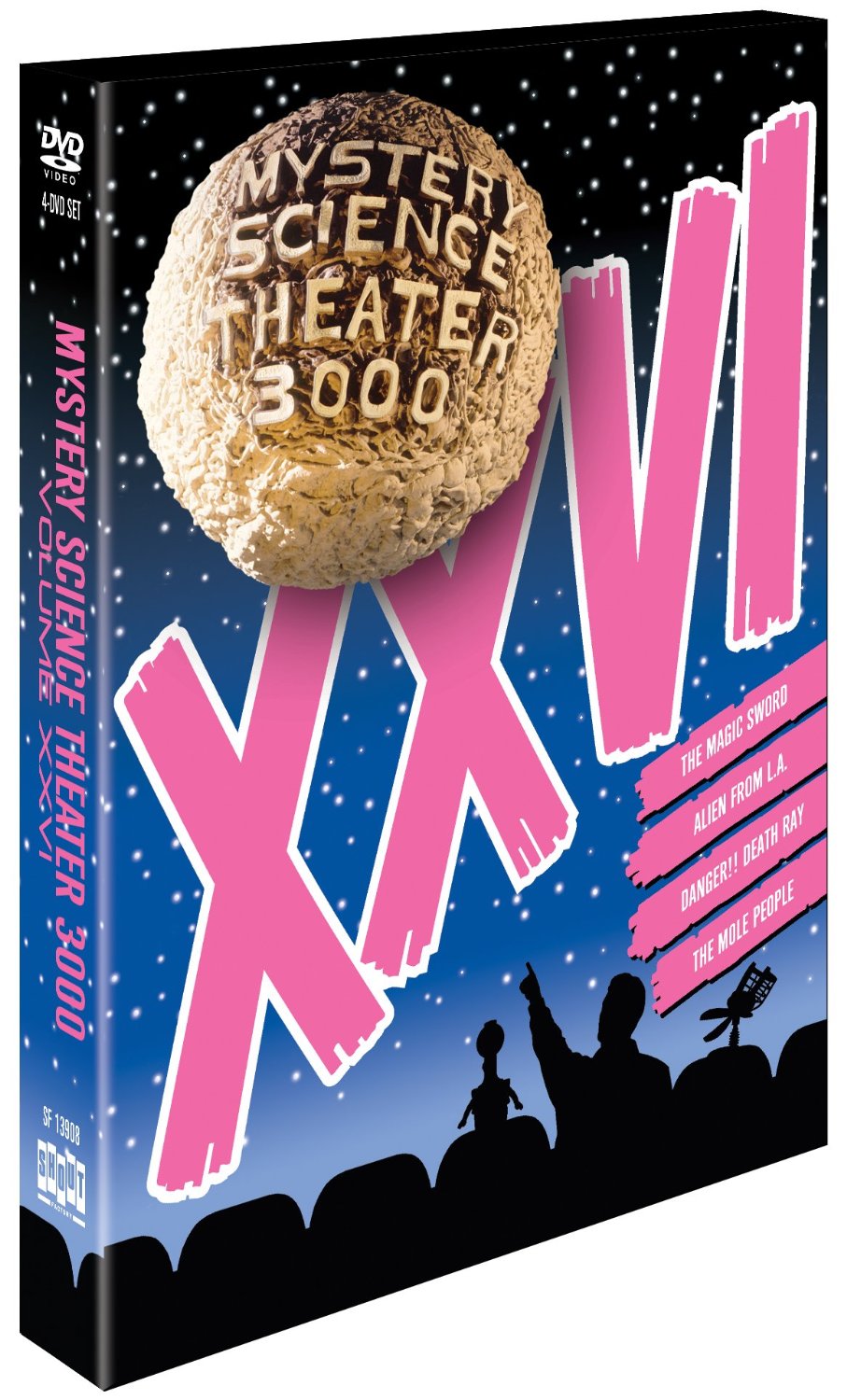 TV on DVD

MYSTERY SCIENCE THEATER XXVI DVD (Shout!): The 26th DVD volume of Mystery Science Theater picks out four more vintage episodes from the series: the hilarious The Magic Sword; Kathy Ireland in the late '80s bomb Alien From L.A.; Danger! Death Ray; and the memorable '50s affair The Mole People. A better-than-average collection of MST3K episodes also includes, as is customary for Shout, a number of fine extras, including "Bert I. Gordon: The Amazing Colossal Filmmaker"; a conversation with "Alien From L.A."'s auteur, Albert Pyun; "Of Mushrooms and Madmen: Making the Mole People"; a "Life After MST3K" segment with Mike Nelson; original theatrical trailers; MST Hour Wraps; and four more exclusive mini-posters by artist Steve Vance. Another must for buffs when Shout releases the four-disc set on March 26th.

Also coming shortly from Shout! is JACKIE ROBINSON: MY STORY (95 mins., 2012), an independent production starring Steven Hill as the baseball great in a one-man show with Robinson, at age 30, directly addressing the audience. Vintage clips of Robinson's games play through Marino Amoruso's film, which also includes a prologue featuring appearances from Robinson's Dodger teammates Don Newcombe, Clem Labine and Carl Erksine. Shout's DVD, out April 2nd, should appeal to all baseball fans, and includes a bonus "Jackie Robinson: An American Hero" featurette.

GHOST HUNTERS: Season 8, Part 1 DVD (aprx. 9 hours, 2012; Image). WHAT IT IS: The audience for the long-running Syfy Channel reality series continues to grow, even with the departure of original TAPS member/founder Grant Wilson. Grant's final episode is among the episodes from "Ghost Hunters"' eighth season, the first half of which have been compiled here by Image on DVD. Episodes include Roller Ghoster; Buyer Beware; Flooded Souls; Dead and Breakfast; Moonshine and Madness; City Hell; Frighternity; A Ghost of a Marine; Family of Spirits; Haunted By Heroes; The Princess and the EVP; and Please Sign the Guest Book. DVD RUNDOWN: Image's four-disc set include 16:9 enhanced transfers and 2.0 stereo soundtracks, plus bonus footage.

THE BORGIAS: Season 2 Blu-Ray (aprx. 9 hours, 2012; CBS). WHAT IT IS: 10 more episodes from the Showtime series finds Jeremy Irons returning as Rodrigo Borgia, who's ascended to the top of the rung of Roman life as Pope Alexander VI. This Pope finds himself battling political foes as well as domestic crises including his daughter (Holliday Grainger), and both her suitors and illegitimate child; his brothers (Francois Arnaud, David Oakes), currently taking sibling rivalry to another level; and his mistress (Lotte Verbeek), who knows her time as the Pope's side dish is precarious at best. BLU-RAY RUNDOWN: CBS' Blu-Ray includes bonus episodes of other Showtime series (Californication and House of Lies), plus a "World of Borgias" featurette and behind-the-scenes interviews and featurettes. TECH SPECS: The 1080p AVC encoded transfers and Dolby TrueHD soundtracks are all excellent.


JERSEY SHORE: Season 6 DVD (546 mins., 2012; Paramount). WHAT IT IS: MTV says goodbye to the crew from Seaside Heights, New Jersey in the sixth and final season of "The Jersey Shore." This last hurrah brings the cast back to their roots as they hit the boardwalk and engage in the usual dysfunctional relationships – all uncensored and presented by Paramount here on DVD with over four hours (!) of bonus footage. Among the latter is a Reunion Special; After Hour Specials; Most Outrageous Moments; Breakdowns Boobs & Bronzer special; Deleted Scenes; Gym, Tan, Look Back special; full-screen transfers and stereo soundtracks.

RIPPER STREET Season 1 Blu-Ray (480 mins., 2012; BBC). WHAT IT IS: Matthew Macfadyen stars as an intrepid London police inspector who leads London's "H Division" in the rough and tumble East End of London. In this post-Jack the Ripper World, Whitechapel is still plagued with bloody streets and rampant crime, leading Macfadyen and fellow investigator Jerome Flynn to wonder if the Ripper himself isn't still out there doing business. BBC's Season 1 Blu-Ray release of "Ripper Street" offers a gritty 1080p transfer with 2.0 DTS HD soundtracks. Extras include "Jack the Ripper: Prime Suspect," a look at modern forensics playing a role in determining Jack the Ripper's identity; "London Calling: Whitechapel," a tour of modern Whitechapel locations; three featurettes with cast/crew members; and character profiles.

CONTINUUM Season 1 Blu-Ray (aprx. 8 hours, 2012; Universal): Canadian TV series stars the lovely Rachel Nichols as a cop circa 2077 who unknowingly is sent back in time along with an inmate who was about to be executed. Her attempts to figure out why, as well as adjust to the decidedly lower-tech world of 2012, form the basis of this fairly routine series which has aired domestically on the Syfy Channel to decent ratings. Universal's Season 1 Blu-Ray set includes behind-the-scenes featurettes, 1080p transfers and 5.1 DTS MA soundtracks.


NEXT TIME: LINCOLN. Until then, don't forget to drop in on the official Aisle Seat Message Boards and direct any emails to our email address. Cheers everyone!