Message Board - Come and Discuss The Latest Videos, Movies & Anything Else!
The 2013 EVIL DEAD (***) is a stirring remake of Sam Raimi's 1983 original horror outing -- which, by itself, actually isn't all that good, particularly in comparison to "Evil Dead II" (a brilliant comic-riffed remake of its predecessor) and of course "Army of Darkness" (which is as much a playful homage to the fantasies of Ray Harryhausen as it is a horror movie).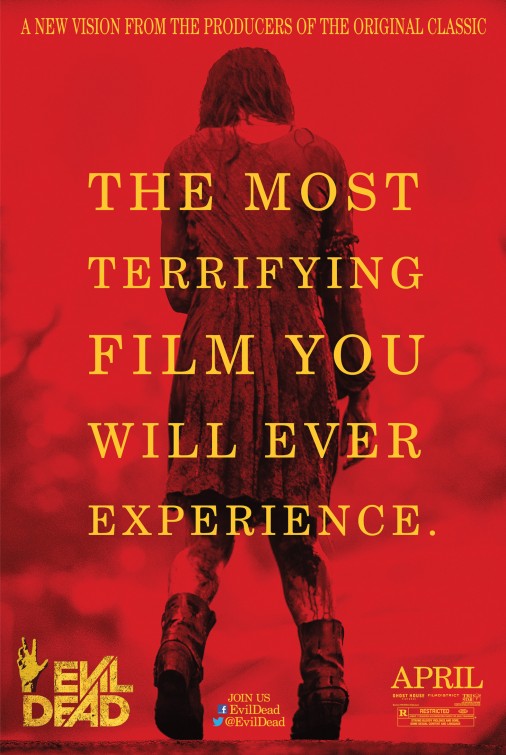 Director Fede Alvarez's new version is neither campy nor a "self aware" rehash of what came before, but is still decidedly old fashioned, particularly in how it relies not on CGI but on physical make-up effects that are gory and gooey. They're also so "unrealistic" that they take the edge off the severed limbs and buckets of blood that come flying at you -- and as you might expect, there are plenty of both to go around in this inspired effort produced by the original's creative team (Raimi, Robert Tapert and "Ash" himself, Bruce Campbell).

The new script by Alvarez and Diablo Cody reworks Raimi's initial premise, with a group of young folks gathering at an isolated forest cabin not for a vacation but to support their friend Mia (Jane Levy), who's trying to kick a drug habit. Unbeknownst to them, the Book of the Dead lies dormant in the cellar of the old place, and once it's cracked open, all hell breaks out, with demonic possession, dismemberment, puking, stabbings, self-mutilation and foul language all sprinkled into the mix as the group fights to stay alive.

While most of the characters in "Evil Dead" aren't especially developed, Alvarez does a strong job establishing the picture around Mia's plight, which adds a dramatic layer to the film that was completely absent from Raimi's original. Once Mia is flagged as the vessel for the Deadites to come to life, it's easy to feel sympathy for her as she's put through the ringer -- as is the rest of the cast, with Alvarez staging a series of horrifying, gory encounters between the survivors and the possessed. Luckily, while the film is plenty bloody, it's violent in a more "classical" splatter style instead of the more sadistic horror we've seen in the torture porn outings of the 21st century. It's also not as mean-spirited as, say, recent supernatural thrillers like "Sinister" and "Insidious" -- not as outwardly "playful" as Raimi's films, of course, but with some notable ingredients brought back from its predecessors.

Alvarez's direction is confident, anchoring scenes with a visual flourish and a heavy reliance on sound design and Roque Baños' surprisingly good orchestral underscore. And, right when the film seems to be setting up for an entirely predictable conclusion, the new "Evil Dead" throws a couple of curveballs at the audience that pay off in a big way -- with an especially satisfying ending that, fortunately, isn't telegraphed from the very beginning for a change.

While naysayers will lament the fact that once again Hollywood has turned out another remake, the 2013 "Evil Dead" is a good one -- and a really fine horror film at that. Be sure to stay through the credits for a very brief but quite welcome surprise that ought to please fans of Raimi's originals -- and whet their appetites for what might be coming down the road. (R, 91 mins., TriStar).

---
New on Blu-Ray
Andrew Dominik's KILLING THEM SOFTLY (***, 98 mins., 2012, R; Anchor Bay) is a nasty, beautifully shot piece of pulp fiction – so stylishly made and well-performed that one can overlook the familiarity of its simple plot and heavy-handed elements in Dominik's direction.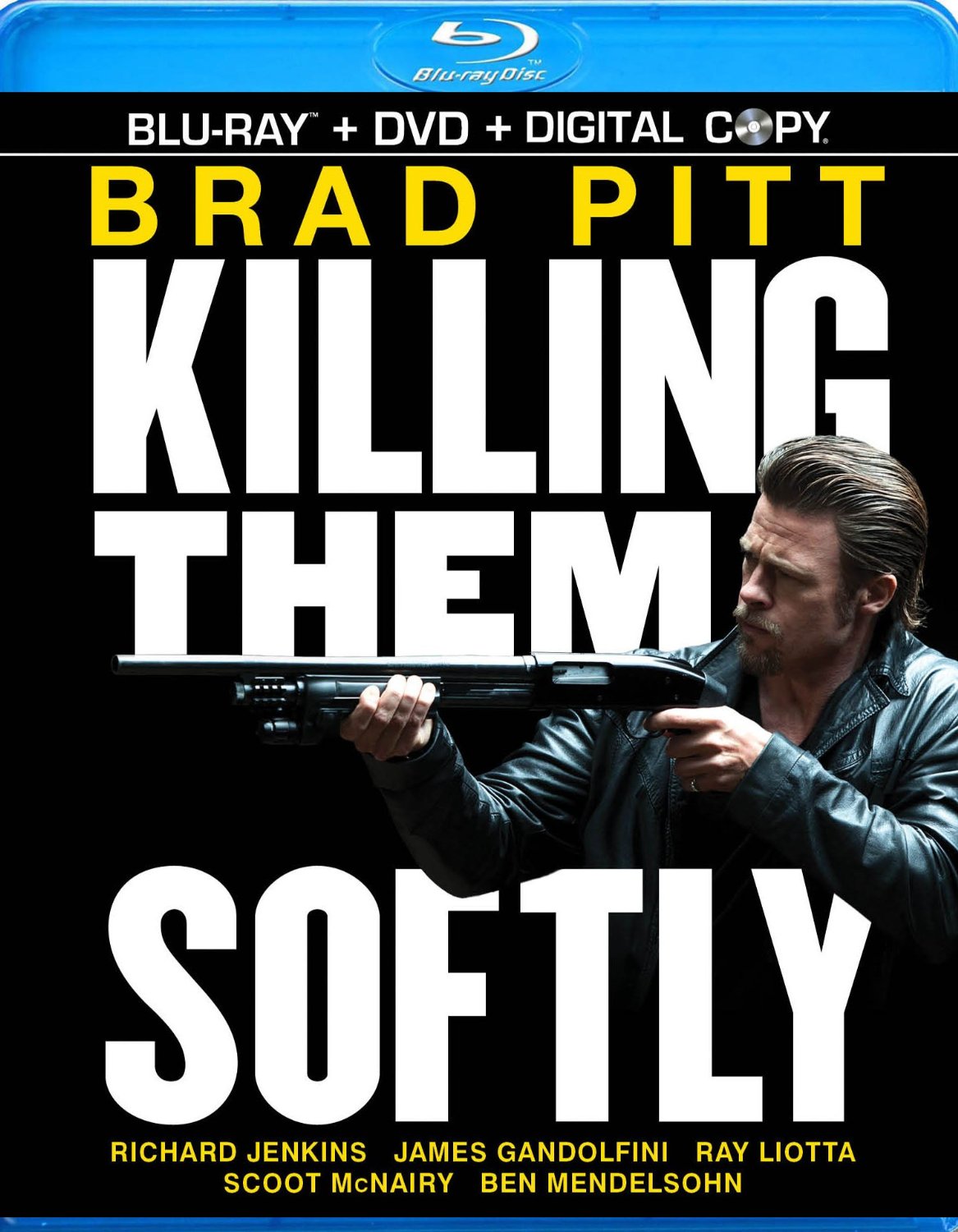 In the director's adaptation of a novel by George V. Higgins, two losers (Scoot McNairy and Ben Mendelsohn) knock over one of local mobster Ray Liotta's card games in the hopes that – since Liotta looted one of his own games himself – they'll escape the blame. Naturally, their plan doesn't quite pan out, with enforcer Brad Pitt called onto the scene by a local higher-up (Richard Jenkins) who wants the criminals apprehended and the situation "taken care of" – even if it means the recruiting a hit man (James Gandolfini) preoccupied with booze, broads and other assorted problems.

Shot on location in Louisiana, "Killing Them Softly" is spellbinding in terms of its visuals: Dominik, who previously helmed "The Assassination of Jesse James" with Pitt, makes brilliant use of the widescreen format and shows an eye for expert composition throughout. Even mere routine shots of cars sitting under highway overpasses and characters drinking at a hotel bar have a vivid cinematic texture to them, and Greig Fraser's cinematography adds to the movie's memorable look and feel.

Pitt, McNairy and Mendelsohn are all superb here, and Dominick's script manages to be darkly comic and compelling, in spite of the obvious nature of the plot (like most crime dramas in this genre, when things go wrong, it's a good bet few are going to make it out alive). Gandolfini is equally magnetic in his few scenes as the washed-up "Mickey," while Pitt glides effortlessly through the film as the world-weary mob fixer who's seen it all before.

Where the film stumbles is in Dominick's constant quoting from the 2008 Presidential election – whether it's in then-candidate Barack Obama's pleading about unity and togetherness, or President Bush's talk about the bail out, Dominick incessantly peppers the soundtrack with soundbytes meant to underscore the irony of the film's grimy setting and general hopelessness among its characters. The trouble is that we get the point after a couple of minutes – but the director keeps hammering us with this concept throughout the entire movie. Less, in this instance, would've been more.

Nevertheless, for a tidy, 90-minute slice of noir, "Killing Them Softly" is worth seeing, and Anchor Bay's Blu-Ray includes a terrific 1080p transfer with a well-engineered DTS MA soundtrack that's notably mixed at a low volume. Extras include ten minutes of deleted scenes, a featurette, digital copy/Ultraviolet and DVD.

---
New From Warner Archive

Three Warner Bros. releases from the '70s and '80s make their way to disc this week for the first time, exclusively from the Warner Archive.

Animator Ralph Bakshi's feature films are a wildly uneven assortment of psychedelic colors, ethnic stereotypes and ribald humor – elements of which haven't quite translated into the 21st century. After breaking out with "Fritz the Cat" and "Heavy Traffic," Bakshi found himself being courted by major studios, but two of his subsequent projects – "Coonskin," produced for Paramount, and the Warner Bros.-backed "Hey Good Lookin'" – would end up being shuttled off to another studio in the case of the former and delayed for years in the case of the latter.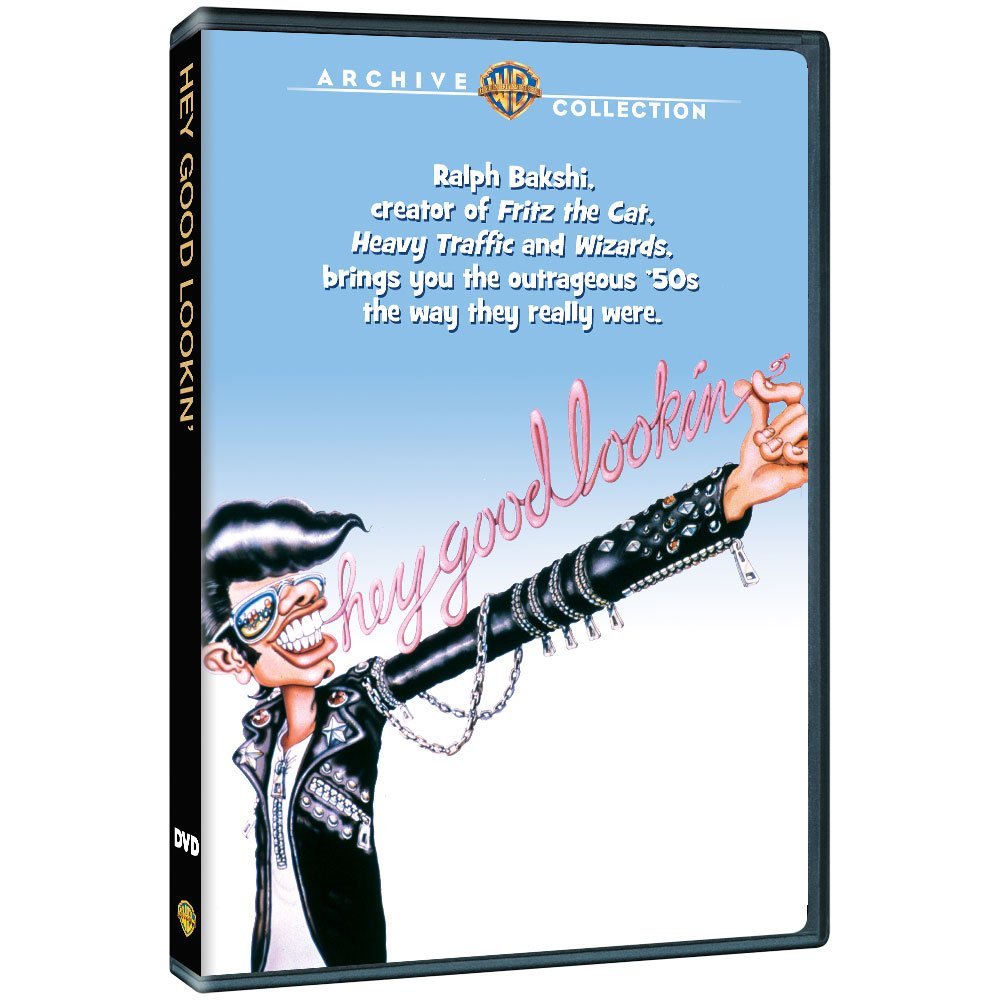 In fact, HEY GOOD LOOKIN' (75 mins., 1982, R) was originally produced as a live-action/animated mix in the mid '70s. According to reports, indifferent test screenings and the controversy over "Coonskin" caused Warner to shelve the project for years, during which time Bakshi generated box-office paydirt with "Wizards" and his "Lord of the Rings" animated adaptation. Looking to capitalize on the latter's success, Warner opted to dump "Hey Good Lookin'"s live-action footage and have the film fully animated. The resulting feature was finally completed in 1982, a year after Columbia's release of "American Pop," one of Bakshi's most satisfying features.

"Hey Good Lookin'" doesn't rate as one of Bakshi's better films, yet this tale of a Brooklyn greaser and his various adventures in the mid '50s has its moments – including an opening conversation between two pieces of trash (!), a wild finale, and a tuneful song-soundtrack by Ric Sandler and John Madara that's the best thing in the film. Of course, the movie also includes some grotesquely drawn stereotypes and humor that often misses the mark; like a lot of Bakshi's work, "Hey Good Lookin'" isn't going to be for every taste, and overall, ranks as a minor work from the controversial animator. Still, for adventurous viewers, the movie is worth seeing, as are many of the filmmaker's audacious attempts at using the artform as a vehicle for adult storytelling – especially at a time when Bakshi was one of the only animators trying to do so.

Making its first appearance on home video since a VHS release in the '80s, "Hey Good Lookin'" is presented in its 77-minute 1982 version. Although Bakshi's original '70s version remains in the Warner vaults (and it's a shame the studio didn't see fit to releasing it here), fans will have to make due with this DVD presentation for the moment, and it's certainly a solid presentation, enhanced for 16:9 televisions. The print shows its age at times but generally conveys the spectrum of colors in Bakshi's animation; the original trailer, comprised of just one scene of "Vinnie" using Vitalis, is the sole extra. (For more background on the film's fascinating, troubled history, click here)

Buck Henry's FIRST FAMILY (100 mins., 1980, R) was one of Gila Radner's sole starring vehicles post-Saturday Night Live, though the top-billed comedienne is just part of a brilliant comic ensemble that includes Bob Newhart as her father – the President of the United States – with Madeline Kahn as the First Lady, Richard Benjamin as Newhart's press secretary, Harvey Korman as the U.N. ambassador, Fred Willard as a confidant and Rip Torn as a military advisor. This comic confection – coming at the end of the Carter era – is fitfully funny in places but ultimately peters out in its final third, though not before "First Family" delivers enough laughs to satisfy fans of any of the stars. Warner's release offers a somewhat soft 16:9 (1.85) transfer of a film making its DVD debut exclusively through the Archive program.

Also new this month is I WILL, I WILL...FOR NOW (108 mins., 1976, R), a heavily dated sex comedy starring Elliott Gould and Diane Keaton as a perpetually squabbling ex-couple falling in and out of love. Paul Sorvino co-stars as an opera-loving lawyer (merely an excuse for "Paulie" to belt out infrequent Lanza-like bursts of song) in love with Keaton, while a fetching Victoria Principal and Candy Clark round out the cast in what turned out to be veteran comedy director Norman Panama's final feature film.

"I Will, I Will...For Now" boasts some appealing performers trying to do their best with a labored script by Panama and Albert E. Lewin that's one of those odd Hollywood comedies produced in the '70s but with an old-fashioned, almost '60s sensibility to it. The movie tries so hard to be "current" but it's hopelessly lost in dated social mores, and is stretched out to an unmanageable 108 minutes on top of it. Warner's Archive DVD of this George Barrie production (originally released theatrically by 20th Century Fox) offers a 16:9 transfer preserving the movie's original 2.35 scope dimensions, though the print more than looks its age.

---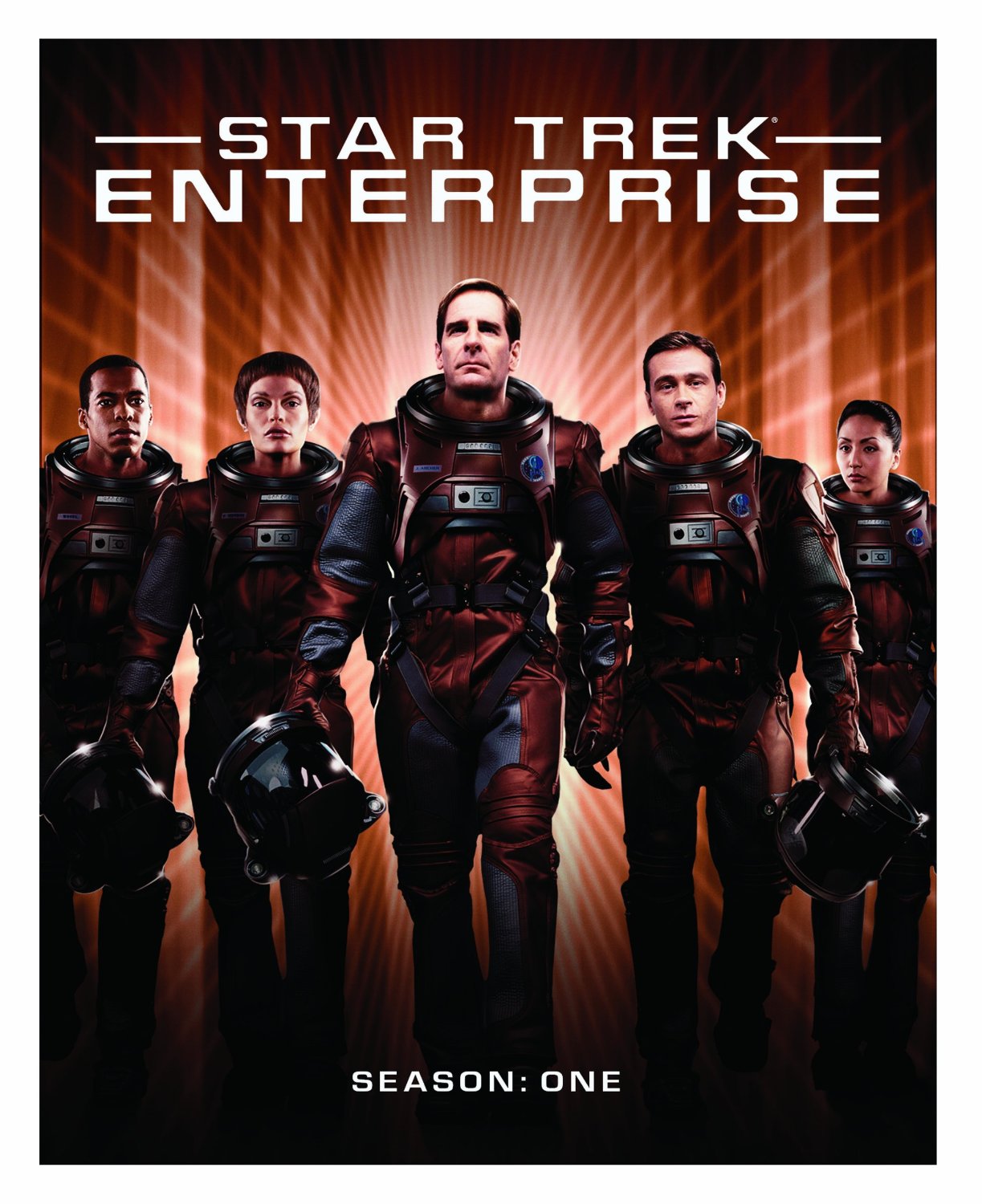 Also New This Month

STAR TREK ENTERPRISE: Season 1 Blu-Ray (aprx. 20 hours, 2001-02; CBS). WHAT IT IS: The fifth incarnation of Gene Roddenberry's sci-fi franchise would prove to be the last until J.J. Abrams' most recent "reboot." WHAT WORKS: For the most part, "Enterprise" was an admirable attempt to mix up some of the increasingly stale elements of the Rick Berman era, going back to the pre-Kirk days and the earliest adventures of Captain Jonathan Archer (Scott Bakula) and crew, including engineer Trip Tucker (Connor Trinneer) and the sensual Vulcan science officer T'Pol (the terrific Jolene Blalock). WHAT DIDN'T WORK: The cast is fine, but the storylines didn't always pan out, with too much deja vu in the assorted story arcs. Four seasons later and "Enterprise" sailed off into the sunset, with most fans believing that the Star Trek franchise needed to take a break. BLU-RAY BREAKDOWN: CBS' restored high-def presentation of "Enterprise"'s first season includes marvelous 1080p AVC encoded transfers (1.78) plus DTS MA soundtracks. The first Trek show shot in HD, "Enterprise" obviously required less maintenance for its leap to the Blu-Ray format than prior Trek series, and the results are uniformly excellent throughout CBS' Season 1 set. Extras include a new, three-part retrospective documentary offering vintage behind the scenes footage, cast/crew interviews, and a candid interview with Rick Berman and Brannon Braga discussing the series' strengths and weaknesses. A 2001 "On the Set" special, never before broadcast, is also included along with cast/crew commentaries on selected episodes. THE BOTTOM LINE: "Enterprise" had some strong moments and a likeable cast, but never really seemed to get into a comfortable groove during its four seasons. Perhaps its worst crime was that it was simply dull. Too many trips to the well resulted in the entire "Star Trek" franchise being put into a hiatus, which is understandable judging by some of the creaky first-season "Enterprise" shows seen here.

Also new this month from CBS is the belated release of FAMILY TIES: Season 6 DVD (1987-88, aprx. 11 hours), the top-rated NBC sitcom that was in the midst of a comfortable groove in its '87-'88 campaign, by which point Michael J. Fox – coming off "The Secret of My Success" – was a bona-fide superstar. Fox's Alex starts a new internship – and falls in love with Courtney Cox – in the series' memorable sixth season, which also finds Mallory working at father Keaton's TV station and Jennifer fighting to keep "The Adventures of Huckleberry Finn" on her school library shelves. CBS' four-disc set includes full-screen transfers and stereo soundtracks, with music-alteration disclaimers listed on the back packaging.

PARENTAL GUIDANCE Blu-Ray/DVD/Digital Copy (**, 105 mins., 2012, PG; Fox): This disposable family comedy from Fox and Walden Media is a long way from stars Billy Crystal and Bette Midler's comedic heights – yet the sad fact is that "Parental Guidance"'s surprising $76 million box-office gross was one of the best for either performer in decades.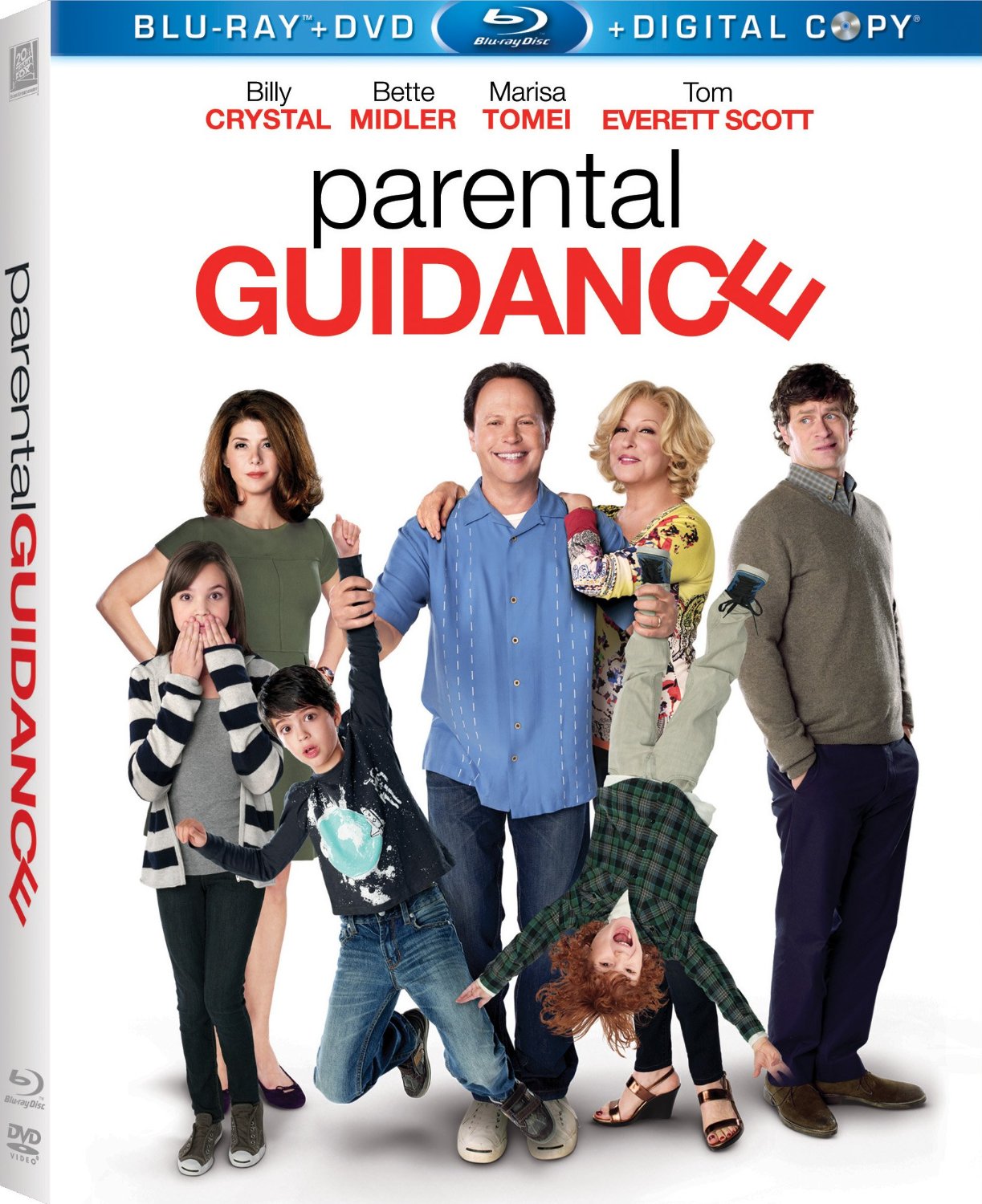 Cliched from one end of the movie's 105 minute running time to the other, "Parental Guidance" finds grandparents Crystal and Midler charged with babysitting the children of their workaholic daughter Marisa Tomei and her tech-savvy husband Tom Everett Scott (remember him?). These "new age" raised kids are up on all the latest gadgets and health food crazes, leaving Crystal and Midler to forever adjust to their whims – until the young ones discover that they, too, can learn something from their old-fashioned grandparents.

PG-rated and aimed at the younger set – with the presence of Crystal and Midler there to appeal to us aging old-fogeys – "Parental Guidance" is saccharinely sweet and not particularly funny...unless you're under the age of 10. Crystal and Midler look like they're having a good time in the movie's Atlanta settings (shot in Georgia to take advantage of the state's movie tax credits), but the script by Lisa Addario and Joe Syracuse is just so limp that there are no surprises and no sense of genuine warmth established under Andy Fickman's direction. Then again, entertainment-starved audiences cashed enough tickets to turn this one into a hit, so maybe I'm just being a grinch? (Nah!).

Fox's Blu-Ray includes commentary with Crystal (who also produced) and the director; deleted scenes; a gag reel and a featurette, plus a DVD and digital copy. The 1080p transfer and DTS MA soundtrack, featuring a score written by Crystal's long-time collaborator Marc Shaiman, are each top notch.

THE SANDLOT 20th Anniversary Blu-Ray (***½, 101 mins., 1993, PG; Fox): David Mickey Evans, infamous for having written "Radio Flyer" and then removed as director of his own script (Richard Donner replaced him and hardly improved the situation), wrote and directed this 1993 Fox coming-of-age kids tale. Set in the early '60s, "The Sandlot" is a nostalgic, feel-good film with laughs, a positive message and a nice use of the widescreen format on Evans' part. Sadly – while Fox's 20th Anniversary Blu-Ray includes a featurette, trailer and TV spots, along with a 1080p AVC encoded transfer and DTS MA soundtrack – it's exactly the same content that was on the prior BD release, making this release skippable unless you didn't own the prior version. A DVD is also included along with a new slipcover in this basic repackaging.

PANIC IN THE STREETS Blu-Ray (96 mins., 1950; Fox): Elia Kazan's tough film noir – featuring Richard Widmark as a Louisiana medical examiner pursuing killer Jack Palance, who's been infected with a virus that threatens the entire populace – hits Blu-Ray in an agreeable package from Fox. An insightful commentary track with historians Alain Silver and James Ursini is the highlight of a supplemental package that also includes retrospectives on Palance and Widmark, plus a crisp 1080p (1.33) B&W transfer with DTS MA mono audio, the latter including a fine Alfred Newman score.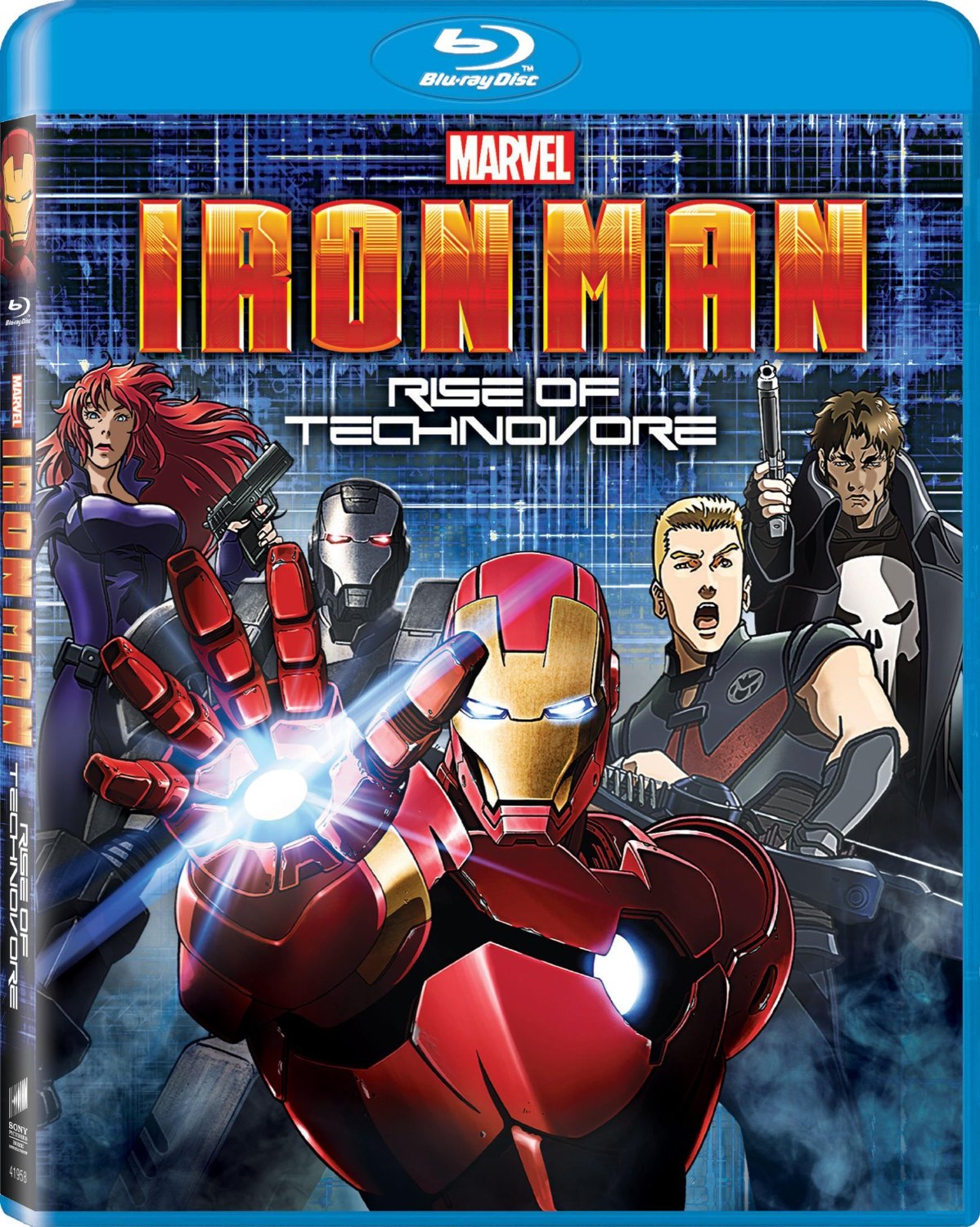 THE BIBLE Blu-Ray (440 mins., 2013; Fox): The year's most surprising television success, Mark Burnett and wife Roma Downey produced this well-meaning – if technically challenged – account of The Bible, from Genesis through Revelation. Though freed from the limitations of, say, John Huston's off-the-wall (though visually arresting) 1966 feature film, this new "Bible" is fairly hackneyed in its approach, with pedestrian acting and cinematography. Still, audiences ate it up, with viewers flocking en masse to the History Channel's broadcasts of the series over the last month. Fox's Blu-Ray disc captures the entire production in a 1080p transfer with DTS MA audio; extras include a number of behind-the-scenes production featurettes and a music video.

LEGO STAR WARS: THE EMPIRE STRIKES OUT DVD (22 mins., 2012; Fox): Cute, albeit very brief, short features mostly original trilogy characters (plus Darth Maul) in a colorfully animated tale that ought to entertain youngsters. Fox's DVD includes a mini Darth Vader figure and a 16:9 transfer.

IRON MAN: RISE OF TECHNOVORE Blu-Ray (88 mins., 2013, PG-13; Sony): After an attack from a new villain claims the life of innocent victims – including Tony Stark's best friend Jim Rhodes (aka War Machine) – Iron Man is detained by S.H.I.E.L.D. and wanted for crimes he didn't commit. Stark is able to escape and joins with The Punisher in order to clear his name – and avoid capture from Avengers teammates Black Widow and Hawkeye – in this latest collaboration between Marvel and Japan's Madhouse. "Rise of Technovore" isn't bad for what it is – a direct-to-video, anime-styled feature intended to whet fans' appetites for the upcoming "Iron Man 3" – and it certainly has a more mature feel than Marvel's prior animated small-screen offerings as well. Sony's Blu-Ray includes a format-exclusive art gallery, two featurettes, a 1080p transfer, DTS MA soundtrack and Ultraviolet streaming copy. (Available April 16th)

PLANET OCEAN Blu-Ray (93 mins., Universal): Yann Arthus-Bertrand and Michael Pitiot's gorgeous looking cinematography is the main selling point of this otherwise typical documentary that illustrates the beauty of the living seas and how imperative it is that mankind learn to co-exist with nature. Narrated by Josh Duhamel and presented for the for the leaders of the Rio+20 conference by Arthus-Bertrand – a Goodwill Ambassador for the UN's Environmental program – "Planet Ocean" comes to Blu-Ray this month from Universal offering a lovely 1080p transfer with DTS MA 5.1 audio and several Making Of featurettes.

A HAUNTED HOUSE Blu-Ray Combo Pack (87 mins., 2013, R; Universal): Feeble spoof of "Paranormal Activity" from co-producer/co-writer/star Marlon Wayans offers the requisite, expected gags as a couple (Wayans, Essence Atkins) moves into a new home, only to find out it's haunted. Nick Swardson, Cedric the Entertainer and David Koechner have been funny elsewhere but "A Haunted House" is scarcely more amusing than the trailer for "Scary Movie 5" (which is to say, not funny at all). Universal's Blu-Ray includes a digital copy, Ultraviolet version, DVD, 1080p transfer, DTS MA soundtrack and a single featurette.

---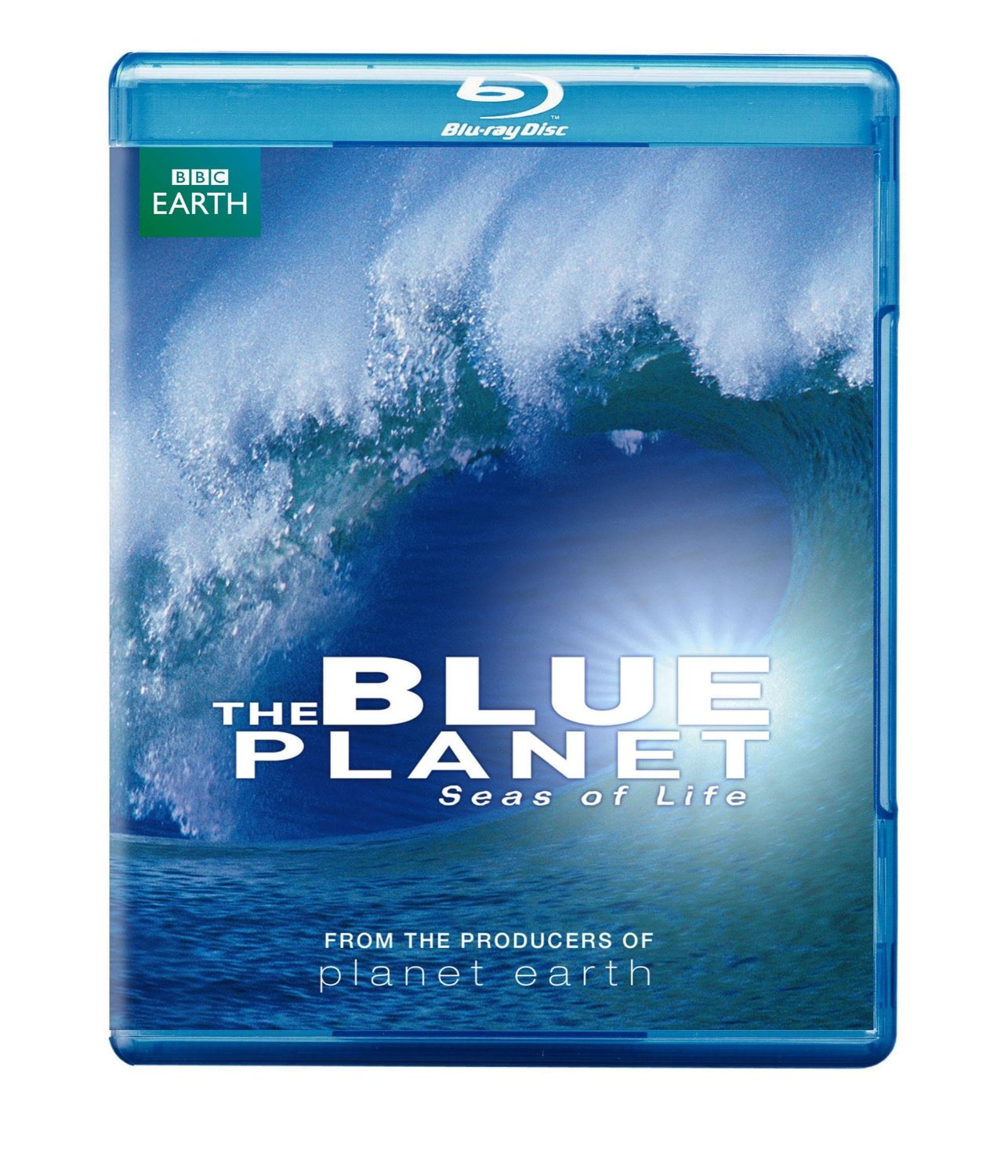 BBC New Releases

THE BLUE PLANET: SEAS OF LIFE Blu-Ray (389 mins., 2001; BBC): George Fenton's terrific score anchors this spectacular BBC documentary from the same creative team that would later produce "Planet Earth," including host David Attenborough and producer Alastair Fothergill. BBC's 1080p HD remastering of their acclaimed 2001 "Blue Planet" mini-series still offers breathtaking footage of life under and just above the surface, from dolphins and killer whales to seal pups and baby turtles – the latter groups fighting to stay away from predators. However, because the series was filmed in standard definition, the upscaled presentation varies greatly from certain sequences that look HD in quality, to others that are clearly derived off standard-definition video (i.e. much of the underwater footage). Five bonus programs, interviews with Fothergill and other crew members, 80 minutes of behind-the-scenes footage and DTS MA 5.1 soundtracks round out the release.

Other new BBC Nature releases on Blu-Ray this month include THE GREAT BARRIER REEF (185 mins., 2011), a BBC/Discovery Channel co-production, profiling life along Australia's Great Barrier Reef; and ONE LIFE (85 mins., 2011), a shorter feature narrated by Daniel Craig and scored by George Fenton, that chronicles the emotional bonds between animals of all ages, shapes and sizes. Another fine 1080p transfer is on-tap here along with DTS MA audio.

THE ADVENTURES OF MERLIN: Season 5 Blu-Ray (569 mins., 2013; BBC): The dark seeds of destruction come bearing down on Camelot as Morgana and Mordred once again assault the peaceful kingdom. Merlin fights to save it – along with King Arthur – in this fifth season of the popular BBC series. BBC's Blu-Ray includes 1080p transfers, 2.0 DTS MA soundtracks, a Making Of featurette, commentaries, deleted scenes, outtakes and storyboards.

SPIES OF WARSAW Blu-Ray (180 mins., 2013; BBC): David Tennant stars in Dick Clement and Ian La Frenais' adaptation of Alan Furst's novel "Spies of Warsaw," a lavish BBC mini-series that's received only mixed reviews on this side of the pond. Tennant gives a convincing performance as Colonel Jean-Francois Mercier, who's drawn into espionage in pre-WWII Europe, but there's something lacking in Coky Giedroyc's overly staid direction. BBC's Blu-Ray includes an interview with Tennant, plus a 1080p transfer and 2.0 DTS MA soundtrack.

ALICE IN WONDERLAND DVD (130 mins., 1996; BBC): Barry Letts' 1996 dramatization of Lewis Carroll's classic arrives on DVD from the BBC, starring Kate Doring as Alice. BBC's disc includes a stereo soundtrack and 4:3 transfer with the 130-minute program spread across one dual-layer disc.

---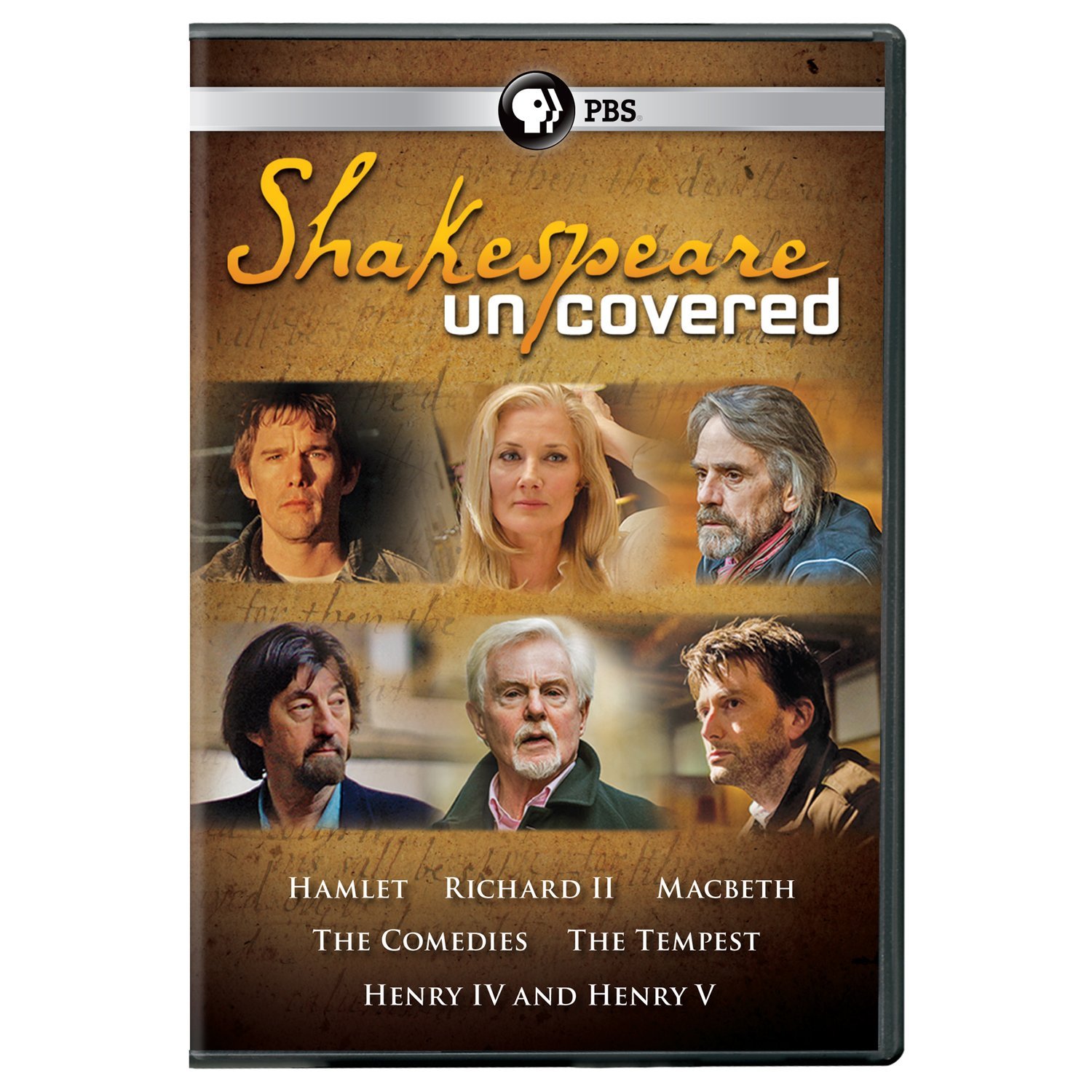 New From PBS

New titles from PBS this month include a pair of "Nova" specials, a gorgeous "Nature" Blu-Ray and a fascinating DVD of SHAKESPEARE UNCOVERED (aprx. 6 hours, 2012).

In this six-part series, a famous actor/director tackles individual Shakespeare works, diving headfirst into their construction, modern relevance and social significance. Among the plays profiled are "Macbeth" with Ethan Hawke; "Richard II" with Derek Jacobi; comedies "Twelfth Night" and "As You Like It" with Joely Richardson; "Henry IV" & "Henry V" with Jeremy Irons; "Hamlet" with David Tennant; and "The Tempest" with Trevor Nunn. Widescreen transfers and stereo soundtracks adorn PBS' two-disc DVD set, which comes strongly recommended for enthusiasts of The Bard.

From PBS' Nova come a pair of new releases: BUILDING PHARAOH'S CHARIOT (60 mins., 2013) takes a team of archaeologists, engineers, trainers and other craftsmen and challenges them to build two replicas of Egyptian chariots, all the while dissecting the role the chariot played in ancient military history. A widescreen transfer and stereo soundtrack comprise PBS' DVD presentation. Also due out on DVD, ANCIENT COMPUTER (60 mins., 2012) fascinatingly profiles the world's first Greek computer, found in a 2,000 year old shipwreck, and which accurately tracked lunar and solar eclipses as well as other major events. Mike Beckham's Nova program is spellbinding as it tracks down the inventor of a device that would have no equal for another 1,000 years.

Exclusively on Blu-Ray from PBS is the Nature program COLD WARRIORS: WOLVES AND BUFFALO (60 mins., 2013), a beautifully shot examination of the delicate ecological dance between North American buffalo and their predators – wolves – on the central Plains. Superb widescreen photography looks especially inviting in PBS' 1080i transfer with 5.1 Dolby Digital sound rounding out the disc.

---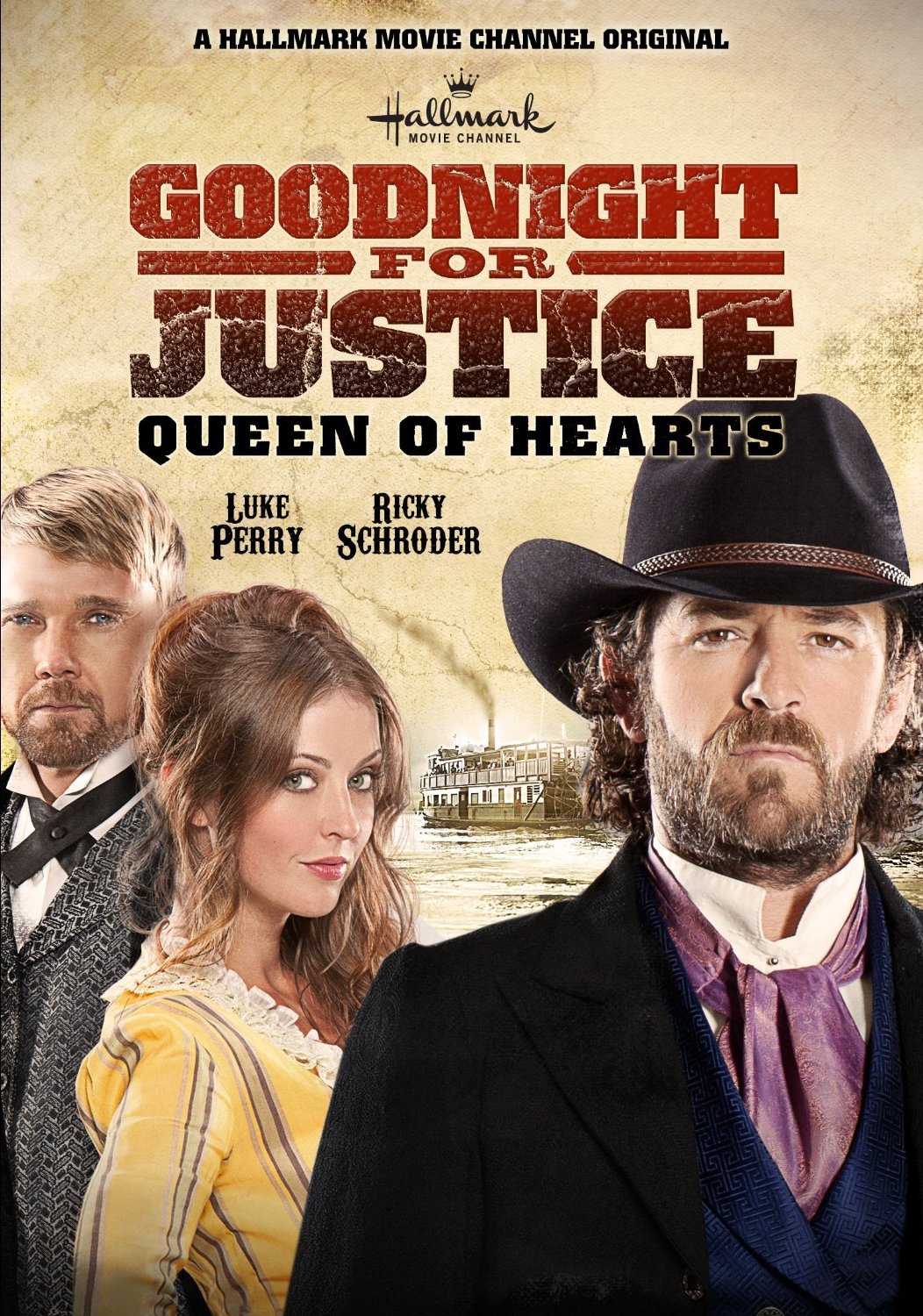 Label Round-Up

New From E One: In CHARLIE: A TOY STORY (99 mins., 2013), a 10-year-old and his golden retriever try and stop neighborhood bullies from breaking into Dad's toy shop and stealing a magical weapon in this featherweight comedy for kids. Cute and inoffensive, "Charlie: A Toy Story" hits DVD from E One in a no-frills DVD offering a 16:9 transfer and 2.0 soundtrack...Craig Shoemaker's latest stand-up comedy special, DADITUDE (82 mins., 2012) also arrives on DVD this month from E One. The label's DVD includes two outtakes, a photo shoot and "The Runway" extra, along with a 16:9 transfer and 2.0 soundtrack...One of the top cable movies of the year, Luke Perry reprises his role as Judge John Goodnight in GOODNIGHT FOR JUSTICE: QUEEN OF HEARTS (87 mins.). This time out, Goodnight rescues the only survivor from a stagecoach attack (Katherine Isabelle), unaware that she's a con artist running away from stuffy Ricky Schroder. E One's DVD of this Hallmark Channel western includes deleted scenes, interviews with the cast, a 16:9 transfer and 5.1 soundtrack...Isabelle also shows up in 13 EERIE (87 mins., 2012, Not Rated), a Canadian import with Isabelle and Brendan Fehr among a group of FBI hopefuls who take on a seemingly supernatural menace in order to stay alive. Lowell Dean's film receives a DVD release from E One boasting Making-Of featurettes, a photo gallery, commentary with Dean, a 16:9 transfer and 5.1 soundtrack...THE SWEENEY (112 mins., 2012, R) is a nasty reworking of a British TV series starring Ray Winstone as a detective in a tough London task force that preys on the underworld. A good cast including Hayley Atwell and Damian Lewis pop up in Nick Love's British import, which E One brings to Blu-Ray this month offering a slew of extras, including a commentary track and a handful of featurettes. The 1080p transfer is excellent and 5.1 DTS MA soundtrack filled with active explosions and effects...A CAR'S LIFE 3: THE ROYAL HEIST (85 mins., 2013) offers a feature-length adventure for kids with basic but colorful animation. E One's DVD includes a 16:9 transfer and 2.0 soundtrack.

New From MPI: Ricki Stern and Annie Sundberg's documentary KNUCKLEBALL! (85 mins., 2012) profiles the art of the knuckleball pitcher, most particularly following the 2011 seasons of the Mets' R.A. Dickey (who ended up winning the Cy Young in 2012) and Red Sox veteran Tim Wakefield. Nearly two hours of extra featurettes and interviews are on-hand in MPI's DVD, which also boasts a 16:9 transfer and 2.0 soundtrack...."Shakes the Clown" meets the undead in Conor McMahon's horror indie STITCHES (87 mins., 2012, Not Rated), the tale of a group of grown friends who relive the night a birthday party clown (Ross Noble) died on their kitchen floor – by way of "Stitches" coming back from the dead! Ridiculously over the top in a good way, "Stitches" makes its way to Blu-Ray as a Dark Sky title through MPI, with extras including commentary with Noble and McMahon; a Making Of; bloopers; the trailer; a 1080p transfer and 5.1 DTS MA soundtrack.

New From Virgil Films: The struggle for Democracy in Egypt, Malaysia, Ukraine, Venezuela and Zimbabwe is chronicled in Ben Moses' documentary A WHISPER TO A ROAR (94 mins., Not Rated), which Virgil brings to DVD this month. The disc, which includes a 16:9 transfer and 5.1 soundtrack, also boasts extended interviews and the trailer.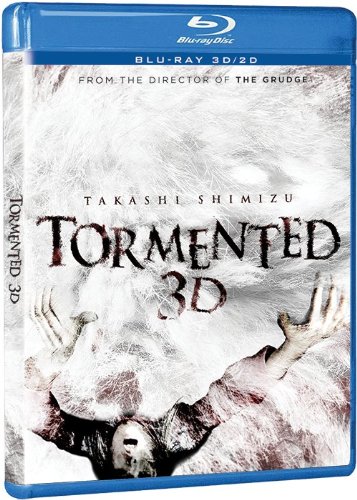 New From Well Go: Takashi Shimizu's latest Japanese horror offering, TORMENTED (83 mins., 2011, Not Rated), is certainly a nightmare: a bizarre collage of images intended to break out of your 3D screen after a brother and sister bring home a stuffed rabbit from a 3D movie. Bad things, naturally, happen soon thereafter. Shimizu may have helped springboard the last decade of Asian horror but the genre well seems tapped out by this point, as the technically proficient "Tormented" – presented on Blu-Ray in both 3D and 2D by Well Go – is a nonsensical thriller built entirely on how effective you feel Shimizu's direction happens to be. Well Go's Blu-Ray looks superb and includes a 5.1 DTS MA soundtrack in Japanese with English subtitles...Yudai Yamaguichi's DEADBALL (99 mins., 2011, Not Rated) is another Japanese import coming from Well Go on April 9th. A "politically incorrect sports splatter comedy," "Deadball" offers a wacky mix of horror and comedic shenanigans from Japan's "Sushi Typhoon." Well Go's Blu-Ray includes a 1080p transfer, DTS MA soundtrack, spinoff short, Making Of, cast interviews, and trailers for other Well Go titles...Gordon Chan's THE FOUR (119 mins., 2012, Not Rated) follows a quartet of kung-fu warriors as they try and stop an army from the undead from storming the capitol in an adaptation of the novel "The Four Detective Guards" by Wen Ruian. Well Go's Blu-Ray includes a Making Of, deleted scenes, the trailer, a 1080p transfer and 5.1 soundtrack in Mandarin with English subtitles.

New From Anchor Bay

THIS MUST BE THE PLACE Blu-Ray (111 mins., 2012, R; Anchor Bay): As off-putting as a mascara and lipstick-laden Sean Penn may be on the cover of the "This Must Be the Place" BD, Paolo Sorrentino's offbeat film isn't nearly as terrible as you might imagine. Penn plays a goth rocker living in Dublin with his wife (Frances McDormand) when he hears of his father dying – though he arrives back in the U.S. too late, his dad's desire for revenge against a former Nazi living nearby fuels this strange character-drama/road trip co-starring Judd Hirsch, Harry Dean Stanton, and David Byrne. Anchor Bay's Blu boasts a crisp 1080p AVC encoded transfer and DTS MA 5.1 soundtrack.

Robert Knepper essays a federal agent who – alongside his son Cameron Bright – attempts to stop a magnetospheric catastrophe from destroying the planet in the better-than-average Syfy movie EARTH'S LAST HOURS (91 mins., 2012, PG-13), offering a decent story and surprisingly good effects. Anchor Bay's Blu-Ray includes a 1080p transfer and 5.1 Dolby TrueHD soundtrack for this Canadian import that proves the best Syfy Channel films are coming from Cinetel north of the border...James Gandolfini stars as the owner of a rundown New Jersey amusement park whose past catches up to him in DOWN THE SHORE (93 mins., 2012, R) when a man claiming to be the husband of his younger sister shows up with her ashes. Famke Janssen and Edoardo Costa co-star in Harold Guskin's film, presented on Blu-Ray in a 1080p transfer with 5.1 Dolby TrueHD audio...Dominic Purcell, meanwhile, plays a serial killer who breaks out and opts to stalks student Christine Evangelista in the terrible ESCAPEE (96 mins., 2011, R), co-starring Danny Nucci and Faith Ford. Anchor Bay's Blu-Ray includes a Making Of featurette, the trailer, photo gallery, 1080p transfer and 5.1 Dolby Digital soundtrack...Donnie Yen plays a village worker who gets wrapped up with China's criminal underworld in DRAGON (98 mins., 2011, R), a Hong Kong thriller that Anchor Bay brings to Blu-Ray this month offering a Making Of featurette, Donnie Yen interview segments, a music video, 1080p transfer and 5.1 DTS MA soundtrack in Mandarin with English subtitles.

---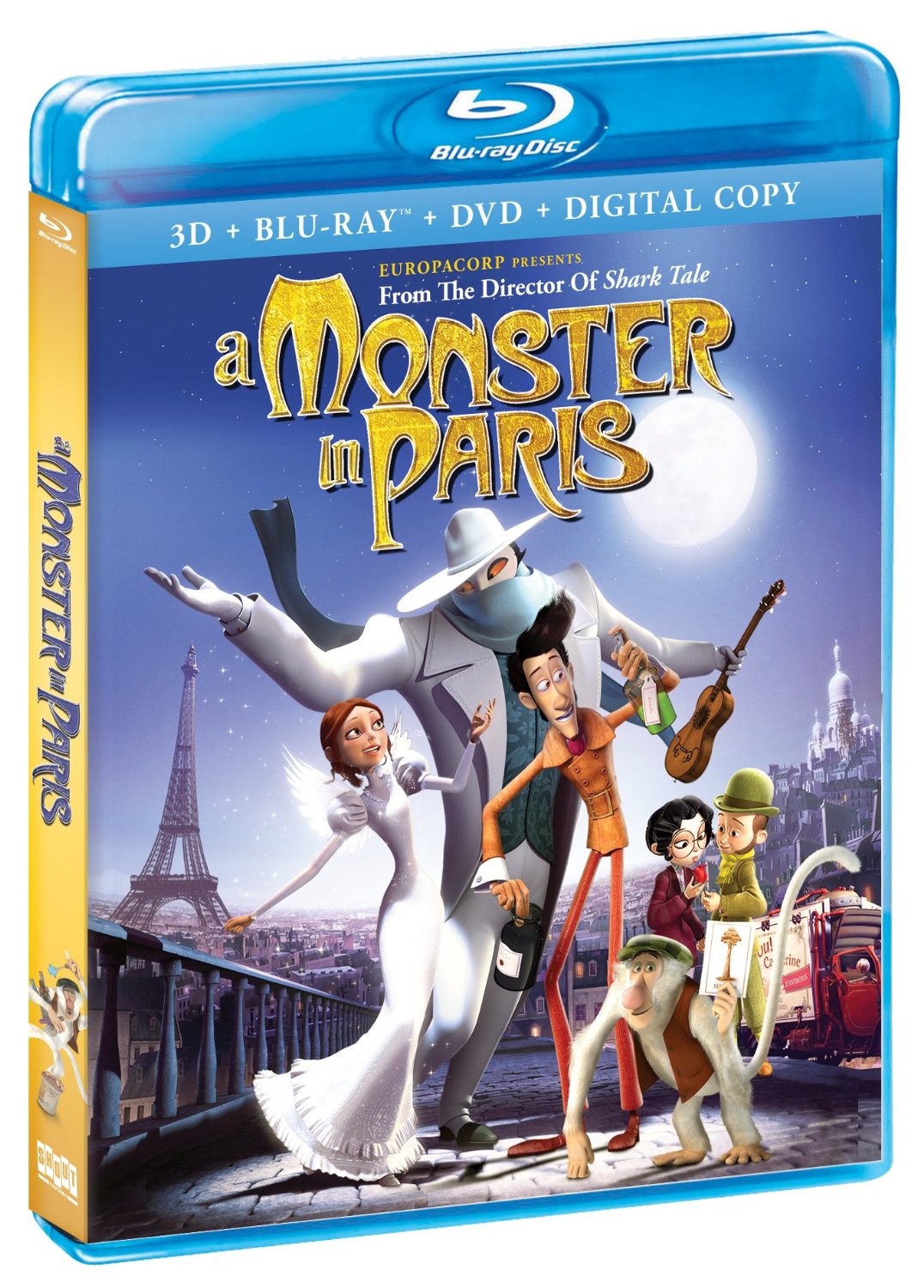 New From Shout! Factory

A MONSTER IN PARIS 3-D Blu-Ray/Blu-Ray/DVD (87 mins., 2011, PG; Shout!): Bizarre animated offering from "Shark Tale" director Bibo Bergeron is set in Paris circa 1910, where a couple of pals unwittingly create an insectoid-musical sensation who loves to sing weepy ballads. "A Monster in Paris" has a distinctively European flavor to it – so much that I couldn't grasp who this odd feature was aimed at. The movie is too silly and dull for adults, but equally strange and unappealing for kids, who might find the colorful (though mostly sparse) animation compelling but little else. The soundtrack also includes a number of unappealing songs performed by Sean Lennon that aren't exactly Alan Menken material. Unsurprisingly bypassed for a North American theatrical release, "A Monster in Paris" comes to home video this month from Shout! Factory. Shout's Blu-Ray transfer is quite good but the 3-D presentation is mostly worthless due to few depth-of-field effects and little use made of the format. A DVD is also included along with a 5.1 DTS MA soundtrack.

Coming soon from Timeless Media Group on April 23rd is A HAUNTING: SEASON 5 DVD (425 mins.), the 2012 season of the high-rated Discovery Channel supernatural series. The entire 10-episode fifth season is included here with widescreen transfers and stereo soundtracks...Also on April 23rd, Shout releases COLD PREY II (94 mins., 2008, Not Rated), the sequel to "Cold Prey" that brings Ingrid Bolso Berdal back to take on a killer she thought was dead in the Jotunheimen mountains. Shout's DVD includes a 16:9 transfer and stereo soundtrack in Danish with English subtitles....Last but not least comes WOOCHI: THE DEMON SLAYER (115 mins., 2009, Not Rated), a South Korean fantasy smash about a womanizing wizard, imprisoned in ancient scrolls, who's unleashed in the 21st century in order to take on demons roaming the city streets. A big hit in its native country, Shout! brings "Woochi" to domestic Blu-Ray on April 9th sporting a Making Of featurette, deleted scenes, production featurettes, a CGI featurette, 1080p transfer and DTS MA 5.1 soundtrack in Korean with English subtitles (a dubbed English track is also included).

New From Magnolia: Jet Li returns to his roots in THE SORCERER AND THE WHITE SNAKE (93 mins., 2011, PG-13), a good-looking albeit ho-hum story of a sorcerer monk who falls in love with a woman – who's really a mystical white snake (!), played in human form by Eva Huang. The action scenes are fleeting but HK cinema fans and Li aficionados may want to check out Magnolia's Blu-Ray when it streets this week, boasting a 1080p transfer, DTS MA soundtrack, four Making Of featurettes, and the trailer...Don Coscarelli's latest film, JOHN DIES AT THE END (99 mins., 2012, R) is a highly uneven gore/splatter/comedy starring Chase Williamson, Rob Mayes, Paul Giamatti, Clancy Brown and Glynn Turman in an adaptation of David Wong's comic graphic novel. Much like "Bubba Ho-Tep," viewers may be split over this film's tone, which offers some laughs and gory bits, but also a tedious stretch that may try the patience of even the staunchest genre fan. Magnolia's Blu-Ray includes a slate of special features (deleted scenes, interviews, commentary, trailers) along with a 1080p transfer and DTS MA soundtrack.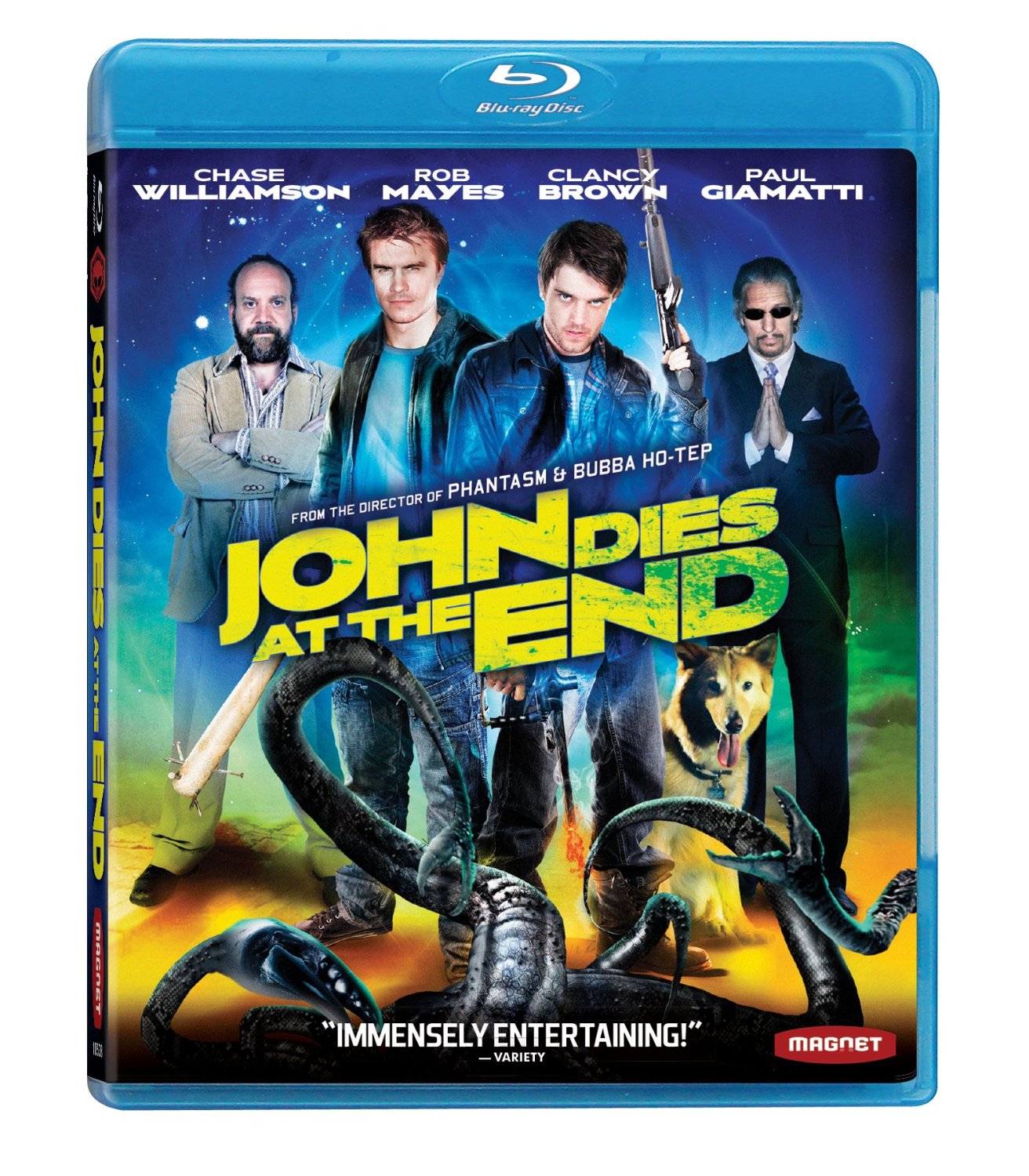 LUV DVD (94 mins., 2012, R; Indomina/Vivendi): Family drama stars Michael Rainey Jr. as a young man who wants to reunite his family, including a distaff uncle (Common) who tutors Rainey in the ways of being a man – until his shady past comes back to impact them both in Sheldon Candis' well-acted picture. Co-starring Danny Glover, Dennis Haysbert, Meagan Good and Charles S. Dutton, "Luv" lands on DVD this month from Vivendi offering a number of extras (Making Of, deleted scenes, director/writer commentary, the trailer and "Michael's Take on Luv"), a 16:9 transfer and 5.1 soundtrack.

HEMINGWAY & GELLHORN Blu-Ray (155 mins., 2012; HBO): Nicole Kidman stars as war correspondent Martha Gellhorn, whose turbulent marriage to Ernest Hemingway (Clive Owen) is chronicled in Philip Kaufman's lengthy, well-made HBO TV film, one that boasts expert technical work across the board (sound design by Walter Murch; Rogier Stoffers' textured cinematography; and a fine score by Javier Navarrette). HBO's Blu-Ray of the complete "Hemingway & Gellhorn" includes several format-exclusive special features (a visual effects featurette and Making Of profile) plus a commentary with Kaufman and Murch, a 1080p transfer and DTS MA soundtrack.

INTO THE COLD DVD (87 mins., 2011; Shelter Island): Acclaimed documentary by Sebastian Copeland follows his two-month trip to the North Pole with partner Keith Heger – on foot, crossing over 400 miles over the frozen ice cap in the process. Shelter Island's DVD includes a 16:9 transfer and 5.1 soundtrack.

Also coming from Shelter Island is DOCTORS OF THE DARK SIDE (73 mins., 2011), a controversial profile of physicians and psychologists who worked with detainees in U.S. military prisons and implemented Enhanced Interrogation Techniques. Jack Bauer would surely not approve of Martha Davis' documentary, which Shelter Island brings to DVD with a 16:9 transfer and 2.0 stereo soundtrack.

THE EXORCIST IN THE 21st CENTURY DVD (80 mins., Disinformation): Vatican-approved documentary from writer-directors Christian Falch and Fredrik Horn Akselsen follows Jose Antonio Fortea – one of the few Vatican-approved exorcists – as he performs the rite on a Colombian woman. Fascinating stuff with the entire exorcism presented here in some 114 minutes of bonus features, along with interviews with Father Fortea and Father Gabriel Amorth, head Vatican exorcist; a 16:9 transfer and 5.1 soundtrack.

STATE OF EMERGENCY DVD (90 mins., 2012, Not Rated; Image): Jay Hayden tries to fight off another zombie invasion after the contents of a military plant transform its populace into rampaging hordes of the undead! Zombies have clearly supplanted vampires as today's supernatural menace of choice, and Turner Clay's low-budget effort is likely to appeal to strictly hardcore fans of low-end zombie fare. Image's DVD includes a widescreen transfer, deleted scenes and two featurettes.

New From Lionsgate: The producers of "Ong Bak" and "The Protector" bring action lovers THE KICK (94 mins., 2013, PG-13), a Korean thriller concerning a tae kwon do-trained young man who has to save his family after they're taken hostage. Lionsgate's DVD includes a 16:9 transfer and 5.1 Dolby Digital soundtrack.

NEXT TIME: More of the latest reviews! Until then, don't forget to drop in on the official Aisle Seat Message Boards and direct any emails to our email address. Cheers everyone!