Message Board - Come and Discuss The Latest Videos, Movies & Anything Else!
J.J Abrams' 2009 "reboot" of the Star Trek franchise was greeted with a generally warm response from audiences and critics alike. How distressing, then, that his belated follow-up, STAR TREK INTO DARKNESS (** of four), is an almost unbearably bombastic remix of "The Wrath of Khan," so poorly handled that it negates most of the goodwill established by its predecessor.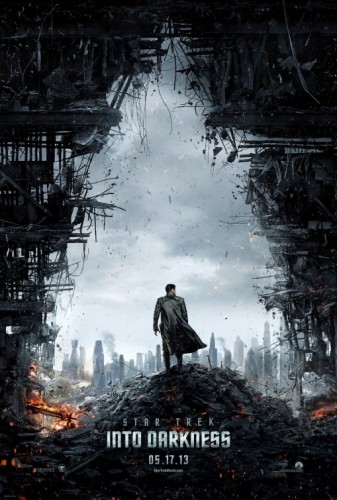 The plot, concocted by Abrams' usual cohorts Roberto Orci, Alex Kurtzman and Damon Lindelof finds Kirk (Chris Pine), Spock (Zachary Quinto) and the rest of the Enterprise crew in the midst of a surveying mission gone haywire. The fallout nearly ends up sending Kirk back to the Academy, but the vile actions of a villain (Benedict Cumberbatch) shrouded in mystery soon force Starfleet's hand – and places Kirk in charge of a vengeful mission to track him down in the far reaches of the galaxy. Without spoiling too much of the plot (as if it hasn't been already), the ensuing battle between Kirk and Cumberbatch's villain ends up sending the characters down a road you've already seen before – but without any of the emotional and dramatic stakes its far superior counterpart generated.
"Star Trek Into Darkness" offers Abrams at his worst behind the camera: constantly swirling the camera around as if every single moment is a fever pitch of dramatic tension, utilizing ADD levels of hyper-editorial rhythms, and scarcely stopping for a minute to let any of it breathe. This is a loud, shrill exercise in modern studio filmmaking almost from start to end – dramatic beats go quickly by the wayside in favor of another fistfight, one more explosion, and copious amounts of special effects. Once in a while Bones (Karl Urban, criminally underutilized here) or Scotty (Simon Pegg) drop in a cute line or two, but there's no humanity beneath the bombast, and the ultimate revelation of Cumberbatch's bad guy won't come as much of a surprise (though it does -- much like "Iron Man 3" a week ago -- show that the studio's concerns for "global sensitivity" over an "ethnic villain" have completely run amok). What is a surprise is how clumsily it's integrated into a lame "Starfleet conspiracy" angle that's wholly unsatisfying – the movie, which I wasn't crazy about right off the bat, basically unraveled completely for me during this stretch of the film and never recovered.
I felt that Abrams' concept for his "Star Trek" was a smart one in 2009: breaking free from "canon," but working in familiar ingredients in new and inventive ways, that picture was one of the best of the big-studio remakes we've been deluged with over recent years. Sadly, "Into Darkness" proves that film was just a one-trick pony, as Abrams, Orci, Kurtzman and Lindelof seem to have nothing new to add here, and subsequently fall back on Nicholas Meyer's 1982 classic (a picture that feels positively Shakespearean by comparison) for inspiration more and more as the film progresses. Whole lines of dialogue end up being reprieved in a new context late in the film – but they mean next to nothing here dramatically, since their inclusion feels less like they're integral to the story and more a result of the filmmakers having nothing else to say. Meanwhile, other fan-service references – like the future design of the Enterprise, an appearance of the Klingons, Leonard Nimoy's pointless cameo, and a quick appearance by a Tribble – come off as totally arbitrary. What's next – Seth Rogen appearing as Harry Mudd? (Maybe we shouldn't give them any ideas!).
The picture's flaws are further compounded by a totally blah visual scheme – despite a huge budget, where's the imagination? Abrams' futuristic San Francisco looks like "Minority Report" or last year's "Total Recall"; Kirk and Scotty running around a gravity-challenged Enterprise on its last legs plays like a feeble reprise of "Titanic"; and various set-pieces, like Kirk and his "frenemy" flying through space dodging debris, look like leftovers from any number of recent comic book flicks. Very little of this picture looks or feels like a "Star Trek" adventure, and even Michael Giacchino's wall-to-wall underscore (there are precious few scenes that play without music) is completely exhausting.
If the 2009 "Star Trek" felt as fresh and invigorating as the start of Abrams' series "Lost," then "Into Darkness" plays like the disastrous end of it. A hugely unsatisfying and headache-inducing disappointment. (128 mins, PG-13)
---
New From Twilight Time
Twilight Time's May releases bring "Leave Her to Heaven," Fox's searing 1945 potboiler, and "Philadelphia" – Jonathan Demme's 1993 Oscar contender – to Blu-Ray, but the big surprise for some viewers may be which of the two holds the most entertainment value.
A film highly regarded as an unusual hybrid of film-noir and Hollywood melodrama, LEAVE HER TO HEAVEN (***½, 110 mins.) is a hugely satisfying slice of Fox Technicolor filmmaking. Ben Ames Williams' bestseller was adapted by Jo Swerling for John M. Stahl's 1945 release, and charts the unpredictable – at first simply obsessive, then borderline maniacal – behavior of a Maine socialite (Gene Tierney, a precursor to other femme fatales like Glenn Close in "Fatal Attraction") who quickly attaches herself to author Cornel Wilde while en route to New Mexico. Their courtship is so whirlwind that Wilde scarcely has the opportunity to propose before Tierney does it herself – in the face of her fiancee, attorney Vincent Price, at that. All Tierney wants to do is love...no matter what (Wilde's disabled younger brother; Tierney's sister Jeanne Crain) stands in her way, and whatever "Ellen" wants, she typically gets.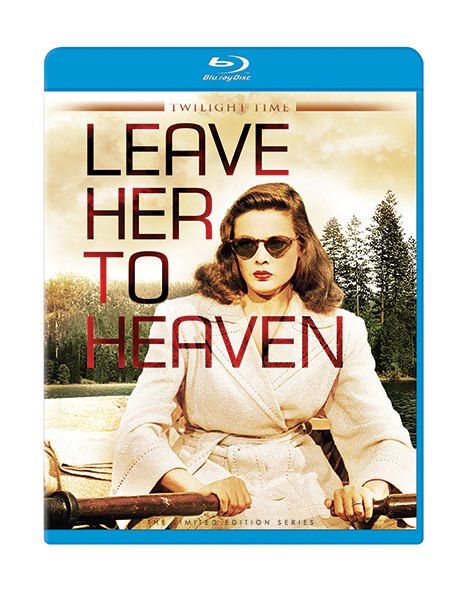 "Leave Her to Heaven" is gorgeous to look at and listen to, thanks to Alfred Newman's dramatic underscoring and Leon Shamroy's sparkling Technicolor cinematography. This is a splendidly performed, tartly written thriller with some adult themes that were shocking for the time (particularly in how Tierney deals with her pregnancy!), all of it resulting in a delectable entertainment – as Julie Kirgo points out in her liner notes, it's a vintage film noir set in the pleasurable trappings of a big-studio color production of the era. Golden Age fans, especially, ought to be highly pleased with the picture and Twilight Time's tremendous new Blu-Ray release as well.
In fact, this is one of the best of the Twilight Time releases from the Fox catalog to date, thanks to a healthy and vibrant 1.33 1080p transfer. The film was restored relatively recently and it shows, with the image offering fresh colors and fine detail, more so than many other HD transfers I've seen dating from the '40s and '50s. The pungent 1.0 DTS MA mono audio, meanwhile, almost sounds stereophonic at times in its clarity, making this a home run on the A/V side. Extras include commentary with Darryl Hickman (who starred as Wilde's brother) and critic Richard Schickel; a Movietone News reel; the trailer; and an isolated score track. Highly recommended!
PHILADELPHIA (**½, 125 mins., 1993, PG-13), meanwhile, was a film touched upon numerous "hot button issues" that mainstream audiences had seldom seen before on-screen in the early '90s. In Jonathan Demme's follow-up to his 1991 triumph "Silence of the Lambs," Tom Hanks portrays a gay lawyer stricken with AIDS who decides to fight against the employer who inexplicably fired him on his way to the top. Denzel Washington co-stars as the low-level personal injury attorney who decides to represent him, even despite his inherent homophobia, in an original script by Ron Nyswaner that – despite its Oscar win for Hanks' performance – these days comes off as an overrated "message movie" more than anything else. The picture is long on speechifying, dispelling myths about AIDS (Washington asks if he's contracted HIV by shaking Hanks' hand) and breaking down social barriers between gay and straight individuals – while certainly praiseworthy for being one of the first major Hollywood films to tackle these subjects, "Philadelphia" itself is pretty creaky and not entirely convincing. You almost get the sense that Demme and Nyswaner had a list of elements they wanted to raise in the film, yet not all of them are organically developed, leaving the ensuing drama to play out along the lines of an old "Disease of the Week" TV movie, just with superior performances from Hanks and Washington, plus Jason Robards, Mary Steenburgen and Antonio Banderas as Hanks' lover.
Twilight Time's Blu-Ray presentation boasts a top quality 1080p AVC encoded transfer and 5.1 DTS MA soundtrack from the Sony vaults. Extras include an isolated score track of Howard Shore's music (it's at least better than Bruce Springsteen's hideous "Streets of Philadelphia" title tune, which inexplicably copped an Oscar), along with numerous extras from the DVD edition (commentary from Demme and Nyswaner; deleted scenes, including additional material between Hanks and Banderas; interviews, the trailer, and a featurette).
---
CLOUD ATLAS Blu-Ray Combo Pack (*½, 171 mins., 2013, R; Warner): It's never a good sign that my first response after starting "Cloud Atlas" – and upon hearing Tom Hanks' garbled dialogue – was to double-check the disc menu to ensure it was set on English.
This expensive box-office bust from the Wachowski siblings (yes, they used to be brothers, but Larry is now Lana) and German filmmaker Tom Tykwer is an almost indecipherable mess of multiple timeframes, characters with shared, "connective emotional experiences," actors playing multiple roles (including, in a few instances, different genders and ethnicities) and assorted tragedies that run from the gamut from the 1800s through England in the '30s; early '70s San Francisco; present-day London; a futuristic Korea; and a post-apocalyptic (or whatever) world that finds Hanks running around in a forest, looking nearly as lost as Kevin Costner did in "Robin Hood: Prince of Thieves."
It takes all of 10 minutes for you to realize that there's something truly "off" with "Cloud Atlas." Why is Hugh Grant speaking with an American accent and a truly horrible nasal prosthetic? Why is Susan Sarandon also saddled with a laugh-inducing nasal prosthetic? Why does Tom Hanks' gangster British author feel as if he's dropped in from a terrible Saturday Night Live sketch? Why is Hugo Weaving dressed up like a refugee from a Tim Burton film? What do the bombastic futuristic sequences – handled by the Wachowskis – have to do with Twyker's '30s set tale of a young gay man killing himself after Jim Broadbent steals his classical music composition?
The answers are supposedly buried somewhere in the rubble of this near three-hour dud (basically they amount to Mitchell's new-age reincarnation theory and assertion that we're all "connected"), which would've been good for a few laughs – or the interest of bad movie buffs – if it weren't for its unmanageable running time. To its credit, John Toll and Frank Griebe's cinematography is stellar, with colors and textures flying off the screen, but the film is so muddled and silly that only devotees of David Mitchell's book are likely to tolerate – much less understand – it.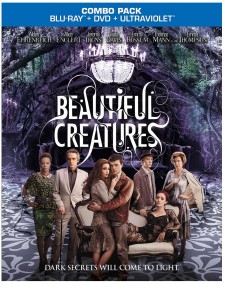 Warner's Blu-Ray combo pack boasts an expectedly strong 1080p AVC encoded transfer and 5.1 DTS MA soundtrack – if nothing else, "Cloud Atlas" is worth watching for a few minutes to savor its technical attributes. Tykwer, Johnny Klimek and Reinhold Heil's musical score is one of the film's strongest assets (admittedly, it doesn't take much), while a number of "Focus Points" offer brief insights into the film's production, visual effects, and the genesis of Mitchell's original story (this is yet another "unfilmable book" that should've remained on the printed page). A DVD and Ultraviolet copy round out Warner's combo pack.
BEAUTIFUL CREATURES Blu-Ray Combo Pack (**, 124 mins., 2013, PG-13; Warner): Exquisitely shot but otherwise vapid attempt to cash-in on the "Twilight"/"Hunger Games" fad by launching another franchise from a young adult book series (here, the works of Kami Garcia and Margaret Stohl) became one of the year's biggest flops earlier this winter.
Certainly writer-director Richard LaGravense seemed to be a good choice to helm this romantic fantasy about two starcrossed lovers (Alden Ehrenreich, Alice Englert), witches, dark and light forces and all kinds of calamity that ensues once warring factions fight for Englert's soul. Jeremy Irons, Viola Davis, Emma Thompson and Emmy Rossum comprise the veteran portion of the cast supporting the rather bland leads, and LaGravenese augmented the production with attractive cinematography from Philippe Rousselot...but it's all for naught, as the movie is deadly dull and never springs to life.
Warner's Blu-Ray of "Beautiful Creatures" offers a number of extras, from featurettes (Book to Screen, The Casters, Between Two Worlds, Forbidden Romance, Alternate Worlds, Designing the Costumes), a book trailer, deleted scenes, trailers, and both an Ultraviolet and DVD copy. The 1080p transfer is exceptional, while the throbbing DTS MA soundtrack scarcely takes a break.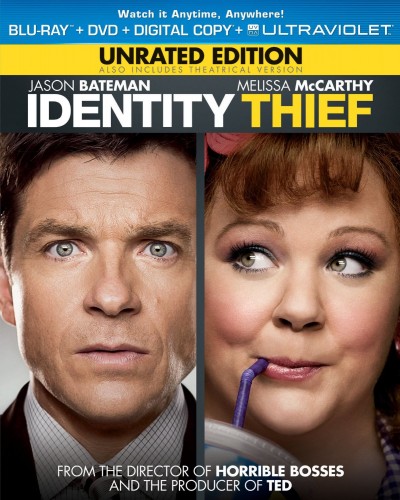 IDENTITY THIEF Blu-Ray Combo Pack (**½, 112/121 mins., R/Unrated, 2013; Universal): Sometimes there exists a disconnect between what audiences and critics happen to see. The Jason Bateman/Melissa McCarthy comedy "Identity Thief," a formulaic but perfectly entertaining comedy/road trip flick from director Seth Gordon, is one of those instances.
One of the year's highest grossing films so far (taking in over $130 million) took expected critical brickbats and even saw Rex Reed (of all people) tear apart comedienne McCarthy's weight, but the film itself is a crowd pleaser: good natured, funny in places, with solid chemistry between McCarthy as the frizzy haired title character and Jason Bateman essaying the hapless working man whose identity she steals. McCarthy is better than this material, but at least the movie enables her to do something more than play the "crazy big woman" in its second half, with the actress providing a few effective dramatic beats along the way. Bateman is game too, and while the film isn't hilarious or particularly memorable, it is highly enjoyable especially if you like road-trip flicks with mismatched characters. Certainly there are worse ways to spend a couple of hours at the movies, which is exactly the type of thing that "Identity Thief" functions well as – a decent timekiller with the two leads playing off each other quite well.
Universal brings "Identity Thief" to Blu-Ray on June 7th sporting both the R-rated theatrical version of the movie and an extended, 121-minute unrated cut. Extras include a gag reel, Making Of, and BD-format exclusives – alternate takes and a pair of additional featurettes among those. A DVD and UV/Digital copy are also included.
PARKER Blu-Ray (*½, 118 mins., 2013, R; Sony): Certainly one of the worst films from director Taylor Hackford (one of his best, "An Officer and a Gentleman," is reviewed below), "Parker" places Jason Statham into the shoes of Donald E. Westlake's professional thief – a role previously a part of Lee Marvin's 1967 thriller "Point Blank" and Mel Gibson's troubled 1999 picture "Payback" (where the character was referred to as Porter).
"Parker" has the framework of one of Westlake's books but little of their entertainment value, as Statham vows revenge after the cohorts he's working with on a new job decide to cut him out of the loop. Statham follows them down to Florida and shadows their latest job – a jewel heist – while working with down-on-her-luck real estate agent Jennifer Lopez in planning a scheme to settle the score.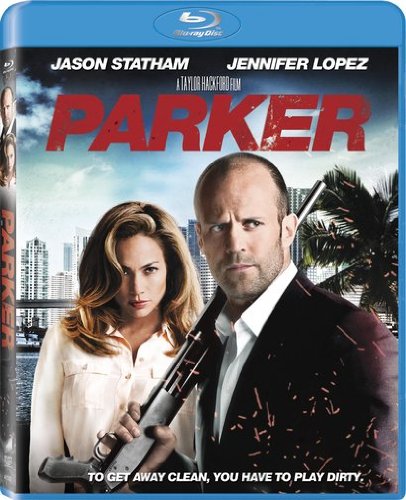 Though it's not as if Statham doesn't have a sense of humor, clearly the action star's most effective trait is his sheer physicality. Placing him into a heist/caper type of thriller like "Parker" doesn't seem to have been a wise move, seeing as countless opportunities at developing some humor – or chemistry with Lopez – go by the boards as Hackford and writer John J. McLaughlin spend far too much time lingering on gratuitous violence instead. "Parker" needed something of a lighter touch to function, but between its director (whose languid pacing results in a film stretched out to its breaking point at two solid hours) and leading man, the end result seems all wrong given the source material, and the ridiculous amounts of blood seem ludicrously excessive, even considering the star's prior outings.
Sony's Blu-Ray of "Parker," which underachieved in theaters last winter, contains commentary from Hackford; two featurettes (Bringing the Hunter to Life, Who is Parker) and two additional format exclusive segments (The Origin of Parker; Broken Necks and Bloody Knuckles). The 1080p AVC encoded transfer is fine and DTS MA audio rounds out the release.
TEXAS CHAINSAW 3D Blu-Ray Combo Pack (*½, 92 mins., 2013, R; Lionsgate): The latest attempt at resurrecting Leatherface resulted in this horrid exercise in shlock-horror. A supposed sequel to Tobe Hooper's original (both Hooper and writing partner Kim Henkel receive token Executive Producer credits), "Texas Chainsaw" stars Tania Raymonde as a young woman who finds out that she's inherited a dusty old Texas family estate – complete with a certain chainsaw-wielding maniac in tow.
Some of the 3-D effects in "Texas Chainsaw" are effective – especially here in Lionsgate's 3-D Blu-Ray presentation – but the film is a cheap, tedious bore, despite its attempts to connect with the original film (Gunnar Hansen even chips in a "Special Appearance"). Lionsgate's Blu combo pack includes both the 3D and 2D versions on the same disc, along with a digital copy/UV version, multiple audio commentaries; numerous featurettes; an alternate opening; 1080p transfers and 7.1 DTS MA soundtracks.
OPEN ROAD Blu-Ray (86 mins., 2012, Not Rated; Universal): Camilla Belle stars as a free spirited woman who runs into drifter Andy Garcia, local cop Colin Egglesfeld and his wacky sister (Juliette Lewis) in Marcio Garcia's 2012 film. Universal's Blu-Ray offers a digital copy/UV, the trailer, a Making Of featurette, and a 1080p transfer with DTS MA audio.
---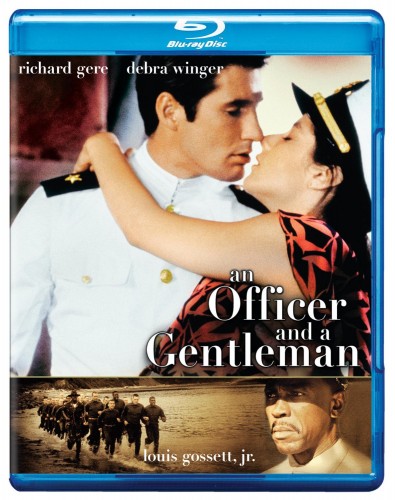 Also New From Warner Home Video
AN OFFICER AND A GENTLEMAN Blu-Ray (***, 124 mins., 1982, R; Warner): One of the many box-office hits from the memorable cinematic summer of '82, Taylor Hackford's unabashedly melodramatic, entertaining look at a lost young man (Richard Gere) who finds himself in the military and love with a local girl (Debra Winger) in the process won Oscars for Lou Gossett, Jr.'s terrific performance as a drill sergeant and the soft-rock ballad "Up Where We Belong" (still played on lite FM stations everywhere to this day). Jack Nitzsche's score, Winger's performance, the screenplay and editing were all Oscar-nominated. As a movie, it's no classic, but in terms of star power and on-screen chemistry, Winger and Gere made for a memorable screen duo in a movie that endures as one of the top romances in '80s cinema.
Warner's good-looking Blu-Ray edition of "Officer and a Gentleman" includes Taylor Hackford's commentary from the original DVD (an excellent, insightful track, incidentally) along with several featurettes produced for the 2007 Special Edition re-issue. The half-hour "25 Years Later" offers recollections from all the principals sans Debra Winger, while Lou Gossett, Jr. heads back to Port Townsend for a revisit of the picture's shooting locales in another 10-minute featurette. Lyricist Will Jennings, meanwhile, is interviewed as part of a look at the picture's soundtrack, which also includes an interview with Jack Nitzsche's son and music supervisor Joel Sill. Visually, the 1080p AVC encoded transfer is richly textured and a nice upgrade on the DVD, with fairly subdued 5.1 DTS MA audio.
NATIONAL LAMPOON'S VACATION 30th Anniversary Blu-Ray (***, 98 mins., 1983, R; Warner): Souped-up 30th Anniversary release of the original trek for the Griswold clan, which continued in the lame "European Vacation" (1985), the classic "Christmas Vacation" (1989) and the forgettable 1997 "Vegas Vacation." (A recent attempt at reviving the series with Ed Helms as an adult Rusty Griswold was recently – and mercifully – put on hold for the time being).
As penned by John Hughes, the original "National Lampoon's Vacation" offers an abundance of laughs as it chronicles Chevy Chase's futile attempts to provide a perfectly engineered cross-country trip for his wife (Beverly D'Angelo) and kids (Anthony Michael Hall and Dana Barron). Hughes' mixture of mirth and sentiment, Harold Ramis' direction and an abundance of memorable sequences make the first "Vacation" the second-best of the series (Hughes' "Christmas Vacation" improved just a bit on this picture's formula), while supporting turns from Randy Quaid, Imogene Coca and Christie Brinkley add further fun to the shenanigans.
Warner's second sojourn for "Vacation" in the Blu-Ray realm offers a fun, 85-minute A&E retrospective documentary (at its most interesting when it touches upon the film's discarded original ending and its relatively expensive reshoots) to go along with prior extras (introduction from Chase, Quaid and producer Matty Simmons; commentary from Chase, Quaid, Ramis, Simmons, Barron and Hall), and the original trailer. The 1080p VC-1 encoded transfer and DTS MA mono soundtrack are identical (as far as I can tell) to the original BD release.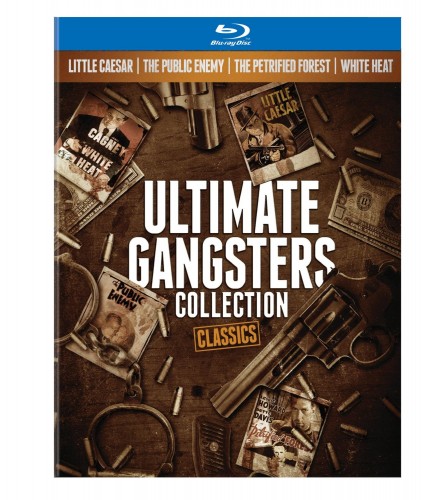 ULTIMATE GANGSTERS COLLECTION: CONTEMPORARY Blu-Ray (Warner)
ULTIMATE GANGSTERS COLLECTION: CLASSICS Blu-Ray (Warner): In time for Father's Day giving come a pair of attractive new Warner Home Video catalog releases on Blu-Ray.
Movie buffs are likely to find the "Ultimate Gangsters Collection: Classics" to be the more appealing of the duo, as the box-set offers the HD debuts of "Little Caesar," "The Public Enemy," "The Petrified Forest" and "White Heat," all in nicely textured 1.33 B&W 1080p transfers, limited only by the health of their source elements (scratches, splices and other issues inherent in any film of their vintage expectedly crop up here and there). Ample extras are carted over from the prior "Warner Gangsters" DVD sets as well, including retrospective featurettes on each picture, as well as the bonus DVD "Public Enemies: The Golden Age of the Gangster Film" and a 32-page hardcover book. It's a nice set, though some may wonder why Warner – particularly given the brevity of the '30s programmers – couldn't have included more features here (two, even three 60-70 minute films would've fit on one 50GB Blu-Ray platter).
"Ultimate Gangsters Collection: Contemporary," meanwhile, offers five previously released Blu-Rays of Martin Scorsese's "Mean Streets," "Goodfellas," and "The Departed," along with Michael Mann's "Heat" and Brian DePalma's "The Untouchables." All the technical and supplemental elements of the discs are identical to their prior Blu-Rays (check the Aisle Seat archives for individual reviews of each title), while another hardcover book offers glossy photos and some production anecdotes.
SUPERMAN UNBOUND Blu-Ray Combo Pack (75 mins., 2013; Warner): Entertaining, better-than-average DC Comics animated feature pits Superman against Brainiac, who's taken the Krypton capitol of Kandor and miniaturized it. It's up to the Man of Steel and the ever-unreliable Supergirl to save the day in this latest DC original movie, newly released on Blu-Ray by Warner Home Video in a combo pack sporting a great looking 1080p transfer, DTS MA soundtrack, DVD, Ultraviolet copy, and plenty of extras, from four bonus cartoons, a preview of the next DC animated movie ("Justice League: The Flashpoint Paradox"), and a Brainiac featurette, to a digital comic excerpt from the "Superman: Brainiac" graphic novel. The BD also includes a pair of format exclusive bonuses – a commentary track and "Kandor: History of the Battle City" featurette.
---
SAFE HAVEN Blu-Ray Combo Pack (**½, 116 mins., 2013, PG-13; Fox): Yet another Nicholas Sparks melodrama that managed to rake in a healthy box-office sum, even with low-wattage stars Josh Duhamel and Julianne Hough on top of the marquee. In Sparks' novel, adapted here by Dana Stevens and Gage Lansky, Hough plays a woman who flees to a quaint coastal community and into the arms of widower Duhamel, complete with a couple of cute little kids in tow. What Hough is running from isn't entirely what it appears to be at first glance, and there are even some odd supernatural overtones thrown into the story at the last minute. Director Lasse Hallstrom – usually the type to enrich human-interest stories – does his best to instill the material with a sense of heart, overcoming some trite elements like a hard-drinking "bad guy" (David Lyons) who looks like he came out of a 1940s melodrama. Fox's Blu-Ray does offer a nice 1080p transfer, an alternate ending (among other deleted scenes), featurettes, a DVD and digital copy as well.
THE GREAT ESCAPE Blu-Ray (****, 172 mins., 1963; MGM/Fox): Long-awaited Blu-Ray edition of "The Great Escape" offers a satisfying, if not immaculate, 1080p transfer that's been touched up with a hint of DNR. If nothing else, it still smokes the prior DVD releases of the film, though it's far from one of the most pristine catalog releases we've seen in the format this year.
John Sturges' classic WWII POW film also boasts loads of extras reprieved from the various DVD editions, including a commentary track culled from interviews with Sturges and other key "Great Escape" personnel members; more than a handful of interesting featurettes, plus British TV documentaries "'The Great Escape: The Untold Story'" and "The Real Virgil Hilts: A Man Called Jones." The reprocessed 5.1 DTS MA track is perfectly fine, though the original mono soundtrack isn't included, which may disappoint purists.
BRUBAKER Blu-Ray (***, 131 mins., 1980, R; Fox): A fine script by W.D. Richter and excellent performances from Robert Redford, Yaphet Kotto, Tim McIntire, Jane Alexander, David Keith and Morgan Freeman are compelling reasons to check out Stuart Rosenberg's 1980 film about an Arkansas prison warden (Redford) who dared to reform corruption in the system. Based on the real-life story of prison superintendent Tom Murton, "Brubaker" was a hit for Redford and Fox's Blu-Ray includes an excellent 1080p transfer, DTS MA 5.1 stereo and 1.0 mono audio tracks, and the trailer/TV spots.
THE VERDICT Blu-Ray (***½, 1982, 129 mins., R): Sidney Lumet's superb 1982 drama, scripted by David Mamet, includes commentary with Lumet and Paul Newman and five Making Of featurettes. The 1080p AVC encoded transfer is in the middle range of catalog releases I've seen of late (better than "The Great Escape," not as good as "Brubaker" in this Fox batch), while both the movie's original mono mix and a 5.1 DTS MA stereo remix are included on the audio side.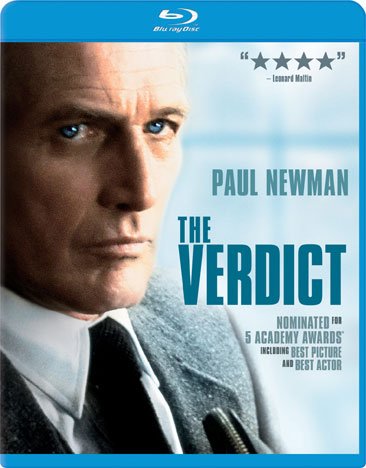 VIVA ZAPATA! Blu-Ray (***, 113 mins., 1952; Fox): Elia Kazan's 1952 production of John Steinbeck's original screenplay has been out of print on DVD for some time, making this HD reprisal a welcome release. Fox's Blu-Ray edition of the Marlon Brando-Jean Peters-Anthony Quinn biopic of the Mexican revolutionary includes a crisp B&W (1.33) transfer with fine detail along with DTS MA mono audio.
ONE HOUR PHOTO Blu-Ray (***, 96 mins., 2002, R; Fox): Special Edition Blu-Ray of Mark Romanek's acclaimed 2002 thriller, one of several films Robin Williams made at the time (along with "Night Caller" and "Insomnia") in an effort to augment his "dramatic" skills. He's certainly creepy here in a subtle thriller about a lonely "photo guy" who gravitates towards a young couple (Connie Nielsen and Michael Vartan) and their children. Fox's Blu-Ray is filled with extras, including commentary from Williams and Romanek; cast rehearsals; Charlie Rose Show excerpts; featurettes; a Sundance Channel "Anatomy of a Scene" segment; Cinemax featurette; and full trailers and TV spots. Oddly, there aren't any deleted scenes, particularly given that Romanek's original version was quite different and has reportedly been screened at Sundance in the years since the film's release. The 1080p transfer and DTS MA soundtrack are both top notch.
THE HENRY FONDA FILM COLLECTION DVD (Fox): Attractively-priced DVD box-set contains "Jesse James," "Drums Along the Mohawk," "The Grapes of Wrath," "The Return of Frank James," "Immortal Sergeant," "The Ox-Bow Incident," "My Darling Clementine," "Daisy Kenyon," "The Longest Day" and "The Boston Strangler," comprising 10 films the veteran star produced at 20th Century Fox.
THE ORANGES Blu-Ray (90 mins., 2012, R; Fox): Suburban dysfunction is on the menu in Julian Farino's black comedy about a pair of families whose lives are thrown into a tailspin when Leighton Meester, the daughter of Oliver Platt and Allison Janney, falls for the head of the neighboring family across the street (Hugh Laurie). Adam Brody co-stars in "The Oranges," which Fox has brought to Blu-Ray in a combo pack sporting a DVD, digital copy/UV, 1080p transfer, DTS MA soundtrack, and three Making Of featurettes.
---
Four pre-code features comprise the Warner Archive's FORBIDDEN HOLLYWOOD, VOLUME 7, which is sure to be a must-have for Golden Age aficionados. Included in this latest anthology of early '30s favorites are Edward G. Robinson and Loretta Young in the 1932 Vitaphone production "The Hatchet Man"; MGM's 1932 release "Skyscraper Souls," with Warren William and Maureen O'Sullivan; William and Young teaming in Roy Del Ruth's 1933 film "Employees Entrance"; and Bette Davis in Robert Florey's 1933 melodrama "Ex-Lady," co-starring Gene Raymond. The B&W transfers understandably vary at times due to the age of the elements, but each picture offers a fascinating glimpse into the early, pre-code days of Hollywood.
Making its way back in print is Vincente Minnelli's memorable 1962 comedic drama THE COURTSHIP OF EDDIE'S FATHER (118 mins.), writer John Gay's adaptation of Mark Toby's novel which follows the adventures of Glenn Ford as the good-natured, widowed father of precocious son Ron Howard. A number of would-be spouses all vie for Ford's attention, but it's Shirley Jones who has the inside track in this MGM production shot in gorgeous Panavision widescreen. Warner's Archive DVD is a basic reprisal of the out-of-print retail DVD release, offering a crisp 16:9 (2.40) transfer, mono sound and a commentary track with co-stars Jones, Dina Merrill and Stella Stevens.
Finally, fans of the Bradford clan will be delighted with the long-overdue Season 3 release of EIGHT IS ENOUGH (1978-79, 1351 mins.), which bested the more serious, similar shows of its era (including "Family") in the ratings thanks to a youth-oriented mix of comedy and drama. The third season also introduced a peppier, more tuneful rendition of the opening theme song from none other than co-star Grant Goodeve himself!
Episodes in the two-volume set – which span all 28 episodes from the series' 1978-79 campaign – run the gamut from the slapstick-silly to the more serious and message oriented (i.e. Rosanna Arquette tackles teen pregnancy). Shows include: Who's Crazy Here?; Nine is Too Much; Here We Go Again!; Cindrella Understudy; Milk and Sympathy; The Flunked and the Funked; Cops and Toddlers; The Hipbone's Connected to the Thighbone; Fast and Loose; War Between the Bradfords; All the Vice-President's Men; the explosive two-parter You Won't Have Nicholas to Kick Around Anymore; Alone At Last; The Yearning Point; Moving Out; Mother's Rule; Inlaws and Outlaws; Horror Story; Just the Ten of Us; Best of Friends; The Kid Who Came to Dinner; The Better Part of Valor; Dads, Daughters, Different Drummers; The Final Days; The Graduates; and the two-part Marriage and Other Flights of Fancy. All the full-screen transfers look quite good.
---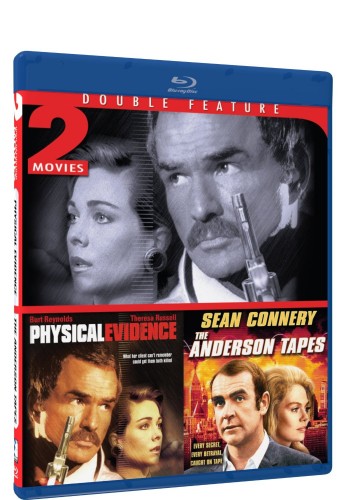 New Mill Creek Blu-Ray Double Features

THE BROTHERHOOD OF SATAN (***, 92 mins., 1970, PG)/MR. SARDONICUS (**½, 1961, 89 mins., PG) Blu-Ray: A frightfully good double-header for horror buffs makes for one of the best of Mill Creek's new Double Feature Blu-Ray discs.
Bernard McEveety and producer/co-star L.Q. Jones' production "The Brotherhood of Satan" is en effective low-budget 1971 programmer about a family's run-in with a small town coven of witches. Long on atmosphere thanks to a deft use of wide Techniscope cinematography that captures the dusty, wide open vistas of the Southwest, this is an agreeable timekiller – creepy with so much of the horror kept just off-camera – that's built up a decent cult following over the years. Mill Creek's 1080p (2.35) transfer, culled from the same master as Sony's fine DVD edition from years back, is excellent, and the mono audio is clear and distinctly rendered.
William Castle's "Mr. Sardonicus," meanwhile, is a one of the horror auteur's more straightforward flicks, starring Ronald Lewis as a surgeon whose former love is married to a dastardly baron (Guy Rolfe), whose face becomes frozen into a permanent grin after he retrieves his late father's riches. Gothic shenanigans that's neither too serious nor overtly silly (up until the "Punishment Poll" finale), "Mr. Sardonicus"' 1.85 B&W transfer is likewise satisfying.

PHYSICAL EVIDENCE (**½, 99 mins., 1989, R)/THE ANDERSON TAPES (**, 99 mins., 1971, Not Rated) Blu-Ray: Michael Crichton directed the 1989 Columbia release "Physical Evidence" – an enjoyable bad movie that was originally intended as a sequel to "Jagged Edge" until Glenn Close vowed to have nothing to do with it.
Instead, the Bill Phillips story was reworked for Theresa Russell, miscast as a lawyer defending Boston cop Burt Reynolds, on trial for the murder of a local snitch (I assume Burt is playing what would've been Robert Loggia's "Jagged Edge" role). Of course, all the evidence points to o'l Burt, but the only thing he's guilty of is a hangover and wearing that bad rug – something that sends Russell out on a mission to not only win the case but reclaim her personal freedom, which is being severely compromised by live-in boyfriend Ted McGinley (what more do you need to say about this film than the mere fact that McGinley, co-star of "Happy Days" and "The Love Boat," has a leading role in it?).
It all culminates in a predictable, perfunctory ending, but I'll be darned if "Physical Evidence" isn't a lot of fun. The movie's Boston setting results in some scenic local shots (I admit I have soft spot for Beantown-lensed flicks since I went to college there), even though much of the film was shot in Montreal and Toronto. It also has a splendid (albeit brief) score by Henry Mancini, and some outrageously bad dialogue and performances -- particularly by Russell, who could have used the role to springboard into mainstream leading parts that never materialized.
"Physical Evidence" boasts a generally solid 1080p transfer that occasionally looks a little bit soft here and there, but overall is pleasing with its enhanced colors and details – appreciable upgrades on the DVD. The DTS MA stereo soundtrack is quite alright too, with Mancini's lovely opening theme ripe for rediscovery (or just discovery altogether, seeing as it's never been released). If you're looking for a little big-studio late '80s fun, then I'm guilty as charged by giving a recommendation for "Physical Evidence."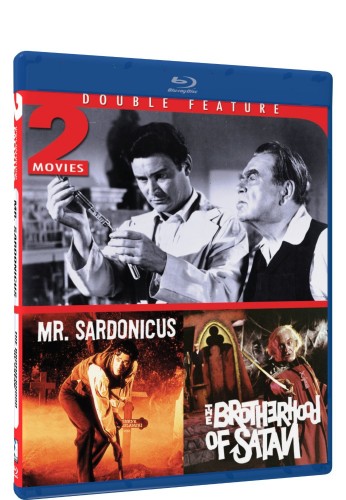 Mill Creek has paired "Physical Evidence" with the blah Sidney Lumet heist thriller "The Anderson Tapes," one of many '70s box-office disappointments for star Sean Connery. While this one doesn't entirely work – not even with an interesting supporting cast ranging from Dyan Cannon to Alan King and Christopher Walken – it doesn't necessarily make for a bad supporting feature in Mill Creek's Blu-Ray double-bill. The 1080p 1.85 transfer is satisfying, displaying the few blemishes in the print here and there, while DTS MA 2.0 audio delivers Quincy Jones' "mod" '70s score.

IN THE CUT (*½, 118 mins., Unrated, 2003)/TRAPPED (**, 106 mins., 2002) Blu-Ray: Kevin Bacon chips in supporting roles in a pair of forgettable "erotic thrillers" from the early '00s.
Jane Campion's ill-advised "In the Cut" is a grimy "sensual thriller" starring mousy Meg Ryan as a wallflower who's looking to break out of her sexual slump. Meanwhile, just as a series of murders plague New York, Ryan engages in an affair with cop Mark Ruffalo, while all signs point to someone around Ryan as the murderer -- possibly Ruffalo, her ex-lover Kevin Bacon (uncredited), or maybe herself!!
Jane Campion's career as a filmmaker has been a hit-or-miss affair, and "In the Cut" – based on a novel by Susanna Moore – definitely fits into the "miss" category. This is an ugly and poorly scripted mystery-thriller filled with depressing characters that tries so desperately hard to be "edgy" and "provocative" it misfires totally on the dramatic level. Ryan seems at a loss to project any nuances in her role aside from the many "realistic" sex scenes, while Campion and cinematographer Dion Beebe accentuate the "dark underside" of New York in a movie that ultimately is neither provocative or satisfying on any kind of aesthetic or dramatic level. I assume Campion took the reigns of "In the Cut" so she could make a commercial thriller (Nicole Kidman produced and was supposed to star in Ryan's role), yet despite her pedigree having made pictures like "The Piano," she proves here that she's no more successful in the genre than your typical Hollywood hack.
If seeing Meg Ryan nude is enough to satisfy you, then by all means give "In the Cut" a view. There's plenty of sex, but not much of a movie in it.
The marginally better co-feature here is "Trapped," sort of a female version of "Ransom" with Charlize Theron fighting to get her daughter back from kidnappers. Dakota Fanning essays the little moppet with Courtney Love, Kevin Bacon and Stuart Townsend co-starring in a somewhat unpleasant affair presented on Blu-Ray with an okay 1080p (1.85) transfer and DTS MA 5.1 audio – "In the Cut" is likewise offered in a 1080p (1.85) transfer with 5.1 DTS MA surround sound.
UNIVERSAL SOLDIER: THE RETURN (*, 83 mins., 1999, R)/SECOND IN COMMAND (92 mins., 2005, R) Blu-Ray: Below-par Van Damme double-bill couples the lame 2004 release "Second in Command" with another Blu-Ray go-around of "Universal Soldier: The Return."
The latter is a limp sequel to the Van Damme-Lundgren sci-fi action vehicle that brings back Van Dammage solo as he seeks to track down another Universal Soldier trainee (Michael Jai White) who's gone rogue. Barely 80 minutes in length and feeling padded even at that duration, this box-office underachiever from late summer '99 feels like the kind of direct-to-video fare that its star would soon become all too familiar with. Mill Creek's Blu-Ray sports a 1080p transfer with 5.1 DTS MA audio; fans should note Sony previously released a Blu-Ray of the title with Dolby TrueHD audio and a couple of featurettes not included here.
THE NINES (***, 99 mins., 2006, R)/SLIPSTREAM (*½, 96 mins., 2007, R) Blu-Ray: John August's underrated "The Nines" – an offbeat trio of tales staring Ryan Reynolds, Hope Davis and an effective Melissa McCarthy, each in three different roles – is the main reason to check out this double-feature Blu-Ray. The other end of the spectrum is Anthony Hopkins' disastrous directorial outing, "Slipstream," which is actually less fun than its 1988 Steven Lisberger-directed namesake, despite its star writing, directing and also composing the score! "The Nines" seems to have been derived from an older MPEG-2 1080p master, but it looks alright (the 5.1 DTS MA sound is fine), while "Slipstream" has a healthier looking 1080p transfer and 5.1 DTS MA audio as well.
---
New From BBC Home Entertainment: Four generations of Britain's Royal Family are chronicled in the BBC's superb THE ROYAL COLLECTION anthology, offering four different DVD programs: "Queen Victoria's Children" is a three-part documentary recounting the reign of Victoria and her relationships with her children, spanning over 60 years; "King George & Queen Mary" profiles the legacy of Elizabeth II's grandparents; "The Coronation of Queen Elizabeth II" remembers the event with fascinating archival footage and historian interviews (a bonus booklet is also included); and "How to Be a Prince" follows Prince William's life through his first 21 years. Attractively housed in a large oversized box and highly recommended for British history enthusiasts.
New From RLJ Entertainment: Stephen Dorff is right out of prison and has to settle a score for the man who saved his life behind bars (Willem Dafoe) in TOMORROW YOU'RE GONE (92 mins., 2012, Not Rated). This unsurprising yet watchable thriller gets by due to strong performances from Dorff, Dafoe and Michelle Monaghan, who plays the warm-hearted girl who sees the good in Dorff's rough exterior. RLJ's Blu-Ray boasts a 1080p transfer and DTS MA 5.1 soundtrack; undemanding yet decent.
BARRYMORE Blu-Ray (84 mins., 2012; RLJ Entertainment): Christopher Plummer reprises his Tony-winning performance as John Barrymore in this 2012 "captured on film" production by Erik Canuel. Plummer's bravura performance in "Barrymore" – originally written by William Luce and directed by Gene Saks – makes for a compelling view in this somewhat "rethought" adaptation, which Canuel reworked for this 2012 Canadian lensed effort. RLJ's Blu-Ray includes a 1080p transfer, DTS MA soundtrack and a "Backstage With Barrymore" featurette.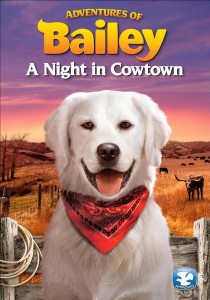 New From E One: Bailey the dog is back in the cute kid feature ADVENTURES OF BAILEY: A NIGHT IN COWTOWN (85 mins., 2013), a follow-up feature from director Steve Franke. Here, Bailey has settled into his new country home and fallen for a dog from the other side of the tracks – err, fence. E One's DVD includes a 16:9 transfer and 2.0 stereo soundtrack and is perfect for young children...SOMMORE: CHANDELIER STATUS (76 mins., 2012) is a new stand-up special featuring the comedienne. E One's DVD boasts a Q&A with Sommore, a 16:9 transfer and 2.0 stereo soundtrack.
New From Lionsgate: Veteran B-movie director Albert Pyun is at it again with H.P. LOVECRAFT'S COOL AIR (78 mins., 2012, PG-13), a collaboration between Pyun and producing partner Cynthia Curnan (who also wrote the film). Lionsgate's DVD includes a 16:9 transfer and 5.1 soundtrack...ONCE UPON A TIME IN BROOKLYN (116 mins., 2013, R) is an urban thriller starring William DeMeo, Ice T, Ja Rule, Vincent Pastore, Cathy Moriarty and Armand Assante. Lionsgate's DVD has a number of extras, including commentary with director Paul Borghese, an interview with Borghese and DeMeo, deleted scenes, a 16:9 transfer and 5.1 soundtrack.
NewVideo Releases: The Australian teen series DANCE ACADEMY comes to DVD this month from NewVideo in two separate volumes. Each multi-dsic set contains 13 episodes from the series' first season, presented with widescreen transfers and stereo soundtracks. Extras include a cast photo gallery (Vol. 1) and a Backstage Pass/photo gallery (Vol. 2).
---
LAVERNE & SHIRLEY: Season 6 DVD (1980-81, aprx. 10 hours; CBS): While "Happy Days" fans continue to wait for CBS to finish off the remaining episodes in the series' run on DVD, "Laverne & Shirley" fans ought to be delighted with the belated Season 6 release of the show's 1980-81 campaign. While the best days of the Penny Marshall-Cindy Williams series seemed to be behind it (the following two seasons even saw Williams prematurely departing the series altogether for the series' final year), fans should still enjoy these 22 episodes of the program, which find the girls heading to California with Michael McKean's Lenny and David L. Lander's Squiggy tagging along.
CBS' three-disc DVD set includes episodic promos, a gag reel, 4:3 full-screen transfers and mono soundtracks, with some period music having been changed for this release.
NATURE: THE MYSTERY OF EELS DVD (60 mins., 2013; PBS): James Prosek wrote and hosted this PBS Nature account of eels – a creature most of us would prefer not to run into, yet lives a fascinating existence that betrays its creepy appearance. Solid photography and scientific details enrich "The Mystery of Eels," which probes researchers as to the creature's biological origins and even the mysteries behind its daily life. PBS' DVD includes a stereo soundtrack and 16:9 enhanced transfer.
SUITS: Season 2 DVD (aprx. 12 hours, 2013; Universal): Harvey Specter and Mike Ross return in the second season of USA's popular cable series starring Gabriel Macht, Patrick J. Adams and Gina Torres. Universal's four-disc DVD set includes all 16 Season 2 episodes in 16:9 transfers and 5.1 soundtracks with a number of extras, including deleted scenes, a gag reel, webisodes, commentaries, featurettes and more.
WILFRED Complete Original Series DVD (aprx. 400 mins., 2007-09; Fabulous Films/Shout Factory): The currently popular F/X comedy series with Elijah Wood and Jason Gann as his walking, talking canine companion originally began its life as an Australian series – also starring Gann as the boozing, philandering dog who's seen and heard it all, and who makes life (mostly) difficult for his owner. Fabulous Films has brought both original Aussie seasons of "Wilfred" to DVD in a multi-disc set offering a number of extras (Behind the Scenes featurette, trailer, crew montage for Season 1; Making Of, "Wilfred Bites," outtakes and bloopers for Season 2) and stereo soundtracks.
POUND PUPPIES: MISSION ADOPTION DVD (2 hours, 2011-12; Shout! Factory): Five episodes from the new version of the "Pound Puppies" includes King of the Heap; Taboo; Snow Problem; Zipper the Zoomit Dog; and There's Something About Camilla. Colorful fun for kids with a printable adoption certificate also included along with 16:9 transfers and 5.1 soundtracks.
NIGHTFALL Blu-Ray (108 mins., 2012, Not Rated; Well Go USA): Taut Hong Kong thriller from director Chow Hin Yeung comes to Blu-Ray May 21st from Well Go. Simon Yam plays a detective in charge of finding out who killed a popular pianist, and eventually finds a larger family conspiracy wrapped up in the mystery. Well Go's Blu-Ray includes a Making Of, the trailer, a 1080p transfer and DTS MA 5.1 soundtrack in Cantonese with English subtitles.
A COMMON MAN Blu-Ray (86 mins., 2012, PG-13; Anchor Bay): Weak thriller starring Ben Kingsley as a man who plants a series of bombs in Sri Lanka in the hopes that the government will release a group of imprisoned terrorists if they concede to his demands. Ben Cross co-stars in this remake of an Indian film from writer-director Chandran Rutnam that's undone by bad dubbing, awkward editing and overall execution. Anchor Bay's Blu-Ray includes a 1080p transfer and Dolby TrueHD soundtrack.
LAST KIND WORDS DVD (87 mins., 2012; RLJ): A backwoods witch generates ample menace in Kevin Barker's "Last Kind Words," a thriller about a 17-year-old (Spencer Daniels) who runs into a beautiful girl (Alexia Fast) who harbors a deep secret in the strange forest that lurks beyond the land of the farmer (Brad Dourif) he's working for. Michael Corrente executive-produced "Last Kind Words," which RLJ releases on DVD this month offering a 16:9 transfer and 5.1 soundtrack.
DORFMAN IN LOVE DVD (92 mins., 2013; PG-13; Virgil Films): Breezy and quite likeable indie rom-com stars the effervescent Sara Rue as a young L.A. woman who finds love, unexpectedly, in director Bradley Leong's 2013 film, co-starring Elliott Gould. Virgil Films' DVD includes a 16:9 transfer and 5.1 soundtrack.
NEXT TIME: A Memorial Day wrap up! Until then, don't forget to drop in on the official Aisle Seat Message Boards and direct any emails to our email address. Cheers everyone.