Message Board - Come and Discuss The Latest Videos, Movies & Anything Else!
I've written before that HD has opened up a whole new appreciation of the western genre for some viewers – myself included – and Criterion's new Blu-Ray editions of a pair of films directed by Delmer Daves are certain to pique the interest of sagebrush aficionados.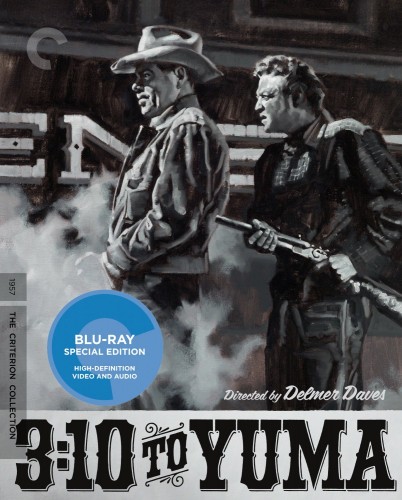 The more renowned of the duo is obviously 3:10 TO YUMA (***½, 92 mins., 1957), a taut, gritty and just terrific 92 minutes of filmmaking from Daves. Halsted Welles adapted Elmore Leonard's story involving the relationship between a captured criminal (Glenn Ford) and a family-man farmer (Van Heflin) struggling to make ends meet. With his farm in trouble due to drought, Heflin takes on the task of guarding Ford and bringing him to board a train to Yuma – but Ford's gang soon surrounds the hotel Heflin is holed up in, leading Heflin's fellow men to bolt and greatly reducing any chances of him getting out of the situation alive.
Crisply shot in B&W by Charles Lawton, Jr. and scored by George Duning – with Ford even whistling the main theme, performed over the main and end credits by the great Frankie Laine – "3:10 to Yuma" is highly suspenseful and yet character-driven at the same time. The relationship between Ford's confident, sage outlaw and Heflin's introverted, noble farmer is fascinating to see develop, particularly when Ford meets Heflin's wife (Leora Dana) and children, who look up to their father despite his meager earnings. Heflin sees his job to escort Ford to the train as a noble, heroic deed that could give his children something to remember him by, even if the outcome is tragic – Ford's character, meanwhile, seems to yearn at least partially for the life that Heflin has. Their fates are intertwined as "3:10 to Yuma" furiously barrels towards its climax, which results in an emotionally satisfying resolution – a genuine release after 90 minutes of claustrophobic, mounting tension – in a way that only Daves could handle.
If the toughness of "3:10 to Yuma" is matched by its stark black-and-white cinematography, then the grand, colorful Cinemascope trappings ofJUBAL (***, 101 mins., 1956) belie its emotionally turbulent characters, several of whom long for something more than the hand that life has given them.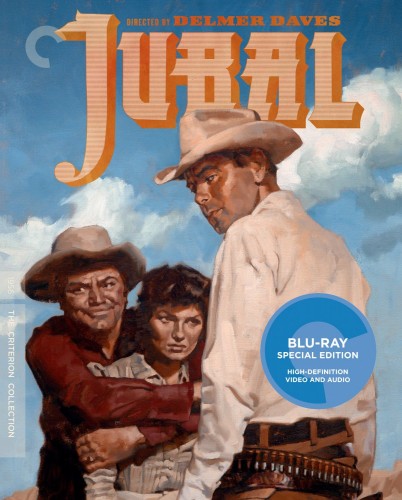 Glenn Ford again stars as a drifter who literally stumbles onto the land of good-hearted rancher Ernest Borgnine. Borgnine responds to Ford's situation by offering him a job; Ford's hard work encourages Borgnine to promote him to Foreman. While the situation for the emotionally scarred Ford (withdrawn for reasons we don't fully understand until he eventually confesses his sad childhood to a mennonite played by Felicia Farr) grows increasingly positive, his relationship with Borgnine's flirtatious wife (Valerie French) proves to be a mounting problem – especially with a fellow, unstable cowhand (Rod Steiger) jealous of Ford's newfound standing on the ranch.
Russell S. Hughes and Daves' adaptation of Paul Wellman novel makes for an intriguing character study, but not all of it comes together, particularly with Steiger's bombastic performance as "Pinky" generating a few chuckles for his "method" overacting. The scenes with Ford taking center stage are the film's most effective, and all of it is enriched by spectacular cinematography by Charles Lawton set against the Grand Teton mountains. "Jubal" is a beautiful looking film, and David Raksin's alternately tender and thunderous underscoring further amplifies the less-than-subtle emotions the story generates.
Both westerns have been brought to Blu-Ray by Criterion in spectacular 4K transfers produced by Sony. Each transfer offers fine detail and natural grain, heightening their dramatic power and contrasting visual schemes. "Jubal"'s original stereo mix has been encoded here in PCM 2.0 stereo, while "3:10 to Yuma"'s crisp dialogue is rendered in both a 5.1 DTS MA remix and its original mono track (in PCM). For supplements, only "3:10 to Yuma" includes extras – in this case, conversations with Elmore Leonard and Glenn Ford's son/biographer Peter, the latter shedding light onto his collaboration with Daves. Highly recommended!
---
New on Blu-Ray
Golden Age fans are sure to rejoice over Fox's gorgeous Blu-Ray presentation of CLEOPATRA (251 mins., 1963), which offers a spectacular 1080p AVC encoded transfer with splendid detail, abundant color and little in the way of obvious noise reduction.
While I had not previously screened the movie from start to finish until its DVD release over a decade ago, I was able to catch a few minutes of CBS/Fox's widescreen laserdisc back in college. In every way, shape and form, Fox's Blu-Ray release is likely to rank as a revelation for those familiar with previous transfers of this picture: in addition to the gorgeous transfer, the 5.1 DTS MA stereo soundtrack retains the wide stereophonic glory of North's score, including its Overture, Entr'acte and Exit Music. Fox archivists reportedly worked for years to find director Joseph L. Mankewicz's original six-hour cut of the film, but despite being unable to do so, were able to skillfully produce a great-looking and sounding presentation of the theatrical version, which is stunning in its visual clarity here.
The movie is what it is — virtually impossible to watch in one four-hour sitting, "Cleopatra" is best viewed in two separate installments, and taken as a massively overproduced soap opera with moments of unrivaled spectacle, as well as dry, tedious stretches with performances ranging from merely adequate (Liz) to outstanding (Rex Harrison as Caesar). Fox has sold the film over the years since its infamous release as a "romantic spectacle," the "Titanic" of its day, and the film remains a curiosity item if nothing else for its ballyhooed history.
That latter element is addressed in a two-hour documentary reprised from the original DVD, and for most viewers, this compulsively watchable AMC production will be of more interest than the actual film as it dives head-on into the movie's nightmarish production. Included are interviews and priceless (silent) "lost" footage of the movie's original, abandoned shoot, with Stephen Boyd and Peter Finch in the Marc Antony/Ceasar roles. It's a comprehensive, behind-the-scenes glimpse into the Hollywood studio machine of the period, and will provide viewers new to the film with an understanding of what the movie's fuss was all about — especially since it's not always evident on-screen.
Also on-hand are an archival featurette, Fox Movietone newsreels and a commentary track (with Chris Mankiewicz, Tom Mankiewicz, Martin Landau and Jack Brodsky), plus a Fox Movie Channel special hosted by exec Tom Rothman, two brief new-to-Blu-Ray featurettes ("Cleopatra's Missing Footage," "Cleopatra Through the Ages: A Cultural History"), and the interactive "Cleopatra Papers," charting correspondence between Fox publicists Jack Brodsky and Nathan Weiss.
For any fan of the picture, '60s cinemaphiles or Liz & Dick devotees, Fox's Blu-Ray comes highly recommended.
VEGAS VACATION Blu-Ray (**½, 94 mins., 1997, PG; Warner): Though a natural comedown after the high of 1989′s "Christmas Vacation," this John Hughes-less final installment in the comedy franchise is actually quite likeable – and a definite improvement, at least, on the crass, annoying 1985 "European Vacation."
This last (for the moment?) go-around for Clark Griswold (Chevy Chase) and clan – wife Ellen (Beverly D'Angelo) and kids Rusty and Audrey (here played by Ethan Embry and Marisol Nichols) – finds the group heading to Vegas. Naturally, Clark nearly whittles away the family's savings at the casino, while wife Ellen rekindles her old relationship with Wayne Newton (!) and Rusty becomes an overnight sensation as gambler "Nick Pappagiorgio".
Writer Elisa Bell and director Stephen Kessler aren't exactly Hughes or Harold Ramis, but the PG-rated "Vegas Vacation" works quite well as a lightweight family comedy just the same. Chase – in what was really his final leading role in a feature – gets into the spirit, as does Randy Quaid, reprising Cousin Eddie one more time (he'd do it again in the terrible TV movie "Christmas Vacation 2″). The upbeat soundtrack mixes in jazzy standards with an occasionally overactive Joel McNeely score, but the end result is genial and good-natured, with a few effective jokes along the way (one involving Christie Brinkley's returning vixen from the original "Vacation").
Shot by William A. Fraker, "Vegas Vacation" makes its Blu-Ray debut as a featureless Warner release. The 1080p AVC encoded transfer, at least, is pretty much ideal in its natural appearance, and the 5.1 DTS MA soundtrack is also satisfying. A lone theatrical trailer rounds out the disc.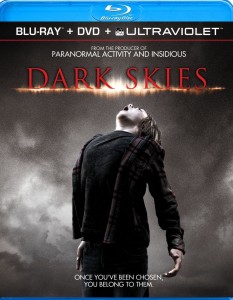 DARK SKIES Blu-Ray Combo Pack (**, 97 mins., 2013, PG-13; Anchor Bay): Not-awful, occasionally chilling sci-fi thriller about a suburban family, led by parents Keri Russell and Josh Hamilton, who try and protect their children from seemingly extraterrestrial forces circling around their two children.
Writer-director Scott Stewart's picture teases the viewer for most of the first half before delivering some spooky moments in its concluding frames. The performances are believably rendered but the ending is less than satisfying, ending on an ambiguous note with the obvious intent of generating sequels (which, judging from the mediocre box-office returns, I'm guessing we're unlikely to see).
Anchor Bay's Blu-Ray combo pack includes a fine 1080p transfer, 5.1 DTS MA soundtrack and extras including deleted/alternate scenes; commentary with the filmmakers; a DVD and Ultraviolet streaming copy.
---
A variety of titles make their debut on DVD this month exclusively from the Warner Archive.
At the top of the list is the 1949 production of THE SECRET GARDEN, the enchanting MGM adaptation of Frances Hodgson Burnett's novel. Margaret O'Brien stars as the young orphan who befriends a disabled boy (Dean Stockwell) in a creaky old British manor presided over by Stockwell's father, Herbert Marshall. Glayds Cooper, Elsa Lanchester and Reginald Owen co-star in this fine production shot in B&W with Technicolor sequences strikingly used to represent the restored garden. Warner's Archive release offers a satisfying full-screen transfer and mono soundtrack.
Sydney Greenstreet and Peter Lorre headline the 1944 Warner Bros-First National picture THE MASK OF DIMITRIOS (95 mins.),a film viewed by buffs as one of the most satisfying crime stories of the '40s. Eric Amber's novel was directed by Jean Negulesco and adapted by Frank Gruber, with Zachary Scott, Faye Emerson and Victor Francen co-starring. Warner's Archive presentation includes a respectable 1.33 transfer and mono sound.
TV's "Mr. Lucky," John Vivyan, takes the lead in the interesting 1962 sagebrush saga RIDER ON A DEAD HORSE (72 mins.), a brief but potent little programmer starring Vivyan as a prospector trying to defend his loot from hostile Apaches and a greedy partner. Bruce Gordon (from TV's "The Untouchables") co-stars, with Warner's Archive DVD boasting a 16:9 (1.78) B&W transfer and mono sound.
More vintage western entertainment is in the saddle in Warner's Volume 6 of the MONOGRAM COWBOY COLLECTION, showcasing the western stylings of cowboy Jimmy Wakely, who followed in the footsteps of former crooners-turned-matinee-idols Roy Rogers and Gene Autry in some 28 genre programmers. Offered here are Riding Along the Dusty Trail; Lonesome Trail; The Rangers Ride; Range Renegades; Silver Trails; and Brand of Fear, each an hour-long oater in 4:3 B&W transfers. Recommended for buffs.
With the new HBO Steven Soderbergh Liberace biopic fresh in viewer's minds, it makes perfect sense for Warner to release the pianist's only starring vehicle: the 1955 howler SINCERELY YOURS (116 mins.), a Warner Bros. production that starred "Mr. Showmanship" as a concert pianist, beset by looming deafness, who tinkles the ivories for a wealth of strangers and inspires them all. Joanne Dru, Dorothy Malone and William Demarest are a few of the seasoned pros to augment Gordon Douglas' Golden Turkey-certified camp outing, which looks quite nice here in a 16:9 (1.85) color transfer with mono audio.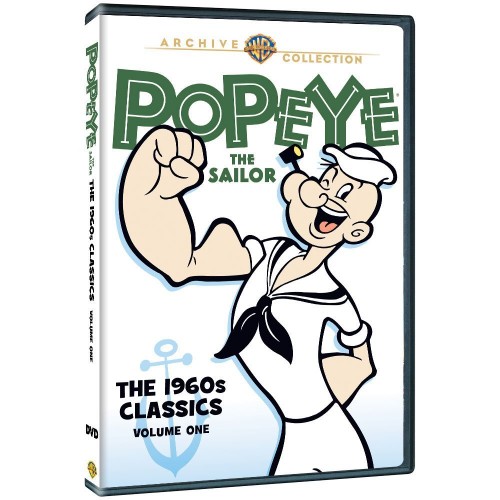 Last but not least, POPEYE: THE 1960s CLASSICS is a must-have for fans of the comic strip hero. Produced for TV under the supervision of animation honcho Al Brodax (who also spearheaded the Beatles' animated antics), these shorts are more crudely designed than Popeye's Fleischer classics, yet will still be fondly remembered by the generations who grew up with them. In addition to wilder and colorful plots, the King Features TV "Popeye" also made good use of various "Thimble Theater" supporting characters – including the Sea Hag – who make their on-screen debuts in these 72 shorts, comprising the first of several DVD volumes to come. Highly recommended for Popeye fans!
Also available exclusively online through WB is the complete Sixth Season of WITHOUT A TRACE (753 mins., 2007-08), a season partially shortened by the writer's strike. Warner's multi-disc set includes 16:9 transfers and 5.1 soundtracks, offering the episodes Lost Boy; Clean Up; Res Ipsa; Baggage; Run; Where and Why; Absalom; Fight/Flight; One Wrong Move; Claus and Effect; 4G; Article 32; Hard Reset; A Bend in the Road; Deja Vu; A Dollar and a Dream; and Driven and Satellites.
---
A number of new releases from PBS this month include a pair of Nature documentaries and a superb Nova special on high-definition Blu-Ray.
LEGENDARY WHITE STALLIONS ( 60 mins., 2013) takes viewers to the Spanish Riding School in Vienna where Lipizzaners and riders work to execute a series of maneuvers that have enthralled audiences for generations. The history of the Spanish horse is chronicled from the breed's genesis via the Moors' conquering of Spain in 711, through its use in the Austrian Hapsburg monarchy. This hour-long Nature special is presented on Blu-Ray in a fine 1080i transfer with 5.1 Dolby Digital sound. In THE PRIVATE LIFE OF DEER (60 mins., 2013), producer Kevin Bachar looks at the infiltration of deer in North America – whereas a century ago there were less than a million, today there are 30 million deer in the wild and not-so-wild, often times just a stone's throw from suburban homes. This is an excellent documentary on the day-to-day lives of deer, their social interactions with each other and how they work to avoid predators. Superb cinematography makes this a fascinating documentary that PBS has brought to DVD in a 16:9 transfer with stereo sound.
Viewers of all ages, meanwhile, may be interested in PBS' DVD edition o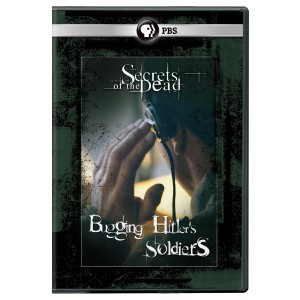 f WEIRD CREATURES WITH NICK BAKER: Season 1 (7 hours, 2007), an ITV production that follows explorer Nick Baker around the world to unearth some of the planet's more exotic creatures. Vampire Fish, Blood-Squirting Lizard; Basking Shark; Pink Fairy Armadillo; Saggy Skin Frog; The Croc From Mars and Star-Nosed Mole are the episodes included in PBS' two disc DVD set, which contains widescreen transfers and stereo soundtracks.
The Nova documentary MIND OF A RAMPAGE KILLER (60 mins., 2013) is hosted by correspondent Miles O'Brien, who utilizes the Newtown, Connecticut shooting massacre as a springboard for a discussion on what drives vicious killers to commit acts of unspeakable violence. What science can tell us – and not tell us – about the urge to kill comprises this insightful, at times speculative program, presented here on DVD in a 16:9 transfer with stereo sound.
Finally, SECRETS OF THE DEAD: BUGGING HITLER'S SOLDIERS (60 mins., 2013) is one of the most interesting of all the recent PBS specials I've reviewed – a compelling look at the British government's secret recording of German POWs during WWII. Their conversations about the Third Reich, how they felt about Hitler and also classified information that enabled the Allies to turn the tide of WWII are part of writer/director Christopher Spencer's hour-long production from Channel 4/WNET. PBS' DVD includes a widescreen transfer and stereo soundtrack.
---
ESCAPE FROM PLANET EARTH 3D Blu-Ray Combo Pack (**½, 89 mins., 2013, PG; Anchor Bay): Not every animated kids film needs to be a big "event" picture costing hundreds of millions of dollars, as evidenced by this low-budget CGI children's flick, which provides nearly as much entertainment as the last couple of Pixar films at a fraction of their cost.
Of course, the visuals aren't nearly as detailed, but the main demographic of 4-12 year olds aren't likely to mind, as "Escape to Planet Earth" details the efforts of an alien superhero-type's brainiac brother to save his sibling after he – and other aliens – are captured on Earth in Area 51. This Weinstein Company co-produced feature made a modest sum at the box-office last winter and is poised to do better business on home video, where Anchor Bay's combo pack includes a 3D BD presentation (in 1.85), a standard 2D BD transfer (in 2.39), a DVD, digital copy and UV version, and extras including commentary with director Cal Brunker; Making Of; deleted scenes; a 5.1 DTS MA soundtrack; music featurettes and behind-the-scenes segments.
LEGO BATMAN THE MOVIE: DC SUPERHEROES UNITE Blu-Ray Combo Pack (71 mins., 2013; Warner): Appealingly animated and endearingly goofy "Lego" branded fun for kids. In this 70-minute original feature, Batman, Superman, Wonder Woman, Green Lantern and other Justice League pals suit up to take on Lex Luthor, Catwoman and The Riddler among others. If you've played any of the "Lego" video games involving these characters, you'll have a good sense of the merriment involved in this upbeat entertainment that's perfect for kids, especially those who may have been soured lately on the hard-edged super-hero action of Christopher Nolan's big-screen Dark Knight films. Warner's Blu-Ray combo pack includes an Ultraviolet copy, DVD, all-new featurette "Building Batman," three bonus DC cartoons, a Lego Batman stop-motion short, and winning shorts from the Lego DC Universe Super Heroes Video Contest. The DTS MA sound and 1080p transfer are both fine, and a bonus Lego "mini-figure" of Clark Kent is packaged outside the plastic Blu-Ray case.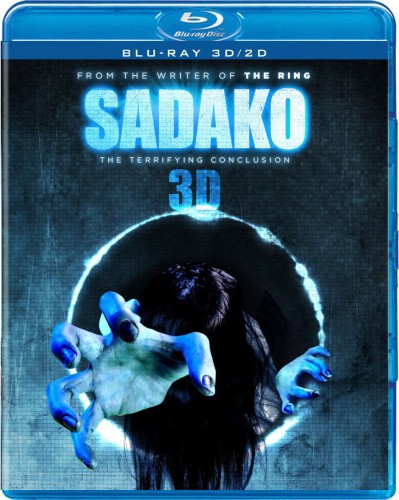 SADAKO 3D/2D Blu-Ray (97 mins., 2012, Not Rated; Well Go USA): Fifth entry in the official, Japanese "Ring" series played to diminishing returns last year. Nevertheless, horror die-hards may still want to take a look at this latest sequel, which finds high schoolers running afoul of the ghostly girl with long dark hair who enjoys tormenting the living by jumping out from the latest HDTVs. Director Tsutomu Hanabusa isn't as skilled a technician as his predecessors, with plenty of cheap thrills comprising this 97-minute entry, though a few of the 3D effects are decent. Well Go's Blu-Ray offers both 3D and 2D versions along with a 5.1 DTS MA soundtrack in Japanese with English subtitles and a 3D lenticular slipcover.
New From Magnolia: Ant Timpson and Tim League's 130-minute THE ABCs OF DEATH (2012, Not Rated) offers 26 vignettes on death with each letter of the alphabet assigned to a different director(s) – most of whom you've never heard of. This Magnolia production arrives on Blu-Ray including commentary from the 30 or so directors involved; a BD Live short film contest feature; trailer; AXS TV making Of; and additional featurettes and deleted scenes, plus a 1080p transfer and 5.1 DTS MA soundtrack…in THIS GIRL IS BADASS (99 mins., 2011; R),Jeeja Yanin plays a bike messenger caught up between rival mobs in a martial-arts fest from the producer of "The Protector." Magnolia's Blu-Ray includes a Making Of, behind-the-scenes segment and the international trailer, along with a 1080p transfer and DTS MA 5.1 Thai soundtrack with English subtitles.
New From Lionsgate: Tommy Ford and Miko DeFoor star in BABY MAMA'S CLUB (101 mins., 2013, R), a would-be crazy comedy that follows a pair of friends as they enter fatherhood – one with more experience (Ford's character is on his 17th child) than the other. Lionsgate's DVD includes a 16:9 transfer and 5.1 soundtrack…A family tries to stay alive after they flee into a storm cellar during a tornado – only to run into a creature lurking outside in Patrick Rea's indie horror NAILBITER (82 mins., 2013, R), which Lionsgate brings to DVD this month. In addition to a 16:9 transfer and 5.1 soundtrack, the disc includes two commentaries and a storyboard comparison reel.
---
THE NEWSROOM: Season 1 Blu-Ray Combo Pack (610 mins., 2013; HBO):There's something alternately enthralling and infuriating about the works of Aaron Sorkin. Mixing incisive, intelligent dialogue with occasional trips onto Sorkin's soapbox, "The Newsroom" is a typical concoction from the talented writer, following the lives of on and off-air personnel at the fictitious AICN network, where its tart anchor (Jeff Daniels) spars with new producer Emily Mortimer while the off-air staff (including Alison Pill, Olivia Munn and Dev Patel) try and produce the best newscast in spite of various obstacles. Sam Waterston, in a virtual reprise of his "Law & Order" role, essays the sage news division boss who helps them put it all together in a show that's constantly watchable, yet often smug and pretentious at the same time. Those who warmed to Sorkin's "West Wing" among his other endeavors are most likely to be satisfied with it.
HBO's combo pack of "The Newsroom"'s first season boasts sterling 1080p Blu-Ray transfers, DTS MA soundtracks, a DVD copy, digital copy/Ultraviolet streaming options, commentaries, deleted scenes, Inside the Episode featurettes, a set tour and cast/crew roundtable conversation.
BEVERLY LEWIS' THE CONFESSION DVD (88 mins., 2012; Sony): Beverly Lewis' "The Confession" continues the story of Katie Lapp, a girl raised by an Amish family who ventures out among the "Englishers" in order to find her ailing birth mother (Sherry Stringfield). Michael Landon Jr. helmed this Hallmark Channel sequel to "The Shunning," which places Katie Leclerc into the role that Danielle Panabaker essayed in the original. This is a leisurely yet sincerely acted picture that makes more sense if you've seen the prior picture. Sony's DVD includes a 16:9 transfer and 5.1 soundtrack, offering a tender score by Lee Holdridge.
LONGMIRE: Season 1 DVD (443 mins., 2012; Warner): A&E series follows Robert Taylor, the western sheriff from Craig Johnson's novels, as he tries to move on after the death of his wife. Cassidy Freeman from "Smallville" plays his daughter with Katee Sackhoff as his new deputy and Lou Diamond Phillips as his best friend in this 10-episode first season that Warner brings to DVD this month, just in time for the debut of "Longmire"'s second season. Warner's DVD includes "The Camera's Eye: Realizing the World of Longmire" and "Longmire Justice: Exploring the Cowboy Detective" for extras, along with 16:9 transfers and 5.1 soundtracks.
PRETTY LITTLE LIARS: Season 3 DVD (1056 mins., 2012-13; Warner): Third season of the ABC Family channel hit finds the girls trying to get back to normal after Maya's murder and the revelation that Mona was the mysterious "A." Episodes include It Happened That Night; Blood is the New Black; Kingdom of the Blind; Birds of a Feather; That Girl is Poison; The Remains of the A; Crazy; Stolen Kisses; The Kahn Game; What Lies Beneath; Single Fright Female; The Lady Killer; This is a Dark Ride; She's Better Now; Mona Mania; Misery Loves Company; Out of the Frying Pan, Into the Inferno; Dead to Me; What Becomes of the Broken-Hearted; Hot Water; Out of Sight, Out of Mind; Will the Circle Be Unbroken; I'm Your Puppet; and A dAngerous gAme. 16:9 transfers and 5.1 soundtracks comprise Warner's box-set, along with alternate endings; unaired scenes; a gag reel; bonus webisodes; and a featurette.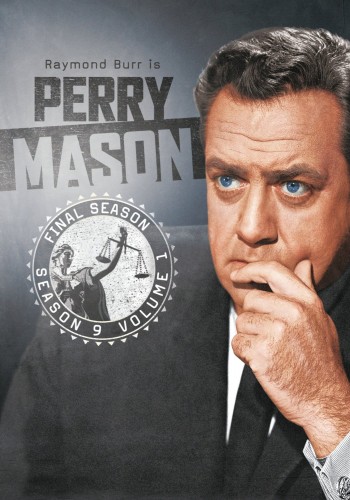 PERRY MASON: Season 9, Volume 1 DVD (aprx. 13 hours, 1965-66; CBS): The final season of the classic Raymond Burr courtroom drama gets underway on DVD with the first of two volumes from CBS. On-hand here are the initial 15 episodes from "Perry Mason"'s ninth season, including "The Case of the…" Laughing Lady; Fatal Fortune; Candy Queen; Cheating Chancellor; Impetuous Imp; Carefree Coronary; Hasty Honeymooner; 12th Wildcat; Wrathful Wraith; Runaway Racer; Silent Six; Fugitive Fraulein; Baffling Bug; Golden Girls; and Bogus Buccaneer. Guest stars include Richard Jaeckel, Gavin MacLeod, Michael Constantine, Constance Towers, Louise Latham and Lee Meriwether, who join Burr, Barbara Hale and William Hopper for one last hurrah (though Burr would return to the role for dozens of two-hour TV movies in the '80s and '90s). Crisp B&W 4:3 transfers and mono soundtracks are included here, along with the disclaimer that "some episodes may be edited from their original network versions."
RAWHIDE: Season 6 Vol. 1 DVD (aprx. 13 hours, 1963-64) and Vol. 2 DVD (aprx. 13 hours, 1964; CBS): Trail boss Gil Favor (Eric Fleming), Rowdy Yates (Clint Eastwood) and their cook (Paul Brinegar) drive another herd of cattle through dangerous terrain in this sixth season of the classic western series. CBS' DVDs offer good-looking full-screen B&W transfers from the series' 1963-64 campaign, the two volumes splitting the sixth season episodes in half with selected episodic promos included on the supplemental side. There are disclaimers that "some episodes may be edited" and "some music has been changed" on the back cover of both volumes.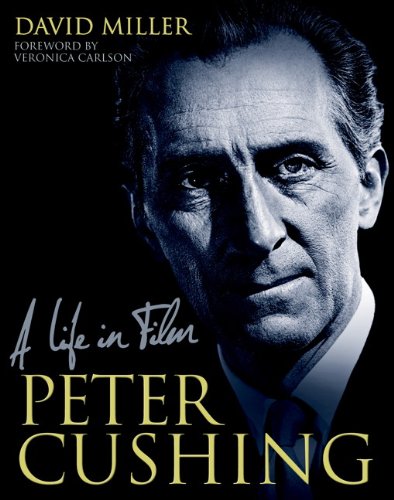 TEEN WOLF: Season 2 DVD (516 mins., 2012; MGM/Fox): Scott McCall – the 21st century "Teen Wolf" of this MTV series – is back as he finds himself in the midst of a war between hunters and werewolves, while romancing the lovely Allison and trying to keep his family safe. MGM's DVD of "Teen Wolf"'s second season includes commentary on three episodes; a CGI reel; fight choreography featurette; deleted/alternate scenes; a gag reel; Paleyfest 2012 featurette; and a "Shirtless Montage 2.0″! 16:9 transfers and 5.1 soundtracks adorn MGM's DVD release.
New From Titan Books
PETER CUSHING: A LIFE IN FILM (Titan Books): David Miller's hardcover tribute to the great Peter Cushing makes for a fascinating detailed filmography. Recounting Cushing's life, work on the stage and ensuing film career – one dominated by a variety of roles, albeit most notably in a long line of Hammer chillers and "Star Wars," which brought him newfound appeal to a younger generation of viewers worldwide – "A Life in Film" is rich with details about his individual performances and off-screen life anecdotes (especially those involving his failing health). Miller does a superb job taking readers through Cushing's career, stopping to highlight his most memorable roles but given equal thrift to films that have long since faded into obscurity. Black-and-white photographs and a foreword from Veronica Carlson make this a must for Cushing, Hammer and British film buffs in general.
NEXT TIME: HANSEL AND GRETEL – WITCH HUNTERS! Until then, don't forget to drop in on the official Aisle Seat Message Boards and direct any emails to our email address. Cheers everyone!