Message Board - Come and Discuss The Latest Videos, Movies & Anything Else!
Gut wrenching, beautifully filmed and perfectly paced, THE CONJURING (***½, 112 mins., R) isn't just one of the best supernatural chillers of recent years – it truly deserves a place next to "The Exorcist," "The Innocents" and "Poltergeist" as one of the more memorable cinematic excursions into the paranormal ever produced. That may sound like high praise, but walking out of director James Wan's stunning thriller, I was hard pressed to think of other horror movies that have captivated me from start to end as much as this one did.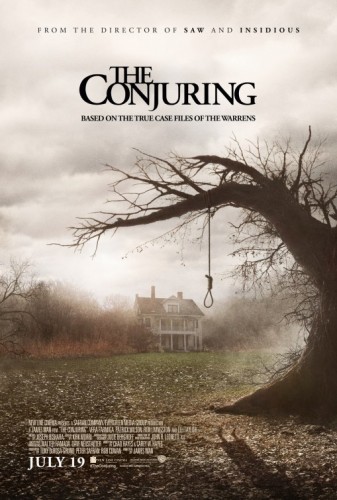 Chad and Carey Hayes' screenplay takes the true story of a Rhode Island family's haunting in the early '70s and embellishes it into a film that grips you from its earliest frames, while Wan – the director who single-handedly launched a decades worth of gory "torture porn" pictures with the original "Saw" – here demonstrates a far greater command of the screen with what many have already called a directorial tour de force. In fact, Wan utilizes a documentary-styled approach that's closer to William Friedkin's 1973 classic than any other supernatural film I can recall, and expertly works with John R. Leonetti's cinematography and a masterful sound design to create one of the more brilliantly directed pictures this genre has seen in years.
The Perron family – led by parents Lili Taylor and Ron Livingston – move into their home in northern Rhode Island and quickly notice standbys of any film haunting: bumps in the night, unseen forces that cause their dog to bark, and an occasional chill that permeates the air. Their five young daughters, though, are quickly put into the crosshair of a supernatural entity that wants more than to just make its presence known, physically announcing itself by grabbing the girls and causing bruises to Taylor that she believes are just the result of an iron deficiency. Ultimately, the Perrons call in paranormal experts Lorraine and Ed Warren (Vera Fermiga and Patrick Wilson), the earliest "Ghost Hunters," who soon realize the family isn't suffering from a noisy oil burner on its last legs causing a ruckus.
"The Conjuring" carries an R rating but the film's violence is minimal and its profanity nearly non-existent. Wan eschews the gratuitousness of his past works in favor of a less is more approach that's just as scary for what you don't see as what you do (particularly when young Andrea Perron first encounters a ghost, standing in the corner of her room but only visible to her – not the audience). At first, it might be easy to resist the movie's familiar structure, but as the story unfolds, it's nearly impossible not to get wrapped up in the family's plight as the supernatural occurrences increase. The effectiveness is all due to Wan's direction and the uniformly believable performances of Taylor, Fermiga and Wilson, not to mention the unaffected young actresses playing the tormented Perron girls. Yet even with all the chilling moments, you come to care about these people, and the emotional catharsis that closes the picture is something few films in this genre have been able to duplicate (kudos to Joseph Bishara for a moody, effective score as well, with Mark Isham contributing a poignant "family theme" that plays a significant role in the film's concluding moments).
"The Conjuring" is at a disadvantage compared to other films in its genre because it's had to follow classic films like "The Exorcist," "The Haunting" and "Poltergeist." For viewers resistant to horror films in general, there's probably little here they haven't seen before, and one could argue the more explicitly visceral elements of the haunting are its weakest asset. Nevertheless, Wan's movie grabs you and doesn't let go until the credits have rolled – and even then, you might be checking the rear view mirror, just to make sure nothing's followed you home. That's frightful filmmaking at its finest, and "The Conjuring" is unquestionably the most effective cinematic haunt of this generation.
---
New on Blu-Ray
After the "summer of mass destruction" we've had at the movies – with one loud assault on the senses after another filling theaters – there's something refreshing about an old-fashioned, hard-core science fiction film like Joseph Kosinski's OBLIVION (***, 125 mins., 2013, PG-13; Universal). Granted, portions of this film have been assembled out of other sources, but this is nevertheless a visually enthralling and entertaining sci-fi adventure that ought to captivate genre fans.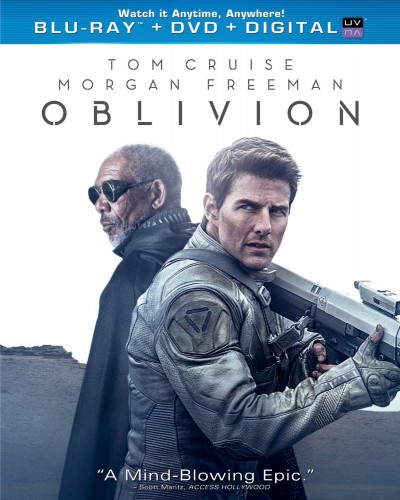 Tom Cruise stars as one of the last remaining humans on an Earth about to be put out to pasture following an apocalyptic confrontation with aliens. While a massive craft mines the remaining oceans of our planet for energy, Cruise's Jack Harper is assigned to rescue downed droids in a landscape populated by mountains, valleys and streams – as well as the remnants of a doomed civilization. After Jack gets into a confrontation with the mechanical "Scavengers," however, he realizes that nothing is quite what it seems – not his existence in a beautiful penthouse with the lovely Andrea Riseborough, not the tasks his superior "Sally" (Melissa Leo) has assigned to him, and possibly not the belief that the Earth is as uninhabitable as he's been told.
"Oblivion" is a throwback science fiction movie – it doesn't offer a frenetic succession of CGI chases, shaky cam, or desaturated cinematography. Kosinski and cinematographer Claudio Miranda have packaged a strikingly designed post-apocalyptic world where gorgeous, wide open natural vistas clash with the occasional landmark from an old, dying civilization. The approach is effective yet underplayed for the most part, and the movie likewise employs a moody, haunting tone to complement Kosinski's expert use of the full widescreen frame. The screenplay, adapted by Karl Gajdusek and Michael DeBruyn from Kosinski's original graphic novel, is admittedly familiar, and viewers resistant to sci-fi might want to stay away, but "Oblivion" kept me glued because of its believably rendered atmosphere and satisfying dramatic arc. Some critics carped about Cruise seeming "disengaged" in terms of his performance, but they ultimately missed the point, as Jack and the woman (Olga Kurylenko) he rescues from a downed spacecraft slowly attempt to unravel the mystery before them. It's also nice to see a film designed as a standalone piece and not a "franchise starter," as "Oblivion" actually gives viewers closure instead of just another tag for a possible sequel.
A candidate for one of the more scintillating HD transfers I've seen, "Oblivion" comes to Blu-Ray this week in a stellar 1080p AVC encoded presentation from Universal. Details, colors and clarity are unparalleled on this gorgeous looking disc, enhanced by a superbly mixed DTS MA soundtrack. Extras include a format-exclusive isolated score track by M83 (in Dolby TrueHD) plus two short Making Of featurettes. Oher supplements, also contained on the DVD, offer commentary with Cruise and Kosinski, four minutes of deleted material and three more featurettes, including a look at M83′s scoring. A digital copy is also included. Recommended!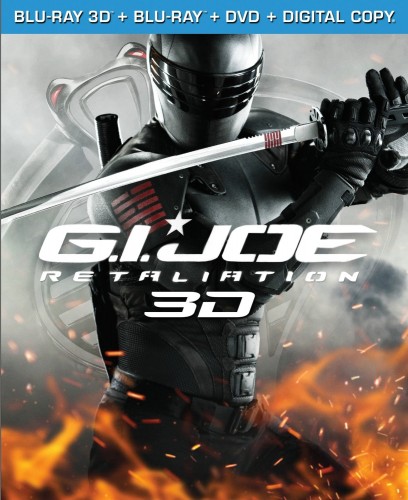 G.I. JOE: RETALIATION 3D Blu-Ray Combo Pack (**, 110 mins., 2013, PG-13; Paramount): Nowhere near as entertaining as its ridiculous but colorful predecessor, this tired and decidedly lower-budgeted sequel tries to restart the "G.I. Joe" franchise with Dwayne Johnson as Roadblock — one of the last remaining G.I. Joes who has to save the world, and clear the troop's name, after Cobra wipes out Duke (a 10-minute cameo for Channing Tatum) and unseen members of the prior movie's cast. Jonathan Pryce is back in a dual role as the President and the Cobra-copycat version, who schemes to spring Cobra Commander (obviously not Joseph Gordon-Levitt, who had better things to do) out of prison in order to launch a satellite that will give the bad guys control of the entire world. Joining Roadblock in patriotic opposition are Snake Eyes, Lady Jaye (Adrienne Palicki) and Sgt. Joe Colton, the original "Joe" who, as played by Bruce Willis, looks like he just rolled off the set of "Red 2″ or any number of other direct-to-video flicks the actor has been appearing in of late.
Director John M. Cho, subbing for Stephen Sommers, has no choice here but to dial back on the spectacle: with a reduced amount of special effects, it takes nearly 45 minutes for "GI Joe: Retailiation" to get things going. When the "action" finally does start, it's distressingly bland, uninspired stuff, without all the gadgets and wild comic-book fun of the original movie, and visually dominated by bland Louisiana shooting locales. The script by Brett Reese and Paul Wernick is likewise no more than workmanlike in its approach, with the story having a decidedly fragmented feel to it — no surprise with the film having gone through publicized reshoots and a release date that pushed the movie back from Summer 2012 to this past spring. The delay may have polished the final product, yet the band-aids are obvious, and sequences that should've been entirely discarded (such as The RZA's hilarious performance as Snake Eye's "sensei") are still retained in an abbreviated form. There's also a notable lack of chemistry between the actors, with Willis' would-be rousing appearance as the original G.I. Joe coming off as little more than an afterthought — evidence of a wider lack of vision that permeates every element of this by-the-numbers sequel.
"G.I. Joe Retailiation" ended up performing well at the international box-office, thereby ensuring future sequels – but here's hoping the next installment will be considerably livelier than this one.
Paramount's 3D combo pack boasts a sharp 1080p AVC encoded transfer of the 2D version and a fine presentation of its needless 3D conversion. Extras include an hour of fluffy featurettes, four minutes of deleted scenes, and commentary from Chu and producer Lorenzo di Bonaventura. The DTS MA soundtrack offers a bland score by Henry Jackman, and a DVD and digital copy round out the disc.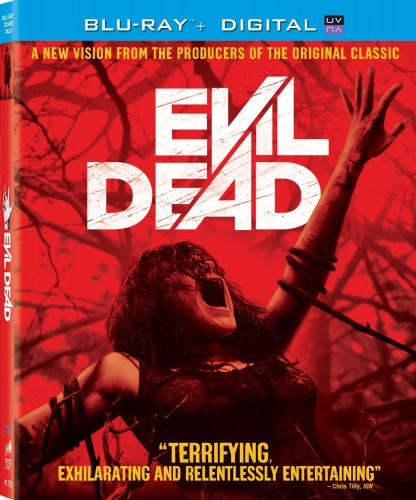 EVIL DEAD Blu-Ray (***, 91 mins., 2013, R; Sony): A stirring remake of Sam Raimi's 1983 original horror outing — which, by itself, actually isn't all that good, particularly in comparison to "Evil Dead II" (a brilliant comic-riffed remake of its predecessor) and of course "Army of Darkness" (which is as much a playful homage to the fantasies of Ray Harryhausen as it is a horror movie).
Director Fede Alvarez's new version is neither campy nor a "self aware" rehash of what came before, but is still decidedly old fashioned, particularly in how it relies not on CGI but on physical make-up effects that are gory and gooey. They're also so "unrealistic" that they take the edge off the severed limbs and buckets of blood that come flying at you — and as you might expect, there are plenty of both to go around in this inspired effort produced by the original's creative team (Raimi, Robert Tapert and "Ash" himself, Bruce Campbell).
The new script by Alvarez and Diablo Cody reworks Raimi's initial premise, with a group of young folks gathering at an isolated forest cabin not for a vacation but to support their friend Mia (Jane Levy), who's trying to kick a drug habit. Unbeknownst to them, the Book of the Dead lies dormant in the cellar of the old place, and once it's cracked open, all hell breaks out, with demonic possession, dismemberment, puking, stabbings, self-mutilation and foul language all sprinkled into the mix as the group fights to stay alive.
While most of the characters in "Evil Dead" aren't especially developed, Alvarez does a strong job establishing the picture around Mia's plight, which adds a dramatic layer to the film that was completely absent from Raimi's original. Once Mia is flagged as the vessel for the Deadites to come to life, it's easy to feel sympathy for her as she's put through the ringer — as is the rest of the cast, with Alvarez staging a series of horrifying, gory encounters between the survivors and the possessed. Luckily, while the film is plenty bloody, it's violent in a more "classical" splatter style instead of the more sadistic horror we've seen in the torture porn outings of the 21st century. It's also not as mean-spirited as, say, recent supernatural thrillers like "Sinister" and "Insidious" — not as outwardly "playful" as Raimi's films, of course, but with some notable ingredients brought back from its predecessors.
Alvarez's direction is confident, anchoring scenes with a visual flourish and a heavy reliance on sound design and Roque Baños' surprisingly good orchestral underscore. And, right when the film seems to be setting up for an entirely predictable conclusion, the new "Evil Dead" throws a couple of curveballs at the audience that pay off in a big way — with an especially satisfying ending that, fortunately, isn't telegraphed from the very beginning for a change.
While naysayers will lament the fact that once again Hollywood has turned out another remake, the 2013 "Evil Dead" is a good one — and a really fine horror film at that. Be sure to stay through the credits for a very brief but quite welcome surprise that ought to please fans of Raimi's originals — and whet their appetites for what might be coming down the road.
Sony's Blu-Ray includes a top notch 1080p AVC encoded transfer and highly active DTS MA soundtrack, though special features are merely okay, comprised of about 45 minutes of featurettes and a commentary track with Jane Levy, Fede Alvarez and other cast/crew members. Highly recommended for horror buffs.
---
New From Twilight Time
It's "Valentine's Day in July" for Twilight Time this month, as a pair of memorable cinematic romances make their way onto Blu-Ray from the label.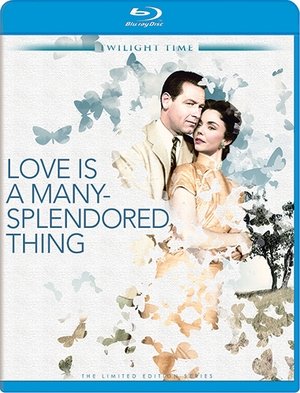 LOVE IS A MANY-SPLENDORED THING (102 mins., 1955) is a lavish Fox Cinemascope melodrama charting the tragic romance between a reporter (William Holden) and a Eurasian doctor (Jennifer Jones) in post-WWII Hong Kong, circa 1949. Their love faces obstacles from disapproving locals and Holden's marriage – but their relationship blossoms regardless in a sensuous looking '50s film from director Henry King and writer John Patrick, adapting an autobiographical tale from author Han Suyin. Beyond the ample chemistry of the two leads there's that classic Sammy Fain-Paul Francis Webster title song, here given the royal orchestral treatment by composer Alfred Newman. Twilight Time's Blu-Ray includes a sharp 1080p AVC encoded transfer from the Fox vaults that's one of the best of their Fox releases to date. The original stereo soundtrack is encoded as a 5.1 DTS MA track, with supporting extras including commentary with Jon Burlingame, Michael Lonzo and Sylvia Stoddard; Fox Movietone newsreel footage; the trailer; and an isolated score track.
Nora Ephron struck box-office gold a couple of times during her directorial career, most memorably with SLEEPLESS IN SEATTLE (105 mins., 1993, PG), the second teaming of stars Tom Hanks and Meg Ryan. The duo's first collaboration – the sublimely silly and wonderful "Joe Versus the Volcano" – didn't muster much commercial enthusiasm, but the masses turned out in droves for this old-fashioned story of a widower (Hanks) who heads to Seattle with his young son in tow, and a Baltimore reporter (Ryan) who hears his call on a national radio show about how much he misses his wife. The duo's near-meetings are part of a lead-up to a dramatic finale where…either you know what happens because you've seen it, or you can figure it out. Either way, "Sleepless in Seattle" is cool, calculated, tug-at-the-heartstrings stuff, with terrific performances from two leads who generate an enormous amount of chemistry together, and highlighted by luminous cinematography by Sven Nykvist. Twilight Time's Blu-Ray looks great, sounds just fine (1080p AVC/5.1 DTS MA) and offers extras ranging from an isolated score to a commentary with Ephron and her sister, Delia; "Love in the Movies" featurette; the trailer; and a music video of the soft-rock "When I Fall in Love" duet between Celine Dion and Clive Griffin.
Both discs are available exclusively through Screen Archives and are limited, as always, to 3000 copies.
---
New From Criterion
Back in 8th grade, William Golding's "Lord of the Flies" was one of several books our English class intrepidly dissected. Actually, for someone who was far more excited by playing "Super Mario Bros. 2″ on the NES and looking forward to the next Schwarzenegger film, reading Golding's powerful allegory was a bit of a slog. What's more, seeing the movie version back then didn't go over so well, seeing as most of us couldn't understand all the dialogue coming out of the mono speaker on the hideous TV/VHS combo our class was using that day.
Of course, I was a bit too young to appreciate the artistry of LORD OF THE FLIES (90 mins., 1963) anyway, either on the printed page or on-screen, yet this fascinating film version has aged surprisingly well. Director Peter Brook's independently made production was avant garde for its time – in adapting Golding's novel, Brook decided to forgo utilizing a studio and instead head to Puerto Rico to shoot the movie on-location with young British boys on school holiday. The nearly "guerilla" approach lead to miles of film being shot, all of it faithfully rendering Golding's tale of British schoolboys who turn barbaric after they're stranded on a tropical island without adult supervision.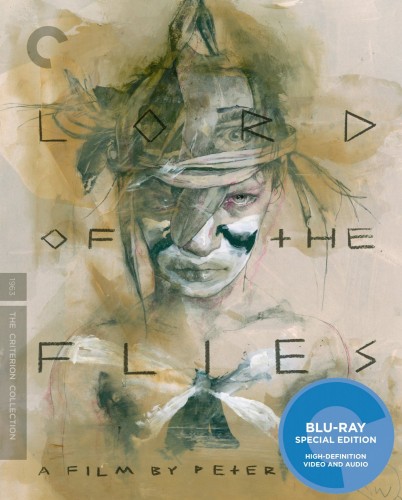 The movie hits upon most of Golding's messages in its tidy 90 minute running time (the film had to be cut down considerably in order to secure a theatrical distributor), though first-time viewers may get more out of the film if they've already read the material. Nevertheless, "Lord of the Flies" is a powerful movie and a unique one for its era. The movie's excellent use of locations, its striking, natural cinematography (which contrasts effectively with the unfolding horror at the heart of the book), and the unaffected performances of its young cast make it a durable picture that's a prime example of a fresh, unique filmmaking approach, particularly in an era of safe, set-bound studio films.
Criterion issued a wonderful "Lord of the Flies" laserdisc almost exactly 20 years ago. This new Blu-Ray edition includes the extras from that release (a deleted scene; behind-the-scenes location footage; a track of Golding reading from his novel circa 1976; and commentary from Brook, cameraman Gerald Feil, cinematographer Tom Hollyman, and producer Lewis Allen, who unwisely remade and modernized the story in 1990) and adds new supplements for good measure. Among the fresh special features are a 2008 interview with Brook; an excerpt from a 1980 "South Bank Show" with Golding; a new interview with Feil; an excerpt from Feil's 1975 documentary "The Empty Space" about Brook's directorial approach; the trailer; and "Living Lord of the Flies," a new featurette comprised of previously unseen footage shot by the young actors on location. The 4K digitally restored film transfer (1.37) is unadulterated and crisp, and the mono sound is certainly clearer than that VHS release we were stuck with back in 8th grade. Highly recommended!
---
New Warner Archive Releases
A series of terrific flicks from the Paramount vaults have made their back to DVD from the Warner Archives after going out of print some years ago. Leading the way (or is it wave?) this month is LIFEGUARD (***, 1976, 96 mins., PG), the kind of low-key character study they seldom produce these days, and which has aged gracefully through the years.
Sam Elliott stars as a veteran lifeguard who doesn't seem (or want) to get his life in gear beyond doing what he does best: soaking up the sun, saving the lives of inexperienced swimmers, and enjoying his time with as many lovely young ladies as he can. Elliott's prototypical California lifeguard does, however, at least question his career goals after he meets up with his newly divorced, ex-girlfriend Anne Archer at their high school reunion. Her availability — and the prospects of a new job as a car salesman courtesy of pal Stephen Young — threaten to turn Elliott's laid-back lifestyle upside down. Fortunately, a quick romance with young Kathleen Quinlan (who looks great in a bathing suit) and a few Paul Williams music montages later, Elliott gets his senses back and realizes what's truly important.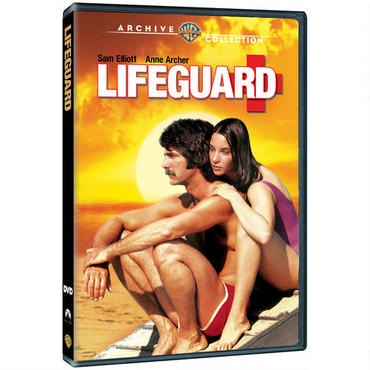 Ron Koslow's script and Daniel Petrie's direction aren't anything extraordinary: "Lifeguard" at times might seem like a PG-rated Movie of the Week, yet its casual atmosphere and lack of dramatic tension are part of its charm. Elliott is wonderful in one of his most well-remembered performances, and seeing young starlets Archer and Quinlan give the film plenty of eye candy for the guys.
Dale Menten's score is likewise a treasure, sporting tuneful melodies and a pleasant Paul Williams song ("Time and Tide") that opened and closed the movie during its initial theatrical release. On video and TV, however, Williams' song was replaced with a terrific Menten instrumental track, which makes the restoration of the original soundtrack here somewhat bittersweet. Granted, it's always nice to hear the theatrical soundtrack restored, yet I couldn't help but think that Menten's own theme wasn't more effective in conveying the picture's mood than Williams' song (which, in its poky arrangement, almost sounds like a "Happy Days" transitional cue by comparison). That said, Warner's Archive reprisal of Paramount's OOP DVD looks just fine in 16:9 widescreen and features a clear 2.0 mono audio track.
"Lifeguard" isn't for everyone: the movie doesn't offer easy answers, preferring, much like its protagonist, to go with the flow. To some, Elliott's solution may seem depressing, while others might find it optimistic – but for the character, it's the ideal conclusion. Either way, the movie's performances and soundtrack make it a perfect summer view…all you need to do is take a ride on its groovy, mellow, character-driven wave.
BACK TO THE BEACH (**½, 92 mins.,1987, PG): Sporting a dynamite stereo soundtrack (with a bouncy score by Steve Dorff), the summer '87 release "Back to the Beach" attempted to both satirize and update the Frankie & Annette "Beach Party" films, right down to its casting of…Frankie & Annette. This entertaining mix of music, surf, sand, and spoof was co-written by "Star Trek IV" scribes Steve Meerson and Peter Krikes, and stars not only Frankie and Annette as the now-grown former teen heartthrobs but also cameo appearances by the likes of everyone from Dick Dale and Bob Denver to Don Adams, Pee-Wee Herman, Jerry Mathers, Tony Dow, and (yes) O.J. Simpson!
This colorful and fun spoof is well worth a look if you're an aficionado of the original American-International hits of the '60s, and features an upbeat soundtrack (with several song numbers) that's hard to get out of your head.
Paramount's DVD offers a terrific 1.85 widescreen transfer with an active 5.1 Dolby Digital soundtrack.
JONATHAN LIVINGSTON SEAGULL (**½, 1973, 99 mins., G): Hal Barlett's disappointing cinematic adaptation of Richard Bach's early '70s best-seller (a religious and social allegory about a seagull wanting to break free from his flock and search for self-enlightenment) was one of the biggest flops of the decade, yet the passage of time has actually strengthened the movie's strong points.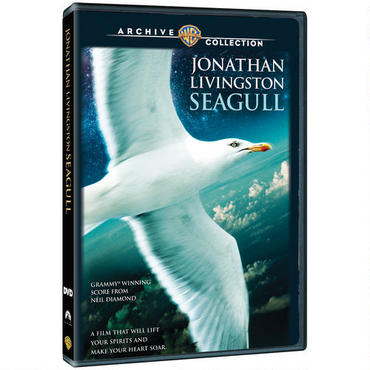 Thanks to Warner's Archive DVD re-issue of Paramount's out of print disc, viewers can now revel in the movie's outstanding Panavision cinematography. The aerial photography is superb, and Neil Diamond's marvelous score — with a strong assist from Lee Holdridge — complements the visuals. If it's possible for a movie to simulate what MTV might've been like in the "Brady Bunch" days of the early '70s, "Jonathan Livingston Seagull" is it.
As for the rest of the picture — and its then-new agey plot about Jonathan's quest with voice-overs "performed" by James Franciscus, Hal Holbrook and Juliet Mills — the film is less than satisfying. Yet when it sticks to the cinematography and music, it's certainly a pleasant enough affair that's soothing to the ears and the eyes.
Warner's Archive no-frills DVD boasts a surprisingly good 16:9 (2.35) transfer with a bland mono audio track. While it's unfortunate the music couldn't have been cleaned up and remixed for 5.1, it's surprising "Jonathan" is even on DVD in the first place.
BROTHER SUN, SISTER MOON (***, 121 mins, 1972, PG): Franco Zeffirelli's well-meaning 1972 profile of St. Francis of Assisi stars Graham Faulkner as Francis — a free-spirit (hippie) who shuns his family's wealth and takes to living in poverty in the beautiful fields of Umbria. There, he finds his own relationship with Christ in the Italian hills and ultimately receives a conversation with the Pope.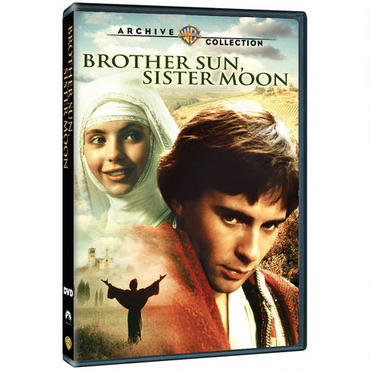 Though the movie's parallels to "flower children" and the era are obvious and date the picture slightly, "Brother Sun" has held up better than one might anticipate. The film is beautiful to look at, has a pleasant score by Donovan (with nice orchestral sweetening by Ken Thorne), and a story that nearly manages to shine through the meandering script. Faulkner, Judi Bowker (Princess Andromeda from "Clash of the Titans") and Alec Guinness (as Pope Innocent III) all give strong performances in a nice movie that boasts a script co-written by Zeffirelli with a host of collaborators, including Lina Wertmuller ("Swept Away").
Warner's Archive disc sports a good-looking 1.85 transfer that's a little soft and grainy, but generally looks acceptable. The mono sound isn't anything out of the ordinary, but it gets the job done.
THE NAKED JUNGLE (95 mins., 1953): South American plantation owner Charlton Heston receives a mail-order bride in the form of lovely Eleanor Parker – along with a trail of killer ants eating their way through the jungle – in this memorable George Pal-Byron Haskin collaboration from 1953. Reprieving the transfer from Paramount's OOP DVD, Warner's disc includes a 1.33 full-screen presentation and mono soundtrack.
MEDICAL CENTER Season 3 DVD (1200 mins., 1971-72): Chad Everett and James Daly return in the third season of the groundbreaking medical series. Warner's Archive release is a six-disc box-set containing "Medical Center"s entire 24-episode third season (71-72 campaign) with guest stars ranging from Michael Douglas to Vera Miles, Ida Lupino, Leslie Nielsen and "Thunderball" ingenue Claudine Auger. The full-screen transfers and mono soundtracks are all just fine.
All the above discs are pressed on manufactured on demand media and are available, as always, exclusively through the Warner Bros. Archive at www.wbshop.com
---
New From BBC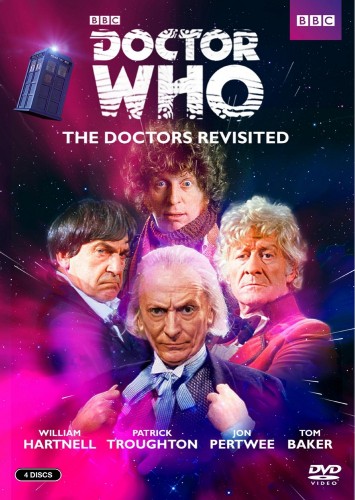 DOCTOR WHO – THE DOCTORS REVISITED DVD (BBC): Four actors who have each stepped into the shoes of Doctor Who are paid tribute in this 4-disc BBC anthology, with William Hartnell, Patrick Troughton, Jon Pertwee and Tom Baker each given their own half-hour documentary – followed by four of the respective Doc's more memorable adventures. The complete story arcs for "The Aztecs," "The Tomb of the Cybermen," "Spearhead From Space" and "Pyramids of Mars" are all on-hand in both a new 16:9 widescreen format as well as their original 4:3 aspect ratios. A must-have set for Dr. Who fans!
MISFITS Season 3 DVD (aprx. 368 mins., 2013; BBC): BBC's "Misfits" finds five disparate young folks who end up gaining super powers while in the midst of doing community service. In season three of the popular series, the group tradew powers with literal-power broker Seth before engaging in a new round of adventures involving zombies and time travel. BBC's multi-disc DVD set includes a behind the scenes featurette; Erazer & Vegas webisodes; a visual effects featurette; stunts featurette; and "On the Set with the Misfits." 16:9 transfers and 2.0 stereo soundtracks complete the release.
---
HOUSE PARTY: TONIGHT'S THE NIGHT DVD (95 mins., 2013, R; Warner):Chris is heading to college, facing the prospects of leaving behind his best friend and his lifelong crush, in this modern updating of the old Kid 'N Play comedies created by the Hudlin brothers. Outside of a cameo appearance from Kid 'N Play themselves, this direct-to-video sequel doesn't share a whole lot in common with its predecessors in terms of cinematic energy, with Darin Scott's bland picture offering the requisite dance sequences, dumb comedy and a formulaic script by Don D. Scott. Warner's DVD includes a featurette, deleted scenes, 16:9 transfer and 5.1 soundtrack, along with an Ultraviolet streaming copy.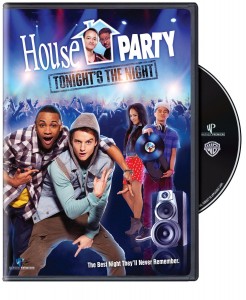 New From E One: Amy Schumer, Rachel Feinstein, Nikki Glaser and Marina Franklin comprise a quartet of WOMEN WHO KILL (72 mins., 2012), a concert experience that E One has released on DVD with special features, a 16:9 transfer and 2.0 stereo soundtrack…THE GOOD LIFE (82 mins., 2012) stars Tangi Miller and Richard Gallion as a married couple who risk everything to advance their own goals. Christopher Nolen's film comes to DVD boasting a 16:9 transfer and 2.0 soundtrack….The original Quebec comedy that inspired the upcoming Vince Vaughn comedy "Delivery Man," STARBUCK (110 mins., 2011, R) features Patrick Huard as a 42-year-old screw-up who finds out he's the father of 533 children after he donated his sperm to a fertility clinic. E One's DVD includes the movie's original French audio with English subtitles, a 16:9 transfer, interviews with Huard and director Ken Scott, deleted scenes, bloopers and a music video.
THE BRONTE SISTERS (120 mins., 1979) is the latest addition to the Cohen Media Group's "Cohen Film Collection" banner. This French production from director Andre Techine stars Isabelle Adjani, Isabella Huppert and Marie-France Pisier as the three Bronte sisters, living in the quiet Yorkshire countryside, whose prose would soon make them renowned authors – but whose private lives were marked by tragedy. Restored from the Gaumont archives, "The Bronte Sisters" is well shot by Bruno Nuytten and scored by Philippe Sarde; it's a bit slow going at times, but French cinephiles are sure to find it of interest. Cohen's Blu-Ray includes a feature length commentary; an hour long documentary with Techine and other members of the crew; trailers; a new 1080p transfer and 2.0 LPCM uncompressed soundtrack.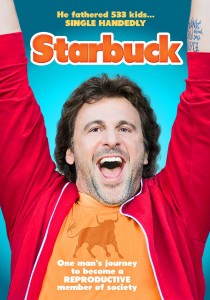 New From IFC: Liam Hemsworth, Teresa Palmer, Aimee Teegarden and Teresa Palmer star in LOVE AND HONOR (96 mins., 2012, PG-13), an unusual mix of Vietnam war drama and teenage coming-of-age story involving Stowell's soldier returning to the States in order to win back his girlfriend (Teegarden), who's now wrapped up in the anti-war movement. Theo Van De Sande's cinematography is assured and the movie does offer ample chemistry between its leads, though the story feels contrived. IFC's Blu-Ray includes a Making Of, 5.1 DTS MA soundtrack and the trailer…WELCOME TO THE PUNCH (99 mins., 2013, R) is a British thriller starring James McAvoy as a detective still trying to apprehend the master criminal who pulled off a London robbery. Mark Strong, David Morrissey and Andrea Riseborough co-star in Eran Creevy's film, brought to Blu-Ray this month in a 1080p transfer with a Making Of, interviews, and the trailer included for extras.
New From Synpase: Hard to find for many years, the insane cult favorite STREET TRASH (102 mins., 1987, Unrated) leads Synapse's new releases for June. An almost indescribable collage of black comedy, grizzly gore and B-grade thrills, this effort from writer-producer Roy Frumkes and director Jim Muro plays like an '80s gorehound's dream: insane in its story and approach, punctuated with superb make-up effects and a carefree, indie tone, though definitely NOT for all tastes. Synapse's Blu-Ray is a marvelous Special Edition as well, boasting a highly detailed, DNR-free 1080p transfer (1.78) with mono audio and a new 5.1 mix for "home theater environments"; commentaries from Frumkes and Muro; a documentary on the making of the film, "The Meltdown Memoirs"; the original 16mm short; promo teaser and trailers; and BD-exclusive deleted scenes (culled from a video tape workprint) and interview with actress Jane Arakawa…Hammer fans will surely want to check out HANDS OF THE RIPPER (85 mins., 1971, Not Rated), a late era effort from the studio focusing on the daughter (Angharad Rees) of Jack the Ripper, who grows up to be a troubled young woman psychologically withholding some of the murderous traits of dear old dad. An interesting mix of the studio's period chillers with the enhanced sex and gore you'd find in any number of '70s outings, "Hands of the Ripper" is a solid Hammer piece brought to BD from Synapse offering a retrospective featurette; motion still gallery focusing on the "Evolution of Hammer Gore"; another stills gallery for the film; a music and effects track; TV spots and trailers; and an audio track of the movie's long-lost U.S. TV introduction and epilogue with Severn Darden. The 1080p transfer (1.66) and mono soundtrack are both quite satisfying.
New From PBS: A pair of new DVDs street from PBS on August 6th. OUTLAWED IN PAKISTAN (60 mins., 2013) is a powerful Frontline examination of how alleged rape victim Kainat Soomro is treated as she goes through the Pakistani "justice" system, as well as how other alleged female victims are condemned more harshly than their accusers. Habiba Nosheen and Hilke Schellman reworked their Sundance documentary for this fascinating, horrifying film, which arrives on DVD August 6th with a 16:9 transfer and stereo soundtrack…The popular SECRETS OF THE DEAD series chronicles BONES OF THE BUDDHA (60 mins., 2013), specifically British landowner Willie Peppe's dig into a hill where over 1000 jewels and the alleged remains of the Buddha himself resided. The questions over the dig, and whether or not it's a hoax, are profiled in this hour-long documentary, presented on DVD with 16:9 widescreen transfer and 2.0 stereo soundtrack.
New From Lionsgate: Season 2 of HOW THE STATES GOT THEIR SHAPES (aprx. 8 hours, 2012) finds host Brian Unger back on the trail, interviewing average Americans to expose how states not only got their shapes but how the country itself was formed. 19 episodes are included in Lionsgate's three-disc set along with over 20 minutes of never-before-seen bonus footage, 16:9 transfers and stereo soundtracks.
---
HOME RUN Blu-Ray (113 mins., 2013, PG-13; Millennium): Feel-good, faith-based drama stars Scott Elrod as a high-paid athlete who loses his way in the big leagues. After being suspended and charged with a DUI, his agent sends him back to the small town he was raised in, where he attempts to reconcile the past and chart a better path for his future. David Boyd's picture is well acted and sincere; it's also a little bit long, but "Home Run" is nevertheless one of the better films of its type I've recently watched, and is worthwhile viewing for older children and adults. Millennium's Blu-Ray is a Walmart exclusive for the next few months, and comes with a fine 1080p transfer and 5.1 Dolby TrueHD soundtrack.
DETENTION OF THE DEAD DVD (87 mins., 2012, Not Rated; Anchor Bay): Amusing, if obvious, sendup of the well-worn zombie genre from director Alex Craig Mann and co-writer Rob Rinow (based on his play!) thrusts a talented young cast ("Greek"'s Jacob Zachar, "Revenge"'s Christa B. Allen among them) into standard-issue high school stereotype roles, only to have them run into hordes of the undead. There's gore and laughs to go around in this good-natured film that doesn't really have anything fresh to say, but if you're in the mood for undead-lite with some appealing performances, "Detention of the Dead" is much better than staying in detention itself. Anchor Bay's DVD includes commentary with Mann, a featurette, 16:9 transfer and 5.1 soundtrack.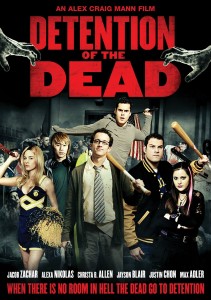 STRIKE BACK Season 2 Blu-Ray/Digital Copy (600 mins., 2013; HBO): Cinemax's action-packed series following American and British agents who travel the globe in order to track down international terrorists returns to Blu-Ray on August 6th. The second season of "Strike Back" adds Rhona Mitra to its already impressive cast and continues the bone-crunching action established by its initial year (Season 3, meanwhile, gets underway on Cinemax this summer). HBO's Blu-Ray edition includes commentaries with stars Philip Winchester and Sullivan Stapleton plus director Michael J. Bassett among others; razor sharp 1080p transfers and DTS MA soundtracks, a digital copy, and a bonus "Banshee" DVD included inside.
SMART COOKIES DVD (87 mins., 2012, Not Rated; Gaiam): Hallmark Channel movie stars "Glee"'s Jessalyn Gilsig as a workaholic who volunteers to be a troop leader for the Girl Scouts, thereby becoming a peer advisor to a group of misfit youths. Bailee Madison co-stars in a better-than-average Hallmark movie directed by veteran Robert Iscove ("She's All That"). Gaiam's DVD includes a 16:9 transfer and 5.1 Dolby Digital soundtrack. Also new from Gaiam is NICKY DEUCE (67 mins., Not Rated), a lightweight mafia drama barely running over an hour but peppered with star cameos including Michael Imperioli and the late James Gandolfini. Steven R. Schirripa co-stars in a film adapted from the book he co-wrote with Charles Fleming. Gaiaim's DVD includes a 16:9 transfer and stereo soundtrack.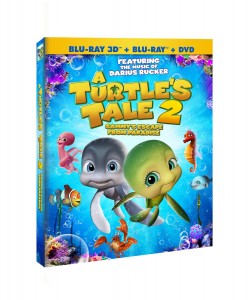 A TURTLE'S TALE 2: SAMMY'S ESCAPE FROM PARADISE Blu-Ray/3D Combo Pack (93 mins., 2012; Gaiam Vivendi): French-produced animated adventures of Sammy the Turtle continue in a colorful feature for kids, following Sammy and Ray as they try and escape from an underwater aquarium and protect their grandkids. This isn't exactly Pixar territory here, but the animation isn't bad, and Gaiam's 3-D Blu-Ray presentation is quite good, especially considering that the previous U.S. Blu-Ray only offered a 2-D version of the film. Gaiam's combo pack also includes a 2D BD presentation, DTS MA soundtrack and a DVD copy.
TOUCHED BY AN ANGEL Season 8 DVD (aprx. 17 hours, 2001-02; CBS): The eighth season of "Touched by an Angel" flies onto DVD this month from CBS, with Roma Downey, Della Reese, John Dye and Valerie Bertinelli returning for another 22-episode anthology of hearttugging, emotional episodes. CBS' six-disc DVD set includes 4:3 full-screen transfers and stereo soundtracks.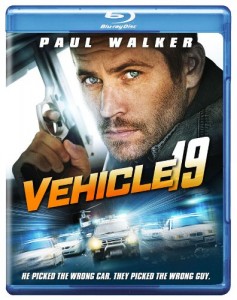 KING OF THE STREETS Blu-Ray (88 mins., 2012, Not Rated; Well Go USA): Yuen Song, a Chinese martial artist, plays a streetwise fighter who lands in prison after a tragic accident. Emerging from prison as a smarter, wiser man who tries to avoid physical confrontation, Song nevertheless ends up having to seek redemption through his martial arts skills in this tour de force from Song, who not only stars in "The King of the Streets" but also wrote and co-directed the picture. Well Go brings the movie to Blu-Ray on August 6th in a fine 1080p transfer with DTS MA 5.1 audio (Mandarin with English subtitles).
VEHICLE 19 Blu-Ray (85 mins., 2012, R; Ketchup Entertainment): Paul Walker's career is likely to get a boost at some point from the latest "Fast and the Furious" smash – but prior to the current sequel's release, Walker starred in this South African production about a parolee who ends up with a woman in his rental car and a cell phone stashed in the glove compartment that takes him on a wild ride…almost all of it set within the car itself. "Vehicle 19″ tries to do something a bit different – almost like "Phone Booth" in a car and Walker subbing for Colin Farrell – but it's a misfire all the way, recommended only for Walker completists who've worn out their Fast & Furious discs. Ketchup's Blu-Ray does look nice (1080p AVC enoded widescreen) and includes a 5.1 DTS MA soundtrack.
NEXT TIME: Saddle up with Shout's 4-Film Favorites; Westerns featuring a quartet of Fox sagebrush sagas! Until then, don't forget to drop in on the official Aisle Seat Message Boards and direct any emails to our email address. Cheers everyone!