Message Board - Come and Discuss The Latest Videos, Movies & Anything Else!
Its mediocre trailers aside, WORLD WAR Z (***, 122 mins., Unrated, 2013; Paramount), the much-discussed, turbulent production from star-producer Brad Pitt and director Marc Forster, is a big-time surprise — a smart, exciting popcorn muncher driven by a central star performance that's both confident and relaxed.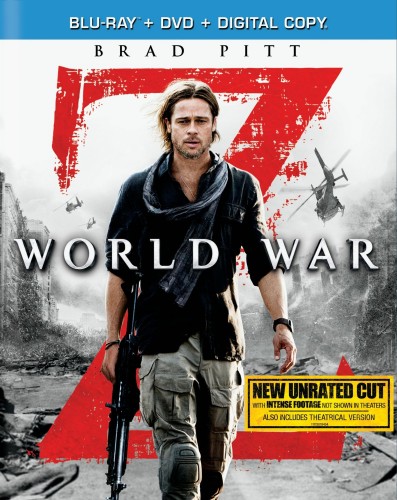 More of a globe-trotting pandemic thriller than a gore-soaked genre exercise (horror fans will be disappointed for that reason; on the other hand, I found the approach refreshing), "World War Z" looks at the outbreak of a zombie apocalypse through the prism of UN worker Pitt. After barely escaping his now-ravaged hometown of Philadelphia with his wife and daughters, Pitt is called into action by his boss in order to find the source of the outbreak that's turning humans into crazed killers of the undead. Hoping that uncovering "Patient Zero" will enable a cure to be found, Pitt's adventures take him to South Korea, Israel and eventually Wales, through hordes of zombies and civilizations both modern and ancient all succumbing to the deadly virus.
"World War Z" made headlines last year when the studio and Pitt decided the movie's third act wasn't working. The film was recut ("Lost"'s Matthew Fox, no longer billed in the front credits, has maybe two lines of dialogue in a part obviously left on the editing room floor), the final third (originally set in Russia) was entirely jettisoned and a new finish constructed. While it's clear the film is cut tight and there's an underlying sense that certain story elements were abbreviated (such as Pitt's wife and daughters being left on a naval ship), this is one of those rare instances where ample post-production and test sceenings actually helped the picture. The film's new climax, written by Drew Goddard and Damon Lindelof, enables the star to go one-on-one with the zombies in a more claustrophobic setting as opposed to the larger-scale sequences of undead hordes witnessed in the film's early stages — making for an interesting contrast that's dramatically effective — while also providing the story with a clear, surprising resolution seldom seen in these types of films.
Make no mistake, either: this film is Pitt's show, and the star — who's been looking to break into a big "franchise" for a while — carries the film effortlessly as few actors today can. Likeable, resourceful and yet anything but a one-man wrecking crew, Pitt's character is believably rendered in a film that's more focused on momentum and excitement as opposed to gore and the sorts of slow-paced, dreary horror confrontations typically seen in zombie films. The different locations and set-pieces give the film a global scale that keeps the material fresh and compelling — and also old-fashioned too, in a Saturday matinee type of way. "World War Z" looked for a while like it was going to be the one summer movie to avoid; instead, who knew that Brad Pitt saving the world from zombies would provide escapist fun and a bit of intelligence missing from the likes of Star Trek and Superman.
Paramount's Blu-Ray combo pack doesn't include the movie's much-discussed discarded original climax, but does offer an extended (by roughly seven minutes) 122-minute unrated version that boasts a bit more in the way of gore, though even here, it's not exactly like a typical episode of "The Walking Dead." Other extras include a few behind-the-scenes featurettes, the DVD, a 1080p transfer and DTS MA 5.1 soundtrack. Viewers should note the original theatrical version is only included on DVD, or on Blu-Ray in the 3D combo pack (not screened for review).
HALLOWEEN 35TH Anniversary Edition Blu-Ray (****, 91 mins., 1978, R; Anchor Bay): John Carpenter's seminal horror classic returns to haunt Blu-Ray once again, here in a newly remastered transfer supervised by cinematographer Dean Cundey expressly for this release.
Anchor Bay previously brought the Jamie Lee Curtis-Donald Pleasance slasher – which introduced Michael Myers to audiences around the world – to Blu-Ray in 2007. While that release was well-received by most at the time (myself included), fans objected to some of the color timing alterations in the image – elements that have been corrected in this new 1080p AVC encode, which also boasts finer detail and contrasts, especially during darker scenes. The result is a cooler image than its Blu-Ray predecessor, but one that's likely to please "Halloween" fans even more with its pristine presentation. On the audio side, the 7.1 Dolby TrueHD track is effectively layered with a good balance of dialogue and effects, while the original theatrical mono is also included for purists.
The Digibook release includes some fresh extras: in addition to a newly recorded commentary track with John Carpenter and Jamie Lee Curtis, the disc boasts an entertaining, hour-long featurette "The Night She Came Home," following Curtis as she heads to a horror convention last year. Footage shot for NBC's TV version of the movie (filmed during the production of "Halloween II") is likewise included, while returning supplements include the 10-minute "On Location: 25 Years Later" featurette, the trailer and TV spots. The disc omits the older commentary (first recorded for Criterion's laserdisc) and the feature-length documentary on the film, but seeing as viewers have likely taken in these extras on countless other releases, their omission here doesn't detract from the package as a whole. Highly recommended!
IRON MAN 3 Blu-Ray (***, 130 mins., 2013, PG-13; Marvel/Disney): What's likely to go down as the highest grossing film (both domestically and worldwide) of 2013 is a rock-solid comic-book yarn that makes amends for its disjointed, disappointing predecessor.
Director Shane Black incorporates smart humor into this sequel without upping the Robert Downey "snark quotient" — the result is a dynamite follow up that brings back the feel of Jon Favreau's original film while enhancing the pace. It also doesn't have the congested script of the second film, which was more of a trailer for "The Avengers" than a standalone piece. The plot finds Iron Man taking on a terrorist dubbed the Mandarin (Ben Kingsley) while a former flame (Rebecca Hall) and her philanthropist employer (Guy Pearce) have nefarious plans in store for the ailing Stark, who's still trying to get over saving the world at the end of "The Avengers."
Black manages to throw the focus back on the characters in "Iron Man 3," obviously to the film's benefit. Downey is more laid back here, expressing a bit of a weariness that adds a new layer to his performance, and he's complemented by Kingsley, whose role as The Mandarin is just splendid – a true surprise in a "twist" that only drew the ire of comic book fanboys. Brian Tyler's score is also far and away the best of the series, bringing an uptempo and memorable theme that, just by default, makes it one of the more memorable Marvel movie soundtracks to date (faint praise as that may be).
"Iron Man 3″ doesn't, naturally, have the freshness of Jon Favreau's original film, but there's at least more of a cohesive story here than the convoluted second installment, making it a fun and satisfying final entry in this trilogy of Tony Stark adventures.
"Iron Man 3″'s Blu-Ray edition features an expectedly strong 1080p transfer and DTS MA soundtrack along with a number of short featurettes and deleted scene fragments. Those hoping for a full-fledged special edition will have to wait for the inevitable re-issue, though the 15-minute "Agent Carter" mini-movie is fun, bringing back Hayley Atwell as Captain America's old flame. According to news reports, this might be a pilot of sorts for a prospective TV series involving the character, which would not be unwelcome news (especially if Atwell returns to the role).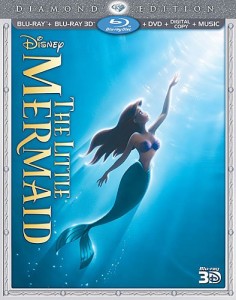 THE LITTLE MERMAID: Diamond Edition Blu-Ray/3D Blu-Ray/DVD (***½, 1989, 83 mins., G; Disney): It's not a stretch to say that Alan Menken and Howard Ashman's tuneful score for 1989′s "The Little Mermaid" laid the groundwork for Disney animation's full-blown revitalization in the '90s. Songs like "Part of Your World" and "Under the Sea" were immediate hits, and the movie itself was a commercial sensation, generating critical kudos and enthusiastic audience response. Suddenly, Disney cartoons weren't just for kids, with "The Little Mermaid" marking the dividing line between the studio's mostly middling '80s pictures and a streak of box-office smashes that would follow for years to come.
Making its Blu-Ray debut from Disney on October 1st, "The Little Mermaid" is presented in both 2D and 3D high-definition presentations. Announced for a theatrical release but kiboshed when "Beauty and the Beast 3D" didn't perform up to expectations at the box-office, the "Little Mermaid" 3D conversion makes its debut here and it's well-done all things considered, as you'd anticipate coming from Disney. Depth of field effects, especially in the underwater sequences, are effectively rendered, though any slight dimming of the movie's colors is something that will hold it back from being the version of choice for many viewers. The 2D 1080p transfer is glorious, on the same level as past animated classics from the studio that have received the high-def treatment, and the 7.1 DTS MA sound is top notch. For extras, it appears that most of the original DVD special features have been ported over from a myriad of past releases, with new extras including Carly Rae Jepsen's "Part of Your World" video; a restoration demo; a never-before-seen deleted character, Harold the Merman; Jodi Benson, the original Ariel, and her "Voyage to New Fantasyland"; @DisneyAnimation behind-the-scenes with animators; a digital copy and 10-track music download.
---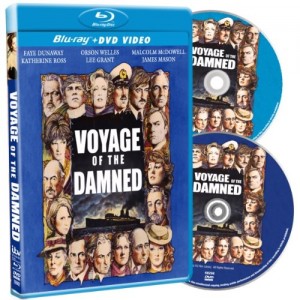 New Blu-Ray Catalog Releases
Shout Factory acquired Timeless Media in 2012 and only recently began using the label for Blu-Ray catalog releases – a category we're clearly fond of here at the Aisle Seat!
This week, Timeless debuts a high-def presentation of VOYAGE OF THE DAMNED (**½, 157 mins., 1976, PG), a soapy treatment of the 1974 bestselling book. As adapted by Steve Shagan and David Butler, the film chronicles the horrifying journey of German Jews who set sail on the steamer SS St. Louis for Cuba to escape persecution at home – only to be denied refuge and eventually realize that the journey was simply an exercise in Nazi propaganda.
Stuart Rosenberg directed the Associated General production of "Voyage of the Damned," which boasts an all-star cast (Max Von Sydow as the understanding captain of the St. Louis; Faye Dunaway, Oskar Werner, Lee Grant and Sam Wanamaker as some of the refugees onboard; and a huge supporting cast including Orson Welles, James Mason, Ben Gazzara, Malcolm McDowell, and a young Jonathan Pryce) in a film that feels like an abbreviated TV series. The script is honorable in its intentions but hokey in places and downright unbelievable in others, particularly with its chiseled, stock Nazi villains and melodramatic passages that seem primarily intended to give actresses like Dunaway and especially Grant some scenery-chewing moments (for Grant, it worked, with the actress nominated for a Supporting Actress Oscar for her efforts here). There are certainly some effective moments, and the story itself is compelling and worthwhile, but "Voyage of the Damned" isn't a great movie, and has, since its original release, fallen through the cracks into becoming a footnote – however erroneous it may be in terms of classification – in the long line of '70s all-star "disaster movies."
Timeless' Blu-Ray includes a 1080p AVC encoded presentation of the movie's 157-minute theatrical release print. "Voyage of the Damned" was apparently cut down for its original U.S. run, and the Blu-Ray preserves the theatrical version in a transfer that's natural in appearance and free from DNR, though the source print utilized is banged up and seems to have suffered from the ravages of time, displaying faded colors and other issues. (Interestingly, the movie was expanded by over 20 minutes for its original network TV broadcast, but that version was only released once on home video – in an early VHS release from Magnetic Video). The trailer, a photo gallery, and a standard def DVD round out Timeless' combo package.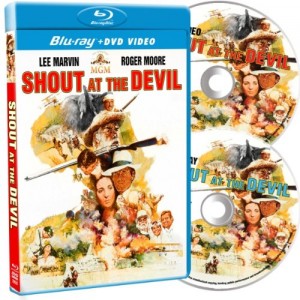 One of those movies that sounds a lot more fun than it actually is, SHOUT AT THE DEVIL (**½, 149 mins., 1976, PG) brings together the contrasting screen personas of Lee Marvin (as, of course, a drunken scoundrel in 1913 German East Africa making things difficult for the Krauts) and Roger Moore, essaying a proper Englishman en route to Australia who gets involved in Marvin's poaching raids. Moore also falls for Marvin's headstrong daughter (a particularly lovely Barbara Parkins) while the duo cause trouble for the sadistic German Commandant (Rene Kolldehoff), who eventually exacts his revenge at a terrible personal cost for our protagonists.
007 veteran Peter Hunt directed "Shout at the Devil," which was a production of Michael Klinger, who previously worked with Hunt, Moore and others on "Gold" a few years prior. Like "Gold," "Shout at the Devil" was based on a book by Wilbur Smith, and critics of the novel called it a "bloodbath" – a term that's difficult to apply to the movie's bouncy first half, at least, which plays like a sub-par John Ford movie with Marvin and Moore applying every ounce of their respective screen charismas to sell an African adventure with thundering elephants, hungry alligators, ethnically stereotyped locals (including Ian Holm's pantomime turn as "Mohammed"), and an occasional chuckle or two. Things take a more serious, and less satisfying, turn, once the Germans raid Marvin's compound, taking the life of Moore and Parkins' baby and draining the fun out of the rest of the picture.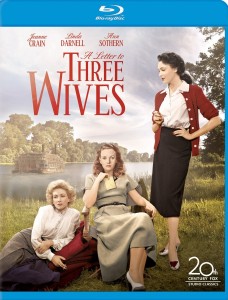 "Shout at the Devil" was cut heavily for its U.S. release (somewhat understandably given its lethargic pacing) and was never released on DVD at all domestically. MGM HD began airing a restoration of the movie's original, 149-minute version a couple of years ago, and this master has been brilliantly brought to Blu-Ray by Timeless and Shout Factory. In fact, this is one of the best catalog transfers I've seen on Blu-Ray this year, offering crystal clear detail and fresh colors. The mono sound, featuring a score by Maurice Jarre that works overtime to give the movie some energy, is fine, and extras are limited to a photo gallery.
A LETTER TO THREE WIVES Blu-Ray (103 mins., 1949; Fox): Glossy Joseph L. Mankiewicz soaper about three friends (Jeanne Crain, Linda Darnell, Ann Sothern) who receive letters from a local woman, claiming that she's run off with their husband, prompting each to re-examine their relationships and wonder which spouse is the philandering one. Kirk Douglas co-stars in this enjoyable melodrama with terrific performances from all three leads, which Fox has given the Blu-Ray treatment in a 1080p transfer (1.33:1) with both 1.0 and 2.0 DTS MA tracks featuring Alfred Newman's fine score. Extras are carried over from previous releases, including commentary with Kenneth Geist, Cheryl Lower and Christopher Mankiewicz; a Linda Darnell A&E Biography special and Fox Movietone newsreel.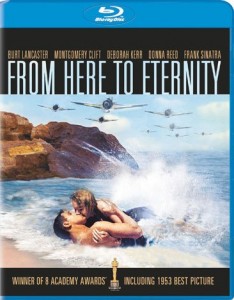 Coming October 1st, and naturally highly recommended to Golden Age viewers, is FROM HERE TO ETERNITY (118 mins., 1953; Sony), the eight-time Oscar winner that copped wins for Best Picture, Director (Fred Zinnemann) and Frank Sinatra in a supporting turn as a soldier who tries to help haunted army private Montgomery Clift. The duo are stationed in Hawaii prior to Pearl Harbor, and their respective personal issues – as well as an affair between Sergeant Burt Lancaster and the wife (Deborah Kerr) of Company G's captain – play out before the attack in this brilliant adaptation of James Jones' novel.
It's great to see Sony – which has basically turned their backs on catalog releases of late – back in top form with their Blu-Ray edition of "From Here To Eternity." With a glossy slipcover and a new graphics-in-picture track, this is a superlative HD rendering of an legendary '50s film, from its detailed and natural 1.33 1080p transfer to a 5.1 DTS MA soundtrack housing George Duning's memorable score. Extras include a commentary from Tim Zinnemann and Alvin Sargent, along with a Making Of and excerpt from "Fred Zinneman: As I See It." A must-have for Golden Age aficionados.
---
THE ANDY HARDY FILM COLLECTION VOLUME 2 (1937-58) continues the adventures of the girl-crazy small-town boy with Mickey Rooney as the title character, who causes much consternation for his father – the forever-frustrated Judge Hardy (Lewis Stone) – in this long running film series. Warner's Archive Volume 2 DVD collection, a recent release, offers the very first appearance of the characters in the 1937 "A Family Affair," then continues the formula in a handful of sequels: Judge Hardy's Children, Love Finds Andy Hardy (one of the best entries, co-starring Judy Garland), The Hardys Ride High, Andy Hardy Gets Spring Fever, The Courtship of Andy Hardy (with a young Donna Reed), Andy Hardy's Double Life (with Esther Williams), Andy Hardy's Blonde Trouble, Love Laughs at Andy Hardy (all produced between 1937 and 1946), and the belated final entry in the series, Andy Hardy Comes Home, a disappointing 1958 attempt at continuing the character's exploits with his own family (shades of "Father Knows Best" and "Leave it to Beaver" permeate this final installment). Warner's multi-disc DVD set contains B&W full-screen transfers with the exception of Andy Hardy Comes Home, which is presented in a 16:9 (1.78) widescreen format. Highly recommended for Golden Age buffs!
Fans are also advised to pick up THE ANDY HARDY COLLECTION VOLUME 1 while they're at it, which includes the first Hardy picture, "You're Only Young Once" (1937) along with series entries "Out West With the Hardys" (1937), "Judge Hardy and Son" (1939), "Andy Hardy Meets Debutante" (1940), "Andy Hardy's Private Secretary" and "Life Begins For Andy Hardy" (1941), all in 4:3 (1.37) black and white transfers.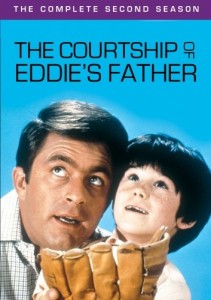 SUPERBOY Season 2 DVD (aprx. 572 mins., 1989-90): Gerard Christopher flew in to don the Boy of Steel tights in this improved second season of Alexander Salkind's syndicated TV series. Partnered with returning Lana Lang (Stacy Haiduk), young Kal-El takes on the likes of Lex Luthor, Metallo, Bizarro, Mr. Mxyzptlk and Yellow Perri with more colorful stories provided by staff writers Denny O'Neil, Mike Carlin, and Cary Bates among others. Warner's three-disc Archive release includes all 26 second-season "Superboy" episodes in 4:3 (1.37) transfers and stereo soundtracks.
THE COURTSHIP OF EDDIE'S FATHER Season 1 (676 mins., 1969-70) and Season 2 (611 mins., 1970-71):MGM Television reworked the 1963 Glenn Ford vehicle "The Courtship of Eddie's Father" into this good-natured, saccharine, yet irresistibly performed network sitcom, which only ran for three seasons despite having a much longer life in syndication. Bill Bixby stars as the level-headed widower with a precocious son, Eddie (Brandon Cruz), with a knack for asking adult questions; James Komack (who created the series and eventually had a falling out with Bixby, leading to the program's premature cancellation at the end of its third season) co-stars as Tom's friend Norman, a photographer and Eddie's surrogate uncle, with Miyoshi Umeki as housekeeper Mrs. Livingston. Guest stars include Suzanne Pleshette, Will Geer and Jodie Foster in a recurring role as one of Eddie's "frenemies." Warner previously released Season 1 via the Archive in 2011 and Season 2 in 2012; both box-sets look good and offer broadcast-length shows from the MGM vaults in 4:3 (1.37) transfers.
---
HANNIBAL Season 1 Blu-Ray (561 mins., 2013; Lionsgate): The prospects of Hannibal Lecter hitting the small screen didn't entirely sound promising, but this dark, compelling and well-acted series wasn't afraid to delve into the macabre and disturbing. In fact, NBC refused to air one of the series' 13 episodes – with Molly Shannon guest starring as a psycho who brainwashes children to do her bidding – after the Newtown shooting and Boston bombings. That episode is, however, included in Lionsgate's Blu-Ray package of "Hannibal"'s first season, which includes all 13 episodes from the delectably off-kilter series, a creation of Bryan Fuller, best known for "Dead Like Me," "Heroes" and "Pushing Diasies." Fuller's suspenseful and richly textured series is superbly acted by Hugh Dancy, occupying the role of FBI agent Will Graham (previously portrayed by William L. Petersen in "Manhunter" and Ed Norton in "Red Dragon"), "Casino Royale"'s Mads Mikkelsen as Lecter, and Laurence Fishburne as Graham's superior, Special Agent Jack Crawford. Available this week, "Hannibal"'s Blu-Ray package boasts splendid 1080p AVC encoded transfers, 5.1 DTS MA soundtracks, a Ultraviolet copy, and extras including deleted scenes, gag reel, cast/crew commentaries, featurettes, and unrated episodes (certainly not for the squeamish!).
TWO AND A HALF MEN: Season 10 DVD (484 mins., 2012-13; Warner): Season 10 of the still-going CBS sitcom boasts the requisite silly gags and sexually-oriented plotlines, particularly after Walden (Ashton Kutcher, the series' fill-in for Charlie Sheen) is spurned on his marriage proposal. Alan Harper (Jon Cryer) and son Jake (Angus T. Jones) try and dig him out of the gutter, but even Jake loses his way, proposing to his girlfriend (twice his age) and having guest star Miley Cyrus, playing one of Walden's "old friends," fall for him (oh the humanity!). Fans of the series, obviously, will be most likely to enjoy Season 10 of "Two and a Half Men," which Warner brings to DVD this week featuring its complete 2012-13 campaign in 16:9 transfers and 5.1 soundtracks. Extras include a gag reel and a featurette on the series' first-ever musical number.
CHINA BEACH Season 1 DVD (aprx. 8 hours; Starvista): This ABC series, which aired on Wednesday nights at 10pm basically for the duration of its run, was one of several attempts at bringing the Vietnam War to television in the form of a serialized drama. CBS had tried but failed to muster a consistent audience with their more battlefield-oriented "Tour of Duty," but ABC and Warner Bros. TV fared better in the ratings with "China Beach."
"China Beach," a multiple Emmy-winner, starred Dana Delaney as Colleen McMurphy, a nurse at an EVAC hospital and USO entertainment center populated with both hard-working medical personnel (Robert Picardo's Dr. Dick; Marg Helgenberger's K.C., Colleen's assistant and a former addict; Concetta Tomei's hard-nosed Major Lila Garreau) and singers and entertainers who passed through the facility (Chloe Webb's Laurette Barber, Nan Woods' Cherry White among them). Most of the latter were concentrated in the show's earlier episodes, while the later lives and loves of the various characters were touched upon in the present-day as the program concluded at the end of its fourth season. Speaking of that, series in the '80s and '90s didn't always have a chance to provide the type of closure that "China Beach" was able to, but it's something that serves the series well for the first-time viewers used to today's more serialized programs.
After releasing a full season box-set, Starvista brings Season 1 of "China Beach" back to DVD in an affordable standalone package, offering full-screen transfers, stereo soundtracks (with the original songs cleared), two featurettes, Dana Delany and Chloe Webb interviews, and episode commentary.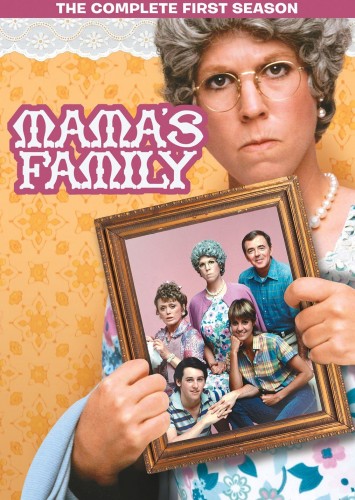 Also new from Starvista on DVD are the first two seasons of MAMA'S FAMILY (350 mins., 1983 [Season 1], 642 mins., 1983-84 [Season 2]), the down-home syndicated spin-off – of sorts – from "The Carol Burnett Show," featuring Vicki Lawrence's matriarch Mama Harper in a standardized sitcom format. Mama's curmudgeonly behavior drives most of the laughs in "Mama's Family," which co-starred Ken Berry as her hapless son Vint, Dorothy Lyman as his sexpot new wife Naomi, and Rue McClanahan as tentative sister Fran. Guest star appearances from Burnett herself (as daughter Eunice) and Betty White (other daughter Ellen) add some fun to the formulaic plots, with Imogene Coca, Jack Gilford, Jerry Reed, Fred Willard, and old "Carol Burnett Show" co-star Harvey Korman popping up from time to time as well.
Time-Life and Starvista have brought "Mama's Family" to DVD in the form of two separate-season box sets. Both shows include good looking transfers (with one of the more memorable episodes, where the Harper clan appears on "Family Feud" with Richard Dawson, among the Season 1 shows) and only a couple of episodes being affected by issues involving music clearances. Everything else, apparently, is uncut. Extras include a featurette and classic "Family" sketch from "The Carol Burnett Show" (on the Season 1 release), plus the original "Eunice" TV movie with Burnett and Lawrence; another featurette; and interviews with Lawrence, Burnett and White. (A more expensive complete series set is also available directly from Time Life's website).
From Lionsgate: GENE SIMMONS FAMILY JEWELS (aprx. 6 hours, 2012) completes its final season with Gene and long-time girlfriend/wife Shannon Tweed trying to settle into domestic bliss even though kids Nick and Sophie don't want their parents to adopt. 14 episodes are included in 16:9 transfers and stereo soundtracks, with over 15 minutes of never-broadcast footage included for good measure…New MLB DVDs include BRYCE BEGINS (45 mins., 2013), a profile of the Washington Nationals star with ample bonus footage (first hit, home run, All-Star Game debut, etc.), and GIANTS: HOMETOWN HEROICS (55 mins., 2013), offering an hours worth of classic moments from the Brooklyn/San Francisco franchise…Finally, Andy Lau stars in the Hong Kong contemporary thriller COLD WAR (102 mins., 2013, R), coming on DVD from Lionsgate offering a trailer gallery, Making Of, UV copy, 16:9 transfer and 5.1 soundtrack in both Cantonese (subtitled) and an English dubbed track.
SOUTH PARK Season 16 Blu-Ray (308 mins., 2012; Paramount): The most recent episodes from Trey Parker & Matt Stone's long-running Comedy Central series includes a few choice moments: "Cash for Gold," with Cartman running a literal home shopping network; "I Should Never Have Gone Line Zipping," where a day in the outdoors turns deadly; and the "Shining" parody "A Nightmare on Face Time," with Randy trying to revive a dormant Blockbuster Video store. Paramount's Blu-Ray set includes 1080p transfers and Dolby TrueHD 5.1 soundtracks for all episodes, plus "mini commentaries" from the creators and deleted scenes. Not one of the more consistent seasons of the program — hopefully a longer than usual hiatus will result in a more cohesive group of episodes when "South Park" returns this fall.
AWKWARD Seasons 1 & 2 DVD (528 mins., 2011-12; Paramount): One of MTV's better comedies (faint praise as that may be), "Awkward" follows a 15-year-old high school student and her trials and tribulations in and out of the classroom and with her assorted friends, boyfriends and nemeses. Narrated in first-person, this is an admirable attempt at creating a manic but honest portrait of the high school experience, and Paramount's DVD set includes all 24 episodes from the series' first and second seasons (season three picks up again this fall on MTV) in 16:9 transfers and stereo soundtracks.
---
Also New & Noteworthy
ROOM 237 Blu-Ray (102 mins., 2012, Not Rated; IFC/MPI): Stanley Kubrick's "The Shining" has generated all kinds of conversation over the years amongst buffs. I'm willing to wager that most devotees, however, haven't developed nearly as many oddball conspiracy theories as those on-hand in "Room 237," a one-note documentary from director Rodney Ascher and producer Tim Kirk. Well-received on the festival circuit, this is a bizarre look at people who have spent far too much time and energy on uncovering what they believe are connections in the picture with the Holocaust, the genocide of Native American Indians, or the fabrication of the Apollo moon landing. A little of this is amusing for a few minutes, but after sitting through all 100 minutes of the film, I felt as if I had wasted as much time as some of the crazies who believe "The Shining" is far more than just a creepy, visually enthralling haunted house story. IFC's Blu-Ray includes commentary with Kein McLeod; a panel discussion from the first annual Stanley Film Festival; 11 deleted scenes; trailer; alternate trailers; a Mondo Poster Design discussion; and a Making of the Music featurette. Technically, the Blu-Ray offers both 5.1 DTS MA and lossless 2.0 PCM stereo tracks, along with a 1080p transfer.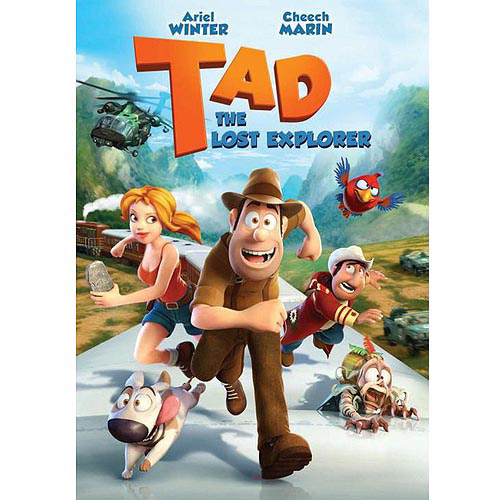 TAD THE LOST EXPLORER 3D Blu-Ray/Blu-Ray/DVD (92 mins., 2013, Not Rated; Vivendi): Better than expected, Mexican-produced animated film ought to please kids and Indiana Jones fans with its tale of an average construction worker named Tad who's mistaken for a famous archeologist. He ultimately helps out Professor Lavrof and his daughter Sara while they search for treasure in the Lost City of Paititi in a good-natured story with colorful characters and laughs. Buffs will appreciate some of the Indy homages, while kids should be sufficiently engaged by the story. Vivendi's combo pack includes a Blu-Ray with both 2D and 3D transfers, plus a standard DVD and DTS MA audio. Recommended for family audiences! (Viewers should note this is a Walmart exclusive for the time being and will be available October 8th).
ZOMBIE HUNTER Blu-Ray (93 mins., 2013, Not Rated; Well Go USA): Martin Copping plays a hard-drivin', hard-drinkin' guy with a Camaro trying to find survivors in a zombie-fied wasteland after a street drug turns junkies into the undead. He runs into busty females and Danny Trejo as a priest with an ax in Kevin King's wacky horror/comedy hybrid, which Well Go brings to Blu-Ray October 8th. The 1080p transfer and 5.1 DTS MA soundtrack are fine, though only the most loyal zombie devotees are likely to find the low-brow antics amusing.
V/H/S/2 Blu-Ray (96 mins., 2013, R; Magnolia): Sequel to one of last year's indie horror darlings hits stores this week in plenty of time for Halloween. Once again a series of self-contained vignettes from crazy cults to horrifying aliens comprises this anthology from directors Simon Barrett, Adam Wingard, Eduardo Sanchez, Greg Hale, Timo Tjahjanto, Gareth Evans and Jason Eisener. Not really my cup of tea but devotees of the original will likely warm to it. Magnolia's Blu-Ray includes a number of featurettes taking viewers behind the scenes of the individual segments, while a commentary, trailers, photo galleries and AXS TV behind-the-scenes featurette are also included along with a 1080p transfer and 5.1 DTS MA soundtrack.
New & Upcoming From PBS
LIFE AND DEATH IN ASSISTED LIVING (60 mins., 2013) profiles Emeritus Senior Living, a single company that operates more than 400 assisted living facilities around the country. This horrifying examination of the company's motives and lapses in care was produced by Propublica and writers Carl Byker and A.C. Thompson, who also produced the piece. PBS' DVD includes a widescreen transfer and stereo soundtrack…LATINO AMERICANS: THE 500 YEAR LEGACY THAT SHAPED A NATION (6 hours, 2013) is a multi-part series focusing on Latinos in the United States, from the 1500s through the present day, and the various millions from Mexico, Spain, Puerto Rico and Latin America who immigrate here. Benjamin Bratt narrates this richly textured production from WETA Washington.
NEXT TIME: More of the latest reviews! Until then, don't forget to drop in on the official Aisle Seat Message Boards and direct any emails to our email address. Cheers everyone!