A pair of British colonial adventures, a wild take on Shakespeare's first tragedy and an oddball 3-D rarity comprise Twilight Time's January Blu-Ray roster.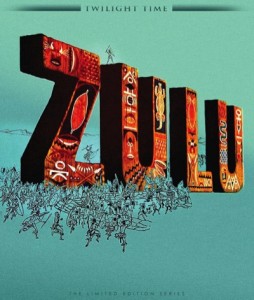 For sheer cinematic entertainment, there's no doubt in proclaiming ZULU (****, 138 mins., 1964) a classic: the Cy Endfield-Stanley Baker production offers terrific performances, gorgeous location photography, a marvelous John Barry score, and a historical account of the Battle of Rorke's Drift that pit 150 British soldiers against a force of over 4,000 Zulu warriors. Managing to carefully avoid stereotypes – particularly where the Zulus are concerned – the script by Enfield and John Prebble is remarkable in establishing a compelling human drama in the midst of its epic scope, particularly the relationship between the hardworking Lieutenant John Chard (Baker) and Michael Caine's callow Gonville Bromhead. It's a grand spectacle that has held up brilliantly some 50 years after its original release.
"Zulu" was brought to Blu-Ray officially once before, in a region-free Paramount release in the UK. That package did include commentary and a number of interview featurettes – none of which are included in Twilight Time's release, which was licensed through MGM – yet the trade off is a more natural-looking 1080p AVC encoded transfer in TT's release. The UK Blu-Ray suffered from DNR that obscured an otherwise pristine image – the Twilight Time transfer's colors show do less "pop" by comparison (though they may be more accurate), but the image is nevertheless more satisfying overall. On the audio side, the movie's stereo soundtrack and corresponding mono mix have both been encoded in DTS MA (an isolated score track has also been included) with the former being in particularly robust condition. A new commentary with Nick Redman and Lem Dobbs is thoroughly enlightening, particularly in regards to the film's historical authenticity, and the trailer completes the package.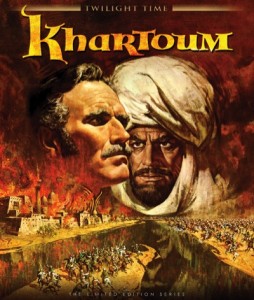 One of the last big "Roadshow" spectacles of its era, KHARTOUM (**½, 136 mins., 1966) stars Charlton Heston as British General Charles Gordon, sent to stop a Muslim radical dubbed the Mahdi (played by Laurence Olivier) in 1883 by arming an inexperienced Egyptian army and with unsanctioned support from his English superiors. The Mahdi eventually takes the Egyptian capitol of Khartoum regardless, but the battle of wills between the two, devoutly religious men – particularly in a fictitious confrontation between them – is ultimately more compelling than the war in the Sudanese deserts as depicted in director Basil Dearden's 1966 picture.
"Khartoum" is certainly watchable and finely acted by both Heston and Olivier, though the movie has a workmanlike-quality to it. Perhaps that's because Dearden was far from the first choice to helm the movie (Carol Reed was one of several filmmakers previously approached to direct), and the resulting film has something of a vanilla look and feel, despite its Ultra Panavision cinematography and stereo score by Frank Cordell. Another director also might have been able to add more dramatic fireworks to Robert Ardrey's nonsense, heavily-researched script, which may have been (mostly) accurate in its historical detail but ultimately lacks passion.
Twilight Time's Blu-Ray includes a gorgeous 1080p AVC encoded transfer of "Khartoum''s full roadshow version, complete with a superbly shot prologue with widescreen footage of the (then) present day Nile. The 2.0 DTS MA stereo track adds heft to Cordell's score, with the trailer and a commentary from Nick Redman, Julie Kirgo and Lem Dobbs detailing the film's production and shortcomings.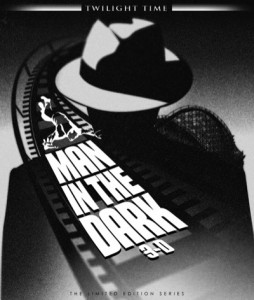 Julie Taymor's first feature, TITUS (**, 162 mins., 1999, R), adapts Shakespeare's "Titus Andronicus" in a wild adaptation filled with audacious visuals – a little of which went a long way for this critic. Anthony Hopkins stars as the title character – a Roman general who fights off a Barbarian queen (a sultry Jessica Lange) following the death of Caesar – in this costly Fox production that generated scant box-office returns upon its original release. The movie comes off as a self-indulgent, occasionally powerful, intermittently spellbinding and often tedious work with Taymor incorporating all kinds of unusual aesthetic touches throughout in terms of production design and cinematography – with a heavy emphasis on anachronisms.
"Titus"'s 1080p Blu-Ray transfer looks to have been derived from an older Fox master likely struck around the time of its original DVD release. It's not an upscale by any means – there are details in the image and bold colors the DVD could not replicate – but there's also a persistent video noise, almost like a veil, that stamps the transfer as a product of its time. The audio portion holds up far more effectively with a thundering 5.1 DTS MA soundtrack, sporting an effective dramatic work from Taymor's partner, composer Elliot Goldenthal.
Twilight Time has brought over all the extras from Fox's original, early-format DVD release (three different commentaries from Taymor, Goldenthal, and Hopkins and co-star Harry Lennix), a Making Of documentary, Q&A with Taymor, "Penny Arcade Nightmares," and the trailer, plus an isolated score track.
Finally, Twilight Time's fourth offering to kick off the new year is a real rarity for film buffs: a genuine 3-D presentation of MAN IN THE DARK (**, 70 mins., 1953), a minor Columbia film noir starring Edmond O'Brien as a criminal who undergoes a procedure to have the "con" removed from his brain. The experimental surgery results in O'Brien losing memories of his past life – including the whereabouts of stolen loot he was sent away for…money that his former associates want to get their dirty paws on.
Technically the first major studio film to be released in 3-D (following the success of 1952′s "Bwana Devil" and two days ahead of Warner Bros.' "House of Wax"), "Man in the Dark" is a forgettable programmer – with a dash of '50s sci-fi and outlandish dream sequences added in for good measure – whose big claim to fame is its 3-D. With the 3-D here restored to the picture, "Man in the Dark" is a definite curio for 3-D home theater owners, boasting a clear transfer and several enjoyable (and blatantly obvious) uses of the format. A 2-D transfer is also included, but this is one picture best viewed in 3-D, where one can better overlook the picture's lumbering story, leaden dialogue and pedestrian direction.
Twilight Time's Blu-Ray also includes an isolated score track (the movie was tracked with stock music) and DTS MA 1.0 audio.
---
THIEF Blu-Ray/DVD (***½, 124 mins., 1981, R; Criterion): Jewel thief Frank (James Caan) moonlights as a Chicago dear dealer by day and cool, by-the-book safecracker at night. Having served time, Frank is weary of the criminal world he engages in, keeping his dealings on a simple, plain level that changes when he meets crime boss Leo (Robert Prosky), who subsequently provides Frank with assorted jobs, enables him to buy a new home and even helps him and girlfriend Jessie (Tuesday Weld) adopt a child. With their new dealings, though, comes a price that Frank is ultimately unwilling to pay…
If "Thief"'s plot summary sounds mundane, the film itself is anything but, thanks to director Michael Mann's stylish lighting and direction. These days, "Thief" may not have the freshness it once did upon its original release, but it's a groundbreaking film in terms of its sleek visuals, editing and Tangerine Dream's pulsating score – a picture that laid the groundwork not only for Mann's career but the entire cinematic language of the modern crime drama post-1980. Caan's performance is superb, as are all the actors, in a movie that is moody, tense and enthralling, a precursor to "Miami Vice" and Mann's subsequent cinematic endeavors ("Heat" in particular).
The Criterion Collection's Blu-Ray/DVD edition of "Thief" looks every bit as detailed as one would anticipate from a newly minted, director-supervised 4K transfer. The 1.85 frame is filled with pinpoint detail and perfectly balanced colors, and the DTS MA 5.1 audio is brilliant and enveloping, with the Dream's scoring functioning as the soul of Mann's story, and carrying numerous sequences without dialogue. Extra features include a commentary with Mann and Caan (recorded for a laserdisc release back in the mid '90s) plus newly shot interviews with Mann, Caan, and Tangerine Dream member Johannes Schmoelling.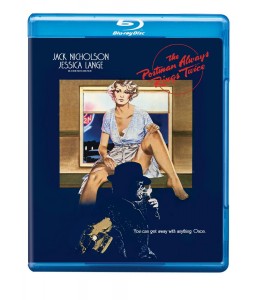 THE POSTMAN ALWAYS RINGS TWICE Blu-Ray (**½, 121 mins., 1981, R; Warner): Disappointing remake of the '40s film noir classic – adapted from James M. Cain's 1934 potboiler – certainly looks the part. Sven Nykvist's cinematography splendidly captures the story's Depression-era surroundings as David Mamet's script retells the tale of Frank Chambers (Jack Nicholson), a troubled drifter who falls for Cora, the wife (Jessica Lange) of an older Greek immigrant (John Colicos) who runs a roadside diner in rural California. They begin a torrid affair and subsequently plot to murder Cora's husband – failing initially on the first attempt, but succeeding on the second.
Bob Rafelson directed the 1981 version of "The Postman Always Rings Twice," a Lorimar production that wasn't particularly well received at the time of its original release by critics or audiences. Though the film is more sexually explicit than the 1946 version that starred Lana Turner (released on Blu-Ray a year ago by Warner), it lacks the dramatic tension and power of its predecessor, especially during its second half, where it limps along without much momentum. Nicholson does his usual thing as Frank and Lange is fine, but the decision to water down Cora's character to make her more sympathetic than Lana Turner's femme fatale ultimately weakens the overall impact of the film.
Warner's Blu-Ray of the '81 "Postman" was announced, then delayed, and now has finally been released in a new, satisfying 1080p AVC encoded transfer. The narrow 1.0 DTS MA mono audio does as much justice to Michael Small's superb score as the mix allows, with the trailer and a scene-specific commentary with Rafelson, Mamet and Nicholson running over an 81-minute version of the picture. Interesting but not altogether satisfying.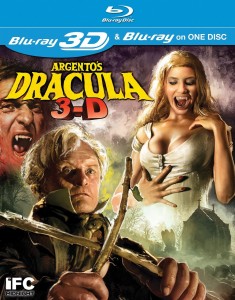 DARIO ARGENTO'S DRACULA 3-D Blu-Ray (*, 110 mins., 2013, Not Rated; IFC/MPI): A stake through the heart of horror fans everywhere, this crushing new effort from Dario Argento shows no signs of having been assembled by the same director who gave us "Suspiria" and countless other thrillers.
Thomas Krescthmann stars as the Count, once again pursued by Van Helsing (a tired Rutger Hauer) and seducing busty vixens Marta Gastini, Miriam Giovanelli (who displays her ample assets in several sequences) and Argento's daughter, Asia. The plot has little to do with Bram Stoker, instead serving up a tired – and shoddy – production of T&A, light gore and mediocre 3-D effects. In fact, there's little separating this film from the kinds of cheap Cinemax After Dark productions the network once ran on Friday nights, with threadbare production values across the board.
IFC's Blu-Ray offers both 2D and 3D versions of the film, plus a behind the scenes featurette, music video, trailers, and DTS MA 5.1 soundtracks.
---
NEVER SLEEP AGAIN Blu-Ray (238 mins., 2010; RLJ Entertainment): Daniel Farrands and Andrew Kasch assembled this comprehensive look at the production of the entire "A Nightmare on Elm Street" series. Interviews from Robert Englund to Wes Craven, Renny Harlin to Alice Cooper are in abundance, along with behind-the-scenes dirt on how New Line created a cash cow in Freddy Krueger that would sustain the studio throughout the 1980s and beyond. The original "Elm Street" series along with "Freddy Vs. Jason" are given a thorough lookover here, with each installment functioning as its own mini-documentary.
Heather Lagenkamp hosts, and RLJ's two-disc Blu-Ray is filled with terrific extras, including Freddy's appearances in comic books and video games (the "Angry Video Game Nerd" even appears to offer his thoughts on the old Nintendo cart), a "Horror's Hallowed Grounds" segment, and even conversations with the respective composers and songwriters whose music graced the series. Tremendously entertaining for "Elm Street" fans, and RLJ's technical presentation (1080p and DTS MA audio) is perfectly acceptable. Highly recommended!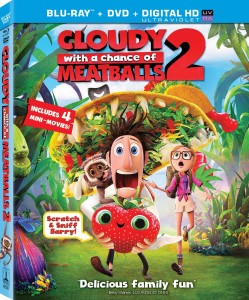 CLOUDY WITH A CHANCE OF MEATBALLS 2 Blu-Ray/3D Blu-Ray/DVD (**½, 95 mins., 2013, PG; Sony):Flint Lockwood's previous contraption – which magically turned water into food – has survived its inventor's attempts to destroy it and subsequently created "Foodimals," including a walking, talking, adorable strawberry named Barry. This colorful sequel to the surprise 2009 hit ought to be sufficiently entertaining for young viewers but it lacks the freshness of Phil Lord and Christopher Miller's script and direction from its predecessor (the duo only served as executive producers here, choosing instead to make the upcoming "Lego" movie), with mild laughs and situations that feel like stale leftovers from the first film. Still, the bouncy animation and voice work from the cast keep the picture consistently watchable, especially on Blu-Ray where Sony has packaged a perfect 1080p transfer in both 3D and 2D formats in the studio's combo pack (along with a DVD and digital copy). Ample extras include a BD-format exclusive "Foodimal-Funimal" app and four deleted scenes, along with extras (commentary, featurettes, music video) across both platforms. The DTS 5.1 soundtrack is constantly active with effects and Mark Mothersbaugh's hard-working score.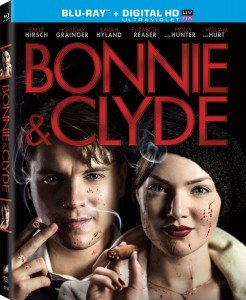 BONNIE & CLYDE Blu-Ray (174 mins., 2013; Sony): Handsomely produced mini-series – which aired across a number of NBC owned cable platforms last December – retells the crime spree of Bonnie Parker and Clyde Barrow, from their initial meeting through their bloody end. In the hands of director Bruce Beresford, this "Bonnie and Clyde" has a classy look and feel, though the John Rice-Joe Batteer script is apparently more fiction than fact-based, and never really engages you emotionally in the duo's actions. A fine supporting cast, including Holly Hunter, William Hurt and Elisabeth Reaser, meanwhile, helps in what little screen time they have. Sony's Blu-Ray boasts three featurettes and a BD-exclusive bonus behind-the-scenes segment along with an Ultraviolet copy, 5.1 DTS MA soundtrack and excellent 1080p transfer.
YOUNG DETECTIVE DEE: RISE OF THE SEA DRAGON Blu-Ray (134 mins., 2013; Well Go USA): Tsui Hark's prequel to his 2010 picture "Detective Dee and the Mystery of the Phantom Flame" focuses on the title character's origins, just beginning in the Imperial police force. The "Chinese Sherlock Holmes"' first case involves a sea monster and Imperial family conspiracy, allowing Hark to once again blend CGI fantasy with a mystery premise that's unique and interesting, though the bloated running time may make this most appealing for HK cinema fans. Well Go's Blu-Ray, out on February 11th, includes a terrific 1080p transfer and 5.1 DTS MA audio in Mandarin with English subtitles.
---
Warner Archive New Releases
One of the most popular radio series of all-time, "Fibber McGee & Molly" parlayed its success onto the big-screen in several pictures: first with the characters in a supporting role in Paramount's 1937 film "This Way Please," then in a leading capacity in the RKO comedies "Look Who's Laughing" (1941), "Here We Go Again" (1942) and "Heavenly Days" (1944).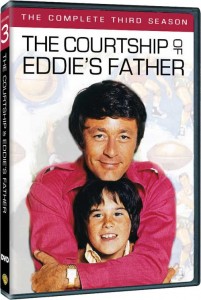 The latter two are now available on home video for the first time in the Warner Archive FIBBER McGEE AND MOLLY DOUBLE FEATURE. Both comedies star Jim and Marian Jordan as the couple who get involved in all kinds of predicaments, with Harold Peary's Great Gildersleeve appearing in "Here We Go Along" along with Edgar Bergen & Charlie McCarthy. The two programmers receive full-screen B&W transfers and have not been remastered for this release, but look perfectly presentable (fans should note that "Look Who's Laughing" has already been released as part of Warner's "Lucille Ball RKO Collection").
Kirby Grant's Mountie Rod Webb and Chinook the Wonder Dog return for more wilderness adventure in Monogram's popular series, adapted from the books of James Oliver Curwood. KIRBY GRANT AND CHINOOK – ADVENTURE TRIPLE FEATURE VOLUME 2 includes three B&W features from the series: 1949′s "The Wolf Hunters," 1950′s "Snow Dog" (adapted from Curwood's "Tentacles of the North"), and "Call of the Klondike" are all included in satisfying 4:3 full-screen transfers, offering plenty of fun for nostalgic audiences and younger viewers alike.
Also new this week is the third and final season of THE COURTSHIP OF EDDIE'S FATHER (586 mins., 1971-72), the memorable early '70s sitcom with Bill Bixby as the understanding widower father to Brandon Cruz's precocious Eddie. With Jodie Foster regrettably absent from the fun here, Willie Aames tries to pick up the slack as Eddie's new "nemesis," while Anne Meara and Jerry Stiller both appear alongside guest stars Sally Struthers, Vic Tayback, Bruce Kirby, Pat Harrington, Jr., and Sammy Davis, Jr. as insurance adjustor "Ronnie Rivers Jr." Unfortunately, reported tension between Bixby and the show's producer/co-star James Komack lead to the series ending after its third season, though fans would continue to view it – and new generations (such as myself) discover it – through syndicated re-runs. Warner's Archive release offers the series' final year in uncut 4:3 transfers and mono soundtracks from the MGM vaults.
---
TREME Complete Series Blu-Ray (39 hours, 2010-13; HBO): The creator of "The Wire," David Simon, produced this intriguing chronicle of life in contemporary New Orleans post-Katrina, from musicians and chefs to a cross-section of residents in a small section of the city. Khandi Alexander, Rob Brown, Kim Dickens, John Goodman, Melissa Leo and Steve Zahn are a few of the colorful personalities seen throughout the four seasons of "Treme," which is a bit less focused than "The Wire" but nevertheless is every bit as compelling as Simon and co-producer Eric Overmyer's prior outing, with its own distinct vibe and atmosphere.
HBO's Blu-Ray box-set of "Treme: The Complete Series" includes all 36 episodes of the series' four seasons spread across 14 discs (check the previous three season reviews for individual content). In addition to crisp 1080p transfers and DTS MA 5.1 soundtracks, the set includes eight Making Of featurettes, 16 audio commentaries with cast/crew members, and interactive features on New Orleans' music and unique culture.
Due February 11th from HBO is MIKE TYSON: UNDISPUTED TRUTH (88 mins., 2013), a videotaped version of the controversial former heavyweight champ's one-man show. As filmed on Broadway by Spike Lee, this is a compelling look at Tyson in 2013, embracing his troubled and violent past and his attempts to turn his life around. Cast and crew interviews are included in HBO's DVD, which also boasts a digital copy, 16:9 transfer and 5.1 Dolby Digital soundtrack.
---
NICHOLAS SPARKS: LIMITED EDITION DVD COLLECTION DVD (Warner): Specially packaged, limited DVD collection from Warner Home Video offers seven cinematic adaptations of Nicholas Sparks' bestsellers: "Message in a Bottle" (1999), "A Walk to Remember" (2002), "The Notebook" (2004), "Nights in Rodanthe" (2008), "Dear John" (2010), "The Lucky One" (2012) and last year's "Safe Haven." Transfers and soundtracks are identical to the respective releases of each previous film – for individual reviews, please consult the Aisle Seat archives for full coverage of each picture.
McCONKEY DVD (109 mins., 2013; Red Bull Media House/Anchor Bay): The life and times of freeskiing and Ski-BASE jumping pioneer Shane McConkey is paid tribute in this heartfelt documentary from Red Bull Media House and Matchstick Productions. The 109-minute documentary is filled with amazing footage of McConkey in action as well as interviews with his family, friends and assorted sports legends. The 16:9 transfer and 5.1 soundtrack are both excellent. (Available February 4th)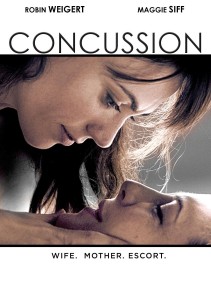 CONCUSSION DVD (96 mins., 2013, R; Anchor Bay): Writer-director Stacie Passon's independent drama stars Robin Weigert as a wife and mother married to Kate (Julie Fain Lawrence), but who shuns her "soccer mom" lifestyle after she's hit on the head and opts to become a high priced escort! We've seen this type of story before (wasn't there at least one '80s TV movie with the same premise?), but never with a lesbian twist brought to the material. Maggie Siff ("Sons of Anarachy") co-stars with Anchor Bay's DVD including a no-frills 16:9 transfer, 5.1 audio and no extras.
LAVERNE & SHIRLEY – The Seventh Season DVD (9 hours, 1981-82; CBS): The seventh season of the long-running ABC sitcom was really the last hurrah for the "Happy Days" spinoff: it marked the final full season of the program starring Cindy Williams, who departed the eighth and final season after just a few episodes, with her co-star Penny Marshall left to save a sinking ship. Season 7, at least, doesn't have this issue, as the girls continue to find fame and fortune in Los Angeles. It's predicable, formulaic stuff but fans of the series should find ample amusement in the 22 episodes contained in CBS' three-disc set. Available February 4th, the DVD includes original promos for all episodes and a gag reel, good-looking 4:3 transfers and mono soundtracks with some music having been changed for this belated home video release.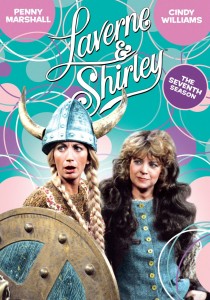 Also New From MPI: Marina De Van's offbeat supernatural chiller DARK TOUCH (91 mins., 2012, Not Rated) is a well-scripted affair involving an 11-year-old girl whose family is killed by a supernatural force – and proceeds to follow her to her next home. IFC's DVD includes a 16:9 transfer and 5.1 Dolby Digital soundtrack…Jeanne Tripplehorn and Liev Schreiber star in A PERFECT MAN (94 mins., 2012, R), a drama from writers Larry Brand and Peter Elkoff about an American woman, living in Amsterdam, who finds her husband is cheating on her. She pretends to be a Dutch woman on the phone in order to reconnect with him in a domestic drama directed by veteran cinematographer Kees Van Oostrum. IFC's DVD includes a 16:9 transfer and 5.1 soundtrack as well as the trailer…From MPI's Sundance Selects label comes BLUE CAPRICE (93 mins., 2012, R), Alexandre Moors' portrait of the D.C. Beltway sniper attacks from the point of view of the perpetrators, played by Isaiah Washington and Tequan Richmond. IFC's DVD includes commentary from Moors and writer R.F.I. Porto, a behind the scenes featurette, press conference video, the trailer, 16:9 transfer and 5.1 Dolby Digital soundtrack.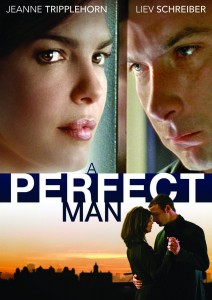 E One New Releases: Stalin's top-secret biochemical gas, created in WWII and lost in the Battle of Stalingrad, is rediscovered in present-day Bulgaria inCODE RED (94 mins., 2013, Not Rated), a Russian-produced thriller wherein the unleashing of the toxin creates a slew of mutants and zombies. Standard-fare for zombie fans, with E One's DVD, out on February 4th, including a Making Of featurette, "WWII Uncut," behind-the-scenes segments and outtakes, plus a 16:9 transfer and 5.1 Dolby Digital soundtrack
New From Lionsgate: THE PRINCESS TWINS OF LEGENDALE (73 mins., 2013) is a CGI animated kids' cartoon from MGA Entertainment, creators of "Lalaloopsy," following a pair of kingdoms and their respective princesses whose paths cross. Kara DioGuardi (former "American Idol" judge) provides original music for the 73-minute feature, now on DVD in a 16:9 transfer with 2.0 stereo sound…AFRICAN-AMERICAN LEADERS: PAST AND PRESENT (1987-2008, 225 mins.) includes five History Channel specials, perfectly timed for Black History month: Civil War Journal-Frederick Douglass, Who Killed Martin Luther King Jr., Malcolm X: A Search For Identity, Thurgood Marhsall: Justice For All, and a profile of Barack Obama. The multi-disc set includes widescreen transfers and stereo soundtracks…COLLISION (101 mins., 2013, R) finds newlywed Jaimie Alexander ("Thor") plotting to murder her husband (Frank Grillo) on a Moroccan honeymoon. Things go awry in David Marconi's Europacorp production, hitting Blu-Ray this week with interviews, the trailer, a 1080p transfer and 5.1 DTS MA soundtrack…Kids might enjoy WINGS (88 mins., 2013, G), a Russian produced, "Planes"-like CGI animated affair featuring the voices of Josh Duhamel and Rob Schneider, as well as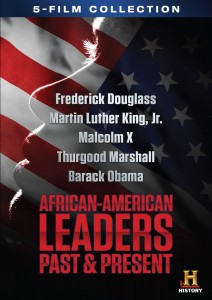 CARE BEARS: THE CARE-A-THON GAMES (88 mins., 2012), which offers four episodes (Compassion-NOT!, Shunshine, Care Campout, Cheer Factor) from the most recent animated incarnation of the beloved characters. Both DVDs include 16:9 transfers and stereo soundtracks…Gina Gershon's performance as Donatella Versace is worth a look in the Lifetime Original MovieHOUSE OF VERSACE (90 mins., 2013), which hits DVD in early February from Lionsgate sporting a 16:9 transfer and 2.0 stereo soundtrack…Skylan Brooks, Jordin Sparks, Jeffrey Wright, Anthony Mackie and Jennifer Hudson topline THE INEVITABLE DEFEAT OF MISTER & PETE (109 mins., 2013, R), George Tillman, Jr.'s urban drama about a 13-year-old African-American boy who has to fend for himself on the streets of Brooklyn along with nine-year-old pal Pete. Lionsgate's DVD offers numerous extras including commentary, deleted scenes, music videos and more, plus a 16:9 transfer, 5.1 soundtrack and a digital copy…Finally, Major League Baseball's PRIDE AND PERSEVERANCE: THE STORY OF THE NEGRO LEAGUES (50 mins., 2013) recounts the history of the Negro Leagues through rarely seen footage from the 1920s through the '50s. Yankee great Dave Winfield narrates the hour-long production, which arrives on DVD in a 16:9 transfer with stereo sound.
NEXT TIME: ESCAPE PLAN. Until then, don't forget to drop in on the official Aisle Seat Message Boards and direct any emails to our email address. Cheers everyone!