While director Steven Soderbergh's films often feel cool and clinical instead of emotionally involving, his third picture – KING OF THE HILL (***½, 103 mins., 1993, PG-13) – remains one of his most satisfying on a number of levels, particularly for its wide spectrum of human emotion.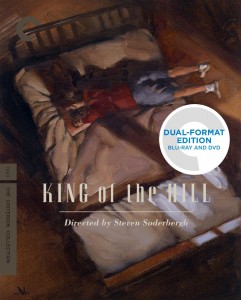 Soderbergh's movie is an adaptation of A.E. Hotchner's memoir of growing up in Depression-era St. Louis. Young Aaron (a tremendous performance by Jesse Bradford) excels in school while he struggles to keep his fragile family dynamic together: his salesman father (Jeroen Krabbe) is constantly on the move, while his tuberculosis-stricken mother (Lisa Eichhorn) returns to a sanatorium for treatment. Aaron relays to his schoolmates (including a young Katherine Heigl) a number of fanciful stories explaining his parents' whereabouts, and then hustles his way into a number of episodic adventures once he's left to fend for himself during a particularly hot, humid Midwestern summer.
Though Soderbergh is hard on "King of the Hill" – claiming in a Criterion interview that he thinks the movie is too pretty and that it'd be "grittier" if he produced it today – the truth is that this picture is one of his best. Aaron's survival story is both poignant, gripping and beautifully shot by Elliott Davis in a widescreen aspect ratio afforded by the budget-conscious choice to film in Super 35. The movie bounces from Aaron's time in the classroom to his fractured family life, with the young teen attempting to make money at any opportunity in order to buy food (dinner otherwise is a soup special made with water and ketchup). The various characters in the hotel are memorably portrayed by the likes of Spalding Gray, Elizabeth McGovern, Amber Benson and especially Adrien Brody in one of his earliest roles as a similarly resourceful young man trying to survive in a difficult time. He acts as a surrogate brother after Aaron's own sibling is sent away because his family can no longer afford to feed him.
"King of the Hill" received a number of enthusiastic reviews when it opened in 1993 but never made an impression at the box-office and quickly faded from public view. To date, the movie has never even received a DVD release, making this Criterion Collection Blu-Ray/DVD combo pack a most overdue package for its fans. The 1080p AVC encoded transfer is quite good and the DTS MA 5.1 audio offers a fine stage for Cliff Martinez's effective, restrained score. Extras include an interview with the director and the 93-year-old Hotchner, who looks remarkably spry for his age and relays his thoughts on his childhood as well as Soderbergh's picture. A visual essay on Soderbergh's approach to narrative filmmaking is included, as is Soderbergh's 1995 follow-up feature, "The Underneath." This contemporary remake of the '40s film noir "Criss Cross" received mixed reaction from critics – and Soderbergh completely trashes it in a new interview on the movie here – but it makes for an interesting inclusion if nothing else, starring Peter Gallagher, Allison Elliot, William Fichtner and Elisabeth Shue in a warm-up – of sorts – for Soderbergh's far superior 1998 hit "Out of Sight." The 1080p transfer is solid and the 5.1 Dolby Digital audio serves the story well.
"King of the Hill" is an odd film considering Soderbergh's filmography as a whole, but it's an unquestionably underrated picture that ranks as some of his best work. Highly recommended.
Also new this month from Criterion is a film that requires little description: Akira Kurosawa's THE HIDDEN FORTRESS (****, 139 mins., 1958), the director's classic adventure that Criterion has brought to Blu-Ray in another dual-format release. The label presents the film both in mono as well as a 3.0 surround soundtrack preserving the original "Perspecta" simulated stereo effects, while a number of fresh supplements include a new audio commentary by Stephen Prince; a 2003 documentary culled from the Toho Masterworks series "Akira Kurosawa: It is Wonderful to Create"; a 2001 interview with George Lucas on Kurosawa and the film's influences on his own work; the trailer; and a DVD copy for good measure. The 1080p transfer is excellent as well, crisply presented in its original 2.39 widescreen aspect ratio.
---
A box-office phenomenon that just crossed the $1 billion mark at the worldwide box-office, Disney's FROZEN (***, 102 mins., 2013, PG) is an enchanting (if somewhat overpraised) take on Hans Christian Andersen's "The Snow Queen" – a story that Walt Disney himself envisioned producing as a feature in the 1940s.
Embracing modern themes of female empowerment and not holding back one's true self, "Frozen" focuses on two sisters: good-girl Anna and her older sister Elsa, who possesses magical powers that turn anything she touches into ice. After Elsa accidentally harms Anna as a child, their parents – rulers of the kingdom of Arendelle – decide to keep Elsa separated from the rest of the world. Years later, however, when Elsa is crowned as the new princess, she inadvertently lets free of her icy touch, causing a permanent winter that enshrouds the kingdom in snow.
The characters in "Frozen" are thoroughly appealing and charmingly drawn, particularly Olaf, a comical snowman (delightfully voiced by Josh Gad) who comes to life after Elsa uses her powers, and Sven, the voiceless reindeer of Kristoff – one of two male leads who vies for the affections of Anna. Kristen Bell brings her usual energy – as well as a strong singing voice – to Anna while Idina Menzel voices Elsa, whose big ballad – the Oscar-winning "Let it Go" – is more than a little reminiscent of her "Defying Gravity" number from the Broadway show "Wicked." Both songs fulfill the same purpose – conveying a sympathetic anti-heroine's moment of independence – and each manages to be the centerpiece of its respective production.
There are many laughs to be found throughout "Frozen," though a few issues hold the movie back from the elite company of, say, "Beauty and the Beast." The male leads are bland, and Anna and Kristoff's supposedly blossoming relationship isn't given much development – perhaps a song might've helped in this department. Speaking of the music, the songs by Robert Lopez and Kristen Anderson-Lopez are seldom more than workmanlike – "Let it Go" excepted, their Broadway-styled numbers lack the melodic hook of Alan Menken, and most are easily forgotten. The CGI rendered animation is also something of a disappointment given Disney's history – while the characters are expressive, one wishes more had been done, visually, to the supporting animation, especially the surprisingly plain backdrops of snow-covered mountains. The opportunity was here to produce an engaging visual pallet, but more often than not, the environmental work is surprisingly uninspired.
Although I wouldn't consider the film a "Disney classic" despite its commercial performance, there's no doubt that "Frozen" is at least a thoroughly entertaining picture that has already captivated children around the world. Its energy, likeable characters and accessible story make it one of Disney's finest "in-house" features in recent memory.
While "Frozen" apparently played quite well in 3D, Disney has – quite shockingly – decided to nix a 3D Blu-Ray release in North America (one can import the European release from Amazon UK). That leaves a plain, good-looking albeit lightweight Blu-Ray/DVD combo pack for the U.S. that streets March 18th. The 1080p transfer, framed in 2.35, is as detailed and colorful as one would anticipate, and the 7.1 DTS MA audio is likewise excellently rendered. Supplements, though, are scarce, comprised of the charming Mickey Mouse short "Get a Horse!" that played before the movie in theaters, a few deleted scenes, music videos, and about 10 minutes of "Making Of" content – three of which is a silly musical number performed by Bell and Gad.
THE BOOK THIEF Blu-Ray (***, 131 mins., 2013, PG-13; Fox): Sensitively produced drama follows the life of Liesel, a young German girl (a remarkable performance from Canadian newcomer Sophie Nélisse) who witnesses the mounting horrors of WWII from her vantage point in a quaint German village.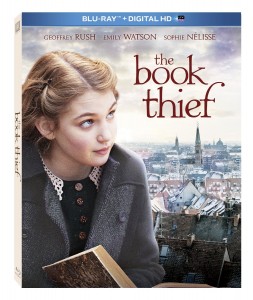 Based on the acclaimed book by Markus Zusak, "The Book Thief" finds Liesel moving in with adoptive parents – Hans and Rosa Hubermann (Geoffrey Rush and Emily Watson) – after her mother is tabbed as a communist and her younger brother dies en route to their new home. Liesel has trouble acclimating to life in the village, being illiterate and picked on by local boys – but she quickly finds a muse in Rush's understanding father figure, who tutors Liesel how to read whenever his ever-bickering wife isn't giving him a hard time. Time passes and the Hubermanns take in a young German man who happens to be the son of one of Hans' WWI friends; he takes up residence in the family's basement while the mounting rise of Nazism – from book burnings to Hitler youth rallies – begin to appear in the otherwise placid town.
"The Book Thief" seemed to receive an awful lot of harsh reviews from critics who harped on the film, calling it "sanitized" and a "wish fulfillment fantasy." It's as if every film with the Holocaust as part of its subject matter has to be "Schindler's List" or "The Pianist" or it's instantly invalidated. Regardless of the negative notices, this is a moving and beautifully performed picture, clearly aimed at younger viewers but emotionally engaging for all. The story is framed from Liesel's point of view, with Florian Ballhaus' spectacular widescreen lensing capturing the beauty of the German countryside and the picaresque village – something that becomes all the more effective when the true horror and heartbreak of the story manifests itself as the film progresses. While the movie may skirt around the graphic depiction of the Holocaust and the nature of war, there are sufficient moments of sadness that are overpowering near the film's ending – certainly something that would leave a lasting impression on its intended audience.
Director Brian Percival, a "Downton Abbey" veteran, handles the movie with a pitch perfect tone: the pacing is leisurely but constantly flowing, and the performances splendid. Rush brings an enormous amount of heart to his role of the sympathetic and world-weary Hans, and Watson is likewise excellent as a tough mother with a softer center than she initially lets on. However, it's the expressive young Nélisse who really makes the film work – she carries every scene in a believable, tender performance that's never affected.
Complimenting the entire picture is John Williams' eloquent and remarkable score. Working on his first non-Spielberg/Lucas picture in nearly a decade, Williams' flowing, haunting music reminded me of the kind of real, emotional film music that used to captivate me as a young viewer. It's the type of score that not only heightens and enhances the picture, but also the kind of music we seldom hear anymore in the medium. When the film nears its conclusion and Williams brings out an elegiac but beautiful piano melody, it's heartbreaking and inspirational at the same time – possessing an etherealness that's hard to describe.
"The Book Thief" does have a few drawbacks – the ending feels rushed, and should've been further developed for the story's emotional payoff to really sink in. The conceit of having "Death" narrate the picture – a carryover from the novel – is also something that I'm still unsure of. It adds a "fable" type of element to the material, perhaps making it more overtly emotional and arguably accessible to a younger audience, though on screen, I feel the film could've worked just as well without it.
Despite these quibbles, "The Book Thief" is still a fine movie undeserving of some of the barbs it took from critics – a fine picture on many levels, worthy of discussion and backed by a sublime score from one of the greatest composers to ever work in the medium.
Fox's Blu-Ray includes a 1080p transfer, 5.1 DTS MA soundtrack, a couple of deleted scenes, 30 minutes of fluffy promo interviews, the trailer, and a digital copy.
THE PAST Blu-Ray (***, 130 mins., 2013, PG-13; Sony): Excellent character drama serves as a strong follow-up feature to "A Separation" from director Asghar Farhadi. "The Past" stars Ali Mosaffa as an Iranian man who visits Paris in order to finalize his divorce from Berenice Bejo ("The Artist"). Mosaffa's relationship with Bejo's daughters, Bejo's relationship with her present boyfriend (whose wife is in a coma) and his young son, and the couple's rekindled feelings make for a leisurely but engrossing picture with excellent performances from the cast. Sony's Blu-Ray, available March 25th, includes commentary with Farhadi, a Making Of, Director's Guild Q&A, 1080p transfer and 5.1 DTA MA soundtrack in French with English subtitles.
---
DVD Pick of the Week
Although it's quite silly at times, there's something engaging about the guilty-pleasure fun served up by MONSTERS – THE COMPLETE SERIES (26 hours, 1988-91; E One). This syndicated horror anthology series from producer Richard P. Rubinstein followed his '80s hit "Tales from the Darkside" and, while it may have had inferior production values, nevertheless managed to satisfy hungry horror fans with twisty plots and a terrific cast of guest stars.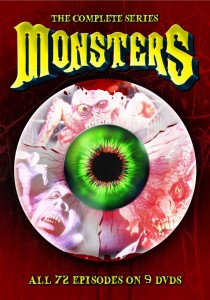 E One brings the complete series – all 72 episodes – of "Monsters" to DVD this month in a nine-disc set. The 4:3 transfers and 2.0 stereo soundtracks aren't anything extraordinary, but the low-budget series was never much to look at in the first place. What's entertaining about "Monsters" is seeing a wide variety of stars – veterans, rising actors and even comedians – interacting in a potpourri of stories. "Monsters" wasn't afraid to reach for outright laughs at times, whether it's "Cosby Show"'s Tempestt Bledsoe romancing a zombified boyfriend in "My Zombie Lover," David Lander and Rich Hall in "Their Divided Self," Joe Flaherty and Teresa Ganzel in "Murray's Monster," and Saturday Night Live's Kevin Nealon and David Spade in "Small Blessing."
Other notable names and faces appearing throughout the show's three seasons include Lili Taylor, Matt LeBlanc, Rob Morrow, Chris Noth, Tony Shalhoub, Richard Belzer, Adrienne Barbeau, Tori Spelling and Steve Buscemi, along with veteran TV stars Abe Vigoda, Orson Bean, Imogene Coca, Peggy Cass, Frank Gorshin, Jerry Stiller, Richard Moll, Eddie Deezen, Tina Louise, and Barbara Billingsley to name just a few. Then there are horror vets like Linda Blair, John Saxon, and Tom Noonan, who mix things up with the likes of old-time Hollywood stars (Eddie Bracken, Leif Garrett, Farley Granger, Troy Donahue) and the occasional stunt casting of pop-rock performers (Meat Loaf, Laura Brannigan, Deborah Harry) and talk show hosts (Morton Downey, Jr.).
Some of "Monsters" is horrific, and some of it is horrifically bad – like the ultra-disturbing episode "Holly's House" involving a life-size child's doll come to inexplicable life. Yet for horror fans looking for a nostalgic trip back into the gross but not repulsive world of gore we've reached in the 21st century, it's an entertaining DVD package worthy of a look.
---
Shout! New Releases
Due out shortly from Shout! is THE SLUMBER PARTY MASSACRE (77 mins., 1982, R), a nostalgic '80s exploitation favorite from Amy (Holden) Jones. Jones, who go onto write "Mystic Pizza" and "Indecent Proposal," produced and directed this Roger Corman/New Horizons release, which adheres to the standard slasher formula with a mental patient power-drilling his unknowing victims – which here include high schooler Michele Michaels and her friends. It's slight to be sure, but the tidy running time makes this a lightweight B-thriller for genre fans.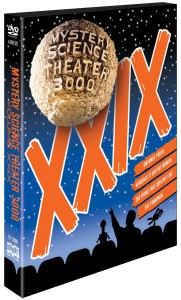 Shout's Blu-Ray, out this week, includes a new 1080p transfer from the original camera negative; a reprise of "Sleepless Nights: Revisiting the Slumber Party Massacre," a documentary produced for Shout's prior DVD release; commentary with Jones and stars Michael Villela and Debra De Liso; the trailer; and DTS MA mono audio.
MYSTERY SCIENCE THEATER 3000: VOLUME XXIX DVD (Shout!): Volume XXIX from MST3K contains another quartet of varied episodes from the series hitting DVD for the first time. Untamed Youth is arguably the most entertaining of this lot – a 1957 Warner Bros. potboiler with Mamie Van Doren (who also appears in a new interview shot for this release) that enables the gang to memorably riff on its campy charms. Hercules and the Captive Women (1961) is more of a standard MST3K sword-and-sandal show, while The Thing that Couldn't Die (1958) and The Pumaman (1980) offer ample laughs for genre buffs. New extras in Shout's DVD also include a conversation with "Pumaman" star Walter G. Alton, Jr., new intros from Joel Hodgson, a profile of MST3K "artist in residence" Steve Vance, four of Vance's mini-posters, the "Movie That Couldn't Die" documentary and "more."
BENEATH Blu-Ray (90 mins., 2013, Not Rtaed; Shout!): Yet another thriller about "something lurking in the lake," Larry Fessenden's lame "Beneath" regurgitates all kinds of cliches as a group of dumb teenagers doesn't heed the warnings and decides to party in Black Lake where a killer creature is on the loose. There are no surprises to be found here – just a typical, by-the-numbers genre exercise minus any kind of humor or inspiration. Shout's Blu-Ray includes a commentary from Fessenden, a Making Of, the trailer, 1080p transfer and DTS MA audio.
---
Warner Archives New Releases
An early Jimmy Cagney Vitaphone release, the entertaining HERE COMES THE NAVY (86 mins., 1934) finds Cagney's naval yard worker "Chesty O'Connor" butting heads with Chief Petty Officer Biff Martin (Pat O'Brien) over a girl – and losing her in the process. Seeking payback, Chesty joins the ranks and opts to steal a superior officer's girlfriend, unaware that she's actually his sister (Gloria Stuart). "Here Comes the Navy" offers a Golden Age good time in this first of nine screen vehicles that would star Cagney and O'Brien. The film is also notable for having been partially shot on-board the USS Arizona, which, of course, was later sunk during the attack on Pearl Harbor.
Making its first appearance on DVD – and first release anywhere since the days of laserdisc – is the seminal musical SHOW BOAT (113 mins., 1936), which has been brought to the screen a number of times over the decades. This Universal production stars Irene Dunne as Magnolia, who falls for Allan Jones' riverboat gambler in a faithful rendering of the original Oscar Hammerstein-Jerome Kern musical classic (scripted by Hammerstein from Edna Farber's novel), packed with classic songs ("Bill," "Can't Help Lovin' That Man") and Paul Robeson's unforgettable rendering of "Ol' Man River." James Whale, fresh off his "Bride of Frankenstein" masterwork, demonstrates a sure hand in a whole other genre, making this Warner Archive release a must-have for musical aficionados.
THE FBI: The Complete Seventh Season (1300 mins., 1971-72) offers 26 more episodes from the long-running network procedural with Efrem Zimbalist, Jr., William Reynolds and Philip Abbot as bureau agents taking on all kinds of evil-dooers from a sly car salesman (Bradford Dillman) to a lumber merchant (John Colicos) looking to pull off a kidnapping and a hitman with a conscience (Martin Sheen). Meg Foster, Lindsay Wagner, Mark Hamill, Dabney Coleman, Stefanie Powers and Vic Tayback are just a few of the familiar faces who appear in this seventh season of "The FBI," brought to DVD this month as part of the Warner Archive program in a six-disc set.
Also new this month are a trio of Joan Crawford's earliest pictures, which should pique the interest of Golden Age fans. OUR BLUSHING BRIDES (99 mins., 1930) is an early MGM talkie starring Crawford as an independently minded dame who wants Robert Montgomery to marry her before they get intimate, along with some fairy risque fashion-show sequences – the kind only seen in pre-code pictures. I LIVE MY LIFE (97 mins., 1935) is an engaging concoction directed by W.S. Van Dyke from a Joseph Mankiewicz screenplay, finding Crawford as a NYC socialite who falls for archeologist – and polar opposite – Brian Aherne. Frank Morgan co-stars in a fun romp with Crawford in top form – as she is in THE BRIDE WORE RED (103 mins., 1937). This entertaining MGM Cinderella story stars Crawford as a down-on-her-luck night club singer who is sent to Austria as part of a practical joke but ends up choosing between bachelor Robert Young and good-hearted postman Franchot Tone. Reginald Owen and Billie Burke co-star in one of Crawford's better-reviewed vehicles from the period.
---
ATLANTIS: Season 1 Blu-Ray (585 mins., 2014; BBC): Jack Donnelly stars in this amiable BBC series as a Jason, a modern day lad who washes up on the shores of the lost island of Atlantis. In addition to meeting a series of mythological creatures, he joins up with Hercules (Mark Addy) and Pythagoras (Robert Emms) in searching for his missing father. "Atlantis," which did well on BBC America, seems primed for a second season, which is a good thing because this is the kind of good-natured, old-fashioned fantasy we don't see that often in 2014. Sure the CGI is mostly just OK, but the tone is light and Jason's adventures accessible for kids and adults alike, with ample chemistry developed between the leads. BBC's Blu-Ray includes nifty 1080p transfers and 2.0 DTS MA stereo soundtracks; extras include behind-the-scenes footage and cast/crew interviews.
THE LITTLE RASCALS SAVE THE DAY Blu-Ray Combo Pack (98 mins., 2014, PG; Universal): Yet another attempt to revive the Our Gang cast finds Spanky, Alfalfa, Darla, Buckwheat and Petey the dog attempting to save Grandma's bakery. In order to do so, the gang undertakes a series of fundraisers that all go awry – leading to a last-ditch attempt at winning a talent show. Doris Roberts appears as the gang's beloved grandmother with Lex Medlin and Greg Germann co-starring. It's silly, frivulous fun for kids, though not a spot on the original Hal Roach shorts. Universal's Blu-Ray combo pack includes a DVD, digital copy, gag reel and animatics, deleted scenes, a 1080p transfer and 5.1 DTS MA soundtrack.
Cinedigm New Releases: Kids will enjoy a trio of JUSTIN TIME DVD releases: "Far Away Friends," "Goes Exploring" and "Amazing Adventures" each includes four episodes from the popular NBC/Sprout channel series aimed at very young viewers, with 90 minutes of content on each disc…WINX CLUB: The Complete Original Season 1 (aprx. 10 hours) offers all 26 episodes of the animated series following a young girl named Bloom, who finds out she has special fairy powers. Cinedigm's four-disc DVD set includes a "Fairy Identity Booklet" inside the package.
PEPPA PIG: MY BIRTHDAY PARTY DVD (80 mins., 2013; E One): The charming British series about a lovable little pig who learns life lessons from her family and friends receives a new DVD release from E One. The single-disc release includes 12 short episodes from the series plus "Learn the Alphabet" and "Learn to Count" extras.
---
Also New & Noteworthy
WELCOME TO THE JUNGLE Blu-Ray (95 mins., 2012, Not Rated; Universal): Silly, needlessly raunchy comedy strands an advertising team in the jungle, where they're supposed to be involved in a team-building exercise. Jean-Claude Van Damme plays an ex-marine in charge of leading the group, but when he goes out of the picture, Adam Brody (from "The OC") leads half of his team in a comical "Lord of the Flies" re-do. This 2012 production is pretty juvenile most of the way, and probably would've been best suited for teenagers had there not been an abundance of bad language and bathroom gags thrown in. Kristen Schaal, Megan Boone and Dennis Haysbert lead a supporting cast more deserving than the hyjinks concoted by writer Jeff Kaufmann and director Rob Meltzer. Universal's Blu-Ray includes a digital copy, deleted scene, behind the scenes featurette, 1080p transfer and 5.1 DTS MA soundtrack.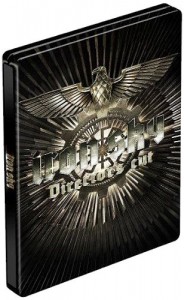 THE TRUTH ABOUT EMANUEL Blu-Ray (96 mins., 2013, Not Rated; Well Go USA): A potentially intriguing premise fails to find its footing in a muddled, dull thriller from writer-director Francesca Gregorini. Kaya Scodelario stars as a young girl who becomes drawn to a neighbor (Jessica Biel) who bears a resemblance to her late mother, who died giving birth. Their relationship just isn't very interesting as Scoledario tries to reconcile her past and present issues; Biel is OK, but Scoledario was a replacement for Rooney Mara, who obviously decided (wisely) to bypass the picture. Well Go's Blu-Ray, available March 25th, includes an interview with Gregorini, deleted scenes, outtakes, the trailer, a 1080p transfer and 5.1 DTS MA audio.
IRON SKY: Director's Cut Blu-Ray (**, 110 mins., 2012, Not Rated; E One): Low-budget German sci-fi comedy posits that Nazis fled to the moon after their defeat in WWII, hiding out and plotting their subsequent invasion until an African-American astronaut (Christopher Kirby) stumbles onto their scheme. Produced by several Germans who found some success online with various sci-fi parodies, "Iron Sky" is like a low-rent (and I mean low-rent) "Sky Captain," offering lots of plastic digital backdrops as it spins a colorful, but not very funny, yarn filled with heavy stereotypes (the American president is a Sarah Palin-lookalike and nearly every performance includes an odd accent). E One's Director's Cut Blu-Ray of "Iron Sky" offers approximately 17 minutes of footage restored to the film, a 90-minute Making Of documentary, teasers, photo gallery, 32-page concept art book, DTS MA audio, 1080p transfer, and collectible Steelbook packaging.
SWERVE Blu-Ray (87 mins., 2012, R; Cohen Film Collection): Craig Lahiff's independent thriller features David Lyons as a man driving through the Australian Outback who comes across a suitcase full of cash and a fatal accident on the side of the road. In so doing, he runs afoul of a corrupt cop (Jason Clarke) and his wife (Emma Booth) in an impressively shot Australian production with superb cinematography by David Foreman. Cohen's Blu-Ray includes a fine 1080p transfer, DTS MA 5.1 audio, interviews with the cast and crew, and the original trailer.
CONTRACTED DVD (84 mins., 2013, Not Rated; IFC): Gross and downbeat, if reasonably well-made, independent horror outing finds Najarra Townsend moving back in with her mother (Caroline Williams) after her latest relationship fizzles. Unfortunately for Najarra, another night out with a mysterious man (Simon Barrett) leaves the young lesbian not only with an STD but a deadly, gross disease that should leave gorehounds satisfied. IFC's DVD edition of "Contracted" includes commentary with the cast and crew; another commentary with director Eric England; a Making Of; audition footage; a 16:9 transfer and 5.1 Dolby Digital soundtrack.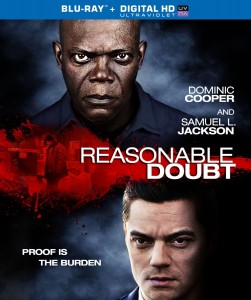 IN THE NAME OF THE KING 3: THE LAST MISSION Blu-Ray (86 mins., 2014, R; Fox): Uwe Boll has threatened that this is the last of his "In the Name of the King" features – one can only hope he makes good on that promise in this latest tired direct-to-vid adventure. Dominic Purcell takes over the throne vacated by Jason Statham and Dolph Lundgren before him, here starring as a hitman whisked away to medieval times. Fox's Blu-Ray boasts a Making Of, digital copy, 1080p transfer and 5.1 DTS MA soundtrack.
From Lionsgate: Dominic Cooper and Samuel L. Jackson do a legal system tango in REASONABLE DOUBT (91 mins., 2014, R), a pedestrian thriller with Cooper playing a D.A. who defends an innocent man (Samuel L. Jackson) charged with murder after a hit-and-run Cooper was actually involved with. Gloria Reuben, Ryan Robbins and Erin Karpluk co-star in this independent, Canadian-lensed picture directed by Peter Croudins. Lionsgate's Blu-Ray includes a behind-the-scenes featurette, deleted scenes, extended interviews with Jackson, Cooper and Reuben, a 1080p transfer, digital copy and DTS MA 5.1 soundtrack…The Hong Kong period adventure KINGDOM OF CONQUERORS (100 mins., 2012, PG-13), set in the 1200s, also receives a DVD release this month from Lionsgate. A Making Of featurette and both English 5.1 (dubbed) and the original Mandarin 5.1 audio (subtitled) are included along with a digital copy...THE APPEARING (92 mins., 2014, R) finds a woman, still recovering from a possession, realizing the demon that tormented her still resides within. Daric Gates' film hits DVD next week from Lionsgate offering a 16:9 transfer, 5.1 soundtrack, digital copy and Making Of featurette...ALPHA AND OMEGA 3: THE GREAT WOLF GAMES (45 mins., 2014, Not Rated) is a short follow-up to the earlier animated features with the title characters rearing youngsters who compete in a variety of wilderness athletic events. Lionsgate's Blu-Ray includes a pair of interactive games for kids, a 1080p transfer, 5.1 DTS MA soundtrack and a digital copy, and is exclusive to Walmart when it streets March 25th.
PBS New Releases: The Nova documentary ZEPPELIN TERROR ATTACK (60 mins., 2014) charts Germany's use of Zeppelins as war machines during WWI, delivering payloads of terror with bombs from theskies above. How the British developed the artillery to take down the zeppelins in the early days of the war forms the thrust of this compelling hour-long documentary, which also includes comments from historians and a recreation of WWI bombs and flaming bullets which were ultimately used in the fight against the zeppelins...GHOSTS OF MURDERED KINGS (60 mins., 2013) is a fascinating documentary looking at a death pit discovered in the otherwise placid hills of Ireland's County Tipperary, where a pile of bodies dating back 3,000 years displays evidence of violent deaths. Compelling and eerie stuff, with PBS' DVD including a widescreen transfer and stereo soundtrack.
NEXT TIME: THE WOLF OF WALL STREET! Until then, don't forget to drop in on the official Aisle Seat Message Boards and direct any emails to our email address. Cheers everyone!