The cinematic equivalent of a losing baseball team that comes up to bat and delivers a game-winning hit with two outs in the bottom of the ninth, the much-anticipated new GODZILLA proves to be a rare beast indeed: a film that seemed to generate audible frustration among the fans I saw the movie with for nearly two-thirds of its running time. However, when director Gareth Edwards delivers the goods –at long last – during the movie's climax, those same naysayers beamed with exaltation, cheering on the Big G and furiously applauding as the end credits rolled.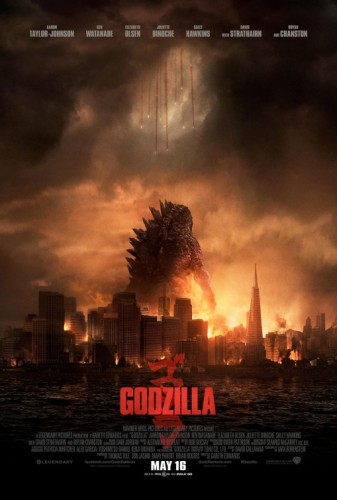 Getting to that point, alas, is where this expensive Legendary Films/Warner Bros. production gets tripped up a bit. It's not that the plot, concocted by David Callaham and screenwriter Max Borenstein, isn't uninteresting – more that the overly stoic performances, complete absence of humor, and Edwards' teasing of the very audience it wants to entertain prove increasingly irritating until the ship is ultimately righted in a satisfying finale.
The new "Godzilla" posits a world where a giant monster is responsible for a Japanese nuclear reactor meltdown. Scientist Bryan Cranston, whose wife was killed in the "accident," knows that the tragedy wasn't merely an earthquake, and sets out – along with his son, a military officer played by Aaron Taylor-Johnson – to prove it. When the duo get to the now-quarantined zone, they find that the radioactive levels the government claims are still there have vanished – and that a giant creature, being studied by a Japanese scientist (Ken Watanbe), is feeding in the center of the rubble. Ultimately, the winged monstrosity – dubbed a MUTO – starts a rampage of destruction from Japan to Hawaii and eventually San Francisco, with only a certain giant beast that's been dormant for many decades offering the slim possibility of defeating it…
Unlike Roland Emmerich's much-derided "Godzilla" (a film I did find entertaining, even if it resembled "King Kong" more than any Toho production), the 2014 "Godzilla" is stone-cold serious. This is a world where mass destruction feels "real," though the human casualties are (wisely) mitigated just a little by having the action take place in locales that are either deserted or being evacuated. There's a constant sense of dread in the picture, and Edwards is wise to keep the film running from a human perspective – at least for a while – enabling viewers to witness the devastation, and the sheer size of the creatures, from the ground up.
The trouble is that none of the human characters are especially interesting. The script kills off one of the most interesting actors in the cast early on, something that lead one audience member to audibly mutter, "he's dead?!?" These same viewers would later begin to express their dismay with an even larger problem the film has – Edwards' teasing of Godzilla and giant-monster battles, which he doesn't deliver until the tail end of the movie. What's more, because the characters are uniformly dull, his cutaways from those big battle scenes – first when Godzilla shows up in Honolulu, then again when Godzilla first encounters the creatures on the West Coast – aren't just annoying, they become downright infuriating. Yes, we get the sense of scale between the humans and the monsters. Yes, we understand you are trying to be "realistic" – but at some point, you have to deliver the goods, and Edwards comes dangerously close to flushing the massive goodwill of the audience away for too much of the movie's duration.
Thankfully, fortunately, and with no time to spare, the 2014 "Godzilla" does give viewers what they paid to see – and when it arrives, the picture manages to satisfy in a way that'll give fans something to savor. In fact, I admit I was slightly choked up in the concluding moments – not because the film is in the least bit emotional, but more that the producers clearly understood the monster's appeal for a generation of kids who grew up on the old Toho movies. This isn't the Roland Emmerich Godzilla, nor is it the horrifying beast the movie's trailers promised – this is the "King of the Monsters," restored to his heroic glory with magnificent special effects and a rousing finish that bails out the picture's missteps. Let's just hope – next time out – there's less talk and more action, and that it doesn't take as long for the big guy to make good on his legendary roar. (***, 123 mins., PG-13)
---
New on Blu-Ray
John Milius' rousing THE WIND AND THE LION (***, 119 mins., 1975, PG) is the kind of film Blu-Ray was made for: a sumptuous widescreen adventure that, now in high-def courtesy of the Warner Archives, at last receives the crisp, detailed rendering the memorable MGM production demands.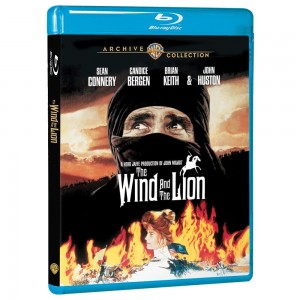 Milius' story weaves a number of real historical figures and fact-based incidents into a Kipling-esque tale of an American woman (Candice Bergen) who, along with her young children, are kidnapped while living in Morocco in the earliest years of the 20th century. While European powers fight for their own respective interests in the country, Raisuni (Sean Connery) decides to fight against the ruling Sultan and his own Uncle – who sits on the throne of power in Tangier – by taking Bergen's Eden Pedecaris and her children hostage in the hopes of igniting a jihad that would rally his fellow countrymen. Despite his initial actions, Raisuni proves to be an honorable man and not entirely the barbarian Pedecaris initially believes him to be – a sentiment echoed in the mind of President Teddy Roosevelt (Brian Keith), who examines the kidnapping from his vantage point in the U.S. and decides to use it as a means of political propaganda.
While "The Wind and the Lion" never quite ascends to the level of a classic (there's something overly mannered about Bergen's performance that limits her effectiveness and chemistry with Connery), this is still a rugged, and thoroughly entertaining, picture. As with "Conan the Barbarian," Milius exhibits a brilliant use of the Panavision frame, with Billy Williams' camera work spectacularly capturing the mountainous Spanish locales (subbing for Morocco) – sequences that look all the more stunning in high-definition where the clarity and texture of the visuals is appreciably enhanced. The colors of clothing worn by Raisuni and his men stand out now all the more against the backdrops, and the fleshtones and overall appearance of the transfer is just mangificent.
Connery is quite good here despite his miscasting, exuding charisma in what's one of his strongest starring vehicles. Raisuni's motives are intriguingly contrasted with the political machinations of Roosevelt, who is seen holding court with Secretary of State John Hay (John Huston), attempting to promote America's strength overseas and rally his own re-election campaign in the process. The movie's weak link is Bergen in a role that was supposed to have been filled by Faye Dunaway until the actress became ill prior to shooting. One can only imagine Dunaway likely would've been able to instill the part with less of a broad, nearly comedic brush that Bergen basically brings to the material here.
In addition to its 1080p AVC encoded transfer, Warner's Archive Blu-Ray boasts Milius' commentary, the trailer, and a vintage featurette, along with a rousing DTS MA 5.1 that does justice to Jerry Goldsmith's fan-favorite score.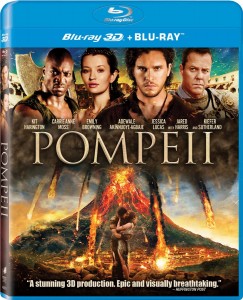 POMPEII 3D/2D Blu-Ray (**, 104 mins., 2014, PG-13; Sony): For a while, Paul W.S. Anderson's winter flop coasts along comfortably in "guilty pleasure" territory.
Kit Harrington plays a young Celtic man whose people were wiped out by a vile Roman commander (Kiefer Sutherland) while he was a boy. Now a slave years later (shades of "Conan the Barbarian"), Harrington has become a hardened warrior destined to fight a fellow slave (Adewale Akinnoye-Agbaje) in the ring (shades of "Gladiator"), in front of Sutherland's now-powerful Senator. Meanwhile, one of Pompeii's local businessmen (Jared Harris from "Mad Men") finds himself at odds with Sutherland's bad guy, who wants his daughter's (Emily Browning) hand in marriage. Browning, though, has other plans, including batting eyes for Harrington, leading to a romance that comes into conflict when Mt. Vesuvius decides to blow its stack.
Anderson, who's proven to be a prolific hack recycling elements from countless films in even his biggest successes ("Alien Vs. Predator" and the "Resident Evil" movies), does the same here. The first half plays like a road company version of Ridley Scott's Oscar winner, the second a poor man's "Titanic" as the city is destroyed by flowing lava, tidal waves, and volcanic debris falling from the skies. What's surprising, however, is that the initial portion is the more entertaining one – better-acted than the material deserves, and highlighted by an especially amusing performance from a wickedly hammy Sutherland that dominates the early-going. With his fey, faux-European accent, it's a gas to see Jack Bauer in Roman attire and livening up the hackneyed script by Janet Scott and Lee Batchler and Michael Robert Johnson (it's inexplicable that Sutherland's performance was buried in the film's advertising, seeing as he's the film's most enjoyable attribute). Unfortunately, once Vesuvius erupts at about the hour-mark, "Pompeii" turns into a mediocre, green-screened effects show with the city's residents running for their lives while Harrington and Sutherland arrive at one final showdown. It's disappointing this material is so weak and repetitive (there are only so many falling rocks to keep you interested), compounded by a 3-D presentation that's likewise muted in its intensity.
Sony brings "Pompeii" to Blu-Ray this week in a combo pack sporting both 3D and 2D platters. Although the movie was shot in 3D, the drab cinematography and dimly lit settings don't make for an especially photogenic presentation for format owners. Extras on the 2D Blu-Ray are exclusive to the format and include 20 deleted scenes and a series of featurettes, while the 3D version includes commentary and two additional featurettes. The 5.1 DTS MA sound is somewhat subdued considering the subject matter.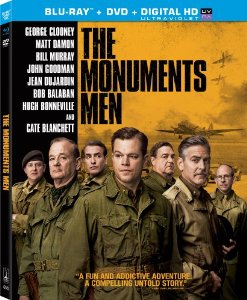 THE MONUMENTS MEN Blu-Ray Combo Pack (***, 118 mins., 2014, PG-13; Sony): Flawed though still entertaining vehicle for star/director George Clooney, based on a true story involving the search for priceless artwork stolen by the Nazis during WWII. In order to track down the paintings, Clooney's George Stout assembles a crack team of experts – played by Matt Damon, Bob Balaban, Bill Murray, John Goodman, Hugh Bonneville and Jean Dujardin – and sets out on a trek through WWII-ravaged Europe in a unique recovery mission.
Though one can sense that a far better film could've been produced from this ripe material, "The Monuments Men" is still pleasingly "old school", the performances breezy and the film entirely watchable from start to finish. Cate Blanchett, in particular, is excellent as a Parisian art dealer who reluctantly works with Damon, and Alexandre Desplat's score ranks as one of his strongest.
Sony's Blu-Ray, out this week, includes a 1080p transfer, 5.1 DTS MA soundtrack, digital copy, and a fairly light supplemental package (a format exclusive featurette, a couple of brief deleted scenes, plus less than 30 minutes of other material).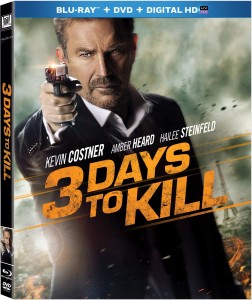 3 DAYS TO KILL Blu-Ray Combo Pack (**, 117 mins., 2014, PG-13/Unrated; Fox): Prolific French action filmmaker Luc Besson's latest attempt to penetrate into the American market fared as poorly as his prior recent outings ("The Family," "From Paris With Love"), though here, he's managed to waste a particularly good cast in another of his absurd, uninteresting scripts.
A seemingly dispassionate Kevin Costner plays an ailing CIA agent coerced into one more assignment at the same time he's trying to reconnect with his estranged wife (Connie Nielsen) and daughter (Hailee Steinfeld). Costner's spy, you see, only has several days left to live because of an advanced form of cancer, but has to carry out a hit on a pair of terrorists in order to prolong his life (there's an experimental super-drug femme fatale Amber Heard will give him – but only if he cooperates). Heard is fun but there's not enough of her in this latest Eurotrash import, helmed by McG with all the requisite gunfights and action scenes you expect from a Besson film – along with a typically unbelievable story with wild tonal swings to boot. Fox's Blu-Ray includes a Making Of, two additional featurettes, a DVD, digital copy, 1080p transfer and DTS MA 5.1 soundtrack.
FALLING SKIES – Complete Third Season Blu-Ray (440 mins., 2013; Warner): TNT's popular sci-fi series managed to avoid the "sophomore slump" but, regrettably, fell back to Earth due to a pedestrian third season. This time out, the 2nd Mass is stuck in Charleston, South Carolina, where Noah Wylie's Tom has been elected President at the same time the remaining humans try and forge an alliance with "good" aliens who've beamed down to fight the invading extraterrestrials. It's all disappointing, badly written cliche-city, starting out on the wrong note with a "series re-set" that repositions the scenario for our heroes in a totally different place than the end of Season 2, and barely finds its footing again before it's all over. Add in a "V: The Final Battle" ripoff plot involving Tom Mason's alien-hybrid child (sure to be developed more in Season 4) and you have a show that's still well-acted but fails to match the heights of its previous years.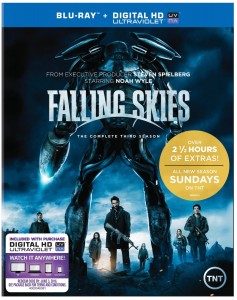 Arriving June 3rd on Blu-Ray, "Falling Skies"' season three boasts featurettes, interviews and behind-the-scenes content hosted by Wil Wheaton. There's also a digital copy plus fine 1080p transfers and 5.1 DTS MA soundtracks.
NIKITA: The Complete Fourth and Final Season Blu-Ray (253 mins., 2013; Warner): The well-received CW series received a short but sweet send-off of six episodes, enabling fans to bid their goodbyes to the adventures of Nikita (Maggie Q) and the gang while wrapping up dangling plot threads. Warner's single-disc Blu-Ray edition is a vanilla release absent of special features, but does boast 1080p transfers and 5.1 DTS MA soundtracks. An Ultraviolet digital copy is also included.
COUNTESS DRACULA Blu-Ray/DVD (***, 93 mins., 1971, PG; Synapse Films): One of the last great gasps from the old regime at Hammer, "Countess Dracula" takes a Hammerized look at Countess Elizabeth Bathory, here dubbed Elisabeth Nadasdy, who drinks in the blood of busty young ladies in order to reverse humanity's aging curse. Nubile lasses and Ingrid Pitt's central performance make "Countess Dracula" a bloody good time for fans, with Synapse's long-awaited Blu-Ray/DVD combo pack sporting plenty of supplements, including commentary with Pitt, director Peter Sasdy, screenwriter Jeremy Paul and historian Jonathan Sothcott; a featurette on Pitt; an archival audio interview with the actress; a still gallery; the trailer; a crisp 1080p transfer with DTS MA 2.0 mono audio; and nifty reversible cover art as well.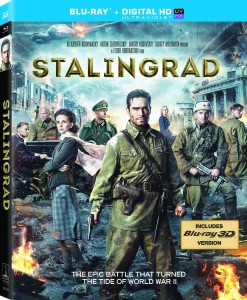 STALINGRAD 3D/2D Blu-Ray (**½, 131 mins., 2013, R; Sony): Impressive FX sequences are the most distinguished element in this expensive Russian depiction of the WWII battle. Shot in 3D and exhibited in IMAX theaters (a first for a Russian picture), Fedor Bondarchuk's movie suffers from the same issues that have plagued prior films on the subject – notably Jean-Jacques Annaud's most recent "Enemy at the Gates" – by trying to incorporate a fluffy love story and uninteresting supporting characters into its central narrative. When the movie sticks to its guns (literally), "Stalingrad" is a satisfying technical spectacle if nothing else, particularly in 3D. Sony's Blu-Ray combo pack offers both its original 3D version as well as a 2D presentation and an Ultraviolet copy. The 5.1 DTS MA Russian is audio is fine (an English dubbed track is also on-hand).
HOW TO TRAIN YOUR DRAGON Blu-Ray Combo Pack (***, 98 mins., 2010, PG; Dreamworks/Paramount): "Collector's Edition" repackaging of the hit 2010 Dreamworks animated film, issued to coincide with the upcoming release of the big-screen sequel, offers little new for owners of the prior Blu-Ray. The BD/DVD combo pack boasts deleted scenes, commentary, a trivia track (extras carried over from the earlier release) while adding a digital copy and episode from the "Dragons: Defenders of Berk" series. There's also a discounted ticket voucher to "How To Train Your Dragon 2″ which hits theaters this June. The 1080p AVC encoded transfer is perfectly rendered, as is the 5.1 Dolby TrueHD audio.
---
Sophia Loren and Omar Sharif teamed up for the memorably silly fantasy MORE THAN A MIRACLE (***, 103 mins., 1967; Not Rated), a period piece with Loren as a sultry peasant who eventually becomes the focal point of a prince (Sharif) looking for a bride. This unusual mixture of genres makes for an at-times bizarre but quite entertaining film, shot in scope and backed by a lovely Piero Piccioni score. The Archives' DVD retains the original 16:9 (2.40) aspect ratio with mono English audio…Raquel Welch and Robert Wagner tag-teamed in the slight but amusing MGM comedy THE BIGGEST BUNDLE OF THEM ALL (**½, 108 mins., 1967; Not Rated), a lightweight caper co-starring Godfrey Cambridge, Vittoria DeSica and Edward G. Robinson. Shot overseas under the direction of Ken Annakin, "Biggest Bundle…" makes its DVD debut from the Archives boasting a 16:9 (2.40) transfer with mono audio.
TV on DVD From the Warner Archives: In the seventh and final season of WITHOUT A TRACE (1024 mins., 2008-09), Anthony LaPaglia's Jack Malone finds himself demoted from leading the Mission Persons Squad. Forced to work with the squad's new chief (Steven Webber), Jack butts heads with his superior while tacking a series of cases along with agents Samantha (Poppy Montgomery) – who's also adjusting to life as a single parent – and Elena (Roselyn Sanchez), still reeling from a custody battle. The final 24 episodes from the series are collected here in 16:9 (1.78) transfers and 5.1 Dolby Digital soundtracks…Bart Maverick (Jack Kelly) had to carry the original portion of MAVERICK's fifth and final season (650 mins., 1961-62), which completes the series' run in a multi-disc set available exclusively from the Warner Archives. With James Garner having bolted the show to further his film career (reruns of Bret's adventures would alternate with Bart's new episodes), it was up to Kelly to keep the series going – at least until a group of failed revivals would arrive on the scene a couple of decades later (including "The New Maverick" busted TV pilot and the short lived "Bret Maverick" series, which Warner released via the Archives a couple of weeks ago). Warner's B&W transfers and mono soundtracks are all just fine…Finally, CHALLENGE OF THE GOBOTS: The Series, Volume 1 (660 mins., 1985-86) offers Tonka's "Transformers" variants doing battle against the evil Renegades on Earth. This syndicated series followed a successful "Gobots" mini-series in 1984, and comes to DVD from the Warner Archives in a three-disc set featuring all 30 episodes, freshly remastered from the original film elements.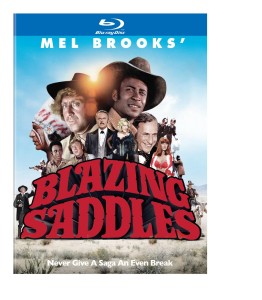 Warner Catalog Blu-Ray Releases
BLAZING SADDLES – 40th Anniversary Blu-Ray (***1/2, 93 mins., 1974, R; Warner): Mel Brooks' classic western spoof returns to Blu-Ray in a 40th Anniversary edition that's worth the upgrade for hardcore fans. Though the disc mostly reprises the supplements from its prior BD (additional scenes, Brooks' commentary, an archival featurette, the trailer, and the godawful busted TV pilot "Black Bart" with Lou Gossett, Jr.), it adds a new, half-hour featurette in "Blaze of Glory: Mel Brooks' Wild, Wild West."
This retrospective offers a fresh conversation with Brooks, discussing the film's genesis, enduring humor, and working with co-writer Richard Pryor. There are also comments from a frail Gene Wilder, recorded a year ago at 92Y in New York, and archival interview segments with Madeline Kahn from the late '80s. The piece is engaging though undermined somewhat by constantly running fragments from John Morris' original score.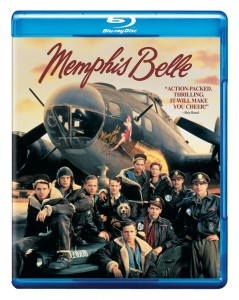 Even more significantly, Warner's Blu-Ray offers a new AVC encoding of a master that previously looked quite good in its early-format Blu-Ray appearance. With a bit of heightened detail and clarity, the movie looks better than ever, with a new DTS MA 5.1 soundtrack capping the package, which also comes with several collectible cards.
MEMPHIS BELLE Blu-Ray (**½, 107 mins., 1990, PG-13; Warner)
THE BIG RED ONE Blu-Ray (***, 113 mins., 1980, PG; Warner): Released to coincide with Memorial Day, Warner has tapped into the back catalog for a pair of war-time adventures debuting on Blu-Ray.
Samuel Fuller's "The Big Red One" follows Lee Marvin, Mark Hamill and Robert Carradine's brigade throughout WWII. This personal project for Fuller was well-received, generally, upon its release in 1980, even though Lorimar had excised nearly an hour out of it. Richard Schickel spearheaded a restoration of the picture several years ago, but alas, that "Reconstructed" version – running 162 minutes – was only produced in standard-definition. As a result, only the theatrical cut is present here in HD, with the longer, superior cut relegated to a standard def presentation. All the extras (documentary materials, etc.) are included from Warner's prior Special Edition DVD, along with a serviceable 1080p transfer and DTS MA 5.1 soundtrack (on the theatrical cut), but it's a shame no effort was made to preserve the movie's longer edit in HD years back.
"Memphis Belle," meanwhile, is an entertaining if cliche-filled look at the final mission of the B-17 bomber, with an appealing cast – Matthew Modine, Eric Stoltz, Tate Donovan, D.B. Sweeney, Sean Astin, Harry Connick Jr. and John Lithgow among them – assigned for duty under the direction of Michael Caton-Jones. With David Puttnam producing and George Fenton's fine score backing the drama, "Memphis Belle" is a pleasant, old-fashioned entertainment, though there are times during the first hour when you'd wish the picture would get off the ground – which, eventually, it does in a superior, slam-bang second half. Warner's Blu-Ray includes the trailer, a fine 1080p transfer, DTS MA 5.1 soundtrack and William Wyler's 1944 documentary "The Memphis Belle: A Story of a Flying Fortress" (Wyler's daughter co-produced "Memphis Belle" with Puttnam).
---
CALL THE MIDWIFE – Season Three DVD (547 mins., 2014; BBC Home Entertainment): Set in poverty-striken East London during the 1950s, "Call the Midwife" is a popular British series starring Jessica Raines as a young midwife working in East London. Higher rated than "Downton Abbey" in its native country, the well-reviewed "Call the Midwife" – which co-stars Jenny Agutter and was based on the memoirs of Jennifer Worth – returns to DVD in a Season 3 set boasting 16:9 transfers, 2.0 soundtracks and a behind-the-scenes featurette.
RAZE DVD (92 mins., 2013, R; IFC): Rachel Nichols and Zoe Bell star in Josh Waller's indie thriller, where two women are abducted for the purposes of joining a "fight to the death" combat competition held by a group of demented rich people. This twist on well-worn movie cliches — sort of a "Most Dangerous Game" for females — is fairly well done and certainly well acted considering its genre. IFC's DVD is filled with extras, including commentary from Waller and cast/crew members; interviews; featurettes; deleted scenes; a gag reel; the original short movie; trailers and extended fight scenes. The 16:9 (2.40) transfer and 5.1 Dolby Digital soundtrack are both fine.
TAPPED OUT DVD (108 mins., 2013, R; Lionsgate): Martial arts action dominates Allan Ungar's cut-above direct-to-video tale of a troubled former karate prodigy who decides to train for an MMA tournament after discovering his family's killer is taking part in it. Cody Hackman, Anderson Silva, and cameos from Michael Biehn and Martin Kove sell this leisurely yet well-developed story Lionsgate brings to DVD this month. The package includes a digital copy, interviews, a 16:9 (2.40) transfer and 5.1 soundtrack.
EASY MONEY [LIFE DELUXE] DVD (127 mins., 2013, Not Rated; Cinedigm): Joel Kinnaman stars in this Swedish thriller as a man, investigating the disappearance of his sister, who seeks answers from Stockholm's organized crime outfits. Matias Varela and Malin Buska co-star in Jens Jonsson's adaptation of Jens Lapidus' novel, brought to DVD this month from Cinedigm with deleted scenes, behind-the-scenes featurettes, a 16:9 transfer and 5.1 sound in either its original Swedish language (with English subtitles) or an English dubbed track.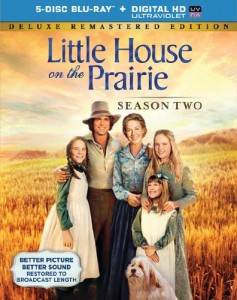 Also New From Lionsgate: LITTLE HOUSE ON THE PRARIE Season 2 (18 hours, 1975-76) continues the high-def remastering of Michael Landon's beloved, long-running NBC family drama – a free adaptation of Laura Ingalls Wilder's books. As with Lionsgate's prior Season 1 release, this is an immediate improvement from prior DVD releases of the series' early years, several of which were derived from PAL masters and/or syndicated versions. These uncut, remastered episodes look phenomenal by comparison, with DTS MA audio, Part 2 of the "Little House Phenomenon" documentary, and an Ultraviolet copy rounding out the release…IN SECRET (101 mins., 2014, R) stars Elizabeth Olsen as a Parisian woman, bound to a loveless marriage with cousin Tom Felton, who eventually falls for his friend (Oscar Isaac). Jessica Lange co-stars in this good-looking adaptation of Neal Bell's "Therese Raquin" with a decent score by Gabriel Yared. Lionsgate's DVD includes deleted scenes and commentary, a 16:9 transfer (2.40), 5.1 audio and an Ultraviolet copy.
TERRY FATOR: LIVE IN CONCERT (96 mins., 2012) unrolls nationally (it was previously available as a Walmart exclusive this past winter), offering the comedian/impressionist in concert at the Mirage in Las Vegas. Ample special features include commentary, Preshow material, a music video, 16:9 transfer and 5.1 Dolby Digital soundtrack…MISCHIEF NIGHT (88 mins., 2013, R) is the latest Lionsgate "Afterdark" video release, enabling horror fans to get a nice dose of autumnal horror in May as a teenage babysitter (Brooke Anne Smith) tries to survive the perils of October 30th. Malcolm McDowell co-stars with Lionsgate's DVD boasting a 16:9 transfer, 5.1 soundtrack and Ultraviolet digital copy...DUCK DYNASTY: DUCK DAYS OF SUMMER (88 mins., 2012-13) compiles three episodes from the A&E reality series, following the Robertsons on a Hawaiian vacation and then off to their own makeshift waterpark. Bonus extras include featurettes and an interview with Uncle Si. Lionsgate's single-disc DVD includes a 16:9 transfer and 5.1 soundtrack.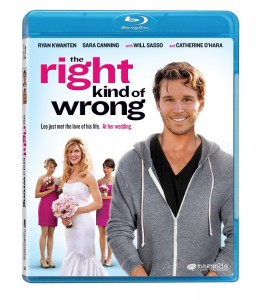 Coming From Cinedigm: John Lundberg, Mark Pilkington, Roland Denning and Kypros Kyprianou examine the U.S. government's alleged cover-up of UFOs in MIRAGE MEN (85 mins., 2014, Not Rated),a terrific documentary well worth a look for skeptics and believers alike. Available June 3rd from Cinedigm in a no-frills DVD with a 16:9 transfer and 5.1 Dolby Digital soundtrack…HITLER AND THE NAZIS (286 mins., 2011) is a sprawling documentary from editor-director Karl T. Hirsch examining the rise and eventual fall of Nazism. Historian interviews and eyewitness accounts fuel the nearly five-hour production coming to DVD from Cinedigm on May 27th in a single-disc edition with a 16:9 transfer and 2.0 stereo soundtrack.
Magnolia New Releases: Ryan Kwanten carries the likeable romantic comedy THE RIGHT KIND OF WRONG (97 mins., 2013, R) as a guy who meets the right girl (Sara Canning) on the day she's set to marry the wrong man. Jeremiah Chechik, whose previous credits include "Christmas Vacation" and "Benny and Joon" (we'll just forget about the failed "Avengers" movie), exhibits a sure hand with familiar material in a movie that's likely to entertain its intended audience. Magnolia's Blu-Ray includes a number of extras (deleted scenes, featurettes), a 1080p transfer and DTS MA 5.1 audio.
New From Impulse Pictures: Eric Edwards, Valerie Marron and Mary Stuart top line the steamy '70s sex romp THE CHAMBERMAIDS (72 mins., 1974; Not Rated), which makes its DVD debut from Impulse in a 4:3 (1.33) full-screen transfer with mono sound. Also new is HONEY BUNS (74 mins., 1973; Not Rated), James Chiara's erotic outing starring genre faves Ushi Digard and Rene Bond, likewise in a 4:3 (1.33) full-screen transfer on DVD.
NEXT TIME: Twilight Time's new releases, Shout! Factory round-up and more! Until then, don't forget to drop in on the official Aisle Seat Message Boards and direct any emails to our email address. Cheers everyone!