Twilight Time's May offerings offer another tremendous array of high-def catalog entertainment for movie buffs, with John Ford's underrated 1961 western TWO RODE TOGETHER (***, 109 mins.) leading the charge as a genre outing ripe for rediscovery.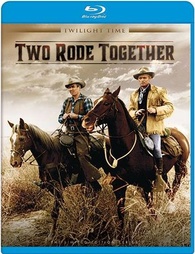 Though regarded as one of Ford's lesser vehicles – even by the director himself – this character-driven picture provides a fascinating contrast to Ford's earlier masterpiece "The Searchers." In Frank Nugent's adaptation of Will Cook's novel, cantankerous frontier marshal McCabe (James Stewart) joins forces with pragmatic calvary officer Jim Gary (Richard Widmark) in order to find whites captured by a roaming tribe of Comanches. Both men understand the small likelihood of success involved with the mission, with Stewart's marshal in particular underscoring his objections in a drunken rant to a young woman (Shirley Jones) hoping to find the brother taken from her family years before. However, with the Army's insistence and a number of families hoping beyond reason for a reunion with their abducted loved ones, Stewart and Widmark hit the trail, dealing with a Comanche leader and ultimately coming in contact with two abducted captives: a young Spanish woman named Elena (effectively played by Linda Cristal) and a white boy who's essentially grown into a fierce member of the tribe.
"Two Rode Together" has been pegged as a "cynical revisionist" western by some, though you could also make the argument it's just a realistic take on a difficult subject matter. Stewart's tirade to Jones about the "damaged goods" condition of the captives they're going to find – the torture boys would have endured, the rape and brutality endured by females – is surprisingly frank, as is the harsh treatment of the returned captives from a society that often displayed prejudice against them. When McCabe brings Elena to a ball at the film's end, it becomes less a celebration than a despicable show of intolerance, leading to a fiery speech by McCabe delivered flawlessly by Stewart to both local patrons and even Gary's fellow officers in Elena's defense.
There isn't a lot of action in "Two Rode Together," and there's one ridiculously melodramatic twist near the film's conclusion, but there is a compelling human drama at the center of the film in spite of its shortcomings. Stewart is great in a satisfying turn as McCabe – whose character arc with Elena is believably developed – and works well opposite Widmark, though the latter's romance with Jones' lovely frontier girl comes across as forced and fluffy. George Duning's score is effective if not especially memorable and the picture's cinematography is crisply rendered on Twilight Time's 1080p AVC encoded transfer. However, this wasn't one of Ford's more scenic pictures, having been shot in Texas with nondescript backdrops in place of the director's usual Monument Valley locales. Recommended viewing for western buffs nevertheless, with an isolated score track and the trailer rounding out the disc.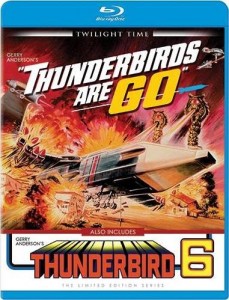 Gerry Anderson fans are sure to find Twilight Time's Blu-Ray bundling of THUNDERBIRDS ARE GO (**½, 93 mins., 1966) and THUNDERBIRD 6 (***, 89 mins., 1968, G) positively dandy: crisp, natural looking AVC encoded transfers with gorgeous color and high detail distinguish the single-disc double-feature, capturing all of Derek Meddings' brilliant technical effects and the striking use of widescreen employed in both. While the source used for "Thunderbirds Are Go" is in better shape than the occasionally faded elements of "Thunderbird 6," these are remarkably good, DNR-free transfers licensed from MGM. On the audio side, the 5.1 DTS MA soundtracks gently repurpose the original monophonic recordings for a broader sound stage, though Barry Gray's scores are still constrained and offer no stereo separation, even of the simulated variety.
Though the Anderson shows were mostly out of circulation by the time I was growing up, syndicated reruns of "Thunderbirds" were shown in America during my grade school years in the '80s. I recall watching the series when I got home from school – at least for a short while – and my mom rented both of the Thunderbirds movies on old, pan-and-scan VHS tapes at some point also.
From an adult perspective, I had a harder time getting into THUNDERBIRDS ARE GO which is quite sluggishly paced, and only comes to life when a puppet Cliff Richard shows up in a dream sequence that's hard to describe and even more jaw-dropping to actually witness! The story, though, is a bit of a slog — involving International Rescue aiding a manned mission to Mars that's been sabotaged by "The Hood" — and the movie difficult to sit through unless you have fond, nostalgic memories of the source material. On the plus side, the follow-up THUNDERBIRD 6 is more entertaining with a faster-moving plot; here, Brains is hired to design an airship that ends up being commandeered by the villainous "Black Phantom" as it travels around the world. The latter globe-trotting element enables Anderson and Meddings to utilize their miniatures in a variety of international locales, while the story – looser and with a greater sense of fun – is more appealing than its predecessor.
On the whole, these are films that are going to appeal mostly to viewers of the "Fanderson" generation. The storytelling, especially in "Thunderbirds are Go," is nearly as stiff as Anderson's marionettes, though the technical FX wizardry is something that's easy to admire and an element that's certain to endure. Particularly in this day and age where nearly everything is CGI rendered, there's something to be said for a genuine, physical "make-believe" world that was built by hand with great skill and loving attention to detail – and it's here where "Thunderbirds" still soars.
Extra features in TT's 3000-copy limited edition are bountiful, including commentaries from Nick Redman and Jeff Bond (only on "Thunderbirds Are Go") and separate, previously-released tracks with Sylvia Anderson and director David Lane; a handful of featurettes including Cliff Richard test footage; the original trailers; and, of course, isolated score tracks.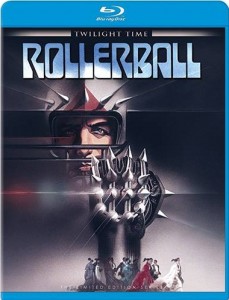 One of numerous '70s dystopian future films, Norman Jewison's ROLLERBALL (**, 125 mins., 1975, R) is only separated from the release of Ridley Scott's "Blade Runner" by a scant seven years. In terms of their cinematic language, though, this plastic and painfully simplistic take on a violent professional sport – being played in a future world run by large corporations – bears more in common with "The Brady Bunch" than Scott's groundbreaking sci-fi classic.
In a detached and seemingly disinterested performance, James Caan plays "Jonathan E," a futuristic gladiator who takes part in the bloody game of Rollerball – a cross between roller derby and football, played to throngs of fans around the globe. The corporation overseeing the contest wants the popular player to retire from the game, and when Jonathan opts not to, they begin to change the rules – making for a deadlier and even more explicitly violent contest than before. Undeterred, Jonathan stays the course, even as the game itself takes on life-threatening proportions as the "evil company" seeks to diminish the importance of individual achievement.
Sterile and cold, "Rollerball" fits right alongside its decade's "dreary future" movies like "Soylent Green" and "The Omega Man" among others. Meaning, William Harrison's story might be set in the future, but it's a world seen through the prism of the 1970s – complete with drab, uninteresting cinematography. Jewison produced a variety of memorable films throughout his career but "Rollerball" struck me as a curiously dispassionate piece of filmmaking, capped by a straightforward story that offers scant surprises. The game sequences do pack a potent visceral punch, but everything else about the movie is bland and uninteresting, with nobody to root for.
Backing up Caan are a number of familiar faces: John Houseman makes the most of his trademark "greedy businessman" role, though his part is as obvious as it sounds; John Beck essays Caan's best friend on the team; Robert Ito, Burt Kwouk and Shane Rimmer appear in small parts; Ralph Richardson essays "The Librarian"; and both Pamela Hensley (future "Buck Rogers" ingenue) and Maud Adams pop up, though the latter's appearance, despite her third billing, is essentially relegated to the final half-hour. None of the actors, though, are able to make an emotional impression on a picture that should've been appreciably more exciting given its premise, cast and director.
Aficionados of "Rollerball," at least, should still be thrilled with Twilight Time's Blu-Ray: the MGM licensed 1080p transfer crisply captures the mostly claustrophobic trappings of the picture, which mostly look as prefabbed as a '70s TV sitcom. Both the original mono audio and an effective 5.1 DTS MA remix are included, along with decent extras: two commentaries (one from Jewison, another from Harrison), featurettes, TV spots, trailers, and an isolated score track of Andre Previn's heavy-handed use of classical music.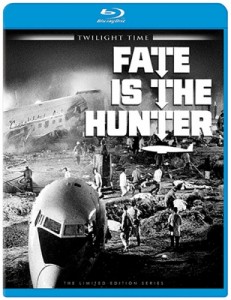 Making its Blu-Ray debut from Twilight Time after an initial DVD release from the label in 2011 is FATE IS THE HUNTER (***, 106 mins.), the 1964 chronicle of a plane crash that claims the lives of everyone save a flight attendant (Suzanne Pleshette) who has trouble reconstructing the events that took down the flight she was on, including its passengers and crew, led by captain Rod Taylor.
Glenn Ford is the determined airline investigator who painstakingly tries to reconstruct the flight's fatal moments, but runs into interference from his own co-workers, who want to blame Taylor for the crash, as well as the families of the victims seeking to find out what happened. Nancy Kwan, Jane Russell, Mark Stevens, Wally Cox and Nehemiah Persoff co-star in this matter-of-fact, absorbing thriller with a sparse (though memorable) score by Jerry Goldsmith.
Milton Krasner's B&W Cinemascope cinematography is perfectly delivered in a 1080p AVC encoded transfer with extras including a new isolated score track with commentary from Kwan and Nick Redman, the trailer, and the 2010 Kwan documentary "To Whom it May Concern: Ka Shen's Journey."
Finally, THE FIRM (90 mins., 2004, Not Rated) is Nick Love's film about a British teenager (Calum MacNab) who becomes infatuated with a soccer hooligan (Paul Anderson) and eventually joins a "firm" of fellow fans who take their "enthusiasm" for the sport to a whole other level. Love adapted Al Hunter Ashton's television play for the screen and receives fine performances from an ensemble cast. TT's Blu-Ray boasts an isolated score track of Laura Rossi's music; commentary with Love; deleted and alternate scenes; a couple of featurettes; the trailer; and both a 1080p (2.35) transfer and 5.1 DTS MA soundtrack.
---
New From Shout!
Fans of "The Bob Newhart Show" have had to wait patiently for the classic '70s sitcom to finish its run on DVD. Fox previously released Seasons 1-4 of the program some time ago, but the remaining two years of the program went unreleased – until now. Thanks to Shout! Factory, THE BOB NEWHART SHOW: THE COMPLETE SERIES arrives on DVD this week, offering all 142 episodes from the 1972-78 CBS comedy.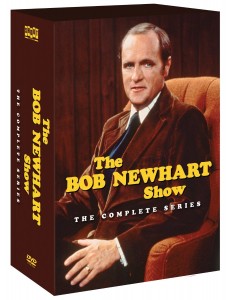 Season one of the program kicked off on a Saturday night in September, 1972, a time slot it would occupy for virtually the following six years. Newhart's Chicago psychiatrist put up with a cavalcade of crazies at work, from patients like Jack Riley's Elliot to secretary Carol Kester (Marcia Wallace), his dentist pal Peter Bonerz and pilot-neighbor Howard Borden (Bill Daily). Rounding out the ensemble and a primary element to the series' vitality was Suzanne Pleshette's perfectly pitched performance as Bob's understanding wife Emily – a splendid compliment to Newhart's subdued, wry humor. Interestingly, comedian Lorenzo Music not only co-created the series, but also co-authored the series' memorable instrumental theme song with his wife Henrietta.
Shout has compiled the entire run of the program on 12 discs along with a bonus disc of extras. A 40 page booklet also includes an enlightening retrospective into the series' history, with episode airdates and synopses included in kind. Among the extras on the bonus disc is the fascinating, alternate pilot to the series, plus a 2014 featurette, "Group Therapy," featuring Newhart, Peter Bonerz, Jack Riley, Bill Daily and Michael Zinberg, and the 1991 one-hour clip show special "The Bob Newhart Show 19th Anniversary." Highly recommended!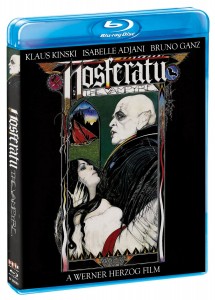 Also new from Scream Factory this month: Klaus Kinski, Isabella Adjani and Bruno Ganz star in NOSFERATU THE VAMPYRE (***, 107 mins., 1979, PG), Werner Herzog's remake of the F.W. Murnau horror milestone with Kinski resembling a particularly nasty reincarnation of Max Schreck. Mood and atmosphere dominate Herzog's picture in favor of horror and shocks, though the PG-rated film does have a disturbing ending typical of its decade. Shout's Blu-Ray includes both the German language edition of the film as well as its English counterpart, with mostly minute – though intriguing – differences between the two edits. A vintage Making Of and trailers round out the single-disc Blu-Ray, which offers a 1080p (1.78) transfer with DTS MA 2.0 stereo audio…Only the hardest hardcore slasher fans might be interested in FINAL EXAM (*½, 94 mins., 1981, R), a hackneyed and slow-going teen thriller from writer-director Jimmy Huston that also rolls onto Blu-Ray this month. Shout's new high-def transfer (1.78) looks as crisp as the source material allows with extras including commentary from cast members; interviews; the trailer; and a DTS MA mono soundtrack.
Martial Arts New Releases
MARTIAL ARTS MOVIE MARATHON DVD (Shout!): Martial arts movie buffs ought to enjoy this collection of four features produced between 1974 and '75, coming to DVD May 20th from Shout! Factory. On tap in the double-disc set are "The Skyhawk" starring Kwan Tak Hing; Liu Yung in "The Manchu Boxer"; Carter Huang, James Tien in John Woo's second film, "The Dragon Tamers"; and Byong Yu and Angela Mao Ying in "The Association." All movies are presented in 16:9 (2.35) transfers with Mandarin and English dubbed audio…Coming on June 10th from Shout! Is BUSHIDO MAN (88 mins., 2013), a Japanese martial arts thriller from director Takanori Tsujimoto about a warrior, returned from a pilgrimage across the nation, who relives his Seven Deadly Battles. Shout's Blu-Ray includes a 1080p (1.78) transfer and English and Japanese audio in DTS MA 5.1 audio.
EASTERN BANDITS Blu-Ray (107 mins., 2012, Not Rated; Well Go USA): Hong Kong western homage finds a gang of bandits saddling up to a simultaneous rescue and kidnapping mission. Well Go's Blu-Ray, out May 27th, offers Mandarin audio in DTS MA 5.1 (with English subtitles), plus a 1080p transfer of the picture.
---
DAN CURTIS' DRACULA Blu-Ray (***, 97 mins., 1973; MPI): Francis Ford Coppola must have gotten a few ideas from Dan Curtis in assembling his later "Bram Stoker's Dracula," seeing as this made-for-TV adaptation of the oft-told tale introduces both a sympathetic Count to the story's cinematic legacy as well as the character's connection with the real Vlad the Impaler – elements Coppola would reprise in his later theatrical take on Stoker's novel.
Curtis' 1973 production isn't one of the great screen Draculas, but it's nevertheless interesting and, at the time of its broadcast, was striking for its more articulate and human Count, a contrast to the prior screen portrayals by the likes of Bela Lugosi and Christopher Lee. Jack Palance hams it up occasionally but, overall, does a commendable job here as Dracula – he's certainly stronger than the movie's competent though mostly unremarkable supporting cast that includes Simon Ward, Pamela Brown, Fiona Lewis, and Nigel Davenport as Van Helsing. Curtis shot the picture with cinematographer Oswald Morris in both England and Yugoslavia – the result is a production bereft of gothic atmosphere (you can virtually see the glue on the fake cobwebs in Dracula's "castle," which looks more like a European B&B!), but still an entertaining version that was fresh for its day. Richard Matheson's script also enhances Dracula's interest in Lucy (Lewis) – he believes her to be the reincarnation of his lost love (another element Coppola re-used in his 1992 film) – while adhering more faithfully to the book than any prior Stoker adaptation had up until that time.
MPI's Blu-Ray of the '73 "Dracula" is grand: the 1080p transfer, newly minted from a European theatrical print (with brief bits of added gore cut for TV), is exemplary for its top detail and unadulterated, film-like appearance. The DTS MA mono audio is fine, and extras include several minutes of previously unreleased silent outtakes (in HD), a comparison between the European theatrical print and the CBS TV broadcast, along with brief archival interviews with Curtis and Palance from the '90s laserdisc release, and the overseas theatrical trailer. Recommended!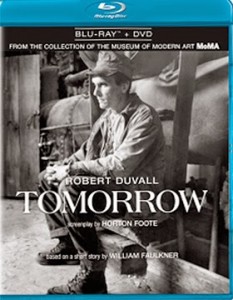 TOMORROW Blu-Ray/DVD (***, 103 mins., 1971, Not Rated; B2MP): Robert Duvall's performance as a Mississippi farmer who becomes involved with an abandoned – and pregnant – woman is the main reason to check out this gritty, independently financed adaptation of a William Faulkner story. Adapted by Horton Foote from his own stage play, "Tomorrow" follows Jackson Fentry (Duvall) as he comes to care for a young woman (Olga Bellin) left by the father of her unborn child. Fentry's stoic demeanor houses a genuine emotional compass, particularly when he's left to care for her son when she dies – setting up a situation that grows more tragic as the film progresses.
Duvall is excellent as a man of few words in a low-budget film directed by Joseph Anthony and shot on location in rural Mississippi. The story is slow-going at times, but "Tomorrow" is still an interesting piece that works as a showcase for its leading man, who has called the picture one of his favorites.
B2MP's Blu-Ray/DVD combo pack boasts a 1080p (1.78) AVC transfer that offers added clarity over its standard-def counterpart, though it can only do so much to overcome the imperfections of its source material. A mono soundtrack and the original trailer rounds out another great B2MP release available through the company's website here.
SMALL TIME Blu-Ray (***, 95 mins., 2012, R; Anchor Bay): "24″ co-creator Joel Surnow wrote and directed this agreeable, nicely performed story of a used car dealer (Christopher Meloni) who takes charge of his son (Devon Bostick), who's just graduated frm high school, and tutors him in the art of aggressively pushing product as only he can. Though peppered with some salty language, "Small Time" is a warm, family-oriented drama with fine performances from Meloni and Dean Norris as his friend and fellow salesman. Shot in 2012 and just making its Blu-Ray debut from Anchor Bay, "Small Time" comes to disc offering a commentary from Surnow, Meloni and Norris, a 1080p transfer (1.78) and 5.1 Dolby TrueHD audio. A little movie that's worth seeing, especially if you're a fan of the actors involved.
GAMBIT Blu-Ray (**, 89 mins., 2012, PG-13; Sony):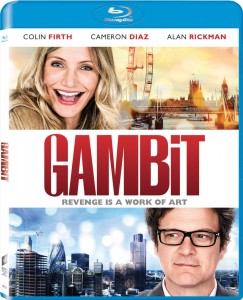 Lackluster remake of the Michael Caine-Shirley MacLaine '60s vehicle proved to be a bust despite the screenwriting efforts of Joel and Ethan Coen. Writing a rare script they had no intention of directing themselves, the Coens' typical sharp writing is rarely on display here, with Colin Firth playing an art curator who tries to put a con over on his entrepreneur boss (Alan Rickman) with the help of a rodeo star played by Cameron Diaz. Firth and Diaz fail to ignite sparks, the direction of Michael Hoffman is leaden, and the whole enterprise all too obviously deserving of its direct-to-video status. Sony's Blu-Ray release of the CBS Films release, which was completed in 2012, offers a fine 1080p (2.35) transfer and 5.1 DTS MA audio.
THE NEW ADVENTURES OF SUPERMAN Seasons 2 & 3 DVD (225 mins., 1968; Warner): The remaining episodes from the fan-favorite Filmation series hit DVD at long last (it's been years since the prior release), offering the first animated adventures of Superman, Lois and company since the Max Fleischer classics. Here, the Man of Steel does battle against Lex Luthor, Brainiac and Toyman, in 32 episodes from the late '60s CBS series. Full-screen transfers and mono soundtracks comprise Warner's two-disc DVD set (available June 3rd).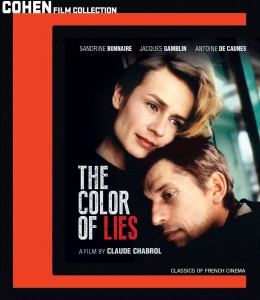 THE COLOR OF LIES Blu-Ray (103 mins., 1998, Not Rated; Cohen Film Collection): Claude Chabrol's 1998 film revolves around the death of a young girl in a fishing village in northwest France. While the script, by Odile Barski and Chabrol, trots out a number of possible suspects – from Jacques Gambin's unsuccessful painter to his wife, played by Sandrine Bonnaire, who's attracted to a TV journalist (Antoine de Caunes) – with a new, dedicated small-town sheriff (Valeria Bruni Tedeschi) on the hunt, Chabrol is more concerned with relationships than the usual conventions of mystery-thrillers. Cohen's Blu-Ray release of the picture – one of the most acclaimed from Chabrol's late career – offers a commentary from critics Wade Major and Andy Klein, plus a 2014 re-release trailer, a 1080p transfer, and 2.0 LPCM audio in French with English subtitles.
WEEKEND OF A CHAMPION DVD (94 mins., 2012, Not Rated; MPI) offers a look back at the relationship between filmmaker Roman Polanski and champion race car driver Jackie Stewart. The duo had filmed a 1971 documentary, "Weekend of a Champion," back during Stewart's heyday, and this new release – presented by Brett Ratner – offers the original film along with a new postscript. MPI's DVD offers the trailer, a 16:9 (1.78) transfer and 5.1 Dolby Digital soundtrack.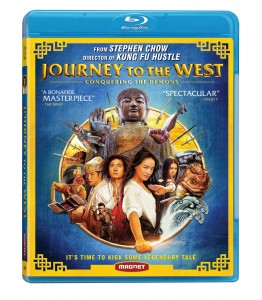 JOURNEY TO THE WEST Blu-Ray (110 mins., 2013, PG-13; Magnolia): Stephen Chow's latest wild fantasy sends a young demon hunter on a quest to defeat a water demon, pig demon and the "demon of all demons," Sun Wukong. An interesting mix of action, comedic elements, and outlandish visuals typical of its director, though with decidedly more regional appeal than some of Chow's past works. Magnolia's Blu-Ray of "Journey to the West" arrives this week offering a number of featurettes, a 1080p transfer, and either Mandarin 5.1 DTS MA audio (subtitled) or an English dubbed track.
PARTS PER BILLION Blu-Ray (98 mins., 2013, R; Millennium Entertainment): Frank Langella, Gena Rowlands, Rosario Dawson, Teresa Palmer, Penn Badgley and Josh Hartnett star in Brian Horiuchi's moody drama centering on three couples right before a bio-engineered pandemic spreads over the world and threatens humanity itself. Pretty depressing, downbeat stuff with talented performers stranded in an unappealing set of characters. Millennium's Blu-Ray debuts June 3rd offering a 1080p transfer with 5.1 Dolby TrueHD audio.
---
CIMARRON STRIP: The Complete Series DVD (27 hours, 1967-68; E One): The last 90-minute network TV western, "Cimarron Strip" was an expensive series that ran for only one season on CBS in the late '60s. A colorful chronicle of frontier marshal Jim Crown (Stuart Whitman), the series followed Crown – and a much-criticized, weak supporting cast – as he patrolled the border region between Kansas and Indian Territory in 1888, running into all kinds of friends and foes in the process. With theme music composed by Maurice Jarre (Bernard Herrmann also scored the memorable Harlan Ellison-written episode "Knife in the Darkness"), it's no wonder "Cimarron Strip" was one of the costliest series of its time – and due to its budget and just moderate ratings, the program was axed at the end of its one and only season. Western fans, though, should be pleased with E One's box-set of the complete series, available this week and offering the entire run of the program (23 episodes) spread across eight DVD discs with 4:3 color transfers and mono soundtracks.
RAWHIDE: Complete Season 8 [Final Season] DVD (aprx. 11 hours, 1965; CBS): Rowdy Yates is back, leading a 3000-strong herd of cattle over the fruited plain in the eighth and final season of "Rawhide" starring Clint Eastwood, now running the show solo (star Eric Fleming departed the series over contractual issues, taking the Gil Favor character with him). With the show canceled midway through its eighth season, CBS' four-disc set includes the final 13 episodes from the long-running, classic western series: Encounter at Boot Hill, Ride a Crooked Mile, Six Weeks to Bent Fork, Walk into Terror, Escort to Doom, Hostage for Hanging, Vasquez Woman, Clash at Broken Bluff, Duel at Daybreak, Brush War at Buford, The Testing Post, and Crossing at White Feather. The 4:3 B&W transfers and mono soundtracks are on par with prior DVD volumes of the series.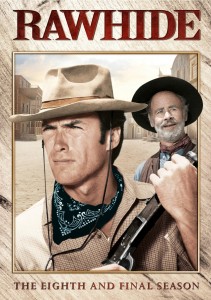 PERRY MASON MOVIE COLLECTION Double Features (CBS): CBS has already released a pair of deluxe box-sets from the '80s and '90s NBC TV-movies, with Volume 1 debuting in January and Volume 2 having landed a couple of weeks back.
For those who didn't want to commit to the price tag of those sets, a trio of low-priced Perry Mason Movie double features (around $15 in many outlets) hit stores from CBS in early June. Double Feature 1 offers Perry Mason Returns and The Case of the Notorious Nun; Volume 2 includes The Case of the Lost Love and The Case of the Shooting Star; and Volume 3 lands with The Case of the Murdered Madam and The Case of the Sinister Spirit. Stereo soundtracks and 4:3 transfers comprise each single-disc release.
New from Lionsgate: THE UNIVERSE Season 7 (176 mins., 2014) includes four new episodes from the History Channel series: Stonehenge, Pyramids, Heavenly Destruction, and Star of Bethlehem, all in 1080p transfers and 5.1 DTS MA audio. The Blu-Ray presentation is top-notch, and recommended for fans of the series.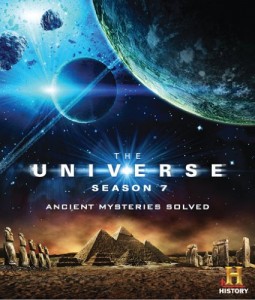 THE MOTEL LIFE Blu-Ray (85 mins., 2014, R; Cinedigm):Profoundly sad, if extremely well-acted, story of two brothers – played by Emile Hirsch and Stephen Dorff – who travel from motel to motel in the Sierra Nevadas, mostly drinking away their depression. Ultimately, the older brother (Dorff) kills a child in a hit-and-run accident, sending the duo on the run from the law and into the arms of Hirsch's old flame (Dakota Fanning). Alan and Gabriel Polsky's picture is well-shot and performed, but it's an endlessly, almost exhaustively downbeat picture. Cinedigm's Blu-Ray includes a featurette, illustration gallery, the trailer, a 1080p transfer and 5.1 DTS MA soundtrack.
AMERICAN MADE MOVIE DVD (84 mins., Virgil Films): Nathaniel Thomas McGill and Vincent Vittorio directed this documentary about the decline of American manufacturing and the urgent need to keep as many jobs in the country as possible. Virgil's DVD offers deleted scenes, the trailer, a 16:9 transfer and 5.1 Dolby Digital audio. A Blu-Ray combo release is also available.
NEXT TIME: JACK RYAN, NON-STOP, LONE SURVIVOR and more! Until then, don't forget to drop in on the official Aisle Seat Message Boards and direct any emails to our email address. Cheers everyone!