For a ten-year-old back in 1985, Stephen King movies – which were flooding multiplexes every few months – were just a little bit out of reach. Their R-rated horror made them the kind of thing most of us elementary school kids didn't get to see back in the day, though every now and then, you might be able to attend a birthday party where someone's lenient Dad would rent a VHS of, say, "Christine" or "Children of the Corn," damaging our sleep patterns for days to come.
One King movie, though, proved to be more "acceptable" for pre-teens than the rest: the PG-13 rated CAT'S EYE (***, 94 mins.), which opened in the Spring of 1985 and marked King's first filmed screenplay by the author himself. By the time it was released on VHS (on CBS/Fox's "Key Video" label), most of us in the 5th grade latched onto it as one of the few King movies that parents would be OK renting for their older kids (even today, it remains one of the only adaptations of the author's material that didn't receive an R rating).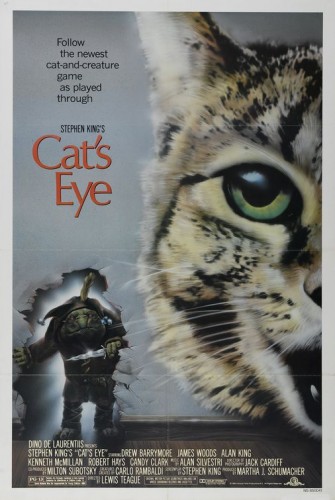 I watched "Cat's Eye" for the first time in years after I imported Pulp Video's Italian Blu-Ray release, and I was surprised at how well the picture holds up – not just as a piece of nostalgia, but as one of the better King movies altogether, particularly from that era.
Dino De Laurentiis had already produced "The Dead Zone" and "Firestarter" from the author's works when he coaxed King to write an original anthology for the screen – a sound concept since genre anthologies were all over the place back in the mid '80s (King's film "Creepshow," "Twilight Zone: The Movie" and its subsequent TV revival on CBS, "Amazing Stories" and "Alfred Hitchcock Presents" on NBC, and "Tales From the Darkside" in syndication). Two stories – "Quitters, Inc." and "The Ledge" – were adapted from the author's bestselling "Night Shift" collection, and a third ("General") was expressly written for the film. There are reports King also wanted to use "Sometimes They Come Back" as a fourth story in the picture, but the producer persuaded him to save it for later (it became a CBS TV-film produced by De Laurentiis in 1990).
The resulting movie, shot in North Carolina (as most of De Laurentiis' films were in the '80s), was directed by "Cujo"'s Lewis Teague and uses the adventures of a quick-thinking, resourceful feline as a link between the segments.
"Quitters, Inc." opens the film with a bang, as it follows a smoker (James Woods) who tries to kick the habit, but receives more than he bargained for when he signs onto a company presided over by a mafia-type (Alan King) who tells Woods' Dick Morrison that they'll be watching Morrison's every move. Not only that, but if Morrison so much as raises a cigarette, both the safety of his wife and child will be threatened.
This segment of the picture is well-made, darkly funny and well-executed by the entire cast. Woods is terrific as the everyman caught up in an unbelievably nightmarish scenario for any smoker, and the use of the Police's "Every Breath You Take" serves as an amusing commentary on the plot (the song is later reprised in "General" quite effectively as well). The recently passed James Rebhorn can be seen in an early role as one of Woods' friends at a party, and Drew Barrymore – fresh off starring in "Firestarter" – makes the first of her several appearances in the picture as Woods' daughter.
The second tale in King's trilogy, "The Ledge," isn't quite as much fun, but it's still an entertaining tale of an Atlantic City crime boss (Kenneth McMillan) who decides to get his revenge on the younger tennis pro (Robert Hays) who's about to run away with his wife (Patricia Kalember). McMillan plants heroin in Hays' car, and informs him that he'll call the police – unless Hays can walk the ledge of their building, complete with gothic architecture and a stubborn pigeon who provides the story with its ultimate resolution.
Adeptly utilizing optical effects, miniatures and forced perspective, this is the most impressive visual segment in "Cats Eye." Credit goes out to the great cinematographer Jack Cardiff, who shot the picture in scope and provides the pre-CGI visuals with a sense of realism, heightening the tension in King's straightforward story.
King shifts to the supernatural for "General," the movie's grand finale directly involving our feline star, who hitches a train ride to Wilmington, N.C. and arrives on the doorstep of little girl Drew Barrymore and her parents (Candy Clark, James Naughton). While Mom worries about the old wives' tale of a cat stealing a child's breath, it turns out Barrymore's fears that a little monster lives in her walls are based in reality – and it's not just any little critter, but a tiny troll (designed by E.T.'s Carlo Rambaldi, voiced by veteran Frank Welker) who wants to steal Drew's lifeforce away. Making matters worse, our hero is initially framed for the death of Barrymore's pet bird and banished to death row at the animal shelter. Luckily, "General" breaks free and takes on the creature in a satisfying ending with superb visual FX.
At just over 90 minutes, "Cat's Eye" doesn't overstay its welcome and manages to be a lot of fun without the gore inherent in most Stephen King films. It's also witty and quite funny in places, offering a handful of King in-jokes (including cameos by Cujo and Christine), a surprising amount of black comedy and recurring themes (especially that cover of "Every Breath You Take") connecting the contrasting nature of the individual stories. It looks great – again, kudos to Cardiff and Teague for exploiting the wide JDC Scope frame – and Alan Silvestri's electronic score has a few "Back to the Future"-like flourishes that pop up whenever the cat springs into action. There's also an insanely catchy end credits song, performed by the Village People's Ray Stevens, that regrettably didn't make it onto Varese's old LP release (but will on that expanded soundtrack CD we're eventually going to see – right?!?).
For that reason, it's no surprise the movie was better received than most of King's '80s films (outside of "The Dead Zone," most critics panned the lot of them), with Roger Ebert giving the film "thumbs up" and Leonard Maltin tabbing the picture with a solid 3-stars in his Video Guide. One of the last De Laurentiis films to be produced before his short-lived DEG studio went into action, "Cat's Eye" was released – like Dino's "Red Sonja" – through MGM/UA in April of 1985 and generated a modest $13 million domestically (on a $7 mil budget).
Though the movie fared well on home video over the years, it's currently out of print in the U.S. Warner Home Video issued a DVD in 2002 offering a commentary by Lewis Teague, who discussed footage that was cut from the movie's prologue among other tidbits.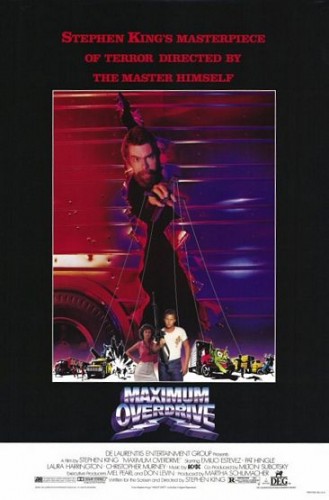 I imported the Italian Blu-Ray from Amazon's Spanish site (either amazon.es or amazon.it will do the trick) along with the same label's Blu-Ray of King's infamous, one-and-only directorial outing, "Maximum Overdrive." Both films were licensed through Studio Canal and "Cat's Eye," at least, looks excellent in a DNR-free, natural looking 1080p AVC encode. The print shows some wear and tear, and likely would be in healthier condition if released in the U.S., but it's still an appreciable enhancement over Warner's DVD, and really enhances Cardiff's stylish work on the picture. The Dolby Stereo sound is encoded as a plain 2.0 Dolby Digital track, but it's unlikely the film would really benefit from a DTS MA mix (only the music and assorted effects have any kind of stereophonic presence).
Pulp Video is a bit of a strange outfit, it seems, as the trailers included on their discs look like they've been taken off of Youtube and smoothed over with noise-reduction. What's more, the quality of their transfers vary wildly ("Maximum Overdrive" is superior to its out-of-print DVD as well, but looks as if it's been culled from an ancient high-def master, offering little in the way of enhanced detail). Still, they've been taking chances releasing some interesting Universal titles – like Steve Martin's "Dead Men Don't Wear Plaid" and Sylvester Stallone's "Paradise Alley" – in HD that are unlikely to appear anywhere else, so their efforts haven't gone unnoticed by movie buffs.
"Cat's Eye" didn't do gangbusters at the box-office, but it did heavily outgross MAXIMUM OVERDRIVE (*½, 97 mins., 1986, R) which reunited De Laurentiis and King the following year. I have fond memories of seeing "Maximum Overdrive" in theaters – it was one of the first R-rated films I was allowed to see, thanks to my friend's movie-buff dad, George Coombs, who reviewed movies on WKRI-AM in Warwick, RI. Mr. C received free passes to the local theater chains (General Cinema and Showcase), which allowed us to see loads of films together during my formative years, and "Maximum Overdrive" was – along with "Witness" and "Aliens" – one of my earliest R-rating movie-going experiences.
Regrettably, "Maximum Overdrive" hasn't aged into the guilty pleasure one would've hoped for. While the picture does include some fleetingly hilarious moments in its first-half hour as "the machines" first stage their revolt against the world (resulting in the unforgettable moment when a soda machine wipes out an entire little league team!), it soon settles into a tedious, character-driven drama with Emilio Estevez leading a group of unappealing survivors holed up in a North Carolina gas station. This part of the film is nearly as much fun as hanging out in an actual rest area along I-95.
While the latter ended King's filmmaking career as soon as it started, it makes for an interesting double-bill with "Cat's Eye," seeing as it gets wrong nearly everything the latter does right. With a smart script and an inviting trio of stories, it's one of the best anthology films of its era – superior to the likes of "Twilight Zone: The Movie" and King's own "Creepshow" – and a trip back to the '80s that's certainly worth taking.