www.andyfilm.com (new columns debut here first!)
email: mailbag @ andyfilm.com (remove spaces!)
Message Board (open 24 hours!)
Twitter - @andredursin (for everything else!)
Kicking off this month's Twilight Time releases is a splendid Blu-Ray of REMO WILLIAMS: THE ADVENTURE BEGINS (121 mins., 1985, PG-13).Regrettably, the "Adventure" for Remo began and promptly ended with this big-budget Orion adaptation of the popular "Destroyer" novels by Richard Sapir and Warren Murphy, here adapted by veteran James Bond series writer Christopher Wood ("The Spy Who Loved Me") and director Guy Hamilton ("Goldfinger").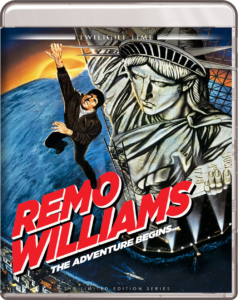 Fred Ward plays the title character, a NYC cop – left for dead – who undergoes plastic surgery and becomes a super-hero tutored in the ways of the martial arts by Korean master Joel Grey (under lots of make-up in a terrific performance). Remo's job is to stop a ruthless billionaire bent on taking over the world — in other words, your typical '80s bad guy – but the real sparks are provided by Grey's sage, all-knowing combat instructor, who spars with our hero in a handful of memorable training sequences.
Powered by Craig Safan's thunderous, rousing score, "Remo Williams" is a standard '80s action movie that remains memorable because of the performances of – and interplay between – Ward and Grey. They fit so perfectly together as a crime-fighting tandem that it's a shame future installments weren't made (a failed TV pilot did surface in 1987 with Roddy McDowall in the Grey role), even if its pedigree suggested more of a sensational ride.
Twilight Time has outdone themselves with this Blu-Ray, producing their largest array of special features to date. These include exclusive interviews with producers Larry Spiegel and Judy Goldstein ("Unarmed and Dangerous: Producing 'Remo Williams'"); production designer Jackson DeGovia ("Balance of Power: Designing 'Remo Williams'"); composer Craig Safan ("Assassin's Tune: Composing 'Remo Williams'"); a brief interview with Joel Grey ("Secrets of Sinanju: Training 'Remo Williams'"); and Devin Murphy, son of the late novelist Warren Murphy, who talks about his father's books and the resulting film version. There's also a full isolated score track, promo still gallery, the trailer, and a new commentary by Eddy Friedfeld, Lee Pfeiffer and Paul Scrabo that's both entertaining and also more critical of the film than other talks I've heard by this group in the past. The attractive 1080p (1.85) transfer and 2.0 DTS MA stereo soundtrack are above the norm for an MGM licensed catalog presentation.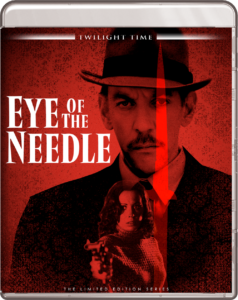 My favorite release this month from Twilight Time is EYE OF THE NEEDLE (111 mins., 1981, R), the superb UA adaptation of Ken Follet's bestseller starring Donald Sutherland as a ruthless German spy who gains pertinent information regarding the Allied invasion of Normandy. After getting shipwrecked on Storm Island en route to delivering the information to a U-Boat, Sutherland's "Needle" comes across a lonely, frustrated wife (Kate Nelligan) of a would-be British fighter pilot (Christopher Cazenove), who was paralyzed in an accident on their wedding day.
A tasty potboiler that's equal parts WWII espionage thriller and a strong character study of broken dreams on the part of both its heroine – and anti-hero – "Eye of the Needle" was directed by Richard Marquand in an effort that reportedly led George Lucas to hire him for "Return of the Jedi." Marquand worked from a script by Stanley Mann, which takes sufficient time establishing its characters so that when the dramatic fireworks take hold in the film's second half, the viewer really feels a palpable sense of tension as the film progresses to its conclusion.
The performances, of course, are also a big reason for the picture's effectiveness. Sutherland is steely and crisp in a villainous turn, though he expresses enough humanity at times that you can see why he becomes an outlet for Nelligan's pent-up disappointment. Nelligan, meanwhile, is spectacular in a performance both sympathetic and sultry, and all of the action is backed by Alan Hume's cinematography of the movie's location shooting on the Island of Mull, off Scotland's west coast, and Miklos Rozsa's superb dramatic score.
Twilight Time's Blu-Ray is culled from a standard MGM licensed transfer that's solid if a bit aged in its appearance. The 1080p (1.85) image is a bit noisy in places but still offers an appreciable upgrade from DVD, while the DTS MA mono sound is passable. Extras include a stereo isolated score track, the trailer, and a genial commentary with Nick Redman, Julie Kirgo and Jon Burlingame. Fans should note this print of the film includes the film's shorter ending – the longer alternate ending, which offers an enhanced stage for Rozsa's score, was included in European MGM DVD releases.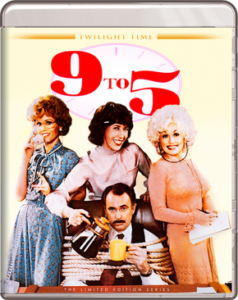 Another strong Twilight Time Blu-Ray release this month is 9 TO 5 (109 mins., 1980, PG), Colin Higgins' feminine empowerment fantasy about three office workers (Jane Fonda, Dolly Parton, Lily Tomlin) who decide to give obnoxious boss Dabney Coleman a taste of his own medicine.
Higgins and Patricia Resnick's script has the feel of a sitcom from the era, with some slapstick laughs mixed into its satiric brew (gotta love the animation when Tomlin dons the Snow White outfit), but its point – even if it's an obvious one – was well taken and certainly devoured by audiences, who helped the movie gross over $100 million (a large lump of cash in those days) and become one of the top hits of 1980.
Twilight Time's Blu-Ray springboards off Fox's earlier DVD Special Edition, adding new extras including a commentary with writer Patricia Resnick discussing the film with Nick Redman and Julie Kirgo, plus an isolated score track of Charles Fox's soundtrack. Also included, mostly reprieved from the Fox DVD, are a half-hour 2006 documentary that incorporates then-new interviews with all the stars and producer Bruce Gilbert; an engaging commentary track with the three leading ladies and Gilbert; a featurette remembering Higgins; 10 deleted scenes, running over 10 minutes, with additional animation from the Snow White sequence; a gag reel; a karaoke sing-along version of Parton's theme song; vintage Dolly and Fonda interviews; and the original trailer. The 1080p (1.85) transfer is quite good, offering as much detail as the sometimes "plastic" look of the film allows. On the audio side, the "expanded" 2.0 DTS MA stereo track has the edge on the original 1.0 mono mix, which is also included.
A pair of very different Charles Bronson films are also a part of TT's recent releases.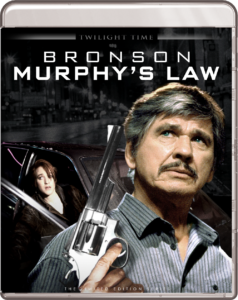 FROM NOON TILL THREE (99 mins., 1976, PG) was a change of pace vehicle for Bronson – an offbeat western comedy (of sorts) with the star playing an outlaw who meets, and promptly beds, a widow (Jill Ireland). The ensuing fallout from their escapade – particularly after bank-robber Bronson is imprisoned – becomes the stuff of dime-store legend in a strange film from Frank D. Gilroy, who directed and adapted his novel for this United Artists release – one that at least allows Bronson to give an atypically easy-going, charismatic performance. The story, though, is a bit all over the map, attempting to balance comedy, romance, western action and a dissertation on myth-making and doing none of them especially well. Elmer Bernstein's score is isolated with some effects in Twilight Time's Blu-Ray along with a fine MGM licensed 1080p (1.85) transfer, the trailer, and 1.0 DTS MA mono sound.
Though more formulaic in its construction, there's more entertainment to be found for Bronson fans inMURPHY'S LAW (100 mins., 1986, R), one in an endless stream of cop-thrillers Bronson produced for Golan-Globus and director J. Lee Thompson in the '80s. This one, thankfully, stands out a bit from the crowd, thanks to Kathleen Wilhoite's debut performance as a streetwise thief who becomes (literally) attached to cop Bronson while he's forced on the run after a psycho (Carrie Snodgress) starts exacting revenge for his role in her being put behind bars. The mob and crooked cops are also hot on his trail in an effective outing that really works through the chemistry of Bronson and Wilhoite, suggesting that many of Chuck's sleepy later vehicles (especially those made after "Murphy's Law") may have been enlivened by pairing him with a younger lead. As it is, "Murphy's Law" is at least superior action fodder for Bronson fans, and TT's Blu-Ray enhances the presentation (1080p 1.85 transfer, 1.0 DTS MA mono sound) with a commentary with the bubbly Wilhoite and Nick Redman, detailing her work on not just this picture but her entire career. The trailer and an isolated score track of Marc Donahue and Valentine McCallum's standard '80s score are also on-hand.
Finally, TT welcomes one of director Sydney Pollck's most critically lambasted efforts, the 1977 dramaBOBBY DEERFIELD (124 mins., 1977, PG), to Blu-Ray for the first time. Pollack's European-set melodrama offers gorgeous Henri Decae cinematography of assorted Italian, French and Swiss locales, a very pleasant Dave Grusin score (still unreleased on CD), and the teaming of then-couple Al Pacino and Marthe Keller in a script by the usually reliable Alvin Sargent. In fact, "Bobby Deerfield" has everything going for it except a flaccid and unappealing story, as Formula One driver Pacino falls for Keller's dying heroine, leading to a couple of superbly-shot racing sequences that briefly interrupt a romance that can best be described as limp. A production between Columbia and Warner Bros., "Bobby Deerfield" quickly became one of Pollack's few flops, though it's not without its positive attributes, from its technical aspects to a couple of strong scenes with Pacino and Keller – there just aren't enough of them.
There's no question how phenomenal "Bobby Deerfield" looks on Blu-Ray, at least. The Sony-licensed 1080p (2.35) transfer is marvelously colorful and detailed, and a wealth of sound options are on-hand in 5.1 and 2.0 DTS MA stereo along with 1.0 DTS MA mono mixes. The trailer, an isolated score track, and commentary with Pollack is included – the latter recorded in 2008 but only included previously in certain European DVD editions.
---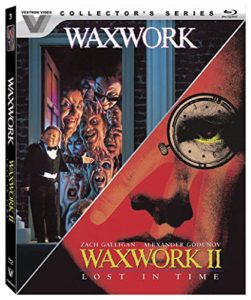 Halloween Horrors
Director Anthony Hickox was a relatively hot commodity for a short while on the horror genre front in the late '80s, thanks to a pair of highly enjoyable outings: WAXWORK (***, 97 mins., 1988, Unrated) and the even more playful WAXWORK 2: LOST IN TIME (**½, 104 mins., 1992, R), both of which debut on Blu-Ray as part of Lionsgate's new limited-edition "Vestron Video Collector's Series." The original 1988 "Waxwork" stars Zach Galligan ("Gremlins") and Deborah Foreman ("Valley Girl") as college students who become lost in David Warner's wax museum, where the various set pieces come to life, claiming unsuspecting victims who become part of "the show."
This means co-star Dana Ashbrook ends up being stalked by the Wolfman; the lovely Michelle Johnson ("Blame It On Rio") is consumed by Dracula (Miles O'Keefe); and Galligan ends up in a "Night of the Living Dead" nightmare. Hickox's formula is simple but it makes for a highly entertaining movie that has aged extremely well – the top notch make-up effects might be enjoyably gory (and are seen here in their full unrated form), but the film's sense of humor is effective without being overly silly. Production values – including Roger Bellon's still-unreleased score – are high for a Vestron production that became a big hit on home video, especially for those of us in middle and high school who became fans of the movie in the heyday of VHS.
So popular did the film become that a surprise sequel was produced several years later. Zach Galligan returns in "Waxwork II" though Deborah Foreman was replaced by model Monica Schnarre, apparently due to Foreman's off-screen break-up with the director. That's not the only thing that's changed: this freewheeling sequel abandons the central concept of waxworks altogether as it pieces together a story wherein Schnarre's heroine is accused of murder, and has to head back into various "alternate universes" along with Galligan to find evidence that she's not the one responsible.
This enables Hickox to once again offer up a series of film parodies that range from quite effective – a B&W send-up of "The Haunting" with cameos from Bruce Campbell, Marina Sirtis and Sophie Ward – to lame (a hackneyed riff on "Alien"). The worst section of the film sends Schnarre off to a medieval kingdom where she becomes the prisoner of the evil Lord Scarabis (Alexander Godonov), who's plotting to take over the kingdom from an aging king (John Ireland).
Bob Keen returned to produce the make-up effects for "Waxwork II," which went into production after Hickox's superior vampire-western "Sundown" became a victim of Vestron's financial woes. However, the sequel was produced on literally a fraction of its predecessor's budget – Hickox says roughly 25% in his commentary – and it shows: everything from the creatures to the music (Bellon's orchestral score was replaced with a poky electronic soundtrack by Steve Schiff) were impacted by the threadbare production. Hickox's script doesn't even match up with the original in terms of characterizations, as Galligan seems to be playing Billy Peltzer from "Gremlins" and not the stuck-up rich boy of the original (to say nothing of Schnarre, who doesn't resemble Deborah Foreman in looks or personality). The slack pacing doesn't help either, as a good 10-20 minutes could have been jettisoned, especially from the drab "medieval" portion of the movie.
That said, "Waxwork II" is still fun if expectations are dialed back, with Hickox throwing in "the kitchen sink" in an effort to make the slender budget appealing –there's even a rap video with the cast and crew over the end credits!
Again, both movies were hot rentals for those of us in high school back in the day, and Lionsgate's Blu-Ray treats both films to their first-ever widescreen presentations on home video. The remastered 1080p (1.85) transfers are, predictably, massive upgrades on their VHS and full-frame DVD editions, with strong color and detail present. The original "Waxwork" fares better than the sequel, which offers a comparatively drab appearance in keeping with its slender budget. 2.0 DTS MA soundtracks, meanwhile, preserve the original stereo soundtracks for both pictures.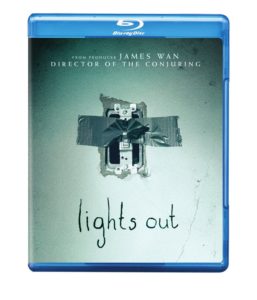 Extras in the double-disc Blu-Ray include a full documentary on the production of both movies, including comments from Hickox and Galligan, who also provide humorous commentaries on each platter. Isolated score tracks with composer interviews are also on-hand on each disc as well, while trailers and vintage EPK materials, including a half-hour on-set documentary, complete the most satisfying Vestron Blu-Ray yet from Lionsgate.
The label would be wise to target Hickox's "Sundown: The Vampire in Retreat" – with its widescreen lensing, attractive cast and great Richard Stone score – as a possible candidate down the road as well.
LIGHTS OUT Blu-Ray (**½, 81 mins., 2016, PG-13; Warner): Decent little chiller – which did well at the box-office last summer – stars Teresa Palmer stars as a young woman whose troubled mother (Maria Bello) has a "relationship" with the ghost of a girl who had a strange sensitivity to light. Producer James Wan of "The Conjuring" pictures has packaged an entertaining PG-13 thriller packed with some effective jump scares, though there's not a whole lot to the story and it feels as if director David F. Sandberg runs through every possible way to exploit the central scenario by the film's end. Warner's attractive Blu-Ray includes a 1080p (2.41) transfer, extremely effective 5.1 DTS MA sound, deleted scenes, and a Digital HD copy.
---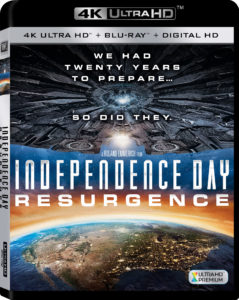 4K New Releases
INDEPENDENCE DAY – RESURGENCE 4K Ultra HD/Blu-Ray Combo Pack (**½, 120 mins., 2016, PG-13; Fox): The latest trip down Sci-Fi Memory Lane finds those damned extraterrestrials returning to Earth to finish what they started in 1996 – back when director Roland Emmerich's "Independence Day" became one of the most popular films of the decade. Twenty years later, the long lines have dissipated, along with most of the enthusiasm among movie-goers faced with yet another belated re-quel (part remake, part sequel) that at least carries its predecessor's sense of humor along with it.
To his credit, Emmerich – reuniting here with long-time producing partner Dean Devlin for the first time since "The Patriot" – has cobbled together an agreeable enough continuation set in a bizarre "alternate Earth" where the countries of the world have united since extinguishing the initial threat, and alien tech has made things like space conquest and intercontinental travel a piece of cake.
Scientist Jeff Goldblum is now working in a high-level cabinet position for current president Sela Ward, while old Pres Bill Pullman is haunted by visions of aliens past – or is it present? The arrival of a new extraterrestrial ship immediately sends off a mental signal to Pullman's Thomas Whitmore, while military commander William Fichtner leads a squadron of young hotshots into orbit to combat the menace. These include Thor's brother, Liam Hemsworth, as well as his estranged buddy Jessie Usher, playing the son of Will Smith, whose now-deceased character makes a number of cameos…in a photograph. While "the kids" take the fight directly to the skies, more fun is had on the ground in Area 51 where Goldblum's character partners with a former flame/colleague (Charlotte Gainsbourg) and Brent Spiner's returning Dr. Brakish in trying to crack an enigmatic sphere and decipher a message that may just be from a different group of aliens altogether.
"Independence Day: Resurgence"'s weakest attributes come through its attempts to shoehorn in characters and references to its predecessor, especially early on. Were cameos from Vivica A. Fox and the late Robert Loggia absolutely necessary? Perhaps some of Fox's work was left on the cutting room floor (the film runs two hours, shockingly lean for an Emmerich film), but either way, the overly contrived set-up comes off feeling like "Sequelitis" while leaving massive plot holes in its wake (like how or why Hemsworth decides to go and pick up Goldblum's party for a trip to the moon). Even the central disaster sequence doesn't have nearly the impact of the original's big-ticket destruction moments, though Goldblum amusingly notes the aliens still "like the landmarks."
Then again, perhaps Emmerich felt that belaboring the destruction, and blowing up the planet a second time, wasn't worth all the trouble – and that's where "Resurgence" has some tricks up its sleeve. The climax is deliriously amusing as Goldblum, his forever-meddling dad (a returning Judd Hirsch) and a school bus full of kids try and swerve away from the alien's queen in a crisply-executed chase sequence that's easily the film's most entertaining set-piece. No less enjoyable, though, are simply seeing old pros Goldblum and Spiner (given much more to do here) having a good time, rolling their eyes as they attempt to save the world – again – in a throwback genre exercise.
"Resurgence" does feel as if it had been overly "massaged" in the editing room, with Emmerich and Devlin trying to cram a handful of different characters and storylines into a single two-hour film (with a wide-open tag for another sequel). Still, their positive messages, noble intentions – most of the characters who survive have completed arcs – and the film's disarming sense of humor make it a perfectly serviceable – albeit flawed – diversion that might find a more appreciative audience on home video.
Fox's 4K UHD presentation is another winner from the studio, boasting vivid use of HDR and crystal clear detail. Obviously this being a new release, "Resurgence" is better poised to take advantage of the format's specs than the original "Independence Day," though even there Fox produced one of the best catalog releases yet seen in the new format. This disc is even more impressive, with the standard Blu-Ray and its assorted extras (deleted scenes, commentary, Making Of doc, gag reel, promo shorts) and a Digital HD copy also included. The Dolby Atmos audio is superlative on the UHD platter, though the 7.1 DTS MA sound is certainly no slouch on the Blu-Ray end.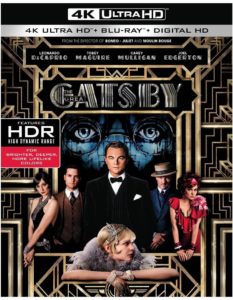 THE GREAT GATSBY 4K Ultra HD/Blu-Ray Combo Pack (**½, 142 mins., 2013, PG-13; Warner): Director Baz Luhrmann's adaptation of F. Scott Fitzgerald's book is a great looking, slick but empty vehicle that's all surface gloss and aesthetic bombast. With the director's trademark visceral approach coloring the material, this visually enthralling "Gatsby" misses the dramatic nuances of even the stilted Jack Clayton version.
The cast, at least, is fine: Leonardo DiCaprio provides his expected rendering of the mysterious Gatsby, whose burning love for Long Island socialite Daisy Buchanan (Carey Mulligan) proves to be his downfall. Tobey Maguire likewise contributes a solid portrayal of Nick Carraway, with Joel Edgerton as Daisy's husband Tom; Isla Fisher as Myrtle Wilson, the woman Tom is fooling around with; and Jason Clarke as George, Myrtle's clueless mechanic husband.
Everyone manages to look the part, but there's little chance for the actors to flesh out their roles, as Luhrmann is more interested in the flashy texture of Gatsby's parties, their throbbing soundtrack and rapid-fire editorial techniques. It's the kind of approach we've come to expect from the director, but it ultimately doesn't gibe with the material. It's hard to imagine anyone who hasn't read "The Great Gatsby" extracting the true meaning of the material from the picture, with key elements from the book working their way into Luhrmann's adaptation but without the needed context to explain their significance, while the addition of a framing story – involving Nick in a sanitarium – is especially worthless.
Granted, there is ample visual invention here to keep cinephiles interested, and Craig Armsrong's original score is quite good, but stripped of the needed dramatic engagement, the 2013 "Great Gatsby" ends up as something of a misfire.
Warner's new 4K UHD presentation takes advantage of Luhrmann's visuals with HDR capability that makes the movie's various colors pop even more than its standard Blu-Ray (which is also included here). If you're an aficionado of the picture and have 4K capability, this is an easy upgrade to recommend as the film's vivid visual design makes it a perfect choice for HDR treatment. Extras on the regular Blu-Ray include The Greatness of Gatsby, a general Making Of featurette; "Within and Without with Tobey Maguire"; "The Swinging Sounds of Gatsby"; deleted scenes with an alternate ending; several additional featurettes (The Jazz Age, Razzle Dazzle: the Fashion of the '20s; Fitzgerald's Visual Poety; Gatsby Revealed); and a trailer for the 1926 version, along with a Digital HD copy. The audio, alas, is housed in the same 5.1 DTS MA track as its prior release, and does not include an HD upgrade for Dolby Atmos or DTS:X owners.
JUPITER ASCENDING 4K Ultra HD/Blu-Ray Combo Pack (*, 127 mins., 2015, PG-13; Warner): Have the Wachowskis run out of dirty pictures yet? Amazingly, the "Matrix" creators continue to not only make films for Warner Bros., but keep receiving huge budgets every time out to do so. Their latest misfire, "Jupiter Ascending," is their third cinematic strike following the failure of "Speed Racer" and the incoherent "Cloud Atlas." Certainly it's the worst of the lot – a borderline incomprehensible sci-fi fantasy that manages to make its leads (Channing Tatum and Mila Kunis) completely uninteresting as it spins an unappealing story of Kunis' "ordinary Earth girl" finding out she's galactic royalty and has to save the universe. If you took "The Fifth Element," drained away its humor and charm, then added in an array of bland, boring characters and stilted dialogue – penned by the Wachowskis and directed with all the energy of any routine, modern CGI green-screen affair – then you'd have this dud, an obvious DOA release at last year's box-office.
A slew of fluffy featurettes are included in Warner's new combo pack that debuts the film's 4K UHD release, whose best attribute is its HDR capability via a crisp HVEC encoded transfer (2.41). However, the overall image from what I compared with its 2D Blu-Ray (also included here) isn't a massive upgrade in resolution and color clarity, likely because of how the picture was originally shot. Hardcore Wachowski fans (those that remain) might see a difference but it's mostly negligible. Like the regular Blu-Ray release, the Dolby Atmos soundtrack is marvelous (it goes without saying this release may be a must-have for owners of the new audio format), and a Digital HD copy rounds out the package.
A more robust upgrade can be seen in Warner's 4K UHD release of PACIFIC RIM (***, 131 mins., 2013, PG-13), Guillermo Del Toro's salute to Kaiju pictures that did merely OK in the U.S. but managed to generate a forthcoming sequel thanks to international revenue. The movie is fun, but the visuals are truly the thing in Del Toro's picture – so much that Warner's UHD disc offers a clear advantage in its overall visual design over 1080p Blu-Ray. Details in the image are even crisper, colors pop even more than the regular Blu-Ray, and the last half-hour – when the film finally opens up and delivers a knockout climax – is perfect eye candy for any 4K set-up.
Warner's combo pack also includes a Digital HD copy along with the standard Blu-Ray. New Dolby Atmos sound powers the UHD presentation, while the Blu-Ray houses a number of Making Of featurettes. Recommended as a worthwhile upgrade for UHD 4K owners and Del Toro buffs.
---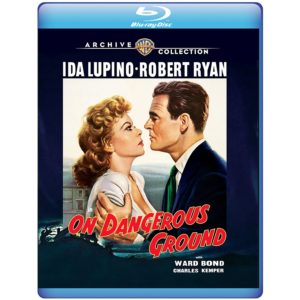 Also New & Noteworthy
ON DANGEROUS GROUND Blu-Ray (***, 82 mins., 1952; Warner Archive): Film noir buffs and aficionados of director Nicholas Ray ought to be excited by the Warner Archive Blu-Ray release of the 1952 RKO production "On Dangerous Ground." Robert Ryan plays a tough, frustrated New York City cop sent upstate to investigate the death of a child when he finds his heart and love with a blind woman (Ida Lupino). Bernard Herrmann's powerhouse score is one of the film's chief assets but it's the enhanced character development – and particularly the portrayal of Ryan's protagonist – that differentiates this from its genre contemporaries. The Archive's Blu-Ray is highlighted by a 1080p (1.37) B&W transfer that's superbly detailed along with 2.0 DTS MA mono sound, commentary from historian (and "DVD Savant") Glenn Erickson, and the trailer.
ICE AGE – COLLISION COURSE 3D Blu-Ray Combo Pack (**, 94 mins., 2016, PG; Fox): The fifth time wasn't the charm for the latest (last?) go-around in the "Ice Age" series, as this contrived, overly silly installment has Scrat once again chasing the elusive acorn while igniting a series of unlikely events that puts the entire prehistoric world – and series pals Buck, Manny, Ellie, Sid and Diego – into jeopardy. Kids might still enjoy the fast-moving action but this is pretty much standard-issue for Blue Sky Studios at this point, with the sequel producing less than half the box-office in-take of its immediate predecessors. Fox's attractive 3D Blu-Ray Combo Pack includes a good-looking 1080p (2.40) widescreen transfer, 2D Blu-Ray transfer, DVD, Digital HD copy, and plenty of extras (a Scrat mini-movie, featurettes, etc.).
Lionsgate New Releases: A decent performer at the box-office last summer, NERVE (96 mins., 2016, PG-13)is a moderately budgeted thriller starring Emma Roberts as a high school senior wrapped up in a popular new online game where the viewing audience dictates her actions. When the fun starts to become increasingly sinister, things take a turn in Henry Joost and Ariel Schulman's entertaining film co-starring Dave Franco and Juliette Lewis. Lionsgate's Blu-Ray includes mostly interactive features, a 1080p (2.40) transfer, DTS X audio (MA compatible) and a Digital HD copy…New on DVD, Season 9 of ANCIENT ALIENS (11 hours, 2016) contains all 15 episodes from the most recent season of the popular History Channel series. From Pyramids to Egyptian hieroglyphs, mummies, and a new planet found in our own solar system, "Ancient Aliens" continues to bring fans another dozen-plus episodes of speculation and a little bit of fact, with expert interviews and special effects making for an entertaining brew. Lionsgate's DVD includes 16:9 (1.78) transfers and 2.0 Dolby Digital stereo soundtracks.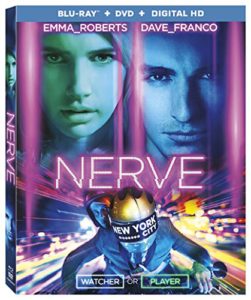 On Blu-Ray From Lionsgate: Coming November 1st from Lionsgate are a pair of controversial releases with big stars that received scant theatrical play. THE SEA OF TREES (110 mins., 2014, PG-13), in fact, met with widespread audience and critical disdain on the festival circuit, something that's no stranger to director Gus Van Sant, who's had it happened before ("Even Cowgirls Get the Blues," anyone?). This meditation on suicide stars Matthew McConaughey as an American professor who travels to Japan's Mt. Fuji to kill himself following the breakup of his marriage – Ken Watanabe is a Japanese man who likewise searches to do the same once he gets there in a depressing, slow-going picture that's been apparently cut down for this release. Lionsgate's Blu-Ray boasts a 1080p (2.40) transfer and 5.1 DTS MA sound, a Digital HD copy and a featurette…Daniel Radcliffe steps far away from "Harry Potter" territory inIMPERIUM (108 mins., 2016, R), a provocative thriller about an FBI agent (Radcliffe) who goes undercover to find a dirty bomb being concocted by white supremacists. Toni Collette co-stars in writer/director Daniel Ragussis' picture, which Lionsgate brings to Blu next week featuring commentary from Ragussis and former FBI agent Michael German – who wrote the original story – plus two featurettes, cast/crew interviews, a 1080p (2.40) transfer, 5.1 DTS MA sound and a Digital HD copy…Coming on DVD is the Hong Kong actioner JUDGE ARCHER (91 mins., 2016, PG-13), debuting November 1st from Lionsgate. Chengyuan Li stars as the title character, who settles disputes between warring martial arts schools in the 1920s. An interesting period martial arts effort Lionsgate brings to disc featuring a 16:9 (2.35) transfer, 5.1 Mandarin and English audio and a Digital copy.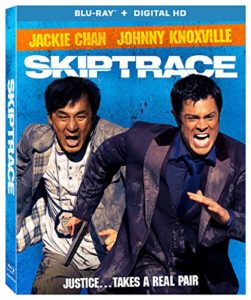 A box-office smash in its native China, SKIPTRACE (98 mins., 2016, PG-13) is a Chinese-produced buddy comedy directed by Renny Harlin. This Saban Films production is a vehicle for Jackie Chan and a would-be entry into the English language market through its casting of Johnny Knoxville as an American gambler who teams up with Chan's Hong ong detective to solve the death of his partner at the hands of a drug lord. Jay Longino and Bendavid Grabinski's script is pretty much standard-issue but Chan and Knoxville generate okay chemistry together in a movie that didn't do anything on this side of the pond, but proved profitable overseas. Lionsgate's Blu-Ray offers a Harlin commentary, featurette, Digital HD copy, 1080p (2.40) transfer and 5.1 DTS MA sound…Several decades ago, the pairing of Eddie Murphy and "Driving Miss Daisy" director Bruce Beresford likely would have generated some commercial interest. Now, their teaming in the film MR. CHURCH (105 mins., 2016, PG-13) is just another star-driven project that's hit home video without much fanfare at all. In this instance, that's unfortunate, as this well-meaning and acted film tells the story of how the title cook (Murphy) became the member of a household led by a cancer-afflicted mother (Natasha McElhone) with a young daughter (Britt Robertson in later sequences). The chemistry between Murphy and Robertson really makes this pleasant film worthwhile, even though critics took brickbats to the film, seemingly reviewing the movie for its sociological elements more than the drama that's on-screen. Lionsgate's Blu-Ray includes four featurettes, a Digital HD copy, 1080p (1.85) transfer, and 5.1 DTS MA sound featuring a nice Mark Isham score…Though Woody Allen's CAFE SOCIETY (96 mins., 2016, PG-13) feels familiar — with its story of a young Jewish man (Jesse Eisenberg) who leaves his family for Hollywood and starts working for his agent uncle (Steve Carell) — this is still one of Allen's more likeable, if uneven, films of late. Eisenberg has good chemistry with Kristen Stewart, playing the girl he loves but can't have, and the film offers a decent array of laughs to go along with its vignette-laden script and period setting. Lionsgate's combo pack includes a strong Blu-Ray (1080p, 5.1 DTS MA) presentation, DVD, and Digital HD copy.
Also on DVD from Lionsgate are a trio of new family-friendly, kid-centric releases with yuletide flavor. CARE BEARS & COUSINS: Volume 1 (132 mins., 2015) includes six episodes (Take Heart, Return to Tender, The Bright Stuff, The Share Shack, Belly Badgered, Wonder's Heart) from the latest Care Bears animated cartoon, plus Digital copies, 16:9 transfers and 2.0 stereo sound. POWER RANGERS DINO CHARGE: HERO (125 mins., 2016) boasts four episodes (World Famous in New Zealand; Deep Down Under; Wishing For a Hero; One More Energem) and a bonus Christmas special (Race to Rescue Christmas) from the Saban series, along with a digital copy, 16:9 (1.78) widescreen transfers and 5.1 Dolby Digital sound. Finally, SHAUN THE SHEEP: WE WE WISH EWE A MERRY CHRISTMAS (45 mins., 2016) boasts seven stories from the popular series, including the title program, along with a Sheep-Shearing Game, 16:9 transfers and 2.0 soundtracks.
TEEN WOLF Season 5, Part 2 DVD (418 mins., 2015-16; MGM/Fox): Scott struggles to put his pack back together again after the Dread Doctors' final creation – a creature dubbed "The Beast" – terrorizes Beacon Hills. MGM's DVD of the last half of "Teen Wolf"'s fifth season includes a Special Edition illustrated poster and exclusive featurette, "Ultimate Dread: The Creatures of Season 5," plus 16:9 transfers and 5.1 Dolby Digital soundtracks.
HELL ON WHEELS: The Final Episodes Blu-Ray (300 mins., 2016; E One): The final seven episodes from the AMC western series are due to be released on Blu-Ray November 1st from E One. Something of a cash grab on the part of the show's producers, fans will likely feel compelled to pick up this last release from the series regardless, as Cullen Bohannon (Anson Mount) and company make the final push to complete the first transcontinental railroad. Bonus features include "A Look at the Final Episodes," "Golden Spike" and "Wrap Up" featurettes, plus seven Inside the Episode features, 1080p (1.78) transfers and 5.1 DTS MA soundtracks.
PAW PATROL – PUPS SAVE CHRISTMAS DVD (84 mins., 2013-16; Nickeoldeon/Paramount): Six snow-covered episodes perfect for the holiday season comprise this single-disc, yuletide-themed DVD of "Paw Patrol" episodes. Shows selected from the top-rated animated kids series include Pups Save Christmas; Pups Save the Penguins; Pups Save the Pop-Up Penguins; Pups Save Sky; Pups Save Sports Day; and Pups Bear-Ly Save Danny. 16:9 transfers and 5.1 soundtracks are on tap in the festive release.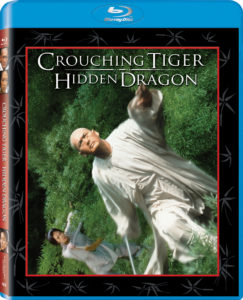 CROUCHING TIGER, HIDDEN DRAGON 15th Anniversary Blu-Ray (***, 120 mins., 2000, PG-13; Sony):Ang Lee's highly acclaimed martial arts epic was deemed one of the greatest cinematic adventures of its time, and yet, despite some wonderful, ballet-like fight sequences, I found a great deal of the dramatic element in this hugely successful 2000 film to be stilted and slow-moving.
While Michelle Yeoh and Chow Yun Fat topline the film, this tale of forbidden love, forgotten love, and personal freedom centers around a spoiled princess who — without giving away the entire plot — comes into conflict with a wanted female bandit named Jade Fox, a stolen sword, and a choices in her life that could lead to enlightenment, happiness, or personal self-destruction.
Working again with collaborator James Schamus (who scripted the film with Wang Hui Ling and Tsai Kuo Jung from a novel by Wang Du Lu), Lee's movie is a surprisingly uneven affair, veering from breathtaking fight sequences to creaky drawing-room character interplay that never really hits a strong emotional chord. Yun Fat's character receives a perfunctory amount of screen time and, subsequently, the character never comes across as the strong, individual figure Lee wants him to be. Yeoh, on the other hand, does a credible job conveying a strong female warrior in the middle of an unrequited relationship with Yun Fat.
The much-lauded fight sequences are breathtaking if not somewhat outlandish, while the pacing in "Crouching Tiger" doesn't flow as cohesively as one might anticipate. A lengthy desert flashback disrupts the main narrative and drags on without enhancing the emotional content of the drama — action could have taken place off-screen in this sequence and been just as effective, if not more so, dramatically; tellingly, the movie feels as if it runs almost a half-hour longer than it actually does. (For a Hong Kong comparison from the same period, check out the fantastical but also more dramatically potent "Bride With White Hair" by Ronny Yu, which mixes equally outlandish fight scenes with a tragic love story to a more effective end).
What does work in the movie is the look and feel of the picture. Peter Pau's cinematography and the Tan Dun music score are highly effective, and Yeoh's performance conveys the emotion that Lee's film tries valiantly to convey.
Even if the drama falls a bit short in relation to the film's lofty artistic goals, at least most of "Crouching Tiger" contains sights and sounds you've never seen before (at least it did, until a myriad of other genre offerings followed in its wake), and at a time when the cinema is severely lacking in originality or visual imagination, the movie fits the bill as a unique adventure and another intriguing entry into Lee's diverse filmography.
Sony's Blu-Ray edition of "Crouching Tiger" offers a gorgeous AVC-encoded transfer with Dolby Atmos/True HD 7.1 (in English-subtitled Chinese, or 5.1 DTS MA English dubbed) plus commentary with Lee and James Schamus, a photo gallery, interview with Yeoh, and a Making Of featurette. Exclusive to this 15th Anniversary release are six never-before-seen deleted scenes, a music video, fresh retrospective featurette, and a Digital HD copy.
NEXT TIME: NIGHTHAWKS! Until then, don't forget to drop in on the official Aisle Seat Message Boards and direct any emails to our email address. Cheers everyone!