www.andyfilm.com (new columns debut here first!)
email: mailbag @ andyfilm.com (remove spaces!)
Message Board (open 24 hours!)
Twitter - @andredursin (for everything else!)
Fans of James Horner still reeling from his shocking, untimely passing last year have bittersweet reason to rejoice as one of the composer's final scores, written for the National Geographic IMAX production LIVING IN THE AGE OF AIRPLANES (47 mins.), is now available on Blu-Ray. The disc will give many viewers their first chance at not just seeing this entertaining effort but also hearing Horner's lovely music, one of the final completed works by the maestro prior to his passing in a single-engine plane crash at age 61.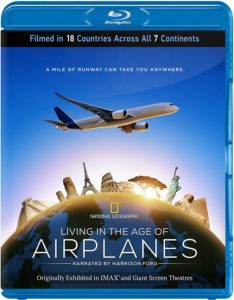 The production, directed by Brian J. Terrwilliger, is a typical large-format feature, offering sumptuous cinematography of planes in flight, connecting 18 countries around the world. The "story" is a simple narrative showing how, relatively recently in the course of human history, airplanes connect the world, using narration from avid pilot Harrison Ford to complement images of varied terrain from South America to Antarctica, and how planes have managed to make travel between these disparate points possible. There are also vignettes tracing the route of flowers from Kenya to Holland and onto the U.S., as well as how much of our household goods originate from various corners of the globe.
Horner's music is, naturally, a cornerstone to "Living in the Age of Airplanes." His sweeping themes and use of choral voices are splendid and soothing to hear, and with so little narration involved, his music has the opportunity to carry the entire show. IMAX/large-screen formatted productions are traditionally geared towards their visuals and sound, providing composers an ideal forum for their talents. Much like John Barry's wonderful score for "Across the Sea of Time," "Airplanes" gives Horner that chance and the result is a sweeping and at times moving work, especially in its beautiful closing moments – which don't just put a cap on this particular project, but also his entire career.
The Blu-Ray, released by Terrwilliger himself, is buoyed by both a stellar 1080p (1.78) transfer and 7.1 DTS MA audio. Extra features include deleted segments and additional bits from the production's sponsors, making for a highly-recommended title for Horner enthusiasts and IMAX fans, and a testament to the composer's unique and always peerless use of dramatic scoring…something that the cinema is only going to miss even more as the years pass by.
---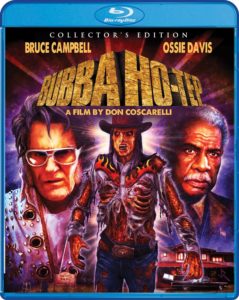 New From Shout Factory
If someone were to tell you that the director of "Phantasm" made a movie about how an aging Elvis battles a soul-sucking mummy in a Texas retirement home with the help of an elderly African-American man who thinks he's JFK, you'd like expect it to be a wild, ribald ride of a horror-comedy. Add in that Bruce Campbell stars as Elvis, and you might have believed that "Bubba Ho-Tep" would be the next big independent genre smash. As it turns out BUBBA HO-TEP (**½, 93 mins., 2002, R) is a surprisingly heartfelt and leisurely paced film that's far more serious in its intentions than many viewers would anticipate. Campbell gives a strong, restrained performance as The King, who – as it's explained – switched identities with an Elvis impersonator, living the remainder of his life in another man's shoes. Now disheveled and rotting away with some kind of cancerous growth on his genitals, this Elvis sees little reason to continue on, at least until a mummy shows up in his sleepy nursing home, picking off the community's residents one-by-one.
Coscarelli scripted the film from a short story by Joe Lansdale, and spends most of the film concentrating not on horror but rather its central characters. This enables Campbell to give a dialed-down, effectively modulated performance that's one of his best, while Davis fares well as a guy who simply believes he really is the slain ex-President of the United States. The two of them ultimately win you over, though there are times when you'd wish Coscarelli would speed up the pace and get on with the show. As hard as it may be to believe, "Bubba Ho-Tep" is not a movie about special effects, creatures, or action scenes. Even with its outlandish premise, Coscarelli has made a movie that's really about aging, setting things right, and bowing out gracefully. The ending is lovely, though the pace is downright sluggish at times. Audiences anticipating the next "Army of Darkness" will be in for a major shock, but "Bubba Ho-Tep" is a low-key and rewarding little film that certainly has its heart in the right place. It's definitely worth a view for genre fans, particularly if you know what to expect ahead of time.
Shout's Blu-Ray works in several new extras along with many bonuses reprieved from the prior MGM DVD. The former include a commentary from original author Landsale, plus all-new interviews with Bruce Campbell, Don Coscarelli and make-up supervisor Robert Kurtzman. Reprieved from the MGM release is an extensive "Making Of" featurette that's basically split into several separate segments, with much attention paid to the film's soundtrack by Brian Tyler. Tyler played every instrument himself and discusses his score in the featurette, with deleted scenes, still photo archives, and a pair of commentary tracks (one by Campbell in-character, the other with Campbell and Coscarelli talking about the movie) rounding out the disc. The MGM licensed 1080p (1.85) transfer and 5.1 DTS MA soundtrack are both perfectly acceptable.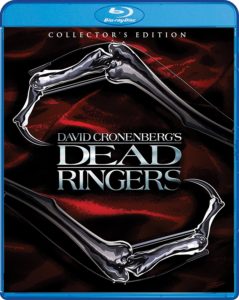 Two of director David Cronenberg's most acclaimed horrors are also new to the Scream Factory roster this month.
Cronenberg netted some of the best reviews of his career for DEAD RINGERS (115 mins., 1989, R), the story of twin gynecologists – both memorably played by Jeremy Irons – who cause trouble for a woman played by Genevieve Bujold in an adaptation of the book "Twins" by Bari Wood and Jack Geasland, that was itself based on a true incident. Irons' performance(s) are the key ingredient in this disturbing Cronenberg effort, presented here in a Morgan Creek-licensed double-disc set. Transfers at 1.78 and 1.66 – the latter being Cronenberg's preferred ratio, and derived here from a new 2K scan – are included along with a new commentary by Cronenberg expert William Beard and brand-new interviews with co-stars Stephen Lack and Heidi Von Palleske, cinematographer Peter Suschitzky and FX artist Gordon Smith. Vintage interviews, the trailer, a featurette and older commentary with Irons have been ported over from prior releases.
Also coming later this month from Scream is RABID (91 mins., 1977, R), one of Cronenberg's earlier tales about a woman, played by ex-porn star Marilyn Chambers, who gains an unquenchable desire for human blood after undergoing surgery. Fans of the director's early fare ought to love this new special edition of the film, which was initially released by New World and counts Ivan Reitman as one of its executive producers. Shout's Blu includes a new 2K scan of the negative; commentaries with William Beard and another, earlier track with the director; interviews with Reitman and co-producer Don Carmody; an archival interview with Cronenberg; a visual essay by Canadian horror authority Caelum Vatnsdal; the trailer; radio spots; and DTS MA mono sound.
Also New From Shout: The French-Canadian animated offering SNOWTIME! (82 mins., 2015) is an okay, melancholy story of two 11-year-old kids who find themselves on opposing ends of a snowball fight that takes on grand proportions over a winter school break. Strong messages prevail in this adaptation of the Canadian movie "The Dog Who Stopped the War," marked by a particularly depressing ending. Shout's Blu includes featurettes, trailers, 3D and 2D Blu-Ray (2.35) transfers, 5.1 and 2.0 DTS MA stereo sound and a digital copy. The soundtrack offers plenty of pop tunes by the likes of Celine Dion and Walk Off the Earth.
---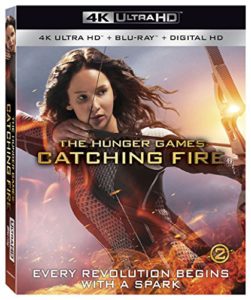 New 4K UHD From Lionsgate
All three/four (depending on how you view it) HUNGER GAMES films are now on 4K UHD from Lionsgate, boasting HDR enhancement that adds depth to the entire visual sheen of the slick, if ultimately unsatisfying, adaptations of Suzanne Collins' bestselling young adult novels.
The original THE HUNGER GAMES (***, 142 mins., 2012, PG-13) is the first and best in the series, and while I never read the books – and felt the film needed to impart more information about the society in which the story was taking place – this is still an accessible (for newcomers) and compelling film, well made by director Gary Ross and really put over the top by Jennifer Lawrence. Sort of like The Running Man, Lord of the Flies, Survivor, American Idol, The Truman Show, and Logan's Run thrown into a blender…which isn't bad if you're up for it.
The first sequel, HUNGER GAMES: CATCHING FIRE (***, 146 mins., 2013, PG-13), is a
compelling follow-up that plays like a more polished re-run of the first movie — a good amount of talk and romantic intrigue drive the movie's first half before the Games begin again with a succession of well-executed action scenes courtesy of director Francis Lawrence, taking over for Ross. Jennifer Lawrence once again carries the action with another can't-take-your-eyes-off-her type of performance, and the movie goes by quickly even with its lengthy, 146 minute running time.
The main reservation I have with the sequel is that, yet again, there's next to no backstory or real development outside the core characters, so you have to take it at face value…which means accepting that this evil Dystopia that makes life miserable for its inhabitants is basically Donald Sutherland calling the shots while sipping tea and sending out small groups of thugs to do his bidding. It doesn't really make sense (the failure to develop the backdrop leaves too many nagging questions dangling for my tastes), but I guess it doesn't have to — so long as you don't think too much about it.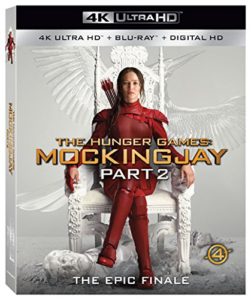 Collins' final novel, MOCKINGJAY (**, 123 mins., 2014, PG-13) was – as is the fashion these days – been split into two separate installments, all the better to faithfully adapt its source (and, of course, spread the box-office in-take across two movies instead of one). This first half of "Mockingjay" is, to be blunt, the weakest portion of the series altogether – a rather tedious tale of Katniss being swept up in the revolution that's started since the end of "Catching Fire." Even with most of the principal players behind the scenes returning, "Mockingjay" makes for a slow grind, spending inordinate amounts of time with drawn-out conversations between the leading characters. Unsurprisingly, its most exciting moments come late – right when the film ends, making you think a fair chunk of this could've been cut and a single film adapting this particular book sufficed.
Fans flocked to "Mockingjay" as expected, with the movie ranking as the 2nd highest grossing film of 2014 (behind "American Sniper"), but promising more fireworks in the final chapter that followed in 2015.
Sadly, the franchise came to a tedious end in the second half of MOCKINGJAY PART 2 (**, 137 mins., 2015, PG-13). Alas, this entry barely ratchets up the excitement level, despite settling the score between Katniss Everdeen (Jennifer Lawrence) and the President of Panem (Donald Sutherland), as well as concluding the triangle between Katniss and her two suitors, played again by Josh Hutcherson and Liam Hemsworth. Sadly, you really need to be a die-hard fan of the franchise to mine much entertainment out of this tiresome, talky and downbeat conclusion, which is surprisingly short on action and long on drawn-out dialogue exchanges, capped by a tone that's more unrelentingly sad than triumphant.
For fans, the UHD platters offer beautifully detailed and vibrant presentations that best their corresponding Blu-Rays, which are also included herein along with Digital HD copies. Dolby Atmos audio also is on-hand for each movie, besting the traditional DTS MA soundtracks of the regular Blu-Rays. Consult my original reviews of the Blu-Rays for a list of the supplements contained on each Blu (via the Archive search page).
---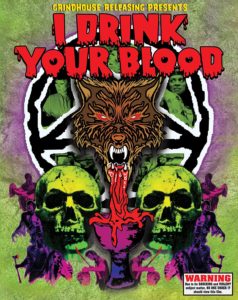 Independent Wrap
Keeping the light on for Blu-Ray catalog enthusiasts are a number of new releases from independent labels, which should pique the interest of adventurous viewers. Here's a rundown:
From Grindhouse: 83 minutes of pure exploitation insanity, I DRINK YOUR BLOOD (1971, Unrated) tells the unholy tale of a Satanic hippie cult that picks the wrong town to rough up, causing them to be infected with meat pies served up with blood from a rabid dog (!) that turns them all into zombies. Some critics might strain to connect David Durston's film with the post-Manson/Romero zombie era, but this is really an unpretentious, gory, and ridiculous drive-in film that's at least more fun – and also grizzly – than some of its contemporaries.
Grindhouse's superb, two-disc Limited Edition is yet another outstanding edition from the label. Forget Criterion – the amount of supplements packed into this release are truly remarkable and comprehensive. These include a new HD restoration of the uncensored Director's Cut, offering all of Durston's freewheeling filmmaking on display for the American public to see for the first time in a "retail" home video release; four deleted scenes which include the "original blood-drenched" ending, and are optionally viewable as part of the film; a commentary from Durston and Indian star Bhaskar, who plays the hippie cult leader; a new commentary with stars Jack Damon and Tyde Kierney; on-camera interviews with Kierney, Damon and Lynn Lowry; an extensive interview with Durston; the trailer and radio spots, plus promo galleries with stills and poster art; and film of Bhaksar performing the "evil king cobra dance."
Bonus co-features include the HD premiere of "I Eat Your Skin" (1964) and the home video premiere of Durston's shocker "Blue Sextet" (1969), extensive liner notes from horror authority David Szulkin, a slipcover, and a limited-edition "Horror Hypo Needle" packaged for buffs everywhere. Highly recommended for those into it, but it's safe to say "I Drink Your Blood" isn't for everyone (you know who you are!).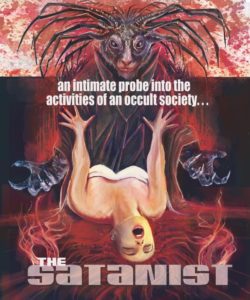 Garagehouse Pictures New Releases: Unavailable on home video and unseen for nearly half a decade, the utterly strange and surreal THE SATANIST (62 mins., 1968) finds a writer and his wife heading out to the country for a rest when they unwittingly become part of an ancient Satanic ritual. Weird, eclectic stuff with softcore sex and plenty of nudity working into a movie that was long believed lost; for aficionados of the bizarre and off-kilter, director Zoltan G. Spencer's affair is certainly a novelty if nothing else, though the picture is, decidedly, more odd than acceptable as a coherent dramatic work.
Garagehouse Pictures' Blu-Ray, now available from specialty outlets, includes a 4K scan from the only known 35mm print; sound remastered from the original optical tracks; commentary from Chris Poggiali and Ashley West, plus the former's liner notes; and trailers. The 1080p (1.37) B&W transfer and mono sound are both exceptional given its obscurity. Another strong effort from Garagehouse, though it's certainly not for all tastes.
Film Movement New Releases: The cinema of Takeshi Kitano is celebrated in a pair of new Blu-Rays from Film Movement, offering the auteur's first two films. VIOLENT COP (103 mins., Not Rated) was Kitano's debut, starring the director as a detective with a renegade style whose sister is kidnapped by a drug lord. Meanwhile, Kitano's second feature, BOILING POINT (97 mins., 1990),follows Masaki, an amateur baseball player who gets wrapped up with the Yakuza in a film with the director's wild swings of emotion in full evidence. Both Film Movement Blu-Rays include stereo sound, Japanese soundtracks with English subtitles and extras including behind-the-scenes featurettes.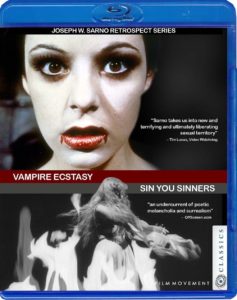 Also new from Film Movement is a must for obscure horror fans: VAMPIRE ECSTASY/SIN YOU SINNERS, a pair of pictures from ,w-budget auteur Joseph W. Sarno. The former is the key highlight of the package: a 1973 tale of vampire erotica with ample nudity and attractive female leads. The latter 1963 effort boasts more of a film noir bent and B&W cinematography. 2K digital restorations are on tap for both movies, which are impressively detailed. Extras include informative notes from Video Watchdog's Tim Lucas, plus interviews with Sarno and commentary with producer Chris Nebe.
Arrow New Release: Daphne Zuniga, who later became known for her roles in "The Sure Thing" and "Spaceballs," got her start in the 1984 New World release THE INITIATION (97 mins., 1984, R), a tedious slasher film about a sorority pledge with a hazy memory who finds herself locked in a mall with a killer. Slashers can either be fun and frothy or dull, and Larry Stewart's film falls into the latter camp, even with Vera Miles and Clu Gulager offering stronger support than the genre's usual among the adult supporting cast.
Arrow's terrific Blu-Ray does provide slasher fans with a wonderful presentation at least. The 2K restoration (1.85) is strongly detailed with uncompressed PCM audio. A commentary by The Hysteria Continues is on tap along with a new interview with writer Charles Pratt, Jr., a talk with actor Christopher Bradley; another conversation with actress Joy Jones; an extended scene; the trailer; and original screenplay and production schedule via BD-ROM.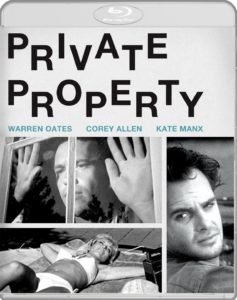 From Cinelicious: "Outer Limits" producer Leslie Stevens dabbled in some eclectic, small-scale films over the years, including the William Shatner thriller "Incubus," shot entirely in Esperanto! His strange film noir PRIVATE PROPERTY (79 mins.) was, much like "The Satanist" above, long thought to be a lost movie, but thankfully, has been preserved and rediscovered by the UCLA Film and Television Archive. Stevens' film is an odd tale of two low-life drifters (Warren Oates and Corey Allen) who stumble upon an unhappy housewife (Linda Manx, married to Stevens at the time of production), stirring up passions and repressed feelings on multiple ends.
Stevens shot "Private Property" at his own home, with the movie existing in an unusual spot between the noir offerings of the '50s and the more explicit pictures of the later '60s. The film's production background involving Manx – who killed herself after the film was completed – adds an additional layer to a movie that's been resurrected on Blu-Ray by Cinelicious sporting a new 4K transfer, a video interview with technical consultant Alexander Singer, and the trailer.
---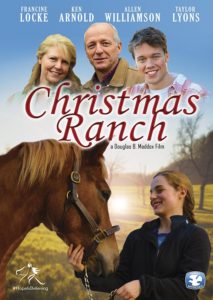 Label Round-Up
MPI New Releases: The British comedy THE IT CROWD (617 mins., 2006-2013) is an engaging chronicle of disparate "computer experts" including Katherine Parkinson's Jen, who hasn't a clue how to run a PC, working at Reynhold Industries. All four seasons of the Thames series are presented here in MPI's DVD box-set along with the series finale, which was shot several years following the other episodes. Extras include selected commentaries from writer/director Graham Linehan, deleted scenes, featurettes, outtakes, an interview with the show's creator, and plenty more; the 16:9 transfers and 2.0 stereo soundtracks are all fine…Pierre Morath's FREE TO RUN (104 mins., 2015) looks at how running grew from a small pastime in the 1960s through the 1970s, when legends like Steve Prefontaine, Fred Lebow and Kathrine Switzer defined the running movement for a whole new generation. MPI's DVD includes a 16:9 transfer and 5.1 stereo audio, and is now available.
Virgil New Releases: THE MISSING INGREDIENT: WHAT IS THE RECIPE FOR SUCCESS? (87 mins., 2016) looks at a Manhattan restauranteur and the renovation of his establishment, Pescatore, including the use of wallpaper from a recently closed Upper East Side fixture, Gino's. A discussion on what makes a restaurant – including its decor – is in-tap in Michael Sparaga's documentary, now on DVD from Virgil featuring a 16:9 transfer and 5.1 Dolby Digital sound…THEY GROW UP FAST (79 mins., 2016) is Darren Doane's video profile of his family's growth over a span of a decade. Entertaining and movingly handled, and now on DVD from Virgil featuring a 16:9 transfer and stereo sound…The heartwarming drama CHRISTMAS RANCH (82 mins., 2016) profiles a teen, sent to live on her grandmother's ranch after being suspended from school. Her relationship with a sick horse and the future of the ranch itself fuels Simon Parker's script, directed by Douglas Maddox and on DVD November 15th from Virgil featuring a behind the scenes segment, trailer, 16:9 transfer and 2.0 stereo sound.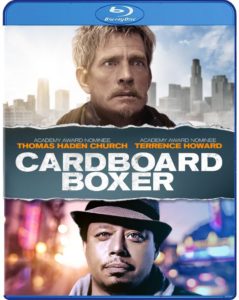 New From Lionsgate: ARLO THE BURPING PIG (80 mins., 2016, G) is a family film starring Joey Lawrence as a family patriarch who moves to a new home, much to the chagrin of his seven-year-old daughter. Luckily for her, she bonds with a pig who's run away from the circus in this silly, sweet little film that ought to appeal to youngsters. Lionsgate's DVD includes a trailer gallery, 16:9 transfer (1.78), 5.1 sound and a digital copy…Holiday shenanigans are on-tap in ALPHA AND OMEGA: THE BIG FUREEZE (45 mins., 2015)after the wolf pups – Stinky, Claudette and Runt – have to venture out into a blizzard to save parents Kate and Humphrey. Lionsgate's DVD includes a digital copy, a deleted scene, 16:9 (1.78) transfer and 5.1 Dolby Digital sound.
On Blu-Ray, a hip-hopping African-American teen finds himself a fish out of water in MORRIS FROM AMERICA (91 mins., 2016, R), Chad Hartigan's tale of a single dad (Craig Robinson) who moves to Germany, bringing his teen son along for the ride. Traditional "culture clash" comedy and coming-of-age dramatics mix in an agreeable 90-minute drama with nice performances from Robinson and Markees Christmas in the title role. Lionsgate's Blu includes a deleted scene, casting tapes, bloopers, a featurette, commentary, a 1080p (1.85) transfer and 5.1 DTS MA audio…INDIGNATION (111 mins., 2015, R) stars Logan Lerman as a working-class Jewish student from Jersey who falls for a beautiful classmate (Sarah Gadon) at a conservative college he attends in Ohio. Cultural sparks and some melodrama ensues in this slow-moving adaptation of Philip Roth's novel by Ang Lee associate James Schamus, which ends on a particularly down note. Lionsgate's Blu-Ray includes a 1080p (1.85) transfer, 5.1 DTS MA audio, two featurettes, and a Digital HD copy.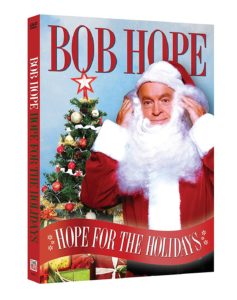 Yuletide Fare: BOB HOPE: HOPE FOR THE HOLIDAYS (110 mins., 2016) is a two-hour DVD compilation from Time Life offering the 1993 special "Bob Hope's Bag Full of Christmas Memories," featuring a compilation of Hope's USO monologues, footage of Jack Benny, First Lady Eleanor Roosevelt and other goodies…Gaumont's HOLIDAY DOUBLE FEATURE includes SANTA'S APPRENTICE (71 mins., 2010, G) and its sequel THE MAGIC SNOWFLAKE (73 mins., 2013), a pair of enjoyable French animated films from director Luc Vinciguerra, now on DVD for the first time in the US from Anchor Bay. Both discs include 16:9 (1.78) transfers and 5.1 audio in French (with subtitles) or English.
Quick Takes
GAME OF THRONES – Season 6 Blu-Ray (558 mins., 2015; HBO): After the shocking revelations from the end of Season 5 – including the up-in-the-air fate of Jon Snow with Castle Black mutineers, Daenerys' near-death at the pits of Meereen, and Cersie's humiliation in the streets of King's Landing – "Game of Thrones"' sixth season moves ahead to chart the Westeros and Essos survivors' storylines. "Thrones" fans should revel in this latest Blu-Ray box from HBO, celebrating the most-watched series in HBO history with top of the line 1080p transfers, Dolby Atmos soundtracks, BD exclusive In-Episode Guides and Histories & Lore featurettes, along with deleted scenes, 13 commentaries with cast/crew members, Recreating the Dothraki World, 18 Hours at the Paint Hall, and The Battle of the Bastards featurettes. Available November 15th.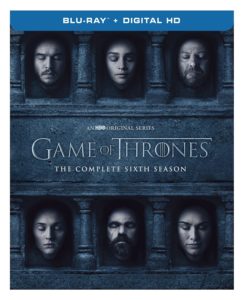 ARMY OF ONE Blu-Ray (93 mins., 2016, R; Anchor Bay): Comedy vet Larry Charles helmed this mostly misfired tale of Gary Faulkner (Nicolas Cage), a former ex-con handyman whose vision from God (Russell Brand) tells him to go after Osama Bin Laden. Faulkner makes it as far as Pakistan in this offbeat comedy that doesn't quite come off, despite assembling a team of comedy vets in Wendi McLendon-Covey, Rainn Wilson, not to mention Matthew Modine and others in a movie that was, likely, deservedly shelved by the Weinstein Company and sent straight to video by Anchor Bay. The label's 1080p (2.35) transfer and 5.1 DTS MA sound are fine; a Digital HD copy and Making Of featurette round out the release.
SAUSAGE PARTY Blu-Ray (**, 89 mins., 2016, R; Sony): Seth Rogen produced and co-wrote this profane animated film about a group of supermarket foods trying to figure out the meaning of their own existence. Along with his usual collaborator Evan Goldberg and co-writers Kyle Hunter and Ariel Shaffir, Rogen has fashioned an extremely R-rated farce that's heavy on the sexual content and irreverent humor, but truth be told, a little of "Sausage Party" goes a long way, leaving this viewer exhausted by its tone after nearly 90 minutes. Sony's Blu-Ray boasts format exclusive extras like a gag reel, featurette and "Line-O-Rama," plus additional behind-the-scenes segments, a 1080p (1.85) AVC encoded transfer and 5.1 DTS MA sound.
RED VS. BLUE: Season 14 Blu-Ray (227 mins., 2016; Cinedigm): Everyone's favorite computer program, VIC, presents this new season of the fan-favorite animated series, which has spun off from "Halo" into its own, zany comedic brew. Instead of focusing on a single story line, Season 14 of "Red Vs. Blue" instead mixes things up by focusing on individual vignettes related to specific characters. The result is the implementation of various animation styles (CG, 2D, live-action, etc.) in an enjoyable batch of episodes fans should love. Cinedigm's Blu-Ray, out this week, includes a handful of bonus features – featurettes, behind the scenes segments – plus 1080p transfers and DTS MA 5.1 sound.
CARDBOARD BOXER Blu-Ray (89 mins., 2015: Well Go): A sincere performance from Thomas Haden Church fuels Knate Lee's drama about a homeless man who's forced into street fighting. He eventually finds the diary of a young, troubled girl and becomes wrapped up in Lee's directorial debut, co-starring Terrence Howard. Well Go's Blu-Ray includes a 1080p transfer and 5.1 DTS MA sound, and streets next week.
LEGEND OF BRUCE LEE: Volume One DVD (451 mins., 2008; Well Go USA): Chinese TV series looks at the life of a young Bruce Lee, played by Danny Chan, from his beginning of study of the martial arts through his relationship with an American girl (Michelle Lang) who would eventually become his life. This English language production makes its U.S. home video debut from Well Go sporting the first 10 episodes from the 30-episode series on DVD with 16:9 transfers and stereo soundtracks.
---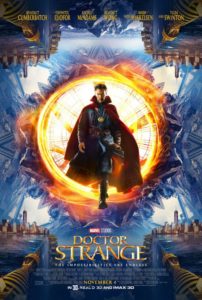 In Theaters
DOCTOR STRANGE (***, 115 mins., 2016, PG-13): I've decided I like my comic book movies more when they're about one super-hero instead of an overcrowded "team up" flick that delegates screen time to an ensemble.
Though shackled somewhat by its "origin movie" formula, "Doctor Strange" — depicting Marvel's adventures of a vain NYC surgeon who eventually becomes the "Sorcerer Supreme" practitioner of the mystic arts — is unquestionably one of the most entertaining movies to roll off the Marvel assembly line. Much of the film's effectiveness can be found in one of the genre's finest casts to date: Benedict Cumberbatch is charismatic and fun in the title role; Tilda Swinton just perfect as "The Ancient One" in an inspired bit of casting; Chiwetel Ejiofor strong as one of Strange's fellow sorcerers; and Rachel McAdams pitch perfect in a limited role that functions both as an audience surrogate and Strange's love interest.
The script by Jon Spaihts (Prometheus), C. Robert Cargill and director Scott Derrickson could have — in the wrong hands — become the densest, most convoluted concoction the genre has unspooled yet, as "Doctor Strange" is packed to the brim with exposition and an increasingly fantastic, outlandish story. Yet the movie has a playful energy, the actors embracing the material's inherent weirdness and Derrickson mixing great special effects with surprising bursts of humor.
The end result isn't "Superman," "Spider-Man" or the best of the Nolan "Bat"-flicks — and it all rolls into an okay, standard Marvel climax with a time-shifting twist — but it's a cut above most of the Marvel-produced fantasies we've yet seen, concentrating on telling one story and introducing one character instead of planting seeds for future franchises and spin-offs (like the last Captain America film). "Doctor Strange" isn't groundbreaking but as these increasingly vanilla films go, it's one of the best of its type.
NEXT TIME: Kino Lorber's I, THE JURY and more! Until then, don't forget to drop in on the official Aisle Seat Message Boards and direct any emails to our email address. Cheers everyone!