Based on a novel by Richard Price, "The Wanderers" is an episodic and richly woven tapesty of life in a Bronx high school gang back in 1962, including all the fights, football skirmishes, Mafia run-ins, girlfriend problems, and other rites-of-passage you'd expect. What distinguishes the film from other tales of adolescence is the unusual blend of realism involving its depiction of time and place (and the relationships between the various members of the Wanderers) and its decidedly surreal violence between the high-school kids and a mysterious, silent gang called the "Ducky Boys," who appear like apparitions and are bathed in filters and fog.
The mixture of styles – recalling "American Graffiti," anticipating "Goodfellas," and throwing in elements of '70s horror as well – results in a movie that can be a little jarring to watch upon first viewing, yet the narrative texture and various layers to Kaufman's film are rich and involving. The final scenes are simultaneously heartbreaking and uplifting, and the performances – which include early appearances by Ken Wahl and Karen Allen – uniformly feel authentic. It's hard to find a film that captures an era as well as "The Wanderers" does, ending on a profound note as one generation passes the torch to another — a remarkable sequence that's just one of many in a truly outstanding film that's long been one of my favorites.
One of those movies you appreciate more and more on repeat viewing, "The Wanderers" stands as one of the bonafide cult classics of the '70s, and Kino Lorber's magnificent Blu-Ray preserves Kaufman's film in a splendid new HD presentation. Independently produced and originally distributed by a fledgling Orion Pictures, Kino Lorber licensed the film for Blu-Ray through the film's owners. The new 2K restored Blu-Ray transfer of the "Wanderers" theatrical cut (1.85) offers top detail and strong colors, all the better to enhance Kaufman's striking visuals, though a certain grittiness to the modestly-budgeted film rightly remains. The movie's soundtrack, crammed with instantly recognizable hit songs from the period, is presented in its serviceable, original mono mix.
The Blu-Ray also debuts a 123-minute "Preview Cut" that's a fully completed, earlier version of the film, sourced from a speckled, occasionally-dinged up print. This gives the material a "drive-in" appearance, while adding some seven minutes of never-before-seen material – these include a couple of extended sequences, ex-Wanderer "Turkey" trying to proposition a Ducky Boy gang member, and a less refined audio mix (i.e. no Dion during the big climactic fight sequence). While these mostly minor additions/alterations are fascinating for fans, I'd consider the tighter theatrical cut to be the "definitive" version, as the film plays better in its 117-minute rendition.
Extras include Kaufman's commentary from the out-of-print Warner DVD; a new commentary by Columbia film professor Annette Insdorf on the Preview Cut; a new featurette with Richard Price; brief intros to the Preview Cut; and several Q&A sessions with cast/crew members. These include Richard Price, Karen Allen and co-stars Toni Kalem and Tony Ganios from a recent appearance at NYC's Film Forum; a conversation with Philip Kaufman and others from Los Angeles' Cinefamily; and separate, audio-only Q&A's with Kaufman and Price from NYC's Film Forum and San Francisco's Drafthouse. Trailers and TV spots round out one of 2017's essential Blu-Ray pick-ups.
---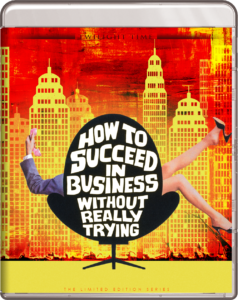 Twilight Time Releases
A highlight of Twilight Time's March Blu-Ray releases is unquestionably the 1967 Mirisch Company-UA production of Frank Loesser-Abe Burrows' hit musical HOW TO SUCCEED IN BUSINESS WITHOUT REALLY TRYING (***½, 121 mins.), which brought back Tony-winner Robert Morse and Rudy Vallee in their original Broadway roles for a textbook example of how to faithfully adapt a hit musical to the screen.
"Parent Trap" filmmaker David Swift concentrates on the music and wisely shot this fun, energetic musical partially on-location in NYC to capture the atmosphere in this tale of window-washer Morse's climb up the proverbial corporate ladder at W.W. Wicket Co. The songs are tuneful, literate, and include a handful of showstoppers, all of which are superbly rendered in Nelson Riddle's film adaptation. Everything in the wonderful score – "Brotherhood of Man," "Rosemary," "I Believe In You" – sings in Riddle's arrangements, and with Morse generating ample chemistry off the screen's Rosemary (Michele Lee), the film works on pretty much every level as a facsimile of its source. Even if the movie came a little too late in the genre's run to nab the commercial success it deserved – not to mention hit screens during the turbulent social times of the late '60s – its satirical big-business barbs will always make its central theme relevant.
Bob Fosse's original stage choreography, meanwhile, is vividly captured in the wide Panavision frame, something that's accurately rendered in the Blu-Ray's sterling new 1080p (2.35) AVC encoded MGM-licensed transfer. The movie's warm colors all leap off the screen and details are superb in this gorgeous looking presentation. On the audio side, "How to Succeed…" was regrettably a mono film, and MGM's DVD release boasted a notably limp single-channel soundtrack. While not remixed for true stereo, the matching 5.1 and 2.0 DTS MA sound offerings on Twilight Time's Blu-Ray are noticeable enhancements here, especially the latter two-channel track. Isolated music (with some effects, also in mono) is of course included plus new 15-20 minute interviews with Morse and Lee and the original trailer.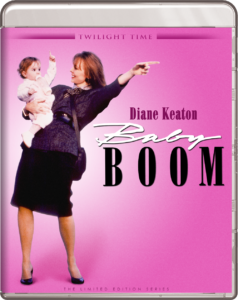 Julie Kirgo's always astute booklet notes nail the appeal of BABY BOOM (**½, 110 mins., 1987, PG), one of several late '80s films that featured either newborns or toddlers in key roles. Movies like "Look Who's Talking" and especially "Three Men and a Baby" (one of the biggest hits of the entire decade – and still inexplicably unavailable on Blu-Ray) became massive hits during the era, and while "Baby Boom" wasn't nearly as much of a box-office success, it nevertheless performed adequately upon its release in October of '87. It also solidified the careers of the then-filmmaking team of Charles Shyer and Nancy Meyers, not to mention "relaunched" Diane Keaton as a leading lady with a penchant for "lighter" comedic fare throughout the '90s.
Keaton is really the whole show in this United Artists release, playing J.C. Wiatt, a New York City business executive hoping for a promotion at her cutthroat firm, presided over by Sam Wanamaker. Into her business-first, pleasure-second life, however, comes a baby whose distant cousin relatives have perished in a car accident. While J.C. tries to balance her career with parenthood, she finds that work/life balance difficult to maintain, especially with so much on the line at her job.
"Baby Boom" is not especially well constructed by Meyers and Shyer, a then-married couple who generally shared writing duties on a film with Shyer directing and Meyers producing (they'd go onto make the popular "Father of the Bride" remake with Keaton playing – rather thanklessly – opposite Steve Martin in the title role). In fact, the movie's first hour, with J.C. coming to enjoy her unexpected motherhood, almost plays out like a film by itself (or the pilot to a TV series), with the second half functioning as a sequel to its rushed initial stages. (No surprise, Meyers and Shyer did turn the movie into a short-lived NBC sitcom starring former "Charlie's Angel" Kate Jackson a couple of years later). The movie's latter section finds J.C. buying a house and relocating to Vermont, where she blunders through "Mr. Blandings"-esque household misadventures and eventually finds her center – along with a relationship with a local vet (Sam Shepard).
There's regrettably not much time for J.C. and her adorable baby to bond here – a couple of montages set to Bill Conti's "of the era" score are pretty much it – and one can sense material involving an array of talented supporting players, including a young James Spader (in the first of his many "yuppie-antagonist" roles) plus SNL cast members Mary Gross and Victoria Jackson, having possibly been left on the cutting room floor.
That leaves Keaton, who alone makes the fragmented, if not downright "sitcomish," material work. Perhaps surprisingly, her J.C. isn't an unlikeable, female Gordon Gekko type right off the bat, making her inclination towards raising her young offspring feel natural – and just believable – enough for the movie to overcome its thinly-developed premise. The picture is also worth savoring as a first-class studio product of its time, with William A. Fraker's glossy cinematography enhancing the kind of genial, PG-rated light comedy product that Hollywood has no use for today.
A movie that's been out of print on DVD for a while, "Baby Boom" makes its Blu-Ray debut from Twilight Time. The 1080p (1.85) transfer and 2.0 DTS MA stereo sound are both above the typical MGM catalog transfer norm with decent detail. I'm not sure what to make of Conti's score, which does carry an infectious main theme – almost "Cagney & Lacey"-esque in nature – but comes off as syrupy and overpowered in a couple of other sequences. The less said, the better about his use of a female chorus in a couple of places – but either way, it remains an unreleased Conti offering that's isolated here in stereo with effects, and fans should be pleased by its inclusion. Julie Kirgo and Nick Redman's commentary is breezy and engaging, and the trailer rounds out the disc.
A glossy Fox soap opera which earned over a handful of Oscar nominations, PEYTON PLACE (***, 157 mins.) is a sprawling, first-class studio product of its time. It was also a controversial project, adapting a salacious bestseller by Grace Metalious that featured rape, abortion, and other goings-on in a picaresque New England town with its share of buried secrets. "Rear Window" screenwriter John Michael Hayes was able to condense the book into a workable studio product of its era, understandably removing some of its harder-edged content but doing so in such a way that it remained fairly faithful to its source material.
Director Mark Robson, meanwhile, also recruited a top-flight cast, from Lana Turner down to young stars like Russ Tamblyn, Diane Varsi and Hope Lange, and filmed location material mostly in Maine to capture time and place. Capped by a marvelous Franz Waxman score, "Peyton Place" is a terrific entertainment, a glossy widescreen melodrama shot by William C. Mellor that represents one of the finest of its genre, even with its watered-down adult content.
Twilight Time's Blu-Ray is certain to be devoured by Golden Age fans. A wonderful new featurette, "On Location in Peyton Place," offers sumptuous shots of the Maine locations used in the film, not to mention optional commentary by Willard Carroll who produced the segment. Some of them even looked familiar to me having driven through areas like Camden and Rockland a few times over the years, and Carroll's autumnal photography makes for a splendid travelogue. Carroll also provides a new, quite informative commentary on the film, which looks positively gorgeous in a spectacularly detailed 1080p (2.35) transfer. The 5.1 and 2.0 DTS MA stereo mixes are both finely executed though there's no isolated score of Waxman's soundtrack. Additional extras carried over from the Fox DVD include a commentary with Tamblyn and Terry Moore; Fox Movietone newsreels; trailers; and the AMC "Hollywood Backstories" documentary that recounts Turner's turbulent off-camera issues during the time of "Peyton Place"'s release involving her teen daughter's killing of the actresses' mobster boyfriend.
Finally, fans of the great British director Carol Reed and star Alec Guinness would do very well to pick up Twilight Time's tremendous Blu-Ray of the 1959 Columbia Cinemascope offering OUR MAN IN HAVANA (***, 107 mins.). This adaptation of Graham Greene's novel, scripted by the author, presents Guinness as an ordinary vacuum cleaner salesman recruited by British intelligence – in the guise of Noel Coward – to spy on Cuba during the Batista years. When Guinness' character has nothing to report, he provides false information that leads to him gaining a new secretary (Maureen O'Hara) – and increasingly dangerous predicaments – in a zesty film co-starring Burl Ives, Ernie Kovacs and Ralph Richardson.
TT's crisp and detailed 1080p (2.35) transfer from the Sony vaults enhances the entertainment, with DTS MA mono sound, a music/FX track and the original trailer making for another splendid Twilight Time release – now available through Screen Archives and Twilight Time's own site.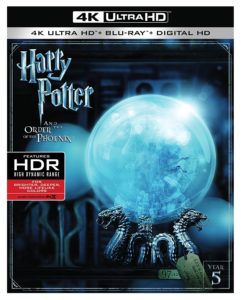 4K Corner
HARRY POTTER AND THE ORDER OF THE PHOENIX 4K UHD/Blu-Ray (**½, 139 mins., 2007, PG-13; Warner)
HARRY POTTER AND THE HALF-BLOOD PRINCE 4K UHD/Blu-Ray (**½, 153 mins., 2009, PG).
HARRY POTTER AND THE DEATHLY HALLOWS PART I 4K UHD/Blu-Ray (***, 146 mins., 2010, PG-13; Warner)
HARRY POTTER AND THE DEATHLY HALLOWS PART II 4K UHD/Blu-Ray (***, 130 mins., 2011, PG-13; Warner)
FANTASTIC BEASTS AND WHERE TO FIND THEM 4K UHD/Blu-Ray (**½, 133 mins., 2016, PG-13; Warner)
Landing on 4K UHD this week along with the debut of franchise prequel spin-off "Fantastic Beasts and Where to Find Them" are the last four installments of the original "Harry Potter" series, all in improved 4K transfers that best their previously available Blu-Rays (Parts 1-4 are coming later this year).
The fifth and sixth books in J.K. Rowling's series make for the least satisfying of the Harry Potter film franchise, serving mainly to set up its concluding installment(s) without telling a particularly compelling story of their own.
After battling the Dark Forces in 2007's HARRY POTTER AND THE ORDER OF THE PHOENIX, Harry learns even more about the evil sorcerer Voldemort in 2009's HARRY POTTER AND THE HALF-BLOOD PRINCE, whose villainy continues to grow and whose backstory Dumbeldore (Michael Gambon) wants Harry (Daniel Radcliffe) to understand, in order to better prepare him for the challenges that follow. Flashbacks, a few potions, and romantic relationships between Hermoine (Emma Watson) and Ron (Rupert Grint), as well as Harry and Ron's sister, comprise much of the action of "The Half-Blood Prince," which has some nice moments and an exciting finish, but really takes its time getting there with aspects that are likely to please Harry's legions of fans but come off as extraneous when taken on their own terms. It also appears that this installment utilized more and more green-screen, as the cinematography here appears flat and "digital" in nature, particularly in comparison with prior entries in the series.
Things climaxed in the two-part series finale, HARRY POTTER AND THE DEATHLY HALLOWS PART I and PART II. This final installment in Rowling's series manages to be an absorbing, if leisurely, chronicle that sets up Harry Potter's final battle with Voldemort by splitting apart our heroes as well as wizards everywhere, all of whom are on the run from the Dark Lord's forces.
David Yates returned to direct "Deathly Hallows" and this is a far more compelling film than "The Half-Blood Prince," with the extended running time used to build the story up to a satisfying conclusion. At times the pace almost feels too languid, particularly in Part 1's draggy mid-section that finds Harry and Hermoine hiding out after separating from Ron, while other aspects of the material receive, surprisingly, perfunctory treatment (i.e. the fate of Hedwig, Harry's pet owl). While Eduardo Serra's cinematography has that bland, desaturated look so many modern movies do, and Alexandre Desplat's score fails to lift the material, there are certainly enough memorable moments and ample entertainment here to enchant both series fans and casual viewers, particularly those who found the prior two entries overly plot-heavy.
Warner's 4K UHD combo packs include DTS X audio and smashing HDR-optimized transfers. Not all of the Potter films fared flawlessly on Blu-Ray, especially with some compression artifacts manifesting themselves at certain points; the 4K discs dispose with these issues, and better replicate the often dark cinematography of the respective sequels. The accompanying Blu-Rays include DTS MA audio and 1080p (2.41) transfers similar to their last outings with corresponding extras. Nicholas Hooper's "Half-Blood Prince" score, while lacking the thematic richness that John Williams brought to the series' first three installments, is at least an improvement on his "Order of the Phoenix" offering (to say nothing of Alexandre Desplat's disappointing "Deathly Hallows" effort).
When it comes to FANTASTIC BEASTS, hardcore Potter buffs will undoubtedly appreciate this passable franchise-starter more than casual viewers. Eddie Redmayne stars in the prequel series as Newt Scamander, a British wizard who ventures to New York City in the late '20s in order to recapture a series of fantastic creatures inadvertently let loose at a time when the wizarding world is threatened by being exposed to the masses. Katherine Waterston and Dan Fogler co-star in a handsome looking picture that's nevertheless fairly hum-drum in its execution, even with numerous veterans returning from the Potter franchise (director David Yates, Rowling herself penning the screenplay, etc.).
Warner's UHD combo pack is even more impressive than its Blu-Ray edition, taking full advantage of HDR more than the Potter pictures (understandable as it was likely shot in 4K) and offering potent Dolby Atmos audio. Extras are similar to the first wave of Potter releases, including deleted scenes and an hour of featurettes, along with a Digital HD copy and Blu-Ray.
---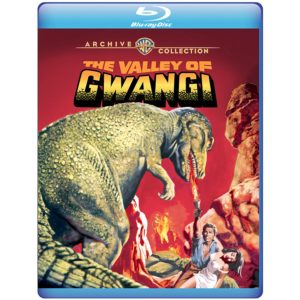 Warner Archive New Releases
THE VALLEY OF GWANGI Blu-Ray (**½, 95 mins., 1969, G). THE MOVIE: Regarded as a disappointment at the time of its release, and saddled with a weak script credited to William Bast, "The Valley of Gwangi" has nevertheless developed a cult following over the years. That's undoubtedly due to Ray Harryhausen's special effects, which graced this Charles H. Schneer production that brings cowboys and dinosaurs together in the story of a showman (James Franciscus) who discovers a secret valley where Jurassic-sized beasts still reside. The set-pieces are far more engaging than the film's story, and director James O'Connolly does the film no favors with his slack pacing, yet "The Valley of Gwangi" is still solid, Saturday Matinee entertainment from Hollywood's yesteryear. Jerome Moross' wonderful score, meanwhile, is arguably its strongest asset, being far more memorable and distinguished than the film itself. ARCHIVE BLU-RAY SPECS: Making its eagerly awaited debut from the Archive on Blu-Ray, "The Valley of Gwangi" has been given yet another peerless catalog transfer from Warner. The 1080p (1.85) AVC encode is as satisfying as you'd anticipate for a film with extensive stop-motion effects like "Gwangi," and the level of detail far surpasses the older DVD edition. The DTS MA two-channel mono sound gives a tiny bit more punch to Moross' score than the DVD as well, and a brief featurette from that earlier edition rounds out the package.
DEMON SEED Blu-Ray (**, 94 mins., 1977, R). THE MOVIE: Ugly science fiction thriller adapts Dean Koontz's book about a computer artificial intelligence dubbed Proteus that wants to live, and manages to do so by forcing itself upon the estranged wife (Julie Christie) of its inventor (Fritz Weaver). A weird and unsettling MGM production from iconoclast director Donald Cammell ("Performance"), "Demon Seed" is the kind of sci-fi film you'd only find in the early to mid '70s. To her credit, Christie does an enormously good job making you care about her character, but numerous sequences of the film are difficult to watch. While it's not really my cup of tea, there are those who might find "Demon Seed" to be worthwhile, and its themes of advanced A.I. were at least prescient. ARCHIVE BLU-RAY SPECS: Warner's Archive Blu-Ray preserves the movie's full 1080p (2.40) Panavision frame in a typically strong, detailed AVC encoded transfer. The DTS MA mono sound is fine, featuring a Jerry Fielding score, and the trailer is the sole extra.
New on DVD: Lee Tracy and Gloria Stuart star in WANTED! JANE TURNER (66 mins., 1936) an RKO comic mystery about a pair of US Mail postal inspectors trying to track down the culprits who pulled off a daring mail truck robbery. Their coast-to-coast investigation makes for an entertaining programmer from the mid '30s, making its DVD debut from the Warner Archive featuring a 4:3 B&W transfer and mono sound…VITAPHONE VARIETIES: VOLUME THREE 1928-29 (132 mins.) continues Warner's marvelous exploration of early sound shorts, with 16 Jazz and Vaudeville-centric Vitaphone shorts on-hand. The single-disc DVD boasts remastered Vitaphone short subjects featuring Horace Heidt, Molly Picon and others, with over two hours of vintage content on-hand for buffs…THE GIRL AND THE GENERAL (103 mins., 1967) is an interesting late '60s tale of an Austrian general (Rod Steiger) captured during WWI by an Italian private (Umberto Orsini) who tries to haul him in for a reward along with a resourceful peasant woman (Virna Lisi) who proves more adept at handling the general than Orsini does. This MGM-Carlo Ponti production offers an eclectic Ennio Morricone score and a typical late '60s "anti war" theme, but it's an interesting character study with Steiger thankfully dialed down more notches than you might expect. The Archive's DVD transfer (1.85) is just fine for this new-to-disc release, which occasionally shows up on TCM.
---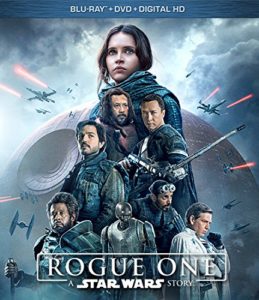 Also New & Noteworthy
The glum, soulless STAR WARS: ROGUE ONE (**½, 133 mins., 2016, PG-13; Disney) is certainly something different in the "Star Wars" series. The first film in the franchise to break from the Skywalkers and tell the story of rebel spies who infiltrate the Empire in order to steal the coveted plans for the Death Star, this standalone prequel made headlines a year ago for its reportedly troubled production history. Ultimately, no matter who was – or wasn't – responsible for "Rogue One," the end result is a watchable yet depressing affair that's designed mainly for aging fans of the series and not the broader family audience that's long been its focal point.
"Godzilla" helmer Gareth Edwards was the first director on "Rogue One," which tells the tale of how a young woman (Felicity Jones) is rescued by the Rebel Alliance and is immediately asked to find the whereabouts of her scientist father (Mads Mikkelsen), who was coerced into working for the Empire on their new Death Star weapon. Jones' Jyn Erso is partnered with a no-nonsense Rebel captain (Diego Luna), a reprogrammed Imperial droid (voiced by Alan Tudyk) and, ultimately, a blind sorta-Jedi (Donnie Yen) and an Imperial defector (Riz Ahmed) on a planet-hopping trip to find her father, all the while being pursued by the Empire, including General Grand Moff Tarken (a computerized Peter Cushing) and Darth Vader himself.
Edwards' penchant for dark visuals and plodding, humorless characters is in evidence in the early stages of "Rogue One," which eventually shifts gears into a more active second half, complete with X-wing raids over a beach-like planet where the Empire is guarding the plans that Princess Leia comes to possess in the original "Star Wars" (1977). These later sections were supposedly the work of "Bourne Identity" series veteran Tony Gilroy, who reportedly cashed a $5 million check for writing and supervising new sequences that were shot after dismal test screenings of Edwards' first version.
Though "Rogue One" plays reasonably seamlessly in spite of its post-production woes, and is vividly shot throughout, the question that it never successfully answers is why it exists at all. This is a downbeat, morose film that's nearly completely devoid of humor and – despite a two hour-plus running time – comprised of a simplistic story line that's never very compelling. To their credit, the cast is mostly solid, with only Forest Whitaker chewing up the scenery in a bombastic turn, and brief run-ins with legendary "Star Wars" characters are fun for a few seconds.
Yet "fun" is also what this film almost completely lacks. Even its darkest passages, George Lucas' prequels were never this depressing, as a needlessly down ending attests (in a galaxy so large, couldn't someone have followed Yoda's lead and been driven into hiding from the Empire?). For the most part, "Rogue One" simply plays fan service to those of us who were kids when the original trilogy was released, fleshing out a story and connecting dots that never needed to be embellished in the first place. And the heavy reliance on CGI here – from backgrounds to entire characters reanimated from the past – ironically plays to the very contrary of what Disney and J.J. Abrams tried to do in "The Force Awakens" in terms of favoring practical effects whenever possible.
It's a watchable yet thoroughly disposable enterprise, a road down the Cinematic Dark Side that Disney's newest cash cow isn't likely to repeat anytime soon. That being said, the movie's robust box-office returns seem to indicate fanboys will eat up sloppy seconds and overlook even this film's glaring issues.
Disney's Blu-Ray edition of "Rogue One" offers an outstanding transfer (1080p, 2.40) as you'd anticipate along with potent 7.1 DTS MA audio. A DVD and Digital HD copy are on-hand along with a light amount of fluffy featurettes – expect more to surface in a Collector's Edition down the road, just like "The Force Awakens," especially considering no deleted scenes are included here.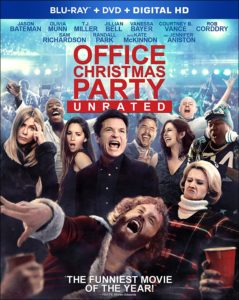 OFFICE CHRISTMAS PARTY Blu-Ray Combo Pack (**, 105 mins., 2016, R; Paramount): It's hard to completely throw a comedy that bothers to develop its characters under the bus – and also isn't entirely enraptured with gross-out bodily fluid gags – but the curious "Office Christmas Party" nevertheless whiffs on its comedic potential. A long-in-the-tooth Jason Bateman plays a Chicago executive whose branch is on the possible chopping block, so much so that its obnoxious, cold-hearted CEO (an equally tired Jennifer Aniston) wants her manager brother's (T.J. Miller) Christmas party to be axed. Of course, the big bash goes forward anyway, enabling a series of subplots involving their co-workers – played by a litany of Saturday Night Live and fellow TV sitcom talents like Kate McKinnon, Rob Corddry, Vanessa Bayer and others – to go forward.
Will Speck and Josh Gordon directed this Atlanta-lensed comedy, which outside of having a Christmas backdrop, offers no holiday feeling whatsoever. While that may not be a big deal, the movie's inherent lack of laughs definitely is. There's plenty of story to go around, but we've seen Bateman and Aniston play these roles many times before, and that lack of energy extends to the script, credited to six different writers…none of whom could come up with material that springs the picture to life. Paramount's Blu-Ray of the Dreamworks production includes an extended cut running five minutes longer; outtakes and deleted scenes; commentary; a featurette; the obligatory outtake reel; a DVD and Digital HD copy. Both the 1080p (2.35) transfer and 5.1 DTS MA sound are fine.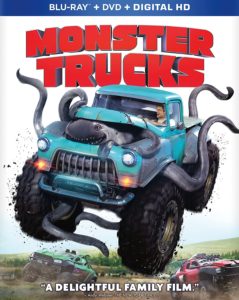 MONSTER TRUCKS Blu-Ray Combo Pack (**½, 104 mins., 2017, PG; Paramount): Hugely overbudgeted family film was quickly written off by Paramount even before its release this past winter. Its absurd price tag aside, this is an entirely watchable film for kids that finds a friendly subterranean creature augmenting a super Monster Truck owned by young Lucas Till (TV's new "MacGyver"). A Nickelodeon co-production, "Monster Trucks" is an inoffensive throwback to the kinds of family genre films (i.e. "Short Circuit") that flooded theaters in the '80s, and while it doesn't offer any surprises, director Chris Wedge's film was entirely undeserving of the critical bashing it took, mostly from people reviewing the film's production issues and budget instead of what's on-screen, which – if nothing else – should delight its intended audience. Paramount's Blu-Ray combo pack boasts deleted scenes, a gag reel, several featurettes, an attractive 1080p (2.35) transfer, Dolby Atmos audio, a DVD and Digital HD copy.
BLOW-UP Blu-Ray (111 mins., 1966; Criterion): Michelangelo Antonioni's first English language feature offers David Hemmings as the photographer who inadvertently captures a dead body on camera – or seems to – in an MGM production that fit the very description of the European "New Wave" and London's "mod" era. Far less a murder-mystery than a sometimes surreal look at perception-vs.-reality, Antonioni's film joins the Criterion Collection this month in a new Blu-Ray edition. A new 4K restored digital transfer is the disc's major asset, preserving the colors and look of the time in a 1080p (1.85) AVC encode with PCM mono audio. Extras include photography curators Walter Moser, Philippe Garner and art historian David Alan Mellor discussing Antonioni's approach; a 2016 interview between Garner and star Vanessa Redgrave; archival conversations with Antonioni, Hemmings and Jane Birkin; trailers; a 2016 documentary on the production; and extensive booklet notes, featuring the 1959 Julio Cortazar short story which the film is loosely based upon. Recommended for international cinephiles and Antonino devotees!
---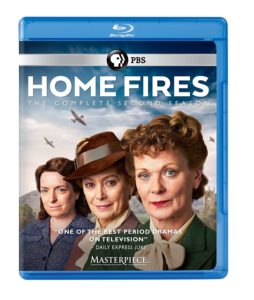 Coming This Month
PBS New Releases: Season 2 of HOME FIRES (6 hours, 2016) will be released on April 18th from PBS on Blu-Ray and DVD. The well-reviewed series stars Francesca Annis, Samantha Bond, Ruth Gemmell, Clare Calbraith and Claire Rushbrook in a satisfying portrait of British women of different ages trying to survive through WWII, inspired by Julie Summers' book "Jambusters." An emotional but not overly glossy production PBS brings to Blu-Ray sporting 1080p transfers and 2.0 stereo soundtracks (in full-length UK episodes)…Also new this month from PBS is TO WALK INVISIBLE: THE BRONTE SISTERS (120 mins., 2016), a Masterpiece look at Charlotte, Emily and Anne Bronte, their difficult life and efforts to make it as writers in West Yorkshire during the mid 19th century. "Last Tango in Halifax"'s Sally Wainwright wrote and produced this two-hour production starring Finn Atkins, Charlie Murphy, Adam Nagaitis, Chloe Pirrie and Jonathan Pryce. PBS' Blu-Ray includes a pair of bonus segments (The Bronte Story; An Authentic Look), a 1080p transfer and 2.0 stereo sound.
Lionsgate New Releases: Alexander Skarsgard and Michel Pena play a pair of crooked cops who blackmail criminals in John Michael McDonagh's WAR ON EVERYONE (98 mins., 2016, R), a black comic thriller that's out on Blu-Ray April 11th from Lionsgate. When the duo try to extort a strip club manager (Caleb Landry Jones) and his junkie boss (Theo James), they find themselves in over their heads in a quirky film co-starring Tessa Thompson. Lionsgate's Blu-ray offers a featurette, Digital HD copy, 1080p (2.39) AVC encoded transfer and 5.1 DTS MA sound.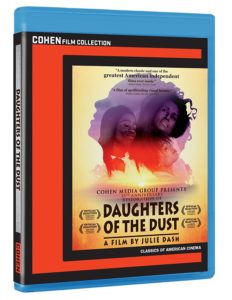 DAUGHTERS OF THE DUST Blu-Ray (112 mins., 1991, Not Rated; Cohen): A Gullah family, living on the Sea Islands off South Carolina's coast, is comprised of West African slaves who try to live by their Yoruba traditions and culture, all the while contemplating a move to the mainland – and the very possibility of losing their identity. Julie Dash wrote and directed this fascinating independent film that's been fully restored in conjunction with the UCLA Film and Television Archive, packed with extras including an interview with Dash and Dr. Stephane Dunn; a Q&A with Dash and actress Cheryl Bruce from the Chicago International Film Festival; an interview with cinematographer Arthur Jafa; a commentary with Dash and Michelle Materre; lossless PCM audio and a 1080p transfer.
Arrow New Releases: Elio Petri's PROPERTY IS NO LONGER A THEFT (126 mins., 1973) stars Flavio Bucci as a bank clerk who, after being turned down for a loan by his employer, opts to exact revenge on a butcher (Ugo Tognazzi) who's also the same bank's top dog. Bucci goes about his business by stealing his mistress (Daria Nicolodi) and taking his possessions one by one in an offbeat Petri work now in an Arrow Special Edition. The dual format Blu-Ray/DVD combo pack includes a 4K restoration from the original negative; new interviews with Bucci, producer Claudio Mancini and make-up artist Pierantonio Mecacci; and PCM lossless audio featuring a typically eccentric Ennio Morricone score…Also new from Arrow's "Arrow Academy" line of foreign works is Walerian Borowczyk's STORY OF SIN (130 mins., 1975), the auteur's only feature made in his native Poland. Arrow's lavish restoration includes a 2K presentation mastered from the original film negative; commentary by Samm Deighan and Kat Ellinger; new interviews with actor Gazyna Dlugolecka, critic David Thompson (on the director's use of classical music); and 2K restorations of the director's shorts "Once Upon a Time," "Dom" and "The School" with optional commentaries. Additional extras, the trailer, a DVD copy and uncompressed mono sound make this a must-have purchase for Borowczyk buffs
VEEP: The Complete Fifth Season Blu-Ray (285 mins., 2016; HBO): Armando Iannucci's acclaimed HBO series continues to rack up awards for star Julia Louis-Dreyfus, though some seemed to think this fifth season of "Veep" suffered from more preaching and abrasive character interplay than its prior seasons. Fans can be the judge when HBO releases Season 5 of "Veep" on Blu-Ray next week, the package also including a Digital HD copy, 1080p transfers, 5;1 DTS MA soundtracks, deleted scenes, and audio commentaries.
Also coming April 11th from HBO is Season 3 of the dynamite SILICON VALLEY (300 mins., 2016). This third season of the hit series from executive producers Mike Judge and Alec Berg finds Richard (Thomas Middleditch) and the Pied Piper boys having to work with a tough new CEO (Stephen Tobolowsky) while fighting again to maintain their creativity and independence. Big laughs and razor-sharp writing continue to make "Silicon Valley" the most entertaining and consistently well-performed series of its kind on TV today. HBO's Season 3 Blu-Ray boasts 1080p (1.78) transfers, 5.1 DTS MA soundtracks, a Digital HD copy and deleted scenes for extras.
WHY HIM? Blu-Ray (111 mins., 2016, R; Fox):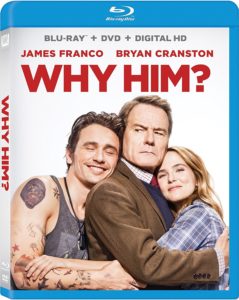 "Meet the Parents" scribe John Hamburg is at it again, this time with a dumb – if good natured – comedy revolving around another overprotective father (Bryan Cranston) whose Stanford-attending daughter (Zoey Deutch, whose real-life mom is Lea Thompson) brings home an eccentric, smart but socially awkward tech magnate (James Franco) who proceeds, of course, to make dear old Dad's life a living hell. Filled with talented comics in supporting roles (Keegan-Michael Key, Cedric the Entertainer, Megan Mullally as Cranston's wife), "Why Him?" pretty much delivers what you'd anticipate in terms of rude humor, and while it offers no surprises, the picture is at least better than its lame trailers indicated and the two stars play off each other fairly well. Fox's Blu-Ray includes a slew of supplements, from deleted scenes to featurettes, a gag reel, commentary, a 1080p transfer, 5.1 DTS MA sound, a DVD and Digital HD copy.
THE BYE BYE MAN Blu-Ray (97/100 mins., 2016, PG-13; Universal): Weak horror outing has a group of college students stumbling upon a demonic entity that responds to his name being called and promptly gets inside the head of his victims, causing them to do unspeakable acts. Sounds like "Candyman" – but this pedestrian genre exercise lacks all of that film's style and compelling performances, with a very tired Faye Dunaway looking nearly as engaged as she did with Warren Beatty at this year's Academy Awards. Even horror fans might want to say "bye bye." Universal's Combo Pack of the STX release – which did gross over $20 million on a slender budget – includes a 1080p transfer (1.85), 5.1 DTS MA sound, a DVD, Digital HD copy, and both the 97-minute theatrical cut and a 100-minute unrated version.
HEIDI DVD (111 mins., 2015, Not Rated; Film Movement): German lensing of the oft-told orphan's adventures stars Bruno Ganz as Heidi's grandfather in a well-mounted, attractively shot Studio Canal production. This 2015 release makes its North American debut in Film Movement's DVD, boasting the original German audio with English subtitles, or an English dubbed track. The 16:9 (2.40) transfer is quite good and the disc is a Walmart exclusive for the time being.
NEXT TIME: Scorpion's SAINT JACK Restores Peter Bogdanovich's cult favorite on Blu-Ray. Until then, don't forget to drop in on the official Aisle Seat Message Boards and direct any emails to our email address. Cheers everyone!