Christopher Nolan's new film DUNKIRK (**½, 107 mins., PG-13; Warner) is likely to divide viewers into two camps: those who feel the picture is a brilliant piece of cinema, and everybody else. Despite the mostly positive reviews, I regrettably found myself in the latter camp as this clinical "immersive viewing experience" played itself out.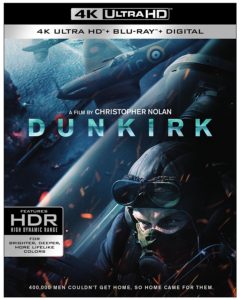 There's no denying "Dunkirk" is technically brilliant and beautifully shot — like everything Nolan has made. Yet, the film is also emotionally empty, with no character development of any kind — and I realize that may have been Nolan's point, to submerge the viewer (at times literally) into the mayhem of Dunkirk and the rescue mission of British troops surrounded by a faceless (and, here, nameless) enemy. Still, I found the final product sterile and cold. Instead of feeling an emotion at the end of the journey, I just felt exhausted and worn out from the endless barrage of bullets and explosions, which left me with an ear-splitting headache from a subwoofer that must have been cranked up too much (ditto for Hans Zimmer's thankless score, which ventures into some Vangelis Lite territory at the end, to no discernible emotional effect).
A few lines intended to convey the scattershot nature of war are thrown around here and there, but nothing is developed as Nolan spends most of the film showing an assault of near-misses and dire confrontations with "The Enemy," including aerial dogfights that are surprisingly disjointed in their editorial presentation. The "story", meanwhile, crosscuts between several characters — Mark Rylance's pleasure boater, corralled into participating in the evacuation; Tom Hardy's ace fighter pilot; Kenneth Branagh's concerned admiral, and a young solider, played by Fionn Whitehead, whom most of the action revolves around — but somehow never connects together, making for a film that manages to be tense without ever really being suspenseful. And then it just ends.
Although viewers were initially surprised by the thrifty running time (especially considering Nolan's prior works), 107 minutes was ultimately more than sufficient for this kind of purely technical exercise — and while it's still worthwhile to see on that level, and may enthrall some viewers on those grounds alone, "Dunkirk" sadly doesn't offer more than that.
4K Rundown: Unsurprisingly, Warner's 4K UHD presentation of "Dunkirk" looks and sounds phenomenal. The HVEC encoded UHD transfer is dominated by effective use of HDR, striking contrasts and top detail, all of it giving the cinematography a depth and clarity not as prominently displayed in an otherwise very strong Blu-Ray platter. Both transfers include IMAX sequences presented as shot, with some sequences framed at 2.35 and the former in 1.78. Extras extras here include typical behind-the-scenes interviews with Dunkirk survivors and film personnel reflecting on the event, plus a Digital HD copy.
It's tough to rag too much on a sci-fi film that does, at least, attempt to tell a genuine story augmented with "real science" in today's age of mindless comic book fantasies. On the other hand, is it too much to ask for a film like Nolan's INTERSTELLAR (***, 169 mins., PG-13) to be less convoluted and a bit more emotional – and by that I mean, actually move the viewer and not just throw up a group of characters crying hysterically on-screen? It's a solid albeit frustrating film in that Nolan manages to captivate, and occasionally enthrall, the audience for nearly all of its lengthy running time, while the picture is nearly as unmoving as many of his works.
On the plus side, this tale of a depleted Earth in dire need of food is believably rendered, with farmer Matthew McConaughey called into captain a last-ditch mission at finding another home in a galaxy that, ordinarily, would be far, far away. However, thanks to a wormhole dispatched near Saturn, McConaughey and his band of fellow astronauts (including Anne Hathaway) are able to spearhead an expedition to several planets that offer the potential of sustaining life. Meanwhile, back on Earth, McConaughey's family carries on without him while circumstances take a turn for the worse – and are exaggerated by the fact that hours that the crew passes in the remote galaxy are the equivalent of years back in the Milky Way.
Saying anything more about the plot, written by Nolan and his brother Jonathan, would be spoiling too much of the journey. Suffice to say a major actor (purposefully not mentioned in pre-release advertising) appears midway through the movie in a role that's transparent in its dramatic function and instigates a downward spiral which "Interstellar" never entirely breaks out of. The opening act of the film effectively sets up the film's setting and premise – which is remarkably free of environmental proselytizing – as well as McConaughey's connection to his family. Yet once the journey begins – and the astronauts experience an initial stop on a planet with waves reaching the height of mountains – the film tends to move from one "event" to the next on an emotional flatline, while there are seemingly endless scenes with characters arguing over wormholes, relativity, gravity, black holes, and 5th dimensional beings. These conversations eventually become so dense that the movie nearly feels like the equivalent of a Universal '50s monster movie where someone like J. Carroll Naish would outline the reason why a giant insect was cavorting around the desert. It's all techno-babble mumbo-jumbo, interesting to a point but overstuffed to a degree that you can just sense "Interstellar" is going to have a hard time appealing to audiences other than hardcore sci-fi geeks. Thankfully, the moments that sing truly do linger in the mind, and the resolution is a satisfying one.
4K Rundown: There's no doubt that Paramount's 4K UHD presentation of "Interstellar" is, in fact, spectacular in appearance, the movie receiving a strong assist from HDR that adds, once again, additional clarity and color to Nolan's visuals. The film is enhanced as a result, even if the (okay, I'll name him now) Matt Damon sequence still plays like a plot element lifted right out of an old "Star Trek" episode. Technically this is a marvelous transfer with the IMAX shot sequences being especially jaw-dropping (as with "Dunkirk," the aspect ratio shifts from 1.78 to 2.35). A Digital HD copy and the special features disc from the prior BD are also included (along with the original Blu-Ray).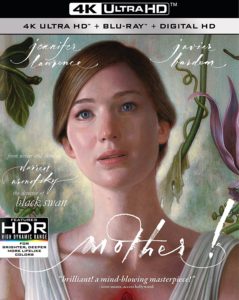 mother! 4K UHD (*½, 121 mins., 2017, R; Paramount): What in the wide wide world of sports is this? Darren Aronofsky's utterly insane "horror movie" abounds in ghastly violence and unspeakable crimes, yet this heavy-handed allegory isn't a "Rosemary's Baby" rehash as its marketing suggested (audiences revolted once they saw the actual product). Instead, this Aronofsky original offers Jennifer Lawrence as a woman whose "house party" held by her husband (Javier Bardem) turns more than a little grizzly. Nothing is what it seems in "mother!", which strives to say something about the earth and how mankind doesn't treat its home (or each other) properly – a Woodsy Owl short from my childhood accomplishes the same thing in a more effective manner than this disturbing and pretentious affair that's best left for Aronofsky completists only. Paramount's 4K UHD edition of "mother!" does look terrific, at least, boasting a vivid HDR presentation with exceptional clarity and Dolby Atmos audio. Two featurettes are also included along with a Digital HD copy and the standard Blu-Ray.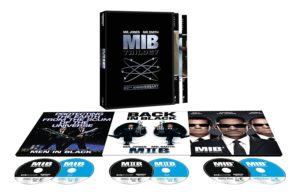 MEN IN BLACK 20th Anniversary 4K UHD Trilogy: "Men In Black" (**½, 98 mins., 1997, PG-13); "Men in Black II" (*½, 88 mins., 2002, PG-13), "Men In Black 3" (***, 106 mins., 2012, PG-13; Sony): 4K UHD box-set rounds up the complete (so far, at least) adventures of Will Smith & Tommy Lee Jones in director Barry Sonnenfeld's hit box-office trilogy.
As big a hit as "MIB" was back in the summer of '97, I distinctly recall being underwhelmed when I first saw it: Will Smith, Tommy Lee Jones, and big-eyed aliens should have equaled the '90s version of "Ghostbusters" for "The X-Files" generation. Unfortunately, Barry Sonnenfeld's movie — while a huge blockbuster success — is a watered-down comedy with some good ideas and a few laughs, but also a complete absence of character development and dramatic tension. Sure, Will's interrogation sequence is memorably amusing, and the film coasts along on the chemistry between its stars, but one gets the sense a better film could've been produced from the material…a feeling further hammered home by the total incompetence of its troubled 2002 sequel. For the most part, the less said, the better about "Men in Black II," which fails to hit the 90-minute mark and offers an uninteresting rehash of its predecessor no thanks to a weak Robert Gordon-Barry Fanaro script.
Though chock full of behind-the-scenes issues (a recurring theme with the films in this series!), the belated third MIB came as a pleasant surprise. Here, Will Smith's Agent J finds his world being altered, wiping out the entire existence of Agent K (Tommy Lee Jones) along with it. As it turns out, an extraterrestrial menace has broken free from a prison on the moon, gone back in time and terminated K's life back in the '60s. In order to save the galaxy and his partner, J heads back in time and meets with a younger K (Josh Brolin, brilliantly mimicking Jones' mannerisms and delivery) in order to stop the vile Boris the Terrible (Jemaine Clement).
The first two "Men in Black" films got by due to the chemistry between the stars, although I found both pictures to be hollow, one-joke pictures that relied too heavily on special effects. Despite a great deal of trouble behind the scenes with this third installment (production had to be shut down for several weeks while the script was reworked), "Men in Black 3″ relies more strongly on its characters and what turns out to be a poignant story line as opposed to a neverending succession of wacky aliens and make-up FX. The film does have – as cliched as it sounds – a lot more heart than its predecessors, with Smith seeming more engaged, Brolin giving a lively performance, and Michael Stuhlbarg chipping in a particularly noteworthy role as a benign, Mork-like alien who spends his life perpetually analyzing possible future outcomes. Meanwhile Sonnenfeld helms the material without as much of a frenetic hand this time around – something that might disappoint viewers expecting a larger and louder sequel, but a decision that makes for a more satisfying and developed dramatic experience than its predecessors.
4K Rundown: All three MIB movies have been remastered by Sony in fresh and finely detailed UHD presentations. Sony's library titles in 4K typically offer a natural, pleasing amount of grain and detail, and that's the case here, with the various (and ample) special FX sequences getting a boost from use of HDR that strengthens individual colors. Combined with Dolby Atmos audio, these are – much like Sony's "Spider-Man" 4K releases – an easily-recommended upgrade for 4K owners. The Blu-Ray platters are also included plus Ultraviolet HD copies and extras that accompanied the individual films on their prior Blu-Ray releases, including ample featurettes, commentaries and other goodies.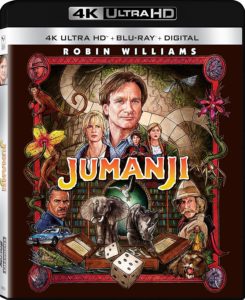 Also new from Sony on 4K this month is JUMANJI (***½, 104 mins., 1995, PG), which has been remastered for a UHD presentation no doubt because of the upcoming Dwayne Johnson/Jack Black "reboot." The good news is that, however bad the new "Welcome to the Jungle" off-shoot happens to be (and it looks pretty lousy), "Jumanji" fans will now have access to a beautiful 4K presentation of the original film thanks to Sony. This engaging 1995 fantasy-adventure from director Joe Johnston has always been underrated, starring Robin Williams in an effectively subdued (considering the subject) performance as a man who's been trapped in a magical board game since he was a teenager. Years later, he escapes – along with a slew of animals – into his New Hampshire hometown, where he helps out his childhood friend (Bonnie Hunt) and two youngsters (Kirsten Dunst, Bradley Pierce) living with their aunt (Bebe Neuwirth). From James Horner's score to ILM's effects, "Jumanji" is a classy, entertaining piece of genre filmmaking with a more serious dramatic component than one might anticipate.
4K Rundown: Sony's 4K UHD presentation is the best "Jumaniji" has ever looked on home video by far. Though HDR aids the material throughout, it's more a modest upgrade than usual, as overall detail is better conveyed than the movie's somewhat uneven prior appearances on Blu-Ray. Horner's score runs the gamut from inspired to derivative in various moments, but unquestionably helps the picture's emotional undercurrents. The Dolby Atmos audio is excellently rendered and extras include two brief, unused bits from the film's ending and gag reel on a newly remastered Blu-Ray (also included and available separately), plus a Digital HD copy and extras from previous releases (commentary, trailers, animated series episodes, etc.).
---
Warner Archive New Releases
Unquestionably one of the best films adapted from a Stephen King work, DOLORES CLAIBORNE (***½, 131 mins., 1995, R) is a rich, compelling film about a hardened Maine housekeeper (Kathy Bates) accused of murdering her long-time boss: a wealthy, elderly socialite whose demise isn't entirely what it appears to be. Complicating matters, though, is Dolores Claiborne's involvement in her husband's death years before – an accident that occurred under a solar eclipse and drew suspicions from a local investigator (Christopher Plummer) who thinks she's murdered again.
A Castle Rock production that was greeted with strong reviews but only modest box-office, "Dolores Claiborne" has weathered the years and remains one of the best King movies. Its story of everyday – as opposed to supernatural – horrors flourishes under the cinematic touches of director Taylor Hackford and writer Tony Gilroy, whose flashback structure (bathed in bright, primary colors, whereas the present is conveyed in dreary tones) and widescreen cinematography make for a striking piece of cinema that could've been handled under predictable conditions by any number of other filmmakers. The film immediately hooks the viewer and sustains interest throughout its ample but never dull 2+ hour running time, while the performances are notably outstanding.
Bates is even better here than she was in her Oscar-winning (though somewhat comparatively one-note) turn in another King adaptation, "Misery," conveying a protagonist whose plight is believably rendered. Judy Parfitt is superb as Dolores' wealthy boss, who offers surprising levels of support, while Christopher Plummer eats up his turn as the cool, calculating local detective still pursuing Dolores after several decades. John C. Reilly and David Straithairn also make an impression in early supporting turns, leading only Jennifer Jason Leigh to disappoint as Dolores' troubled reporter daughter, who reluctantly comes to her side. Leigh is supposed to be strident but she's too arch in the role, something I noticed more clearly this time around – one could see any number of other actresses being able to inject more sympathy into the part.
It's not a major issue, though, as "Dolores Claiborne" is still a surprisingly cinematic work that manages to be powerful and eerily poignant in equal measure. A movie that's long demanded the high-definition treatment, Warner Archive has finally brought the Castle Rock film to Blu-Ray at long last. The Nova Scotia-shot cinematography of Gabriel Beristain is translated to home video far more successfully in a new 1080p (2.41) AVC encoded transfer here than the older DVD master, which had issues with the film's varied colors. Danny Elfman's strong dramatic score, meanwhile, is housed in a 5.1 DTS MA mix with the trailer and Hackford's DVD commentary as its sole extra. Highly recommended.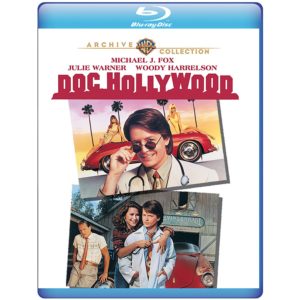 Likewise debuting on Blu-Ray from the Warner Archive is another '90s catalog title, DOC HOLLYWOOD (** ½, 104 mins., 1991, PG-13). This lightweight Michael J. Fox vehicle was one of the star's more successful romantic comedies, starring Fox as a Beverly Hills plastic surgeon who takes a wrong turn into a South Carolina town. There, he meets a succession of folks straight out of a TV sitcom (including Woody Harrelson, Bridget Fonda, David Ogden Stiers, and Barnard Hughes) and kindles a romance with a local ambulance driver (Julie Warner). Michael Caton-Jones' film is enjoyable fluff but is pretty vanilla in its set-up – one used for countless films made before and since. If you're a fan of Fox or the stars, "Doc Hollywood" offers mild charm and is certainly better represented by the Warner Archive with its brand-new 1080p (1.78) transfer than Warner's earlier, full-screen mastered DVD edition. The trailer is the sole extra.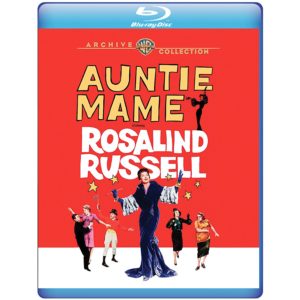 Also New From the Warner Archive: Rosalind Russell's performance as AUNTIE MAME (143 mins., 1958) became an instant classic on-stage in the Broadway adaptation of Patrick Dennis' autobiographical book. This widescreen Warner Bros. film version likewise was an immediate hit, capturing the larger-than-life performance of Russell in a faithful rendering of its stage source, scripted by Betty Comden and Adolph Green. Warner Archive's Blu-Ray presents "Auntie Mame"'s Technirama frame in a gorgeous 1080p (2.35) transfer with DTS MA mono sound. Extras include a music-only track of Bronislaw Kaper's score, plus trailers for the film and the disappointing film version of "Mame," Jerry Herman's terrific stage musicalization that was sunk by star Lucille Ball…Before he became a genius of cinematic comedy, Preston Sturges launched his career on stage, authoring a ribald comedy named STRICTLY DISHONORABLE that became a Broadway smash. It was first brought to the screen by Carl Laemmle and Universal in 1931, starring Paul Lukas, Lewis Stone, Sidney Toler and Sidney Fox playing the title's heroine – a southern belle who fights with her finance and subsequently spends the night in a speakeasy where she befriends a series of colorful characters, including famous operatic singer Tino Caraffa (Lukas). MGM remade the film in 1951, tailoring it as a vehicle for tenor Ezio Pinza and his operatic flourishes. Janet Leigh co-starred in the remake, which Melvin Frank and Norman Panama reworked to decent effect. Warner Archive's DVD combines both the 1931 and 1951 screen versions of Sturges' early effort on one disc with full-screen B&W transfers.
---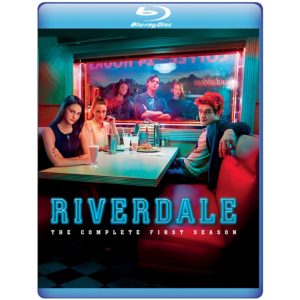 Warner Archive Blu-Ray Exclusives
RIVERDALE – The Complete First Season Blu-Ray (555 mins., 2017; Warner Archive): WHAT IT IS: After years of false starts and stops, Archie Comics successfully relaunched their classic characters on-screen, here in the form of a well-written, if occasionally overly "edgy," reboot. No, don't expect a lot of wholesome messages as Archie begins this "Twin Peaks Lite"/"Veronica Mars"-esque series having an affair with his high school teacher (!) while the brother of Cheryl Blossom turns up dead in the local river. Betty and Veronica are, naturally, here as well, played by the respectively fetching Lili Reinhart and Camila Mendes, who are both easy on the eyes and provide an anchor that Archie himself (played by KJ Apa) sometimes is unable to do. More interesting than Arch is Cole Sprouse's Jughead, who becomes involved in the investigation into Jason Blossom's death and finds out his father (Skeet Ulrich) might be involved. Luke Perry (Archie's dad) and Madchen Amick (Betty's mom) are also around to lend adult support in a very entertaining series whose future prospects look bright, especially if the sometimes-strained "adult elements" are toned down. This isn't a Filmation cartoon, we get it! BLU-RAY BREAKDOWN: Warner's Archive-released Blu-Ray offers all 13 episodes from "Riverdale" in fine 1080p (1.78) transfers and 5.1 DTS MA sound. Extras include unaired scenes, a gag reel, and five featurettes, a 2016 Comic-Con panel among them.
LUCIFER – The Complete Second Season Blu-Ray (787 mins., 2016-17; Warner Archive). WHAT IT IS: There's nothing like Lucifer teaming up with a lovely LAPD detective to help solve crimes – which is exactly what you get with the second season of the agreeable, and steadily improving, Fox crime procedural, which is more than reminiscent of "Sleepy Hollow." However, while that Fox series started off strong and bombed out, "Lucifer"'s wackiness and humor have kept it afloat as it's about to kick off its third season. BLU-RAY BREAKDOWN: This Season 2 set from Warner presents "Lucifer"'s sophomore season in superb 1080p (1.78) transfers and 5.1 DTS MA soundtracks. Two featurettes (2016 Comic Con panel, "Reinventing Lucifer" segments), a gag reel and unaired scenes comprise the extras. AISLE SEAT BOTTOM LINE: Devilish fun, as they say, "Lucifer" is worth a look now that the series has found its footing and embraced its offbeat nature.
THE ORIGINALS: The Complete Fourth Season Blu-Ray (547 mins., 2017; Warner Archive).WHAT IT IS: Spin-off from CW's "The Vampire Diaries" focuses on the Mikaelson clan, the "Original" vampire family who helped build New Orleans' French Quarter. In these 13 fourth-season episodes, hybrid Klaus is held captive by Marcel Gerard and sibling power-duo Elijah and Rebekah are frozen in an enchanted sleep. After the group is reunited, they're forced to bridge an alliance with ex-allies Marcel and Vincent Griffith – witches who are tasked with keeping New Orleans together. BLU-RAY BREAKDOWN: Fans of this kind of thing ought to gravitate towards "The Originals," which is slickly produced and a bit more outlandish than its "Vampire Diaries" sibling. Warner's fourth-season Archive Blu-Ray edition of "The Originals" includes a 2016 Comic Con Panel, unaired scenes, a gag reel, plus 1080p transfers and 5.1 DTS MA soundtracks.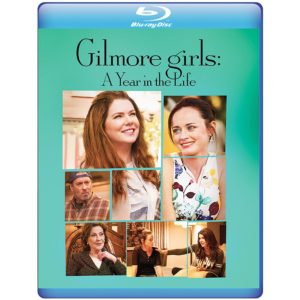 THE 100: The Complete Fourth Season Blu-Ray (548 mins., 2017; Warner Archive): With Earth's nuclear reactors melting down and the atmosphere about to be impacted as a result, the survivors on "The 100" face an uncertain future. With the world hanging on by a thread to begin with, there are even more fractured alliances and corrupted relationships in this fourth season of the CW series, which debuts its 2017 campaign – all 13 episodes – on Blu-Ray exclusively as a Warner Archive release. Supplemental featurettes include "From Outcasts to Leaders," "Creating a Post-Apocalyptic World," "The 100: Jasper's Journey," "Battle Tested: The 100 Season 4 Stunts," a 2016 Comic Con panel, gag reel, and unaired scenes. All the 1080p (1.78) transfers and 5.1 DTS soundtracks are just fine in Warner's Archive package.
GILMORE GIRLS: A YEAR IN THE LIFE Blu-Ray (368 mins., 2016; Warner Archive): Amy Sherman-Palladino created "Gilmore Girls" and returned to produce this Netflix follow-up, reuniting the original cast of Lauren Graham (Lorelai) and Alexis Bledel (daughter Rory), along with the denizens of Stars Hollow, Connecticut. The quartet of long-form episodes should delight "Gilmore Girls" fans even if the ending's left ajar for another follow-up. Warner's Archive-exclusive Blu-Ray release includes 5.1 DTS MA sound and 1080p (1.78) AVC encoded transfers for those who weren't able to stream the series.
BATMAN: MASK OF THE PHANTASM Blu-Ray (76 mins., 1994, PG; Warner Archive): Excellent feature distillation of the acclaimed Batman animated series has developed a fan following since its meager performance at the Christmas '93 box-office. In fact, the 76-minute feature boasts a stronger, more coherent story than many of the Dark Knight's live-action flicks, coming to a poignant conclusion and strongly scored by Shirley Walker as well. Warner's Archive Blu-Ray includes an attractive 1080p AVC high-def transfer in both 1.85 and 1.37 aspect ratios (the production was matted for theatrical exhibition) plus 2.0 DTS MA stereo sound.
---
Kino Lorber New Releases
Kino Lorber closes out 2017 with a handful of superb Blu-Ray additions to their Studio Classics line, including a full-fledged Special Edition of THE WHALES OF AUGUST (***, 90 mins., 1987, PG).
This small independent film marked the cinematic swan song for a few of its participants, including Lillian Gish, who plays opposite Bette Davis as a pair of squabbling sisters living in Gish's picaresque Maine cottage. This isn't exactly "On Golden Pond," though, as the two elderly women recall their pasts via flashback material and bicker about their fates. Vincent Price and Ann Sothern (her final film also) co-star in a Lindsay Anderson film that was written by David Berry, who adapted his play, first performed at Trinity Rep in Providence, R.I. during the early '80s.
"The Whales of August" is something of a minor movie: there are few emotional fireworks and Anderson likewise brings few cinematic flourishes to it. What does make it worthwhile are, of course, the performances, with both Gish and Davis – the latter visibly struggling physically following a number of ailments – representing Hollywood's past in a rare opportunity to see them together one last time.
The behind-the-scenes story of the picture is, in many ways, more interesting than its dramatic content, and Kino Lorber's Blu-Ray preserves many of the production's rich anecdotes in a strong supplemental section. Interviews include actresses Mary Steenburgen, Margaret Ladd and Tisha Sterling (all seen in flashback sequences) reflecting on the film. Sterling, Sothern's daughter, is especially insightful as she discusses the memorable (for all the wrong reasons) first and only meeting she had with Davis. There are also interviews with producers Mike Kaplan and Shep Gordon, as well as a commentary with Kaplan, who discusses putting the project together and the challenges involved with its Maine coastal shoot. An excerpt from Malcolm McDowell's Lindsay Anderson performance piece, "Never Apologize," is included (McDowell was married to Steenburgen at the time and, of course, worked with Anderson on a number of films) plus a number of raw interviews conducted with Anderson, cinematographer Mike Fash and the cast from what were likely intended as EPK materials.
The 1080p (1.85) MGM licensed transfer and DTS MA audio are perfectly acceptable, making for one of Kino Lorber's most robust Special Editions in a year full of marvelous Blu-Ray releases from the label.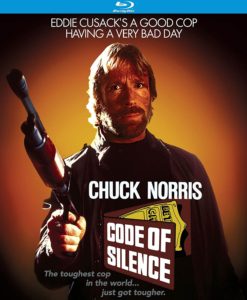 CODE OF SILENCE Blu-Ray (***, 101 mins., 1985, R; Kino Lorber): One of Chuck Norris' best starring vehicles receives a new Special Edition Blu-Ray from Kino Lorber this month. In fact, one could argue this was Norris' "breakout" critical success – a robustly entertaining Orion release that features Chuck as a tough Chicago detective who takes on a drug cartel – and even members of his own department. Co-starring Henry Silva and Dennis Farina, this exciting vehicle also helped launch the career of future "Fugitive" director Andrew (Andy) Davis, and remains one of the best action-thrillers of the mid '80s.
Fox previously released "Code of Silence" on Blu-Ray in a no-frills release that's been completely usurped by Kino Lorber's superb new Special Edition. The disc includes what appears to be a newer and more satisfying 1080p (1.85) transfer with both DTS MA mono and a new 5.1 track that adds a bit of oomph to the sound field but mostly plays within the confines of its original monophonic design. Brand-new extras are where the disc truly comes to life: Davis provides an insightful commentary while a series of separate on-camera interviews offer conversations with screenwriter Michael Butler, composer David Michael Frank, actress Molly Hagan and actor Ron Dean. Together, it gives this fully entertaining mid '80s Norris vehicle the deluxe treatment it deserves.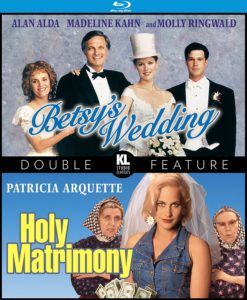 BETSY'S WEDDING Blu-Ray (***, 94 mins., 1990, R)/HOLY MATRIMONY (**, 93 mins., 1994, PG-13; Kino Lorber): Double-Feature Blu-Ray offers two Touchstone/Hollywood Pictures comedies from the early '90s.
The amiable ensemble comedy BETSY'S WEDDING was the last of Alan Alda's directorial outings – on that scale, it's not as funny as "Sweet Liberty" or "The Four Seasons," but at least fares better than his uneven "A New Life." Alda and Madeline Kahn play the parents of progressive bride-to-be Molly Ringwald in this 1990 comedy, which almost overcomes an uneven script thanks to a terrific cast that also includes Ally Sheedy, Joe Pesci, Catherine O'Hara and Joey Bishop as Alda's deceased father. Bruce Broughton contributes a nice score too.
The movie has been paired here with one of Leonard Nimoy's most dismal directorial outings, HOLY MATRIMONY, a comedy with Patricia Arquette as a seasoned streetwise thief who hides out with her boyfriend (Tate Donovan) in a Hutterite community near the Canadian border after stealing from a carnival. There, she's married off to a 12-year-old member of the group (Joseph Gordon-Levitt) in a film that recalls other "fish out of water" affairs like Melanie Griffith's equally bad "A Stranger Among Us," just dressed up with a comedic flair that Nimoy doesn't quite carry off.
A box-office wipeout that quickly made its way to home video, "Holy Matrimony" joins "Betsy's Wedding" in a Kino Lorber double-bill. The 1080p (1.78/1.85) AVC encoded transfers are better compressed than their earlier Mill Creek Blu-Ray counterparts, yet both stereo films are presented here in mono instead, somewhat curtailing the technical benefits of the transfers. This happened before on several Mill Creek Touchstone titles (though not these particular ones), making one think there's an issue with some of the elements Disney provided to the labels. Trailers are also included.
There are no shortcomings with another Kino Lorber Double-Feature Blu-Ray of Touchstone comedies BIG BUSINESS (**½, 97 mins., 1988, PG) and SCENES FROM A MALL (**, 89 mins, 1991, R).
Both films starred Touchstone box-office queen Bette Midler, who managed to lift the sometimes mixed results of BIG BUSINESS into a respectable summer '88 diversion. Midler and Lily Tomlin play twins whose lives criss-cross in a sometimes strained, intermittently amusing comedy from "Airplane!" co-helmer Jim Abrahams, who directed Midler – along with the Zucker Brothers – to greater success in "Ruthless People" a couple of years prior (strangely, that hit remains unavailable on Blu-Ray, one of several "popular catalog titles" Disney continues to hang onto alongside the likes of "What About Bob?" and "Three Men and a Baby").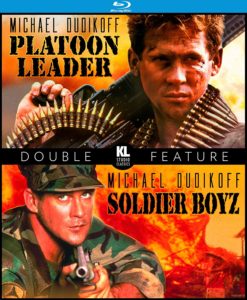 While "Big Business" wasn't especially memorable, it proved to be more appealing than what was one of 1991's bona-fide disappointments: SCENES FROM A MALL, which brought together Midler with Woody Allen under the direction of Paul Mazursky, who previously helmed Midler's box-office renaissance "Down in Out and Beverly Hills" (another inexplicably MIA Disney catalog title). Though watchable today as a time capsule of the early '90s and a mall setting that's disappearing from the American landscape, this labored "drama-edy" involving bickering couple Midler and Allen is strained and seldom amusing.
Kino Lorber's Blu-Ray is derived from what appear to be the same elements that comprised Mill Creek's earlier standalone Blu-Rays of these films, though the 1080p encoding (the Mill Creek discs were 1080i) results in slightly better compression. The 2.0 DTS MA soundtracks each faithfully reproduce the two pictures' respective Dolby Stereo mixes with trailers rounding out the disc.
PLATOON LEADER (97 mins., 1988, R)/SOLDIER BOYZ Blu-Ray (90 mins., 1995, R; Kino Lorber):Michael Dudikoff double-header from the latter end of his action hero days offers a modestly entertaining twin-bill for undemanding genre fans. "Platoon Leader" is the superior of the duo, a post-Golan-Globus Cannon production starring Dudikoff as a green West Point grad sent to command a unit in Vietnam. James McDonough's book provided a more factual basis for this exercise which meshes a Cannon-like take on "Platoon" with the usual action heroics – it's a B-movie through and through under Aaron Norris' direction, but it's watchable. One of Dudikoff's last top-billed appearances came in "Soldier Boyz," where a former marine (guess who) recruits a group of tough young kids from the wrong side of the tracks to help him retrieve a kidnapped heiress in Vietnam. This Motion Picture Corporation of America production is fairly meager but does boast Cary-Hiroyuki Tagawa as its villain and a decent Terry Plumeri score. Both movies receive quality MGM licensed 1080p (1.85) transfers and DTS MA stereo soundtracks plus a few Dudikoff trailers. For the hardcore.
---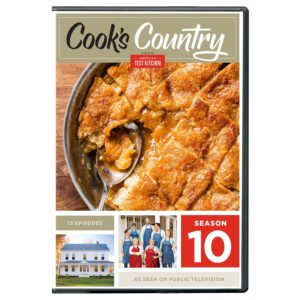 TV on DVD
COOK'S COUNTRY – Season 10 DVD (345 mins., 2017; PBS): Even minus Christopher Kimball, there's plenty of entertainment to be found in this latest collection of episodes from the long-running, popular PBS cooking show. Host chefs Bridget Lancaster and Julia Collin Davison are back as they spin easy-to-make (but probably hard-to-master) recipes including Pork & Pierogi, Smoky Barbeque Favorites, Mississippi Mud Pie, Whoopie Pies (a New England favorite), Garlic Fried Chicken, and plenty more in Season 10 of "Cook's Country," now on DVD from PBS.
FULLER HOUSE – Season 2 DVD (367 mins., 2017; Warner): DJ, Stephanie and Kimmy return for the hit second season of Netflix's "Full House" reunion spin-off. This time around, DJ chooses between Matt and Steve, while Stephanie and the Gibbler grow closer and Kimmy's ex-husband moves in. Candace Cameron Bure, Jodie Sweetin and Andrea Barber are back with guest appearances from John Stamos, Bob Saget, Dave Coulier and Lori Loughlin sprinkled throughout "Fuller House"'s 13 second-season episodes, which – like its prior season – offers dopey humor and some awkward dramatics, but does seem somewhat more cohesive this time around in terms of plotting. Warner's Season 2 "Fuller House" DVD is out this week sporting 16:9 transfers and 5.1 Dolby Digital sound.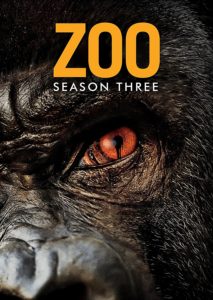 ZOO – Season 3 DVD (aprx. 9 hours, 2017; CBS): James Patterson and CBS' absolutely bonkers summer-time series comes to a conclusion with mutant hybrids, zombie dogs, and the animal apocalypse sparing only but a few hardy survivors, who try and save humanity in 2027. By this point, you are either aware of "Zoo" and enjoy its shenanigans or you don't, and it goes without saying Season 3 is a "fans-only" entry that only works if you've sat through its prior years…and even then, you may or may not be entertained by its conclusion. CBS' Season 3 DVD edition of "Zoo" includes 16:9 transfers, 5.1 sound and a number of extras including deleted scenes, a gag reel and VFX reel…Also new from CBS is another summer-time network series, SALVATION (aprx. 10 hours, 2017), which takes its cue from the likes of "Deep Impact" and "Armageddon" as it follows a series of characters banding together to help prevent Earth's annihilation from an asteroid making a beeline for our home. "Salvation" is overly familiar yet drew enough viewers to generate a second season coming in 2018; CBS' Season 1 DVD includes deleted and extended scenes, a Comic Con panel, two other featurettes, 16:9 transfers and 5.1 Dolby Digital soundtracks.
---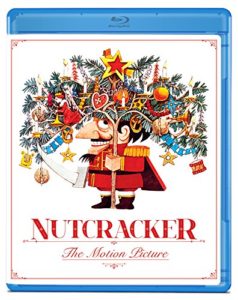 New & Noteworthy
NUTCRACKER: THE MOTION PICTURE Blu-Ray (***, 85 mins., 1986, G; Olive Films): Carroll Ballard's 1986 "Nutcracker: The Motion Picture" captures the Pacific Northwest Ballet's adaptation of Tchaikovsky's perennial with sets and costumes designed by Maurice Sendak. No-frills filmmaking here – just a straight adaptation of the ballet with fine cinematography by Stephen H. Burum and a lovely soundtrack performed by the London Symphony Orchestra. Following a 2012 MGM manufactured-on-demand DVD, Olive brings "Nutcracker" to Blu-Ray in a fine 1080p (1.85) AVC encoded transfer with 2.0 DTS MA stereo sound. A trailer is included in a no-frills release that's perfectly timed for the season.
ONE MILLION B.C. Blu-Ray (80 mins., 1940; VCI): One of the screen's earliest cavemen epics is an occasionally uproarious adventure with Victor Mature starring as Tumak, the mighty hero who struggles to unite two different prehistoric tribes. Broadly played (putting it charitably) performances, some antiquated special effects and a fast pace make for an entertaining brew for genre fans that's been preserved here in a good looking VCI Blu-Ray. The UCLA Film Archive-derived B&W transfer apparently suffered from various ailments in its first pressing, but the supplied review copy I watched is part of a corrected batch that looks crisp and quite excellent, and the PCM audio preserves Werner Haymann's pleasantly varied score. A commentary from historian Toby Roan is also available, adding production insight into this Hal Roach effort, later remade as the more entertaining Hammer classic "One Million Years B.C." with Raquel Welch.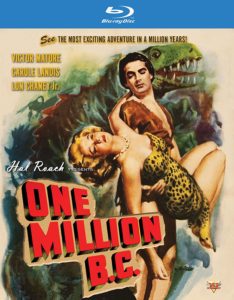 STRONGER Blu-Ray (119 mins., 2016, R; Lionsgate): Jake Gyllenhaal turns in one of his best performances as Jeff Bauman, a victim of the 2013 Boston Marathon bombing whose courageous recovery – after losing both of his legs – makes for an interesting contrast with his personal journey, where he struggles to consider himself a hero. Though dominated by typical "Masshole" levels of profanity that seem to dominate any new movie set in the Bay State ("The Fighter," "The Heat," etc.), Gyllenhaal's convincing portrayal is vividly captured in David Gordon Green's sadly little-seen picture. Lionsgate's Blu-Ray looks and sounds fine (2.40, 5.1 DTS MA) with a Digital HD copy and a half-hour behind-the-scenes featurette also included…Also new this week from Lionsgate is the most recent John Cusack direct-to-video thriller, BLOOD MONEY (85 mins., 2017, R), which stars Cusack as a corporate bad guy trying to retrieve his lost money in the woods while combating three friends who stumble into his scenario. Lucky McKee's career has had some ups and downs and is unfortunately on the down slope in this limp thriller, out on Blu-Ray from Lionsgate this week with a featurette, 2.40 AVC encoded transfer, 5.1 DTS MA sound and a Digital HD copy.
DETROIT Blu-Ray (143 mins., 2017, R; Fox): Another film from director Kathryn Bigelow that earned mostly favorable reviews but misfired commercially, "Detroit" attempts to tell the true story of Detroit's race riots that stemmed from an incident at the Algiers Motel in June '67. Bigelow and writer Mark Boal clearly wanted to "say something meaningful" and draw parallels to the current social climate that resulted from the event, but while uncomfortable to watch, "Detroit"'s characterizations often seem stilted and one-dimensional. The cast does try, especially John Boyega as a security guard, but this is not an easy film to view – albeit intentionally so. Fox's Blu-Ray includes a handful of behind-the-scenes featurettes, a fine 1080p (1.85) transfer and 5.1 DTS MA sound along with a DVD and Digital HD copy.
DUCKTALES: WOO-OO! DVD (44 mins., 2017; Disney)/TANGLED The Series: QUEEN FOR A DAY DVD (46 mins., 2017 Disney): Young fans should enjoy these new Disney Channel DVDs, both derived from two recent animated off-shoots of established Mouse brands. "Tangled: The Series" is a current spin-off from the recent Disney hit, finding Rapunzel becoming "Queen For a Day" in a fun, 45-minute effort with other characters from the film trying to help the Princess make some tough decisions after the kingdom is threatened by a blizzard. "Ducktales" is a kid-centric revamp of the Disney cartoon favorite, with Huey, Dewey and Louie finding out their uncle is none other than Scrooge McDuck. This 45-minute intro to the relaunched series also includes six bonus shorts while "Inside the Journal" shorts adorn the "Tangled" DVD. Transfers are 16:9 widescreen with 5.1 audio on both now-available Disney discs.
MPI New Releases: Acclaimed French directors Jean-Pierre and Luc Dardenne's new film, THE UNKNOWN GIRL (106 mins., 2016, Not Rated), is new to DVD this month from MPI as part of its Sundance Selects series. Adele Haenel plays a doctor who misses a call at the clinic she works at; after she finds out the African woman who perished died alone on the side of the road, she starts out on a crusade to memorialize her life. MPI's DVD offers a 16:9 transfer and 5.1 French sound with English subtitles…From MPI and IFC comes VICEROY'S HOUSE (106 mins., 2016, Not Rated), a period drama set in 1947 India, where Lord Mountbatten (Hugh Bonneville) and his wife (Gillian Anderson) arrive in New Delhi to help India's transition from colonial British rule to independence. "Bend It Like Beckham"'s Gurinder Chadha directed with IFC's now-available DVD including deleted scenes, the trailer, a 16:9 (2.40) transfer and 5.1 Dolby Digital sound.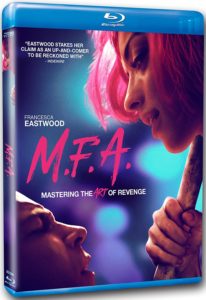 THE M.F.A. Blu-Ray (92 mins., 2017, Not Rated; MPI): Francesca Eastwood gives a memorable performance in "M.F.A." as an art student, assaulted at a party, who decides to not only go after her attacker, but ultimately right the wrongs done to other sexual-assault victims as well. Natalie Leite's independent character-driven drama is barely a cut-above a female "Death Wish" variant but Eastwood – daughter of Clint – anchors the film and is able to inject real heartbreak into the film, making it worth a look. MPI's now-available Blu-Ray includes interviews, the trailer, a 1080p (1.85) transfer and 5.1 Dolby Digital sound.
VALLEY OF BONES DVD (90 mins., 2017, R; Sony): Cable-TV movie favorite Autumn Reeser plays a paleontologist looking for a fossil find in North Dakota who teams up with a man with a troubled past (Steven Molony) who's found a famed T-Rex tooth. Their collective issues come into play in a watchable melodrama that features a very strange premise for a direct-to-video movie; as is usually the case with Reeser, she's the best thing about the project. Sony's DVD is out now, featuring a 16:9 (2.40) transfer and 5.1 Dolby Digital sound.
SHATTERED DVD (91 mins., 2017; Cinedigm): Domestic drama from director Natasha Kermani stars Arianne Zucker as a woman who marries the son of a corrupt and powerful politician, where she uncovers the truth about their family and adopted son. Ray Wise co-stars in this independent effort now on DVD from Cinedigm featuring a 16:9 transfer and 5.1 Dolby Digital sound.
NEXT TIME: HELL NIGHT and more as we wrap up 2017 and look ahead to the new year! Until then, don't forget to drop in on the official Aisle Seat Message Boards and direct any emails to our email address. Cheers everyone!