Message Board - Come and Discuss The Latest Videos, Movies & Anything Else!
One of the major cinematic disappointments of its day, the 1974 adaptation of F. Scott Fitzgerald's THE GREAT GATSBY (***, 143 mins., PG; Warner) is likely to be reassessed by viewers in lieu of the release of Baz Luhrmann's upcoming, and obviously more flamboyant, version starring Leonardo DiCaprio that opens May 10th. The perfect way to do so is through Warner Home Video's gorgeous new Blu-Ray presentation that, if nothing else, plays to the film's visual strengths.


Directed in an apathetic manner by Jack Clayton – whose career ranged from highlights like "The Innocents" to several disappointments including "Something Wicked This Way Comes" – "The Great Gatsby" boasts a script by Francis Ford Coppola, who came into save the expensive Paramount/David Merrick production after Truman Capote's prior adaptation was vetoed by the studio. The film cast Robert Redford as the enigmatic title character, Mia Farrow as Gatsby's eternal flame – Daisy Buchanan, Bruce Dern as her husband Tom, and Sam Waterston as Nick Carraway, Daisy's second cousin and a new arrival on the Long Island social scene circa 1925.

Carraway, who narrates the film and serves as the story's social conscience, watches from a distance as the upper-crust of "West Egg" commits innumerable acts of selfishness, with Tom cheating on Daisy with the wife (Karen Black) of a local mechanic (Scott Wilson), and Daisy herself rekindling her lost love for the withdrawn Gatsby. As embodied by Redford, Gatsby is a tortured soul whose lavish parties are merely a facade for his emotional longing for Daisy's love. His desire to recapture the past dooms his future, with writer Coppola occasionally foreshadowing the tragedy that eventually befalls the vapid characters of Fitzgerald's novel.

Coppola has written that Clayton paid scant attention to his screenplay, but while there's no question the film would've likely fared better with Coppola – at the time coming off the smash success of "The Godfather" – behind the lens, Clayton does capture enough of Coppola's adaptation that the movie isn't the total loss its reputation would lead you to believe. It's true that the movie's emotional aspect is detached from one end of the film to the other, and that the needed chemistry between Redford and Farrow never sparks (Farrow reportedly wrote that Redford's constant interest in the Watergate scandal kept him glued to the TV set whenever the cameras weren't rolling – something that may explain their lack of chemistry and Redford's disinterested performance). Scenes linger that should've been tightened up while Clayton keeps too much of the film on an even-keeled, dramatic flatline, and familiar faces from Edward Herrmann to Howard Da Silva (who also appeared in "Gatsby"'s 1949 film version) appear in parts retained from the novel that don't offer any payoff on-screen.

Yet "The Great Gatsby" still functions as an exquisitely good looking period film – a superficial romance that, despite its lack of emotional power, nevertheless manages to captivate for its sense of time and place. Making great use of Newport, Rhode Island mansions like Rosecliff, Marble House and The Breakers (subbing for Long Island), Clayton and cinematographer Douglas Slocombe capture the gaudy heyday of the '20s in all its beauty and excess. And what more needs to be said about Nelson Riddle's Oscar-winning soundtrack? Beautifully adapted from numerous standards as well as offering an effective, low-key dramatic underscore, Riddle's work on "The Great Gatsby" is some of his finest. His use of Irving Berlin's "What I'll Do," weaving in and out of the score from the movie's first frames, is heartbreakingly poignant, and gives the film a soul that its otherwise overly-placid tone lacks. (Here's hoping someone releases Riddle's score on CD at some point soon).

The movie's visual appearance, as well as its soundtrack, are both greatly enhanced by Warner's Blu-Ray presentation, which looks pleasingly natural with fine grain and detail present throughout (the details are so distinct you can easily see the old Jamestown [RI] Bridge in the movie's opening minutes). This is a beautiful 1080p AVC encoded presentation and another home run for Warner, releasing their first new title from the Paramount Pictures vaults as part of a recent catalog distribution agreement between the two studios. On the audio end, the 5.1 DTS MA soundtrack is surprisingly robust with a pleasing stereophonic presence.

While those expecting "The Great Gatsby" to become the '70s equivalent of "Gone With Wind" were severely disappointed, the film is worthy of another look, and Warner's Blu-Ray gives "Gatsby" a stellar presentation that adds to its visual and aural appeal.

---
Shout! Factory New Releases


While Shout's genre-centric Scream Factory has some amazing releases due out both this summer (with Tobe Hooper's "Lifeforce," John Carpenter's "The Fog" and Joe Dante's "The Howling") and fall (box-sets for Vincent Price and the "Amityville" films among those), horror fans can tide themselves over with a pair of new releases from the label this month as well.

At the top of the list is a Collector's Edition of THE BURNING (***, 91 mins., 1981, R), the outrageously good early '80s slasher from "creator"/producer Harvey Weinstein (yes, the future Miramax founder) that follows a group of kids who accidentally set fire to a camp caretaker...and who, in turn, promptly returns to those summer camping grounds to exact his revenge on the same counselors, including Jason Alexander, Holly Hunter, Fisher Stevens, and Brian Backer ("Fast Times at Ridgemont High"). Excellent make-up effects from Tom Savini lend an able hand to this "Meatballs" meets "Friday the 13th" styled affair, offering the requisite gore but a more appealing tone than most of its genre counterparts of the period.

Shout's special edition includes extras carried over from the prior MGM DVD (an interview with Savini, commentary from director Tony Maylam and British writer Alan Jones) plus adds insightful new extras including a commentary with Shelley Bruce and Bonnie Deroski and interviews with actors Leah Ayres, Lou David and editor Jack Sholder. Bonus galleries close out the extras, while the 1080p transfer is satisfying and mono sound rounds out the BD/DVD combo pack.

The other new Scream Factory release presents "Boggy Creek" auteur Charles B. Pierce's THE TOWN THAT DREADED SUNDOWN (**, 86 mins., 1977, R), a low-budget account of the Texarkana killer who donned a mask and murdered several locals – mostly young couples – along dusty back roads in 1946. Ben Johnson plays a Texas Ranger called in by local police to investigate the crimes, with Pierce's movie alternating between a fact-based "docu-drama" approach and something approximating an early slasher film.

"Town That Dreaded Sundown" debuted in the early days of VHS but hasn't been seen since (I remember the cover, being one of those oversized clamshell releases Warner Home Video used to produce in the early/mid '80s). Among certain cult aficionados, that layoff seems to have generated the reputation that the movie is something of a "lost classic." Truthfully, outside of the movie's excellent use of widescreen cinematography, "The Town That Dreaded Sundown" isn't all that interesting: Earl E. Smith's mostly-speculative script is awkward in places, stopping to incorporate some tepid comic relief involving a bumbling cop, and lingering forever on the killings themselves. While unsurprisingly not as explicit as today's gore-saturated thrillers, the movie grinds to a halt during its murder sequences, punctuated by an obvious score by Jamie Mendosa-Nava that offers all the subtlety of one of Hoyt Cutin's "Scooby Doo" soundtracks.

While I can understand the nostalgia its admirers may feel for the picture – like Pierce's "Boggy Creek," its "down home" independent filmmaking spirit is laudable despite the movie's weaknesses – many first-time viewers might be left scratching their heads as to what all the fuss is about.

Certainly not worth scratching your head over is Shout's 1080p AVC encoded transfer of this 1977 American-International release. Obviously working from a fresh new HD master, this is one of Shout's most impressive Blu-Ray catalog transfers with crisp detail and no obvious use of DNR or other "clean up" materials. The print occasionally shows a blemish here or there, but for me, the natural transfer only adds to the filmic experience. Extra features include new interviews with stars Dawn Wells (Maryanne from "Gilligan's Island," and who looks terrific) and Andrew Prine (who would find later genre success in "V"), along with the trailer, a stills gallery, on-screen essay by Brian Albright, and a commentary track with historian Jim Presley.

Also included on the DVD side in Shout's combo pack is the DVD debut of Pierce's 1979 rural thriller THE EVICTORS (*½, 92 mins., 1979, PG), a tepid tale of young couple Michael Parks and Jessica Harper moving into an isolated Louisiana home that had been the site of murders years before. Pierce, Garry Rusoff and Paul Fisk's original script is another period affair with a strong use of Panavision widescreen, but the movie is dull and unpleasant, climaxing with an especially unsatisfying ending. Culled from the best available elements at MGM, "The Evictors" boasts a passable 16:9 transfer with no extras.


After making a name for himself with the success of 1983's "The Evil Dead," Sam Raimi teamed up with pals Robert Tapert, Bruce Campbell and a pair of fellow filmmaker friends – Joel and Ethan Coen, the former having worked on "Evil Dead" – for the ill-fated 1986 release CRIMEWAVE (**, 86 mins., PG-13).

With "Crimewave," Raimi opted to break away from gore and make a movie "everyone could see." Taking a page (kinda) from the Coen Brothers and their debut picture, "Blood Simple," Raimi and the Coens concocted a zany affair that would utilize a pulpy plot involving a businessman trying to kill off his business partner, a pair of pet exterminators ("Popeye"'s Paul L. Smith and "Blade Runner"'s Brion James) attempting to carry out the murder, and a nerdy employee ultimately framed for the crime.

It might sound like something out of the Coen playbook, but "Crimewave" is really a cartoon – a manic, live-action, in-your-face cartoon with over-the-top humor and performances that certainly won't be for every viewer's taste (in fact, with a few more broadly-played gags, this could've done for pulp fiction what the ZAZ crew did to the disaster genre with "Airplane!" several years prior). Bruce Campbell generates a few laughs in a supporting role as an obnoxious heel, yet Bruce was supposed to be playing the film's centerpiece role – just one of many areas where studio interference from Embassy Pictures and its then owner, Norman Lear, caused a great deal of problems for Raimi and his crew.

Maybe it's just the passage of time at play but I recall finding "Crimewave" to be a lot funnier back when I was in high school. These days, its manic sensibilities come off as strident and overpowering (a little bit goes a long way), so I found the most enjoyable element of Shout's new Blu-Ray/DVD package to be its special features.

Bruce Campbell's on-camera interview and commentary track, moderated by DVD extras guru Michael Felsher, are both hugely entertaining, not to mention insightful for any aspiring filmmaker. Bruce isn't afraid to dissect the film's problematic shoot and divulges countless anecdotes throughout the course of the track, while the trailer and a respectable 1080p transfer round out the combo pack.

For comic book movie buffs comes CAPTAIN AMERICA (**½, 97 mins., 1990, PG-13) – no, not the recent Marvel movie, of course, but rather Albert Pyun's comic-book production that was shot for Menahem Golan's post-Cannon Group 21st Century Film Corporation but never theatrically released.

Matt Salinger (nephew of J.D.) plays Steve Rogers as he fights the Red Skull both in the '40s and again after he's frozen in time; Scott Paulin essays his arch-nemesis while a better-than-the-movie-deserves supporting cast includes Ronny Cox, Ned Beatty, Darren McGavin, Michael Nouri and Melinda Dillon. "Captain America" does move along briskly and has a few fun moments but is basically let down by threadbare production values (there's a WLVI TV-56 Boston microphone during a White House press briefing!) and terrible editing. Pyun further claims his film was ruined by Golan in post-production, but this charge isn't entirely supported by his recent so-called "Director's Cut" that the director sold a couple of years ago on his website (sadly I was dumb enough to buy a copy; the Blu-Ray version looked like some third-gen Youtube video!).

Particularly compared to the dramatic stylings of Reb Brown (who played Rogers in a pair of failed '70s TV pilots), Salinger is actually quite good as Cap -- the movie is more about Steve Rogers than the man in the suit, and there are intermittent moments where the film is effective. Tolkin's script, meanwhile, hits many of the same narrative buttons as the recent Marvel movie, but needed a more seasoned director and a stronger budget for it to come together.

Nevertheless, Shout's Blu-Ray goes a long way to making the '90 "Captain America" respectable. Previously available as a manufactured-on-demand DVD release that recycled its old home video master, Shout's Blu-Ray of "Captain America" is a vast improvement on any prior presentation of the picture. The AVC encoded 1080p transfer is detailed and satisfying, opening up the old 4:3 frame for a bolder, more colorful widescreen image that immediately enhances the cramped full-screen release of every prior transfer. The stereo sound is fine, and extras include a brand new, 20-minute featurette with Pyun and the good-natured Salinger lamenting the production's thrifty production values. Recommended for Marvel completists, and a reminder to younger viewers that those of us who grew up in the '80s often had to endure movies like this as our source of superhero entertainment – a far cry from the mega-budget, and hugely entertaining, big-screen comic book flicks of today.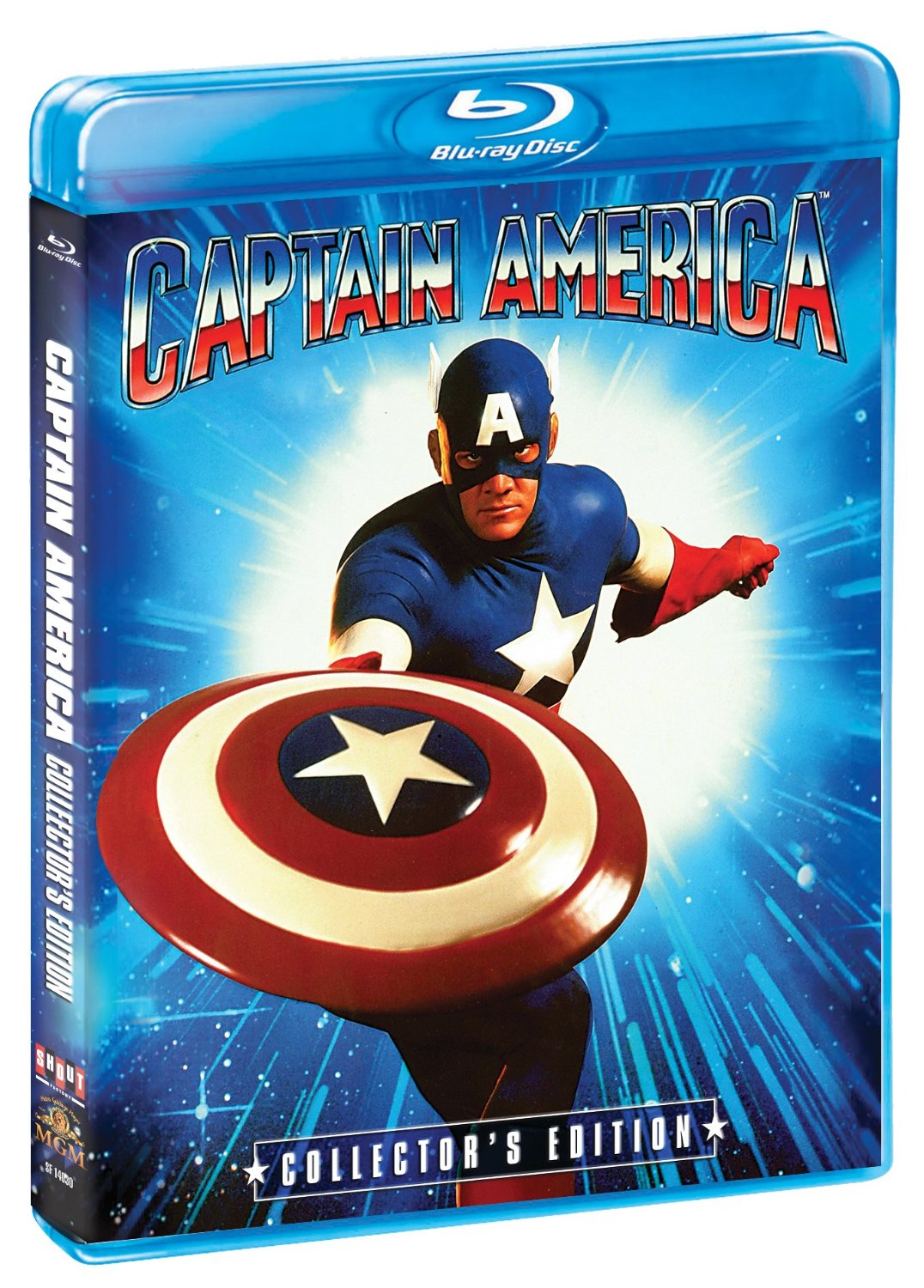 Paul Schrader and Heywood Gould's script for John Flynn's ROLLING THUNDER (***, 95 mins., 1977), meanwhile, makes for a pungent slice of '70s cinema that Shout will release on Blu-Ray later this month. William Devane stars as a Vietnam vet who loses his hand and – after returning home from the war – his family. Distraught and eventually fueled by revenge, he takes aim on their killers with the help of old army buddy Tommy Lee Jones, climaxing in a memorable showdown.

With the feel of an exploitation film but graced with strong performances – especially from Devane – "Rolling Thunder" is a mean, tough picture that had originally been produced by 20th Century Fox. After seeing the completed film, Fox dumped the movie and handed it over to Samuel Z. Arkoff's American-International Pictures who, predictably, played up the film's brutal elements (and its connection with "Taxi Driver") in its advertising. The end result is an efficient, striking thriller that ranks with Devane's best work.

Shout's Blu-Ray edition of "Rolling Thunder" offers a fresh 1080p transfer and DTS MA mono soundtrack, along with a new retrospective featurette that boasts comments from Devane, Jones, Schrader and Gould, along with the Percy Rodriguez-narrated original trailer.

Also New From Shout this month: Hammer fans will be thrilled with the label's Blu-Ray of THE VAMPIRE LOVERS (***, 88 mins., 1970, R), the 1970 thriller that marked the start of the studio's "Karnstein Trilogy." Ingrid Pitt stars as the vampiress trying to make the moves on young Madeline Smith while George Cole provides the opposition (Peter Cushing also makes an appearance as "The General"). Shout's Blu-Ray boasts a natural looking 1080p transfer with extras including a Making Of; interview with Smith; commentary with Roy Ward Baker; photo gallery; trailer; radio spot; and a reading of "Carmilla" with Pitt...Japan's Toei Company tried to cash in on the "Star Wars" craze with their mega-budget MESSAGE FROM SPACE (**½, 105 mins., 1978, PG), which at the time was Japan's most expensive film ever. Vic Morrow, Sonny Chiba, Peggy Lee Brennan and Philip Casnoff star in this colorful, if slow-going, sci-fi opus with better-than-average effects and plenty of Lucas-like elements, from dark-clad villains to talking robots and a Williams-like musical score performed by the "Columbia Symphony Orchestra." Shout's DVD boasts a 16:9 transfer of the best-surviving print of UA's U.S. release version, which surprisingly wasn't cut up for the American market (some of the dialogue was even recorded live on-set). Extras include the trailer, a stills gallery and liner notes from Japanese cinema authority August Ragone...MEL BROOKS: MAKE A NOISE (90 mins., 2013) is a brand-new American Masters documentary on the life and times of the comedian, from his "2000 Year Old Man" with Carl Reiner through his classic screen comedies and eventual work on the Broadway stage. Airing on PBS this May, Shout's DVD includes deleted segments, a 16:9 transfer and stereo soundtrack...ID:A (100 mins., 2010, Not Rated) is a semi-Hitchockian thriller coming to DVD this month from Shout offering a 16:9 transfer and English-subtitled Danish soundtrack...MONSUNO: POWER (110 mins., 2011) boasts five more episodes from the animated series (Breakthrough; RSVP; Appleseeds; Eye; and Deceit) along with character bios, colorful transfers and stereo soundtracks. More colorful shenanigans for kids is on tap on KAIJUDO: DRAGONSTRIKE (110 mins., 2013). Shout's DVD anthology includes the episodes "Into the Fire" Parts 1 and 2, "Heavenly Creatures" and the two-part "The Rising," along with an exclusive "Herald of Infernus" card...Finally, the enjoyable BEETLEJUICE: THE COMPLETE SERIES (aprx. 35 hours) sports the small-screen animated spin-off from the Tim Burton supernatural comedy hit, once again focusing on Lydia Deetz's adventures with the "Ghost with the Most." With a long-discussed sequel still nowhere in sight, "Beetlejuice" fans should be delighted with Shout's 12-disc DVD box-set of the complete animated series, comprised of 94 episodes all presented in full-screen transfers and stereo soundtracks. Available May 28th.
---
New on Blu-Ray

SILVER LININGS PLAYBOOK Blu-Ray Combo Pack (****, 122 mins., 2012, R; Anchor Bay): Unquestionably one of the best movies of last year, "Silver Linings Playbook" is a warm, winning romantic character-drama that represents the most satisfying work of filmmaker David O. Russell, who channels his eccentricities into a fully formed, passionate film with great performances.

Bradley Cooper is terrific here as the troubled youngest son of a Philadelphia family, while Jennifer Lawrence is absolutely his equal in her Oscar-winning role as the girl who helps Cooper put the pieces of his life back in place. Lawrence, who I've written before is unquestionably the best thing to show up on screen in some time, is attractive, smart, emotive and just great here in a performance that blows the doors off the comparative work of most "young Hollywood" starlets. As I've said from the first time I saw her in "Winter's Bone," she has the proverbial "it," and I could just watch this movie again for her performance alone. (The scene where Lawrence "proves" herself to Robert DeNiro, playing Cooper's father, was the singular most memorable scene of last year as well).

Fortunately everything else in this film also works, and speaking of DeNiro, he's also tremendous, proving what a terrific actor he can still be (when he isn't just cashing the check). "Silver Linings" is a bit rough around the edges in terms of its supporting cast – who aren't quite given as much to do as you'd anticipate – but the movie really had me going by the finish line, hitting all the right notes in a blissfully satisfying ending.

Anchor Bay's Blu-Ray of "Silver Linings" includes deleted scenes; numerous featurettes; Q&A highlights; a digital copy and Ultraviolet version; a DVD; and a good looking 1080p transfer with DTS MA 5.1 audio. Highly recommended!

New Manufactured-on-Demand CatalogTitles

This month's latest batch of manufactured-on-demand vintage titles again confirms the disparity that exists in the overall quality of product between the Warner Archive and everyone else – including Fox's Cinema Archives MOD series.

From Warners comes a series of new releases of note:


FAST COMPANY/FAST AND LOOSE/FAST AND FURIOUS TRIPLE FEATURE DVD: With Universal's sixth (!) installment in their smash "Fast and the Furious" series due out in a few weeks, Warner's triple-feature offers a trio of mysteries from MGM featuring bookdealer couple/amateur detectives Joel and Garda Sloane. Produced in 1938 and 1939, MGM's efforts to adapt the Sloanes into a kind of rival "Thin Man" franchise went through no less than three sets of stars: first Melvyn Douglas and Florence Rice in 1938's "Fast Company," then Robert Montgomery and Rosalind Russell in 1939's "Fast and Loose," and, finally, Franchot Tone and Ann Sothern in the Busby Berkeley-directed 1939 production "Fast and Furious." B&W transfers comprise the single disc Warner Archives release.

MGM also adapted detective NICK CARTER onto the screen in three "B" movies starring Walter Pidgeon around the same time: first in 1939's NICK CARTER MASTER DETECTIVE from director Jacques Tourneur, then in 1940's PHANTOM RAIDERS and SKY MURDER. These fast-moving war-time mysteries are good fun, but Carter would go onto greater success as the star of a long-running radio series that began in 1943 and ran through the mid '50s.

Tarzan fans are sure to get a kick out of BOMBA THE JUNGLE BOY: VOLUME 1, Monogram Pictures' knock-off series with former "Boy" Johnny Sheffield donning the lioncloth of a Borroughs-like jungle hero – created by Roy Rockwood – and saving the day in a series of programmers. Included in this Volume 1 release are the Walter-Mirisch produced "Bomba the Jungle Boy," "Bomba on Panther Island," "The Lost Volcano," "The Hidden City," "The Lion Hunters" and "Elephant Stampede," all produced between 1949-51. Solid B-movie fun for Golden Age buffs.

Also new from the Warner Archive are a pair of TV-on-DVD titles, including the complete first season of DR. KILDAIRE (1961-62) starring Richard Chamberlain as the title character: an intern at Blair Hospital who learns the ins and out of patient care under the tutelage of Dr. Leonard Gillespie (Raymond Massey). "Dr. Kildaire" was an immediate hit on NBC and helped establish the medical drama as a TV staple for decades to come; Warner's Archive box-set includes B&W transfers in reasonably excellent condition.


From the Hanna-Barbera Classic Collection comes THE ROMAN HOLIDAYS (292 mins., 1972), a short-lived variation on the "Flinstones" and "Jetsons" formula following a wacky family led by "Gus" Holiday, his wife Laurie, kids Happius and Precocia, and lion/best pal Brutus (voiced by none other than Daws Butler). Dom DeLuise voices Gus' boss Mr. Tycoonius in a typical Hanna-Barbera cartoon that fans should find appealing – Warner's Archive DVD box-set contains the complete series in good-looking transfers.

While not all of the Warner Archive releases are pristine, most are derived from the healthiest surviving elements – something that makes Fox's most recent batch of manufactured-on-demand DVD titles pale by comparison. Among the new releases in Fox's Cinema Archives series are several titles that ought to look great in widescreen – but are here saddled with ancient, worthless pan-and-scan crop-jobs.

GOODBYE CHARLIE (116 mins., 1964) leads the way on the latter – Vincente Minnelli's enjoyable gender/body-swap comedy with Tony Curtis, Debbie Reynolds, Pat Boone and Walter Matthau, which is badly scanned in this old video master. You'll find a similar level of old-time cropping on-hand in the 1961 Boone comedy ALL HANDS ON DECK (98 mins., 1961), one of numerous WWII farces produced in the '60s with Buddy Hackett and Barbara Eden co-starring. While neither film is anything spectacular, both would be appreciably improved by viewers being able to view them in their original widescreen formats.

Thankfully, not every film demands the widescreen treatment, and two B&W (1.33) Fox releases fare better at least on DVD: the Linda Darnell-John Shepperd programmer THE LOVES OF EDGAR ALLAN POE (67 mins., 1942) is a glossy Hollywoodized attempt at portraying the life of the troubled author, while SURF PARTY (67 mins., 1964) was a low-budget Fox cash-in on the wave of "Beach Party" pictures that were launched over at American-International. Fans of the genre may still enjoy this Bobby Vinton starrer with The Astronauts and The Routers among the musical acts.

---
New From Lionsgate

The upcoming release of "The Great Gatsby" has lead Miramax to dust off Baz Luhrmann's debut feature, 1993's STRICTLY BALLROOM, on Blu-Ray. This Aussie import remains, in many ways, Luhrmann's most satisfying film since it doesn't take itself too seriously and doesn't overreach for outrageous, excessive gags the way Luhrmann's later films have. Paul Mercurio stars as a championship ballroom dancer paired with newcomer Tara Morice -- their quest for the gold resembles "Cinderella," "Rocky," and other inspiring fairy tales, but the film's script is filled with laughs and amusing, colorful characters. Whenever Luhrmann attempts to convey the film's message ("A Life Lived In Fear Is A Life Half Lived"), he comes off as heavy-handed and pretentious, but fortunately that's something that doesn't happen all that often in this charming little film. Lionsgate's Blu-Ray looks decent, contains a 1080p AVC encoded transfer, DTS MA audio and extras ported over from the prior DVD (commentary, documentary).

GAMER 3-D (Zero Stars, 95 mins., 2009, R; Lionsgate): 3-D conversion of the repellent, over-the-top 2009 sci-fi thriller from the "Crank" duo of Neveldine/Taylor is a virtual re-do of "The Running Man," with prison-inmate contestants playing a televised game where the winner gets to be released, back home to their wife and kids. The twist here is that the contestants are being controlled by gamers and the contest resembles a futuristic, bloody "shooter" video game a la "Halo" -- just with more gore. "Gamer" has a few fleeting moments of amusement, but they're perpetually undercut by a seedy aspect that leaves you with a bad taste in the mouth; the actors, from Gerard Butler's gruff "in-game" hero to Kyra Sedgwick and Chris "Ludacris" Bridges, mostly give perfunctory performances, which is understandable given the movie's gratuitous sex and gore. Unquestionably one of the worst films of 2009, "Gamer" is one of several Lionsgate titles being converted to 3-D this year. The movie looks decent, though 3-D doesn't improve the film at all, while extras (featurette, documentary) are carried over from the prior Blu-Ray, along with a 2-D Blu-Ray transfer and an Ultraviolet copy.

Also New From Lionsgate: Chazz Palminteri, Andie MacDowell and Jodelle Ferland star in Debbie Goodstein-Rosenfeld's MIGHTY FINE (79 mins., 2012, R), a tale of fractured suburbanites that Lionsgate brings to DVD offering a commentary with the director; 5.1 Dolby Digital soundtrack; and a 16:9 transfer...We may never know how many viewers were turned off by Keri Russell's hideous Chia-Pet haircut in the later years of FELICITY. Fans, however – as well as casual viewers who might've dropped out of the series because of it – can play belated catch-up with Seasons 3 and 4 of the program which hit DVD again this month from Lionsgate, with extras including commentaries and featurettes...WWII FROM SPACE is an interesting History Channel documentary that utilizes new CGI to illustrate the global conflict of WWII. The 90-minute 2012 program arrives on Blu-Ray offering a DTS MA soundtrack and 1080p transfer.

---
CBS New Releases

TV on DVD fans have reason to celebrate this month thanks to a number of new releases from CBS.


Western buffs can get their fill of Golden Age TV with two new packages, starting off with the sixth and final season of HAVE GUN WILL TRAVEL (aprx. 6 hours each; 1962-63). Digitally remastered, the final year once again finds Richard Boone as Paladin in episodes Genesis; Taylor's Woman; The Fifth Bullet; Place for Abel Hix; Beau Geste; The Bird of Time; Memories of Monica; The Predators; Shootout at Hogtooth; A Miracle for St. Francis; Marshal of Sweetwater; Man in an Hourglass; Penelope; Trial at Tabelrock: Be Not Forgetful of Strangers; The Treasure; Brotherhood; Bob Wire; Debutante; Unforgiving Minute; American Primitive; The Burning Tree; Cage at McNaab; Caravan; The Walking Years; Sweet Lady of the Moon; The Savages; The Eve of St. Elmo; The Lady of the Fifth Moon: Two Plus One; The Black Bull; Face of a Shadow; Sanctuary; and Squatter's Rights. The episodes have been split into two separate volumes, the first of which offers the 1962 portion of the season, while the remaining 1963 broadcasts are featured on Volume 2.

Season 8 of GUNSMOKE (aprx. 32 hours, 1962-63) also receives the DVD treatment this month, with James Arness' Matt Dillon, Dennis Weaver, Amanda Blake and Milburn Stone each trying to keep Dodge City safe from all kinds of varmits. Volumes 1 and 2 again split the 1962-63 season in half, each offering 19 episodes in remastered B&W transfers with extra features including preview trailers and sponsor material.

JAMES A. MICHENER'S TEXAS (180 mins., 1995), meanwhile, was a disappointing adaptation of Michener's sprawling historical novel. Coming at the end of the line for the network TV mini-series, this three-hour production, originally broadcast in two parts, stars Benjamin Bratt, Patrick Duffy, Chelsea Field and Stacy Keach. CBS' DVD boasts a full-screen transfer and stereo audio, plus a Making Of featurette, the trailer, and an extended promo.

Also new from CBS this month is Season 7 of Showtime's DEXTER (aprx. 11 hours, 2012), with Michael C. Hall as the forensics expert and serial killer who finally confesses to his sister about his murderous behavior. Episodes include Are You...; Sunshine and Frosty; Buck the System; Run; Swim Deep; Do the Wrong Thing; Chemistry; Argentina; Helter Skelter; The Dark...Whatever; Do You See What I See; and Surprise, Motherf—a. 1080p transfers and DTS MA soundtracks comprise CBS' three-disc Blu-Ray set.

Last but not least, CBS has also released Season 5 of FLASHPOINT (aprx. 8 hours, 2011-12) on DVD, a Canadian police procedural starring Hugh Dillon and "Veronica Mars"' dad Enrico Colantoni. Guest stars in the 11-episode fifth season include Amy Jo Johnson and David Paetkau; CBS' three-disc set includes 16:9 transfers and 5.1 soundtracks.

---
More TV on DVD

TRUE BLOOD: Season 5 Blu-Ray Combo Pack (720 mins., 2012; HBO): The fifth season of HBO's still-popular supernatural thriller finds Sookie handling Tara's shooting, Eric and Bill brought into the Vampire Authority, Alcide battling new werewolves J.D. and Martha; and Jason coping with his attraction to Jessica. Fans are likely to groove to the series' latest assortment of 12 episodes (Turn Turn Turn; Authority Always Wins; Whatever I Am, You Made Me; We'll Meet Again; Let's Boot and Rally; Hopeless; In the Beginning; Somebody That I Used to Know; Everybody Wants to Rule the World; Gone, Gone, Gone; Sunset; and Save Yourself), while others – as with before – are likely to find that a little bit goes a long way. HBO's Blu-Ray box-set, available May 21st, is rich with extras, including five commentaries; Inside the Episode backstories; and extensive "enhanced viewing" options spread across the fifth season's dozen episodes. 1080p transfers, DTS MA soundtracks, a digital copy and Ultraviolet streaming options are also included along with a standard DVD edition.


FRINGE: Season 5 DVD (564 mins., 2012-13; Warner): Fifth and final season of the cult-favorite Fox series sees Olivia Dunham, Peter Bishop and his father Walter attempting to save the planet from the vile clutches of the Observers, who by 2036 have taken over the Earth and are in the process of exterminating humanity. The final 13 episodes of "Fringe" includes Transilence Thought Unifer Model-11; In Absentia; The Recordist; The Bullet That Saved the World; An Origin Story; Through the Looking Glass and What Walter Found There; Five Twenty Ten; The Human Kind; Black Blotter; Anomaly XB-6783746; The Boy Must Live; Liberty; and the well-received finale, An Enemy of Fate. Extra features on Warner's DVD include a "Farewell to Fringe" featurette; episode commentary; 2012 Comic Con panel; digital script of the final show; unaired scenes; a gag reel; and 16:9 transfers and 5.1 soundtracks.

30 ROCK Season 7 DVD (aprx. 5 hours, 2012-13; Universal): Liz Lemon, Jack Donaghy and the gang bid farewell in this abbreviated seventh and final season of the critically acclaimed NBC comedy. Universal's DVD offers commentary from stars Tina Fey, Jane Krakowski and writer/producer Tracey Wigfield, plus deleted scenes, "Donaghy Files" webisodes, and a season finale retrospective. The 16:9 transfers and 5.1 soundtracks are all top notch.

JIM HENSON'S FRAGGLE ROCK: MEET THE FRAGGLES DVD (149 mins., Vivendi): Vivendi Entertainment has acquired the license to Jim Henson's "Fraggle Rock," releasing a new complete series set as well as this single-disc anthology, offering early episodes from the beloved HBO series. Included are "Beginnings," "We Love You Wembley," "Boober's Dream," "Red's Club," "Mokey and the Minstrels," and "Gobo's Discovery." Full-screen transfers and stereo soundtracks comprise the DVD's technical side.

NEW FROM E ONE: My favorite Lois Lane, Erica Durance, took the opportunity to headline her own series in the Canadian production SAVING HOPE (572 mins., 2012), which debuted to decent ratings on NBC domestically last summer. With Season 2 coming up shortly, E One has released the complete Season 1 DVD of "Saving Hope," including bonus interviews with Durance and her co-stars Daniel Gillies and Michael Shanks, plus behind-the-scenes footage, 5.1 Dolby Digital soundtracks and 16:9 transfers. Two of the episodes were unaired last summer on NBC so there's new dramatic content here for fans as well.


Also New & Noteworthy

BROKEN CITY Blu-Ray Combo Pack (109 mins., 2013, R; Fox): Disappointing thriller wastes a good cast in a convoluted tale of a disgraced former NYC cop (Mark Wahlberg) assigned by a corrupt Mayor (Russell Crowe) to watch over his philandering wife (Catherine Zeta-Jones). Wahlberg ultimately gets more than he bargained for as he uncovers corruption at the highest levels in Allen Hughes' box-office underachiever from last January. Fox's Blu-Ray includes a behind-the-scenes documentary, alternate ending and deleted scenes, along with a 1080p transfer, DTS MA soundtrack, DVD and Ultraviolet/digital copies.

SIDE EFFECTS Blu-Ray Combo Pack (107 mins., 2013, R; Universal): One of Steven Soderbergh's better efforts of late (and apparently one of his final ones, if his self-imposed exile from theatrical films comes to pass), "Side Effects" is a compelling thriller with Rooney Mara as the troubled wife of Channing Tatum, who was convicted for insider trading; after a failed suicide attempt, Mara falls under the care of psychiatrist Jude Law, but of course, not everything is as it initially seems in Scott Z. Burns' twisty screenplay. Universal's Blu-Ray includes a Making Of featurette, Ultraviolet/digital copies, a 1080p transfer and DTS MA soundtrack.

BACK TO 1942 Blu-Ray (151 mins., 2012; Well Go USA): Liu Zhengyun's novel "Remembering 1942" becomes a Chinese epic in the hands of director Feng Ziaogang, examining the strife, devastation and loss of life in China following a series of natural disasters and WWII. Zhang Gouli plays Master Fan, a wealthy landlord who sees his family disintegrate in front of his eyes; Adrien Brody co-stars as a Time correspondent who witnesses the horror in this well-made, ambitious though dramatically bombastic production that received mixed reviews upon its international release last year. Well Go's Blu-Ray debuts the picture for domestic audiences, including a good looking 1080p transfer and DTS MA 5.1 soundtrack plus the trailer.

FRANKIE GO BOOM Blu-Ray (89 mins., 2011, Not Rated; Universal): Jordan Roberts' offbeat ensemble comedy stars Charlie Hunnam and Chris O'Dowd as squabbling brothers whose combative relationship reaches a breaking point when the latter uploads a sex tape of the former. Chris Noth, Lizzy Caplan, Ron Perlman (in drag!) and Nora Dunn co-star. Universal's Blu-Ray offers deleted/alternate scenes, a featurette, the trailer, 1080p transfer and DTS MA soundtrack.

KOALA KID DVD (85 mins., 2012, PG; Fox): Animated feature sports the voice of Rob Schneider as a white koala bear named Johnny who becomes a jungle super-hero of sorts. Bret McKenzie, Yvonne Strahovski, Tim Curry, Norm MacDonald and Alan Cumming are some of the other talents who lend their voices to this good-natured, if somewhat lengthy, CGI feature just arriving on DVD this month as a Sam's Club exclusive (for the time being). Fox's DVD includes a sing-along and adventure map, a 16:9 transfer and 5.1 Dolby Digital soundtrack.

NEXT TIME: More May madness, including CLOUD ATLAS! Until then, don't forget to drop in on the official Aisle Seat Message Boards and direct any emails to our email address. Cheers everyone!