Message Board - Come and Discuss The Latest Videos, Movies & Anything Else!
You always hear about people being nostalgic for the summers of their youth. When it comes to the cinema, it certainly seems that there is something valid about looking at recent movie seasons we've been having and comparing them to the same period from 15-20 years ago — something confirmed when you look back on past seasons and realize that "all those movies came out then?"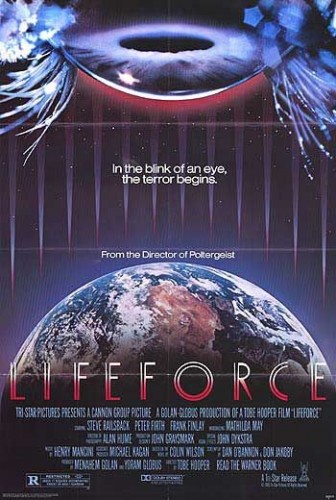 The summer of 1985 may not have been as big as the summers of '82, '83, or '84, but it was still a hot one — BACK TO THE FUTURE became a phenomenon, RAMBO: FIRST BLOOD PART II was a bona-fide blockbuster, COCOON was a sleeper hit, and the "brat pack" scored another success with ST. ELMO'S FIRE. Mel Gibson came back in MAD MAX BEYOND THUNDERDOME, Chris Sarandon proved to be a formidable vamp in FRIGHT NIGHT, Jeff Bridges was on trial in JAGGED EDGE, Val Kilmer lead the teen sci-fi revolution in REAL GENIUS, Joe Dante met with mixed results in EXPLORERS, plus you had THE GOONIES, FLETCH, John Boorman's EMERALD FOREST, and Roger Moore's swan song as 007, A VIEW TO A KILL, all circulating at once. A pair of western revivals didn't burn up the charts, but SILVERADO and PALE RIDER still carry along a pretty good rep these days. Even two costly flops from Disney (RETURN TO OZ, THE BLACK CAULDRON) managed to net a few admirers upon their original release.
One particular movie was also released that June — a picture that still lives in my mind as the ultimate definition of a "summer movie." I'm talking, of course, about Tobe Hooper's sci-fi extravaganza, LIFEFORCE, which has become something of a cult classic over the years and remains a guilty pleasure shared by many fans around the world. Now, finally, it's also the center of a long-overdue deluxe edition from Shout! Factory that gives this cult favorite the proper high-def treatment it has long deserved.
No other movie in the annals of cinema can boast a naked space vampiress, London burning up in flames, countless outrageously bad performances from noted British thesps, and a great score by Henry Mancini to round it off. Throw in direction that treats the epic story as if it's a comedy, and you should have an indication why the film's popularity is higher now than it ever was back in 1985.
But before we dive into discussing "Lifeforce," one must first consider the unique background to this film.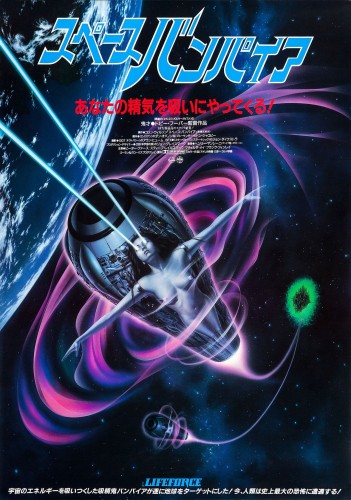 The Cannon Group (the makers of such classics like "Enter the Ninja," "Superman IV" and "King Solomon's Mines" with Richard Chamberlain and Sharon Stone) spent some $45 million on this adaptation of Colin Wilson's novel "The Space Vampires", hiring Dan O'Bannon ("Alien") and Don Jakoby ("Blue Thunder") to write the script, netting Tobe Hooper (hot off "Poltergeist") to direct and John Dykstra ("Star Wars") to handle the special effects.
"Lifeforce" was, for all practical purposes, Cannon's attempt at a classy special effects picture, an out-of-this-world epic that would contend for the summer box-office crown of '85, and, likewise, make-or-break the studio in their shot at big-time Hollywood respectability.
However, due to their not-so-firm track record at the box-office (and theaters owners' correct assumption that most Cannon films were strictly drive-in fare), producers Menahem Golan and Yoram Globus sought to find a distributor to release it nationwide. Tri-Star Pictures became interested in distributing "Lifeforce" with the condition that Cannon hand them the real prize – all distribution rights for "Breakin' 2: Electric Bugaloo," the sequel to a breakdancing film that made over $20 million at the box-office six months earlier and cost, like most Cannon films, less than a million to produce. Cannon agreed, and "Lifeforce" went into nationwide release in mid-June of 1985, right up against "Cocoon" and Tri-Star's own "Rambo II."
Well, we all know what happened to The Cannon Group, and their big attempt at box-office glory, but the fact remains that "Lifeforce" is still one of the most unique film experiences of the 1980s. It's lavishly produced but totally incompetent in the prime areas that determine the success of any film — in a nutshell, "Lifeforce" is a masterpiece, except for the writing, directing and acting. Fortunately, though, "Lifeforce" is a prime example of a fun bad movie because the performances are so inept, the writing so ridiculous, and the direction so obvious that you just can't help but laugh. Putting it on the expensive scale that this film takes place on makes it even more enjoyable — the more excessive the film gets, the funnier it becomes.
Steve Railsback stars as Tom Carlsen, the American leader of an international space-shuttle mission to explore Halley's Comet, which is about to pass near the Earth for the first time in ages. The shuttle radar picks up an immense object situated in the comet, one that turns out to be an alien ship containing the remains of strange bat-like creatures (gross) and three completely naked humans, including French actress Mathilda May (far from gross).
For reasons explained later in the film, Railsback's crew begins to die one-by-one, all of them having been drained of their "life force" by these interstellar vamps. Railsback, despite being drawn to Mathilda's bod (and who in their right mind wouldn't be?), tries to blow up the ship and prevent the creatures from reaching Earth…
…BUT their glass cases protect them from the fire (a surprise plot twist), and the three bad-vamps are brought back to Earth thanks to a rescue mission by the shuttle Columbia. They're put under surveillance in a London Research Laboratory, where head scientist Frank Finlay assures the audience that "there's no way a naked girl is going to get out of this complex." However, we know better, and Mathilda uses her vast powers to overcome the security guards (one of whom tries to stop her by offering up a bite of his biscuit), and walks off to inflict havoc on an unsuspecting London populace.
Meanwhile, intelligence expert Peter Firth teams with our intergalactic doofus Railsback to try to track Mathilda down (she apparently started some sort of fling with Steve while on the shuttle — God only knows why she picked him), which leads the two to an encounter with a possessed, pre-"Star Trek" Patrick Stewart (who disintegrates into a blob of blood in a military helicopter during one of the film's funniest scenes) and a climax which seems to have been taken right out of an Irwin Allen movie.
London is in flames as the population turns into zombies! Buildings blow up right and left! Big special effects fill the screen! Mathilda still walks around naked! The dialogue is even dumber than before! (As Firth and Railsback walk in sweating to a last-minute meeting with the Prime Minister — trying to come up with a last-ditch attempt at saving the world — his secretary calmly asks if they "would like a cup of tea?").
If you haven't seen "Lifeforce", I think I've made it clear by now why this film holds so much entertainment value for those of us who treasure this sort of thing. Co-writer Don Jakoby later blasted Tobe Hooper, claiming he mis-directed the entire film and that he edited sequences as if they were comedic — a charge that nearly every frame of the movie could be used as evidence to support. It's a '50s "B" sci-fi movie blown up to epic proportions, and as Jakoby stated, it's played so totally straight it threatens to veer into self-parody throughout.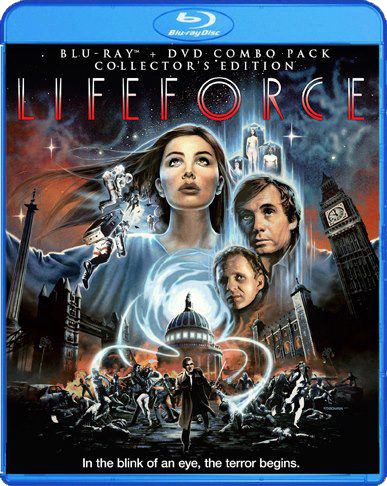 In fact, not only does the film boast excellent special FX, but it also contains atmospheric photography from Alan Hume (a vet of many fine British films, including several James Bond pictures), expensive sets by John Graysmark, and a gorgeously bombastic, melodic music score by Henry Mancini that's rightfully regarded as one of the finest of the 1980s.
While it is, admittedly, sort of sad to see such talent being wasted on a film like this, you can't help but enjoy it all while watching it, and enough of the craftsmanship and artistry of the filmmakers shines through to make it an undeniably one-of-a-kind movie experience.
When "Lifeforce" was released theatrically back in '85, it was first shown domestically in a 102-minute version prepared by Tri-Star, with re-cut opening credits and various, re-scored music cues written by Michael Kamen and James Guthrie (who shared on-screen credit with Mancini). The new, heavily-synthesized cues were composed to cover over various edits in the shorter U.S. release print, but they're vastly inferior to the Mancini compositions and stick out by comparison.
Subsequently, fans of "Lifeforce" were thrilled when MGM/UA, back in 1995, decided to release a 116-minute "Extended International Version" on laserdisc — an expanded edition that was comprised of Hooper's original cut for Cannon. This edition appropriately opens with Mancini's thunderous ""Lifeforce" Theme," adds introductory narration by John Larroquette (who performed a similar function on Hooper's "Texas Chainsaw Massacre"), and restores Mancini's original cues to their intended form (Kamen's involvement is eliminated from this print).
It also, happily, adds even more hilarious dialogue: my favorite is Peter Firth's exchange with one of the head male vampires at the end. When the vile villain brags that "it'll be a lot less terrifying if you'd just come to me," Firth gathers his magical sword, grins and boasts, "I'LL DO JUST THAT!" (This longer version, however, is regrettably missing a priceless bit featuring a vampified- jogger combing through a garbage can, which remains exclusive to the U.S. theatrical release).
Shout Factory's Blu-Ray offers both cuts of "Lifeforce" in a miraculous 1080p presentation that shows off the film's elaborate visual effects and production design. The movie's never looked this good on video (or even close to it, considering MGM's ancient DVD wasn't even enhanced for 16:9 TVs), nor has it sounded as potent in its DTS MA soundtrack. While the 116-minute cut is an AVC encode with lossless audio, the U.S. theatrical version has been included as an extra feature, presented in an MPEG-2 transfer and with a 5.1 Dolby Digital soundtrack – however, don't be fooled into thinking this is a vastly inferior presentation simply from the specs, because this transfer is nearly as good as the restored extended release.
Looking for extras? We've got 'em – finally. Commentary from Tobe Hooper and Tim Sullivan examines the film's production; another commentary with make-up great Nick Maley is moderated by Michael Felsher; all-new interviews with Hooper, Mathilda May and Steve Railsback receive their own (if abbreviated) interview featurettes; trailers, TV spots and still galleries are also on-hand; and the vintage 20-minute 1985 Making Of featurette rounds out the double-disc set.
You can't say that "Lifeforce" is a great movie, but it's impossible not to get caught up in the fun of it. I've shown the movie to a bunch of friends over the years, and all of them got a major kick out of it — it's simply too unusual, too incredible not to.
With the biggest effects to be seen this side of "Star Wars," some of the most unintentionally funny dialogue of the '80s, and the worst acting by competent actors you may ever see (although Mathilda scores a 10 for her "performance"), "Lifeforce" throws in everything but the kitchen sink in an effort to make the picture enormously entertaining.
And entertaining it is — right down to the last shots of Firth watching as the ship of extraterrestrial vamps flies away from Earth at the very last minute. We're all saved, and a veritable B-movie classic comes to a fitting, perfect end.
---
"Lifeforce" is just one of several great Shout! Blu-Ray titles coming up this month.
Joe Dante's 1981 Avco-Embassy thriller THE HOWLING (91 min., R) is often compared with another werewolf flick from that same year – John Landis' "An American Werewolf in London" – though the two films are quite different. Landis' film is the more playful and eccentric of the duo, with Dante's picture – an adaptation of Gary Bradner's novel by writers John Sayles and Terence Winkless – coming off as a more down-the-middle horror pic with occasional flashes of inspiration and humor. Dee Wallace stars as a TV reporter who stumbles onto a colony of werewolves while on vacation; her future husband, Christopher Stone, co-stars along with Patrick Macnee, Dennis Dugan, Slim Pickens and members of Dante's repertory company (Belinda Balaski, Kevin McCarthy, Robert Picardo, Dick Miller, Ken Tobey) in a movie with excellent make-up effects by Rob Bottin that pale only in comparison to the more groundbreaking work Rick Baker produced for Landis' film (in fact, Bottin got the "Howling" gig when Baker departed the project for "American Werewolf").
I confess I've never found "The Howling" to be nearly as entertaining as "American Werewolf" – perhaps with added Dante-esque touches, it could've risen to the level of Landis' film – but its fans will still be thrilled with Shout! Factory's new Blu-Ray Collector's Edition, which once again mixes previously released extras from MGM's older DVD release (Making Of doc; commentary) with exclusive goodies including conversations with producer Steven A. Lane; editor Mark Goldblatt; writer Terence Winkless; and stop-motion animator David Allen; a highly enjoyable "Horror's Hallowed Grounds" location featurette; and some additional deleted scenes not included on the prior DVD release, and that play with or without Dante's commentary. There's also a new commentary track with author Gary Brandner that's hugely entertaining, as moderator Michael Felsher engages Brandner on his career and contentious relationship with both the movie as well as Dante, who badmouthed Bradner's book back in the day. Great stuff.
The 1080p AVC encoded transfer is as good as this low-budget Avco Embassy production allows, while DTS MA 5.1 remixed stereo audio gives a prominent stage for Pino Donaggio's over-the-top score, which does climax with one of the all-time mellowest end credit themes to ever grace a horror film (that sax solo gets me every time!).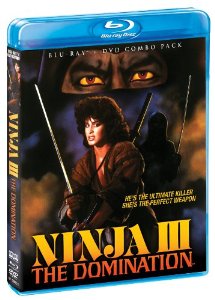 NINJA III: THE DOMINATION Blu-Ray/DVD (92 mins., 1984, R): Some of the first R-rated movies I ever watched were Cannon's "Ninja" films, which my friend Ryan had rented from Video Plus (Greenville, Rhode Island's video mecca at the time) several times after school finished in our late elementary years. "Ninja III: The Domination" – which doesn't require a viewing of its predecessors to fully appreciate – was one of our favorites, and it still holds up today as one of Cannon's best from their prolific era of '80s filmmaking.
The lovely Lucinda Dickey (star of the studio's "Breakin" pics) plays an aerobics instructor who becomes possessed by an evil ninja and sets out to seek revenge on his killers. Meanwhile, "good" ninja Sho Kosugi (veteran of both "Enter the Ninja" and "Revenge of the Ninja") attempts to help Lucinda overcome her increasingly unhinged ways in a wild and woolly good time from director Sam Firstenberg and writer James R. Silke – veterans of numerous other Golan-Globus productions.
"Ninja III" offers all the best elements of a typical Cannon film: well-executed action scenes, a ridiculous plot, a good-looking female lead and some unintentional humor livening up the mix of genres that are uniquely exclusive to "The Domination." This is silly, unadulterated '80s entertainment all the way, and Shout's Blu-Ray provides the first 1080p widescreen transfer of the picture anywhere in the world (a German Blu-Ray offered a lousy 4:3 presentation derived from an ancient video master). The HD presentation greatly enhances the fun, with a DTS MA stereo mix representing an orchestral/synth hybrid score credited to Misha Segal and Udi Harpaz. For those without Blu-Ray capability, Shout has included a DVD here likewise offering a crisp 16:9 transfer and stereo soundtrack. Extras include a commentary track with Firstenberg and stunt coordinator Steve Lambert plus the original trailer.
"Ninja III: The Domination" has a lot of nostalgic value for me, as it likely will for those who fondly recall the type of fast-paced B-movies Cannon routinely produced back in the '80s. It's also one of Golan-Globus' more engaging concoctions, even minus the huge production budget of "Lifeforce" – check it out!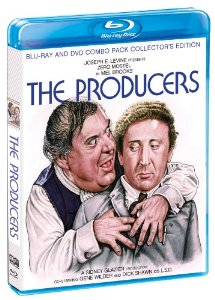 THE PRODUCERS Blu-Ray/DVD (89 mins., 1968; Not Rated): Long overdue Blu-Ray edition of Mel Brooks' 1968 classic offers tremendous supplemental features. Chief among the returnees from the old MGM DVD are Laurent Bouzereau's wonderful, hour-long "Making Of" documentary, sporting interviews with Mel Brooks, Gene Wilder, Kenneth Mars and others associated with the production; an outtake of the movie's "Playhouse" exterior scene with William Hickey; Paul Mazursky reading fan Peter Sellers' attempts to save the movie from box-office doom; a photo gallery and trailers.
What's new is an 18-minute conversation with Brooks, exclusive to this Shout! edition, with the director discussing the genesis of the film. It's informative and fun, though like a lot of Shout!'s recent interview featurettes, you wish it would've run longer.
The movie's 1080p AVC encoded transfer, which opens with the old Avco-Embassy logo, is a bit soft but still displays far more high-def detail than any prior release of the movie. The original mono soundtrack is encoded here as a 2.0 DTS MA mix, but more satisfying is a 5.1 DTS MA remix that offers a wider, stereophonic presentation of John Morris' wonderful score and, of course, Brooks' own "Springtime for Hitler." Shout! caps the disc with terrific new cover art by Drew Friedman, with the original one-sheet poster design included on the reverse side. An absolute must for comedy fans, due out on July 2nd.
RICHARD PRYOR – NO PRIOR RESTRAINT: A LIFE IN CONCERT CD/DVD (Shout! Factory): Spanning from 1966 to 1992, Shout's comprehensive box-set offers a thorough overview of Richard Pryor's concert recordings and films. This seven-disc CD collection includes material from his classic albums for the Laff, Stax and Warner Bros. labels, including his self-titled 1968 debut LP; "Craps (After Hours)" (1971); "That Nigger's Crazy" (1974); "…Is It Something I Said" (1975); "Bicentennial Nigger" (1976); "Wanted/Richard Pryor: Live in Concert" (1978); "Live on the Sunset Strip" (1982) and 1983′s "Here and Now." Shout has also included tracks that were exclusive to a pair of 2000 and 2006 compilations, and added the feature films "Live in Concert," "Live on the Sunset Strip" and "Here and Now" all on DVD for good measure.
The box-set also boasts a deluxe book offering recollections, photos, tributes, discography, filmography and a note from Pryor's widow, Jennifer Lee, making this a must-have for any Pryor enthusiast.
SLUGTERRA: Slugs Unleashed DVD (110 mins., 2012; Shout! Factory): Another compilation of episodes from the popular animated series includes the shows The Slug Run; Shadows and Light; Dawn of the Slug; Club Slug and Endangered Species. Bonus features include a look into the series' writing and extra "Slugisodes."
---
New From Criterion
One of the most striking early science fiction films, H.G. Wells' THINGS TO COME (97 mins., 1936) paints a pre-WWII portrait of a world engulfed in a dark, drawn-out military conflict that would forever alter mankind.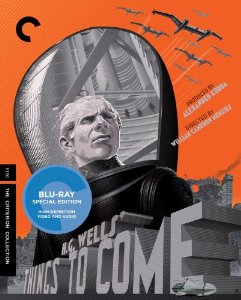 Produced by Alexander Korda and directed by William Cameron Menzies, the 97-minute British production – initially completed at a much longer length and then cut down – was remarkably prescient in its portrayal of "Everytown," where war – specifically aerial combat – and a subsequent plague decimate mankind. What springs out from the rubble – mounting factions of bickering survivors and a rising dictatorship – and evolves into a type of Utopia spans over a century as Wells ponders the notion of freedom, mankind's future, humanity's darker impulses and the horror of warfare.
"Things to Come"'s most notable elements come early on, as Wells eeriely predicts the start of a global military conflict (he was off by just a few months with the actual start of WWII) and, especially, the horrific nature of aerial bombings that would besiege London. Set around Christmas time, "Things to Come" immediately looks and sounds like few genre films of the 1930s – with an expensive production backing Wells' screenplay, and Arthur Bliss' outstanding musical score giving the picture an operatic grandeur, the movie is initially captivating for its bleak depiction of a horror that would soon be played out, for real, just a short while after its release. Less successful is the film's dull middle act, where remnants of survivors argue over where society is headed – although the dialogue is spoken by fine actors like Raymond Massey and Ralph Richardson, the script turns creaky and notably preachier as the film progresses. At times you feel like you're watching more of a lecture than a dramatic work – charges that certain critics have leveled against the film over the years, and certainly something that holds "Things to Come" back from having much of an emotional impact.
Nevertheless, "Things to Come"'s place in genre history – both for its speculative sci-fi story and Bliss' musical accomplishment – are both given their due in Criterion's Blu-Ray release. Though the movie's uneven appearance doesn't lend itself to a pristine HD rendering (only those with larger sets are likely to discern detail in its 1080p transfer that places it a notch above DVD), the supplements are certainly worthwhile. The latter include a new commentary track with critic David Kalat; a recent interview with Sir Christopher Frayling about the production design; unused special effects footage shot by artist Laslo Moholy-Nagy; an audio recording of Wells' writing about the story's "Wandering Sickness" from 1936; and a new visual essay from frequent Criterion participant Bruce Eder about Bliss' musical work, which was unusual for its time and remains potent today, limited only by the rough fidelity of its era's recording techniques.
---
A GOOD DAY TO DIE HARD Blu-Ray Combo Pack (*½, 98 mins., 2013, R/Unrated; Fox): Lifeless, noisy, unsatisfying fifth entry in the "Die Hard" series strips away the widescreen framing of its predecessors – along with their humor – in a push-button sequel aimed squarely at increasing the brand's international box-office appeal.
Bruce Willis returns once again as super-cop John McClane, here trying to figure out why his estranged son (the bland Jai Courtney, who looks as if he walked off the set of any CW series) is locked up for murder in Russia. Little McClane, as it turns out, is really a CIA op who likes to run and gun as much as old Pop – something that's a necessity as both father and son have to square off in a number of loud, senseless action scenes in dank, dreary Russian locales.
"A Good Day to Die Hard"'s fate was probably sealed in pre-production when hack director John Moore was hired by Fox, mostly to keep this sequel's budget in check. That he did – along with helm an idiotic film that's DOA, sharing more in common with Willis' recent direct-to-video ventures than the prior "Die Hard" pictures. At barely 90 minutes and without any kind of developed story, Moore's picture is a dud on every front, stumbling out of the gate with an endless, incomprehensible set-piece where McClane drives through Moscow traffic, and petering out en route to a claustrophobic shootout in the remnants of Chernobyl. Only a brief appearance by the lovely Mary Elizabeth Winstead, reprising her role of Lucy McClane from the (far superior) fourth entry, livens up this disappointment.
Fox's Blu-Ray includes both the movie's R-rated theatrical version and an "Extended Version" that eliminates Winstead's bookending cameo and adds several minutes of additional material. Neither version is any good, so I'd opt for the shortest version possible if you're forced to choose. The 1080p AVC encoded transfer is fine, the DTS MA soundtrack endlessly amped (though Marco Beltrami's decent, faux-Michael Kamen score is one of the very few bright spots), and extras include deleted scenes, numerous Making Of featurettes, still galleries, extended-cut commentary by Moore, a DVD and digital copy for portable media players.
THE LAST RIDE Blu-Ray (104 mins., 2010, PG-13; Fox): Hank Williams' life and times are told in this independent picture starring Henry Thomas as the legendary country singer. Jesse James, Fred Dalton Thompson and Kaley Couco co-star in Harry Thomason's 2010 film, which is just making its way to Blu-Ray this month from Fox in a 1080p transfer with DTS MA 5.1 audio and a Making Of featurette.
12 ROUNDS 2 Blu-Ray (94 mins., 2013, R; Fox): Randy Orton plays a paramedic who has to complete 12 challenges before a psycho starts a murder spree in this WWE Studios produced sequel to "12 Rounds." Fox's Blu-Ray includes a handful of extras, from commentary by director Roel Reine to behind-the-scenes featurettes, a DVD and digital copy as well.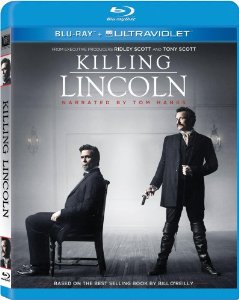 KILLING LINCOLN Blu-Ray (96 mins., 2013; Fox): Unusual mix of a National Geographic documentary and historical dramatization, based on Bill O'Reilly and Martin Dugard's bestseller. In this Ridley Scott co-production, Billy Campbell plays the doomed U.S. President with Jesse Johnson as John Wilkes Booth, while narrator Tom Hanks drops in and out to explain the historical components of the situation. History buffs are likely to get more mileage out of "Killing Lincoln" the movie than casual viewers, who would be better off – of course – reading the book. Fox's Blu-Ray includes commentary with writer Erik Jendresen; an interview with O'Reilly; a Making Of; promo featurettes; a 1080p transfer, DTS MA soundtrack and Ultraviolet streaming copy.
IN OLD ARIZONA Blu-Ray (99 mins., 1929; Fox): The first western to make use of then-cutting edge technology like sound and location shooting, "In Old Arizona" stars Warner Baxter as the Cisco Kid in an adaptation of O. Henry's story "The Caballero's Way." Fox's Blu-Ray of this 1929 multi-nominated Oscar contender boasts a 1080p 1.20 transfer and 1.0 DTS MA soundtracks in both "restored" and "unrestored" form.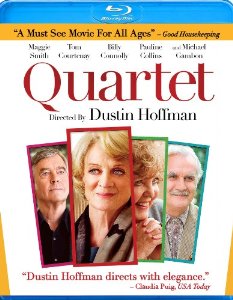 QUARTET Blu-Ray (98 mins., 2013, PG-13; Anchor Bay): Dustin Hoffman's feature directorial debut might have come years after most folks anticipated, but his satisfying adaptation of Ronald Harwood's 1999 play retains its source material's poignancy and charm.
Tom Courtenay, Pauline Collins, and Billy Connelly play former opera singers living out their days at a British retirement home for musicians when Courtenay's ex-wife (Maggie Smith) becomes the latest new resident in the facility. Courtenay still harbors some feeling for his lost love, who doesn't want to participate in the home's upcoming concert gala, despite the insistence of Michael Gambon – trying desperately to put the event together – and the former members of their quartet.
Hoffman receives terrific performances from the cast and "Quartet" works splendidly as a vehicle for its actors, filled with emotion and good humor. Anchor Bay's Blu-Ray, available next week, includes a commentary track with Hoffman, behind the scenes featurettes, a 1080p transfer and DTS MA soundtrack.
PUSHER Blu-Ray (89 mins., 2012, R; Anchor Bay): British remake of Nicolas Winding Refn's 1996 Danish picture of the same name stars Richard Coyle as a drug dealer who crosses paths with a crime lord after a deal gone wrong. This good looking thriller from director Luis Preito comes to Blu-Ray from Anchor Bay with a 1080p transfer, Q&A with the filmmakers and cast, and a Making Of featurette.
NEXT TIME: More of the latest reviews! I'll break down Shout's spectacular new release and more. Until then, don't forget to drop in on the official Aisle Seat Message Boards and direct any emails to our email address. Cheers everyone!