Message Board - REGISTRATIONS NOW OPEN (again!)
Vintage TV fans looking for the perfect gift this holiday season (and I suppose since we're now into November, it's proper for me to discuss it) should direct their attention to Starvista and Timelife's lavish THE DEAN MARTIN CELEBRITY ROASTS: COMPLETE COLLECTION, a 25-disc DVD set featuring over 40 hours of nostalgic comedy with an amazing all-star cast.
Last month I covered Starvista's "Collector's Edition" six-disc release of the Martin Roasts, which offered 12 complete specials from the star's heyday on network TV. This comprehensive collection offers the entire run of 54 roasts, culled from "The Dean Martin Show" and the later NBC "Dean Martin Celebrity Roasts" specials, which ran multiple times during the 1974-78 seasons before being briefly resurrected in the early '80s.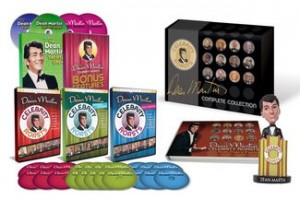 Here's the full list of roasts and airdates included:
1. Ronald Reagan 9/14/73
2. Hugh Hefner 9/21/72
3. Ed McMahon 9/28/73
4. William Conrad 10/5/73
5. Kirk Douglas 10/12/73
6. Bette Davis 10/19/73
7. Barry Goldwater 10/26/73
8. Johnny Carson 11/2/73
9. Wilt Chamberlain 11/9/73
10. Hubert Humphrey 11/23/73
11. Carroll O'Connor 12/7/73
12. Monty Hall 12/14/73
13. Jack Klugman & Tony Randall 12/21/73
14. Zsa Zsa Gabor 1/11/74
15. Leo Durocher 1/8/74
16. Truman Capote 1/18/74
17. Don Rickles 2/8/74
18. Ralph Nader 2/5/74
19. Jack Benny 2/22/74
20. Redd Foxx 3/1/74
21. Bobby Riggs 3/6/74
22. George Washington (played by Jan Leighton), 3/15/74
23. Dan Rowan & Dick Martin, 3/22/74
24. Hank Aaron 3/29/74
25. Joe Namath 4/5/74
26. Bob Hope 10/31/74
27. Telly Savalas 11/15/74
28. Lucille Ball 2/8/75
29. Jackie Gleason 2/27/75
30. Sammy Davis Jr 4/25/75
31. Michael Landon 5/16/75
32. Evel Knievel 11/10/75
33. Valerie Harper 11/20/75
34. Muhammad Ali 2/19/76
35. Dean Martin 2/27/76
36. Dennis Weaver 4/27/76
37. Joe Garagiola 5/25/76
38. Redd Foxx 11/26/76
39. Danny Thomas 12/15/76
40. Angie Dickinson 2/8/77
41. Gabe Kaplan 2/21/77
42. Ted Knight 3/2/77
43. Peter Marshall 5/2/77
44. Dan Haggerty 11/2/77
45. Frank Sinatra 2/7/78
46. Jack Klugman 3/17/78
47. Jimmy Stewart 5/10/78
48. George Burns 5/17/78
49. Betty White 5/6/78
50. Suzanne Somers 11/21/78
51. Joe Namath 1/9/79
52. Joan Collins 2/23/84
53. Mr. T 3/14/84
54. Michael Landon 12/7/84
Roasters as varied as John Wayne, Phyliss Diller, Dom DeLuise, Rich Little, George Burns, Bob Newhart, Jonathan Winters, Billy Crystal and Muhammad Ali appear throughout the specials, with ample extras including taped interviews with 34 former roasters, fans, production personnel and others. From Carol Burnett to Jimmie Walker, Florence Henderson to Tony Danza and Abe Vigoda, the set includes a veritable who's who of '60s and '70s comedy offering their recollections of the programs, which were patterned after Friars Club roasts and sanitized just a bit for network TV standards. It's especially poignant to see Diller and Winters interviewed here in new conversations prior to their respective recent passing.
Some 11 new, specially produced featurettes take viewers behind the scenes, with other extras including two bonus DVDs with seven episodes from "The Dean Martin Variety Show"; two rare Martin TV specials, "Dean's Place" (75-76) and "Dean Martin's Red Hot Scandals of 1926″ (76-77); home movies; a lavishly produced 44-page booklet; and, for those who order the set online at Starvista's website, a limited-edition, 7.5′ inch Dean Martin Figurine. Though priced at $250, Starvista has more than justified its cost with the quality and quantity of content involved. Highly recommended!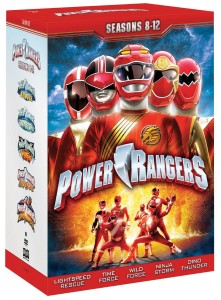 POWER RANGERS Seasons 8-12 DVD (Shout! Factory, available November 12th): "Power Rangers" fans will be treated to another comprehensive box-set of wacky Saban entertainment from Shout! Factory in mid November. Seasons 8-12 of "Power Rangers" offers the later seasons of the long-running kids' karate kicking/sci-fi action series, where Saban tried to mix up the old formula with new casts and wilder and woollier action.
Included in this lavish 25-disc DVD box-set are 196 episodes from the later incarnations of the franchise: "Lightspeed Rescue," "Time Force," "Wild Force," "Ninja Storm" and "Dino Thunder" are all on-hand here in colorful full-screen transfers and stereo soundtracks. Extras include the featurettes "The Voice of a Ranger," which interviews the cast and ADR voice director Scott Page-Pagter; "Ranger Tales," where the respective cast members recall their work on the series; "Pure Titanium," with Rhett Fisher remembering the creation of the first purely American Power Ranger; "A Web of Fans," which charts the enduring legacy of the program among die-hard devotees; a "Return of the Ranger" featurette; and a 40-page booklet making for another must-have, lovingly produced release for fans.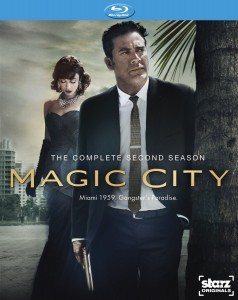 CHRISTMAS WITH CAROL DVD (115 mins.; Starvista/Time Life): Carol Burnett never produced a Christmas special but always included holiday-themed segments in her classic network series. This Starvista single-disc DVD anthology includes a number of sketches from "The Carol Burnett Show" with guest stars Alan Alda, Jonathan Winters and Helen Reddy joining Carol and company for holiday mirth and merriment.
MAGIC CITY – Season 2 Blu-Ray (411 mins., 2013; Anchor Bay): Second season of the popular Starz cable series finds Ike Evans (Jeffrey Dean Morgan) trying to rid his Miramar Playa Hotel from the likes of the mob and, in particular, boss Ben Diamond (Danny Huston). Evans takes to dealing with Chicago's mob and Diamond's own boss in order to accomplish this difficult task, while wife Vera (Olga Krylenko) tries to reignite her passion for dancing and their sons face contrasting futures. Season 2 of "Magic City" is scheduled for release on November 5th, with Anchor Bay's Blu-Ray including a number of featurettes, 1080p transfers and 5.1 Dolby TrueHD soundtracks.
---
New on Blu-Ray
THE RIGHT STUFF Blu-Ray (****, 192 mins., 1983, PG; Warner): A film that, had there been any justice, should've won the Oscar for Best Picture, Philip Kaufman's "The Right Stuff" is a grandly realized adaptation of Tom Wolfe's sprawling novel – exciting, funny, even offbeat in places, and captivating throughout its three-plus hour running time.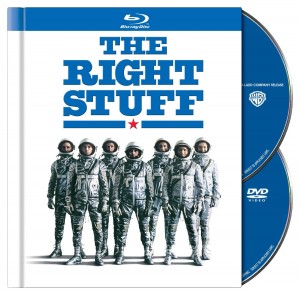 Kaufman, who also scripted the film, follows the dueling pursuits of test pilot Chuck Yeager in breaking the sound barrier and subsequent aviation feats in general anonymity, while the first American men in space – the Mercury astronauts – risk similar danger as they're being paraded out in front of the general public. This fascinating contrast forms one of the centerpieces of Kaufman's adaptation, which chronicles the birth of America's space program with a patriotic yet realistic fervor, pausing for colorful anecdotes, humorous asides and spectacular sequences of America's first moments in space – captured with a mix of special effects and archival footage, all years before the advent of CGI.
Marvelous performances abound in the film: Sam Shepard cuts a mythic figure as Yeager while the ensemble performances of the Mercury 7 (Ed Harris as John Glenn, Dennis Quaid as Gordon Cooper, Fred Ward as Gus Grissom, Scott Glenn as Alan Shepard, Scott Paulin as Deke Slaton, Charles Frank as Scott Carpenter, and Lance Henriksen as Wally Schirra) convey both the youthful ambition and internal weariness of the first American astronauts. There are also memorable contributions from Barbara Hershey (sultry as Yeager's wife Glennis; Kaufman's introduction to the Yeagers in a dusty northern California bar is supremely memorable) and Jeff Goldblum and Harry Shearer as NASA recruiters, not to mention technical credits that range from Caleb Deschanel's outstanding cinematography to a rousing, Oscar-winning Bill Conti score. The pinnacle of Kaufman's career, "The Right Stuff" is a quintessentially American filmmaking epic that works on a number of levels, from historical docudrama to social critique, and remains of the great films of the 1980s.
Making its long-awaited Blu-Ray debut from Warner Home Video, "The Right Stuff" has been given an exemplary AVC encoded 1080p transfer: crisp detail, a lack of excessive DNR, and bold colors represent the finest job yet of capturing Deschanel's visual work on home video. The Dolby TrueHD "Advanced 96K" upsampling soundtrack is designed to be cranked up on your home theater and delivers a suitably immersive mix. The Digibook 30th Anniversary package includes a new letter from Kaufman discussing the picture and a Special Features DVD that's essentially a reprise of the second disc from the prior format's Special Edition (including three documentaries, a profile of John Glenn, brief selected-scene commentary and additional scenes).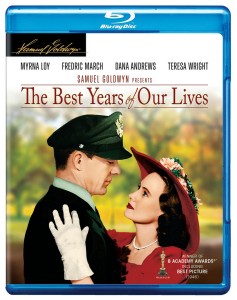 Also new from Warner is THE BEST YEARS OF OUR LIVES (170 mins., 1946), William Wyler's classic account of three American GIs (Frederic March, Dana Andrews, Harold Russell) who have difficulty reacclimating to life after WWII. Myrna Loy, Teresa Wright (as March's and Loy's daughter), Virginia Mayo and Cathy O'Donnell co-star in Wyler's adaptation of MacKinlay Kantor's novel, which swept through the Oscars in 1949, winning eight including Best Picture. Warner's Blu-Ray offers a pleasingly natural 1080p transfer with DTS MA mono audio, an introduction with Mayo, interview with Mayo and Wright, and the trailer.
THE WAY WAY BACK Blu-Ray (***, 103 mins., 2013, PG-13; Fox): If you're looking for a nice switch from the loud, bombastic effects spectacles that have recently filled multiplexes, "The Way Way Back" is a satisfying, splendidly performed tale of a withdrawn teenage boy trying to make a lousy summer on Cape Cod — with his mom (Toni Collette) and her obnoxious new boyfriend (Steve Carell) — palatable. Veteran screenwriters Nat Faxon and Jim Rash have written an honest, and poignant, film about a kid trying to find his footing amongst a group of primarily annoying, self-absorbed grown-ups in a location one character describes as "spring break for adults".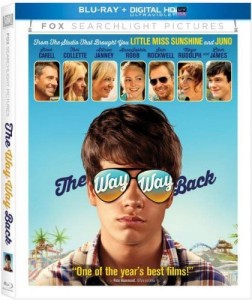 Less comedic than "Adventureland" (a good, underrated movie with a similar theme) but more honest and substantial dramatically, "The Way Way Back" is a heartbreaking, well-rounded and believable film. Even the grating character Carell portrays exists in a credible state of ambiguity — he's clearly not a nice guy, but his character's also not written as a stock, totally awful person either. Sam Rockwell is terrific as the boy's ultimate mentor: a slacker working in a local Water Park, while Allison Janney, Maya Rudolph, Amanda Peet and Rob Corddry fill out other supporting roles. Liam James (as Duncan, the awkward teen) and AnnaSophia Robb (as Janney's understanding daughter) are also winning as the movie's young leads.
The lone oddity in the film is its time and place: the film looks like it's set in the 80s, is filled with 80s songs, 80s references, and 80s cars…yet for no obvious reason, the characters have cell phones and ipods. I don't know if it was a studio concession or not, but it's the lone, strange element in a very human picture that ends with a perfect, semi-open ended conclusion that hints at a brighter future for at least two of its characters — without wrapping the conclusion up in a tidy little bow.
Fox's Blu-Ray of "The Way Way Back" includes deleted scenes, featurettes, and a BD-exclusive Making Of. The 1080p AVC encoded transfer is perfect, the DTS MA 5.1 audio is just fine, and an Ultraviolet copy rounds out the package. Recommended!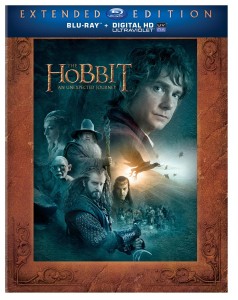 THE HOBBIT: AN UNEXPECTED JOURNEY Extended Edition Blu-Ray (**, 182 mins., 2012, PG-13; Warner): Never mind 3-D and 48fps — I had no idea Peter Jackson was aiming for a mind-blowing "real time" viewing experience making "The Hobbit."
Thanks to a dinner sequence that feels longer than a typical Julia Child lesson in culinary cuisine, it takes a good 40 minutes for the journey to even begin in "The Hobbit: An Unexpected Journey," the first of three (!) installments in director Peter Jackson's latest trip to Tolkien territory. This time out, though, Jackson has not only adapted Tolkien's enchanting "The Hobbit" – the earlier adventures of Bilbo Baggins, Gandalf and company – but expanded what was written more as a children's tome as opposed to the large-scale epic fantasy of "Lord of the Rings." Thus, Jackson's take on Tolkien's book bloats the source material – with a reluctant Bilbo joining a journey to recover the lost treasure of the dwarves stolen by the villainous dragon Smaug – into the same category as Jackson's "Rings" pictures, with some lightweight gags and cartoony action being augmented by a narrative that feels pushed beyond its breaking point. The assorted trips over mountains, fields and streams seem even longer than the dullest of its predecessors' comparable sequences, while the appearance of numerous "Rings" veterans in cameos (Ian Holm, Hugo Weaving, Christopher Lee, Elijah Wood, Cate Blanchett among them) feel more like an unnecessary bone thrown to fans than a needed component to the story being told.
Ultimately, the movie has all the weaknesses of Jackson's "Lord of the Rings" trilogy, amplified by two. There's no sense of dramatic momentum, with even some of the movie's major set-pieces coming off as repetitive and pointless. One understands why Jackson decided to return to Middle Earth (especially after the disappointment of "The Lovely Bones" and Guillermo Del Toro handing him back the directorial reigns), but it's ultimately just a safety blanket for the director. With the same digitized backdrops and art direction as its predecessors, "The Hobbit" really just offers less of the same, especially when dealing with a story here that doesn't require the same treatment as the Rings pictures (heck, I'm old enough to remember when Rankin-Bass did a respectable, animated-TV movie adaptation of "The Hobbit" – and it only ran 75 minutes!).
Warner's Blu-Ray of "The Hobbit"'s Extended Edition looks smashing as you'd anticipate. I didn't see the film in either 3-D or 48fps, but the standard 24fps 1080p presentation on Blu-Ray doesn't display any of the overly "smooth" appearance that many noted the 48fps projection exhibited. The DTS MA 7.1 audio is outstanding too, and some 12 minutes of footage has been added from the theatrical version, which makes an already leisurely journey even longer. The bigger appeal for fans in this edition may be the special features: two discs of "Appendices" offer hours (over 9 of them!) of in-depth featurettes from pre-production through shooting, editing and post-production. An Ultraviolet copy completes the package.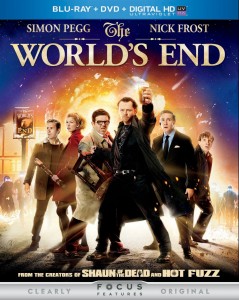 THE WORLD'S END Blu-Ray Combo Pack (**½, 109 mins., 2013, R; Universal): Director Edgar Wright reunites with Simon Pegg and Nick Frost for this (apparent) end to the trio's "Cornetto" trilogy, which began with their breakout hit "Shaun of the Dead" and continued with "Hotfuzz."
"The World's End" finds Pegg's sauced Gary reuniting with a quartet of friends (Frost, Paddy Considine, Martin Freeman and Eddie Marsan) as they head back to their old stomping grounds of Newton Haven. The goal is to complete a pub crawl of 12 watering holes in town, but as the group tries to reconcile their respective feelings of animosity towards their old pal, they discover the townspeople have been mostly replaced with robots and the pubs renovated in an eerily similar manner.
Wright, who co-wrote the picture with Frost, is at his best in depicting the initially frosty relationship between Gary and the group, with strong character-building scenes and tension that's exploited to effective comedic and dramatic effect. However, the sci-fi element of the film is decidedly less successfully integrated into the film, marked by loud action scenes that aren't nearly as interesting. It would've been forgivable, however, had Wright come up with a satisfying resolution to the film, but the groan-inducing coda to "The World's End" is a real disappointment – something that should've been reshot and relegated to a deleted scenes supplement.
Universal brings "The World's End" to Blu-Ray on November 19th. The BD includes over an hour of format-exclusive special features (deleted scenes, outtakes, extra commentaries, featurettes, a trivia track, storyboard picture-in-picture track), along with commentary by Wright and Pegg and a Making Of. The 1080p transfer and 5.1 DTS MA soundtrack are fine, and an Ultraviolet copy and DVD are also included.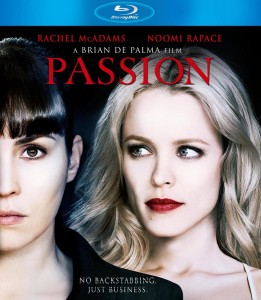 PASSION Blu-Ray (*½, 102 mins., 2012, R; E One): Hopelessly overwrought thriller from Brian DePalma adds to the filmmaker's recent string of misfires. A terribly miscast Rachel McAdams stars as a corporate executive who preys on subordinates including Noomi Rapace, who she steps on, tries to seduce, and humiliates – all in short order – though it's unclear who the real psycho is in this DePalma-scripted remake of the 2010 French film "Crime D'Armour."
With a storyline that feels ripped out of the "Fatal Attraction" playbook of '80s/'90s thrillers, "Passion" is hopelessly out of step, and DePalma's film flies gleefully off the rails once Rapace learns about the length to which McAdams will go to trample over her competition. With Pino Donaggio's score accentuating the thinness of McAdams' empty performance (aiming for Sharon Stone, her performance comes off as a reprisal of her role in the teen comedy "Mean Girls"), "Passion" is misjudged by DePalma on most every level – awkward and stilted instead of compelling and titillating.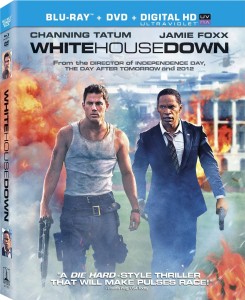 E One's Blu-Ray includes interviews with DePalma, Rapace and McAdams, a 1080p (1.78) transfer and 5.1 DTS MA soundtrack.
WHITE HOUSE DOWN Blu-Ray Combo Pack (**, 131 mins., 2013, PG-13; Sony): Roland Emmerich's streak of box-office successes came to screeching halt with this silly summer fizzle about a Capitol police officer (Channing Tatum) who becomes the improbable guardian for the President (Jamie Foxx) after a group of angry right-wingers decides it's time to storm the White House. "White House Down," with its Obama-like President hauling a rocket launcher and plot of an internal conspiracy (hatched by – what else – a tea-party like group of crazies) to overthrow the government, plays like a liberal fever dream hatched during the early days of "hope and change," but beyond that, the dialogue – concocted by James Vanderbilt – is limp and the film itself not nearly as much fun as the lower-budgeted "Olympus Has Fallen." Sony's Blu-Ray combo pack, out this week, includes a 1080p transfer (2.40), 5.1 DTS MA soundtrack, and plenty of extras. Among the supplements are four featurettes and a slew of BD exclusives: a gag reel and countless more featurettes that take viewers behind the scenes. A DVD and Digital HD Ultraviolet copy round out the release.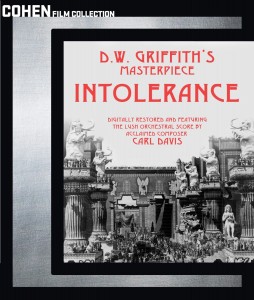 INTOLERANCE Blu-Ray (168 mins., 1916; Cohen Media Group): D.W. Griffith's multi-generational classic comes to Blu-Ray for the first time in a magnificent transfer from Cohen. The silent classic offers Carl Davis' magnificent score in 5.1 DTS MA while the crisp B&W transfer (with color tints) offers as much clarity as possible in Cohen's 1080p 1.33 transfer. The two-disc set also includes two full silent features, "The Fall of Babylon" and "Mother and the Law," presented with new scores by the Mont Alto Motion Picture Orchestra; a 2013 interview with historian Kevin Brownlow; essays from Cineaste's Richard Porton and author William M. Drew; and a re-release trailer.
---
New From RLJ
MY NAME IS NOBODY Blu-Ray (***, 115 mins., 1973, PG; RLJ): Spaghetti western fans will want to check out RLJ's Blu-Ray release of "My Name is Nobody," which gallops into stores this week. This Sergio Leone production, directed by Tonino Valerii (with Leone assisting in a few scenes), stars Henry Fonda in his final western as a veteran gunman who's prodded into action by "Nobody" (Terence Hill), a young, ambitious gunslinger who idolizes him. Comedy, action and some offbeat touches abound in this one, which was shot in Louisiana, New Mexico and Spain; Ennio Morricone's wacky score adds a major assist to the picture as well. RLJ's Blu-Ray offers a solid 1080p transfer, with the only issue being some speckles and assorted issues inherent in the source material, with okay English DTS MA audio.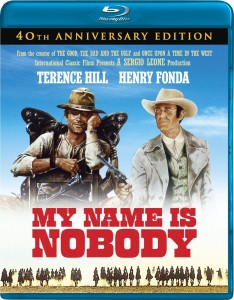 CREEPSHOW 2 Blu-Ray (*½, 89 mins., 1988, R; RLJ): Weak sequel to the Stephen King-George Romero cult favorite offers an original trio of tales from the "Night of the Living Dead" auteur, who handed over the directorial chores to Michael Gornick. The first segment finds a wooden Indian coming to life in "Ol' Chief Woodenhead" while a quartet of teens is terrorized by an oil slick in the memorable, though not particularly scary, "The Raft." "The Hitchhiker" puts the cap on things with a tired tale of a woman who keeps running over the same man on a deserted road. Poor animated segments and production values far inferior to the original film make this a meager sequel best left for undemanding horror buffs. RLJ's Blu-Ray includes a no-frills presentation with an acceptable 1080p transfer and DTS MA 2.0 stereo soundtrack.
IDLE HANDS Blu-Ray (**, 97 mins., 1999, R; RLJ): Bombastic, occasionally inspired horror comedy about a teen (Devon Sawa) whose hand becomes possessed and goes on a murder spree. A loud rock soundtrack has all the grace of a sledgehammer as Sawa and his undead pals (Seth Green and Elden Henson) try and stop the appendage before it does damage to high school class hottie Jessica Alba. Rodman Flender directed Terri Hughes and Ron Milbauer's script, which moves at a manic pace with a tone that's ultimately too over the top – but the movie still has its moments. RLJ's Blu-Ray of the 1999 Columbia release boasts a fine 1080p transfer and 5.1 DTS MA soundtrack, but none of the extras from its prior DVD edition.
THE COLONY DVD (**, 94 mins., 2013, R; RLJ): Kevin Zegers, Bill Paxton and Laurence Fishburne topline this good-looking but derivative sci-fi thriller about a post-apocalyptic future where mankind has taken to underground shelters while a new ice rages outside. Once Zegers and the Fish get to a nearby colony where a distress call has been generated, the duo find either a possible solution to the world's ills, or a potential future worse than the one they're living in (hint: cannibal monsters abound). Jeff Renfroe's movie is stylishly shot given its modest budget but the tone and story are so familiar that few are likely to find it fulfilling. RLJ's DVD includes a 16:9 transfer, 5.1 soundtrack, and cast interviews.
HOME AGAIN DVD (104 mins., 2012, Not Rated; RLJ): Three strangers are deported to Kingston, Jamaica (and it certainly doesn't look like it did back at the start of "Dr. No") in this independent drama from director Sudz Sutherland and co-writer Jennifer Holness. Tatyana Ali plays a single mom from Toronto who's ripped from her kids; Stephan James plays a British teenager waiting for his court date; and Lryiq Bent is a New Yorker trying to reform his criminal ways in a well-acted and compelling affair RLJ brings to DVD this month. The 16:9 transfer is sound and the 5.1 Dolby Digital sound is just fine.
---
New From Lionsgate
Eight pals run into a psychotic killer who stalks them at an abandoned amusement park in KILLER HOLIDAY (89 mins., 2013, R), a small-scale thriller from director Marty Thomas co-starring a cast of unknowns and (remember him?) Randolph Mantooth! Lionsgate's DVD includes a behind the scenes featurette, gag reel, 16:9 transfer and 5.1 soundtrack…BRATZ BABYZ SAVE CHRISTMAS – THE MOVIE (74 mins., 2007) stars the tiny Bratz kids as they hit the trail to the North Pole in order to save Christmas. Lionsgate's DVD offers five additional Bratzillaz episodes; 4:3 full-screen transfers and 2.0 stereo audio…"Bonnie and Clyde" are the subject of two new Lionsgate DVDs. The History Channel's BONNIE & CLYDE: THE REAL STORY (90 min.) includes two documentaries: the 1995 "Bonnie & Clyde: The Story of Love and Death," hosted by Jack Perkins, and the 2005 production "Man, Moment, Machine: Hunting Bonnie & Clyde." BONNIE & CLYDE: JUSTIFIED (90 mins., 2013, PG-13),meanwhile, is a low-budget indie with Ashley Hayes as Bonnie, Jim Poole as Clyde and co-starring turns provided by Eric Roberts and Dee Wallace. David Decoteau was a veteran of several Full Moon productions and brings that sensibility to this Hybrid production Lionsgate brings to DVD with a 16:9 transfer, 2.0 stereo audio and an Ultraviolet streaming copy…SIX SHOOTERS (103 mins., 2013, R) stars Fernando Spiner and Javier Diment in a western directed by Spiner. Lionsgate's DVD includes a 16:9 transfer and 5.1 soundtrack along with an Ultraviolet streaming copy.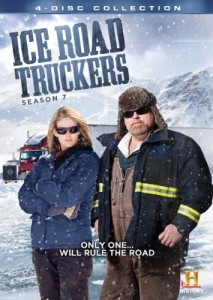 ICE ROAD TRUCKERS – Season 7 (9 hours, 2013) includes all 12 episodes from the hit A&E series' seventh season. This time out, Hugh Rowland returns – this time with his own trucking company – as he vows to take down Polar Industries and drivers Alex Deborgorski and Lisa Kelly. Hair-raising chills abound for fans with Lionsgate's DVD including over 30 minutes of never-before-seen footage and 16:9 transfers/5.1 soundtracks on three discs...DUCK DYNASTY: I'M DREAMING OF A REDNECK CHRISTMAS (43 mins., 2013)is a very special episode from one of cable TV's highest rated series, finding Lousiana's favorite bearded millionaires and their families gathering to celebrate the season (as only they can, of course). A 16:9 transfer and 2.0 stereo soundtrack comprise Lionsgate's DVD edition….STAN LEE'S SUPERHUMANS: SEASON 2 (aprx. 11 hours, 2011) includes 13 episodes from the History Channel series (Unbreakable, Shark Master, Beast Master, Spider Power, Rocket Blader, The Bird Man, Robo Men, Yoyo Ninja, Steel Face, Supersight, Finger of Steel, Human Shield and Super Special) in 16:9 transfers on DVD. Special features include 13 bonus footage scenes never before seen on TV and 2.0 stereo soundtracks...THE BEST OF DANCE MOMS: THE CHAMPIONSHIP DANCES (aprx. 6 hours, 2013) features six competition episodes from the popular Lifetime series (Bye Bye Baby, The Apple of Her Eye, She's a Maniac, Watch Your Back Mack, May I Have This Dance, Boy Crazy Mom Crazy) with unedited dance routines from all six episodes included as extras.
---
HOME ALONE: THE HOLIDAY HEIST DVD (90 mins., 2012; Fox): Another attempt at keeping the John Hughes-created series going – in name only – stars Christian Martyn as a 10-year-old who believes that his family's new Maine home is haunted…when it's really a group of thieves (including Malcolm McDowell) out to steal a painting hidden in their house. Jodelle Ferland co-stars in a breezy, forgettable TV movie that kids ought to enjoy. Fox's DVD includes a 16:9 transfer and 5.1 Dolby Digital soundtrack.
SAVING SANTA Blu-Ray (83 mins., 2013; Anchor Bay): When mischievous elf Bernard (voiced by Martin Freeman) attempts to join Santa's team of top secret inventors, he accidentally opens the door for a mad billionaire (voiced by Tim Curry) to locate the top secret location of Kris Kringle's workshop. In order to save Christmas, Bernard time travels (repeatedly) in this okay CGI rendered animated feature also sporting the voices of Tim Conway, Ashley Tisdale and Joan Collins. It's no "Arthur Christmas" though kids may warm to it and its colorful visuals just the same. Anchor Bay's DVD/Blu-Ray combo pack sports a music video, featurette and recording session footage; the Blu-Ray's 1080p transfer is just fine and DTS MA 5.1 audio rounds out the release. (The title is currently exclusive to Walmart)
SECRET WORLD OF SANTA: A PRESENT FOR SANTA and THE SECRET WORLD OF SANTA: ELVES IN TOYLAND (aprx. 5 hours, 30 mins. each; 1997; Cinedigm) are imports of French-produced cartoons from the late '90s, where Santa, the reindeer and assorted elves participate in various adventures outside, and around, the Christmas season. Each release includes 13 episodes to "Countdown to Christmas," which takes youngsters from December 1st through the 25th if you buy both double-disc DVD sets.
Also new from Cinedigm, and perfect for young kids, is THE HIVE: A VERY BUZZBEE CHRISTMAS (aprx. 88 minutes), which includes 10 episodes from the colorfully rendered CGI series (Postman Buzzbee, Buzzbee the Magician, Scooter Bee, Pappa Gets Fit, Buzzbee's Secrets, Lord Bartlebee and The Teddy Bee, Festival of Light, Babee's First Christmas, The Night Before Christmas, Buzzbee and the Snowbee) that airs on Disney Junior…Finally, ENCHANTED TALES: THE NIGHT BEFORE CHRISTMAS and THE CHRISTMAS ELVES (aprx. 96 mins.) offer a pair of stories for kids – not on the Rankin-Bass level, but decent entertainment that should entertain the little ones this holiday season.
---
Also New & Noteworthy
GUESS HOW MUCH I LOVE YOU DVD (80 mins., 2011; E One): The besetselling books about Little Nutbrown Hare and his father are realized on-screen in an animated TV series brought to E One this month on DVD. The single-disc release includes seven episodes from the series in 16:9 transfers and 2.0 soundtracks.
AMBUSHED Blu-Ray (97 mins., 2013, R; Anchor Bay): Dolph Lundgren plays a DEA agent about to close out a cocaine smuggling operation presided over by crime boss Vinnie Jones in "Ambushed," a decent direct-to-video action flick co-starring the lovely Carly Pope as an undercover cop, Randy Couture as a dirty L.A. police officer, and Daniel Bonjour and Gianni Capaldi as drug pushers trying to rip off their superiors. Giorgio Serafini's film offers an attractive cast in a fairly by-the-numbers thriller (with a script credited to "Agustin") with Anchor Bay's Blu-Ray – out November 12th – including a 1080p transfer, 5.1 Dolby TrueHD soundtrack and a behind-the-scenes featurette.
Universal 3-D Blu-Ray New Releases: A trio of special interest titles may pique the interest of 3-D Blu-Ray owners when they street on November 12th. OCEAN PREDATORS 3D (58 mins., 2012) includes impressive footage of sharks, barracudas, moray eels and other aquatic predators. The producers ofPOLAR BEARS 3D: ICE BEAR (50 mins., 2012) spent a year capturing the behavior of Polar Bears in the Canadian Arctic, while FASCINATION CORAL REEF 3D: HUNTERS AND THE HUNTED (53 mins., 2012)offers nearly an hour of footage of coral reef inhabitants, similar to prior outings in the series. All discs contain solid 3D transfers plus 5.1 DTS MA soundtracks and are also compatible with 2D Blu-Ray players, though since each title was intended for 3D exhibition, their content isn't nearly as strong as their visuals.
NEXT TIME: TANK GIRL, THE TO-DO LIST and more! Until then, don't forget to drop in on the official Aisle Seat Message Boards and direct any emails to our email address. Cheers everyone!