One of the groundbreaking classics of the '70s, Robert Altman's NASHVILLE (****, 160 mins., 1975, R) is at last available on Blu-Ray in a marvelous Criterion Collection package. Following an offbeat collage of 24 characters who descend upon a music festival in Music City, "Nashville" today plays as a travelogue, a time capsule, a social commentary on America's obsession with fame, a musical and a rich character study, and is equally successful in all of those facets.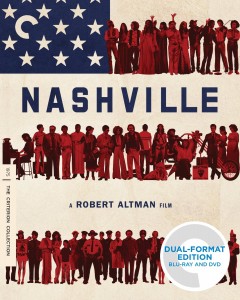 After the project was jettisoned by United Artists, Altman sent writer Joan Tewkesbury to Nashville to gather ideas for her screenplay, and the resulting film's major narrative elements – from singer Bobby Jean's airport arrival to a highway accident – came from her experiences. Her script – enhanced and improvised by the cast – finds a collection of disparate characters gathering together during one hot weekend in the south: there are musicians (Ronee Blakley as Bobby Jean, a fragile singer in the Loretta Lynn mold; Karen Black as a rival songstress; a folk trio headed by Keith Carradine; and Henry Gibson's superstar Haven Hamilton); the wannabes (Barbara Harris as an aspiring singer; a waitress, played by Gwen Welles, trying to break in), the groupies and hangers-on (Shelley Duvall; Geraldine Chaplin as a British reporter); the politicians (Ned Beatty and Michael Murphy working for the unseen, but constantly heard, "Replacement Party" candidate Hal Philip Walker); and the locals (Lily Tomlin as Beatty's wife, Scott Glenn as a Vietnam vet, and Keenan Wynn as a man distraught over his ailing wife) whose lives intersect, one way or another, over the course of several days.
Nearly three hours in length, "Nashville" offers Altman's typical blend of overlapping conversations, eclectic protagonists and varied dramatic situations. Some of the material is funny, other moments heartbreaking and depressing (particularly when Wynn grieves for his late wife while Glenn can't help expressing his interest in Bobby Jean), and it's all alive, energetic and compelling in equal measure. The movie's most developed thematic material – about the public's growing interest in fame and celebrity – certainly plays as effectively today as it did back then, but the movie is less a critique than it is a celebration of the colorful characters – good, bad, and ambivalent – that comprise the American experience. Altman employs great use of the Panavision frame and the new DTS MA 5.1 audio track adds a layered depth to the effective stereo sound mix, populated by original songs written by Richard Baskin and the actors. Even if a late "dramatic twist" feels a bit contrived, it's followed by a moving ending that shows how all of us – despite our differences – solder on, and the loss of one individual gives way for another's opportunity.
A movie that's right up there with Altman's finest works (if not arguably his best), "Nashville"'s Criterion release is a gem. The 1080p Blu-Ray transfer is culled from a new 2K restoration and is superlative: the image has a natural, film-like appearance, and that stereo 5.1 soundtrack is likewise outstanding. A new, 70-minute documentary on the production is the highlight of the supplemental features, offering comments from Tewkesbury, assistant director Alan Rudolph, plus Ronee Blakley, Keith Carradine, Michael Murphy, and Lily Tomlin. Three interviews with Altman include a lengthy, half-hour chat with critic Jim Whaley from 1975 and later interviews from 2000 and 2002; behind-the-scenes footage of the production; a demo of Carradine performing his songs, including the Oscar winning "I'm Easy"; the trailer; and an essay from critic Molly Haskell round out the BD/DVD combo package.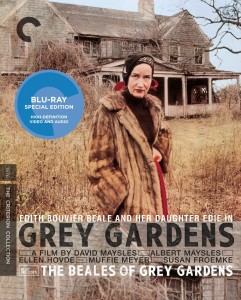 Also new this month from Criterion is the odd, strange tale of Edith Bouvier Beale and her daughter Edie. The duo were the subject of a recent musical as well as the acclaimed 1976 documentary which inspired it, GREY GARDENS (94 mins.), which has now been released on Blu-Ray for the first time. This bizarre, fascinating account of Jacqueline Kennedy Onassis' cousins, who lived in a dilapidated East Hampton mansion, has been fully restored in a new 2K transfer approved by director Albert Maysles, and complimented by the release of its 2006 companion documentary, THE BEALES OF GREY GARDENS (91 mins.), offering outtakes, new footage, and extensive supplements.
The original "Grey Gardens" includes commentary by directors Maysles, Ellen Hovde, and Muffie Meyer; extracts from a 1976 interview with Little Edie Beale; interviews with fashion designers on the lasting impact of the Beales; hundreds of behind-the-scenes photos, trailers and filmographies, plus booklet notes. Both movies are framed in 1.33 full-screen and include acceptable mono soundtracks.
---
THE WOLVERINE 3D Blu-Ray Combo Pack (***, 126 mins., 2013, PG-13; Unrated Version: 138 mins.; Fox): Comic book fans are likely to be more impressed than casual viewers with this well-mounted, character-driven "Wolverine," which finds director James Mangold stressing the interior drama inside Hugh Jackman's grizzled X-Man over frenetic CGI action.
That's not to say there isn't some excitement to be found in this fairly faithful adaptation of Chris Claremont and Frank Miller's memorable 1982 Marvel mini-series, which sends Logan to Japan to meet with a man whose life he saved in WWII. A masterfully executed chase on a bullet train and fisticuff-laden brawls with ninjas give "The Wolverine" some much-needed pizzazz, but director Mangold and writers Mark Bomback and Scott Frank are more concerned here with Logan's state of mind. Still suffering from the loss of Jean Grey (Fame Janssen), Logan is living his life off the grid until he's brought back into action by the plucky Yukio, the adopted granddaughter of the ailing Mr. Yashida, and is subsequently plunged into family intrigue that involves the Yakuza and assorted mutant villains, as well as a romance involving Yashida's other granddaughter.
Leisurely paced, "The Wolverine" may be a bit too laid back for some viewers, especially younger folks accustomed to the frantic action in most Marvel films. It's absorbing and satisfying, though, if you invest the time to get into it, and I also found Mangold's less-is-more approach to be refreshing given the genre's recent bombastic outings. The lack of underscore in the picture is also a welcome change of pace, with Marco Beltrami's music mostly avoiding the movie's big train set-piece altogether – when was the last time you saw a film that was underscored, never mind wasn't over-scored?
Fox's 3D combo pack of "The Wolverine" is the only way to access the movie's unrated extended version. Presented on its own separate 2D platter, running 12 minutes longer with added action and profanity, it's a notch above the theatrical cut, though viewers who found the picture slow-going to begin with are likely to have an even larger issue here. The standard 2D Blu-Ray disc offers a fine 1080p transfer with an alternate ending (I hope we see the costume some day!), featurettes and brief set tour of "X-Men: Days of Future Past" (which is connected to this film through its mid-end credits teaser), along with a DVD and digital copy. The 3D Blu-Ray includes a fine MVC encoded transfer of the theatrical version, which was converted to stereo in post-production and offers a fair amount of depth of field effects – but is not essential to enjoying the picture.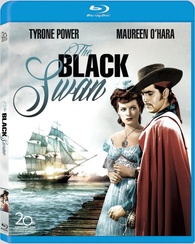 Selected through an online poll, Fox's Studio Classics line welcomes eight new additions to Blu-Ray this month. THE BLACK SWAN (***, 85 mins., 1942) offers a grand Technicolor pirate adventure with Tyrone Power and Maureen O'Hara, featuring commentary from the actress and Rudy Behlmer on the supplemental side. The 1.33 transfer is robust and the film itself great fun…CALL OF THE WILD (***, 92 mins., 1935) stars Clark Gable and Loretta Young in an early (and not-so-faithful) adaptation of the Jack London classic. Fox's Blu boasts commentary from Darwin Porter, the trailer, a 1.0 DTS MA soundtrack and B&W 1.33 transfer of the movie's original 92-minute version (most previous video releases have been cut by nearly 10 minutes)…Tyrone Power and Henry Fonda essay the James brothers in JESSE JAMES (***, 106 mins., 1939), a creaky early Fox western that hardcore genre fans still ought to find of interest. Two Fox Movietone news reels and the trailer comprise the extras here with a solid 1.33 1080p color transfer on the technical end…More sagebrush action is on-hand in the 1969 John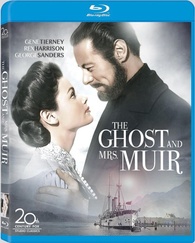 Wayne-Rock Hudson team-up THE UNDEFEATED (***, 118 mins., G), with additional Wayne on-tap in Henry Hathaway's enjoyable 1962 Cinemascope outing NORTH TO ALASKA (***, 122 mins.) co-starring Stewart Granger and the less effective cinematic stylings of Ernie Kovacs, Fabian and Capucine. While no extras are included on "The Undefeated," "North to Alaska" does boast a Fox Movietone newsreel. Both transfers (2.35) are crisp and natural with DTS MA 4.0 and 5.1 stereo sound included on "North to Alaska" and "The Undefeated," respectively…CARMEN JONES (**½, 105 mins., 1954) was Otto Preminger's 1954 adaptation of the Georges Bizet-Oscar Hammerstein II musical starring Dorothy Dandridge, Harry Belafonte and Pearl Bailey. The 2.55 AVC encoded transfer and 4.0 DTS MA audio are both fine, and the trailer is the disc's sole extra…Romance fans might find the later Spencer Tracy-Katharine Hepburn collaboration DESK SET (***, 103 mins., 1957) appealing, with Fox's Blu offering a superb 2.35 AVC encoded transfer of the original Cinemascope frame, and extras including commentary from Dina Merrill and John Lee, a Fox Movietone news reel and the trailer…Last but not least, THE GHOST AND MRS. MUIR (***½, 104 mins., 1947) is Joseph L. Mankiewicz's sterling film fantasy with Gene Tierney as the New England widow who moves, along with daughter Natalie Wood, into a coastal home haunted by the quite unscary Captain Gregg (Rex Harrison). Two commentaries (one by Greg Kimble and Christopher Husted, the other with Jeanine Basinger and Kenneth Geist) lend historical insight into the film's production and legacy, with 5.1 and 1.0 DTS MA sound faithfully reproducing Bernard Herrmann's classic score. Highly recommended!
---
FAST & FURIOUS 6 Blu-Ray Combo Pack (**½, 131 mins., 2013, PG-13/Unrated; Universal): A comedown from the franchise high of "Fast Five," this is still a well-oiled machine of frantic action and fun as the gang — Vin Diesel, Paul Walker, Jordana Brewster, Tyrese Gibson, Chris 'Ludacris' Bridges among them — is roped into finding an international terrorist (Luke Evans) who's stolen a MacGuffin in the form of a computer chip worth untold billions to the U.S. government. Resident national-security badass Dwayne Johnson brings Diesel and Walker's clan back into the fold for one last mission — and with the promise of pardoning their prior shenanigans — if they can tackle Evans, but this time there's a personal catch involved for Diesel: old flame Leddy (Michelle Rodriguez) is still alive, but can't remember her identity, and is working for the bad guys.
"Fast and the Furious" has been a strange franchise to see evolve over the course of its 12-years: the 2001 original was a smash, but two subsequent sequels failed to bring back the original cast in one piece. The fourth film reignited the franchise with writer Chris Morgan and director Justin Lin returning from the third film; the duo then hit their stride with "Fast Five," the series' best and one of the most purely enjoyable action films of the last decade.
This sequel once again crams a fair amount of plot, side characters and action into its 130 minutes, though it's not as inspired as its immediate predecessor. With a few dangling story elements to take care of, Morgan and Lin spend a bit too much time on the plot this time around, while a few too many of the action set-pieces occur at night, making them harder to fully comprehend. Still, there are some undeniably entertaining, over-the-top moments, such as a ridiculously outlandish tank/car chase, and not one but two fights between Rodriguez and the fetching Gina Carano, who makes her series debut as The Rock's right-hand woman. Diesel, Walker and Johnson have been at this type of thing so long that they seem to effortlessly glide through the film, but that's part of the appeal: with so few "movie stars" commanding the screen these days, there's something to having a group of charismatic actors working on-screen together, and Diesel and Johnson generate an old-fashioned on-screen presence that's difficult to deny. On the downside, the recent, tragic passing of Walker adds a bittersweet element to the picture, especially in a Blu-Ray teaser for the next sequel where his character laments that there have been too many funerals (and also, of course, puts the dangerous nature of the automotive action in these films into a realistic perspective).
Solid if unspectacular escapist fare, with the post-credits tag intended to set up the now indefinitely delayed "Fast & Furious Seven" with a star cameo that's bound to get action fans excited.
Universal brings "Fast & Furious 6″ to Blu-Ray December 10th offering the movie's theatrical version and a slightly extended cut of the picture. Extras include BD-exclusive featurettes (the extended version is also exclusive to the Blu-Ray), along with deleted scenes, a Making Of, on-set featurette, and commentary with Justin Lin. A DVD and digital copy round out the package.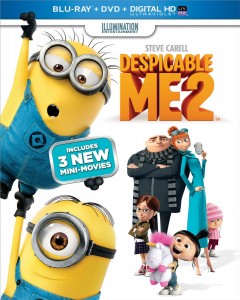 DESPICABLE ME 2 Blu-Ray/DVD Combo Pack (***, 98 mins., 2013, PG; Universal): Cute follow-up to "Despicable Me" became a worldwide box-office smash last summer. This time around, Gru, his adopted girls and the minions find themselves taking on one of Gru's old super-villain foes, who has designs on turning Gru's yellow sidekicks into purple-people eaters.
"Despicable Me 2″ offers no surprises but it's a lively, fun, upbeat entertainment with some big laughs and another tuneful soundtrack from Pharrell Williams, whose songs and themes keep the material bouncing along. There are few dead spots as writers Cinco Paul and Ken Daurio juggle a number of storylines that give all the main characters something to do (though by this point the minions easily upstage their human counterparts), and the vivid animation from Chris Meleandri's Illumination studio is even more eye-popping than its predecessor.
Universal's Blu-Ray edition of "Despicable Me 2″ has been released just in time for the holidays and is stuffed with extras. Three "mini movies" are on-hand along with a brief deleted scene, a handful of featurettes (mostly aimed at kids), plus a flawless 1080p transfer and DTS MA soundtrack. A DVD and digital copy are also included.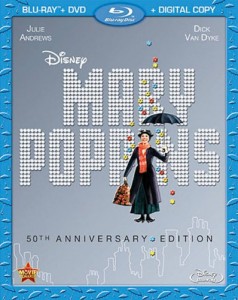 MARY POPPINS: 50th Anniversary Blu-Ray Combo Pack (***½, 139 mins., 1964; Disney): First Blu-Ray edition of the Disney classic has been timed to coincide with the opening of the upcoming "Saving Mr. Banks" starring Tom Hanks as Walt and Emma Thompson as P.L. Travers, Poppins' creator. In fact, a number of new special features are directly associated with the picture, including a conversation between Richard Sherman, who wrote a number of classic songs for the film with brother Robert, and Jason Schwartzman, who plays him in the upcoming movie. Other extras include a deleted song, all-new sing-along function, Making Of, and a reunion between Julie Andrews, Dick Van Dyke and Richard Sherman. Visually the 1080p transfer is quite excellent – a far cry from some of Disney's up-and-down catalog releases of late – and the 7.1 DTS MA remixed audio is also solid (though an option to hear the original theatrical mix is thankfully on-hand for purists). A DVD and digital copy are also packed in Disney's combo package.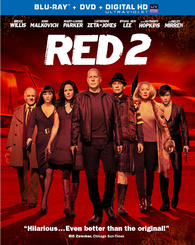 RED 2 Blu-Ray Combo Pack (**½, 116 mins., 2013, PG-13; Summit/Lionsgate): Unnecessary but inevitable sequel to the surprising hit "Red" didn't generate nearly the same enthusiasm among viewers, leading to tepid box-office receipts. Bruce Willis, John Malkovich, Mary-Louise Parker and Helen Mirren are back here – trying to save the world from a missing nuclear device that's fallen into the wrong hands – while Anthony Hopkins and Catherine Zeta-Jones join the gang for two hours of competent if uninspired action, a few humorous gags and laid back interplay between the cast.
As a just-for-the-money sequel goes, this Dean Parisot-helmed follow-up gives viewers exactly what they'd expect, though since the original was a one joke concept to begin with, the humor seems played out here, and the plot is even more convoluted than its predecessor. Summit's Blu-Ray offers a gag reel, multi-part documentary, deleted scenes, DVD and Ultraviolet copy, plus a 1080p transfer and DTS MA 7.1 soundtrack.
---
New From Warner
Confidently told and gripping from beginning to end, Ben Affleck's much-celebrated Best Picture Oscar winner ARGO (***½, 120 mins., 2012, R) was one of 2012′s best films, and returns to Blu-Ray this month in a new Extended Edition premium package from Warner Home Video.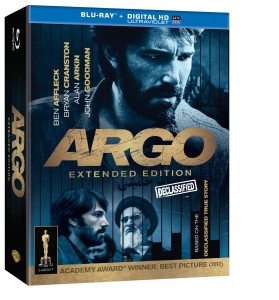 Performing chores both in front of and behind the camera as he did in 2010′s memorable Boston heist thriller "The Town," Affleck stars as Tony Mendez, a CIA agent who hatches an unlikely plan to extract several American refugees from Iran after militants storm the U.S. embassy in Tehran, taking dozens of prisoners hostage. These six Americans, however, were able to flee the building before the militants took over, and eventually hid in the home of the Canadian ambassador (Victor Garber). Mendez's plan to "extract" them requires the hiring of make-up effects artist John Chambers (John Goodman) and producer Lester Siegel (Alan Arkin) in an effort to mount a phony sci-fi fantasy film that'll be used as a cover in order to get the Americans out of the country. However, with time ticking away, their situation is now more precarious than the dozens of hostages being held in the embassy itself.
"Argo" is simply terrific filmmaking on every front. Affleck gets the atmosphere and sense of time and place dead on target, but doesn't let the veneer of the past overpower the drama. Rodrigo Prieto's cinematography is natural, the performances from Affleck to Bryan Cranston as a fellow CIA worker and Goodman and Arkin in supporting roles (which, admittedly, could've been fleshed out further) are all superlative, and Chris Terrio's script embellishes the amazing true story with just a bit of creative license. It all makes for a superb film so compelling that it's incredible how much tension "Argo" generates even when the outcome is known before the movie starts with Saul Bass' '70s Warner Bros. logo immediately setting the mood.
Warner's new Extended Edition of "Argo" includes a longer cut of the film that restores some nine minutes of footage – most of it scene extensions, particularly in scenes between Mendez and his family. It's not essential but does give the picture a bit of emotional weight during those sequences (the theatrical version is also included). Other extras include "Argo Declassified" – examining the CIA's public honoring of Tony Mendez – along with an Affleck behind-the-scenes segment. Returning from the previous release are a fascinating picture-in-picture "Eyewitness Account" track offering comments from Mendez and the memories of others who lived through the Iranian hostage crisis. Additional featurettes include President Jimmy Carter's reflections and plenty of detail on the movie's production, along with a commentary by Affleck and Terrio. The 1080p AVC encoded transfer offers top detail and nicely balanced colors – as with "The Town," Affleck's visual eye results in a natural looking color pallet, something that's a far cry from the overstylized work of, say, Janusz Kaminski on "Lincoln." The DTS MA audio is likewise strong, offering a decent score by Alexandre Desplat. A DVD and digital copy are also included in the box-set, which is capped by collectibles including a badge prop, photo book, map with behind the scenes poster and a mini-poster of the "Argo" fake one-sheet.
Also new from Warner is the long-overdue Blu-Ray release of Sidney Lumet's classic tale of police corruption, SERPICO (***½, 130 mins., 1973, R), the taut Waldo Salt-Norman Wexler adaptation of Peter Maas' book, based on the true story of an uncompromising New York City police officer (one of Al Pacino's greatest performances) who refuses to cave into the system. The Dino DeLaurentiis production offers a slew of familiar faces in supporting roles, from F. Murray Abraham to Judd Hirsch and Tony Lo Bianco, and compares favorably with the best police thrillers of its era. Warner's well-defined Blu-Ray transfer includes a striking 1080p transfer superior to the older Studio Canal Blu-Ray that was released outside the U.S.; extras include three featurettes, a photo gallery with Lumet's commentary, the trailer, and both 5.1 and mono soundtracks.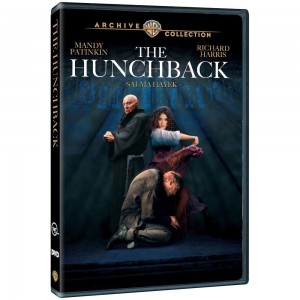 Warner Archive New Releases: Among the Archives' December titles is a fascinating, if uneven, take on THE HUNCHBACK (98 mins., 1997), a TNT original movie shot shortly after Disney's animated rendition. Peter Medak's tele-film, scripted by John Fasano, is marked by Mandy Patinkin's superb performance as Quasimodo with Richard Harris as the corruptible Dom Frollo and Salma Hayek sufficiently sultry as Esmerelda. Everything about this expensive TV film is assured, including Ed Shearmur's score, making it well worth a view. Warner's Archive DVD includes a 1.33 transfer and stereo soundtrack…another TNT original movie, DINNER AT EIGHT (95 mins., 1989), hails from the network's early days. This free-wheeling remake of George Cukor's 1930s classic stars Marsha Mason as the dinner hostess who can't contain a party that's about to unravel at light speed. The top-notch cast also includes Lauren Bacall, Charles Durning, Ellen Greene, Harry Hamlin and John Mahoney in a Shelley Duvall production scriped by Tom Griffin. Warner's Archive DVD boasts another fine 1.33 full-screen transfer and stereo soundtrack.
Finally, Golden Age buffs will want to check out CLASSIC SHORTS FROM THE DREAM FACTORY VOLUME 2: 1929-1946, a three-disc DVD set featuring more outstanding, memorable musical shorts produced by MGM. From Technicolor one-reels to MGM revues, fans will have a ball with these vintage shorts, offering appearances by Judy Garland, Jack Benny, Dennis Morgan, Deanna Durbin and others. Seen infrequently over the years on TCM, this Archive anthology collects the MGM shorts in a convenient package offering something for every musical, comedy and Golden Age enthusiast out there.
---
Also New on Blu-Ray
Swinging onto Blu-Ray at last – at least in its own standalone, non-box set release – RAIDERS OF THE LOST ARK (****, 115 mins., 1981, PG) thankfully still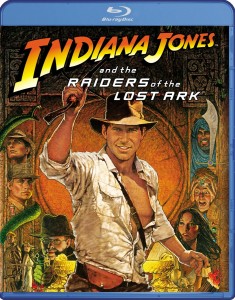 retains its original on-screen title (despite its packaging as "Indiana Jones and the Raiders of the Lost Ark"), and remains a classic of the action-adventure genre. With a smart Lawrence Kasdan script (from a George Lucas-Philip Kaufman story), classic stunts and Steven Spielberg working at the peak of his talent, "Raiders" is pure and unadulterated fun, offering Harrison Ford in the centerpiece role of his career and Karen Allen easily providing the best female love interest of the series.
Paramount's AVC encoded transfer of "Raiders" is much more "contrasty" than I've seen the movie before – and not quite as green and "lush", especially in the early jungle sequences — but it's also clear this new HD scan is light years ahead of any prior video release in terms of detail. I can't recall how the film originally appeared in theaters so it's entirely possible the color scheme is also more faithful to cinematographer Douglas Slocombe's theatrical version than the prior DVD releases – certainly it's an excellent transfer overall, with fine detail visible throughout. The DTS MA soundtrack is forceful and superbly engineered, offering a broad stage for John Williams' legendary score and crisp sound effects. Three original trailers are the disc's sole extras – a short teaser (selling the film on the merits of Spielberg's past blockbusters), full theatrical trailer, and a 1983 re-release trailer (from the "Superman" trailer voice-over guy) are each presented in AVC encoded 1080p.
GHOST TEAM ONE Blu-Ray (84 mins., 2013, R; Paramount): "Ghost Hunters"/"Paranormal Activity" spoof mixes in copious amounts of T&A as a pair of roommates turn to a sexy ghost huntress (Fernanda Romero) when they find their home being haunted by a demoness – who's also turned on by their antics. Scott Rutherford and Ben Peyser's direct-to-video comedy runs out of gas before all is said and done but does offer a few laughs – at least more than the horrific "A Haunted House." Paramount's Blu-Ray includes a few deleted scenes, bloopers, behind the scenes content, "Chuck's Video Diary," a 1080p transfer, Ultraviolet copy and DTS MA soundtrack.
THE SMURFS 2 3D Blu-Ray Combo Pack (**, 105 mins., 2013, PG; Sony): Bland sequel to the surprise box-office hit of 2011 managed only half the gross of its predecessor domestically, and was likewise down sharply around the world as well. Perhaps viewers had their fill of Peyo's little blue characters the first time around, which is perfectly understandable since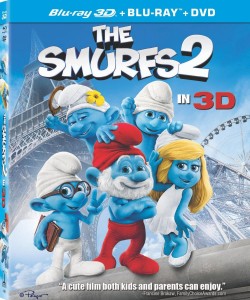 Raja Gosnell's sequel literally gives us more of the same, between the Smurfs trying to rescue Smurfette from Gargamel and mostly lame human antics between stars Neil Patrick Harris and Jayma Mays. Hank Azaria's game comedic turn as Gargamel remains a highlight but the script – credited to five different writers – is a hackneyed affair that's overlong and too serious at times for its own good.
Sony's 3D Blu-Ray of "The Smurfs 2″ does offer a gloriously composed mix of animation and live-action with abundant 3-D effects. From a sheer technical angle, it's one of the better format releases I've seen this year. The combo pack also includes a Blu-Ray (mastered in 4K) with a DVD, digital copy, 3-D lenticular slipcover, DTS MA soundtrack and supplemental goodies mostly aimed at young viewers.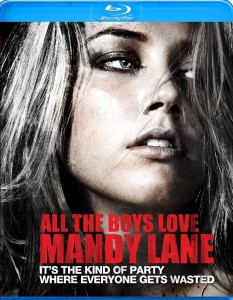 ALL THE BOYS LOVE MANDY LANE Blu-Ray (**, 90 mins., 2006, R; Radius/Anchor Bay): Finally available in North America after having been completed in 2006, it's a good bet that, by now, most horror fans have already caught up with this "high concept" slasher that's not as good as its pre-release rep would lead one to believe. For those who haven't seen it, Jonathan Levine's picture does include a star-making turn from Amber Heard as a Texas high schooler who brings trouble with her to a summer-time retreat. "All the Boys Love Mandy Lane" was released on Blu-Ray literally years ago in the UK – Anchor Bay's US version includes a 1080p transfer, DTS MA soundtrack and commentary with the director. Stylish but unsatisfying.
JAYNE MANSFIELD'S CAR Blu-Ray (**, 122 mins., 2013, R; Anchor Bay): Robert Duvall leads a terrific cast in a disappointing, rambling film from director Billy Bob Thornton, who also co-wrote this tale of a disparate southern clan brought together when the wife of one of Duvall's sons dies in England. Her family – led by John Hurt – opts to bring her body back, leading to a cultural clash that forms most of the pleasures in "Jayne Mansfield's Car." Seeing Hurt and Duvall together is a welcome breath of fresh air from most of today's bombastic cinematic offerings – and the supporting cast is likewise excellent (Thornton, Kevin Bacon, Robert Patrick, Frances O'Connor) – yet Thornton's script is an overly ambitious and unfocused affair that should've been judiciously pruned before the project ended up at the shooting stage. Anchor Bay's Blu-Ray includes a behind the scenes featurette, 1080p transfer and 5.1 Dolby TrueHD soundtrack.
FORCE OF EXECUTION Blu-Ray/DVD (99 mins., R, 2013; Anchor Bay): A puffy Steven Seagal produced this by-the-numbers action flick starring the former box-office behemoth as "Mr. Alexander," a mob boss who ends up igniting a whole heap of trouble after a prison hit goes awry. Ving Rhames co-stars as a rival gangster with Bren Foster as one of Seagal's former proteges and Danny Trejo (of course!) as an ex-con. Keoni Waxman's affair is okay for the low-wattage thrills you'd expect from a project like "Force of Execution," and Anchor Bay's Blu-Ray/DVD combo pack – out December 17th – includes a behind-the-scenes featurette to complement its 1080p transfer and 5.1 Dolby TrueHD soundtrack.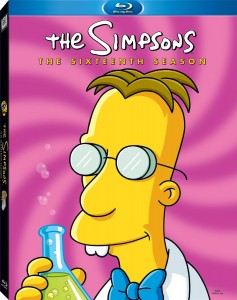 THE SIMPSONS Season 16 Blu-Ray (460 mins., 2004-05; Fox): All 21 episodes from "The Simpsons"' 16th season land on Blu-Ray for the first time this month from Fox. Episodes include Treehouse of Horror XV; All's Fair in Oven War; Sleeping With the Enemy; She Used to Be My Girl; Fat Man and Little Boy; Midnight Rx; Mommie Beerest; Homer and Ned's Hail Mary Pass; Pranksta Rap; There's Something About Marrying; On a Clear Day I Can't See My Sister; Goo Goo Gai Pan; Mobile Homer; The Seven-Beer Snitch; Future-Drama; Don't Fear the Roofer; The Heartbroke Kid; A Star Is Torn; Thank God It's Doomsday; Home Away From Homer; The Father, the Son and the Holy Guest Star. In addition to 1080p (1.33) transfers and DTS MA 5.1 soundtracks, ample extras include commentary on every episode; deleted scenes with commentary; bonus episodes; multi-angle animation showcases; original sketches; featurettes and more.
ANGRY BIRDS TOONS – Season 1, Volume 1 Blu-Ray (72 mins., 2013; Sony): It's hard to believe the handheld video game phenomenon has lasted as long as it has (there's even an "Angry Birds Star Wars" available!), and even more difficult to comprehend that the simplistically animated game has spawned…its own animated series. Yes, "Angry Birds Toons" adapts the colorful slingshot game that has occupied countless hours among smartphone users into a series of short "mini episodes" that first debuted on the web and are now collected on Blu-Ray here for the first time. Though only 72 minutes in length, this first volume of "Angry Birds Toons" offers 26 episodes from the web series in 1080p transfers and Dolby Digital soundtracks. It's mostly silly stuff kids are likely to get the biggest kick out of, with Sony's Blu-Ray including a special holiday episode ("Wreck the Halls") along with a redemption code for a free Angry Birds PC game, character art gallery, three production featurettes, and a Meet the Characters segment.
---
From VSC
THE RUTLES ANTHOLOGY Blu-Ray/DVD (VSC):
The original rock mockumentary, "The Rutles" is an inspired spoof from Eric Idle and Neil Innes, who collaborated to tell the rise and fall of a Beatles-like group from Rutland. First introduced in a 1976 Saturday Night Live sketch and later expanded into its own network special in 1978, "The Rutles" offers a hilarious tribute/satire of the Fab Four's rise to success, with appearances by the original Not Ready for Prime Time Players (John Belushi, Dan Aykroyd, Gilda Radner and Bill Murray) adding to its appeal.
VSC has dusted off and thoroughly remastered the original "Rutles: All You Need is Cash" for Blu-Ray, with some materials – directly remastered from the original negative – included in a 16:9 format and others in 4:3. The overall HD presentation is quite excellent, and copious extras include the 2004 sequel (on the second DVD platter) "Can't Buy Me Lunch," the original SNL sketch from Idle's "Rutland Weekend Television" program, and a new interview with Idle. The audio has also been overhauled for 5.1 and likewise sounds terrific.
---
PBS New Releases
Frontline's LEAGUE OF DENIAL (120 mins., 2013) is a disturbing, compelling look at concussions sustained by National Football League players, as well as the league's collective look in the other direction, over the decades. Steve Fainaru and Mark Fainaru-Wada chronicled this material in their recent bestselling book and do the same in this PBS documentary, which was co-produced with ESPN until the latter changed their minds and removed their brand from the program. It's a fascinating, scary examination filled with game footage, player interviews and conversations with family members of NFL veterans whose lives were, at the least, curtailed by playing the sport. PBS' DVD includes a stereo soundtrack and 16:9 transfer. Highly recommended (in stores December 17th).
Michael Apted has produced a pair of films on "scientific and artistic brilliance." Dubbed THE NATURE OF GENIUS – and available in a Blu-Ray/DVD combo pack this month from PBS – the two pictures provide the filmmaker/documentarian with a fascinating canvas, interviewing scientists, musicians, dancers and other artists on their creative process. Subjects as eclectic as David Bowie populate "Inspirations," while "Me & Isaac Newton" focuses on the scientific side. PBS' Blu-Ray includes a half-hour of bonus interviews with Apted, 1080i HD transfers and stereo soundtracks...HELD HOSTAGE (60 mins., 2013) is a harrowing account of foreign workers who were taken hostage by Al Qaeda terrorists at an Algerian gas plant earlier this year, with over 37 people ending up dead. A well-rounded documentary from director Bruce Goodison. PBS' DVD offers a widescreen transfer and stereo soundtrack of the hour-long program.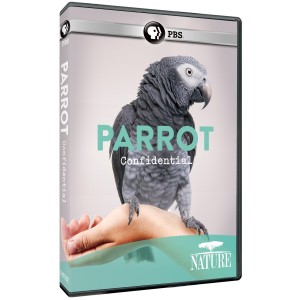 Also new from PBS is the second season of SEAN BROCK: THE MIND OF A CHEF (4 hours, 2013), an entertaining profile of Charleston, South Carolina chef Sean Brock and his embrace of classic Southern cuisine. Anthony Bourdain produced and narrates the program, with PBS' DVD including bonus scenes, 16:9 transfers and stereo soundtracks…WEIRD CREATURES WITH NICK BAKER: Season 2 (8 hours, 2007) examines naturalist Nick Baker's pursuit of some of the weirdest animals on our planet. Episodes include Human Fish; Real Gremlin; Swamp Thing; Hellbender; Invisible Lizard; Frankenstein Fish; Night Stalker and Mimic Octopus. 16:9 transfers and stereo soundtracks adorn this British import's DVD release from PBS…finally, PARROT CONFIDENTIAL (60 mins., 2013) is a wonderful Nature documentary about the majestic birds and the difficulty they have becoming pets for owners who cannot provide the years, if not decades, of care for them. Excellently shot and engaging. PBS' DVD includes a stereo soundtrack and 16:9 transfer.
---
Quick Takes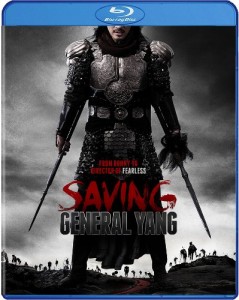 New From Well Go USA: SAVING GENERAL YAN (107 mins., 2013, Not Rated) is the latest effort from director Ronny Yu, who found success in the U.S. with the releases of genre throwbacks "Bride of Chucky" and "Freddy Vs. Jason." This Hong Kong period piece follows the Song Dynasty's military defense as it battles a nomadic nation. Well Go's Blu-Ray boasts a Making Of, cast/director interviews, the trailer, and both English dubbed or the original Mandarin audio in DTS MA…Taiwanese pop singer Jay Chou stars in THE ROOFTOP (122 mins., 2013, Not Rated), an engaging, colorful musical that sends modern-day drifter Chou back into the past for a series of lively numbers. Well Go's Blu-Ray includes a terrific 1080p transfer and Mandarin audio in 5.1 DTS MA with English subtitles….The indie horror tale THE SEASONING HOUSE (94 mins., 2012, Not Rated) spins a creepy tale of a girl kidnapped and sexually assaulted in the aftermath of an Eastern European conflict. Her eventual revenge forms the basis of Paul Hyett's well-shot picture that Well Go brings to Blu-Ray in the US, featuring a Making Of, the trailer, a 1080p transfer and 5.1 DTS MA soundtrack.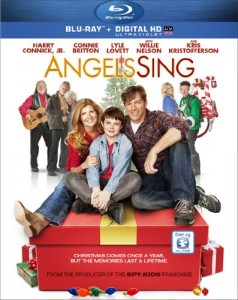 New From Lionsgate: The BOSTON RED SOX: 2013 WORLD SERIES COLLECTOR'S EDITION (aprx. 20 hours) boasts better-than-broadcast 720p transfers of the Red Sox magical worst-to-first World Series title. All 6 games of the Fall Classic are included along with the Game 6 win over the Detroit Tigers in the ALCS, and as with previous MLB box sets, the multiple audio tracks enable you to pick between the Fox broadcast tandem of Joe Buck and Tim McCarver or the Red Sox and Cardinals radio announcers. A full disc of bonuses offers edited highlights from the other Red Sox playoff games as well as regular season victories. Unquestionably recommended for any Red Sox fan!…THE BEST OF THE UNIVERSE (aprx. 5 hours, 2009-11) is a two-disc DVD compilation that offers seven episodes from the History Channel series (Death Stars, Day the Moon Was Gone, It Fell From Space, Catastrophes that Changed the Planets, Nemesis, How the Solar System Was Made, Crash Landing on Mars) in 16:9 transfers…THE BEST OF ANCIENT ALIENS (6 hours, 2011) likewise contains a handful of episodes (Aliens & The Third Reich, Alien Tech, Angels and Aliens, Unexplained Structures, Aliens & Mysterious Rituals, Aliens and Ancient Engineers, Aliens Plagues & Epidemics, Aliens and Lost Worlds) from the popular History program. The 2-disc DVD set contains 2.0 stereo soundtracks and 16:9 transfers...LINE OF DUTY (100 mins., 2013, R) stars Bryan Anthony Ramirez (who also directed) in an urban thriller about four friends – two of whom are FBI agents, the others involved with a cartel – who find themselves on opposite ends of an inner-city conflict. Lionsgate's DVD includes deleted scenes, a 16:9 transfer, 5.1 soundtrack and Ultraviolet copy (available December 17th).
Magnolia New Releases: Mads Mikkelsen stars in THE HUNT (115 mins., 2012, R), a Danish drama being brought to Blu-Ray this month from Magnolia. The English-subtitled picture includes deleted/extended scenes, a Making Of, alternate ending and the trailer for extras, along with a 1080p transfer and DTS MA 5.1 soundtrack…Rosemarie DeWitt, Allison Janney, Ron Livingston, Scoot McNairy, Ellen Page and Josh Pais comprise the ensemble cast in TOUCHY FEELY (88 mins., 2013, R), a dramatic comedy from writer-director Lynn Shelton that details the fallout from DeWitt's new aversion to bodily contact. Numerous supplements include outtakes, deleted scenes, cast interviews, commentary, Making Of material, a 5.1 DTS MA soundtrack and 1080p transfer.
THE BERLIN FILE DVD (120 mins., 2013; CJ Entertainment): A ghost agent from North Korea is the subject of an international manhunt after an illegal arms trade goes seriously awry. Na Jung-Woo is the operative who tries to figure out who betrayed him in Ryoo Seung-Wan's thriller coming to DVD this month from CJ. The label's DVD includes a Making Of, deleted scenes, a 16:9 transfer and 5.1 Dolby Digital sound in either Korean or English dubbed.
SHADOW ON THE MESA DVD (87 mins., 2012; Gaiam Vivendi): Pleasantly old-fashioned Hallmark Channel western saddles up Kevin Sorbo, Greg Evigan, Gail O'Grady and Meredith Baxter in an adaptation of Lee Martin's book. Gaiam's DVD, arriving in stores December 17th, offers up a 16:9 transfer and 5.1 Dolby Digital soundtrack.
NEXT TIME: THE LONE RANGER and more! Until then, don't forget to drop in on the official Aisle Seat Message Boards and direct any emails to our email address. Cheers everyone!