Message Board - Registrations Open
Ray Harryhausen fans still mourning the passing of the legendary special effects master have reason to cheer this holiday season thanks to Twilight Time's new Blu-Ray releases of the second and third films in his Sinbad trilogy, THE GOLDEN VOYAGE OF SINBAD (***, 103 mins., 1973, G) and SINBAD AND THE EYE OF THE TIGER (**, 115 mins., 1977, G). Both titles are limited to 3000 copies and are available – two per customer – exclusively through Screen Archives.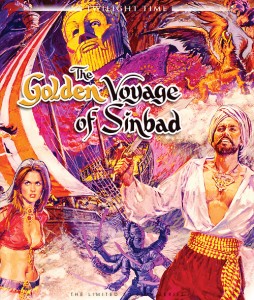 Following the financial disappointment of "The Valley of Gwangi," Harryhausen reunited once again with producer Charles H. Schneer at Columbia – who had passed on "Gwangi" – for a pair of pictures featuring the dashing sailor first brought to the screen by the duo in 1958′s "7th Voyage of Sinbad."
"The Golden Voyage of Sinbad" is clearly the superior of the duo, even with a relatively stiff John Philip Law taking over Kerwin Matthews' swashbuckling protagonist. In Brian Clemens' script, Sinbad is tasked with completing a magical treasure piece that will point the way to the "Fountain of Destiny," and aids a disfigured heir to the kingdom of Marabia (Douglas Wimer) in fighting a wizard (Dr. Who's Tom Baker) who seeks absolute power over the land. There are also, of course, ample Harryhausen special effects – including Sinbad's battle with the goddess Kali, a centaur, and a winged mini-gargoyle that's the creation of Baker's magician – as well as the natural beauty of Caroline Munro and a suitably romantic Miklos Rozsa score. It may not boast the overall entertainment of "7th Voyage" – Gordon Hessler's slack pacing is at times a liability – but it's still a fun Saturday Matinee adventure for the young, the young at heart and Harryhausen devotees.
Leisurely, however, is a term that describes the 1977 follow-up, "Sinbad and the Eye of the Tiger," all too well. Beverly Cross, who scripted numerous films for Schneer and Harryhausen, fashioned a mostly hackneyed script revolving around Sinbad's (Patrick Wayne) efforts to help a princess (Jane Seymour) whose brother has been turned into a baboon by their sorceress stepmother, played by Margaret Whiting. Taryn Power co-stars as the daughter of magician Patrick Troughton, who joins Sinbad and his men on a journey that finds them encountering a sympathetic monster named Trog (a precursor to Calibos from "Clash of the Titans"), bug-eyed ghouls (a cross between the Sleestaks from "Land of the Lost" with the skeletons of "Jason and the Argonauts"), the mechanical "Minitron," and a sabertooth tiger – creations that mostly fail to rank with Harryhausen's best work, though the baboon itself is effectively articulated in the film's most satisfying passages.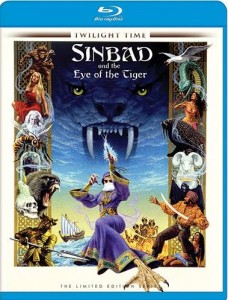 Compounding the lack of inspiration is Sam Wanamaker's direction, which takes far too long to get to its destination with a running time just a few minutes shy of two hours. The film is bland compared to its predecessors in terms of story, cinematic scope, and even its music score, with Roy Budd's serviceable offering a far cry from the majestic strains of Rozsa and Bernard Herrmann's work on the prior "Sinbad" films. It's still watchable, but the swashbuckling feels tired this time around.
Featuring 1080p transfers culled from the Sony vaults, both Twilight Time Blu-Rays boast superbly detailed, DNR-free AVC encoded transfers and 5.1 DTS MA stereo soundtracks. The isolated score mixes are also impressive, full stereo tracks, with some unused music included (the beginning of Budd's "Eye of the Tiger" score, for instance, was removed in favor of that wacky late '70s Columbia "torch" logo). Extras include Julie Kirgo's liner notes and featurettes from previous DVD editions (including This is Dynamation and Harryhausen interviews on Mysterious Island, 3 Worlds of Gulliver and Earth Vs. The Flying Saucers) and the original trailers.
Meanwhile, an engaging commentary discussion between star Malcolm McDowell and Nick Redman is the chief highlight of ROYAL FLASH (**½, 1975, 102 mins., PG), to date the only filmed adaptation of George MacDonald Fraser's highly regarded "Flashman" novels.
This 1975 period romp seemed to have all the elements in place for a grand time (co-stars include Alan Bates, Oliver Reed, and "guest stars" Lionel Jeffries, Alastair Sim, Britt Ekland among others), with director Richard Lester following his "Musketeers" pictures with another comedic swashbuckler, and again working with Fraser on the screenplay. For whatever reason, though, the movie doesn't quite work, despite some effective moments and amusing gags. I've tried on several occasions to make it through "Royal Flash" and each time have struggled to do so; at 102 minutes the movie feels stretched thin, its various attributes failing to gel the way Lester's predecessors did. That said, aficionados of "Royal Flash" are likely to enjoy Twilight Time's Blu-Ray presentation. The 1080p transfer is solid, the DTS MA 2.0 audio is fine, offering a classical-quote heavy score by Ken Thorne. The commentary is consistently interesting while a pair of featurettes ("Inside Royal Flash," "Meet Harry Flashman") sport interviews with Fraser, McDowell and others. The original trailer and an isolated score track rounds out the release.
---
---
INSIDIOUS: CHAPTER 2 Blu-Ray Combo Pack (**½, 106 mins., 2013, PG-13; Sony): Sequel to James Wan's 2010 hit picks up right from the end of its predecessor, with family man Patrick Wilson possessed by the spirit of a ghost, wife Rose Byrne trying to keep their family together, and investigators Leigh Whannell (who also scripted) and Angus Sampson working with Wilson's mother – played by Barbara Hershey – in uncovering the spirit(s) behind the haunting.
Director Wan, returning from the original, again stresses ghostly noises and low-key frights over gore and takes a subtle approach to genre material that's been played for shock value all too often in recent years. Like the original, "Insidious: Chapter 2″ takes a less-is-more approach when it comes to blood 'n guts, but unlike its predecessor, suffers from an overly convoluted, plot-driven story that's too involved and ultimately ridiculous for its own good. At times the film's shocks even become secondary to a story that revolves around a spirit with a confused sexual identity and a domineering mother wanting to cause havoc from beyond the grave – it's just patently absurd, like someone mixed "Sleepaway Camp" in a blender with "Poltergeist," and undercuts a few effective sequences and an ultimately satisfying ending for the family at the heart of the horror.
Sony's Blu-Ray combo pack of "Insidious: Chapter 2″ includes a 1080p transfer, 5.1 DTS MA soundtrack, two featurettes, four BD exclusive featurettes, a DVD and digital copy.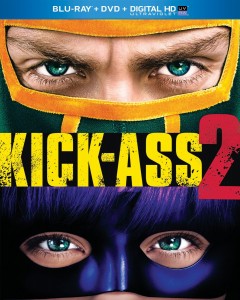 KICK-ASS 2 Blu-Ray Combo Pack (*½, 103 mins., 2013, R; Universal): Dismal follow-up to Matthew Vaughn's colorful, raunchy and vivacious 2011 comic book satire (of sorts) "Kick Ass" is pretty awful across the board.
With Vaughn handing off writing and directing chores to Jeff Wadlow, "Kick Ass 2″ looks and feels like a comedown – almost like an expensive direct-to-video sequel – despite returning its principal leads. This time out, Kick Ass – aka high schooler Dave (Aaron Taylor-Johnson) – is trying to get his bearings on being a real hero from Hit Girl (Chloe Grace Morez), who's becoming more interested in fitting in at high school than resuming her super-hero career. To pick up the slack, Kick Ass finds a group of fellow heroes – including Jim Carrey's "Colonel Stars and Stripes" – to hang out with, but it's all downhill for the gang once Christopher Mintz-Plasse returns as "Red Mist" with the goal of taking down his former ally.
With far fewer special effects and action sequences than its predecessor – the result of a diminished budget – "Kick Ass 2″ sports plenty of repetitive fisticuffs instead, leading to a film with a notably reduced cinematic scope. The movie leaps from one storyline to the next with scant development of its thin premise, which never gives the audience a good reason why it had to exist in the first place. The cast tries hard – especially Moretz, who commands most of the screen time – but the picture gives them little to work with, and supporting roles for the likes of Carrey and John Leguizamo are worthless.
What's more, the movie amplifies all of its predecessor's excesses while lacking its positive attributes. There are wild tonal shifts, but none of Vaughn's clever directorial touches to offset the sour taste left behind by them. There's plenty of violence, but not an underlying, consistent message to the mayhem. Wadlow's script misses the humor and satirical component of the original, making one wonder what the first "Kick-Ass" may have been in the hands of any other director.
Universal's Blu-Ray combo pack of "Kick Ass 2," out this week, offers an alternate opening and several other Blu-Ray exclusives, plus extended scenes, commentary with the cast, other featurettes, a 1080p transfer, DVD and digital copy. The 1080p transfer is fine and the Henry Jackman-Matthew Margeson score reprises thematic materi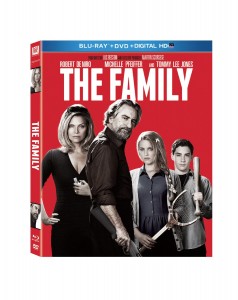 al from the original film while leaving out its predecessor's inspired use of songs.
THE FAMILY Blu-Ray Combo Pack (**, 111 mins., 2013, R; Fox): The prospects of Robert DeNiro working with director Luc Besson under the auspices of executive producer Martin Scorsese (though one wonders if Marty just put his name on the picture for a check and a token credit) sounded promising at the outset. Alas, "The Family" is a tired and surprisingly lifeless affair given its cast and premise.
DeNiro plays a mafia boss who flees to France with his wife (Michelle Pfeiffer) and high school age kids (Dianna Agron, John D'Leo) in tow. The latter two have their issues acclimating themselves to French life, though their predicaments are borne more out of old-time movie cliches than real life. In fact, that latter element permeates all of Besson and Michael Caleo's script (based on a book by Tonino Benacquista), which brings in an assortment of stereotypes of all nationalities (at least Besson is an equal opportunity offender) and movie archetypes as narrow-minded locals, mob goons, and sleazy FBI agents parade through DeNiro's would-be sleepy existence in overseas witness protection.
Outside of a couple of amusing touches (DeNiro ends up watching, and discussing, "Goodfellas" at a small town screening), "The Family" is mostly a misfire. With the film played so broadly, it's unfortunate that Besson didn't have more fun with the material – something like "The Fifth Element" mixed in the mob genre might've worked, but this picture is too glum and violent for the silly tone most of it seems to be reaching for.
Fox's Blu-Ray offers a splendid 1080p transfer accentuating Thierry Arbogast's widescreen lensing, which is as assured as always, plus a throbbing DTS MA 5.1 audio track. Extras are limited to a pair of featurettes, a DVD and digital copy.
---
FAMILY GUY Volume 12 DVD (486 mins., 2012-13; Fox): Kudos to Fox for producing another cohesive set of "Family Guy" on DVD and not continuing their older practice of splitting up individual seasons on disc. This three-disc set includes all 22 episodes from the series' 2012-13 season with plenty of goodies, including commentaries from writers, directors and cast members on select episodes; deleted scenes; a 200th episode table read; animatics; the 2012 Comic Con panel; the "200 Episodes Later" featurette; uncensored episodes; 16:9 transfers and 5.1 soundtracks.
Also new from Fox this week is Season 7 of BURN NOTICE (572 mins., 2013), the final season of the popular USA series with Michael Westen going undercover to keep his loved ones alive. Thirteen episodes from the series' final year are collected in Fox's DVD with extras including commentary on "Forget Me Not", deleted scenes, a gag reel, retrospective featurette, 16:9 transfers and 5.1 soundtracks.
New From PBS: CRAFT IN AMERICA: HOLIDAY (60 mins., 2013) offers seasonal-themed profiles of woodcarver Harley Refsal, Colorado artist Susan Garson, a trip to the National Gingerbread House Competition and its winner, and a look at the Mexican influence on Christmas in San Antonio. The hour-long PBS special includes a widescreen transfer and stereo soundtrack…Nova's MEGASTORM AFTERMATH (60 mins., 2013) is writer-director Miles O'Brien's examination of Superstorm Sandy's aftermath and, in particular, the role of global warming and climate change in its formation. PBS' DVD boasts a widescreen transfer and stereo soundtrack…Frontline's HUNTING THE NIGHTMARE BACTERIA (60 mins., 2013) features reporter David Hoffman as he investigates an alarming rise in untreatable infections, right here in America, fueled in part by the overuse of antibiotics. PBS' DVD of the hour-long Frontline documentary sports a 16:9 transfer and stereo soundtrack.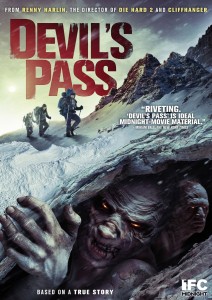 DEVIL'S PASS DVD (100 mins., 2012, R; IFC): Renny Harlin's oddball career has taken him from "A Nightmare on Elm Street 4″ to the big studio gloss of "Die Hard 2″ and now back to the horror genre with this low-budget affair. Based on a true story of nine Russian hikers who disappeared in 1959 while hiking in the Ural Mountains, "Devil's Pass" chronicles another ill-fated group of American college students who attempt to retrace the steps of the missing hikers – to disastrous, "Blair Witchian" heights. Watchable but uninspired given Harlin's capabilities. IFC's DVD includes commentary with Harlin and producer Kia Jam, deleted scenes, a Making Of, the trailer, a 5.1 soundtrack and 16:9 transfer.
UNA NOCHE DVD (91 mins., 2012, Not Rated; Sundance Selects/MPI): Lucy Mulloy's potent tale of life in modern day Havana follows a young Cuban man who weighs fleeing the country for Miami or staying and taking care of his twin sister. Unflinching and compelling. Sundance Selects' DVD includes a trailer, the film in 5.1 Spanish and a 16:9 transfer.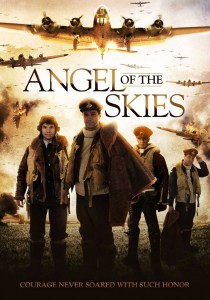 ANGEL OF THE SKIES DVD (102 mins., 2013, Not Rated; E One): A WWII story with a twist, "Angel of the Skies" profiles a South African pilot who joins the Royal Air Force, only to be gunned down behind enemy lines in Nazi occupied territory. Fans of the genre might find this Christopher-Lee Dos Santos production of interest, with E One's DVD – out on December 31st – including a 16:9 transfer and 5.1 Dolby Digital soundtrack.
Coming From Lionsgate: SHAOLIN WARRIOR (91 mins., 2013, PG-13) is an efficient Hong Kong import from director Duo Xiao about a young man who desires to become a warrior at the Shaolin Temple and is initially denied. Undeterred, he becomes a groundskeeper by day and trains at night for his ultimate goal. Lionsgate's DVD includes a 16:9 transfer, 5.1 soundtrack in either Mandarin or English (dubbed) and an Ultraviolet digital copy…An After Dark Original, RITUAL (89 mins., 2013, R), comes to DVD on December 30th from Lionsgate. The Mickey Keating picture follows the unlucky journey of a couple who get involved with a satanic cult after "Lovely" killed a man in self-defense and the duo try, to no avail, to get rid of the body. A predictable, low-budget thriller with Lionsgate's DVD including a 16:9 transfer and 5.1 soundtrack plus an Ultraviolet copy.
NEXT TIME: 2013 kicks off with more of the latest releases, including RAISE THE TITANIC and THE BUTLER! Until then, don't forget to drop in on the official Aisle Seat Message Boards and direct any emails to our email address. A Merry Christmas and a Happy New Year to all!