Highlighting Shout! Factory's slate of winter releases is Sam Raimi's first studio film, DARKMAN (***, 96 mins., 1990, R) – an entertaining comic-book hybrid of "Batman" and "Phantom of the Opera," as light as a feather but bursting with cinematic energy.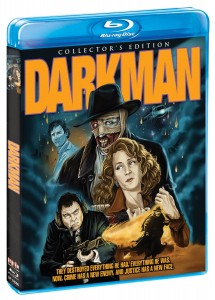 Liam Neeson plays a research scientist who's horribly disfigured after a local gangster (Larry Drake) destroys his laboratory while searching for documents that would be incriminating for his shady land-developer boss (Colin Friels). Neeson is presumed dead but, thanks to the miracle of modern science, becomes an anonymous test subject for a hospital that keeps him alive — giving him the ability to avoid feeling pain while experiencing stronger emotions. After escaping from the operating table, Neeson's scientist finds that his synthetic skin allows him to recreate his prior appearance as well as take on the forms of his enemies, provided he only stays in the sunlight for 99 minutes while "Darkman" exacts his revenge.
As much of a homage to the Universal monster movies of the '30s and '40s as it was influenced by the comic book films of its time ("Batman," "Dick Tracy"), the gothic "Darkman" was a surprise sleeper hit in the summer of 1990 (produced for $16 million, it grossed more than twice that amount domestically), and established Raimi — best known for his "Evil Dead" films — as a player on the studio circuit. The screenplay (credited to Raimi, Ivan Raimi, Chuck Pfarrer, Daniel Goldin and Joshua Goldin) is a pastiche of the comic book and horror genres, and in another director's hands could've been just a standard-issue revenge picture. Thanks to Raimi, though, "Darkman" is bursting with visual pizzaz, pulsating montages, humor, and over-the-top melodramatic moments, punctuated by a terrific — and appropriately bombastic — Danny Elfman score that's among the best of his genre works of the period. He also receives strong support from Neeson and Frances McDormand (as his lawyer-lady love), who give the film a touch of class in roles atypical for both performers. (There are also cameos from Jenny Agutter to John Landis and a particularly fitting one for a certain Raimi favorite as well at the very end).
Universal's prior Blu-Ray of "Darkman" was a DNR'd mess – so scrubbed and filtered that it nearly looked like a standard-def upscale (a prior HD-DVD edition was, at least, superior, and not as affected by the DNR Universal applied). Unfortunately, that master was all Shout! had to work with here, so the Blu-Ray image is a reprise of that inferior, disappointing presentation – and the less said about it, the better. Much more satisfying is the disc's robust DTS MA 5.1 soundtrack, giving Elfman's score an ideal stage to show off its pulsating, memorable passages (fans should note that orchestator Jonathan Sheffer does receive an "Additional Music" credit during the final scroll).
Extras are where the Shout! disc shines, even if Raimi himself is nowhere to be found. New interviews with Frances McDormand and Larry Drake, along with supporting players Dan Bell and Danny Hicks, plus production designer Randy Ser, art director Philip Dagort, and make-up artist Tony Gardner lend insight into the creation of the picture. Cinematographer Bill Pope contributes a fresh commentary track, while storyboards, trailers, vintage electronic press kit and promotional profiles of Raimi, Neeson, McDormand and Drake round out the package.
"Darkman" may be derivative and silly, but it delivers as much entertainment in its own way – and quite possibly more – for its modest budget than Raimi's bloated "Spider-Man 3″ did for a price tag of $258 million. Sometimes bigger really isn't better.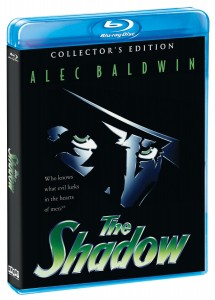 THE SHADOW Blu-Ray (**½, 108 mins., 1994, PG-13; Shout! Factory): Of the handful of "period" super-hero movies produced during the '90s, "The Shadow" falls short of "The Rocketeer" and "Dick Tracy" but ranks ahead of "The Phantom" on the entertainment scale.
Alec Baldwin makes for a suave Lamont Cranston, whose origin is recounted in a prologue that bears a striking resemblance to the portrayal of Bruce Wayne in Christopher Nolan's "Batman Begins" – an American who becomes spiritually lost in the Far East, succumbing to temptation before reclaiming his soul and realizing an inherent potential to fight evil. Back in New York City, Cranston has to fight one of his old acquaintances – a descendant of Genghis Khan (John Lone) who wants to use an atomic bomb to wipe out the city – while romancing a pretty socialite (Penelope Ann Miller) whose kidnapped father (Ian McKellen) is an atomic scientist working for the War Department.
Russell Mulcahy ("Highlander" I & II) brings a stylish look to "The Shadow," a movie that's quite clever in places, thanks to a script by David Koepp that, if nothing else, doesn't take itself too seriously. Baldwin has a field day in one of his most relaxed, confident roles, and the supporting cast – also including Peter Boyle, Jonathan Winters and Tim Curry – is excellent, even if it's seldom utilized. The WWII era atmosphere is well captured by cinematographer Stephen H. Burum, who does the best he can with a film that's almost entirely stage-bound from start to end, while Jerry Goldsmith's score has that polished, if formulaic, sound heard in many of his '90s action outings.
While the film ultimately misses the bullseye – more location shooting and competent effects work would've solidified the technical shortcomings of the picture – this is still an entertaining outing, one that's been improved here on Blu-Ray by Shout! Factory. Unlike "Cat People" and "Darkman," Shout's 1080p AVC encode marks a new transfer of the film, and the image is satisfying with appreciable detail on-hand. With so much of the film taking place in dark corridors and at night, "The Shadow" is never going to be the kind of movie one would take off the shelf as a demo disc, but it's nevertheless a nice upgrade from the prior Blu-Ray. The 5.1 DTS MA audio is effectively engineered, and a new 20-minute retrospective featurette – including comments from Mulcahy, Baldwin, Miller, Burum and Koepp – is included along with the trailer and a stills gallery.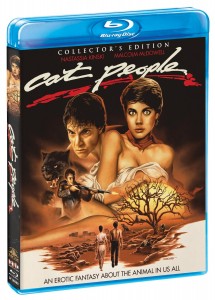 CAT PEOPLE Blu-Ray (**½, 117 mins., 1982, R; Shout! Factory): Paul Schrader's oddball "erotic fantasy" from '82 is a bizarre remake of the highly-regarded 1942 Val Lewton production. There are, unsurprisingly, few resemblances between that RKO chiller and Schrader's graphic take on the material, with Natassia Kinski learning that she's one of the infamous "cat people" upon arriving in New Orleans to visit brother Malcolm McDowell. Kinski's physical beauty is the main lure to "Cat People," which moves along at a sluggish pace and offers a few graphic shocks along with a poky early '80s synth score by Giorgio Moroder that doesn't help matters either. Still, the film is at least captivating visually, with John Bailey's cinematography and Ferdinando Scarfiotti's production design functioning memorably during the film's "tribal" flashback sequences.
Previously available on HD-DVD, Shout's Blu-Ray marks "Cat People"'s domestic debut in the format, but it's unfortunately marred by a 1080p transfer that's no more than passable (it's not as DNR'd as "Darkman" but could've used an upgrade) as well as the omission of its significant extras from the prior Universal release (interviews, Schrader commentary, etc). Shout did include a number of brand-new interviews with Schrader, Kinski, McDowell, John Heard, Annette O'Toole and Giorgio Moroder, as well as the trailer, though in general, these are not as compelling as its predecessor's supplements. Viewers should note that "Cat People" had several deleted scenes restored to its syndicated TV airings, though unlike Shout's release of "The Funhouse," they're not included here.
VISITING HOURS/BAD DREAMS Blu-Ray Double Feature (Shout!): A pair of '80s horrors from the Fox vaults — previously available on out-of-print Anchor Bay packages and a Shout! DVD — make for an appealing double-feature Blu-Ray for genre buffs.
"Visiting Hours" is a 1982 Canadian thriller with Lee Grant as a TV journalist attacked by a loon (Michael Ironside) enraged by her report about domestic violence. She ends up surviving but is stalked in the hospital by Ironside in a film from director Jean Claude Lord and writer Brian Taggert. Linda Purl and William Shatner co-star in what amounts to a slower-paced, less exciting rendition of "Halloween II," with Shout's Blu-Ray boasting a 1080p transfer superior to the prior DVD release, radio/TV spots and a new interview with Taggert.
Jennifer Rubin, meanwhile, starred in "Bad Dreams," a 1988 box-office flop from director Andrew Fleming ("The Craft") about a woman plagued by – well, you can figure it out – who finds out that she's daughter of a couple involved in a Jim Jones-like sect whose members mostly all died in a horrific mass-suicide. Naturally the sect's leader (Richard Lynch) is still haunting her. Fleming and '80s script guru Steven E. DeSouza penned this routine but watchable horror outing which includes a decent 1080p transfer and extras carried over from the out-of-print Anchor Bay release including commentary by Fleming, the alternate ending, interviews, featurettes, and a DTS MA soundtrack.
NIGHT OF THE DEMONS Blu-Ray/DVD (90 mins., 1988, Unrated; Shout! Factory): "Witchboard" helmer Kevin S. Tenney's late '80s cult favorite rides onto Blu-Ray in a extras-filled special edition. Tenney's low-rent but agreeably silly film – about a Halloween party held in a former funeral home that goes seriously wrong – offers new commentary with Tenney and cast members; an archival commentary with Tenney and his fellow producers; over an hour of new interviews with Tenney, writer Joe Agustyn and actress Linnea Quigley; a promo reel; a video trailer; still galleries; and 2.0 DTS MA stereo audio. The 1080p AVC encoded transfer of the movie's unrated version looks quite good with fine detail present throughout.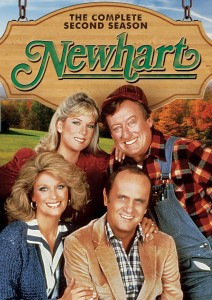 TV TERRORS: THE INITIATION OF SARAH/ARE YOU IN THE HOUSE ALONE DVD (192 mins., 1978; Shout!): Attractive double-feature disc combines two 1978 made-for-TV thrillers: the "Carrie" knock-off "The Initiation of Sarah" with Kay Lenz, Morgan Brittany, Morgan Fairchild, Tony Bill and Shelley Winters; and the superior "Are You in the House Alone," starring Kathleen Beller, Blythe Danner, Tony Bill (again), Dennis Quaid and Scott Colomby. Both pictures culled from the AIP vaults boast full-screen transfers and mono soundtracks on Shout's single-platter release.
NEWHART Season 2 DVD (8 hours, 1983-84; Shout! Factory): At last! Season two of Bob Newhart's second long-running sitcom hits DVD from Shout. Moving off videotape and onto film, "Newhart"'s second season is a definite improvement from its debut season – vanilla maid Leslie Vanderkellen (Jennifer Holmes) was replaced by Leslie's stuffier, but much more engaging, cousin Stephanie (Julia Duffy), resulting in a far stronger comic foil for Bob's Vermont innkeeper. While Minuteman Café owner Kirk (Steven Kampmann) was still on-hand (he would depart at the end of the year), he's less strident in "Newhart"'s second season, and viewers were also introduced to brothers Larry (William Sanderson), Darryl (Tony Papenfuss) and – of course – his older brother Darryl (John Voldstad). It's a more cohesive set of 22 episodes as the "Newhart" formula was successfully tweaked by the show's writing staff, and fans should be pleased with Shout's no-frills three-disc set, featuring the entire season in uncut full-screen transfers. Here's hoping we don't have to wait as long for Season 3!
THE RED SKELTON SHOW: THE LOST EPISODES DVD (400 mins., Shout! Factory): 18 never-before-released episodes from Red Skelton's classic, influential TV comedy hit DVD for the first time. Shout's two-disc set, authorized by the Skelton Estate, offer the comic in a number of his endearing characters (Clem Kadiddlehopper, Freddie the Freeloader) with guest stars including Buster Crabbe, Sebastian Cabot, Eve Arden, Jackie Coogan, Fabian, Marilyn Maxwell, Terry Moore, Vivian Vance, Charles Ruggles and Amanda Blake among others, with bonus clips featuring Danny Thomas, Arthur Godfrey and Jackie Gleason. Highly recommended for all Golden Age TV fans.
---
New From Fox
Issued to coincide with the Broadway debut of its stage musicalization (no, I'm not kidding!), MGM's new ROCKY: THE HEAVYWEIGHT COLLECTIONsports a newly remastered, 4K transfer of the original 1976 "Rocky," along with its corresponding special features, and the previously released Blu-Rays of sequels "Rocky" II, III, IV, V and "Rocky Balboa."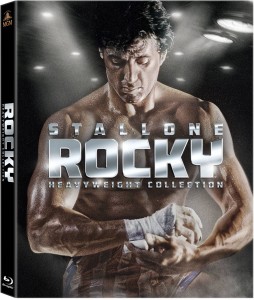 Since I've previously covered all of these films at one time or another (and most viewers are, by and large, more than familiar with them), here's a quick synopsis of what you'll find in this set:
ROCKY (****, 119 mins., 1976, PG) is the big draw here, debuting a fresh 4K-mastered transfer of the Best Picture Oscar winner. The new master is substantially more detailed and satisfying presentation than the earlier, MPEG-2 encoded Blu-Ray that was issued early in the format.
Extras – left off the prior Blu-Ray (though mostly included in a "bonus disc" in the prior "Rocky Anthology" Blu-Ray box-set) – are a reprise of the 2006 Special Edition DVD. Stallone's commentary is one of the key draws here, with the star discussing his original script and its subsequent production. Also new to the 2006 release was a secondary commentary with legendary boxing trainer Lou Duva and commentator Bert Sugar, which is amusing and compliments additional interviews with the duo. An older group commentary with John G. Avildsen, Carl Weathers and Burt Young is also on-hand, as are a full slate of trailers and TV spots.
The feature-length "In The Ring" documentary includes extensive interviews with all the major participants, while additional featurettes include a 10-minute conversation with Bill Conti, discussing his Oscar-winning, classic score, a tribute to Burgess Meredith, director John Avildsen's home movies, and a 17-minute excerpt from the Dinah Shore program, with the hostess interviewing Stallone, shortly after the movie's '76 release.
ROCKY II (***, 119 mins., 1979, PG) continued the story of Stallone's Italian Stallion in a somewhat long-winded but generally satisfying sequel (the first half of which takes forever to get through). The no-frills disc includes a nicely detailed AVC-encoded transfer with DTS Master Audio sound.
ROCKY III (***, 99 mins., 1982, PG) was another massive smash for Stallone at the box-office, though its shortened running time emphasized montages and boxing action over character (a problem "Rocky IV" would magnify further). This fan-favorite outing receives another superb AVC-encoded 1080p transfer with DTS Master Audio sound.
ROCKY IV (**½, 91 mins., 1985, PG) found Rocky battling Dolph Lundgren's Ivan Drago in a 91-minute movie that looks, sounds, and plays like an extended music video from the heyday of MTV. The montages are pulse-pounding and it helps that the soundtrack is filled with memorable tunes, but dramatically, "Rocky IV" is the most superficial of the entire series, in spite of its box-office success. Once again the AVC encoded 1080p transfer is excellent, as is the DTS Master Audio sound, doing justice to the lone series score not written by Bill Conti, as Stallone had tapped Vince DiCola, fresh off "Transformers: The Movie," to write a more electronic – yet no less tuneful – underscore.
ROCKY V (**½, 104 mins., 1990, PG-13) attempted to bring Philadelphia's favorite boxer back to his roots with a character-intensive story, penned by Stallone but directed (for the first time since the original picture) by John G. Avildsen. The movie doesn't entirely work – there's no satisfying climax in sight – but it has its moments, along with an underrated, Alan Menken-penned end credit song, "Measure of a Man," performed by Elton John and effectively set to a montage of stills from previous series entries. The AVC-encoded, 1080p transfer looks fresh and DTS Master Audio sound rounds out the disc.
ROCKY BALBOA (***½, 102 mins., 2006, PG) triumphantly brought Stallone's most beloved character back to the screen in a moving, poignant story written and directed by the star himself. The Blu-Ray disc included is identical to Sony's 2007 BD release, which I covered in detail here.
---
Warner Catalog Releases
CITY OF ANGELS Blu-Ray (**½, 114 mins., 1998, PG-13; Warner)
TWO WEEKS NOTICE Blu-Ray (**, 101 mins., 2002, PG-13; Warner): A pair of romantic outings have been released just in time for Valentine's Day by Warner.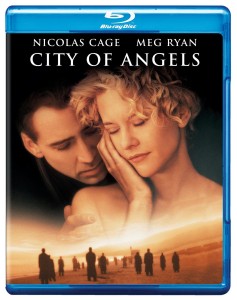 Brad Silberling's "City of Angels" reworked Wim Wenders' "Wings of Desire" as an uneven vehicle for Nicolas Cage, essaying an angel who harbors desires of humanity after meeting surgeon Meg Ryan. Moody and leisurely paced, "City of Angels" offers fine cinematography by John Seale and a score by Gabriel Yared that was augmented by a popular Alanis Morisette song. It's also something of an unusual movie in that it retains aspects of the Wenders film in a more "commercialized," though not entirely unfaithful Hollywood version of its predecessor. Warner's Blu-Ray includes a fine, though not spectacular, 1080p transfer with DTS MA audio and extras including two documentaries, music videos, a pair of commentaries and the trailer.
"Two Weeks Notice," meanwhile, was one of Sandra Bullock's lesser films – a forgettable rom-com she produced as a vehicle for her and Hugh Grant. Unfortunately, Marc Lawrence's script is as bland as his direction as it charts the relationship between crusading attorney Bullock and Trump-like billionaire Grant. The movie is charmless, despite a good effort from both leads. Warner's Blu-Ray includes a stronger 1080p transfer than "City of Angels" with extras including commentary from Bullock, Grant and Lawrence, two additional scenes, behind the scenes material and a 5.1 DTS MA soundtrack.
MILLION DOLLAR BABY Blu-Ray (**½, 132 mins., 2004, PG-13; Warner): Clint Eastwood's Oscar winner still ranks as one of the most overrated films of the prior decade. Yes, the performances from Eastwood, Hilary Swank and Morgan Freeman are all excellent, and there's a gritty element to Eastwood's direction that gives this slice of life drama a genuinely authentic look and feel. That said, I've never been able to reconcile the banality of Warner's ad campaign that tried to sell this would-be "inspirational" story as a female "Rocky" when it's really a crushingly downbeat commercial for euthanasia, as depressing as any Oscar winner in recent memory. Warner's 10th Anniversary release of the film on Blu-Ray is a substantial overhaul on its predecessor, offering 5.1 DTS MA audio, a 1080p transfer and a couple of new extras (retrospective doc and a commentary from producer Albert S. Ruddy) to go along with the myriad of other materials carried over from its prior releases.
---
Warner Archives New Releases
Exclusively available from the Warner Archive this month is DR. KILDAIRE: The Complete Second Season (1962-63), which continues the education of intern Dr. James Kildaire (Richard Chamberlain) working at Blair General Hospital under the guidance of curmudgeonly Dr. Gillespie (Raymond Massey). Warner's box-set includes all 34 episodes from the NBC series' second season, 33 of which are in B&W with a special "living color" episode, "The Burning Sky", guest starring Robert Redford as a stuffy medical student who gets more than he bargained for during a forest fire.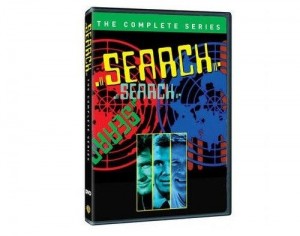 The nine-disc DVD set also includes guest star appearances from Peter Falk, Robert Culp, Carroll O'Connor, Bill Bixby, Leonard Nimoy, John Cassavetes and Golden Age greats Mary Astor and Gloria Swanson.
A seldom-seen series, SEARCH (1150 mins., 1972-73) follows Hugh O'Brian's ex-astronaut "Probe One"; Doug McClure's "Standby Probe"; and Tony Franciosa as "Omega Probe," a former NYC cop who joins with his fellow high-tech spies to investigate a series of cases under the auspices of brilliant genius VCR Cameron (Burgess Meredith). This short-lived program from "Outer Limits" creator/producer Leslie Stevens and "Star Trek"'s Robert Justman is formulaic but still quite entertaining – a forerunner to, say, "Person of Interest" with each "Probe" being modified with top-secret surveillance equipment, enabling them to beam back real-time case updates to Cameron. A litany of familiar faces from the era– Bill Bixby, Barbara Feldon, Joanna Cameron, Sebastian Cabot, Sefanie Powers and others – appear throughout the one-season run of "Search," which Warner brings to DVD this month in an Archives release boasting 4:3 full-screen transfers in reasonably good condition and mono soundtracks.
BILL ELLIOTT DETECTIVE MYSTERIES also arrives this month from the Archives – a quintet of five Allied Artists programmers starring former cowboy "Wild" Bill Elliott as Lt. Andy Doyle (Flynn in the premiere feature), a Los Angeles County detective who takes on war veterans, kidnappers, mobsters and other assorted low-lifes. "Dial Red O," "Sudden Danger," "Calling Homicide," "Chain of Evidence" and "Footsteps in the Night" are included in Warner's anthology, with all five pictures presented in 16:9 B&W transfers.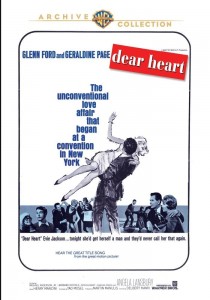 DEAR HEART (***, 114 mins., 1964): Winning 1964 Delbert Mann picture stars Geraldine Page as a postmistress at a New York City convention who falls for ad exec Glenn Ford – even though he's engaged to widower Angela Lansbury. Tad Mosel's script fully develops a likeable pair of protagonists who you want to see get together – along with Henry Mancini's score, the film is poignant and emotional. Given how seldom the picture has been shown through the years, it's also worthy of discovery thanks to Warner's Archive DVD. The disc marks the debut of the film in the digital realm, and it's been treated with care thanks to a satisfying 16:9 transfer.
MUHAMMAD ALI'S GREATEST FIGHT (97 mins., 2013) is a HBO drama from writer Shawn Slovo and director Stephen Fears, profiling the Supreme Court's examination of Mahammad Ali's conscientious objector status in 1971. Frank Langella plays Chief Justice Warren E. Burger with Christopher Plummer as Justice Harlan in a well-acted picture co-starring Benjamin Walker, Danny Glover, Barry Levinson, Ed Begley, Jr., Fritz Weaver and John Bedford Lloyd. Warner's DVD includes a 16:9 transfer and 5.1 Dolby Digital soundtrack.
Also new from HBO is GLICKMAN (83 mins., 2013), an absorbing portrait of one of the most influential sports broadcasters of all-time. James L. Freedman, who worked with Glickman while he was in high school, directed this well-rounded chronicle of a pioneer in the broadcasting medium, with tributes provided by Marv Albert, Bob Costas, Jim Brown, Larry King and Jerry Stiller among others. Several featurettes are included in the DVD, which is being distributed through Warner's Archive program. Recommended viewing for all sports and broadcasting enthusiasts.
NEXT TIME: Criterion's TESS. Until then, don't forget to drop in on the official Aisle Seat Message Boards and direct any emails to our email address. Cheers everyone!