Peter Jackson's second film derived from J.R.R. Tolkien's THE HOBBIT, THE DESOLATION OF SMAUG (**½, 161 mins., 2013, PG-13; Warner),leaves no doubt that the filmmaker has extended the author's original work into the bloated category — adding characters (including Evangeline Lilly's female elf, Tauriel), secondary subplots, and action sequences that never existed in the original text. That being said, "Smaug" is at least a more watchable picture than the first part of Jackson's prequel trilogy to Lord of the Rings, once again picking up the action with Bilbo (Martin Freeman), Gandalf (Ian McKellen) and the dwarves attempting to unite the latter's lost kingdom and hike to the Lonely Mountain — where a giant, deadly dragon named Smaug resides, presiding over a fortune in untold riches.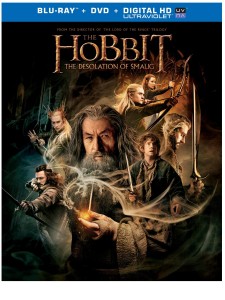 "Smaug" dispenses with some of the talky, dull stretches that marred its predecessor and heavily favors action throughout its 2 ½ hour running time. From hand-to-hand combat to fanciful creatures, Jackson has stuffed the picture with so many "things" — for lack of a better word — that it's easy to look at any number of individual set-pieces and marvel at the visual effects packed into each and every frame. The problem, as it has been with Jackson's body of work as a whole, is that it never knows when to quit, running on beyond the point of merely fulfilling its requirement as the middle part in what's become far less than a straight adaptation of Tolkien's story than another "event franchise" designed to gobble up mass quantities of box-office dollars.
Warner's Blu-Ray combo pack of "The Desolation of Smaug" includes a 40-minute behind-the-scenes segment with Jackson and several shorter featurettes. While a decent supplemental package for this first standalone release, it's one that will be eventually replaced, one would anticipate, with a deluxe set of Director's Cuts down the line. The visual effects look stellar in the disc's 1080p transfer with a DTS MA 5.1 mix that's constantly active from start to finish. A DVD and digital copy are also included.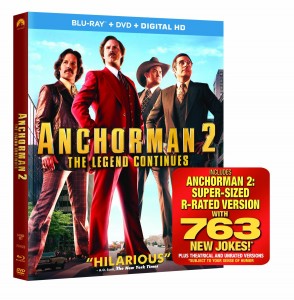 ANCHORMAN 2: THE LEGEND CONTINUES Blu-Ray Combo Pack (**½, 118/123 mins., 2013, PG-13/R; Paramount): Fans waited patiently for this overstuffed, if occasionally hilarious, sequel to Will Ferrell's cult favorite, and what they got was a mixed bag. Ferrell's Ron Burgondy is here tasked with reassembling the old news team (Steve Carell, David Koechner, Paul Rudd) at one of cable's first 24-hour all news networks in New York City. This being the '80s — sort of — Ron finds his old-school methods clashing with the new media paradigm, as well as with his estranged love (Christina Applegate), who's moved on to another man (Greg Kinnear). Overlong by a good 10-20 minutes, "Anchorman 2" does have its moments of utter insanity — particularly once Ron goes blind near the end — but a less-is-more approach would've helped, especially in the barrage of cameos that pop up in a reprise of the "dueling anchormen" sequence that was funnier in its predecessor.
Still, there are enough gags that hit the mark here to warrant a viewing, and Paramount's two-disc Blu-Ray set is marvelous: stuffed with extras (two cuts of the movie, ample deleted/alternate scenes, auditions, trailers, effects reels, commentary), there's no reason for fans to sit out this release in the worries that a superior "Special Edition" will appear in a few months. The 1080p transfer and DTS MA soundtrack are both exceptional.
---
Also New & Noteworthy
LITTLE HOUSE ON THE PRAIRIE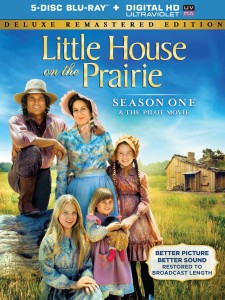 : Season 1 Blu-Ray (Lionsgate): Michael Landon's beloved, long-running NBC family drama – a free adaptation of Laura Ingalls Wilder's books – hits Blu-Ray for the first time from Lionsgate, having been remastered in HD. This is an immediate improvement from prior DVD releases of the series' first season, several of which were derived from PAL masters. These uncut, remastered episodes look phenomenal by comparison, and a 15-minute featurette and screen test reel make this a must for series fans.
Also New From Lionsgate: WARRIOR ASSASSIN (94 mins., 2011, PG-13) stars Pan Yuanjia, Jil Chunhua and Bryan Leung in a Hong Kong import being brought to DVD this month from Lionsgate, sporting a 16:9 transfer and 5.1 soundtrack in both its original Mandarin language or English dubbed mix…SHERIFF OF CONTENTION (102 mins., 2014) is a direct-to-video western that saddles up — along with a digital copy — from Lionsgate on April 8th…THE DOG WHO SAVED EASTER (87 mins., 2014) is an agreeable family feature that brings back canine star Zeus, who teams up with a supporting cast including Mario Lopez, Nicole Eggert, Dean Cain and Elisa Donovan in a Walmart-exclusive DVD available April 8th. The Lionsgate package also boasts a behind-the-scenes featurette, commentary, a 16:9 transfer and stereo soundtrack…POWER RANGERS MEGAFORCE: THE GREAT DRAGON SPIRIT (88 mins., 2013)includes four episodes from the "Megaforce" series: Prince Takes Knight, Man and Machine, Ultra Power and Last Laugh, all in 16:9 transfers and 5.1 Dolby Digital soundtracks.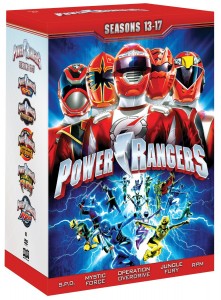 Power Rangers fans — especially those of the old-school variety — will prefer Shout's tremendous new DVD edition of POWER RANGERS: SEASONS 13-17, another limited-edition collection of 166 episodes arriving in a cohesive video package for the first time. This mammoth 22-disc release — an early candidate for top TV-on-DVD release of 2014 — offers the S.P.D., Mystic Force, Operation Overdrive, Jungle Fury and RPM iterations of the long-running, popular kids series. Extras are, as expected, in full force: "Mad Props!" profiles prop master Mark Richardson; "Rangers On Set!" is filled with cast recollections on their favorite backdrops, while "Ranger Tales" offers a general cast overview of the various Power Rangers series; "Collect 'Em All!" examines the merchandizing element; and "The SPD Rangers Want You," "Mystic Force: Forces of Nature!" and "Operation Overdose Files" include a further dissection of the various "flavors" of Power Rangers seen over the years. While not something I grew up with, viewers nostalgic for the program should be fully satisfied with the loving attention given to the series once again from Shout.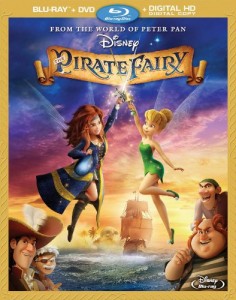 THE JUNGLE BOOK 2 Blu-Ray Combo Pack (72 mins., 2003, G; Disney): One of several needless Disney direct-to-video sequels to their animated classics, the generic "Jungle Book 2″ is being newly re-issued on Blu-Ray after being discontinued. This new HD release includes interactive games plus deleted scenes and music videos, a respectable 1080p widescreen transfer and DTS MA soundtrack. Not bad for young kids but also not recommended for adults, who are better off sticking to the original (itself recently released on Blu-Ray), which this sequel mostly rehashes. Also new from Disney on DVD is DOC McSTUFFINS: MOBILE CLINIC (120 mins.), which offers five episodes from the kid-centric TV series in 16:9 transfers and stereo soundtracks.
THE PIRATE FAIRY Blu-Ray Combo Pack (90 mins., 2014, G; Disney): In contrast to the Disney small-screen sequels the studio turned out a decade ago, the company has done a nice job cultivating a line of Tinkerbell adventures with candy-coated animation, nice production values and engaging stories for young viewers. The latest, "The Pirate Fairy," finds Tink getting involved with outcast fairy Zarina, who's left the comfy confines of Pixie Hollow for adventures with the pirates of Skull Rock, including a cabin boy who'll eventually become Captain Hook (voiced by Tom Hiddleston). A couple of bubblegum songs are on tap as well, but it's the engaging characters and breezy story line that ought to appeal to its target audience. Disney's combo pack, out this week, includes a 1080p transfer, DTS MA soundtrack, DVD, digital copy and assorted special features.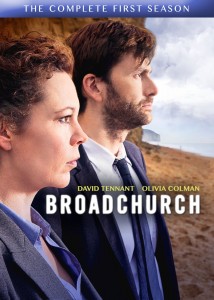 E One New Releases: Peter Dinklage and Steve Zahn contribute a few minutes of laughs in KNIGHTS OF BADASSDOM (86 mins., 2014, R), a low-budget comedy/adventure — costarring Margarita Levieva and the lovely Summer Glau — about a group of medieval role-players who have to combat a demon for real when someone summons it from the great beyond — thanks to a book they purchased on Ebay. Joe Lynch's affable film skewing LARP-ing sounds promising but it only gets halfway there, with scattershot laughs and gore hampering the fun. E One's Blu-Ray, out April 1st, offers a solid 1080p transfer and DTS MA soundtrack, plus a San Diego Comic Con panel featurette and other goodies…BROADCHURCH: Season 1 (394 mins., 2013) offers David Tennant and Olivia Colman as investigators charged with finding the killer of a young boy in an otherwise quaint, seaside English village. This British import, which aired on BBC America, has already inspired an upcoming U.S. remake on Fox ("Gracepoint," which Tennant is also starring in), and earned plenty of critical acclaim. That said, I was a bit let down by the series when I got around to it — while well-acted, it's also a slow-going, depressing crime procedural with a predictable ending. E One's DVD, out this week, includes a 16:9 transfer, stereo audio, deleted scenes and one behind-the-scenes featurette.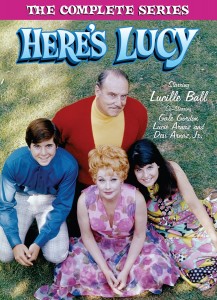 Fans of classic TV comedy, meanwhile, would do well to check out MPI's Complete Series release of HERE'S LUCY (1968-74, 4320 minutes), which spun off from the success of "The Lucy Show." This full-color sitcom finds Lucy as a widowed mom to real-life kids Lucie Arnaz and Desi Arnaz, Jr., working for her brother-in-law played by Gale Gordon. While any show would be a comedown after the legacy of "I Love Lucy," "Here's Lucy" nevertheless managed a lengthy run (through 1974) on CBS and is here presented in a terrific release from MPI. Video introductions from Lucie and Desi Arnaz, Jr. are on-hand along with screen tests, vintage home movies from Lucy's vault (including golfing with Jackie Gleason), original network and syndication promos, and retrospective featurettes. All 144 episodes have been presented uncut and remastered — highly recommended for all Lucy fans!
---
From Universal
PSYCH Season 8 [Final Season] DVD (484 mins., 2014; Universal): USA's endearingly off-kilter series enjoyed an improbable eight-season run, wrapping up with what fans felt, generally, was a satisfying finale just a week ago. Universal's Season 8 DVD release is a three-disc set that bids adieu to the series with ample extras: deleted scenes, podcasts, the "Psych Musical Episode," a gag reel, extended sequences, music videos, 16:9 transfers and Dolby Digital soundtracks.
MONSTER HIGH: FRIGHTS, CAMERA, ACTION! Blu-Ray Combo Pack (2014; Universal): The hugely popular line of dolls and assorted merchandizing spin-offs has already generated several home video releases. This latest "Monster High" original movie follows "Draculaura" as she and her friends hit Transylvania hoping to inherit the mantle of Vampire Queen, only to uncover a conspiracy involving "Lord Stoker" and a mysterious Vampire's Heart that holds the key to the kingdom. Young viewers who gravitate towards the series should be satisfied with the characters and upbeat messages imparted beneath the Burton-Lite environments of the material. Universal's combo pack includes a 1080p transfer, DTS MA soundtrack, DVD and digital copy.
BETTER LIVING THROUGH CHEMISTRY Blu-Ray (92 mins., 2014, Not Rated; Universal): Direct-to-video stinker stars Sam Rockwell stars as an unhappy small-town pharmacist, perpetually nagged by his obnoxious wife (Michelle Monaghan), who strikes an immediate chemistry with a woman (Olivia Wilde) who actually wants to knock off her husband (Ray Liotta). Jane Fonda makes a brief appearance and also narrates this would-be exercise in Coen-esque black comedy from writer-directors Geoff Moore and David Posamentier, making their feature debuts. Universal's combo pack hits stores April 15th boasting a 1080p transfer and DTS MA soundtrack, plus a digital copy.
---
THE BLACK STALLION Blu-Ray (****, 113 mins., 1979, G; MGM/Fox): At last available in high-definition, Carroll Ballard's magical, spellbinding 1979 adaptation of Walter Farley's book remains one of the greatest "family" films ever made. What's shocking, given the film's widespread acclaim, is how long it took for a legitimate home video edition of "The Black Stallion" to happen — even the previous DVD release was an early-format, non-anamorphic package. Thankfully there's little to quibble about in regards to this no-frills MGM Blu, which offers up the same, satisfying HD master that's been airing on HDNet and the MGM HD channel for the past few years: with sharp clarity and a lack of DNR, it deftly preserves Caleb Deschanel's remarkable cinematography. The DTS MA 5.1 audio is fine, and the only extra is a trailer — but just seeing "The Black Stallion" in HD ought to be enough to satisfy fans.
Also New From Fox: WALKING WITH DINOSAURS (**, 86 mins., 2013, PG) is a good-looking but silly attempt to rework the quite-excellent BBC series of a decade ago as a standalone feature for kids. With lame "modern" dialogue, this slight feature is likely to appeal only to youngsters — though some have reported that the movie's original cut, sans "talking dinos," works better. Alas, that version is only available on Fox's 3D combo package, which was not sent for review. This Blu-Ray/combo pack does include a number of special features, a 1080p transfer and DTS MA audio…DRAGONS: DEFENDERS OF BERK Part 1 (242 mins., 2013) offers 10 episodes from the popular animated spin-off of Dreamworks' "How to Train Your Dragon." Fox's DVD edition offers 16:9 transfers and 2.0 stereo soundtracks.
Magnolia New Releases: The lengthy COCAINE COWBOYS RELOADED (152 mins., 2014) compresses hundreds of hours of archival news footage and interviews into a sprawling examination of how Colombia cocaine barons invaded South Florida with abandon in the early '80s. Magnolia's Blu-Ray takes you back to the days of the real-life events that influenced "Scarface" with a 1080p transfer and DTS MA soundtrack…Also on April 8th, Aaron Seltzer's female "Hangover" variant, BEST NIGHT EVER (82 mins., 2013, R), hits Blu-Ray from Magnet. This tale of three friends on a bachlorette party in the seedy underbelly of Las Vegas ought to feel awfully familiar, but the movie does boast a few laughs and energy to overcome its formulaic plot and low budget. Magnolia's Blu-Ray includes ample extras, a 1080p transfer and DTS MA soundtrack.
SCOOBY DOO: WRESTLEMANIA MYSTERY Blu-Ray/DVD (2014; Warner): Scooby and Shaggy win tickets to Wrestlemania, dragging the entire gang and the Mystery Machine to "WWE City" to attend. Alas, shenanigans soon follow, including a ghostly bear that threatens to put a damper on everyone's favorite rigged sport. Warner's combo pack release of this latest Scooby video adventure includes a good looking 1080p Blu-Ray transfer, DTS MA audio, a DVD and digital copy for good measure.
AT MIDDLETON Blu-Ray (100 mins., 2013, R; Anchor Bay): Andy Garcia and Vera Fermiga generate a breezy chemistry in this otherwise mediocre indie rom-com about a pair of parents who meet on their respective kids' college tour and decide to spend a freewheeling afternoon together. "At Middleton" was advertised as being a "fun" adult comedy but it's a bittersweet, if not depressing, picture all told, though Garcia and Fermiga kept me watching to the end. Anchor Bay's Blu-Ray, out this week, includes a 1080p transfer, Dolby TrueHD 5.1 audio, an outtake reel, and commentary with director Adam Rodgers plus Garcia and Rodgers' co-writer, Glenn German.
GUARDIAN OF THE HIGHLANDS (76 mins., 2012, PG; Cinedigm) opens with a Bond-ian title sequence set to an original Shirley Bassey song — apropos given that this is Sir Sean Connery's first vocal appearance in a CGI animated kids movie. Regrettably, a similar level of inspiration is otherwise absent from this retitled version of the Scottish feature "Sir Billi," which underwent a number of production obstacles before finally being released in 2012. Cinedigm's DVD includes a 16:9 transfer and stereo soundtrack.
NEXT TIME: AUGUST: OSAGE COUNTY, Warner Archives new releases and much more! Until then, don't forget to drop in on the official Aisle Seat Message Boards and direct any emails to our email address. Cheers everyone!