MORE AMERICAN GRAFFITI, the unnecessary sequel to George Lucas' 1973 classic, has been largely forgotten about as the years have passed but is, especially for "American Graffiti" admirers, worthy of rediscovery (**½, 108 mins., 1979, PG; Universal).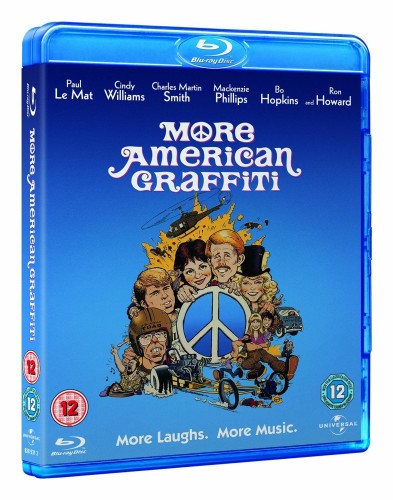 Prior to the release of "Empire Strikes Back," Lucas himself produced "More American Graffiti" for Universal but handed over the writing and directorial chores to B.W.L. (Bill) Norton, best known for the TV movie "Gargoyles," and who would later round out a short-lived career in features with "Baby: Secret of the Lost Legend" and the forgettable Charlie Sheen-Keri Green comedy "Three For the Road."
While it, understandably, pales in comparison to its predecessor, "More American Graffiti" is a fascinating sequel: a game, if not entirely successful, attempt at advancing the storyline of several of Lucas and Gloria and Willard Huyuck's characters through a unique – even audacious – visual approach that hasn't been attempted since.
Norton's episodic script takes place on New Years Eve in successive years from 1964 through 1967, with each of the returning characters taking center stage in the respective time frames. In order to make the approach easier to digest for audiences, Norton not only moves from one storyline to the next in chronological order (and back again), but utilizes contrasting aspect ratios to further punctuate the decision visually.
For example, Paul LeMat's racer John Millner's final day in 1964 is played out in full 2.35 widescreen; Charles Martin Smith's Terry (The Toad) takes on Vietnam in the film's most effective vignette, shot in handheld 16mm (1.33); The Toad's girlfriend, Candy Clark, hits the Bay Area in psychedelic split-screen that utilizes all corners of the scope framing; while the increasingly fractured domestic life of Ron Howard and Cindy Williams' protagonists – with the duo unwittingly getting involved in a campus protest – plays out in 1.85.
This approach is diminished outside of a theater, no doubt, but it was made worse by cropped TV broadcasts – even the ancient laserdisc release only utilized widescreen during the Clark segments. When shown in its proper aspect ratio, "More American Graffiti" is a fascinating sequel mainly because it doesn't just try and mimic its predecessor – yes, a constant soundtrack of pop tunes (with occasional Wolfman Jack commentary) still runs underneath the action, but it's less prominent here, and the respective stories are so different, visually and otherwise, that the film has an uneven, yet compelling, element about it.
Of course, not everything works in the film, and that's because Norton's script isn't particularly successful at making the case that the sequel needed to be made to begin with. The Martin Smith segment is quite funny and the handheld camerawork is effective; in hindsight, it's no surprise that Lucas himself was most involved in the editing and execution of this portion of the picture as it's far and away the most satisfying vignette.
LeMat's drag racing scenes are patently dull, and the Clark section is more interesting for its eclectic cinematography (as well as a supporting cast that includes Scott Glenn, a cameo from Harrison Ford and a throwaway part for Mackenzie Phillips, who really has nothing to do here as former bobbysoxer Carol) than the content of the story itself.
Sadly, nothing can save the tired, mostly unfunny scenes between square couple Williams and Howard – here sporting his "evil Richie Cunningham" moustache from the later years of "Happy Days." Richard Dreyfuss' absence is most lamentable in this section of the picture, with Will Seltzer a weak fill-in as Williams' hippie brother in a part that's charmless and dull – a feeling that extends to basically the entire story.
Dramatically, "More American Graffiti" seems like it's stuck in neutral throughout most of its running time – and there's no emotional payoff really, with the ending basically going straight back to the finale of the original. Still, there's just something unusual about the film and its attempt to make a sequel that wasn't a carbon-copy retread of its predecessor that's commendable, particularly in today's climate of rehashing and "rebooting" well-worn cinematic properties. Though it's not a great movie, Norton and Lucas still deserve an 'A' for their effort here, as well as Caleb Deschanel for his innovative cinematography.
While unavailable in high-def domestically, "More American Graffiti" has surprisingly – and quietly – made its way onto Blu-Ray internationally, including the UK. Universal's extras-free disc is a region-free affair and includes a terrific 1080p transfer that hasn't been doused with DNR and looks impressive. Some of the movie still is best appreciated in a theater (especially some of the 'shrunken' bits of the Clark segment), but this is as close as one can get to approximating the film's intentions at home. The 5.1 DTS MA audio is outstanding as well, offering loads of directional effects that showed Ben Burtt was working overtime even here on a movie that ended up making a small profit upon its release in August '79 – a far cry from the cultural benchmark of its predecessor, but not an entirely unlikeable picture on its own terms.
---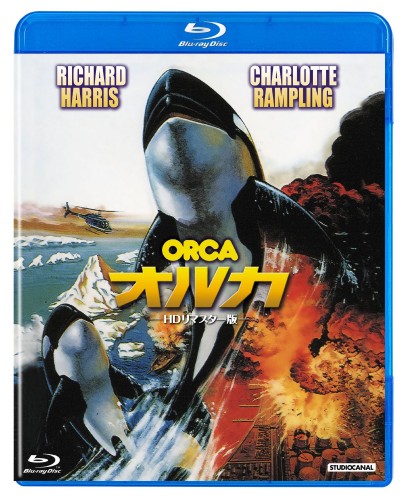 In the wake of "Jaws," countless imitators sprang up from the depths, from Joe Dante's "Piranha" to AIP's "Tentacles" and William Girdler's "nature run amok" outings "Grizzly" and "Day of the Animals." Not one to be outdone, prolific mogul Dino De Laurentiis joined the fray with 1977′s ORCA, THE KILLER WHALE (*½, 90 mins., PG), a laughably bad – if beautifully shot – cash-in that mixed "Jaws" with a dash of "Moby Dick" and a particularly poor performance by Richard Harris.
Starring as the captain of the fishing boat "Bumpo," Harris delivers a starring turn far removed from his glory days as an Old Man of the Sea who gets more than he bargained for when he attempts to capture a shark in order to sell it to the highest water-park bidder. When that plan goes awry, he quickly sets his sights on nabbing a killer whale – but misses the mark, literally, slaying the whale's pregnant mate who promptly aborts a fetus on the Bumpo's deck (a disturbingly gross moment in cinematic history). Harris learns he's made a mistake from marine biologist Charlotte Rampling, and finds out the hard way when "Orca" takes his revenge on the Bumpo's crew, doing all the things you'd anticipate from a killer whale: eating its crew members (though he spares Bo Derek save for biting off her leg as a snack), attacking the house where Harris is holed up, and in one spectacular sequence, rupturing a gas line that nearly destroys an entire Newfoundland fishing village!
"Orca" is an absolute mess on every dramatic and narrative level: characterizations are beyond "thin" (Kennan Wynn and Robert Carradine appear as fish food with barely a line of dialogue between them) with its protagonists' motivations barely explained. One moment Rampling is at loggerheads with the drunken Harris – the next she's holed up on the Bumpo's trek to the Arctic to slay the beast, going so far as to beckon "let me warm you" to his Ahab-esque charms. Will Sampson appears as a local with knowledge of the mumbo-jumbo-mystic world of the Orca – he's likewise indifferent to Harris, but then also decides to join his whale hunt for reasons that are never spelled out. Perhaps something was lost in the translation from Luciano Vincenzoni and Sergio Donati's screenplay (with an uncredited, alleged assist from Robert Towne) – or large portions of the film were left on the cutting room floor (indeed, sections of the film are awkwardly narrated by Rampling, suggesting it was a post-production patch for the picture's gaping holes).
It's also unclear who viewers were supposed to be rooting for in "Orca." Harris' dismal performance – you can just see him muttering through his lines in an effort to hit the nearest watering hole as quickly as possible – makes it impossible to pull for him, though at the same time, the film tries to make him more sympathetic as the picture progresses. Orca himself isn't very interesting either – each time the whale knocks down a dock piling or causes trouble, we're greeted with a hysterical, dramatic stab from Ennio Morricone's overwrought score and the same matted-in shot of Orca doing a back flip…over and over again. It's a duel between two fishy anti-heroes in a movie desperate to rekindle the thrills of Spielberg's 1975 classic, but only generates more chuckles than chills, especially with Carol Connors' weepy end credits ballad concluding things on an unintentionally funny note.
"Orca" apparently did well enough in theaters back in the summer of '77 to warrant De Laurentiis exploring the prospects of an "Orca 2″ – going so far as to offer it to Joe Dante, who wisely turned it down. Since then, the movie hasn't circulated a whole lot on home video, appearing on a Paramount DVD in 16:9 with no extras and, more recently, a Japanese Blu-Ray from the Happinet label.
The Japanese 1080p AVC encoded transfer is nice and crisp – showing the age of the print at times, but capturing the fine detail in Ted Moore's cinematography. Between Moore and director Michael Anderson, "Orca" is beautifully rendered in Panavision, with the scope frame beautifully capturing the Newfoundland locales, majestic sunsets and foggy harbors by the sea. The mono audio fares better than a phony 5.1 DTS MA track that rechannels the original mix to little effect. Morricone's score is lovely in places on its own – and probably makes for a nice listen on the album – but it's hopelessly overstated in the film, and those "oh no, here comes Orca!" brief orchestral stabs are anything but subtle. Then again, nothing in this haphazardly constructed turkey is.
NEXT TIME: Herzog, Demy, and PHANTOM OF THE PARADISE! Until then, don't forget to drop in on the official Aisle Seat Message Boards and direct any emails to our email address. Cheers everyone!