A bevy of Disney-licensed titles debut on Blu-Ray this week from Kino Lorber, with several titles new to the format included in the mix. Among the latter is the 1991 Goldie Hawn vehicle DECEIVED (**½, 108 mins., 1991, PG-13), a Touchstone thriller that aims for Hitchcokian heights. While the movie doesn't quite get there, it's nevertheless a modestly entertaining film with one of Thomas Newman's best (and still unreleased) scores.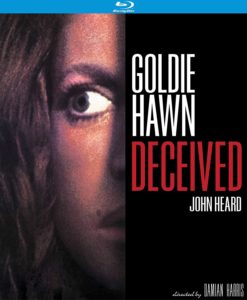 In director Damian Harris' U.S. debut (his second feature after the Ione Skye-Dexter Fletcher drama "The Rachel Papers"), Hawn plays a woman whose art dealer husband (John Heard) perishes in an auto accident, leading to her uncovering his mysterious – and fabricated – prior life. As Hawn's Adrienne Saunders peels away the layers, it becomes increasingly clear that her husband wasn't just leading a double life but had creepy aspirations altogether.
"Deceived" received mixed reviews and performed only modestly at the box-office upon its release in the fall of 1991. Admittedly, the film feels lightweight, and it's easy to surmise that a harder-edged treatment may have given the film more juice – and yet, the script by Mary Agnes Donoghue and Bruce Joel Rubin (writing under his "Derek Sunders" pseudonym), does build up an effective head of steam and isn't entirely predictable in how it plays out. Heard has some choice moments and plays well off Hawn, though Goldie seems overly laid back at times for a woman who's been…well…deceived. It also exists as the kind of star-driven studio project we seldom see anymore, with Hawn being backed up by a variety of A-list production personnel, including cinematographer Jack N. Green and composer Thomas Newman. Speaking of the score, I hadn't seen the film before, and was immediately struck by Newman's outing, which offers both trademark Newman-esque passages and more intense dramatic underscoring (surprising this score has still yet to be released).
Kino Lorber's Blu-Ray is one of the best looking and sounding releases they've licensed thus far from the Buena Vista library. The 1080p (1.85) image offers strong color and crisp grain without heavy noise reduction, and the 2.0 DTS MA stereo sound is full and clear. A commentary from Harris (one of Richard's sons) is included plus the trailer.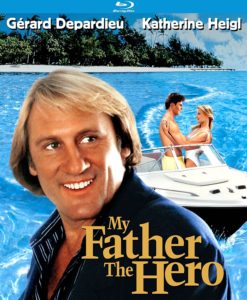 MY FATHER THE HERO Blu-Ray (***, 90 mins., 1994, PG; Kino Lorber): Breezy, agreeable 1994 American remake of a French comedy provided Gerard Depardieu with one of his few U.S. leading roles. Depardieu actually starred in the original "Mon Père Ce Héros" as well, so he was already well-versed with this story of a divorced dad who takes his precocious teen daughter (a young Katherine Heigl) on vacation to the Bahamas, where she spins a yarn that dear old pops is really her boyfriend. Francis Veber and Charlie Peters adapted Gerard Lauzier's original screenplay for this engaging Touchstone comedy which also boasts a superb supporting cast (Lauren Hutton, Faith Prince, and a late cameo from Emma Thompson) and earned modest dollars at the box-office in the dead of winter back in 1994. Depardieu also comes off as laid back and even charming in a film that's little more than an updating of sorts of "Superdad" for the '90s, but no less entertaining if you're in the mood for that type of thing. Kino Lorber's Blu-Ray looks fine with its 1080p (1.85) transfer and includes a new commentary from Steve Miner as well as the trailer, though the sound is regrettably (as with a few of KL's Disney titles) mono when it should be stereo (as Mill Creek's Blu-Ray was).
CELTIC PRIDE Blu-Ray (**, 91 mins., 1996, PG-13; Kino Lorber): Labored comedy finds disgruntled Boston Celtics fans Dan Aykroyd and Daniel Stern opting to kidnap a Utah Jazz superstar (Damon Wayans) just so the Green-Teamers can win yet another NBA title. Judd Apatow and Saturday Night Live's Colin Quinn are credited with the script for this 1996 Hollywood Pictures bomb, yet the finished product doesn't offer much evidence of the comedy Apatow would later – far more successfully – produce on his own. Still worth seeing for its shots of the old Boston Garden and for a couple of sporadic laughs, "Celtic Pride" also offers "NYPD Blue"'s Gail O'Grady in her prime (as Stern's long-suffering wife), a Larry Bird cameo and a score by Basil Poledouris. Kino Lorber's Blu-Ray of "Celtic Pride" – its format debut – ranks as one of the label's weakest Buena Vista offerings, displaying a noisy 1080p (1.85) AVC encoded transfer with anemic, often pale colors. What's worse, the 2.0 DTS MA soundtrack houses a tinny mono soundtrack (the movie was recorded in stereo). A commentary from director Tom DeCerchio and the trailer round out the release.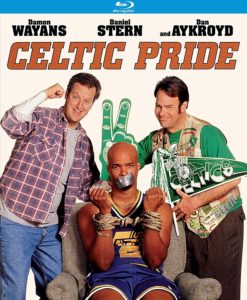 THE SIXTH MAN Blu-Ray (**½, 107 mins., 1997, PG-13; Kino Lorber): Staying in the genre, another Wayans brother, Marlon, generated just slightly more positive box-office in Touchstone's 1997 basketball comedy "The Sixth Man" a few months after "Celtic Pride." Randall Miller's film follows a pair of University of Washington basketball playing-brothers (Wayans and Kadeem Hardison) whose relationship doesn't die even after Hardison's superstar forward suffers a heart attack on the court. Offering some supernatural help to his teammates after his premature passing, Hardison infuses the Huskies' run through March Madness in a formulaic yarn that's nevertheless amiably performed and lightly entertaining, in spite of universally poor reviews – sort of like a PG-13 hoops version of "Angels in the Outfield." Making its Blu-Ray debut, "The Sixth Man" looks decent with its 1080p (1.85) AVC encoded transfer but once again suffers from a mono mixdown of the movie's stereo soundtrack.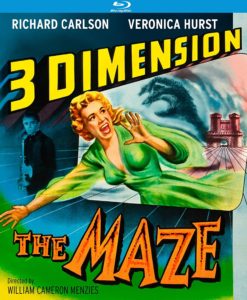 CONSENTING ADULTS Blu-Ray (**, 99 mins., 1992, R; Kino Lorber): Enjoyably overwrought "bad movie" – that goes positively bonkers in its final third – was a disappointment for director Alan J. Pakula at the time of its original release. A solid cast includes Kevin Kline as a film/TV composer (!) whose domestic life with wife Mary Elizabeth Mastrantonio is ripped apart when new couple Kevin Spacey and Rebecca Miller move in next door – leading to murder and mayhem. The performances are all fine but Pakula can't seem to get a handle on whether the movie should've been a black comedy (as written) or a "Fatal Attraction"-like thriller from that era – the result is a little bit of both, and not enough of either, but it's still watchable, especially when it eventually goes off the rails. Kino Lorber's Blu-Ray seems to have been culled from a newer master than the format's earlier Mill Creek release, sporting one of the strongest transfers from the Disney catalog KL has released thus far. The 2.0 DTS MA stereo sound is also true stereo while the trailer and a new commentary from writer Matthew Chapman goes into some detail about his disagreements with Pakula over the film's denouement.
THE MAZE 3D Blu-Ray (**½ , 88 mins., 1953; Kino Lorber): While the 3D home theater format is on its last legs in North America, Kino Lorber and the 3-D Film Archive are continuing to give format enthusiasts several applause-worthy "last hurrahs." Case in point is the long-awaited 3D presentation of "The Maze," an early (1953) 3-D effort from director/production designer Wiliam Cameron Menzies. Richard Carlson stars as a Scotsman who returns to his ancestral castle overseas upon hearing of his uncle's passing; unable to let him go, the fiancée (Veronica Hurst) he left behind heads to Scotland to find him, only to run afoul of a family curse and one very strange finale. "The Maze" is a bit sluggish but still offers good fun in 3-D and Kino Lorber's Blu-Ray includes a new Paramount Pictures/Film Foundation restoration, scanned in 4K from the original left/right eye camera negatives, with an apparent assist from film fan Martin Scorsese to boot. The image is crisp and offers excellent depth-of-field work – this B&W (1.37) transfer is simply another smashing success for the 3-D Film Archive, freshly preserving a film-going experience very few viewers have been able to savor since the movie's original theatrical release. Extras here include a commentary from Tom Weaver, Bob Furmanek, Dr. Robert J. Kiss and David Schecter detailing the film's production and various restoration components; an interview with Veronica Hurst; the 3-D trailer; and a robust DTS MA 3.0 restored soundtrack (a 2.0 mono track is also included), highlighting the work of composer Eckhard Buttner. (Available April 24th)
---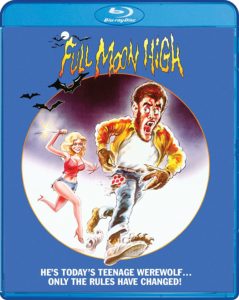 Shout New Releases
Shout's new releases this month are highlighted by a Blu-Ray edition of Larry Cohen's seldom-circulated FULL MOON HIGH (93 mins., 1981, PG), a Filmways release from the tail end of that company's existence. This silly comedy stars Adam Arkin as a high school quarterback who gets more than he signed up for after he accompanies his dad (Ed McMahon!) on a work trip to Europe and is promptly bitten by a werewolf. Roz "Pinky Tuscadero" Kelly, Elizabeth Hartman, Demond Wilson and a number of comics (Bill Kirchenbauer, Louis Nye, JM J. Bullock, Kenneth Mars) co-star in this Cohen concoction, which is broadly played and seldom funny, yet still may hold some appeal to the director's devotees. Shout's Blu-Ray includes a healthy 1080p (1.85) scan, DTS MA mono audio, a new commentary with Cohen and the original trailer.
Affordably priced, Shout's Collector's Edition Blu-Ray of CYBORG (86 mins., 1988, R) offers a nice upgrade for Jean-Claude Van Damme fans. This goofy Cannon B-movie – shot by director Albert Pyun on sets designed for abandoned Golan-Globus productions "Masters of the Universe 2" and "Spider-Man" – stars Van Damme in the story of a futuristic hero trying to save a female cyborg from a cannibalistic gang on a depleted Earth. "Cyborg" is silly nonsense all the way, but JCVD buffs should enjoy both the film and Shout's presentation. Boasting a brand-new 2K scan, this Blu-Ray of "Cyborg" includes more colorful video and robust 2-channel DTS MA stereo audio over Fox's earlier format release, while fresh extras include new interviews with Pyun, actress Deborah Richter and other crew members, plus a commentary from the director. Priced under $20 at various outlets, this is an easy recommend for Van Damme addicts.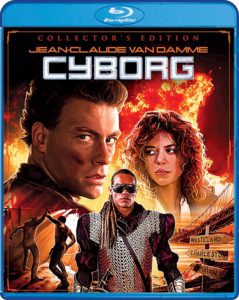 New in Shout's Select line is DOCTOR DETROIT (90 mins., 1983, R), an amusing Dan Aykroyd comedy that met with critical indifference and tepid box-office in May of 1983. Able to muster far more success on cable TV and home video, "Doctor Detroit" eventually became a fan favorite, the movie's tale of a college professor (Aykroyd) who impersonates a pimp being a fitfully funny Universal product of its time. Howard Hesseman, Donna Dixon, Fran Drescher and Lynn Whitfield back up Aykroyd in a script reworked by Carl Gottlieb from a previous draft by Robert Boris – all based on a Bruce Jay Friedman story that was decidedly more serious in nature. Shout's Blu-Ray is regrettably Aykroyd-free in terms of extras but does offer a commentary from director Michael Pressman and moderator Russell Dyball, a new interview with Pressman (that covers much of the same terrain), trailers/TV spots, and a fascinating audio press kit. The 1080p (1.85) AVC encoded transfer is perfectly decent for a Universal catalog property and the DTS MA mono sound is likewise acceptable.
BASMATI BLUES Blu-Ray (106 mins., 2017, Not Rated; Shout! Factory): Danny Baron's film tries to function as a showcase for both Bollywood and Brie Larson, with the actress playing a scientist who's sent to India where she meets a college student (Utkarsh Ambudkar) who makes her realize her company's intended plan to help local farmers really does the opposite. Several bouncy original songs and lively cinematography color this predictable "culture clash" outing which plays out more like Hollywood's version of Indian cinema than the real thing – still it's watchable and Larson fares well, as usual, in the lead. Shout's Blu-Ray is out this week, sporting commentary with Baron, Ambudkar and other crew members, plus a featurette, deleted scenes, the trailer, a photo gallery, an attractive 1080p (2.35) transfer and 5.1 DTS MA sound.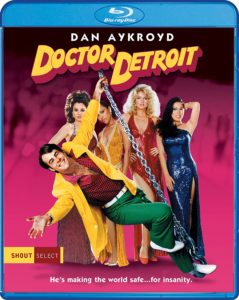 Also New From Shout: Excellent lead performances from Christopher Abbott and Jon Bernthal fuel Jamie Dagg's indie SWEET VIRGINIA (93 mins., 2017, R), a taut story of an Alaskan outpost shaken by a triple murder and the arrival of a drifter (Abbott) who checks into a motel run by Bernthal's former rodeo champion. The relationship between the duo makes for a suspenseful character study co-starring Imogen Poots and Rosemarie Dewitt. Shout's Blu-Ray presentation of this IFC release includes a 1080p transfer and 5.1 DTS MA sound… Maika Monroe plays a teenager whose family disintegrates after moving to Palos Verdes, Ca. in THE TRIBES OF PALOS VERDES (104 mins., 2017, R), Brendan and Emmett Malloy's independent drama. Jennifer Garner co-stars as Monroe's distraught mother with Cody Fern as her brother, who turns to drugs, in an atmospheric picture with good performances and an effective sense of time and place. Shout's Blu-Ray of this IFC presentation is out April 10th, featuring deleted scenes and the trailer, a 1080p transfer and 5.1 DTS MA sound…DIGIMON ADVENTURE TRI: LOSS (80 mins., 2017) is the newest entry in the kids franchise, debuting in a Blu-Ray/DVD combo pack this month from Shout Factory. Here, Sora and Biyomon try to get the DigiDestined to reconnect with their Digimon. A featurette with Joshua Seth gets viewers up to speed with this feature's predecessors, while a 1080p transfer and DTS MA 5.1 audio is included in either English or Japanese (with optional English subs). A digital copy and DVD are also on-hand…Sam Hoffman's HUMOR ME (89 mins., 2018) is an enjoyable comic drama starring Jemaine Clement as a writer's block-suffering playwright who's forced to move into his father's (Elliott Gould) retirement community. Ingrid Michaelson, Bebe Neuwirth and Annie Potts are all terrific in this amiable indie, out April 17th from Shout sporting commentary, deleted scenes, the trailer and a 1080p transfer with 5.1 DTS MA sound.
---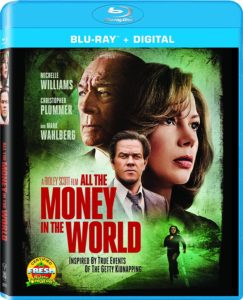 New Release Wrap
ALL THE MONEY IN THE WORLD Blu-Ray (**½, 133 mins., 2017, R; Sony): Ridley Scott's thriller about the real-life kidnapping of John Paul Getty III (Charlie Plummer) in the early '70s made more noise through its controversial dumping of star Kevin Spacey than it ultimately did at the box-office. Spacey originally played the Getty patriarch in "All The Money in the World," but when last year's rash of sexual-harassment claims engulfed the industry (Spacey among them), Scott made the decision to save his film from future negative publicity by reshooting all of Spacey's scenes with Christopher Plummer.
At a reported cost of $10 million and with just weeks before the film was scheduled to debut, Scott was able to fairly seamlessly work Plummer into the film – and it's not just a cameo role, either, as the Getty grandfather decides to play fiscal hardball with the boy's kidnappers, much to the frustration of his mother (Michelle Williams) and even a security expert (Mark Wahlberg) hired to track down his whereabouts.
Divorced, though, from the off-screen elements is a mostly well-acted but drawn-out affair that seems a good 15-20 minutes too long. Scott frames the action is his trademark visual style, and Plummer is superb, particularly under the circumstances. Less effective is Williams, whose weird accent is a constant distraction, and Wahlberg, whose role may have been better filled by an older character actor. I also confess that I found the film's slow pacing a turnoff, especially in comparison with the more eccentric – and entertaining – treatment director Danny Boyle is giving the same source material in FX's new series "Trust."
Sony's Blu-Ray is out this week including a 1080p (2.40) AVC encoded transfer; the 5.1 DTS MA sound is excellent, though Daniel Pemberton's main theme sounds quite a bit reminiscent of the "First Confrontation" track from Danny Elfman's "Batman" score. Extras include deleted scenes and several featurettes, including a five-minute look at the Plummer shoots. A digital copy rounds out the release.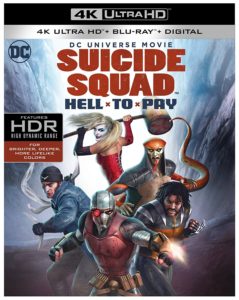 SUICIDE SQUAD: HELL TO PAY 4K Ultra HD Combo Pack (86 mins., 2018, R; Warner): Despite its astronomical box-office grosses, the "Suicide Squad" movie disappointed a host of fans who expected a more coherent story as well as closer fidelity to its source material. This Warner Bros. Animation production from producer-director Sam Liu offers R-rated action as an ailing Amanda Waller sends out Task Force X again – Deadshot, Killer Frost, Captain Boomerang and everyone's favorite psycho, Harley Quinn – in order to track down another mystical object. Gory and over-the-top, this "Suicide Squad" is even less for kids than its big-screen predecessor, but may suffice for hardcore fans jilted by its live-action predecessor. Warner's 4K UHD combo pack offers HDR support, DTS MA audio, a dynamic 1080p (1.78) transfer on both UHD and Blu-Ray, a Digital copy, and a sneak peek at "The Death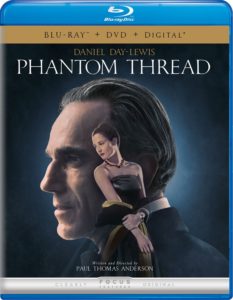 of Superman," the next WB animated original movie.
THE GREATEST SHOWMAN 4K UHD (105 mins., 2017, PG; Fox): Hugh Jackman struts his Broadway stuff on-screen in Fox's lavish musical, featuring songs by "La La Land"'s team of Benj Pasek and Justin Paul. Flamboyantly staged by director Michael Gracey from a script by Jenny Bicks and Bill Condon ("Dreamgirls," last year's "Beauty & The Beast"), "Greatest Showman" offers a showcase for Jackman — essaying P.T. Barnum — and an "inclusive" story line embracing his various carnival folk. Michelle Williams and Rebecca Ferguson lend a hand in a movie that's family friendly and mildly diverting, scoring with its musical numbers but mostly coasting its way through a weak script with thinly-developed characters (most especially Zac Efron's playwright). Fox has served up another dynamic 4K UHD presentation with its gorgeous, HDR-enhanced UHD (2.40) of "Greatest Showman," the audio housed in a boisterous Dolby Atmos disc on UHD as well (the Blu-Ray offers a capable 7.1 DTS MA soundtrack). Extras include a Digital HD copy, commentary and a number of featurettes.
FATHER FIGURES Blu-Ray Combo Pack (113 mins., 2017, R; Warner): Feeble comedy sends twin brothers Owen Wilson and Ed Helms out on a journey to find their father, whom their mother (Glenn Close) claimed died when they were young. Their misadventures lead them to a variety of potential parental candidates, including J.K. Simmons, Christopher Walken and Terry Bradshaw, in a labored farce that proved to be box-office coal at the Christmas box-office. Warner's Blu-Ray of "Father Figures" includes a 1080p (2.41) AVC encoded transfer, deleted scenes, a gag reel, DVD and digital copy.
PHANTOM THREAD Blu-Ray/DVD (130 mins., 2017, R; Universal): Paul Thomas Anderson's latest didn't generate a lot of commercial enthusiasm or even heavy critical response – atypical for the director of "There Will Be Blood." Reteaming here with star Daniel Day-Lewis in what's billed as the multiple Oscar winner's "final performance," "Phantom Thread" is a typical Anderson brew of compulsion, repulsion, and detestable lead characters – here, a London fashion designer (Day-Lewis) living in the mid '50s finds himself being drawn to a muse (Vicky Krieps) representing both the power of love and the price both pay for their attraction. Day-Lewis, Krieps and Lesley Manville (as Day-Lewis' sister) are all uniformly fine, but whether or not you find this particular story appealing will be largely based on your enjoyment of Anderson's past works. Universal's Blu-Ray, out this week, includes deleted scenes, camera tests, and other brief extras (totaling under a half-hour) plus a 1080p transfer, DTS: X audio, a DVD and Digital copy (a 4K UHD version is coming in the next month).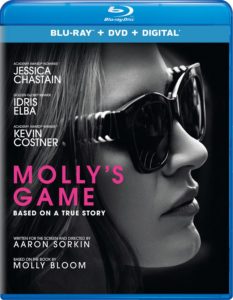 MOLLY'S GAME Blu-Ray (141 mins., 2017, R; Universal): The true story of an ex-Olympian who discovers she can net huge dollars by hosting a high-stakes poker game makes for an intriguing – if typically over-written – Aaron Sorkin film. Jessica Chastain plays Molly Brown, who was eventually arrested after her game was raided by the FBI; Sorkin's film bounces around to show Brown's relationship with her father (Kevin Costner) as well as illustrate the various game stylings of her poker-playing participants, who included famous actors and athletes (though the names have been changed, to the film's detriment). Chastain and all the performances are strong in "Molly's Game," which debuts this week on Blu-Ray from Universal. Extras are light (just a single featurette, DVD and Digital copy), though the technical elements (1080p, 7.1 DTS MA) are all exemplary.
PROUD MARY Blu-Ray (89 mins., 2018, R; Sony): Coming off the success of "Hidden Figures" and her TV series "Empire" you'd have thought Taraji P. Henson would have a cornucopia of cinematic vehicles to choose from. That makes her starring appearance in this forgettable Screen Gems winter throwaway a curious call, as "Proud Mary" does little but recycle some of the Pam Grier-starring American-International exploitation affairs of the 1970s, here updated with Henson as a hitwoman who feels guilt over her latest assignment – one that leaves a boy without his father. "Proud Mary" is pretty much a routine affair all the way to its underwhelming conclusion, with Henson providing nearly all the energy in a film that few are going to remember. Sony's Blu-Ray is out this week including three featurettes: Mary's World, The Beginning of the End, If Looks Could Kill, plus a high quality 1080p (2.39) AVC encoded transfer and 5.1 DTS MA sound. A Digital Movies Anywhere code is also included.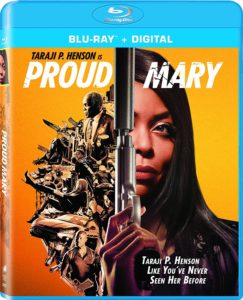 CHEECH AND CHONG'S UP IN SMOKE Blu-Ray (**½, 1978, 85 mins., R; Paramount): Cheech and Chong's first, and funniest, feature film debuts on Blu-Ray in a Special Edition from Paramount. If you thought the likes of "Harold & Kumar" was funny, you'll enjoy this raucous cult classic from the late '70s, even if the movie is highly uneven and is mostly comprised of (what else?) drug humor. Paramount's low-priced Blu-Ray includes a commentary track from Cheech Marin and director Lou Adler, as well as several deleted scenes with optional commentary. Also on-hand are radio spots, the trailer, and a retrospective documentary on the production of this comedy favorite. The 1080p (2.35) transfer looks to be in top-notch while the 5.1 DTS MA sound is fine – an affordable HD upgrade for fans with a digital copy also included.
GREASE 40th Anniversary UHD/Blu-Ray (***, 110 mins., 1978, PG; Paramount): Paramount's new UHD edition of the other big 1977 blockbuster — the all-star filming of the Broadway musical "Grease" – makes its way to both 4K UHD and Blu-Ray in a new 40th Anniversary edition this week.
Technically, Paramount's 4K UHD looks similar in many respects to its new Blu-Ray, which means a perfectly framed, crisp 2.35 image with a variety of color and detail on both formats. The UHD does up the ante with HDR and Dolby Vision enhancements, giving the 4K disc a decided edge with heightened contrast levels we've come to expect from the format thus far, making it a nice upgrade for 4K owners though the BD is perfectly fine in its own right (and itself an enhancement on the 2009 Blu-Ray). Both discs include robust Dolby TrueHD audio while the Blu-Ray houses all the supplements.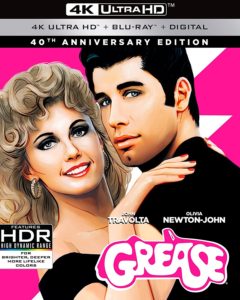 Debuting here, in addition to a carryover of extras from prior releases, is a half-hour retrospective on the original stage production, plus an alternate opening/ending completed specifically for this edition. Returning from prior releases are 11 deleted/extended/alternate scenes; John Travolta/Olivia Newton-John sound bites from both the original 1977 press junket, as well as the 2002 25th Anniversary launch party; several featurettes and a commentary track with director Randal Kleiser and choreographer Patricia Birch. The two not just reminisce about the film but indulge in some tasty anecdotes, making this new release highly recommended for all "Grease" fanatics — both for its UHD and Blu-Ray releases.
Arrow/MVD New Releases: SEIJUN SUZUKI: THE EARLY YEARS Volume 2 (Arrow) is out April 17th, offering another boxed-set retrospective of the Japanese filmmaker's early work. Included in Arrow's 1500-copy dual-format limited edition are Eight Hours of Terror (1957), The Sleeping Beast Within (1960), Smashing the O-Line (1960), and Tokyo Knights (1961) – all contemporary crime thriller/action films – while The Man With a Shotgun (1961) marks Suzuki's first entry into the "borderless" Japanese western genre. Both BD and DVD discs are included in Arrow's box along with commentary by critic Jasper Sharp on "O-Line"; a featurette with critic Tony Rayns on Suzuki's "Crime and Action Movies"; trailers, a still gallery, reversible sleeves and a gorgeous 60-page collector's book featuring writing by Sharp…Arrow's new Special Edition of TWO THOUSAND MANIACS! (87 mins., 1964) should satisfy fans of this early splatter favorite from cult director Herschell Gordon Lewis. Due out next month, Arrow's BD release offers both 1080p (1.85) video and uncompressed PCM audio, along with Lewis' 1964 feature "Moonshine Mountain" on-hand as an extra. Introduction to the films and an archive commentary by Lewis highlight the extras, along with a featurette by Tim Sullivan on the film; a video essay, "Hicksploitation Confidential," a tribute to producer David Friedman, a conversation with Lewis on his marketing prowess, outtakes and trailers…Finally, coming next week is Arrow's eagerly awaited Special Edition of the Chiodo Bros.' 1988 cult favorite KILLER KLOWNS FROM OUTER SPACE (86 mins., PG-13), a genial, low-budget genre outing that's been thoroughly remastered thanks to Arrow's new 4K scan of the original camera negative. The Blu-Ray also offers remastered 2.0 and 5.1 DTS MA soundtracks and a mix of extras, both new (a new documentary on the Chiodo Brothers as well as several of their early films; interview with The Dickies on the film's theme song) and carried over from prior MGM releases (Chiodo Brothers commentary, deleted scenes, featurettes). A terrific package for an enduring little movie that's become a deserved fan favorite.
Spaghetti western fans have reason to rejoice over Arrow's upcoming release of A PISTOL FOR RINGO/THE RETURN OF RINGO (102/97 mins., 1965/68),Duccio Tessari's adventures of a gunslinger (Giuliano Gemma) who takes on a series of bandits in the original "Ringo" and has to save his wife from an outlaw who's taken her hostage in the movie's 1968 (in-name-only) sequel. Vividly shot in scope and scored by Ennio Morricone, the "Ringo" films were at the forefront of the Italian western genre in the mid/late '60s, and have been both restored in new 2K transfers (2.35) by Arrow from the original negatives.
Copious extras in Arrow's Blu-Ray package include both English and Italian soundtracks (uncompressed PCM), commentaries on both pictures by historians C. Courtney Joyner and Henry C. Parke; an archival featurette with Gemma; another archival segment with Lorella de Luca and camera operator Sergio D'Offizi; a new interview with critic Tony Rayns; and a gallery of original promo images.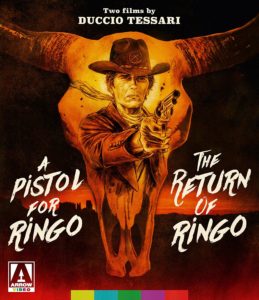 New on April 17th from Arrow is SLEEPING DOGS (107 mins., 1977), a New Zealand import about an oppressed man (Sam Neill) in a film that launched both the career of its star as well as director Roger Donaldson. The movie's political components may be lost on contemporary viewers (and especially those with no knowledge of New Zealand's history), but curious viewers should find this Arrow Blu-Ray special edition intriguing, especially for its actor/director combo. Arrow's BD release includes a 1080p transfer, LPCM and DTS MA 5.1 soundtracks, commentary from Donaldson, Neill and actor-writer Ian Mune, a 65-minute documentary from 2004, plus a 1977 Making Of and the trailer…Also due April 17th from VCI is a Limited Edition Blu-Ray of THE CITY OF THE DEAD (78 mins. 1960), a British chiller starring Christopher Lee in a film better known in the U.S. as "Horror Hotel." VCI has apparently released this title several times here in the U.S. before, but this new Blu-Ray is mastered from a good looking 2K restoration with both an interview and commentary with Lee, plus the original trailer.
PUSH 4K UHD Combo Pack (111 mins., 2009, PG-13; Summit/Lionsgate)/KNOWING 4K UHD Combo Pack (121 mins., 2009, PG-13; Summit/Lionsgate): Two 2009 catalog releases hit 4K UHD in competent, HDR-enhanced releases this month from Lionsgate.
"Push" offered a starring vehicle for Chris Evans outside the Marvel stable, here playing a talented "Pusher" who uses his telekinesis to help steal a top-secret briefcase. On the run from government agents, he enlists the aid of another Pusher (Camilla Belle) with Djimon Hounsou and Dakota Fanning co-starring. This Summit release met with mixed reviews but it's at least more entertaining than another teen genre exercise, "Jumper," which opened a short time before. "Knowing," meanwhile, was one of star Nicolas Cage's last big-screen releases to meet with solid box-office, even if this apocalyptic sci-fi effort mostly wastes the efforts of "Crow"/"Dark City" director Alex Proyas.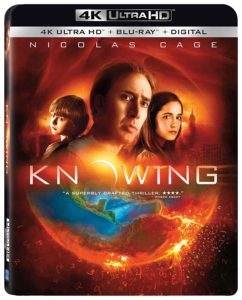 Both UHD combo packs include digital HD copies and each film's prior Blu-Ray with supplements included on each (deleted scenes commentaries, featurettes), plus Dolby Atmos soundtracks and Dolby Vision capability on-hand on each affordably-priced Lionsgate package.
BRAVEN Blu-Ray (94 mins., 2018, R; Lionsgate): Fairly routine yet decently executed outing for Jason Momoa – looking for some work inbetween DC Comics "Aquaman" performances – finds the star as an unassuming man who has to defend his father (Stephen Lang) and daughter after running afoul of drug traffickers near their family's mountain cabin. All by-the-numbers and yet not bad for its type, "Braven" is superior direct-to-video fodder and worth a look for Momoa fans – a decent rental if nothing else. Lionsgate's Blu-Ray includes a featurette, 1080p (2.35) AVC encoded transfer, 5.1 DTS MA audio and a Digital HD copy.
---
Quick Takes
THE CHILD IN TIME DVD (90 mins., 2017; PBS): Benedict Cumberbatch takes time out from Sherlock and Dr. Strange for this sensitive adaptation of Ian McEwan's novel. Cumberbatch is tremendous here as a children's book author who becomes a distraught father after his young daughter goes missing. McEwan's book has been condensed into an effective, bittersweet piece by writer Stephen Butchard, dealing primarily with the aftermath of the event and the relationship Cumberbatch has with his estranged wife (Kelly Macdonald). PBS' DVD includes an uncut version of this BBC production, presented on DVD with deleted scenes, a 16:9 transfer and 5.1 Dolby Digital sound…Coming soon on Blu-Ray from PBS is the Complete First Season of UNFORGOTTEN (270 mins., 2015), a superior crime procedural/mystery thriller starring Nicola Walker as a London detective who joins her partner (Sanjeev Bhaskar) in investigating a 40-year-old murder utilizing cutting edge scientific techniques. A compelling central story and strong performances grace "Unforgotten," which includes fine work from both leads as well as Tom Courtenay, Trevor Eve, Gemma Jones, Bernard Hill and Cherie Lunghi among others. PBS' complete Season 1 release is out on Blu-Ray April 24th featuring the uncut UK edition, 1080i transfers and 2.0 stereo soundtracks spread across two discs.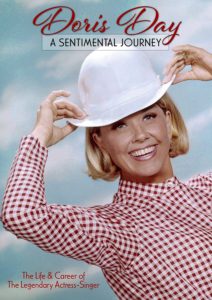 DORIS DAY: A SENTIMENTAL JOURNEY DVD (150 mins., 1991, MPI): Doris Day's life and times are recounted in this early '90s documentary featuring archival materials from Day's personal collection, rare footage, film clips, and interviews with a wide swath of celebrities, friends and critics. Included are conversations with Betty White, Clint Eastwood, Kirstie Alley, Tony Randall, Roger Ebert, Molly Haskell, Ross Hunter and many others. MPI's debut DVD of this vintage documentary also includes a complete 1976 Day interview on the Merv Griffin Show, an episode from "The Doris Day Show" (1968) plus additional Day movie trailers and promo spots.
CLAWS: Season 1 DVD (483 mins., 2017; TNT): Wacky, at times surprisingly violent TNT original series follows a quartet of Florida manicurists through assorted exploits in and out of their salon, both in domestic situations and adventures with the "Dixie Mafia" that surrounds them. Broad performances and a potent mix of comedic and dramatic entanglements have made "Claws" a cable success, with its second season debuting on TNT this summer. Warner's Season 1 DVD of the series includes 16:9 transfers and 5.1 soundtracks, and bows April 17th.
ROCK & ROLL HALL OF FAME: IN CONCERT Blu-Ray (674 mins., Time Life): Exemplary Blu-Ray compilation offers two discs of highlights from the 2014-17 Rock & Roll Hall of Fame ceremonies, featuring performances by Bruce Springsteen, Pearl Jam, Nirvana, Cat Stevens, Journey, and Ringo Starr, with appearances from Paul McCartney, Coldplay's Chris Martin and Metallica members among many others.
Well Go New Releases: The Korean import A TAXI DRIVER (138 mins., 2017) relays the true story of South Korea's Gwangju Uprising, framed through the perspective of a taxi driver hired to transport a German journalist to the small town where the military tried to suppress an uprising lead by a group of college students. Well Go's Blu-Ray, available April 17th, includes a 1080p transfer with 5.1 DTS MA sound in Korean with English subtitles…Newly available this week is ALONG WITH THE GODS: THE TWO WORLDS (140 mins. 2018, Not Rated), an epic, contemporary Korean fantasy about a firefighter who meets three guardians after passing into the afterlife – there, he's tasked with passing seven trials and proving he's worthy of reincarnation. Well Go's attractive 1080p transfer also includes an active DTS MA Korean soundtrack (with English subs), Behind the Scenes and Character Intros, plus trailers and a DVD copy.
Film Movement New Releases: Available April 10th, JASPER JONES (103 mins., 2018, Not Rated) tells the story of a 14-year-old Australian boy (Levi Miller) who meets a local outcast (Aaron McGrath) needing his help during the summer of 1969. This Australian import, directed by Rachel Perkins, co-stars Toni Collette and Hugo Weaving, with Film Movement's DVD including director/cast interviews and the short "Death For a Unicorn"…THE RAILWAY CHILDREN (108 mins., 2015) offers a filmed adaptation of E. Nesbit's classic novel, as performed by the York Theatre Royal. This production was screened in some theaters around the world back in 2016, and makes its North American DVD debut courtesy of Film Movement with a 16:9 transfer and 2.0 stereo sound.
SURGE OF POWER: REVENGE OF THE SEQUEL Blu-Ray (Surge of Power Enterprises):Independently produced comic fantasy about the world's first outwardly gay super-hero includes a bevy of favorite stars in supporting roles, including Nichelle Nichols, Gil Gerard, Linda Blair, and Lou Ferrigno. Vincent J. Roth produced, wrote and stars in this amiable goof on Blu-Ray featuring a good array of extras (deleted scenes, featurette, trailer), a 1080p transfer and stereo sound.
NEXT TIME: More of the latest releases! Until then, don't forget to drop in on the official Aisle Seat Message Boards and direct any emails to our email address. Cheers everyone!