Message Board (open 24 hours!)
Twitter - @andredursin (for everything else!)
The fall of 1984 brought movie-goers three different pictures all related to the struggle of American farmers – one a period picture (Robert Benton's "Places in the Heart"), the others contemporary pieces (Mark Rydell's "The River" and the Jessica Lange/Sam Shepard drama "Country") that even share identical sequences of farmers, unable to pay back their loans, having to suffer the indignity of seeing their equipment sold off at auction. Their politics aside, however, it's interesting to note that the film that received more mixed reviews – namely, Rydell's Sissy Spacek/Mel Gibson vehicle – is actually a notably superior film, offering a grander cinematic scale than COUNTRY (108 mins., PG), which mostly plays out in a slow-going malaise before its grandstanding climax.
Indeed, much of "Country"'s original script – penned by producer Bill Wittliff, best known for his work on "The Black Stallion" and "Lonesome Dove" – is comprised of speeches intended to none too subtly address the plight of farmers squeezed by greedy bankers looking to maximize profit. It's a one-sided depiction of Good Vs. Evil in its portrayal of a hard-working Iowa family who finds out, the hard way, that 100 years of farming the ancestral land wasn't enough in the "greed-centric" decade of the '80s. Lange and Shepard try to hold it together, but Wittliff's script doesn't do a very good job showcasing the resiliency of these people, as Shepard's character quickly turns into a drunken louse and a fellow farmer nearby decides to kill himself. Eventually Lange's matriarch grabs a few names and shouts down the greedy bankers – a moment tailor-made for the movie's trailer (which basically shows everything you need to see) but masks an otherwise surprisingly meager drama with hollow characters.
"Country" nevertheless managed to receive primarily positive reviews – likely because of its "realism" whereas a film like "The River" mixed a similar sentiment about the reality of farming in the 1980s with a more entertaining story, superb Vilmos Zsigmond cinematography and a great John Williams score. In Rydell's film (the third and final one out of the gate), bankers were just one problem – so were torrential rains and hazardous farming equipment. Though filmed on-location in Iowa, director Richard Pearce (who took over directorial chores from Wittliff) fails to capture time and place as Mark Rydell did in "The River," and much of the film plods along (there must be a handful of scenes showing Lange cooking), superficially touching upon issues involving Lange and Shepard's teenage son and Lange's crusty father (Wilford Brimley, in a Wilford Brimley type of role).
Mill Creek's Blu-Ray appears to have been culled from a healthy and good-looking Disney catalog master. The 1080p (1.85) image offers nice detail and color, and the 2.0 DTS MA stereo sound preserves the original two-channel Dolby Stereo mix, housing a Charles Gross score that illustrates how overreaching the film's conclusion is (regardless, the scoring became a trailer staple for many years). The trailer and a commentary from historian Lee Gambin comprise the extras.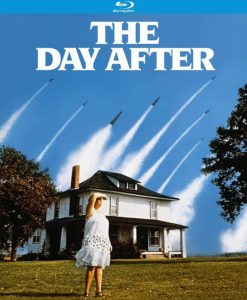 Nuclear war was also on the minds of the public back in the '80s, and Hollywood responded in kind, most notably with the ABC TV-movie THE DAY AFTER (122/127 mins., 1983). A blockbuster event that generated huge ratings, "The Day After" paints an understandably bleak portrait of a small Kansas town in the days leading up to – and following – a Soviet attack. Jason Robards, Jobeth Williams, Steve(n) Guttenberg, John Cullum and John Lithgow anchor the superb ensemble cast in a sensitively drawn, and intentionally horrifying, drama from director Nicolas Meyer that doesn't quite live up to its reputation because of a somewhat hackneyed script by Edward Hume ("Two Minute Warning").
Like "Country," "The Day After" wears its politics on its sleeve and isn't nearly as effective as another film about the horrors of nuclear wear, "Testament," that was produced at the same time and offers a more developed set of characters. Still, as a product of its era, it's an interesting view, and Kino Lorber's Blu-Ray includes two different cuts of the film: the 122-minute TV version (1.33) and a 127-minute "theatrical version" (1.78) that played in some international markets. A lengthy interview with Meyer and a new conversation with Williams grace the supplements, along with a commentary from writers Lee Gambin and Tristan Jones.
A trio of '90s Buena Vista catalog titles from are also part of Kino Lorber's Studio Classic releases this month.
I've never thought much of DEEP RISING (106 mins., R), a Hollywood Pictures production that cost a relatively pricey $45 million back in the late '90s and bombed upon its release in the dumping grounds of winter 1998. Writer-director Steven Sommers' profoundly stupid film finds wisecracking hero Treat Williams leading a team of mercenaries (including Wes Studi in a rare "non-ethnic" role) to a cruise ship that's been decimated by an aquatic creature that's risen from the depths. Sommers' penchant for mixing lighthearted characterizations with large-scale effects sequences doesn't really gel in "Deep Rising," mainly because of the cheap, threadbare production design that resembles an episode of "SeaQuest DSV."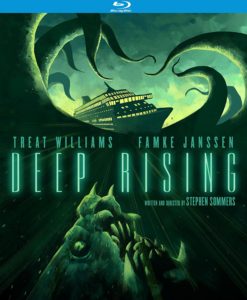 After an unmanageably talky first half hour, Sommers' film settles into an almost endless succession of characters being chased down tight corridors by a large squid-like creature – which, despite having been "designed" by Rob Bottin, is entirely animated. This being a 1998 release, the pedestrian CGI – which wasn't top of the line to begin with – really dates the film badly, as the cast (which also includes a sultry Famke Janssen and Sommers' horribly unfunny comic relief man, Kevin J. O'Connor) strains to look horrified by effects that are almost completely less than special.
Jerry Goldsmith's hard-working score has its moments, but it lacks the overall effectiveness of another, similarly themed genre film the composer scored nearly a decade prior: "Leviathan," which at least inspired Goldsmith to pen a terrific, melodic end titles piece. His "Deep Rising" score has as much energy, but little in the way of memorable thematic material.
Nevertheless, "Deep Rising" has netted a small cult following since its release, and fans should be pleased with Kino Lorber's new Blu-Ray edition of the picture, which usurps Mill Creek's earlier disc thanks to an improved 1080p (2.35) transfer and both 5.1/2.0 DTS MA soundtracks. The extras also truly shine, making this one of Kino's strongest Special Editions to date – the goodies include commentary with Sommers and editor Bob Ducsay; new interviews with Wes Studi, Kevin J. O'Connor, and Anthony Heald; conversations with Dean Cundey (who served as a 2nd Unit Director on the film) and numerous members of the VFX team. There are also ILM animatics and other effects test footage, plus an animated image gallery and the original trailer.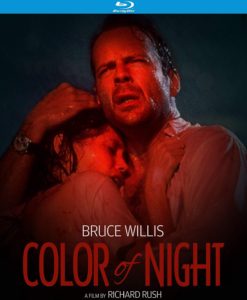 A much more entertaining Bad Movie Experience can be had in the hilarious Bruce Willis "sexual thriller" COLOR OF NIGHT (139 mins., 1994, R), a film from "Stunt Man" helmer Richard Rush. This Summer '94 Cinergi Pictures production stars Willis as a psychologist who, while trying to find the culprit who killed a colleague (Scott Bakula), falls for a mysterious femme fatale (Jane March). He also tends to some of Bakula's patients (a motley crew including Lesley Ann Warren, Brad Dourif, Lance Henriksen and Kevin J. O'Connor) in a bizarre and completely off-kilter thriller that aims for "Basic Instinct"-levels of sexual tension but ends up awash in unintentional comedy instead.
Brought to home video in a 139-minute Director's Cut shortly after its theatrical release, "Color of Night" has been treated to a 2-disc special edition from Kino Lorber. For fans, the Blu-Ray includes both that Director's Cut (different than an Unrated version that screened in Europe, featuring even more nudity) and the original 122-minute theatrical version. The inclusion of the latter is notable since it's one of the few times viewers have been able to see the theatrical cut since its original run, while 2.0 and 5.1 DTS MA sound are included on both edits.
Make no mistake, "Color of Night"'s longer edit is preferable since it's even funnier than the theatrical release. Dominic Frontiere's score – much like the movie itself – ranks as one of the worst of the decade as well, though at least the film houses his orchestral re-score (the soundtrack album is filled with rejected synthesized cues). All-new extras include commentaries from writer Matthew Chapman (theatrical version) and Richard Rush himself (director's cut).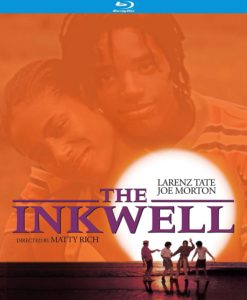 A little-seen Touchstone coming-of-age picture, THE INKWELL (112 mins., 1994, R) also debuts on Blu-Ray this month from Kino Lorber. Matty Rich helmed this story of a troubled black teen (Larenz Tate) who, along with his parents (Joe Morton, Suzzanne Douglas), travels out to Martha's Vineyard for a memorable 4th of July vacation circa America's 1976 Bicentennial. There, he's swept up with a pair of women (Jada Pinkett Smith, A.J. Johnson) along with his aunt and uncle (Vanessa Bell Calloway, Glynn Turman) who hold decidedly more conservative views than his parents.
Despite likeable performances and some nice moments, Tom Ricostronza and Paris Qualles' script is something of a mess, with Rich unable to corral the film's disparate portions (teen drama, period piece, study of socio-political contrasts, etc.) into a cohesive whole. What's more, the sense of time and place doesn't feel authentic either, as Rich shot the picture in North Carolina, making scant effort to evoke actual MV settings. Kino Lorber's Blu-Ray boasts a 1080p (1.85) transfer in good shape from the Disney vaults, 2.0 DTS MA sound and trailers.
Last but not least among Kino Lorber's August releases is SMASHING TIME (96 mins., 1967), a Mod period piece set in a randy London circa 1967. Rita Tushingham (fresh from " The Knack…") and Lynn Redgrave (coming off "Georgy Girl") were paired in this story of two girls who hit London with big dreams. They naturally start at the bottom before making their way up – way, way up – after meeting fashion photographer Michael York in a silly, upbeat comedy-musical produced by Carlo Ponti. Desmond Davis helmed "Smashing Time," which offers an original score from John Addison and a special appearance by the band Tomorrow – elements that didn't help the picture at the box-office, as the ABC Pictures release proved to be a flop worldwide.
Arguably too late to capitalize on the "Swinging Sixties" fad, "Smashing Time" is nevertheless an energetic and entertaining film – extremely lightweight – with charismatic turns from the two leads, who had worked with Davis on the (far more serious) 1964 film "Girl With Green Eyes." For those with a taste in '60s British camp/comedy, "Smashing Time" is an enjoyable lark, and Kino Lorber's Blu-Ray includes both a nice 1080p (1.66) AVC encoded transfer and commentary from historian Kat Ellinger.
---
Summer Horrors!
RETURN OF THE LIVING DEAD PART II Blu-Ray (89 mins., 1988, R; Shout! Factory): Dan O'Bannon's 1985 quasi-spoof of "Night of the Living Dead" generated a handful of sequels over the years. The highest profile among them was this Winter '88 release, which came from a new studio (Lorimar) and writer-director (Ken Wiederhorn). The plot, though, is still routine, chronicling how the government's toxic sludge ends up near a housing development and an abandoned cemetery, only to be opened by a group of teens who should've known better. James Karen and Thom Mathews return from the original film in different roles (albeit a similar capacity), and despite not quite reprising O'Bannon's sensibilities, "Part II" is nevertheless a cut-above for mindless '80s genre fare. Wiederhorn paces the film well and there are a number of entertaining gore moments, with none of it taken overly seriously.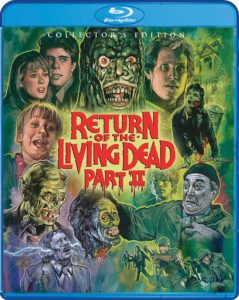 Shout's Blu-Ray Collector's Edition brings the sequel to the format for the first time, boasting a 2K scan from the Interpositive (1.85) and a 2.0 DTS MA stereo soundtrack that's notable for containing the movie's original theatrical audio – and not the "home video version" that was stripped of numerous licensed songs. Brand new extras include a commentary with series fan Gary Smart and Christopher Griffiths; new featurettes with FX supervisor Kenny Myers and Wiederhorn; plus archival extras from the DVD, including an older Wiederhorn commentary, featurette and other tasty goodies.
New William Castle Blu-Rays From Scream Factory: Previously available in Sony's "William Castle Collection" DVD box, Scream Factory does horror impresario William Castle proud with a pair of new Blu-Ray Special Editions this month.
STRAIT-JACKET (93 mins., 1964) provides Joan Crawford a plum platform as a scorned wife who loses it after she finds her husband in bed with another woman – taking an axe to them both! Years later, she's released to the care of her brother (Leif Erickson), his wife (Rochelle Hudson) and Crawford's now-grown daughter (Diane Baker), who witnessed the killings when she was a toddler. Castle produced and directed this effective Columbia shocker, on Blu-Ray featuring a new commentary with horror critics Steve Haberman and David J. Schow, along with an interview with Anne Helm, who was cast in Baker's part and was axed (in a different way) by Crawford before filming began. Other extras are carried over from the DVD while the 1080p (1.78) B&W transfer and DTS MA mono soundtrack are each fine.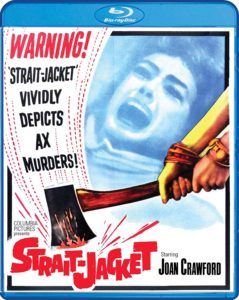 Vincent Price, meanwhile, is as much a special effect as THE TINGLER (82 mins., 1959) itself in this Castle confection – one of his most memorable gimmick pictures. Presented in select theaters with the miracle of "Percepto" (an electric shock that would jostle audience seats), "The Tingler" is a fun exercise in '50s terror, with Price starring as the doctor who uncovers a parasite that latches onto the neck of its unsuspecting victims – requiring them to scream in order to save their lives. Brand-new interviews with actress Pamela Lincoln, publicist Barry Lorie and a fresh commentary with Steve Haberman comprise Scream's extras on their new Blu-Ray, along with another fine 1080p (1.85) AVC encoded Sony transfer and DTS MA mono sound. Additional extras have been ported over from the William Castle Collection DVD anthology. Both discs come highly recommended for Castle buffs!
BRAM STOKER'S SHADOWBUILDER Blu-Ray (101 mins., 1998, Unrated; MVD): MVD's newest Rewind Collection release commemorates the 20th Anniversary of a little-known but well-made 1998 Canadian chiller with a better-than-average cast. Jamie Dixon's film stars Michael Rooker as a priest trying to prevent a demon — who's been summoned to destroy the Earth — from possessing a 12-year-old boy who may or may not be saintly. Leslie Hope (she of future "24" infamy) and Tony Todd co-star in a loose adaptation of a Bram Stoker story that's more suspenseful than horrific and smartly so, seeing as the movie never tries to do too much beyond its modest budget. Convincingly performed and executed, "Shadowbuilder" debuts on Blu-Ray August 28th as part of the MVD Rewind Collection. Extras include a 1080p HD transfer, 2.0 PCM stereo sound, commentary from Dixon; a half-hour plus documentary featuring Dixon, Stokes, Todd and co-star Andrew Jackson; a 13-minute VFX featurette; segment on Kevin Zehers and the trailer.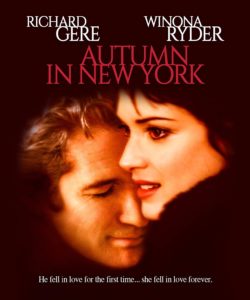 Also New From MVD: MVD is getting into the mainstream-catalog realm this month, unleashing a new imprint – the MVD Marquee Collection – featuring MGM-licensed titles, some of which are new to Blu-Ray, with others reprisals of out-of-print discs. Among their first releases is the Blu-Ray debut of AUTUMN IN NEW YORK (104 mins., 2000, PG-13), an MGM release starring Richard Gere as a Manhattan restaurant owner who falls for the much younger Winona Ryder – even though she's harboring a terminal illness. Reviewers savaged "Autumn in New York," and admittedly, there's little chemistry between Gere and Ryder – perhaps one reason this was the only English-language feature directed by actress Joan Chen. Gabriel Yared does contribute a pleasant score to this weepie, which bows on Blu-Ray on August 28thfrom MVD. This no-frills Blu-Ray includes a healthy-bit rate encode at 1080p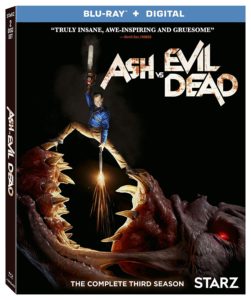 (1.85) with 5.1 DTS MA sound and the trailer as the sole extra.
THE TERROR – Complete First Season Blu-Ray (8 hours, 2018; Lionsgate): Ridley Scott produced this eerie – and also extremely slow-moving – adaptation of the book of the same name. "The Terror" takes the true story of two 19th century British naval vessels, attempting to pass through the Northwest Passage, that went missing and reconfigures it as both a speculative supernatural thriller and a battle of wills between the commanders (Ciaran Hinds, Jared Harris) of the respective boats. Impressively mounted in terms of its production, this AMC series is so stiflingly claustrophobic and morose that its general appeal may be limited – nevertheless, the door is left open for future seasons as the producers altered the ending of Dan Simmons' original novel. Available next week, Lionsgate's Blu-Ray of "The Terror"'s first season includes three featurettes – including a talk with Ridley Scott – plus attractively detailed 1080p (1.78) AVC encoded transfers and 7.1 Dolby TrueHD soundtracks.
ASH VS. EVIL DEAD – Complete Third Season Blu-Ray (278 mins., 2018; Lionsgate): Ash saddles up again with Pablo and Kelly for the third and final season of the Starz series, one which started out as a disarming, engaging continuation of Sam Raimi's franchise. Repetition, though, quickly settled in, and making matters worse, this third season of "Ash Vs. Evil Dead" ends with a cliffhanger….which will never be continued, as the series' meager viewership put a final kibosh in Ash's adventures. For die-hard fans who understand the show doesn't come so much to an end but an abrupt stop, Lionsgate's Blu-Ray of AVED's final season hits retail next week. Commentaries, two featurettes, 1080p transfers and 7.1 Dolby TrueHD soundtracks grace the package along with a Digital HD copy.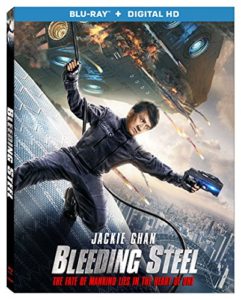 Also New From Lionsgate: On Blu-Ray August 21st, FIRST REFORMED (108 mins., 2017, R) is Paul Schrader's latest, following a troubled pastor (Ethan Hawke) at a church in upstate New York and his relationship with a pregnant parishioner (Amanda Seyfried). Schrader also wrote "First Reformed," which plays into his theological world view and offers capable performances from both Hawke and Seyfried, though it's a dense, depressing picture that ends up going where you'd anticipate – especially given Schrader's past works. Lionsgate's Blu-Ray of the A24 release includes commentary from Schrader, a featurette, a 1080p (1.33) transfer, 5.1 DTS MA sound and a Digital HD copy…Jackie Chan is back in action in the Hong Kong import BLEEDING STEEL (110 mins., 2018, R). The international star tries to mix it up here with tech flourishes as his HK detective is pursued by a mech-enhanced bad guy while searching for the missing daughter of a geneticist – one who's implanted a biochemical invention inside her. Fans didn't seem to care much for this recent Chan effort, with many railing about the movie's bloated 110-minute running time (ironic considering so many complained when Miramax used to routinely cut his films down for the U.S.). Lionsgate's Blu-Ray is out this week sporting a 1080p (2.40) AVC encode, 5.1 DTS MA sound and a Digital HD copy.
---
TV on DVD
With the Fall TV season looming (is that even possible!?), a handful of TV sets are new to home video this month. Here's a quick breakdown:
BLUE BLOODS – Complete Eighth Season DVD (15 hours, 2017-18; CBS): One of network TV's most popular series returns for its eighth season on CBS. Tom Selleck's Frank here finds himself clashing with the new mayor of NYC while defending the NYPD from a number of scandals (as always). Oldest son Danny (Donnie Wahlberg), meanwhile, cuts a deal with an imprisoned foe at the same time brother Jamie (Will Estes) continues his defense work and their District Attorney sister Erin (Bridget Moynahan) handles a case load that includes a face-off with her ex-husband. All 22 episodes of "Blue Bloods"' eighth season – also including guest star appearances from Ernie Hudson, Mimi Rogers and Lorraine Bracco – comes to DVD featuring 16:9 transfers, 5.1 sound and a host of extras (Making Of featuretes, deleted scenes, gag reel, and pilot episodes of "Bull" and "SEAL Team").
Also New From CBS: Plot lines in CRIMINAL MINDS – Season 13 DVD (15 hours, 2017-18) include the cast addition of Daniel Henney's former soldier Matthew Simmons, who joins up with the FBI's Behavorial Analysis Unit, lead by David Rossi (Joe Mantegna) and his veteran team. Together, they tackle more nefarious crimes in the long-running program, a co-production of ABC Studios and CBS that continues to generate solid ratings on the latter's prime time schedule. A number of featurettes, gag reel, and deleted scenes are housed in CBS's six-disc set, out August 28th…Over an hour of fan-friendly featurettes (commentaries, interviews with Mark Harmon, Joe Spano and new cast member Maria Bello) are on-hand in Season 15 of CBS' chestnut NCIS (17 hours, 2017-18; CBS). All 24 episodes from the show's 2017-18 season are included in the six-disc DVD set along with 16:9 (1.78) transfers and 5.1 Dolby Digital sound.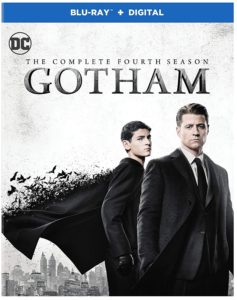 GOTHAM – The Complete Fourth Season Blu-Ray (965 mins., 2017-18; Warner): Detectives Jim Gordon and Harvey Bullock are on the scene again, having to tackle Gotham's Finest Villains (Penguin, Riddler, Barbra Kean, Tabitha Galavan, Poison Ivy) while a young Bruce Wayne trains with Ra's al Ghul. Even Lucius Fox gets into the act, donning a secret vigilante mask, in this fourth season of Warner's Batman prequel. On Blu-Ray this week, Warner's "Gotham" Season 4 package includes the 2017 Comic Con panel, deleted scenes, two featurettes, 1080p (1.78) transfers, 5.1 DTS MA sound and Digital HD copies.
Also new this week from Warner on DVD is the Third Season of BLINDSPOT (945 mins., 2017-18), which moves ahead two years as FBI agent Kurt Weller finally tracks down his wife Jane and her mysterious tattoos. With her recently-discovered bioluminescent ink fueling new cases and secrets, "Blindspot" aims for more dramatic storylines in this assortment of 22 episodes. Fans of the NBC series should be pleased with the action, captured here in a DVD set from Warner sporting deleted scenes, a gag reel, featurette, 16:9 transfers and 5.1 soundtracks.
HILLARY DVD (265 mins., 2015; PBS): Docudrama series from writer Tom Scott was reportedly drawn quite heavily on his own interviews with the actual Sir Edmund Hillary, prior to his death in 2008. The result was this 2015 New Zealand series – coming to DVD next week for the first time from PBS – starring Andrew Munro as Hillary in a chronicle of not just his climbing expeditions but also his family life and relationship with climbing companion and friend George Lowe (Dean O'Gorman). PBS' DVD includes the entire series on two discs with 16:9 transfers and 5.1 soundtracks.
---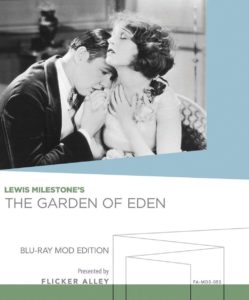 Also New & Noteworthy
THE GARDEN OF EDEN Blu-Ray (71 mins., 1928; Flicker Alley): Flicker Alley debuts a new series of Manufactured on Demand Blu-Ray releases with this 1928 romantic comedy. Lewis Milestone directed this story of a singer (Corinne Griffith) who leaves home to become an opera star in Budapest – but encounters a series of adventures en route, including escaping to Monte Carlo and posing as a baroness' daughter. Misunderstandings, mistaken identities and a Robert Israel score grace Flicker Alley's high-definition presentation of this silent classic, which offers the label's customary top-notch Blu-Ray 1080p (1.33) presentation and extras including a digital pressbook, production still slideshow from Milestone's estate, and a 10-minute travelogue, "Hollywood the Unusual." This fascinating segment affords viewers a rare glimpse into L.A. circa the 1920s, its landmarks and promotion as a mythical destination spot.
BOOK CLUB Blu-Ray Combo Pack (103 mins., 2018, PG-13; Paramount): Four female friends (Diane Keaton, Jane Fonda, Candice Bergen and Mary Steenburgen) opt to spice up their lives by moving on from their usual literary fare and tackling "Fifty Shades of Grey" in their small book club. Such a drastic decision naturally shakes up their everyday relationships with their male counterparts – both old and new — in a likeable little picture from co-writer/director Bill Holderman, who stages a predictable "girls night out" type of rom-com with appealing performances from the veteran stars. Craig T. Nelson, Andy Garcia, Don Johnson and Richard Dreyfuss are also on-hand in "Book Club," which premiered to modest box-office this past spring and should do well among older viewers on home video. Out August 28th, Paramount's Blu-Ray includes a handful of featurettes, deleted scenes, a DVD, 1080p transfer, 5.1 DTS MA audio and a Digital HD copy.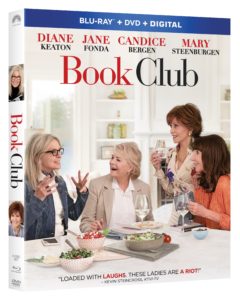 BAD SAMARITAN DVD (110 mins., 2018, R; Sony): A pair of thieves (Robert Sheehan, Carlito Olivero) who spend their time robbing Portland, Oregon's rich stumble into a home they wish they hadn't broken into – one with a tied-up girl and a particular psycho (David Tennant) inside, one who comes looking for revenge. Roland Emmerich's former partner, producer/director Dean Devlin, helmed this spring box-office wipeout, on DVD this week from Sony featuring seven deleted scenes plus commentary from Devlin and writer Brandon Boyce.
DESTINED TO RIDE DVD (90 mins., 2018, G; Sony): Family-friendly adventure is on-tap in this independent production. Madeline Carroll stars as a young woman who's forced to leave her friends behind when she's sent off to a remote ranch for the summer to live with her aunt. She meets a new group of friends, at least, and bonds with them – and a particular horse named Pistachio – in order to save her family's ranch. Denise Richards, Cassi Thomson, Joey Lawrence and Nick Searcy co-star in Anna Elizabeth James' feel-good drama, available on DVD this week featuring a 16:9 (1.78) transfer and 5.1 Dolby Digital sound from Sony.
IFC/MPI New Releases: Gemma Arterton gives a strong performance in Dominic Savage's THE ESCAPE (101 mins, 2018). This independent British film stars Arterton as a London housewife, burdened by her family and tired of routine, who decides to chuck it all and leave for Paris. Dominic Cooper co-stars as her less than understanding husband in a well-acted drama that feels a little long but nevertheless provides a compelling viewing for its performances. MPI's DVD is available this week, featuring a behind-the-scenes segment, interviews, the trailer, a 16:9 transfer and 5.1 Dolby Digital sound.
MUPPET BABIES – TIME TO PLAY! DVD (94 mins., 2018; Disney): Second DVD compilation of episodes from the current Disney Junior series includes the episodes Sir Kermit the Brave, Hatastrophe, The Great Muppet Sport-a-Thon, Super Fabulous Vs. Captain Icecube, How Kermit Got His Groove, Playground Pirates, plus 10 Show & Tell shorts, six music videos, 16:9 transfers and 5.1 soundtracks.
NEXT TIME: Jack Ryan in 4K and more! Until then, don't forget to drop in on the official Aisle Seat Message Boards and direct any emails to our email address. Cheers everyone!