A movie that's going to carry around a dubious reputation for years to come, Gore Verbinski and Jerry Bruckheimer's THE LONE RANGER (**, 148 mins., 2013, PG-13) manages to be entirely watchable, occasionally inspired and yet so thoroughly miscalculated that it ranks as the most violent film to ever carry the Disney brand name.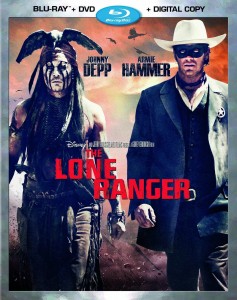 This gorgeously shot western – with outstanding work from cinematographer Bojan Bazelli – reinvents the Lone Ranger mythos in the form of a politically correct retelling heavy on the "evil white man" sentiment. In Justin Haythe, Ted Elliott and Terry Russio's script, Armie Hammer's Ranger dons the mask of justice to take down vile gang leader Butch Cavendish (William Fichtner) and a railroad baron (Tom Wilkinson) out to claim silver from Comanche land. Tonto (another "quirky" Johnny Depp performance) is less a faithful companion than a disgraced – and mentally challenged – outcast seeking vengeance for the extermination of his tribe. The duo ultimately saddle up to not only right their respective situations but also save the wife of the Ranger's slain brother, a U.S. marshal gunned down in the film's opening sequences by Cavendish, who proceeds to carve out his heart and eat it (yes, you read that right!).
Overlong though never dull, "The Lone Ranger" cost a fortune and originally had the plug pulled on its first go-around so the budget could be downsized. The resulting film still carried a $200-million plus price tag and became this year's "John Carter" when it failed to hit $100 million in the states (it did slightly better overseas, though ultimately won't be profitable). While some reviewers appeared to condemn the film based on its production history alone, it's not a picture without some positive elements, starting with Bazelli's sumptuous shooting of Monument Valley locales and associated location work in Utah and New Mexico. Despite some excessive filtering, this is a grand looking picture that seems to have filmed without abundant use of CGI (perhaps downsizing the budget put the kibosh on additional special effect sequences, which ordinarily one would expect from director Verbinski's bloated past work on the "Pirates of the Caribbean" films).
The movie's opening hour, setting up the Lone Ranger character and his first meeting with Tonto during an exciting train robbery sequence, are thrilling – and the movie's final 20 minutes is a blast as well, finding our heroes leaping from one train car to another while pursuing the bad guys. Hammer is agreeable enough in the lead role but Depp's performance carries most of the action. He's funny at times in a reworking of past roles (a bit of Jack Sparrow, a taste of Edward Scissorhands, etc.), though both are upstaged by Silver "the Spirit Horse" whose antics provide the film with some of its principal humor. Also, it's not often I give credit to a Hans Zimmer score but this is easily the most satisfying work I've heard from the composer (and his staff) in years – more orchestral than electronic, more melodic than the kind of ambient noise he wrote for the Nolan "Batman" films, and not nearly as over-the-top as his "Pirates" scores, the music carries the film in its concluding stages with a rousing rendition of the "William Tell Overture" that won't disappoint old-time fans of "The Lone Ranger" TV series.
It's unfortunate, then, that too many moments in "The Lone Ranger" misfire – especially during its miserable second hour, wherein we learn about the death of Tonto's people and most of the action sits on the sidelines while our heroes try to regroup before the picture's upbeat finale. Along the way we're also treated to scenes of scalpings, executions, Native American genocide, animal violence (including CGI-enhanced rabbits – with fangs!) and a needless subplot with brothel madam Helena Bonham Carter that could have easily have been jettisoned altogether. Ditto for a worthless framing device with an elderly Tonto talking to a young boy dressed as the Lone Ranger – that whole bit could've landed on the cutting room floor with no detriment at all to the rest of the movie, seeing as it has no payoff.
It makes you wonder who greenlighted the picture, because the film seems to have been a rewrite or two away from actually working. Alas, what we're left with is a frustrating viewing experience with flashes, throughout, that give you a taste of the movie "The Lone Ranger" could have been. As it is, it's not a disaster but nevertheless a disappointment with inexplicable lapses in taste.
Disney's Blu-Ray of "The Lone Ranger" offers a brilliant 1080p transfer and constantly active DTS MA soundtrack. Extras include a deleted scene (in visual storyboard form), featurettes, commentary by Verbinski, a DVD and digital copy.
---
Also New From Disney
The best of the Muppet films — even though it was a box-office disappointment – 1981′s THE GREAT MUPPET CAPER (***½, 97 mins., 1981, PG; Disney) hits home on Blu-Ray this month for the first time from Disney in a Double Pack with the disappointing 1996 "Muppet Treasure Island."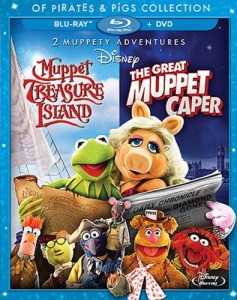 The only big-screen adventure of Kermit and Company that Jim Henson directed himself, this highly engaging caper-musical features a wonderful score by Joe Raposo, which deservedly copped an Oscar nomination for "The First Time It Happens," plus an agreeably over-the-top performance by Charles Grodin and a fun script courtesy of Tom Patchett & Jay Tarses and Jerry Juhl & Jack Rose.
Unlike its predecessor "The Muppet Movie," the star cameos take a back seat to the story, as Kermit and Fonzie travel to London to solve a jewel heist that may have been perpetrated by glamorous fashion guru Lady Holiday (Diana Rigg) and her playboy brother (Grodin). Henson's direction is right on-target and Raposo's songs include a hysterical, Busby Berkley-styled musical number ("Miss Piggy's Fantasy") with Kermit and a dubbed Grodin trading operatic verses on separate corners of the screen. Great stuff that's just as much fun for adults as it is for kids (and I can attest to that, having now seen the movie as both!).
The 1080p AVC transfer is quite grainy at times, but it's as good as the film has ever looked through its numerous video releases and the widescreen framing preserves the original aspect ratio. Like the other Muppet films, the movie was shot in a "hard matte" meaning you gain information on the sides and lose nothing on the top and bottom when watching the letterboxed version. Though some DNR seems to have been used over the opening and end credits, the presentation is colorful and highly detailed, and ranks as one of Disney's better catalog offerings this past year despite its uneven source elements.
"Great Muppet Caper" is terrific fun, the best of the original Muppet films and a must for Henson and Muppet fans. I've never felt the same about THE MUPPET TREASURE ISLAND (**, 100 mins., 1996, G), the tedious, overlong 1996 adaptation of the Stevenson classic "Muppetized" a la "The Muppet Christmas Carol" with a human star (a strangely disengaged Tim Curry) taking the film's lead role. Outside of a couple of pleasant songs (Barry Mann and Cynthia Weil's ballad "Love Led Us Here" is particularly lovely), there's not a lot to recommend in this disappointment from the same creative team that fashioned the far superior "Christmas Carol" (including director Brian Henson and other crew members). And how ironic is it that studio executives who trimmed "When Love is Gone" from its predecessor (over concerns about its sub-90 minute running time) let this bloated (overlong by a good 15-20 minutes) picture stand as is?
Disney's 1080p AVC encoded transfer of "The Muppet Treasure Island" is much healthier than "Muppet Caper" and includes a crisp DTS MA soundtrack featuring a Hans Zimmer score that sounds like a more orchestral "Pirates of the Caribbean" warm-up act for the composer. A couple of extras on "Treasure Island" include Henson's commentary and a DVD copy rounds out the release.
---
Also New on Blu-Ray & DVD
PRISONERS Blu-Ray/DVD Combo Pack (***, 153 mins., 2013, R; Warner): Exceedingly well-crafted, if one-note, thriller examines the harrowing abduction of two young girls from the same neighborhood, and the efforts of both law enforcement (a detective played by Jake Gyllenhaal) and one working class father (Hugh Jackman) to track down the killer.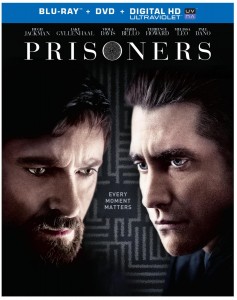 Aaron Guzikowski's script and Denis Villeneuve's direction are both top-notch in this compelling, character-driven study, which affords Jackman a strong role as a parent who becomes increasingly unhinged as the days pass with no perpetrator having been arrested. His Keller Dower believes a simple-minded young man (Paul Dano) driving an RV near where the children disappeared has the answers to their whereabouts, but his tactics in generating information horrify the father (Terrence Howard) of the other abducted girl. Equally, if not more impressive, is Gyllenhaal's assured performance as the haunted young detective trying to find justice while tampering Dower's emotional instability. It's a terrific role for the actor and one of his best performances to date.
"Prisoners" also benefits from outstanding cinematography by Roger Deakins that captures the grittiness of the film's rural Georgia locations – he's one of the best in the business and his work, together with the film's leisurely build up, sustains tension throughout all of the movie's two and half hours.
There are elements to the film that feel slightly off balance – the "other" family, with Howard and wife Viola Davis, tend to disappear from the film as it progresses, while Maria Bello's role as Dover's wife comes off as underbaked. The ultimate resolution also feels like something out of a hackneyed thriller than the believable, and emotionally wrenching, first two acts of the story – yet this is still a picture well worth seeing for its mood and performances.
Warner's Blu-Ray/DVD combo pack of "Prisoners" is light on extras, offering just a pair of feaurettes. The 1080p AVC encoded transfer (1.85) is splendid, and the DTS MA 5.1 audio effectively engineered throughout.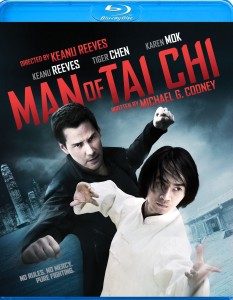 MAN OF TAI CHI Blu-Ray (105 mins., 2013, R; Anchor Bay): Keanu Reeves' directorial debut didn't receive a lot of theatrical play, but kung fu enthusiasts might appreciate "Man of Tai Chi" now that Anchor Bay has brought the film to video. Reeves stars as a Beijing underground club owner training a Tai Chai student (Tiger Chen) who ends up being corrupted by money and power in this slickly produced and intermittently exciting martial arts adventure. The Universal/Village Roadshow/Weinstein Co. production receives a strong Blu-Ray release through Anchor Bay, with the Blu-Ray boasting commentary from Reeves and Chen, a Making Of, a detailed 1080p transfer and 5.1 DTS MA soundtrack.
More martial arts action is on-hand in Millennium's release of NINJA: SHADOW OF A TEAR [aka NINJA II] (94 mins., 2012, R), a predictable – and comparatively lower-budgeted – affair starring Scott Adkins as a ninja master who trains with his best friend (Kane Kosugi, son of the great Sho Kosugi) to avenge his wife's murder. Isaac Florentine directed this sequel to Andy Hurst and Boaz Davidson's "Ninja," offering plenty of kung fu action and modest production values. Millennium's Blu includes a featurette, behind-the-scenes segment, cast and crew interviews, 1080p transfer and 5. 1 DTS MA soundtrack (available December 31st).
HELL BABY Blu-Ray (97 mins., 2013, Not Rated; Millennium, available December 31st): "The State" alumni Robert Ben Garant and Thomas Lennon made their directorial debuts with this over-the-top horror comedy wherein terrible supernatural shenanigans haunt couple Leslie Bibb and Rob Corddry, leading the duo to call a pair of Vaican approved exorcists for help. Garant and Lennon have had hit or miss success writing their own scripts – comedies like "Let's Go to Prison" and "Balls of Fury" had their moments but couldn't sustain themselves over feature length. "Hell Baby" is an even weaker affair than those efforts, boasting lots of raunchy – and stupid – gags and obvious satirical targets, most of which have been hit far more successfully in other comedies. Millennium's Blu-Ray includes deleted scenes, a gag reel, 1080p transfer and 5.1 DTS MA soundtrack.
---
A trio of new titles highlights Shout! Factory's end-of-the-year offerings, including a pair of horror titles that'll make perfect holiday viewing for the hardcore.
THE BEAST WITHIN (**, 98 mins., 1981, R) is a gory early '80s UA release from "Omen" producer Harvey Bernhard, profiling the painful transformation of a typical 18-year-old (Paul Clemens) into a horrifying monster – the result of his mom (Bibi Besch) having been raped by a swamp creature years before. Ronny Cox co-stars as the boy's father in Philippe Mora's gross-out affair, best remembered for its make-up effects; writer Tom Holland, adapting a book by Edward Levy, would find more success with his subsequent work on "Psycho II" and "Fright Night." Shout's Blu-Ray includes commentary with Mora and Clemens; an additional track with Tom Holland; the trailer; a fine 1080p (2.35) transfer and DTS MA stereo audio.
A minor outing from Charles Band's Empire Pictures, CRAWLSPACE (*, 80 mins., 1986, R) has developed a minor cult following over the years. Perhaps it's because of Klaus Kinski's performance as the son of a Nazi reduced to spying on women in his apartment building, including college student Talia Balsam – either way, it's pretty feeble stuff, even for an Empire production. John Buechler's make-up effects and Kinski's portrayal of the unhinged Karl Gunther carry this David Schmoeller film, which was shot in Rome and scored by Pino Donaggio. Shout's Blu-Ray includes commentary with Schmoeller, an interview with make-up artist John Vulich, Schmoeller's short "Please Kill Mr. Kinski" (that touches upon the friction between Kinski and the production team), the trailer, TV spots, a 1080p transfer and DTS MA mono audio.
Finally, "Night of the Living Dead"'s George Romero tried to shift gears with his 1981 Renaissance Faire drama KNIGHTRIDERS (**, 145 mins., R), profiling would-be knights who live by medieval code of conduct…and drive motorcycles. Ed Harris' gung-ho performance as the leader of these Knights of the Hell Angels is the main reason to check out Romero's bloated affair, which boasts a quick cameo from Stephen King and his wife Tabitha, but not a heck of a lot outside of Harris' presence to recommend it (UA apparently slashed the overseas running time by some 40 minutes – I can only imagine that version played more satisfyingly than this one). Shout has done the film's admirers proud, at least, with a lovely 1080p transfer and DTS MA mono soundtrack. Insightful extras include new interviews with Romero, Harris, and co-star Tom Savini, along with a group commentary carried over from Anchor Bay's DVD release, and trailers.
---
DOCTOR WHO: THE DAY OF THE DOCTOR 50th Anniversary Special Blu-Ray (2D/3D) Combo Pack (75 mins., 2013; BBC Home Entertainment): Matt Smith and David Tennant star as two Doctors who find themselves zipping around a series of timeframes (present-day London; 1562; and outer space) in a 50th Anniversary Dr. Who special. Series alumni Billie Piper and Jenna Coleman co-star with John Hurt in this Steven Moffat-penned feaure presentation which has received a deluxe Blu-Ray release from BBC: both 2D and 3D transfers are housed on the single platter disc, with a DVD copy and extras including "Doctor Who Explained," a behind the scenes featurette and two mini-episodes on tap for extras. It's capped by a lenticular 3D cover with bonus trading cards.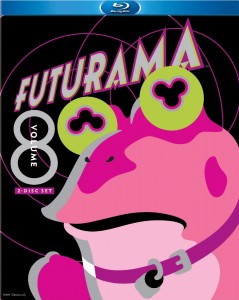 FUTURAMA Volume 8 Blu-Ray (288 mins., 2012; Fox): 13 episodes from Matt Groening's cult series land on Blu-Ray for this first time thius month from Fox. Episodes from the Comedy Central run of the program include Forty Percent Leadbelly; 2-D Blacktop; T: The Terrestrial; Fry and Leela's Big Fling; The Inhuman Torch; Saturday Morning Fun Pit; Calculon 2.0; Assie Come Home; Leelan and the Genestalk; Game of Tones; Murder on the Planet Express; Stench and Stenchibility; and Meanwhile. Commentaries are present on all episodes with deleted scenes, writers' featurette, a three-part look at the animation process, and a bonus animator commentary on "Game of Tones" rounding out the release. 1080p 1.78 transfers and 5.1 DTS MA soundtracks comprise the set's technical end.
TEEN WOLF: Season 3 Part 1 DVD (528 mins., 2013; MGM/Fox): MTV's popular, and decidedly more serious, take on the Michael J. Fox '80s comedy has generated a third season – the first half of which is included in this MGM DVD package. The three-disc DVD set includes 16:9 transfers and 5.1 soundtracks (with a music edit disclaimer), plus deleted scenes, a gag reel, "Return of the Shirtless Montage" and "Back to the Pack" featurettes.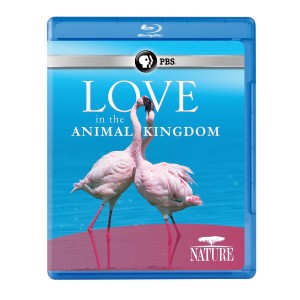 LOVE IN THE ANIMAL KINGDOM Blu-Ray (60 mins., 2013; PBS): From gorillas to flamingos, boobies, and gibbons, "Nature" looks at how animals "date," love, and form a bond in this terrific program from producer-director Mark Fletcher. Engaging, funny and enlightening, "Love in the Animal Kingdom" narrows its broad focus down to telling a handful of stories on how courtship functions – to wildly varying degrees – in the animal kingdom. As with most Nature programs, the photography is excellent, and PBS' Blu-Ray captures the material vividly in a fine 1080i transfer with 5.1 Dolby Digital audio. Recommended!
---
Also New & Noteworthy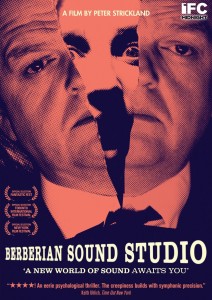 IFC New Releases: Available this week, BERBERIAN SOUND STUDIO (92 mins., 2012, Not Rated) is an interesting little thriller starring Toby Jones as a film sound engineer working in Rome on a new project involving witches and other eerie phenomena. Unusual goings-on begin to play with Jones' mind in this psychological chiller from writer-director Peter Strickland. IFC's DVD includes a commentary with Strickland, deleted scenes, behind the scenes content and other goodies, a 16:9 transfer and 5.1 soundtrack….Black comedy is served in Ben Wheatley's British import SIGHTSEERS (88 mins., Not Rated, 2012), a highly amusing tale of a couple (Alice Lowe, Steve Oram) on a vacation in the British Isles. Oram's character ends up losing it – big time – when his ideal trip goes up in flames, and his eventual revenge is – to put it mildly – many steps beyond Clark Griswold. IFC's DVD of this Edgar Wright production includes a 16:9 transfer, the trailer, Dolby Digital 5.1 soundtrack and cast interviews…ANGELS' SHARE (101 mins., 2012, Not Rated) is the latest film from writer Paul Laverty and director Ken Loach, whose previous excursions into working class British humor serve them well again here with this tale of four troubled Glasgow youths struggling to stay straight. IFC's DVD boasts deleted scenes, the trailer, a 16:9 transfer and 5.1 Dolby Digital soundtrack…Available this week is AIN'T THEM BODIES SAINTS (96 mins., 2013, R), writer-director David Lowery's impressive, '70s-set modern western about an outlaw (Casey Affleck) who breaks out of jail, hoping to reconnect with his love (Rooney Mara) and meet the daughter he's never seen. Heavy on mood and atmosphere, "Ain't Them Bodies Saints" arrives on Blu-Ray from IFC offering a Making Of documentary, deleted scenes, music video, Lowery's first feature, "St. Nick," plus a 1080p transfer and DTS MA 5.1 audio. Recommended.
OMNIBUS: GENE KELLY, "DANCING: A MAN'S GAME" DVD (55 mins., 1958; E One): Golden Age enthusiasts should be fascinated with this first television special starring the versatile performer. First broadcast on NBC on December 21st, 1958, "Dancing: A Man's Game" finds Kelly showcasing his craft with athletes as varied as Mickey Mantle, Johnny Unitas, Bob Cousy, Sugar Ray Robinson and Dick Button, with the help of dancing greats Edward Villella and Patrick Adiarte. It's a spectacular piece of TV history available for the first time in decades in E One's DVD, remastered from original 16mm kinescope prints and including an essay from historian Patricia Ward Kelly. Well worth a look.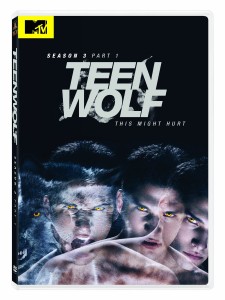 Lionsgate New Releases: The History Channel CIVIL WAR DOUBLE FEATURE (188 mins., 2011) combines recent programs on Gettysburg and Lee & Grant, respectively, each in 16:9 transfers and stereo soundtracks…Jeremy Irons stars in NIGHT TRAIN TO LISBON (111 mins., 2013, R), the latest film from Billie August, starring Jeremy Irons as a Swiss professor inspired to find out the fate of an author who fought against Portuguese dictator Antonio de Oliveira Salazar. Melaine Laurent, Tom Courtenay, Charlotte Rampling and Christopher Lee co-star in the picture, which Lionsgate releases on DVD this week containing a featurette, cast/crew interviews, digital copy, 16:9 transfer and 5.1 soundtrack…GREEK GODS, HEROES AND MONSTERS (aprx. 7 hours, 2001/09) offers eight History Channel documentaries on Greek myths and legends: Zeus, Hercules, Hades, The Minotaur, Medusa, Odysseus: Curse of the Sea, Odysseus: Warrior's Revenge, and Gods and Goddesses comprise the three-disc DVD anthology with variable aspect ratios and stereo soundtracks.
Indiepix New Releases: A pair of new releases are available this month from Indiepix. AMERICAN BOMBER (90 mins., Not Rated) tells the story of John Hidell, an ex-soldier who becomes the first American-born and raised suicide bomber in a frightful speculation by director-writer Ric Trenkamp. Indiepix's DVD includes commentary with the director, cinematographer and cast members; a short film; Q&A with the director; outtake reels; trailers; a 16:9 transfer and stereo soundtrack…CASTING ME… (97 mins., 2013) is a black-and-white indie with Paul Snodgrass as a casting director trying to make his own feature, finding unlikely inspiration in his work at the agency. Commentary with writer-director Quinton Lavery, Snodgrass and other crew members is included along with featurettes, a 16:9 transfer and stereo soundtrack.
NEXT TIME: The final Aisle Seat of 2013! Until then, don't forget to drop in on the official Aisle Seat Message Boards and direct any emails to our email address. Cheers everyone!