Even if he lacked the courage of his convictions to produce a full-blown musical, Steven Spielberg's 1941 isn't entirely deserving of its rep as one of the weak links in the director's filmography. In fact, with its dazzling Jitterbug dance sequence – which ranks with the finest standalone set-pieces in Spielberg's oeuvre – "1941″ is a beautifully designed blast of kinetic energy, capped with a classic John Williams score that's been newly restored on Blu-Ray to its original, intended 146-minute length. While still a bit bloated in its unexpurgated form, "1941″ feels like a smoother, more cohesive picture than the 119-minute theatrical version that was released to theaters in December, 1979.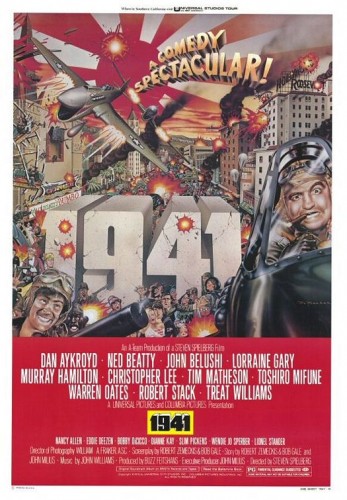 Robert Zemeckis and Bob Gale's original story weaves a series of episodes together on one fateful night in southern California, right after the Japanese attacked Pearl Harbor. With the public at a heightened sense of paranoia, a Japanese sub – commandeered by Commodore Mitamura (Toshiro Mufine) – seeks to attack a well-known American landmark, but – much to the consternation of a Nazi (Christopher Lee) onboard – lacks functioning navigational equipment. The American military, on the other hand, seeks to quell the public's unrest, with General Stilwell (Robert Stack) watching helplessly as pilot "Wild Bill" Kelso (John Belushi in a role that was goosed up during shooting) and one of his own men (Tim Matheson) inadvertently cause all kinds of trouble in the skies over Los Angeles.
Meanwhile, a series of young characters find themselves at a USO dance, where dishwasher/aspiring dancer Wally (Bobby DiCicco) hopes to woo girlfriend Betty (Dianne Kay) and keep her away from a psychotic army lieutenant dubbed "Stretch" (Treat Williams). Meanwhile, Stretch's brigade, captained by Dan Aykroyd, has left an anti-air craft gun at the house of Betty's father, Ward Douglas (Ned Beatty), who ends up spying the Japanese sub from his front deck. Ward's revelation sets off a wild chain of events that ultimately gathers all the characters together in a manic conclusion.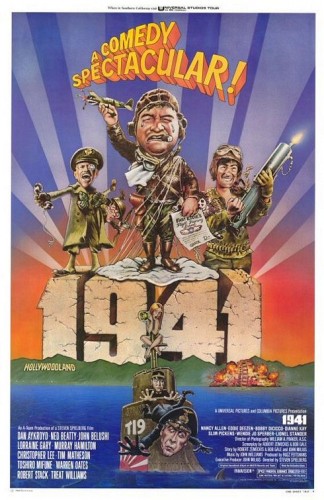 Sold as a wild all-star comedy in the vein of "It's a Mad Mad Mad Mad World," "1941″ isn't riotously funny – yet I've always found its mounting comic tension effective in establishing an overall atmosphere of free-wheeling, manic energy that's hard to resist. Spielberg recruited veterans from "Jaws" (Murray Hamilton and Lorraine Gary), Saturday Night Live (Belushi and Aykroyd), "Animal House" (Matheson and Belushi), and Zemeckis & Gale's debut feature "I Wanna Hold Your Hand" (DiCicco, Nancy Allen, Wendie Jo Sperber, Eddie Deezen) in formulating a cast that tries hard in selling the picture's cheerfully revisionist comic history. Eventually, "1941″ pays off, though it can take a bit of patience for first-time viewers to reach the Jitterbug dance and the movie's superior second half.
Though the picture's humor is a matter of personal taste, I've always found the "Swing, Swing, Swing" dance sequence to be a bravura example of Spielberg's directorial talent. "1941″ simply comes alive during this brilliantly choreographed and edited set-piece, punctuated perfectly by Williams' Benny Goodman homage. It's such a crackerjack sequence that most viewers won't be surprised to learn that Spielberg had hoped to turn "1941″ into a musical prior to production, but couldn't talk himself into doing it. In hindsight, it's too bad Spielberg didn't, seeing as a film peppered with other numbers like the Jitterbug Dance contest would've helped anchor the movie's chaotic nature and its various story lines.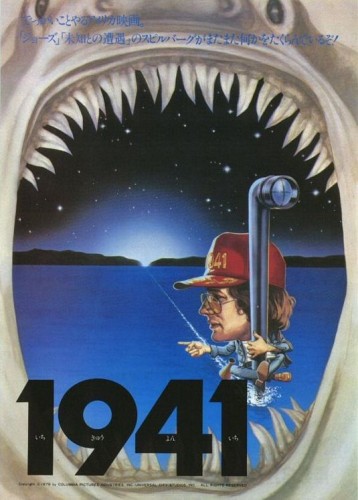 "1941″ is admittedly self-indulgent, from its opening "Jaws" parody to a seemingly endless stream of explosions and chases, but it's also great fun. I confess the film was always one of my favorites growing up in the early days of VHS, with Williams' tuneful and sensational score being one of those works that hooked me as a young viewer – helping to cultivate my lifelong love for Williams and great film music in general. Though you could argue that the movie is "overstuffed" – as critics eager to strike down Spielberg's streak of successes at the time repeatedly pointed out – it's also overflowing with something to look at in every single frame. The film's art direction evokes the early '40s perfectly, the special effects – led by Greg Jein's miniatures – are thrilling and splendidly detailed (and one gains an even greater sense of their brilliance here in high-def), and William A. Fraker's widescreen cinematography is both atmospheric and captivating.
While not a classic, "1941″ is certainly entertaining and is, if nothing else, worthy of a reappraisal, especially now that all of the film's aesthetic elements have been enhanced by Universal's Blu-Ray restoration.
Both versions of the film are included here via seamless branching (some international packages include "1941″ on two separate discs instead): the 119-minute theatrical cut, which makes its first U.S. home video appearance here since the VHS era, as well as the 146-minute Director's cut. Restoring crucial bits of character development, the extended cut enables DiCicco's Wally to take center stage as the film's main character (more or less) with the assorted storylines eventually intersecting through him. It's not a minor improvement over the theatrical version, playing as Gale, Zemeckis and Spielberg initially intended before the studio applied cuts prior to its original theatrical release.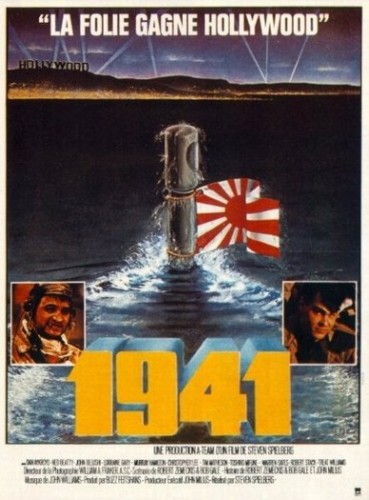 This Director's cut, first seen on ABC's network TV showings, was included in Universal's deluxe 1995 laserdisc release, but the studio's subsequent DVD transfer re-used that older, non-anamorphic master and ranked as a disappointment. Universal's new Blu-Ray is an immeasurable improvement, capturing with far greater clarity Fraker's cinematography and its various warm colors. As expected, certain elements of the source material are healthier than others – and the restored footage has an obvious reduction in detail – but it's nevertheless a satisfying 1080p (2.35) AVC encoded presentation that's infinitely superior to any prior video presentation I've seen of "1941."
What's noteworthy here about the disc's new 5.1 DTS MA soundtrack is that Mike Matessino worked on restoring the mix for the extended version, utilizing unused material and making other adjustments – be sure to check out my interview with Mike below for specific information on the alterations. The disc is capped by extra features carried over from the "Signature Collection" laserdisc, including the 102-minute documentary on the movie's production, several outtakes (with the only scene shared between Aykroyd and Belushi among them), trailers, and a still gallery, minus the laser's marketing/advertising materials.
1941 (***, 119/146 mins., 1979, PG) makes its Blu-Ray debut as part of Universal'sSTEVEN SPIELBERG: DIRECTOR'S COLLECTION box-set, an anthology that also marks the high-def debuts of "Duel" (1971), "The Sugarland Express" (1974) and "Always" (1989). Also included are the previously-released Blu-Rays of JAWS (****, 1975), E.T. (****, 1982), JURASSIC PARK (***½, 1993) and THE LOST WORLD (**, 1997). Since these discs are identical to their earlier releases, click on each title for my original reviews.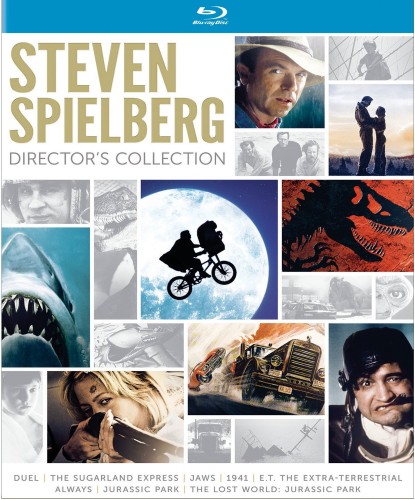 As far as DUEL (***½, 90 mins., 1971, PG) is concerned, the telefilm – based on a Richard Matheson story (and scripted for television by the author) – is undoubtedly the defining example of the "highway thriller." Movies like "Joyride," "Highwaymen," and "The Hitcher" may have followed in its wake, but none surpassed "Duel" in terms of sheer visceral thrills and overall effectiveness.
Dennis Weaver plays a motorist who has a series of increasingly terrifying encounters with a truck on a lonely, dusty highway. The plot is minimal, but Weaver's growing anxiety and Spielberg's crisp direction make "Duel" a memorable and highly satisfying outing that shows, once upon a time, that made-for-network TV movies were actually worth watching.
Alas, Universal's Blu-Ray stirs up a bit of controversy by only offering the 1.85 framed widescreen version of "Duel" here – even though the prior DVD was framed properly in its original 1.33 (4:3) aspect ratio. Yes, "Duel" was shown in theaters in Europe, but the decision to do so came after its original American TV broadcast. The film was shot, composed and intended to be screened in 1.33, with added scenes – produced to bolster the running time – and its reframing for 16:9 coming literally months after the fact. While the AVC encoded transfer is fine on the surface, the framing feels cramped and cropped – which it is.
This disappointment aside (and it's one that might be a dealbreaker for some), the disc otherwise includes both 5.1 and 2.0 DTS MA audio options plus extras from the 2004 DVD release. These include a 35-minute interview with Spielberg, and like most conversations with the filmmaker, Spielberg is candid, funny, and honest about the creation of the picture and working within the tight confines of a television schedule. An additional 10-minute featurette focuses on Spielberg's work on the small screen (including "Night Gallery" and "Columbo"), while Richard Matheson is profiled in "The Writing of 'Duel'." The movie's European theatrical trailer rounds out the release.
THE SUGARLAND EXPRESS (***½, 108 mins., 1974, PG) wasn't a commercial hit but this first Spielberg theatrical feature remains one of the director's grittiest and "raw" dramatic works.
Spielberg's film, based on a true story, stars Goldie Hawn as a fugitive mother who attempts — along with husband William Atherton — to prevent their son from being adopted by the state of Texas. Michael Sacks is excellent as the state trooper they kidnap, and John Williams's moving, flavorful score — featuring the harmonica performances of Toots Thielemans — adds to the picture's strong rural atmosphere. A box-office flop at the time of its release, "Sugarland" offers a memorable viewing experience with location filming beautifully captured by Vilmos Zsigmond. Highly recommended for Spielberg fans and any aficionado of '70s cinema.
Universal's Blu-Ray includes a nicely framed, effective 1080p (2.35) transfer with 2.0 DTS MA audio. Like "Jaws," the film's monophonic mix is surprisingly strong, and the theatrical trailer has been included as its sole extra.
The final disc in the set is ALWAYS (**½, 122 mins., 1989, PG), Spielberg's easy-going and unremarkable remake of the '40s Spencer Tracy weepie "A Guy Named Joe." With the principal characters now forest firefighters instead of WWII pilots, "Always" stars Richard Dreyfuss – who had discussed making the picture with Spielberg dating back to the production of "Jaws" – as the veteran who dies in a crash, only to come back and look after both the girl he left behind (Holly Hunter) and a young pilot (the bland Brad Johnson) who takes his place.
"Always" is awfully mild in its storytelling and execution. Though intended to strike a melodramatic chord with viewers, the picture never really gels, though it's not an unappealing picture. Dreyfuss seems a little bit long in the tooth as the ghostly Pete, and he and Hunter generate only lukewarm sparks together. As for Johnson, there's a reason the actor never became a household name, as he brings little to the table as Pete's living protege. John Goodman contributes a bit of comic relief as the best friend who looks after Hunter, though Audrey Hepburn is just okay as the angelic "Hap" – a role that was meant for Sean Connery, who had to bow out due to scheduling conflicts.
Mikael Salomon's cinematography was always the picture's strongest asset and gains immeasurably from its satisfying 1080p (1.85) AVC encoded Blu-Ray transfer, which has a bit of filtering present but generally offers an expected upgrade from its prior DVD release. John Williams' score is pleasant, though it doesn't rank as one of the composer's more memorable Spielberg soundtracks, lacking a distinctive theme – perhaps because of the director's use of "Smoke Gets In Your Eyes" several times in the picture. The expertly-engineered audio is effectively mixed in 5.1 DTS MA and the trailer – using some of Bill Conti's score from "The Right Stuff" – rounds out the release.
Universal's book-styled packaging houses all the discs with an accompanying booklet offering production notes and archival photos. Though currently priced a little bit too high, this is an attractive release for Spielberg fans, some of whom may nevertheless want to hold off for individual releases of the titles debuting in the format here.
---
Aisle Seat Q&A with Mike Matessino
Our friend Mike Matessino was kind enough to provide specifics on the newly remixed "1941″ cues. Thanks as always to Mike for taking the time to provide some "tech talk"!
Andy: Mike, how did this Blu-Ray project come about?
Mike Matessino: While working on the expanded "1941" soundtrack album for La-La Land Records and learning how the picture was originally scored, I mentioned to co-screenwriter Bob Gale, who was a great supporter of the soundtrack project, that if the extended cut ever got done in hi-definition that it would be a great opportunity to fix up the music in a few places.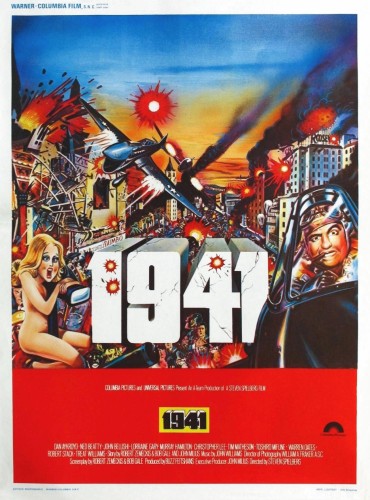 When the album came out, I was actually asked by Jeff Cava – who's now at Paramount but was at Universal in the mid-1990s when the "extended edition" came out on LaserDisc – if I would be interested in assembling a new music stem for the extended edition. There was some indication at that time that all the extended sequences would have to be fully remixed. So I mentioned to Jeff as well that there were a few sections of music that I thought we could improve. I need to point out that without Jeff we never would have had that groundbreaking LaserDisc release. He's the one who did the lion's share of the work to find all of the footage and to supervise the assembly and the great sound mix that was done in 1995. He had all the music transferred and catalogued as part of the project, and so he was very helpful on the soundtrack album release as well.
When it came to the music, what happened in 1995 is that the 1983 network broadcast was used as a template, so the music was all matched to what was done for that. There were a lot of repeated sections and, in my opinion, some unnecessary tracking and looping. Things like using a quote of the Austrian anthem "Deutschland uber alles" over the scene where the Japanese are disguised as Christmas trees seemed inappropriate to me, plus there were other sections where clearly the extended version lined up with cues as John Williams originally scored them. So the basic idea was to address a few sections that could be improved to a point where it no longer felt like a TV edit but like a seamless, finished director's cut. I was serendipitously working on "Empire of the Sun" for La-La Land when this came up, so I was able to present the idea, with Bob Gale's support, to Steven Spielberg's people. I provided before-and-after clips that sold them all on the idea. Universal approved spending the time and money to do the work, so off we went.
AD: What challenges were involved with the restoration of the 146 min. version for Blu-Ray? Along similar lines, was this different than the laser/DVD restoration of this particular cut or did it require any changes in approach?
MM: The picture was already done before I got involved and is the same as before. It is the cut Steven Spielberg has approved. I'm sure it was a challenge to match all the trims and lifts from the television broadcast to the final theatrical version. There are quality differences but I think they did a terrific job.

I had a great time working with the music once again, but the challenge for me came when I was asked to supervise the remixing of the scenes in question. I had to make sure that we left and returned to the existing 5.1 track seamlessly. I was thrilled when I found out that John Blum was going to be the mixer. He's at Blu-Wave Audio on the Universal lot, but I worked with him many years ago at Chace Productions. One challenge we faced was not going too far with the sound effects. We couldn't suddenly have a modern mix for the scenes we were adjusting. It all had to blend and tie in to the existing mix perfectly. Then there were some unexpected challenges, like helping the music department create the first-ever cue sheet for the extended edition. Later I was also asked to come in during the authoring stage because the two versions of the picture were going to be presented via seamless branching. There were some things to fix at that stage, moving branching points and so forth, things that might otherwise have been missed, so I was happy to see the project all the way through to the end.
One other thing I did, which had nothing to do with the music, is catch that there is a subtitle that is different in the extended edition than in the theatrical version. When Toshiro Mifune, as the Japanese submarine commander, decides to send a landing party ashore, his last line in the theatrical version is "They will find Hollywood…!" That sets up the joke cut to the side of Slim Pickens' truck that says "Hollis 'Holly' Wood" on it. The subtitle on the extended version has always been "They will not be seen," which sets up the cut to the Christmas trees. So we had to make sure that the right subtitle appeared depending on which version was being viewed.
AD: What particular scenes were musically re-edited in this particular release?
MM: First there is the department store scene early in the picture. The TV broadcast and, consequently, the LaserDisc and DVD versions, tracked this scene with a cue called "Various Service Tunes," which was written for the rioting in the streets much later in the movie. It combines existing tunes like "The Rakes of Mallow," "Anchors Aweigh" and "When the Caissons Go Rolling Along." I felt very strongly that this cue needed to be held back until the riot took place. And specifically I felt that we should not hear "The Rakes of Mallow" until it is introduced in "Riot at the U.S.O." It seemed to me that using that cue just a few minutes into the movie gave away what the whole thing was building toward. So I tried it with the unused opening of "You, You, You" and then with "The Escape of Hollis." It seemed to work much better without all those recognizable melodies, and that made the introduction of Wild Bill Kelso much more powerful.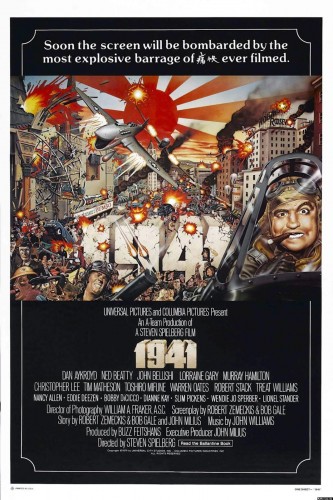 The scene where Dan Aykroyd brings the anti-aircraft gun to Ned Beatty's house was also adjusted. I eliminated some of the repeated sections of "You Have Been Chosen" by inserting the unused ending section of "Birkhead's Pitch," which uses the same theme but in a different key. I found a way to go from this to "The Sentries" that worked musically, and then that cue covered the introduction of Lionel Stander and Murray Hamilton. That scene was already cut out of the picture before it was scored. Then, returning to Ned Beatty (and material Williams DID score), I was able to restore part of the cue as intended for the moment where Treat Williams walks over to the clothesline and finds Dianne Kay and Wendie Jo Sperber. The very end of that cue is the only section where we now have music in the extended edition but not in the theatrical version.
Next we have the scene where Murray Hamilton and Eddie Deezen are put onto the Ferris wheel. Williams' original cue fit the extended edition perfectly, so we were able to eliminate the looping of "The Sentries" that was there before.
The scene with Hollis Wood and the Christmas trees was the one I most wanted to improve. I kept a lot of what had been done previously, as some of that was already as intended, but I was able to eliminate a lot of micro-edits but tapping the unused cue "The Cracker-Jack Box," which worked amazingly well with a few adjustments to fit the action. Since we don't hear that cue anywhere else, the scene feels more integrated into the picture. A lot of it is a psychological effect. Bob Gale always disliked the scene because it was not in the original script, but once he saw it with the new music score he felt, for the first time, that it worked. I found that to be a tremendous compliment and that really shows how even a slight musical change can affect a scene and a movie overall. Ending that scene by using the lead-in to "Kelso Lost" helped tie the whole thing together, leading right into the flight over the Grand Canyon as intended.
Lastly we have two scenes where Williams' music was restored as intended. One is where Bobby DiCicco blows up Dick Miller's police car and the other is the quote of the Marine's hymn at the start of the cue called "More Kelso." That one occurs as John Belushi goes through the paint factory.
Some of these are really subtle and may not be readily noticed, but the goal was to make the whole thing more seamless and to maintain the architecture of John Williams's score throughout the picture.
AD: Were there any challenges involved with getting the approval of Spielberg and Williams?
MM: The approvals were straightforward. Clips were generated with music-only and then with the finished mixes along with explanations of cue use on paper. I personally didn't hear anything other than that the work was "approved." That's good enough for me! It was wonderful to be able to work on this project and I'm grateful for the help and support of everyone who was involved with it.
NEXT TIME: Halloween with Twilight Time's THE BLOB and much more! Until then, don't forget to drop in on the official Aisle Seat Message Boards and direct any emails to our email address. Cheers everyone!