Some of the most exciting home video restorations of recent years has been the work of David Strohmaier on the original Cinerama features produced for the groundbreaking widescreen format in the 1950s. Flicker Alley released three of the restorations on Blu-Ray and DVD – "This is Cinerama," "Cinerama Holiday" and "South Seas Adventure" – with additional work undertaken on "Windjammer," which was shot using a similar, three-camera process known as "Cinemiracle." Now Mr. Strohmaier is back with three more spectacular Blu-Ray releases, including two of the remaining Cinerama travelogues produced and hosted by Lowell Thomas.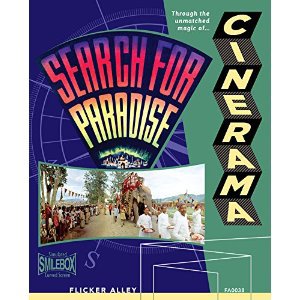 Now available from Flicker Alley, SEVEN WONDERS OF THE WORLD (121 mins., 1956) andSEARCH FOR PARADISE (120 mins., 1957) were the IMAX features of their day: intended to show off the three-camera widescreen exhibition and curved screen of Cinerama and its boisterous, multi-channel stereo sound, both productions are marvelous examples not just of Cinerama technology, but a capsule of an important moment in motion picture history. Meant to sell the theatrical experience at a time when television was threatening its popularity, Cinerama made a bold appeal to the movie-going public based on widescreen splendor, gorgeous sound and detail that was impossible to get from its small-screen competitor.
Both productions are dry and a bit dated, and yet those elements are also, at least partially, what makes them so compelling. Seeing aerial photography of cities and landmarks around the world – from New York City's bridges to the Parthenon in Athens and ultimately back home to the Redwood forest of California – over a half-century ago is vitally important from a historical standpoint, as "Seven Wonders" documents throughout its two hours. "Search For Paradise" is mostly left grounded by comparison, following an expedition that recreates Marco Polo's route, taking viewers of the 1950s to Nepal and India, to the coronation of Nepal's King Mahendra in Katmandu and along a turbulent Indus River.
The music scores, as was often the case with Cinerama, are most certainly part of the appeal of both respective productions. "Seven Wonders" has an appropriately majestic score-by-committee composed by Emil Newman, Jerome Moross, David Raksin and Sol Kaplan, while "Search For Paradise" is highlighted by a sweeping, gorgeous score by Dimitri Tiomkin. Utilizing the talents of singer Robert Merrill and a full chorus, "Paradise" is one of Tiomkin's most underrated works, likely caused by a mono soundtrack LP that's been seldom reissued. Restored here in its full stereophonic glory, the music – especially in its more ethereal, understated moments – was enough to carry this viewer through the sometimes slow-going adventure, even if it's occasionally punctuated by some oddball lyrics (that reference both Thomas and Cinerama!).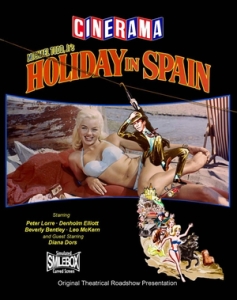 The soundtracks of all the Cinerama features is paid proper tribute in a full, hour-long documentary present on Flicker Alley's "Seven Wonders" Blu-Ray. Featuring comments from Jon Burlingame, William Stromberg and others, "Best in the Biz" looks at each one of the Cinerama features and the composers who – often without credit – worked on them. Especially interesting is a discussion of how Max Steiner worked on "This is Cinerama," even after Warner Bros. refused to let him out of his contract, and also how Alex North reworked traditional native songs in his marvelous score for "South Seas Adventure."
It's just one terrific extra included in Flicker Alley's Blu-Ray/DVD combo packs of "Seven Wonders of the World" and "Search For Paradise." Each film has been carefully restored in 1080p AVC encoded transfers that are, generally, superior to the prior Cinerama Blu-Rays because of comparatively healthier elements, with both films presented in the curved "Smilebox" format – like Warner's Blu-Ray of "How the West Was Won" – meant to simulate the curvature of the Cinerama screen. The stereo soundtracks are crisp and detailed, albeit both are included here in 5.1 Dolby Digital and not the DTS-MA of the earlier releases (the soundtracks are mislabeled "5.1 STS-HD Master" on the back covers).
Additional supplements include trailers, publicity and behind-the-scenes stills, a restoration demo hosted by Strohmaier (showing viewers how damaged the source materials were), newsreel footage, and a breakdown reel on "Seven Wonders." Extras on "Search For Paradise" include another breakdown reel – meant to run whenever the Cinerama projection system literally broke down – that features Thomas interviewing Tiomkin, plus behind-the-scenes footage, a 1998 interview with director Otto Lang, another restoration demo, and Strohmaier's half-hour short "The Last Days of Cinerama," shot for a 2012 Cinerama festival screening in Los Angeles.
Full color reproductions of the original souvenir programs are included in booklet form, as they are in Rewind Productions' limited-edition Blu-Ray of HOLIDAY IN SPAIN (109 mins., 1961), produced by Twilight Time's Brian Jamieson and sold exclusively through Screen Archives.
This rarely-screened Cinerama dramatic adventure also brought the world the first – and last – film in "Smell-O-Vision," an aroma-arousing process that was supposed to pipe all kinds of odors into the theater at appropriate moments ("look, he's lighting a cigarette!"). The end result was an infamous disaster, leading what was originally titled "Scent of Mystery" to be recut as "Holiday in Spain," with narration added to plug over holes in the script for good measure.
The end result fails to provide much entertainment as a film, not even with Denholm Elliott and Peter Lorre teaming up as a mystery novelist and a cab driver, respectively, who try and stop the impending murder of an American heiress. "Holiday in Spain" is something of a chore to sit through – that is, unless you select the movie's commentary, with Strohmaier and Kritzerland's Bruce Kimmel, who give a fascinating talk on the picture's fascinating production history and dubious legacy. Joined by cast member Sandra Shahan, the commentary is substantially more interesting than the film itself, which was directed by Jack Cardiff and meanders uneasily between a labored farce and a Cinerama travelogue.
David Strohmaier reconstructed "Holiday in Spain" for Blu-Ray and both the 1080p "Smilebox" image and the 5.1/2.0 DTS MA tracks are surprisingly strong for most of the film's duration. Other extras include Strohmaier revisiting some of the film's locales, nearly 10 minutes of deleted materials from the "Scent of Mystery" version, engaging new interviews with star Beverly Bentley and Susan Todd whose father – Michael Todd, Jr. – produced the film, a look at the restoration, production stills, trailers for other Cinerama films, and an accompanying CD of Mario Nacimbene and Jordan Ramin's soundtrack, as released by Kritzerland.
While not a "lost gem," there's ample historical value to warrant a viewing for interested movie buffs, and Strohmaier and Rewind are to be commended for brilliantly preserving a movie-going experience many of us haven't ever had the ability to participate in.
---
Terry Gilliam's 1981 fantasy TIME BANDITS (***, 116 mins., PG) finally receives its due on Blu-Ray – at least in the U.S. – thanks to the efforts of the Criterion Collection.
One of Gilliam's few bona-fide U.S. box-office hits (and still one of his most satisfying films) remains one of the most enduring "children's fantasies" on celluloid, as a young boy (Craig Warnock) joins a group of little people on the run from God himself (Ralph Richardson) and a bad guy (David Warner) who wants to take over the world (of course). Run-ins with a Greek king (Sean Connery) and a daffy Robin Hood (a hilarious John Cleese) during their time-traveling quest result in a splendid entertainment for all age groups, with Gilliam utilizing his talents to create one of his more visually evocative films despite a modest budget.
"Time Bandits" had been released on DVD years ago both by Anchor Bay and Criterion (the latter with audio commentary), followed by another Anchor Bay DVD release with a souped-up "Divimax" transfer. On the Blu-Ray end, Image released a poor disc in 2010 with a 1080i transfer riddled with artifacts and noise reduction, while European territories saw a myriad of releases, none better than Arrow's 2K-restoration with ample extras.
Criterion's Blu includes the same 1080p (1.85) image as the Arrow restoration — a DNR-free and highly detailed transfer — along with uncompressed stereo audio. Extras are configured differently than the UK edition, leading off with the fine commentary – featuring Gilliam, Cleese, Warner and Warnock – from the old Criterion laserdisc. Also on-hand is David Morgan's look at the production and costume design, a 1998 film festival interview with Gilliam, a photograph gallery, the trailer, and an interview with Shelley Duvall from Tom Synder's "Tomorrow" show circa 1981.
---
STAR TREK: THE NEXT GENERATION Season 7 Blu-Ray (aprx. 20 hours, 1993-94; CBS)
STAR TREK: THE NEXT GENERATION All Good Things Blu-Ray (90 mins., 1994; CBS): CBS completes their high-definition renderings of "Star Trek: The Next Generation" with another superlative Blu-Ray edition. The seventh and final season of TNG may not be its best, but it certainly has its share of outstanding episodes spread across the year. Episodes include the season-opener Descent Part II; Liaisons; Interface; Gambit Parts 1 & 2; Phantasms; Dark Page; Attached; Force of Nature; Inheritance; Parallels; The Pegasus; Homeward; Sub Rosa; Lower Decks; Thine Own Self; Masks; Eye of the Beholder; Genesis; Journey's End; Firstborn; Bloodlines; Emergence; Preemptive Strike; and the series finale, All Good Things (which is presented in its own Blu-Ray edition from CBS, complete with exclusive commentary from Ronald Moore and Brannon Braga).
The six-disc Blu-Ray box is filled with extras including newly remastered deleted scenes, "Lensing the Next Generation" cinematography featurette, a gag reel, less than a handful of commentaries, and archival mission logs. As with the earlier Blu-Ray boxes, CBS' remastered 1080p (4:3) transfers are simply terrific and both 5.1 and original stereo tracks are available over DTS MA.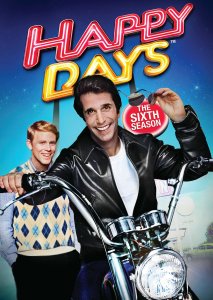 HAPPY DAYS – Season 6 DVD (aprx. 11 hours, 1978-79; CBS): The sixth season for Fonzie & The Gang is awash with legendary moments from the long-running ABC sitcom, starting off with the epic, three-part season opener "Westward Ho." Specific Thanksgiving and Christmas episodes are included as well as the unintentionally funny pathos of "Fonzie's Blindness," which offers some of the more heavy-handed performances in series history. Of particular note in season six is the 5th Anniversary clip show, which is subtitled "Mork Returns" and offers a particularly bittersweet appearance by Robin Williams, who by that point had already graduated onto his own hit spin-off series. The full-screen transfers and mono soundtracks are all top notch. Also new from CBS this month on DVD is GUNSMOKE: THE ELEVENTH SEASON (aprx. 13 hours each on two separate Volumes), which splits up the 1966-67 season across a pair of four-disc sets. Crisp B&W transfers and mono soundtracks adorn each package with Marshal Dillon, Miss Kitty and the gang saddling up for another year of sagebrush action.
UNDER THE DOME: Season 2 Blu-Ray (aprx. 9 hours, 2014; CBS): Stephen King's novel about a Maine town enclosed in a mysterious dome made for a so-so first season as a network TV drama, albeit one that drew huge numbers for CBS in the summer of 2013. For an encore, this Steven Spielberg co-produced series offed one of its more interesting characters as it played up the mystery behind the dome's sudden appearance and the secrets that seem to be binding some of the town's residents together. It's a bit more outlandish than season 1, but one that fans will likely gravitate towards in spite of its flaws, which principally lie in uneven storytelling and a mostly unappealing cast. CBS' Blu-Ray of "Under the Dome"'s second season include 1080p transfers and 5.1 DTS MA soundtracks along with a host of extras (deleted scenes, gag reel, featurettes, interviews with Stephen King and cast members, etc.).
---
INTO THE WOODS Blu-Ray (153 mins., 1990; RLJ): Stephen Sondheim and James Lapine's hit Broadway musical is about to hit theater screens over 25 years since its stage debut. For those who've never seen "Into the Woods" performed live – or have never seen the original Broadway cast – this 1990 American Playhouse PBS videotaped presentation offers Bernadette Peters, Joanna Gleason, Chip Zien, Tom Alredge and Robert Westenberg – among others – all recreating their original roles in Sondheim & Lapine's revisionist fairy-tale fantasy. Though a fine facsimile of the stage version, complicating RLJ's Blu-Ray presentation of "Into the Woods" is the fact that the production was shot on standard-definition video tape, and no amount of remastering in 1080p can enhance the source material. Alas, adding further insult to injury is RLJ's 4:3 transfer isn't even as smooth as prior DVD renditions, making this a barely-acceptable package of a highly recommended program. The DTS MA mono audio is also merely okay.
DOLPHIN TALE 2 Blu-Ray/DVD (***, 107 mins., 2014, PG; Warner): Thoroughly charming sequel is just as entertaining as its predecessor. Picking up where the original left off, dolphin Winter – still swimming about with her prosthetic tail – is attracting big crowds at her Florida home, but is dire need of companionship. The search for a friend forms the basis of "Dolphin Tale 2," which was directed as well as written by Charles Martin Smith, and returns the entire original cast – Harry Connick, Jr., Ashley Judd, Nathan Gamble, Cozi Zuehlsoorff, Kris Kristofferson and Morgan Freeman – with Rachel Portman subbing for Mark Isham and contributing a lovely score. Warner's Blu-Ray includes featurettes, a blooper reel, a lovely 1080p transfer, 5.1 DTS MA sound, a DVD and digital copy as well.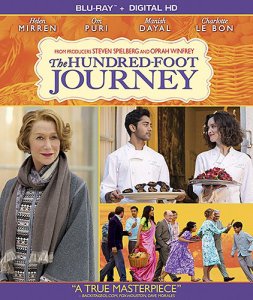 THE HUNDRED-FOOT JOURNEY Blu-Ray (***, 122 mins., 2014, PG; Buena Vista): Yet another thoroughly appealing concoction from director Lasse Hallstrom ("Chocolat," "Haichi") stars Helen Mirren as the owner of a posh dining spot in a small French village, who receives some unlikely competition in the form of a new Indian restaurant run by Om Puri. Gentle life lessons and cultural clashes ensue in Steven Knight's adaptation of Richard C. Morais' book, complete with an obvious love story, which goes down nice and easy thanks to the performers as well as A. R. Rahman's score. One could quibble about some of the contrived turns of the third act, but many may already be thoroughly invested in the material by that point to be troubled by them. Touchstone's Blu-Ray offers a vivid 1080p transfer with DTS MA audio, a digital copy, featurette with producers Steven Spielberg and Oprah Winfrey, and other behind-the-scenes material.
WHEN THE GAME STANDS TALL Blu-Ray (***, 115 mins., 2014, PG; Sony): Sincere and entertaining chronicle of De La Salle High School football coach Bob Ladoceur (Jim Caviezel), who spearheads one of the longest winning streaks in sports history – only to see it end with a tragic twist. What Ladoceur does to pick his team up and start anew makes for an entirely predictable and yet compelling drama crisply directed by Thomas Carter and played out with a superb cast – Laura Dern is excellent as Ladoceur's wife, with Michael Chiklis, Clancy Brown and Alexander Ludwig adding additional support. Sony's Blu-Ray includes deleted/extended scenes, selected-scene commentary with Ladoceur, interviews, a 1080p AVC encoded transfer, 5.1 DTS MA audio, DVD and digital copy.
THE HERO OF COLOR CITY Blu-Ray (77 mins., 2014, G; Magnolia): Appropriately colorful and quite enjoyable animated children's film follows a group of crayons who enter a magical kingdom whenever they're not being used by a young boy. Elements of "Toy Story" are lightly worked into this independently-produced picture featuring the voices of Christina Ricci, Craig Ferguson, Wayne Brady and Sean Astin, and sporting music by Zoe Poledouris-Roche and Angel Roche, Jr. Kids should enjoy it. Magnolia's Blu-Ray includes a good looking 1080p (1.78) AVC encoded transfer, DTS MA audio and extras mostly aimed at younger viewers.
KITE Blu-Ray (89 mins., 2014, R; Anchor Bay): India Eisley – Olivia Hussey's daughter – is a talented, lovely young actress whose role as the young Angelina Jolie was axed and recast with another girl by the time "Maleficent" opened. Left to carry this feeble anime adaptation, Eisley also does all she can to sell "Kite," a meager action affair about a young woman who tries to find the killers of her parents. Samuel L. Jackson chips in a cameo in this by-the-numbers thriller, shot in South Africa with the feel of one of Luc Besson's interchangeable Eurotrash actioners by director Ralph Ziman. Anchor Bay's Blu-Ray includes a Making Of featurette, 1080p transfer, Dolby TrueHD audio and a digital copy.
---
DEAD SNOW 2: RED VS. DEAD Blu-Ray (101 mins., 2014, R; Well Go USA): Director Tommy Wirkola returns for another go-around with zombified nazis in this sequel to "Dead Snow 2." Here, Vegar Hoel's Martin – a carryover from the original – raises his own undead army to take on Colonel Herzog and company in a sequel that truly is more outrageous – and more comical – than its predecessor, upping the ante in terms of gore and gags. If you liked the original, you may – or may not – appreciate Wirkola's bigger and broader vision, but it's hard not to find a little dose of "Dead Snow 2″ entertaining if you're a horror fan. Well Go's Blu-Ray includes the "international version," commentary, the short "Armen," VFX featurette, comic book and trailer, plus a 1080p transfer and 5.1 DTS MA audio.
Lionsgate New Releases: The producers of "Ancient Aliens' bring us IN SEARCH OF ALIENS – Season 1 (aprx. 8 hours, 2014), featuring "ancient astronaut theorist" Giorgio A. Tsoukalos as he tackles everything from aliens to Nessie, Puma Punku, the Nazca Lines and "Nazi Time Travelers." All 10 episodes from the History Channel series are included here in a three-DVD Lionsgate set with 16:9 transfers, stereo sound and 10 bonus pieces never broadcast on TV…POWER RANGERS SUPER MEGAFORCE: EARTH FIGHTS BACK (92 mins., 2014) includes a quartet of episodes from the series: Super Megaforce, Earth Fights Back, Blue Saber Saga, A Lion's Alliance, and a digital Ultraviolet copy to go along with 16:9 transfers and stereo soundtracks.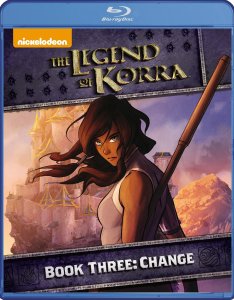 FRANK Blu-Ray (95 mins., 2014, R; Magnolia): Bizarre music-drama from director Lenny Abrahamson stars Domhnall Gleeson as an aspiring, albeit down on his luck, musician who nabs a gig playing keyboard for a band with a head singer named "Frank." The mysterious man wears a giant puppet head as a gimmick – and is played by Michael Fassbender – in a weird story concocted by Jon Ronson and Peter Straughan, co-starring Maggie Gyllenhaal as one of the band's members. Magnolia's Blu-Ray offers a 1080p transfer, 5.1 DTS MA sound, and a full run of extras ranging from deleted scenes and commentary to interviews and featurettes.
THE THREE DOGATEERS DVD (87 mins., 2014; RLJ): Fitfully ridiculous holiday hjjinks for the little ones as "Wagos," "Barkos" and "Arfamis" attempt to track down the culprits who stole a family's Christmas presents. Dean Cain pops up in Jesse Baget's family affair brought to DVD this month from RLJ just in time for Christmas, with a 16:9 transfer and 5.1 Dolby Digital sound.
DAY OF THE MUMMY DVD (80 mins., 2014; RLJ): Danny Glover nabs top bllling in this Syfy Channel-like spectacle with William McNamara as Jack Wells, whose journey to find "the Codex Stone" instead unleashes the cursed King Neferu and similar undead Egyptians. The artwork in RLJ's DVD is evocative but the actual movie is a pretty standard-issue, direct-to-video outing directed by Johnny Tabor. RLJ's DVD includes a 16:9 transfer and 5.1 and 2.0 Dolby Digital soundtracks.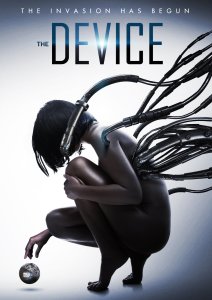 LOVE THE ONE YOU'RE WITH DVD (152 mins., 2014; RLJ): Three African-American sisters (Nadine Ellis, Kiki Haynes, Kelly Jenrette) each attempt to navigate their professional careers with personal relationships in this drama written and directed by Patricia Cuffie-Jones and co-starring D.B. Woodside and Ronreaco Lee. RLJ's DVD includes a 16:9 transfer and stereo soundtrack.
THE DEVICE DVD (90 mins., 2014; RLJ): A pair of sisters (Angela DiMarco, Katie Alden) find a small device in the woods outside their family's cabin – one that unlocks the potential for an alien takeover of our planet. Jeremy Berg's picture is better than the norm for the genre, with RLJ's DVD including commentaries from the cast, Berg, and a third commentary by Tracy Torme, writer of "Fire in the Sky." RLJ's DVD includes a 16:9 transfer and 5.1 Dolby Digital soundtrack.
THE LEGEND OF KORRA Book Three: Change Blu-Ray (294 mins., 2014; Paramount): Nickelodeon's spin-off of "Avatar: The Last Airbender" continues Korra's plight to rebuild the Air Nation and find new Airbenders while fighting off a nasty new group of criminals. Paramount's third volume from the animated series is now available on Blu-Ray boasting 1080p transfers and 5.1 DTS MA sound plus format-exclusive extras: nine commentaries by the cast and crew, along with an equal number of "Spirit of an Episode" featurettes.
THE DARK MATTER OF LOVE DVD (93 mins., 2014; Virgil Films): Fascinating documentary profiles the therapy a young adopted girl from Russia goes through in order to form an emotional attachment with her American parents. Virgil's DVD includes a 16:9 transfer and stereo sound.
1,000 TIMES GOOD NIGHT DVD (117 mins., 2014, Unrated; Film Movement): Juliette Binoche stars as a photojournalist who's forced by her husband (Nikolaj Coster-Waldau) to choose between the dangerous job she performs every day and the family she leaves behind when she travels into wartorn corners of the globe. Film Movement's DVD of "1,000 Times Good Night" offers 5.1 Dolby Digital sound, a 16:9 transfer, interviews with director Erik Poppe and the stars, and exclusive behind-the-scenes footage.
NEXT TIME: Part 2 of the annual Aisle Seat Holiday Buyer's Guide! Until then, don't forget to drop in on the official Aisle Seat Message Boards and direct any emails to our email address. Cheers everyone!