email: mailbag @ andyfilm.com (remove spaces!)
My own prejudice against future Oscar winner Patricia Arquette was enough to make me stay away from STIGMATA (**½, 91 mins., 1999, R) in theaters back in 1999, though this well-acted supernatural chiller – one of MGM's minor hits from the decade – is reasonably entertaining given its genre.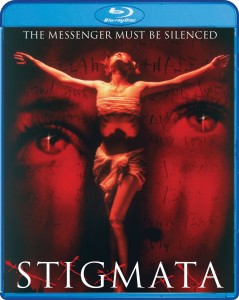 This visually stylish supernatural thriller stars then-Mrs. Nicolas Cage as a Pittsburgh hairdresser who improbably winds up with a "haunted rosary" that causes the poor woman to bear wounds from Christ's crucifixion. Gabriel Bryne plays the Vatican investigator sent to uncover the cause of Arquette's visions and injuries, with Jonathan Pryce turning up as a Holy City big-wig who may just be part of a bigger conspiracy to suppress a recently-uncovered Gospel that offers a different interpretation of Christ's teachings.
Director Rupert Wainwright uses all the tricks in the MTV playbook – including montages, techno soundbytes, heavily filtered cinematography, and plenty of candles – in crafting a good-looking thriller which was sold as if it was the next "Exorcist."
Unfortunately, while MGM's marketing department did a savvy job selling the picture, the horrific build-up promised by the theatrical trailers doesn't actually represent what "Stigmata" is about. If you go in expecting a terrifying, blood-curdling chiller, you're likely to be disappointed by a movie that grinds you through a lengthy series of ordeals for Arquette before it tells us what the fuss is all about -- and when that moment finally comes, it's a letdown since it's just so, well, ordinary. The Biblical mumbo-jumbo also doesn't make much sense when closely scrutinized, either, with the screenwriters holding an axe to grind against established religions (principally Catholicism) that's so utterly simplistic it makes "End of Days" look like a theological masterpiece by comparison.
However, all that being said, "Stigmata" still looks good and that's half the battle in this movie's case. Wainwright paces the move quite well and both Shout's 1080p (1.85) transfer and DTS MA 5.1 soundtrack are both exceptional, heightening the movie's visuals and elaborate sound design over its DVD presentation. The supplemental materials further help the cause (two featurettes, plus director commentary, an alternate ending, the trailer and a music video carried over from the DVD).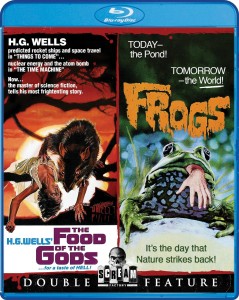 Coming soon from Shout this month are a pair of agreeable Creature Double Feature Blu-Rays: one featuring the hysterical Ray Milland/Sam Elliott AIP chiller FROGS (**, 91 mins., 1972, PG), paired here with Burt I. Gordon's hilarious adaptation of THE FOOD OF THE GODS (**½, 1976, 88 mins., PG). Gordon's opus also makes for a terrific companion piece to his 1977 follow-up EMPIRE OF THE ANTS (**½, 89 mins., 1977, PG) with Marjoe Gortner, Pamela Franklin, and Belinda Balaski as three of the poor souls who hole up in a Northwestern cabin while giant rats and roosters (you heard right!) wreck havoc. "Empire" has been contained in a separate release (making you Gordon-ites have to buy both!) with the unintentionally funny 1981 "killer snake" entry JAWS OF SATAN (*½, 92 mins., R), starring Fritz Weaver in a story about satanic snakes making life tough for a small town just before a new racing track is about to open (think "Jaws" meets "The Exoricst," then forget completely about how good those films were). Christina Applegate chips in an early appearance in this United Artists misfire.
Both double feature, single-disc packages include commentaries by Bert I. Gordon on his two features, along with trailers, 1080p (1.78 or 1.85) transfers (newly struck for "Jaws of Satan"), DTS MA mono soundtracks and – best of all – candid, enjoyable new interviews with Joan Van Ark (on "Frogs") and B-movie favorite/Joe Dante veteran Belinda Balaski on "Food of the Gods."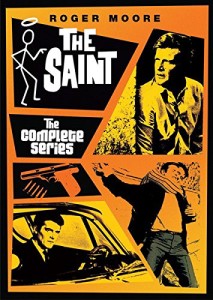 Also New From Shout and Timeless Media Group this month is the complete series DVD release of THE SAINT (1962-69), the British series that made a star out of Roger Moore in his role as Simon Templar – the dashing hero of Leslie Charteris' stories that had been previously brought to radio and the screen decades before. "The Saint" was a big hit and coasted along effortlessly on Moore's charm, seeing Templar through a series of mysteries and – later – more secret-agentish and outlandish plots that reflected the decade it was produced in. There are also a vast amount of guest star appearances from James Bond veterans – Honor Blackman, Shirley Eaton, and Moore's own future Miss Moneypenny, Lois Maxwell – to rising stars like Oliver Reed, Julie Christie, Donald Sutherland, and Edward Woodward.
Timeless' first-ever complete series U.S. DVD box includes the entire run of the show – roughly half of which was shot in B&W with the later seasons airing in full color – in a 33-disc set. The transfers, derived from ITV masters, are in good shape and extras include commentaries on the episodes The Talented Husband, The Saint Plays With Fire, The Saints Bids Diamonds, Escape Route, The Ex-King of Diamonds, and Vandetta For the Saint with Moore and executive producer Robert S. Baker among others; plus commentaries on "Luella" with director Roy Ward Baker and guest star Sue Lloyd; The Happy Suicide with guest star Jane Morrow; and The House on Dragon's Rock with guest star Annette Andre. Highly recommended!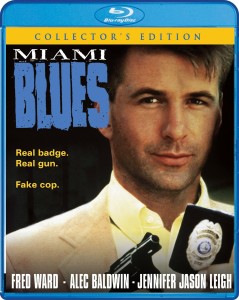 An entertaining 1989 Orion release, MIAMI BLUES (***, 97 mins., R; Shout) is an agreeably wacky crime noir – made at a time before the genre was bathed in snarky self-awareness, Taratinoisms and Coen quirkiness. George Armitage's film follows Alec Baldwin's psycho on a south Florida spree as he hooks up with an unknowing college student/prostitute (Jennifer Jason Leigh, with an especially severe haircut) and is tailed by Fred Ward's dentures-wearing detective. Ward also produced the film along with Jonathan Demme, who recruited several of his collaborators – cinematographer Tak Fujimoto among them – to work on this offbeat and satisfyingly unpretentious picture. Shout's Blu-Ray surprisingly includes a half-hour featurette sporting all-new interviews with Baldwin and Leigh, plus the trailer, an okay 1080p (1.85) transfer and 2.0 stereo audio in LPCM form (not the DTS MA listed on the back cover).
Shout Quick Takes: Also coming soon from Shout, MAYA THE BEE MOVIE (87 mins., 2015) boasts a fun animated story of an outgoing bee named Maya who's framed for stealing the "royal jelly" and works with other bugs to prove her innocence. This Australian/German co-production is colorfully animated and should entertain young kids, as well as parents with 3D set-ups who will appreciate the disc's eye-popping stereoscopic transfer. In fact, Shout's combo pack offers something for every consumer: a 3-D Blu-Ray transfer, 2-D Blu-Ray transfer, DVD and digital copy, plus an episode from the TV series upon which the material is based, "blooper reel," trailers and a conversation with the title character...GUN WOMAN (87 mins., 2013) is director Kurando Mitsutake's wild variation on "La Femme Nikita," with a doctor turning a young woman into a lethal assassin and planting her into the lair of the killer who killed his wife. He also plants some weapons inside the girl in a wild and woolly ride for Japanese cinema enthusiasts, brilliantly presented by Shout in a Blu-Ray sporting commentaries with the director and star Asami (in Japanese with English subtitles), plus the director alone (in an English commentary), a trailer, featurette, 1080p (1.78) transfer and DTS MA 5.1 sound...Finally, coming early next month on DVD is THE LEGEND OF LONGWOOD (99 mins., 2014, Not Rated), a family-friendly Irish import about a young American girl who packs up for Ireland and subsequently becomes involved with the legend of the Black Knight. Scenic locales, horses, a teen romance and a genial tone highlight this film from director Lisa Mulcahy, which Shout releases on DVD with a 16:9 (2.35) transfer, 5.1 and 2.0 Dolby Digital sound and one Making Of featurette.
---
LOST RIVER Blu-Ray (*, 95 mins., 2014, R; Warner): Disastrous directorial debut for actor Ryan Gosling is an almost indescribable, borderline-incoherent mix of "Beasts of the Southern Wild" and a David Lynch film. A "dark fairy tale" set in a dilapidated urban society, "Lost River" stars Iain De Caestecker as a young man who spends his days trying to pry scraps out of decaying buildings; Christina Hendricks ("Mad Men") is his mother, who has to face off against a veritable monster (Ben Mendelsohn) and spend some time in a night club where real murder and dismemberment are part of the "fun." Warner Bros. wisely decided to nix sending "Lost River" into a wide theatrical run – what was unwise was why they bankrolled the picture in the first place, seeing as this pretentious, unpleasant mess is a self-indulgent waste of time and talent. Warner's Blu-Ray includes a 1080p (2.35) transfer, 5.1 DTS MA audio and a digital copy.
50 SHADES OF GREY Blu-Ray (**½, 126 mins., 2015, R; Universal): E.L. James' bestselling, controversial novel makes for a simplistic but slickly produced big-screen film, starring Dakota Johnson as the college student who interviews billionaire Christian Grey (Jamie Dornan) and promptly falls for him – even with his sadomasochistic bedroom tendencies. There certainly aren't a lot of deep psychological elements going on in "50 Days of Grey" – this is a straightforward relationship drama with some kinky (though, given the material, tastefully shot) sex scenes that play like a scandalous Hallmark Movie of the Week. Johnson and Dornan fill out the requisite physical attributes of their characters well, and the production – scored (albeit unmemorably) by Danny Elfman, shot by Seamus McGarvey, and co-edited by the great Anne V. Coates – is top flight...but it's pretty clear who the audience for this material is, and that demographic most especially ought to be pleased with what they see. Universal's Blu-Ray includes both the R-rated theatrical cut of the picture plus an Unrated version that adds three additional minutes; format-exclusive featurettes and an alternate ending on the Unrated cut (exclusive to Blu-Ray); behind-the-scenes extras; a 1080p (2.35) transfer and 5.1 DTS MA sound.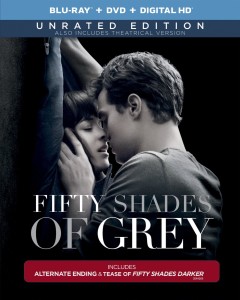 BLACK OR WHITE Blu-Ray (**½, 121 mins., 2015, R; Fox): Contrived if well-meaning film about a custody battle that ensues between a white grandparent (Kevin Costner) and a black grandmother (Octavia Spencer) over the well-being of their mixed-race granddaughter (Jillian Estell). Writer-director Mike Binder's film, produced by Costner, raises heady issues over race and class, but the film is overlong and comes off having bitten more than it can chew. Fox's Blu-Ray includes a digital copy, a Making Of, promo featurettes, a 1080p (2.40) transfer and 5.1 DTS MA sound.
STILL ALICE Blu-Ray (***, 101 mins., 2014, PG-13; Sony): Julianne Moore's performance in "Still Alice" may not have been seen by many, but it nevertheless checked off all the requisite boxes to garner her an Academy Award this past March. All ribbing inside, it's a strong performance with Moore starring as Alice, a college professor who finds herself suffering from early-onset Alzheimer's. Alice's reaction to her diagnosis, relationship with her family (including husband Alec Baldwin), and deals with her uncertain future makes for a uniformly well-acted picture courtesy of writer-director Richard Glatzer, adapting Lisa Genova's book. Sony's Blu-Ray includes format-exclusive bonuses like three deleted scenes, "Directing Alice" and an interview with composer Illan Eshkeri, plus a Making Of, digital copy, 1080p (1.85) transfer and 5.1 DTS MA sound.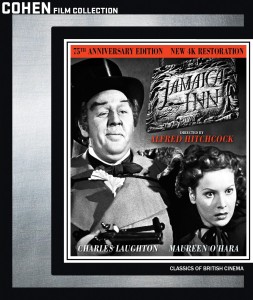 JAMAICA INN Blu-Ray (***, 99 mins., 1939; Cohen Media Group): Utilizing a brand-new, 4K BFI remaster, Cohen Media Group brings a sparkling, crisp 4K restoration of Alfred Hitchcock's "Jamaica Inn" to Blu-Ray this week. The final UK film for Hitch before he moved to the U.S., this period costume drama – adapted from a Daphne Du Maurier novel – offers plum roles for Charles Laughton, Maureen O'Hara and Robert Newton, though the film isn't on the level of Hitch's subsequent Du Maurier adaptation – the classic David O. Selznick production "Rebecca." Cohen's Blu-Ray offers a historian commentary, DTS MA sound, a terrific 1080p B&W transfer and a video essay by author Donald Spoto. Strongly recommended for Hitchcock fans!
POWER - Season 1 Blu-Ray (460 mins., 2015; Anchor Bay): Starz series is set in the New York City club scene, where Omari Hardwick's James "Ghost" St. Patrick owns a rising establishment and a posh Manhattan penthouse – all of it a front for his underworld drug dealings. The two worlds pull him apart in this dramatic series produced by Curtis "50 Cent" Jackson, one that – from what I sampled – offers a more believable set of characters than Fox's hugely popular and thematically similar new series "Empire." Anchor Bay's Blu, out this week, includes the complete first season of the series plus several featurettes, 1080p (1.78) transfers and 5.1 Dolby TrueHD soundtracks.
DAYS OF GRACE [DIAS DE GRACIA] Blu-Ray (122 mins., 2015; Cinema Libre): Mexican director Everado Gout's acclaimed debut feature is set in Mexico City during a trio of World Cup tournaments and follows three characters: a naive young cop; a businessman's wife whose husband is kidnapped; and an aspiring boxer living a life going down the wrong bath. Gritty and atmospheric, with a soundtrack featuring Atticus Ross, Nick Cave, and Scarlett Johansson performing Gershwin's "Summertime," "Days of Grace' has been released on both DVD as well as Blu-Ray by Cinema Libre. The high-def presentation includes a 1080p transfer, 5.1 Dolby Digital sound (in Spanish with English subtitles), plus four featurettes, trailers and a photo gallery.
---
Arrow Video is out with a pair of new releases for eclectic tastes this week.
THE STRANGE CASE OF DR. JEKYLL AND MISS OSBOURNE (91 mins., 1981, Not Rated) is Walerian Borowczyk's weird – if not downright sleazy – 1981 adaptation of the Robert Louis Stevenson classic, starring Udo Kier as the brilliant doctor with a large assortment of bodies surrounding him. Marino Pierro co-stars as his fiancee, who discovers that Jekyll has found a way to live an uninhibited life apart from stifling Victorian society – but with a seriously depraved catch. Certainly not for most tastes, "Strange Case" has been fully restored by Arrow in a 2K transfer superised by cinematographer Noel Very. Extras include English and French 1.0 LPCM soundtracks; an appreciation by critic Michael Brooke; a commentary featuring an archival interview with the director and crew members; new interviews with Kier and Pierro; a short film from 2012, made in homage to the director; an interview with filmmaker Alessio Pierro; a video essay from Adrian Martin and Cristina Alvarez Lopez; a featurette on the director's work with composer Bernard Parmegiani; a 1979 Borowczyk short film; interview with Sarah Mallinson, Borowczyk's former assistant; Daniel Bird's featurette "Return to Melies"; and an illustrated booklet with commentary.
Also new this week from Arrow is Yasuharu Hasebe's RETALIATION (95 mins., 1969), the sequel to "Massacre Gun" from director Hasebe and star Jo Shishido. Here, Akira Kobayashi stars as a high-ranking yakuza member who gets out of jail, only to find a killer (Shishido) waiting to knock him off and his gang broken apart. Meiko Kaji co-stars as the woman in the middle of the insanity in this slickly shot, widescreen Yakuza thriller, once again given a solid remaster from Arrow. The limited-edition Blu-Ray (3000 copies) includes a high-def 1080p (2.35) transfer, LPCM audio, a new interview with Shishido; a conversation with critic Tony Rayns; the trailer; promo image galleries; and extensive booklet notes with archival stills. For Japanese cinema buffs "Retaliation" comes highly recommended.
Also new this week is the inaugural release from Slasher Video and Olive Films' Martini Entertainment: SATAN'S BLADE (82 mins., 1984), an ultra low-budget supernatural thriller (alternately titled Espada Satanica, La Espada De Satan and Satanina Ostrica) from L. Scott Castillo, Jr. Over-the-top and firmly dated as a product of its era, "Satan's Blade" found an audience in the days of oversized VHS boxes in the mid to late '80s, but it's safe to say nobody has ever seen the film look like this – courtesy of a 2K high-def transfer that's nicely detailed. A "director's narrative" with Castillo and Jesus Teran, an interview with the director, photo gallery, scrapbook, Dutch and Japanese home video scenes and the trailer round out a disc recommended mainly for the hardcore '80s slasher enthusiast.
Chad Archibald's THE DROWNSMAN (86 mins., 2014, Not Rated; Anchor Bay) attempts to channel some of that '80s horror vibe in its tale of a young woman (Michelle Mylett) who develops a fear of water after nearly drowning in an accident. Soon she's stalked not by Freddy or Jason but rather the title creature – a former serial killer who's gained supernatural powers - and finds innovative ways of stalking his prey through water. Not-bad for its type, Anchor Bay's Blu-Ray – out this week – includes a 1080p (2.35) transfer and 5.1 Dolby TrueHD soundtrack.
Finally, Fox's THE PYRAMID (89 mins., 2015, R) is a tepid low-budget affair that quickly died out at the holiday box-office last December. This Alexandre Aja co-production is half a "found footage" affair as a group of archeologists run afoul of some ancient terror buried in an Egyptian tomb. A workmanlike affair on every level, "The Pyramid" eventually offers some laughable creatures and FX that stretch this beyond "The Blair Tut Project," but there's no sense of fun – and a patently unsatisfying ending that will only surprise 10-year-olds. Fox's Blu-Ray includes several featurettes, an extended ending, image gallery, 1080p (2.35) transfer and 5.1 DTS MA sound.
---
Cinedigm New Releases: BLACK CHURCH, INC. (49 mins.) takes a compelling subject – the corrupt nature of numerous, large churches that "serve" the African-American community – and unfortunately doesn't entirely live up to its potential, failing to fully develop its themes in an abbreviated, 49-minute documentary. Cinedigm's DVD includes deleted scenes, a 16:9 transfer and 2.0 stereo sound. (Available May 19th)...Another provocative documentary, GUNLAND (45 mins. 2015) chronicles the staggering amount of crime, and specifically gang violence, that plagues Chicago. Gloria Canmacho's documentary includes a 16:9 transfer and 2.0 stereo sound...DE TE QUIERO, TE QUIERO (925 mins., 2015) is a Mexican telenovela now available in a multi-disc DVD set from Cinedigm, while TANKED: SEASON 2 (344 mins., 2015) is a two-disc set featuring the complete second season of the Animal Planet series, following a pair of guys who design some of the most elaborate, custom aquariums in the world. 16:9 transfers and stereo sound comprise the tech specs in Cinedigm's Season 2 DVD release.
Lionsgate New Releases: Several years ago Johnny Depp tried to resurrect "The Thin Man" as a big-screen vehicle at Warner Bros. The film never happened, but some of the actor's interest in making a comic caper had to have played a part in his newest misfire, MORTDECAI (**, 107 mins., R, 2015). Veteran scribe David Koepp directed (though didn't script) this adaptation of Kyril Bonfigoli's novel about a shady art dealer named Mortdecai (Depp) who's hired by a rival (Ewan McGregor) to retrieve a stolen painting. Gwyneth Paltrow (as Mortdecai's wife), Olivia Munn, Jeff Goldbluma and Paul Bettany co-star in this stilted production that was DOA upon its release last winter. Lionsgate's Blu includes two featurettes, a 1080p (2.40) transfer, 5.1 DTS MA sound and a digital copy...Also on Blu-Ray, Taylor Lautner races through TRACERS (94 mins., 2014, PG-13), a barely-released action flick starring Lautner as a NYC bicycle messenger who gets involved in pulling off heists that become gradually more dangerous. Stick with Joseph Gordon-Levitt's underrated "Premium Rush" instead. Lionsgate's Blu-Ray includes two featurettes, a 1080p (2.40) transfer, 5.1 DTS MA sound and a digital copy...TEXAS RANGERS - THE REAL STORIES is comprised of three History Channel documentaries: "The Texas Rangers," "The Fathers of Texas" and "The Enforcers: The Texas Rangers," all in 4:3 (1.33) DVD transfers and stereo soundtracks.
E One New Releases: Amy and Greg Poehler's TV comedy WELCOME TO SWEDEN (220 mins., 2014-15) stars Greg as a New York City accountant who follows his Swedish girlfriend (Josephine Bornebusch) to her homeland and has problems adjusting to the local life. E One's Season 1 set includes all 10 episodes from "Welcome to Sweden"'s first season spread across two DVDs with 16:9 (1.78) transfers and 5.1 soundtracks...Also new from E One, Thandie Newton returns in the second season of ROGUE (480 mins., 2014), the DirecTV series that follows Newton's undercover detective Grace Travis in another season of deception and murder. E One's three-disc DVD set contains all 10 episodes with multiple featurettes, 16:9 (1.85) transfers and 5.1 Dolby Digital soundtracks.
---
REC 4: APOCALYPSE DVD (95 mins., 2014, R; Sony): Jaume Balaguero returned to direct this latest installment in the "Rec" series, set hours after the original, where a TV reporter (Manuela Velascol, reprising her original role) carries the deadly virus to a quarantine area – just in time to infect a new group of victims. Slow-paced, this will primarily appeal to fans of the series, but it's at least superior to the prior sequels. Sony's DVD includes a Making Of plus a 16:9 (2.40) transfer and 5.1 Dolby Digital sound.
THE MIDNIGHT SPECIAL - 3 DVD set (287 mins., Starvista/Timelife): A music series fondly remembered by anyone who experienced the '70s, "The Midnight Special" winds its way back from the decade in a three-disc DVD set, pared down from a 6-disc release I reviewed last September.
By the time I was growing up and watching TV in the '80s, lousy shows like "Solid Gold" – where performances were almost always lip-synched – had supplanted more ambitious endeavors like NBC's "Midnight Special," which aired Friday night/Saturday morning at 1am following Johnny Carson. The goal was simple: create a forum for the artists of the day to drop in and perform live (well, most of the time), bringing the biggest songs to hungry viewers – and particularly young people – still awake in the wee hours without the benefit of 200 channels at their disposal.
The fact that the music was – mostly – performed live gives the program a real vitality and enduring component – each show is like its own concert, enabling fans of the musicians on-hand to experience their music in a way that, today, they no longer can.
Starvista's three-disc DVD includes performances by Linda Ronstadt, Van Morrison, Heart, and Santana plus stand-up comedy from Billy Crystal, George Carlin, Steve Martin, Richard Pryor and Joan Rivers. Extras include a conversation with George Benson and featurette on producer Burt Sugarman.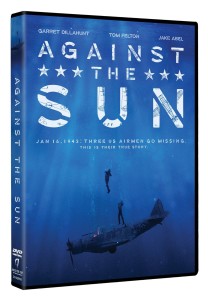 AGAINST THE SUN DVD (99 mins., 2014, PG; Anchor Bay): A trio of US Navy airmen crash in the South Pacific and try to stay alive in a life raft in a true story brought to the screen by director Brian Falk and co-writer Mark David Keegan. Garret Dillahunt, Tom Felton and Jake Abel do a fine job as the survivors, with multiple features, a 16:9 (1.78) transfer and 5.1 audio included in Anchor Bay's DVD.
LOVESICK DVD (85 mins., 2012, Not Rated; Anchor Bay): Indie comedy pairs Matt LeBlanc – as an elementary school principal who goes crazy when he falls for a member of the opposite sex – and Ali Larter as a former dancer who becomes the latest object of his psychological shortcomings. Adam Rodriguez and Chvy Chase co-star in Luke Matheny's film, which was shot in 2012 but is just making its DVD debut from Anchor Bay. The label's no-frills disc includes a 16:9 (2.40) transfer and 5.1 Dolby Digital sound.
CHAMPS DVD (91 mins., 2015, Not Rated; Anchor Bay): Last week's much-publicized Mayweather-Pacquiao fight turned out to be a night to forget, so boxing enthusiasts might want to soothe their disappointment with "Champs," a new documentary from writer Bert Marcus. The 91-minute production profiles fighters Mike Tyson, Evander Holyfield and Bernard Hopkins, with comments from fans Mark Wahlberg, Denzel Washington, Ron Howard, Spike Lee and others. Anchor Bay's DVD is out this week, offering a 16:9 (1.85) transfer and 5.1 Dolby Digital audio.
AN IRISH EXORCISM DVD (81 mins., 2014, Not Rated; Virgil Films): An Irish anthropology student decides to make her final project a chronicle of local exorcisms within the Catholic Church. What she comes across is the story of a young mother who needs an exorcism to save her young daughter, and the veteran priest who agrees to perform the rites. Pretty ordinary low-budget horror fare, brought to DVD by Virgil with a 16:9 transfer and stereo soundtrack.
SO BRIGHT IS THE VIEW DVD (102 mins., 2015; Indiepix): Romanian import looks at life in a new Jerusalem through the eyes of Estera, a middle class Jewish girl living in Bucharest. Indiepix's DVD of the Florescu Brothers' new film includes a 16:9 transfer, stereo sound and English subtitles. Available May 26th.
NEXT TIME: LADYHAWKE flies from the Warner Archive! Until then, don't forget to drop in on the official Aisle Seat Message Boards and direct any emails to our email address. Cheers everyone!