www.andyfilm.com (new columns debut here first!)
email: mailbag @ andyfilm.com (remove spaces!)
Message Board (open 24 hours!)
Director Wes Anderson's films are an acquired taste and only a few of them have connected beyond his core group of fans. His 2012 effort MOONRISE KINGDOM (***½, 94 mins., PG-13), though, brought Anderson one of his most successful commercial films that's also one of his sweetest and more accessible pictures: a visually captivating tale of two young teens (Kara Hayward and Jared Gillman, both making impressive feature debuts here) from a fictional coastal New England community in the '60s who run away from their environmental confines (the girl from a pair of bickering parents played by Frances McDormand and Bill Murray; the boy from a foster home that's already said they won't be taking him back). As the two depart on their adventure, the townspeople – including her parents, a police chief played by Bruce Willis and the boy's camp scout master (Ed Norton) – go off in search of them.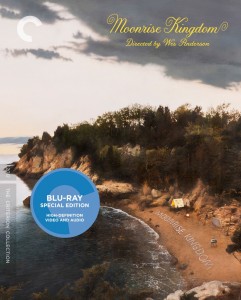 As always, Anderson brings his idiosyncratic flourishes to "Moonrise Kingdom," which was almost entirely shot here in Rhode Island (portions within walking distance of the Aisle Seat offices in fact) in a movie with some evocative cinematography, offbeat touches (plenty of Benjamin Britten, on-camera narration by Bob Balaban, even some old school miniature effects from Fantasy II), terrific performances from the young cast, and a magical tone that's hard to dislike. While not all of it works – the story of the adults isn't nearly as interesting as the kids, there's no payoff to McDormand and Murray's thinly drawn characters, and portions of Alexandre Desplat's score are irritatingly repetitive – it's often enchanting, and thankfully not as impenetrable as some of Anderson's other works.
Criterion's Blu-Ray of "Moonrise Kingdom" looks sharper and more detailed than the Universal 2012 release, offering a 2K digital transfer supervised by the director with DTS MA 5.1 audio. Extras include a commentary with Anderson, his co-writer Roman Coppola, Edward Norton, Jason Schwartzman and Bill Murray; selected-scene storyboards; cast/crew interviews; "Exploring the Set of 'Moonrise Kingdom'," an original documentary; Norton's home movies; test footage and special effects reels; cast auditions; the trailer; and expectedly offbeat liner notes.
Also new from Criterion this month on Blu-Ray is the 1986 Merchant-Ivory favorite A ROOM WITH A VIEW (***½, 117 mins., PG), a gorgeous, low-key adaptation of E.M. Forster's novel starring Helena Bonham Carter as a young Englishwoman, on vacation in Florence with her aunt (Maggie Smith), who meets an eccentric young man (Julian Sands) who promptly falls in love with her. Romantic and sometimes comedic predicaments ensue once she returns home and becomes engaged to her more socially accepted but reserved suitor (Daniel Day-Lewis).
Brilliant performances from the leads as well as Denholm Elliott, Judi Dench, Simon Callow, Rupert Graves and Rosemary Leach make this sumptuously photographed romantic-comedy of manners and class conflicts one of Merchant-Ivory's most beloved films. Previously available on an out-of-print Blu-Ray from BBC, this Criterion release offers a superior, 4K restored transfer supervised by director James Ivory and cinematographer Tony Pierce-Roberts with 2.0 DTS MA sound. Extra features include new interviews with Ivory, Pierce-Roberts, costume designer John Bright and stars Bonham Carter, Callow and Sands; a 1987 NBC News segment on Merchant-Ivory, and the trailer. (Fans should note the BBC release previously included a commentary and archival interviews, none of whicha re included here).
Finally, Francois Truffaut's DAY FOR NIGHT (La Nuit Americaine) (116 mins., 1973) joins the Collection this month on Blu-Ray. Jacqeline Bisset nabs top billing in this tribute to the trials and tribulation of filmmaking also starring Truffaut himself as a director trying to make his way through the production of his latest film; Jean-Pierre Leaud plays one of his leads with Valentina Cortese as the film's fiery Italian diva and Bisset as a British star dogged by personal issues. Along with Georges Delerue's score, Truffaut, Jean-Louis Richard and Suzanne Schiffman's script is incisive, witty and entertaining, and all of it is captured in a beautiful new 2K digital transfer with uncompressed mono sound. Extras include a visual essay; new interviews with cinematographer Pierre-William Glenn and assistant editor Martine Barraque; a new interview with historian Dudley Andrew; a 2003 documentary on the film; archival interviews with the cast and crew; vintage television footage about the production; and new English subtitles.
---
Leading off Olive's Blu-Ray releases this month is ANTI-TRUST (***, 109 mins., 2001, PG-13). Unfairly dismissed by critics as a brainless teen thriller, this slick and entertaining box-office underachiever from January '01 stars Ryan Phillippe as a computer whiz who uncovers shady dealings once he begins working for a Bill Gates-like multimedia tycoon (Tim Robbins) in the Pacific Northwest.
With a surprisingly clever script by Howard Franklin ("Quick Change," "The Public Eye") and capable direction from Peter Howitt, "Anti-Trust" is a fast-moving teen vehicle featuring an attractive, then-young cast (Rachael Leigh Cook, Claire Forlani), nice work by Robbins, and a fair degree of suspense as well. Combined with some fine use of widescreen cinematography by John Bailey, "Anti-Trust" is good fun and a terrific Blu-Ray technically, thanks to a 1080p (2.35) transfer with 5.1 DTS MA audio, the latter sporting a nice Don Davis score. Regrettably, none of the extras (commentary, deleted/alternate scenes, etc.) have been carried over from the DVD.
Also newly available from Olive in high def:
THE MIGHTY QUINN (***, 99 mins., 1989, R): Acclaimed adaptation of A.H.Z. Carr's "Finding Maubee" (the film's original title) from "Blade Runner" scribe Hampton Fancher finds trouble under the sun for Caribbean sheriff Xavier Quinn (Denzel Washington) and his best friend Maubee (Robert Townsend), accused of the murder of a resort owner. Carl Schenkel's flavorful, well performed film here receives a solid 1080p (1.85) transfer and DTS MA sound with no extras.
MAD DOG TIME (*½, 93 mins., 1996, R): In the wake of "Pulp Fiction" came a countless number of wannabe crime thrillers with pretentiously "hip" dialogue. Among them was "Mad Dog Time," a film from Larry Bishop that stars Richard Dreyfuss as a mob boss who gets out of an asylum and finds competing forces vying to run his business. Jeff Goldblum, Diane Lane, Jeff Goldblum, and then-married couple Ellen Barkin and Gabriel Byrne co-star with appearances from the likes of Gregory Hines, Kyle MacLachlan, Burt Reynolds, Joey Bishop and Richard Pryor among others. Alas, Bishop's messy, mostly unfunny mob comedy has long been forgotten (and with good reason). This box-office disappointment offers a 1.85 (1080p) transfer and DTS MA audio in a no-frills Olive release.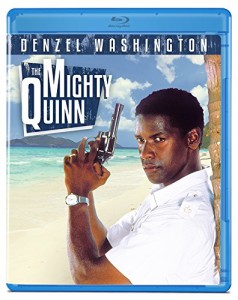 SOME KIND OF HERO (**½, 96 mins., 1981, R): Richard Pryor tried to shift gears with this tale of a Vietnam P.O.W. who comes home to find his wife already moved on and the rest of his family a similar mess. Michael Pressman helmed this uneven adaptation of James Kirkwood's book, scripted by the author (with Robert Boris), which follows a similar pattern of Vietnam vet film formulas yet marginally works because of Pryor's performance, as well as Margot Kidder as a hooker and Ray Sharkey as one of Pryor's fellow POWs. Olive's 1080p (1.78) transfer is in good shape and a mono soundtrack is included.
DIRTY WORK (**, 82 mins., 1998, PG-13): Fans of comic Norm MacDonald have turned this amiable yet mostly forgotten 1998 comedy into a minor cult favorite, which is perhaps unsurprising given its premise of two pals (MacDonald and Artie Lange) who start a "revenge" service that ultimately goes too far once they meet a shady property developer (Christopher McDonald). Chock full of cameos and familar faces – from Jack Warden and Don Rickles to Chevy Chase, Chris Farley, and "Two Guys and a Girl" lead Traylor Howard – "Dirty Work" fizzled in theaters yet fans should be delighted with the no-frills 1080p (1.85) transfer and DTS MA audio present in Olive's Blu-Ray.
FATAL INSTINCT (**, 90 mins., 1993, PG-13): Carl Reiner's string of popular comedies ended with a thud thanks to this weak parody of "Basic Instinct" and similar late 80s/early 90s thrillers, though it's still somewhat amusing to see actors who usually stay far away from the genre – Armand Assante, Sherilyn Fenn, Kate Nelligan and Sean Young among them – trying to generate chuckles in this post-"Airplane!" farce. Olive's Blu-Ray includes deleted scenes, commentary with Reiner and O'Malley, and the trailer, plus a satisfactory 1080p (1.85) transfer and DTS MA sound.
---
CINDERELLA Blu-Ray Combo Pack (***½, 105 mins., 2015, PG; Disney): With Disney's latest fairy tale fantasy, director Kenneth Branagh steps up to the plate previously occupied by the recent likes of Tim Burton and Sam Raimi and hits one out of the park. This gorgeous live-action adaptation of the Disney animated classic ranks among the genre's best, despite the well-worn source material that was last brought to the screen so satisfyingly in Drew Barrymore's "Ever After."
Here, "Downton Abbey"'s Lily James makes for a fetching Cinderella with Cate Blanchett a delicious Wicked Stepmother and Helena Bonham Carter finally shrugging off typecasting, this time as Cinderella's Fairy Godmother. Dante Ferretti's sets, Haris Zambarloukos' cinematography and Patrick Doyle's score all make the material sing, with Branagh's zesty directorial approach making for a perfect fit with the material.
Disney's attractive Blu-Ray combo pack offers an alternate opening sequence, the "Frozen Fever" short, and mostly fluffy promotional extras. What's more, the 12 minutes of deleted scenes are relegated to online streaming only (so hold onto the disc's redeemable Magic Code). The disc's 1080p (2.39) transfer and 7.1 DTS MA soundtrack are both spectacular.
ENTOURAGE: THE MOVIE Blu-Ray Combo Pack (**, 104 mins., 2015, R; Warner): Hoping to parlay off the success of "Sex and the City," Warner and HBO opted to bring the "Entourage" boys to the big screen following the conclusion of their long-running comedy series. That decision, though, may have come several years too late, given the lukewarm reception for "Entourage," which underperformed at the box-office this summer. In fact, you really need to be a fan of the series to enjoy this reunion of star Vincent Chase, his hangers-on, and former agent/now-studio head Ari Gold (Jeremy Piven). Series creator Doug Ellin writes and directs, bringing along series producer Mark Wahlberg for an on-screen role as well, but the appeal for the movie seemed to have waned substantially from the time "Entourage" ended to its release this past May. Warner's combo-pack offers a 1080p (2.41) transfer, 5.1 DTS MA sound, deleted scenes, a gag reel, featurettes (The Making of Hyde; The Gang – Still Rockin' It; Hollywood, Baby!; Meet the Newest Member of Entourage; and Lucas Ellin Is Jonah Gold); a DVD and a digital HD copy.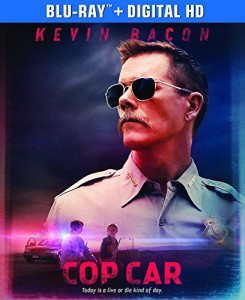 COP CAR Blu-Ray (**, 88 mins., 2015, R; Universal): Jon Watts has been tapped to direct the next "Spider-Man" movie, apparently on the basis (at least partially) of this indie film which sharply divided critics earlier this year. In Watts' "Cop Car," which he wrote with Christopher Ford, a pair of kids take a cop car for a joy ride at the worst possible time as they become involved with the dealings of a creepy sheriff (Kevin Bacon). "Cop Car" starts off well but as it becomes more improbable and difficult to suspend one's belief, the picture loses momentum, en route to a weak ending. Universal's Blu-Ray includes a featurette, a digital HD copy, 1080p (2.40) transfer and 5.1 DTS MA sound.
ALOFT Blu-Ray (**½, 97 mins., 2014, R; Sony): Strange film from writer-director Claudia Llosa follows a mother (Jennifer Connelly) and her son through two different time frames in the arctic circle, where faith healing and a tragic accident inform both the past and the present. Atmospheric but detached and hard to penetrate – at least until its ending – "Aloft" apparently had 15-20 minutes excised from its North American release version, which is the cut contained on Sony's good looking 1080p (2.39) AVC encoded Blu-Ray. Those in the mood for this kind of thing might find the film worthwhile, but it's a slow-going, weird enigma most of the way.
NIGHTMARE WEEKEND Blu-Ray (86 mins., 1985, Not Rated; Vinegar Syndrome): A group of French filmmakers hit the Sunshine State in the mid '80s to produce "Nightmare Weekend" – director Henri Sala's utterly insane, baffling tale of a scientist using a mega-computer (that really looks like a Commodore 64) that can turn around ill-tempered personalities, only to have his experiment used in a college where folks are transformed into the crazed and demented instead. There's also a hand-puppet named George with more on his mind than cracking Jeff Dunham-styled jokes.
You really need to have been a fan of Troma's typical '80s movies to get much of a reaction out of this bizarre and brainless '80s home video affair, which Vinegar Syndrome has done a terrific job remastering for Blu-Ray. The disc includes alternate R-rated edits, trailers, an interview with Marc Gottlieb, a featurette interview with Dean Gates, a 1080p (1.85) transfer and DTS MA sound.
---
THE LAST MAN ON EARTH: Season 1 DVD (282 mins., 2015; Fox). WHAT IT IS: SNL alumnus Will Forte stars as Phil Miller, an average American who wakes up to find himself the sole (apparent) survivor in a world that no longer has humans living in it…at least for a little while. This comedic riff on "I, Legend" allows Forte a playground for his comedic talents, as the series does an ingenious job exploiting the scenario for mostly comic effect. Forte is up to the challenge, but the material tends to run out of gas after a few episodes, and especially once Phil meets with other survivors (not a spoiler if you've seen an advertisement or even the back cover of Fox's DVD!). DVD FEATURES: Commentaries, deleted scenes, a gag reel, Q&A panel, and a featurette grace Fox's Season 1 DVD package, including 16:9 transfers and 5.1 soundtracks.
MODERN FAMILY: Season 6 DVD (556 mins., 2014-15; Fox). WHAT IT IS: Phil and Claire have to contend with obnoxious neighbors following Cam and Mitch's wedding, while a drone comes crashing into Jay and Gloria's backyard. These and other storylines comrpise this sixth season of the celebrated ABC comedy. DVD FEATURES: Fox's three-disc DVD set includes all 24 episodes in 16:9 transfers with 5.1 Dolby Digital sound. Extras include deleted scenes, "Awesome Halloween," "A Modern Thanksgiving," "A Day With Julie" and "Modern Connections: The Making Of An Episode" featurettes.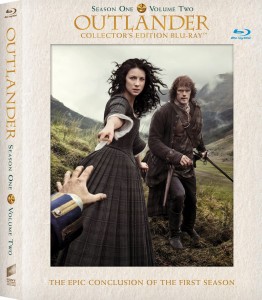 EMPIRE: Season 1 Blu-Ray (528 mins., 2015; Fox). WHAT IT IS: Producers Lee Daniels and Brian Grazer collaborated to create this fiery Fox series – one of the breakout smashes of the 2014-15 season. Terrence Howard plays a music producer diagnosed with a fatal disease, who decides to choose which of his three sons will take over his empire; Taraji P. Henson adds ample spice as his ex-wife "Cookie," newly sprung from prison and looking for her own cut of the pie. Timbaland contributed to the show's soundtrack, adding to its authenticity and wild soap opera plots. BLU-RAY BREAKDOWN: Fox's strong Blu-Ray includes uncut music performances; a video medley; commentary with cast and crew; a behind-the-scenes featurette; a solid 1080p transfer and active 5.1 DTS MA sound.
OUTLANDER Collector's Edition: Season 1, Volume 2 Blu-Ray (464 ins., 2014-15; Sony). WHAT IT IS: Diana Gabaldon's best-selling book about a WWII British nurse, Claire Randall, who improbably is whisked back in time to 1743 Scotland – where she's forced to marry a rogue-ish Highlander – makes for an irresistible Starz series. Sony's Collector's Edition Blu-Ray of "Outlander" offers the final eight episodes from the first season, following Claire and Jamie's marriage and their constant battles with Captain Randall. Romantic, sweepingly filmed, well performed and also occasionally quite R-rated in nature, "Outlander" is likely to continue to grow its fanbase with these later Season 1 episodes. BLU-REAK BREAKDOWN: Sony's Collector's Edition includes a 3D lenticular slipcover and an exclusive 32-page booklet with photographs, script excerpts and an introduction from producer Ronald D. Moore. BD exclusive extras include the extended 'Reckoning' episode (running 12 minutes longer than its broadcast counterpart), plus deleted scenes, a cast/crew table read, plus "A Triangle in Time" and Diana Gabaldon featurettes. Show podcasts, a gag reel and a costume featurette are also included along with a digital HD copy and stunning 1080p (1.78) transfers and 5.1 DTS MA soundtracks.
JANE THE VIRGIN: Season 1 DVD (929 mins., 2014-15; Warner).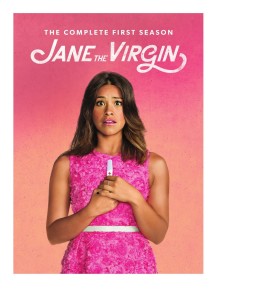 WHAT IT IS: Gina Rodriguez's charming performance is the main draw to this well-received CW series, based on a telenovela, about Jane, a 23-year-old virgin (Rodriguez) whose life changes when a medical exam ends up leaving her pregnant – and having to work with the fact that the baby's father isn't her current fiancée, Michael, but rather her former boss, Rafael…who's also Jane's ex-crush. Outlandish plots are grounded by a strong ensemble cast and Rodriguez's dynamic, star-making turn. DVD FEATURES: Unaired scenes and a gag reel are on-hand in Warner's DVD, which sports 16:9 transfers, 5.1 soundtracks, and two featurettes that take fans behind the scenes ("Getting to Know the Cast of Jane the Virgin" and "Immaculate Creation").
iZOMBIE: Season 1 DVD (549 mins., 2015; Warner). WHAT IT IS: "Veronica Mars" creator/producer Rob Thomas returns to the CW network with this formulaic – given its ridiculous premise – but appealing enough series. The lovely Rose McIver looks less than lovely here as "Liv," a medical student who becomes a zombie with the craving for human brains. Along with the bloodthirst comes the newfound ability to gain the memories of the deceased, allowing Liv to become a crime-solving medical student helping a young homicide detective. "iZombie" offers gore and laughs in equal measure, but relies too much on McIver to deliver its snappy dialogue at times, with the show frequently coming off as a "Veronica Mars" wannabe. DVD FEATURES: Warner's Season 1 DVD set includes deleted scenes and a 2014 Comic Con panel, plus 16:9 transfers and 5.1 Dolby Digital sound.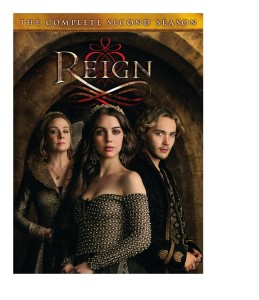 REIGN Season 2 DVD (968 mins., 2014-15; Warner): CW series follows the life of Mary Stuart after she heads to France to marry the King in a more lightweight, soapy treatment of the historical record than we've seen in the past. Fans of "Reign" have said the show doesn't take itself too seriously and knows exactly what it is – a teen-oriented series that's not exactly Merchant-Ivory in nature – and Warner's Season 2 DVD set preserves the series' sophomore season, with Mary and Francis in control of a turbulent France besieged by the plague. 16:9 (1.78) transfers and 5.1 soundtracks comprise Warner's DVD with deleted scenes and a single behind-the-scenes featurette comprising the supplemental side.
PBS New Releases: Wildlife cameraman Bob Poole spent two years living in and capturing GORONGOSA PARK (6 hours, 2015) in this nature documentary that looks at the efforts to re-forest Mozambique's national park. The program's six hours offer compelling animal – and human – interest stories along with superb cinematography, with PBS DVD offering over 20 minutes of bonus footage, 16:9 transfers and 2.0 stereo sound on two discs…THE MYSTERY OF MATTER: SEARCH FOR THE ELEMENTS (180 mins., 2015) infuses life into a look at the scientists who helped define the periodic table, from Marie Curie to Harry Moseley's Atmoic research and Joseph Priestley and Antoine Lavosier. Bonus videos are included in this commendable doc which uses dramatic recreations along with narration from host Michael Emerson to enliven its scholarly subject matter. PBS' single-disc DVD includes a 16:9 transfer and stereo sound…Frontline's David Watts spent two months in Iraq and Turkey filming and securing underground footage for ESCAPING ISIS (60 mins., 2015), a harrowing and vital look at women and children trying to escape from Isis captivity. An important Frontline investigation that comes strongly recommended on PBS now-available DVD…Finally, THE BEST OF LIDIA: PASTA (85 mins., 2014) offers more than a dozen of chef Lidia Matticchio Bastianich's Italian American classics (Fettuccine Alfredo, Linguine With White Clam Sauce, Spaghetti, Mac and Cheese) with her own unique twists. Three printable recipes are included in PBS' DVD, sporting a 16:9 transfer and 2.0 stereo sound.
AVATAR: THE LAST AIRBENDER Complete Series DVD (1496 mins., 2005-08; Paramount)
TEENAGE MUTANT NINJA TURTLES: Complete First and Second Seasons DVD (1448 mins., 2012-14; Paramount)
A pair of Nickelodeon animation box-sets hit DVD this month from Paramount.
"Avatar" was Nickelodeon's 2005-08 animated series, which became a big hit with kids and animation aficionados alike; this tremendous Collector's Edition release offers the complete "Book 1: Water," "Book 2: Earth" and "Book 3: Fire" portions of Michael Dante DiMartino and Bryan Konietzko's series in a grand, definitive DVD set (we'll just forget that M. Night Shyamalan's big-screen, live-action version ever happened). Extras include a behind-the-scenes documentary, crew interviews, and fan testimonials. Fans should enjoy the extras alongside the set's full-screen transfers and Dolby Digital soundtracks.
Also new from Paramount are the complete First and Second seasons of the latest TEENAGE MUTANT NINJA TURTLES series, which offers 16:9 transfers and 5.1 Dolby Digital soundtracks. Check the Archives for full reviews of prior series releases for more information.
---
NAVY SEALS VS. ZOMBIES Blu-Ray (97 mins., 2015, R; Anchor Bay): After losing contact with the Vice President while on a campaign stop in Louisiana (a convenient spot since most films seem to be shooting there these days with their tax credits), a group of Navy SEALs – including Ed Quinn and former "American Ninja," Michael Dudikoff – head to the Bayou to find out what's going on…and run afoul of a low-grade zombie invasion. Wacky stuff from director Stanton Barrett and writer Matthew Carpenter sports a cast comprised of Dudikoff plus former NBA star Rick Fox and Olympian Lolo Jones for good measure. Anchor Bay's Blu, out October 6th, inclues a 1080p (1.78) transfer and 5.1 Dolby TrueHD soundtrack.
Also coming on October 6th from Anchor Bay is ROAD HARD (97 mins., 2015, Not Rated), a highly enjoyable dark comedy from Adam Carolla, who stars and wrote/directed (with Kevin Hench) this tale of a washed-up former movie/TV star who heads back on the road to perform stand-up to whoever will foot the bill. In the process, he attempts to rekindle his love life as he meets with a series of familar faces, including Jay Mohr, Howie Mandel, David Koechner, David Alan Grier, Larry Miller and many others. Entertaining and surprisingly warm-hearted,Anchor Bay brings "Road Hard" to Blu on October 6th. The disc includes a 1080p (1.78) transfer, 5.1 Dolby TrueHD soundtrack, a Making Of, outtakes and interviews.
On DVD October 6th from Anchor Bay is GOLDEN SHOES (89 mins., 2015, Not Rated), a family film about an eight-year-old who admirers Cristiano Ronaldo and becomes invested in soccer when his mother falls ill and his father is deployed overseas. Eric Roberts, Dina Meyer, David DeLuise, Montel Williams, Vivica A. Fox and John Rhys-Davies star in this good-natured film for kids. Anchor Bay's DVD includes a 16:9 (1.78) transfer and 5.1 soundtrack.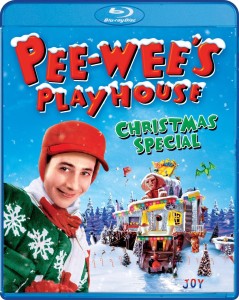 Scream Factory/Shout New Releases: Coming October 6th from Scream Factory is James Roday's GRAY (90 mins., 2014, Not Rated), a suitably garish and gory tale of misfits who gather at a Mexican cantina and force its staff to consume a series of delicacies that aren't, exactly, for all tastes. Roday has assembled an offbeat cast including Sutton Foster, Paul Rodriguez, Gabourey "Precious" Sibide and Sarah Silverman in a film that's highly uneven and unsatisfying, but might be worth a look for the gore-starved horror junkie. Shout's Blu includes commentary with Roday, Foster and Jimmi Simpson, a 1080p (2.35) transfer and 5.1 DTS MA sound…Another Scream premiere is THE STRANGER (92 mins., 2014, Not Rated), Guillermo Amoedo's tale of a man, addicted to human blood, who decides to kill himself after hearing that his wife – also afflicted with the same curse – has been killed. Unfortunately, the man (Cristobal Tapia-Montt) is attacked before he can finish the job, plunging a town into a blood bath in this Chilean production presented by Eli Roth. Scream's Blu includes a short film, "The Fourth Horseman," plus a featurette, two trailers, a 1080p (2.40) transfer and 5.1 DTS MA sound.
Also coming October 6th from Shout! is PEE-WEE'S PLAYHOUSE CHRISTMAS SPECIAL (48 mins., 1988),the prime-time episode from the cult classic series, here newly remastered in HD with a 1080p (1.33) AVC encoded transfer (the same presentation as seen in the label's sublime, remastered Blu-Ray Complete Series set from a year ago). Commentary and a featurette are on-hand in the single-disc release, guest starring Frankie Avalon, Charo, Annette Funicello, Whoopi Goldberg, Magic Johnson, Grace Jones, k.d. lang, Joan Rivers, Dinah Shore and Oprah for good measure!
Mill Creek New Releases: It's always good to see Mill Creek jumping back into Blu-Ray, this time with a pair of low-priced catalog releases from the Disney and Sony vaults, respectively.
Patrick Read Johnson's enjoyable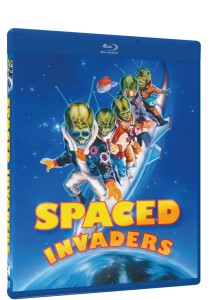 SPACED INVADERS (**½, 103 mins., 1990, PG) was a moderately successful kiddie-fantasy about a group of hapless extraterrestrials who "invade" a small Illinois town on Halloween night. Utilizing Orson Welles' "War of the Worlds" as a reverse guide, Johnson's film finds the aliens being unable to convince anyone of their intentions, in a lightly entertaining but very likeable film starring Douglas Barr ("The Fall Guy"), Royal Dano, and a young Ariana Richards as Barr's daughter. Kids will enjoy the overlong film more than adults, though genre fans might get a kick out of Johnson's in-jokes and references to other genre favorites. Like Mill Creek's other Blu-Ray releases from Disney, this 1080p (1.85) transfer is an untouched older master, looking better than DVD but not exactly 4K quality (as if anyone would be expecting that!). The Dolby Digital mono audio is fine…Also new from Mill Creek is THE BIG PICTURE (**½, 101 mins., 1989, PG-13), a Columbia film from director Christopher Guest that was one of many late '80s studio efforts that went basically straight to video. It's a pleasant, if forgettable, tale of an aspiring filmmaker (Kevin Bacon) who finds his intentions being diminished by the Hollywood studio system after he arrives on the west coast. Jennifer Jason Leigh, Martin Short, Teri Hatcher and Fran Drescher appear (among others) in this obvious but entertaining enough film Mill Creek brings to Blu sporting a fine 1080p (1.85) transfer with Dolby Digital audio.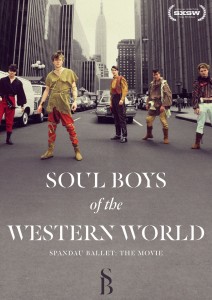 MPI New Releases: A MURDER IN THE PARK (91 mins., 2015, PG-13) offers a powerful look at the Anthony Porter/Alstory Simon case, where Porter was sentenced to death for the murder of two Chicago teenagers in 1983. Later, Simon confessed to the killings after university students – whom he later claimed coerced him as part of a movement to abolish the death penalty – reinvestigated the case. Andrew Hale and Shawn Rech's doc comes to DVD this week from MPI offering a 16:9 transfer and 5.1 Dolby Digital sound…SOUL BOYS OF THE WESTERN WORLD (111 mins., 2014) revives the '80s with this full-length documentary on one of the decade's more memorable groups, Spandu Ballet. Home movies, terrific archival footage, concert performances and a look at the group's rise, fall and reunion make for a wonderful trip down memory lane, whether or not you were a fan of hits like "True." MPI's Sundance Selects DVD includes the trailer, a 16:9 transfer and 5.1 soundtrack.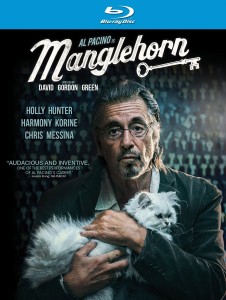 Coming on Blu-Ray October 6th from MPI is MANGLEHORN (97 mins., 2014, PG-13), a character study with Al Pacino starring as a small town recluse who's floundered since the death of his soulmate, spurning human connection for feline companionship. David Gordon Green's film paints a believable portrait of its stubborn, lonely lead character, who threatens to break out of his mold through his relationship with his son (Chris Messina), a former locksmith protege (Harmony Korine), and a woman whom he meets at a local bank (Holly Hunter). The trailer is the sole extra in IFC's Blu-Ray, which includes a 1080p transfer and 5.1 DTS MA soundtrack…Supernatural hyjinks are on tap in WE ARE STILL HERE (83 mins., 2015, Not Rated), a Dark Sky/MPI release that chronicles what happens when a couple (Barbara Crampton, Andrew Sensenig) move into a New England country home following the death of their son. There, they run afoul of evil spirits who threaten to take them – and their son's soul – into the netherworld. Commentary from writer-driector Ted Geoghean and producer Travis Stevens is included in Dark Sky's Blu-Ray plus a featurette, trailers, a 1080p (2.35) transfer and 5.1 Dolby Digital sound.
From Cohen Film Collection: Andre Techine's acclaimed IN THE NAME OF MY DAUGHTER (116 mins., 2014)receives a domestic release courtesy of the Cohen Film Collection. Ade Le Haene stars as the daughter of a casino owner (Catherine Deneuve), who falls for her mother's business counsel (Guillaume Canet), starting off a series of incidents culminating in her apparent suicide. Techine's character-driven film, inspired by a true story, functions as an actor's showcase with strong performances from the leads, and comes to Blu-Ray from Cohen featuring a Q&A with Canet, the trailer, and an attractive 1080p transfer with 5.1 DTS MA French Audio and English subtitles.
---
BON VOYAGE, CHARLIE BROWN (AND DON'T COME BACK) DVD (***, 75 mins., 1980, G; Paramount): The Peanuts gang head to France as exchange students, getting involved with shenanigans and situations a bit more serious than anticipated, in this fourth and final feature based on Charles M. Schulz's classic comic strip. In fact, Schulz's experiences during WWII provided a good amount of the background for "Bon Voyage…," which concluded with the semi-sequel "What Have We Learned Charlie Brown?" (a typical Peanuts CBS special) three years later. Paramount's DVD of the film – incredibly, its first in the format – offers a 16:9 transfer, mono soundtrack and one behind-the-scenes retrospective featurette. Recommended, and easily the better of the later two Peanuts feature films.
DEAD RISING: WATCHTOWER DVD (118 mins., 2015, Not Rated; Sony): Capcom's off-the-wall video game series – which mostly puts a comedic spin on the zombie genre – comes to live-action with this fun but overlong tale of a couple (Jesse Metcalfe, Meghan Ory) who try and make it to a quarantine zone when the anti-zombie drug, Zombrex, stops working (never a good thing if you've played any of the "Dead Rising" video games). Rob Riggle generates laughs as series hero Frank West with Virginia Madsen and Dennis Haysbert also appearing in a blood-splattered outing that just overstays its welcome by a solid half hour. Sony's DVD includes commentary, featurettes, bloopers, a 16:9 (2.40) transfer and 5.1 Dolby Digital sound.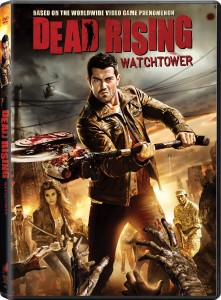 JUNE DVD (83 mins., 2014, Not Rated; RLJ): "The Walking Dead"'s Kennedy Brice plays a young girl who's been moved from one foster home to another – but with a good reason, that being the ancient spirit buried inside her from a busted cult ritual gone wrong. Her powers crop up and then – much to the surprise of the latest couple (Victoria Pratt, Casper Van Dien) who take her in – in this "Omen"/"Carrie" influenced chiller from director L. Gustavo Cooper. RLJ's DVD is out October 6th and includes a Making Of, separate segments on scoring and casting among other elements, a 16:9 transfer and 5.1 Dolby Digital sound.
More spookiness from RLJ is on-hand in THE INVOKING 2 (83 mins., 2015), a low-budget horror anthology from directors Jamie DeWolf, Jay Holben, Corey Norman, Patrick Rea and Jamie Root, focusing on what happens when everyday folks decide – unwisely – to contact "the other side." RLJ's DVD of the sub-90 minute feature offers a 16:9 (2.40) transfer and a 5.1 Dolby Digital soundtrack.
Lionsgate New Releases: In CHAIN OF COMMAND (88 mins., 2014, R), Michael Jai White plays a special ops member who comes home from his latest tour of duty to find his brother slain in a mysterious killing. Soon a military assassin (Steve Austin) is on his heels in Kevin Carraway's urban thriller, brought to Blu-Ray this week from Lionsgate sporting a 1080p (1.78) transfer, 5.1 DTS MA audio, and a digital HD copy.
APARTMENT TROUBLES DVD (78 mins., 2013, Not Rated; Anchor Bay): Jennifer Prediger and Jess Weixler wrote, directed and starred in this story of Manhattan apartment roommates who head for L.A. and various adventures, including auditioning for a reality TV show. This indie comedy includes appearances from Will Forte, Megan Mullally and Emmy-winner Jeffrey Tambor and comes to DVD on October 6th from Anchor Bay in a 16:9 (1.78) transfer with 5.1 Dolby Digital sound.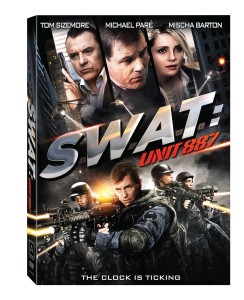 THE ANOMALY Blu-Ray (97 mins., 2015, Not Rated; Anchor Bay): Director/star Noel Clarke plays a former soldier, afflicted with PTSD, who finds his blackout amnesia is very strange indeed. In addition to regaining consciousness for only 9 minutes and 41 seconds each time, he finds that he's become a lethal op for a shadowy organization that wants him dead – even sending out their own hitman (Ian Somerhalder) to rub him out. Alexis Knapp, Luke Hemsworth and Brian Cox co-star in Clarke's one-man show, hitting Blu-Ray on October 6th from Anchor Bay. The no-frills disc includes a good looking 1080p (2.35) transfer with 5.1 Dolby TrueHD sound.
SWAT: UNIT 887 DVD (95 mins., 2015, Not Rated; Alchemy): A terrorist plans on blowing up L.A., and an elite SWAT team is all that's left standing in his way, in this low-budget actioner directed by – and starring – Timothy Woodward, Jr. Tom Sizmore (top billed!), Mischa Barton and Michael Pare also appear in Woodward's outing, written by Lauren De Normandie, which Alchemy debuts on DVD this week. The 16:9 transfer and 5.1 soundtrack are both fine.
NEXT TIME: Sony rolls out their new 4K remastered Blu-Ray line with BRAM STOKER'S DRACULA! Until then, don't forget to drop in on the official Aisle Seat Message Boards and direct any emails to our email address. Cheers everyone!