"Trapped in Time. Surrounded by Evil. Low on Gas." So reads the tag line for ARMY OF DARKNESS (***, 80 mins., 1993, R), the third film in Sam Raimi and Bruce Campbell's "Evil Dead" series, which brought a wild, Ray Harryhausen-like fantasy flair to the continuing adventures of Deadite-slayer Ash (Campbell), here trapped in a medieval setting.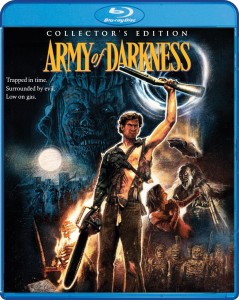 Following the end of "Evil Dead 2," "Army" has Ash embroiled in a conflict between warring medieval rulers when the Deadites crop up – a quick (mis)reading of the Necronomicon quickly exacerbates the situation even further, leading Ash to rally the disparate clans in an effort to defeat "Evil Ash" and his zombified girlfriend (Embeth Davidtz, who would appear in "Schindler's List" just a few months later).
Intended for a PG-13 rating but tagged with an R by the MPAA back in 1993 – a truly baffling decision especially given the hard edge so many PG-13 films today contain – "Army of Darkness" is less a horror movie than a homage to Harryhausen, a grand supernatural adventure filled with Ash's patented one-liners and loads of cinematic invention. Raimi and his brother Ivan penned the script, which is chock full of clever and imaginative touches, from stop-motion FX involving an army of skeletons to Ash doing a one-man imitation of the Three Stooges in one sequence. The humor is on-target and the entire tone of the film disarming and free-wheeling, as if Raimi, Campbell and company were happy to be freed from the claustrophobic confines of its hard-core horror predecessors.
"Army of Darkness" has been released many times over the years in a myriad of formats. It was also subject to post-production tinkering, mainly from producer Dino DeLaurentiis and U.S. distributor Universal Pictures, who trimmed an already slender running time and demanded a new ending. Various home video versions around the world enabled fans to see Raimi's original, downbeat conclusion – I imported my first Japanese laserdisc in the winter of '94 when "Captain Supermarket" (the film's local title!) was released with the discarded ending, just to find out what all the fuss was about. Meanwhile, later DVD versions released overseas by MGM contained superior transfers to their U.S. counterparts and an entirely different edit of the film (with alternate lines), while Raimi's "Director's Cut" eventually surfaced domestically, incorporating the original ending.
Frankly, the re-shot ending of "Army of Darkness" works far better than the "Planet of the Apes"-esque conclusion Raimi originally intended. It's more in keeping with the tone of the preceding film and offers Ash several memorable lines to conclude the film ("Hail to the king, baby!"), whereas the original finale comes off like a lead balloon, punctuating an old-fashioned escapist ride with a sour bit of irony that was understandably panned by studio execs and DeLaurentiis himself. In this instance, the hastily shot new ending provided a more satisfying conclusion, and even the filmmakers seem to have reluctantly accepted that fans were generally happier with the studio reshoots than what they originally concocted.
Shout Factory's spectacular new three-disc Blu-Ray set offers all three cuts of "Army of Darkness" presented in the strongest 1080p (1.85) transfers seen in any release around the world to date. Previous releases of the U.S. theatrical cut, for instance, were riddled with noise reduction and other filtering, nearly obscuring any high-def detail in the source material. Shout's new transfer is marvelous, offering stronger colors and crisp detail that appears as if an entire veil has been lifted off the image, thereby making it the definitive presentation of "Army" on home video (despite its brevity, the US theatrical cut remains my personal favorite of the trio). The 5.1 and 2.0 DTS MA audio mixes, meanwhile, both do justice to the original Dolby Stereo soundtrack.
Also included is the 88-minute International Cut of the film, running six minutes longer than the U.S. cut but with some of Ash's lines swapped out for less amusing alternates (this version does include the U.S. ending and was previously released on DVD overseas by MGM). Finally, the 96-minute Director's Cut is also on-hand in a new 4K scan from the interpositive, featuring the original ending and a myriad of footage not contained in either version. Though usually not designated as an official "cut" of the film, fans will also find Universal's 93-minute syndicated TV version here, which has a few bits not seen in other cuts, though the 4:3 standard-def transfer is dim and blurry, seemingly sourced from inferior elements.
Special features are just terrific. The feature-length "Medieval Times: The Making of Army of Darkness" includes brand-new interviews with Bruce Campbell, Ted Raimi, Bill Moseley, composer Joe LoDuca (whose marvelous original score was enhanced with Danny Elfman's "March of the Dead" theme) and many others – it's a comprehensive, honest look at the making of the film and Universal and DeLaurentiis' meddling behind the scenes, which paralleled the two entities litigating over the rights to Hannibal Lecter and holding two DeLaurentiis properties (this film and the Christian Slater outing "Kuffs") hostage, for a time, while the fracas was sorted out.
Trailers, TV spots, additional deleted scenes, commentary and vintage featurettes – most of these included on prior "Army" DVD releases – are also included, making for one of Shout's most satisfying releases to date. Groovy! (Fans should note the theatrical cut is missing a brief shot that Shout acknowledges and is currently looking into. Any news of a possible corrective pressing will appear on the official Aisle Seat Message Boards).
---
ALADDIN Blu-Ray/DVD (***, 90 mins., 1991, G; Disney): Though not my favorite of Disney's Alan Menken-Howard Ashman musicals, the ribald humor of "Aladdin" still holds up as superior family entertainment, and Disney's long-awaited Diamond Blu-Ray edition is another must-have for all Mouse fanatics.
The movie itself looks smashing in its high-def debut, offering a near-3D like presentation with stunning colors and pinpoint clarity (1.85 AVC encoded 1080p). On the audio side, the 7.1 DTS MA sound seems to provide a reasonable facsimile of the original stereo mix, though it's the spectacular transfer that most will be raving about.
New extras include "The Genie Outtakes," a ten-minute assembly of recording session footage with Robin Williams working out his Genie vocals; "Creating Broadway Magic," a 20-minute look at the creation of the "Aladdin" Broadway musical; a brief segment with directors Jon Musker and Ron Clements reminiscing about the film; a new music video and throwaway bit with a Disney Channel personality talking about the movie's "Easter Eggs."
More substantive are supplements from the 2004 Diamond Edition DVD, highlighted by the 109-minute "Diamond in the Rough: The Making of 'Aladdin'," which includes excerpts from a conversation between host Leonard Maltin and all of the project's creative talent in front of a live L.A. audience. Following the project from its inception as "Magic Carpet" through its ultimate release, this is an in-depth, fascinating documentary sporting conceptual art, countless interviews, rare recording session footage and more. Colorfully presented and comprehensive in scope, this is easily one of the finest DVD "Making Of" segments Disney has ever produced.
There's also a terrific 20-minute featurette on Alan Menken ("Musical Renaissance Man"), who recalls working with his late partner Howard Ashman, discusses his work for Disney and "Aladdin" in particular, and his collaboration with Tim Rice. It's a nice overview of Menken's work for the studio and a terrific bonus on the disc as a whole.
Deleted scenes, two commentaries, additional music videos, a digital copy and DVD make for a must-have package on every front.
TOMORROWLAND Blu-Ray/DVD (**, 124 mins., 2015, PG; Disney): One of Summer '15's box-office casualties was this rare misfire from director Brad Bird. In Bird and co-writer Damon Lindelof's sanctimonious and surprisingly dull fantasy, the Disney theme park has been reworked as a real, physical place where only a choice few are invited to help craft an optimistic future world where anything and everything is possible. Britt Robertson plays a young woman who's whisked away to Tomorrowland where she meets exiled ex-boy genius George Clooney, who joins up with her in an effort to save the world. The first third of "Tomorrowland" is promising enough but things go downhill as the film progresses and turns preachy and, what's more, tedious, with no amount of Bird's stylish action lensing being able to save it. Disney's Blu-Ray includes deleted scenes, "A Personal Journey" with Bird, casting and scoring featurettes, outtakes from an hour-long Disney rejected pilot "The World of Tomorrow Science Hour," a 1080p (2.20) transfer, 7.1 DTS MA sound, a DVD and digital copy.
---
HOW THE GRINCH STOLE CHRISTMAS Grinchmas Edition Blu-Ray (*½, 105 mins., 2000, PG; Universal):Or, How the Studios Made Another Overproduced, Overhyped Holiday Fantasy Spectacle.
This effects-filled, lavish 2000 production is long on visual extravagance but almost completely devoid of any imagination – problems that can be directly attributed to director Ron Howard, who tries to be Tim Burton and Steven Spielberg but only ends up as a Grinch for movie-goers.
An incredibly tedious excuse for Jim Carrey to prance around doing shtick, this "Grinch" indeed just that – a piece of Thanksgiving turkey even more excessive and pointless than past cinematic holiday blunders.
An adaptation of Dr. Seuss's classic only in passing (meaning only the first five minutes and the last 20 have anything to do with the book or Chuck Jones's beloved cartoon adaptation), Carrey's Grinch is the main problem here — attired in make-up by Rick Baker that makes the actor barely recognizable (a smart move after you pay him $20 million, no doubt), Carrey seems ill at ease as he turns the Grinch from scheming menace into a character closer suited to being one of Adam Sandler's big-screen brethren.
With a constant belching and an annoying accent that's often hard to hear, Carrey's performance is far from his best, and he's not helped by a tepid script credited to Peter Seaman and Jeffrey Price that wanders far afield from Seuss, into a half-hearted "new age" commentary on commercialism that seems especially out- of-place given the movie's non-stop merchandizing off-screen.
Of course, it could be that Carrey – who denounced his performance and the movie in a well-publicized rant the summer prior to its opening that he eventually took back (only because the studio PR machine made him, one assumes) — didn't get much help from Howard, who strikes out completely in his third fantasy outing.
Couldn't Howard have watched the dailies and seen that the film wasn't working? The juvenile comedic shenanigans simply aren't funny, but working with lame material and unfunny jokes tends to do that to a performer. I'm guessing that Carrey had faith in Howard that this material would be shaped in such a manner that it would work, but the end result is every bit as bland and boring as it seemed from the trailers.
Nothing in the film's plot, supporting cast, or production design engages the heart or the mind, leaving only what's left from the Dr. Seuss story that works — a spirited ending, fine narration by Anthony Hopkins, and an enduring message that the movie fails to support through its own linking material. James Horner's score is lovely, but while I enjoyed moppet Taylor Momsen's low-key performance as Cindy Lou, there isn't much left to recommend here. And whenever a film's best gag is a slow-motion spoof of "Chariots of Fire," you know you're in trouble.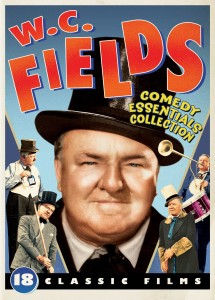 Despite its massive box-office in-take, time has not been kind to the "Grinch," which hasn't aged into the holiday perennial Howard and Carrey were hoping for. Universal's second Blu-Ray edition of the film offers a new HD transfer (1080p AVC) with crisper detail and color than its first outing. The 5.1 DTS MA sound is well delivered, and extensive extras (deleted scenes, outtakes, music videos, featurettes, the trailer, Howard's commentary) are included along with a digital copy.
W.C. FIELDS COMEDY ESSENTIALS COLLECTION DVD (Universal): One of the earliest comedy superstars of the talkie era receives a much-needed box-set release from Universal – a welcome happening given major studios' collective move away from retail releases of vintage catalog titles. This multi-disc Universal set includes no less than 18 W.C. Fields releases: 1932's Million Dollar Legs and If I Had A Million; International House, Tillie and Gus, and Alice in Wonderland (all 1933); Six of a Kind, Mrs. Wiggs of the Cabbage Patch, You're Telling Me!, The Old Fashioned Way, and It's a Gift (all 1934); 1935's Mississippi and Man on the Flying Trapeze; Poppy (136); The Big Broadcast of 1938 (1938); You Can't Cheat an Honest Man (1939); and Fields' later classics My Little Chickadee (1940), The Bank Dick (1940), and Never Give a Sucker an Even break (1941). The B&W transfers are in good shape, making for a must for '30s comedy enthusiasts.
---
GET MEAN Blu-Ray/DVD Limited Edition (90 mins., 1975, Not Rated; Blue Underground): Back in May I reviewed Warner Archive's DVD edition of Tony Anthony's "The Stranger" westerns. For fans who enjoyed that package, Blue Underground's Limited Edition format-combo release of the 1975 spaghetti western "Get Mean" should be an essential pick-up, as it completes Anthony's run as The Stranger, this time in a wild and woolly affair with The Stranger battling Vikings, Moors, supernatural forces, a hunchback and a bull in a ghost town while trying to escort a princess back to her Spanish home.
Unlike the prior Stranger outings, which were distributed in the U.S. by MGM, "Get Mean" quickly became something of a lost film among cult devotees. The film was never widely distributed and seldom appeared on home video. This full-blown restoration courtesy of Blue Underground is outstanding as it preserves a nutty, almost indescribable genre-bending mash-up from the tail end of the Spaghetti western era in all its 1080p (2.35) glory. DTS MA mono audio is on-hand along with extensive extras, including commentary with Anthony; an interview with the star; deleted scenes; trailers; an interview with co-star Lloyd Battista; a DVD and other goodies.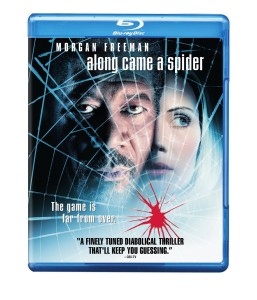 ALONG CAME A SPIDER Blu-Ray (**½, 103 mins., 2000, R; Warner): Morgan Freeman reprises his Alex Cross role from "Kiss the Girls" in a moderately enjoyable thriller that was, according to numerous reports, heavily doctored in post-production. (That may explain why the ending comes across as incredibly basic; according to a friend of mine, the scenes without Freeman were entirely re-filmed, with only his shots remaining from the original finale!) Up until the end, director Lee Tamahouri spins an intriguing kidnapping tale with nutcase Michael Wincott abducting the daughter of a U.S. senator (a wasted Michael Moriarty). Jerry Goldsmith's by-the- numbers but effective score and the widescreen lensing give the movie a glossy sheen, but the big problem is bland co-star Monica Potter, whose distinct lack of charisma on-screen and Julia Roberts imitation wear thin — fast. Together with Freeman's already-stoic character, there's no emotional pull to the movie, even though it consistently keeps you watching. Still, "Along Came a Spider" is the kind of film that's more enjoyable on the small screen, and Warner's no-frills catalog Blu offers a superb 1080p (2.40) transfer with 5.1 DTS MA sound.
THE MAN WHO SHOT LIBERTY VALANCE Blu-Ray (****, 123 mins., 1962; Warner): Another Paramount title that's been available outside the U.S. for some time finally nabs a Blu-Ray release on this side of the pond, in a virtual reprise of its international edition. John Ford's 1962 western classic is not just one of his best, but ranks with the finest work from stars Jimmy Stewart and John Wayne as well. The 1080p (1.85) B&W transfer is excellent, offering an image devoid of excessive DNR and superb contrast levels, with Dolby TrueHD 5.1 audio boasting a somewhat broader sound stage than its monophonic origins.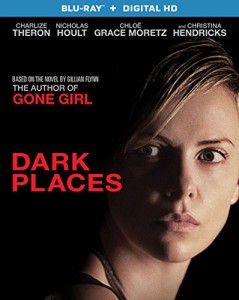 HIDDEN DVD (83 mins., 2015, R; Warner): Moody tale of a family (Alexander Skarsgard, Andrea Riseborough and young Emily Alyn Lind as their daughter) who stay hidden from "humanoid" dwellers after some kind of post-apocalyptic event offers believable performances and ample atmosphere on the part of The Duffer Brothers, who wrote and directed "Hidden." Apparently intended for a theatrical release given its top-notch crew (Colleen Atwood costumes, David Julyan music) and cut down from a much longer version, "Hidden" still makes for an intriguing view for horror fans. Warner's DVD offers just a 16:9 transfer (2.40) and 5.1 Dolby Digital soundtrack.
Lionsgate New Releases: Hoping to parlay off the success of "Gone Girl," DARK PLACES (113 mins., 2014, R) is a disappointing, if stylishly shot, adaptation of another novel by Gillian Flynn. Here, Charlize Theron plays a woman who finds out the brother (Tye Sheridan) convicted of murdering her mother and sisters might possibly be innocent. Gilles Paquet-Brenner's film is watchable and offers a strong supporting cast (Nicholas Hoult, Chloe Grace Moretz, Christina Hendricks), but the downbeat subject matter and slow-going pace curtail the best efforts of the cast. Lionsgate's Blu contains two featurettes, a 1080p transfer, 5.1 DTS MA sound and a digital copy.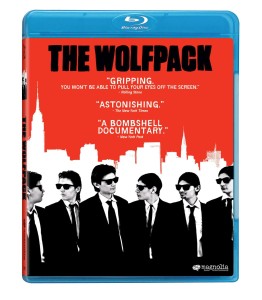 On DVD from Lionsgate, "Mad Men in Space" was the method Syfy Channel used to tease ASCENSION (232 mins., 2015), a mini-series that finds a murder aboard a U.S. spaceship with a decidedly "vintage" look and feel to it. A hackneyed mix of would-be class warfare and sci-fi/horror tropes dominated this mini-series, which debuted to strong ratings last winter. Lionsgate's DVD includes a featurette, 16:9 (1.78) transfer and digital copy…BASEBALL LEGENDS (227 mins., 2014-15) is a multi-disc Major League Baseball set featuring the documentaries American Hercules: Babe Ruth, The Immortal: Ted Williams, The Hammer of Hank Aaron, and Iron Knight: Lou Gehrig, along with two hours of bonus features in 16:9 (1.78) widescreen.
Cinedigm New Releases: DUMB IT DOWN (57 mins., 2014) is an interesting documentary that looks at how pop culture "dumbs down" mainstream entertainment, especially when it comes to the African-American community. Cinedigm's DVD includes a deleted scenes, extended interviews, a 16:9 transfer and 5.1 sound.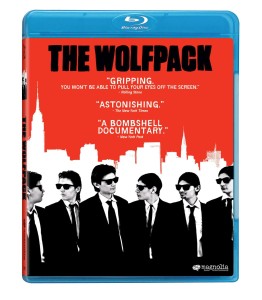 THE WOLFPACK Blu-Ray (89 mins., 2014, R; Magnolia): The strange tale of the Angulo brothers – six siblings basically confined to their Manhattan apartment by parents who secluded them from the outside world – is chronicled in this documentary by director Crystal Moselle, which shows the brothers and their love of watching – and remaking – some of the films they become attached to (including "The Dark Knight" and various Tarantino flicks). "The Wolfpack"'s Blu-Ray is filled with extras (interviews, featurettes), a 1080p (1.78) transfer and 5.1 DTS MA sound.
TESTAMENT OF YOUTH Blu-Ray (130 mins., 2015, PG-13; Sony): Stately adaptation of Vera Brittain's autobiographical tale of her life during WWI, first as a young woman who watches as several close to her perish during the battle, and later as a nurse tending to those injured – occasionally on both sides. Alicia Vikander gives a strong performance as Brittain with Kit Harington, Taron Egerton, Emily Watson, Hayley Atwell, Dominic West, Miranda Richardson and Colin Morgan leading a strong supporting cast in director James Kent's film. Sony's Blu, out this week, includes deleted scenes, commentary with Kent and Harington, a featurette, the trailer, a 1080p AVC encoded transfer and 5.1 DTS MA sound.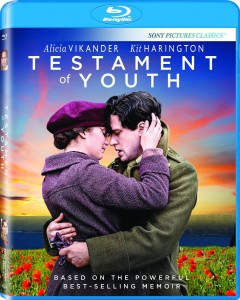 THE MAKING OF THE MOB: NEW YORK Blu-Ray (343 mins., 2015; Anchor Bay): AMC Original Series is a pseudo-documentary/dramatization of the life and times of various notorious NYC mobsters. Lucky Luciano, Meyer Lansky, Vito Genovese, Bugsy Siegel and Frank Costello are each profiled with a mix of talking head interviews and dramatic recreations, as Ray Liotta narrates and everyone from Rudy Giuliani to Chazz Palmintieri, Joe Mantegna, Frankie Valli and descendants of the assorted criminals commenting for good measure. Anchor Bay's Blu offers a good array of extras (additional scenes and featurettes) plus 1080p (1.78) transfers and 5.1 Dolby TrueHD soundtracks.
EDWARD SCISSORHANDS: Blu Ray (***½, 105 mins., 1990, PG-13; Fox): Superior new Blu Ray release of Tim Burton's enchanting 1990 fairy tale offers a remastered 1080p (1.85) AVC encoded transfer that's an appreciable upgrade from its early-format MPEG-2 encoded affair, which did a barely-passable job preserving the varied color scheme of Burton, cinematographer Stefan Czapsky and production designer Bo Welch.
The dual-layer 50GB disc also includes 4.0 DTS-MA audio plus a featurette, trailer, and Tim Burton and Danny Elfman commentaries from its last DVD/Blu-Ray edition.
IMPRACTICAL JOKERS – Complete Third Season DVD (704 mins., 2015; Warner): Joe, Murr, Sal and Q are back as the group takes on more and more outrageous challenges in this third season of the popular TruTV series. Warner's four-disc DVD box-set offers deleted scenes, episode commentaries and "digital originals" to go along with a 16:9 transfer and 5.1 Dolby Digital sound.
REGULAR SHOW: THE MOVIE DVD (68 mins., 2015; Warner): Mordecai and Rigby – city park slackers – have to save the world from a Timenado that's out to destroy the universe in this feature-length, standalone offpsring from the popular Cartoon Network series. Warner's DVD includes a 16:9 transfer and 5.1 Dolby Digital sound along with deleted animatics, movie animatics, an original board pitch, concept art and movie art galleries, commentary and a trailer.
NEXT TIME: Twilight Time's latest and more! Until then, don't forget to drop in on the official Aisle Seat Message Boards and direct any emails to our email address. Cheers everyone!