www.andyfilm.com (new columns debut here first!)
email: mailbag @ andyfilm.com (remove spaces!)
Message Board (open 24 hours!)
Twitter - @andredursin (for everything else!)
After the triumph of "Skyfall" one might've thought that director Sam Mendes and resident 007 Daniel Craig would have been invigorated with the subject matter of SPECTRE (**) – the 24th James Bond film but the first in several decades to incorporate one of Bond's chief nemesis from the earliest days of the series. With Bond back in action and taking on the nefarious, secretive organization behind the likes of "Dr. No" and "On Her Majesty's Secret Service" in an official Eon film for the first time in forever, what could go wrong? Unfortunately, pretty much everything.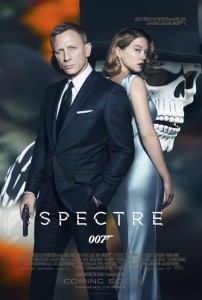 This stunningly tedious entry – in fact, the longest in the entire run of the franchise – finds Bond working a lead from his beloved M (one final Judi Dench cameo), who implored him, in the event of her death, to track down and take out a man thought to have died decades before. A trip to Rome here, a dash to Austria there, and Bond finds out Spectre has its tentacles pretty much everywhere – with a man leading its parade whose identity was pretty much revealed when the film's title and cast were announced some time ago.
If "Skyfall" represented a smart, effective modern updating on the classic Bond formula, "Spectre" is an overplotted bore, complete with an utterly vacant performance from Daniel Craig as Bond. One would've imagined after the events of the prior three films – which this picture tries to provide a conclusion of sorts – that Bond might express anger, sadness, frustration or surprise based on the events of this film…but it's hard to read Craig's persona, not even when Christoph Waltz's bad guy (yeah, we all know who he is) relays not only his "true identity" but the supposedly shocking details of their shared personal connection. If Bond doesn't care about what's going on, why should we?
Compounding the trouble is a notable lack of exciting set-pieces. The opening teaser is fun, but the rest of the picture plays out by the numbers, from an uninspired Italian car chase to a dumb pursuit sequence with Bond tailing the movie's resident damsel in distress (the attractive Léa Seydoux, who regrettably doesn't strike up much chemistry with Craig) in a plane. There's no snap or excitement really here at any time, and the big lead-in to Bond's confrontation with Waltz's character proves to be anything but worth the wait. Waltz does his bad guy shtick again here, but there's not enough wit or surprise in the script (credited to four different writers, including series veterans Neil Purvis, Robert Wade and John Logan) to support him, and there's no zest when the duo do, eventually, confront one another – and what fun is that?
"Spectre" does try to incorporate more humor than the prior Craig pictures, but the brief one-liners seem ill at ease with the movie's dreary tone and a running time that goes on forever (a subplot where M and company try to justify their existence to younger British bureaucrats looking to wipe them out is particularly uninteresting). One could also carp about Thomas Newman's over-used, percussion-heavy underscore (or Sam Smith's leaden title song), but the bottom line is that, with "Spectre," Mendes and especially Craig stayed too long at the party. (148 mins., PG-13)
---
Called the most expensive home movie in cinematic history, Noel Marshall's bizarre, baffling ROAR (*½, 94 mins., 1981; Olive) at last receives wide distribution in North America, enabling cult fans and bad movie devotees the ability to at last see what all the fuss surrounding the picture was about.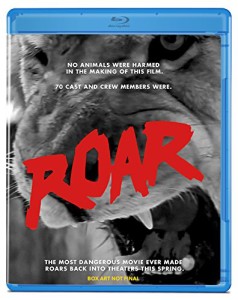 Marshall, an executive producer on "The Exoricst" and Hollywood agent, wrote, directed, produced and stars in "Roar" as a doctor, living in Africa, who's learned to not just "Talk with the Animals" but engage in all kinds of rough housing with his lions, tigers and assorted native animals. His family – including Marshall's then-wife, Tippi Hedren, her real-life daughter (Melanie Griffith) and his two sons (Jerry and John Marshall) – finds out the hard way that living with lions can have its various challenges once the group flies out to meet him, in a movie that has precious little plot but many scenes of (semi) tamed lions running amok on Marshall and Hedren's Southern California property (doubling for the Dark Continent).
"Roar" was, as legend has it, shot over a period of seven years – at a reported, staggering cost of $17 million – as a literal pet project of Marshall, who used a number of lions from his own "pack" as supporting characters in the film. The interaction between Marshall, Hedren, their kids and the animals is very real – so much that countless injuries were suffered by the cast and crew during the endless shoot, including hundreds of stitches that cinematographer Jan DeBont sustained during one incident with the lions.
The movie, due to numerous legal entanglements, was never given a North American release nor home video distribution, but with those issues now cleared up, Olive and Drafthouse were able to bring "Roar" to theaters earlier this year, much to the interest of curious cinephiles everywhere.
Sadly, the picture itself is almost completely unwatchable. The years of shooting, editing and re-editing created a patchwork movie – even the soundtrack has a handful of credited composers, including Dominic Frontiere – with little narrative tissue holding it together. Much of "Roar" is comprised of footage of the animals playing while the cast runs away, trying to act scared – or, in this case, likely just acting naturally as Marshall recklessly placed his family and crew members in a state of constant jeopardy on the set.
It's hard to imagine "Roar," the movie, holding one's interest very long – the fragmented editing, lack of story and embarrassing musical passages make for a long slog, even at 95 minutes. Yet, as a unique film in cinematic history, this trainwreck is notable, and Olive's supplements – including a 2015 Q&A with several cast and crew members, an older Making Of with Hedren, photo gallery, commentary with John Marshall and Dratfhouse's Tim League, an appreciation by League and a photo gallery – play to the film's strengths as an oddball curiosity, divulging Marshall's behavior and the years spent shooting the film (with so little dramatic engagement, you start noticing the scenes in which a young Melanie sports her actual hair versus a terrible looking wig).
Visually, "Roar"'s transfer is, understandably, all over the map. The HD restoration seems to have been stitched together from a myriad of different sources – some of them pristine, others with glaring print damage – leading the disc's producers to implement some DNR in different places. Each shot, seemingly, looks different than the next, which is no surprise given the years of footage involved in the shoot. The audio quality via a 2.0 DTS MA stereo mix is likewise varied – sections of a musical score credited to Terence P. Minogue with the National Philharmonic Orchestra sound like they were recorded in a can, while original songs written by Robert Hawk (Florczak) have a pleasing stereophonic presence (and at least two other composers, including Frontiere, are listed in the end credits).
"Roar" is indeed a terrible film, but its behind-the-scenes story is fascinating, and for bad movie fans, Olive's Blu-Ray comes recommended on that level.
---
Nobody expected "Thor 2″ director Alan Taylor to suddenly morph into James Cameron, right?
All the negative critic reviews for TERMINATOR: GENISYS (***, 126 mins., PG-13; Paramount) were curious in this past summer of lightweight, superficial remakes and reboots. Yes, this fifth entry in the series essentially remakes the first picture in the guise of a typically glossy, straight-ahead summer action movie, but it's certainly no worse than most of what we watched last summer, and in fact comes out ahead of the dinosaurs and super-heroes since it, at least, has some star power – and just enough story – backing it up.
Laeta Kalogridis and Patrick Lussier's script opens in the future, where mankind's last hope for salvation, John Connor (Jason Clarke), is about to send his right-hand man, Kyle Reese (Jai Courtney), back to 1984, in order to preserve the safety of his mother, Sarah (a particularly fetching Emilia Clarke) from being assassinated by Skynet's Terminator. Yes, it's a reenactment of sorts of the 1984 James Cameron hit, but the writers and director Taylor send a curveball along that mixes up the past/present fans think they know – a twist that's already been given away in the movie's trailers, but I'll attempt to avoid spoilers in case you haven't seen them. Suffice to say, the 1984 Reese ventures to sees Sarah already as a fighting machine, paired with a Terminator (Arnold, of course) she calls "Pops", and who will do anything to protect her – including taking out a computerized, younger incarnation of himself. Eventually, the movie jumps ahead to 2017, where a new online app dubbed Genisys is about to go online and enslave humanity as it's a mere cover for Skynet's true intentions – and it's up to the unlikely trio to stop them, along with a new T-3000 with a secretive past of its own.
The "Terminator" franchise has had a rocky but entertaining history, and I'll admit I've enjoyed all of the prior installments on their own terms. "Genisys" may be the weakest of the lot, since it clearly favors the contemporary route of wall-to-wall action at the expense of dramatic development – I'm not sure anyone other than hardcore fans will really become engaged by this particular sequel – yet there's no denying that the special effects and various set-pieces are fun to watch. Also worth noting is that Kalogridis and Lussier tap back into the Sarah-Reese dynamic that was only a part of Cameron's original. Being able to incorporate some kind of love story, as fleeting as it is here, does add a human component to Taylor's slavish interest in the technical elements of the picture, and is something that none of the prior sequels touched upon.
The cast also adds some semblance of class, particularly Emilia Clarke's kick-ass Sarah Connor. After a few minutes of watching her demolition of various Skynet automatons, I honestly forgot all about Linda Hamilton (and particularly her long-winded monologues from Cameron's T2). Jai Courtney, who was less than impressive opposite Bruce Willis in the last, horrible "Die Hard" movie, makes some amends with a respectable turn in the Michael Biehn role – he's essentially the audience's identification (and guide for new viewers), and pulls off the role better than his original casting might have indicated. Jason Clarke, meanwhile, ends up having a good time as a John Connor far removed from the character seen in prior installments, in a plot device that was allegedly once part of the last entry, "Terminator: Salvation," before being jettisoned prior to shooting.
And then there's Arnold, who returns to his iconic Terminator role in a full-time capacity for the first time since 2003's "Terminator 3: Rise of the Machines." Schwarzenegger has aged gracefully, and while he doesn't command the screen as he once did, he still provides the movie with enough of a center that fans should remain invested in a story that offers some appealing twists to well-worn genre elements. J.K. Simmons also makes a welcome appearance as a cop a bit more sympathetic to our heroes' plight than earlier series roles of this type.
"Terminator: Genisys" is still, make no mistake, a typical product of our times. There's nothing especially clever about its script, and at times, the whole enterprise comes across as a dumbed-down remake of Cameron's first two movies – yet the fact that critics took the pitchforks to this picture while comparatively praising similarly empty (and, indeed, inferior) cinematic calories as "The Avengers: Age of Ultron" and "Jurassic World" is baffling. Perhaps it's just cool to pile onto Arnold's flailing career and a series that, despite its commercial success around the world, has always (with the exception of T2's enormous in-take) appealed to sci-fi fans more than the mainstream. "Genisys" certainly isn't a brilliant reinvention of the series, but it's at least an entertaining enough "remix" of familiar elements done with sufficient energy and an engaged cast. This year, that's good enough to elevate the film above the cinematic scrap heap of Summer 2015.
Paramount's 3D combo pack for "Genisys" streets November 10th offering a technically sound 3D presentation with a few "in your face' effects but mostly just a low-key stereoscopic "depth of field" sheen given to the movie. The 2D transfer is brighter and therefore might be more satisfying for many, and the Dolby TrueHD 7.1 (Atmos compatible) mix is powerful. Extra features are lighweight, totaling just under an hour of fluffy behind-the-scenes material, and a digital copy and DVD round out the release.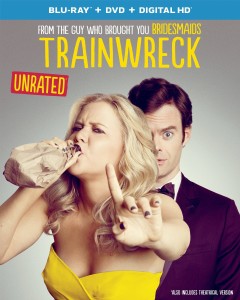 TRAINWRECK Blu-Ray Combo Pack (**½, 125 mins., 2015, R; Universal): Amy Schumer has arrived as the current "It" girl in comedy, which carries both positive and negative attributes, seeing as Schumer is talented and charismatic, but also has a penchant for pushing the envelope of gutter-level raunchiness. "Trainwreck," Schumer's first feature, tries to tone down enough of Schumer's tartness and reconfigure the comedienne's talents in the form of a streamlined, overlong, but appealing enough – if formulaic – romantic comedy.
Schumer here plays a hard-drinking magazine reporter who can't commit to a single man, but finds her match in a good-guy doctor (Bill Hader) who works in sports medicine. This enables director Judd Apatow to use NBA superstar LeBron James as himself, and James gives a pretty funny performance as Schumer the actress and Schumer the writer combine– if sometimes uneasily – to produce a vehicle that would appeal to both her stand-up/cable TV fans and casual viewers unfamiliar with her.
The end result is generally successful with a few flaws. The main problems lie in Apatow's slack direction and incorporation of various comedy elements, some of which work (a supporting performance by an almost unrecognizable, "glammed up" Tilda Swinton as Amy's boss) and several of which fizzle (a "rehab session" that gives cameos to the likes of Marv Albert and Matthew Broderick, and could've easily been left on the cutting room floor). The casting of Hader is also curious, seeing as the quirky SNL alumnus is playing a handsome straight man to Schumer, something that doesn't play off his strengths. There's also the issue of Schumer's family including her sister (Brie Larson) and ailing father (Colin Quinn), which tries to add an additional dramatic component into a movie that feels like it's sometimes battling with itself over tone. Ultimately, "Trainwreck" ends up in a sweet, conventional place, which – given Schumer's typically over-the-top antics – isn't a bad thing, but the road is a bit bumpy getting there.
Universal's Blu-Ray offers deleted scenes, a gag reel, commentary with Schumer and Apatow, unrated (adding four minutes onto the 125 minute running time) and R rated versions, and BD-format exclusives including more deleted scenes, bloopers and a handful of featurettes. The 1080p (2.40) transfer is fine, the 5.1 DTS MA sound also strong, and a DVD and digital copy rounds out the release.
MY FAIR LADY Blu-Ray (***½, 172 mins., G, 1964; CBS). THE RUNDOWN: Long-awaited, remastered 4K transfer from CBS of the Lerner-Loewe musical classic, timelessly brought to the screen in 1964 by producer Jack L. Warner under the direction of George Cukor, offers a gloriously detailed, spectacular new 1080p (2.35) transfer that was worth the numerous delays the project endured. The movie is reportedly mastered from the same 1997 restoration that Robert A. Harris and James C. Katz performed on the picture, and also offers most of the same special features from its prior DVD release, sans Harris' commentary. That disappointment aside, it's hard to quibble with any of the extras included here, several of which – the 1963 "Production Kick-Off Dinner," production tests, trailers, theatrical featurettes and several of Audrey Hepburn's original vocals – have been newly re-transferred in high-def, expressly for CBS' new Blu-Ray release. Dolby TrueHD audio and numerous other extras adorn the 3-disc set, which features a special features Blu platter and a DVD copy for good measure. AISLE SEAT BOTTOM LINE: Those who already own the prior Warner and CBS DVD sets – it's time to upgrade. The meticulously presented transfer is just splendid, and copious extras add the icing on the cake. Highly recommended!
BEFORE WE GO Blu-Ray (95 mins., 2015, PG-13; Anchor Bay): Captain America, Chris Evans, makes his directorial debut with this low-key character drama about a struggling NYC musician (Evans) who meets an unhappily married young woman (Alice Eve); sheer luck brings them together and their relationship, of course, eventually expands in this rather blah outing written by Ron Bass, Jen Smolka, Chris Safer and Paul Vicknair. Evans and Eve generate okay chemistry together in "Before We Go," but there's nothing here you haven't seen before – or executed more effectively. Anchor Bay's Blu-Ray offers a 1080p (1.85) transfer, 5.1 DTS MA sound and an interview with the star/director.
TOY STORY THAT TIME FORGOT Blu-Ray/Digital HD (22 mins., 2014; Disney): Another "Toy Story" network TV special finds Buzz, Woody and the gang running into a group of "out there" action figures in the form of the dino-like "Battlesaurs," whom the crew meet during a post-Christmas playdate for current owner Bonnie. This holiday-themed effort is fun but forgettable – not as strong as "Toy Story of Terror" – but still worthwhile for young viewers. Disney's combo pack offers a digital HD copy, 1080p encoded AVC encoded Blu-Ray with 7.1 DTS MA sound, deleted scenes, commentary, brief Comic Con segment, a karaoke video, the short "Reptilius!" and an animated opening for the fictional "Battlesaurs" TV series.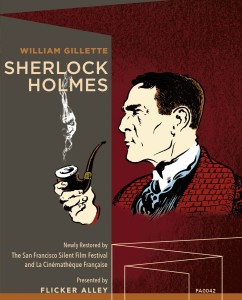 SHERLOCK HOLMES Blu-Ray/DVD (116 mins., 1916; Flicker Alley): Thought to be lost forever until a dupe negative was found in France last year, this 1916 silent film is notable for preserving the only screen performance of Sherlock Holmes by William Gillette. Gillette played Holmes on stage for nearly two decades by the time he brought his adaptation to the screen, in a silent film utilizing portions of stories "A Scandal in Bohemia" and "The Final Problem," but incorporating them in Gillette's own manner. In the process, Gillette created a visual embodiment of Conan Doyle's detective that would forever impact future renditions of Holmes on-screen and stage.
Flicker Alley's restoration was produced in association with La Cinematheque Francaise and includes a restored B&W print on both Blu and DVD. Extra features include a segment with restorer Robert Byrne at the 2015 San Francisco Silent Film Festival; the earliest known 1900 short featuring the character and other primitive Holmes segments; Fox Movietone newsreels, in HD, featuring Doyle and Gillette; lobby cards, promo photographs, DVD-only extras, and extensive booklet notes.
---
Two short-lived Glen A. Larson-produced series – both made for 20th Century-Fox TV – hit DVD for the first time this month from Shout Factory, in addition to a handful of other TV titles.
MANIMAL (7 hours, 1983) was one of the infamous blunders of the 1983-84 broadcast year. This NBC series starred Simon MacCorkindale ("Jaws 3-D") as Jonathan Chase, a criminology professor with the ability to transform himself into any animal he chooses. Those powers help him solve a series of criminal cases in New York City, with the help of a detective (Melody Anderson from "Flash Gordon") and his fellow Vietnam vet (Michael D. Roberts) friend.
Only eight episodes of "Manimal" were produced before the plug was pulled on the series, but they've been preserved here in a delightful Fabulous Films /Shout Factory DVD release. The transfers are just okay, but the supplements are fun, including an interview with Larson, concept and production notes, galleries, and an episode guide booklet.
If "Manimal" was partially borne out of the success of "An American Werewolf in London," then AUTOMAN (1983-84) was clearly "influenced" by Disney's 1982 fantasy "Tron." In fact, the movie's producers, Kushner-Locke, joined Larson for this bizarrely watchable crime procedural, wherein desk-duty bound cop/computer expert Desi Arnaz, Jr. teams up with a Tron-like computer program (embodied in the form of Chuck Wagner) and his pal "Cursor" (basically "Bit" from "Tron") to solve crimes.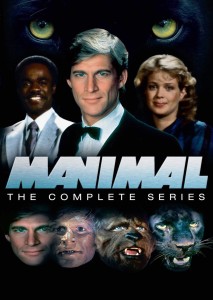 "Automan" was a mid-season replacement on ABC and didn't last long, but it's entertaining enough – at least for genre buffs – to see how "Tron" could've been grafted onto a standard-issue, mid '80s network crime drama. Extras in the Fabulous/Shout DVD box set are even more abundant, starting with a 40-minute retrospective doc, including comments from Arnaz and Wagner among others, photo galleries (it's amazing how much merchandizing there was for a series like this), and other goodies. The transfers are a bit muddy but generally OK.
Also new this month from Shout: Nick Adams stars in 40 more episodes of THE REBEL (1040 mins., 1959) as Confederate veteran Johnny Yuma in one of TV's earliest, and most successful, westerns. Shout and Timeless Media's Season 2 DVD includes an interview with Allyson and Jeb Adams reflecting on their father; an interview with producer/writer A.J. Fenady; a pilot for the proposed companion series "The Yank"; and vintage commercials…The final season of SGT. BILKO [THE PHIL SILVERS SHOW] (16 hours, 1958-59) is remastered from the CBS archives from Shout! Factory, sporting crisp transfers for the 35 fourth-season episodes of the classic '50s sitcom. Cameos include Lucy and Dean Martin, with the five-disc DVD set hitting stores on November 17th..Coming this week is the fourth and also final season of WKRP IN CINCINNATI (9 hours, 1981-82), which features the final 22 (network) episodes featuring Dr. Johnny Fever, Venus Flytrap, Les Nessman and the gang. Shout's DVDs, like the complete series set and the three prior individual season releases, offer 4:3 transfers and as much licensed music as was economically possible to include…In Season 3 of MAUDE (10 hours, 1974-75), Hermoine Baddeley joins the cast as a new housekeeper to the Findlays while Maude holds the Tuckahoe Gallbladder Foundation telethon and trades barbs with John Wayne. All 23 third-season episodes of "Maude" have been licensed through Sony and are presented here in satisfying 4:3 transfers and mono soundtracks.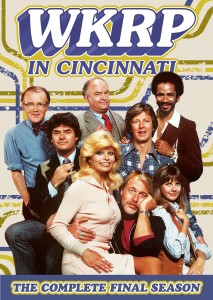 Coming on November 17th on Blu-Ray/DVD is a new Collector's Edition of Tom DiCillo's terrific indie comedyLIVING IN OBLIVION (92 mins., 1995, R), an account of the production of an indie film that goes horribly awry. Steve Buscemi, Catherine Keener, Dermot Mulroney, James Le Gros, and Peter Dinklage lead a great ensemble cast in this hilarious look at independent filmmaking that Shout has given a fabulous retrospective here. "In Our Own Oblivion" offers new winterviews with DiCillo, producer Marcus Viscidi, plus Buscemi, Dinklage, Le Gros and Danielle von Zerneck; commentary; a deleted scene; Q&A with Di Cillo and Buscemi; a 1080p (1.85) transfer and DTS MA mono audio.
Also available on November 17th is BOUND TO VENGEANCE (89 mins., 2014, Not Rated), an IFC Midnight release starring Tina Ivlev as a woman who breaks free from the hold of a psycho and turns the tables on him, in order to free the other girls he's taken captive. J.M. Cravioto's thriller is well-worn for the genre but does include strong performances. Shout's combo pack offers a DVD and Blu-Ray offering a 1080p (2.40) transfer and 5.1 DTS MA sound.
---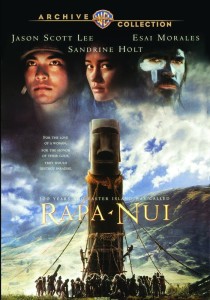 Warner Archive New Releases
One of the nuttiest big-studio films of the mid '90s, RAPA NUI (107 mins., 1994, R) was a box-office bust that could have only been made through the collective cache of then-red hot Kevin Costner and his "Robin Hood: Prince of Theives" pal, director Kevin Reynolds.
A year before the duo collaborated on "Waterworld," Costner produced this impressively shot, but decidedly off the wall, tale of pals Jason Scott Lee and Esai Morales, who take their mutual admiration for the same tribeswoman (Sandrine Holt) to levels of tribal warfare in a wild South Seas period adventure.
Warner's Archive DVD – the movie's first widescreen release in the U.S. since its laserdisc edition – offers a pleasing 16:9 (2.40) transfer with 5.1 Dolby Digital sound. The film looks great in scope, all the better to convey its overheated emotions and uneven performances.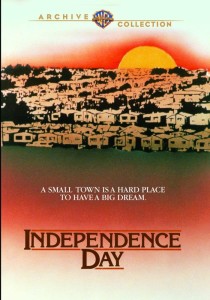 Not to be confused – needless to say – with the 1996 sci-fi blockbuster,INDEPENDENCE DAY (110 mins., 1983) is a subtle, well-acted story of a small-town photographer (Kathleen Quinlan) trying to break from her life and a veteran car-racing enthusiast (David Keith) who's seen it all and wants to settle down. Alice Hoffman's script paints a believable portrait of these characters and Robert Mandel's sensitive direction generates strong performances from both leads, plus Frances Sternhagen, Cliff De Young and Dianne Weist. The Archive's DVD includes a 16:9 (1.85) transfer and mono soundtrack.
Also newly available this month, FORBIDDEN HOLLYWOOD Volume 9 continues Warner's tremendous compilations of pre-code titles on DVD. This newest release include Joan Blondell's "Big City Blues" (63 mins., 1932), Richard Dix in "Hell's Highway" (62 mins., 1932), Richard Barthelmess starring in "The Cabin in Cotton" (78 mins., 1932) from director Michael Curtiz, "When Ladies Meet" (65 mins., 1933) with Myrna Loy and Ann Harding, and Pat O'Brien in "I Sell Anything" (70 mins., 1934). The five-film anthology includes 4:3 B&W transfers from the Turner/Warner archives, the respective pictures hailing from the Vitaphone/RKO/MGM libraries.
A pair of later '30s releases are also new to DVD. Jack Benny nabbed top billing in the MGM production IT'S IN THE AIR (80 mins., 1935) as a con man working with his partner (Ted Healy) but also wanting – and failing – to go straight. Meanwhile, THE GREAT MAN VOTES (72 mins., 1939) features John Barrymore in Garson Kanin's story about a boozing widower with two children who becomes education commissioner right in the midst of a major election. This RKO production features a crisp B&W transfer and is now available on DVD.
Finally, HOTEL PARADISO (98 mins., 1966) is a good looking, glossy MGM scope affair starring Alec Guinness and Gina Lollobrigida in a comedy about a Parisian man (Guinness) smitten with the wife (Gina) of his next door neighbor (Robert Morley). Peter Glenville adapted a French farce for this attractive if stagy effort making its DVD debut in a 16:9 (2.40) transfer of its original Panavision frame.
---
Bill Nighy gives a commanding performance in WORRICKER (5 hours, 2011-13), David Hare's modern espionage thrillers which have been collected in a three-part Blu-Ray anthology from PBS. Worricker is a MI5 veteran working in the confines of a post-9/11 world, and in these three adventures (Page Eight, Turks & Caicos, Salting the Battlefield), Worricker runs into his former lover/fellow agent Margot Tyrell (Helena Bonham Carter) along with a succession of stars including Christopher Walken, Winona Ryder, Ralph Feinnes, Judy Davis, Michael Gambon, Olivia Williams, Rachel Weisz and Felicity Jones. Over 35 minutes of extras include cast/crew interviews with PBS' Blu offering 1080i HD transfers and 2.0 stereo soundtracks on three discs.
On DVD, THE FIRST SILENT NIGHT (60 mins., 2014) offers actor Simon Callow touring Austrian locales Oberndorf and Salzburg as he looks at the creation of Joseph Mohr and Franz Gruber's classic carol. Over 45 minutes of additional footage is included in PBS' DVD of "The First Silent Night"… COOK'S COUNTRY: SEASON 8 (345 mins., 2015) features host Christopher Kimball and the chefs from America's Test Kitchen fashioning more tasty recipes from across the country plus classic fare "made over" and "lost" recipes. The episodes on-hand in Season 8 include American Classics With a Twist, A Hearty Fall Dinner, Pasta For Every Palate, Chinese Comes Home and Southern Comfort among others. Printable versions of all 26 recipes are featured plus 16:9 transfers and stereo soundtracks…MY ITALIAN SECRET: THE FORGOTTEN HEROES OF THE HOLOCAUST (90 mins., 2013) retells the story of how 80 percent of Italy's Jews survived during WWII, thanks to the collective efforts of men like Tour de France champion Gino Bartali and others. A terrific documentary from Oren Jacoby narrated by Isabela Rosselini and Robert Loggia…MARY TYLER MOORE: A CELEBRATION (60 mins., 2015) is a superb retrospective on the original "Mary Tyler Moore Show," featuring comments from Moore, Betty White, Gavin MacLeod, Valerie Harper, Cloris Leachman and others, discussing the series' cultural and social impact. The 60-minute special also offers comments from Oprah Winfrey and other admirers…HENRY & ANNE: THE LOVERS WHO CHANGED HISTORY (120 mins., 2014) finds historian Dr. Suzannah Lipscomb charting the love affair between Henry VIII and Anne Boleyn, from its steamy beginnings through to its unfortunate end. A different take on their historical relationship now on DVD from PBS sporting a widescreen transfer and stereo sound.
---
A.D. THE BIBLE CONTINUES Blu-Ray (600 mins., 2015; MGM/Fox): Producers Mark Burnett and Roma Downey generated such a huge success with their TV mini-series version of "The Bible" that NBC requested a follow-up. This 12-episode series, which aired in hour-long installments on U.S. TV this past season, failed to measure the same level of success, despite having much of the same production value as it recounts Christ's resurrection and the trials and tribulations of His early followers. Fox's four-disc Blu-Ray offers an attractive fold-out slipcover plus all 12 episodes in 1080p (1.78) transfers with 5.1 DTS MA sound (the music is credited to both Hans Zimmer and Lorne Balfe). Six featurettes touch upon the show's historical component as well as offer a glimpse behind-the-scenes.
Magnolia New Releases: The fascinating documentary BEST OF ENEMIES (88 mins., 2015, R) profiles the televised debates between conservative William F. Buckley, Jr. and liberal Gore Vibal, whose sparring fueled ABC's coverage of the 1968 party conventions. Morgan Neville and Robert Gordon have produced an entertaining, incisive and fascinating film on a relationship that redefined political discourse on television. Magnolia's Blu offers interviews with Neville and Gordon, the trailer, a 1080p (1.78) transfer and 5.1 DTS MA sound.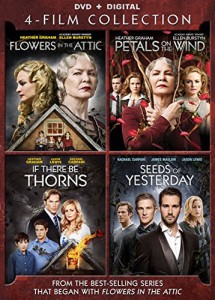 Lionsgate New Releases: V.C. Andrews' "Flowers" series recently became a quartet of films from Lifetime.FLOWERS IN THE ATTIC, PETALS ON THE WIND, IF THERE BE THORNS and SEEDS OF YESTERDAY have been previously reviewed here at The Aisle Seat (check the archives for individual reviews) and are now available in one, four-film DVD collection courtesy of Lionsgate. Each film is presented in 16:9 and 5.1 (except "If There Be Thorns," which is 2.0 for whatever reason) and includes a digital copy…on Blu-Ray, MR. HOLMES (***, 105 mins., 2014, PG) gives Ian McKellen the ability to carve a memorable portrait of Arthur Conan Doyle's great detective, here portrayed as an elderly sleuth lured back for one last case and a mysterious trip to Japan being central to the goings-on. Jeffrey Hatcher scripted from Mitch Cullin's novel "A Slight Trick of the Mind," and while some of "Mr. Holmes" is a bit on the sleepy side, McKellen – reuniting with his "Gods and Monsters" director Bill Condon – gives a compelling performance that's hard to deny. Lionsgate's Blu includes two featurettes and a digital copy, a 1080p (2.35) transfer and 5.1 DTS MA sound sporting a score by Carter Burwell.
ZARAFA Blu-Ray (79 mins., 2011; Cinedigm): French-produced animated film about the first giraffe that visited France, the visually spellbinding "Zarafa" tells the story of a young boy who befriends the title baby giraffe and shepherds him through a wild adventure en route to Paris. The animation is strong and the storytelling on point, with a running time that should prove to be just right for kids and adults alike. Cinedigm's Blu-Ray includes the original French audio track in addition to an English dub, a Making Of, additional featurettes, a 1080p transfer and DTS MA stereo sound.
Also new from Cinedigm are CHRISTMAS TAIL (88 mins., 2015), an easy-going family film with Kyle Cassie and Antonio Cupo, and CHRISTMAS TRADE (88 mins., 2015), another yuletide affair with William Baldwin, Denise Richards and Tom Arnold. Both reasonably priced discs include 16:9 transfers and 5.1 sound.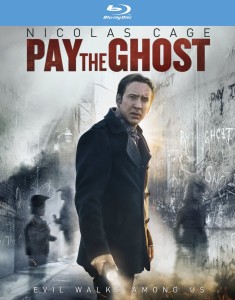 PAY THE GHOST Blu-Ray (94 mins., 2015; RLJ): This week's newest Nicolas Cage film stars the one-time Oscar winner as a distraught father, haunted by his son's disappearance, who works with his estranged wife ("Walking Dead"'s Sarah Wayne Callies) to figure out who's been sending out weird messages and images he can't explain. As far as Cage's recent pics go, "Pay the Ghost" is unquestionably one of the more watchable, as director Uli Edel works in sufficient Halloween atmosphere to punctuate a story that grows more routine as it progresses. Still, "Pay the Ghost" is pretty decent, and would've ranked as a decent rental for the season had it been released a week ago (it's also on a PG level making it suitable for older kids). RLJ's Blu includes a 1080p transfer and 5.1 DTS MA sound, featuring a score by Joe LoDuca.
Virgil New Releases: The documentary A TALE OF TWO THIEVES (69 mins., 2015) features train robber Gordon Goody revealing the details behind his daring $60 million heist of a London train in 1963. Virgil's DVD includes a widescreen transfer and 2.0 stereo soundtrack…MATT SHEPARD IS A FRIEND OF MINE (89 mins., 2015) is a heartbreaking documentary from director Michele Josue, a lifelong friend of Shepard, who was beaten to death while attending the University of Wyoming in 1998. Josue re-examines his death, those involved, those who observed, and interviews his loved ones in a powerful examination of the case. Virgil's DVD is now available and offers a stereo soundtrack and 16:9 transfer…a terrific documentary, THE GIRLS IN THE BAND (2015) profiles female musicians whose careers took a backseat during the Big Band era to their more publicized male counterparts. Great archival footage and music performances grace Judy Chaikin's excellent piece, now on DVD from Virgil…Finally, TAP WORLD (72 mins., 2015) balances a look at the history of tap dancing with a peak at today's cutting edge participants from around the world. Fans of dance are certain to appreciate this inspiring doc, now on DVD from Virgil.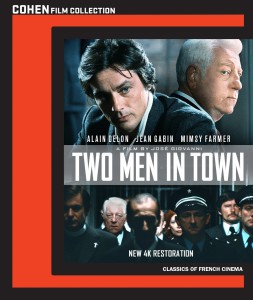 TWO MEN IN TOWN Blu-Ray (99 mins., 1973; Cohen Film Collection): Director/co-writer Jose Giovanni spins an engrossing account of a former safe cracker (Alain Delon) who tries to live straight with the help of a social worker (Jean Gabin), but finds life complicated by both a vengeful police inspector and the former gang he belonged to. Giovanni's indictment of the death penalty has been restored in 4K by Cohen and comes to Blu-Ray including a commentary by Gabin biographer Charles Ziman, the trailer, a 1080p transfer and mono sound (with a Philippe Sarde score) in French with English subtitles.
MPI New Releases: Billy Crudup plays a Stanford University professor who decides to conduct an experiment in prison life and the various factions within it. The results in THE STANFORD PRISON EXPERIMENT (122 mins., 2015, R) were based on a true story and illustrate the abhorrent behavior of its then-mannered undergrads. A disturbing film from writer Tim Talbott and director Kyle Patrick Alvarez coming to DVD November 17th from IFC and MPI, featuring commentary with the director; two featurettes; the trailer; a 16:9 (2.40) transfer and 5.1 Dolby Digital sound.
OPERATOR Blu-Ray (87 mins., 2015, Not Rated; Alchemy): When the daughter of a 911 operator and her estranged police officer husband is held captive, the duo collaborate to save her in this low-budget action effort from The Brothers Olson, who directed, produced and "present" "Operator," which stars Luke Goss, Mischa Barton, and direct-to-vid mainstays Michael Pare and Ving Rhames. Alchemy's Blu-Ray includes a 1080p transfer and 5.1 Dolby TrueHD sound.
Also new from Alchemy is MARRY ME FOR CHRISTMAS (88 mins., 2014), starring Malinda Williams as the lone single sibling in the Chandler clan, who drags along one of her employees (Jason Weaver) for Christmas in an effort to fake an engagement. This African-American yuletide variant on "The Proposal" is now available on DVD from Alchemy with a 16:9 transfer and 5.1 Dolby Digital sound.
NEXT TIME: TROLL and some surprises! Until then, don't forget to drop in on the official Aisle Seat Message Boards and direct any emails to our email address. Cheers everyone!