www.andyfilm.com (new columns debut here first!)
email: mailbag @ andyfilm.com (remove spaces!)
Message Board (open 24 hours!)
Twitter - @andredursin (for everything else!)
The latest Shout Select Blu-Ray title, MIDNIGHT RUN (***½, 127 mins., 1988, R) is a top-notch '80s action/buddy comedy with bounty hunter Robert DeNiro tracking down an accountant (Charles Grodin) who just embezzled a whole bunch of cash from the mafia and gave it to charity.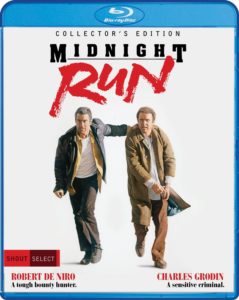 Director Martin Brest ("Beverly Hills Cop") warded off studio hopes of seeing Cher and Robin Williams (among others) cast in Grodin's role, and the result is a crackerjack mix of action and comedy, with a tight script by George Gallo ("Bad Boys," "Wise Guys") that mixes DeNiro and Grodin's contrasting personalities with a peerless supporting cast. Among them are Yaphet Kotto, John Ashton (an alumnus of Brest's "Cop"), Joe Pantoliano and Dennis Farina, while Danny Elfman's bluesy, rock ensemble score is one of his most unique and underrated.
"Midnight Run," incredibly, has never made it to Blu-Ray in the US before. Its last appearance came in the form of an HD-DVD edition that certainly wasn't anything spectacular, while other Blu-Rays around the world mostly worked from its same, oldish HD master. Shout's remastered presentation benefits greatly from a recent 2K scan with a mostly natural looking grain structure. It's a big upgrade from any prior US release and Shout has peppered the disc with both 2.0 and 5.1 DTS MA options and plenty of extras. These include a very brief, and frankly disposable, new interview with DeNiro (not Shout's fault; he's never particularly "enthused" in any kind of interview format), plus insightful and frequently wide-ranging conversations with Grodin, Pantoliano, Ashton, Kotto (via phone), and Gallo, who later wrote and directed one of my favorite, unheralded '90s films, "29th Street."
Vintage Making Of materials and the trailers round out a splendid disc all around – another excellent "Shout Select" release that gives Criterion a run for their money.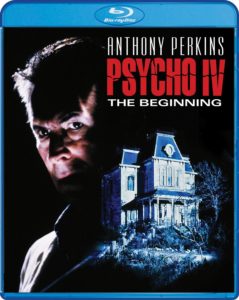 Though not labeled a "Collector's Edition" per se, PSYCHO IV: THE BEGINNING (96 mins., 1990, R) also debuts on Blu-Ray this month from Shout Factory. Following the label's Special Edition releases of both "Psycho" theatrical sequels, this disc completes the run of Norman Bates' adventures on Blu-Ray – or at those with Anthony Perkins in his legendary role.
Mick Garris ("The Stand") helmed this Showtime cable movie, which finds Norman out of the asylum and calling into a talk show where its host (CCH Pounder) is ready and willing to listen to his recollection of growing up as a young man (Henry Thomas from "E.T.") with dear old Mother (Olivia Hussey). Original "Psycho" screenwriter Joseph Stefano returned to script "The Beginning," which puts something of a bow on not just the original Hitchcock classic but also Perkins' two '80s sequels. Shot at Universal's Orlando studios (tour buses apparently ran right up to the set during filming!), "Psycho IV" is well acted by Hussey and Thomas, and satisfying enough given its small-screen origins.
Fans of the series should also be satisfied with Shout's Blu-Ray, which includes a really candid and engaging commentary with Garris, Hussey and Thomas; Garris, in particular, is especially enlightening talking about the challenges of working with Perkins, who wasn't easy (at all) to apparently get along with. Vintage camcorder footage provided by the director gives viewers a look at the set, as well as Graeme Revell's scoring of the picture, and a generous half-hour interview with make-up artist Tony Gardner discusses his work on the film. The 1080p (1.78) AVC encoded transfer and 2.0 DTS MA soundtrack are fine for what's presumably an older Universal catalog master.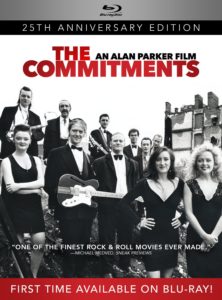 Coming later this month from RLJ is the long-awaited Blu-Ray release of Alan Parker's THE COMMITMENTS (***½, 118 mins., 1991, R), the director's adaptation of Irish author Roddy Doyle's slice-of-life story of a young hustler (Robert Arkins) trying to package together a band in working class Dublin. He does, with its rough-and-tumble artists forging a soulful sound – at least until personality conflicts take their toll.
RLJ licensed "The Commitments" through Beacon, which produced the film, and here has delivered a crisply detailed 1080p (1.85) AVC encoded transfer with fine grain and natural colors. The source appears to be a recent MGM master of the film (Fox's distribution of the film lapsed) that's in very good condition. 5.1 DTS MA audio is included along with a brand new, "25 Years Later" retrospective featurette featuring Parker and cast members. Other extras include Parker's commentary, four vintage featurettes, a music video, image galleries and a booklet with Parker writing about what he considers to be his favorite film.
"The Commitments"offers a superb soundtrack, genuine performances and laughs and emotion that feel equally honest. Despite its somewhat bloated running time, Parker's movie is one of his most satisfying pictures, showing the filmmaker was always best working with music-related subjects ("Bugsy Malone" and "Evita" in particular).
One of the year's most awaited box-sets – especially by Japanese cinema buffs – is FEMALE PRISONER SCORPION: THE COMPLETE COLLECTION, Arrow's latest must-have release for exploitation fans.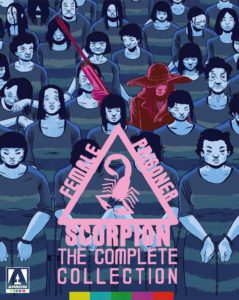 The series stars Meiko Kaji (from "Lady Snowblood" fame) as the title character – an initially reticent, innocent young woman sent to prison. "Female Prisoner #701: Scorpion" tells Nami Matsushima's initial story, while even more arresting, widescreen visuals are included in the sequel, "Female Prisoner Scorpion: Jailhouse 41," which reunited Kaji with director Sunya Ito. Action turns to horror in the third entry, "Female Prisoner: Beast Stable," with Nami on the run from the authorities and running into resistance from a local gang. Finally, director Yasuharu Hasebe takes a somewhat more psychological approach with the fourth and final entry in the series, "Female Prisoner Scorpion: #701's Grudge Song, as Nami falls in love – though not for long.
This limited-edition (4000 copy) Blu-Ray/DVD box includes all new 2K restorations of the four pictures plus uncompressed PCM mono on Blu-Ray (the DVDs offer 16:9 transfers and 2.0 soundtracks). Newly filmed appreciations are provided on the four films by the likes of "The Raid" director Gareth Evans, critic Kier-La Janisse, writer Kat Ellinger and filmmaker Kazuyoshi Kumakiri, while extensive extras include an extensive booklet; an archival interview with Ito; a new interview with assistant director Yutaka Koihira (on "Scorpion"); a piece with critic Jasper Sharp on Ito, and an interview with production designer Tadayuki Kuwana (on "Jailhouse 41″); another archival interview with Ito, plus a piece on Kaji's career by Tom Mes (on "Beast Stable"); and an archival interview with Hasebe and other goodies on "Grudge Song." Highly recommended for fans!
Also new from Arrow this month is MICROWAVE MASSACRE (87 mins., 1983, Unrated), a low-budget schlocker starring comedian Jackie Vernon as a construction worker driven to cannibalism by his wife's high-minded cooking recipes. After chopping her up, Vernon microwaves the results – which apparently taste quite good!
For fans of Wayne Berwick's minor outing, Arrow's combo pack includes both Blu-Ray and DVD presentations, the former working from a brand new 2K restoration with PCM mono audio. Extras include a new commentary with writer-producer Craig Muckler; a new interview featurette featuring Berwick, Muckler and actor Loren Schein; the trailer; DVD-ROM extras; and full color booklet notes.
---
---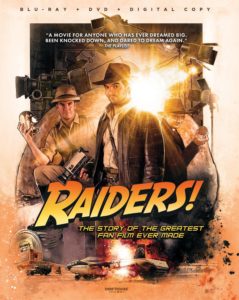 New Releases
RAIDERS! THE STORY OF THE GREATEST FAN FILM EVER MADE Blu-Ray/DVD (93 mins., 2015; Drafthouse Films): A group of enterprising Mississippi kids spent the better part of their youths shooting a scene-for-scene remake of "Raiders of the Lost Ark." Completed save the movie's big airplane fight set-piece, the video by Tim Skousen and Jeremy Coon ultimately found its way into the hands of underground VHS collectors before debuting at Harry Knowles' film fest over a decade ago.
Sadly, this documentary does not actually show their efforts, but rather charts their filming of the incomplete sequence in a heartfelt, watchable production that nevertheless feels incomplete. It's impossible to really feel the cumulative impact of their lifelong pursuit – or the novelty of watching "Raiders" performed by 10-year-olds – when the actual film isn't included here. Instead, we see fragments of scenes – all of which are fun and amusing – and lots of talking heads discussing how entertaining it is…but not, sadly, the full show.
Drafthouse's Blu-Ray/DVD offers a 16 page booklet, commentaries, deleted scenes, a Q&A from the 2003 Alamo Drafthouse screening, trailers, a digital download, a 1080p transfer and 5.1 Dolby Digital sound.
A TASTE OF HONEY Blu-Ray (100 mins., 1961; Criterion): The British New Wave was in full swing when director Tony Richardson added one of his many offerings to its legacy with 1961's "A Taste of Honey." This adaptation of Shelagh Delaney's play of the same name follows Rita Tushingham in a star-making performance as a working class teenager in dim, dreary Manchester whose mother (Dora Bryan) is desperate to find a man whenever she's not out drinking. Help eventually comes in the form of Robert Stephens' suitor, but when Tushingham's Jo turns out to be pregnant from her liaison with a black sailor, already-festering tensions boil over.
A film markedly ahead of its time in its diversity – Jo's soon-to-be child isn't only going to be of mixed race, but she's cared for by a homosexual textile design student (played by Murray Melvin) – "A Taste of Honey" can be cliched and abrupt in its execution, but it's a still-relevant and fascinating portrait of time, place, and a new era in the British film industry. Criterion's Blu-Ray boasts a fresh 4K derived transfer; new interviews with Tushingham and Melvin; a 1962 audio interview from Cannes with Richardson; excerpts from a 1960 TV interview with Delaney; a 1998 interview with cinematographer Walter Lassally; a new piece on the film's stage origins, with a talk with theater scholar Kate Dorney; a 1956 short by Richardson and Lassally; and an essay from historian Colin MacCabe. The 1080p (1.66) AVC encoded transfer and mono sound (PCM) are both spot on.
THE ANGRY BIRDS MOVIE Blu-Ray (97 mins., 2016, PG; Sony): Red the bird has a temper problem, which leads him to anger management classes along with other fowl having a bad feather day (or two). However, when green pigs show up to steal their eggs, it's up to Red and his friends to help most of the island's agreeably high-flying populace and use their aggression to take them down.
It's unlikely any big-screen rendering of a handheld mobile game like "Angry Birds" could've turned out any more effectively than this predictably slight but occasionally funny animated offering, sporting the voices of Jason Sudeikis, Josh Gad, Danny McBride, Maya Rudolph, Bill Hader, Peter Dinklage and Sean Penn among others. Kids are most likely to appreciate the shenanigans, and it's at least more satisfying than "The Secret Life of Pets" (for what little that's worth!).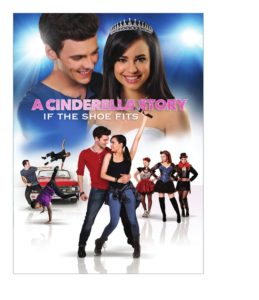 Sony's Blu-Ray/DVD combo pack boasts four "Hatchlings" shorts, deleted scenes, short Making Of featurettes (which are BD format exclusive), plus a bonus scene, interview with composer Heitor Pereira, a Digital HD copy, 1080p (1.85) AVC encoded transfer and Digital HD copy.
A CINDERELLA STORY: IF THE SHOE FITS DVD (93 mins., 2016, PG; Warner): Disney Channel alumnus Sofia Carson plays a teen who's both an automotive enthusiast and an aspiring singer, plagued by her wicked stepmother (Jennifer Tilly). Hoping to land the part in a rendition of Cinderella at a posh resort, Carson plots her own storybook future with its handsome lead (Thomas Law). This latest direct-to-video/on-demand sequel to the Hillary Duff favorite "A Cinderella Story" should appeal to young viewers with its positive messages and bouncy song score. Warner's DVD, available this week, includes a 16:9 (1.85) transfer, 5.1 Dolby Digital sound, two music videos, three featurettes, a gag reel, and deleted scenes.
CLOWN Blu-Ray (99 mins., 2013, R; Anchor Bay): Eli Roth-produced horror flick – which has been lying around for a few years on the Dimension shelves – at last nets a home video debut later this month from Anchor Bay. In Jon Watts' film, Andy Powers plays a dad who dons a clown outfit, unaware that it's really housing a terrible demon that takes him over piece by piece. There are no happy endings in this grizzly affair, written by the director with Christopher Ford. Anchor Bay's Blu includes a Digital HD copy, 1080p (2.40) AVC encoded transfer and 5.1 DTS MA sound. (Coming August 23rd)
THE PHENOM Blu-Ray (85 mins., 2016, Not Rated; RLJ): Johnny Simmons stars as an aspiring pitcher saddled with a broken past – involving his abusive father (Ethan Hawke) – that's preventing his future success on the mound. Paul Giamatti co-stars as a sports psychologist who helps Simmons try and get his game straight in this slow-going, dreary sports drama from writer-director Noah Buschel that's at least well-performed by its cast. RLJ's Blu-Ray, out August 30th, includes cast interviews, a photo gallery, 1080p (2.35) transfer and 5.1 DTS MA sound.
THE MAN WHO KNEW INFINITY Blu-Ray (108 mins., 2016, PG-13; Paramount): Dev Patel plays an Indian math genuis named Srinivasa Ramanujan who traveled to Cambridge's Trinity College in 1913. There, Ramanujan befriended professor G.H. Hardy (Jeremy Irons), who helped bolster his mathematics work in spite of prejudice. Writer-director Matthew Brown's uniformly well-acted film from IFC Productions hits Blu-Ray August 23rd from Paramount sporting a 1080p transfer and 5.1 DTS MA soundtrack.
---
---
TV on DVD
ONCE UPON A TIME – The Complete Fifth Season Blu-Ray (989 mins., 2015-16; Buena Vista). WHAT IT IS: Fifth season of the still-popular ABC Sunday night staple finds Emma (Jennifer Morrison) battling her darker instincts after she turned into the "Dark Swan" at the end of Season 4. Hook joins her attempt to find help from Merlin in Camelot, only to have King Arthur team up with Zelena (aka Oz's Wicked Witch). The good news is Emma's support from the rest of the Storybrooke clan, who subsequently join her on a trip to Hades. Cruella De Vil makes an appearance – as do Hercules and Dr. Jekyll – in another wild fantasy ride that should have "Once Upon a Time" fans hooked. BLU-RAY SPECS: Buena Vista's Blu-Ray includes format-exclusive deleted scenes and commentary. The behind the scenes segment "Merida in Storybrooke" finds actress Amy Manson identifying with the "Brave" heroine she portrays in Season 5, while "Tales From the Underworld: A Knight With Cruella" examines the return of the "101 Dalmatians" villainess. Bloopers, other deleted scenes, commentaries and a 100th Episode segment are all included in the box-set along with flawless 1080p (1.78) AVC encoded transfers and 5.1 DTS MA soundtracks. AISLE SEAT BOTTOM LINE: I was initially skeptical at how long ABC and the producers of "Once" could keep the series afloat, especially as it felt trapped in a "Lost"-like slow burn reveal at its outset. Thankfully, the program has exceeded expectations and embraced its heritage of fantastical heroes, heroines and villains, which should delight its fans in this fifth season.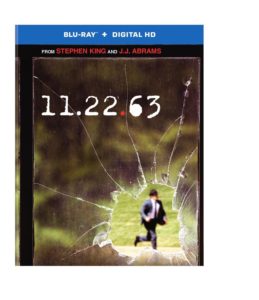 11.22.63 Blu-Ray (439 mins., 2015; Warner). WHAT IT IS: Superb adaptation of Stephen King's novel stars James Franco as a high school teacher who's able to travel back in time with the help of his brilliant, ailing friend (Chris Cooper). Deciding on a destination in 1960s Texas, Jake takes it upon himself to prevent JFK's assassination – but also falls in love with a local librarian (Sarah Gadon) and the realization that changing the past poisons the present (and future). Well mounted by producer J.J. Abrams, this series – which was initially available on the Hulu streaming service – is a taut, eight-part sci-fi thriller that comes strongly recommended. BLU-RAY TECH SPECS: Warner's Blu-Ray includes 1080p (1.78) transfers and 5.1 DTS MA soundtracks plus Digital HD copies. The sole extra is the featurette "When the Future Fights Back." AISLE SEAT BOTTOM LINE: King-to-screen productions are, as we know, a mixed bag, but "11.22.63″ bucks the trend, making for an absorbing, well-acted and exciting series that ranks with the best of the author's work translated to the screen. Recommended.
SCOOBY-DOO: CURSE OF THE SPEED DEMON Blu-Ray Combo Pack (80 mins., 2016; Warner): The latest animated adventure of the Hanna-Barbera characters sends Scooby, Shaggy and the gang to an off-road racing competition, where a "phantom racer" dubbed Inferno shows up, sabotages the fun for everyone else and then jets away from the competition. In order to solve the puzzling goings-on, the Mystery Inc. group teams up with WWE superstars Triple H, Paige and Sheamus in this 80-minute feature now on Blu from Warner. The Combo Pack includes a 1080p (1.78) AVC encoded transfer, DTS MA 5.1 audio, two bonus cartoons, a new featurette, a DVD and a Digital HD copy.
SCANDAL: Complete Fifth Season DVD (904 mins., 2015-16; Buena Vista). WHAT IT IS: Shonda-Land fans are likely still grooving to the wild storylines in the fifth season of the ABC series. This time out, Olivia Pope (Kerry Washington) tries to maintain her First Lady veneer while continuing to battle with politicians and OPA "gladiators" when the Oval Office is up for grabs. All 21 episodes from "Scandal"'s Season 5 are on-hand in 16:9 transfers and 5.1 Dolby Digital soundtracks, with an extended episode and bloopers comprising the supplements in the five-disc box-set.
CRIMINAL Blu-Ray (113 mins., 2016, R; Summit/Lionsgate): Disappointing espionage thriller with a dose of sci-fi stars Kevin Costner as a criminal given the implanted memories of a dead CIA agent (an unbilled Ryan Reynolds). Director Ariel Vromen managed to secure the talents of a good cast, including Tommy Lee Jones, Gary Oldman, Alice Eve and Gal Godot for this Summit box-office misfire, but "Criminal" is staunchly unappealing from start to end, serving up cliches instead of tension and dreary characterizations. Summit's Blu-Ray includes five minutes of deleted scenes and extensive Making Of segments, a good looking 1080p (2.35) transfer, Digital HD copy and 5.1 DTS MA sound.
---
---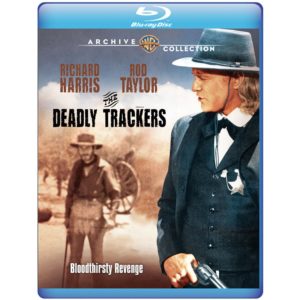 Warner Archive New Releases
New on Blu-Ray: The first pairing of Humphrey Bogart and Lauren Bacall marked Howard Hawks' melodramatic TO HAVE AND HAVE NOT (100 mins., 1944), a not-very-thinly disguised "Casabalanca" variant based upon the Ernest Hemingway book. Not nearly as beloved as the earlier film, this is a still first-class studio product of its time, boasting Bogey and Bacall's palpable chemistry in a polished Hawks effort co-starring Walter Brennan, Dolores Moran and Hoagy Carmichael in the Louis Armstrong role. Warner's Blu-Ray features one of the studio's patented B&W HD (1080p, 4:3) transfers with DTS MA mono audio. Extras include the Lux Radio Broadcast with the stars repeating their roles; a featurette; the trailer; and the vintage Merrie Melodies short, "Bacall to Arms" (1946)…While the Archive's Blu-Ray releases have been of the highest technical quality so far, the selection of pictures has, occasionally, left something to be desired. That's the case this month with the weird Blu-Ray choice of THE DEADLY TRACKERS (105 mins., 1973, PG), a thoroughly repellent western with Richard Harris playing an Irish sheriff in a traditional American western town. When his wife and son are killed by a group of outlaws fleeing his jurisdiction, Harris' Kilpatrick drops his peaceful nature and tracks them down one-by-one, including Rod Taylor as the outlaws' leader. A grimy and reportedly troubled production, this Lukas Heller script is far from the veteran scribe's best, with director Barry Shear – who replaced Samuel Fuller during production – struggling to make the most of a downbeat mood piece, the kind that helped to kill off the genre during the '70s. Warner's Archive looks great with a 1080p (1.78) transfer (opening with the old Saul Bass logo) and DTS MA mono sound, but of all the titles yet to be released in the format, why choose this one?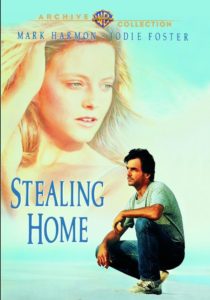 Stop! New Musicals on DVD: A pair of musicals new to the DVD format are also part of the Archive's releases this month. STOP, YOU'RE KILLING ME (86 mins., 1952) is a little-circulated Warner Bros. remake of the Edward G. Robinson/Damon Runyon comedy "A Slight Case of Murder." Broderick Crawford and Claire Trevor top line this musical re-do, shot in Warner Color by director Roy Del Ruth with a smattering of forgettable, but breezy, songs making for an enjoyable 86 minutes. Warner's 1.37 transfer and mono soundtrack are both fine…More dated is STOP THE WORLD I WANT TO GET OFF (98 mins., 1966), an adaptation of the Anthony Newley-Leslie Bricusse musical hit with Tony Tanner as Littlechap, the Circus performer who can't settle down and croons a number of hit songs as he searches for eternal happiness (which was…there…all…along!). This Warner production does little, cinematically, except translate the spartan show to the screen as it was originally conceived – the result is a stagy and curious work worthwhile for its memorable songs, including "Gonna Build A Mountain" and the concluding "What Kind Of Fool Am I?" The 16:9 (1.85) transfer and mono "Mitchell System 35″ soundtrack are passable.
Remastered in Widescreen: A pair of romantic comedy-dramas that were released early on in the DVD format – back in the days of full-screen transfers and plastic "snapper cases" – receive 16:9 upgrades at long last through the Warner Archive.STEALING HOME (98 mins., 1988, PG-13) is an anemic tale of a wannabe baseball star (Mark Harmon) who returns to his small town with memories of the older, troubled girl (Jodie Foster) he left behind on his mind. Foster's performance is the main draw in a highly uneven film that has problems settling on a consistent tone, but remains watchable because of its cast – Harold Ramis co-stars as the older incarnation of Harmon's best friend, with Blair Brown, John Shea and Jonathan Silverman (the younger version of Ramis) appearing in equal support. David Foster's melodic score is another plus. Another of the era's comedies debuting in 16:9 for the first time on DVD is DOC HOLLYWOOD (104 mins., 1991, PG-13),Michael Caton-Jones' flavorful, if predictable, Michael J. Fox vehicle, with the star playing a Beverly Hills plastic surgeon whose life takes a detour – in a quaint, picaresque South Carolina town. Julie Warner co-stars in a strong supporting cast that did more for, say, Woody Harrelson and Bridget Fonda than it did Warner, with veterans Bernard Hughes, David Ogden Stiers and Frances Sternhagen making equally positive impressions. Both 16:9 (1.85) transfers and 2.0 Dolby Stereo soundtracks are appreciable enhancements on their old, now-worthless 4:3 format counterparts.
---
---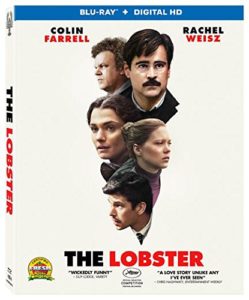 Lionsgate New Release Wrap
On Blu-Ray: Adventurous viewers will be the core audience for THE LOBSTER (118 mins., 2015, R),director Yorgos Lanthimos' utterly bizarre tale of a recently divorced man (Colin Farrell) told he has 45 days to find true love again or else be turned into the animal of his choice. He chooses a lobster, but struggles, in the interim, to find something in the world worth loving in a film that's disturbing and feels a bit stretched out at a full two hours. Not my cup of tea, to be honest, but YMMV as they say. Lionsgate's Blu-Ray of the film, co-starring Rachel Weisz, John C. Reilly and Ben Wishaw includes a 1080p (1.85) transfer, 5.1 DTS MA sound, a Digital HD copy, and one featurette…Nicolas Cage pounds his way back to video in THE TRUST (92 mins., 2016, R), starring with Elijah Wood as Vegas cops who happen upon a vault belonging to local drug dealers. When they decide to try and steal its cash, all heck goes wrong in a standard-issue thriller co-starring Jerry Lewis! Lionsgate's Blu-Ray features two behind-the-scenes segments, commentary with directors Alex and Benjamin Brewer, a 1080p transfer (1.85), 5.1 DTS MA sound and a Digital HD copy…Season 1 of NARCOS (492 mins., 2016) is well worth a look when it arrives on disc August 23rd from Lionsgate. This Golden Globe-nominated series chronicles the genesis of international cocaine cartels, including those overseen by the Columbian criminal mastermind Pablo Escobar (Wagner Moura), as well as the DEA agents (Boyd Holbrook, Pedro Pascal) fighting them. Three featurettes, deleted scenes and audio commentaries grace Lionsgate's multi-disc set along with 1080p transfers, 5.1 DTS MA soundtracks and Digital HD copies.
Meanwhile, "sluggish" is the best word to describe THE DUEL (100 mins., 2016, R), a tedious western about a young boy whose father is killed. Years later he grows up to be a Texas Ranger (Liam Hemsworth) in a town overrun by a charismatic, cult-like leader (Woody Harrelson) who, of course, is also the man who murdered his dad. Alice Braga co-stars in a well-shot but rather plodding affair, coming to Blu on August 23rd from Lionsgate. Commentary from director Kieran Darcy-Smith is on-hand along witha 1080p (2.39) transfer, 5.1 DTS MA sound and a Digital HD copy.
On DVD: The comedy SUNDOWN (104 mins., 2016, R) sends buddies Logan and Blake (Devon Werkheiser, Sean Marquette) down to Puerto Vallarta on Spring Break, only to run into more colorful locals once one of their watches is tolen. Sara Paxton, Teri Hatcher, John Michael Higgins and Jordi Molla co-star in a good-natured, if overlong, comedy from director Fernando Lebrija, who co-wrote with "Revenge of the Nerds" scribe Miguel Tejada-Flores. A 16:9 transfer, 5.1 sound and a Digital copy are also a part of Lionsgate's release.
Two "Complete Season" Power Rangers DVD box-sets should appeal to fans of the Saban franchise. POWER RANGERS MEGAFORCE (460 mins., 2013) finds five teens being trained with the appropriate powers after Warstar plo an invasion of Earth. Over seven hours of fun is crammed onto five discs with Digital Copies, 16:9 transfers and 2.0 Dolby Digital audio. Bonus features include a character gallery, Zord gallery and "Power Rangers Morph Through 20 Years" video. Meanwhile, POWER RANGERS SUPER MEGAFORCE (460 mins., 2014) is the logical continuation of the series, featuring seven more hours on five discs with 16:9 transfers, 5.1 audio and Digital copies. Extras include "Power Rangers: A Legacy" featurette and an extended "movie edition" version of the final episode, "The Legendary Battle."
---
---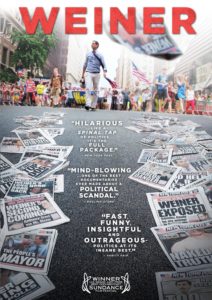 MPI New Releases
On DVD: Disgusted with this election season? Looking to get your political fix with a look at a well-known scandal from years past? Check out WEINER (96 mins., 2016, R), Josh Kriegman and Elyse Steinberg's look at "Carlos Danger" himself, NY politician Anthony Weiner, as he stages a comeback for Mayor…only to get wrapped up in a new sexting case. One of those "you'd never believe it if it wasn't real" true stories, "Weiner" is a fast-paced but also probing look at the kind of politician we're settling for all too often in the 21st century, one who just can't help themselves. IFC's DVD includes a 16:9 transfer and 5.1 soundtrack when it streets August 23rd…Diane Kruger gets a chance to strut her stuff, giving one of her strongest performances in SKY (103 mins., 2016, Not Rated) as a French woman who goes soul-searching while on vacation in California – then leaves her husband (Gilles Lellouche) and sets off on an adventure taking her through the American landscape. Fabienne Berthaud's film co-stars Norman Reedus, Lena Dunham and Lou Diamond Phillips, and comes to DVD this week as a Sundance Selects title featuring a 16:9 transfer and 5.1 English audio…Director Jerzy Skolimowski's newest, 11 MINUTES (83 mins., 2015, Not Rated), mixes a handful of different stories in Poland – including a sleazy film director "auditioning" a married actress, a young man plotting a robbery – with webcam, smartphone and closed-circuit cameras all being utilized. Offbeat and not particularly satisfying, MPI's Sundance Selects release boasts a 16:9 transfer and 5.1 Polish audio on DVD with English subtitles.
NEXT TIME: Twilight Time's latest! Until then, don't forget to drop in on the official Aisle Seat Message Boards and direct any emails to our email address. Cheers everyone!