www.andyfilm.com (new columns debut here first!)
email: mailbag @ andyfilm.com (remove spaces!)
Message Board (open 24 hours!)
Twitter - @andredursin (for everything else!)
It's hard to find a more divisive film from the 1980s than RUNAWAY TRAIN (111 mins., 1985, R), the Cannon Group's closet shot at Oscar glory that can be best described as a "quasi-existential" action film from Russian director Andrei Konchalovsky. A movie that generated Oscar nominations for both of its stars, Jon Voight and Eric Roberts, it's also a film that made appearances on both "Best of the Year" and "Worst of the Year" critic lists in 1985, with critics falling on either side of a movie that polarized viewers with its "method" performances and outlandish story.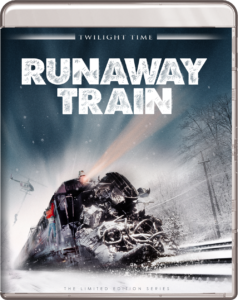 Called a 4-star action classic along the lines of "The Seven Samurai" and "Stagecoach" by Roger Ebert, Konchalovsky's film finds two escaped convicts (Voight and Roberts) trying to escape their Alaskan prison via train – only to find the car they're on is on a course to nowhere after the engineer suffers a fatal heart attack. With only themselves and one female worker (Rebecca DeMornay) on the train left to stop it, the duo quarrel, bicker, fight, argue and swear at one another on their way to a seemingly dead end.
It's safe to say that "Runaway Train" is a film that viewers are either going to accept as a dramatic work, or find to be completely off-putting. Given that there isn't much middle ground involved with this film, I confess that I've always found it to an utterly overwrought viewing experience.
Konchalovsky apparently left the actors to do whatever they wanted, which is perfectly understandable given how wretched both Voight and Roberts are here — with heavy accents and comically over-the-top mannerisms, this movie plays like a duel between two "method" actors trying to give the worst performance. The film cuts between scenes of the train with a "control center" where Kenneth McMillan, Kyle T. Heffner and others likewise give hysterical performances — the sequence in which warden John P. Ryan appears, trying to convince Heffner that one of his escaped men is on the train, and then follows him into the bathroom where he tries to drown him in a toilet (!) is nearly unmatched for its comedy value. Or the scene where Ryan attempts to send one of his men from a helicopter ladder onto the train, only to see him crash through the front window, off onto the track where (presumably) his head is crushed in, is similarly, unintentionally hilarious.
For a movie said to be "inspired" by an Akira Kurosawa screenplay, it's also shocking how poor the dialogue is – I loved the exchange between Voight and DeMornay near the end, where he describes Roberts as an idiot, to which DeMornay replies, "you're mean!"
There are some well-executed stunt scenes, but the detour into pretentiousness at the end is just the icing on the cake, all of it punctuated by a lackluster Trevor Jones score that houses an '80s playbook of electric guitars and Faltemeyerian synths. It's just as "off" as the movie itself, and the trailer – tracked with Henry Mancini's score for Cannon's "Lifeforce" – gives you an indication what a better (orchestral) score might have done for the film.
Despite my issues with the film, "Runaway Train" is a picture that does have its admirers – again, if you buy into its premise and its performances, you may just love it. In that event, Twilight Time's Blu-Ray comes strongly recommended. Eric Roberts is joined in a new, exclusive commentary by David Del Valle and C. Courtney Joyner for a candid, entertaining discussion of the film from the actor's point of view (it's worth noting Konchalovsky, who had problems working with Roberts, was critical of the star in interviews included in Arrow's now out of print UK Blu-Ray release). The trailer and an isolated score track round out the disc with a fine 1080p (1.85) transfer and 2.0 DTS MA stereo soundtrack comprising the technical presentation.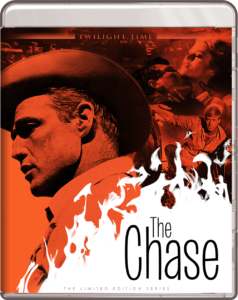 In the late '60s box-office disappointment THE CHASE (133 mins., 1966), convict Robert Redford escapes from prison just in time to find his wife Jane Fonda involved with oil mogul E.G. Marshall's son (James Fox), and an uncompromising sheriff (Marlon Brando) hot on his tail in Horton Foote's rural melodrama that boasts a great cast in a movie that still, after all these years, comes off as underwhelming.
It certainly wasn't due to a lack of trying: Arthur Penn was hired to direct Sam Spiegel's production, with a few key members of the James Bond team brought in for good measure (including Maurice Binder, who designed the main titles, and composer John Barry, who provided a low-key, atmospheric score). Brando, Fonda, and Redford offer solid performances, with a supporting cast that's just as good: Marshall, Angie Dickinson (as Brando's wife), Robert Duvall, and even a young Paul Williams also pop up. "The Chase" has it all on paper, yet the reason why it's become a forgotten film over the years is because, somewhere along the line, the movie lost its way. The story isn't compelling enough, the characters not sufficiently interesting, and the movie's ending too obvious, leaving you to concentrate on the star power, which only carries the movie to a certain extent. Problems involving Penn, Spielgel, and screenwriter Lillian Hellman were reportedly part of the trouble, which wouldn't have been surprising given the final result.
Twilight Time's Sony-licensed 1080p (2.35) AVC encoded transfer is dynamically detailed, offering a fresh-looking print and not as much grain as you might expect. The 1.0 DTS MA sound is passable, with the trailer, an isolated score track, and an informative commentary from Nick Redman, Julie Kirgo and Lem Dobbs offering insight into the film's (tasty) production background.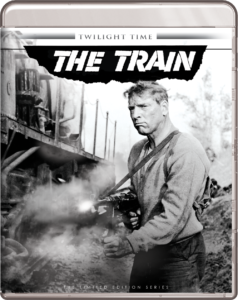 Also new from Twilight Time this month is an "Encore Edition" of their 2014 sell-out THE TRAIN (133 mins.), John Frankenheimer's 1964 WWII classic.
The director – coming off two of his most memorable '60s outings ("The Manchurian Candidate" and "Seven Days in May") – here works from an original Franklin Coen-Frank Davis screenplay that finds Burt Lancaster as Labiche, a French rail worker who becomes involved in a scheme to save priceless artwork from a Nazi train headed for Germany in the final days before the Allies liberated Paris. Paul Scofield is the Nazi commandant determined to see this last gasp of his failing movement's glory through, only to run into resistance from the initially ambivalent Labiche. Only eventually does Lancaster's hero decide to prevent the works from the great masters from falling into German hands – using it as a last opportunity to fight back against the Nazi oppressors who invaded their country.
With its stark B&W cinematography by Jean Tournier and Walter Wottitz, "The Train" is often heralded as one of Frankenheimer's finest films, even if it often flies under the radar compared to his other classics. In fact, it's hard to believe the DVD of this picture was out-of-print for so long (fetching decent prices on the secondary market), making Twilight Time's limited-edition Blu release particularly attractive (and no surprise it sold out so quickly). The 1080p transfer (1.66:1) occasionally shows the wear and tear present in its source elements, but is freed from any obvious DNR manipulation and boasts enormous gains in detail over the DVD. The mono audio, presented in a 1.0 DTS MA track, is as effective as the original mix allows (Maurice Jarre's score lacks the kind of grand stereophonic stage it deserves), with extras including the trailer, an isolated score track, and both Frankenheimer's original commentary as well as a TT-exclusive discussion with Nick Redman, Julie Kirgo and Paul Seydor.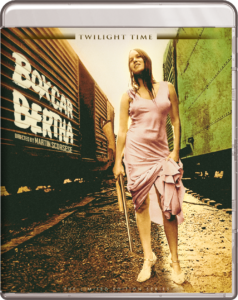 Martin Scorsese's second feature was BOXCAR BERTHA (89 mins., 1972, R), an American-International programmer about a young woman (Barbara Hershey) who becomes an outlaw during the Great Depression, bouncing around from Tennessee to Arkansas, robbing trains with the help of her "union organizer" on-again/off-again boyfriend (David Carradine, Hershey's then-companion off-camera). The duo, along with a pair of sidekicks (Barry Primus, Bernie Casey), become heavily wanted fugitives after plugging a mobster, sending the group on the run until their tragic end.
This Roger Corman-produced, low-budget affair benefits enormously from Scorsese's direction, foreshadowing his subsequent hits and layered with lyricism and quick-cutting. This isn't your typical AIP cheapie, and the performances of the nubile Hershey, Carradine, Primus and Casey give the film a compelling power, even if it seems a bit more contemporary to the early '70s than authentic of its period setting. Twlight Time's Blu-Ray offers a crisp 1080p (1.85) transfer, 1.0 DTS MA mono sound, an isolated score track and the original trailer.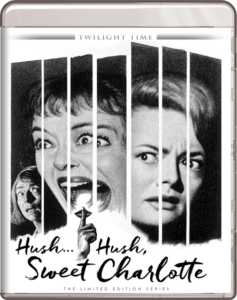 Lastly, rounding out Twilight Time's October releases is a Blu-Ray edition of HUSH….HUSH SWEET CHARLOTTE (133 mins., 1964), director Robert Aldrich's engaging follow-up to "Whatever Happened to Baby Jane," starring Bette Davis as a southern woman living in a decaying mansion, decades after having an affair with a married man (Bruce Dern) who ended up dead. When the Louisiana government plans on running the highway through her home, Davis' Charlotte calls on her niece Miriam (Olivia de Havilland) for help, only to have the past come back to haunt her. Lukas Heller and Henry Farrell adapted one of the latter's short stories for this highly entertaining southern Gothic mystery-thriller, packed with memorable performances and crisp B&W cinematography by Joseph Biroc.
Twilight Time's Blu-Ray includes a new commentary with David Del Valle and Steven Peros discussing the picture and Joan Crawford's work on the film – once intended as a true successor to "Baby Jane," "Charlotte" was to offer Crawford in the De Havilland role, only to have her turbulently depart the film after less than a week of work. An earlier featurette, included in Fox's prior DVD, includes stills of Joan Crawford working on the picture before she quit the production. That's on-hand here along with a Bruce Dern interview from that disc, an isolated score track of Frank DeVol's music, plus trailers, and a vintage promo featurette narrated by co-star Joseph Cotten. The 1080p (1.85) transfer is just fine and both 2.0 DTS MA stereo and mono soundtracks are included on the disc. Finally, a commentary with DVD Savant Glenn Erickson has been ported over from the film's first DVD release (it was left off Fox's Bette Davis DVD box-set).
---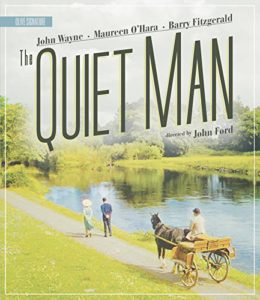 Olive New Releases
Over the past few years Olive Films has tapped into Paramount's back catalog and released dozens of top quality Blu-Rays, for films as varied as John Wayne programmers of the '50s and vintage film noirs to '80s cult favorites like the underrated Peter Weller-Christopher Collet drama "Firstborn." Among the label's new "Signature" Blu-Rays mastered from a 4K source is THE QUIET MAN (****, 129 mins., 1952), John Ford's classic which the label first tackled in 2013.
For Ford and John Wayne aficionados – as well as most any American with Irish blood in their backgrounds – "The Quiet Man" needs little introduction. Ford's lyrical tale of an Irish-American boxer (Wayne) named Sean Thornton who returns to Inisfree and his Emerald Isle roots, falls for – and has to win the hand of – local lass Mary Kate Danaher (Maureen O'Hara) while taking on her combative older brother (Victor McLaglen) is a fairy tale of Golden Age Hollywood proportions. Brilliantly shot on location by Winton C. Hoch, "The Quiet Man" has its share of Irish stereotypes like Barry Fitzgerald's matchmaker but Ford and screenwriter Frank S. Nugent – working from a 1930s story by Maurice Walsh – instill every character with genuine heart and goodwill, a sentiment that even the Irish themselves – whom for years generally disliked the film – eventually came to respect.
I hadn't watched "The Quiet Man" all the way through since one of my professors at Boston College screened an old VHS copy for our film appreciation class, on a small TV, back in the mid '90s. Needless to say that presentation did little to convey the film's dreamy Technicolor hues, and even subsequent DVD presentations weren't exactly impressive. Happily, Olive's Signature 4K scan of "The Quiet Man" has resulted in a lovely 1080p AVC encoded Blu-Ray presentation that's even more impressive than its prior Blu-Ray release. With unwavering detail – some images even have a photorealistic quality – and saturated colors, "The Quiet Man" ranks as one of the best catalog releases I've ever seen on Blu-Ray for a film of its vintage.
Olive's BD also adds new extras: commentary from Ford biographer Joseph McBride; a too-brief tribute to Maureen O'Hara with Ally Sheedy, Hayley Mills and Juliet Mills; a visual essay by Ford expert Tag Gallagher; a featurette on Republic Pictures; a new reminiscence by Peter Bogdanovich; and Leonard Maltin's 1992 home video featurette. Highly recommended!
Also joining Olive's Signature line this month is NIGHT OF THE GRIZZLY (102 mins., 1966), an entertaining Clint Walker widescreen western that's also been newly mastered. Commentary from Toby Roan, an essay by critic C. Courtney Joyner, a half-hour talk with Clint Walker, archival world premiere footage and an amusing "At Home With Clint Walker and His Home Gymnasium" vintage interview segment comprise the supplemental section. The 1080p (2.35) transfer and DTS MA mono sound are both finely detailed in every way.
Also New From Olive: Joining Olive's regular Blu-Ray releases are a pair of vintage Paramount titles. VILLA RIDES (122 mins., 1968, R) offers Yul Brynner as the Mexican renegade with Robert Mitchum an American fortune hunter and Charles Bronson as Pancho's sidekick – in other words, it's a fanciful Hollywood western with a wonderful Maurice Jarre score and a script credited to both Robert Towne and Sam Peckinpah. Robert Redford, meanwhile, moved from competitive skiing in "Downhill Racer" to motorcycle racing in LITTLE FAUSS AND BIG HALSY (99 mins., 1970, R), a oddball character study with Redford playing opposite "Bonnie & Clyde"'s Michael J. Pollard. A full run of character actors (Noah Beery, Lucille Benson, etc.) and the lovely Lauren Hutton co-starred in Sydney J. Furie's film, which makes its home video renaissance thanks to Olive's Blu-Ray. Both discs include 1080p (2.35) AVC encodes and DTS MA mono sound, with decent HD transfers from materials that haven't been recently restored, but still look better than you've ever seen them before (or at all, seeing as neither film has widely visible over the years).
---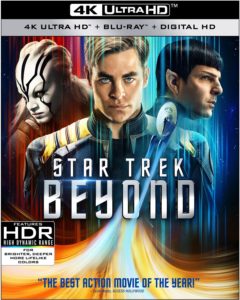 Also New & Noteworthy
STAR TREK: BEYOND 4K UHD/Blu-Ray Combo Pack (**½, 122 mins., 2016, PG-13; Paramount): After relaunching "Star Trek" on the big-screen in 2009's hugely entertaining "reboot," director J.J. Abrams struck out with the misguided "Wrath of Khan" redux, "Star Trek Into Darkness." This third entry in the series, "Star Trek Beyond," tries hard to make amends for the missteps of its predecessor, starting with the addition of a new director, "Fast and the Furious" vet Justin Lin, who at least brings a quicker pace and more optimistic tone than its prior installment.
The script – credited to Simon Pegg and Doug Jung – sends Kirk, Spock and the gang out to the furthest ends of the galaxy, only to meet another nefarious alien (Idris Elba) trying to destroy the universe by assembling a weapon and simultaneously holding the Enterprise crew hostage on a barren planet. There, the gang finds the remnants of an early Federation mission to the outer reaches of the galaxy, one that plays directly into the motives of the towering extraterrestrial bad guy named Krall.
"Beyond" is, if nothing else, a step up from the bombastic and wholly unlikeable "Into Darkness." Pegg and Jung's most effective contribution to their script (reportedly worked on by countless other writers) is an understanding of the series' generally optimistic spirit, something that results in the restoration of humor and a more genial tone than its prior entry. Among the cast, Zachary Quinto's Spock and Karl Urban's McCoy continue to mine the most entertainment out of the material – they're both pitch perfect and fit so comfortably into their roles that you wish we spent more time with them, and less with, well, everyone else, as the "equal opportunity" screen time portioning strains to give all the characters "something to do."
Lin's pacing is also less leaden than Abrams' second affair, but "Beyond" does run into rocky territory after a decent start. Once the film's premise becomes clear, Lin has nowhere to go but spread out the movie's various set-pieces in an episodic manner – leading to a tedious final half-hour that once again relies on fisticuffs and explosions instead of actual, character-driven dramatic fireworks. Prior to that, there are also numerous silly moments and some less than special effects, including a motorcycle chase (what is it with Kirk needing to spend time on the ground in this series?) that's so poorly rendered with inferior CGI that you wonder if the studio just ran out of money.
Ultimately, "Star Trek Beyond" may have the best of intentions in mind, but it's no more than a passable, and forgettable, ride that underperformed so much at the US box-office that it's entirely possible we've seen the last of the series on the big screen – again – for the forseeable future.
Paramount's 4K UHD platter is the best way to experience the film at home, though for whatever reason, the movie's colors seem muted a bit from the prior entries, even with the HDR enhancement. The Blu-Ray doesn't lag far behind with a quality 1080p (2.35) transfer and Dolby Atmos audio is present on both platters. Extras include deleted scenes and a series of featurettes, including a tribute to both Leonard Nimoy and Anton Yelchin, who each died during production. A Digital HD copy rounds out the disc.
New from Lionsgate is 50 YEARS OF STAR TREK (85 mins., 2016), a History look at the entire series featuring a smattering of exclusive interviews – Leonard Nimoy's final filmed conversation included. The DVD offers a digital copy and 16:9 (1.78) transfer, and is now available in stores.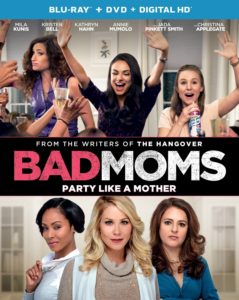 BAD MOMS Blu-Ray/DVD (**½, 101 mins., 2016, R; STX/Universal): One of the few word-of-mouth box-office hits from this past summer, "Bad Moms" really isn't about "bad" moms at all – and outside of one profane rant from Kathryn Hahn's character, isn't even all that raunchy. Instead, Jon Lucas and Scott Moore's movie looks at the modern parenting angle from a comedic, and decidedly female, point of view, including workaholic wife Mila Kunis, homemaker Kristen Bell and Hahn's saucy single mama. The trio butt heads with obnoxious PTA snob Christina Applegate and company, but eventually find out, even there, that the would-be villainess hides a sympathetic angle. "Bad Moms" is likeable and breezy, carried by Kunis' natural charisma, though it's also predictable and wastes Bell's energy in a thankless part. Still amusing enough to warrant a rental recommendation, Universal's Blu-Ray includes deleted scenes, a gag reel, and extended interviews with the cast and their moms (partially seen over the end credits); a 1080p (2.40) transfer, 5.1 DTS MA sound, a standard DVD and a Digital HD copy.
BATMAN: RETURN OF THE CAPED CRUSADERS Blu-Ray Combo Pack (78 mins., 2016, PG; Warner): DC Comics' latest animated movie engagingly resurrects the '60s Batman and Robin – and the entire universe of that beloved TV series – for a humorous story of Batman gone bad, Bat-clones running amok, and The Joker, The Penguin, The Riddler and Catwoman once again trying to cause havoc in Gotham City. With Adam West and Burt Ward returning to voice our Dynamic Duo, "Return of the Caped Crusaders" is filled with in-jokes that ought to appeal primarily to older viewers, though the comedy doesn't stop there, as references to other Bat-incarnations (including the Nolan pictures) abound. It's all enjoyable for what it is, though the basic animation isn't going to win any awards. Warner's Blu-Ray includes a 1080p (1.78) transfer, 5.1 DTS MA sound, two featurettes, and a Digital HD copy.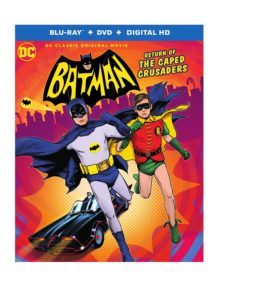 PREACHER – Season 1 Blu-Ray (471 mins., 2016; Sony): The offbeat DC Comics creation about a small-town Texas preacher who becomes endowed with super-powers took years to reach the screen. Afer numerous starts and stops, Seth Rogen was one of the producers who launched Sony's television version of the show, which aired this past season on AMC. The result is a wild and alternately clever and off-putting series that seems, at times, to be overly bogged down in back story, setting up the title character's origin in storylines that should satisfy comic book fans but may have difficulty gaining casual viewers. Sony's Season 1 Blu-Ray includes 1080p transfers, a Digital HD copy, several format exclusives (gag reel, two featurettes), and other extras including deleted/extended scenes, a look at filming the pilot and the show's stunts.
OUTLANDER – Season 2 Blu-Ray (773 mins., 2016; Sony): With time-traveling Claire and Jamie having ventured from the Highlands to France, the duo try to stop the battle of Culloden by way of infiltrating Prince Charles Stuart's Jacobite rebellion. They're subsequently indoctrinated into the world of posh French society, but find reaching their goals requires more than attending parties and working backroom channels – with the very (known) future of a failed Highland uprising hinging on their efforts.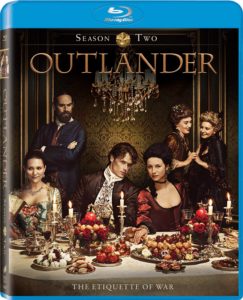 Fans of "Outlander" will relish Sony's superb Season 2 Blu-Ray box-set. Out this week, the set boasts beautifully detailed 1080p (1.78) transfers and 5.1 DTS MA soundtracks. Copious extras include a number of format exclusives: the extended episode of "Faith," an alternate scene, the featurettes "Jamie & Claire: To Hell and Back," "Designing History: The Costumes of Outlander," and "Recreating 18th Century Paris," plus show podcasts. Additional supplements include deleted/extended scenes with introductions from producer Ronald D. Moore, a gag reel, and featurettes "From Book to Screen: Discovering the Differences" and "The Characters of Season 2." Digital HD copies round out the package.
INTO THE BADLANDS – Season 1 Blu-Ray (255 mins., 2015; Anchor Bay): Exciting martial arts sequences are the main draw to this six-episode AMC futuristic series, set in a world where civilization has broken down and essentials are controlled by a series of "Barons" living in a feudal society dubbed "The Badlands." "Into the Badlands" recycles plenty of genre standbys, most notably "Mad Max" and other post-apocalyptic adventures, in a cliched but moderately entertaining fashion, thanks mainly to its well-edited fight scenes. Due back for a second season, Season 1 of the series comes to Blu-Ray next week from Anchor Bay. The disc includes vibrant 1080p transfers and Dolby TrueHD 5.1 soundtracks, a Digital HD copy, and plenty of behind-the-scenes featurettes.
MEN & CHICKEN Blu-Ray/DVD (104 mins., 2015; Drafthouse Films): Mads Mikkelsen gives an atypical comedic performance as one half of a pair of brothers who search for their biological father in a wild Danish comedy heavy on awkwardness and surreal humor. Anders Thomas Jensen directed "Men & Chicken," which debuts on Blu-Ray and DVD in a combo pack from Drafthouse this month. The disc offers a 24-page booklet featuring a look behind the scenes, trailers, a 1080p transfer, Dolby Digital 5.1 sound (in Danish with English subtitles), and a digital downloadable copy.
---
Warner Archive New Releases
One of the lesser known, if not the single smallest-grossing, film in the "Body Snatchers" series was Abel Ferrara's 1993 take on the well-worn Jack Finney story, BODY SNATCHERS (87 mins., R).Produced by Warner Bros. but basically sent straight to video, bypassing theaters, this watchable entry benefits from widescreen lensing and several creepy moments as Army brat Gabrielle Anwar watches in horror as not even the armed forces are safe from extraterrestrial invasion.
Screenwriters Stuart Gordon, Dennis Paoli and Nicholas St. John worked on this little-seen take on the story, with Larry Cohen and Raymond Cistheri credited with "story" development. The result is a flawed film marred by a lousy climax and ending that goes a decent distance to negating some of the movie's effective thrills that came before it. Producer Robert H. Solo, meanwhile, had worked on the 1978 Philip Kaufman version and carried over several elements from that picture (the inhuman "pod people scream" for one) accordingly.
Though not a great movie, "Body Snatchers" is well worth a look for fans of the series, and Warner's Archive Blu-Ray boasts a very nicely detailed 1080p transfer (2.35) and 5.1 DTS MA sound.
New on DVD from the Archive: Peter Bogdanovich's career is the subject of ONE DAY SINCE YESTERDAY (97 mins., 2015), Bill Teck's film that examines the director's rise, fall and lengthy career, from the highs of "The Last Picture Show" through the failure of "They All Laughed." Interviews with Cybill Shepherd, Quentin Tarantino, Wes Anderson, Jeff Bridges and others are included in the Archive's DVD with a 16:9 transfer and 5.1 sound…The WHEELER-WOOLSEY RKO COMEDY CLASSICS COLLECTION, VOLUME 2 hits DVD with the duo starring in a series of films made before and after the Production Code. Included here are "Dixiana" and "The Cuckoos" (1930), "Too Many Cooks" (1931), "Everything's Rosie" (1931), "Cockeyed Cavaliers" (1945) and "Silly Billies" (1936), presented on three discs from the Archive with B&W transfers and mono sound.
---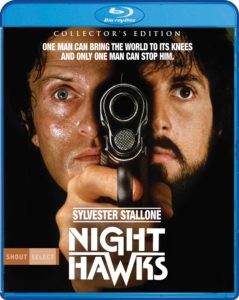 Shout New Releases
The latest Shout Select Collector's Edition is a long-overdue Blu-Ray of NIGHTHAWKS (***, 99 mins., 1981, R), the Sylvester Stallone action thriller that pits Sly and fellow undercover cop Billy Dee Williams against Rutger Hauer's terrorist in a globe-trotting adventure from director Bruce Malmuth. This Universal release has long been a fan favorite among Sly aficionados, offering the actor one of his more "realistic" and exciting vehicles outside the "Rocky" stable, as well as a terrific supporting cast including Lindsay Wagner, "Star Trek: The Motion Picture"'s Persis Khambatta, a young Catherine Mary Stewart and Nigel Davenport. Keith Emerson's score, though a product of its era, has also gained cult status over time.
Though apparently extensively cut down in the editing room, the finished version of "Nighthawks" is still well worth a look, and Universal's Blu-Ray offers up new conversations with Wagner, Stewart, cinematographer James A. Contner, police consultant Randy Jurgensen, producer Herb Nanas and co-writer Paul Sylbert. The 1080p (1.85) AVC encoded transfer and 2.0 DTS MA mono sound are both above board for a Universal catalog release, with the movie's use of outside songs being fully licensed for one of the few times on home video.
Also new from Shout is CARNAGE PARK (80 mins., 2016, Not Rated), Mickey Keating's independent thriller about a pair of criminals and a hostage who go on the lam after a busted robbery, only to run smack dab into an ex-military sniper. Gory stuff coming to Blu-Ray next week offering a 1080p transfer (2.40) and 5.1 DTS MA sound.
---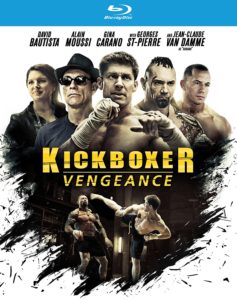 Quick Takes
UNCLE NICK Blu-Ray (81 mins., 2015, Not Rated; Dark Sky/MPI): Brian Posehn stars in Chris Kasick's film as a drunken uncle whose lewd behavior – coupled with his sister's arrival at their Christmas gathering – results in formerly buried secrets bubbling to the surface. Errol Morris produced "Uncle Nick," a caustic but often funny, profane picture that comes off as very-alternative holiday viewing. MPI's Blu includes commentary with writer Mike Demski, Posehn and Kasick, outtakes, featurettes, a 1080p transfer and 5.1 Dolby Digital sound.
PAPA HEMINGWAY IN CUBA DVD (110 mins., 2015, R; Fox): The first American movie shot in Cuba in nearly 50 years, Bob Yari's film traces the developing relationship between a Miami journalist (Giovanni Ribisi) and his idol, Ernest Hemingway (Adrian Sparks). Joely Richardson co-stars in this little-screened but well-acted film Fox has released on DVD featuring a 16:9 transfer (2.40) and 5.1 sound; though there's no Blu-Ray version, at least the disc contains a Digital HD copy.
KICKBOXER VENGEANCE Blu-Ray (90 mins., 2015, Not Rated; RLJ): Pretty feeble effort at reworking the '80s Jean Claude Van Damme cult favorite with Alain Moussi as a young man, living in his martial arts star brother's shadow, who vows revenge after he's killed by a relentless fighter (Dave Bautista) in the ring. Van Damme himself returns in a barely-watchable extension of the old karate-kicking franchise with a Making Of and photo gallery on RLJ's Blu-Ray with 1080p (2.40) transfer and 5.1 DTS MA sound. (Coming November 8th)
GLEASON DVD (111 mins., 2016, R; Sony): Inspiring and unflinching documentary profiles former New Orleans Saints player Steve Gleason, who found out at age 34 that he had ALS. His work with fellow ALS patients and relationship with his wife, Michel, and their newly born son comprise Clay Tweel's sad but effective, moving production. Sony's DVD includes commentary with Twell and Gleason's wife, Michel Varisco, a 16:9 transfer and 5.1 Dolby Digital sound.
NEXT TIME: More of the latest releases! Until then, don't forget to drop in on the official Aisle Seat Message Boards and direct any emails to our email address. Cheers everyone!