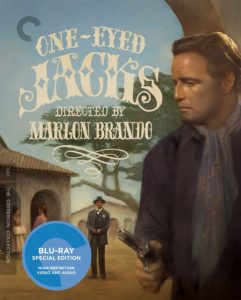 Brando, who took over the production from Stanley Kubrick, stars as "Rio," a soulful bandit left to rot in prison after his bank-robber partner, Dad (Brando's "On the Waterfront" co-star, Karl Malden), leaves him alone to face Mexican authorities. Years later, Rio wants revenge, and after aligning himself with a notorious outlaw (Ben Johnson) and company, finds Dad in Monterey, California – as a reformed sheriff complete with a Mexican wife (Katy Jurado) and a sultry stepdaughter (Pina Pellicer).
As Martin Scorsese notes in his introduction to this restored "One-Eyed Jacks," Brando's only directorial outing is a fascinating mix of "old Hollywood" with a story – scripted by Calder Willingham and Guy Trosper from a Charles Neider book – that offers an emotional range more in line with a film from the late '60s and '70s. Brando's introspective picture may not have a lot of "action," but it doesn't mean that things aren't consistently happening from a character standpoint: his Rio is a conflicted outlaw, motivated by his desire for revenge but open enough to develop actual feelings for Dad's stepdaughter. These character shadings give "One-Eyed Jacks" a maturity lacking from genre contemporaries of its era, and Brando's direction is assured, leisurely paced but surprisingly nuanced throughout.
The film is also beautifully shot by Charles Lang, Jr. in what was the final Paramount film shot in VistaVision. The waves off the Monterey Coast, the beautifully vivid colors and clarity of the image are spectacular to behold – especially when compared to a litany of awful DVD and Blu-Ray releases, mostly sprung off Paramount's '90s laserdisc, that preceded this 4K restoration. The PCM mono audio, meanwhile, houses a marvelously smoky Hugo Friedhofer score that's one of his all-time best.
Criterion's new Blu-Ray, despite the disappointment of having replaced the original Paramount title cards, also features several interesting supplements. Audio recordings made by Brando during production run just over a half-hour and lend an insight into his creative process, while video essays give a look at the film's turbulent production, including the discarded work of writer Sam Peckinpah, who later, reportedly, tweaked some of his unused "Jacks" script for "Pat Garrett and Billy the Kid."
The trailer rounds out a must-have Blu-Ray for Brando buffs and western fans, illustrating "One-Eyed Jacks" wasn't just a bloated vanity project, but a memorable picture very much ahead of its time.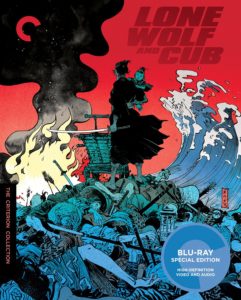 LONE WOLF AND CUB Blu-Ray Box (***, 1972-74; Criterion): I've found that the older I get, the more appealing vintage exploitation films become. Perhaps it's my growing disinterest in most manufactured studio films we're seeing these days, and maybe just my tastes have changed a little bit over time. Either way, a release like Criterion's LONE WOLF AND CUB Blu-Ray box – including the 1972 film, its five sequels and the sublime American re-edit SHOGUN ASSASSIN – feels like an oasis of undeniably fulfilling cinematic junk-food these days.
This remastered presentation of "Lone Wolf" follows Itto Ogami (Tomisaburo Wakayama), an executioner for a local Shogun who's disgraced and becomes an assassin for hire, seeking vengeance for the death of his wife and righting various wrongs of people he comes across in his travels. Alongside him is his son Daigoro (Akihiro Tomikawa), a three-year-old toddler who rides in a baby carriage – equipped with weapons – that, today, most certainly would not satisfy state or federal safety regulations.
Shot in widescreen, packed with martial arts mayhem and briskly paced, the "Lone Wolf" series – based on a Japanese magna – ended up spinning off into various sequels and TV series in its native country. In the USA, New Pictures, director Robert Houston and producer David Weisman reworked the first two "Lone Wolf" adventures – "Sword of Vengeance" and "Baby Cart at the River Styx" – into the 1980 theatrical release "Shogun Assassin." This Americanized, stripped-down standalone feature became a cult classic of its own – a lean, efficient, gleefully entertaining blast of action that tossed out some of its source material's fat and improved the product in the process.
"Shogun Assassin"'s dubbing, which was performed by the likes of Marshall Efron and Sandra Bernhard among others, is effectively handled, the pacing non-stop, and the power of the original movie's action sequences retained in this stripped-down, no-nonsense release – one which has had a lost-lasting influence on pop culture, whether it's modern music samples or references in assorted Quentin Tarantino productions. W. Michael Lewis ("In Search Of…") and Mark Lindsay's electronic scoring, meanwhile, adds further punctuation to a picture that's long been a favorite of genre fans.
Both the original "Lone Wolf" series and "Shogun Assassin" were previously brought to Blu-Ray by the Animeigo label several years back. Now out of print, Criterion's Blu-Ray includes a brand new 2K restoration of all the films in the series – including "Shogun Assassin" – in improved, dynamic 1080p (2.35) transfers with DTS MA mono sound (standard Dolby Digital on "Shogun Assassin"). Extras include a new interview with writer Kazuo Koike; a 2005 documentary on the series; a new interview with Sensei Yoshimitsu Katsuse; a talk with biographer Kazuma Nozawa about Kenji Misumi, director of four series entries; a silent documentary from 1937 about the construction of samurai swords; trailers; and booklet notes.
It's a marvelous package for a series that's wild, woolly, violent and almost spellbinding in its inherent madness.
---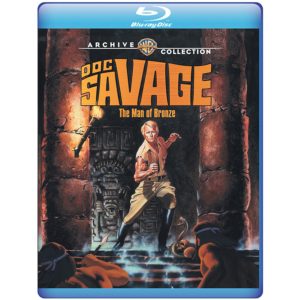 Warner Archive New Releases
Some may believe that producer George Pal's best work was confined mainly to the '50s ("War of the Worlds") and '60s ("Brothers Grimm, etc.), but for me, his final movie – the campy 1975 adventure DOC SAVAGE: MAN OF BRONZE (***, 101 mins., G) – remains a personal favorite.
Starring former TV "Tarzan" Ron Ely in the title role, "Doc Savage" is based on Kenneth Robeson's popular pulp novels and is an interesting precursor to the Indiana Jones heroics that would hit screens just a few years later (though after watching this film, you'd think decades separated their respective filmmaking styles). While Spielberg and Lucas eschewed camp for a more noble approach, Pal's film (directed by Michael Anderson) is pretty much a product of the Adam West "Batman" school of superhero adaptation – as in, it's strictly, broadly comic.
While that's decidedly out of step with today's serious-minded "fanboy fare," that doesn't mean "Doc Savage" isn't fun. Frank DeVol and Don Black's terrific adaptation of John Philip Sousa marches is wonderfully effective, and the movie's innocent, playful tone makes for colorful entertainment for kids and buffs alike, complete with a young Pamela Hensley (future Buck Rogers femme fatale) as the love interest. Sure, hard-core "Savage" fans are undoubtedly hoping an expensive, long-overdue big-screen remake – coming soon from director Shane Black with Dwayne Johnson as Doc – will better serve the source material, yet I have a soft spot for the Pal version, especially when taking on its own terms.
Previously available as one of the Warner Archive's earliest DVD releases, "Doc Savage" has been dusted off and remastered in a superb Blu-Ray edition. Boasting a high bit-rate 1080p (1.85) AVC encoded transfer and clear DTS MA mono sound, "Doc" has never, ever come close to looking this good since its theatrical release, with the trailer as the sole extra ("George" is also spelled wrong on the back cover credits).
Though modern comic book/pulp entertainment fans might scratch their heads at the shenanigans on display here, "Doc Savage" is infectious and silly, and also more fun than a good deal of today's cinematic comic-book heroics. Worth a view just for the soundtrack alone.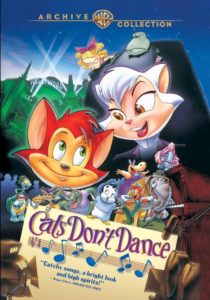 New on DVD from the Warner Archive: Turner Entertainment's feature animation unit didn't produce a whole lot of productions – in fact, CATS DON'T DANCE (***, 75 mins., 1997, G) would be the sole film released from Turner in the wake of their Hanna-Barbera purchase. This enjoyable hand-drawn effort bombed at the box-office but offers a fun spin on old Hollywood and, in particular, its story of an aspiring feline performer who seeks out to prove that cats do, in fact, dance on-screen circa 1939. Good fun for animation fans, old-time movie buffs (with its various in-jokes and references to classic films) and kids, with Warner's Archive DVD boasting the movie's first 16:9 widescreen transfer with 2.0 stereo sound.
SPACE JAM Steelbook Blu-Ray/DVD Combo (**½, 87 mins., 1996, PG; Warner): Of Warner's two "modern" feature attempts at resurrecting their Looney Tunes characters, the gang fared better in the 1996 live-action/animated hybrid "Space Jam" than in Joe Dante's ill-fated "Looney Tunes: Back in Action." Here Bugs Bunny and company join up with Michael Jordan as they take on the "Nerdlucks" who've stolen the talents of top NBA stars like Patrick Ewing and Charles Barkley (two of many cameos, including an extended one from Bill Murray) in an intergalactic game of roundball. This innocuous Ivan Reitman production did decently at the box-office in '96 but has been basically forgotten as the years have passed; Warner's Steelbook Blu-Ray includes a passable 1080p AVC encoded transfer plus DTS MA audio and number of extras including music videos, the trailer, a featurette, and a commentary with director Joe Pytka and special guests Bugs and Daffy Duck. A DVD and Digital HD copy are also included in this collectible Steelbook 20th Anniversary release.
---
New Release Rundown
FINDING DORY Blu-Ray Combo Pack (***, 97 mins., 2016, PG; Disney): Engaging – if predictably less inspired – sequel to arguably Pixar's finest feature, "Finding Nemo," turns the spotlight to Dory, the short-term memory loss-afflicted companion (voiced by Ellen DeGeneres) of Nemo and dad Marlin. Set a year after the events in its predecessor, Dory here attempts to retrieve her past and find the parents she lost as a little one – and in so doing, sets in motion another trip spanning the ocean floor. Key among the ingredients in this sequel journey are a Bay Area aquarium where Dory's parents still reside, as do a cantankerous octopus (voiced by Ed O'Neill) named Hank – easily the follow-up's most appealing new character – plus a near-sighted whale and some lazy sea lions.
The beginning of "Finding Dory" suffers a bit from a case of "Sequelitis," as the movie tries to shoehorn in a reprisal of past characters while introducing a similar narrative structure that feels overly calculated. Once it gets going, though, the film is charming enough – especially for kids – offering often mild laughs and a still appealing set of characters, with the addition of Hank, a virtual shape-shifting octopus who just wants to head off for the safe confines of an aquarium…in Cleveland.
Beautifully animated, "Finding Dory" nevertheless, and understandably, lacks the inspiration of "Nemo." It's not nearly as funny and the film has a handful of climaxes that comprise nearly its entire second half – yet it's still good-natured fun. In a summer of mostly disposable releases, that's enough to keep it afloat.
Disney's gorgeous Blu-Ray boasts a flawless 1080p (1.85) transfer that's every bit as detailed and colorful as you'd expect. 7.1 DTS MA sound and a slew of extras are highlighted by the marvelous short "Piper" which preceded the film in theaters, plus the short "Marine Life Interviews," deleted scenes, short featurettes, a Digital HD copy and DVD as well.
TO LIVE AND DIE IN L.A. Blu-Ray (**½, 116 mins., 1985, R; Shout Factory): Competent though a bit unremarkable until its razzle-dazzle, car chase sequence, William Friedkin's "To Live and Die in L.A." has been remastered in a Shout Select Blu-Ray edition that includes the debut of a new 4K derived transfer.
William Petersen, who finally received the recognition on series TV (thanks to "CSI") that was long overdue him, stars as a Federal agent who's gone over the edge. Willem Dafoe plays a counterfeiter that Petersen is pursuing by any means necessary in Friedkin's thriller, scripted by the director and Gerald Petievich from his novel.
It's mostly dated, "Miami Vice"-kind of action, right down to Wang Chung's soundtrack, yet there are some strong performances from Petersen and Dafoe, and a "money" set piece in the movie's well-executed car chase that have made the movie a viewer favorite over the years.
Shout's "Select" branded disc includes a superb 4K-mastered (1.85) AVC encoded presentation, scanned from the original negative and supervised by William Friedkin. New interviews offer comments from William Petersen, Wang Chung and stunt coordinator Buddy Joe Hooker along with extras from MGM's older Special Edition. The latter include a typically chatty commentary from Friedkin, plus featurettes spotlighting deleted scenes and an alternate ending. A documentary looks at the production of the film, while a photo gallery and trailers round out the disc, which includes a 5.1 DTS MA soundtrack and comes strongly recommended for fans.
---
Flicker Alley: November Releases
Fans of Cinerama and Flicker Alley's sterling Blu-Ray restorations of vintage features produced expressly for the format have cause for celebration this month, as a pair of productions make their home video debuts from the label.
THE BEST OF CINERAMA (143 mins., 1962) was the final production of legendary producer Merian C. Cooper, and functioned as a digest of the individual Cinerama travelogues produced prior to the release of "The Wonderful World of the Brothers Grimm." Footage from "Search For Paradise," "This is Cinerama," "Cinerama Holiday," "South Seas Adventure" and "Seven Wonders of the World" are on-hand here – with material from "This is Cinerama" newly restored, exclusively for this release – plus narration from Lowell Thomas produced to introduce the re-edited segments.
Flicker Alley conducted an extensive search over the years to find the original audio tracks for "The Best of Cinerama," with producer David Strohmaier once again working his magic to produce a spectacular high-def rendering in the curved "Smilebox" format, intended to recreate the experience of watching a real Cinerama screen. The 1080p transfer and DTS MA/PCM sound are exceptional, and the set includes a cornucopia of extras: commentary from Cinerama historian David Coles; a 1965 short "Shellarama"; the 1968 short "Bridge to Space"; a deleted scene from "Seven Wonders of the World"; a 2012 short, "Battleship Iowa Arrives in San Pedro"; an interview with the Cinerama travelogue restoration producers; a talk with Cinerama editor Norman Karlin moderated by Harrison Engle; slideshows; the trailer; a restoration demo with Strohmaier; and a reproduction of the original program booklet, plus a DVD.
Shot over an eight-year period, CINERAMA'S RUSSIAN ADVENTURE (127 mins., 1966) was a Cinerama-edited version of a Russian production shot in the "Kinopanarama" format. Cinerama brought in Bing Crosby to add the proper American perspective to this gorgeous trip back in time, showcasing Moscow, the Kremlin, the Volga River, and Russia's arts and culture circa the mid-20th century, including the Moscow Circus and Moiseyev Dancers. Extras in this Flicker Alley Blu/DVD combo pack include the 1966 Cinerama short "Concorde"; a 1964 Swiss Army propaganda film, "Fortress of Peace"; an interview with the sons of producer Hal Dennis; another restoration demo with Dave Strohmaier; trailers for this and other Cinerama features; slide show galleries; and a reprinting of the original program booklet.
As with Flicker Alley's previous Cinerama Blu-Rays, both discs come highly recommended!
---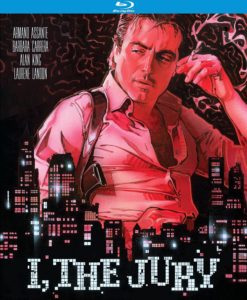 Kino Lorber New Releases
Armand Assante gives a laughably over the edge performance as Mickey Spillane's Mike Hammer in I, THE JURY (**, 111 mins., 1982, R), a misfired adaptation of Spillane's novel, previously brought to the screen in an early '50s B-noir starring Biff Elliot as Hammer and Franz Waxman scoring.
Exploitation auteur Larry Cohen scripted this '80s take, which was financed by American Cinema – the company behind Chuck Norris' earliest feature vehicles – and then sold to 20th Century Fox when the company went under. Completed in 1981 and released the following year to tepid box-office, "I, The Jury" follows Mike Hammer as he investigates the death of a friend and enters a long, winding web of deceit involving the CIA, a serial killer, and a potential femme fatale (a sultry Barbara Carrera). Alan King and Paul Sorvino co-star in a film that Cohen was slated to direct, and did…at least for a few days, before he was fired and replaced by journeyman TV vet Richard T. Heffron.
"I, The Jury" is all over the map, offering some potent chase sequences and equally poor performances, chiefly by Assante who clenches his jaw and tries to act "tough" but looks like he's posing throughout. Bill Conti's muscular score is appropriately bombastic in the right places, but this is a film whose appeal is going to be primarily limited to noir junkies and '80s enthusiasts who might embrace the film's inherent awkwardness.
Licensed through Fox, Kino Lorber's Blu-Ray does boast a natural, finely detailed 1080p (1.85) transfer with DTS MA mono sound. Extras include the trailer and a commentary from critic Nathaniel Thompson.
Also new from Kino Lorber's Studio Classics line this month is MAN ON FIRE (**, 92 mins., 1987, R), the first of producer Arnon Milchan's two adaptations of A.J. Quinnell's novel about a former CIA agent turned bodyguard whose job is to protect the daughter of a wealthy family. When the girl is abducted by terrorists, he goes on a one-man assault in a gritty tale of a dysfunctional hero's revenge and redemption.
Milchan struck box-office gold with his second version of "Man on Fire" – thanks to star Denzel Washington and director Tony Scott – but this first take is a decidedly dialed down affair by comparison. Scott Glenn is okay in the main role and director Elie Chouraqui recruits a strong cast of character actors to support him – including Danny Aiello, Joe Pesci and Jonathan Pryce – but this 92-minute feature feels abruptly edited and does not compare favorably with its subsequently flawed, but much more stylish, remake. Kino Lorber's Blu-Ray boasts a 1080p (1.78) transfer and DTS MA stereo sound plus the trailer.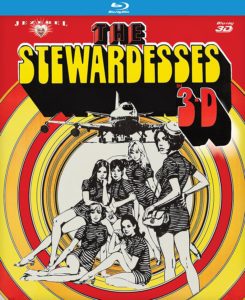 THE STEWARDESSES 3-D Blu-Ray (**½, 93 mins., 1969; Kino Lorber): Antiquated but moderately entertaining late '60s affair about a group of nubile young stewardesses in the free love era hits Blu-Ray for the first time in its native 3-D format.
A word-of-mouth success in its day, "The Stewardesses" was touted as the world's first 3-D "sex film," earning an X back in its day — yet it's tough to classify as being pornographic by today's standards. The movie was so successful that it was later re-edited with new footage, and Kino Lorber's Blu-Ray offers the first "true 3D" presentation of the movie on home video with an excellent MVC encoded 1080p (1.33) transfer and mono sound. Extras include the original trailer and "Experiments in Love," a 1977 "softcore short" presented in 3-D as well.
For 3-D fans, get ready for some legitimate late '60s shenanigans that became the highest grossing format film until "Avatar"! (Available December 13th)
Finally, also on December 13th, Kino Lorber brings viewers the first widely available North American video release of MAN FACING SOUTHEAST (***, 108 mins., 1986, R), Eliseo Subiela's acclaimed cult classic about a mysterious Buenos Aires psychiatric hospital patient (Hugo Soto) who claims he's from outer space. The evidence points less to the stars than it does a man without an identity, but there's no denying the impact he makes on his fellow patients in a psychological drama that was later reworked – without credit! – as the forgettable Kevin Spacey-Jeff Bridges drama "K-Pax." Kino Lorber's Blu-Ray boasts a booklet with historian Nancy J. Membrez's essay and a statement from Subiela; plus interviews with Subiela, Soto and cinematographer Ricardo De Angelis. The transfer, licensed from Lakeshore, includes a 1080p (1.85) presentation with 2.0 stereo sound, in Spanish with English subtitles.
---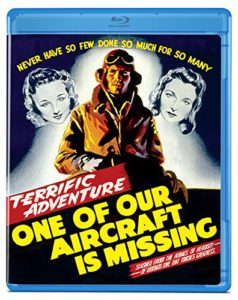 New From Olive
A pair of vintage dramas and a remastered western are on-tap from Olive on Blu-Ray this month.
Debuting on disc for the first time is a marvelously detailed B&W high-def transfer of Michael Powell & Emeric Pressburger's ONE OF OUR AIRCRAFT IS MISSING (***, 103 mins., 1942), a superbly executed piece of WWII propaganda about an RAF bomber crew, shot down over Holland, who try to stay one step ahead of Nazi capture. Worked on by the likes of David Lean (editor) and Ronald Neame (cinematography), this is one of the more entertaining films of its type, despite its dated aspects. Olive's 1080p (1.33) transfer is really quite excellent given the film's vintage, and the mono sound is fine.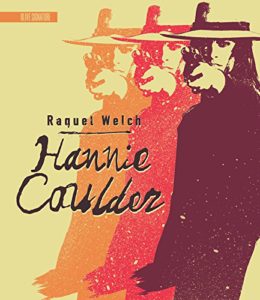 HOUDINI (**½, 106 mins., 1953), meanwhile, is a standard studio telling of the legendary magician's life offering one of Tony Curtis' best performances and strong support added by Janet Leigh. This 1953 George Pal production suffered from a mediocre print used on Legend Films' prior Blu-Ray, but the good news is that this Olive release is vastly superior, dominated by stronger detail and more natural grain, all of it enhancing the Technicolor cues of cinematographer Ernest Laszlo.
Finally, new to Olive's Signature line of remastered discs is HANNIE CAULDER (**½, 85 mins., 1971, R),a strange, British-produced western starring Raquel Welch as a widow out for revenge, Ernest Borgnine and Strother Martin as comic bad guys, Robert Culp as a bounty hunter mentor and Christopher Lee a sympathetic gunsmith who aids Hannie in her quest.
The tone in this Burt Kennedy-directed outing is all over the place, but there's still sufficient entertainment here for Welch fans and western buffs. Olive's 4K remastered transfer is a big improvement over their sometimes ragged looking earlier Blu-Ray, and new extras include a commentary from director/admirer Alex Cox, featurettes from Sir Christopher Frayling and scholar Ben Sher, and an essay from critic Kim Morgan.
---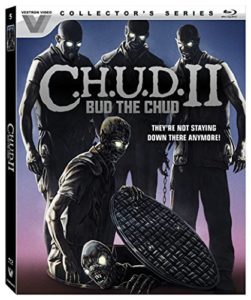 Catalog Corner
Released as part of Lionsgate's Vestron Video Collector's Series limited-edition Blu-Rays, CHUD II: BUD THE CHUD (*½, 85 mins., 1988, R) is the sequel nobody wanted. An in-name-only follow-up from director David Irving, "CHUD II" stars Gerrit Graham as the last remaining Cannibalistic Humanoid Underground Dweller, left to himself after the government project that created him shut down. Soon, however, "Bud" strikes out on his own, infecting a small town and dancing up a storm – with a "Thriller"-esque number in tow – in the process.
Even lower-budgeted and more intentionally humorous than its predecessor, "CHUD II" offers passable entertainment for horror fans thanks to its tone and the comic performances of the likes of Graham and company. This isn't "Young Frankenstein" – nor is it even "Ghoulies III: Ghoulies Go to College" – but B-buffs should find sufficient amusement here. Lionsgate's Blu-Ray includes a quality 1080p (1.85) transfer, 2.0 DTS MA stereo audio, commentary with Irving, a video trailer, stills gallery, and interviews with Graham, FX artist Allan Apone and actress Tricia Leigh Fisher.
Also new in Lionsgate's Vestron line this month is a more acclaimed (for its type) B-sequel: RETURN OF THE LIVING DEAD 3 (**½, 97 mins., 1992, Unrated).
Director Brian Yuzna's film is, like "CHUD II," barely connected to its predecessors, favoring instead a character-driven tale of a young couple (Melinda – then Mindy – Clarke and J. Trevor Redmond) whose romance takes a turn for the undead when she dies in an accident. Redmond improbably reanimates her with a top-secret government concoction that raises the dead, but soon find she has…cravings…upon her return.
For a small-scale affair, "Dead 3″ is surprisingly entertaining, working within the parameters of its budget and offering a self-contained story with enough gore to satisfy the hardcore. Lionsgate's Blu-Ray presents the uncut, bloodier version of the film in a 1080p transfer (1.85) with 2.0 DTS MA stereo sound. Extras include interviews with Yuzna, Clarke, makeup artist Tom Rainone, plus a "Conversation" with Yuzna and writer John Penney. Additional interviews include FX artists Steve Johnson and Chris Nelson, production executive David Triplet and editor Christopher Roth, trailers and a still gallery.
---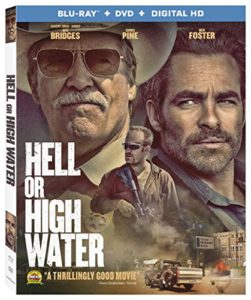 Also New & Noteworthy
HELL OR HIGH WATER Blu-Ray (***, 102 mins., 2016, R; Lionsgate): Strong performances fuel this well-made, if somewhat predictable, story of bank-robbing farmer brothers (Chris Pine, Ben Foster) whose seemingly sloppy heists mask a smartly motivated series of crimes that nevertheless fail to fool a veteran Texas Ranger (Jeff Bridges) whose time on the job is, of course, coming to an end. "Sicario" writer Taylor Sheridan's script doesn't offer a whole lot of surprises, and while director David Mackenzie seems intent on channeling the Coen Brothers and "No Country For Old Men" in his general approach, "Hell or High Water" works because of the conviction of its performances, most especially Pine, whose sympathetic father finds himself involved in a series of crimes that turn potentially more tragic for all involved. A bit overpraised but still worth seeing, Lionsgate's Blu-Ray boasts several featurettes, a Digital HD copy, attractive 1080p (2.40) transfer and 5.1 DTS MA sound.
MECHANIC: RESURRECTION Blu-Ray (**, 98 mins., 2016, R; Lionsgate): Jason Statham returns in this kinda-sequel to his "Mechanic," which was itself a remake of the '70s Charles Bronson cult favorite. This follow-up is much more a B-grade James Bond than its predecessor, following Statham's Arthur Bishop as he's sucked back into an assassin's life to help a woman (Jessica Alba) who might know more than she's letting on. Tommy Lee Jones and Michelle Yeoh co-star in this routine Statham vehicle that has a few fun moments and colorful locales to punctuate a script that comes off as disjointed at best. Lionsgate's Blu-Ray contains several featurettes, a Digital HD copy, 1080p (2.40) transfer, Dolby TrueHD/Atmos sound and a DVD.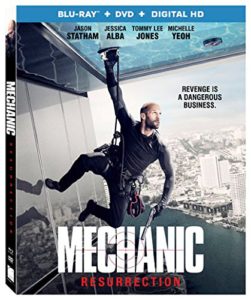 Also New From Lionsgate: Robinson Crusoe gets an animated makeover in the tepid kids offering THE WILD LIFE (91 mins., 2016, PG), as the shipwrecked sailor and a group of animal friends forge a friendship together after much trial and error. Pretty forgettable stuff, colorfully animated but vapid. Lionsgate's Blu-Ray offers several brief featurettes, a Digital HD copy, 1080p (2.40) AVC encoded transfer and 5.1 DTS MA sound…New on DVD this month is a History Double Feature offering the complete series of TEXAS RISING (8 hours, 2015) and SONS OF LIBERTY (270 mins., 2015), loose recountings of American historical legend with 16:9 transfers and 5.1 Dolby Digital soundtracks. Check the Aisle Seat Archives search page for individual reviews of both productions.
BETTER CALL SAUL Season 2 Blu-Ray (459 mins., 2016; Sony): Bob Odenkirk as back as Jimmy McGill in this second season of AMC's "Breaking Bad" spin-off series. This time out, while Jimmy tries to go all-in on his relationship with Kim (Rhea Seehorn), brother Chuck (Michael McKean) is keeping watch and "fixer" Mike (Jonathan Banks) is lured into a nefarious cartel, making McGill's chances of staying straight seem slim to none. Fans of "Better Call Saul" will appreciate Sony's superb Season 2 Blu-Ray package, including a handful of format exclusive extras: these include bonus "commercials," a talk with Jonathan Banks and Mark Margolis and several featurettes. Other extras include cast/crew commentaries on every episode, a gag reel, original music by composer Dave Porter, a table read, 1080p transfers (1.78), 5.1 DTS MA sound and a Digital HD copy.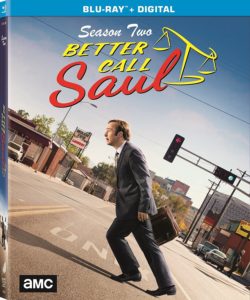 LOOKING: THE COMPLETE SERIES & THE MOVIE Blu-Ray (624 mins., HBO): Complete Series release of "Looking" is out this week from HBO. This series profiled the relationships of gay men in San Francisco, from Jonathan Groff's game designer to Frankie J. Alvarez's aspiring artist and Murray Bartlett's older, not necessarily wiser, middle-aged waiter. HBO's Blu-Ray features all episodes of "Looking" plus its movie conclusion that puts a cap on the entire series. 16 commentaries with cast/crew members, 1080p transfers, 5.1 DTS MA sound and Digital HD copies grace this complete series set from HBO.
CONSTANTINE Complete Series Blu-Ray (558 mins., 2014-15; Warner): Matt Ryan starred in this short-lived NBC series take on the DC Comics anti-hero, who previously showed up in an okay Keanu Reeves vehicle in 2005. This version was warmly embraced by comic book fans, with Ryan's John Constantine more closely resembling the grizzled, damned (literally) demon hunter/occult master who's lured back into the light in order to protect the innocent. Some 13 episodes of "Constantine" were produced, pared with NBC's more successful "Grimm" but unable to find an audience. Fans will savor this complete series set, with the trailer, a 2014 Comic Con panel, On the Set featurette, and an extra 2014 "DC Comics Night" Comic Con panel presented on Warner's Blu-Ray with 1080p transfers and 5.1 DTS MA sound. The disc is available exclusively through the Warner Archive and is available at retailers like Amazon and the WBShop.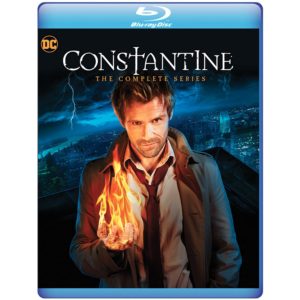 LO AND BEHOLD: REVERIES OF THE CONNECTED WORLD DVD (96 mins., 2016, PG-13; Magnolia): Werner Herzog's latest documentary looks at the creation of "the virtual world" from its inception through the current digital landscape. How technology impacts our lives and personal relationships comprises the bulk of the discussion in this new Herzog production, hitting DVD on November 22nd from Magnolia. The disc includes a talk with Herzog, the trailer, a 16:9 transfer and 5.1 Dolby Digital sound.
I.T. Blu-Ray (95 mins., 2015, Not Rated; RLJ): Disappointingly routine thriller stars Pierce Brosnan as an entrepreneur whose IT consultant (James Frecheville) turns the table on his state-of-the-art home's security system, using it to stalk Brosnan's business, family, and daughter (Stefanie Scott). John Moore has never been one of my favorite directors, counting the remake of "The Omen" and the horrific last "Die Hard" among his efforts, and he spins a by-the-numbers picture with a cast more deserving than the material gives them. RLJ's Blu-Ray includes a featurette, photo gallery, 1080p (2.35) transfer, and 5.1 DTS MA sound featuring a score from "executive music producer" Tyler Bates and composer Timothy Williams.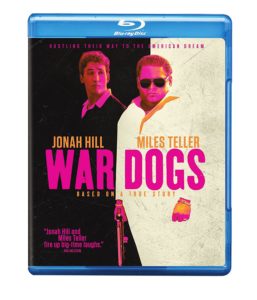 WAR DOGS Blu-Ray (114 mins., 2016, R; Warner): An enterprising but struggling young twentysomething (Miles Teller), living in Miami, finds out that he could score big by selling arms along with a high school buddy (Jonah Tell) during the Iraq War. When their contract intended to fund the Afghan militia blows up, the duo struggle to smuggle it into their hands in a convoluted yet lightly entertaining film, an atypical outing for "Hangover" director Todd Phillips that does boast two compelling performances from Teller and Hill. Warner's Blu-Ray of "War Dogs," based on a true story, includes three featurettes, a 1080p (2.40) AVC encoded transfer, 5.1 DTS MA sound and a Digital HD copy.
CHICKEN PEOPLE DVD (83 mins., 2016; Sony): Funny, and enlightening, documentary from CMT and director Nicole Lucas Haimes profiles the world of competitive, champion show chicken breeders and their exotic fowl. Profiling both the participants and their breeders, "Chicken People" takes a subject foreign to most of the American populace and manages to make it accessible and entertaining without being condescending. Sony's DVD, out this week, includes a 16:9 transfer and 5.1 soundtrack.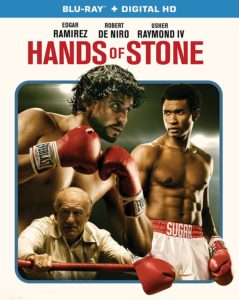 HOUSE OF LIES: The Final Season DVD (5 hours, 2016; CBS): Fifth and final season of the Showtime series features Don Cheadle reprising his role of consultant guru Marty Kaan, who co-parents with Jeannie (Kristen Bell) while they both seek new romances and Marty tries and makes a play for the "Pod" in Cuba. Fans of the series will want to check out this finale to the series coming to DVD on November 29th from CBS, offering Cheadle, Bell, Ben Schwartz, Josh Lawson and Donis Leonard, Jr. bidding adieu to their likeable power players. CBS' DVD includes a 16:9 transfer and 5.1 sound.
HANDS OF STONE Blu-Ray (111 mins., 2016, R; Anchor Bay): Champion boxer Roberto Duran (Edgar Ramirez) caused a stir that rippled across the sport when he declared "No Mas" during a rematch with Sugar Ray Leonard (Usher Raymond IV). Duran's complicated personality and rough and tumble life is the focus of Jonathan Jakubowicz's film, carried along by convincing performances from Ramirez and Robert DeNiro as Duran's trainer, Ray Arcel. The movie, though, is unevenly told, and tries to cram too many episodes into its sub-two- hour running time. Anchor Bay's Blu-Ray, out this week, includes deleted scenes, a featurette, 1080p (2.40) transfer, 5.1 DTS MA audio and a Digital HD copy.
MPI New Releases: Actor Brady Corbet directed THE CHILDHOOD OF A LEADER (116 mins., 2016, Not Rated), the tale of an American boy, the son of diplomats, who begins to manipulate the adults around him while living in France during WWI. An obvious allegory starring Berenice Bejo, Robert Pattinson and Liam Cunningham coming on DVD from MPI. The disc sports a 16:9 transfer and 5.1 sound…Also new from MPI, THE LAND (102 mins., 2016, Not Rated) is a story set in Cleveland's hip hop underground, where a group of teenagers become mixed up in a drug deal gone wrong. Steven Caple, Jr.'s film is now on disc sporting the trailer, a featurette, a 16:9 (2.40) transfer and 5.1 sound…ANTS ON A SHRIMP (92 mins., 2016, Not Rated) follows chef Rene Redzepi as he moves his Copenhagen restaurant Noma to Japan for a five-week "pop up" establishment, complete with its own 14-course menu. Fans of culinary cuisine will find much to enjoy in this doc, new to DVD from MPI as part of its Sundance Selects series, on DVD with a 16:9 transfer and 5.1 sound.
INTERVENTION DVD (88 mins., 2016, R; Paramount): Actress Clea DuVall directed this story of four couples who meet for a "marriage intervention" weekend, only to have things go awry en route to personal revelations being made for all. DuVall, Melanie Lynskey, Natasha Lyonne and Jason Ritter star with Paramount's DVD hitting stores this week with a 16:9 transfer, 5.1 sound, a music video and blooper reel included.
NEXT TIME: The latest releases as the holiday season kicks into full gear! Until then, don't forget to drop in on the official Aisle Seat Message Boards and direct any emails to our email address. Cheers everyone and Happy Thanksgiving!