www.andyfilm.com (new columns debut here first!)
email: mailbag @ andyfilm.com (remove spaces!)
Message Board (open 24 hours!)
Twitter - @andredursin (for everything else!)
Remember the summer of 1984, when "Temple of Doom," "Gremlins," "Conan the Destroyer," "Cloak & Dagger" (what an unsung classic!), "Buckaroo Banzai" and "The Last Starfighter" were released? Alas, we don't see too many seasons of quality popcorn-munching fare like those films these days. One of the many genre movies released that summer was the engaging fantasy-thriller DREAMSCAPE (***, 99 mins., 1984, PG-13), now on Blu-Ray in a superior Special Edition from Shout! Factory.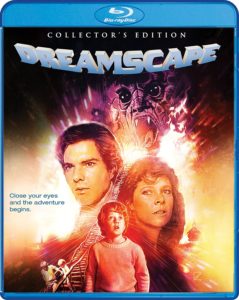 Dennis Quaid, back in the day when he was essaying smug prettyboys (it's a virtual reprise of his "Jaws 3-D" performance), plays a young man and former prodigy with psychic abilities, recruited to infiltrate dreams and nightmares by some mysterious people at a clinic overseen by Quaid's former professor Max von Sydow. Christopher Plummer and Kate Capshaw co-star in this thoroughly entertaining movie, one that scared the heck out of me when I was nine years old and still, surprisingly, holds up as a prime example of solid '80s entertainment. (And do check out the hilarious Indy-esque cover art, which makes it seem as if Quaid and Capshaw are about to run into Mola Ram themselves!).
Maurice Jarre's dated but sporadically effective synth score sounds terrific in the Blu-Ray's DTS Master Audio soundtrack (more lively in 5.1 than 2.0), one benefit of Shout's remastered Blu-Ray presentation. Image previously released the film in a weak Blu-Ray marred by a noise reduction-riddled transfer; this 2K remaster is appreciably more detailed, displaying the limitations of its source materials (and copious practical/optical FX) at times, but a massive improvement nevertheless.
Extra features are a mix of DVD extras and new additions. The latter include revealing and enjoyable chats with Dennis Quaid, who says the film ranks in the top five of pictures he's continually asked about; producer Bruce Cohen Curtis and co-writer Chuck Russell; director Joseph Ruben, co-star David Patrick Kelly, makeup artist Craig Reardon and many others. In all, over two full hours of new interviews are on-tap here, making for a comprehensive supplemental package. Among the anecdotes is Curtis discussing his disappointment with the electronic nature of Jarre's music, which the composer eventually admitted was necessitated by his forthcoming work on David Lean's "A Passage to India" (Curtis, in turn, kept reminding Jarre that he "owed him" for years!). Carried over from prior releases are a commentary with Curtis, Reardon and co-writer David Loughery, the trailer, test footage of the snakeman sequence, and other goodies. Highly recommended!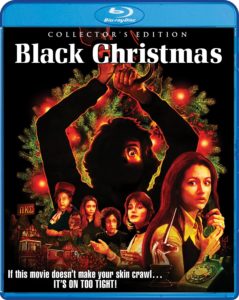 Also new from Shout is a Special Blu-Ray edition of the original BLACK CHRISTMAS (***, 98 mins., 1974, R), one of the earliest slashers, just in time for the holiday season.
Director Bob Clark's benchmark thriller laid the groundwork for John Carpenter's "Halloween" and the myriad of wannabes that followed, with Roy Moore's script finding a group of sorority girls terrorized by a killer with motives that are never, chillingly, fully explained. Olivia Hussey, Margot Kidder, Keir Dulla, John Saxon and future "SCTV" cast member Andrea Martin (who later appeared in the remake) are the cast members who find themselves terrorized on a cold, snowy December night, and Clark's direction is taut and low-key, enabling the picture to build up an enormous amount of tension as it moves along. Forget last decade's remake of "Black Christmas" and enjoy this fine slice of '70s horror, as the original is less explicit but far more terrifying than its putrid re-do.
Though theatrically released by Warner Bros., home video rights to the film have long resided with its independent producers. An out of print Critical Mass/Somerville House Blu-Ray was okay for its time, but it's been completely blown away here by Shout's splendid new 2K restoration from the original negative, offering finer grain and pleasing colors throughout; in fact, Critical Mass' 2006 HD transfer is included as a bonus on the set's second disc, and it shows how far compression and mastering have advanced in the decade since its production. The remastered 5.1 DTS MA sound is based off the 2006 stereo remix, which was surprisingly effective in its stereophonic presence considering the limitations of the source material, though purists will also take comfort in the restoration of the original mono sound, albeit in a "hissy," crackling 2.0 DTS MA mono mix (note as of this writing, Shout has acknowledged issues with this track and has told fans to stay tuned).
Hours of special features include a new interview with Art Hindle and numerous extras reprieved from older releases, including a documentary with recollections from cast members Hindle, Doug McGrath and Lynne Griffin; additional interviews with Olivia Hussey and Margot Kidder; a Q&A session from a midnight screening with John Saxon, Bob Clark and composer Carl Zittrer; two scenes with a different soundtrack; an alternate title sequence; and original trailers. Well worth a look!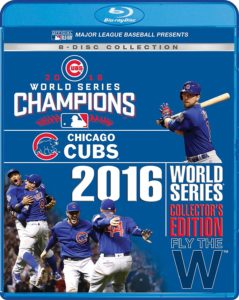 Also New From Shout Factory: Shout's superlative Shout Select line welcomes in a pair of classic concert films, THE T.A.M.I. SHOW and THE BIG T.N.T. SHOW (112/93 mins., 1964-66), to Blu-Ray for the first time. This Shout double-feature is packed with '60s musical performances from The Rolling Stones, James Brown, Chuck Berry, The Beach Boys, Smokey Robinson & The Miracles, Ray Charles, The Supremes, Ike & Tina Turner, and many others. Shout's extras offer commentary from director Steve Binder and radio spots on the TAMI SHOW, along with a John Landis "Trailers from Hell" commentary, and new interviews with Petula Clark, Henry Diltz and John Sebastian on BIG TNT SHOW. A 36-page booklet rounds out the package…Also this week, Scream Factory unleashes THE DEVIL'S DOLLS (85 mins., 2015, Not Rated), an IFC Midnight presentation about a group of "worry dolls" that once belonged to a serial killer now attacking residents of a small Mississippi town. Padraig Reynolds serves up a formulaic, watchable thriller now available on Blu this week featuring a 1080p transfer and 5.1 DTS MA sound.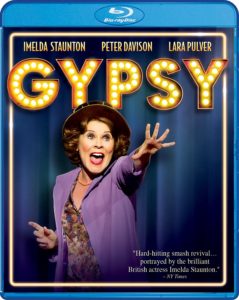 Shout Broadway New Releases: Broadway fans should be thrilled with a trio of new releases from Shout Factory. GYPSY (142 mins., 2015) gives viewers a taste of the West End's revival of the classic Styne/Sondheim/Laurents musical, starring Imelda Staunton as Rose. The great Patti Lupone, meanwhile, toplines SWEENEY TODD: THE DEMON BARBER OF FLEET STREET (145 mins., 2011), a concert rendering of the Sondheim masterwork with crisp Jonathan Tunick orchestrations and Lupone playing off Hiugh Wheeler and Neal Patrick Harris in a concert filmed in San Francisco. Finally, Leonard Bernstein's CANDIDE (116 mins., 2004) assembles an all-star cast with Kristin Chenoweth, Patti LuPone, and Paul Groves in another spirited concert recording, shot live at Lincoln Center's Avery Fisher Hall with the New York Philharmonic in support. Each disc offers 1080p (1.78) video and DTS MA stereo sound – highly recommended for musical buffs.
2016 WORLD SERIES: CHICAGO CUBS Blu-Ray (90 mins., 2016; Shout Factory): The Chicago Cubs' historical drought of World Series titles ended – and in dramatic fashion – with their seven-game conquest of the Cleveland Indians just a month ago. Fans can relive the excitement with this Blu-Ray from Major League Baseball and Shout Factory, featuring highlights, exclusive interviews and high-definition clarity. The 90-minute film is enhanced by regular season highlights, clinching moments, specific World Series highlights and the celebratory parade. The 1080p (1.78) transfer and stereo sound is fine, and a DVD is also included. For the hard-core, however, the 8-disc 2016 WORLD SERIES COLLECTOR'S EDITION includes all seven games of the Cubs-Indians tilt in full, along with a bonus disc featuring the Cubs' dramatic Game 6 NLCS clinching win from Wrigley Field. MLB's set offers no less than four audio feeds: TV, home radio, away radio, and Spanish language broadcast, plus a "Sleevestats Insert" with game trivia and statistics. Pricier, but easily the most complete package for Cubs fans this Christmas.
---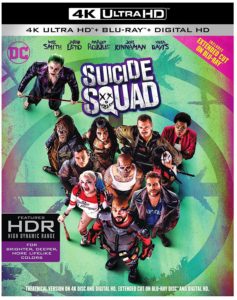 Warner Wrap
If there was a fitting way to put a cap on what's been the singular Worst Movie Summer in Hollywood history, it's with Warner's latest, confounding attempt to springboard their DC Comics characters into Marvel-sized box-office behemoths. This time it's not Batman and Superman doing battle, but rather the villains of SUICIDE SQUAD (**, 123 mins., PG-13; Warner), a film that resembles Marvel's "Avengers" less than it does a Warner August flop from years gone by: their ill-fated 1998 adaptation of TV's "The Avengers," which showed as many signs of post-production tinkering as this picture does.
The "plot" in writer-director David Ayer's film is set following the events of "Batman V Superman," where the Man of Steel's absence has caused the government – led by covert op Amanda Waller (Viola Davis) – to recruit remaining "meta-humans" in an effort to stop impending doom. The trouble is that those super-powered individuals are villains, some more loathsome than others, and most of whom are holed up at a secret prison in Louisiana.
They include sharpshooter assassin Deadshot (Will Smith), who just wants his daughter to be taken care of; the Joker's moll, Harley Quinn (Margot Robbie); an Australian killer with a deft use of the boomerang (Jai Courtney, in a roll intended for Tom Hardy); a former L.A. gang member, dubbed El Diablo (Jay Hernandez), with pyrotechnic prowess; and a hulking, scaled beast, Killer Croc (Adewale Akinnuoye-Agbaje). "Assisting" them are decorated soldier Rick Flag (Joel Kinnaman), Japanese assassin Katana (Karen Fukuhara) and, finally, Dr. June Moone (Cara Delevingne), who's become fused with the soul of the Enchantress. This latter predicament causes a major headache because – while this ancient sorceress can be tamed with control of her heart (which Waller keeps next to her in a briefcase!) – the Enchantress' desires include taking over the world if given the opportunity…which, of course, she gets.
That plot description is about the most sense I could make of "Suicide Squad," which plays out – especially in its first hour – as a film that's been given such a heavy going-over in the editing room that there isn't a single scene that doesn't feel "tampered with." Ayer's concept – or at least the completed film's concept – is to introduce each character, give a bit of backstory, spice it up with a one-liner and plaster it with loud rock music in every single sequence. I couldn't imagine the original screenplay was written out in this manner, because not only does the sequencing make little sense – just when you think the flashbacks are over, along comes, say, another scene between Harley Quinn and the Joker (an unimpressive debut for Jared Leto, who comes across as more of a poser than a psycho) – but there's nothing for the viewer to latch onto or care about.
The latter sentiment is the biggest problem with "Suicide Squad." In a summer filled with needless sequels, failed reboots and rampant mediocrity, here's one more to add onto the pile – a movie that demands no emotional investment from the viewer, that's content to flash its cast out in such a way that could sell a two-minute trailer, and climaxes with one more "been there, done that" special effects show as interchangeable from the likes of "Ghostbusters" or (Insert Movie Title Here). Dumb monsters that look like refugees from 1999's "The Mummy" serve as punching bags in the same manner that "Avengers: Age of Ultron" paraded out dull robots for its heroes to disperse with – the effect is loud, tedious, and utterly forgettable.
Faced with material that gives many of them little to do, the cast fares marginally at best. Smith's role was clearly intended as the film's anchor point for viewers, but his relationship with Kinnaman's stalwart Flag gets lost in the shuffle because of Ayer's momentum-killing structure. The much-discussed Harley – a fan favorite character – is embodied at least cosmetically well by Robbie, but it's less a performance than it is eye candy, the movie giving you glimpses of the character's back story without filling it in with, say, actual dramatic development. Ultimately, fans will likely be disappointed with the rather disposable manner in which she and her "origin" are portrayed, though there's hope the film's commercial success will enable her to better define the role in a standalone vehicle. Ditto for Leto's Joker, which strains to be "weird" instead of scary – or interesting. Other performances can only do so much in lieu of the mayhem, though I will say I could have used more of Delevingne's scantily-clad Enchantress, who seems to do a dance as she ignites the end of the world. She's kind of fetching, even if the part – and the character's relationship with Flag – seems equally under-served by the movie's under-developed screenplay.
It's true, certainly, that Marvel/Disney has their formula down in such a way that their pictures now solidly – though mostly unspectacularly – roll off an assembly line, and that Warner Bros. is clearly searching for the right mix with their DC pictures. Being "darker" and "edgier" is all fine and good, but serving up unappealing characters, incoherent storylines and a lack of basic humanity are the bigger problems in the DC "Cinematic Universe" right now. Perhaps going back to Summer Movies Past might enable the series' producers to find the proper ingredients for success, back when the likes of Donner, Raimi and Nolan had their own, respective ideas about what comic book – and movie – escapism used to be, and ought to be, about.
Warner's 4K UHD edition of "Suicide Squad" presents the film in an expectedly dynamic, HDR-enhanced 2.41 transfer that's full of color and detail. The Blu-Ray, also included, boasts a 134-minute extended, unrated cut of the movie that streamlines some of the Joker/Harley Quinn material, but does not change the overall tenor of the film. That 1080p AVC encoded transfer is very good indeed on its own merits, and both discs include Dolby Atmos audio that takes full advantage of the expanded surround field. Extra features, only on the Blu-Ray, include a handful of featurettes, along with a Digital HD copy.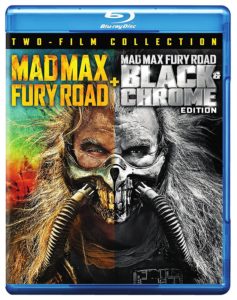 Bombastic, blaring and bursting with action, George Miller's long-gestating MAD MAX: FURY ROAD: BLACK AND CHROME EDITION (***, 120 mins., 2015, R; Warner) is the very definition of a "hardware movie": a spectacularly assembled collection of set-pieces that, ultimately, comprise one long, sensational chase through a post-apocalyptic wasteland.
A very loose sequel to Miller's groundbreaking trilogy of the '70s and '80s only in that the thinly defined character of Mad Max – here played by Tom Hardy, taking over for Mel Gibson – becomes an unwitting part of the action, "Fury Road" scarcely resembles the films that came before it. Here, Max is taken prisoner by an insane gang presided over by "Joe," their psychotic leader (Hugh Keays-Byrne, who starred in the original) whose harem of young women – designated to produce his offspring – dare to escape their imprisonment. With the help of one of the Big Bad's top drivers, Furiosa (Charlize Theron), the girls break free from Joe's automotive battalion with Max in tow – just in time to take on the villains and other marauders of a desolate, nightmarish world in hot pursuit of the group.
"Fury Road" is an easy movie to review for the most part. There's so little room for character development that the cast is mostly there just to take part in the mayhem. There's so little story that the few fleeting moments in which Max recalls "something bad" in his past are both haunting but frustratingly spare, while the relationship between one of the girls and Nicholas Hoult's anemic "War Boy" feels like a minor aside that was concocted during reshoots. In fact, the opening narration from Max feels, ultimately, unnecessary given how sparse the narrative is – yet Miller also acknowledged this from the very start. "Fury Road" is, in every facet, one long chase designed by the director: every shot, angle, and edit is the work of Miller, who once planned on this sequel being made in 2001 with Gibson returning to the title role, then was nearly re-conceived as an animated film (you can sense some of the more outlandish action bearing some of that sensibility here).
Over a decade later, and after numerous stops and starts, Miller produced a film that spent as much time in post-production as any in recent memory, so it figures that the finished picture is a polished, kinetic blast of action filmmaking. This is a movie in which you, as a viewer, feel as if you're constantly moving: from the opening of Max fleeing from an assortment of albino-skinned warriors to the elaborately staged automotive battles, Miller keeps the film in a perpetual state of motion. There are a few quick interludes where the characters catch their breaths, but you'll have to read more into the story – crafted by Miller, Brendan McCarthy and Nico Lathouris – to extract a deeper meaning than what's really there.
The entire world Miller displays here is notably wilder, more violent and also grotesque than the earlier films. It's also louder and more insane, embodied most obviously by a "music truck" with a guitarist and drummers acting out the non-stop Zimmer Company score by Junkie XL – a far cry from the likes of Brian May and Maurice Jarre, but that's film music in 2015 as we all know. Of the cast, Theron registers the strongest as Furiosa, while Hardy's Max is a bit of an unfinished creation – daffy and depressed, but capable of being heroic, this Max lacks Gibson's grounded intensity and could've used more screen time…or at least a story that enabled him to play more of a role. Either way, Hardy is passable, but one can sense the actor's admitted frustration with Miller over the character's lack of development and purpose on-screen. Ultimately, the real stars of the show are the roaring machines and rapid-fire editorial intensity set by Miller's directorial tour de force.
That might not bother some viewers, because as long as you don't think too much about it afterwards – and also separate your thoughts of the prior "Mad Max" films, which admittedly offered more in the way of emotional resonance and character development – "Fury Road" is mostly triumphant in achieving Miller's vision, years after it was originally supposed to happen.
Warner's "Black and Chrome Edition" of "Fury Road" includes the prior theatrical version – reviewed here – along with a new tinted version in B&W that Miller, apparently, prefers. To be honest, given the movie's striking use of color and series continuity, I don't personally see the point in this version, but hardcore fans may want to check it out just for completion's sake. The disc includes a new introduction from Miller among other extras recycled from the previous release, along with Dolby Atmos audio on both cuts of the picture.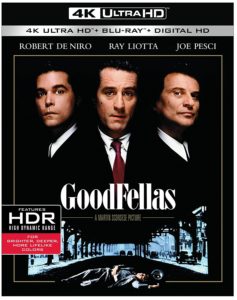 4K UHD Corner
Martin Scorsese's masterwork, GOODFELLAS (****, 146 mins., 1990, R; Warner) celebrates its 26th anniversary this year with a brand new 4K UHD release that – along with lossless DTS MA audio – easily trumps Warner's prior renditions of Scorsese's mob classic.
"Goodfellas" is one of my all-time favorite movies – a symphonic collage of sights, sounds, classic dialogue and a story that grabs you from its opening frames and never lets go, moving from decade to decade, celebrating the music and mood of its assorted eras while telling the story of Henry Hill's life in the mob. Based on Hill's own life as told by author Nicholas Pileggi in his book "Wiseguy" and adapted by Pileggi and Scorsese, "Goodfellas" is the director's finest feature – a movie that shows Scorsese in full command of his directorial talents, offering performances by Ray Liotta (as Hill), Robert DeNiro, Joe Pesci, Paul Sorvino, and Lorraine Bracco that are as indelible as some of its oft-quoted dialogue. Few films of its genre are as endlessly repeatable as "Goodfellas," and much more than the comparatively overrated "The Departed," the film engages the viewer to such a degree that you feel like you've been initiated into "the family," becoming privy to a life style as violent and reprehensible as it is seductive (I'd run a few "errands" just to try out Hill's pasta and meatballs).
Warner's original Blu-Ray was a decent effort for an early-format release, yet its VC-1 encoded transfer and vanilla 5.1 audio track were not up to the standards of today's catalog releases. The studio has rectified that disc with a brand-new 4K scan that gives viewers the benefits of a more detailed transfer with a finer, more accurate grain structure and detail to match. The source material still has some erratic elements at times with dirt and other issues, yet when the image is compared to the earlier Blu-Ray, there's no question which looks healthier and detailed, and HDR further separates the transfer here from even the remastered 2015 Blu-Ray. Sound wise, the DTS MA 5.1 audio is an appreciable upgrade on the Dolby Digital 5.1 track from the first Blu-Ray, while the disc recycles several extras from that release, including insightful commentaries (one by the real-life Henry Hill and the FBI agent who put him in witness protection; the other from assorted cast and crew members) and several featurettes.
Exclusive to this (and the 2015 Blu-Ray, also included here) is a half-hour Making Of from producer Brett Ratner, interviewing Scorsese, DeNiro, Liotta, Bracco, Pileggi and editor Thelma Schoonmaker. Contrary to the packaging claim that the documentary includes comments from Joe Pesci and Jack Nicholson (neither of whom appear) in a documentary about "Scorsese's greatest gangsters," this is a straightforward piece that treads over terrain previously covered in the earlier Blu-Ray/DVD Making Of (carried over here), while the Warner gangster documentary "Public Enemies" and a slew of Looney Tunes shorts are also included in standard-def (a Digital HD copy is also enclosed).
Fans of the film ought to be satisfied with the new transfer and sound, and newcomers will gain a stronger appreciation of the work of both Scorsese and cinematographer Michael Ballhaus, whose visuals are more accurately rendered in the 4K scan.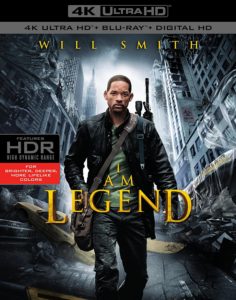 I AM LEGEND 4K UHD/Blu-Ray (***, 100 [theatrical] and 104 [alternate] mins., 2007, PG-13; Warner):The first-hour of "I Am Legend" is as tense, compelling, disturbing and thoroughly gut-wrenching a science-fiction film as you'll see.
Adapting Richard Matheson's "I Am Legend" for a new generation, director Francis Lawrence and writers Mark Protosevich and Akiva Goldsman place Will Smith in the role that Vincent Price and Charlton Heston essayed in decades past – that of Robert Neville, a biologist who seemingly becomes the last man on Earth after a virus, once intended to cure cancer, wipes out nearly the entire populace of New York City and beyond.
Neville cruises the streets of the now-deserted Big Apple with his German Shepherd Sam in tow, hunting wild animals who have taken to running through the buildings and tunnels of the formerly major metropolis. He even rents videos from a corner video shop, having placed and dressed mannequins who he talks to every day as if they were real people. It's a lonely existence, but it could be worse: once the sun goes down, whatever is left of humanity comes out, making loud, snarling noises and hunting whatever life is still left in the post-apocalyptic world.
For essentially an hour, "I Am Legend" draws you into this nightmarish scenario of humanity's demise and doesn't let up. The picture's visuals of empty New York streets and animals running amok are breathtakingly – and all too convincingly – represented, while Smith gives a sympathetic, wholly believable performance as a man who's lost everything, yet still tries to "fix" the situation by abducting the "infected" and trying to find a cure for them. All the while, flashbacks (seemingly modeled after "Lost") fill in the gaps of mankind's final hours, as Smith tries tragically to get his family out of the city. Individual set-pieces are also potent, such as when Smith's dog runs into a darkened warehouse where hordes of the creatures congregate, and a later sequence where the creatures turn the tables on Neville.
The picture's opening is so strong that one would anticipate the filmmakers having a hard time finding an ending that would live up to it. Sadly this is completely the case here, as the picture sinks once a woman (Alice Braga) and a young boy appear, having received Smith's daily radio broadcast. There's no development of these characters of any kind, and Braga comes off as being particularly devoid of charisma or any chemistry with her co-star (the sequence where Smith tries to teach Braga about the beauty of Bob Marley's music is downright pathetic). Their role in the story is pre-ordained, but because of the startling lack of development of these roles, there's no emotional connection or pay-off to them — something the story needed to have in order to function at the end.
Warner's Blu-Ray release does offer one advantage over the theatrical version: that being the option to view the film with its alternate (original) ending, which not only is a tad more upbeat than the released version, but also ties in with the main story (of the infected beings chasing Smith) far more effectively. Why this more emotional finale was jettisoned in favor of a slightly more "action" filled climax is anyone's guess, but viewers new to the film are urged to view it with the "alternate" ending instead of the theatrical version. Not that this finale is perfect, either, but it's certainly the better option given the choice.
"I Am Legend," then, is that rare science fiction film that doesn't pull any punches (young children should avoid the film at all costs, as well as dog lovers sensitive to traumatic death scenes of animals on-screen). It's a visually compelling and well-performed piece that likely works better on video than it did in theaters – due to the amount of silence in its opening hour – and comes as strongly recommended for sci-fi fans in spite of its lackluster final third.
Warner's Blu-Ray disc was absolutely spectacular for its time, and ranked as demo material for early-adopter high-def enthusiasts. The Dolby TrueHD audio was likewise exceptional, while extras included a gallery of short featurettes pertaining to the production; a featurette examining the possibility of real-life disease infections (in HD); and four animated comics.
That disc is included in Warner's 4K UHD release, which presents only the theatrical version of the film (with Lawrence's "Ultimate Edition" commentary) in a HDR-enhanced version that's even better than the 1080p disc, and features 5.1 DTS MA sound (as opposed to the Blu-Ray's TrueHD track). The HDR plays to the film's visual strengths, making for a must for fans (a Digital HD copy is also on tap), though it's unfortunate that the extended version wasn't available in 4K.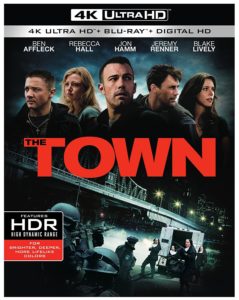 One of 2010's best movies, Ben Affleck's taut, exciting Boston crime thriller THE TOWN (***½, 125 and 153 mins., 2010, R; Warner) also hits 4K UHD this week in a terrific presentation that offers both its theatrical version in full HDR glory, as well as a superior Director's Cut (albeit only on an enclosed Blu-Ray) that enables the film to "breathe," thereby correcting some of the reservations I had about the picture when I first saw it theatrically in 2010.
Even more impressive than his prior "Gone Baby Gone," "The Town" is a flavorful examination of a group of thieves led by Affleck's conflicted soul and his hothead friend (Jeremy Renner), who brazenly abducts a bank teller (the fetching Rebecca Hall) during a heist. The group lets her go, but worries that she'll talk lead Affleck to strike up a friendship intended to generate information that ultimately turns into a full-fledged relationship between them; meanwhile, the local crime boss (Pete Postelthwaite) forces Affleck and Renner to handle one last score by knocking over Fenway Park, while the FBI (led by "Mad Men"'s Don Draper, Jon Hamm) closes in on them all.
"The Town" isn't a revelation as far as its genre goes, but it's nevertheless well-acted, superbly directed and memorably written with Affleck, Peter Craig and Aaron Stockard adapting Chuck Hogan's acclaimed novel "Prince of Thieves." Hall is terrific, Affleck is believable, Renner is intense, Postelthwaite adds another villainous role to his long line of characters, and Haam brings equal weight to his part of the FBI agent suspicious of Affleck and his gang. "The Town" mixes character development with suspense and a number of crackling good action sequences, including the Fenway climax that's superbly executed on a visceral level.
Affleck's Director's Cut lingers on a bit long at 153 minutes but overall it adds more depth to the characters than the more confined 125 minute theatrical version allows. The 4K UHD platter includes the theatrical version only in a presentation that – because of the Blu-Ray's low bit-rate – is appreciably enhanced over its 1080p presentation. Extras include thoughtful commentaries by Affleck on both versions, plus a number of solid behind-the-scenes segments, a Digital HD copy and 5.1 DTS MA sound on both discs.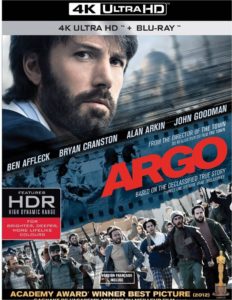 Affleck followed "The Town" with the confidently told, gripping Best Picture Oscar winner ARGO (***½, 120 mins., 2012, R), one of 2012's best films that also debuts on 4K UHD disc from Warner Home Video this month.
Performing chores both in front of and behind the camera as he did in 2010's memorable Boston heist thriller "The Town," Affleck stars as Tony Mendez, a CIA agent who hatches an unlikely plan to extract several American refugees from Iran after militants storm the U.S. embassy in Tehran, taking dozens of prisoners hostage. These six Americans, however, were able to flee the building before the militants took over, and eventually hid in the home of the Canadian ambassador (Victor Garber). Mendez's plan to "extract" them requires the hiring of make-up effects artist John Chambers (John Goodman) and producer Lester Siegel (Alan Arkin) in an effort to mount a phony sci-fi fantasy film that'll be used as a cover in order to get the Americans out of the country. However, with time ticking away, their situation is now more precarious than the dozens of hostages being held in the embassy itself.
"Argo" is simply terrific filmmaking on every front. Affleck gets the atmosphere and sense of time and place dead on target, but doesn't let the veneer of the past overpower the drama. Rodrigo Prieto's cinematography is natural, the performances from Affleck to Bryan Cranston as a fellow CIA worker and Goodman and Arkin in supporting roles (which, admittedly, could've been fleshed out further) are all superlative, and Chris Terrio's script embellishes the amazing true story with just a bit of creative license. It all makes for a superb film so compelling that it's incredible how much tension "Argo" generates even when the outcome is known before the movie starts with Saul Bass' '70s Warner Bros. logo immediately setting the mood.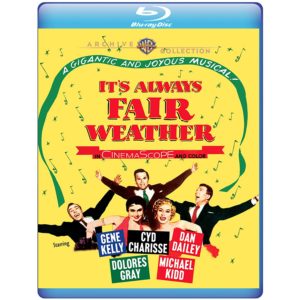 Warner's 4K UHD disc of "Argo" offers the expected HDR upgrade over its 1080p Blu-Ray counterpart (also included, albeit only in its standard, non-extended version cut). Details and general clarity are enhanced, though the differences aren't as stark between the two releases as "The Town." Extras include a fascinating picture-in-picture "Eyewitness Account" track offering comments from Mendez and the memories of others who lived through the Iranian hostage crisis, comments from President Jimmy Carter and plenty of detail on the movie's production, along with a commentary by Affleck and Terrio. The DTS MA audio on both discs is likewise strong, offering a decent score by Alexandre Desplat. A Digital HD copy completes the package.
IT'S ALWAYS FAIR WEATHER Blu-Ray (101 minms., 1955; Warner): Designed as something of a follow-up to "On the Town" for star/director Gene Kelly, co-director Stanley Donen and the song – and script – writing talents of Betty Comden and Adolph Green, "It's Always Fair Weather" is an interesting, though not altogether successful, mid '50s MGM musical. Kelly stars with Dan
Dailey and Michael Kidd as a trio of WWII pals who reunite after a decade for a reunion. There, they find themselves squabbling and bickering instead of enjoying one another's company in a story that's surprisingly downbeat for most of its duration; still, the Cinemascope cinematography and a few enjoyable musical numbers perk things up, with Cyd Charisse and Dolores Gray co-starring. Warner's Archive Blu-Ray includes a trio of outtakes, two "MGM Parade" segments, a pair of classic cartoons, an audio-only deleted scene, a Making Of featurette, 5.1 DTS MA sound and a wonderful 1080p (2.55) transfer.
---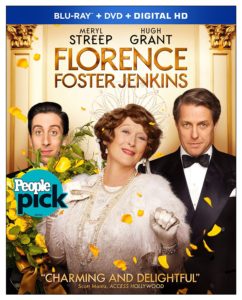 New From Paramount
FLORENCE FOSTER JENKINS Blu-Ray (***, 110 mins., 2016, PG-13; Paramount): Terrific, entertaining Stephen Frears film gives star Meryl Streep yet another chance to shine. As a New York City socialite with aspirations of hitting the big time with her operatic singing, Streep gives an intensely funny, moving performance, even while she's signed up for a performance at Carnegie Hall – without any of the musical chops to get her there. Hugh Grant is also terrific as her husband, leading a superb supporting cast – Simon Helberg, Rebecca Ferguson and Christian Kay among them – in a delightful film rich with humor and good cheer. Paramount's Blu-Ray includes deleted scenes, a Q&A with Streep, featurettes, a 1080p transfer, 5.1 DTS MA sound, Digital HD copy and DVD.
BEN-HUR Blu-Ray (**, 124 mins., 2016, PG-13; Paramount): Stylishly shot but pretty blah remake of the General Lew Wallace novel – and the beloved Charlton Heston/William Wyler classic – offers Jack Huston in the title role, with Toby Kebbell as Messala and Morgan Freeman as Ilderim. Director Timur Bekmambetov's past works may not have signaled an affinity for Biblical filmmaking, but he at least serves the central chariot race well – the problem is Keith Clarke and John Ridley's script and the overall tenor of the film, which is often dull and routine. Paramount's Blu-Ray includes several deleted/extended scenes, Making Of featurettes, a Digital HD copy, 1080p (2.41) transfer and 7.1 DTS MA sound.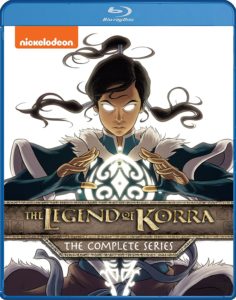 BROTHER NATURE DVD (96 mins., 2016, R; Paramount): A number of ex-Saturday Night Live cast members populate this anemic comedy about a politician (Taran Killam) who wants to propose to his girlfriend (Gillian Jacobs) at a lake house. Unfortunately, his wild brother-in-law (Bobby Moynihan), a camp counselor, gets him involved in a number of comedic events in this Lorne Michaels-produced concoction that also carts out Kenan Thompson plus Rita Wilson and Bill Pullman in a misfired, mostly unfunny mess written by Killam and Mikey Day. Paramount's DVD, out December 13th, includes a 16:9 transfer and 5.1 sound.
THE LEGEND OF KORRA: THE COMPLETE SERIES Blu-Ray (20 hours, 2012-14; Nickelodeon/Paramount):A follow-up to Nickelodeon's popular "Air: The Last Airbender" series, "The Legend of Korra" follows a teenage girl from the Southern Water Tribe, who leaves her home in order to travel to Republic City and combat a man who wants to rid the world of "bending" altogether. Colorful animated action dominates this series, which completed its fan-favorite run in 2014 and returns to Blu-Ray in a complete Limited Edition Blu-Ray box from Nickelodeon. The entire series is presented in 1080p (1.78) transfers with 5.1 DTS MA lossless audio. Over five hours of extras include featurettes, commentaries, a format exclusive "Art of the Animated Series" book and exterior slipcover making for a must for fans.
---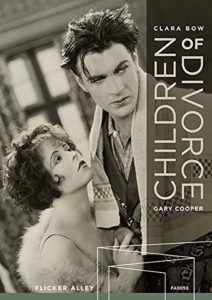 Cult Corner
CHILDREN OF DIVORCE Blu-Ray/DVD (71 mins., 1927; Flicker Alley): Clara Bow and Gary Cooper starred in "Children of Divorce," a 1927 production from Paramount Pictures and director Frank Lloyd, marking its first-ever home video release from Flicker Alley this week. In this rarely-screened film, a trio of children become lifelong friends at an American "divorce colony" after the first WWI in Paris; decades later, Cooper's Ted falls for Ersther Ralston's Jean, only to have Bow's Kitty maneuver her way between them, thwarting their happiness.
Flicker Alley's release was derived from both the original nitrate negative held by the Library of Congress, as well as their 1969 fine grain master, and was scanned at 4K in a painstaking restoration that required over 200 hours of work in assembling this premiere home video release. For fans of Cooper, Bow and the early days of Hollywood, then, this is an essential release, packaged with a souvenir booklet and an hour-long look at Clara Bow narrated by Courtney Love. Strongly recommended.
99 WOMEN Blu-Ray Combo Pack (90 mins., 1969, Unrated; Blue Underground): One of Blue Underground's most lavish sets this year will certainly appeal to Jess Franco fans. Here, the exploitation auteur shocked audiences around the world with this collection of gorgeous women – Maria Schell, Luciana Paluzzi ("Thunderball"), Rosalba Neri and Maria Rohm – who comprise just a few of the inmates at an island prison overseen by the (of course) sadistic Mercedes McCambridge and Herbert Lom "as the governor."
This unholy Harry Alan Towers production, scripted by Peter Welbeck and scored by Bruno Nicolai, has been a favorite of Euro-trash fans for decades, even in often heavily trimmed and censored versions. Blue Underground's box-set presents the film in a brand-new 4K restoration, offering unparalleled clarity of "99 Women," along with an interview with Franco; a talk with historian Stephen Thrower; deleted/alternate scenes; the trailer; poster gallery; a bonus, extensive booklet featuring Thrower's discussion of the film; a DVD; and a bonus CD soundtrack featuring Nicolai's work.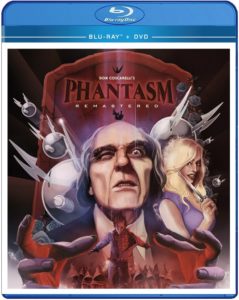 PHANTASM Blu-Ray (90 mins., 1978, R; Well Go): Among Well Go's newest releases is a Special Edition package of Don Coscarelli's 1979 horror favorite "Phantasm," making its Blu-Ray debut in a brand new remastered edition that should delight horror fans.
It's been a while since we've seen the original "Phantasm" on home video, in fact. The Anchor Bay label had previously brought the film to DVD in a five-disc box set in the UK, complete with bonus features and specialized "sphere" packaging that emulated the series' trademark flying silver ball of death. Lacking the rights to the Universal-released sequels, AB later issued the first and third films in the series in the U.S., enhanced by the majority of extras contained in the UK box-set.
Well Go's Blu-Ray has been sourced from a brand-new restoration of the film, produced by, of all people, JJ Abrams' Bad Robot Productions. This sparkling HD master enables fans to enjoy the film in a heightened clarity as they've never seen it before, with both 5.1 and the original mono audio on-hand, plus deleted scenes, trailers, 1979 archival interviews, a "Graveyard Carz Episode" and an older commentary featuring Coscarelli, stars Michael Baldwin, Bill Thornbury, and the late, great Angus Scrimm as "The Tall Man."
CHEERS FOR MISS BISHOP Blu-Ray (95 mins., 1940; Olive Films): Melodramatic, sweet, old-fashioned entertainment stars Martha Scott as a Midwestern school teacher who recounts her life, unfulfilled relationships and not-quite achieved dreams in an adaptation of Bass Streeter Aldrich's novel. Fans of the actress will most appreciate "Cheers For Miss Bishop," a Melange Pictures production brought to high-definition through Olive and Paramount. The B&W (1.37) transfer offers nice detail in addition to elements that are not always in the most pristine shape; the mono sound is functional.
BORDERLESS DVD (102 mins., 2014, Not Rated; Olive Films): Compelling Iranian import is centered around a young boy who lives along a war-torn border in a ship. His solitary life is disrupted by the arrival of another boy who brings an infant with him, searching for shelter. The expected philosophical questions are raised in Amrhossein Asgari's picture, now on DVD from Olive featuring a 16:9 transfer and mono sound, in Persian/Arabic with English subtitles.
TV on DVD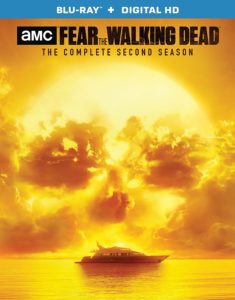 FEAR THE WALKING DEAD – Season 2 Blu-Ray (648 mins., 2016; Anchor Bay): Season 2 of the slower-paced, less bombastic "Walking Dead" spinoff finds Madison (Kim Dickens), Travis (Ken Curtis), Daniel (Ruben Blades) and their respective families heading out on the open ocean, where the Abigail is a safe haven for the survivors – at least until Operation Cobalt drives the dead to the sea. Zombies, gangs, pirates – and plenty of dysfunctional family bickering fuel this sophomore season of the AMC series, which provides well-acted yet pretty much watered-down antics for zombiephiles, and old hat for devotees of its mothership program. Anchor Bay's strong Season 2 Blu-Ray includes commentaries, deleted scenes, Flight 462 Webisodes, Q&A with the cast and creative team from PaleyFest LA 2016, two Making Of featurettes, 1080p (1.78) AVC encoded transfers, 5.1 Dolby TrueHD soundtracks and Digital HD copies.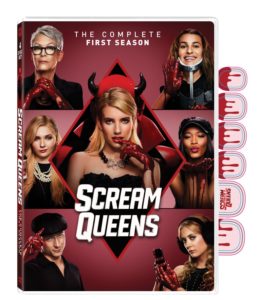 Fox New Releases: Season 1 of SCREAM QUEENS (570 mins., 2016) serves up a lighter Fox horror dish in comparison with, say, the "American Horror Story" franchise. Here, the "Red Devil" killer preys upon sorority sisters at Wallace University's Kappa Kappa Tau sorority, leading the Dean (Jamie Lee Curtis) to coerce the sorority's president (Emma Roberts) to accept anyone who wants to join while the investigation is on-going. Lea Michele, Keke Palmer and Abigail Breslin co-star in this over-the-top 13 episode series, which performed decently in the ratings and just started its second season on Fox. Fox's DVD includes "Rush Kappa," "Between 2 Queens" and "Style Queens" featurettes, 16:9 transfers and 5.1 soundtracks…Genre fans may also want to take a look at Fox's recent TV staging of THE ROCKY HORROR PICTURE SHOW (93 mins., 2016), featuring Laverne Cox as Dr. Frank-N-Furter with Ryan McCartan and Victoria Justice as Brad and Janet. Adam Lambert, Reeve Carney, Christina Milian, Ben Vereen and Tim Curry himself pop up in this new take on the '70s musical, not as satisfying as Fox's superb "Grease Live!" from earlier this year but worth a look for fans. Fox's DVD includes a Comic Con segment, Cox screen test, still gallery, featurette, a 16:9 transfer and 5.1 Dolby Digital sound. The program itself is an extended cut featuring unaired footage and the deleted song "Once in a While" which didn't make it to broadcast.
Meanwhile, Season 14 of FAMILY GUY (432 mins., 2015-16) has also made its way to DVD this month from Fox. In these 20 episodes, Stewie becomes a peanut butter spokesbaby, Brian courts love in India, the gang spends a night in an insane asylum and Peter reveals his K-pop dance moves. Fox's DVD features the Complete Fourteenth Season of "Family Guy" with 16:9 transfers, 5.1 sound and plenty of extras: commentary by writers/directors and cast members on select episodes, plus deleted scenes and "Talking Animals Mash-Up." Not nearly as funny as it used to be, but still recommended for the devoted.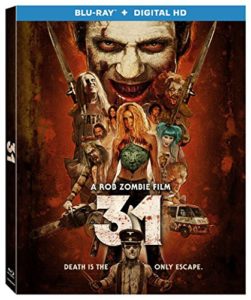 Lionsgate New Releases
31 Blu-Ray (103 mins., 2016, R; Lionsgate): Rob Zombie is at it again with this tepid rehash of his past White Trash Horror outings, mixed with an ample dose of the '80s Arnold Schwarzenegger hit "The Running Man." Here, a handful of carnival employees – including Zombie's wife, Sheri Moon Zombie – are kidnapped and quickly plunged into a game of "Murderworld," wherein one clown-attired psycho after another keeps coming after them. Yucky stuff, for Zombie fans only, with Lionsgate's Blu-Ray boasting a Making Of (two hours long), commentary, a 1080p (2.40) transfer, 5.1 DTS MA sound and a Digital HD copy…New on DVD from Lionsgate is STREETS OF COMPTON (135 mins., 2015), an A&E reality special that brings The Game into the mean streets of Compton for a look at the birthplace of pop culture figures like NWA, the Williams sisters and Kendrick Lamar. The two-plus hour doc includes a 16:9 transfer and 2.0 Dolby Digital sound.
CURSE OF THE MAN WHO SEES UFOS DVD (91 mins., 2016; Virgil Films): Compelling documentary from director Justin Garr profiles Christo Roppolo, a California resident who's shot hours of footage of discs floating around Monterey – and who claims to have seen these saucers since childhood. Garr's film, though, is as much about Roppolo's often raunchy personality, and his journey proves to be worth the watch no matter how you feel about the possibility (or lack thereof) of extraterrestrial life around us. Virgil's DVD includes a 16:9 transfer and 2.0 stereo sound, and is now available.
NEXT TIME: TWILIGHT ZONE – THE COMPLETE SERIES and more! Until then, don't forget to drop in on the official Aisle Seat Message Boards and direct any emails to our email address. Cheers everyone!