www.andyfilm.com (new columns debut here first!)
email: mailbag @ andyfilm.com (remove spaces!)
Message Board (open 24 hours!)
Twitter - @andredursin (for everything else!)
Another year has come and gone, incredibly, so as we bid adieu to 2016, I'd like to thank all of my regular readers for their comments and message board contributions! This final column is a Christmas/New Years special, so I will be updating it periodically with additional reviews as the few year-end releases trickle in. From the bottom of my heart, have a merry yuletide season and we'll catch you back here in the New Year!
Twilight Time December
TT's roster of limited-edition Blu-Rays, available as always through Screen Archives and Twilight Time's site, offer a variety of selections, including new visits to the catalogs of Ray Harryhausen and Woody Allen among others.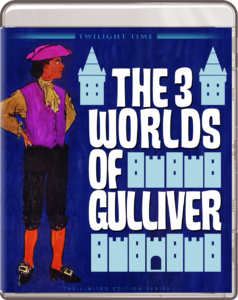 THE THREE WORLDS OF GULLIVER (100 mins., 1959): Ray Harryhausen's special effects and Bernard Herrmann's marvelous score are the main draws to this colorful though somewhat tedious 1959 adaptation of the Swift novel. Here, Kerwin Matthews essays Gulliver, who washes ashore in the kingdom of Lilliput, where its tiny residents first enaslve the giant before setting him free for further adventures.
The classic story was always a problematic one to adapt to the big screen, with most filmmakers wisely dropping some of Gulliver's later exploits and often excising Swift's satirical language almost entirely. Still, this Columbia effort is a game attempt at mixing mirth and fantasy, aided immeasurably by Harryhausen's superb trick photography and Herrmann's majestic score. What really holds the film back, however, is the movie's rather conventional script, which unlike Harryhausen and producer Charles Schneer's other works, wasn't built from the ground up by the duo, and instead was a Columbia production inherited by them. For that reason, "Gulliver" doesn't quite feature the spark of Harryhausen's other screen fantasies, but it's nevertheless entertaining and well worth a look.
"Three Worlds of Gulliver" has been presented by Twilight Time on Blu-Ray with multiple aspect ratios: viewers can select between a well-composed 1.66 version or a 1.78 presentation that may fill their HDTV screens but crops out some picture area, mostly at the top of the image. Both transfers are superbly detailed as we've come to expect from Sony licensed properties, though the 1.0 DTS MA mono sound isn't as robust as some of the other Harryhausen releases on Blu-Ray from this era. Extras include an isolated score track; a Making Of featurette and "Harryhausen Chronicles" and "This Is Dynamation!" documentaries; the trailer; and a new commentary with historians Randall Cook, C. Courtney Joyner and Steven C. Smith, the latter detailing Herrmann's work on the picture and the project's problematic genesis before Harryhausen and Schneer were involved.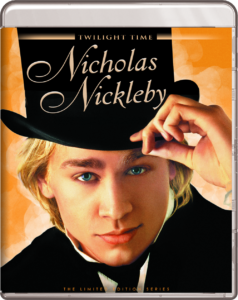 NICHOLAS NICKLEBY (122 minutes, 2002, PG): Well-acted and tasteful 2002 adaptation of the Charles Dickens novel from director Douglas McGrath ("Emma"). Charlie Hunnam is terrific as young Nicholas Nickleby, who attempts to find fortune and love in spite of a greedy uncle (Christopher Plummer) who's virtually downright evil in his motives.
This particular Dickens story was filmed only once before for the big-screen – in 1948 with Cedric Hardwicke (earlier versions were silent). Watching McGrath's film shows you why – although marvelously performed and shot, with a definite period flavor, "Nicholas Nickleby" is a dense and sometimes depressing tale that's not exactly "A Christmas Carol." The story is decidedly melodramatic, with large shifts of emotion, and yet the cast and filmmaking is so strong that it's certainly worth seeing. As with the case with McGrath's previous work, Rachel Portman's moving score lends a strong assist, and the cast – from future "Sons of Anarchy" star Hunnam to Plummer, Anne Hathaway, Romola Garai, Jim Broadbent, Alan Cumming, Edward Fox, Jamie Bell, Tom Courtenay, Nathan Lane, Timothy Spall and Juliet Stevenson – is outstanding.
Twilight Time's Blu-Ray looks superb (2.35 1080p AVC encode, 5.1 and 2.0 DTS MA stereo options), features an isolated score and extras carried over from the 2003 DVD release (an informative commentary track with McGrath, a Making Of segment and a "On the Set" featurette with multi-angle capability).
THE BULLET TRAIN (152 mins., 1975): The inspiration for the '90s Fox hit "Speed," "The Bullet Train" tells the tale of a demented criminal (Ken Takakura) who plants a bomb on a high-speed Japanese train that will – if the train drops below a certain level – blow it sky high. Sonny Chiba, another Japanese cinema star, features prominently as the engineer who eventually finds a way to derail Takakura's nefarious plans in this 1975 Toei company production from dirctor Junya Sato – one that's long been a favorite of Japanese cinephiles.
Previously available in the US only in a long out-of-print Sonny Chiba DVD compilation, this first HD presentation of "The Bullet Train" looks superb with a finely detailed 1080p (2.35) AVC encode and 1.0 DTS MA Japanese mono sound (English subtitles); extras include a music/effects track and the featurette "Big Movie, Big Panic: Junya Sato on The Bullet Train." Though I found the film a bit long and at-times rambling (a truncated U.S. release reportedly disposed of the villains' back stories, which would have been understandable), this is nevertheless a compelling thriller with two of Japan's biggest stars – the kind scarcely available in North America these days, and which comes strongly recommended for genre fans.
STARDUST MEMORIES (89 mins., 1980, PG): Woody Allen's 1980 meditation on fame and celebrity offers Woody examining – more or less – his own life at the time of its production. Allen stars as a director, best known for his comedies, who's since taken more critical barbs for his "serious" works. Coming off "Manhattan," this self-reflection was understandable, as Allen's Sandy Bates finds himself professionally torn, as well as having to choose between three different women, played by Jessica Harper, Marie-Christine Barrault and Charlotte Rampling, the latter inhabiting Sandy's former, neurotic girlfriend.
Allen-philes will get the most mileage out of "Stardust Memories," which fits comfortably alongside Twilight Time's previous forays into Woodyland ("Radio Days," "Crimes and Misdemeanors," "Zelig," etc.). The 1980 UA release sports a B&W 1080p (1.85) transfer, DTS MA 1.0 mono audio, an isolated score track and the original trailer.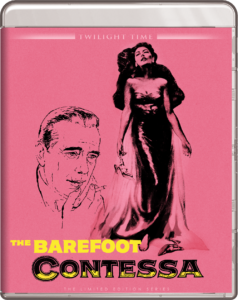 THE BAREFOOT CONTESSA (130 mins., 1954): Regardless of its initially mixed critical reception, Joseph L. Mankiewicz's 1954 film holds some interest for Golden Age fans through its cast, with Humphrey Bogart essaying a Hollywood director trying to help a Spanish night club dancer (Ava Gardner) who fights fame en route to becoming a worldwide movie star. Edmond O'Brien is a PR lackey, Warren Stevens a Howard Hughes-esque Wall Street mogul (reportedly, changes had to be made to certain dialogue prior to its release at Hughes' insistence), and Rosanno Brazzi the Italian count who eventually wins Gardner's heart, but harbors a dark secret.
Melodramatic but agreeably performed with beautiful color cinemtography by Jack Cardiff, shot at Rome's Cinecitta Studios, "The Barefoot Contessa" makes its Blu-Ray debut from Twilight Time. The 1080p (1.78) AVC encode enhances Cardiff's work with a strong technical presentation, with no less than three different audio configurations (5.1, "Perspecta" 3.0 and 2.0 DTS MA) preserving the film's soundtrack and Mario Nascimbene's score (also isolated on a separate channel). Additional extras include the trailer, a gallery of stills from historian David Del Valle's personal archive, and a commentary with Del Valle and Julie Kirgo, which discusses many of the elements – including Rita Hayworth's life – that served as an inspiration for the film.
An earlier Mankiewicz affair, THE KEYS OF THE KINGDOM (137 mins., 1944), was a lavish Fox production starring Gregory Peck as Father Francis Chisholm, a Scottish priest whose life and times – and, specifically, his work as a missionary in China – are recounted by a monsignor (Cedric Hardwicke) who wonders if he shouldn't retire from his current parish. Mankiewicz and Nunnally Johnson scripted with John M. Stahl directing this compelling period biopic filled with familiar faces, including Thomas Mitchell as Chisholm's lifelong friend, Vincent Price as a chum who also enters the seminary, plus Roddy McDowell among others.
Alfred Newman's superlative score is isolated in Twilight Time's Blu-Ray of "The Keys of the Kingdom," based on A.J. Cronin's novel and preserved here in a fine grain 1080p (1.33) B&W transfer. Audio options are configured in 1.0 DTS MA mono and a slightly more expansive 2.0 DTS MA track, with the trailer and a commentary with historians Kenneth Geist and Chris Mankiewicz dissecting the picture.
---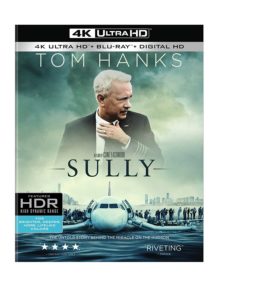 New Release Rundown
SULLY 4K UHD/Blu-Ray Combo Pack (***, 96 mins., 2016, PG-13; Warner): Director Clint Eastwood's leanest film in decades, this effective retelling of Captain Chelsey "Sully" Sullenberger's heroic water-landing on the Hudson marks some of Eastwood's strongest directorial work in some time – not to mention enables star Tom Hanks to add another memorable role to his filmography. Hanks is completely convincing here as Sully, whose decision to try and save his 155 passengers by way of a landing on the Hudson is broken up by a later FAA investigation into his quick thinking. It's a short but satisfying film both well performed and told. Warner's 4K UHD presentation of "Sully" boasts an amazingly detailed, and smashingly effective 4K UHD (2.41) presentation though colors aren't exactly eye-popping in HDR. A standard Blu-Ray is also included along with Dolby Atmos audio on both platters, a Digital HD copy, an interview with Sullenberger plus co-pilot Jeff Skiles and air traffic controller Patrick Harten, a profile of the real Sully and other behind-the-scenes featurettes.
STORKS 4K UHD/Blu-Ray Combo Pack (**½, 87 mins., 2016, PG; Warner): Cute Warner Bros. animated feature from writer/co-director Nicholas Stoller ("The Muppets," "Forgetting Sarah Marshall") envisions a candy-coated color environment where storks – the former delivery service of babies everywhere – have been pressed into duty to deliver packages instead. When the abandoned baby-making factory is reactivated, the storks have to take care of a baby girl in this pleasant, if forgettable, affair with cute animation by Sony Pictures Imageworks and voices provided by a game cast (Andy Samberg, Kelsey Grammar, Katie Crown, Jennifer Aniston, Key and Peele, Ty Burrell and Danny Trejo among them). Kids will, naturally, enjoy "Storks" the most, and Warner's 4K UHD platter is clearly the best way to appreciate the visuals at home, thanks to a sterling HDR presentation that makes great use of the movie's visual design. The regular Blu-Ray is also perfectly adept at delivering the film's animation, with DTS MA 7.1 audio, a Digital HD copy, and plenty of extras (deleted scenes, a bonus Ninjago short, music videos, featurettes) also on-hand.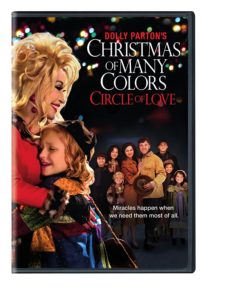 DOLLY PARTON'S CHRISTMAS OF MANY COLORS: CIRCLE OF LOVE DVD (87 mins., 2016; Warner): Follow-up to last year's high-rated NBC TV-movie brings back the adorable Alyvia Alyn Lind as the juvenile incarnation of Dolly Parton, raised by a loving family with limited means in the Great Smoky Mountains. Jennifer Nettles and Ricky Schroder return as Dolly's parents in this second production from director Stephen Herek and writer Pamela Long, as pleasant as its predecessor and perfect for holiday viewing for families. Warner's DVD, now available, includes unaired scenes and four featurettes, a 16:9 (1.78) transfer and 5.1 Dolby Digital sound.
MISS PEREGRINE'S HOME FOR PECULIAR CHILDREN Blu-Ray (**½, 127 mins., 2016, PG-13; Fox): One of director Tim Burton's more appealing recent outings, "Miss Peregrine's Home For Peculiar Children" adapts Ransom Riggs' young-adult book about a teen (Asa Butterfield) who uncovers an entire world of kids with mysterious powers. Time shifting adventures, interesting FX work and an engaging cast – which counts Eva Green, Rupert Everett, Chris O'Dowd, Allison Janney, Terence Stamp, Judi Dench and a villainous Samuel L. Jackson among them – make this fantasy a delight for much of its running time, at least until the movie falls apart via a boring, typically chaotic, modern action climax. Fox's Blu-Ray of "Miss Peregrine" boasts a handful of featurettes, a DVD, Digital HD copy, 1080p (1.85) AVC encoded transfer and 7.1 DTS MA sound.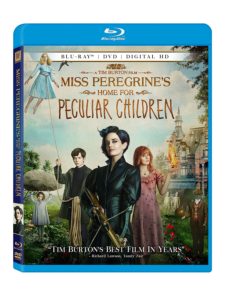 BLAIR WITCH Blu-Ray (**, 89 mins., 2016, R; Lionsgate): Not as embarrassing as the godawful "Blair Witch 2″ from years back, director Adam Wingard's re-quel is pretty much just a rote redo of the original "Blair Witch Project" (which I've always found patently overrated): a group of kids go into the woods, hear things, rinse and repeat.
The first half of the movie is a total bore and isn't even well executed in terms of its set up (i.e. it's sometimes confusing as to whose POV we are seeing). The dialogue is blandly delivered by a cast that's utterly forgettable save a pair of fairly attractive female leads, and thrills are few and far between.
If you can make it through, however, the final 15 minutes finally come alive and give fans a decent climax with some intriguing effects and just a little enhancement in terms of folklore…but it's too little, too late. This concept really needed a fresher and different take all the way through instead of mainly recycling its predecessor for most of its duration.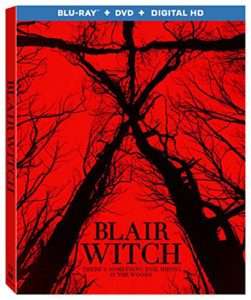 Still arguably worth a look for horror fans, Lionsgate's Blu-Ray of the '16 "Blair Witch" drops on January 3rd. The Blu boasts a 1080p (1.85) AVC encoded transfer with a well mixed 5.1 DTS MA soundtrack, DVD, digital copy, commentary with Wingard and writer Simon Barrett, a six-part Making Of documentary, and "House of Horrors: Exploring the Set" featurette.
UNDERWORLD 4K UHD Combo Pack (**½, 121 mins, 2003, R; Sony): Ridiculous, humorless, yet stylish genre potpourri crosses "Highlander" with "The Crow," adds in a dash of vampire and werewolf action, and does a poor job developing characters for a movie that runs a full two hours.
All that being said, though, the central story in Len Wiseman's hit film is an intriguing one: in a nondescript, towering city, a centuries-old war is being waged by aristocratic vampires and street-savvy "Lycans," whom the legions of the undead want to extinguish from the world as we know it. Humans rarely interact with either species, which is why vampire huntress Kate Beckinsale finds it odd that one of the last Lycan mobs is targeting a human hospital internist (Scott Speedman).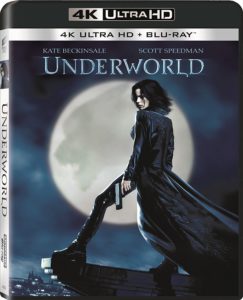 Screenwriter Danny McBride weaves a compelling story of an ages-old conflict between warring supernatural forces, yet one wishes that the relationships between the protagonists — especially the "forbidden bond" between Beckinsale and Speedman — had been elaborated upon. The society the vampires have established for themselves is intriguing as well (particularly in its contrast with the Lycan world), yet the movie frustratingly never indulges us in anything more than what feels like an outline of a full- blooded story.
Still, the visuals and action in this first (and best) "Underworld" keep you watching, while Wiseman's obvious fetish for Beckinsale in leather (he married her following the production) results in a sleek female action hero who returned for a handful of follow-ups – including the forthcoming "Underworld: Blood Wars," which will warm horror fans' hearts in just a few weeks.
Sony's 4K UHD presentation of "Underworld" is apparently an upscale – not a true 4K presentation – though the UHD does best the prior Blu-Ray (also included here) in terms of overall sharpness. This isn't a film with eye-popping colors but deep blacks and contrasts, and overall, the UHD serves up a superior presentation than the Blu-Ray, which does house the movie's unrated cut and copious extras (the UHD platter includes the superior theatrical cut of the film). Dolby Atmos audio on the UHD also trumps the PCM sound on the Blu-Ray edition.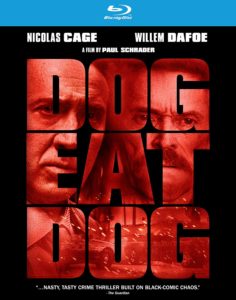 DOG EAT DOG Blu-Ray (83 mins., 2015, Not Rated; RLJ): Disappointingly slight, self-consciously offbeat crime drama offers Nicolas Cage and Willem Dafoe as ex-cons hired by a mob boss to kidnap a baby – things, of course, go awry in this dreary Paul Schrader film, scripted by writer Matthew Wilder from Edward Bunker's novel. A waste of time for both of its leads, "Dog Eat Dog" received scant distribution but hits Blu-Ray from RLJ next week; the disc boasts an introduction from Cage, a BeyondFest Q&A with Cage and Schrader, a photo gallery, commentary from Schrader, a 1080p (2.35) transfer and 5.1 DTS MA sound.
MIDDLE SCHOOL: THE WORST YEARS OF MY LIFE Blu-Ray (92 mins., 2016, PG; Lionsgate): Young-adult comedy failed to connect with audiences in the way that Fox's "Diary of a Wimpy Kid" franchise was enable to, at least initially. This adaptation of James Patterson's (yes, that James Patterson) book stars Griffin Gluck as a new student at a rigid middle school – soon Gluck's Rafe teams up with his new friends to test the Code of Conduct, with real and imagined zaniness ensuing. Readers of the books might enjoy "Middle School" but there's not enough appeal in the cast – which offers Lauren Graham, Rob Riggle and Andy Daly in the adult portion – to push the familiar material over the top. Lionsgate's Blu-Ray is out January 3rd, boasting deleted scenes, a gag reel, several featurettes, a 1080p (2.39) transfer, 5.1 DTS MA sound, a DVD and Digital HD copy as well.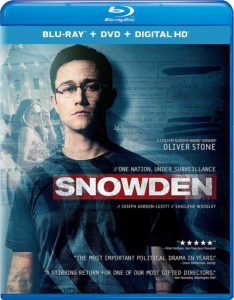 SNOWDEN Blu-Ray (135 mins., 2016, R; Universal): Oliver Stone spins yet another underwhelming film, this time chronicling the exploits of ex-army solider turned spy – or whistleblower, depending on your point of view – Edward Snowden after uncovering his native country's surveillance by the NSA. As embodied by Joseph Gordon-Levitt, Stone's version of Snowden is nothing less than a hero exposing war crimes, but you'd wish Stone and co-writer Kieran Fitzgerald managed to tell their story in a more concise manner, with too much of "Snowden"'s bloated running time devoted to his relationship with girlfriend Lindsay Mills (Shailene Woodley). Universal's Blu-Ray of the Open Road release includes deleted scenes, a "Finding the Truth" featurette, and a Q&A featuring Snowden, Stone, Gordon-Levitt and Woodley. The 1080p (2.39) transfer and 5.1 DTS MA sound are both fine.
PHANTASM RAVAGER Blu-Ray (86 mins., 2016, Not Rated; Well Go USA): Fifth and supposedly final installment in Don Coscarelli's series finds Reggie (Reggie Bannister) still searching for his buddy Mike (A. Michael Baldwin) across multiple dimensions while running afoul of The Tall Man (Angus Scrimm) one last time. Coscarelli produced and co-wrote "Ravager" with David Hartman, and this sequel is strictly for fans only, as the film was reportedly conceived and shot over a period of several years, and subsequently offers a rocky, disjointed plot that's going to be hard for anyone but die-hard "Phantasm" fans to follow. Well Go's Blu-Ray boasts commentary, deleted scenes, outtakes, the trailer, a 1080p transfer and 5.1 DTS MA audio.
GIRLS – Season 5 Blu-Ray (300 mins., 2016; HBO): Fifth season of the still-popular and previously controversial HBO series finds Hannah teaching along with Fran, her new boyfriend, while putting her writing aspirations aside; Marnie needing space after her honeymoon with Desi; Jessica working towards becoming a therapist while managing a new relationship; and Shoshanna working in Japan, trying to juggle a long-distance relationship with Scott while flirting with her boss. Fans of the series will warm to "Girls"' fifth season, coming to Blu-Ray on January 3rd from HBO offering a 1080p (1.78) transfer, 5.1 DTS MA soundtracks, deleted/extended sequences and "Inside the Episode" segments on the supplemental side.
---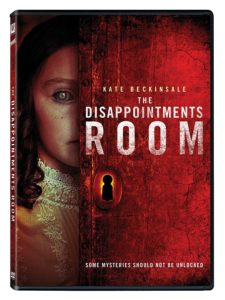 New on DVD
THE DISAPPOINTMENTS ROOM DVD (85 mins., 2016, R; Fox): There wasn't a more apt title in 2016 than "The Disappointments Room," a dismal box-office dud that shows Kate Beckinsale's star power has pretty much ground to a halt. This unpleasant affair finds a blonde Kate leading her family to a North Carolina home, only to run afoul of multiple ghosts and a disturbing story at the heart of their haunting. DJ Caruso directed a script he co-wrote with "Prison Break" actor Wentworth Miller, one that's patently disturbing and unappealing from the first frames to the last, and shows serious signs of having been extensively cut prior to release (some of the supporting characters are thinly drawn at best). Fox opted to release this Rogue production only on DVD, presenting the film with a 16:9 transfer and 5.1 sound, along with a single featurette.
Also New From Fox on DVD: A number of recent Fox series have hit DVD just in time for the holidays. Season 5 of THE NEW GIRL (2015-16, 484 mins.) focuses on the wedding between Schmidt and Cece (Max Greenfield, Hannah Simone), which provides the sometimes rambling series with a focal point it often lacks. Other predicaments find the loft being used as an Airbnb and Cece's tough mom possibly throwing a wrench in the couple's wedding plans. 22 Season 5 episodes have been included in Fox's three-disc DVD set with 16:9 (1.78) transfers and 5.1 sound. A Fox series that deserved a better fate was THE GRINDER (484 mins., 2015-16), an enjoyable albeit repetitive comedy with Rob Lowe as a former TV prosecutor who finds himself continually doling out advice at his family's legal firm, much to the chagrin of actual lawyer brother Fred Savage. "The Grinder" is sharp and witty at times but too many episodes played out in exactly the same manner with little character development – perhaps one reason why it was canceled after one season (in addition to, of course, low ratings). Fox's DVD includes all 22 episodes from the series with 16:9 transfers and 5.1 soundtracks.
A trio of new National Geographic releases are also new from Fox. MYGRATIONS: SEASON 1 (270 mins., 2016) finds a human herd of Americans paralleling the great wildebeest migration across the Serengeti in six episodes presented on two discs. GENERATION X (270 mins., 2016) is a chronicle of the Gen-X crowd and its political/cultural/economic background in six episodes. Finally, DR. OAKLEY – YUKON VET (354 mins., 2016) includes eight episodes from Season 3 of the Nat Geo Wild series, presented on two discs. All sets include 16:9 transfers and 5.1 Dolby Digital soundtracks.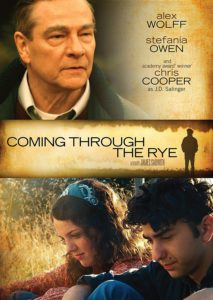 COMING THROUGH THE RYE DVD (95 mins., 2016, PG-13; Paramount): Writer-director James Sadwith spins an autobiographical tale of a 16-year-old (Alex Wolff) who runs away from his boarding school and heads for the New Hampshire mountains. There, he meets a local girl (Stefania Owen) en route to trying to find reclusive "Catcher in the Rye" author J.D. Salinger (Chris Cooper). An engaging coming of age tale well performed by both leads with pleasant settings, "Coming Through The Rye" is now on DVD from Paramount featuring a 16:9 transfer and 5.1 sound.
Also new from Paramount is MAXIMUM RIDE (88 mins., 2016, PG-13), an adaptation of James Patterson's young-adult book about six DNA-enhanced orphans given the ability to fly. This unremarkable affair from director Jay Martin debuts on DVD from Paramount sporting a 16:9 transfer and 5.1 Dolby Digital sound.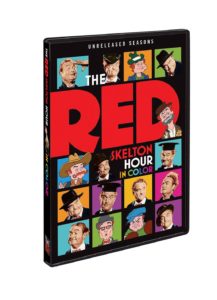 THE RED SKELTON HOUR IN COLOR DVD (472 mins., Time Life): Brand-new compilation houses 12 previously unreleased episodes from "The Red Skelton Hour" in color – shows that have been unavailable for decades. Included here are episodes with Red's Freddie the Freeloader enjoying a love-in with a hippie (played by Tim Conway!); Sheriff Deadeye meeting up with Rooster Cogburn (John Wayne); and Clem Kaddiddlehopper being mistaken for a robot by a pair of mad scientists (Vincent Price and Boris Karloff). Classic sketches and a cavalcade of guest stars make for a terrific three-disc set for Skelton buffs, and Time Life's DVD includes exclusive new interviews with Vicki Lawrence and Bobby Rydell.
Lionsgate DVD Capsules: Jackie Chan was the executive producer of AMNESIA (102 mins., 2016, PG-13), a remake of his own film about a bike courier who can't recall the culprits from his wrong place/wrong time arrival at a murder scene – a major problem when he's framed for the crime itself. This Hong Kong production offers a 16:9 (2.35) transfer and both Mandarin and English (dubbed) 5.1 soundtracks…A superior "found footage" faux documentary is on-hand in director/star Matt Johnson and Owen Williams' OPERATION AVALANCHE (94 mins., 2015, R), making its DVD debut this January from Lionsgate. The story of a pair of young CIA agents hunting for a Russian mole at NASA during the late '60s, the duo instead come across an even bigger conspiracy – yes, faking the moon landing. Elements of "2001″ and the entire era is evoked in a low-budget but playful offering that's a lot of fun for cinephiles. Lionsgate's DVD includes deleted scenes, behind-the-scenes featurettes, commentaries with cast and crew, a 16:9 (1.89) transfer and 5.1 Dolby Digital sound.
Cinedigm New Releases: THE ULTIMATE LEGACY (99 mins., 2015, Not Rated) is based on Jim Stovall's book "The Gift of a Legacy" and focuses on an entitled young man who has to prove himself worthy of a new stipulation in his grandmother's will after her passing. Joanne Hock directed this family-friendly film starring Logan Bartholomew, Myko Olivier, Ali Hllis, Brian Dennehy and Raquel Welch with a 16:9 transfer and 5.1 sound on DVD. Available January 3rd.
NEXT TIME: Ushering in the New Year! Until then, don't forget to drop in on the official Aisle Seat Message Boards and direct any emails to our email address. Cheers everyone and Merry Christmas & Happy New Year to all!