www.andyfilm.com (new columns debut here first!)
email: mailbag @ andyfilm.com (remove spaces!)
Message Board (open 24 hours!)
Twitter - @andredursin (for everything else!)
A pair of interesting, if commercially unsuccessful, Jane Fonda vehicles grace Twilight Time's roster of limited-edition Blu-Ray releases this month, along with Stanley Donen's memorable '60s road trip romance TWO FOR THE ROAD with Albert Finney and Audrey Hepburn, plus a spectacular release for 3D enthusiasts.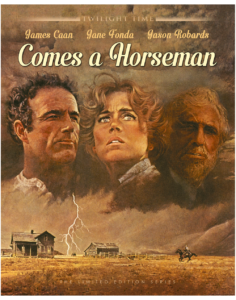 COMES A HORSEMAN (110 mins., 1978, PG) is, if nothing else, a lyrically shot story of a fiery Colorado rancher (Fonda) whose livelihood, and general way of life, is being threatened by an overzealous land baron (Jason Robards) she has a past history with. James Caan nabs top-billing, meanwhile, as a fellow small rancher and WWII vet who allies with Fonda's heroine against both Robards' character and, later, another entity that threatens Robards' plans for expansion as well.
Fonda was coming off "Coming Home" when she signed on to this UA prestige project, one shepherded by "Rocky" producers Irwin Winkler and Robert Chartoff, along with director Alan. J. Pakula. The film generally was deemed a disappointment, however, at the time of its release, though Richard Farnsworth would enjoy a career resurgence thanks to his turn as Fonda's veteran ranch hand, netting a Best Supporting Actor Oscar nomination in the process.
What works best in "Comes a Horseman" is its impressively mounted production and sense of time and place. The Dennis Lynton Clark script might be short on surprises, but Gordon Willis' evocative cinematography brings the movie's gorgeous backdrops to life in a potent visceral presentation that's heightened here by Twilight Time's 1080p (2.35) AVC encoded transfer.
TT has put out a disclaimer that the transfer is speckled and less pristine than their usual releases, but that's all that was available in the MGM vaults. With the disc graciously reduced in price for that reason, "Comes a Horseman" still boasts an appreciable upgrade on any prior home video release, playing to the strengths of Willis' cinematography in spite of the sometimes-dated nature of its source materials. Fans of his work, and the stars, should be receptive to this release, warts and all. The disc also sports a DTS MA mono soundtrack, an isolated score of Michael Small's contribution, and the original trailer.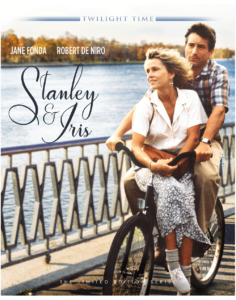 Fonda also starred in what was supposed to be one of MGM's major fall releases of 1989, STANLEY & IRIS (100 mins., 1990, PG-13), a film that was likewise produced by major talent including director Martin Ritt and veteran scribes Harriet Frank, Jr. and Irving Ravetch "("The Reivers," "The Cowboys," "Norma Rae"). It also paired Fonda with Robert DeNiro in what was, at that point in time, a major casting event that gave DeNiro a chance to play an atypically sensitive, introverted character.
A semi-adaptation of Pat Barker's novel "Union Street," that "Stanley & Iris" works in any capacity is due to the performances by DeNiro, as an illiterate factory worker, and Fonda, essaying a recently-widowed mother in a small Connecticut town. The duo find solace in each other in a "nice" little movie that's sadly sabotaged by a bland screenplay. The plot is never compelling enough to make the movie click and the pacing is disjointed, possibly the result of pre-release cuts that also lead MGM to push the film out of its intended fall release window – where it was supposed to debut for award consideration– and into the January/February winter dumping grounds, where it struggled both commercially and critically.
If you can get past the film's stilted dramatics, "Stanley & Iris" does offer lovely scope cinematography by Donald McAlpine, with the movie's Connecticut lensing conveying a natural New England small-town feel. Best of all is John Williams' graceful, poetic score, one that melodically backs a film that seems like it came out of a different era of Hollywood, yet didn't provide a strong enough script for its actors to work with.
TT's Blu-Ray boasts a lovely isolated score track of Williams' superlative work (one which I often point to as a demonstration of Williams' peerless dramatic underscoring outside the blockbuster realm), plus a new commentary with Julie Kirgo and Nick Redman and the original trailer. Both the 1080p (2.35) AVC encoded transfer and 2.0 DTS MA stereo surround track are terrific.
Few films from the late '60s crystalize their era like TWO FOR THE ROAD (111 mins., 1967), the story of a couple – played by Audrey Hepburn and Albert Finney – who recount the evolution of their relationship from their first meeting through marriage, parenthood and endless bickering via a series of episodic flashbacks.
Set against a sparkling French backdrop presented in glorious widescreen by Christopher Challis, director Stanley Donen's film – scripted by Frederic Raphael – is viscerally satisfying and beautifully scored by Henry Mancini. Jacqueline Bisset appears early on as one of Hepburn's traveling companions, and comic relief is mostly served by Eleanor Bron and William Daniels as an irritating couple – complete with child in tow – our protagonists reluctantly travel with. The story can be strident and at-times unappealing, especially because the viewer is dropped into fragments of time where the characters' attitudes are "set" and it's seldom explicitly explained how/why they've gotten there. Yet as a time capsule, a portrait of Hepburn and Finney in their prime, and a romantic view of rural France, it's easy to see why "Two For the Road" has long been a viewer favorite.
Making a long-overdue debut on Blu-Ray from Twilight Time, "Two For the Road" gets a needed HD upgrade courtesy of a satisfying 1080p (2.35) AVC encoded transfer. Mancini's marvelous score is presented in its original single-channel mono mix or a cleaner, better defined 2.0 DTS MA stereo track that gives the soundtrack more room to breathe; it's a bittersweet score with a sweetly uplifting finale that's one of the maestro's finest. Extras include the trailer, an isolated mono score track, the DVD commentary from Stanley Donen, and a new commentary with Julie Kirgo and Nick Redman.
Finally, it's been a rough go lately for 3D HDTV enthusiasts, especially with word that manufacturers like LG are dropping support for the format in their new line of 4K sets. That makes a release like THE MAD MAGICIAN (72 mins., 1954) one to savor: this 1954 Columbia programmer offers Vincent Price as Don Gallico, a magician who loses his tricks, his wife, and his livelihood, and subsequently goes about exacting revenge on those who wronged him – via the magic of impersonation – in an agreeable slice of genre filmmaking from director John Brahm ("The Lodger"). The film may not be a classic – and recycles quite a bit of "House of Wax" in general – but horror fans who enjoy watching Price in a varied role(s) should take to this short and sweet period effort, one which sings in 3D with ample depth of field B&W effects on-hand.
Even better, Twilight Time's Blu-Ray ups the ante by including two vintage Three Stooges shorts, "Pardon My Backfire" and "Spooks!," which are also included here in 3D for the first time. Commentary from David Del Valle and Steven Peros, the engaging new featurette "Master of Fright! Conjuring The Mad Magician," the original trailer, an isolated score track, 1080p (1.85) transfers and DTS MA mono sound grace a superb release for all 3D fans – and 2D-compatible as well for Stooges and Price enthusiasts without the benefit of the third dimension.
---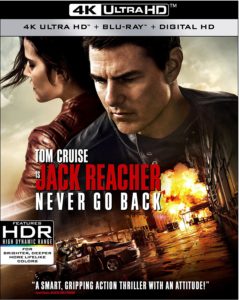 Also New & Noteworthy
JACK REACHER: NEVER GO BACK 4K UHD Combo Pack (**, 118 mins., 2016, PG-13; Paramount): I didn't much care for the original "Jack Reacher," which saw Tom Cruise playing the military-investigator hero of Lee Child's popular novels. This sequel is even a comedown from that exercise, with Reacher here tasked with helping one of his associates (Colbie Smulders) who's been charged with espionage and the murder of two soldiers in Afghanistan. Meanwhile, Reacher himself is eventually accused of murdering her lawyer – and a 15-year-old girl believes she might be Jack's daughter – in a film that unbelievably involved the participation of director Edward Zwick ("Glory") and his former "thirtysomething" cohort Marshall Herskovitz, not to mention veteran writer Richard Wenk ("The Equalizer").
The trio collaborated on the script for this flaccid, tedious follow-up, one which carries an air of contractual obligation as the first film just barely scraped up enough funds to generate another installment. Thankfully we'll be spared the prospects of Reacher returning as "Never Go Back" fizzled in theaters last fall, ranking as one of star Cruise's lowest-grossing genre exercises ever. Paramount's attractive 4K UHD combo pack does boast HDR-enhanced colors and contrasts, as well as Dolby Atmos audio. The standard Blu-Ray and a Digital HD copy are also included along with a handful of featurettes. "Never Go Back," indeed.
THE LIGHT BETWEEN OCEANS Blu-Ray (**½, 133 mins., 2016, PG-13; Touchstone): Attractively lensed, if overly leisurely, adaptation of the M.L. Stedman bestseller stars Michael Fassbender as an Australian lighthouse keeper who lives with his wife (Alicia Vikander) on a remote island in the early 1920s. The two become the recipients of a baby girl that literally washes ashore on a life raft – along with a dead man – giving the infertile wife the opportunity to become a mother. Unfortunately for the duo, their life is changed when they meet the infant's actual mother (Rachel Weisz) and guilt overcomes both of them.
"Place Between the Pines" director Derek Cianfrance wrote and helmed this lyrically shot international co-production, which ultimately comes off as overly melodramatic and calculated for its own good. The performances are at least compelling and fans of the book might appreciate it, but it's a bit of a lengthy slog at times. Touchstone's attractive 1080p (2.40) transfer includes 7.1 DTS MA sound, commentary, two featurettes and a Digital HD copy.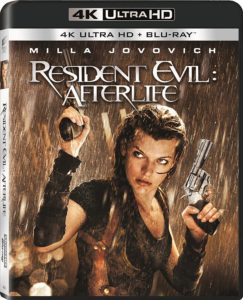 RESIDENT EVIL: AFTERLIFE 4K UHD Combo Pack (**, 97 mins., 2010, R; Sony): Fourth film in the "Resident Evil" franchise gets an HDR boost thanks to Sony's 4K UHD combo pack edition. In this 2010 installment, which also saw Paul W.S. Anderson returning in the director's chair for the first time since the original, Alice's superpowers have been knocked out, forcing her to reunite with old pals Claire Redfield (Ali Larter) and her brother Chris (Wentworth Miller) in order to combat a horde of zombies as well as Albert Wesker and the Umbrella Corporation.
"Resident Evil" fans will get the most mileage out of Sony's UHD combo pack, sporting a crisp 4K presentation with Dolby Atmos audio. The Blu-Ray is also included featuring commentary, seven featurettes and other extras, while a Digital HD copy rounds out the release.
XXX 15th Anniversary Blu-Ray (**½, 124 mins., 2002, PG-13; Sony): Despite the fact that the original "XXX" received a glut of mixed reviews, the Vin Diesel-Rob Cohen spy-adventure nevertheless grossed well over $100 million domestically and seemed as if it had the potential for "franchise" written all over it. Apparently, contractual negotiations and Diesel's interest in the "Riddick" franchise (and we all know how that turned out) put the kibosh on a continuation of Vin's "Xander Cage" character for many years, with a makeshift sequel, "XXX: State of the Union," produced to negligible box-office returns some five years later.
With Diesel now returning to the franchise this week in "XXX: Return of Xander Cage," the original "XXX" returns to Blu-Ray in a new 15th Anniversary edition, sporting the new featurette "Origins of a Renegade," a fresh interview with the star that also serves as a promotion for the belated sequel. Extras carried over from the prior release include commentary from Rob Cohen, ten featurettes, deleted scenes, a pair of music videos and a Digital HD copy. The 1080p (2.40) transfer and 5.1 DTS MA sound are both top notch.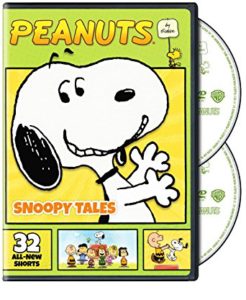 Warner New Releases
Warner Home Video has released the first volume of episodes from the recent PEANUTS (2014) animated series that was produced in France. Airing on the US' Boomerang channel, this entertaining take on Charlie Brown and company offers seven-minute, self-contained segments that, in some regards, more faithfully adapt the strip-nature of Charles M. Schulz's source material than the longer-form TV specials.
Though animated in flash format, the colorful, loving rendering of the material in French studio Normaal's production – scripted by Alexis Lavillat – captures the essence of Schulz's characters in an accessible format perfect for long-time fans and younger viewers alike. Warner's two-disc DVD contains 32 episodes from the series in vivid 16:9 transfers capturing all the color and fun of these inspired shorts. Though Vince Guaraldi's classic music doesn't appear, the energetic scoring is splendid and suits the material perfectly. Warmly recommended!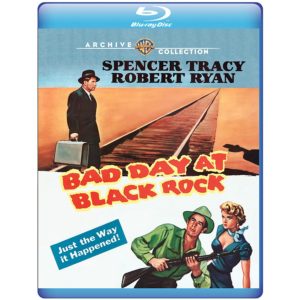 Warner Archive New Releases: The Archive is kicking off the new year with several new Blu-Ray titles, hopefully the first of many to come in 2017.
The 1955 MGM Cinemascope production BAD DAY AT BLACK ROCK (81 mins.) makes for one of the Archive's strongest visual presentations to date on Blu. John Sturges directed this exciting thriller about a one-armed WWII vet (Spencer Tracy) who arrives in a dusty desert town, only to be met with hostility regarding his mysterious appearance.
With superb use of the widescreen frame and music from Andre Previn enhancing Sturges' tough, no-nonsense direction, "Bad Day at Black Rock" sings at 81 minutes and offers a handful of familiar faces – including Robert Ryan, Anne Francis, Walter Brennan, Ernest Borgnine and Lee Marvin – backing a film that's long been a fan favorite of '50s enthusiasts and especially Cinemascope buffs, both of whom will appreciate the sparkling 1080p (2.41) transfer Warner has given viewers here. The disc also boasts a robust 2.0 DTS MA stereo soundtrack, the trailer, and commentary from historian Dana Polan.
A somewhat more unconventional choice for the Blu-Ray treatment is MGM's BATTLEGROUND (118 mins., 1949), William Wellman's portrait of the Battle of Bastogne that offers an all-star cast, including Van Johnson, Ricardo Montalban, John Hodiak and George Murphy, trying to survive in WWII. Robert Pirosh's fact-based script is well balanced between warfare and character interplay, though the movie's gritty B&W, standard-framed 1.37 aspect ratio cinematography didn't seem to cry out for the high-def treatment. That said, the Archive's presentation is highly detailed, with extras including a pair of vintage featurettes, the trailer and DTS MA mono sound.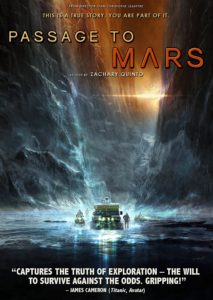 Quick Takes
A group of six men try to trek through the Northwest Passage of the Arctic in order to simulate the harsh conditions on Mars in PASSAGE TO MARS (95 mins., 2016), a French-produced documentary landing on DVD this week from MPI as a Sundance Selects release. Over 90 minutes of extra features include commentary from director Jean-Christophe Jeauffre, behind-the-scenes segments, a 16:9 transfer and 5.1 Dolby Digital sound.
SURF'S UP 2: WAVE MANIA DVD (84 mins., 2017, PG; Sony): Small-screen sequel to the animated hit starring surfing penguins recruits a handful of WWE personalities – including John Cena, Undertaker, Triple H, Paige and Mr. McMahon – to portray a surfing team dubbed "The Hang Five" who teach Cody, Chicken Joe and Lani about teammwork and proper etiquette on the high seas. Sony's DVD of "Surf's Up 2″ includes a digital copy, 16:9 transfer, 5.1 audio, plus a slew of special features (Bloopers, Behind the Mic extras, a look at Toby Chu's music, etc.).
ADVENTURE TIME: ISLANDS (88 mins., 2017) is the new mini-series starring the popular Cartoon Network characters, as Finn, Jake, and Susan Strong set sail for eight tales of "wonder, mystery, danger, and robo-dolphins!" Those eight episodes (The Invitation, Whipple the Happy Dragon, Mysterious Island, Imaginary Resources, Hide and Seek, Min and Marty, Helpers, The Light Cloud) are included in the single-disc Warner DVD release along with special features.
Season 9 of THE INCREDIBLE DR. POL (360 mins., 2016) includes eight new episodes from the quite popular National Geographic series: Peacock-A-Doodle-Do, E-I-E-I-Pol, Flip 'N Stitch, The Alpcalypse, Mow Mow Mow Your Goat, Dr. Franken-Pol, Albert Ein-Swine, and One Great Dame. Fox's two-disc set is now available boasting 16:9 transfers and 5.1 Dolby Digital sound.
NEXT TIME: Shout unspools POLTERGEIST II & III in new Collector's Editions plus the awesome TRAILER TRAUMA 3: 80S HORRORTHON! Until then, don't forget to drop in on the official Aisle Seat Message Boards and direct any emails to our email address. Cheers everyone!