Message Board (open 24 hours!)
Twitter - @andredursin (for everything else!)
A cult favorite for many who grew up in the '80s, the "Karate Kid" knockoff NO RETREAT, NO SURRENDER (84/95 mins., 1986, PG) has been dusted off, remastered and resurrected on Blu-Ray by Kino Lorber. Viewers resistant to the charms of adrenaline-pumping training montages, martial arts action and terrible acting might want to avoid it, but fans will find this US-shot Hong Kong production to be a blast of nostalgia, presented here in both its international release version and New World Pictures' shorter US theatrical cut.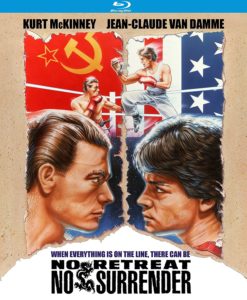 Kurt McKinney plays a young martial arts enthusiast whose father's L.A. dojo is shut down by a nefarious group of villains, including the silent, steely Ivan Kraschinsky (Jean-Claude Van Damme). McKinney and his parents move to Seattle where he struggles to fit in with the local martial arts club, runs into an overweight bully, gains a Michael Jackson-worshipping best friend, and eventually has to face off against Ivan in a winner-take-all final confrontation.
"No Retreat, No Surrender" was one of the first Hong Kong productions to try and reach out, specifically, to an American audience. First-time screenwriter Keith Strandberg was an English-Chinese translator when he was hired to write the film, which was shot in the US by director Corey Yuen and first assembled in a 95-minute "International Cut" with music by Frank Harris (as well as tracked material from various Chinese films). New World Pictures picked up the film for North America, cut some 11 minutes and rescored the movie with a livelier soundtrack by Paul Gilreath that carries a definite Vince DiCola, "Rocky IV"-esque flair.
So, too, does the film itself, which mixes formulaic elements from both the fourth "Rocky" picture as well as "The Karate Kid" in a low-budget affair that's predictable but also go-for-broke bonkers at times (McKinney is tutored by the ghost of Bruce Lee!) and consistently charming in its awkwardness. The performances of some of the supporting cast members – notably Timothy D. Baker as McKinney's father and Kent Lipham as the pudgy karate wannabe – are endearingly poor, particularly in the movie's longer version, which nearly feels like a workprint with its disjointed music and extended takes. The New World cut, though less unintentionally comic, works much better, effectively tightening up the film's pace and trimming some of its excess (it also includes a meeting between McKinney and his girlfriend which is actually missing from the International Version).
It takes a certain viewer to warm to "No Retreat, No Surrender," but genre fans and anyone ready to embrace a well-intentioned product of its era should find Kino Lorber's spirited Blu-Ray to be a must. For the first time since the '80s, the 84-minute New World cut is back in circulation, while the 95-minute International Cut is also on-hand, it having been previously released in the format via a myriad of foreign Blu-Rays.
The transfers of both versions are superbly detailed, but also show the extensive wear of the source elements. However, the nicks and scratches only add to the filmic presentation, with a thankful lack of noise reduction in evidence. The DTS MA mono audio is far healthier on the American cut than the International version, and extras include an interview with McKinney, a new commentary with Strandberg, and the international trailer. Warmly recommended – for the right audience!
If you're into the special effects of Ray Harryhausen or the bountiful physical beauty of Raquel Welch, there's endless entertainment to be found in ONE MILLION YEARS B.C. (91/100 mins., 1966), the caveman-cult favorite that also makes its long-awaited Blu-Ray debut this week from Kino Lorber.
A remake of the 1940s RKO black-and-white release "One Million B.C.," this Hammer production – with exteriors shot in the Canary Islands – is a rugged adventure starring John Richardson as "Tumak," a member of the stoic Rock Tribe, who's banished from his people by its leader (future James Bond "M," Robert Brown!). His subsequent trek across a harsh prehistoric landscape leads him into the land of the Shell People, populated by kinder, more caring blondes – and the lovely "Loana," played by Welch, then on loan from the movie's U.S. distributor, 20th Century Fox. The duo cultivate an unlikely relationship with Tumak and Loana fleeing from dinosaurs, neanderthals, and Tumak's former tribe in writer Michael Carreras' adaptation of its far inferior 1940 predecessor.
Directed by Don Chaffey and populated with Harryhausen's creations – including a harrowing pterodactyl attack – "One Million Years B.C." pretty much has everything you'd want from a caveman epic. Raquel looks great in as skimpy an outfit as was possible on-screen in 1966, and the movie's lack of dialogue serves it well today – this is a straight-ahead, colorful adventure, well balanced between action and tribal sparring, with Martine Beswick also showing off her assets as one of the Rock People's tougher dames.
Kino Lorber's double-disc Blu-Ray includes both cuts of the film – Fox's 91-minute U.S. release version (the only cut of the film to generate a domestic DVD release) and the 100-minute International version, which was last seen in the U.S. on laserdisc. Surprisingly, this wasn't a case where character material was mostly trimmed for the U.S. cut – some of the movie's punchier gore and dinosaur action was cleaned up instead (in an effort to appeal to younger kids), so the longer cut will be preferred by most. Derived from a recent 4K restoration, both transfers are finely detailed and offer clear DTS MA mono sound featuring Mario Nascimbene's score, which veers from serviceable to strange and generally isn't one of the film's stronger elements. A commentary – more of an "audio essay" – has been provided by Video Watchdog's Tim Lucas with older DVD interviews with Welch and Harryhausen also on-hand. The trailer, a poster/stills gallery, and a recent conversation with Beswick round out a terrific release!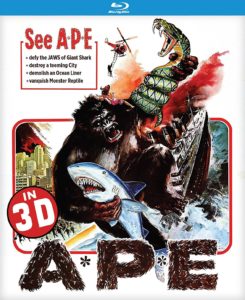 An obscure attempt to cash in on the mania of Dino DeLaurentiis' "King Kong" remake, "Blob" producer Jack H. Harris' A*P*E (87 mins., PG) offers a great poster with a Kong wannabe holding a great white shark in one arm and a serpent in the other. When you actually see the film, however, any such aspirations that "A*P*E" is going to be a decent – even watchable – film are put to rest when our towering simian thrashes a dead fish around in its opening moments. And this is the highlight of a picture that proceeds to linger on for another 80 minutes!
The Korean-shot production stars Joanna Kerns, future "Growing Pains" mom (billed under her maiden name, Joanna De Varona), as an American actress working in South Korea when she and her on-again/off-again flame run afoul of the giant monkey – a man in the suit who dismantles tanks, trucks, buildings, and (yes) cows in effects that can be deemed less than "special." In fact, "A*P*E" is a bottom of the barrel affair all the way through, fun for a few minutes but ultimately so mind-numbingly hideous that only the most stalwart bad movie fan is likely to make their way through the whole thing.
Kino Lorber's commendable Blu-Ray does include a 3D transfer of the film that enhances the monkeyshines – to a point. 2D viewers can select a standard version that also presents the film in its proper 2.35 widescreen aspect ratio, though source materials display their age, and abundant wear 'n tear, throughout both versions. Extras include a commentary by cult film fans Chris Alexander and Hillary Hess and the trailer.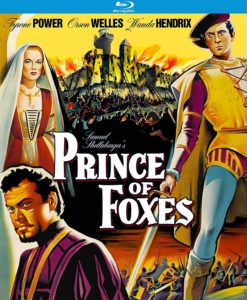 Finally, the 1949 Fox period drama PRINCE OF FOXES (107 mins.) also makes its Blu-Ray debut this month from Kino Lorber. Samuel Shallabarger's bestselling book was brought to the screen by director Henry King and screenwriter Milton Krims, with Tyrone Power starring as a Borgia spy sent to a small Italian territory at the behest of the conniving Cesare Borgia (Orson Welles), who's hoping to add the land to his growing Renaissance conquest. There, Power's character finds his allegiances shifting in a film with pockets of swashbuckling action, but is mostly dominated by backroom political machinations (and several sequences that tend to drag).
Viewers should be warned that the DTS MA mono audio on Kino Lorber's Blu-Ray is – like its prior DVD edition – pretty rough, especially in the opening moments of Alfred Newman's robust score. The warbly mix doesn't do the film justice, though the score at least fares better in an accompanying isolated score track. Commentary from historian Troy Howarth, a Movietone news reel, the trailer, and a generally satisfying 1080p (1.33) B&W transfer round out a modest upgrade on the prior DVD edition.
---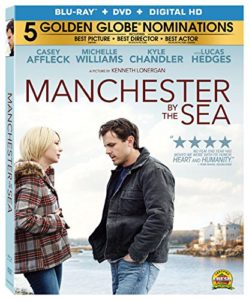 Also New & Noteworthy
MANCHESTER BY THE SEA Blu-Ray Combo Pack (137 mins., 2016, R; Lionsgate): Among last year's darlings on the indie circuit, "La La Land" was phony and overpraised (no doubt it'll clean up at the Oscars), while "Manchester By The Sea" – albeit a depressing, slow-moving drama – at least earned its acting kudos.
Casey Affleck is tremendous here as a handyman who's called back to his hometown along the North Shore of Boston, where his brother (Kyle Chandler) has just died. Left in charge of his teenage nephew (Lucas Hedges) but with scarcely the financial or emotional capability to support him, Affleck's character tries to make amends with his brother's wishes – and also the heartbreaking tragedy that drove him both out of his town, and the relationship he once had with his ex-wife (Michelle Williams).
Kenneth Lonergan wrote and directed this moody drama, vividly shot in the winter time along Manchester-By-The-Sea and nearby Cape Ann locales. Make no mistake, this is a heavy drama with a truly heartwrenching subplot that's not easy to take – yet all the acting in the film is mostly superb, especially Affleck and Hedges, with only one narrative detour involving the latter's mother (Gretchen Mol) coming off as somewhat melodramatic and contrived.
Lionsgate's Blu-Ray of the Amazon Studios release includes deleted scenes, a featurette, an interview with Lonergan, a 1080p (1.85) transfer, 5.1 DTS MA sound, a DVD and Digital HD copy.
NOCTURNAL ANIMALS Blu-Ray Combo Pack (116 mins., 2016, R; Universal): Tom Ford's unsettling thriller stars Jake Gyllenhaal as a jilted author whose new book is intended as a message for his ex-wife (Amy Adams), herself newly (unhappily) remarried. As Adams reads the manuscript from her former love, she's treated to a violent tale of unimaginable loss in a movie co-starring Michael Shannon and Armie Hammer. Adams and Gyllenhall both give strong performances in "Nocturnal Animals," but this is an unpleasant film that's not going to be for everyone, with some excessive sequences adding to its disturbing tone. Universal's Blu-Ray combo pack, out this week, includes three featurettes (Building the Story; The Look of Nocturnal Animals; The Filmmaker's Eye: Tom Ford), a 1080p (2.40) AVC encoded transfer, 5.1 DTS MA sound, a DVD and Digital HD copy.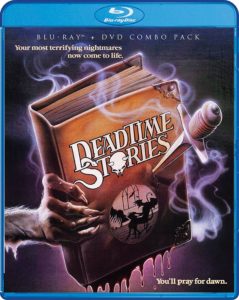 New From Scream Factory
DEADTIME STORIES Blu-Ray/DVD (83 mins., 1986, R): Fairy tales get a twisted spin in this low-budget mid '80s horror anthology. The Cinema Group release "Deadtime Stories" spins a trio of tales involving witches trying to resurrect a third member, a variation on "Little Red Riding Hood," and Godilocks and the Three Bears – with "Goldie" as a psycho with telekinetic abilities! I have to confess that I once saw "Deadtime Stories" back in high school on VHS and have never been a fan of this film. It's a pretty meager anthology that makes the likes of "Creepshow" look like a masterwork of terror, and is likely to be embraced only by those who grew up in the '80s and have a soft spot for the movie's tepid acting and scant gore. For those nostalgic fans, Shout Factory has produced a nice package here, sporting new interviews with Scott Valentine (Nick from TV's "Family Ties") and Melissa Leo, a fresh commentary from director Jeffrey Delman, a DTS MA mono soundtrack and all-new high-def transfer (1.85) from the original camera negative. A DVD is also included in the Scream combo pack.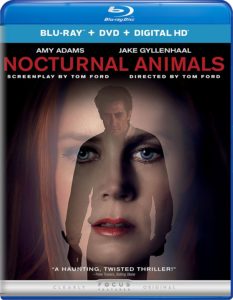 Also new from Scream Factory this week is KING COBRA (92 mins., 2016, R), a film based on a true story about a rising video porn star (Garrett Clayton) working for an industry mogul (Christian Slater) when he attracts the attention of a rival producer (James Franco). Set in the early days of the Youtube phenomenon – circa 2006 A.D. – "King Cobra" offers an incredible, albeit fact-based, story with an eclectic supporting cast, including Alicia Silverstone and Molly Ringwald. Shout's Blu-Ray/DVD combo pack includes commentary with director/co-writer Justin Kelly, outtakes, the trailer, a 1080p (1.85) transfer, 5.1 DTS MA sound and a DVD copy.
Quick Takes
TROLLS Blu-Ray (***, 92 mins., 2016, PG; Dreamworks/Fox): As much as I was reluctant to sit down with our three-year-old for another Dreamworks animated movie, the energetic "Trolls" turned out to be a good deal of fun. Colorfully drawn and filled with upbeat music (produced by Justin Timberlake) – and also light on the studio's typical "rude humor" – "Trolls" is one of the better DW pictures of late, offering enough humor to keep adults engaged while kids feed off its feel-good vibe. Still distributing Dreamworks' product on home video, Fox's Blu-Ray includes a splendid 1080p (2.35) transfer, 7.1 DTS MA audio, deleted scenes and over 45 minutes of bonus features, interactive and sing-along options, a DVD and Digital HD copy for good measure.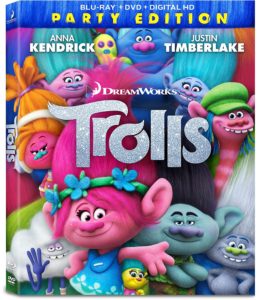 Also On DVD: The latest Bill O'Reilly bestseller KILLING REAGAN (100 mins., 2016), makes for a surprisingly well-acted National Geographic TV film. Tim Matheson essays the President with Cynthia Nixon as Nancy, in the final months leading up to the 1980 election and the subsequent assassination attempt on his life by deranged John Hinckley Jr. As always, there are limitations to the depth of the material given the brevity of the running time, but this is still a worthwhile view for interested viewers. Fox's DVD includes a behind-the-scenes featurette, 16:9 transfer and 5.1 Dolby Digital sound…"Orphan Black" star Tatiana Maslany and Dane DeHaan play a couple living in the arctic whose relationship is tested by both her personal demons and a polar bear in TWO LOVERS AND A BEAR (96 mins., 2017, R; Fox), a strange Canadian indie from writer/director Kim Nguyen. Fox debuts the film on DVD this month with a 16:9 (2.35) transfer and 5.1 Dolby Digital sound along with an accompanying Digital HD copy (in lieu of a Blu-Ray release).
BAD SANTA 2 4K UHD/Blu-Ray Combo Pack (**, 92/95 mins., R/Unrated; Broadgreen): The sequel I'm not sure anyone wanted didn't wait for next holiday season to roll out on home video. Billy Bob Thornton here returns as Willie Soke, out of prison and scheming to knock over a Chicago charity with the help of frenemy Marcus (Tony Cox) and now-grown up sidekick Brett Kelly. Kathy Bates chips in a few laughs as Willie's mom, but there's precious else to recommend in this needless, belated follow-up, which failed to recruit the participation of its original director (Terry Zwigoff), writers (Glenn Ficarra and John Requa) or a few key supporting cast members (notably Lauren Graham), with director Mark Waters and scribes Johnny Rosenthal and Shauna Cross relying heavily on gross-out bodily humor gags to carry this limp sequel past the 90-minute mark. Broadgreen bows "Bad Santa 2″ on a 4K UHD combo release next week – the 4k disc and Blu-Ray both include unrated and theatrical versions of the picture with a slew of extras, including deleted scenes, an alternate opening and ending, gag reel, featurettes and 5.1 DTS MA audio on both discs.
Lionsgate DVD New Releases: Jane Fonda and Lily Tomlin return in Season 2 of GRACE AND FRANKIE (6 hours, 2016) as lifelong frenemies Grace and Frankie, who drive each other crazy while dealing with their respective significant others (Martin Sheen, Sam Waterston). Fans of the Netflix series will enjoy this second-season edition of "Grace and Frankie," on DVD from Lionsgate next week sporting a 16:9 transfer, 5.1 Dolby Digital sound and a gag reel…Weird animated shenanigans are afoot in AIR BOUND (94 mins., 2016, PG) when a crew of Ship Mice set sail for Dream Island where little Chester's family is under attack by "Winston the White Weasal" (voiced by Jon Lovitz). This Japanese animated film was based on an earlier television series named "Gamba" and was brought to the US by Marvel's Avi Arad. The newly released DVD from Lionsgate includes a cast featurette, 16:9 (2.35) transfer and 5.1 Dolby Digital sound.
NEXT TIME: More of the latest reviews! Until then, don't forget to drop in on the official Aisle Seat Message Boards and direct any emails to our email address. Cheers everyone!